London's comes alive at night: Discovering all the cool spots, lively districts and attractions at night
London is a fun and lively city filled with so many attractions and landmarks to visit. Staying up into the late hours brings out a totally different feel but just as lively and colorful throughout the city. It seems like everything just comes alive when the sun sets and the locals get off work and take back the city from the hordes of tourists and day trippers.  Being an adventurer that loves to photograph sunsets into night-time around the city, I struck out to different parts of the city to discover London at its best in the evening hour.
Weather and best time to visit London
London's weather can be quite variable throughout the year, so the best time to visit depends on your preferences and what kind of activities you'd like to enjoy. Here's a general overview of London's weather and the best times to visit:
Spring (March to May): Spring is a lovely time to visit London as the weather starts to warm up, and the city's parks and gardens come to life with blossoming flowers. Temperatures range from around 8°C (46°F) to 15°C (59°F). April and May are particularly pleasant months to explore the city, with milder temperatures and fewer crowds compared to the peak summer months.
Summer (June to August): Summer is the peak tourist season in London. The weather is generally mild and pleasant, with temperatures averaging around 18°C (64°F) to 25°C (77°F). However, there can be occasional heatwaves, so it's a good idea to pack both light clothing and a light jacket or sweater. This is also when most of London's outdoor events, festivals, and markets take place.
Autumn (September to November): Autumn is another great time to visit London. The weather remains relatively mild at the beginning of the season, with temperatures slowly cooling down. September can still feel like an extension of summer, while November tends to be chillier. The fall foliage in London's parks is a beautiful sight, and there are fewer tourists compared to the summer months.
Winter (December to February): London's winters are generally cold and damp, with temperatures ranging from around 2°C (36°F) to 8°C (46°F). Snowfall is rare, but there can be occasional frost and fog. The holiday season adds a festive charm to the city, with Christmas markets, lights, and decorations. Just be prepared for shorter daylight hours and the possibility of rain.
In terms of crowds and prices, London tends to be busiest during the summer months when tourists flock to the city. If you prefer to avoid large crowds, consider visiting during the shoulder seasons of spring and autumn. These times offer a good balance between pleasant weather and fewer tourists.
Ultimately, the best time to visit London depends on your personal preferences. Whether you're interested in outdoor activities, cultural events, or enjoying the city's diverse culinary scene, London has something to offer year-round.
Here's what to see in London at night
Southbank Area of London
It seems that being on the river around the Southbank is the ideal location to enjoy sunset on the Thames and the many attractions that line this popular area filled with clubs, restaurants, cultural venues and many other hangout spots to enjoy the after hours in this district.
View from the London Eye looking down on the Thames
The London city view from the Shard
Walking around the Thames at night
Walking along the Thames at night-time is truly magical, most of the monuments and buildings are lit up in these striking colors including the bridges so it is perfect for taking photographs and just enjoying the moment. I loved this image of all the bridges lit up with the Shard lit up in the background, stunning walk don't you agree?
I loved this walk on the Millennium bridge heading towards St. Paul's Cathedral, with its eerie blue underbelly casting a strange and yet cool glow, I slowed down the shutter speed to capture people walking through this fun bridge walkway.  I think I captured energy and vibe of bridge in this photo wouldn't you agree?
Tip – you'll find a lot of interesting vantage points walking around the Southbank. If you can find some spots from above, look get more interesting views to capture.
Even the small beaches along the river were filled with light shows – fire twirlers were creating some dramatic performances with fire and it was quite spectacular and unexpected! I'm glad I was also there to witness something unique and impromptu in the Southbank but at the same time visiting an area that is filled with creativity in these gathering spaces. It's very festive along the shoreline, can you imagine what Christmas time in London would be like in this area with all the skyline lit like it is now?
What a fire show on the Thames!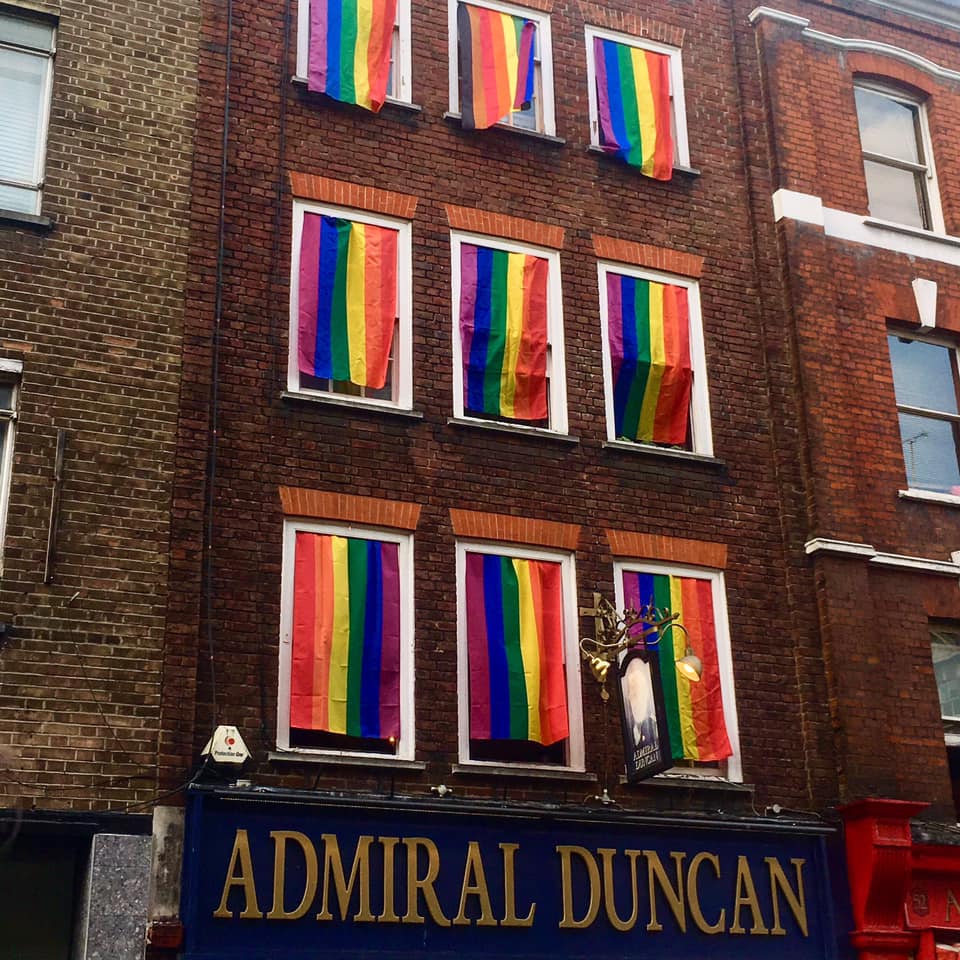 Soho district and Gay London
The Soho district of London comes alive at night-time with all the various bars, restaurants and venues that are fun to explore. The fun and trendy Soho district is also the heart of Gay London. With many venues, bars, nightclubs, drag venues and even regular pubs to enjoy in the area, the Soho district is a mecca for gay visitors and also gay friendly travelers looking for a colorful, friendly and easy hang out spots around this district.
Even though many of the gay scene and venues are scattered all around London, the main hub of gay activities and places to hang out tend to center around the Soho District which is the traditional centrer of London's LGBT+ scene.
Other hidden spots and gems to visit around London at night
Certainly, Noel Morata. While London's popular attractions are undoubtedly worth visiting, there are many hidden gems and lesser-known spots that come to life at night. Here are some unique places to explore after the sun goes down:
Leake Street Graffiti Tunnel
– This hidden gem near Waterloo Station is an ever-changing canvas for street art. The vibrant graffiti comes to life at night, creating an immersive urban art experience.
Little Venice
– Nestled away from the bustling city, Little Venice is a tranquil canal area where you can take peaceful evening walks, watch the canal boats, and enjoy the cozy waterside cafes.
God's Own Junkyard
– Located in Walthamstow, this quirky spot is an explosion of neon lights and vintage signs. It's a surreal and colorful experience, perfect for a unique nighttime adventure.
Daunt Books
– For book lovers, Daunt Books in Marylebone is a delight. The charming Edwardian bookshop remains open late on Thursdays, allowing you to explore its collection of travel literature.
Wilton's Music Hall
– This hidden gem is the world's oldest surviving music hall. Catch an intimate live performance in this historic venue for a memorable evening.
Sky Garden
– While not entirely hidden, the Sky Garden offers stunning nighttime views of the city from its glass dome. It's a quieter alternative to the Shard with free entry, but you'll need to book in advance.
Hunterian Museum
– Located inside the Royal College of Surgeons, this museum houses a fascinating collection of medical specimens. It's an eerie yet intriguing place to visit at night.
Sir John Soane's Museum
– This museum in Holborn was the home of the neo-classical architect John Soane. It opens its doors for candlelit tours on select evenings, offering a unique and atmospheric experience.
Late-Night Markets
– Keep an eye out for pop-up night markets like the Ropewalk in Bermondsey or the Model Market in Lewisham, where you can savor diverse street food and enjoy live music.
Rich Mix
– This arts and cultural center in Shoreditch hosts a variety of events, including film screenings, live music, and exhibitions, making it a lively spot for nighttime entertainment.
Highgate Cemetery
– Highgate Cemetery is known for its Gothic architecture and famous residents. Take a guided twilight tour to explore its eerie beauty and Victorian history.
Cahoots Underground Bar
– Step back in time to the 1940s at this hidden speakeasy in Soho. It's an immersive and playful experience with a unique vintage vibe.
Exploring these off-the-beaten-path places at night will provide you with a different perspective of London, allowing you to discover its hidden stories and vibrant subcultures.
How to get around London
Navigating London's vast and bustling metropolis can be an adventure in itself. Here's a guide on how to get around this iconic city:
London Underground (The Tube)
– London's subway system is extensive and one of the most efficient ways to travel. With 11 lines, it connects almost every corner of the city. Purchase an Oyster Card or use contactless payment for convenience and savings.
Buses
– London buses cover areas not served by the Tube. They offer a scenic way to explore the city. Use your Oyster Card or contactless payment for a seamless journey.
Trains:
– National Rail services connect London to nearby towns and cities. Major train stations like King's Cross, Paddington, and Victoria are gateways to various destinations in the UK.
Black Cabs
– London's iconic black cabs are a convenient way to get around, especially when the Tube is closed. They're regulated, safe, and accept card payments.
Ride-Sharing Apps
– Uber and other ride-sharing apps operate in London, providing another convenient option for getting around.
Bicycles (Boris Bikes)
– Rent a bike from one of the city's many docking stations. London's bike lanes and scenic routes make cycling a fun and eco-friendly choice.
Walking
– London is a pedestrian-friendly city, especially in the central areas. Walking allows you to discover hidden gems and appreciate the city's charm. There are many neighborhoods that are easy to get around and the downtown part of London is fun to explore on foot.
River Services
– The Thames Clipper provides scenic boat rides along the River Thames, with stops at key locations like Greenwich and the London Eye.
Emirates Air Line Cable Car
– For a unique experience, take a ride on the Emirates Air Line cable car, offering stunning aerial views of London's skyline.
Hop-On, Hop-Off Tours
– Tourist buses offer hop-on, hop-off services with commentary, allowing you to explore popular attractions at your own pace.
London Overground
– The Overground complements the Tube network, serving areas not covered by the Underground system.
DLR (Docklands Light Railway)
– The DLR is an automated light rail system connecting the Docklands area with the rest of London.
Remember to check for service updates and plan your routes using apps like Citymapper or Transport for London's website to make your journey around London as smooth as possible. Whether by Tube, bus, or iconic black cab, London's transportation options ensure you can easily explore all this vibrant city has to offer.
Please do check out my other posts about London below
Exploring London's East End district
Things to do in Greenwich, London
Eating London – a delicious food tour
Cool attractions to explore in South Bank
Well I really did enjoy exploring London at night especially along the Thames river in the Southbank area. Hope that you enjoyed this Discovering London at night time Please do visit the other bloggers participating for this weeks link up.
Check out some of my other favorite night tours of cities around the world below
Walking the streets of Vienna at night
Conclusion to visiting London at night
In conclusion, visiting London at night unveils a captivating and often overlooked side of this iconic city. Beyond the popular attractions, London's nighttime charm is found in its hidden gems, secret spots, and the unique experiences it offers after dark.
From the dazzling neon lights of God's Own Junkyard to the tranquil canals of Little Venice, there's a tapestry of experiences waiting to be woven into your London adventure. Whether you're exploring the art-lined tunnels of Leake Street or immersing yourself in the eerie beauty of Highgate Cemetery, the city's nocturnal offerings are as diverse as they are enchanting.
The thrill of discovering lesser-known cultural hubs like Wilton's Music Hall and Sir John Soane's Museum under the cover of night adds a layer of mystique to your journey. And let's not forget the culinary delights of late-night markets and the nostalgic ambiance of Cahoots Underground Bar.
While the popular attractions undoubtedly hold their charm, it's often these hidden pockets of London that leave the most lasting impressions. So, as you venture into the city's night, be prepared to uncover its well-kept secrets, experience its diverse subcultures, and create memories that illuminate your travel stories. London's nocturnal pulse awaits, offering a unique and captivating adventure for the curious traveler.