Nestled in the heart of the majestic Japanese Alps lies Takayama, Japan is a city that embodies the essence of traditional Japanese culture. Steeped in history and tradition, Takayama is a picturesque gem that exudes a serene and peaceful atmosphere. From the moment you step foot in this enchanting city, you'll be transported to a world of old-world charm and timeless beauty. The narrow streets lined with quaint wooden houses, the bustling morning markets filled with vibrant colors and exotic aromas, and the stunning natural scenery all around will leave you in awe.
As you wander through the historic neighborhoods and soak in the soothing hot springs, you'll feel a sense of tranquility and calm that is hard to find anywhere else. In this article, we invite you to join us on a journey to discover the magic of Takayama, a place that captures the very essence of Japan.
Takayama, Japan: A Hidden Gem of Traditional Beauty and Culture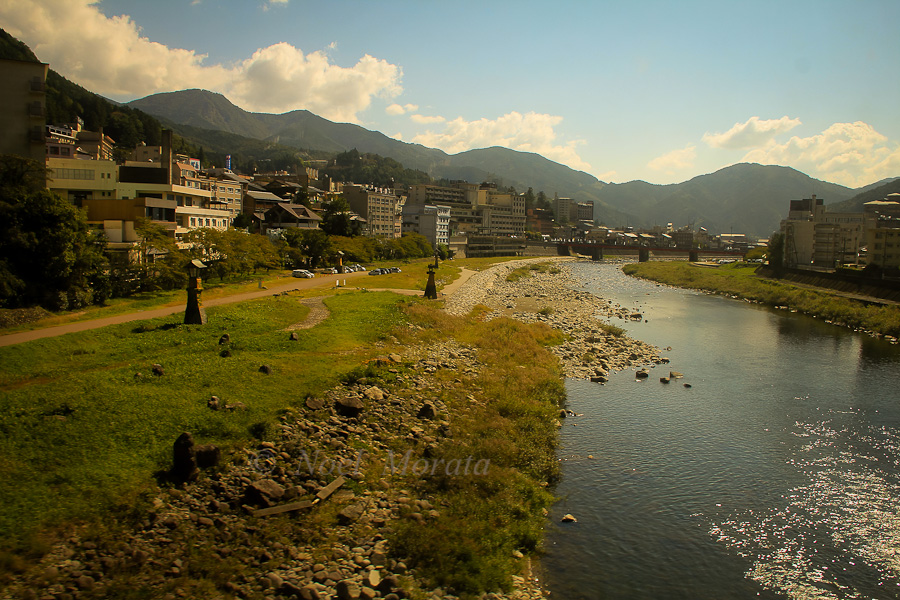 Takayama, a charming city in the Japanese Alps, boasts preserved traditional architecture, lively markets, and delicious cuisine to experience
This Monday, I'm taking you to the Japanese alpine community of Takayama, a historic and old city which celebrates the artistry and crafts of its past.  Takayama meaning "Tall mountain" has a wood-working and building history of producing some of the most historic wood temples, design and crafts from around the country. Many Japanese shoguns (rulers) brought Takayama's best builders, crafters and artisans to create their palaces, temples and other public structures in Kyoto, Nara and Nikko, Japan.
Even though the city is large, the historic district is small and walkable – maintaining it's charm and unique characteristics with sake factories, wood shops and art galleries, and other artisanal food products made in the region. Many of the streets in the center are wonderful walking venues with many shops that produce local products and still retain their small town virtues, featuring locally made arts and crafts, specialty food and produce. Along the way, you'll also find street vendors offering grilled fish, squid and other specialties or even the local tofu maker who has a small stand for you to try out his just-made tofu creations.
Weather and best time to visit Takayama, Japan
Takayama, located in the mountainous region of Gifu Prefecture, offers a diverse climate throughout the year, making it a year-round destination with distinct seasonal attractions. Here's a breakdown of the weather and the best time to visit Takayama:
Spring (March to May): Springtime in Takayama is characterized by mild temperatures and blooming cherry blossoms. It's a beautiful season to witness the vibrant pink and white hues of cherry blossoms adorning the city's parks and streets. The average temperature ranges from 6°C (43°F) to 19°C (66°F), making it pleasant for outdoor exploration.
Summer (June to August): Takayama experiences warm and humid summers, with temperatures ranging from 18°C (64°F) to 29°C (84°F). While it can get a bit hot, the summer season offers various festivals and events, such as the Takayama Matsuri, one of Japan's most renowned festivals held in July. It's an excellent time to immerse yourself in the lively atmosphere and enjoy traditional performances.
Autumn (September to November): Autumn is considered the best time to visit Takayama due to its breathtaking fall foliage. The mountains surrounding the city transform into a kaleidoscope of vibrant red, orange, and yellow hues. The weather during autumn is cool and pleasant, with temperatures ranging from 8°C (46°F) to 22°C (72°F). It's recommended to visit in late October to early November to witness the peak of the autumn colors.
Winter (December to February): Takayama experiences cold and snowy winters, with temperatures ranging from -3°C (27°F) to 8°C (46°F). The city is known for its picturesque winter scenery, and if you enjoy winter sports, you can indulge in skiing and snowboarding in the nearby mountains. The Takayama Winter Festival, held in February, is a highlight of the season, featuring beautiful illuminated floats and traditional performances.
Overall, the best time to visit Takayama depends on your preferences. Spring and autumn offer pleasant weather and natural beauty, while summer provides a vibrant cultural experience. Winter appeals to those who enjoy snowy landscapes and traditional winter festivals. Consider these factors and choose the season that aligns with your interests to make the most of your visit to Takayama, Japan.
Historic Streets of Takayama
Sanomachi street is lined with sake breweries, old homes, coffee houses, galleries and delicious restaurants serving local favorites from the region.
Visiting the historic streets and shopping district in Takayama, Japan
I found exploring the local shops and shopping venues of Takayama fascinating! The historic streets of Takayama are a shopper's paradise, with an abundance of traditional shops and artisanal boutiques offering a range of unique and authentic souvenirs. Take a stroll through the charming neighborhoods of Sanmachi Suji and Kami Sannomachi to discover shops selling everything from handmade pottery and lacquerware to exquisite textiles and woodwork. The city is particularly famous for its locally produced crafts, such as the Hida Shunkei lacquerware, which is made using a centuries-old technique unique to Takayama.
Other popular items include traditional Japanese paper products, such as washi tape and origami paper, and souvenirs made from local Hida cedar wood. But shopping in Takayama is not just about the products, it's also about the experience. Take in the sights and sounds of the bustling morning markets, where vendors sell fresh produce and handmade goods, or browse the antique shops and flea markets for one-of-a-kind treasures. Shopping in Takayama is a journey back in time, a chance to immerse yourself in the city's rich cultural heritage and take home a piece of Japan's vibrant history.
The food scene in Takayama, Japan
Prepare your taste buds for a culinary adventure in Takayama, where the food scene is as rich and diverse as the city's cultural heritage. From succulent Hida beef to savory Hoba Miso, the traditional dishes of this charming Japanese city will tantalize your senses and leave you craving for more. Local specialties like Mitarashi dango and Gohei mochi offer a delightful combination of sweet and savory flavors, while fresh seafood and seasonal vegetables showcase the region's natural bounty.
But Takayama's cuisine is not just about the food, it's also about the experience. Savor the aroma of freshly grilled skewers at the lively morning markets, or dine in a cozy local eatery with a warm and welcoming atmosphere. Whether you're a food lover or a curious traveler, Takayama's culinary delights are sure to leave you intrigued and satisfied.
What are the local specialty dishes and foods at Takayama
Takayama, a city in Gifu Prefecture, Japan, is renowned for its delectable local specialty dishes and foods. Here are some of the culinary delights you can savor when visiting Takayama:
Hida Beef: Hida Beef is a prized local specialty that originates from the surrounding Hida region. It is a type of Japanese wagyu beef known for its exceptional marbling, tenderness, and rich flavor. In Takayama, you can relish Hida Beef in various forms, such as sukiyaki (a hot pot dish), yakiniku (grilled meat), and even Hida Beef sushi.
Hida-Takayama Ramen: Takayama has its own unique style of ramen, known as Hida-Takayama Ramen. The noodles are typically thicker and chewier, and the broth is soy-based, flavorful, and rich. It is often topped with ingredients like chashu (braised pork), green onions, bamboo shoots, and menma (seasoned bamboo shoots).
Takayama Soba: Takayama is also famous for its delicious soba noodles. Takayama Soba is made from locally sourced buckwheat flour and has a distinctive nutty flavor. The noodles are typically served cold with a dipping sauce called tsuyu, along with various toppings like green onions, tempura, and grated daikon radish.
Hoba Miso: Hoba Miso is a traditional dish from the Hida region, including Takayama. It consists of a mixture of miso paste, tofu, green onions, mushrooms, and sometimes, Hida Beef. This flavorful mixture is spread on a large magnolia leaf (hoba) and grilled over an open flame, imparting a unique aroma to the dish.
Mitarashi Dango: Mitarashi Dango is a popular sweet treat in Takayama. It is a skewer of grilled rice dumplings brushed with a sweet soy glaze. The dumplings have a chewy texture and are often enjoyed as a snack or dessert.
Takayama Green Tea: Takayama is known for its locally grown green tea, which has a distinctive flavor and aroma. You can enjoy a cup of Takayama Green Tea at tea houses or purchase tea leaves as souvenirs to take back home.
Hida-gyu Manju: Hida-gyu Manju is a specialty dessert in Takayama. It is a steamed bun filled with sweet bean paste and sometimes incorporates Hida Beef as an ingredient, offering a delightful blend of flavors.
These are just a few examples of the mouthwatering specialties and foods you can try in Takayama. Exploring the local cuisine is an essential part of experiencing the city's culture and flavors during your visit.
Walking promenades at Takayama, Japan
Its pleasant walking or taking a rickshaw ride through some of the older in the historic district, this particular street has many sake breweries that you can sample all their offerings.  Many artisans of wood working, ceramics, jewelry and other crafts have small galleries which are fun to explore and view their work in progress.
The tofu maker is enthusiastic about sharing his specially made tofu products and you can try all of his favorites!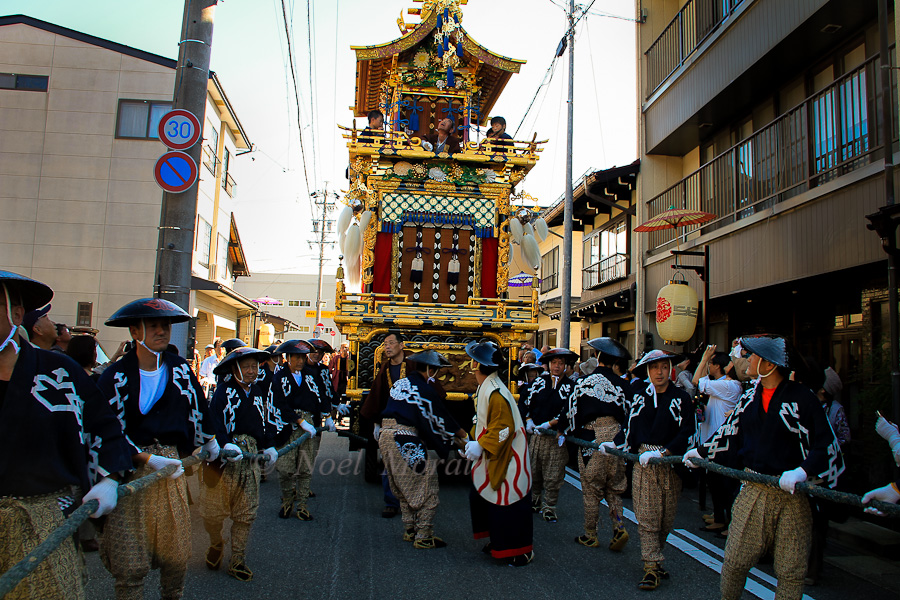 Takeyama festival seasons
Takayama has a spring and autumn festival that is one of the most popular and gorgeous Japanese festivals to attend.  Many parades occur with specially made floats crafted from the various artisans of community and there are many ceremonies and events that happen during this timeframe along with the very popular "Yatai" or street vendors that line the entire length of the riverside of the old town.
Check out my post featuring the Takayama fall harvest festival here and the wonderful types of street food to try at this event.
Inside tips to visiting Takayama, Japan
If you are planning on visiting Takayama, here are some fantastic tips and suggestions for visiting the city.
Plan your visit during weekdays: Takayama can get crowded, especially during weekends and holidays. To avoid large crowds and have a more enjoyable experience, consider visiting on weekdays when the attractions and streets are relatively quieter.
Explore the morning markets: Takayama is famous for its morning markets, where you can find a wide array of local produce, crafts, and snacks. These markets, such as Miyagawa Market and Jinya-mae Market, are vibrant and offer a great opportunity to sample local delicacies and purchase unique souvenirs.
Take a stroll through the old town (Sanmachi Suji): The historic district of Sanmachi Suji is a must-visit in Takayama. The narrow streets lined with well-preserved traditional wooden houses and shops provide a glimpse into the city's rich history and charm. Exploring the old town on foot allows you to discover hidden gems and experience the local atmosphere.
Visit the Takayama Festival Floats Exhibition Hall: If you can't visit during the Takayama Festivals, don't miss the opportunity to see the elaborate festival floats at the Takayama Festival Floats Exhibition Hall. Here, you can admire the intricate craftsmanship and learn about the history and significance of these floats.
Try local specialties: Takayama is known for its delicious food, so be sure to try some local specialties. Indulge in Hida beef, a high-quality and flavorful type of Japanese wagyu beef, or sample traditional Hida-Takayama ramen, which has its own unique style and flavor. Also, don't miss the opportunity to try the local sake and craft beer.
Explore the nearby countryside: While Takayama itself has much to offer, consider venturing into the surrounding countryside. Take a trip to the nearby UNESCO World Heritage Site, Shirakawa-go, known for its traditional thatched-roof houses. You can also visit the tranquil village of Hida Furukawa or enjoy outdoor activities like hiking and cycling in the beautiful natural landscapes.
Respect local customs and etiquette: Like any other place in Japan, it's important to respect local customs and etiquette. Remember to remove your shoes when entering traditional establishments, be mindful of noise levels in residential areas, and follow proper etiquette when visiting shrines and temples.
Engage with the locals: Takayama is known for its warm and welcoming locals. Engage in conversations, seek recommendations, and learn more about the local culture and traditions. The residents are often eager to share their knowledge and make your visit more memorable.
By keeping these inside tips in mind, you'll be able to make the most of your visit to Takayama, immersing yourself in the local culture and creating unforgettable experiences.
Where to stay in Takayama
There are plenty of hotels, small inns and BnBs around the historic district and greater Takayama to visit and stay as a base for the area. You can check out these various hotels and reviews of places below for more information on staying in the area.
Wat Hotel and Spa – A quiet area and close to train station with access to shops and dining, top floor onsen, small but comfortable rooms and affordable rates
Oyado Koto no Yume – A traditional ryokan in with authentic touches including great breakfast and fantastic location.
Hidatei Hanaougi – A beautiful small inn or ryokan in this traditional stay with onsen style spa, traditional foods and Japanese type of sleeping style.
Check these best rated Trip Advisor hotels here for reviews and hotel images.
Check out these other posts on visiting the region
Fall harvest festival at Takayama
A weekend in the Japanese Alps
A visit to Shirikawago in the Japanese Alps
Conclusion to Visiting Takayama, Japan
If you're looking for a travel destination that's brimming with charm, culture, and adventure, then Takayama is the perfect place for you. This beautiful Japanese city is a treasure trove of history, food, and local crafts that are sure to captivate your senses and leave you wanting more. Whether you're wandering through the picturesque streets lined with quaint wooden houses, immersing yourself in the vibrant morning markets, or indulging in the delicious local cuisine, you'll find that Takayama is a destination that appeals to all the senses. And with its welcoming locals and breathtaking scenery, you'll feel like you've discovered a hidden gem in the heart of Japan. So what are you waiting for? Come and experience the magic of Takayama for yourself, and discover why this city is truly one of Japan's best-kept secrets.
Thanks for visiting today and checking out this post on Takayama, Japan, Travel Photo Mondays . I hope you are inspired to plan a visit and enjoy these wonderful attractions. If you enjoyed the images and post, could you please share it with any of the social media buttons located around the post.
If you like what you see, come and check out my other social media channels for more updates, including Instagram, Pinterest and Twitter
Some links in this article on Takayama, Japan, Travel Photo Mondays are affiliates which provide a small commission to support this site at no extra cost to you. Thank you for reading, and happy travels