Shirikawago: Visiting the Japanese Alps and this traditional village experience (updated 2023)
Thanks for joining us today, I'm taking you up into the Japanese alpine country to this unique Unesco World Heritage site called Shirikawago and adjoining Gokoyama. These small villages up in the mountain areas of the Gifu and Toyama prefectures contain the historic architectural style of grass homes called  Gasshō-zukuri or " Prayer hands" which resemble two hands raised up to the heavens in prayer.  The homes are uniquely identified with their thick straw-thatched roofs and are solidly built to withstand the alpine and cold winter conditions in the area. The steep slope and pitch of the roof lines are created to withstand the harsh winters and deep snows that linger in the region for long periods.  The many leveled homes are built for storage, housing and creating small industries like silk production up in their attics. The beautiful wood craftsmanship and details of the interiors of these homes are very unique to the region and mark an almost forgotten traditional lifestyle and way of living in this area of Japan.
Where is Shirikawago located in Japan?
Shirakawa-go is located in the Gifu Prefecture of Japan, nestled in the heart of the Japanese Alps.
Shirakawa-go is approximately 125 kilometers (about 78 miles) away from Kyoto, Japan.
How to get to Shirikawago in the Japanese Alps
To get to Shirakawa-go in the Japanese Alps, you can take a bus from major cities like Kanazawa, Takayama, or Nagoya. Here's a general guideline from some of these cities:
From Kanazawa:
– Take a bus from Kanazawa Station or East Exit Terminal to Shirakawa-go. The journey takes around 1.5 to 2 hours.
From Takayama:
– Buses run from Takayama Nohi Bus Center to Shirakawa-go. The ride takes approximately 1 to 1.5 hours.
From Nagoya:
– If coming from Nagoya, you can take a bus from Nagoya Station to Shirakawa-go, which takes about 3.5 to 4 hours.
Remember to check the bus schedules and availability, especially during peak tourist seasons, as they can vary. It's advisable to book your tickets in advance, and you can often do this at the respective bus terminals or online through official websites. Enjoy your visit to Shirakawa-go!
A brief history of Shirikawago in the Japanese Alps
Shirakawa-go, located in the Japanese Alps, is a historic village renowned for its unique thatched-roof farmhouses, known as "gassho-zukuri." These traditional houses are characterized by their steep, triangular roofs, resembling hands folded in prayer (hence the name "gassho-zukuri," which means "praying hands" in Japanese).
The village's history dates back over 250 years, with these distinctive farmhouses being constructed to withstand the region's heavy snowfall during the harsh winter months. Shirakawa-go's isolation in the mountains allowed it to preserve its traditional way of life and architecture.
In recognition of its cultural significance, Shirakawa-go, along with nearby Gokayama, was designated as a UNESCO World Heritage Site in 1995. Today, it remains a popular destination for tourists seeking to experience the rich history and picturesque landscapes of rural Japan. Visitors can explore the well-preserved houses, learn about the village's cultural heritage, and witness the timeless beauty of this unique mountain community.

Taking care of the flower beds
Fruit season at Shirikawago
During the timeframe that I was visiting, fall was quickly approaching and fall bearing crops like apples and persimmons where bursting with fruit, it is a beautiful and quiet time to really enjoy the area and take a lot of walks through the countryside and into the hills around Shirikawa. Taking nice long walks around the villages and up into the hills is one of the best ways to enjoy visiting the area and seeing the countryside from different vista points.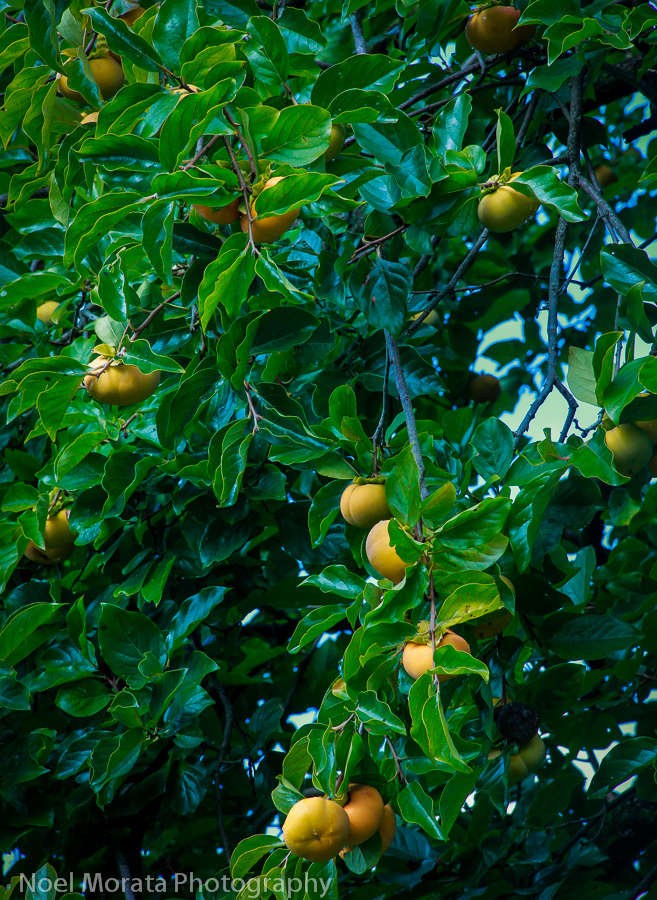 Persimmons ready for the taking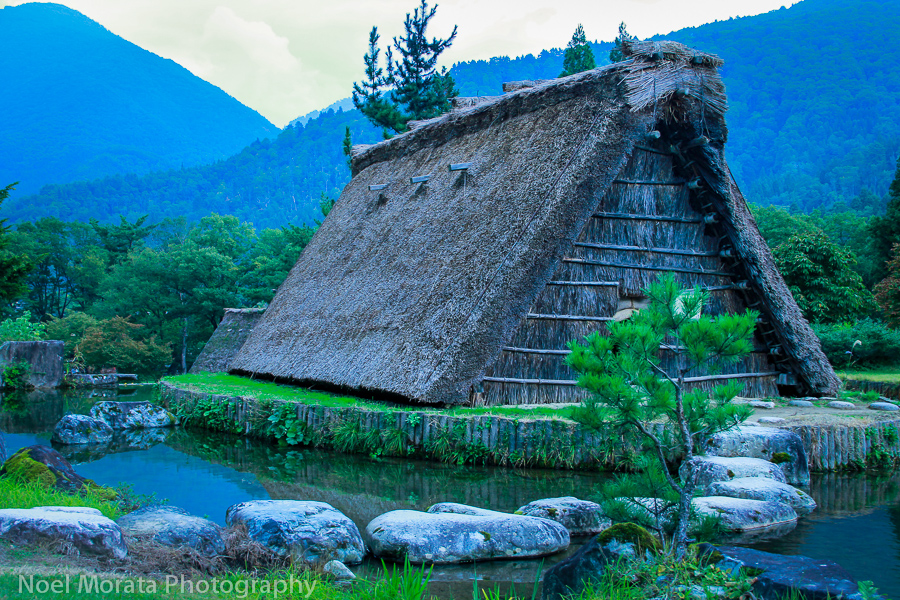 A storage structure
The traditional Gassho Zuhuri style home
There are a few gassho zukuri in the village that have also been converted into inns for guests to stay and experience living and eating traditional foods in these beautiful homes. It's a great experience to stay in the area overnight when all the tours have left and you can enjoy the quiet and solitude to yourself along with the rest of the villagers.  If you do get to visit the area, make sure that you book an overnight stay with board, it will be a wonderful experience to appreciate the craftsmanship, warmth and lifestyle of these types of accommodations and the food that is typically prepared in the area.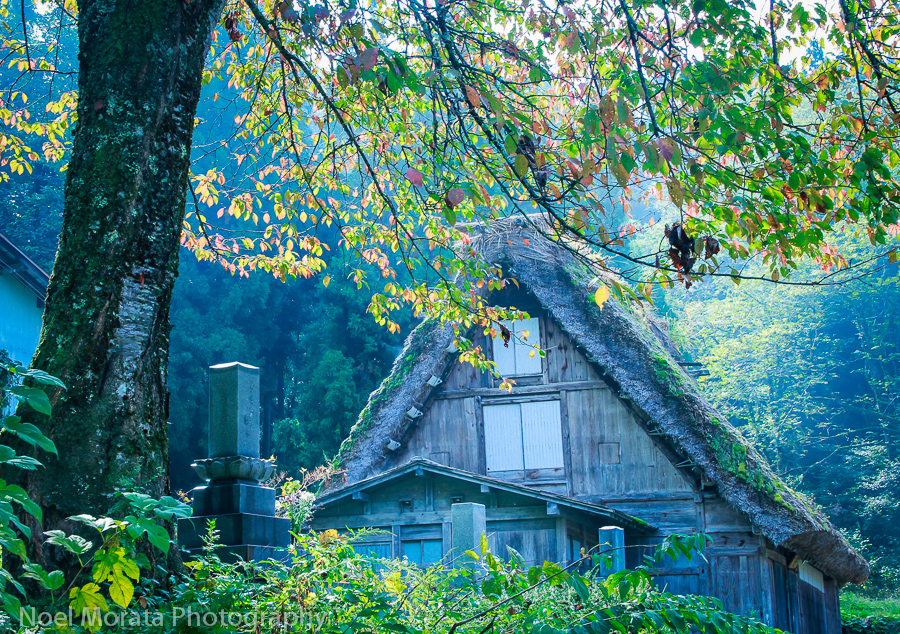 Fall time at Shirikawago
Specialty foods and local dishes to try here in Shirikawago
When visiting Shirakawa-go in the Japanese Alps, you'll have the opportunity to savor some delightful local dishes and specialties. Here are a few culinary experiences to try:
1. **Hoba Miso**: This is a regional specialty of Shirakawa-go. It's a type of miso (fermented soybean paste) grilled on a magnolia leaf (hoba). It's often served with vegetables and can be found in local restaurants.
2. **Soba Noodles**: Enjoy a warm bowl of soba noodles, made from buckwheat flour, in one of the village's cozy eateries. It's a comforting and delicious choice, especially during colder months.
3. **River Fish**: Due to the region's proximity to pristine rivers and streams, you'll find various river fish dishes. Trout is a popular choice, and it's often grilled or served in a miso-based soup.
4. **Local Sake**: Shirakawa-go is also known for its sake production. Don't miss the chance to try some local sake, which pairs wonderfully with the regional cuisine.
5. **Gohei Mochi**: These are skewered rice cakes coated with a sweet and savory sauce made from miso, soy sauce, and other ingredients. They make for a delightful snack while exploring the village.
6. **Pickled Vegetables**: You'll find a variety of pickled vegetables served as side dishes. These add a tangy and refreshing element to your meal.
7. **Chestnut Dishes**: Chestnuts are abundant in the region, and you can try dishes like chestnut rice or chestnut sweets in local shops.
Exploring the local cuisine in Shirakawa-go is an integral part of experiencing its rich cultural heritage. Be sure to sample these dishes to get a taste of the region's culinary traditions.
Check out these other posts of places to explore in the region
A weekend in the Japanese Alps
Fall harvest festival at Takayama
Conclusion to visiting Shirikawago in the Japanese Alps
Visiting Shirakawa-go in the Japanese Alps is like stepping into a timeless world of charm and tradition. Nestled amidst the stunning natural beauty of the region, this UNESCO World Heritage site offers a glimpse into Japan's rural heritage.
As you wander through the idyllic village, with its iconic thatched-roof houses, you'll be transported to a bygone era. The serenity and simplicity of life here are a refreshing contrast to the bustling cities of Japan.
Exploring Shirakawa-go in different seasons unveils its unique beauty, from the pristine winter landscapes to the lush greenery of summer. Each visit promises a new perspective on this picturesque destination.
In conclusion, Shirakawa-go is a place where time seems to stand still, and nature and culture harmoniously coexist. It's a must-visit destination for those seeking a taste of Japan's rural heritage and a serene escape from the modern world.
I hope that you enjoyed visiting this beautiful and quiet side of the Japanese alpine country, I'll be taking you on a hike on my next post and we will also visit the inside of the the larger Gassho zukuri homes, so stay tuned for this. Meanwhile, please do visit some of these other bloggers posting about places around the world today for Travel Photo Mondays, click on any of the links below to visit their websites.
 If you like this post on Shirikawago – Japanese Alps,Travel Photo Mondays, please consider subscribing to the blog by email  below – also I appreciate it if you could share this post with any of the social media buttons located below and around the post, thank you!