Must-Do Experiences in Albufeira: Discover the Highlights of this Vibrant Destination (updated 2023)
Albufeira is a former small fishing village that has become one of the best holiday destinations in the southern Algarve region of Portugal. It has everything that a resort-town can offer – beautiful sandy beaches, a lively old town with cozy restaurants and pubs and developed infrastructure with a wide variety of hotels for different tastes and budgets. There are so many cool Things to Do in Albufeira and we are just sharing nine of our favorite things to do in the area.
Although Albufeira is a pretty small town, there are enough attractions to keep you and your family entertained for a week or two. Read below to find out which are the best things to do in Albufeira and Algarve. While you are exploring Albufeira, there are also so many gorgeous coastal towns, beaches and stunning landscape to explore in the Algarve area.
You can easily explore other local towns, beaches or go for a fun road trip around the Algarve area while using Albufeira as your base to stay.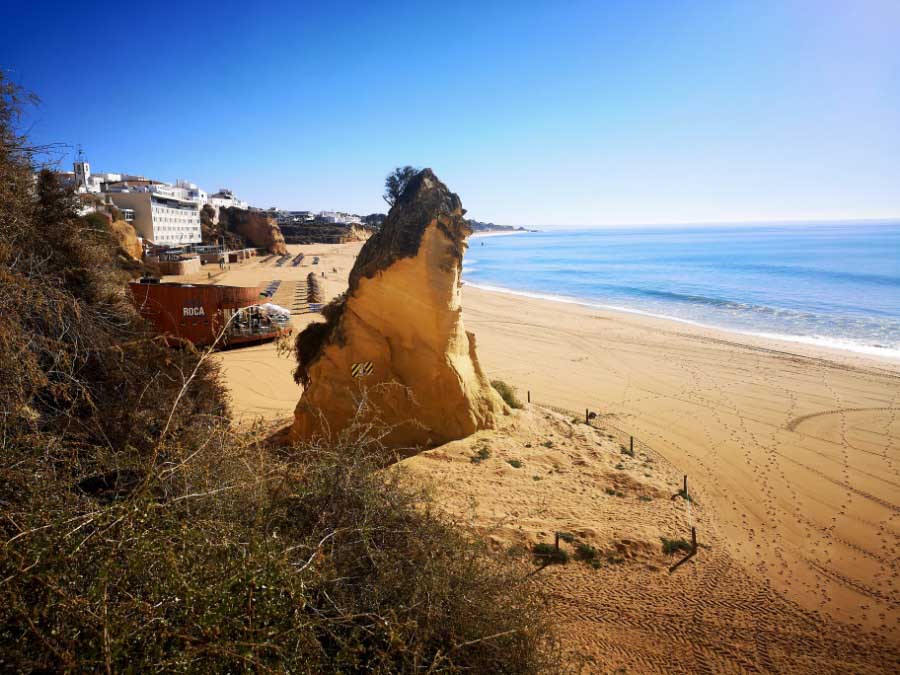 Best things to Do in Albufeira, Portugal 
 Check out all the details to visiting this gorgeous coastal area in the Algarve, how to get there and some of the top activities and attractions to see and do in the region.
How to get to Albufeira
Albufeira is located about 40 kilometers away from Faro International Airport, the main airport in Algarve. From Faro airport you can reach Albufeira by bus, train or a taxi. If you are travelling to Albufeira from Lisbon, it will take you about 3 hours to get there by bus or by train. The distance from Lisbon to Albufeira is about 256 kilometers.
You can also choose to rent a car from Lisbon and easily travel down directly to the Algarve area. While having a rental car, you will have easy access to the many towns, beaches and coastline areas of the Algarve to explore.
If you are exploring Faro and the Algarve having renting a car is the best option and flexibility of choosing where you want to go and how long you want to stay at each spot. Traveling around the toll roads and surface roads in the Algarve is easy and straightforward for you to explore with a rental car in the region.
Take a bus from Lisbon central
To get to Albufeira by bus from Lisbon, you can take a bus from the Rede Expressos bus station in Lisbon. The journey takes approximately 3 hours and there are several departures throughout the day.
Here are the steps to take:
Go to the Rede Expressos bus station in Lisbon, which is located near Sete Rios train station.
Look for the ticket counter and purchase a ticket to Albufeira.
Wait for the departure time of your bus at the designated platform.
Board the bus and find your seat.
Sit back and enjoy the ride to Albufeira.
When you arrive in Albufeira, you can either take a taxi or walk to your final destination.
Car rental for Algarve region
There are many car rental agencies you can choose from around the Algarve region. Our favorite is with Auto Europe.
Check the best car rental rates here with Auto Europe
If you are flying into Faro Airport
The closest airport is Faro Airport which is about 30 Kilometers away from Albufeira. The flight from Lisbon to Faro takes about one hour not includng check in time and boarding.
Arrange your Faro Airport private transfers here
Best Time to Visit Albufeira
Albufeira is a great holiday destination all-year-round. During summer months it tends to have more visitors like any other beach town in the Algarve. High season here is considered the period between June and September. On the other hand, if you go to Albufeira in October or November, you will still have warm sunny weather but much fewer tourists and lower hotel prices. Booking sites to hotels, condos and Air Bnbs are busy and book months in advanced, so always book your stay well in advanced if you plan on visiting Albufeira and the Algarve region.
10 Main Things to do in Albufeira
1.Chill on the

Albufeira Beach
Praia dos Pescadores or the Fisherman's Beach near the old town of Albufeira is one of the most popular beaches in the Algarve. It is a long sandy beach bordered by continuous yellow limestone cliffs. The ocean in this area is very calm and all the necessary facilities are provided such as umbrellas, sunbeds and a number of beach-front restaurants. The beach can be accessed via stairs or an escalator. Some of the highlights of the beach are sand sculptures and a viewpoint with an elevator. In the morning you can also go jogging along the beach.
Check out the main scenes of visiting the main beach area below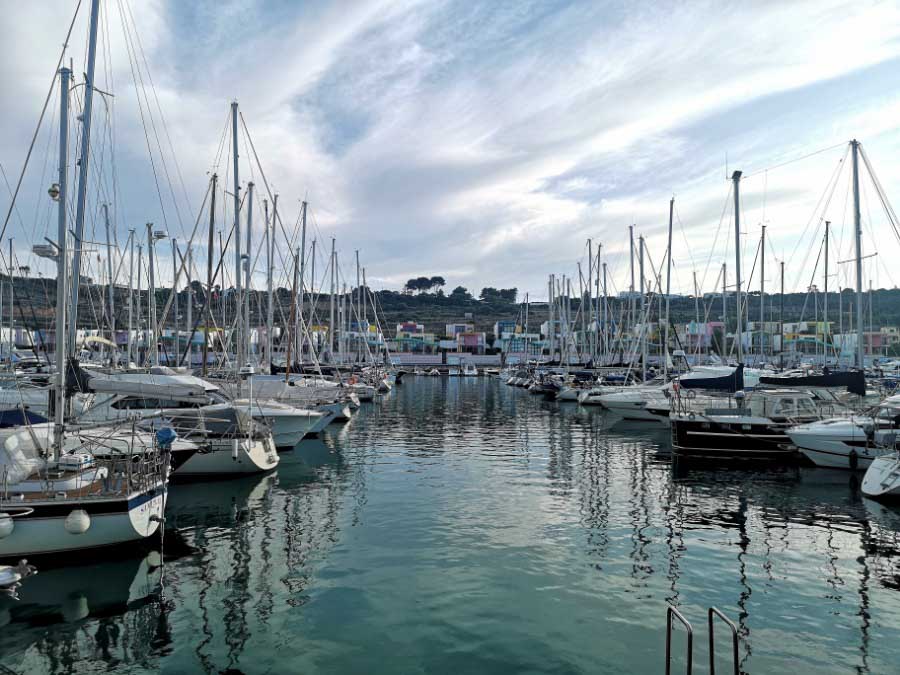 2.Take a Boat Trip from Marina de Albufeira
Albufeira's Marina is located about 4 kilometers west from the old town. This is the departure point for numerous sightseeing cruises and diving and dolphin-watching boat trips. Aside from that, Albufeira's Marina is also an attraction on its own. Surrounded by colorful futuristic apartment blocks, it has a nice waterfront promenade lined with numerous cafés and restaurants, and a number of retail outlets.
**Check out this fun barbeque cruise along the coastline line here of Albuferia and the gorgeous Algarve cliffs and caves.
Here's a fun harbor experience to one of the most popular coastlines and caves in the area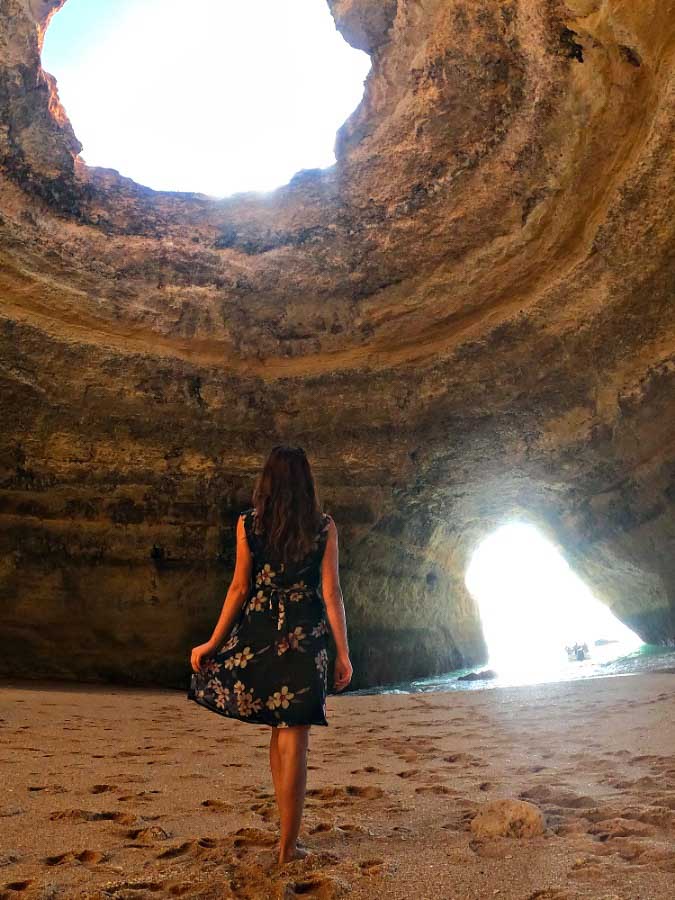 3. Visit Benagil Cave – the most iconic cave in Algarve
From Albufeira's Marina you can take a boat trip to the iconic Benagil cave. It is a famous cave in Algarve hidden in the ocean. Benagil cave is best known for several holes in its roof and a mini golden sandy beach inside.  There are several ways to get inside the cave. For example, by a motor-boat or a kayak, by SUP or by swimming. Most tourists take a guided tour with a motor-boat. If you are more adventurous and would like to spend more time inside the cave you can opt for the other options. Please be aware that swimming in the cave is highly dangerous and not recommended.
** Check out this boat tour experience here in visiting Benagli Cave and the gorgeous Algarve coastline
Here's an amazing video to visiting the Bengali Cave.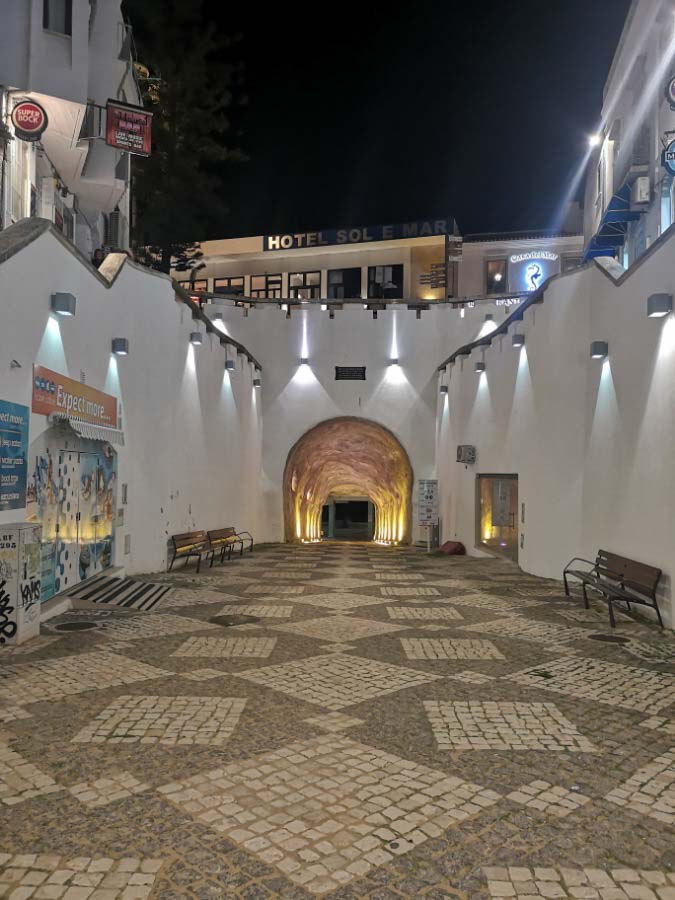 4. Walk around old Albufeira
Old Albufeira is the historic centre of the town situated on the hills with great views over the ocean. It's lively square is packed with restaurants, cafés, and snack bars with live music.
If you like shopping, you'll spend a couple of hours exploring small shops with locally made souvenirs or fashion boutiques
Here's a snapshot visiting the Old Town section of Albufeira below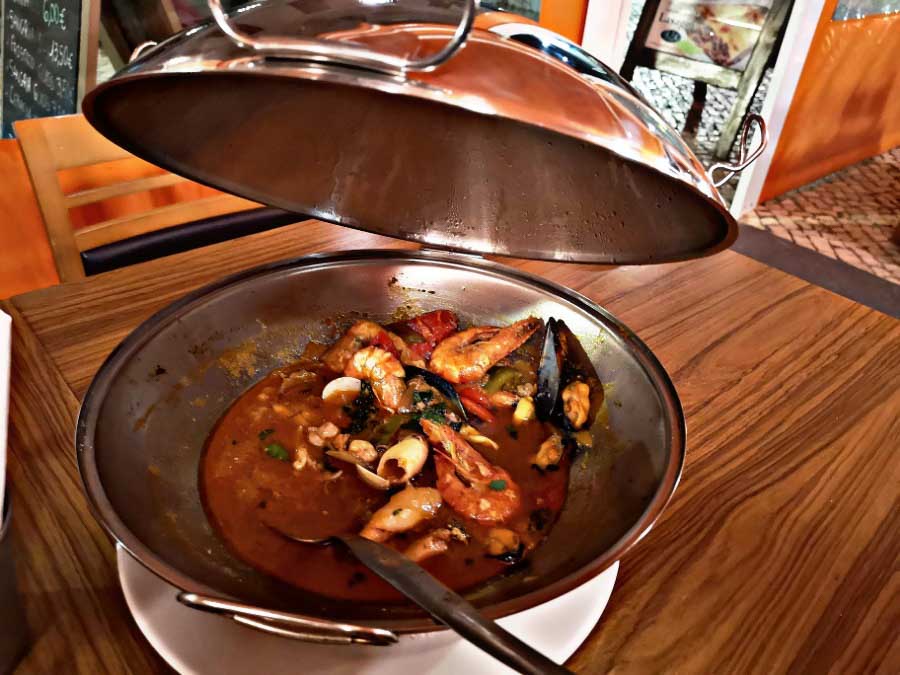 5. Try Typical Portuguese Seafood Cataplana
You can't stay in the Algarve and not try the most famous and traditional local dish -Cataplana. It is a traditional Portuguese stew cooked in a traditional cataplana pot. Cataplana is both the name of the dish and the pot that it is cooked in.There are two types of cataplana: seafood version and meat version. The seafood version is cooked in a tomato sauce with onions and peppers.
Enjoying some deicious Seafood Cataplana in the Algarve
6. Take pictures from panoramic Pau da Bandeira Viewpoint
If you are staying in Albufeira for a couple of days, you probably won't be able to miss the main local observation point – Pau da Bandeira. It's a perfect spot to enjoy the views over
the old town of Albufeira and beaches Praia dos Pescadores and Praia do Inatel. There are escalators going down to the old town, so that you don't have to get tired climbing stairs.
Here's a drone video view of Praia do Inatel below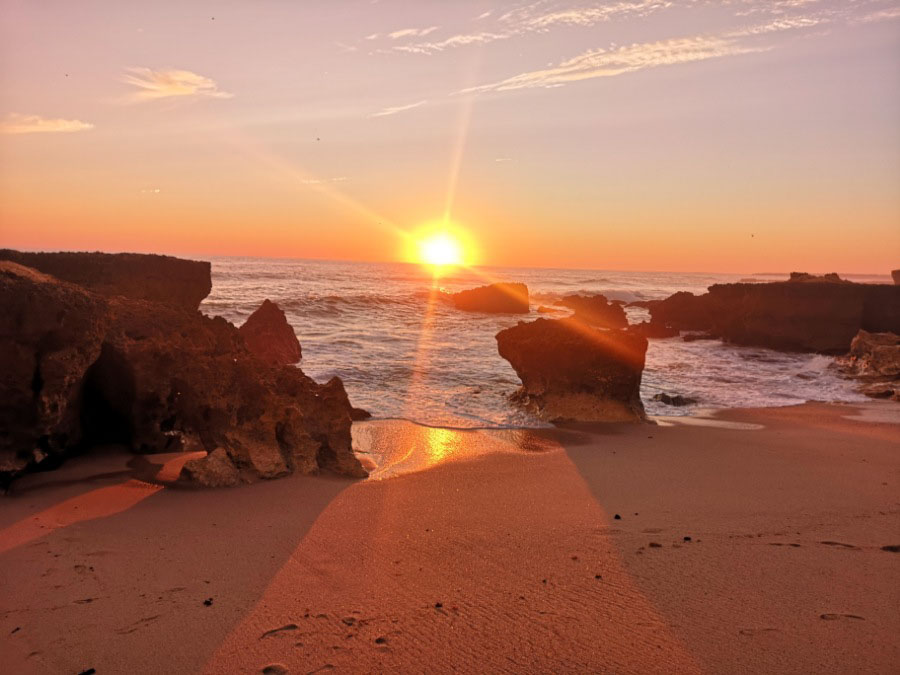 7. Watch Stunning Sunsets from Evaristo Beach
Evaristo beach is a beautiful rocky beach located on the outskirts of Albufeira away from the main crowd. This beach is an amazing place to watch beautiful sunsets and relax. There is a lot of marine life surrounding these rocks underwater, which makes this a great beach for snorkeling. Interesting thing about Evaristo beach is that there are no buildings around it except the highly rated Evaristo restaurant after which the beach is named. Opened in 1968 the restaurant serves high quality fresh fish and seafood.
Check out this visit to Evaristo Beach below
8. Enjoy some family time in Zoomarine
If you are visiting Albufeira with your family, you should visit Zoomarine. With its amusing dolphin shows and sea lion performances it is one the of the Algarve's great family entertainment options. The day ticket allows you entry also to a fascinating aquarium-museum and tropical birds area.
Another highlight is the digitally animated film screened in the 4D cinema, which portrays a sea turtle's oceangoing journey. There is even a summer camp for kids in the age of 6 to 13.
**Get your advanced tickets to visiting the Zoomarine here for more information and booking a visit.
Here's what it is like visiting this fun adventure park
9. Visit the church of St. Sebastian (Igreja de São Sebastião)
The white-colored Church of St. Sebastian, located in old Albufeira, dates back to the early 18th century. This cultural monument is undeniably an important part of the historical and cultural heritage of the Algarve. The church features a mix of architectural styles and inside of the church there is variety of interesting statues.
10. Enjoy Aquashow Park
When the weather heats up in the Algarve then visiting the Aquashow water park and all its attractions and shows is perfect for children and families alike. With over 22 outdoor attractions in the park with slides and water rollercoasters, you'll enjoy both outdoor and indoor activities around the park grounds. There's fun shows, one of the adventure experiences like the pendulum ride and the Top Swing along with the largest rollercoasters in the world.
**Get your advanced tickets to visiting the Aquashow Park here for more information and booking a visit.
Where to stay in Albufeira
There are many local inns and hotels to stay around town and also in the Old town, along with Condos for rent and Air Bnb units to stay. Check out these top reviewed sites to stay in Albufeira here for availability and current prices.
Auramar Beach Resort – a gorgeous coastal property affordably priced with great amenities, pool and outdoor areas and comfortable rooms
Pine Cliffs Ocean Suites and Spa – a luxury property on the cliffs above Albufeira beach with complete kitchen, spa facilities and beautiful modern rooms.
Hotel Baia Grand – a gorgeous and classic property with large pool and gardens, comfortable rooms and affordably priced
What to eat in Albufeira
With such delicious seafood, regional cuisine and other tasty local food, you'll enjoy experiencing the amazing food to eat here. For inspiration, check out this  video of the top places and food to eat in Albufeira below.
Local Algarve foods to try here includes:
Grilled Sardines – a local favorite dish easily grilled and found in every restaurant in Faro
Bacalhau a Bras – Codfish with parsley, eggs and fried potatoes
Cataplana de Masicos – mixed local seafood in a stew of tomatoes, herbs and wine
Enchidos – smoke sausages with different ingredients for filling
Pasteis de Nata – a national pastry treat of Portugal
Conquilhas à Algarvia – a delicious clam stew dish of fried onions, Portuguese sausage and local clams with garlic and parsley
Algarve Shrimp – the shrimp in the Algarve are best eaten grilled and hot from the coals and served with garlic and piri piri hot sauce.
Javali or Wild Boar – a substantial meaty local boar stew with vegetables, garlic and spices
Where to find Cheap eats in Albufeira 
There are fantastic cheap places to enjoy around Albufeira, check out this video below for the best suggestions around town.
Must eat dishes to try in the Algarve
While you are visiting the Algarve region and exploring Albufeira, look out for these local Portuguese specialties that you will find on the menu and give them a shot.
Here's a few more regional foods to try out in the Algarve area below
Adventure and outdoor tour experiences around Albufeira
Being in the Algarve region is all about being outdoors and experiencing the best of the region. Check out these cool adventure experience you can do around Albufeira and the surrounding region to amp up your adventure fun in the area.
Dolphins and caves tour – Enjoy this fun cruise looking out for dolphins and other marine life and also do a cave tour experience long the Algarve Coastline.
Kayak experience to Bengali Cave – one of the most iconic caves in the Algarve that you can explore on kayak from Marinha beach to Bengali
Sunset Dinner catamaran cruise – Enjoy this 6 hour cruise across Armação de Pêra bay on an evening catamaran cruise with a BBQ dinner.
Small group wine tasting experience – Experience this fun wine tasting experience visiting the town of Silves and its Moorish castle and sampling some delicious regional wine, red and rose from the vineyards here.
There's even a fun Safari Jeep tour here you can experience here in the Algarve region.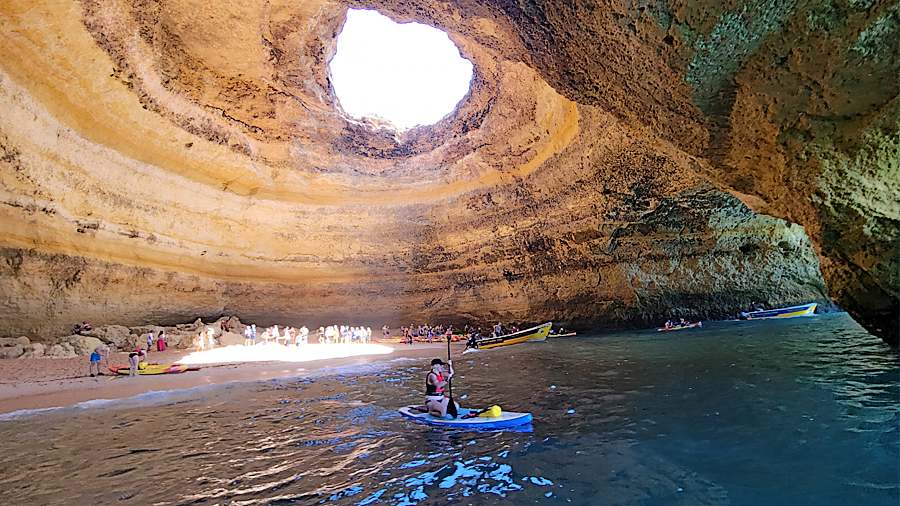 Additional tips for visiting Albufeira:
Best time to visit: Albufeira is a year-round destination, but the best time to visit is during the summer months (June to August) when the weather is warm and sunny. However, it can be crowded during this time, so if you prefer quieter surroundings, you may want to consider visiting during the shoulder seasons of spring (April to May) and fall (September to October).
Beaches: Albufeira is famous for its beautiful beaches. Some of the most popular ones include Praia da Oura, Praia dos Pescadores, and Praia de São Rafael. Make sure to bring sunscreen, a hat, and plenty of water if you plan to spend the day at the beach.
Nightlife: Albufeira has a vibrant nightlife scene with plenty of bars, clubs, and restaurants to choose from. The Strip, located in the Areias de São João neighborhood, is a popular spot for nightlife.
Old Town: Albufeira's Old Town is a charming area with narrow streets, white-washed buildings, and plenty of restaurants and cafes. Make sure to visit the Fisherman's Beach and the Church of São Sebastião.
Water sports: Albufeira offers plenty of water sports activities, such as parasailing, jet skiing, and stand-up paddleboarding. There are plenty of vendors along the beaches offering these activities, but make sure to only choose reputable ones.
Day trips: Albufeira is located in the Algarve region, which has plenty of other charming towns and villages to visit. Consider taking a day trip to Lagos, Portimão, or Silves to explore more of the region.
Easy day trips from Albufeira
The Algarve district is fantastic to explore with wonderful towns and villages to visit, gorgeous coastlines and beaches, historic sites and architecture and delicious cuisine. Here are some of our recent posts
Algarve, Portugal
This comprehensive guide covers all the main cities and towns along with wonderful attractions, coastline hikes and places to discover in the sunny southern region of Portugal
Check out our post on visiting the Algarve region here for more inspiration and details.
Lagos, Portugal
This historic city oozes with cobblestone streets, walking promenades through the old town, great shopping and dining venues along with fantastic attractions and coastline to visit in the areas.
Check out our post on visiting Lagos, Portugal here for more inspiration and details.
Exploring Faro, Portugal
Faro is the regional capital of the Algarve district and a perfect combination of old and new places to explore, hang out, shop or dine. There's a lot of gorgeous nature, hiking venues and beautiful beaches and coastline areas to explore around Faro.
Check out our post on exploring Faro, Portugal here for more inspiration and details.
Guest Bio
Anna is a software engineer whose biggest hobbies have always been travelling and photography. Recently she has started her travel blog where she documents her adventures around the world such as conquering the highest summits in the Alps or traveling solo in Central America
Anna with Big World Short Stories
Have you done any of these top things to Do in Albufeira?
Albufeira is a remarkable destination in Portugal that combines breathtaking beaches, lively nightlife, mouth-watering cuisine, and fascinating history. Whether you are looking for a peaceful beach vacation, thrilling water sports activities, or an exhilarating night out, Albufeira caters to all interests. So, don't wait any longer, plan your trip to Albufeira today and immerse yourself in all the remarkable experiences this destination has to offer!
Conclusion for visiting Albufeira in the Algarve
A visit to Albufeira promises an unforgettable experience filled with natural beauty, cultural charm, and exciting adventures. From the stunning beaches that stretch along the coastline to the historic Old Town with its narrow cobblestone streets, there is something for everyone to enjoy. Whether you're seeking relaxation on the golden sands, exploring hidden caves by boat, or indulging in delicious Portuguese cuisine, Albufeira offers a perfect blend of relaxation and excitement. With its warm climate, welcoming locals, and a plethora of activities, Albufeira is a destination that will leave you with cherished memories and a desire to return.
Thanks for visiting today and checking out this post on Things to Do in Albufeira. I hope you are inspired to plan a visit and enjoy these wonderful attractions and activities. If you enjoyed the images and post, could you please share it with any of the social media buttons located around the post.
Disclosure – some of the links above are to affiliate sites that are either reviews or recommendations if you book helps to keep our site running. We appreciate your supporting our website meanwhile