15 Fun Outdoor Activities and things to do in South Florida 
Searching for outdoor activities and things to do in South Florida?
You're in the right spot! As a former Florida resident, I know a thing or two about where to go or what to see while you're in the Sunshine State. And believe me, there's plenty to do outside while enjoying that sun!
South Florida is home to some of the best kinds of activities you can think of. From exploring the Everglades to kayaking along the coast, you'll have the top pick of activities to stay both active and entertained.
Follow along as I share 15 of the best outdoor activities in South Florida. Whether you're visiting or live here year-round, these are sure to bring some sunshine (and hopefully fun) into your life! Get ready to explore the tropical vibes of South Florida – you might even be surprised at all of the fun things there are to do here and even find some of the gems like the best springs of Florida to enjoy.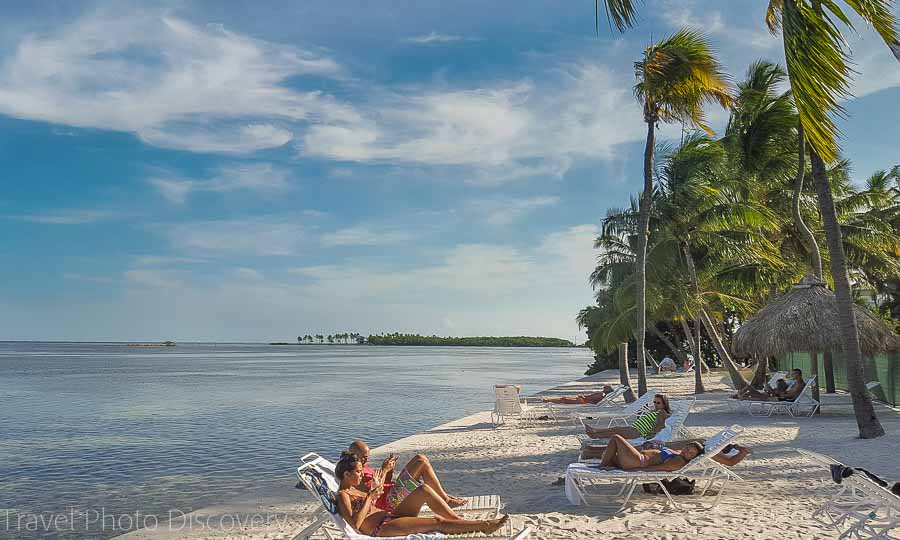 The Best 15 Outdoor Activities and things to do in South Florida
In no particular order, here are some of the best outdoor activities in South Florida that you should look into if you're in the area or vacationing nearby.
1. Visit Everglades National Park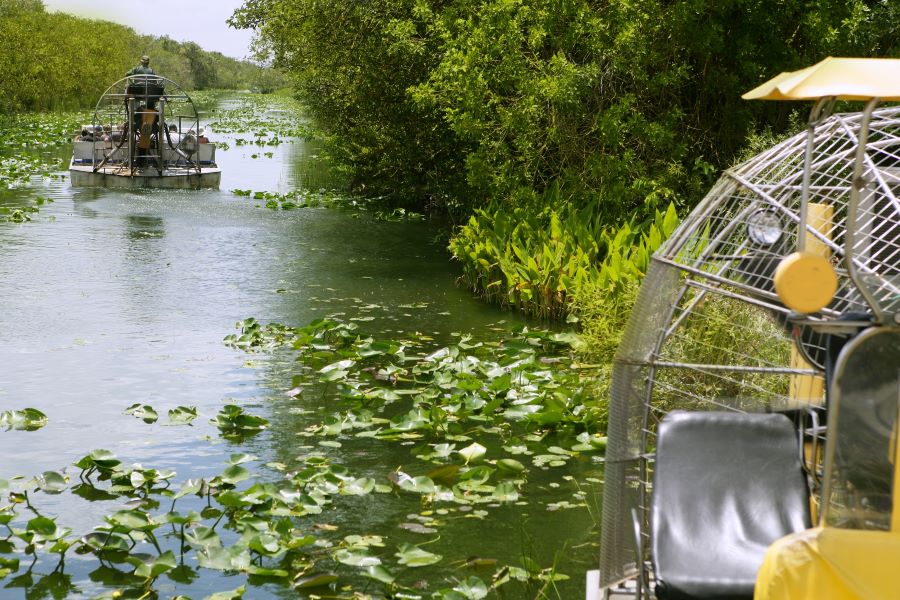 If you're looking for an outdoor adventure that's truly one-of-a-kind, a visit to the Everglades National Park is an absolute must. 
Home to an incredible array of flora and fauna, this unique wetlands ecosystem boasts some of the most diverse wildlife in the country. And yes, you'll definitely see alligators here – but keep your eyes peeled for American crocodiles, too! 
One of the best ways to explore the Everglades is by taking an airboat tour. Not only will you get an up-close look at the wildlife, but you'll also learn about the history and culture of the area from your knowledgeable guide. And for those who prefer to explore on foot, the park offers plenty of hiking trails, including the popular Shark Valley and Pine Island Trails.
2. Explore Rookery Bay National Estuarine Research Reserve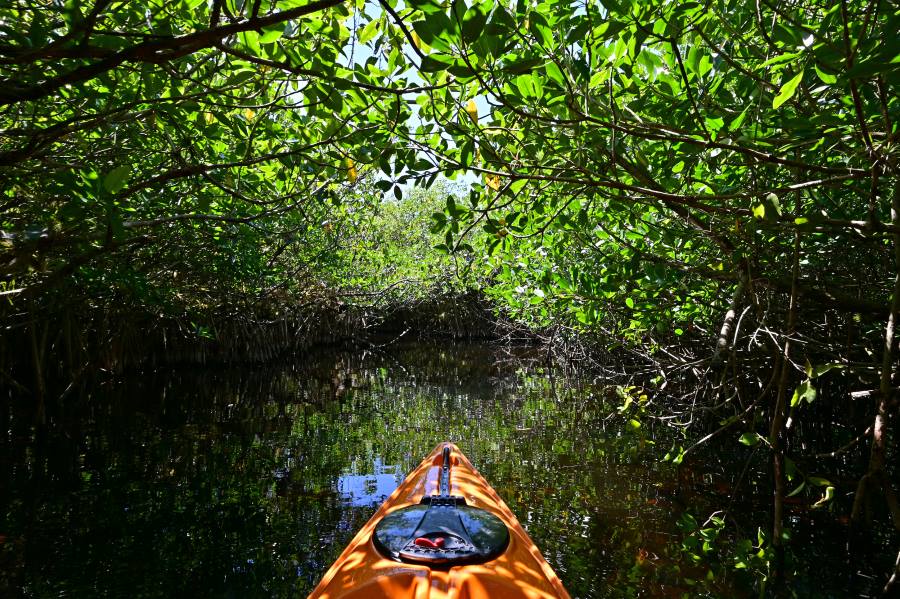 Located in Southwest Florida this Reserve is a great place to explore the natural beauty of South Florida. Rookery Bay Reserve is home to many rare and endangered species of plants and animals. Plus there are miles of mangrove tunnels and channels to explore.
And not only do you have the chance to explore this beautiful reserve but you can do it while being active outside. The best (and only) way to see the area is via the water. It's a popular place for kayaking, canoeing, paddleboarding, and so much more.
For a more informational experience, guided tours are available to provide even more insight into this unique ecosystem. Every guided tour I've been on has always been a top experience because I learn so much more than what I would have by myself (history, bird or plant names, etc.). 
3. Go Horseback Riding at Hutchinson Island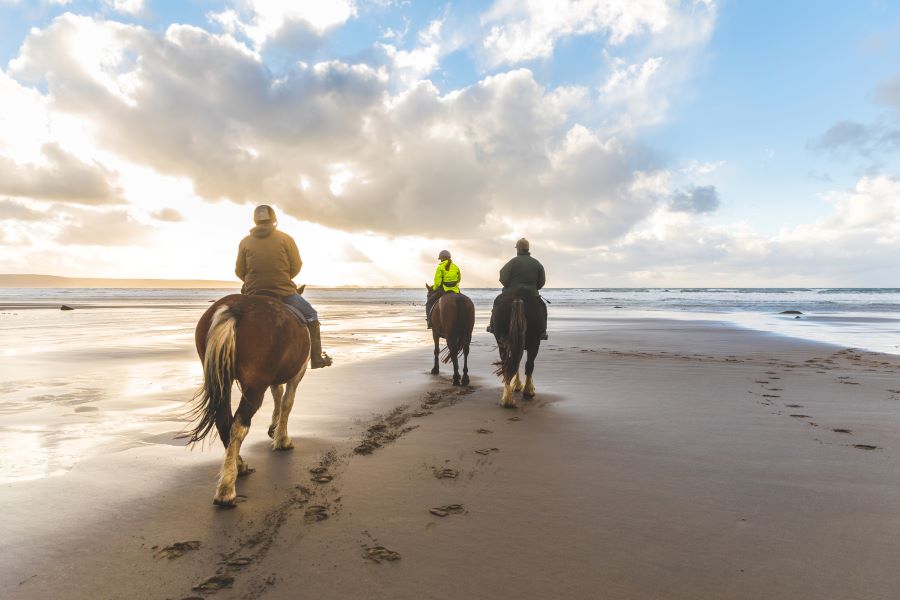 This barrier island on the east coast of Florida is located just north of West Palm Beach. It's a popular place for beach-goers searching for blue waters and is home to some of the most beautiful stretches of sand in the area.
Picture yourself atop a horse, the wind blowing through your hair, and the sun shining down on you as you explore the gorgeous beaches of Hutchinson Island in Florida. That's right! Horseback riding on this stunning island is an experience you won't soon forget.
This activity is perfect for beginners without any equestrian experience as well as those who have a little more experience. It's a unique but memorable way to see the beautiful stretch of beach, and you're able to take lots of pictures for memories while doing so. The guides are friendly and the horses are well trained and taken care of.
4. Visit Some of the Best Beaches in the Country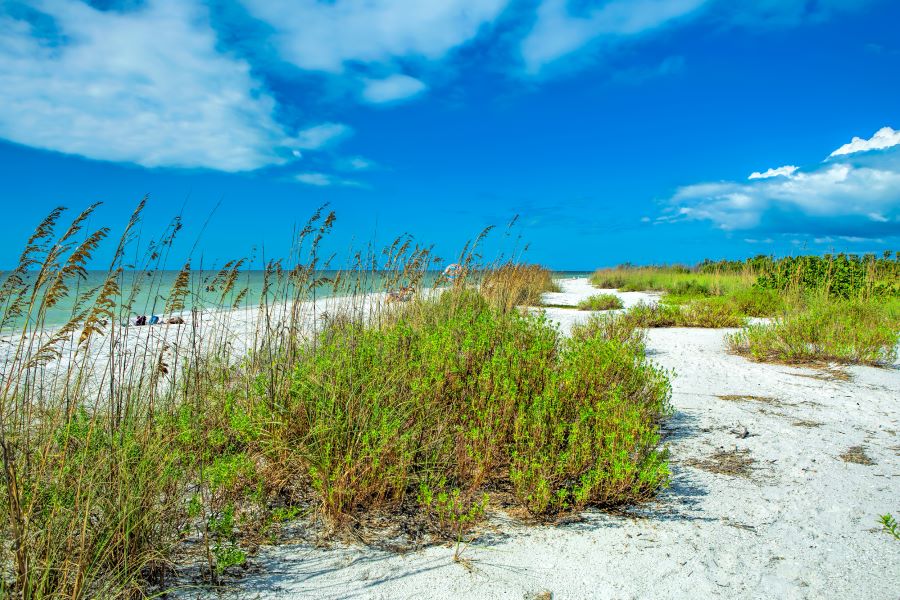 Tigertail Beach in Marco Island – one of the most beautiful beaches in South Florida
If you're looking to soak up some rays, South Florida is home to some of the best beaches in the country! From the world-famous South Beach to the hidden gem of Deerfield Beach, there's a beach for every type of traveler. I'm still amazed to this day at how beautiful the beaches are in Florida (although I'm a little partial to the Gulf Coast of the state).
South Beach, with its iconic Art Deco architecture and lively nightlife scene, is a must-visit destination for anyone looking to see and be seen. If you're looking for something a little more low-key, head to Deerfield Beach, where you can relax on the soft, white sand without all of the crowds.
And let's not forget about the beaches of Southwest Florida, which offer miles of beautiful shoreline and crystal clear waters perfect for swimming, sunbathing, and even water sports like paddleboarding or kayaking.
Whether you're a beach bum, a thrill-seeker, or just looking for a little rest and relaxation, South Florida's beaches are the perfect destination for some outdoor fun.
South Florida's coastline offers a plethora of stunning beaches that attract visitors from around the world. Here are some of the best beaches to explore in different counties around South Florida.
II. Miami-Dade County
Miami Beach: Known for its vibrant atmosphere, trendy hotels, and bustling Ocean Drive.
South Beach: A hotspot for sunbathing, people-watching, and iconic Art Deco architecture.
Key Biscayne: A serene island with pristine beaches, nature trails, and the picturesque Cape Florida Lighthouse.
III. Broward County
Fort Lauderdale Beach: A long stretch of sandy shoreline with a bustling promenade and water activities.
Hollywood Beach: Known for its lively boardwalk, family-friendly atmosphere, and beachfront dining options.
Deerfield Beach: A charming beach town with a fishing pier, watersports, and a vibrant dining scene.
IV. Palm Beach County
Palm Beach: An upscale destination featuring beautiful beaches, luxury resorts, and high-end shopping.
Delray Beach: A vibrant coastal town known for its lively downtown, art galleries, and beautiful beach.
Boca Raton Beach: Pristine beaches, waterfront parks, and a relaxed coastal ambiance.
5. Go Camping at Bahia Honda State Park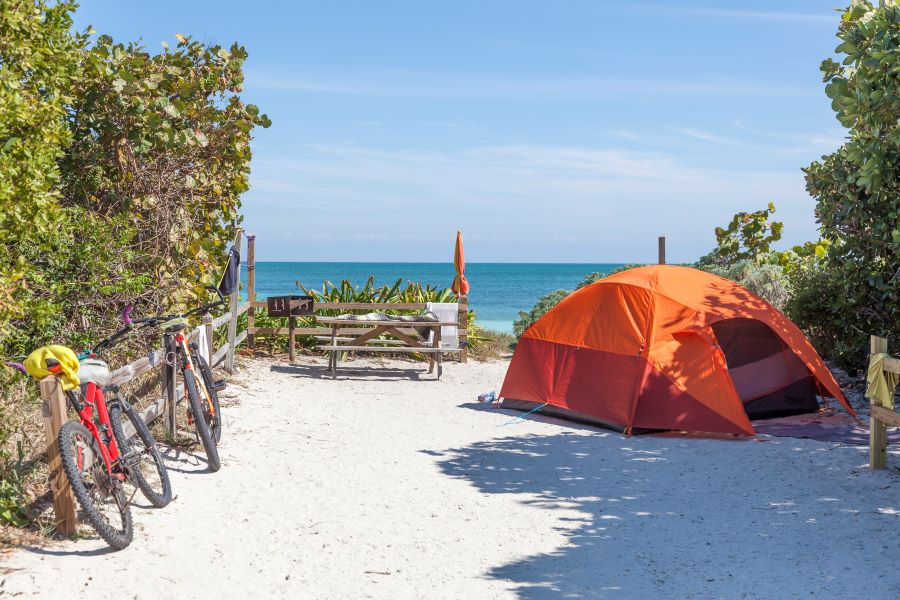 Bahia Honda State Park is located in the Florida Keys and is popular for its beautiful beaches, crystal-clear waters, and abundant marine life.
But, this destination also makes for a great place to camp because of its scenic campsites, diverse outdoor activities, and stunning natural surroundings.
Camping might not be the first thing you think of when you think of the Florida Keys, but it's the perfect kind of relaxing getaway that combines nature and paradise all in one. Plus, you can go snorkeling, kayaking, or fishing while you're there. So many opportunities for fun outdoor activities, everyone you're traveling with will be entertained!
6. Take a Shelling Tour for Incredible Shells!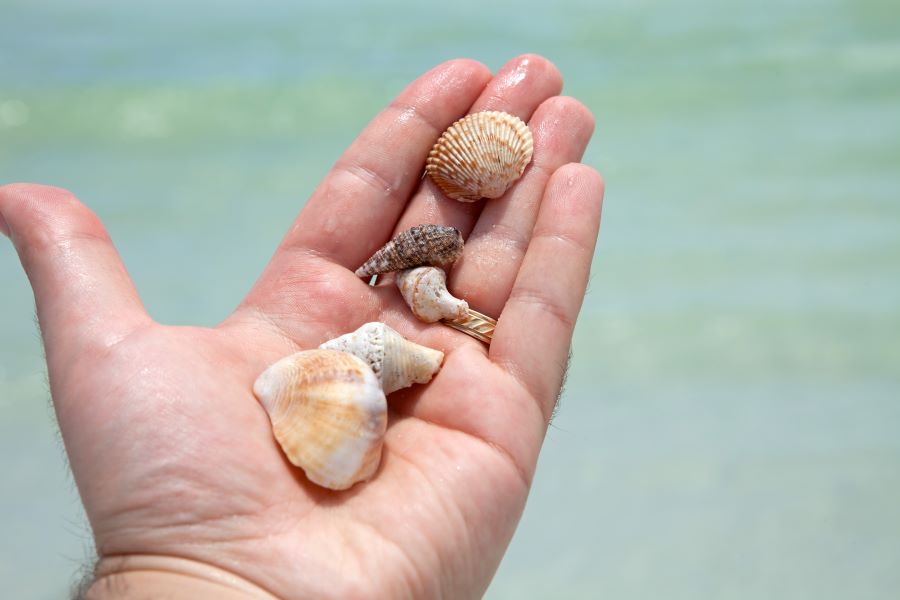 Looking for a unique and engaging outdoor activity to experience Southwest Florida? Then why not try a shelling tour!
While Sanibel Island is a well-known destination for shelling enthusiasts, shelling in Marco Island is quickly gaining popularity as well. Both locations offer miles of beaches and clear waters, providing the perfect backdrop for a day of beachcombing and exploring.
A shelling tour is a great way to learn about the different types of shells you'll find in the area as well as the marine life that calls the beaches here home. This coastal area is home to some incredibly rare shells. Discover anything from delicate sand dollars to intricate conch shells.
So, whether you're a seasoned shell collector or just looking for a fun day out in the sun, make sure to add a shelling tour to your list of must-do outdoor activities in South Florida!
7. Visit the Iconic John Pennekamp Coral Reef State Park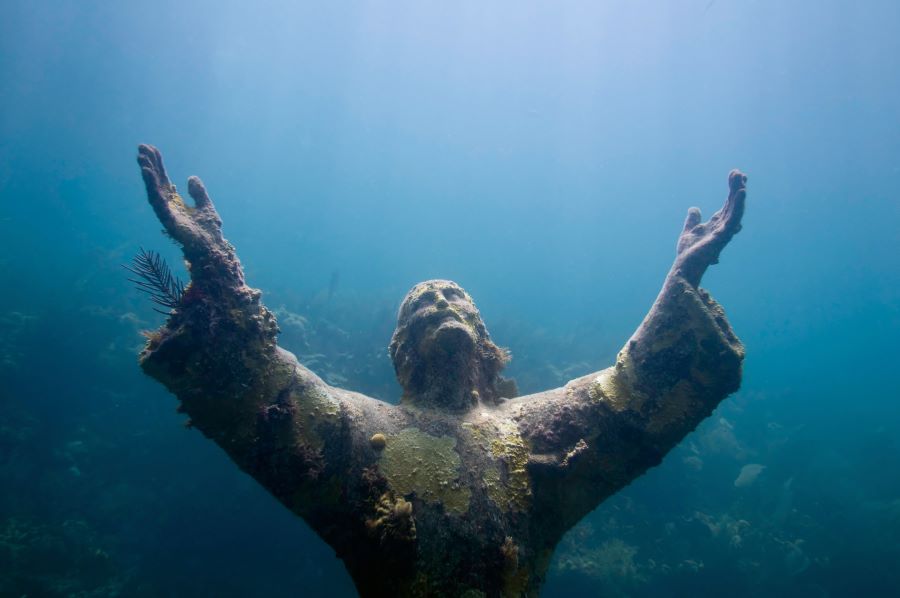 Christ of the Abyss statue in John Pennekamp Coral Reef State Park – popular for snorkeling
Looking for a sun-soaked adventure in the heart of the Florida Keys? Look no further than John Pennekamp Coral Reef State Park!
Nestled in the tropical paradise of Key Largo, this iconic park is a must-visit destination for anyone who loves exploring the great outdoors. The park is best known for its spectacular coral reefs, which teem with colorful fish, sea turtles, and other marine life.
Visitors can explore the reefs up close by snorkeling or diving, or take a glass-bottom boat tour for a unique view from above the water. But that's not all – John Pennekamp Coral Reef State Park also offers a variety of other outdoor activities, such as hiking, kayaking, and paddleboarding, as well as miles of pristine beaches to lounge on.
This place is the perfect destination for anyone who wants to stay active and be outside while exploring a hidden gem in Florida!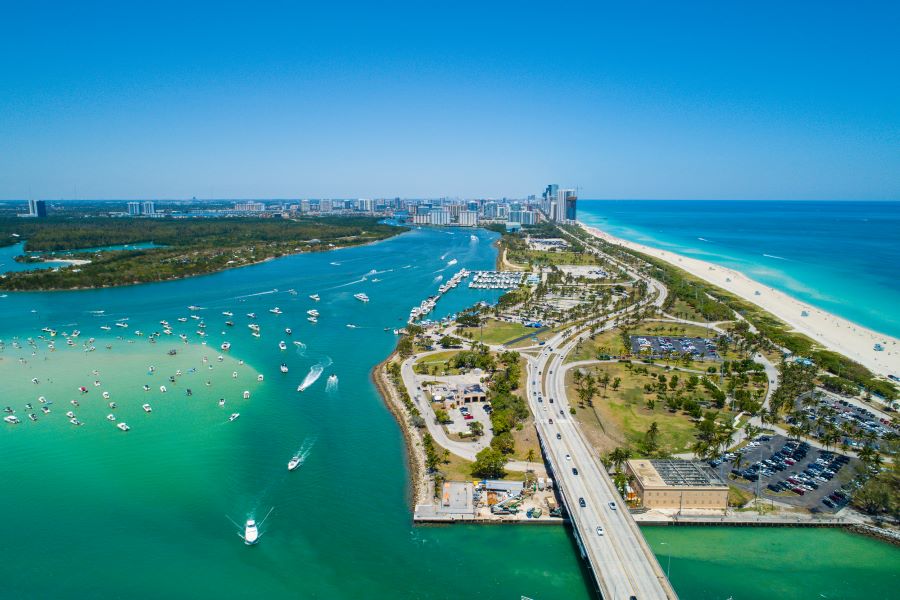 Haulover Sandbar in Miami – a popular place for boats to stop for the day
Looking for an exciting way to explore one of the most stunning coastlines of South Florida? Well how about doing a little sightseeing on a boat ride in Miami? With its warm climate, crystal-clear waters, and breathtaking scenery, Miami is the perfect destination for a day out on the water.
But what sets Miami apart from other coastal cities? For starters, Miami is known for its lively atmosphere, world-renowned beaches, and iconic landmarks, such as the Art Deco District and the Venetian Causeway.
But maybe what makes boating in Miami truly unique is the chance to witness the city from a completely different perspective – the water. From spotting marine life like dolphins and manatees to taking in the stunning city skyline or heading to Key Biscayne, a Miami boat tour is a must for anyone visiting South Florida.
9. Visit the Florida Keys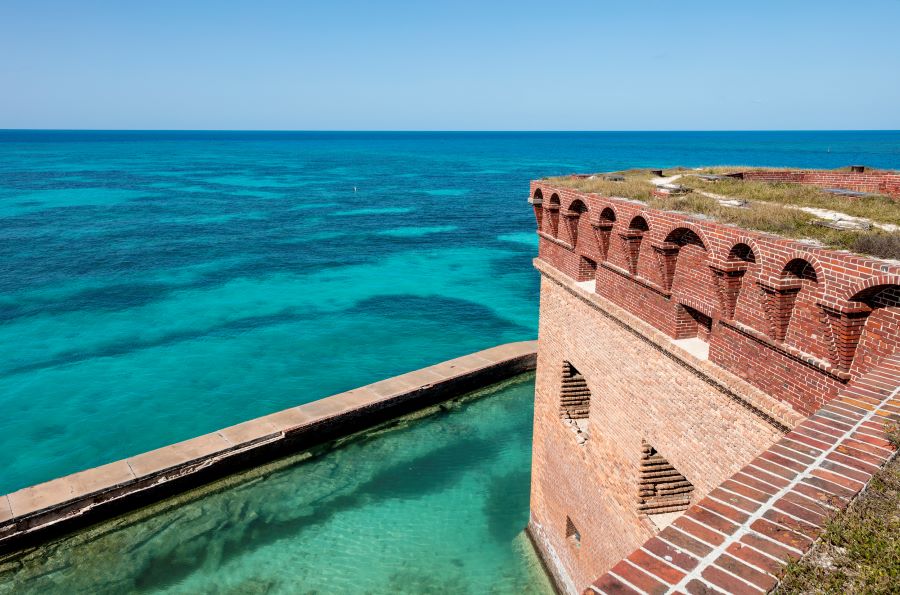 Fort Jefferson at Dry Tortugas National Park off the coast of the Florida Keys
If you're looking for the ultimate outdoor experience in South Florida, a trip to the Florida Keys is a must! With its clear waters, sandy beaches, and endless sunshine, the Florida Keys offer plenty of outdoor activities for all types of travelers.
One of the highlights is Dry Tortugas National Park. This stunning 7 island park is located 70 miles from Key West and can only be accessed by boat or seaplane. Here you can explore the historic Fort Jefferson, take a dip in the turquoise waters, and snorkel among colorful tropical fish and vibrant coral reefs.
The Florida Keys are actually home to an abundance of marine animals including dolphins, sea turtles, and tropical fish. Take a snorkeling tour, go diving, or simply lounge on one of the many beaches.
The Keys are a must while visiting Florida!
10. Visit the Vizcaya Museum and Gardens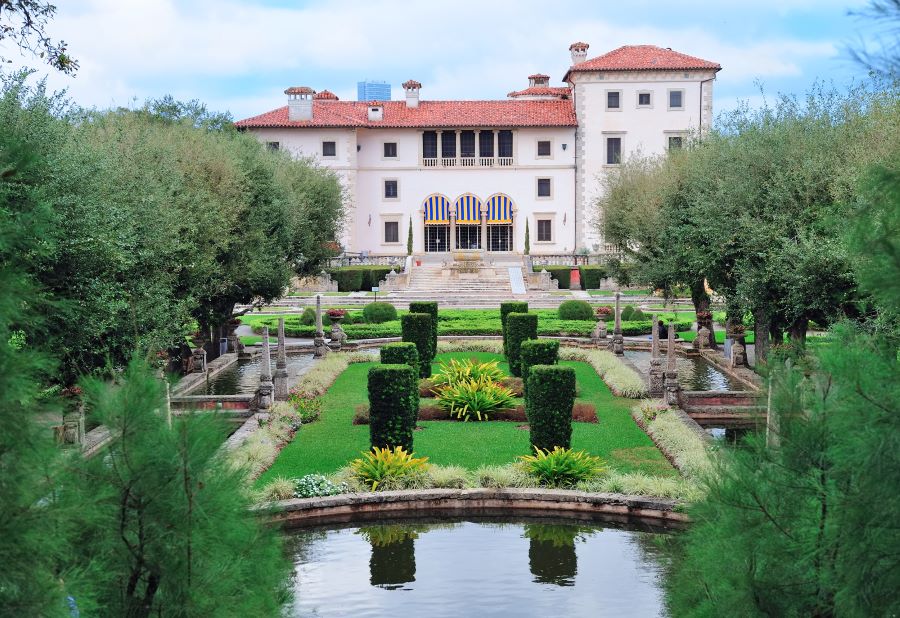 The beautiful grounds at Vizcaya Museum and Gardens in Miami
Vizcaya Museum and Gardens is a hidden gem for outdoor activities in South Florida. Located in Miami's Coconut Grove, this is a stunningly beautiful Italian Renaissance-style villa that was once the winter residence of industrialist James Deering. Now, it's a National Historic Landmark.
Visitors can wander through 34 rooms filled with stunning art and antiques, but the real showstopper is the gardens. With more than 10 acres of beautifully manicured gardens, including a European-inspired formal garden, an orchid garden, and a maze garden, Vizcaya is a quiet oasis in the heart of Miami. The gardens also feature fountains, sculptures, and gorgeous views of Biscayne Bay.
Whether you're a history buff, an art lover, or simply looking to soak up some natural beauty, Vizcaya Museum and Gardens is a must-visit.
11. Catch Some Waves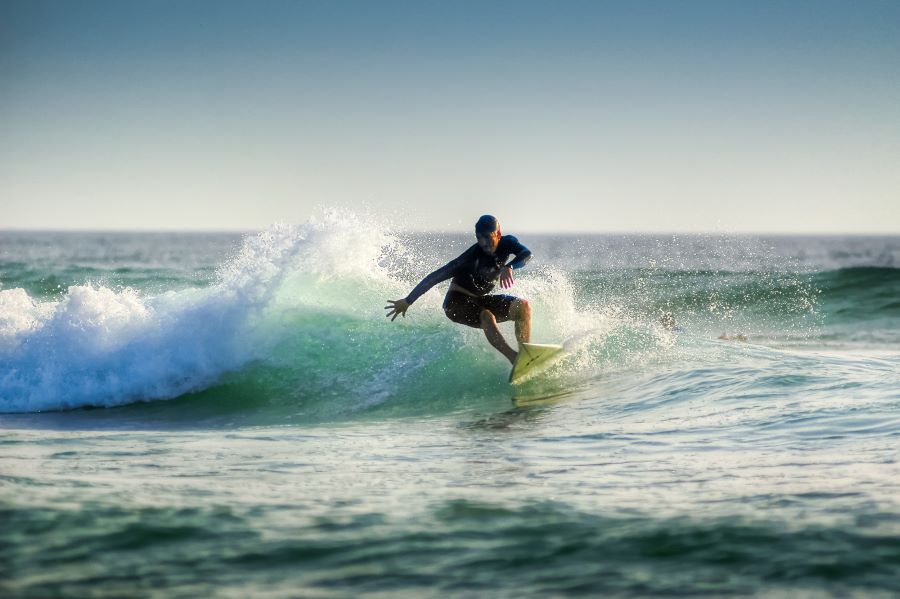 Surf's up in South Florida! If you're looking for an adrenaline rush kind of activity, surfing is a must. While the waves may not be as big as in some other surfing destinations, there are still plenty of great spots in South Florida to catch some gnarly rides. I once tried surfing at Cocoa Beach, and while I wasn't very good, it was a fun pastime!
Juno Beach is a popular spot for surfers, offering consistent waves and a laid-back vibe. Another great spot is Deerfield Beach, which has a long history of surf culture and is home to the annual Deerfield Beach Surf Festival.
If you're new to surfing, don't worry – there are plenty of surf schools in the area that offer lessons for all skill levels. So grab yourself a board and hit the beach – surfing is one of the best outdoor activities in the state.
12. Visit Lion Country Safari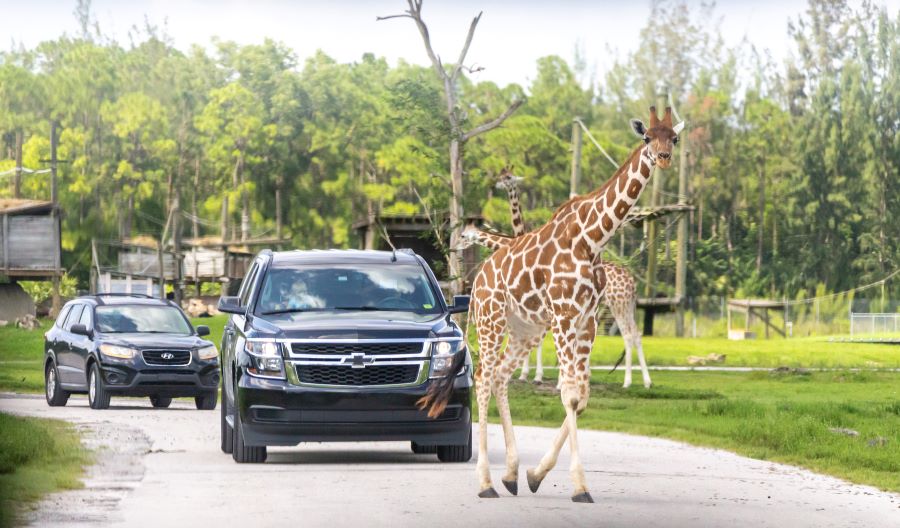 Giraffes crossing the road in the Lion Country Safari in Florida
Looking for a roaring good time? Head over to Lion Country Safari in Loxahatchee, FL for an unforgettable outdoor adventure. Located just a stone's throw away from West Palm Beach, this safari park boasts over 1,000 wild animals from around the globe.
Drive through the park and watch as lions, zebras, and rhinos roam free right before your eyes. And don't worry about getting too close – you'll be safely in the comfort of your own vehicle.
After the drive-through, park your car and explore the walk through section of the park. Get close to giraffes, monkeys, and lots of other fascinating animals. Feeling extra adventurous? Book a VIP tour and feed some of the animals yourself!
Whether you're a wildlife enthusiast or just looking for a fun day out, Lion Country Safari is one of the top outdoor activities in South Florida that you won't want to miss.
13. Head to Bill Baggs Cape Florida State Park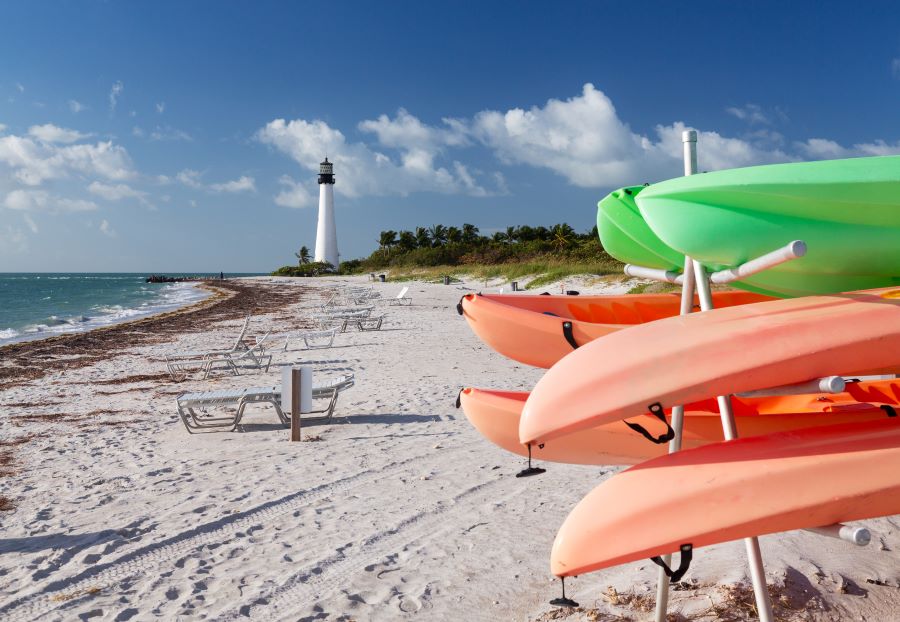 If you're looking for a hidden gem in South Florida, look no further than Bill Baggs Cape Florida State Park. Located on the southern tip of Key Biscayne, this park is a nature lover's paradise with stunning ocean views, mangrove forests, and picturesque beaches.
Known for its incredible beaches, visitors can enjoy sunbathing, swimming, kayaking, and even paddleboarding. But that's not all – the park is also home to the historic Cape Florida Lighthouse, which dates back to the early 19th century. Take a guided tour or climb to the top for panoramic views of the park and surrounding waters.
And if that's not enough, there's also plenty of hiking, fishing, and prime picnic spots located in the park to take advantage of. This is the perfect place to escape the Miami scene to enjoy a peaceful day outdoors.
14. Go Snorkeling for an Underwater Adventure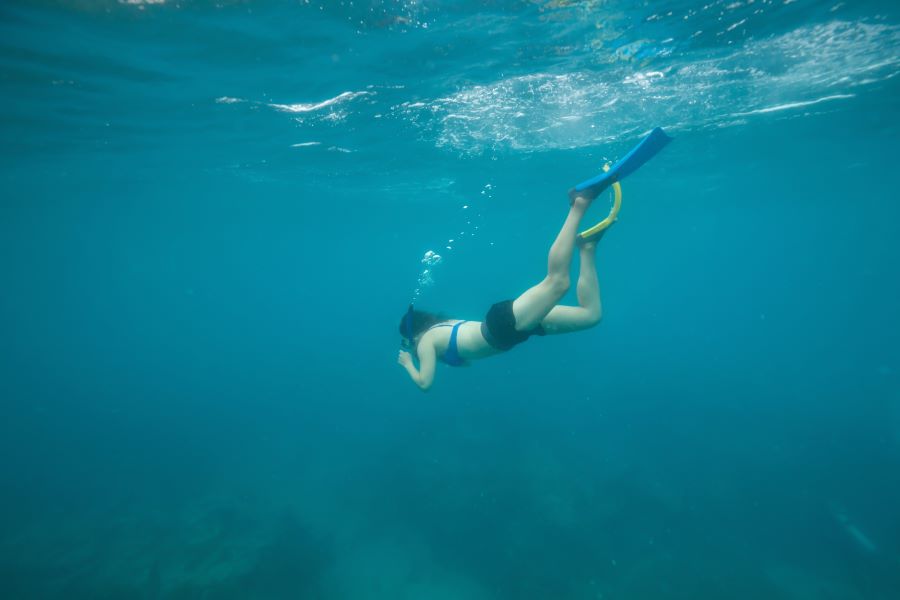 Looking for an unforgettable outdoor adventure in South Florida? Consider going snorkeling! With the crystal-clear waters and diverse marine life, South Florida offers some of the best snorkeling spots in the country.
On the Atlantic Coast, you can't miss the John Pennekamp Coral Reef State Park in Key Largo, which boasts the only living coral barrier reef in the continental United States. On the Gulf Coast, you'll find some decent snorkeling in Marco Island and the Naples area with a chance to see plenty of marine life, including manatees, sea turtles and even sharks!
Whether you take a guided tour or venture out on your own, snorkeling in South Florida is a popular pastime for anyone who loves the ocean and wants to explore the underwater world.
15. Go Fishing!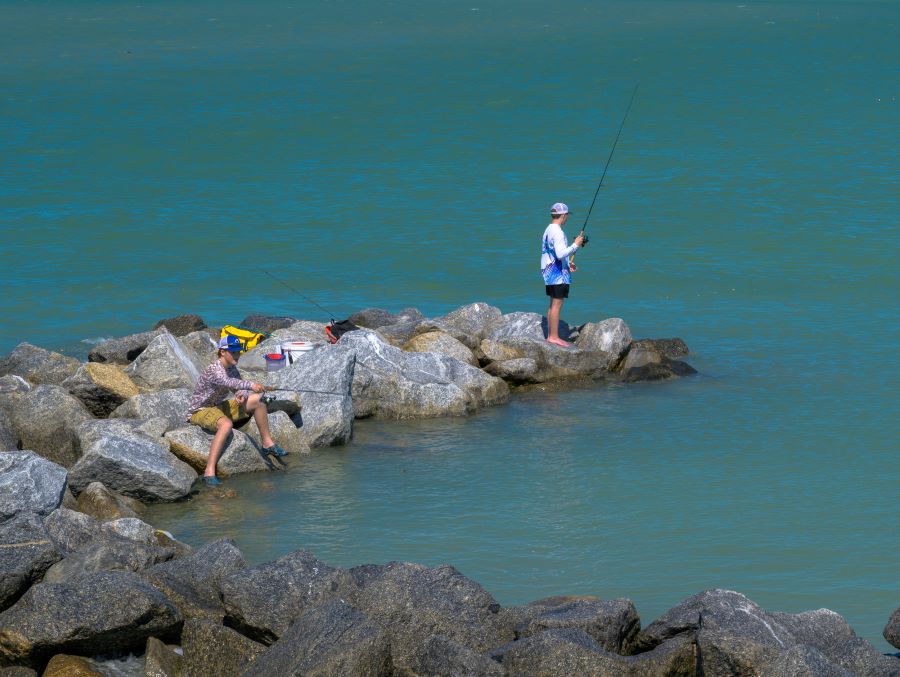 If you're after a classic outdoor activity in South Florida, then fishing is a great option. With the Atlantic Ocean on one side and the Gulf of Mexico on the other, South Florida has plenty of fishing opportunities for both experienced anglers and beginners.
From big game fishing in the deep sea to casting a line off a pier, it's totally up to you.
On the Atlantic Coast, places like Palm Beach and Fort Lauderdale offer great opportunities to catch Snook, Redfish, and even Tarpon. On the Gulf Coast side, popular spots like Sanibel Island and Naples offer chances to catch Flounder, Largemouth Bass, and even King Mackerel.
And don't worry if you don't have your own gear – many fishing charters provide everything you need for a day out on the water. So grab your rod and reel and get ready for some of the best fishing in South Florida.
South Florida Outdoor Activities FAQ
Check out these frequently asked questions to help plan your South Florida adventure.
What is South Florida best known for?
South Florida is best known for its sunny weather, beautiful beaches, vibrant nightlife, and diverse culture. With world-renowned attractions like Miami Beach and the Everglades National Park, South Florida is a popular destination for both tourists and locals. Whether you're into outdoor activities, shopping, or dining, South Florida has a little bit of everything.
What outdoor activities are famous?
South Florida is famous for its outdoor activities, from famous beaches like Miami's South Beach to spotting alligators in Everglades National Park. Visitors can enjoy activities like surfing, fishing, snorkeling, kayaking, paddleboarding, or even biking. Its warm climate and beautiful scenery make it a great spot for those looking to get outside. Plus, it's the perfect vacation destination for any beach lover.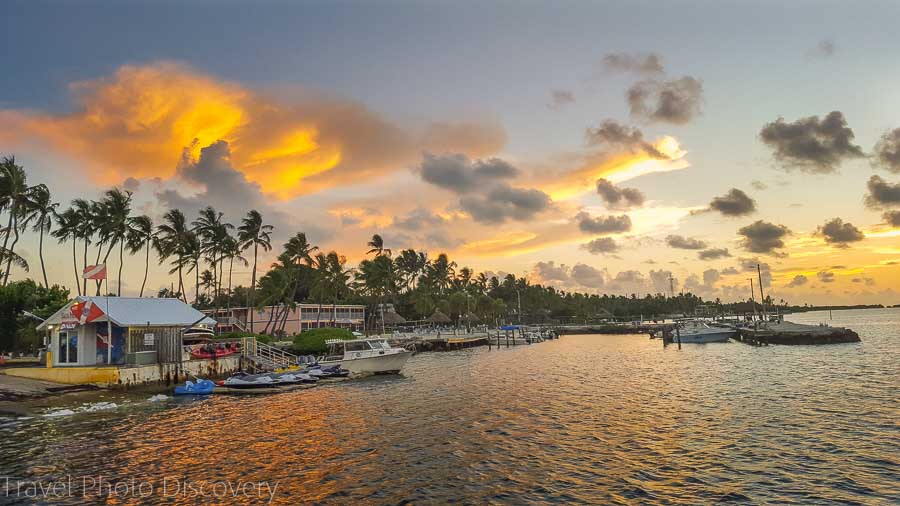 Final Thoughts: Best Outdoor Activities in South Florida
South Florida is a dream for outdoor enthusiasts, boasting some of the best and most exciting outdoor activities in the country! From the fascinating Everglades National Park and its unique ecosystem to snorkeling the Florida Keys' crystal-clear waters and coral reefs, South Florida is filled with unforgettable experiences.
And not only does this region of Florida offer so many great things to do, it also offers some of the best weather year round, which makes being outside even more enjoyable. Especially for those escaping the cold during the winter months.
So, whether you're a local or visiting for the first time, take advantage of these outdoor activities in South Florida for an unforgettable adventure that will leave you feeling alive and craving more!