Florida keys and a visit to Marathon island: best things see and do around the island (updated 2023)
Located in the central region of the Florida Keys, I recently visited the islands surrounding Marathon City which are full of fun water inspired recreation and with many things to do on Marathon to keep you active or relaxed depending on your idea of a getaway vacation.
This mellow region in the Florida Keys is just the right place to connect with nature and be a part of the gorgeous landscape and those famous blue waters of the Florida Keys. Of course being close to the water and taking part in any water related activity is central to living the Marathon lifestyle and there is plenty to choose from. Boating and fishing activities are readily available throughout the Vaca Key, Fat Deer Key and Grassy Key island chain
Marathon Island is a great base to exploring the many different islands and keys around the area with plenty of hotels, inns and restaurants to visit after you explore the many outdoor adventure and attractions to do in the area.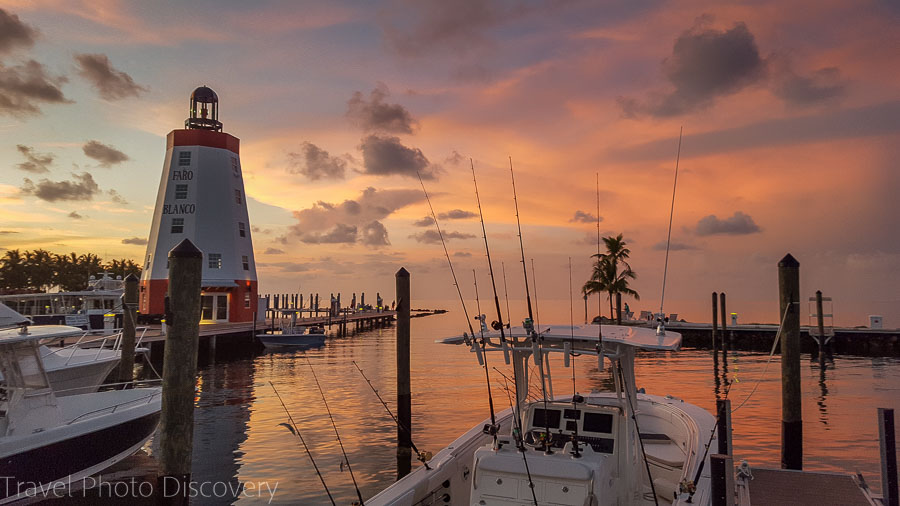 Why visit Marathon Island in the Florida Keys?
An easy getaway from Miami and the Florida mainland, Marathon Island is relaxed, outdoor focused with cool recreation and adventure activities to enjoy on the island. Enjoy the gorgeous waters, get outdoors on a boat or even try some fun adventure experiences like kite boarding below will give you a nice slice of Marathon life. Or just take it easy and enjoy a pool or beach scene, a beautiful sunset and delicious meal on the beach or at a nice dining venue on the island now.
Where is Marathon Island located?
From Miami Marathon island is 116 miles or around two hours and fifty-minute drive from downtown to the island direct on Hwy US 1.
Weather and the best time to visit Marathon Island
Marathon Island, located in the Florida Keys, enjoys a tropical climate, making it a year-round destination. However, the best time to visit depends on your preferences for weather and activities:
Winter (December to February)
– Winter is the peak tourist season in Marathon. The weather is pleasantly warm with daytime temperatures ranging from 70°F to 80°F (21°C to 27°C).
– This is an ideal time for outdoor activities, including snorkeling, fishing, and exploring the beautiful beaches and parks.
– Make reservations well in advance, as accommodations tend to fill up during this season.
Spring (March to May)
– Spring is another excellent time to visit, with slightly warmer temperatures compared to winter.
– Expect temperatures ranging from 75°F to 85°F (24°C to 29°C). The water is still comfortable for swimming and water sports.
– Spring is also a great time for birdwatching and enjoying the lush, green landscape.
Summer (June to August)
– Summer is the warmest and wettest season in Marathon. Daytime temperatures can reach 90°F (32°C) and higher.
– It's the best time for diving, with excellent underwater visibility, and for spotting sea turtles nesting on the beaches.
– Be prepared for afternoon rain showers and a higher chance of hurricanes or tropical storms.
Fall (September to November)
– Fall is a quieter and more budget-friendly time to visit. The weather remains warm, with temperatures between 75°F and 85°F (24°C to 29°C).
– While there's a higher risk of hurricanes in September, the weather becomes more pleasant in October and November.
– It's a good time for fishing, and you can enjoy the island with fewer crowds.
Overall, the best time to visit Marathon Island is during the winter and spring months (December to May) when the weather is comfortable, and outdoor activities are in full swing. However, if you prefer a quieter experience and are willing to deal with the possibility of rain, late fall can also be an attractive option. Be sure to plan ahead and check the weather forecast to make the most of your visit to this beautiful island in the Florida Keys.
Recreation & adventure sports at Marathon
If you are into outdoor activities and adventure sports, then Marathon Island has a lot of fantastic activities and places to explore in the area. Consider some of these below: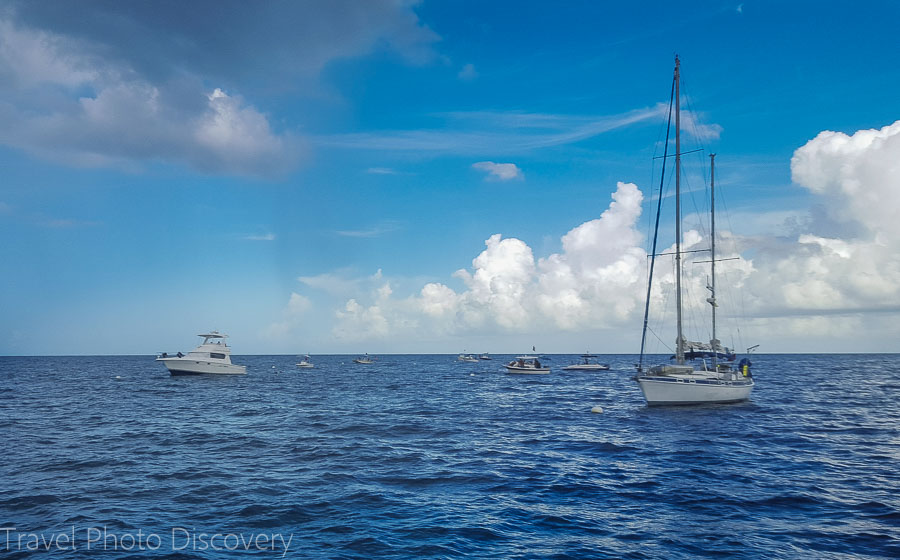 Wake Boarding Experience
One of my first recreation activities was to go wakeboarding at the Keys Cable park operated by Otherside Boardsports. This was my first time to experience wakeboarding with a unique cable towing system that replaces the need for using boats. This customized guided system with an operator makes it easier to pick up quickly with a few basic lessons and start with an on site training program. After some very unsuccessful and salt water induced runs, I finally was able to get the knack on how to do this better and did some decent runs where I actually stood up and enjoyed the skiing process which was really fun!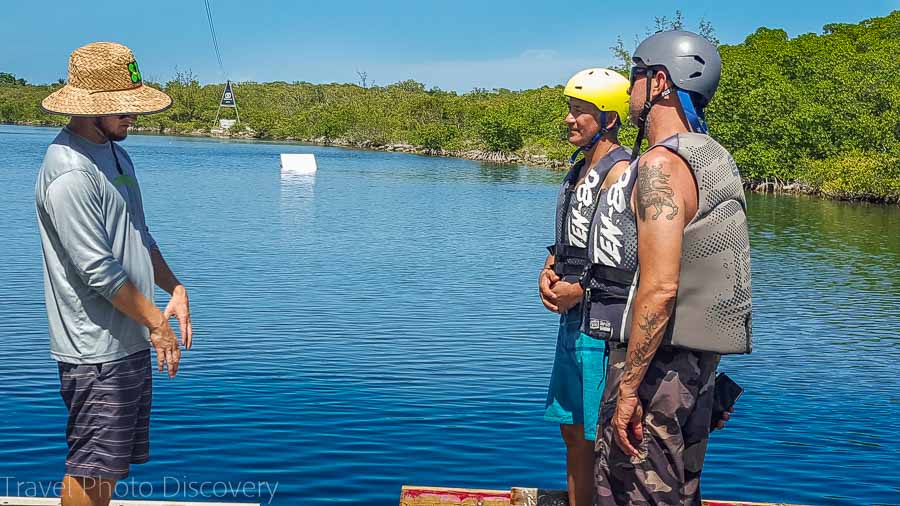 After some instruction, we were ready to go!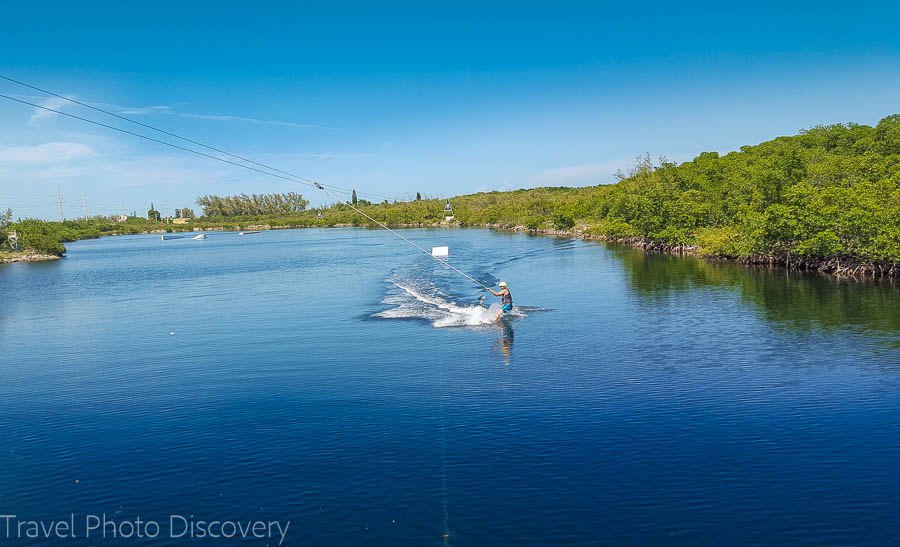 Success wake boarding on Marathon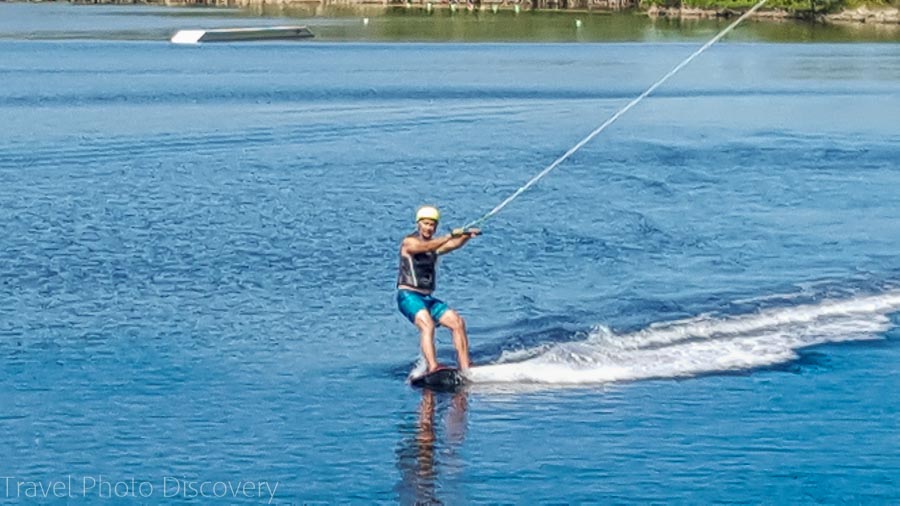 The adventure park also has eco sustainability projects started with bee and honey production, fruit trees and tropical fruits planted, they also have plans to produce a local farmers markets and other sustainability tours in this section of the park. For more information about wake boarding and instructions, you can check out the Keys Cable Park website here.
A video experience at the Keys Cable Park
Diving/snorkeling – Florida National Marine Sanctuary
To visit the Florida National Marine Sanctuary, you can take a tour with a variety of recreation outfits. I took a tour with Strike Zone Charter on Big Pine Key that does daily tours at the Sanctuary which is the third largest barrier reef in the world. You have options to diving or snorkeling when the boat arrives at the marine sanctuary but outside of basic safety measures, there are no instructions offered with this particular tour. Diving options require that you submit full certification proof at registration along with signing waivers for either recreation activities.  After that it is a quick safety orientation on the boat and what to expect when we reach the sanctuary and we were off to a fantastic boat ride to the marine sanctuary.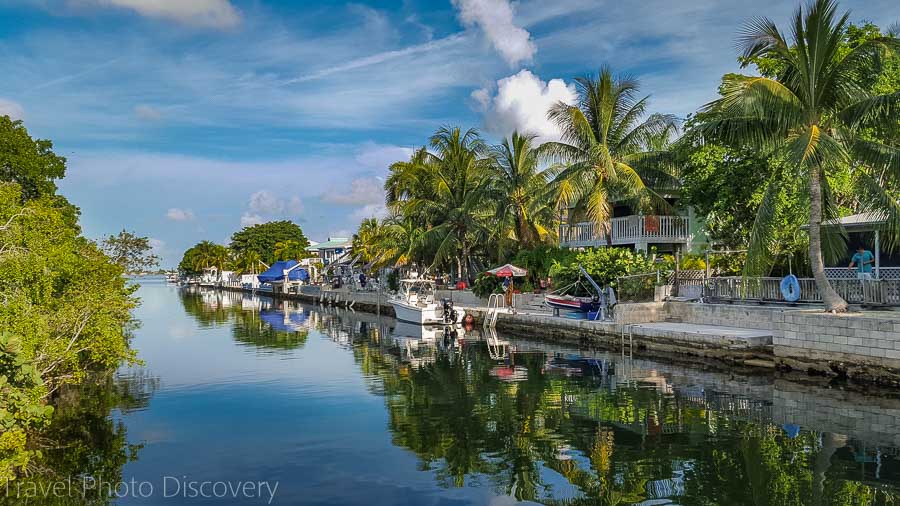 Snorkel tour experience
You can also do a snorkel tour experience of the Florida National Marine Sanctuary here for more information for this tour experience.
Leaving Big Pine Key for the marine sanctuary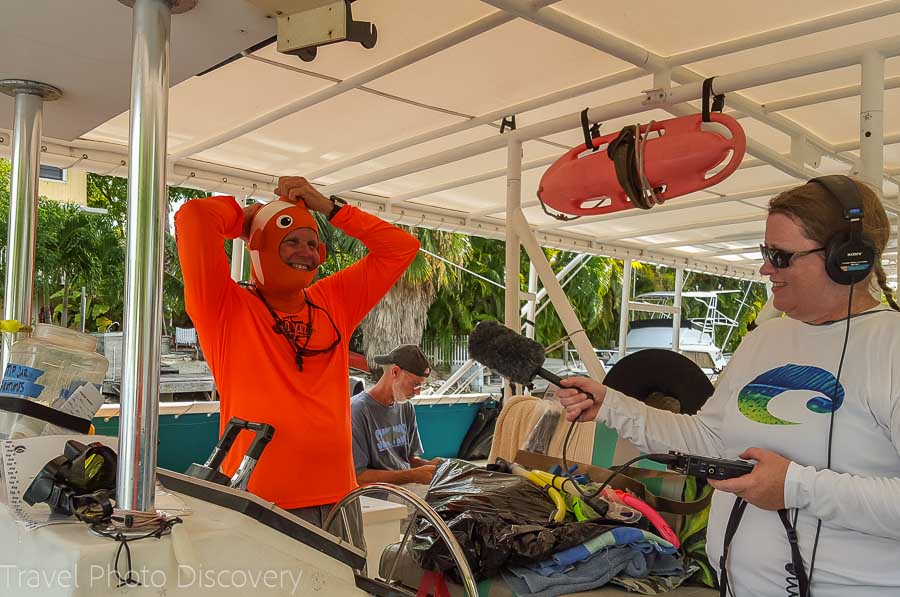 Our captain being interviewed with NPR about the sanctuary
While on this tour, I was able to take part with the 32nd annual Underwater Music Festival at the Sanctuary. This fun event is filled with zany costumes, underwater mermaids, singing bands and yes music that is piped underwater so you can hear some cool water inspired tunes while exploring the reef and enjoying the festival underwater no less!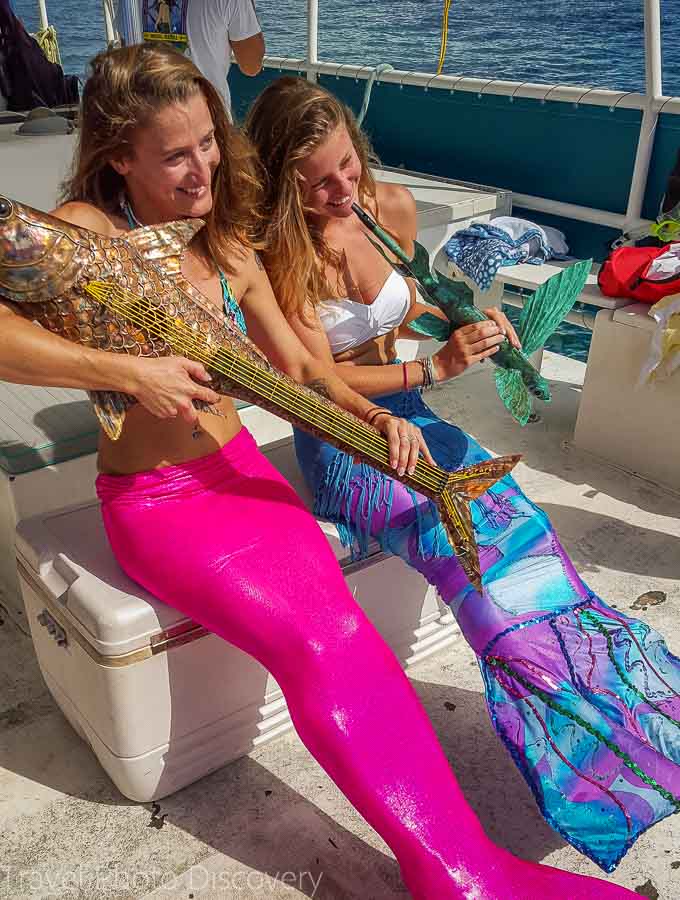 Video highlights to the Underwater Music Festival
Here are some highlights of the Underwater Music Festival and the marine sanctuary presented by the South Florida Reporter. The lush and pristine sanctuary is filled with beautiful and healthy coral along with an abundance of tropical fish that are thriving  in the preserve. If you would like to get more information about the music festival and other fun things to do in the Lower Keys, you can check out this website for more information.

Video credit – South Florida Reporter
Here's a look at the pristine waters off Marathon Island on a diving experience below
Fishing around Marathon Island area
If fishing is your thing then there are several fishing charters you can consider for a fun day outdoors and fishing the coastal waters for local fishes you can try catching.
Here's a fishing charter tour to check out and book your fishing experience from Marathon Island
 
Exploring Bahia Honda State park and SUP boarding
Bahia Honda State Park is a beautiful island that is completely preserved in its natural state while enjoying some recreation and sporting activities on the island. I was able to take part in a SUP boarding session along with trying some challenging yoga moves on the shallow sandy waters. It was a perfect place to trying the SUP session with Serenity Eco Therapy and our instructor, Sarah Sullivan shared some wonderful basics to SUP  boarding and then advancing to the yoga session with flow movements that are modified to work well on the water motion. Outside of SUP boards, you can also take advantage of a variety of water adventure activities on the park including kayaking, boating, fishing and almost every type of water recreation available on site.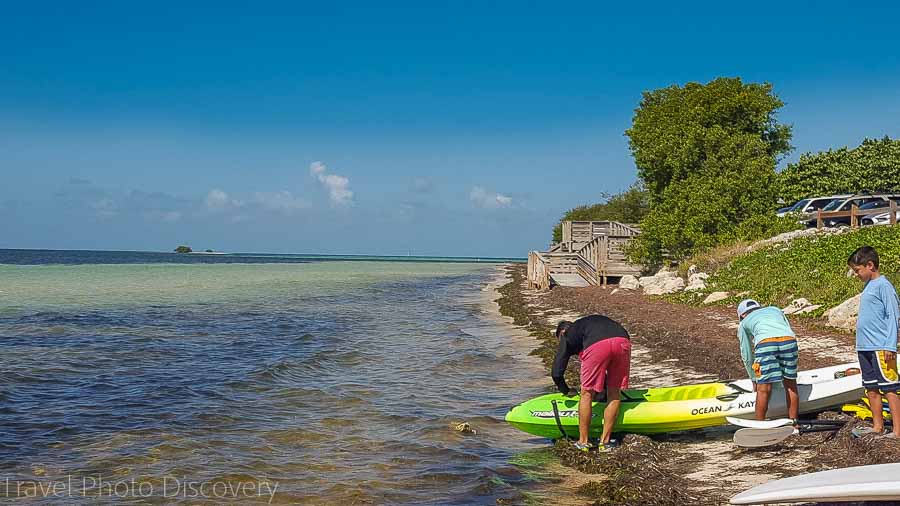 Learning about stand up paddle basics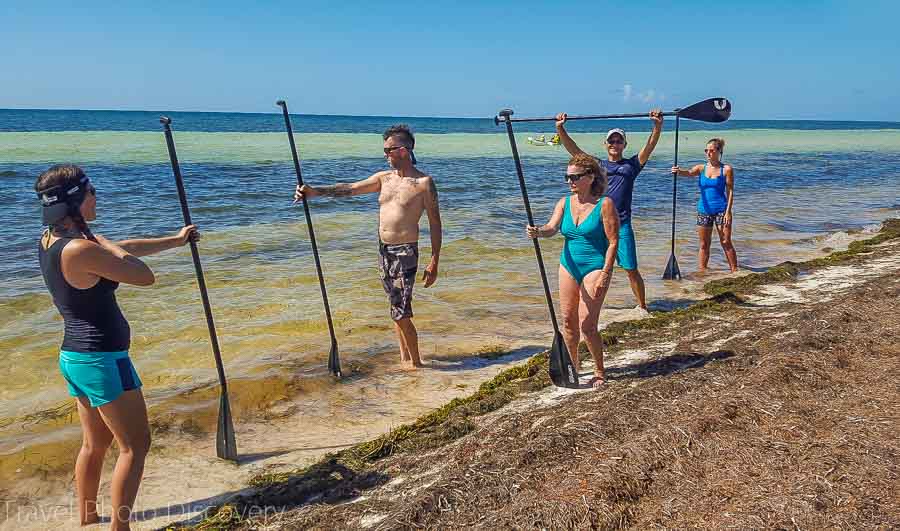 Challenging Yoga moves on a SUP board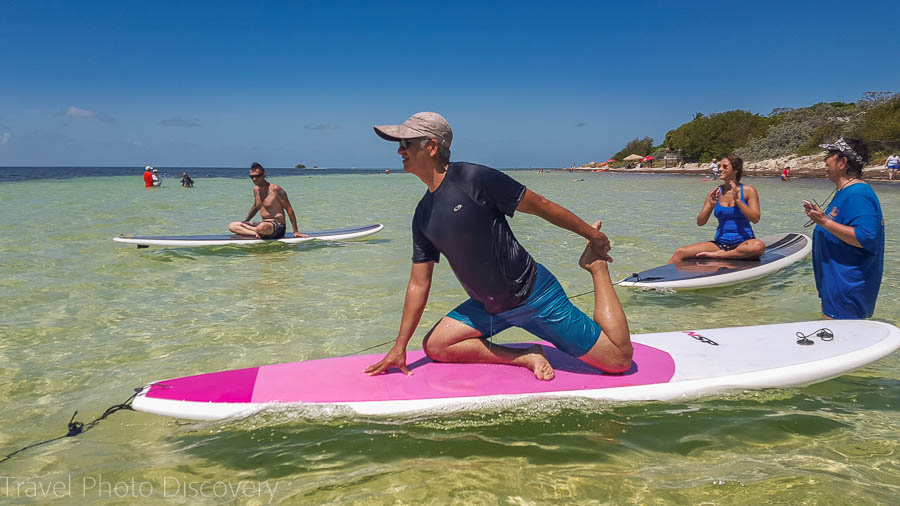 Or maybe just spending time floating and enjoying the day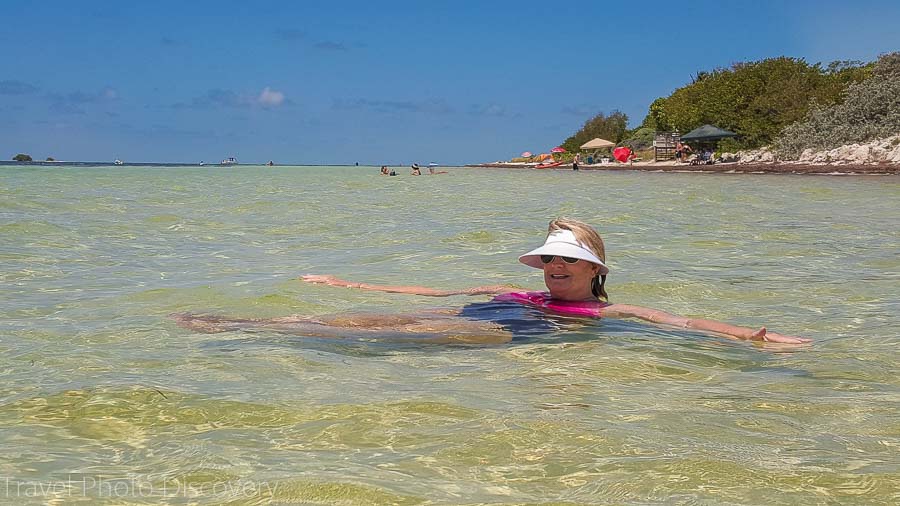 Or more challenging yoga flow on SUP boards!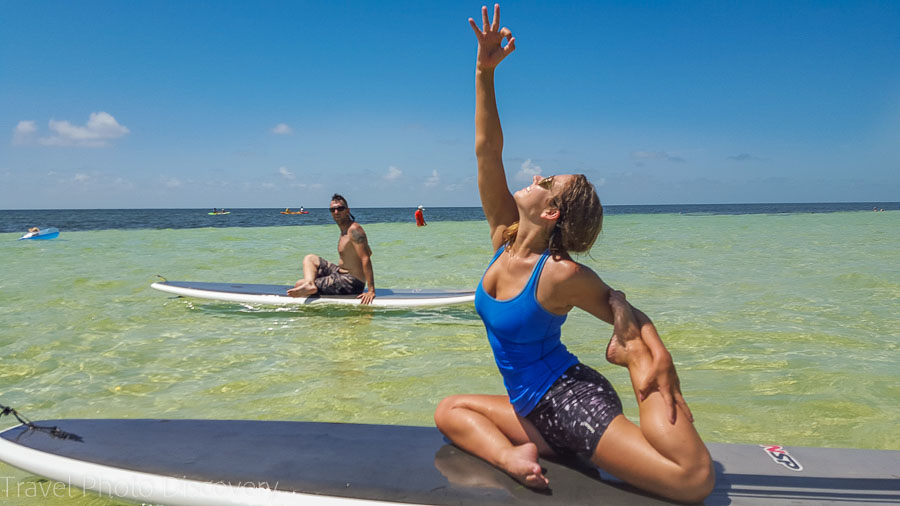 Delicious dining options on Marathon city
After all those amazing recreational sports, it's time to find some delicious food to keep us going. One of the first stops for delicious and local  food was at the Grassy Key Outpost Market and Grill. You wouldn't think that this low key diner would be serving some really exciting local food but it was really delicious and creatively presented! I ordered and appetizer plate of coconut prawns with a spicy peanut sauce that I devoured in seconds and my entrée of fried green tomato with lobster salad was exquisite and perfectly prepared and presented to me. Add a refreshing Arnold Palmer and lunch was hit and perfect dining experience on Marathon city.
Delicious dining experience at Grassy Key Outpost Market and Grill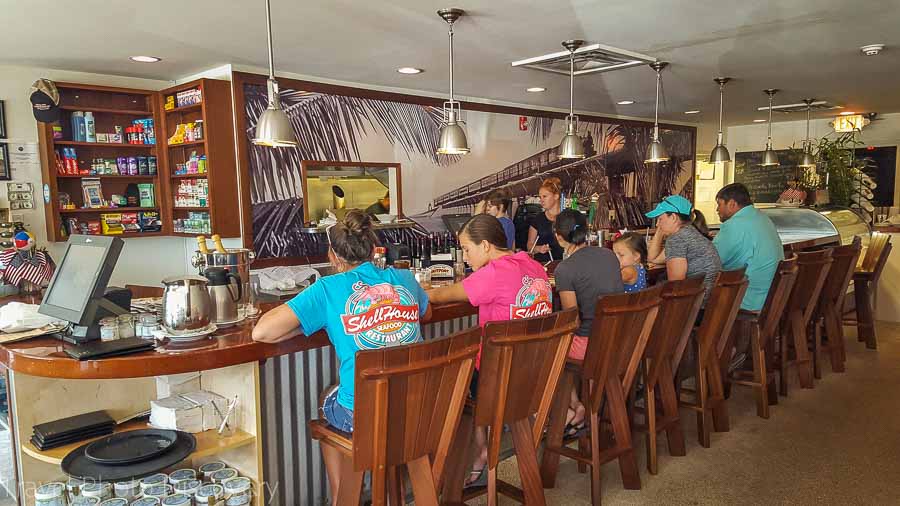 Yummy fried green tomato with Lobster salad!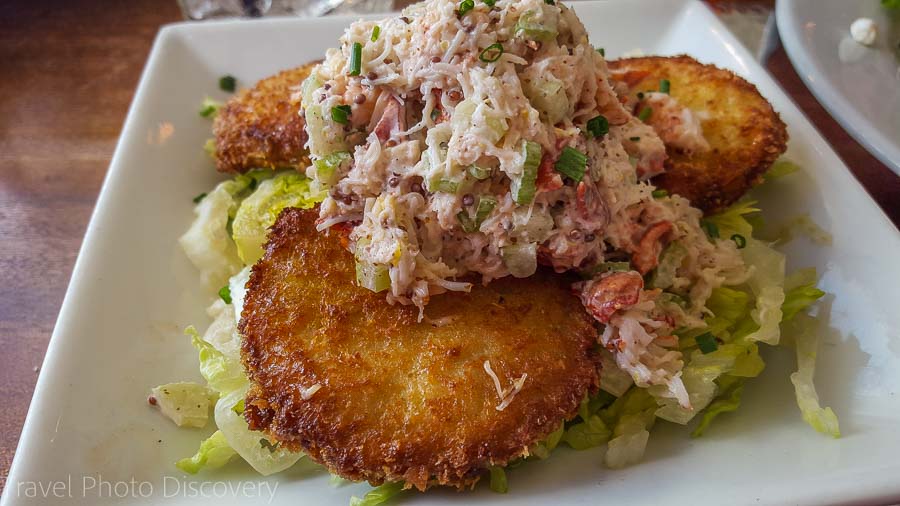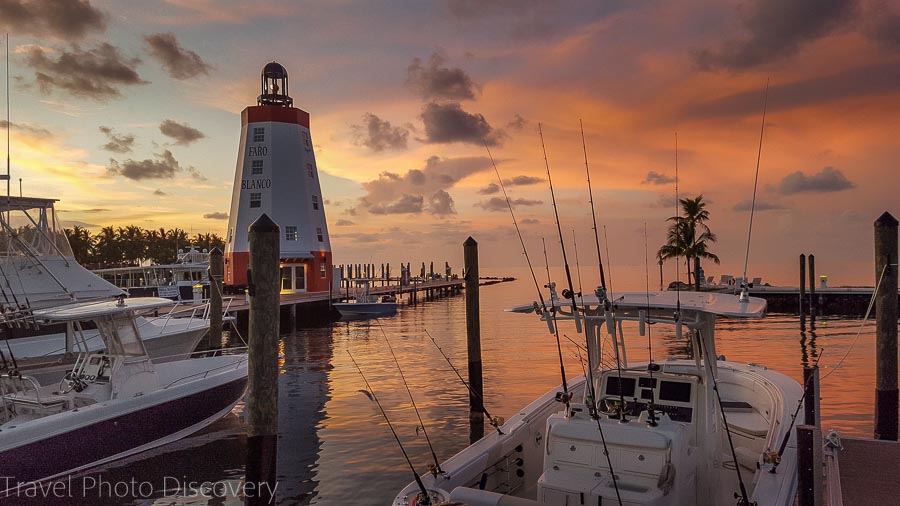 Fine dining at Lighthouse Grill –  Faro Blanco Resort and Yacht Club
Not to be missed is a dining experience at the Lighthouse Grill at the Faro Blanco resort. The waterfront restaurant and bar at the resort is the perfect place for dinner and watch an amazing sunset at the marina. I was impressed with the wonderful dinner menu and all the specialty cocktail drinks from the bar.  First important item was the drink order and it did come promptly! With so many wonderful specialty drinks to try like the local mojito and other rum specialties, I ended up ordering the refreshing Marathon rum punch which was quite potent.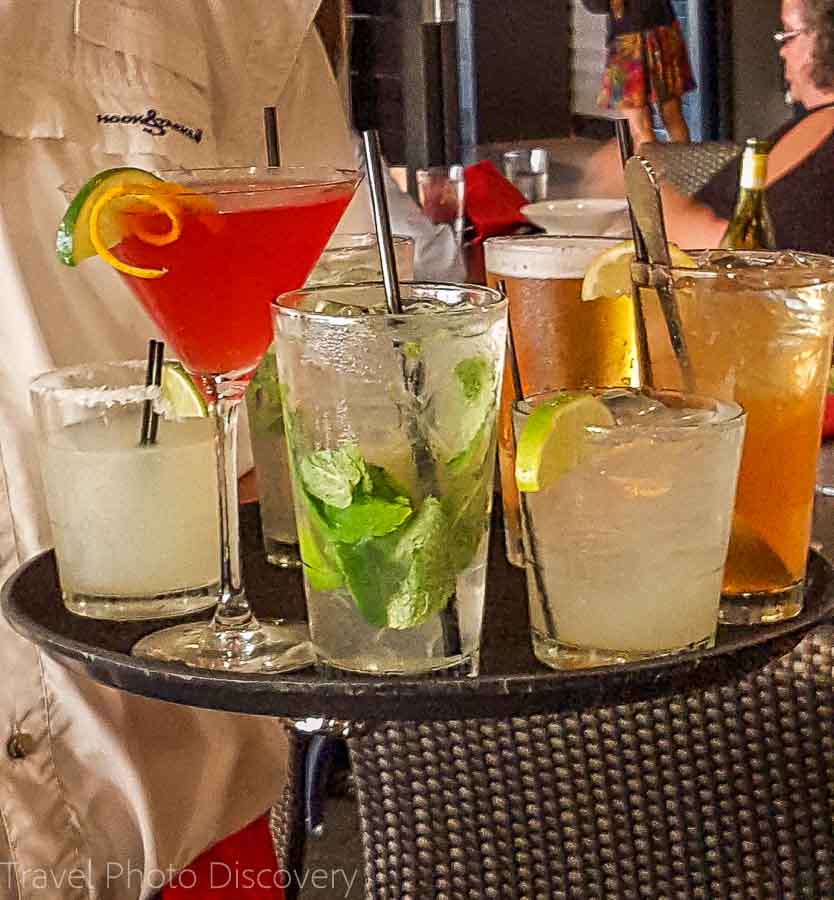 Here's some of the delicious appetizers at the Lighthouse Grill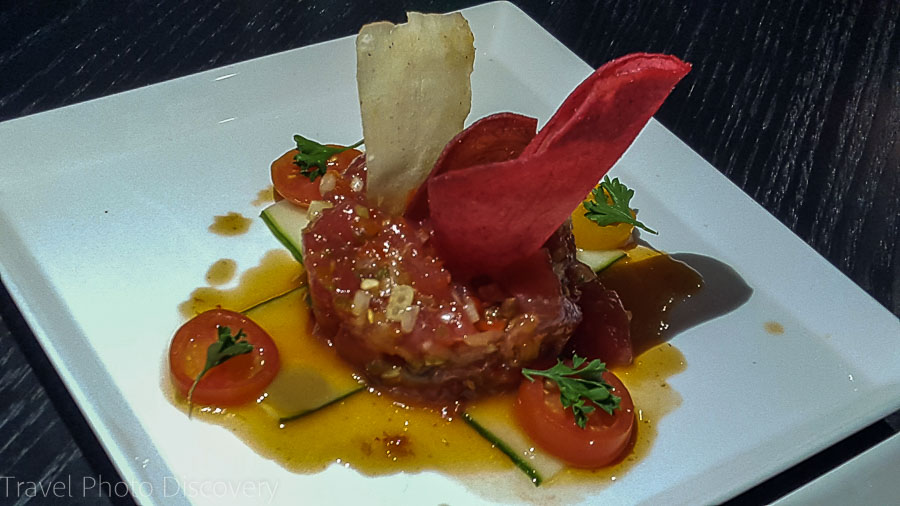 The surf and turf is a real winner!
All the appetizers we sampled at the restaurant were tasty but my favorite dish definitely had to be my entrée of the surf and turf dish below. Not only was it generous but every bite was delicious and spot on perfectly done! Even the potato gratin side was sumptuous and flaky good. The hard part was to finish the entire dish without feeling so guilty that you can eat all that exquisite cuisine, a real dining experience not to be missed.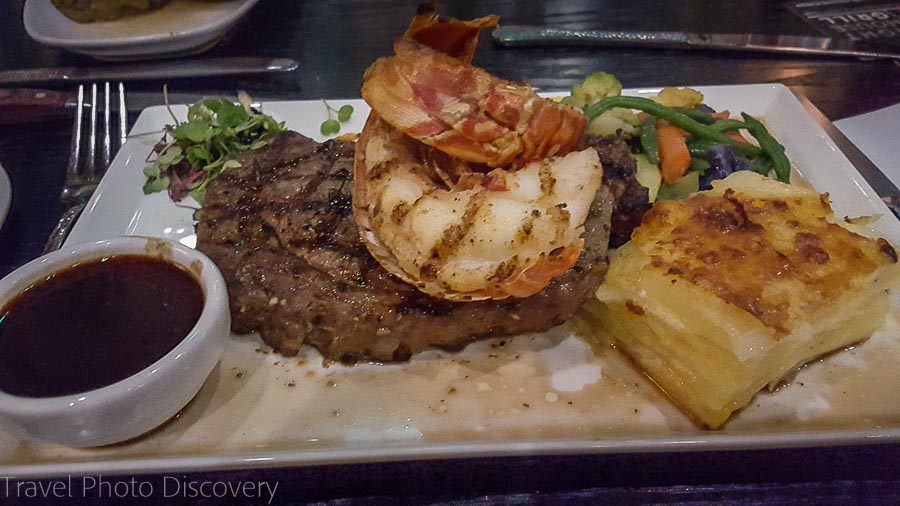 Other fantastic dining venues to try around Marathon Island
Marathon Island offers a range of fantastic dining venues where you can savor delicious seafood and more. Here are some additional recommendations for dining on the island:
Island Fish Company
– This waterfront restaurant is known for its stunning sunset views and fresh seafood. Try their signature hogfish dishes and enjoy live music on the deck.
The Stuffed Pig
– A local favorite for breakfast and brunch, The Stuffed Pig serves up hearty dishes like omelets, pancakes, and homemade cinnamon rolls.
Lazy Days South
– Located right on the water, Lazy Days South offers a diverse menu with an emphasis on fresh seafood. Don't miss their lobster dishes and tropical cocktails.
Buried in Time BBQ
– For a taste of barbecue in paradise, head to Buried in Time BBQ. Their smoked meats and homemade sauces are a hit among locals and visitors.
Barracuda Grill
– A fine dining option on Marathon, Barracuda Grill features a menu of steak and seafood with a Caribbean twist. The romantic ambiance makes it a great choice for a special evening.
Keys Fisheries Market & Marina
– This casual seafood spot is famous for its stone crab claws and fish sandwiches. Enjoy your meal on the outdoor deck overlooking the marina.
Herbie's Restaurant
– A family-friendly restaurant known for its laid-back atmosphere and tasty comfort food. The seafood gumbo is a popular choice.
The Island Fish Company Tiki Bar
– Adjacent to the restaurant, the Tiki Bar is perfect for casual dining and cocktails. It offers a relaxed, tropical vibe and often features live entertainment.
S.S. Wreck and Galley Grill
– A cozy restaurant with nautical decor, S.S. Wreck is known for its seafood dishes and creative cocktails. It's a great spot to unwind after a day of island adventures.
Juice Paradise Cafe
– If you're in the mood for something healthy, Juice Paradise Cafe offers fresh juices, smoothie bowls, and light bites in a charming setting.
These dining venues on Marathon Island cater to a variety of tastes, from seafood lovers to those seeking comfort food or a taste of the Florida Keys' unique culinary offerings. Enjoy the island's laid-back ambiance and savor the flavors of the ocean during your visit.
Marathon city stay at the Hyatt Place
Only a year old,  Hyatt Place is now the place to stay for discerning travelers who want comfort and luxury accommodations. Fronting the famous Vaca Key lighthouse, Hyatt Place is very comfortable and relaxing with all the right amenities including fast wifi, spacious bedrooms and bathroom suites and two swimming pools to choose from. I was quickly checked in and dropped all my luggage to enjoy some time in one of the two pools of the hotel.  Afterwards, I had a fantastic long shower and enjoyed using the really fast wifi to do some online research and work before dinner at the Lighthouse Grill.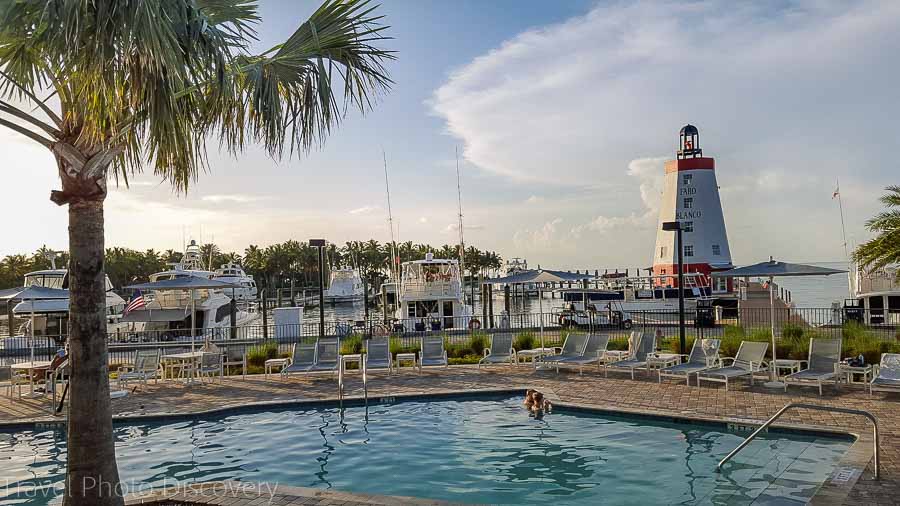 Enjoying the pool at Hyatt Place on Marathon city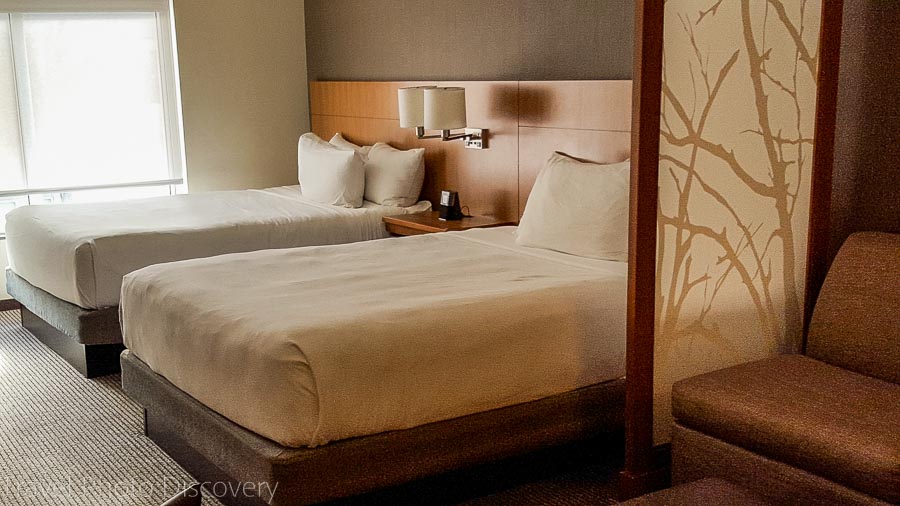 Heavenly sleep with these super comfy beds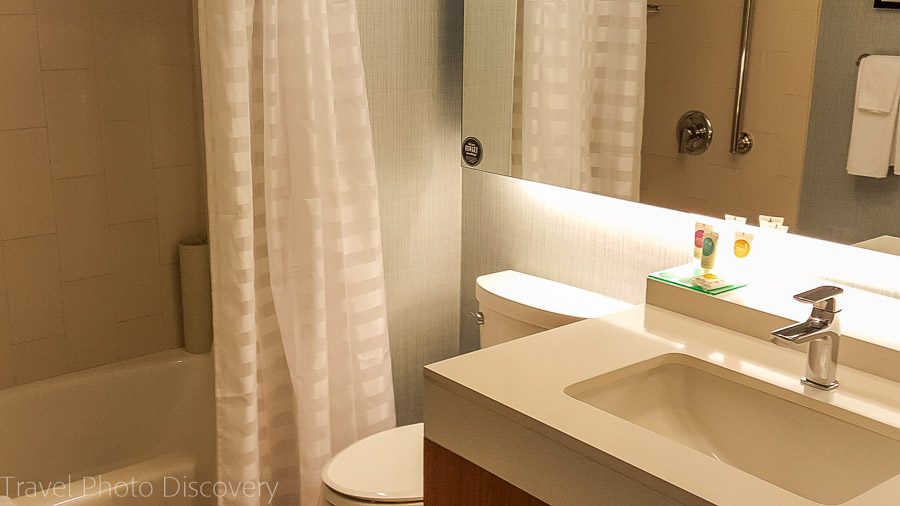 I enjoyed my visit to the Florida Keys and Key west especially on Marathon City. If you want to explore more of the Florida Keys, you can check out their website here for more details and their calendar.
More inside tips to visiting Marathon, Florida
Certainly, here are some inside tips to enhance your visit to Marathon, Florida:
Plan Water Activities in the Morning
The waters around Marathon are typically calmest in the morning, making it the best time for activities like snorkeling, paddleboarding, and fishing. You'll have a better chance to spot marine life and enjoy clearer waters.
Visit Sombrero Beach
Sombrero Beach is a beautiful and less crowded alternative to the more famous beaches in the Florida Keys. It's perfect for sunbathing, swimming, and picnicking. Arrive early to secure a prime spot.
Explore the Seven Mile Bridge
Take a scenic drive or bike ride on the historic Seven Mile Bridge, which offers breathtaking views of the turquoise waters. The old bridge, known as the Old Seven Mile Bridge, is now a popular walking and biking path.
Try the Local Catch
When dining at seafood restaurants, ask for the "local catch of the day." This ensures you're trying the freshest seafood harvested from the surrounding waters.
Respect Wildlife
While observing marine life, including sea turtles and dolphins, maintain a respectful distance. Avoid touching or feeding them, as it can disturb their natural behavior.
Sun Protection is Key
The Florida sun can be intense, so don't forget sunscreen, hats, and sunglasses. Stay hydrated and take breaks in the shade to avoid sunburn.
Experience Sunset at Sunset Park
Sunset Park in Marathon is a hidden gem for watching the sunset. It offers unobstructed views of the Gulf of Mexico and is a tranquil spot to unwind in the evening.
Explore the Dolphin Research Center
Visit the Dolphin Research Center to learn about and interact with dolphins and sea lions. It's both educational and entertaining for all ages.
Attend Local Events
Check the local event calendar for festivals and events happening during your visit. Marathon hosts various seafood festivals and art fairs throughout the year.
Shop at the Farmers' Market
If you're interested in local produce and artisanal goods, stop by the Marathon Community Farmers' Market, usually held on Saturdays. It's a great place to pick up fresh snacks for your adventures.
Book Watersports Activities Early
Popular watersports activities like snorkeling tours and fishing charters can fill up quickly, especially during peak season. It's a good idea to book these experiences in advance.
Relax and Embrace the Island Lifestyle
Marathon has a laid-back atmosphere. Embrace the island lifestyle by slowing down, enjoying the scenery, and taking time to relax on the beach.
By keeping these tips in mind, you'll make the most of your visit to Marathon, Florida, and have an enjoyable and memorable island experience.
Enjoyed the post – check out these other Florida highlights
Florida Keys and top attractions and things to do in Islamorada
Top 10 things to do in Key West
What to see and do in Miami, Florida
Conclusion to visiting Marathon Island in the Florida Keys
You'll enjoy the slower pace here on Marathon whether you plan a lot of fun activities and adventure or just take it easy and explore a new beach spot for the day.
Thanks for visiting today and checking out this post on Florida Keys things to do on Marathon, Florida, hopefully you will be able to see and experience this lovely garden when you are in the Marathon Key area. If you enjoyed the images and post, could you please share it with any of the social media buttons located around the post.
If you like what you see, come and check out my other social media channels for more updates, including Instagram, Pinterest and Twitter
Disclosure – some of the links above are to affiliate sites that are either reviews or recommendations if you book helps to keep our site running at no additional cost to you. We appreciate your supporting our website meanwhile.
Disclosure – This site has some affiliate sites that help to fund this site with any bookings to hotels that you make. Thanks for support our site with your purchase