Top 28 Things to Do in Miami: Discover the Vibrant Heart of South Florida 
(updated 2023)
Miami is such an exciting city of old and new, funky and creative, traditional lifestyles to explore. You'll find Latin inspired neighborhoods to the popular Art Deco district and other trendy South Beach attractions to discover based on your interests and schedule. With a melting pot of international travelers visiting the city on a year round basis, not to mention temporary winter visitors and short term vacationers all flock to this vibrant city for fun, entertainment and relaxation. The city is busy, active and filled with energy in every neighborhoods & trendy hangout spot you visit. There's so many things to do in Miami area that just doesn't revolve around the beach life and swimming and we will share many of these fun things to do with you below.
From exploring the many cool neighborhoods like the Cuban district called Little Havana, Coral Gables, the fun and trendy Design district to Wynwood district, you'll find exploring around Miami Beach to be filled with colorful and cool venues and districts worth exploring.
A constantly changing city, it's fun to go out and experience the top things to do in Miami – you will always find something new and exciting to explore in the city. Here are some fun ideas and suggestions of places to visit, attractions and other top things to do in Miami and around the city.
A brief history of Miami, Florida
Miami, Florida boasts a rich history shaped by Spanish explorers, railroad expansion, and waves of diverse immigrants. Its multicultural fabric is evident in its vibrant blend of cultures. From its glamorous art deco architecture to its role as a popular destination during Prohibition, Miami has evolved into a global city known for its tourism, trade, and Latin American influence. Today, Miami continues to thrive as a dynamic metropolis, offering a diverse range of experiences for residents and visitors.
Why visit Miami, Florida?
Miami, Florida, invites visitors with a myriad of reasons to explore its unique charm. Located along the southeastern coast of the Sunshine State, this vibrant city offers a kaleidoscope of experiences for travelers seeking sun, culture, and excitement.
Sun-Kissed Beaches: Miami boasts some of the most iconic beaches in the world. From the famous South Beach with its Art Deco architecture to the serene sands of Key Biscayne, sun-seekers can bask in the year-round warmth and enjoy the gentle lapping of turquoise waters.
Cultural Fusion: Immerse yourself in a rich tapestry of cultures. Miami's diverse population infuses the city with a vibrant energy, reflected in its cuisine, art, and festivals. Explore Little Havana's Cuban flavors, savor authentic Haitian dishes, and experience the art scene in Wynwood.
 Art and Design: Art aficionados will find Miami's art scene enthralling. The Wynwood Walls, a kaleidoscope of street art, showcases local and international talent. The Pérez Art Museum Miami (PAMM) features contemporary works, while Art Basel Miami Beach draws art enthusiasts from around the globe.
Nightlife: Miami comes alive after dark. From swanky rooftop bars to pulsating nightclubs, the city offers a dynamic nightlife scene. Dance the night away to Latin beats, electronic music, or enjoy a relaxed beachfront cocktail.
Outdoor Adventures: For the outdoor enthusiast in you, Miami has a range of activities. Explore the Everglades and spot alligators, go snorkeling in Biscayne National Park, or bike along the scenic Venetian Causeway.
Shopping Extravaganza: Indulge in retail therapy at upscale boutiques on Lincoln Road, shop for luxury brands at Bal Harbour Shops, or hunt for bargains at the famous Sawgrass Mills Outlets.
Culinary Delights: Miami's culinary scene is a fusion of flavors. From seafood shacks serving up fresh catches to gourmet restaurants helmed by renowned chefs, there's something to tantalize every palate.
Unique Neighborhoods: Each neighborhood in Miami has its own character. Explore the historic Art Deco district in South Beach, the chic vibes of Coconut Grove, or the bohemian atmosphere of the Design District.
Tropical Paradise: Miami's lush green spaces like Fairchild Tropical Botanic Garden and the Vizcaya Museum and Gardens offer a serene escape from the urban hustle and bustle.
Easy Access: Miami serves as a gateway to the Caribbean and Latin America, making it an ideal starting point for exploring further afield.
In summary, Miami, Florida, is a multifaceted gem that invites you to explore its stunning beaches, diverse culture, art, nightlife, and outdoor adventures. Come discover why Miami is a must-visit destination for travelers seeking an unforgettable experience.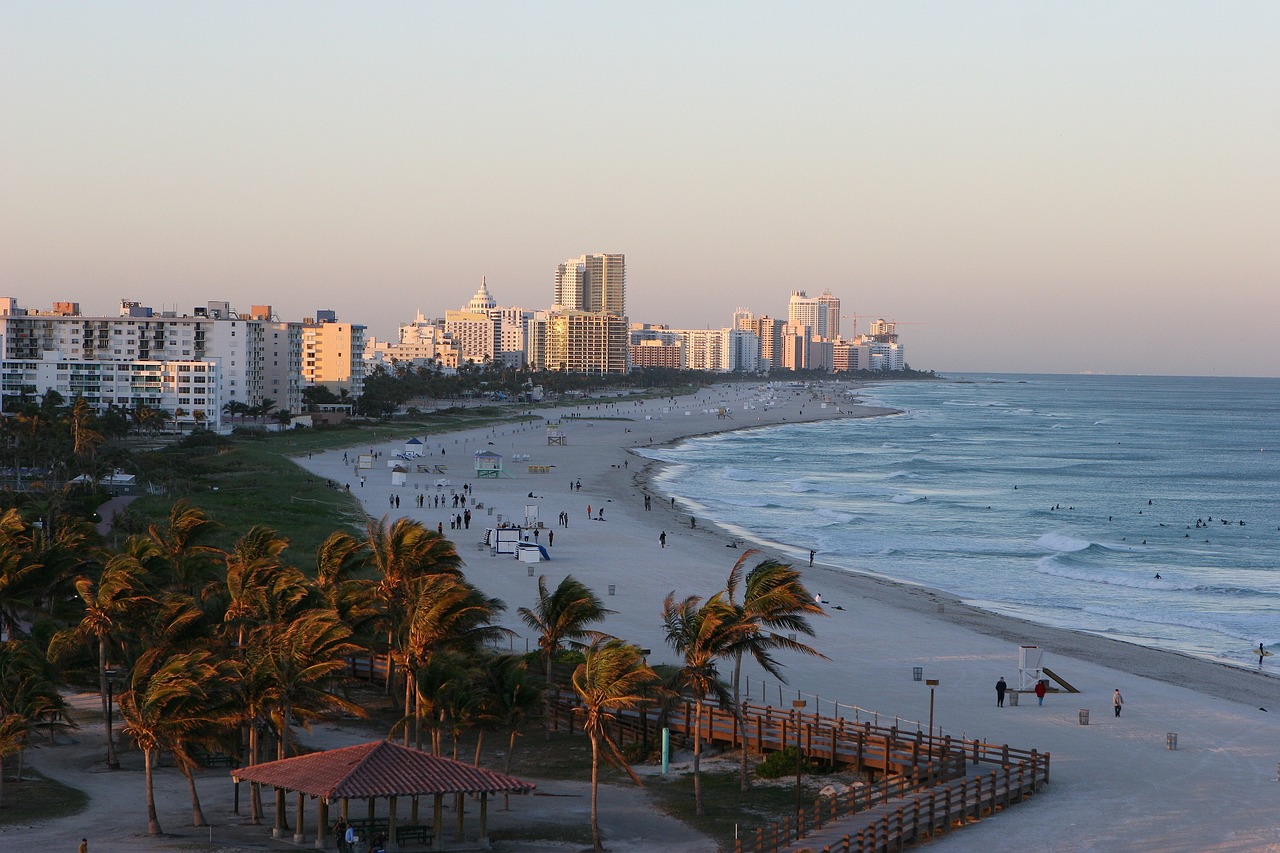 Weather and best time to visit Miami
Miami, located in the sunny state of Florida, enjoys a subtropical climate, making it a popular year-round destination. However, the best time to visit Miami depends on your preferences and tolerance for heat, humidity, and crowds.
The peak tourist season in Miami falls between December and April, coinciding with the city's dry season. During these months, you can expect warm temperatures, plenty of sunshine, and low rainfall. It's an ideal time to explore the city's renowned beaches, indulge in outdoor activities, and experience the vibrant cultural scene that Miami has to offer. However, be prepared for larger crowds and higher prices during this period, as many tourists flock to escape colder climates.
If you prefer milder temperatures and smaller crowds, the shoulder seasons of spring (March to May) and fall (September to November) are great alternatives. During these times, Miami experiences fewer tourists, pleasant weather, and more affordable accommodation options. However, it's worth noting that spring and fall are also characterized by occasional rainfall and the possibility of hurricanes, so it's advisable to monitor the weather forecast and plan accordingly.
Summer (June to August) in Miami is hot and humid, with occasional afternoon thunderstorms. While it may not be the most comfortable time to visit, it can be a good option for budget travelers as hotel rates tend to be lower during this off-peak season.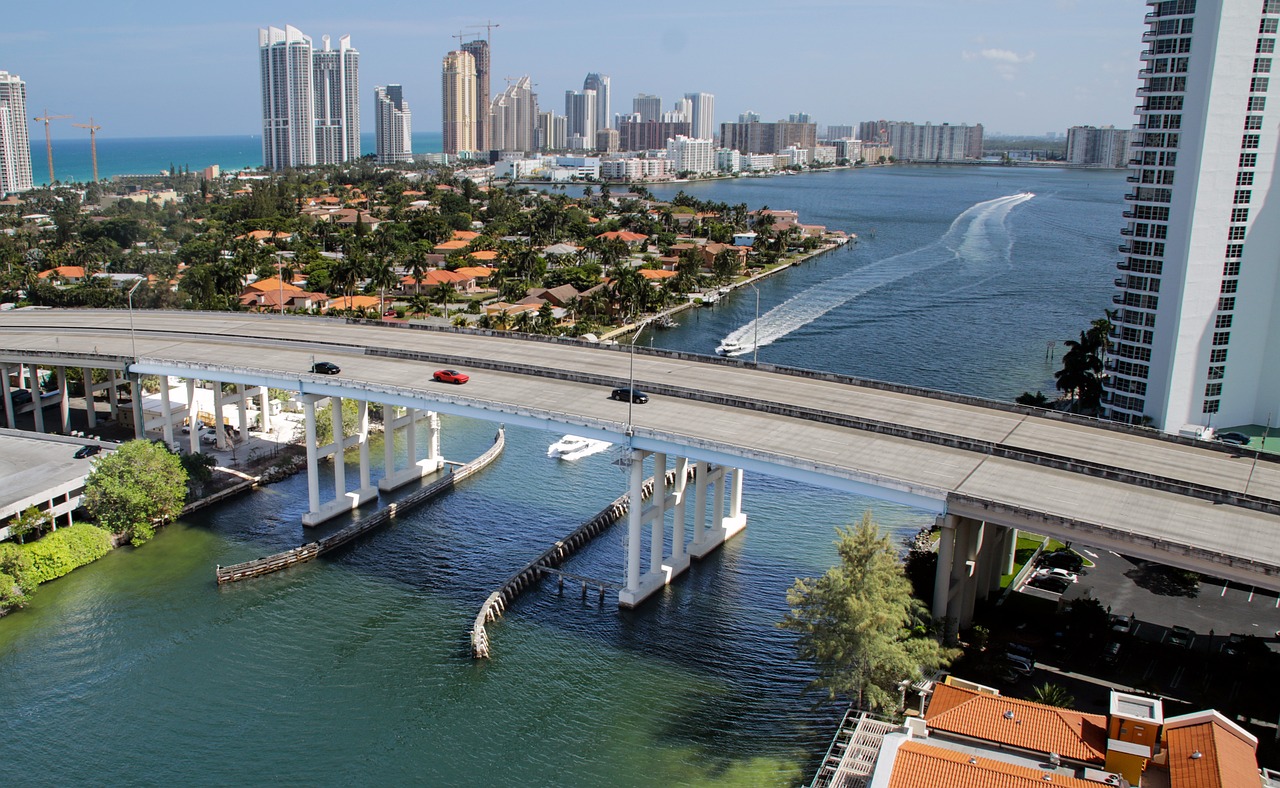 Discover the Top 28 Things to Do in Miami: Unforgettable Experiences Await!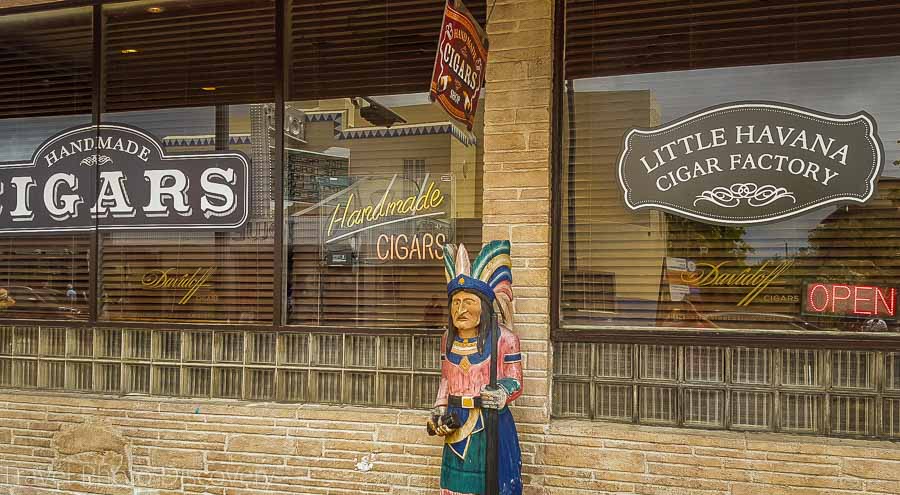 The best 28 things to do in Miami now
Want to get beyond the beach scene and drinking margaritas on the beach, get out to explore the greater Miami districts below.
1. Check out some Latin flavor in Little Havana
The predominantly Cuban neighborhood of Little Havana has the largest concentration of Cubans in the Miami neighborhood along with many other Central American, Caribbean and South American cultures that flock to the area for shopping, dining and socializing. This is also a wonderful area to visit for many latin inspired eateries, galleries and places to hang out, catch a show or have some delicious tropical drinks in the bars lining Calle Ocho or 8th Street in Little Havana.
Check out this fun food tour and Highlights of visiting Little Havana here for more images and details.
Here are some of the main attractions around Little Havana to explore
Calle Ocho (8th Street): The heart of Little Havana, Calle Ocho is lined with colorful storefronts, restaurants, and cafes. Take a stroll along this lively street to soak up the vibrant atmosphere and experience the neighborhood's Cuban culture.
Domino Park (Maximo Gomez Park): Located on Calle Ocho, Domino Park is a gathering place where locals play dominoes and engage in spirited conversations. Watch a game or join in if you're feeling adventurous.
Tower Theater: A historic landmark in Little Havana, the Tower Theater showcases independent and foreign films. Check the schedule for screenings and enjoy the art deco architecture of this cultural gem.
Ball & Chain: This famous live music venue has been a cornerstone of the neighborhood since the 1930s. Experience the vibrant nightlife of Little Havana while enjoying live music, salsa dancing, and delicious cocktails.
Cubaocho Museum & Performing Arts Center: Discover the rich artistic heritage of Little Havana at Cubaocho. This unique venue houses an art gallery, a bar with an extensive collection of rum, and live performances that celebrate Cuban music and culture.
Máximo Gómez Park (Domino Park): Another park named after the Cuban independence hero, Máximo Gómez Park is a peaceful green space where you can relax, people-watch, and observe local life.
Little Havana Cigar Factory: Experience the art of cigar-making at this renowned cigar factory. Witness skilled craftsmen rolling cigars by hand and learn about the history and tradition of Cuban cigars.
These are just a few of the many places to explore in and around Little Havana, offering a glimpse into the vibrant Cuban culture that permeates the neighborhood.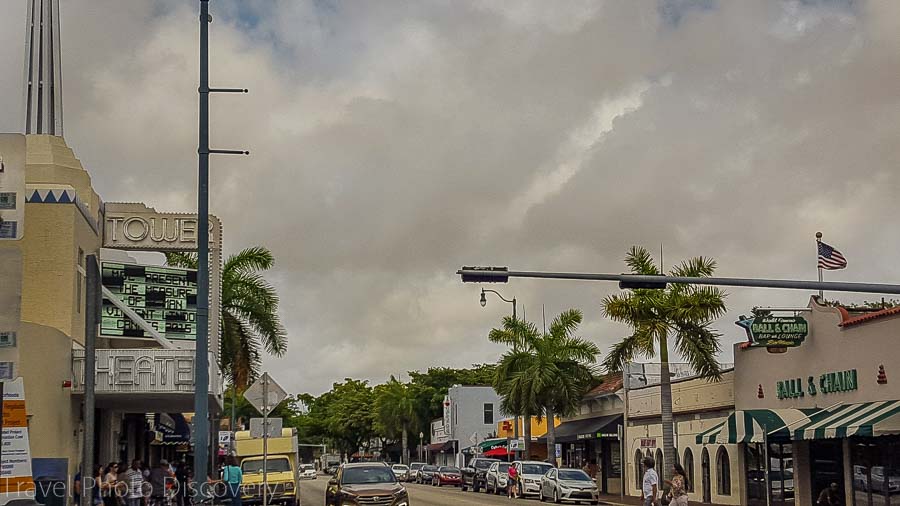 Check out the highlights to exploring Little Havana below
2. Undiscovered Little Haiti
Little Haiti, located in Miami, Florida, offers a rich cultural experience with its vibrant Haitian community. While exploring this neighborhood, be sure to visit the Little Haiti Cultural Complex, a hub for art, music, and dance performances showcasing Haitian culture. Stroll through the Caribbean Marketplace, where you'll find a variety of shops selling Haitian artwork, crafts, and traditional goods. Don't miss the chance to sample delicious Haitian cuisine at local restaurants, immersing yourself in the flavors of the island. Additionally, keep an eye out for vibrant murals and street art that beautifully depict the Haitian heritage and contribute to the neighborhood's lively ambiance.
Here's a view of the Little Haiti neighborhood on a brief tour below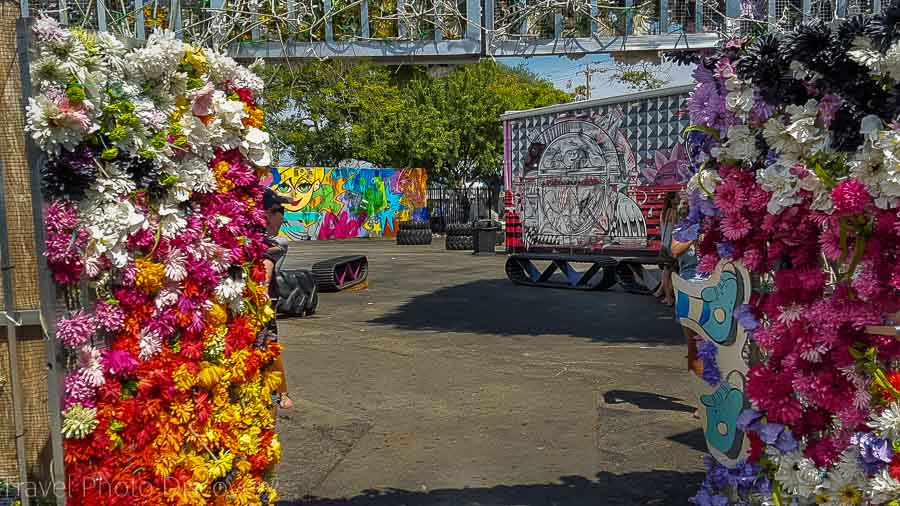 3. Visit the Wynwood district of Miami
For those looking for the most hip places with cool vibes and hangout spots then the Wynwood district in Miami is one of the fun neighborhoods to explore. Filled with colorful and brash murals and street art on almost all the buildings in the area, its fun to walk around and see the graffiti and browse through all the trendy boutiques, galleries and cafes in this district.
There are a lot of wonderful bars, restaurants and coffee/dessert places to check out if you are hungry and want to people watch at the same time. Check out my post on visiting the Wynwood district here or you can check out the latest places to visit and events at the Wynwood website here for more details and updated information.
Tip – its easy to take a stroll around the streets to see the street art, but the largest concentration of amazing murals are located at the Wynwood Walls.
Having fun with the murals at Wynwood Walls 
Here's a street art visit to the Wynwood district below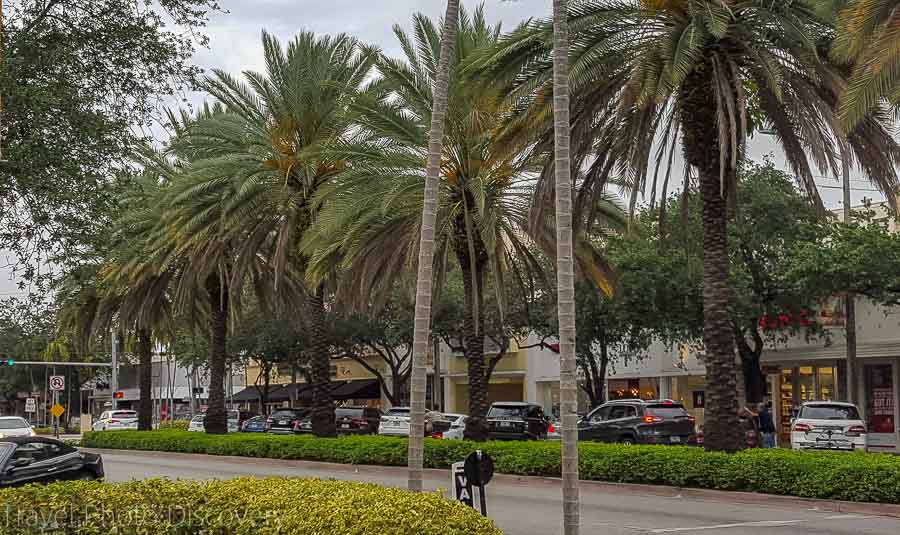 4. Explore Coral Gables
Home of the University of Miami, Coral Gables is actually an independent city to the Southern section of Miami County.  With a free trolley service, its easy to explore and walk around the main downtown district and explore the popular Mediterranean Revival buildings around this area filled with cool galleries and trendy stores.
Here's a tour of what Coral Gables looks like below
5. Visit Miami's design district
The design district is located in the Buena Vista district is a fun place to explore and discover anything focused on design, art and the latest in trends. Home to over 130 art galleries, showrooms, antique dealers and fantastic eating and drinking venues. It is a high end shopping area with designer brands ranging from Prada, Hermes, Luis Vuitton mixed in with ultra chic home furnishing shops and local designers. Check out more of the design district here for more details and visiting the area.
Here's what to see in Miami's design district
Miami's Design District is a vibrant neighborhood known for its contemporary art galleries, high-end fashion boutiques, and exquisite dining options. When exploring the Design District, there are several must-see attractions that showcase the area's unique blend of art, design, and culture.
Art Galleries: The Design District is home to numerous art galleries, showcasing cutting-edge contemporary art from around the world. Some notable galleries include the Institute of Contemporary Art (ICA), featuring thought-provoking exhibitions, and the de la Cruz Collection, housing a private contemporary art collection accessible to the public.
Luxury Shopping: If you're a fan of high-end fashion and luxury brands, the Design District is a shopper's paradise. Explore the district's stylish boutiques, including flagship stores like Gucci, Louis Vuitton, Dior, and Prada. The district offers a unique shopping experience, with avant-garde architecture and beautifully curated spaces.
Public Art Installations: As you wander through the streets of the Design District, you'll encounter captivating public art installations. The neighborhood features a range of outdoor sculptures, murals, and interactive art pieces that add vibrancy to the surroundings. Keep an eye out for works by renowned artists like Buckminster Fuller, Zaha Hadid, and Urs Fischer.
Design Showrooms: The Design District is known for its impressive design showrooms, offering an array of furniture, lighting, and home decor. These showrooms provide inspiration for interior design enthusiasts and professionals alike, showcasing innovative and stylish pieces from both established and emerging designers.
Culinary Delights: Indulge your taste buds with the Design District's culinary offerings. The neighborhood boasts an array of gourmet restaurants, trendy cafes, and chic eateries. From international cuisines to local flavors, you'll find a diverse range of dining options to satisfy your palate.
Museum of Graffiti: Discover the Museum of Graffiti, dedicated to showcasing the history and evolution of graffiti art. This unique museum features a collection of vibrant and thought-provoking graffiti and street art, celebrating the creativity and cultural significance of this urban art form.
Events and Cultural Experiences: The Design District hosts various events and cultural experiences throughout the year. From art walks and gallery openings to fashion shows and design festivals, there's always something happening in this dynamic neighborhood. Check the calendar to see if there are any special events taking place during your visit.
Check out what the uber trendy Design district of Miami looks like now
6. Brickell and downtown Miami 
The premiere business district of Miami, there are definitely some things to enjoy in the downtown area especially if you are staying in one of the cool and modern hotels that line the downtown district.
Popular things to do in this area include checking out the sporting events at the American Airlines Arena and Performing Arts Center of Miami Dade County or mega shopping at Bayside Marketplace. Late afternoons for Happy Hour at some of the rooftop Hotel bars is a great way to enjoy the skyline and sunset views from above.
Here's a look around the Brickell district of Miami below
Popular attractions around Miami Beach area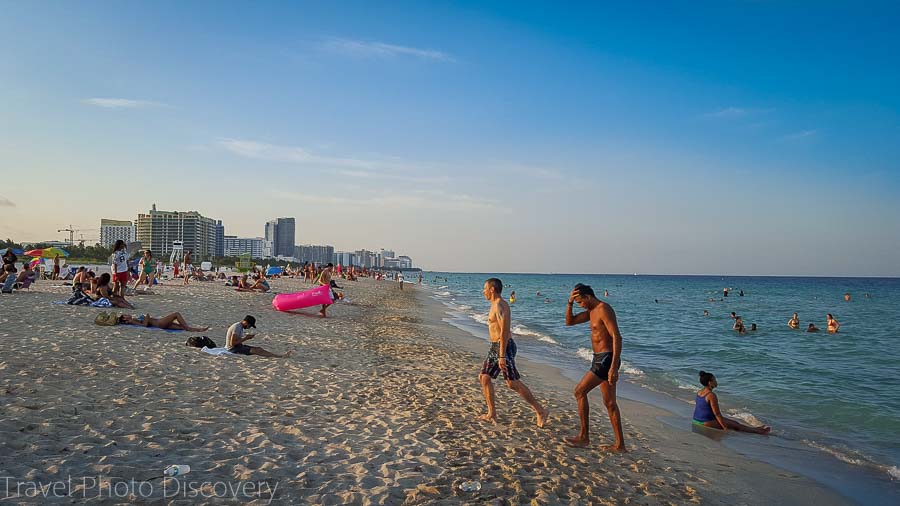 7. Miami 's South Beach
The Beach scene is where it is at Miami Beach and its fun to walk, bike or just enjoy some down time on the beach. This area fronting the Art Deco district and wonderful ocean front green belts with biking/walking paths through the entire length of the beach make is a favorite spot to bike, job or do other outdoor activities as well as a see and be seen type of socializing experience in Miami's hip South Beach area.
The district's famous Ocean Drive is a bustling thoroughfare that runs parallel to the beach and is lined with iconic Art Deco hotels, trendy restaurants, and vibrant sidewalk cafes. At night, the neon lights illuminate the street, creating a vibrant and lively atmosphere. South Beach's Art Deco buildings have not only become a symbol of the neighborhood but also a backdrop for countless movies, TV shows, and fashion shoots, solidifying their status as an iconic and recognizable part of Miami's cultural identity.
8. Explore the Miami Art Deco District at night
The Art Deco District which is next to South Beach is popular throughout the day time, but at night all the Art  Deco buildings come alive with Neon lights and colors, outdoor café dining, street performances and live music in many of the ocean front venues. It's a very lively and fun cruising area to walk around or find a nice spot to relax, dance or just people watch along the main drag in the many bars or restaurants that line this  tourist destination.
South Beach's Art Deco Historic District is the largest concentration of Art Deco architecture in the world. The district showcases over 800 unique buildings dating back to the 1920s and 1930s, characterized by their pastel hues, geometric shapes, and intricate details. This architectural style, known as Tropical Art Deco, perfectly captures the essence of Miami's glamour and exuberance. Taking a stroll through the Art Deco Historic District allows visitors to immerse themselves in the nostalgic charm of the era and witness the preservation of this architectural treasure.
Tip – I did a fantastic food tour exploring the Art Deco district and many other cool attractions in South Beach as well as eating at some delicious food venues in the area, check out my Miami food tour here for more details and images.
Check out the Art Deco district of South Beach area below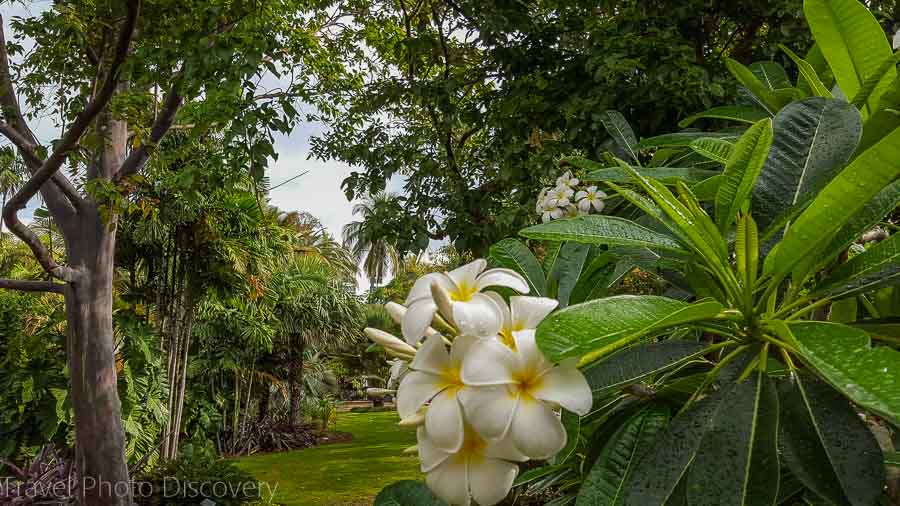 9. Miami Beach Botanical Garden
This little garden is a real gem in the Miami Beach Area, filled with colorful tropical plants, sculpture and water features, it is the perfect place to relax and do something green inspired in the district. Check out my Miami Botanical Garden tour here for more images and highlights of a visit to the garden. It is so easy and small to explore this compact garden and even check out the impactful Holocaust memorial on the other side of the garden.
Tip – since the park is on the north edge of South Beach, it is better to take public transportation or catch an Uber to get to this location.
Check out the Miami Beach Botanical garden here for more information and visiting details.
For a nice respite from the sun and heat of Miami, head out to the botanical garden below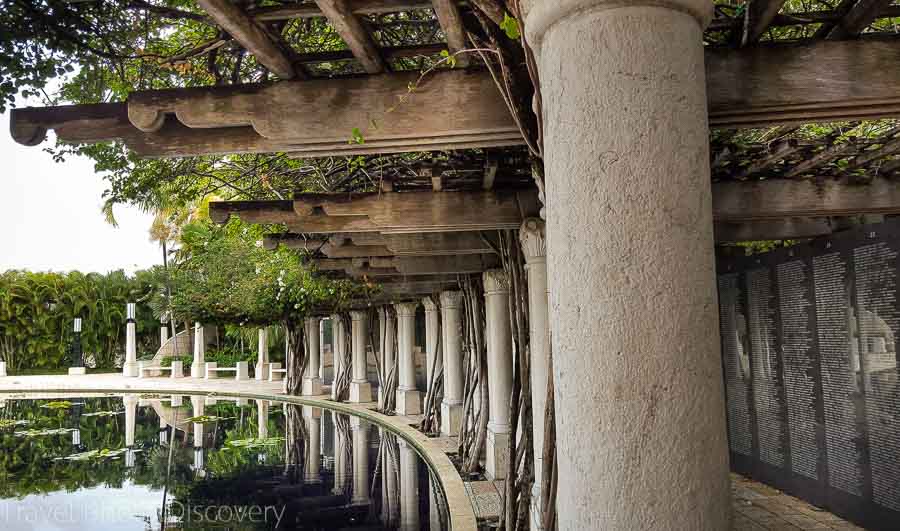 10. Miami Holocaust Memorial at Miami Beach
Located just around the corner from the Miami Botanical Garden is this stunning memorial filled with amazing  sculpture and architectural details and create an impressive presence. Even though the subject is sad, the overall appeal and gorgeous art, sculpture, garden details make this a wonderful place to visit and understand the significance of this Memorial located in Miami Beach. Check out my Holocaust Memorial post here for more images and highlights of this beautiful monument.
Tip – it's an easy walk to see both the Holocaust Memorial and the Miami Botanical garden in one visit.
Here's a quick look at the beautiful and serene gardens and Holocaust memorial below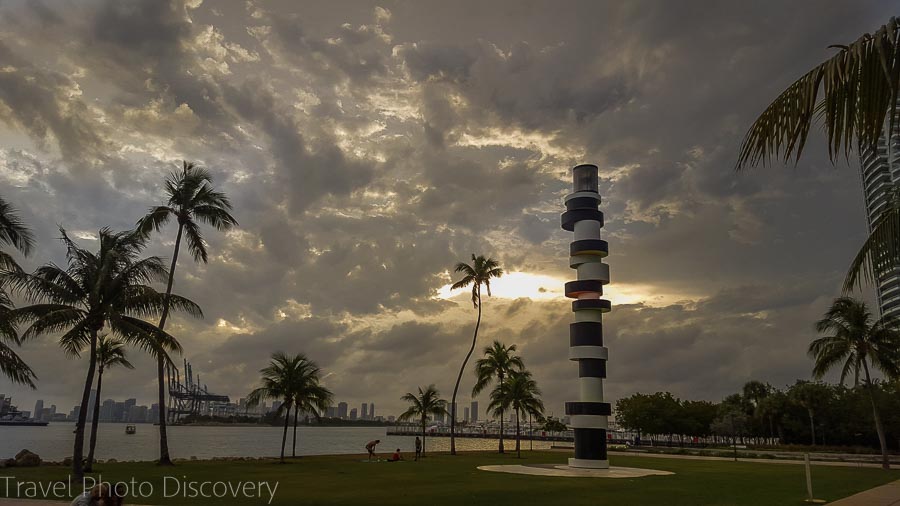 11. South Point Park at Miami Beach
The southern point of Miami Beach is a perfect place to get away from all the crowds but still enjoy the outdoors with the lovely marina, beautiful views of Miami Beach, Biscayne Bay, Port of Miami and the Miami skyline. It's a great place to walk and just enjoy the scenes from the South Point Park or even check out the sunrise or sunsets from the southern tip.
Tip – an easy way of covering this whole area from the Marina to the tip is by road cruiser that you can rent or borrow from the hotel you are staying in South Beach
Here's a look at the South Point park and pier below
Popular Attractions and activities around Miami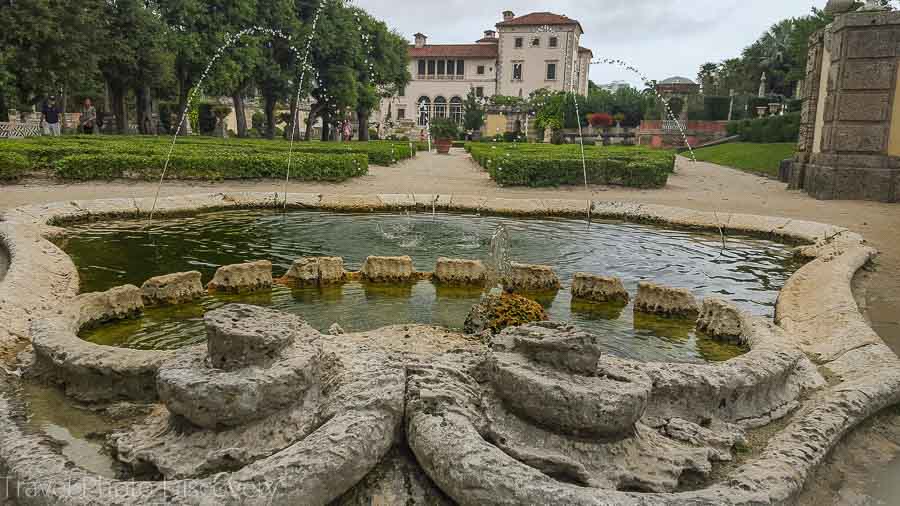 12. Vizcaya museum and gardens
On the Outskirts of Coral Gables and Miami is the Museum estate of Vizcaya, the winter home of the John Deers. Touring the Vizcaya museum and gardens with the magnificent mansion is the ultimate in Miami homes that ushered in the beginning of Miami's start and creation with the build of this impressive estate in Coral Cables. The interiors can be visiting with a docent or doing a self tour which is easy enough with the excellent signage in the property. The exterior gardens are also fun to explore and photograph the different vantage points and cool areas around the many gardens on the property.
Vizcaya Museum and Gardens, once the private residence of industrialist James Deering, is a stunning architectural gem and an oasis of beauty and tranquility in the heart of Miami. Built between 1914 and 1922, the estate is a masterpiece of Italian Renaissance and Baroque influences, meticulously designed to evoke the ambiance of a European villa.
Tip – It is better to catch an Uber ride to this location or if you have your own car, drive to this museum since public transportation is limited in the area.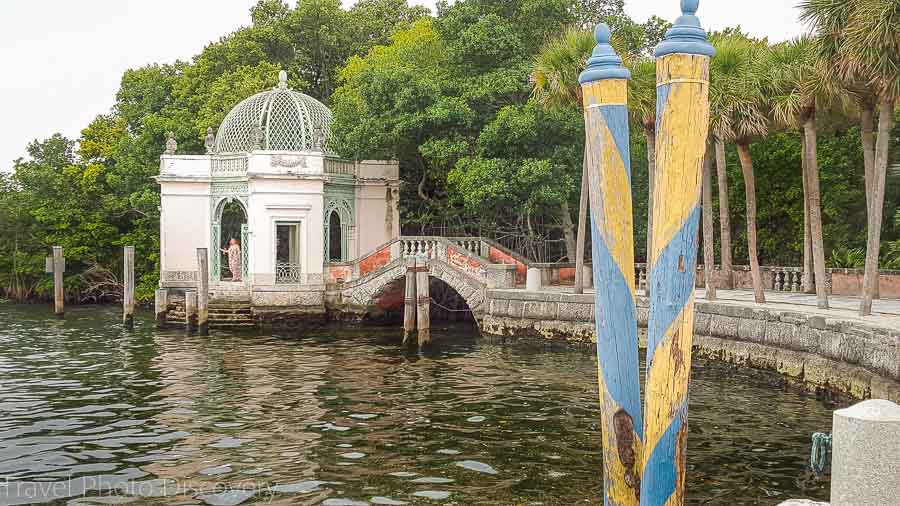 For more information about visiting Vizcaya, check out their website here for more details and tours.
Here's a view from above and the gardens at VIzcaya below
Classic Miami only Experiences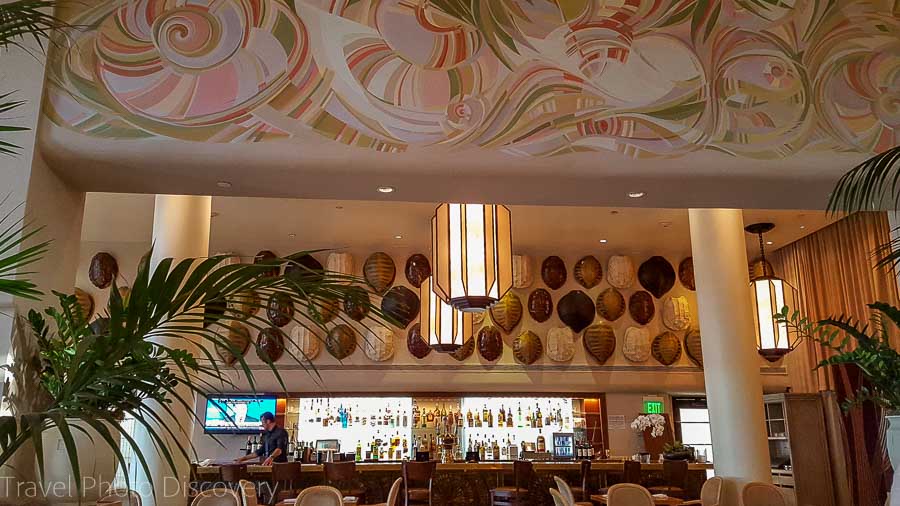 13 Enjoy a classic mojito Art Deco style
There's nothing more fun than lounging in any of the gorgeous Art Deco hotels or restaurants during the day or night. When you combine the experience enjoying one of Miami's classic cocktails – the Mojito, you are going to have a wonderful experience. One of the famous hotel/bars to enjoy a Mojito is at the Tides hotel with its spectacular bar created for that perfect Miami experience. Check out my bar experience at the Tides hotel here for more images and a tour of the South Beach area.
When in Miami, there are several classic cocktails that you should try to fully immerse yourself in the city's vibrant drinking culture. Here are a few:
Mojito: Originating from Cuba, the Mojito is a refreshing and minty cocktail that perfectly suits Miami's warm climate. Made with rum, fresh lime juice, sugar, mint leaves, and soda water, it's a classic choice for cooling off and enjoying the tropical vibes.
Piña Colada: Another tropical favorite, the Piña Colada is a creamy and indulgent cocktail that features rum, pineapple juice, and coconut cream. Sipping on a Piña Colada by the beach or pool is a quintessential Miami experience.
Daiquiri: A classic rum-based cocktail, the Daiquiri is simple yet delicious. Made with rum, lime juice, and sugar, it can be enjoyed in its classic form or with variations like strawberry or banana, adding a fruity twist to the drink.
Cuba Libre: This cocktail, also known as a Rum and Coke, is a timeless combination of rum, cola, and a squeeze of fresh lime juice. It's easy to make and pairs well with Miami's lively atmosphere.
Margarita: Although typically associated with Mexican cuisine, Margaritas are popular in Miami's cocktail scene. Made with tequila, lime juice, and orange liqueur, this tangy and refreshing cocktail is perfect for a fun night out.
Miami Vice: A Miami specialty, the Miami Vice is a frozen cocktail that combines a Piña Colada and a Strawberry Daiquiri in a delightful swirl. It's a fun and visually appealing drink that captures the spirit of the city.
Caipirinha: While not directly associated with Miami, Caipirinhas, the national cocktail of Brazil, can be found in many Miami bars. Made with cachaça (a Brazilian sugarcane spirit), lime, and sugar, this zesty cocktail offers a taste of South America in the heart of Miami.
Tip – check out the amazing speakeasy hidden bar in the Tides Hotel with all the gorgeous art and details.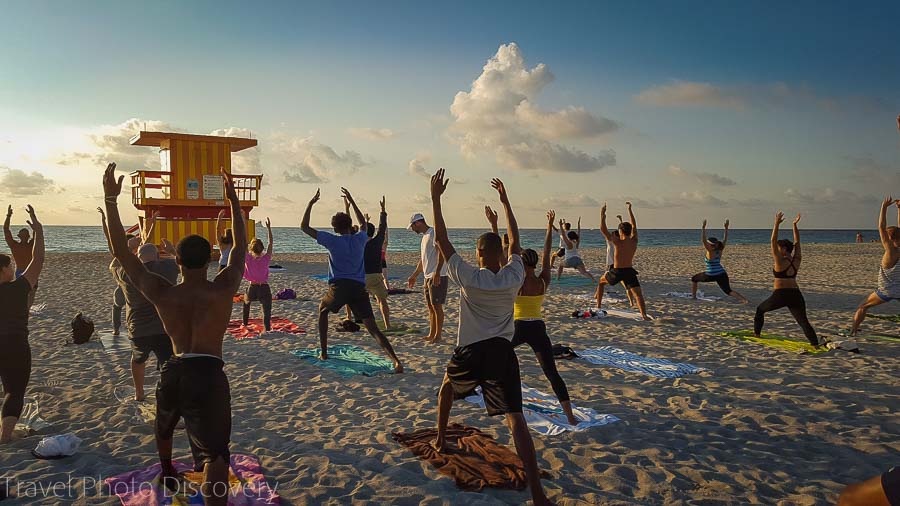 14. Sunrise Yoga at Miami Beach
This fun and free event happens every morning after sunrise at Miami Beach. Featuring a rotating group of local instructors, the morning yoga session is for beginners to even advance yoga practice where the instructor can challenge you to do more advance steps doing variations of the positions being covered.
Tip – get to the yoga area fronting 3rd street and the lifeguard station early to find a spot where you can hear the instructions. Donations are kindly accepted for the instructor.
Here's a fun sun rise yoga time lapse experience on the beach

15. Take a food tour in Miami
A great way to try some new food venues in a new destination if easily resolved when you book any of the popular food tours in Miami. One food tour that stands out from the pack along with having a real check lead the tours is the Miami Culinary Tour in South Beach tour which covers walks along the popular attractions in the Art Deco district, Ocean drive and some very tasty food venues covering a varied range of international and regional foods from the area.  Check out my food tour experience in the South Beach district here for more highlights of this fun tour of Miami Beach.
Check out our food tour experience of South Beach below
16. Shopping the Bay Side Marketplace
Located right on the Bay front in Downtown Miami, the Bay Side Marketplace hosts delicious restaurants, popular retailers with over 150 shops, bars and hangout spots offering live music and street performances events around the festival center and eating venues.  This popular tourist attraction is a great location for dining, entertainment and shopping mainstream brands along with other international stores.
Here's some cool reasons to visit the Bayside Marketplace:
Diverse Shopping Options: Bayside Marketplace is a bustling waterfront mall that features a wide array of shops and boutiques, catering to a variety of tastes and preferences. From well-known retail brands to local vendors and artisans, you'll find everything from clothing, accessories, and footwear to souvenirs, artwork, and home decor. The diverse mix of stores ensures there's something for everyone, making it an ideal shopping destination.
Spectacular Waterfront Location: Situated right on the shores of Biscayne Bay, Bayside Marketplace offers stunning views and a captivating ambiance. As you shop, you can enjoy the refreshing sea breeze, take in panoramic vistas of the bay, and even spot passing boats and yachts. The waterfront location adds a unique charm to the shopping experience, creating a pleasant and picturesque environment.
Outdoor Entertainment and Live Music: Bayside Marketplace goes beyond just shopping. The mall features live music performances and outdoor entertainment throughout the year. Talented local musicians and bands often perform at the marketplace's various stages, enhancing the lively atmosphere and providing a delightful backdrop to your shopping experience. It's an opportunity to soak in the vibrant Miami culture while browsing the stores.
Dining and Refreshment Options: Shopping can work up an appetite, and Bayside Marketplace has you covered with a wide range of dining options. From casual eateries and food courts to waterfront restaurants and bars, you can indulge in diverse cuisines and enjoy a variety of refreshments. Whether you're in the mood for international flavors, fresh seafood, or quick bites, you'll find plenty of choices to satisfy your cravings.
Proximity to Other Attractions: Bayside Marketplace is conveniently located near other popular Miami attractions. It's within walking distance of the American Airlines Arena, home to the Miami Heat basketball team, and the scenic Bayfront Park. Additionally, the marketplace offers easy access to boat tours, water taxis, and cruises, allowing you to extend your adventure beyond shopping and explore Miami's beautiful waterways.
Check out the highlights to visiting the Bayside Marketplace below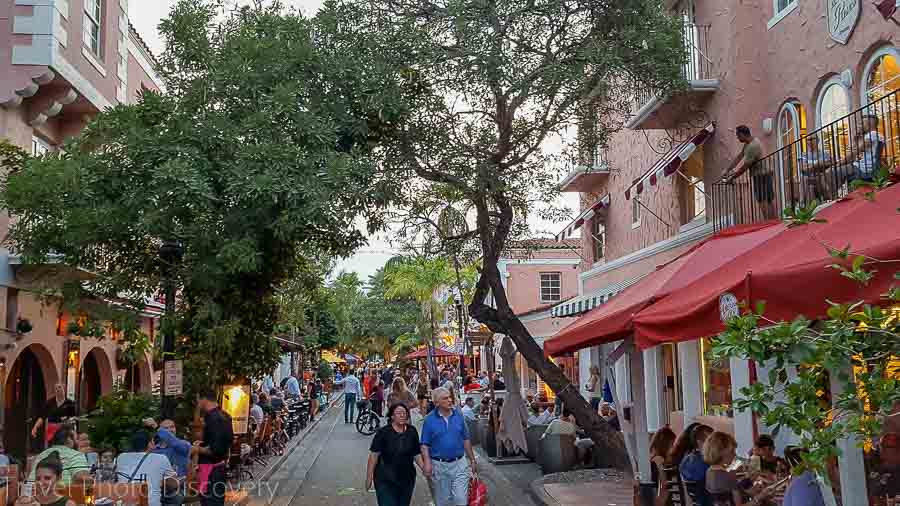 17. Enjoy a meal outdoors in Miami Beach
There are so many wonderful eating venues, but eating outdoors is a Miami Beach must. The most popular areas for outdoor dining include the very touristy Espanola way with its Mediterranean inspired architecture and variety of cuisines. Another popular dining and shopping area with many outdoor restaurants is the Lincoln Road Mall which is basically a pedestrian walkway with restaurants, bars and boutique stores on both sides of the promenade. There are plenty of food choices and prices ranges to fit every budget on Lincoln Road.
Here are a sampling of the best outoor dining venues at Miami area to enjoy an amazing meal al fresco:
Rusty Pelican: Located on Virginia Key, the Rusty Pelican offers breathtaking waterfront views of Miami's skyline. This upscale restaurant features a spacious outdoor terrace where you can indulge in delectable seafood dishes while taking in panoramic vistas of Biscayne Bay.
Juvia: Situated in the heart of South Beach, Juvia is renowned for its stunning rooftop terrace. This chic restaurant offers a fusion of Japanese, Peruvian, and French cuisines, with a backdrop of sweeping views of Miami Beach. The combination of delectable dishes and a stylish outdoor setting makes Juvia a must-visit for outdoor dining enthusiasts.
Seaspice: Nestled along the Miami River, Seaspice is a trendy waterfront restaurant that provides an upscale dining experience. Its outdoor seating area features a relaxed and stylish ambiance, ideal for enjoying their globally inspired menu, which includes fresh seafood and modern interpretations of classic dishes.
The Wharf Miami: For a more casual and vibrant outdoor dining experience, head to The Wharf Miami. This open-air venue is located along the Miami River and offers a variety of food options from multiple food trucks and pop-up vendors. Enjoy your meal while relaxing in comfortable seating areas and taking in the energetic atmosphere.
Wynwood Kitchen & Bar: Located in the trendy Wynwood Arts District, Wynwood Kitchen & Bar combines delicious Latin-inspired cuisine with an artistic setting. Their outdoor patio is adorned with colorful murals by renowned street artists, creating a vibrant and visually stimulating backdrop as you savor their flavorful dishes.
Mandolin Aegean Bistro: Transport yourself to the Mediterranean at Mandolin Aegean Bistro. This charming outdoor restaurant in the Design District serves up Greek and Turkish fare in a cozy courtyard setting. With its white-washed walls, rustic wooden tables, and lush greenery, it offers a tranquil escape in the heart of the city.
Nikki Beach: If you're looking for a beachfront dining experience, Nikki Beach is an excellent choice. Located in Miami Beach, this lively venue combines a restaurant, bar, and beach club, offering a fun and energetic atmosphere. Enjoy their global cuisine, sip on refreshing cocktails, and relax in the sun-kissed outdoor seating area.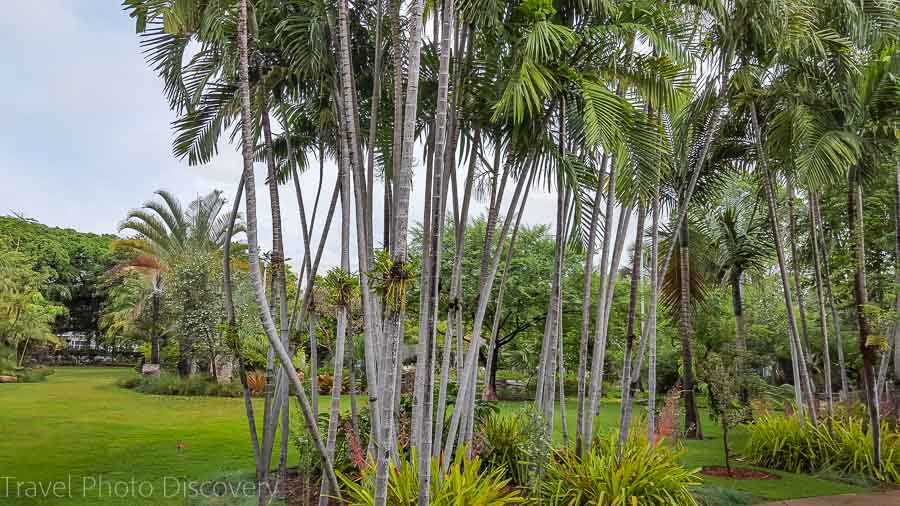 18. Visit the Fairchild Tropical Botanical Gardens
Opened since 1938, Fairchild Tropical Botanical Garden in Miami is one of the most significant American gardens with over 83 acres of beautiful landscape and an extensive collection of rare tropical plants to include palm trees, cycads, bromeliads and orchids.
Created by a famous landscape architect, the garden has many scenic vista points, exotic flower gardens and artwork or sculpture that is fun to see and photograph.
Check out the Fairchild Botanical Garden's website here for more information and their calendar of events.
Here's a gorgeous visit to the Fairchild Tropical Botanica Gardens below
19. Find a cool roof top bar to see Miami from above
For Those looking to check out the fun and trendy scenes look for some of the cool roof top bars with amazing views of downtown and the South Beach areas. You can find swanky pool and bar hangout spots all around Miami starting with the happy hour scene and leading into full party mode later into the night with more of a night club appeal and a see and be seen attitude. There's plenty of the hot scenes to check out from the Highbar, Area 31 to Juvia and Gale South Beach.
Tip – check out the scoop latest fun root top bars scene and where to go here for more details and an updated calendar.
Here's a view and some food eats at the Serena Rooftop bar below
In Miami new rooftop bars may emerge on an ongoing basis, but these are the most up to day we have found around the city now. I recommend checking recent reviews and recommendations to ensure you have the most current information.
Juvia Miami Beach: Located in South Beach, Juvia offers a chic rooftop with panoramic views of the ocean and city. It combines a stylish restaurant, bar, and lounge, known for its creative cocktails and fusion cuisine.
Sugar at EAST, Miami: Situated in Brickell, Sugar is a trendy rooftop bar with an Asian-inspired garden vibe. It boasts breathtaking views of the Miami skyline and serves Asian-inspired cocktails and snacks.
Area 31 at Kimpton EPIC Hotel: This rooftop bar overlooks Biscayne Bay and the Miami River, providing a sophisticated ambiance with both indoor and outdoor seating. Area 31 offers a selection of craft cocktails and a menu featuring locally-sourced ingredients.
WET Deck at W Miami: Perched atop the W Miami hotel, the WET Deck offers a poolside bar experience with views of the city and bay. It's a lively spot with a DJ, serving up refreshing cocktails and light bites.
The Cape at Townhouse Hotel: Located in South Beach, The Cape is a stylish rooftop bar featuring a plunge pool and cabanas. It offers a relaxed atmosphere, serving cocktails and Mediterranean-inspired bites.
Highbar at Dream Hotel South Beach: This rooftop lounge boasts panoramic ocean views and is a popular spot for sunset cocktails and nighttime revelry. It often hosts DJ performances and themed events.
E11EVEN Rooftop: Situated in Downtown Miami, E11EVEN offers a vibrant rooftop club experience, complete with a DJ, dance floor, and a retractable roof. It's a lively venue for late-night entertainment.
C-Level Rooftop Terrace at Clevelander South Beach Hotel: C-Level is a vibrant rooftop bar in the heart of South Beach, known for its lively atmosphere, live music, and signature frozen cocktails.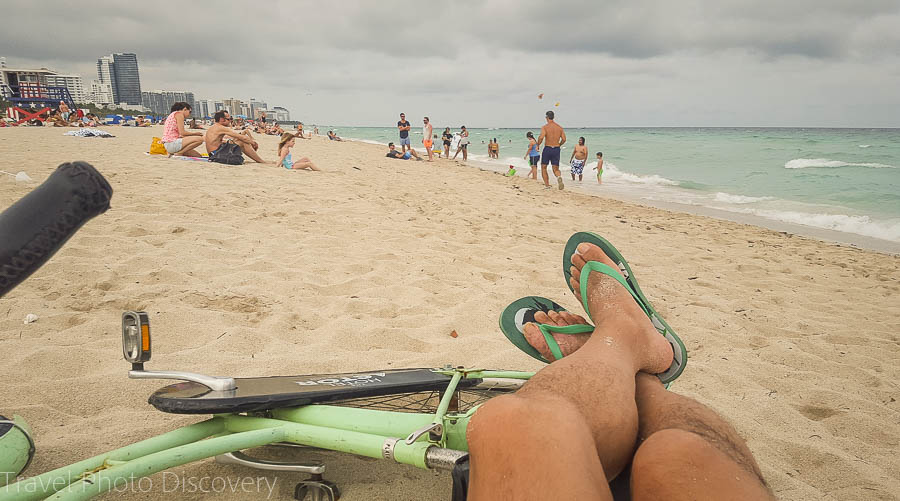 20. Take a road cruiser around Miami Beach
Biking the bike paths from the South Point of Miami Beach all the way to the tip is a really fun way to explore the entire length of Miami Beach. It's fun to check out and stop at any of the attractions or venues that you see along the way while getting some sun and exercise on your journey.
Tip – many of the local hotels have free cruiser bikes to use or you can find plenty of bike rentals along the bike paths close to the beach areas.
Here's a look at the beach biking areas to check out below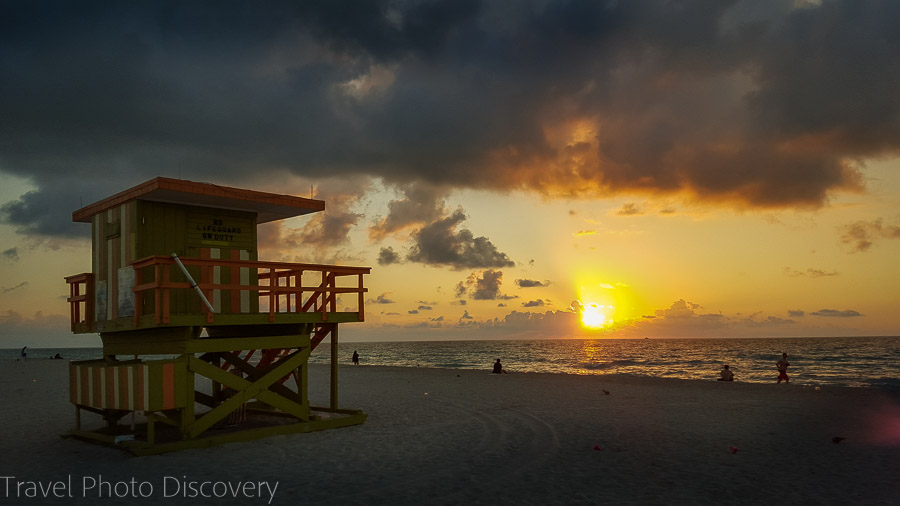 21. Enjoy sunrise on Miami Beach
If you can get yourself out of bed early get out to Miami Beach and enjoy a gorgeous sunrise and start to the day. This is probably the only time you'll see just a handful of sunrise lovers in this typical stretch of pack beach from morning until late night, so why not have most of the beach and a gorgeous sunrise to enjoy!
Here are some perfect locations to catch the sunrise in Miami Beach:
South Pointe Park: Located at the southernmost tip of Miami Beach, South Pointe Park offers unobstructed views of the Atlantic Ocean and the Miami skyline. Its wide promenade and grassy areas provide ample space to find a comfortable spot and watch the sunrise unfold over the horizon.
Lummus Park Beach: This iconic stretch of beach runs along Ocean Drive in the heart of South Beach. Arrive early, find a spot on the sand, and witness the sky transform into vibrant hues of orange and pink as the sun rises above the Atlantic Ocean. It's a popular spot for both locals and visitors.
Haulover Beach Park: Situated just north of Miami Beach, Haulover Beach Park is known for its pristine shoreline and tranquil atmosphere. Find a cozy spot on the sand and watch as the sun paints the sky with stunning colors, creating a serene and awe-inspiring start to the day.
Bal Harbour Beach: Located in the upscale neighborhood of Bal Harbour, this beach offers a more serene and secluded setting. Enjoy a peaceful sunrise experience as the sun casts its golden rays over the gentle waves. The calm and tranquil ambiance adds to the beauty of the moment.
North Shore Open Space Park: As the name suggests, this expansive park on the northern end of Miami Beach provides open green spaces and natural dunes, creating a serene and natural environment. Enjoy a serene sunrise as you stroll along the beach or find a comfortable spot to sit and take in the beauty of the breaking dawn.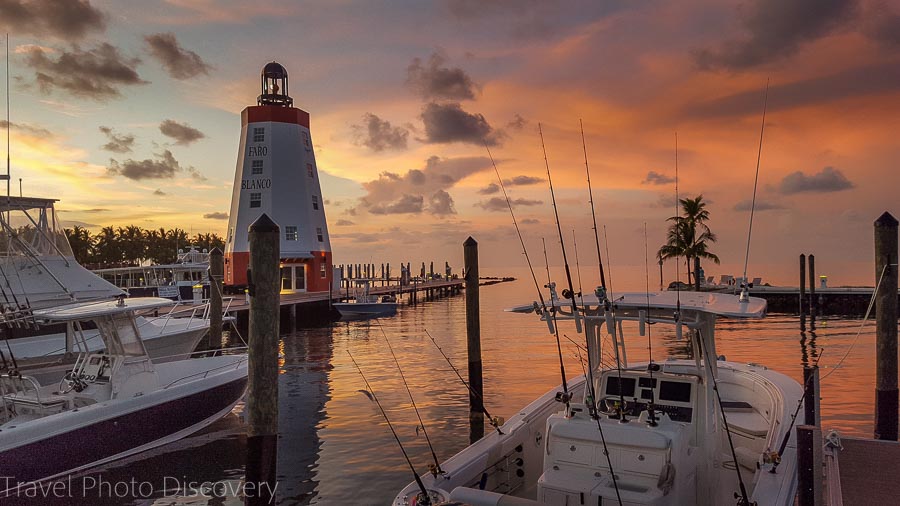 22. Do a drive down to the Florida Keys
An easy drive down from Miami to the Florida Keys and all the way to Key West is doable in a day or longer depending on your time frame.
To travel from downtown Miami to Key West, follow these directions:
Start by heading south on US-1 S/S Dixie Hwy from downtown Miami.
Continue on US-1 S, passing through various towns and cities, including Homestead and Florida City.
After reaching Florida City, US-1 S becomes the Overseas Highway (also known as the Florida Keys Scenic Highway).
Follow the Overseas Highway all the way to Key West, enjoying the scenic views of the ocean and the stunning Florida Keys.
Once you reach Key West, you can navigate the streets to your desired destination using a GPS or map.
The journey from downtown Miami to Key West takes approximately 3 to 4 hours, depending on traffic conditions and stops along the way. It is recommended to plan for rest stops and refuel your vehicle if necessary. Enjoy the picturesque drive as you make your way to the beautiful island of Key West.
Check out my post on visiting from Miami to the Florida Keys here and visiting Key West here for more infomation.
** IF you want to have a guided tour with driver to visiting the Florida Keys check out this fantastic tour here for more details.
Guided tours and adventure experiences around Miami
Embark on a guided tour of Miami to fully immerse yourself in the city's vibrant culture, iconic landmarks, and hidden gems. A guided tour offers the convenience of expert knowledge and curated experiences. Here are some popular options: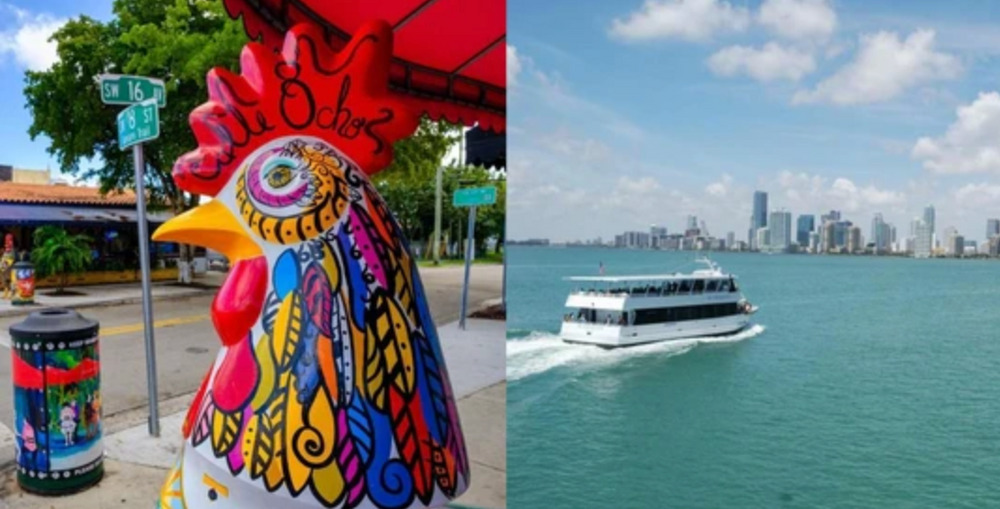 Experience a unique and invigorating perspective of Miami as you take to the water. Discover the city's fascinating history and capture its enchanting essence. Begin your adventure with convenient hotel pickup in South Beach or visit our shop, where a comfortable air-conditioned bus awaits. Embark on a scenic ride, immersing yourself in the most picturesque spots, including the Art Deco District, Ocean Drive, Downtown Miami, Brickell Avenue, Coconut Grove, Coral Gables, Little Havana, and Calle Ocho.
Once you've explored the city by land, it's time to set sail on a captivating narrated sightseeing boat cruise. Traverse the beautiful Biscayne Bay, marvel at the striking Downtown Miami skyline, witness the bustling Port of Miami, encounter Fisher Island, and admire the opulent Millionaire's Row. During the 90-minute cruise, indulge in refreshing beverages and light snacks available for purchase on board.
To top off your Miami adventure, hop on a bicycle and explore the vibrant South Beach, unlocking the true essence of this tropical paradise. Pedal through glamorous SoBe, passing by iconic landmarks like the Versace Mansion, Star Island, the lively Lincoln Road outdoor mall, the renowned Ocean Drive and Art Deco District, picturesque South Pointe Park, and much more.
With this comprehensive and exhilarating tour, you'll discover the beauty of Miami from different angles, creating unforgettable memories of your journey through this magical city.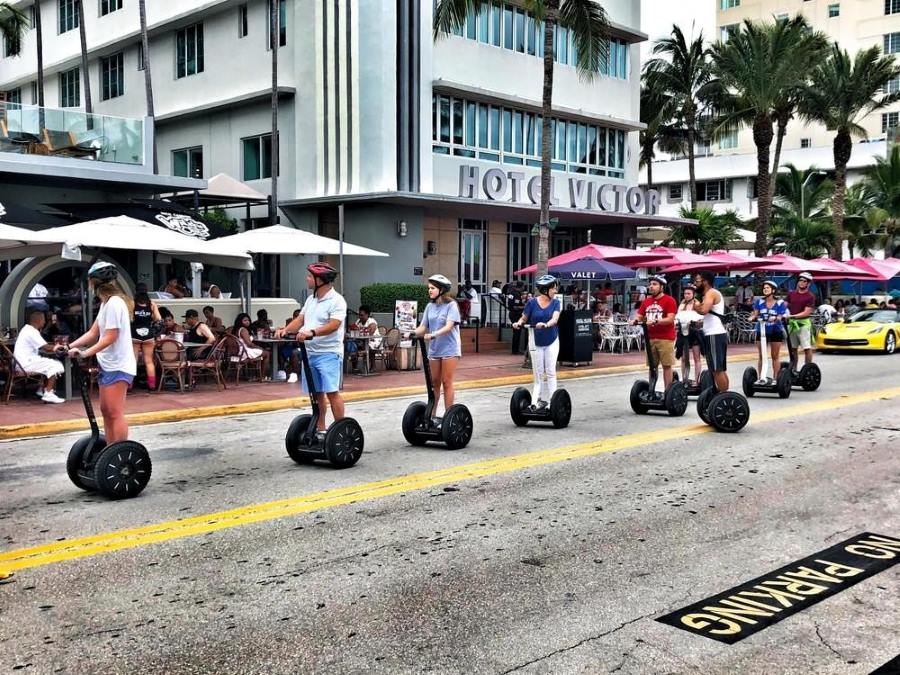 Experience the extraordinary city of Miami Beach in a whole new way by gliding effortlessly on a Segway PT. Why bother with walking or taking a bus when you can embark on a thrilling adventure? Our team of professional and entertaining tour guides will provide thorough training to ensure your safety and enjoyment as you embark on an unforgettable journey through time.
Explore the marvelously constructed and impeccably preserved Art Deco District, a true gem awaiting your discovery. Immerse yourself in the heart, soul, and vibrant culture of Miami as you effortlessly glide down the city's main arteries: Ocean Drive and Collins Ave. Marvel at the stylish promenade, offering a delightful blend of shopping and dining options that will leave you captivated.
With the freedom and excitement of a Segway PT, you'll have the opportunity to delve into Miami Beach's past while embracing the present. Let the Segway be your gateway to an unparalleled exploration of this incredible city.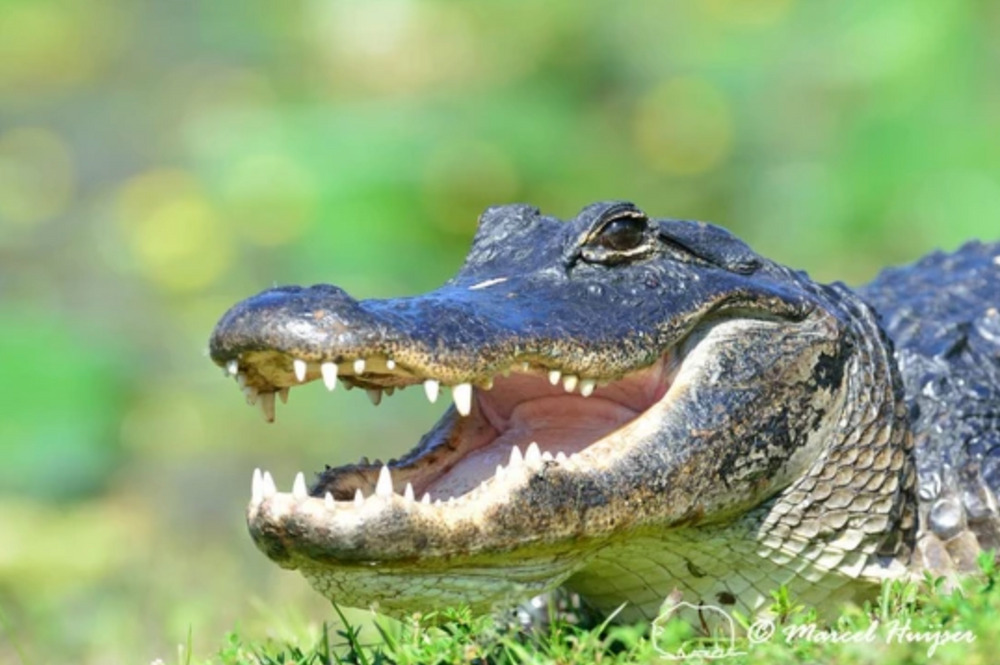 Experience an entertaining and educational 4.5-hour guided tour that takes you from Miami's Art Deco District to the stunning Everglades National Park. Leave behind the lively South Beach and enter the wild realm of the Florida Everglades. Glide on an airboat through this vast subtropical ecosystem, spotting alligators, turtles, and various bird species in their natural habitat. Visit an alligator farm to observe caimans, crocodiles, and other reptiles while learning about their unique characteristics and the ancient techniques used by Native Americans to capture alligators. This tour offers an unforgettable journey through the captivating landscapes and wildlife of the Everglades.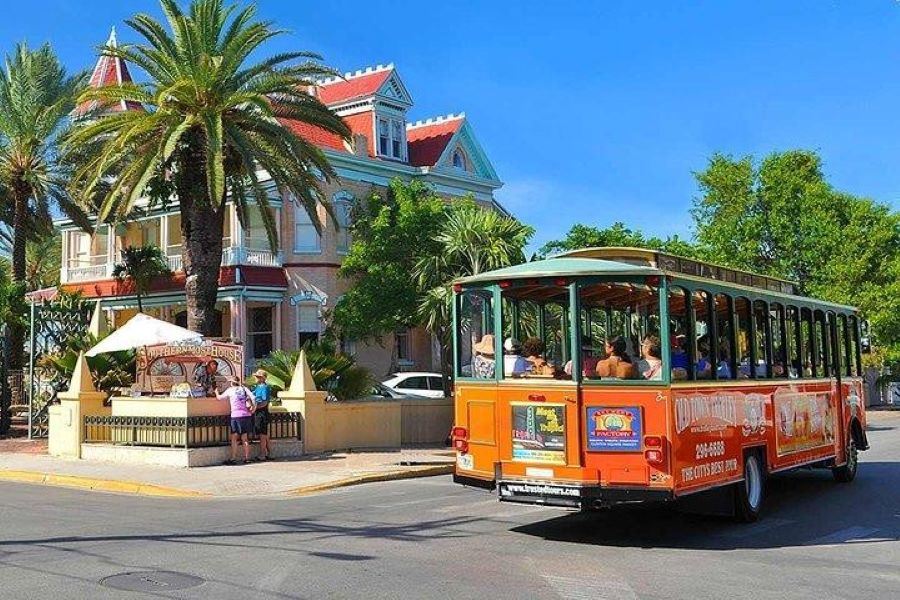 Experience a full-day trip from Miami to Key West, embarking on a scenic 110-mile journey along the breathtaking Overseas Highway. This unique motor journey showcases ocean views, 42 bridges, natural wonders, and rich history, creating an unparalleled adventure. Each region of the Keys possesses its own distinct character, offering a refreshing escape from the hustle and bustle of big cities and theme parks.
Enjoy a leisurely day exploring the enchanting streets of Key West, embracing the laid-back and quaint atmosphere that defines the island. Visit notable attractions such as Ernest Hemingway's House, the southernmost point of the continental U.S. marked by the famous "90 miles to Cuba" Monument, or Mallory Square. Engage in thrilling activities like snorkeling, a glass-bottom boat ride, or hop on the convenient Hop-On Hop-Off trolley to discover the best of the island. After a day filled with excitement, you'll be transported back to Miami Beach, arriving around 10pm.
As an added bonus, a free bike rental is included, complete with a helmet and bike lock, allowing you to explore the vibrant South Beach at your own pace during your stay in Miami.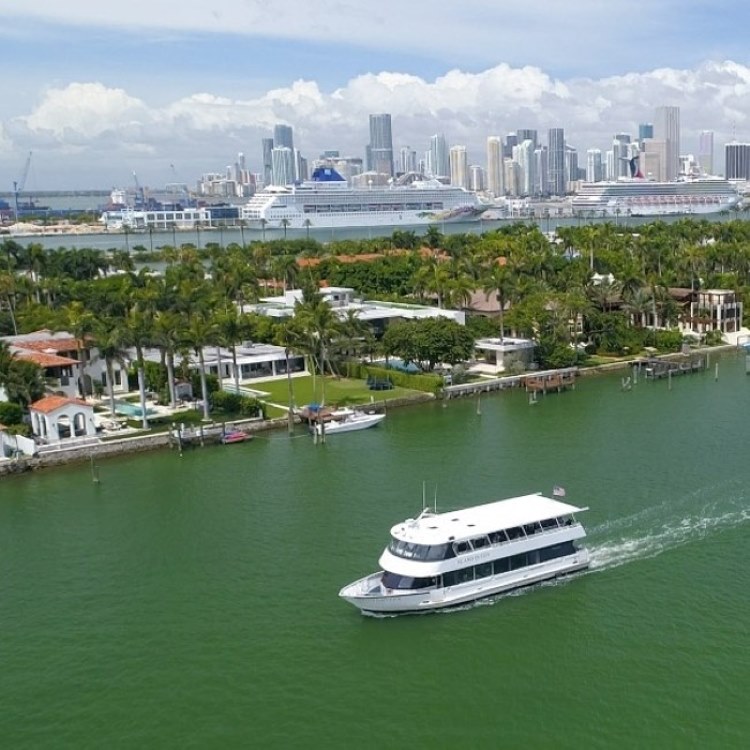 Explore the best of Miami's scenic waterfront on a captivating cruise along Biscayne Bay. With a knowledgeable guide leading the way, you'll discover the city's top attractions, including the famous Millionaire's Row, the bustling Port of Miami, picturesque Fisher Island, and more. Departures are available throughout the day, providing flexibility to accommodate your schedule. Prepare for an unforgettable journey as you soak up the beauty of Miami from the water.

This tour is tailor-made for you! Prepare to be captivated by the spectacular landscape of Miami from the moment you take off. Discover renowned attractions including South Beach, Bal Harbor, Star, Palm and Venetian Islands, Key Biscayne, Downtown Miami, and other iconic landmarks. One of the highlights of this tour is witnessing the vibrant and awe-inspiring sunset views as you soar above the city's majestic skyline. Join this tour and experience the beauty of Miami from a whole new perspective.
How to get around Miami metropolis
Getting around the Miami metropolitan area, which includes Miami and its surrounding cities, can be convenient thanks to various transportation options. Here are some ways to navigate the Miami metropolis:
Car Rentals: Renting a car is a common way to get around Miami. It offers flexibility and convenience, especially if you plan to explore beyond the city center. Most major car rental companies have offices at the Miami International Airport and throughout the city.
Public Transportation: Miami-Dade Transit operates an extensive public transportation system, including buses and the Metrorail. The Metrorail connects downtown Miami with several neighborhoods, while buses serve various routes throughout the area. The Metromover is a free automated people mover system that loops around downtown Miami.
Metromover: In downtown Miami, the Metromover is a convenient and free way to get around. It has multiple loops and connects with Metrorail and various attractions and business districts.
Metrorail: Metrorail provides a relatively fast way to travel between Miami neighborhoods, including downtown, Coconut Grove, and Coral Gables. It's an affordable option for getting around without a car.
Trolley Services: Many neighborhoods within Miami and the surrounding cities operate free trolley services. These trolleys are a great way to explore specific areas, such as Miami Beach and Coral Gables.
Tri-Rail: If you plan to explore areas beyond Miami-Dade County, consider using Tri-Rail, a commuter train service that connects Miami to cities in Broward and Palm Beach Counties.
Brightline (Virgin Trains USA): Brightline is a high-speed rail service that connects Miami with Fort Lauderdale and West Palm Beach. It's a convenient option for traveling between these major South Florida cities.
Ridesharing Services: Uber and Lyft are widely available in Miami, providing convenient on-demand transportation. They are often used for short trips within the city.
Bicycles: Miami has been improving its bike infrastructure with bike lanes and bike-sharing programs. Many neighborhoods, especially in Miami Beach, are bike-friendly and offer bike rental stations.
Walking: In certain areas, particularly Miami Beach and downtown Miami, walking is a popular mode of transportation. You can explore shops, restaurants, and cultural attractions on foot.
Water Taxis: In Miami Beach and the surrounding areas, water taxis provide a scenic way to get around the waterfront and connect to various points of interest.
Parking: If you choose to drive, be prepared for parking challenges, especially in crowded areas like South Beach and downtown Miami. Look for parking garages or lots, and consider using parking apps to find available spaces.
Traffic: Miami can have heavy traffic, particularly during rush hours. Plan your travel times accordingly to avoid getting stuck in congestion.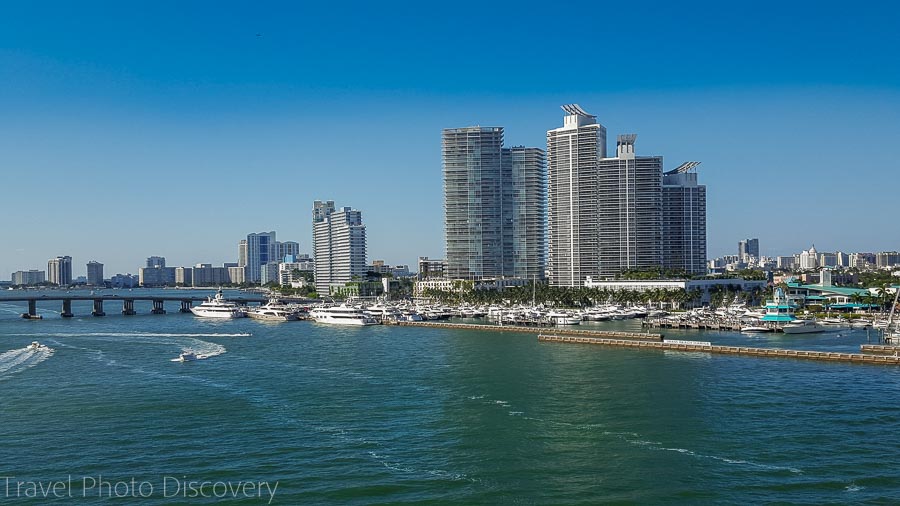 Where to stay in Miami
There are so many different types of accommodations to consider based on your needs to be close to the ocean in Miami Beach, the downtown Miami district or any of the other neighborhoods to base yourself while visiting Miami. Here are some suggestions based on the popular neighborhoods that are easy to get yourself around in the city.
South Beach district
For those wanting to be in the heart of Miami Beach and easy access to the beach scene in South Beach, check out some of these popular hotels in the area
Luxury – 1 Hotel South Beach
Mid Range – Hampton Inn South Beach
Affordable Miami hotels – Posh South Beach Hostel
Check latest prices and reviews here for more South Beach hotels
Downtown Miami
The downtown/business district is a great place to be central in Miami if you want to visit a variety of neighborhoods and attractions around the city, plus the views from downtown looking around the city are quite spectacular here. Check out these popular and highly rated downtown hotels below.
Luxury – Intercontinental Miami
Mid range – Hampton Inn and Suites
Affordable Downtown Miami hotels – The Langford Hotel
Check latest prices and reviews here for more Downtown Miami hotels
Miami Airport
The Miami Airport is centrally located with easy access to downtown Miami, South Beach and Miami districts. You will find many hotels in the mid range to affordable prices for staying closer to the airport without being too isolated.
Mid range hotel reviews and prices
Miami International Airport Hotel
Affordable Miami airport hotel
More inside tips to exploring around Miami, Florida
Here are some insider tips for exploring around Miami, Florida, beyond the usual attractions:
Local Markets: Discover Miami's diverse culture by exploring local markets like Little Havana's street vendors and farmers' markets for unique finds and fresh produce.
Neighborhood Dining: Venture beyond South Beach for dining experiences. Explore neighborhoods like Wynwood and Little Haiti, known for their culinary diversity and hidden gems.
Art in Unexpected Places: Look for street art and murals in Wynwood, but also keep an eye out for artistic surprises in lesser-known neighborhoods like Little River and Allapattah.
Water Activities: Rent a kayak or paddleboard and explore the scenic waterways like Biscayne Bay, the Miami River, or Oleta River State Park for a different perspective of the city.
Cultural Festivals: Check out local event calendars for cultural festivals, food fairs, and art exhibitions, which often showcase Miami's vibrant cultural scene.
Hidden Parks: Seek out hidden green spaces like Simpson Park Hammock or Lummus Park, where you can relax away from the crowds.
Historic Architecture: Explore the historic neighborhoods of Coral Gables and Coconut Grove for charming streets lined with Mediterranean Revival and Bahamian-style architecture.
Nightlife Diversity: Miami's nightlife extends beyond the famous clubs. Discover cozy jazz bars, rooftop lounges, and neighborhood pubs for a more relaxed evening.
Local Tours: Join guided tours led by locals to gain deeper insights into Miami's history, culture, and hidden stories.
Farm-to-Table Eateries: Support local agriculture by dining at farm-to-table restaurants, which offer fresh and sustainable dishes sourced from nearby farms.
Bike Trails: Explore the city's bike trails and pathways, like the Venetian Causeway, which connects the mainland to the Venetian Islands and offers fantastic views.
Boat Cruises: Take a boat tour of Miami's waterways, including the famous Millionaire's Row, for a glimpse into the lavish lifestyle of the rich and famous.
These insider tips will help you delve deeper into the vibrant culture and diverse experiences that Miami has to offer, beyond its well-known attractions.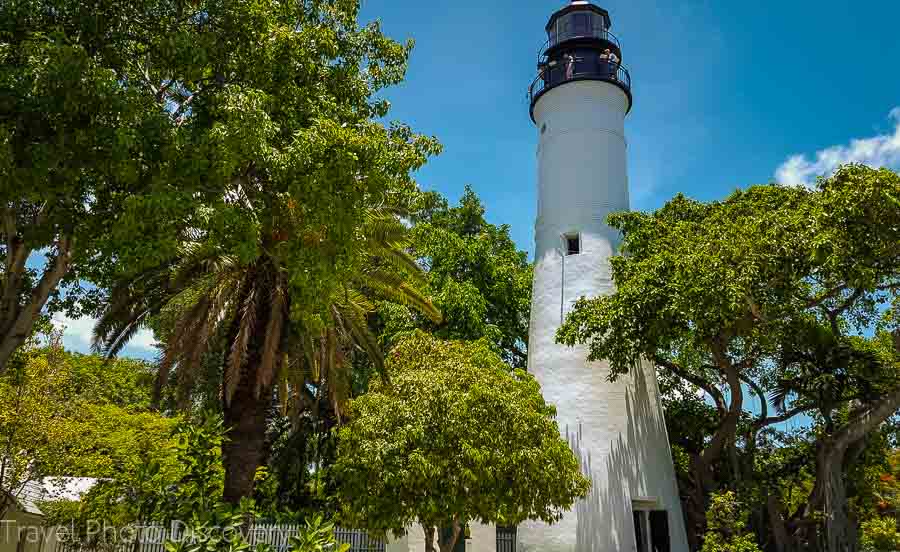 Other fun tours to experience in Miami
For more fun and unusual tours that you can leave to the experts and keep you entertained in Miami, check out some of these cool day tours or venues while visiting Miami. You can easily do your own road trip from Miami to Key West here for inspiration, or for a shorter trip you can easily just visit Marathon island or fabulous Islamorada island.
Once your in Key West there's so many fun things to do on the island starting with the top 10 things to do in Key West here for more ideas of things to do and see on the island now.
How about doing your own 5 day Miami to Key West road trip for a slower pace and fun in the sun at the Florida Keys.
Take an airboat tour around the Everglades – travel deep into the Everglades and skim through the national park on an hour airboat ride.
Day tour to Key West – A 12 hour tour through the Florida Keys all the way to Key West with over six hours to explore Key West on your own.
Go all out on a helicopter tour of Miami – this fun helicopter tour above Miami is bound to leave you breathless and come home with some wonderful photographs of Miami from a different vantage point.
South Beach Culinary Tour – This combination walking and tasting tour is fun, entertaining and filled with delicious visits to come of South Beach 's unique and tasty specialty foods, restaurants and other unique eateries in South Beach
Still looking  for something unique and fun in Miami? Check out these cool Miami tours here for more inspiration and activities.
If you enjoyed the post, please pin this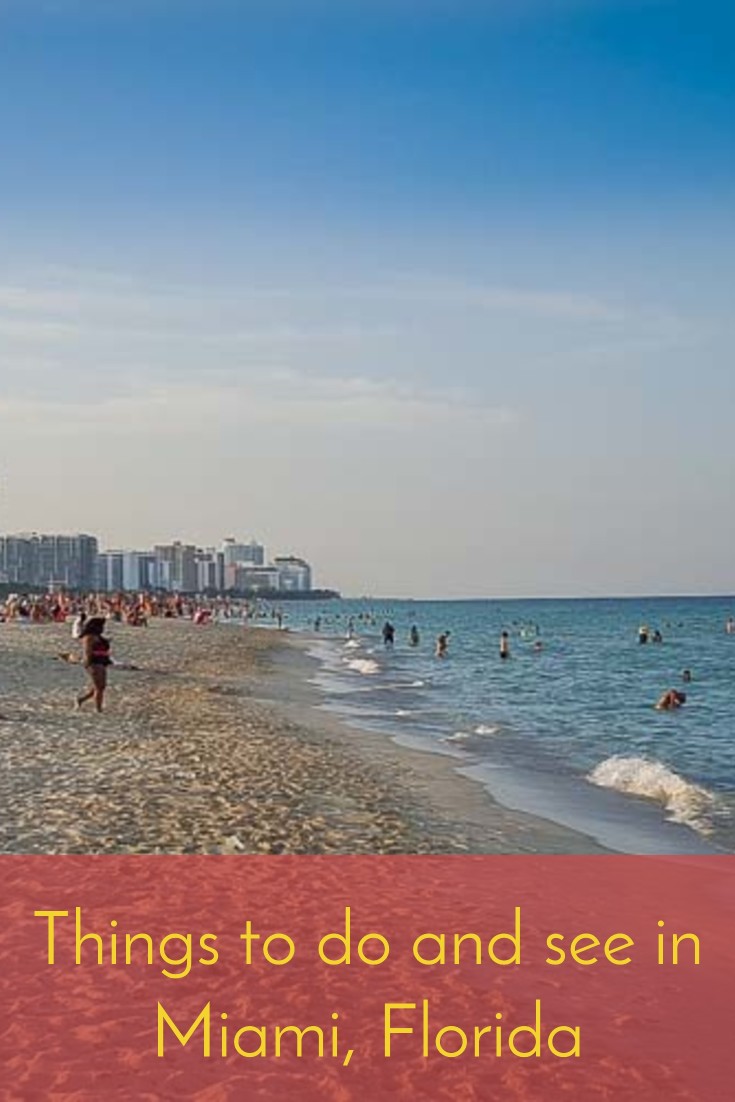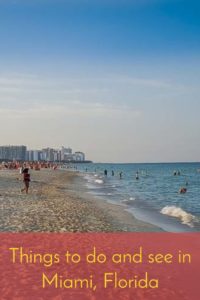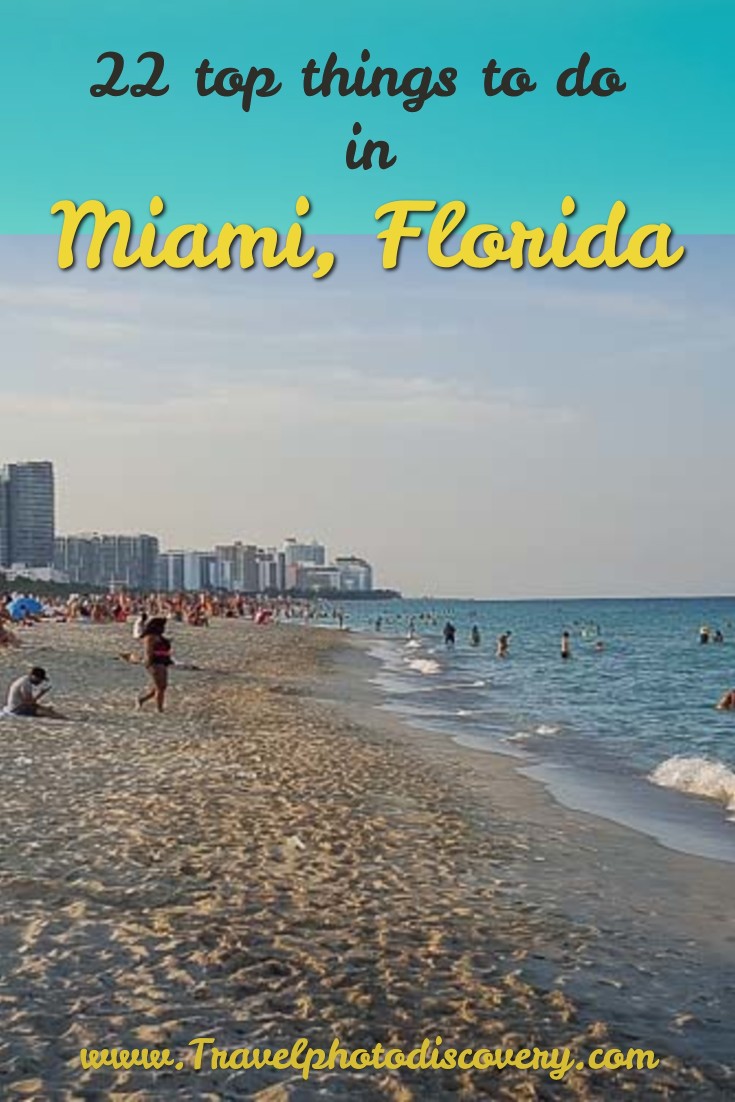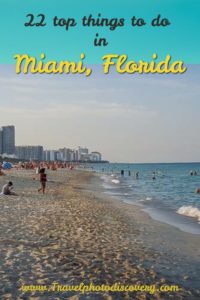 Check out these other Miami post below for more inspiration
Touring the Wynwood district of Miami
Visiting Vizcaya Museum and gardens
The Holocaust Memorial in Miami
Florida Keys and top attractions and things to do in Islamorada
Top 10 things to do in Key West
Have you done any of these 28 fun attractions and things to do in Miami?
Have we missed anything about visiting Miami and some attractrions to visiti? Please share your thoughts and experiences in the comments below.
Conclusion to the top 28 things to do in Miami, Florida
Miami offers an array of exciting activities and attractions that cater to all interests and preferences. From relaxing on the pristine beaches and indulging in vibrant nightlife to exploring the diverse cultural neighborhoods and enjoying world-class shopping and dining, there is never a dull moment in this dynamic city. Whether you're a nature lover seeking outdoor adventures, an art enthusiast looking to immerse yourself in creativity, or a sports fan eager to catch a game, Miami has something for everyone. With its unique blend of sun-soaked beaches, multicultural influences, and lively atmosphere, Miami guarantees an unforgettable experience that will leave you wanting to return for more. Embark on a journey to Miami and discover the magic and allure that make it one of the most popular destinations in the world.
Thanks for visiting today and checking out this post on Top Things to do in Miami ,  hope you are inspired to plan a vacation in Miami and enjoy some of these wonderful attractions. If you enjoyed the images and post, could you please share it with any of the social media buttons located around the post.
If you like what you see, come and check out my other social media channels for more updates, including Instagram, Pinterest and Twitter
Disclosure –  Some links in this article on Things to do in Miami are affiliates which provide a small commission to support this site at no extra cost to you. Thank you for reading, and happy travels