What are the Top things to do in Miami now? (Updated 2021)
Miami is such a fascinating city of old and new, funky and creative, traditional lifestyles, Latin inspired neighborhoods to the popular Art Deco district and other trendy South Beach attractions. With a melting pot of international travelers visiting the city on a year round basis, not to mention temporary winter visitors and short term vacationers all flock to this vibrant city for fun, entertainment and relaxation. The city is busy, active and filled with energy in every neighborhoods & trendy hangout spot you visit. There's so many things to do in Miami area that just doesn't revolve around the beach life and swimming and we will share many of these fun things to do with you below.
From exploring the many cool neighborhoods like the Cuban district called Little Havana, Coral Gables, the fun and trendy Design district to Wynwood district, you'll find exploring around Miami Beach to be filled with colorful and cool venues and districts worth exploring.
A constantly changing city, it's fun to go out and experience the top things to do in Miami – you will always find something new and exciting to explore in the city. Here are some fun ideas and suggestions of places to visit, attractions and other top things to do in Miami and around the city.
Here's what to do and see in Miami
Want to get beyond the beach scene and drinking margaritas on the beach, get out to explore the greater Miami districts below.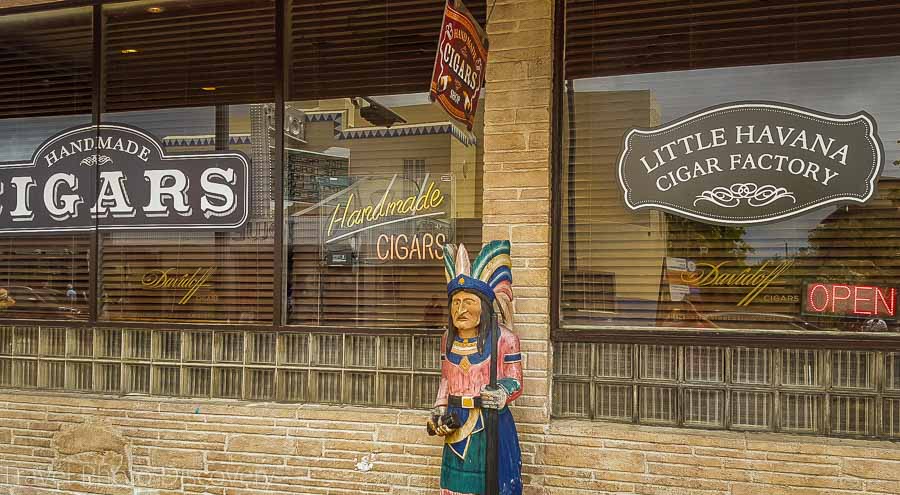 Check out some Latin flavor in Little Havana
The predominantly Cuban neighborhood of Little Havana has the largest concentration of Cubans in the Miami neighborhood along with many other Central American, Caribbean and South American cultures that flock to the area for shopping, dining and socializing. This is also a wonderful area to visit for many latin inspired eateries, galleries and places to hang out, catch a show or have some delicious tropical drinks in the bars lining Calle Ocho or 8th Street in Little Havana. Check out this fun food tour and Highlights of visiting Little Havana here for more images and details.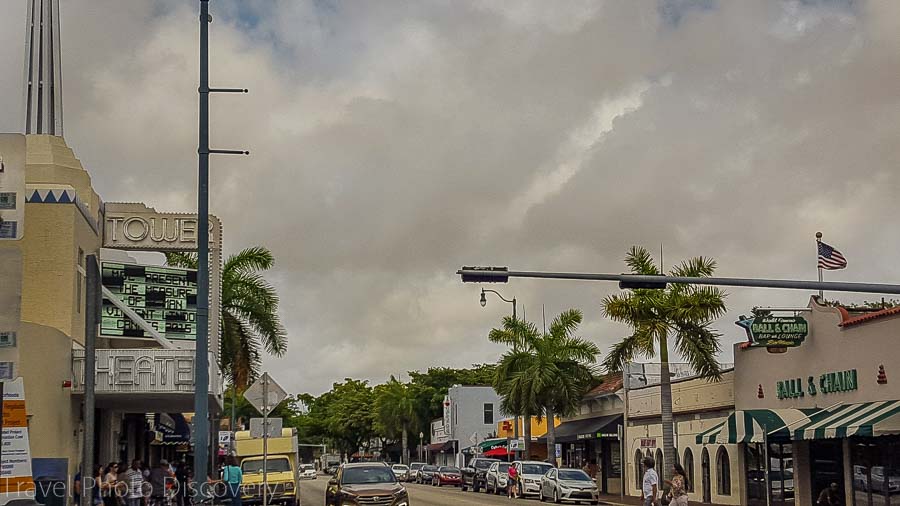 Check out the highlights to exploring Little Havana below
Undiscovered Little Haiti
In the North Miami district, Little Haiti is home many Caribbean flavors and nationalities but primarily Haitians that support this wonderful neighborhood that is not really on the tourist map but includes beautiful graffiti art from Haitian artists, colorful buildings and shopping and dining venues supporting local Haitian business and other Caribbean related stores.
Here's a view of the Little Haiti neighborhood on a brief tour below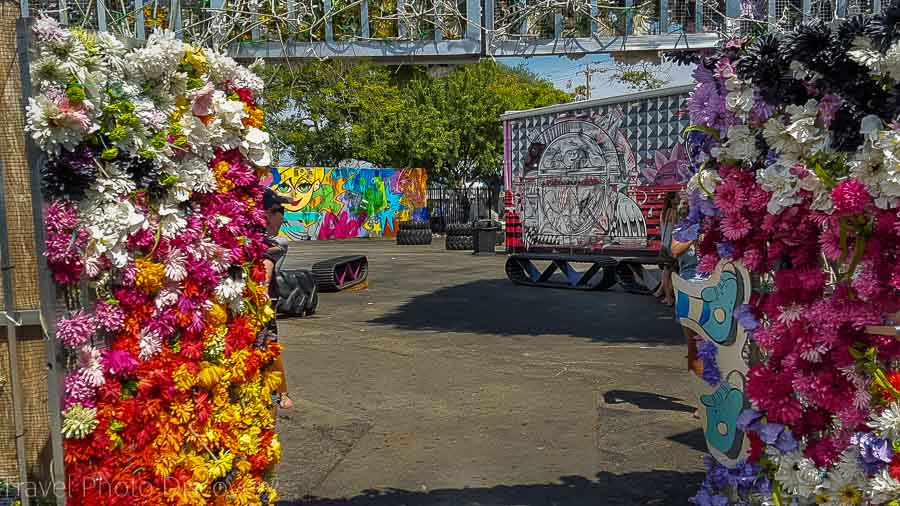 Visit the Wynwood district of Miami
For those looking for the most hip places with cool vibes and hangout spots then the Wynwood district in Miami is one of the fun neighborhoods to explore. Filled with colorful and brash murals and street art on almost all the buildings in the area, its fun to walk around and see the graffiti and browse through all the trendy boutiques, galleries and cafes in this district.
There are a lot of wonderful bars, restaurants and coffee/dessert places to check out if you are hungry and want to people watch at the same time. Check out my post on visiting the Wynwood district here or you can check out the latest places to visit and events at the Wynwood website here for more details and updated information.
Tip – its easy to take a stroll around the streets to see the street art, but the largest concentration of amazing murals are located at the Wynwood Walls.
Having fun with the murals at Wynwood Walls 
Here's a street art visit to the Wynwood district below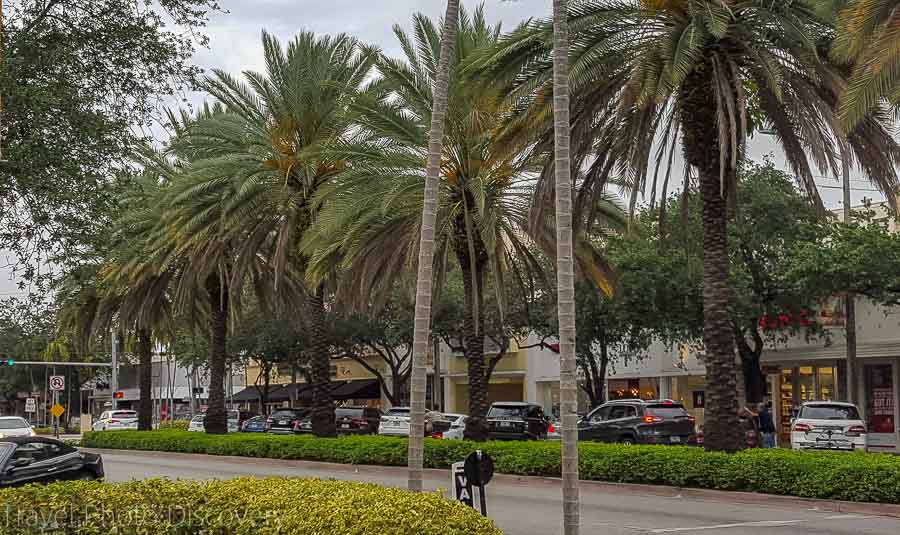 Explore Coral Gables
Home of the University of Miami, Coral Gables is actually an independent city to the Southern section of Miami County.  With a free trolley service, its easy to explore and walk around the main downtown district and explore the popular Mediterranean Revival buildings around this area filled with cool galleries and trendy stores.
Here's a tour of what Coral Gables looks like below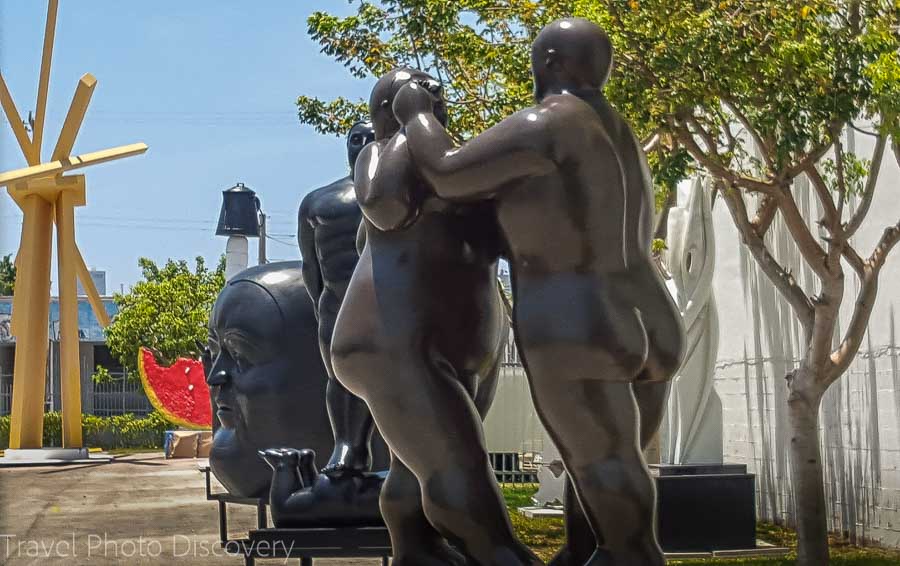 Visit Miami's design district
The design district is located in the Buena Vista district is a fun place to explore and discover anything focused on design, art and the latest in trends. Home to over 130 art galleries, showrooms, antique dealers and fantastic eating and drinking venues. It is a high end shopping area with designer brands ranging from Prada, Hermes, Luis Vuitton mixed in with ultra chic home furnishing shops and local designers. Check out more of the design district here for more details and visiting the area.
Check out what the uber trendy Design district of Miami looks like now
Brickell and downtown Miami 
The premiere business district of Miami, there are definitely some things to enjoy in the downtown area especially if you are staying in one of the cool and modern hotels that line the downtown district.
Popular things to do in this area include checking out the sporting events at the American Airlines Arena and Performing Arts Center of Miami Dade County or mega shopping at Bayside Marketplace. Late afternoons for Happy Hour at some of the rooftop Hotel bars is a great way to enjoy the skyline and sunset views from above.
Here's a look around the Brickell district of Miami below
Popular attractions around Miami Beach area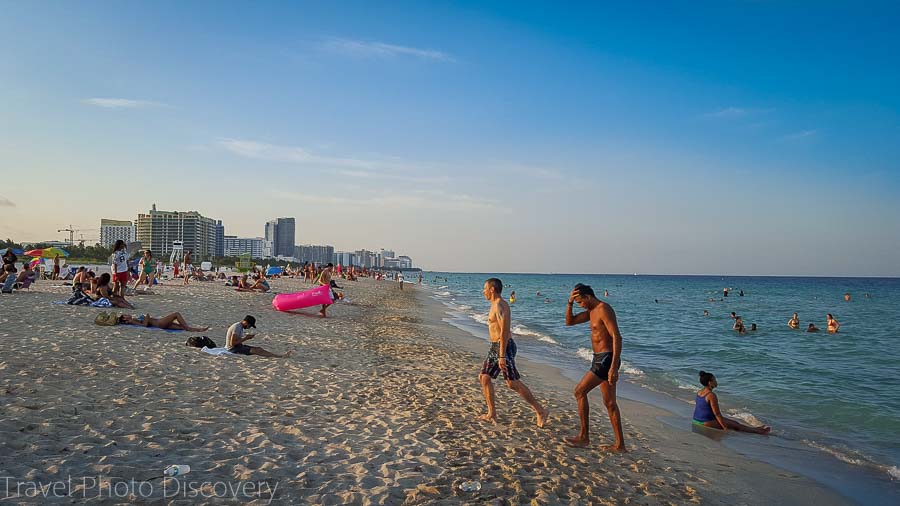 Miami 's South Beach
The Beach scene is where it is at Miami Beach and its fun to walk, bike or just enjoy some down time on the beach. This area fronting the Art Deco district and wonderful ocean front green belts with biking/walking paths through the entire length of the beach make is a favorite spot to bike, job or do other outdoor activities as well as a see and be seen type of socializing experience in Miami's hip South Beach area.

Explore the Miami Art Deco District at night
The Art Deco District which is next to South Beach is popular throughout the day time, but at night all the Art  Deco buildings come alive with Neon lights and colors, outdoor café dining, street performances and live music in many of the ocean front venues. It's a very lively and fun cruising area to walk around or find a nice spot to relax, dance or just people watch along the main drag in the many bars or restaurants that line this  tourist destination.
Tip – I did a fantastic food tour exploring the Art Deco district and many other cool attractions in South Beach as well as eating at some delicious food venues in the area, check out my Miami food tour here for more details and images.
Check out the Art Deco district of South Beach area below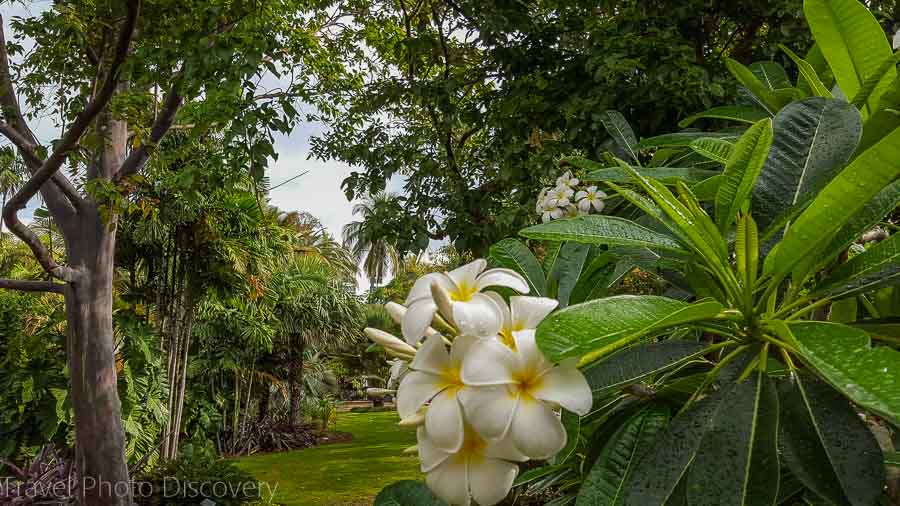 Miami Beach Botanical Garden
This little garden is a real gem in the Miami Beach Area, filled with colorful tropical plants, sculpture and water features, it is the perfect place to relax and do something green inspired in the district. Check out my Miami Botanical Garden tour here for more images and highlights of a visit to the garden. It is so easy and small to explore this compact garden and even check out the impactful Holocaust memorial on the other side of the garden.
Tip – since the park is on the north edge of South Beach, it is better to take public transportation or catch an Uber to get to this location.
For a nice respite from the sun and heat of Miami, head out to the botanical garden below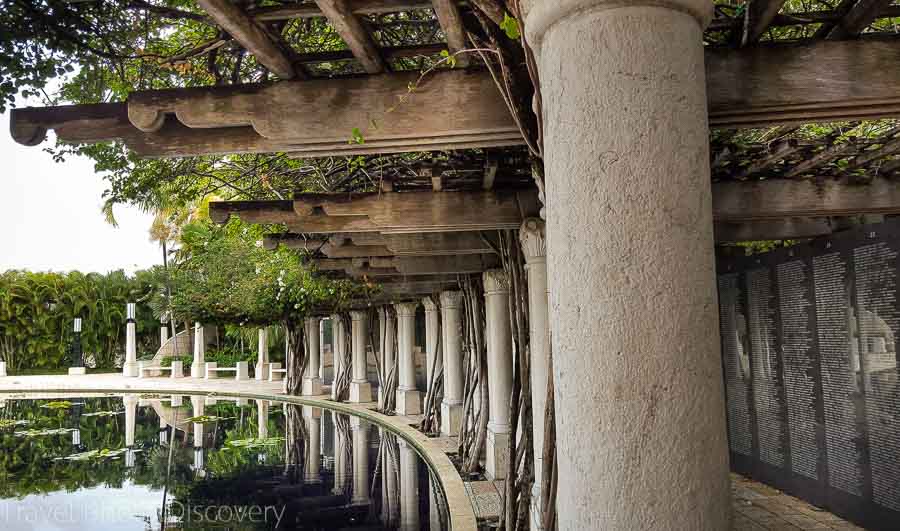 Miami Holocaust Memorial at Miami Beach
Located just around the corner from the Miami Botanical Garden is this stunning memorial filled with amazing  sculpture and architectural details and create an impressive presence. Even though the subject is sad, the overall appeal and gorgeous art, sculpture, garden details make this a wonderful place to visit and understand the significance of this Memorial located in Miami Beach. Check out my Holocaust Memorial post here for more images and highlights of this beautiful monument.
Tip – it's an easy walk to see both the Holocaust Memorial and the Miami Botanical garden in one visit.
Here's a quick look at the beautiful and serene gardens and Holocaust memorial below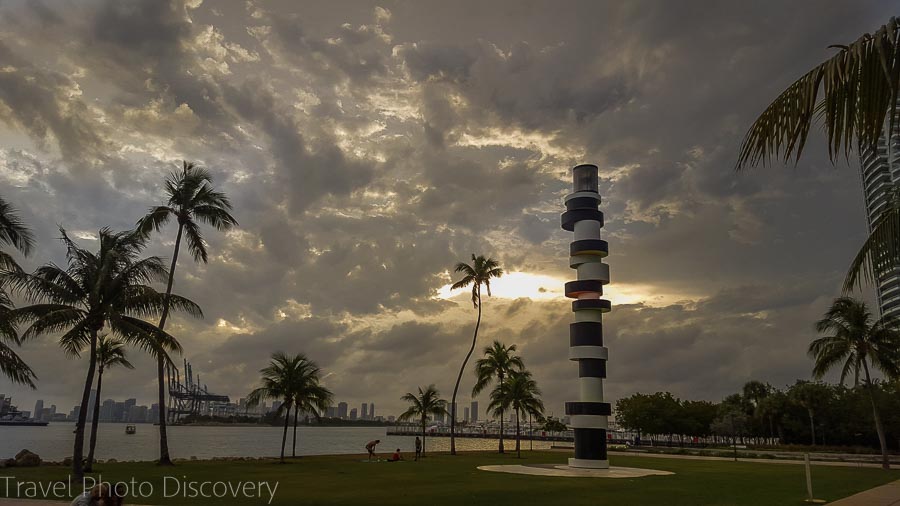 South Point Park at Miami Beach
The southern point of Miami Beach is a perfect place to get away from all the crowds but still enjoy the outdoors with the lovely marina, beautiful views of Miami Beach, Biscayne Bay, Port of Miami and the Miami skyline. It's a great place to walk and just enjoy the scenes from the South Point Park or even check out the sunrise or sunsets from the southern tip.
Tip – an easy way of covering this whole area from the Marina to the tip is by road cruiser that you can rent or borrow from the hotel you are staying in South Beach
Here's a look at the South Point park and pier below
Popular Attractions and activities around Miami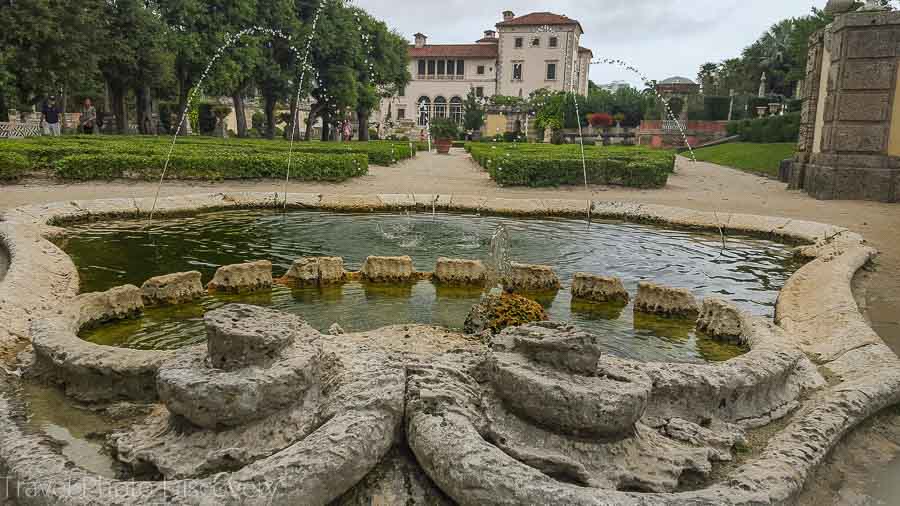 Vizcaya museum and gardens
On the Outskirts of Coral Gables and Miami is the Museum estate of Vizcaya, the winter home of the John Deers. Touring the Vizcaya museum and gardens with the magnificent mansion is the ultimate in Miami homes that ushered in the beginning of Miami's start and creation with the build of this impressive estate in Coral Cables. The interiors can be visiting with a docent or doing a self tour which is easy enough with the excellent signage in the property. The exterior gardens are also fun to explore and photograph the different vantage points and cool areas around the many gardens on the property.
Tip – It is better to catch an Uber ride to this location or if you have your own car, drive to this museum since public transportation is limited in the area.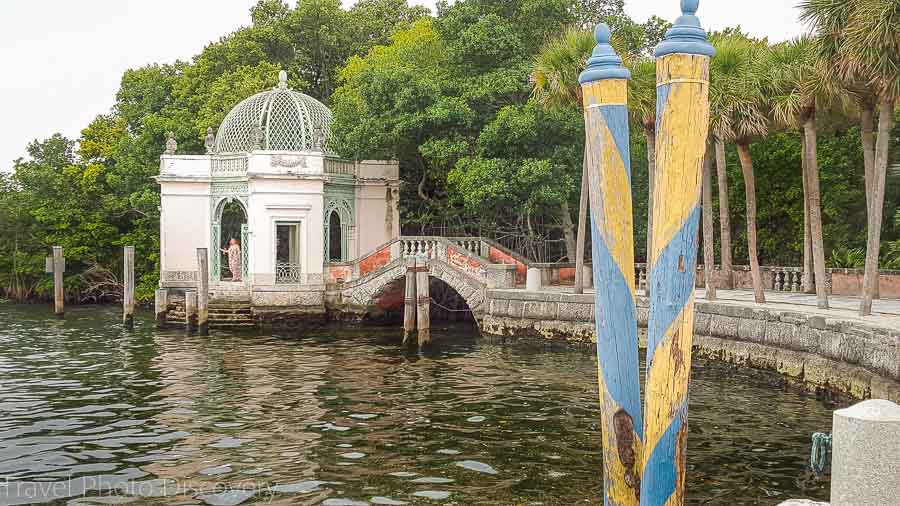 Here's a view from above and the gardens at VIzcaya below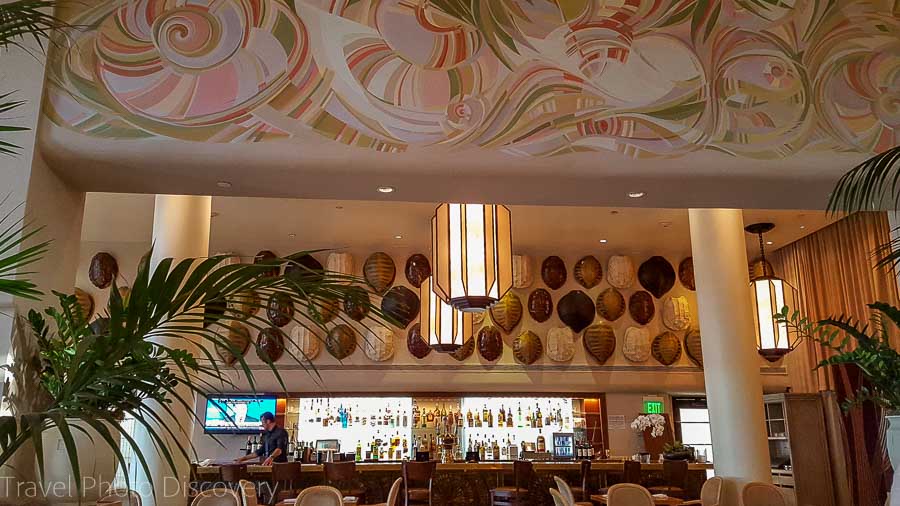 Enjoy a classic mojito Art Deco style
There's nothing more fun than lounging in any of the gorgeous Art Deco hotels or restaurants during the day or night. When you combine the experience enjoying one of Miami's classic cocktails – the Mojito, you are going to have a wonderful experience. One of the famous hotel/bars to enjoy a Mojito is at the Tides hotel with its spectacular bar created for that perfect Miami experience. Check out my bar experience at the Tides hotel here for more images and a tour of the South Beach area.
Tip – check out the amazing speakeasy hidden bar in the Tides Hotel with all the gorgeous art and details.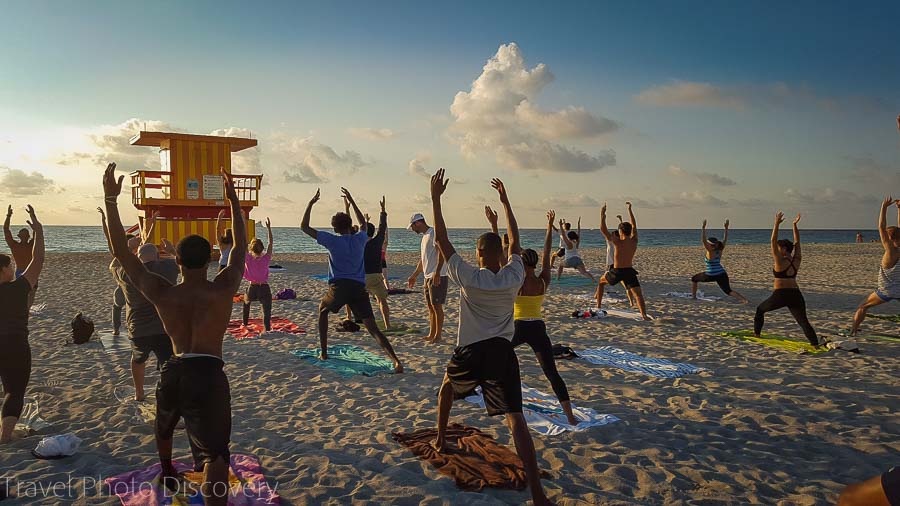 Sunrise Yoga at Miami Beach
This fun and free event happens every morning after sunrise at Miami Beach. Featuring a rotating group of local instructors, the morning yoga session is for beginners to even advance yoga practice where the instructor can challenge you to do more advance steps doing variations of the positions being covered.
Tip – get to the yoga area fronting 3rd street and the lifeguard station early to find a spot where you can hear the instructions. Donations are kindly accepted for the instructor.
Here's a fun sun rise yoga time lapse experience on the beach

Take a food tour in Miami
A great way to try some new food venues in a new destination if easily resolved when you book any of the popular food tours in Miami. One food tour that stands out from the pack along with having a real check lead the tours is the Miami Culinary Tour in South Beach tour which covers walks along the popular attractions in the Art Deco district, Ocean drive and some very tasty food venues covering a varied range of international and regional foods from the area.  Check out my food tour experience in the South Beach district here for more highlights of this fun tour of Miami Beach.
Check out our food tour experience of South Beach below
Shopping the Bay Side Marketplace
Located right on the Bay front in Downtown Miami, the Bay Side Marketplace hosts delicious restaurants, popular retailers with over 150 shops, bars and hangout spots offering live music and street performances events around the festival center and eating venues.  This popular tourist attraction is a great location for dining, entertainment and shopping mainstream brands along with other international stores.
Check out the highlights to visiting the Bayside Marketplace below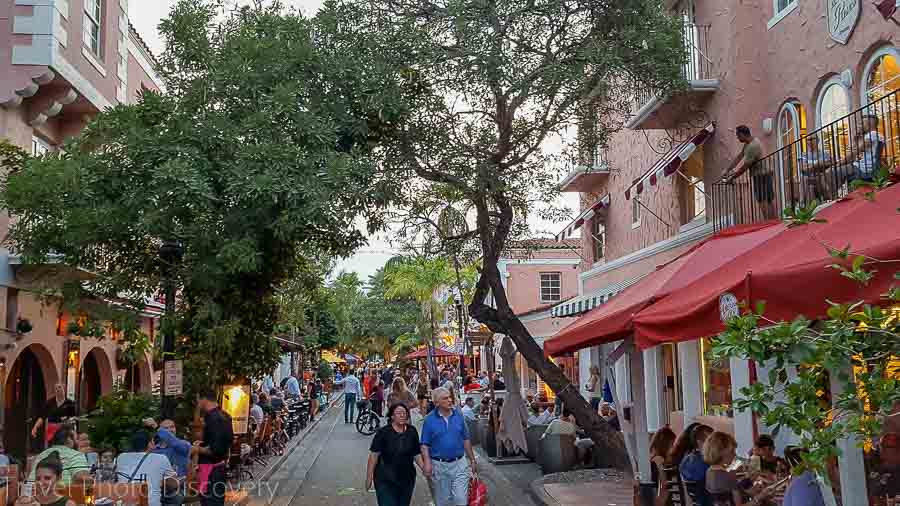 Enjoy a meal outdoors in Miami Beach
There are so many wonderful eating venues, but eating outdoors is a Miami Beach must. The most popular areas for outdoor dining include the very touristy Espanola way with its Mediterranean inspired architecture and variety of cuisines. Another popular dining and shopping area with many outdoor restaurants is the Lincoln Road Mall which is basically a pedestrian walkway with restaurants, bars and boutique stores on both sides of the promenade. There are plenty of food choices and prices ranges to fit every budget on Lincoln Road.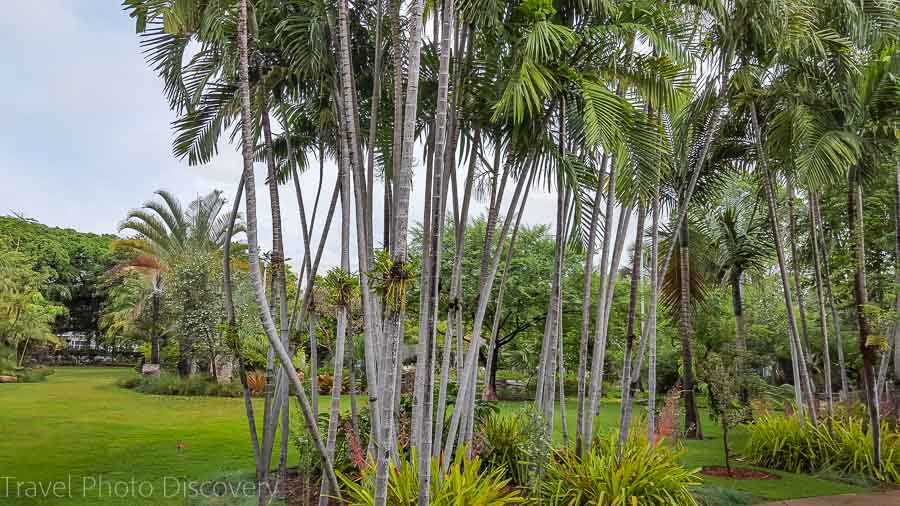 Visit the Fairchild Tropical Botanical Gardens
Opened since 1938, Fairchild Tropical Botanical Garden in Miami is one of the most significant American gardens with over 83 acres of beautiful landscape and an extensive collection of rare tropical plants to include palm trees, cycads, bromeliads and orchids.
Created by a famous landscape architect, the garden has many scenic vista points, exotic flower gardens and artwork or sculpture that is fun to see and photograph.
Here's a gorgeous visit to the Fairchild Tropical Botanica Gardens below
Find a cool roof top bar to see Miami from above
For Those looking to check out the fun and trendy scenes look for some of the cool roof top bars with amazing views of downtown and the South Beach areas. You can find swanky pool and bar hangout spots all around Miami starting with the happy hour scene and leading into full party mode later into the night with more of a night club appeal and a see and be seen attitude. There's plenty of the hot scenes to check out from the Highbar, Area 31 to Juvia and Gale South Beach.
Tip – check out the scoop latest fun root top bars scene and where to go here for more details and an updated calendar.
Here's a view and some food eats at the Serena Rooftop bar below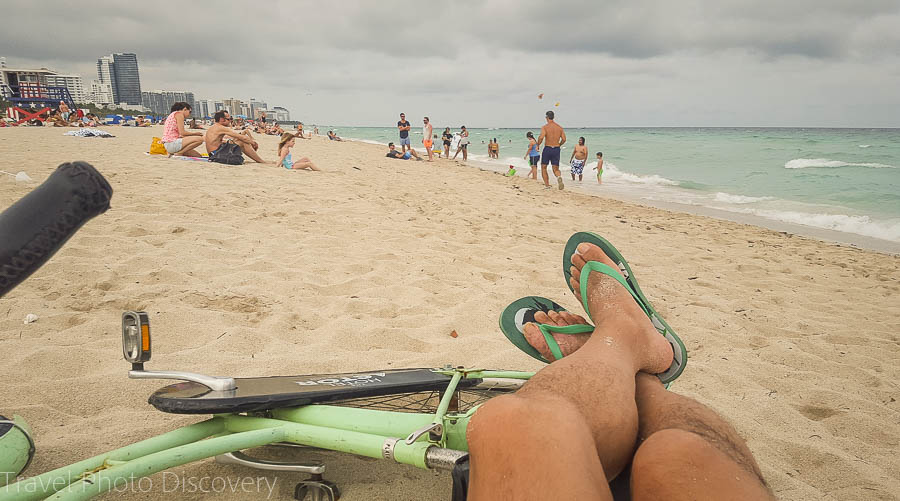 Take a road cruiser around Miami Beach
Biking the bike paths from the South Point of Miami Beach all the way to the tip is a really fun way to explore the entire length of Miami Beach. It's fun to check out and stop at any of the attractions or venues that you see along the way while getting some sun and exercise on your journey.
Tip – many of the local hotels have free cruiser bikes to use or you can find plenty of bike rentals along the bike paths close to the beach areas.
Here's a look at the beach biking areas to check out below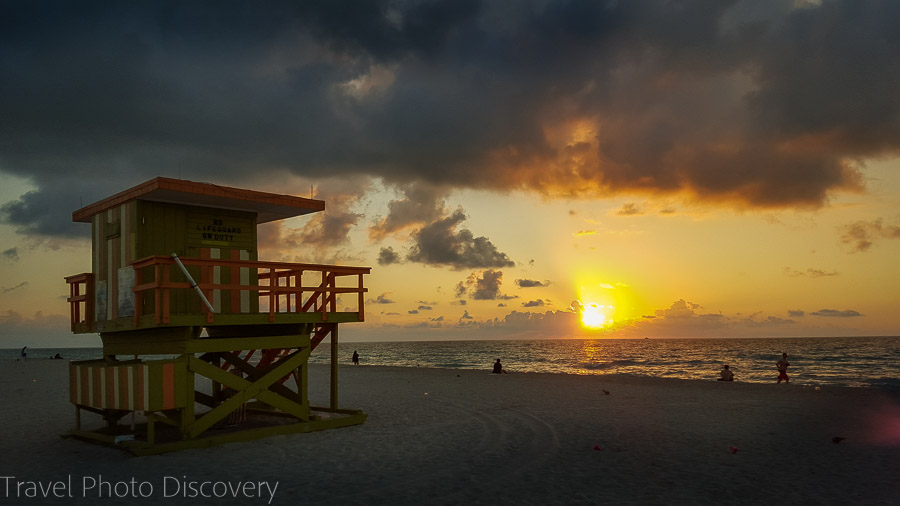 Enjoy sunrise on Miami Beach
If you can get yourself out of bed early get out to Miami Beach and enjoy a gorgeous sunrise and start to the day. This is probably the only time you'll see just a handful of sunrise lovers in this typical stretch of pack beach from morning until late night, so why not have most of the beach and a gorgeous sunrise to enjoy!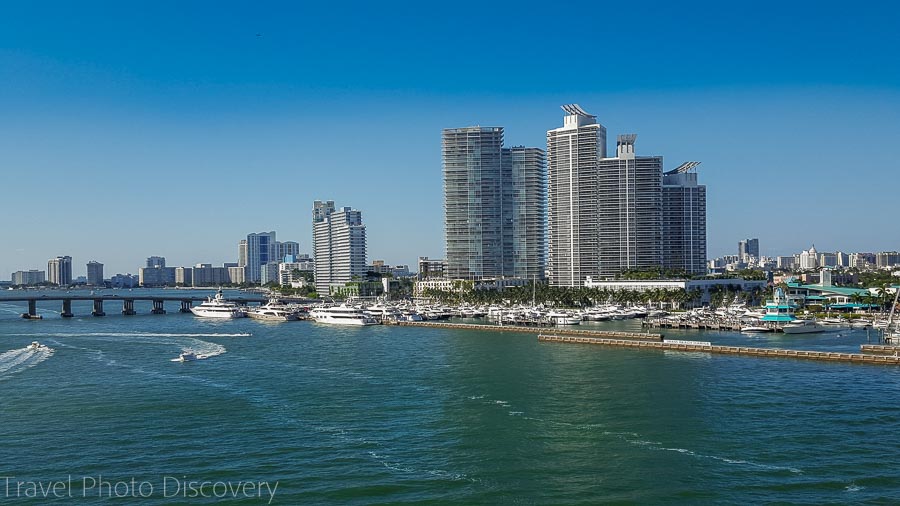 Where to stay in Miami
There are so many different types of accommodations to consider based on your needs to be close to the ocean in Miami Beach, the downtown Miami district or any of the other neighborhoods to base yourself while visiting Miami. Here are some suggestions based on the popular neighborhoods that are easy to get yourself around in the city.
South Beach district
For those wanting to be in the heart of Miami Beach and easy access to the beach scene in South Beach, check out some of these popular hotels in the area
Luxury – 1 Hotel South Beach
Mid Range – Hampton Inn South Beach
Affordable Miami hotels – Posh South Beach Hostel
Check latest prices and reviews here for more South Beach hotels
Downtown Miami
The downtown/business district is a great place to be central in Miami if you want to visit a variety of neighborhoods and attractions around the city, plus the views from downtown looking around the city are quite spectacular here. Check out these popular and highly rated downtown hotels below.
Luxury – Intercontinental Miami
Mid range – Hampton Inn and Suites
Affordable Downtown Miami hotels – The Langford Hotel
Check latest prices and reviews here for more Downtown Miami hotels
Miami Airport
The Miami Airport is centrally located with easy access to downtown Miami, South Beach and Miami districts. You will find many hotels in the mid range to affordable prices for staying closer to the airport without being too isolated.
Mid range hotel reviews and prices
Miami International Airport Hotel
Affordable Miami airport hotel
Getting Around Miami
It's fairly easy to get around Miami on public transportation or catching an Uber to get to where you are going. Here are some other ideas if you plan on having a rental car, tour or Hop on Hop off bus.
Private Miami transfer from the airport to Miami locations – arrive Miami airport in style with a private limo service from the airport to Miami port or a Miami hotel.
Hop on Hop off busses are great if you want to see a variety of popular attractions around the city and don't have to deal with all the crazy logistics of getting around Miami.
If you plan on taking a drive to the Keys, Everglades or outer Miami region, then maybe renting a car would be worthwhile to fit your needs. Check out these popular rental car venues for the best deals in Miami.
Priceline  – for your best rental car prices
Travelocity – name your car rental prices
Uber is also popular in Miami, but pay attention to busy timeframes of travel or else you will be paying comparable charges on par with taxi rates.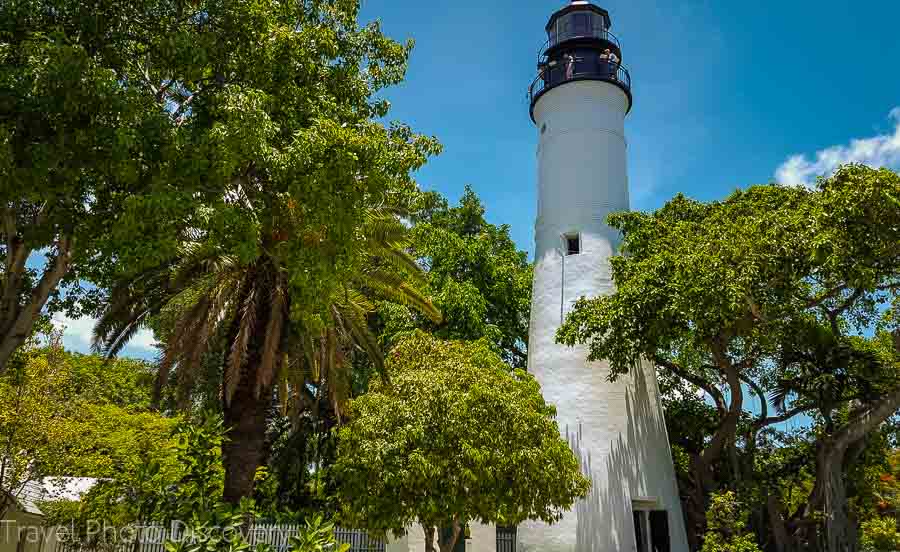 Other fun tours to experience in Miami
For more fun and unusual tours that you can leave to the experts and keep you entertained in Miami, check out some of these cool day tours or venues while visiting Miami. You can easily do your own road trip from Miami to Key West here for inspiration, or for a shorter trip you can easily just visit Marathon island or fabulous Islamorada island.
Once your in Key West there's so many fun things to do on the island starting with the top 10 things to do in Key West here for more ideas of things to do and see on the island now.
How about doing your own 5 day Miami to Key West road trip for a slower pace and fun in the sun at the Florida Keys.
Take an airboat tour around the Everglades – travel deep into the Everglades and skim through the national park on an hour airboat ride.
Day tour to Key West – A 12 hour tour through the Florida Keys all the way to Key West with over six hours to explore Key West on your own.
Go all out on a helicopter tour of Miami – this fun helicopter tour above Miami is bound to leave you breathless and come home with some wonderful photographs of Miami from a different vantage point.
South Beach Culinary Tour – This combination walking and tasting tour is fun, entertaining and filled with delicious visits to come of South Beach 's unique and tasty specialty foods, restaurants and other unique eateries in South Beach
Still looking  for something unique and fun in Miami? Check out these cool Miami tours here for more inspiration and activities.
If you enjoyed the post, please pin this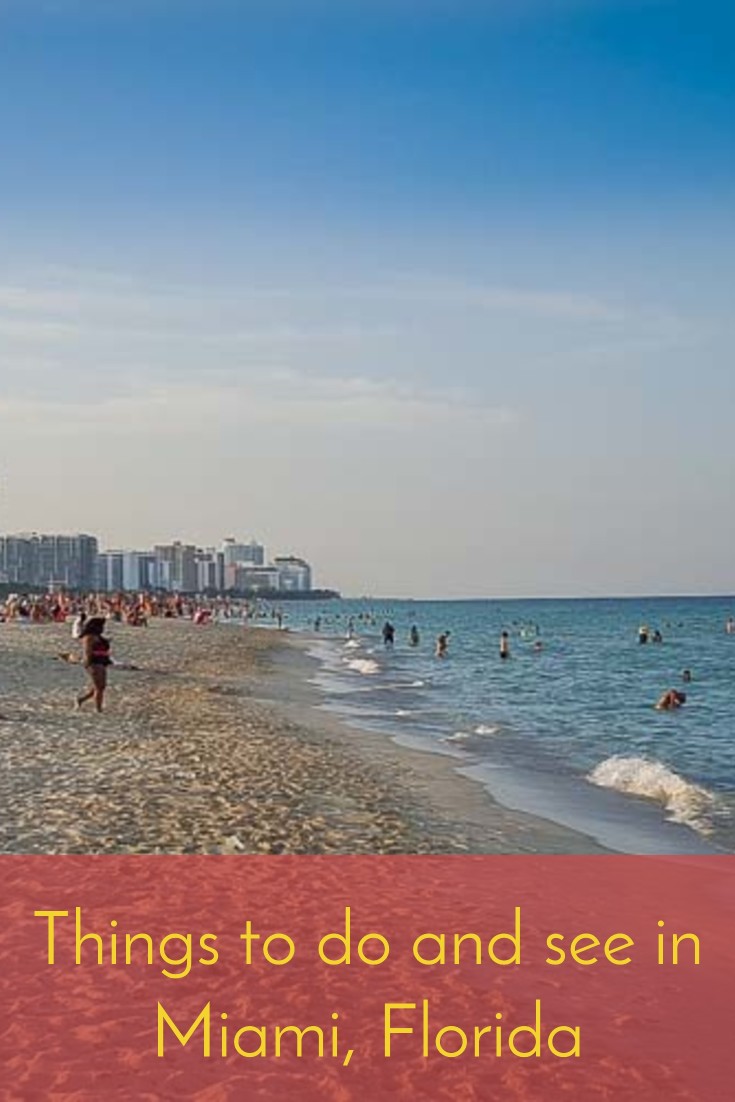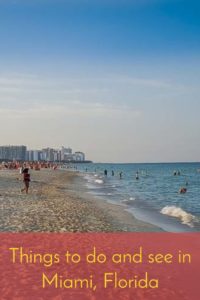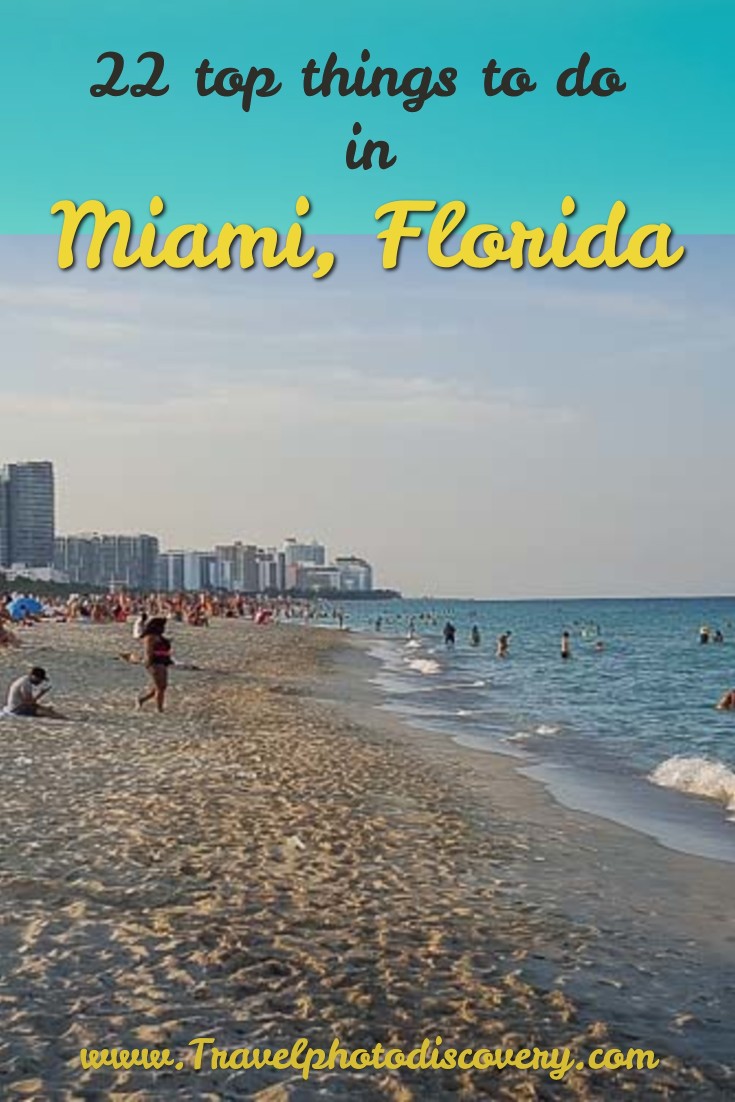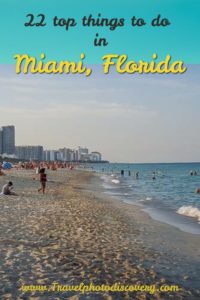 Check out these other Miami post below for more inspiration
Touring the Wynwood district of Miami
Visiting Vizcaya Museum and gardens
The Holocaust Memorial in Miami
Florida Keys and top attractions and things to do in Islamorada
Top 10 things to do in Key West
Have you done any of these wonderful attractions and things to do in Miami?
Please share your thoughts and experiences in the comments below.
Thanks for visiting today and checking out this post on Top Things to do in Miami ,  hope you are inspired to plan a vacation in Miami and enjoy some of these wonderful attractions. If you enjoyed the images and post, could you please share it with any of the social media buttons located around the post.
If you like what you see, come and check out my other social media channels for more updates, including Instagram, Pinterest and Twitter
Disclosure –  Some links in this article on Things to do in Miami are affiliates which provide a small commission to support this site at no extra cost to you. Thank you for reading, and happy travels