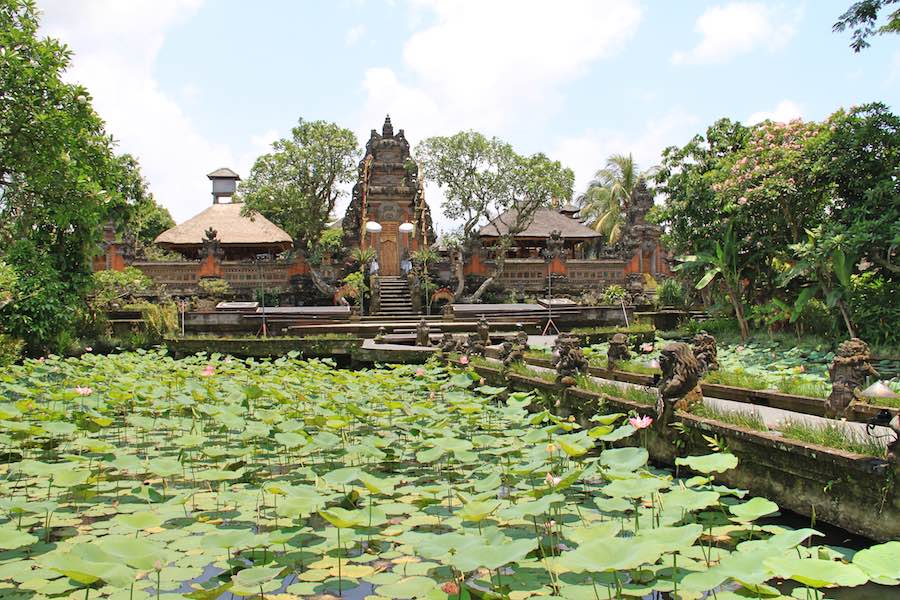 Best things to do in Ubud now
Ubud is a small town located in a cool, lush, and mountainous part of the Indonesian island of Bali.
Once a sleepy little town, Ubud recently became incredibly popular with tourists after the publication of the best-seller "Eat Pray Love" by Elizabeth Gilbert. It became even more popular after the book was turned into a movie starring Julia Roberts. Ubud is now well and truly on the visitor's map and regularly teems with tourists from all over the world. Surrounded by rice fields, Ubud is the cultural heart of Bali, and it's art and craft center. There is so much to do and see, in and around Ubud, that you'll really want to spend a few days there to truly appreciate it. If you only have a short time, here are the 10 things that you shouldn't miss below and where to go in Bali.
Best time to visit Ubud
Bali is a year round destination and Ubud in the hilly central area is cooler and lush with so much culture, historic sites and amazing landscape to explore. The best time to visit Ubud typically is June to September when it is warm during the day time and cooler in the evenings. Weather is warm and clear and considered the peak season to visiting Ubud so you definitely have to plan and book accommodtions, tours and activities in advanced with all the tourist visiting this popular region of Bali.
Here's what to do and see in Ubud
There's plenty to see around the city and region so do pace yourself and enjoy the moment and time visiting Ubud. You can easily sign up for local tours or DIY with local taxis or casual rides to go to any of these attractions around the area.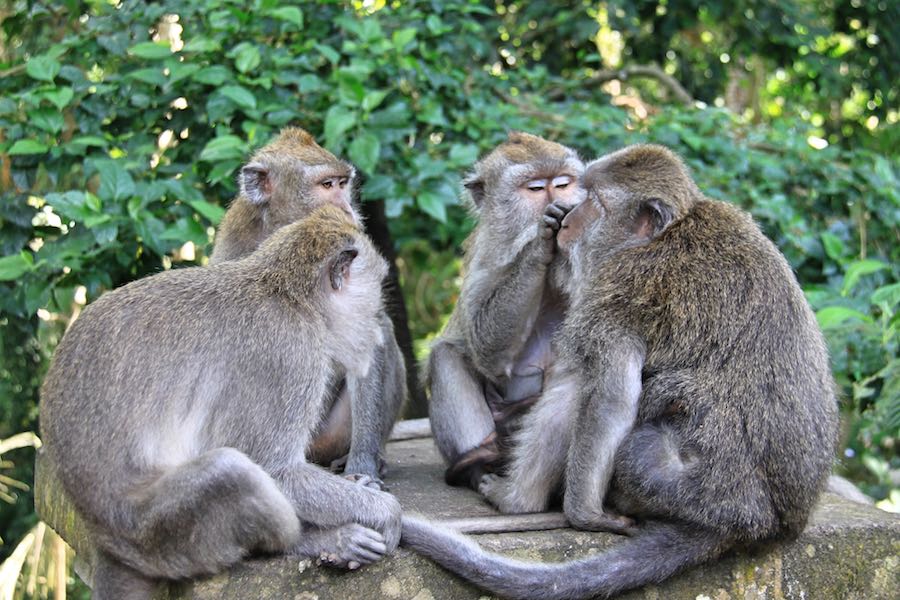 1- Meet the monkeys in the Sacred Monkey Forest
When in Ubud, a visit to the Sacred Monkey Forest is a must, especially if you like monkeys. If you don't, well you should probably stay away! With around seven hundred grey-haired, long-tailed Balinese macaques living in the forest, you are in for a few laughs as you enjoy their antics. The forest is not just about the monkeys though. It is home to numerous types of interesting trees and plants, Komodo dragon statues covered in moss, and there are three Hindu temples to explore. Nestled in the jungle is the main temple, Pura Dalem Agung, the nicest of the three. The whole forest has an Indiana Jones feel to it and is a great place to spend a few hours.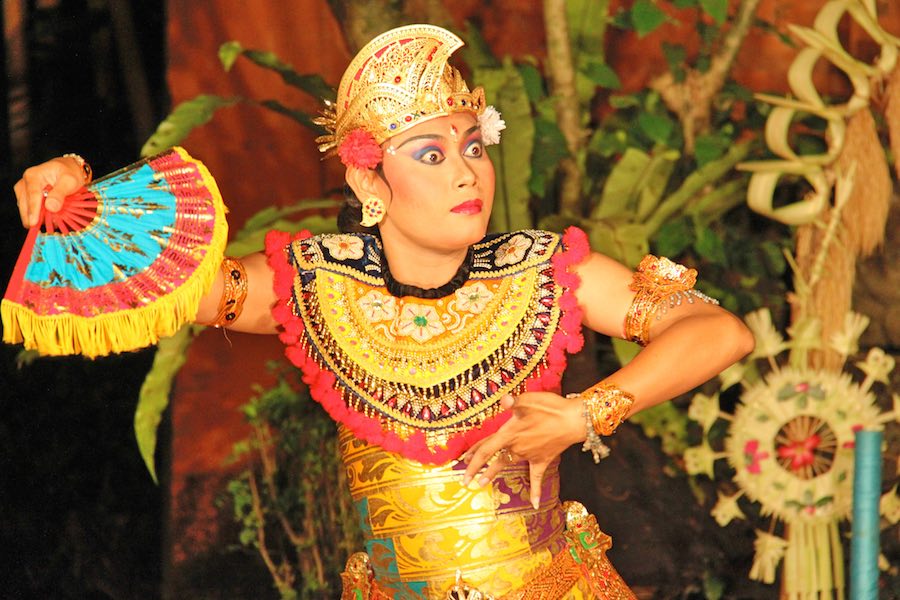 2- Visit the Ubud Palace and attend the Legong Dance
The Ubud Palace is Ubud's main landmark and the current home of Ubud's royal family. The palace is decorated with beautiful ornaments, statues and stone carvings, and most parts of it are open to the public. But it gets pretty busy once the tour buses arrive, so visit first thing if you want to have a more pleasant experience.
Every night, the palace's courtyard is the venue for Bali's most visually alluring royal court performance, the Legong Dance. The Legong is a refined dance, characterized by complex finger movements, complicated footwork, and expressive gestures and facial expressions.
Dancers wear colorful costumes and heavy make-up. Watching the Legong Dance at the Ubud Palace is a great experience and one that shouldn't be missed.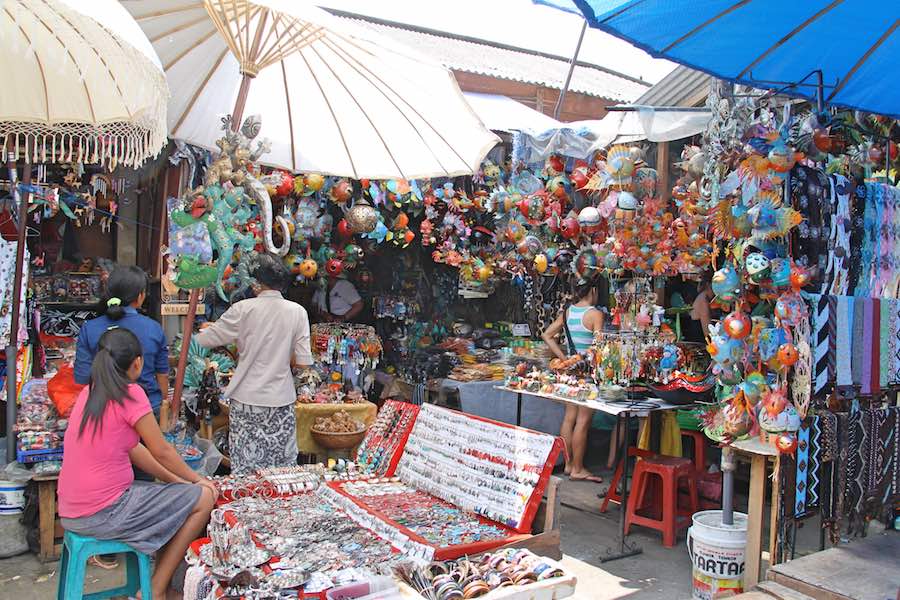 3- Shopping at the Ubud market
The Ubud Market is just across from the Ubud Palace. It is a bustling market, selling everything from vegetables, clothes, sarongs, souvenirs, and handicrafts.
For the best experience, wake early and arrive before the hordes of other tourists. You will find the locals buying and selling fruit, vegetables, and rather questionable meats! And of course, if you want to buy crafts or souvenirs, hang around till later. The Ubud market is the best place to buy all kinds of cheap souvenirs, created in the surrounding villages. However remember that you need to bargain.
4- Get your photo of the Tegallalang Rice Terrace
Bali is a mountainous island, and its hillsides have been used to cultivate rice for centuries. Twenty minutes drive north of Ubud, you will find the most photographed landscape in Bali, the Tegallalang Rice Terrace. As soon as you exit your car, you will be greeted with excellent views of these lush, green terraces. The terraces cover three hillsides, spreading all the way down into the valley below. It's a truly magnificent panorama. But being a popular tourist destination, you may share the moment with many others!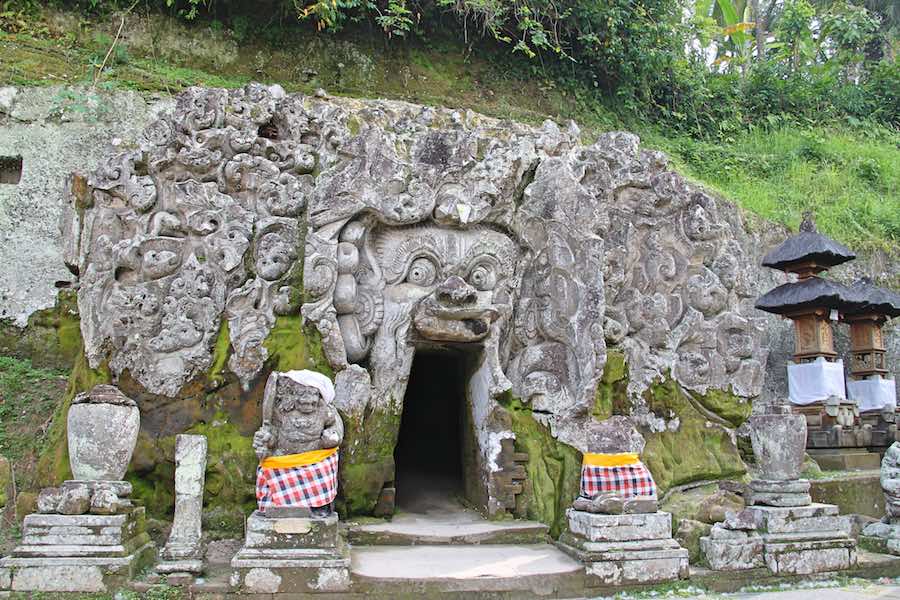 5- Visit Goa Gajah
Goa Gajah (also known as the elephant temple), is one of Bali's most impressive archaeological sites. It's six kilometers outside of Ubud, and you only need an hour to explore it. As you head down a flight of stairs, you'll enter a relic-filled courtyard, with a 11th-century cave. The entrance to the cave represents a giant menacing face, and its wide-open mouth is the doorway. Enter the cave to view the carvings on the walls and the meditational site. While there, check out the bathing pool, excavated in 1954. The pool has five statues remaining (out of seven). The statues represent Hindu angels holding vases, and the vases are actually water-spouts. Visiting the sacred temples as a solo travel Bali experience is very unique and a wonderful way to absorb the culture and fascinating architecture of the island while visiting places like Goa Gajah.
6- Admire Pura Taman Saraswati Temple
This temple honors the Hindu goddess Saraswati, and I find it the most beautiful temple in Ubud. The temple offers some great photo opportunities, with its classical Balinese temple architecture, and a beautiful foyer with ponds that overflow with pretty lotus blossoms. The Lotus Cafe next door is a great place to have lunch with a cold glass of Bintang while enjoying the temple views.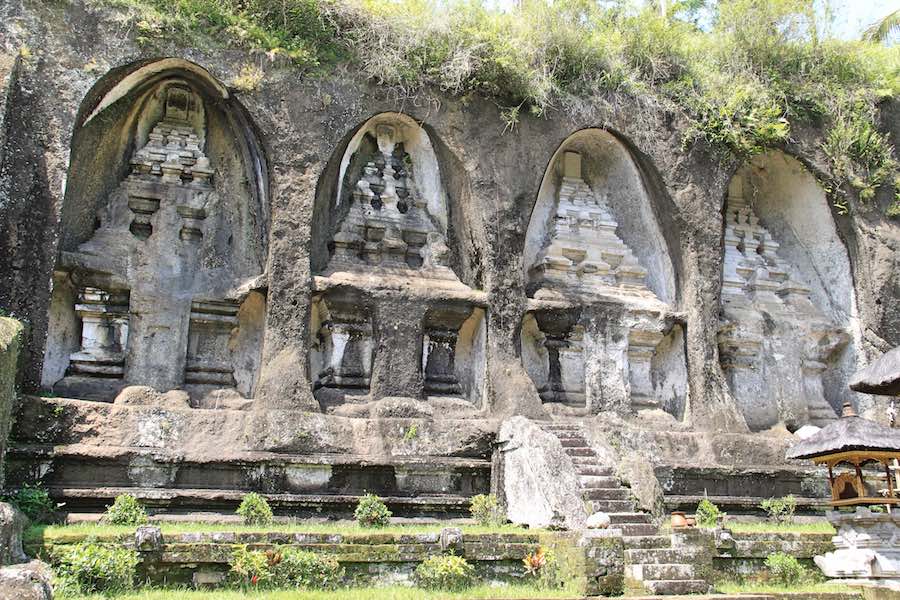 7- Combine a visit to Pura Gunung Kawi and Tirta Empul
Both temples are close to each other, so you should visit them both. Pura Gunung Kawi is a thirty-minute drive from Ubud. It's a 11th-century temple that features shrines carved into the rock, at the bottom of a lush river valley. It is a very spiritual place and it's amazing for photographs.
Tirta Empul is a 1000-year-old water temple, where Balinese Hindus go to on pilgrimages, to bathe in its holy waters. Tourists are allowed to bathe as well if that takes your fancy. The temple's waters allegedly have magic healing powers and to purify those who bathe in them.
8- Sign up for a downhill cycling tour
To escape the crowds and explore more of the countryside, sign up for a downhill cycling tour. We aren't keen cyclists, but the Bali Eco Cycling tour was easy because it was all downhill. The tour started with breakfast overlooking the Mt Batur volcano, before cycling downhill and traversing jungles, rice terraces, and local villages. We stopped at a family compound where we were shown how the locals live. We also stopped at a rice field where we joined in the harvesting process. The cycling tour is a great insight into the Balinese culture and the history of the island.
9- Check out the art at the Museum Puri Lukisan
If you love art then you will love the Puri Lukisan. Set amongst tropical gardens, this museum is a few minutes walk from the Ubud Palace. The oldest art museum in Bali, it holds an impressive selection of traditional Balinese paintings and contemporary Balinese artworks, along with woodcarvings. The collection is well labeled in English, and the museum has a decent bookshop and a cafe where you can enjoy lunch surrounded by its beautiful gardens.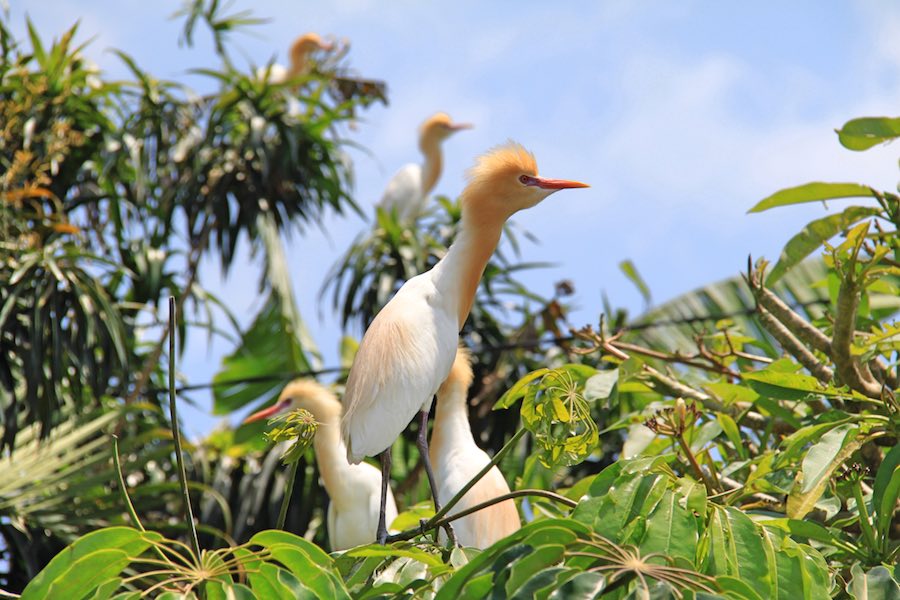 10 – Go Heron Watching in Petulu
About a fifteen-minute drive from Ubud is Petulu, a village famous for its white herons. Thousands of those white herons live there, in harmony with the local villagers. You can see them at any time of the day, but if you visit after 5.30pm you'll see many of them returning home, settling in the few trees dotted around the village.
Where to stay in Ubud?
Ubud has no shortage of accommodation, covering all budgets and there are many cool places of where to stay in Bali around the Ubud.
We stayed at Tegal Sari, a traditional Balinese style resort with amazing views over the rice fields, beautifully manicured gardens throughout, and the nicest Balinese hospitality. It is only fifteen minutes walk from the center of Ubud and has easy access to shops, restaurants, and the Monkey Forest. As we watched the sun setting over our terrace every night, all we could hear was the sound of the frogs in the fields nearby. It was so serene and wonderful – you can check out the reviews and information here for updated prices and availability.
Ubud is one of those places where you go for a few days but end up staying for weeks or months. It's so easy to fall in love with the place. Even after spending five weeks there, we don't seem to have had enough, and we long to return. Have you been to Ubud? Did you also fall in love with it?
For more hotel reviews and sampling of Ubud locations, check out this link here for updated prices and availability.
Looking for more fun things to do in and around Ubud?
Check out these fantastic tours and other fun things to do in the Ubud area:
Auyung river rafting tour – a fantastic river rafting tour on the Auyong river that covering scenic scenery, white water rafting and a wonderful Bali style lunch
Electric Bike Tour to the Tegallalang Rice Terraces – Going by electric bicycltes, you visit historic temples, stop at a coffee plantation and sample local coffees and stop at the beautiful Tegallalang Rice terraces.
Balinese cooking class at an organic farm – Learn some local favorite Balinese dishes at an exclusive cooking class in this organic farm which includes a visit to a local market while preparing vegetarian or regular Balinese style meals.
Check out these other posts on visiting Bali
Please pin this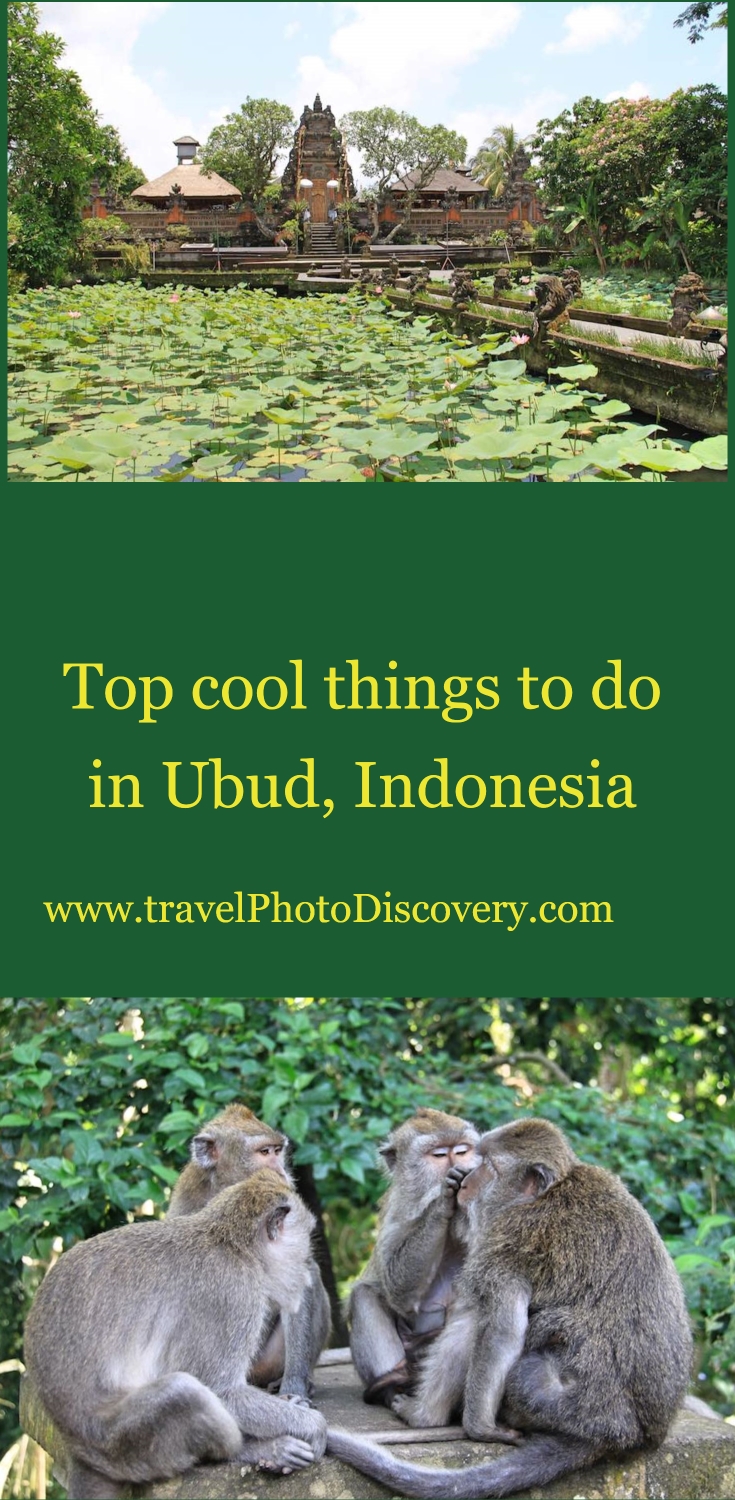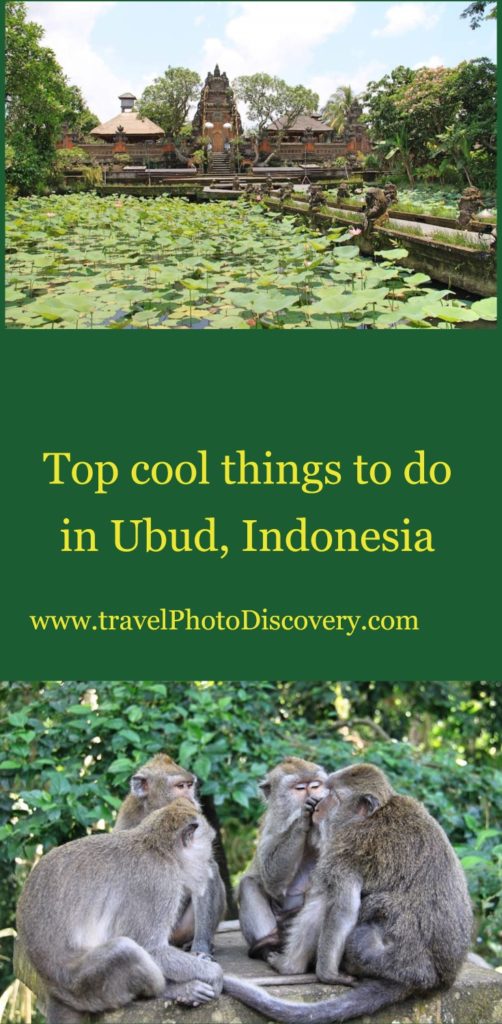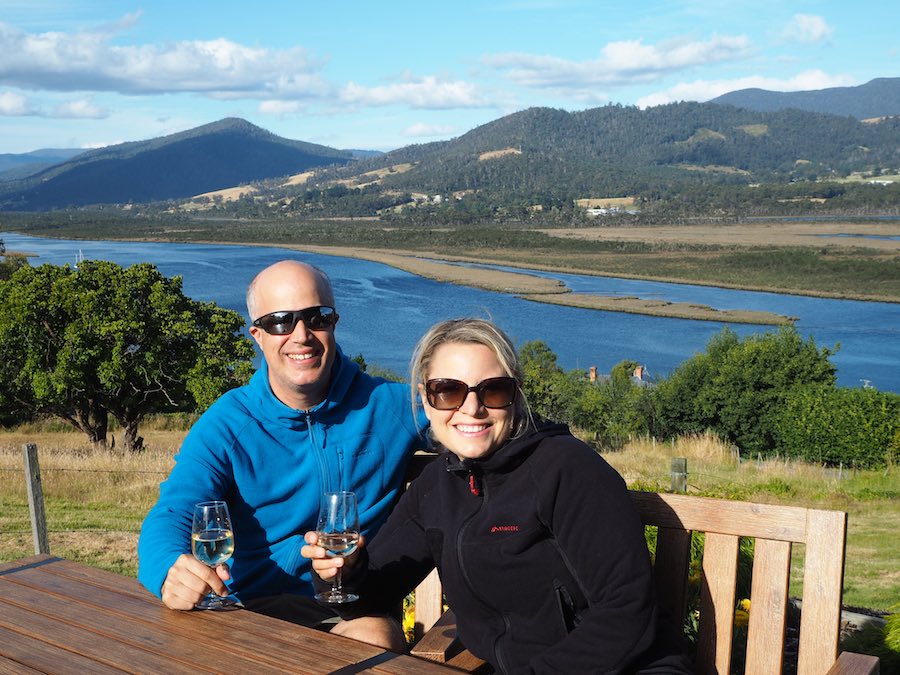 Guest Post Bio
We are Cindy and Simon, the two travelholics behind Free Two Roam. We are not currently traveling full time but we love to spend all our free time roaming the world. So far between us we've visited 46 countries, but our list of places to visit keeps getting longer and longer. So why don't you come and journey along with us.
https://www.facebook.com/freetworoam/
https://twitter.com/free_two_roam
https://www.instagram.com/freetworoam/
https://au.pinterest.com/freetworoam
Thanks for visiting today and checking out this post on things to do in Ubud , if you enjoyed the images and post, could you please share it with any of the social media buttons located around the post.
If you like what you see, come and check out my other social media channels for more updates, including Instagram, Pinterest and Twitter
Disclosure – There are affiliates links on this posts which provide a small commission to support this site at no extra cost to you. Thank you for reading, and happy travels