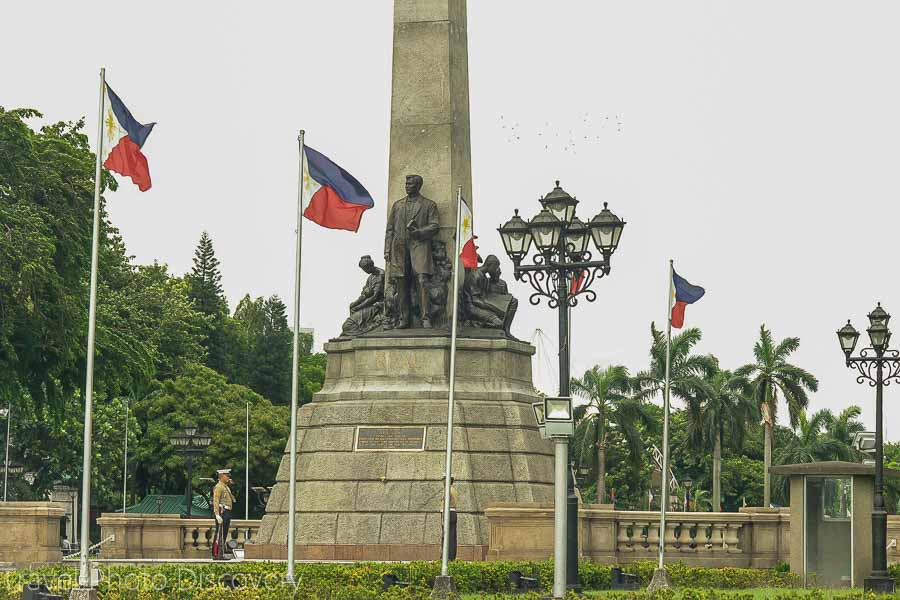 A lot of visitors to the Philippines tend to ignore exploring Manila and just use the city as a transit spot to the tropical islands that draw tourists from around the world. For those that have a few days to explore and see something worthwhile, there are definitely some cool, historic and unique places worth exploring around the city and the key thing is to base yourself somewhere central so it is easier to avoid the traffic which is prevalent everywhere in the city. Following are the 20 top things to do in Manila that you should check out when you visit the capital of the Philippines.
 What to do and see in Manila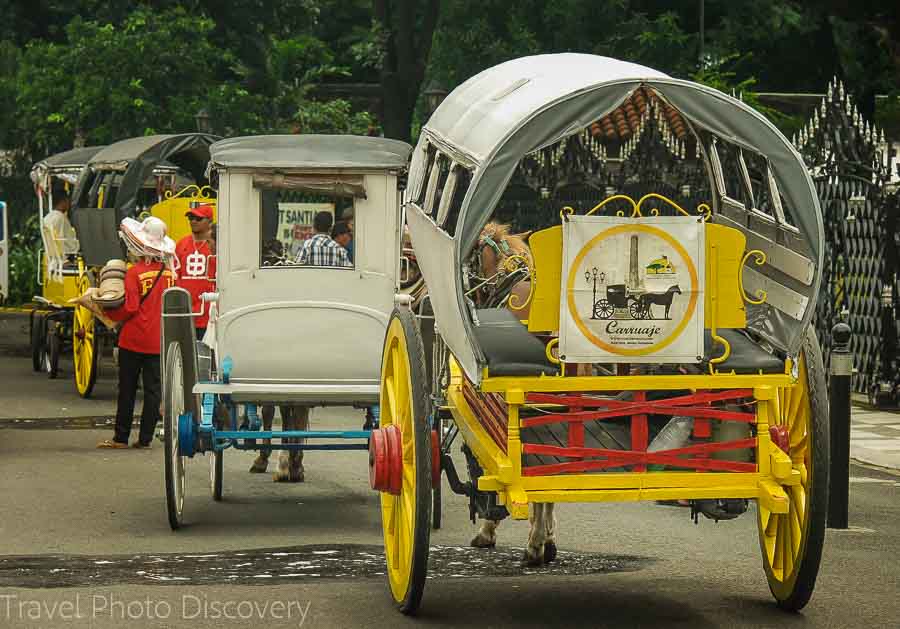 1.

National Museum of the Philippines and the Museum of the Filipino People
The joint museums of the National Museum of the Philippines and the Museum of the Filipino People located in Luneta Park are a great way to understand the history, culture and traditional to contemporary lifestyle and art of the country. With traditional art, displays and collectibles along with rotating shows, both historical museums offer a well crafted and educational experience to understand the many facets of Philippine art, history and the Filipino people who live around the various regions of the country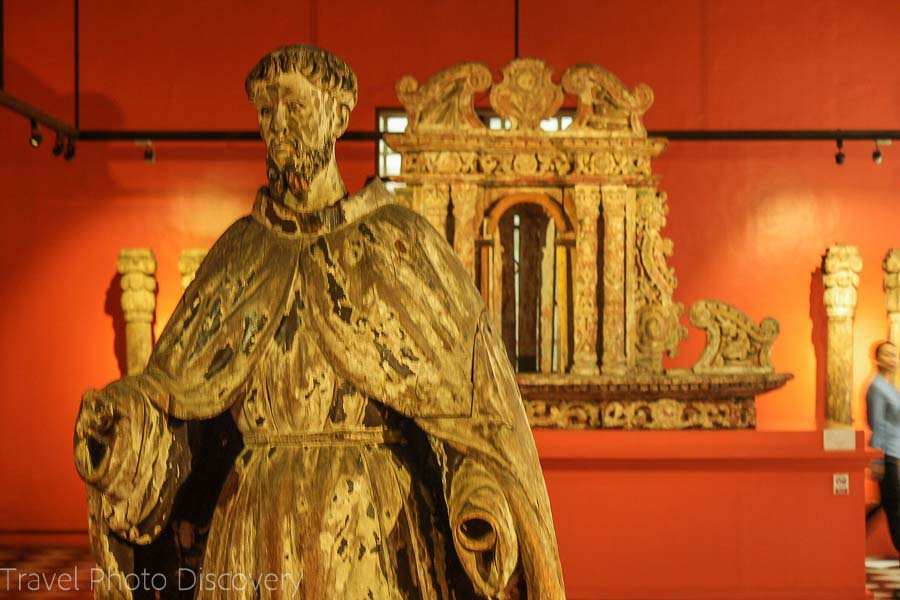 Exploring the national museum of the Philippines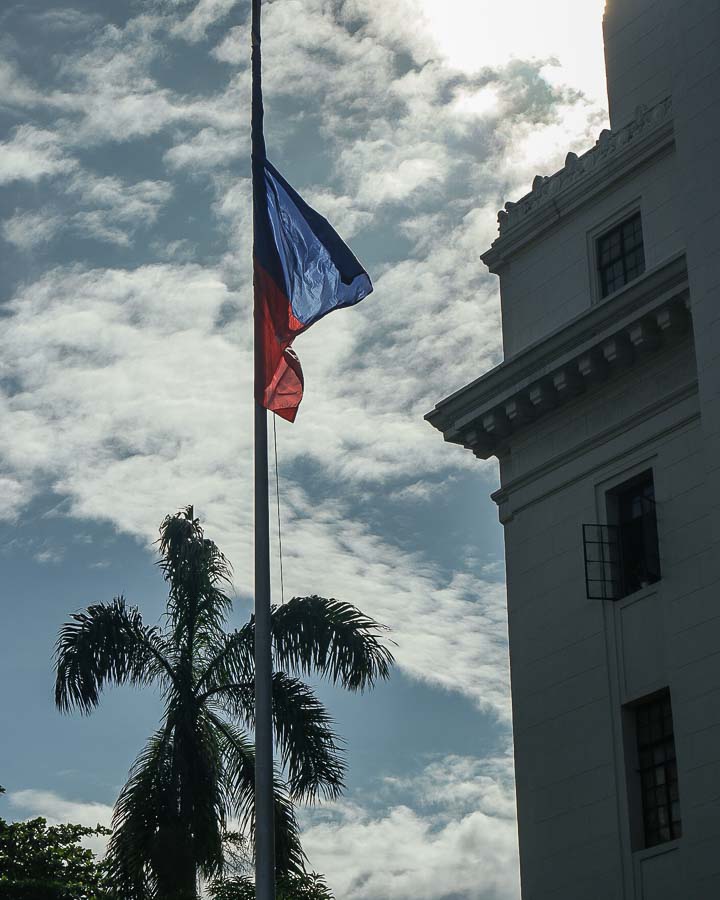 2. Binondo or Chinatown
The historic Chinatown district is a hodgepodge of old historic buildings, decaying structures and delicious places to eat and explore in the area. It's easy to walk the main streets, check out the ornate Binondo church, shopping in Ongpin street or Divisoria and the main square at Plaza San Lorenzo Ruiz while trying out some of the specialty dishes and restaurants serving them in the area.
Exploring the Chinatown district and Plaza San Lorenzo Ruiz
Food court area in Bitondo – Chinatown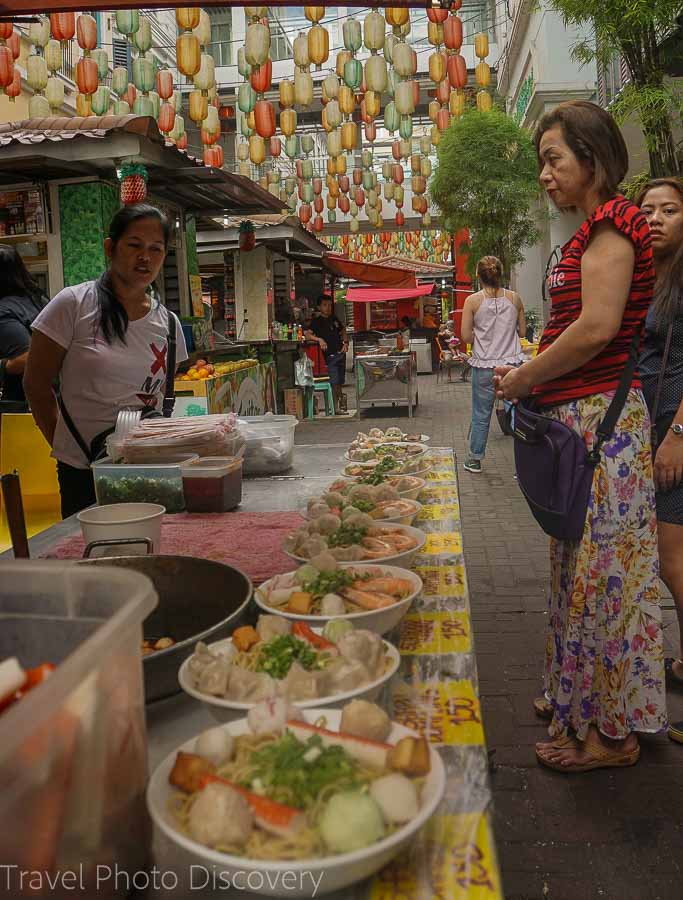 3. Intramurus or the Old historic district
The Old historic district of Manila called Intramuros is a must visit spot to see the many Spanish colonial buildings and homes in the original settlement, fortress and old town. It's easy to walk around the walled with but the best places to visit in Intramuros include: Manila Cathedral, St. Augustine church, San Diego gardens and Buluarte, Fort  Santiago, Casa Manila home, Barbara's restaurant with a Filipino dance performance
Take a guided tour in the historic district
There's so much to see and do in Old Manila and taking a guided tour of this historic area will be easier to arrange and learn about the fascinating history, people and culture of the Filipinos.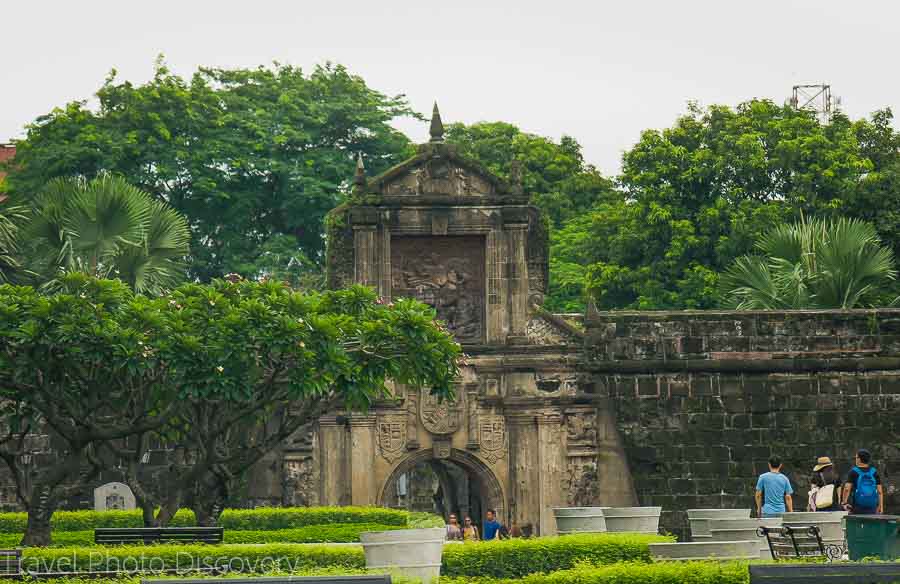 Exploring the Intramuros district of Old Manila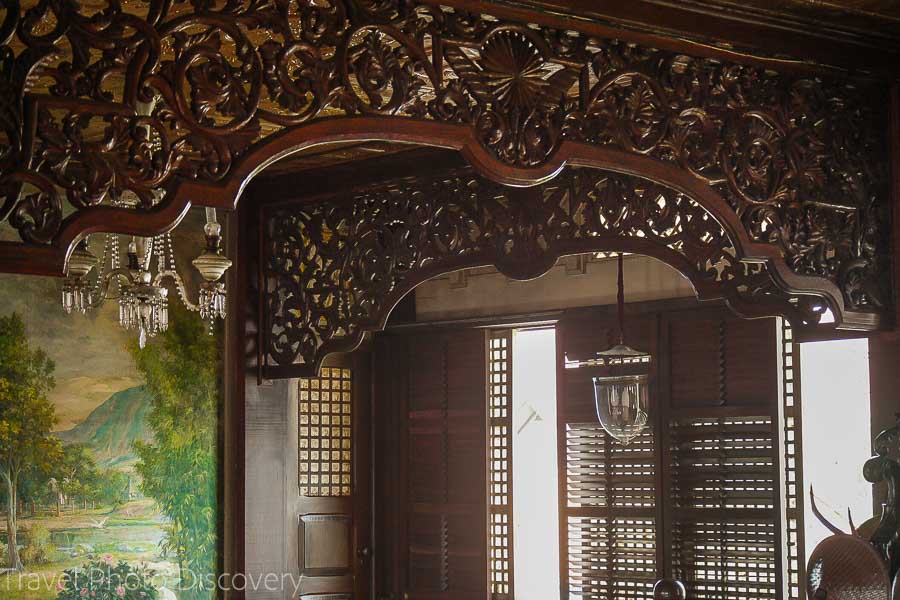 4.

 

Rizal Park and monument to Jose Rizal
The large park fronting Manila bay is a must visit to enjoy Rizal Park and the historic monument to Jose Rizal, the Filipino's national hero who championed a national Filipino identity and national pride. The real monument was created and approved through the US president Theodore Roosevelt in 1901 with a national competition that choose the final landmark. At the monument, you will find honor guards standing around the monument 24 hours a day.
5. Manila bay front, dining and bar scene
 The waterfront area of Manila around Roxas Boulevard is nice to spend a little time especially during the late afternoon with sunset views over Manila bay. Afterwards you can find some fantastic dining spots overlooking the bay or do some happy hour or bar crawl in many popular hangout spots in the waterfront area and try some local beer like San Miguel and snack food like Balut (immature egg fetus) , Sisig (fried pigs face) or chicharon (crunchy pork rinds).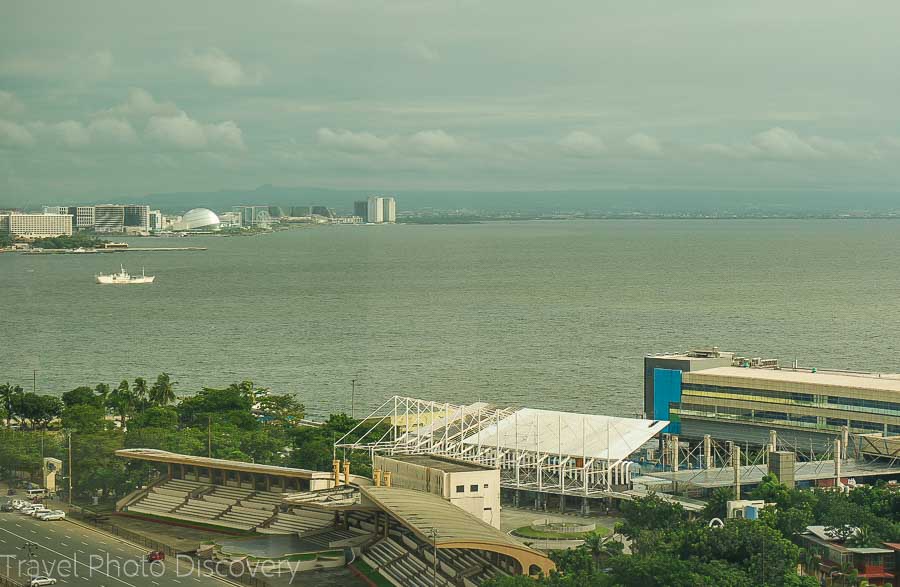 If you are looking for something special to do on the waterfront area at night, why not take this sunset dinner cruise of Manila Bay which cruises the bay with views of sunset into night and the lights of the city appears while the band plays local and popular international music.
6. Kalesa ride through historic Manila
A fun way to explore the Intramurous historic district is by a horse drawn Kalesa with a guide that will show you the highlights to major monuments and historic buildings in the area and what they were used for during the colonial timeframe to its current use. The colorful Kalesas are fun to ride and take some selfies along with the driver – just make sure that you negotiate the price and tour activities before you get on the carriage.
7. Manila Hotel for an elegant dining and bar scene
 For a special treat to Manila's grand old days as a colonial capital, a visit to the remodeled Manila Hotel is a must. It's fun to check out beautiful lobby and interiors and have a delicious tropical drink in one of main bars just of the lobby area. Or if you feel like a real splurge how about their famous international buffet dinners that will leave you sampling some of the most amazing dishes with exceptional ingredients and menu.
If you're looking to tour around the attractions in the area, why not stay for a night or two at the Manila hotel – check out the reviews here for more details and current prices.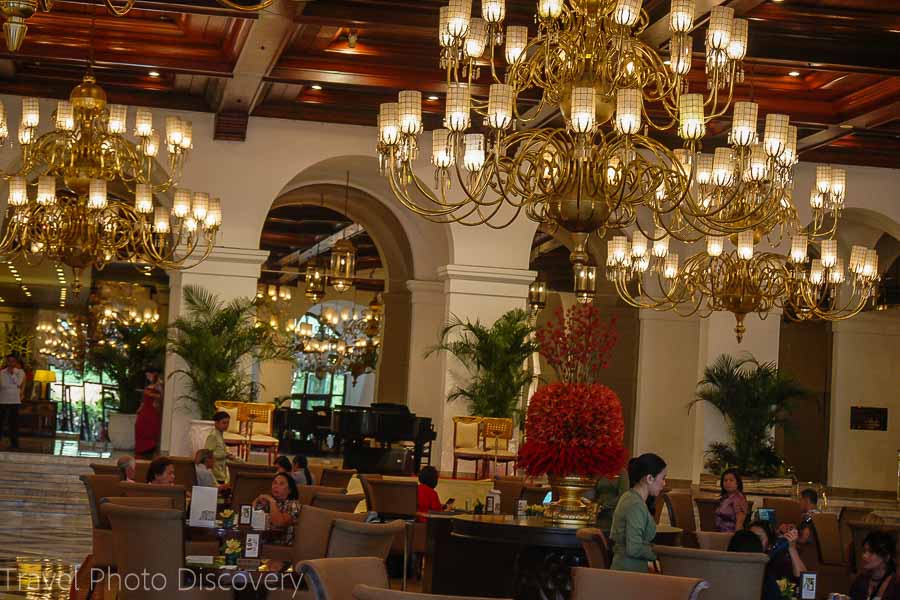 Views from one of the suites at Manila Hotel
8. Exploring downtown Makati and Greenbelt / Ayala center
The business district of Makati is also a great place to see the downtown area and enjoy the fine dining and shopping venues at Green Acres, international museums like the Ayala museum and the Makati light show.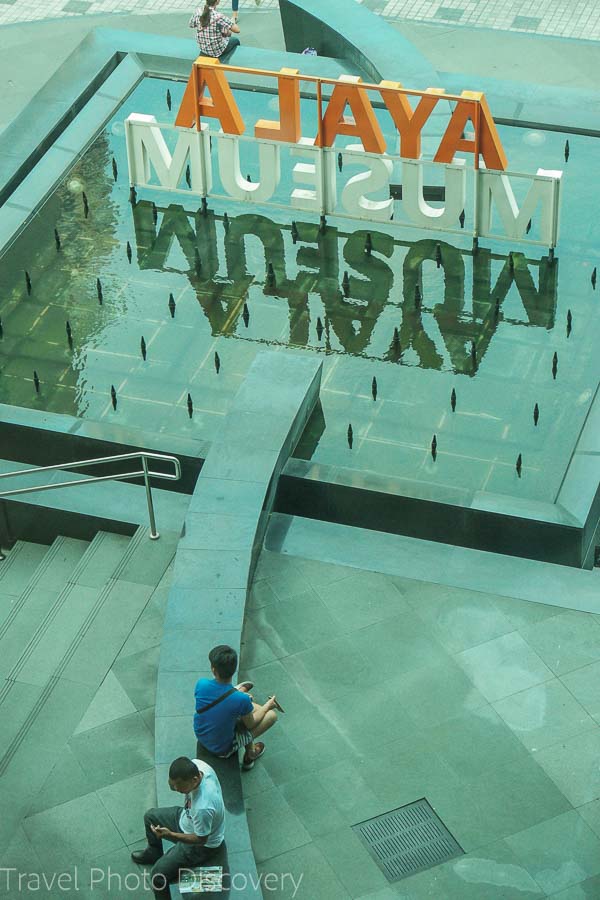 For your convenience in planning a visit touring the city, museums and historic sites, consider this full day Manila tour to give you the highlights to visiting the city and enjoying important cultural and historic attractions of this tour.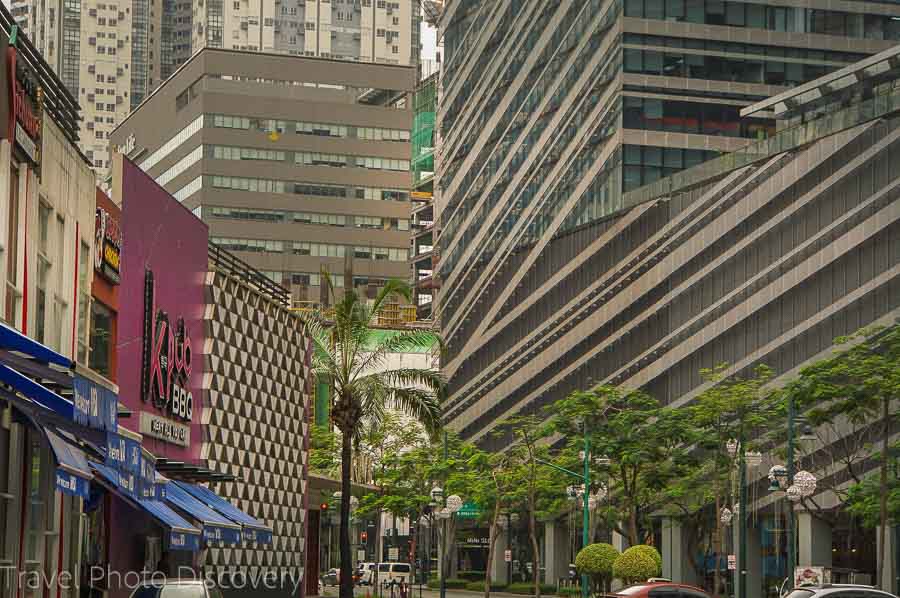 9. Night light show in Makati
The night light show in Makati called Festival of Lights show is definitely one of a kind in the Philippines during the holidays. A free show that runs every night at the Ayala Triangle Gardens in Makati is fun, colorful and very cool – it is very popular with locals with shows running from 6 to 10 pm every night during the holiday season.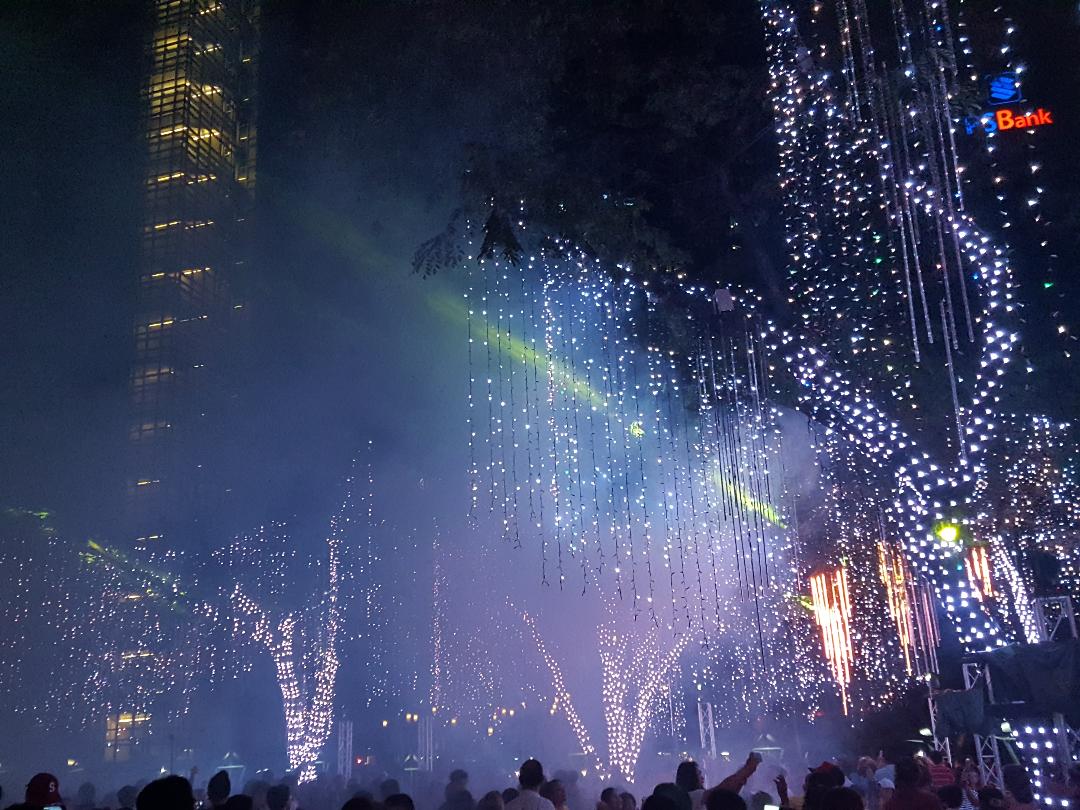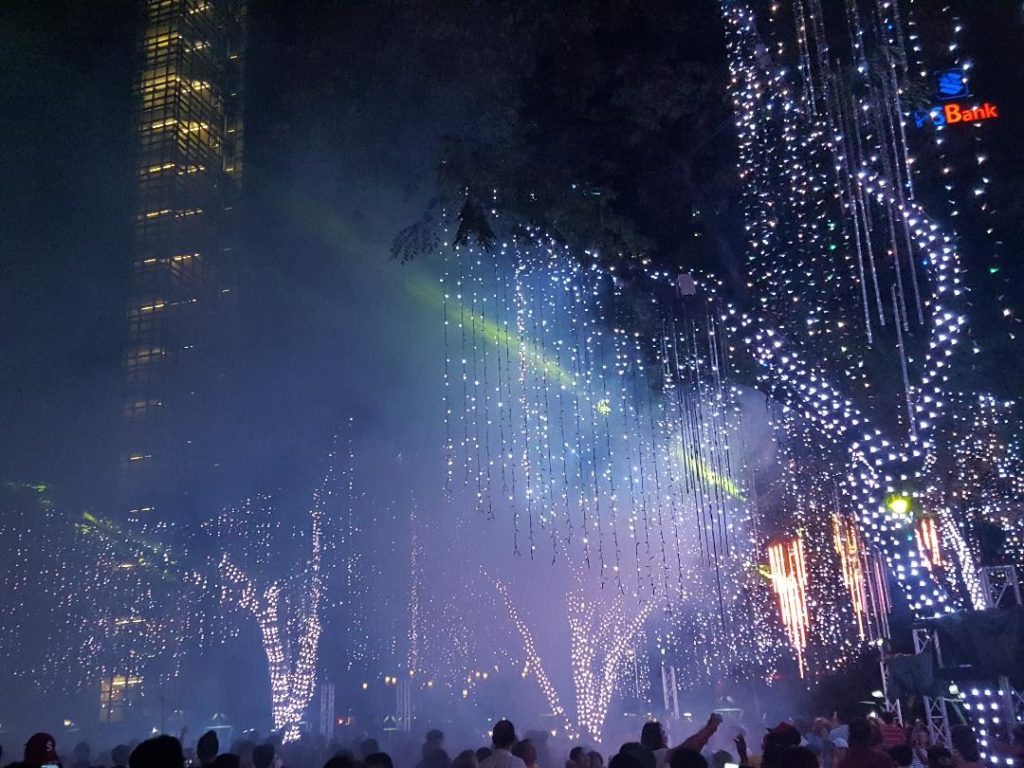 10. Farmers market in downtown Makati
Lots of food venues to explore at Makati Sunday market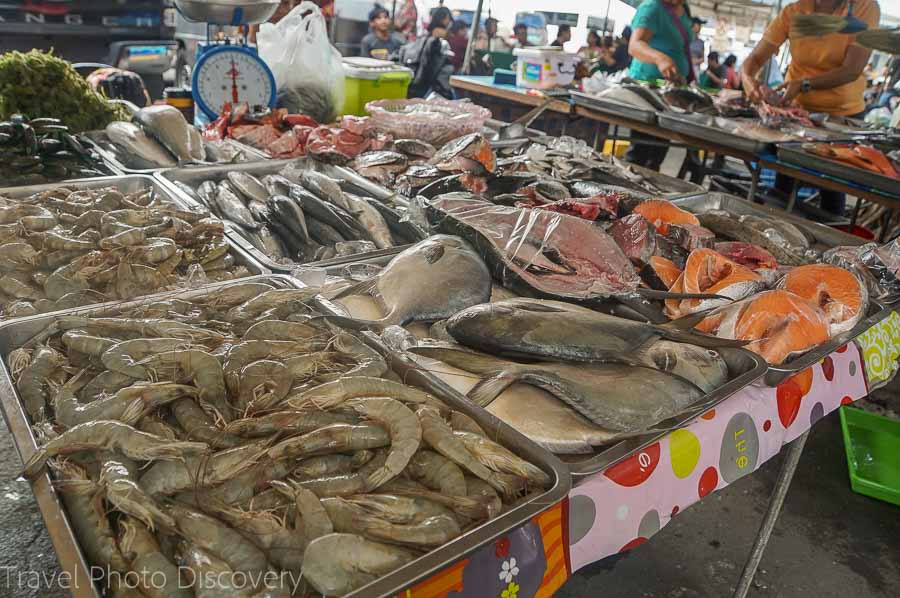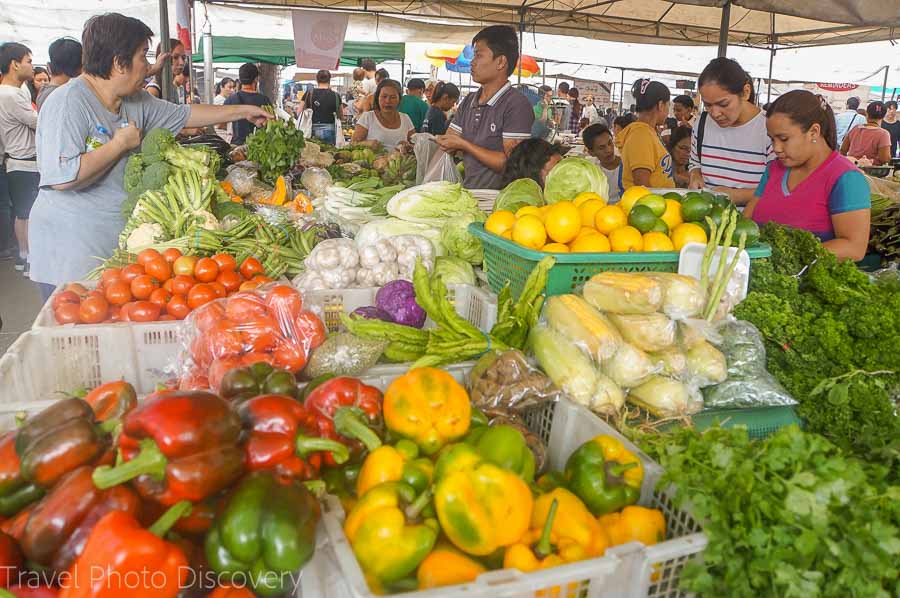 11. Travel tour the local way
This fun local way tour around Manila starts with local transportation as party of your journey starting with a ferry ride through the Pasig river in the historic district, a local jeepney ride and a three wheel tricycle motorcycle called a Kuliglig and capped with a tour of the historic Intramuros district in a Kalesa horse carriage ride. Walking through the Binondo district and stopping at a tea house and end with a local commuter train through many of Manila's busy districts.
Taking a Jeepney through Chinatown
12. BCG district in Manila
The reclaimed industrial zone called BGC or Bonifacio Global City, just south of the airport has been re-purposed into a fun district filled with art venues, shopping center, hip food and bar scene along with fantastic cultural center and performance spaces. You can check out this website here to get more details to current shows and new activities happening around the BGC area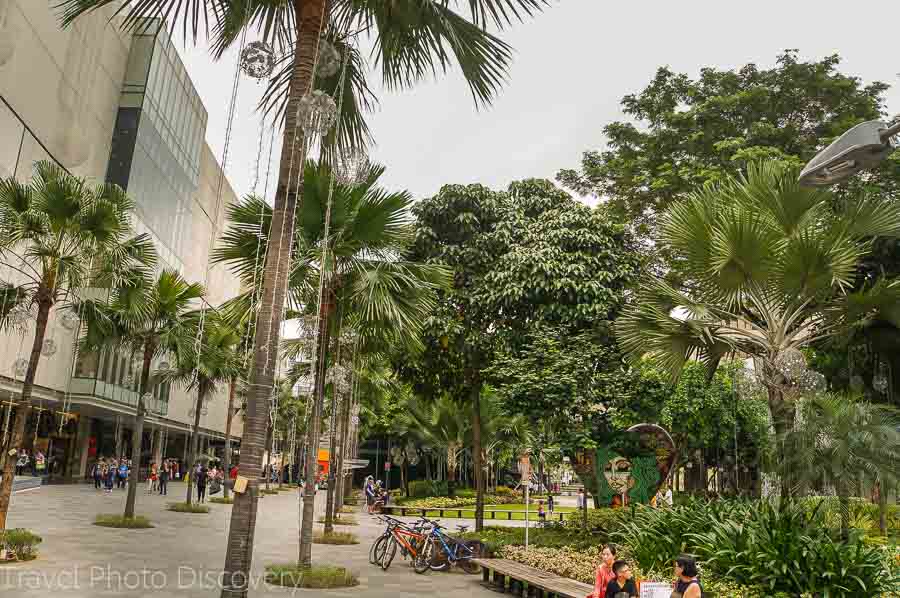 A cool bookstore at BGC High Street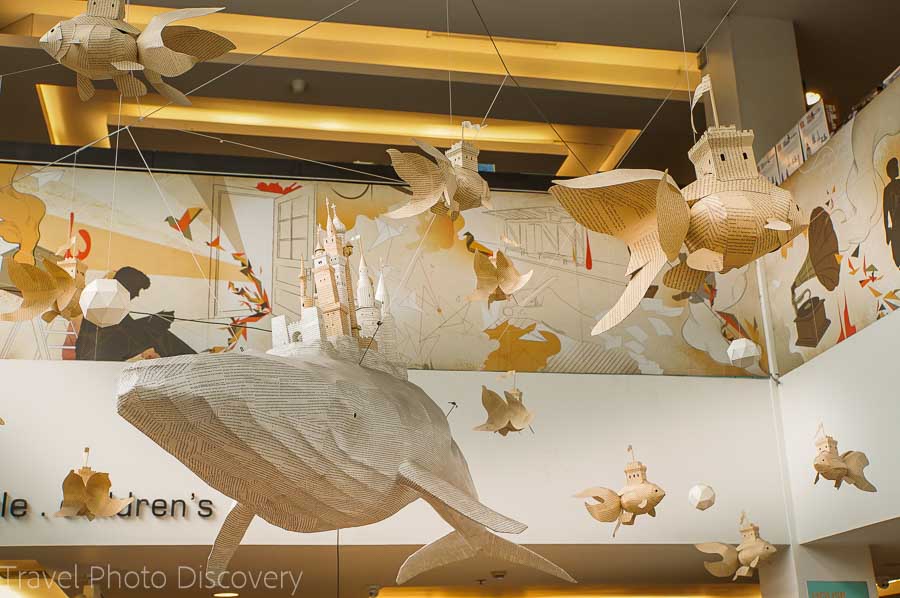 Plenty of outdoor spots to hang out at BGC
13. Exploring Corregidor island
Corregidor island has a significant history in defending the Philippines and the battles during World War 2 where the island played a significant role in defending the country. You can easily spend a day exploring all the historic ruins and or some beach time if the weather is good.
To visit Corregidor, it's easier to schedule a guided tour of Corregidor here to take care of the logistics, lunch and a personal guide through the island and historic monuments. This full day war memorial tour highlights all the important sites on the island.
14. Antipolo – art galleries and cultural sites
In the foot hills of the northeast section of Manila is the Antipolo district with a more cool and relaxed vibe. You'll find a variety of art and culturally inspired venues, museums, galleries and places to enjoy the casual pace and creative scene in Antipolo. Some of the must visit art museums include: Pinto Art Museum, Casa Santa Museum, Casa Santa, Museum of Minatures, Mind Museum and Jorge B. Vargas Museum.
15. Looking for bargains at Divisoria
The largest public market in Manila, the Divisoria is a large and messy area to explore where locals shop for bargains, everyday bargains and also for tourists to absorb and get down and dirty shopping for good deals in this market. This is definitely where the locals shop so be aware of your surroundings while checking out the various shopping venues around this market.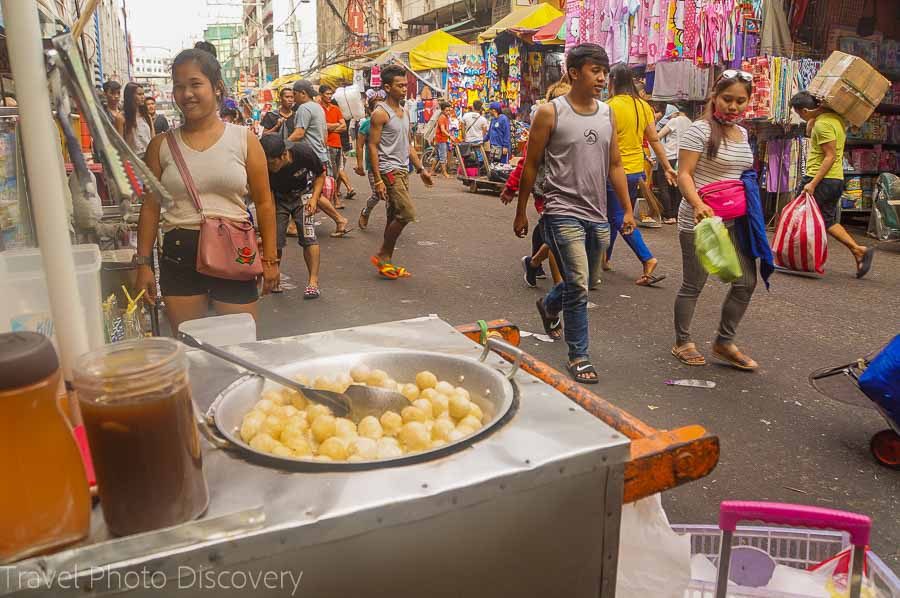 Shop til you drop at the Divisoria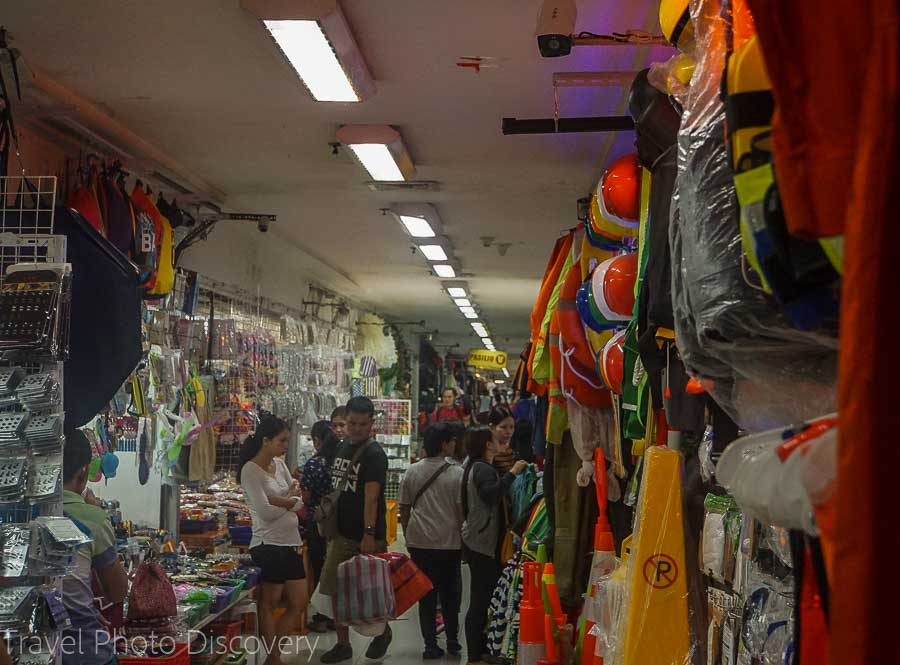 Hone your bargaining skills at the Divisoria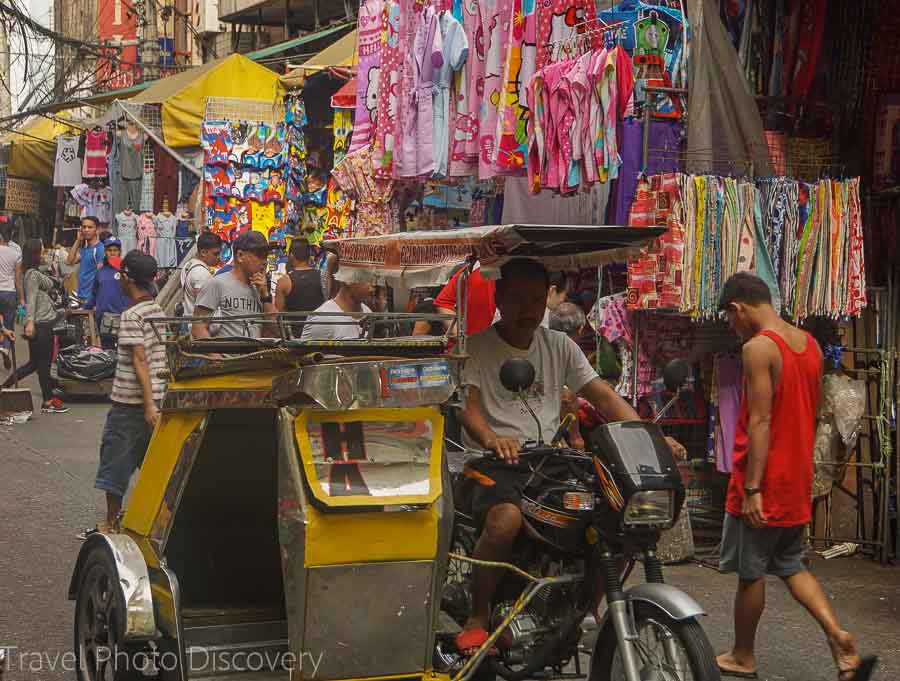 16. Historic churches of Manila
There are so many ornate and classic Spanish Colonial style churches in Manila that are a must visit when you are touring around the city. Some of the most significant ones to visit personally include: Manila Cathedral, St. Augustine Basilica, Binondo church and Quipo church.
17. Dining and culture experience in Manila
You can experience a fantastic combination dance and dinner event highlighting the history, dance and culture of the Philippines with a delicious dinner buffet with local and exotic dishes to savor. This show and dinner experience is a fantastic way to really absorb Philippine culture, dance and music with a taste of the local food specialties.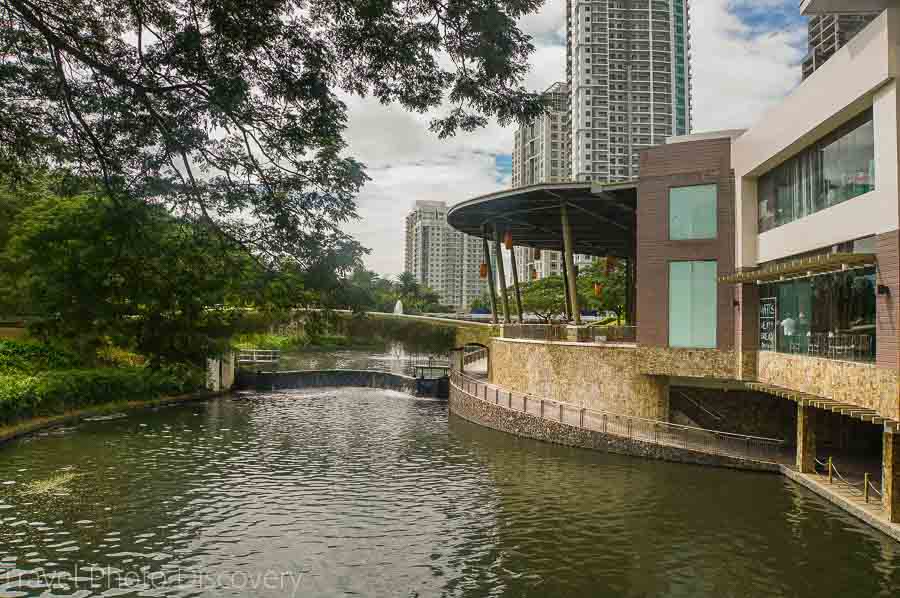 18. Shopping and dining fun in a shopping mall
Believe it or not, shopping centers are huge in the Philippines for entertainment, shopping and eating venues. There are many popular malls located around the city but the biggest and best shopping centers that cater to an international set include: BGC, Greenbelt Mall, Green Hills shopping center, Glorietta, Venice Grand Mall, SM Mall of Asia. These mega malls are where Filipinos go for good food and dining, entertainment venues, shopping and just window shopping fun.
Shopping fun at the BGC High street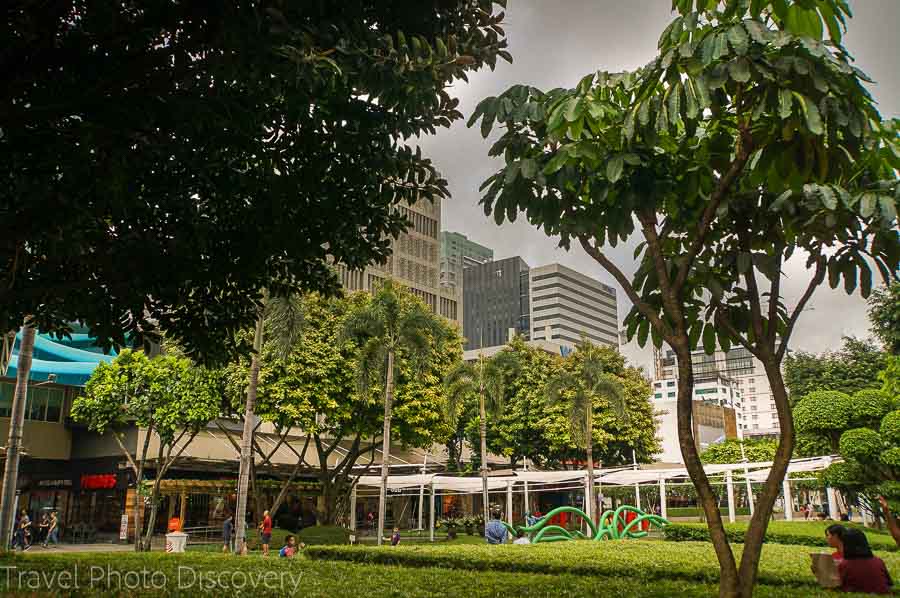 19. A visit to Tagaytay
A favorite spot for local Filipinos to get away from the heat of Manila, Tagaytay is cooler with a volcano, a lake within the volcano an active volcano called Taal that you can climb up to. This is a fantastic trip with great views, historic sites and stunning scenery to enjoy and photograph. You can also schedule a full day tour here to see the main attractions, catered lunch and guide with a pick up and drop off from a Manila hotel location.
Colorful bancas at Tagaytay
20. Dinner cruise around Manila Harbor
End a day in Manila with a dinner cruise around the bay and watch sunset from a comfortable yacht with options for sunset, mid evening to night dinner cruises. This tour of the bay will visit many popular spots and attractions around the bay, local Filipino dishes will be served and a band will perform for entertainment. Check out the details here for the schedule, current prices and booking.
Where to Stay in Manila
Manila is a large sprawling metropolis with a lot of traffic issues and congestion. Finding a location that is centrally located is the best way to see many of the attractions around the city and find ways to get around all the congestion. Here are my suggestions on where to stay in the best areas that are easy to get to and from the major attractions around the city.
Historic district or Ermita – The old historic district with government, businesses and entertainment areas that are easy to get to from this area. Check out the best rated hotels in the area here for reviews and availability.
Metro Manila – The main business downtown district is central to many locations and attractions around Manila, this includes Makati, BGC areas in the city. Check out the best rated hotels in the area here for reviews and availability.
Manila Bay and waterfront – Close to the old historic district and attractions, you will find plenty of places to visit and discover in this vibrant city without the major traffic hassles of being in the historic areas of the city. Check out the best rated hotels in the area here for reviews and availability.
For more hotels around Manila and the highest rated places to stay, check out these TripAdvisor reviews here for current prices and availability.
Check out these posts around the Philippines
Coron, Philippines in 20 pictures
Visiting Ilolocs Norte in 3 days
3 day tour in Cebu, Philippines
Vigan tourist spots in Ilocos Sud
If you enjoyed the post, please pin it
Thanks for visiting today and checking out this post on the Top 20 things to do in Manila, if you enjoyed the images and post, could you please share it with any of the social media buttons located around the post.
If you like what you see, come and check out my other social media channels for more updates, including Instagram, Pinterest and Twitter
Disclosure – There are affiliates links on this posts which provide a small commission to support this site at no extra cost to you. Thank you for reading, and happy travels.