Explore the Best of Cebu: A Memorable 3-Day Tour of Cebu (updated 2023)
For those looking for a little more culture combined with adventure and discovery, you'll love al our suggestion to this Cebu itinerary and exploring the main highlights to visiting the island in three days. Cebu is the 2nd largest city in the Philippines after Manila is an easy getaway with many regular and inexpensive flights to the city.  There's a lot to see and things to do in Cebu island and the entire Visayan regional capital. We will highlight the top Cebu itinerary covering some of the historic, cultural and hidden treasures, traveling to unique venues, marketplaces and vista points around the island. Or if your into exploring on the water and sailing to the many small islands surrounding Cebu, there are many island tours to choose from.
There's plenty of things to do and places to visit in Cebu or you can do the complete opposite and do nothing but relax, sit on a pretty beach and work on your sun tan with a nice tropical drink served to you right on the beach and afterwards eat delicious seafood buffets at the resort.  You'll enjoy visiting the top things to do in Cebu and some of the cool and unusual activities to do in the city and the surrounding areas.
Places to visit in Cebu City, Philippines
Why visit Cebu now?
The first of historic Spanish settlements in the Philippines, Cebu retains a colorful colonial past along with the indigenous influence of the area. With delicious foods, snacks and regional cuisine making eating and shopping a favorite pastime in visiting this diverse city, you'll love visiting the lively marketplaces, foodie,  restaurant venues, historic sites and scenic vista points that makes a visit to Cebu worthwhile and even affordable for any travelers to the city. There are so many unique Cebu attractions that offer historic monuments, Cebu food tours and exploring the newer areas and various resorts to unwind and indulge in your Cebu itinerary.
How to get to Cebu
You can easily get to Cebu flying from the capital city of Manila. There are many carriers that fly directly to Cebu which is around an hours flight from Manila. Cebu is also a direct hub from many other Asian cities that you can easily fly to with various regional and international carriers. There are also Cebu packages that you can book with tour agencies and online sites to explore the best places to visit around Cebu.
Weather and best time to visit Cebu, Philippines
Cebu, Philippines, is known for its beautiful beaches, vibrant culture, and rich history. The city experiences a tropical climate, characterized by two main seasons: the dry season and the wet season. The best time to visit Cebu and enjoy pleasant weather is generally during the dry season, which typically runs from December to May. Here's what you can expect during these months:
December to February: This period is considered the peak tourist season in Cebu, as the weather is generally sunny and dry. The average temperature ranges from 24°C (75°F) to 30°C (86°F). It's an excellent time for beach activities, exploring historical sites, and attending festivals such as the Sinulog Festival in January.
March to May: These months mark the transition from the dry season to the wet season. The weather remains warm, with temperatures ranging from 25°C (77°F) to 32°C (90°F). It's a great time to visit if you want to avoid the crowds and enjoy lower accommodation rates. However, occasional rain showers may occur during this period.
June to November: This period constitutes the wet season in Cebu, with increased chances of rainfall and occasional typhoons. The weather is generally hot and humid, with temperatures ranging from 24°C (75°F) to 31°C (88°F). While it may not be the ideal time for beach activities, you can still explore indoor attractions, go shopping, or indulge in the local cuisine.
It's important to note that weather patterns can vary from year to year, so it's always a good idea to check the forecast before your trip. Additionally, Cebu has many indoor attractions and cultural experiences to offer, so even during the wet season, you can still have a memorable visit.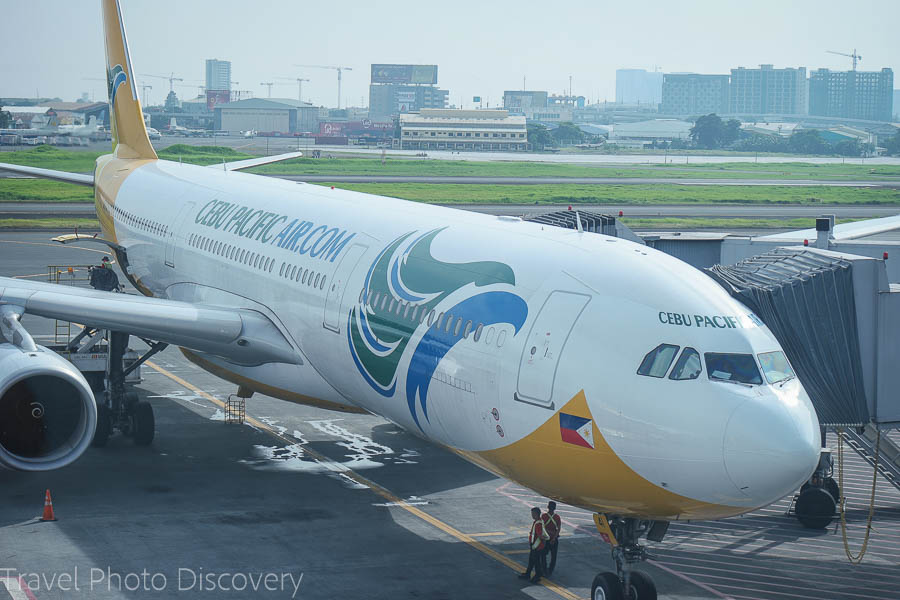 Where to go and things to do in Cebu
With so many cool places to visit in Cebu, use this guide to show you the best attractions and activities to do around the city and plan your own Cebu itinerary for a trip to the region. We will share the top things to do in Cebu with a three day Cebu itinerary to inspire you to do the same or longer timeframe to explore more of the surrounding areas and islands.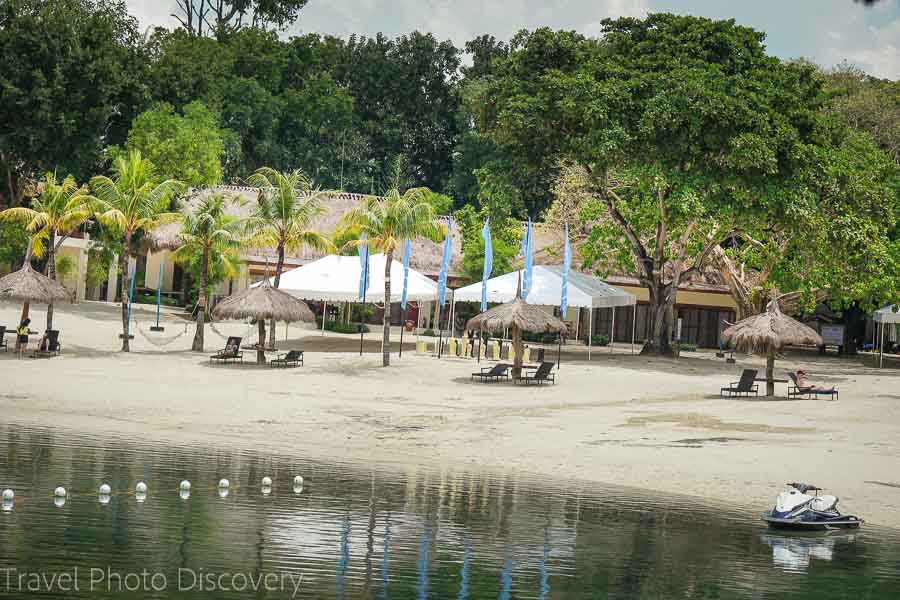 Day 1 flying to Cebu
I booked a flight to Cebu on Cebu Airways with an inexpensive roundtrip ticket that takes you to Cebu airport in the late afternoon. From the airport, it is easy enough to catch an Uber taxi directly to my hotel Bluewater Maribago Beach Resort. There are free wifi zones in the terminal up to the outdoor waiting stands for the Uber pick up ride. There are many different hotel accommodations to choose from depending on location and price. You can use the link below to give you highlights of recommended places from visitors with Trip Advisor here for more details.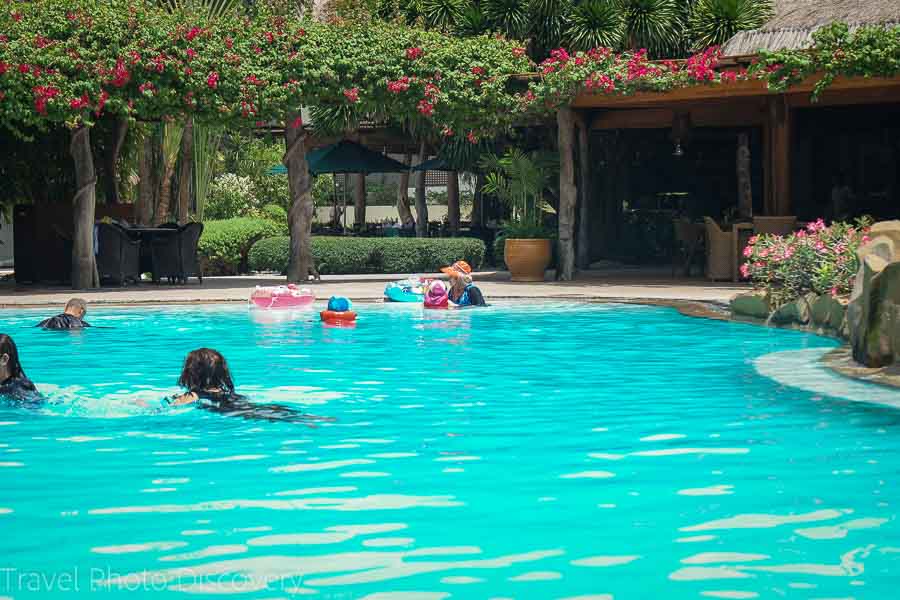 Check into hotel and dining out
I chose to be located in Mactan Island at the Bluewater Maribago for beach and water access but within an easy drive to central Cebu, the historic district or various attractions around the island. The resort sits on the southern part of Mactan island away from the busy and loud tourist venues and shopping areas. Low thatched roofs with elegant suites sit on various parts of the property along with other regular bedroom configurations sitting around beautiful pool areas, elegant ponds and gardens or more secluded properties. The beach area is perfectly groomed white sand beach with a oceanside bar and restaurant and a small barrier beach area only accessible by swimming to it – little thatched tables with seating make a perfect alternative for shade requirements from the intense sun. The various pools around the property are large with fountains, slides and kiddie play areas. I took a quick dip in the lagoon area and played around the main pool area with some massage type waterfalls.
Taking an easy and relaxing day just on the resort and enjoying the beach, pool and other outdoor bars and restaurants was a nice way to enjoy a first day on the island especially after a hectic flight and transfers to the resort.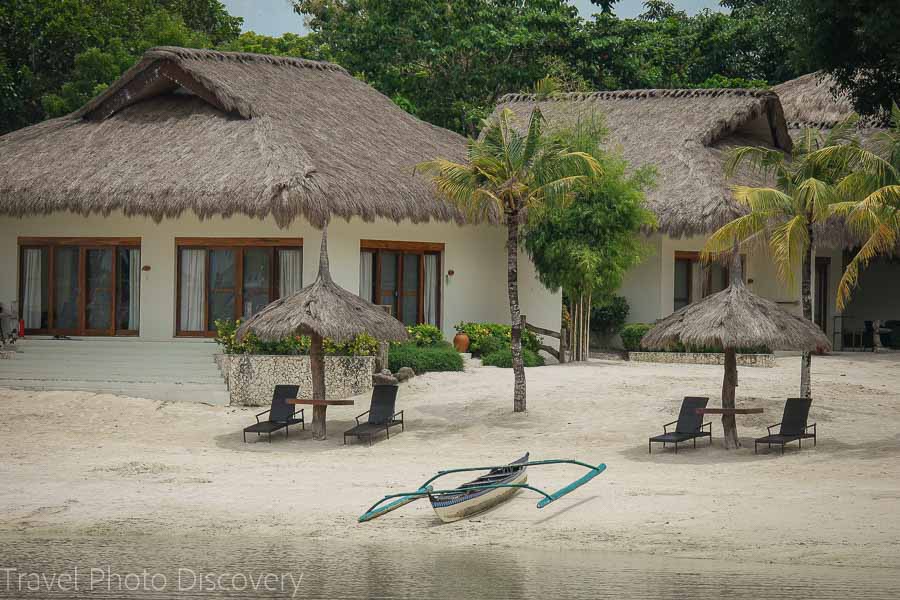 I decided to dine in the first night at the comfortable pool restaurant called Allegro with poolside dining or air conditioned interior. I opted to have their dinner buffet which was a real feast with local specialties and delicious fresh seafood cooked to order.  After the wonderful meal, I spent the rest of the evening enjoying a walk to the beach areas and dropping by the lagoon bar for a nice evening cocktail while watching the orange hued sunset for my first time visit to Cebu.
Here's a quick video tour and travel experience in Cebu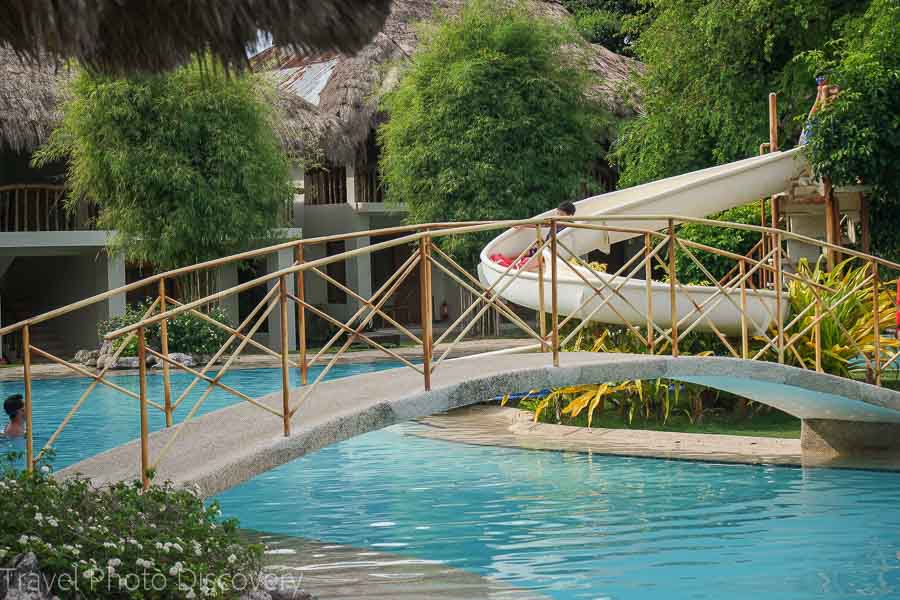 Day two – exploring in Cebu's historic district
Early morning and a nice breakfast service at the hotel and I was ready to head out  and do a Cebu day tour of the historic district and other local attractions in town. There are plenty of cabs, Jeepneys or services like Uber to get you to one of the main squares in town. I used the excellent wifi to catch an uber asked the driver to be drop me off at the Cebu Cathedral in the historic district. You can have a fun day tour of Cebu exploring all the historic sites just within the historic downtown district and walk through all the main attractions easily in the area and then take a taxi or uber to the other outlying areas and attractions.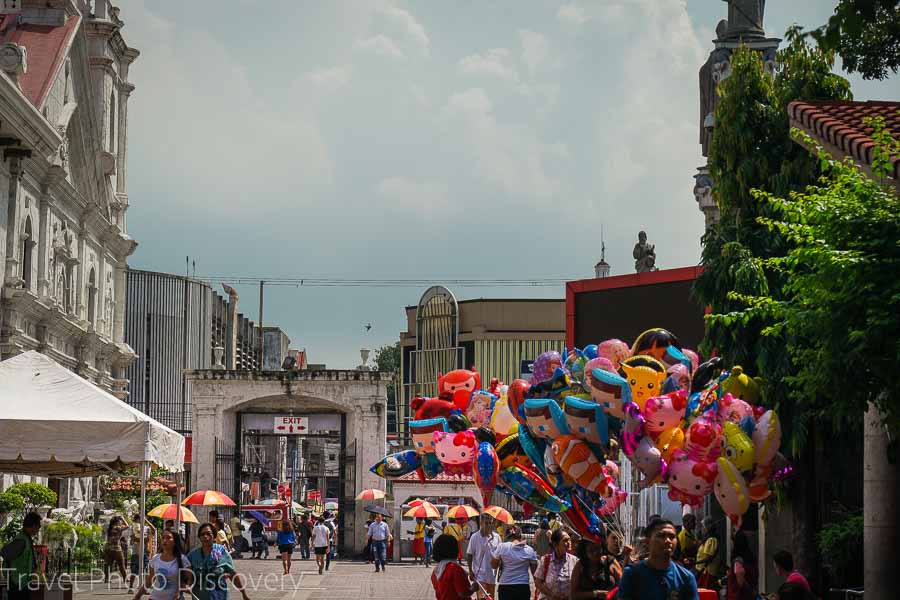 Cebu Cathedral
On of the top attractions to visit in Cebu is the Cebu Cathedral in the historic district. An ornate classic colonial Spanish style church, Cebu's Cathedral is very typical with thick walls to make the interiors cooler and more solid to hurricanes and other natural elements. Damaged by the Allied forces, the façade, belfry and walls remained and were quickly reconstructed in the 1950s and later expanded with current renovations to the cathedral. After visiting the interior of the church and chapels, I walked out to the side garden and to a narrow alleyway filled with colorful street food vendors and local produce for sale – this bustling alley lead directly to the other large church in Cebu called the Basilico del Santo Nino.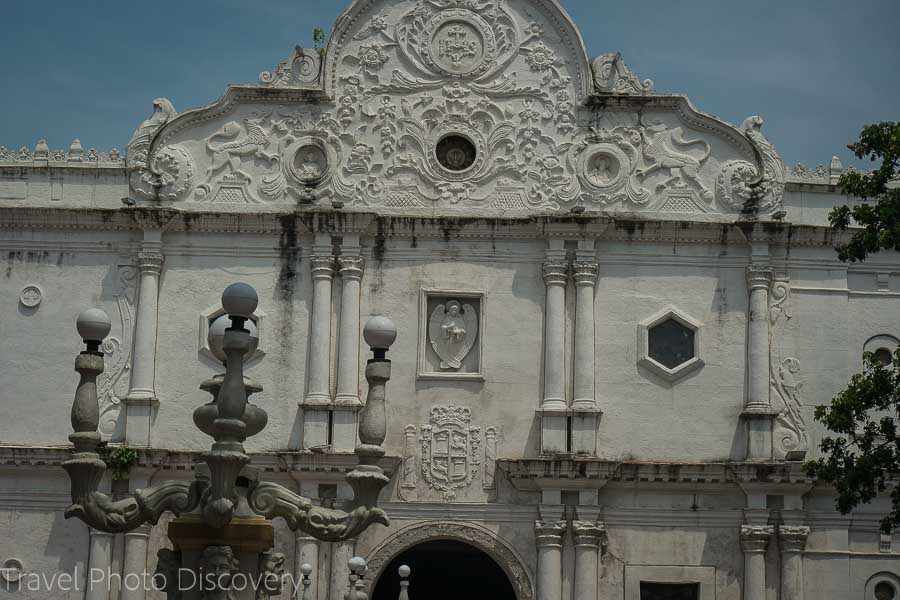 The façade and interior of Cebu Cathedral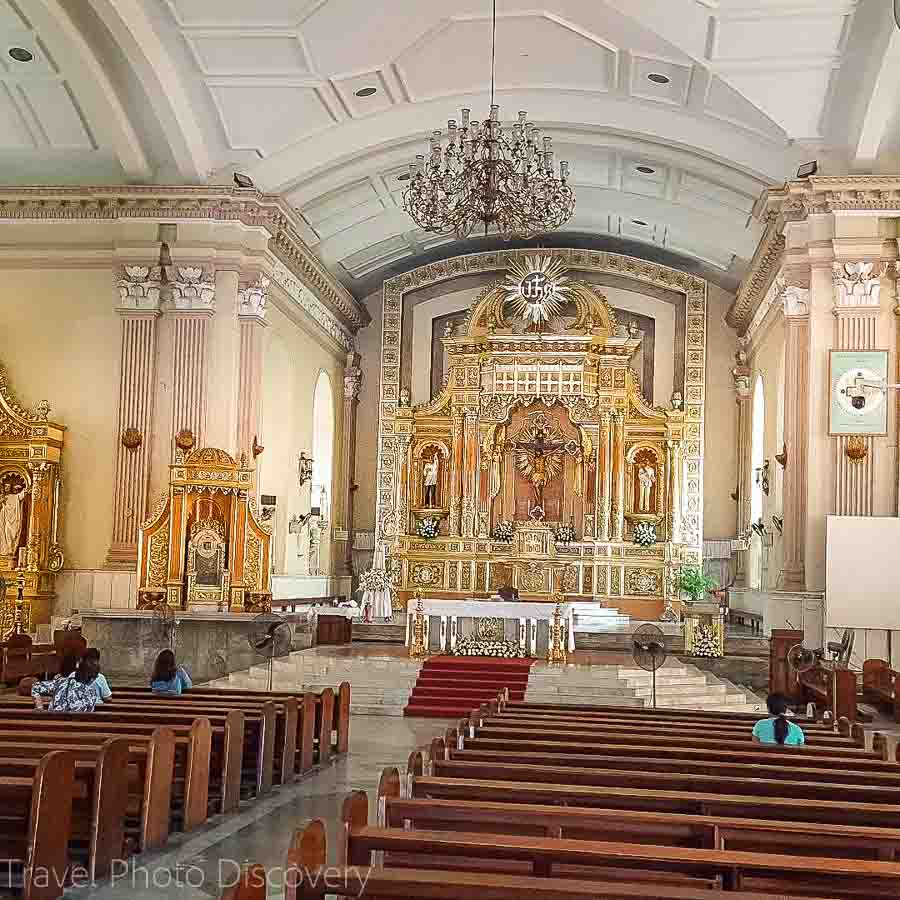 Passing the cathedral alleyway and outdoor markets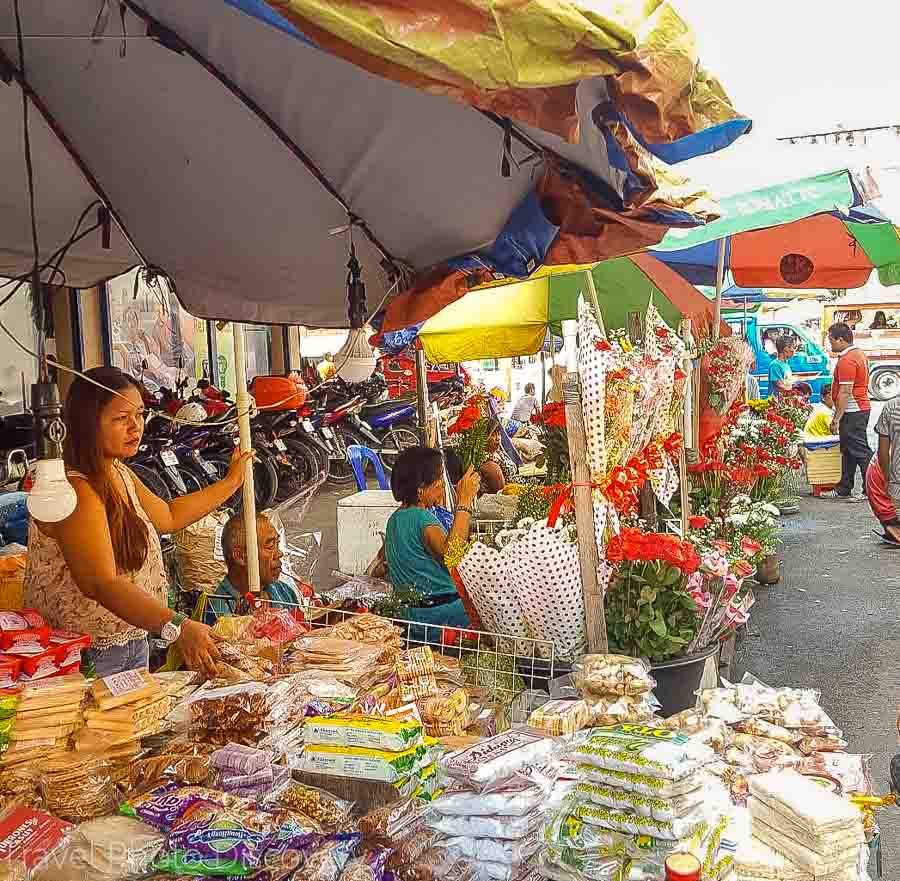 Basilica del Santo Nino
This minor basilica established in Cebu in 1565 is built on the spot where the Santo Nino – an icon of the statue of the holy child that was brought by Spanish explorer Miguel de Legaspi. Along with the basilica is the monastery, a beautiful garden area and surrounding adjunct buildings and worship centers. I walked around the expansive candle offering stations and watched as older retirees sell large and colorful candles as offerings to the visitors to the sanctuary. After enjoying touring the grounds, I headed towards the next attraction close by which was to visit Magellan's Cross.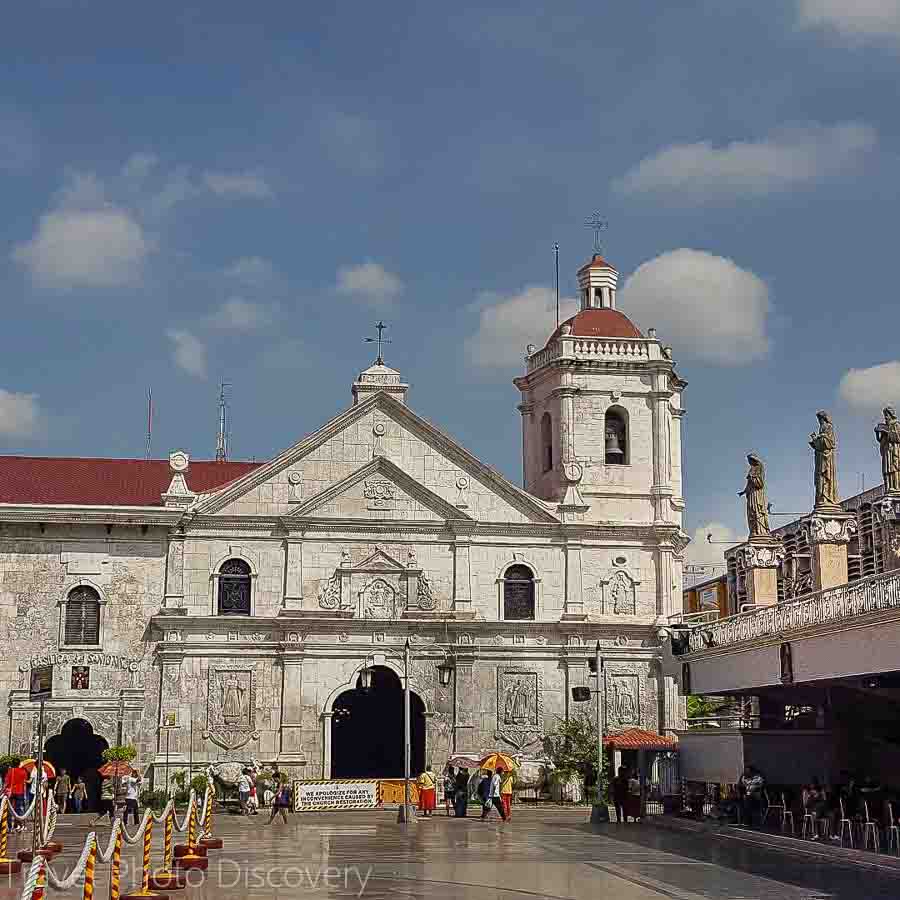 Basilica interior and gardens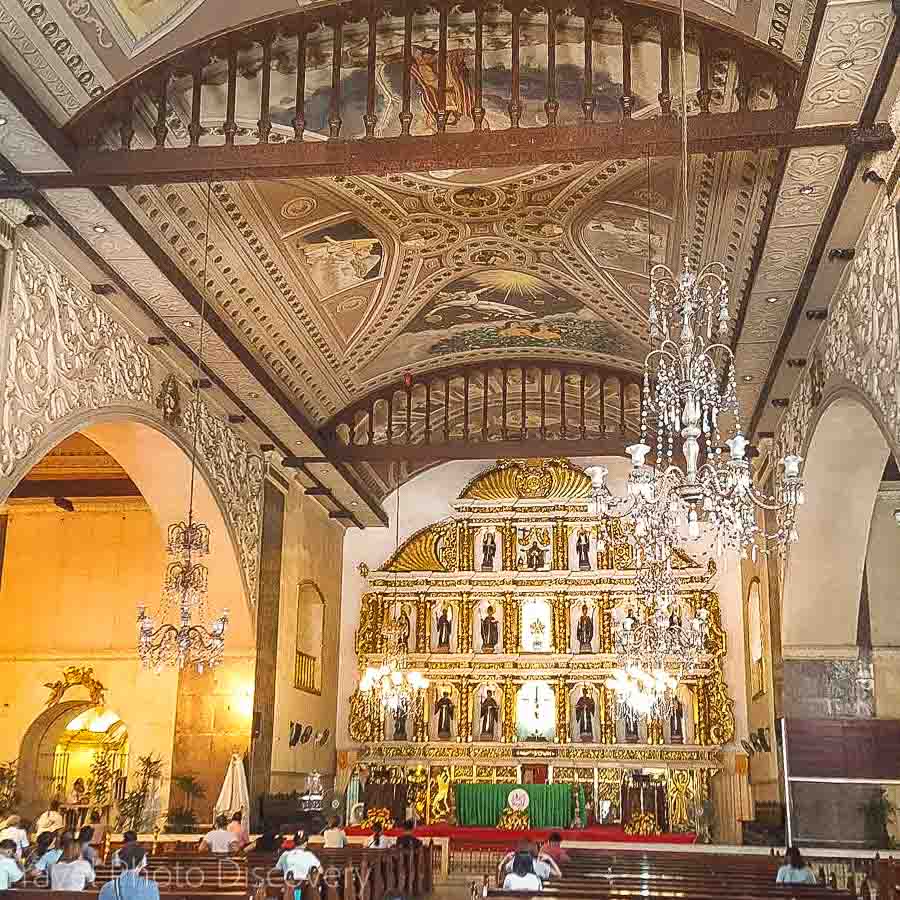 Walking around the gardens of Basilica del Santo Nino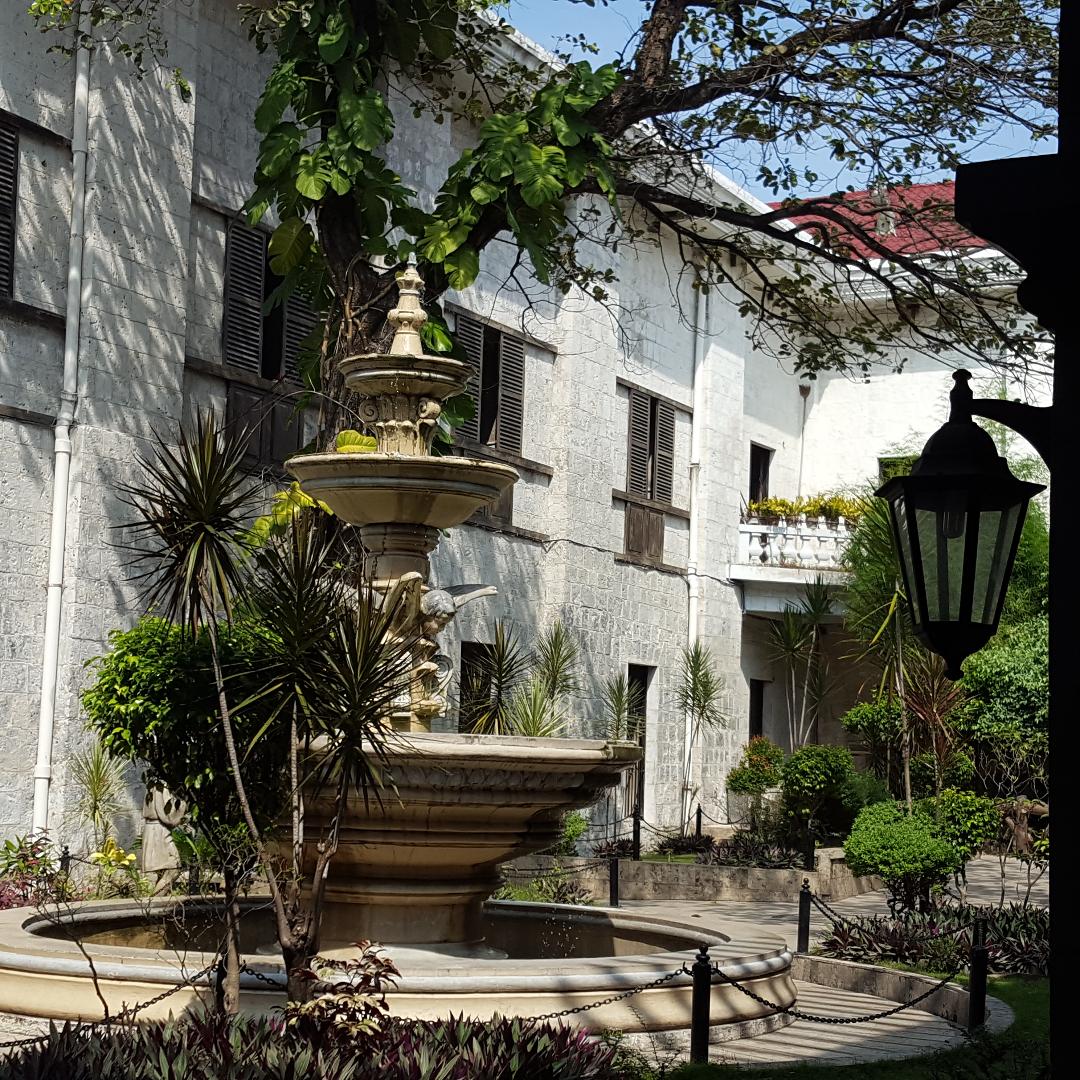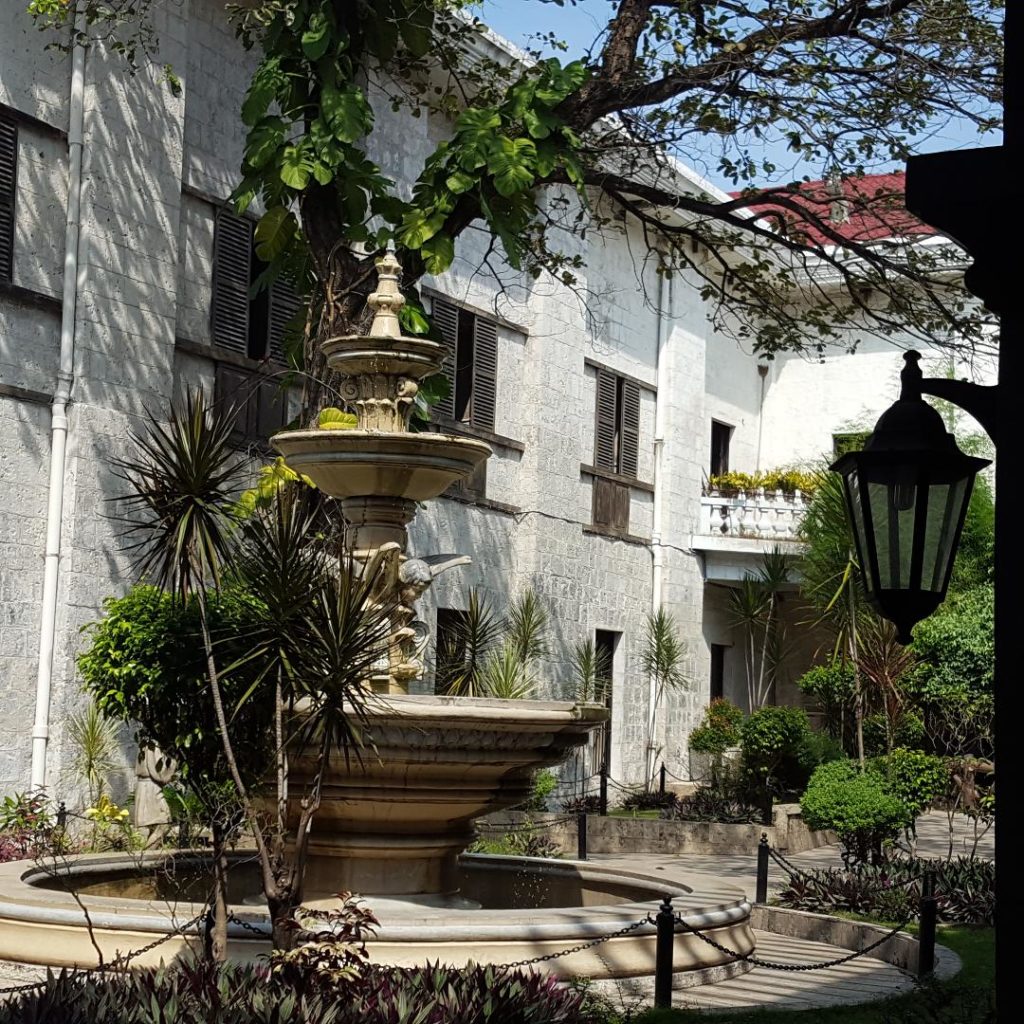 Candle offering stands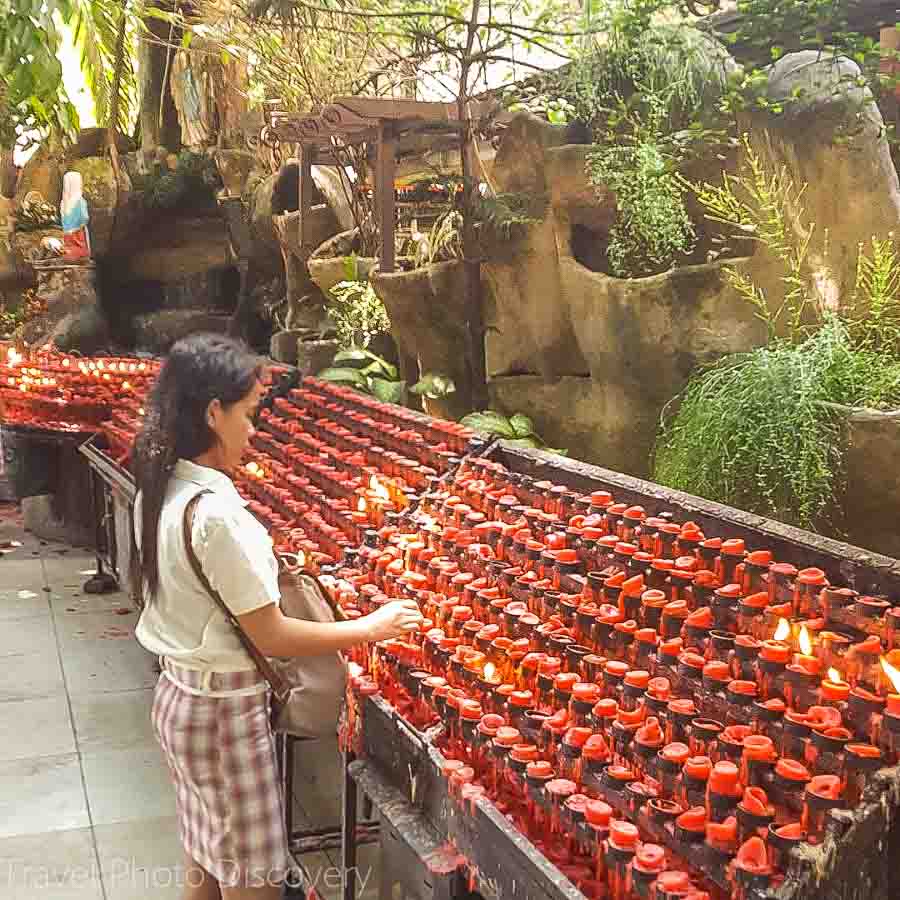 Magellan's Cross
Housed in an ornate tiled chapel pavilion, the cross of Magellan is a simple and large wooden cross ordered by Magellan from early Portuguese and Spanish explorers establishing Cebu as a colonial city in the Philippines. The ceiling is decorated with large ornate mural that depicts the early settlers and establishment of the Spanish colony. I ended up walking around the small chapel while watching and trying to capture some of the locals hanging around the popular attraction. After visiting the monument, I walked back through the main thoroughfares of the basilica and cathedral to visiting some of the other existing colonial structures in the historic center which is easy to walk around. The Cebu tourism organization has preserved many of the historic buildings well and create an easy to do DIY self guided tour of the area.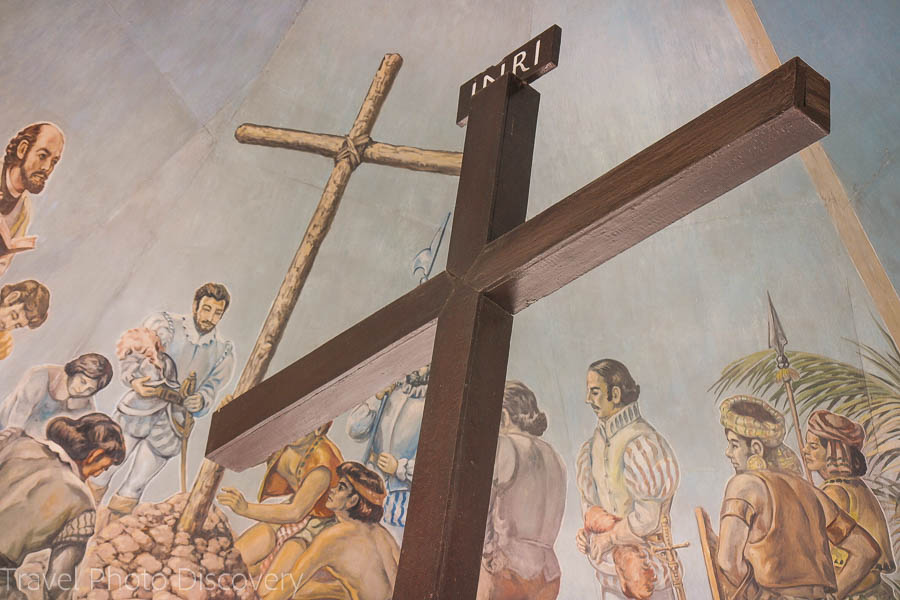 Selling candles at the chapel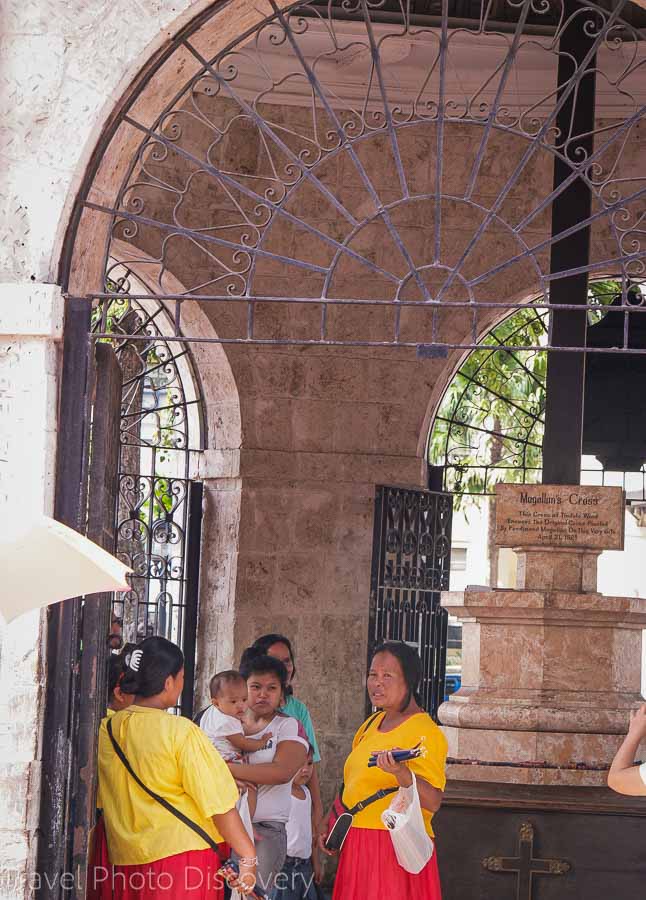 Here's a visit to Old Cebu area and some funny observations
A visit to Casa Gorordo
One of the most impressive places to put on your Cebu itinerary is a visit to Casa Gorordo, a classical Spanish colonial style home of a wealthy family from Cebu. I love to visit colonial period homes and this historic home that is still being used by the Gorordo family (an influential and wealthy family from Cebu) is well-preserved and was built in the 1850s. The gorgeous stone home was the official residence of the first Filipino bishop of Cebu and a wealthy merchant. Built of a solid coral first floor base and wooden second floor, the bishop spared no expense to decorate the interior with gorgeous wood carvings, ornate furniture and imported collectibles and personal collections. I loved the self tour with audio guide and you can take your time to visit the elaborate rooms as you like and even relax in a comfortable veranda or the amazing café below the gift shop. This is definitely one of the best historic attractions to see in the historic center. To check out more about this fascinating home, visiting their website here for more details.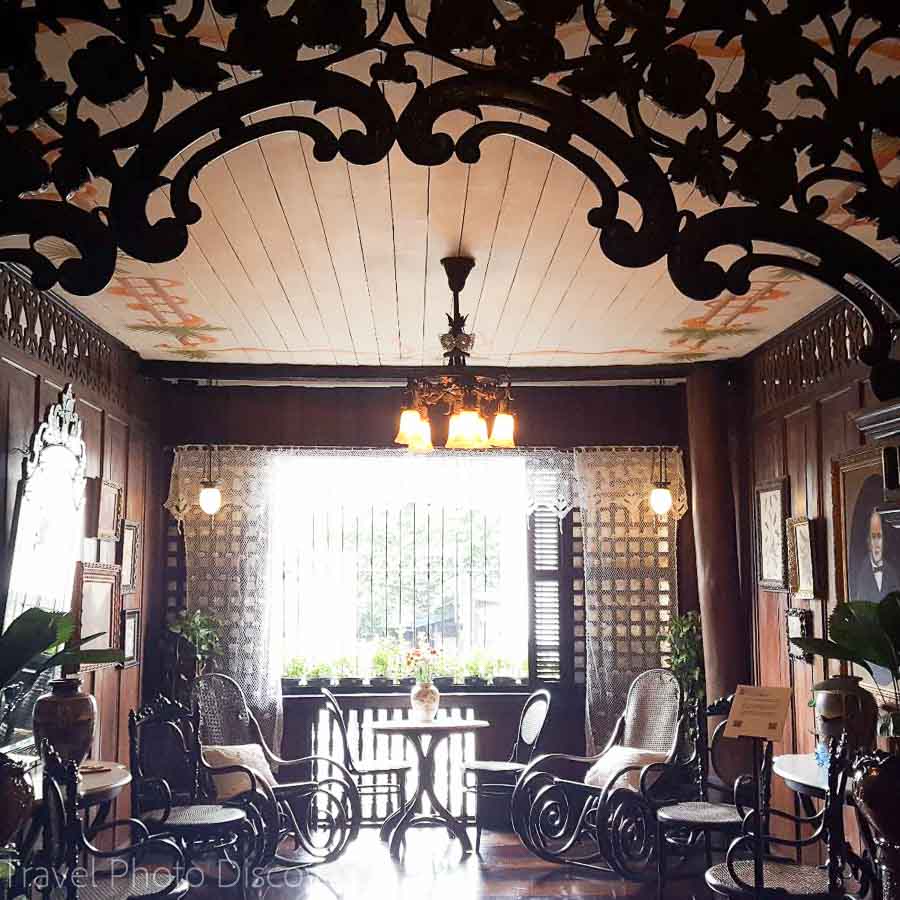 The outside gardens and studio at Casa Gorordo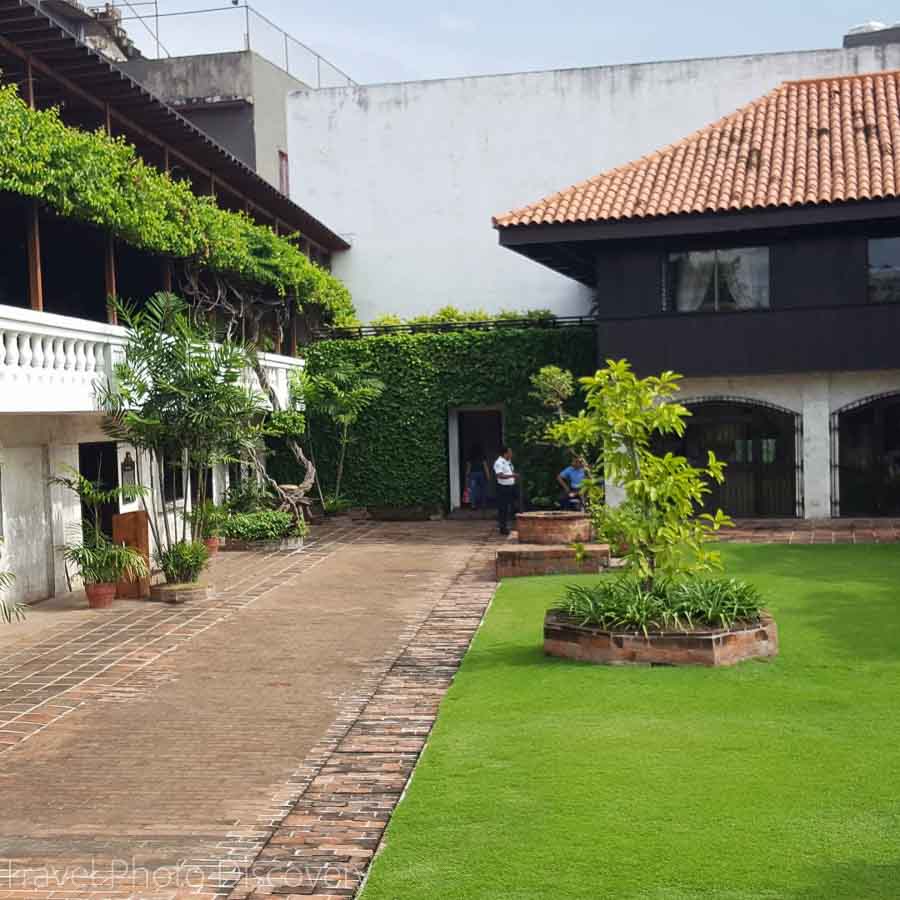 Here's a fun tour of Casa Gorordo in Cebu
The Yap – San Diego Ancestral House
Not as elaborate as Casa Gorordo but just as authentic a colonial style home that is actually still lived in by the family, this ancestral home is one of the oldest ancestral homes in the Philippines built around 1675. The wooden home is filled with so many details, furnishings and other personal collectibles, you have to walk around slowly to see all the unique displays in this still lived in home. Sagging wooden floorboards, creaking stairs and a red-tiled roof is both colonial and Chinese in Ancestry.  I loved walking around and then taking a photo with the caretaker in a vintage colonial style dress, while I was sweating profusely and in a sad state while walking around.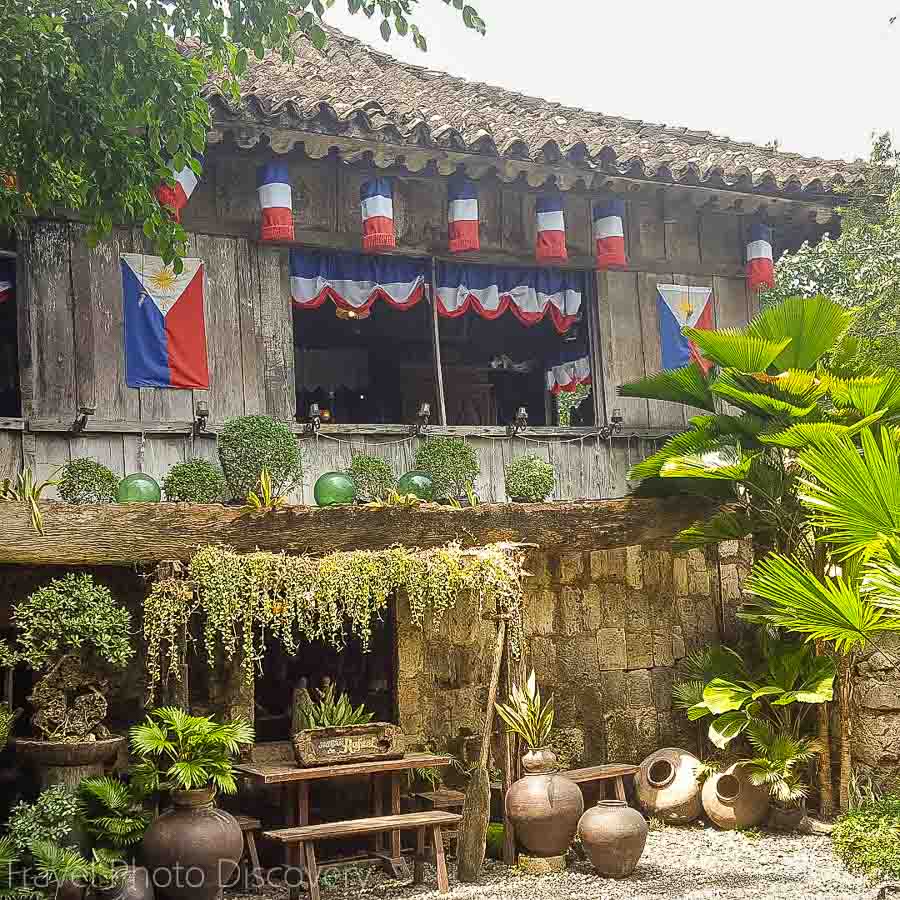 Taking a selfie with the attendant in traditional dress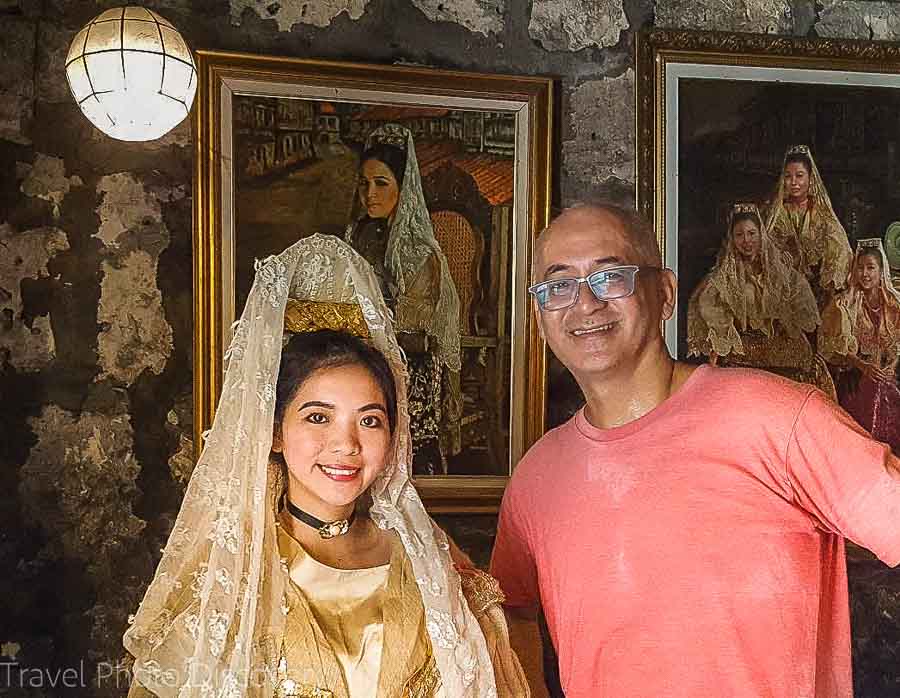 Interior details at the Yap home in Cebu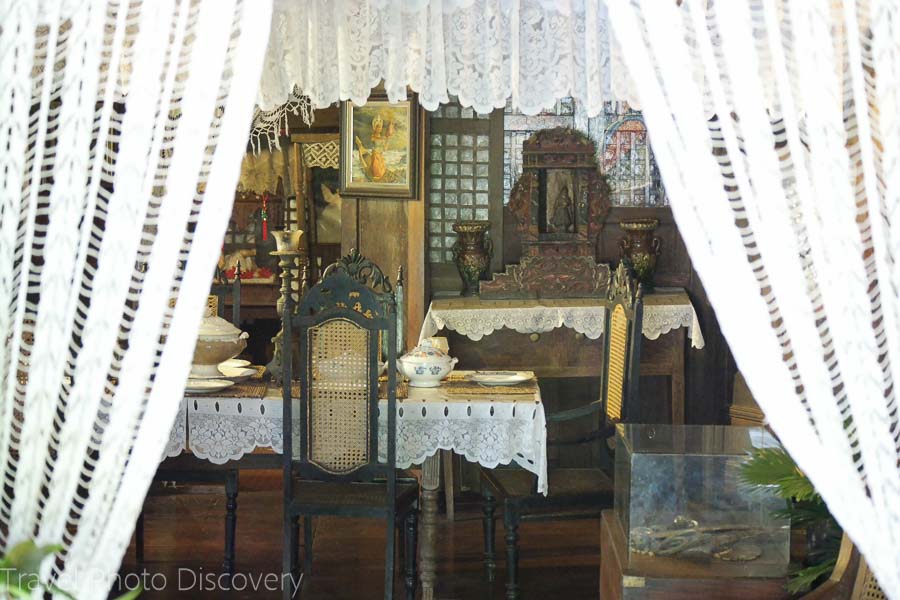 Here's a view of this ancestral house in Cebu
Other interesting Cebu historic attractions
After walking around the historic district, its easy enough to hire a local cab to take you to some of the other outlying attractions around the city center and in the neighboring Mactan Island. Here are some of the interesting historical monuments worth visiting around the city.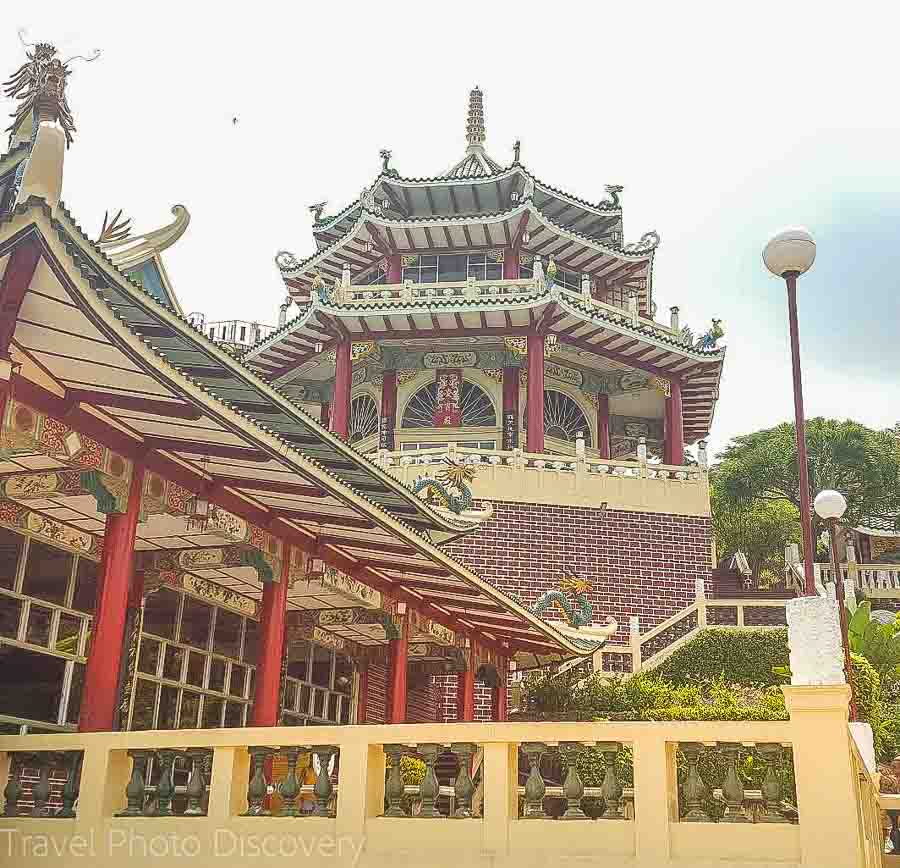 Cebu Taoist Temple
Located in a quiet area outside and above the city proper sits the Cebu Taoist Temple – an expansive series of buildings sitting above a hill with striking panoramic views of the city below. The Taoist Temple of Cebu was built by the local Chinese community as a worship center for Taoism – after the teachings of the Chinese Philosopher Lao Zi. One of the main pilgrimage functions for a favorable visit is to climb the 81 steps to the main temple, light joss sticks and have their fortune read by monks. For non devotees, its fantastic to just walk around the see the many little temples and take photographs of the city below and just enjoy the cool breeze up in the hills.
Here's a quick video tour of the Cebu Taoist Temple below
https://youtu.be/KB_alQCORus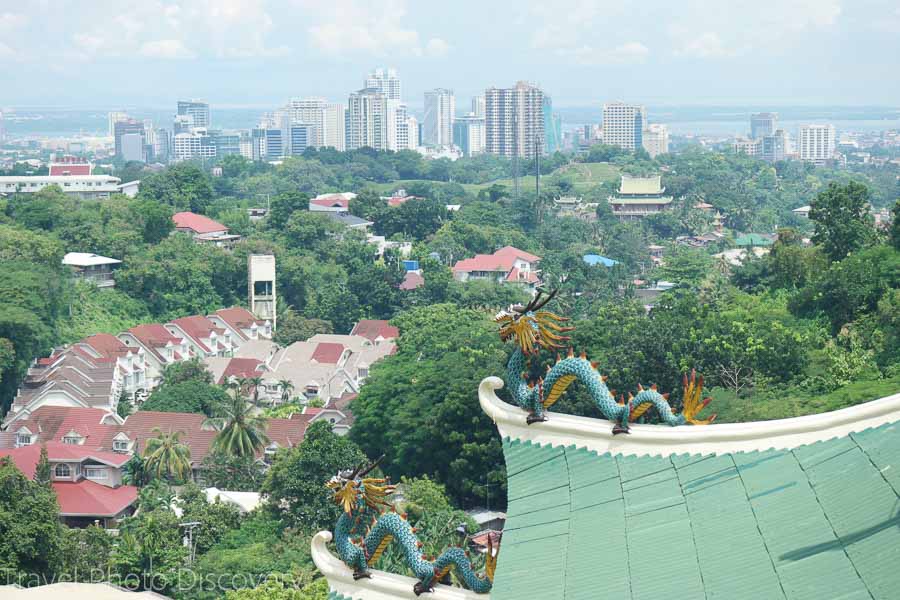 Visiting Fort San Pedro
Built under Spanish rule, Fort San Pedro in the historic district of Cebu was the main defense structure protecting the city. Fronting the large Plaza Independencia, the original fort was made of wood and is now the oldest stone and coral triangular fort in the Philippines facing the sea in two fronts and inland on one side.  Large cannons are still in place in strategic parts of the ramparts which is fun to walk around and view the city and historic areas from above. Check more details about the history and development of Fort San Pedro here for more information.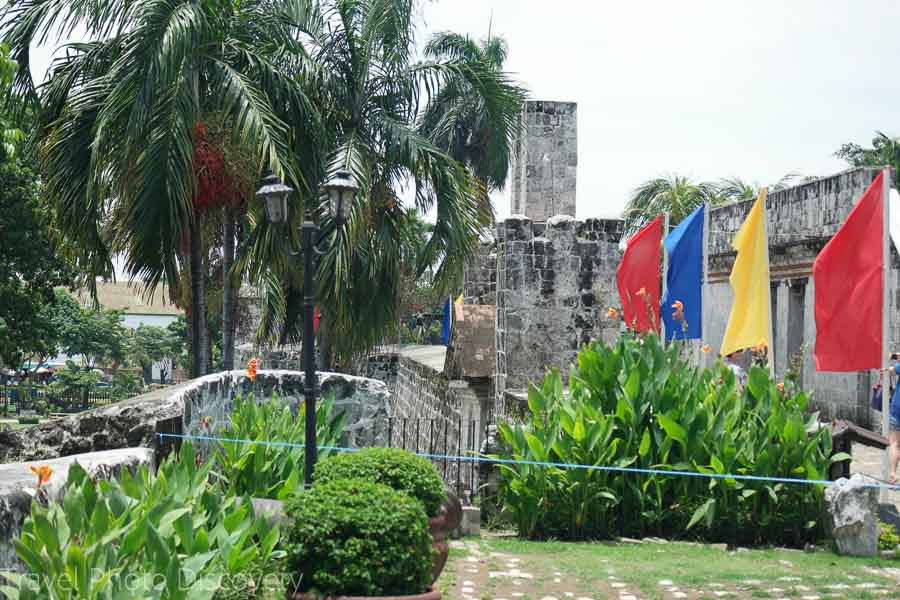 Inside the ramparts and gardens of Fort San Pedro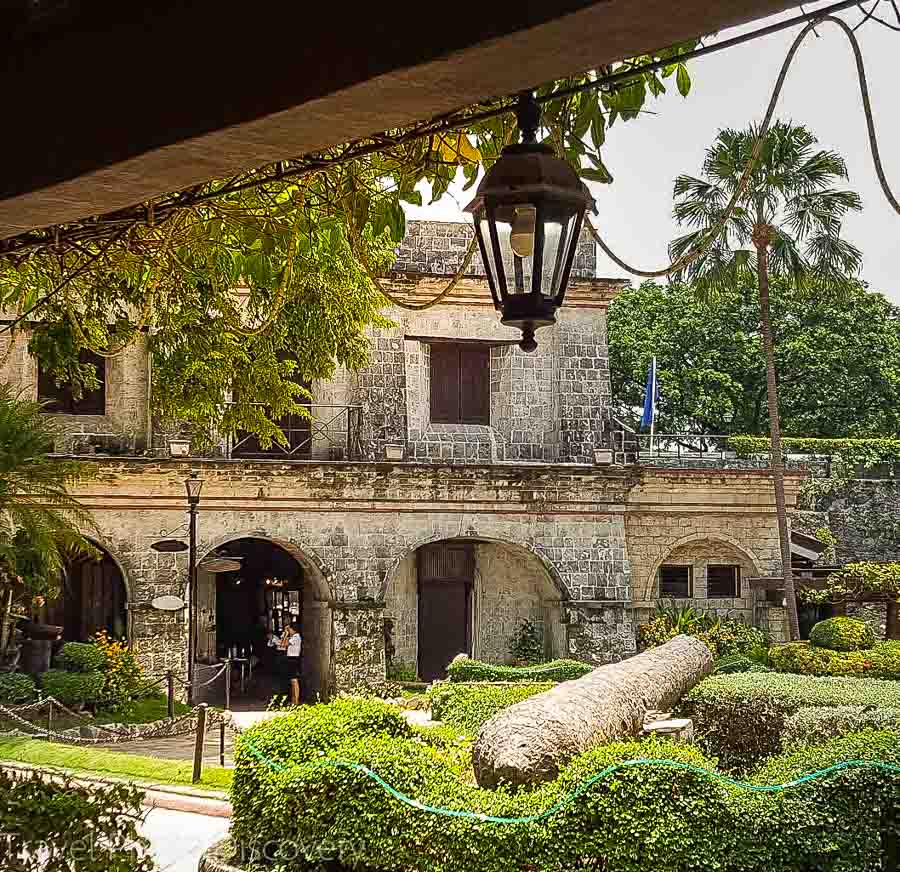 Here's a quick video tour of visiting the historic fort in Cebu
Robinson's 4th floor dining with views
A late lunch at Robinsons department store offers a variety of food choices that are very popular with locals who flock to the department store for air conditioning, good food choices and nice views. After visiting the sites above, I had the driver take me to Robinsons which has an excellent food court and great views of the city that I wanted to check out. Robinsons didn't disappoint with the dining/food area located on the top floor with sunny and nice views to the harbor and downtown area. Although the shopping is typical of any of the larger air-conditioned malls in the Philippines, there is a variety of choices in food venues and the quality is typically very good and cheap considering you are eating at a mall. There are a few good prepared foods of local specialties and you can pick how much you want to try and sample of the local favorites from the area at inexpensive prices.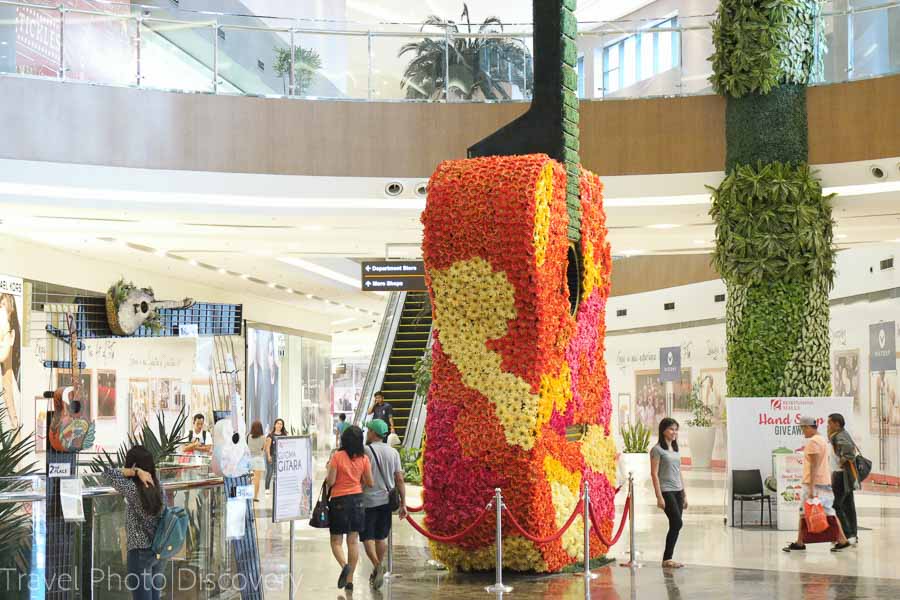 Local Cebu food specialties on the 4th floor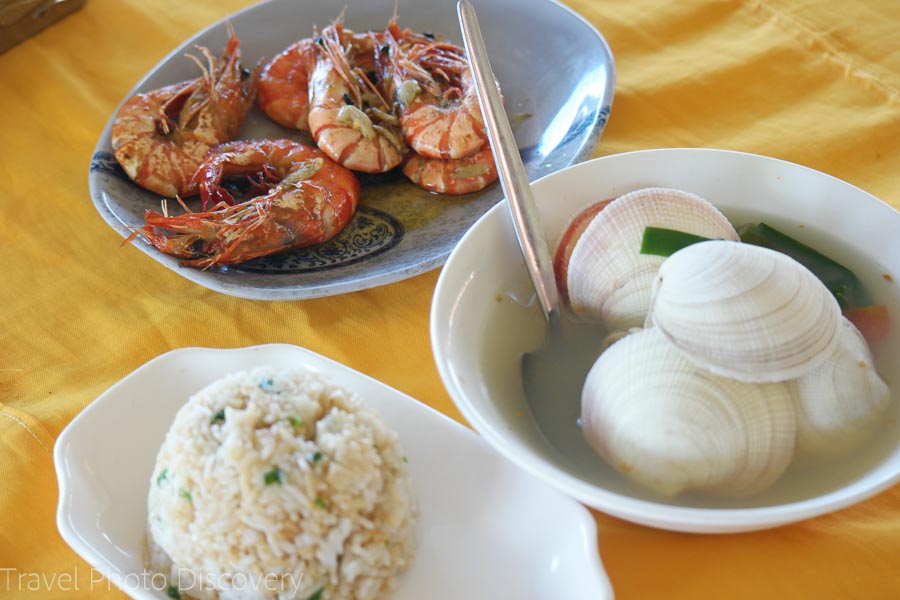 After a delicious and satisfying meal, I decided to head back to Mactan Island and check out the local outdoor farmers market and dine al fresco around the area of the Lapu Lapu Shrine.
Mactan Island public market
The area around the outdoor markets are confusing, loud and local, so its a great opportunity to try some snacks or street food, souvenir shop or just experience and take some photographs of the market and daily life of how people shop and entertain in this expansive market area. The livelier areas tend to the areas selling fresh seafood, butcher shops and the perishable marketplaces.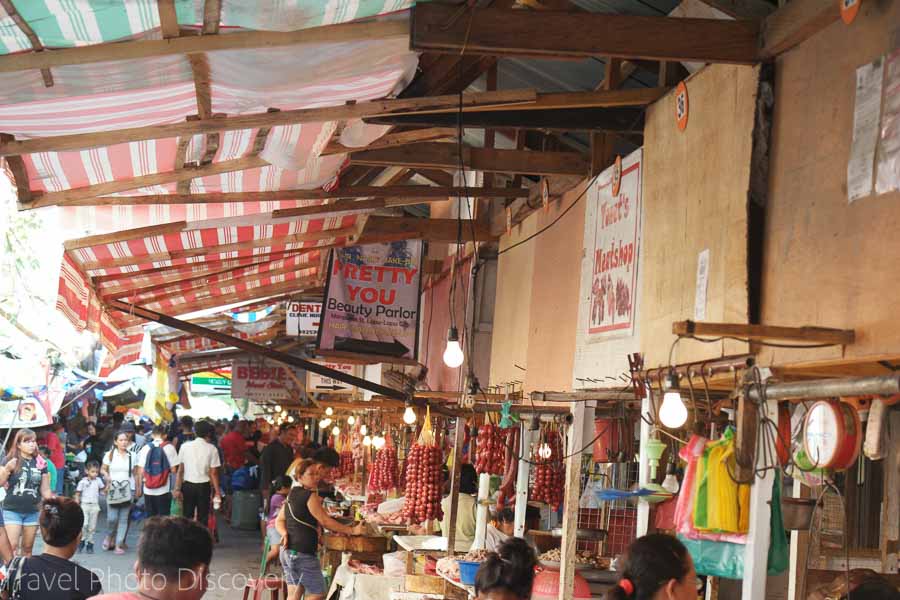 Seafood, perishables and butcher shops at the Mactan public market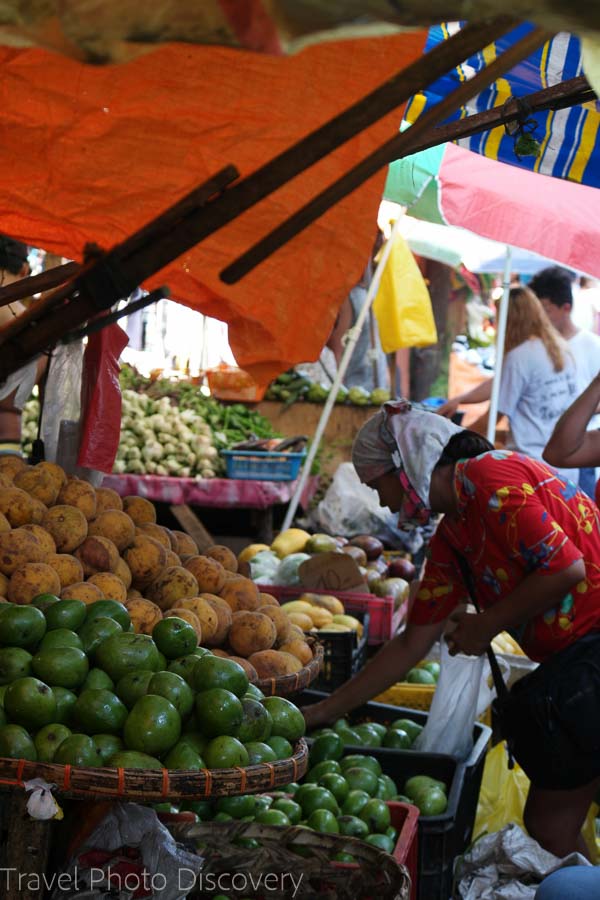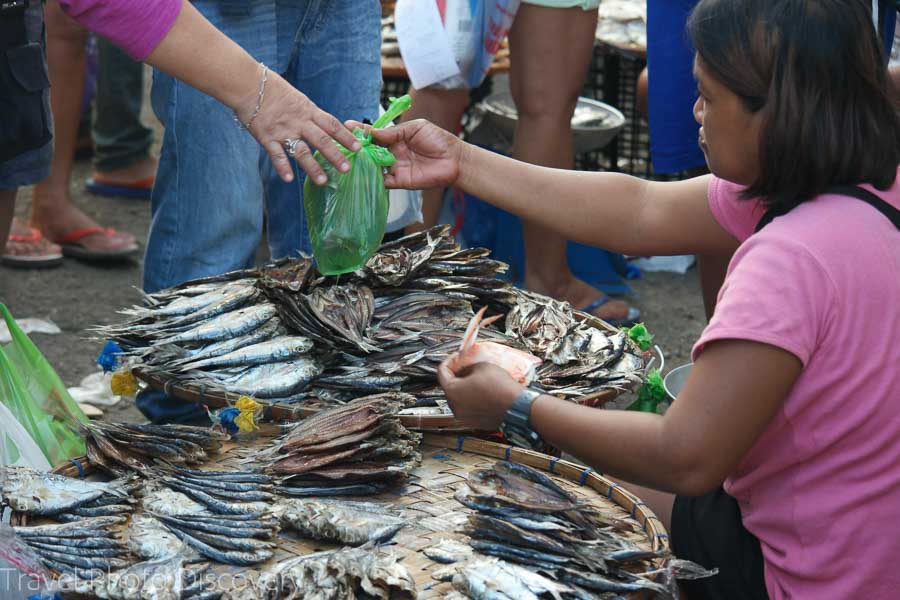 Here's a fun video tour of visiting the public Market at Mactan below
Visiting the Lapu Lapu Shrine and Magellan Shrine
Later in the afternoon, I took an Uber to the bronze Lapu Lapu shrine on Mactan Island to view the site where the famous warrier Chief Lapu Lapu defeated the Spanish soldiers that were lead by Ferdinand Magellan in 1521. The beautiful area next to the bronze shrine is filled with gardens and tropical plants with the taller Magellan shrine in the center of the park to commemorate Magellan's bringing Christianity to the Philippines and his death at the hands of Lapu Lapu.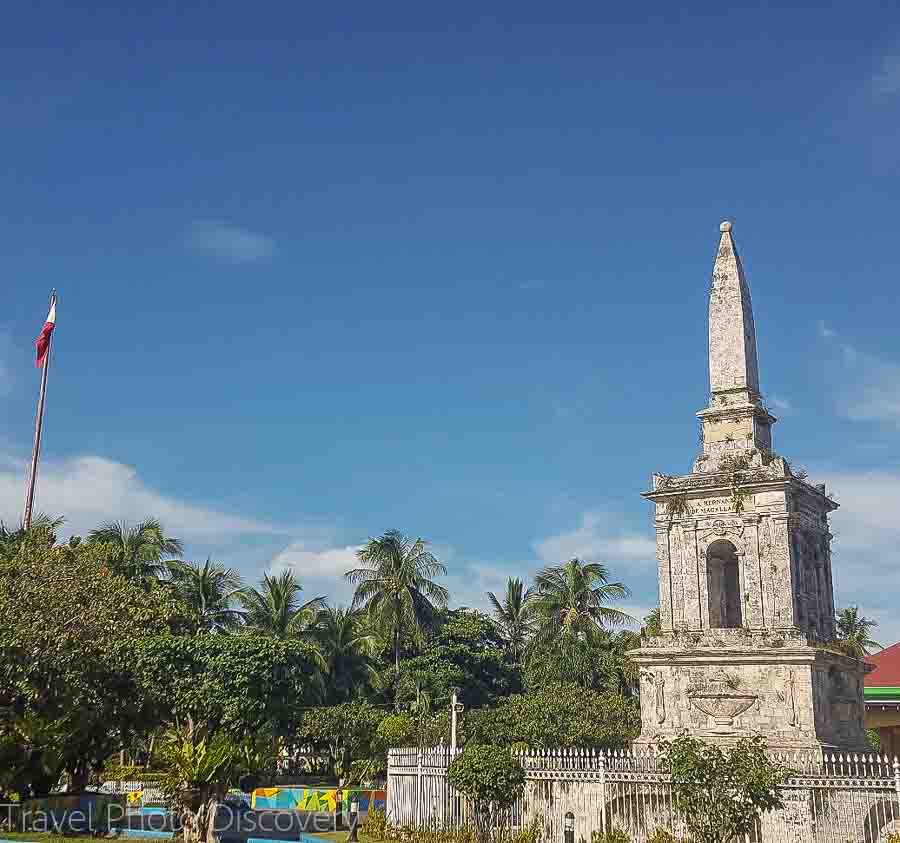 Close to the park areas and shrine are some small tourist markets and waterfront restaurants that serve up a variety of locally caught seafood from the area and served Cebuano style using fresh local ingredients in a variety of simple preparations. There's a lot of cool souvenirs to check out while walking around the shops, just make sure that you bargain real hard for those take home gifts. Further down are the restaurants with fresh seafood tanks and displays for you to choose what type of seafood you would like and the different preparation styles you want it done in. If you cannot understand the slang, it's easy enough to just ask for a menu and point to the types of seafood you would like.
Tip – make sure that you do get a price upfront on what the seafood will cost so you don't get surprised with a questionable bill in the end.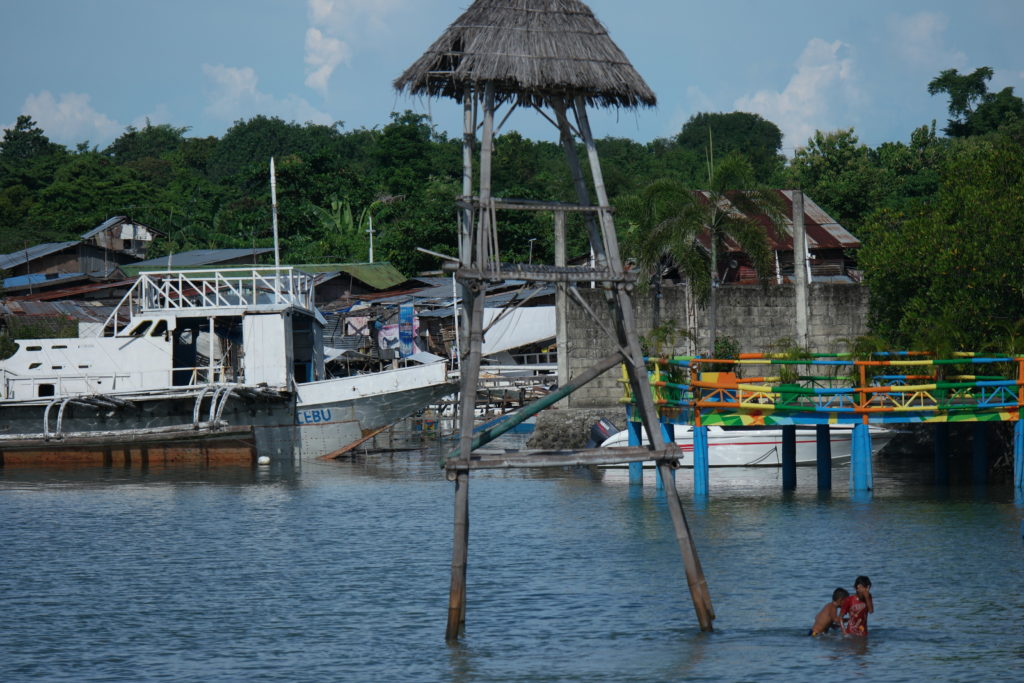 Dining along the coastal Mactan waterways
There are many casual restaurants fronting the Mactan Channel with fresh seafood catches displayed at their entrance. Many have menus or preparation styles of Seafood you can choose from including simple Cebuano style dishes which include soups or casseroles, easy stir fry dishes and noodles or vegetable side dishes. Everything tastes great especially with fresh seafood and local ingredients added to the mix.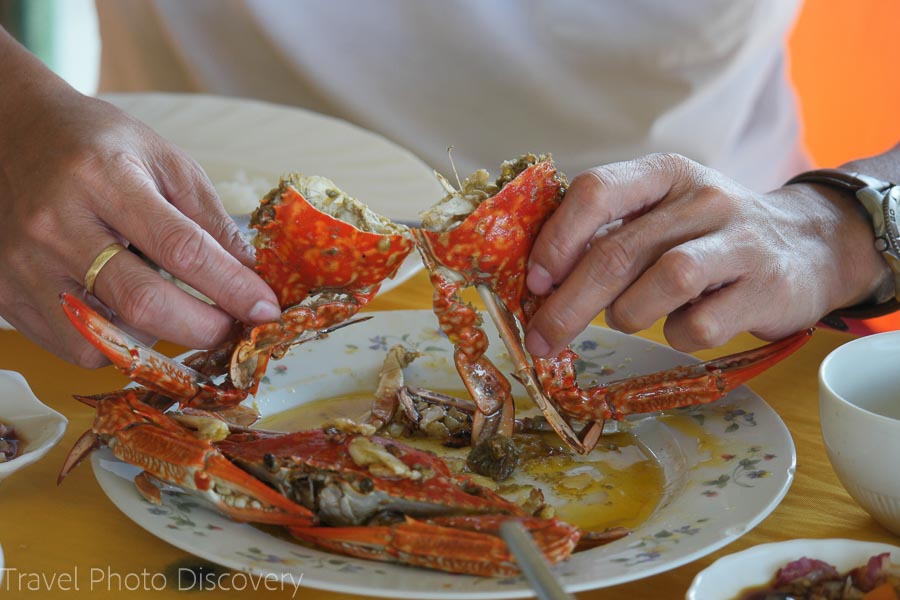 Try these local Cebu dishes when you visit the island
When visiting Cebu, Philippines, you'll have the opportunity to savor a variety of delicious local dishes. Here are some Cebuano culinary delights that you should definitely try:
Lechon: Cebu is famous for its mouthwatering lechon, a whole roasted pig that is crispy on the outside and tender on the inside. The meat is seasoned with a blend of spices and herbs before being slowly cooked over an open fire. The result is a flavorful and succulent dish that is often the centerpiece of special occasions and celebrations.
Ngohiong: Ngohiong is a popular street food in Cebu made from deep-fried spring rolls filled with a mixture of ground meat (usually pork or chicken), vegetables, and various spices. It is often served with a dipping sauce made from soy sauce, vinegar, and chili.
Cebuano-style BBQ: Cebu is renowned for its delicious barbecued meats, particularly pork. The meat is marinated in a special blend of spices, including soy sauce, calamansi juice, garlic, and sugar. It is then grilled to perfection, resulting in tender and flavorful skewers of barbecue.
Puso: Puso, also known as hanging rice, is a unique Cebuano culinary specialty. It is made by packing rice into a triangular casing made from woven coconut leaves. Puso is typically served alongside grilled meats or stews, and it adds a delightful aroma and flavor to the meal.
Ginabot: Ginabot is a popular street food in Cebu made from deep-fried pig's intestines. It is seasoned with spices, giving it a crispy and flavorful taste. Ginabot is often enjoyed as a snack or paired with puso and a spicy vinegar dip.
Dried Fish: Cebu is known for its abundance of dried fish, or "danggit." These small, sun-dried fish are usually marinated and fried until crispy. They are commonly eaten for breakfast, served with rice and a side of vinegar.
Baked Scallops: Cebu is also known for its delicious baked scallops. Fresh scallops are topped with a mixture of garlic, butter, cheese, and breadcrumbs, then baked to perfection. This dish is a delightful combination of flavors and textures.
These are just a few of the local Cebuano dishes that you should try when visiting the province. The culinary scene in Cebu offers a wide array of flavors and unique dishes that will surely satisfy your taste buds and give you a taste of the region's rich food culture.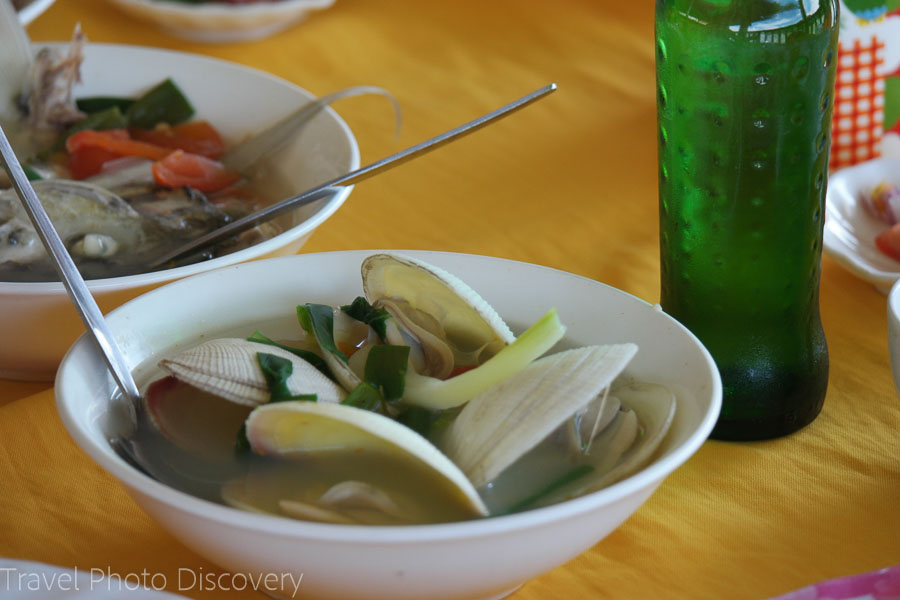 Day two was a very long and eventful day touring the historic city center and other popular attractions around Cebu City and Mactan Island. Time for a well deserved rest back at the Bluewater Maribago Beach resort on Mactan and enjoy another wonderful sunset time strolling the beach area.
Check out the video eating experience here in Mactan island in Cebu
 
Day three – Cebu beach day and exploring the islands
A more relaxed touring day planned in Cebu and cruising the nearby islands along the Mactan channel by banca (motorized long boats), the day starts with a more leisurely buffet breakfast before the morning pick up for the island tours. This day tour island hopping adventure was a fun day exploring the more pristine islands around Mactan channel with a swimming, snorkeling and grilled lunch experience on a white sandy beach. The tour by banca covered visits to Hilutungan Island for snorkeling in this marine sanctuary with lots of tropical fish swarming all around you.
More inside tips to visiting Cebu, Philippines
Explore beyond the city: While Cebu City has many attractions, consider venturing outside the urban area to discover the province's natural beauty. Visit Oslob to swim with whale sharks, explore the stunning beaches of Bantayan Island, or take a day trip to the picturesque Kawasan Falls in Moalboal.
Sample the local cuisine: Cebu is renowned for its delicious food. Don't miss out on trying Cebu's famous lechon (roast pig), which is often considered one of the best in the Philippines. You can also savor other local delicacies such as danggit (dried fish), puso (hanging rice), and sutukil (a combination of seafood dishes).
Plan your activities around festivals: Cebu is known for its vibrant festivals that showcase the province's rich cultural heritage. The Sinulog Festival in January is a must-see, featuring colorful street parades, traditional dances, and religious processions. Other notable festivals include Kadaugan sa Mactan, which commemorates the historic Battle of Mactan, and Pasko sa Sugbo, the city's Christmas celebration.
Experience the nightlife: Cebu City boasts a lively nightlife scene, particularly around Mango Avenue and IT Park. Enjoy a night out at the various bars, clubs, and live music venues. The city offers a mix of local bands, DJs, and international artists performing throughout the week.
Respect local customs and traditions: Filipinos are known for their warmth and hospitality. Show respect for their customs and traditions by learning a few basic phrases in the local language, such as "Salamat" (Thank you) and "Pakiusap" (Please). It's also customary to take off your shoes before entering someone's home or a place of worship.
Stay hydrated and protect yourself from the sun: Cebu can get hot and humid, especially during the dry season. Stay hydrated by drinking plenty of water and use sunscreen, hats, and lightweight clothing to protect yourself from the sun's rays.
Be mindful of transportation: Traffic in Cebu City can be congested, particularly during peak hours. Consider using ride-hailing apps like Grab or renting a car with a driver for convenience. For shorter distances, tricycles (motorcycles with sidecars) and jeepneys (colorful local buses) are common modes of transportation.
Remember to check the latest travel advisories and guidelines before your visit to ensure a safe and enjoyable experience. Enjoy your time in Cebu!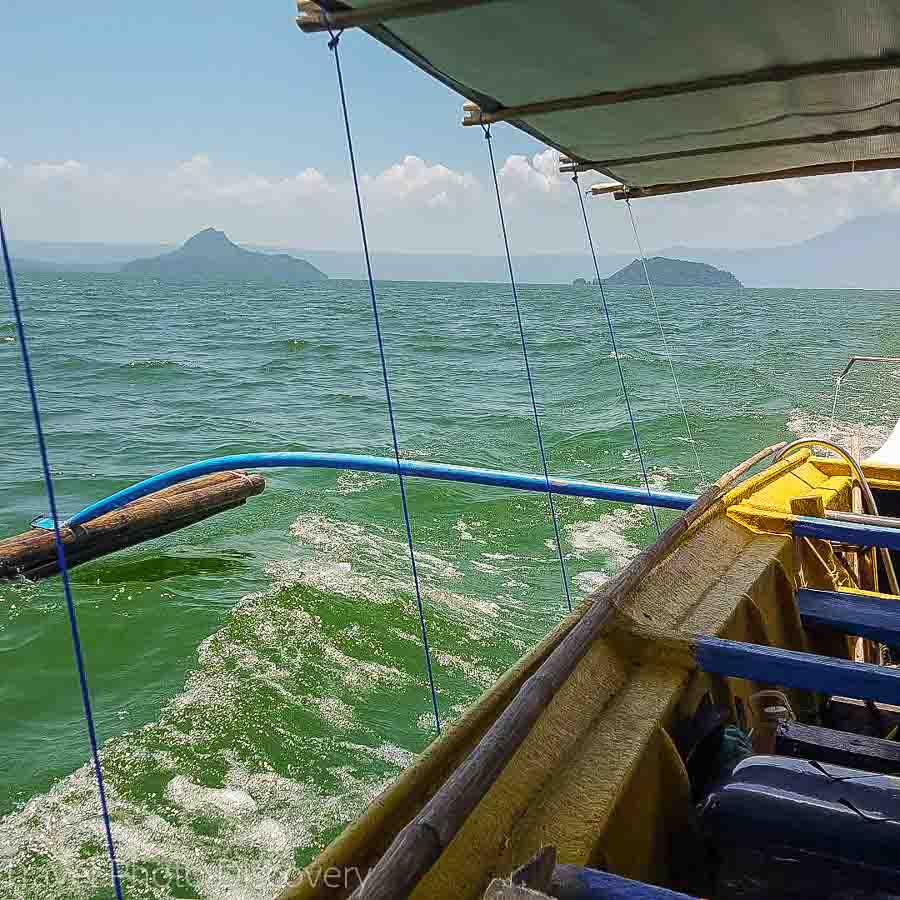 Afterwards the cruise continues on to visits at Nalusuan Island and then further to Pandanon Island for a delightful lunch on the beach and more beach exploration or snorkeling in various spots along the channel.
Here's a fun boating experience around local islands off Cebu for inspiration
Back at the resort

Late afternoon is more relaxed and just hanging out back at the resort to take advantage of the gorgeous swimming pools, beaches and some nice tropical drinks at the seafood bar fronting the beach. If you're into more adventure sports the you can also book some jet skiing experience, do the  crazy banana boat rides or even try some parasailing over the Mactan channel that can be easily arranged by the resort.
Dinner at the resort is a delicious dinner seafood buffet consisting of local Cebu specialties, more amazing fish, crab and other local seafood dishes and a variety of cold to hot appetizers to entrée dishes along with a table full of local dessert specialty dishes.
Walking around the resort afterwards to burn off a few calories and enjoy a fantastic sunset view is a wonderful way to end the day and this fun 3 day itinerary visiting Cebu island.
Leaving Cebu
Leaving the resort and Cebu is an easy and short Uber or taxi ride to the airport also on Mactan island. Depending on your departure time, maybe a nice breakfast and dip into the ocean or pool would be fun along with checking out some souvenirs in the souvenir shops in the resort area before you head out to the airport.
Arriving Cebu airport is pretty easy and straight forward, checking in and getting your assigned seats and walking to the gate area. It's a very a fast hour and 20 minute flight back to Manila from Cebu.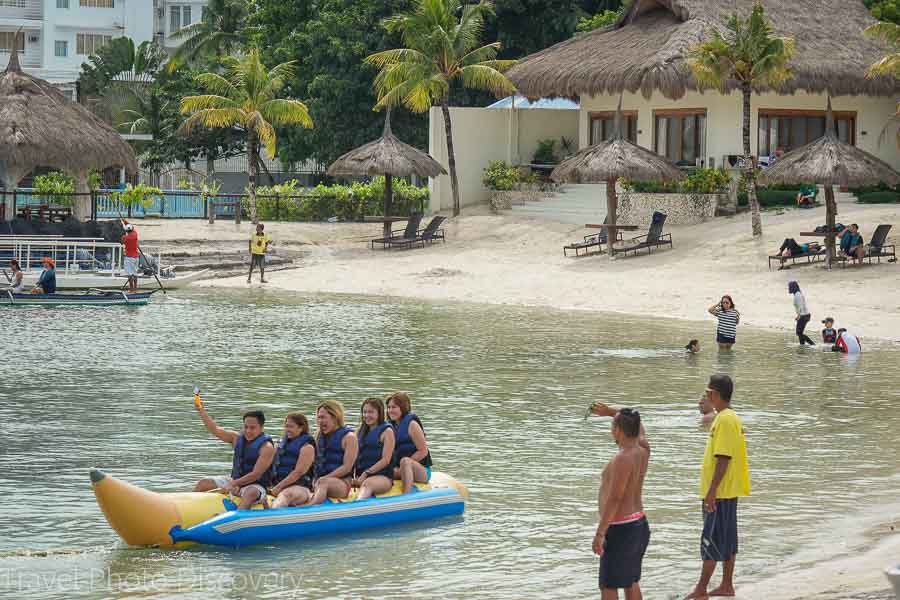 Weather and best time to visit Cebu
Cebu, located in the Philippines, experiences a tropical climate throughout the year, making it an inviting destination for travelers seeking warm and sunny weather. The best time to visit Cebu is generally during the dry season, which runs from December to May. During these months, you can expect pleasant temperatures, with average highs ranging from 28 to 32 degrees Celsius (82 to 90 degrees Fahrenheit), and lower chances of rainfall.
The months of January to March are particularly popular among tourists due to the mild temperatures and lower humidity levels. This period is ideal for outdoor activities, beach excursions, and exploring the stunning natural attractions of Cebu.
It's worth noting that Cebu can experience occasional typhoons during the wet season, which extends from June to November. While the wet season brings lush greenery and fewer crowds, it's important to be prepared for sporadic rain showers and the possibility of disruptions to outdoor plans.
Regardless of the season, Cebu's tropical climate offers opportunities for year-round enjoyment. Whether you're seeking sun-soaked beach days, cultural festivities, or outdoor adventures, Cebu's diverse offerings will captivate you no matter when you choose to visit.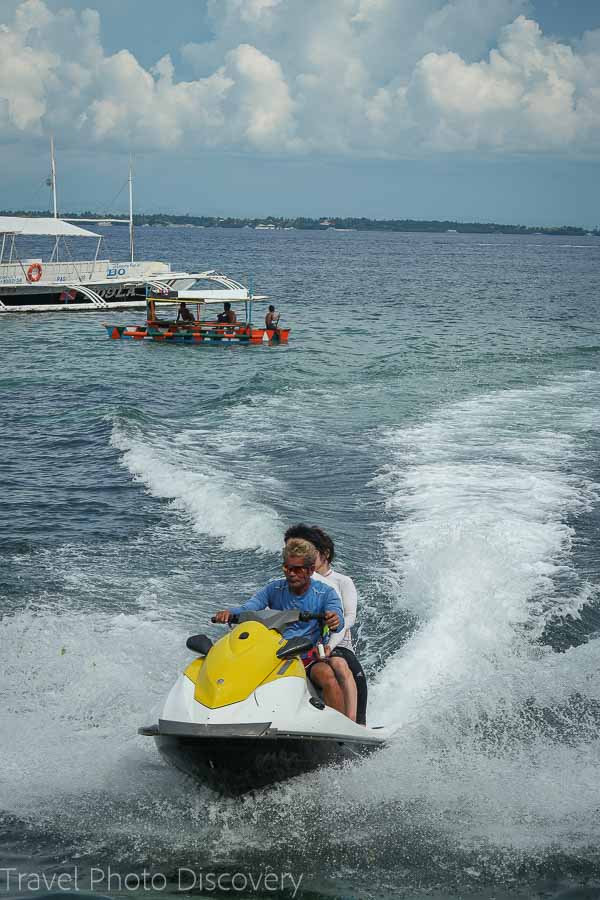 Where to stay in Cebu and Mactan Island
Outside of staying at the comfortable and plush Bluewater Maribao beach resort on Mactan, here are a few more recommendations of places to stay on Mactan island or Cebu city.
Abaca Boutique resort – exceptional customer service including hotel pick up, luxury accommodations and a beautiful and spacious rooms at the resort gives this a number one rating on Mactan island.
Shangri-la Hotels – The Mactan Shangrila offers stellar service and value with large sized rooms with views, exceptional dining, a gorgeous pool and beach along with excellent customer service that is a trademark of Shangri-la hotels.
Crimson resort and spa – Family friendly hotel with spacious rooms, plenty of recreation facilities, pools, beach and spa. Good buffet breakfast and variety of dining choices at the resort.
Here are some more Trip Advisor reviews of special places on Mactan Island for current prices and calendar.
If your looking for hotel accommodations on Cebu City, check out these highly rated hotels through Trip Advisor here for current reviews, prices and availability.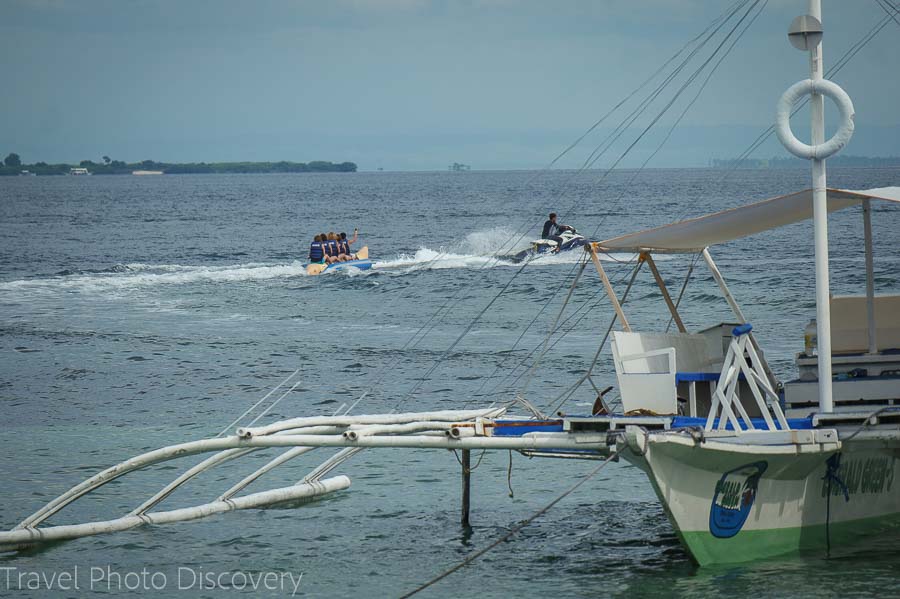 Additional organized tours in Cebu
If you are used to taking an organized or customized tour you don't have to plan out yourself, check out these privately arranged tours you can sign up for.
Island boat tour and lunch around the Mactan Channel – visit a tropical marine sanctuary, snorkeling, island hopping, fantastic grilled lunch and more lazy beach time exploring the islands around Cebu.
Half day historic tour of Cebu – Horse drawn carriage and walking tour of the historic district with a guide and through the main attractions of the city.
Visiting Cebu from the top – visiting some panoramic spots around Cebu city, local attractions and a fabulous dinner with views.
Inspired – Please pin this post!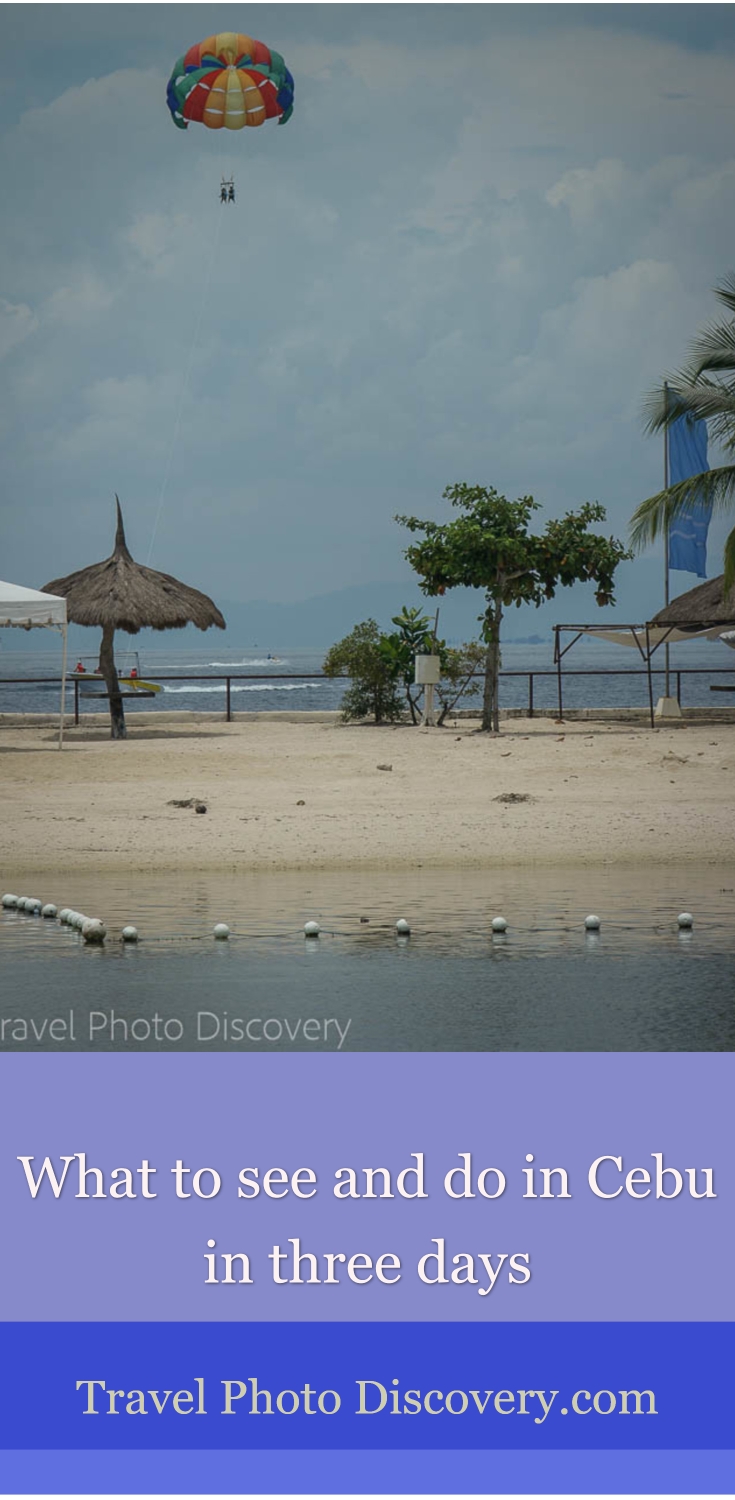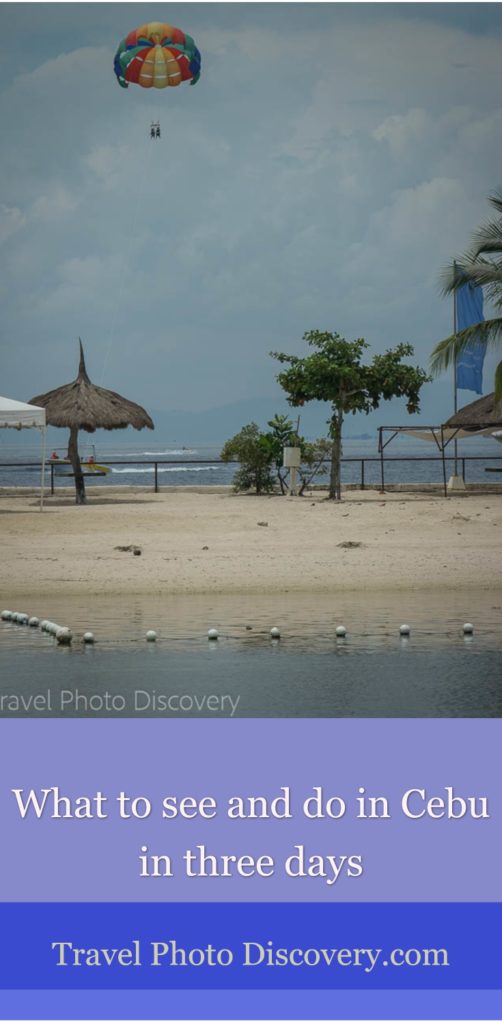 Check out these other posts on visiting the Philippines now
Palawan El Nido Vacation cruise
Final thoughts
Visiting Cebu makes an easy and fantastic getaway from Manila and get immersed with this historic city, old downtown and fantastic places to explore around the island. You'll enjoy the amazing cuisine and markets, outdoor adventures and exploring the historic district of Cebu city in just three short days.
Conclusion on visiting Cebu and where to go in Cebu Island
Hope this Cebu tour will inspire you to visit Cebu and experience many of these 3 day attractions which will give you all the best attractions, scenic vistas, historic sites, delicious food venues and activities to enjoy touring the best of Cebu now.
Thanks for visiting today and checking out this post on the 3 day tour Cebu Philippines, if you enjoyed the images and post, could you please share it with any of the social media buttons located around the post.
If you like what you see, come and check out my other social media channels for more updates, including Instagram, Pinterest and Twitter
Disclosure – There are affiliates links on this posts which provide a small commission to support this site at no extra cost to you. Thank you for reading, and happy travels