Tortellini of Valeggio, Italy
Tortellini is made throughout Italy but also well celebrated with a large yearly festival dedicated to this favorite pasta in the Valeggio district of Lake Garda, Italy. This area is just like those movies set in Italy bustling with amazing pasta, antipasta and local people making their favorite foods from the region like Valeggio.

Making fresh tortellini in Valeggio
While on a travel journalist and blogger tour of the Lake Garda region, we dropped by Valeggio to tour one of the local pasta making factories to see and even hand make some tortellini in their back room. Well not really the back room, but the middle tables with all the pasta making and rolling machines in a relatively tight spot. And within the pasta room, we find a few nonna's (grandmother) chatting away in Italian and smiling at the visitors checking out their hand made pasta.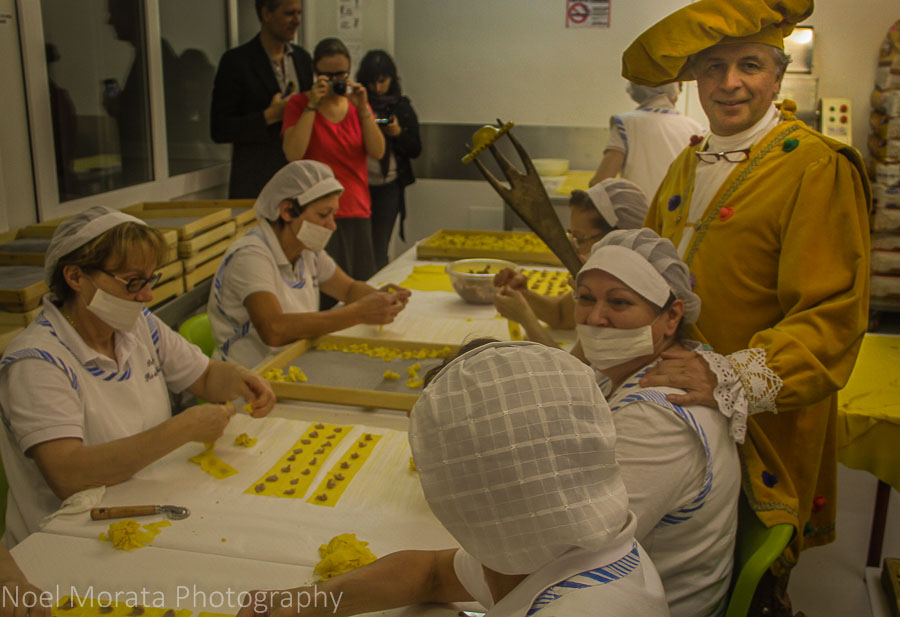 Making the perfect tortellini at Il re del tortellino shop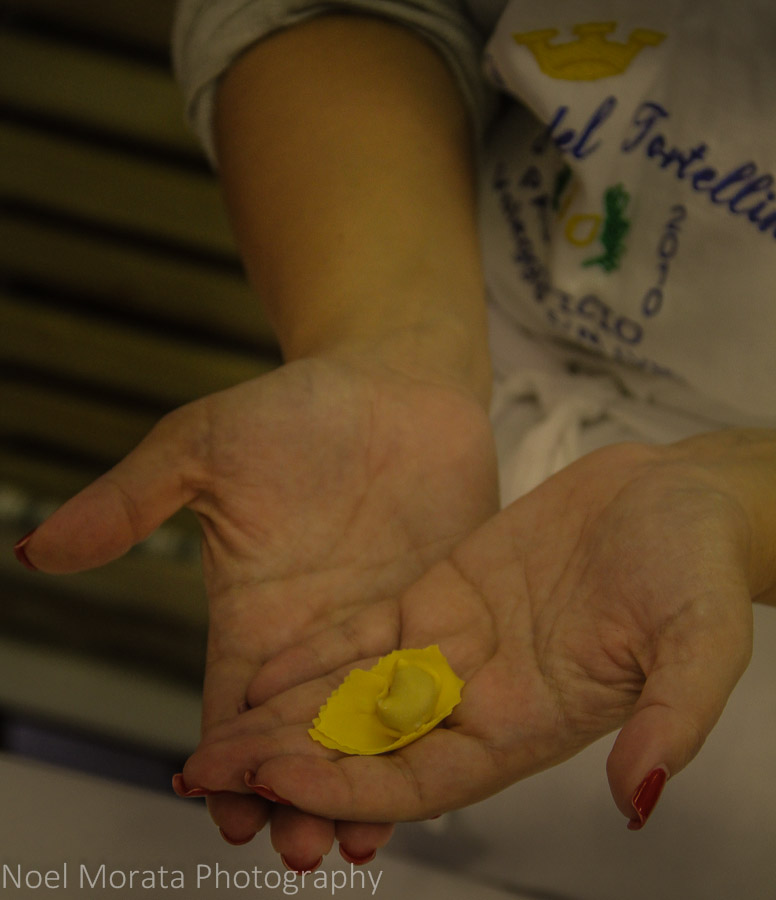 Fresh tortellini made daily
The pasta is rolled out into very thin sheets and then scored into small squares then then a small dollop of meat filling (typically made with pork, chicken and beef with mixed vegetables) but can also be made with a variety of fresh local ingredients. The tortellini are then quickly hand rolled into their famous shapes and then left to dry in racks. Some adventurous souls including myself were shown how to roll the tortellini into shape. Slowly and unsuccessfully, we tried making tortellini into conforming shapes, but leave it to clumsy hands to end up making imperfect and unsellable tortellini!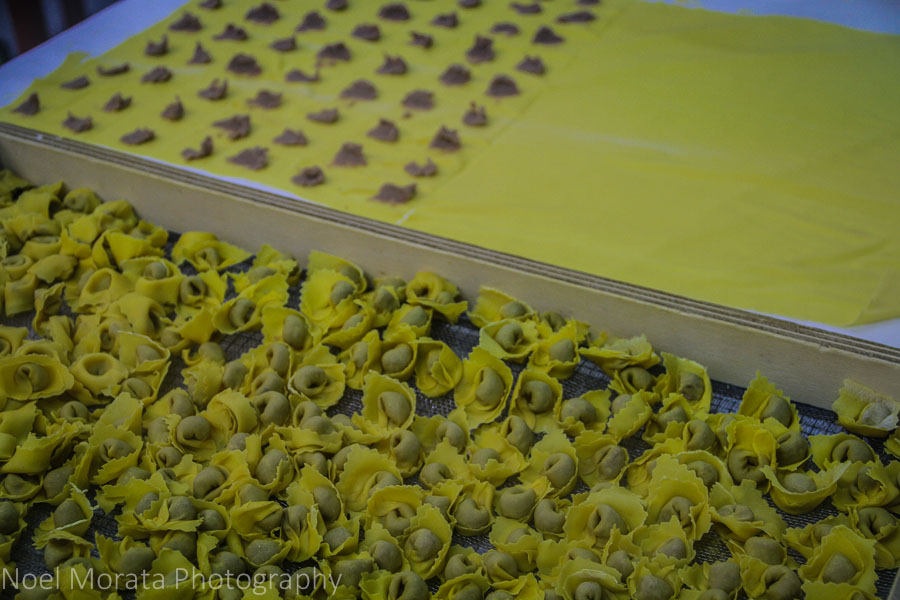 Feasting on freshly fried pastas and Italian snacks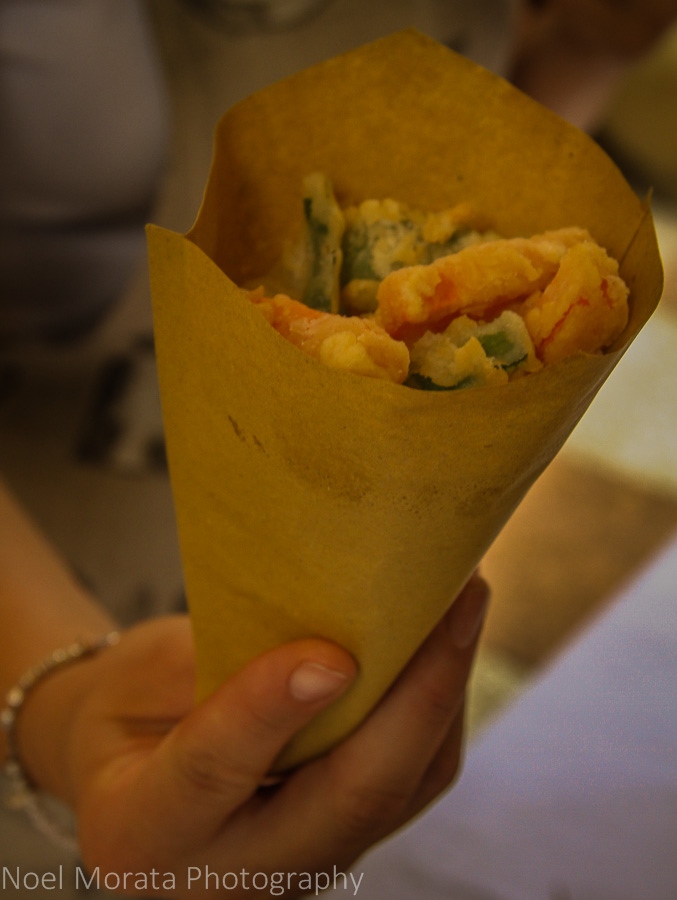 And regional wines from the Lake Garda region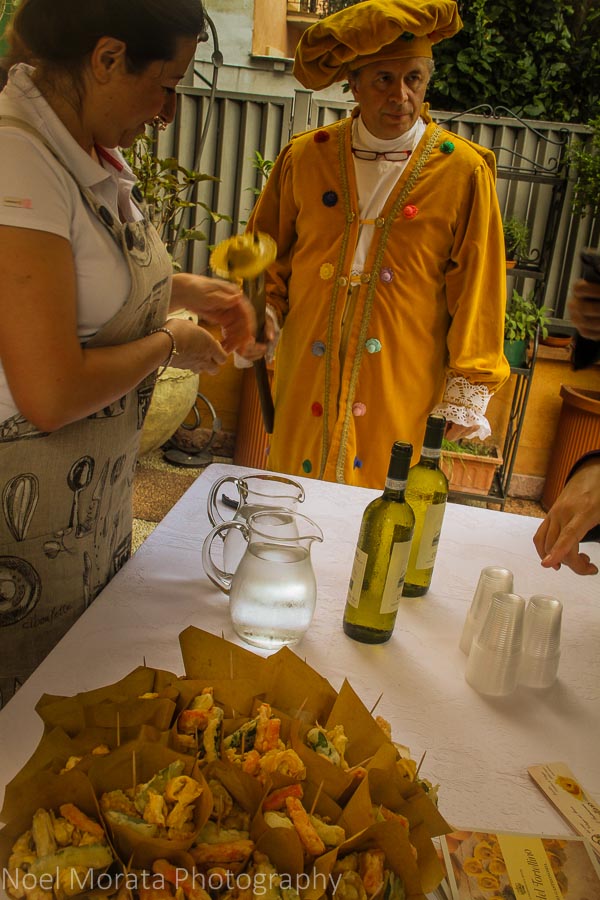 The Valeggio Tortellini festival
When we visited Valeggio, we were given a mini festival highlight visit with delicious foods featuring tortellini and local wines – even a visit from the King of Tortellini (who happened to be the owner of the Il re del tortellino shop). We just happened to miss this annual festival which happens every June 18th each year. If you are visiting Italy and the Lake Garda region, make sure you visit the Valeggio district and the hamlet of Borghetto (the site of the annual Tortellini festival) to take part in the festival and I'm sure you will be fed very well with all different kinds of Tortellini served many delicious ways that only Italians know how to prepare and present beautifully! You can check out this link for any updates and things to see and do at the Valeggio Tortellini Festival.
Borghetto – site of the Valeggio Tortellini Festival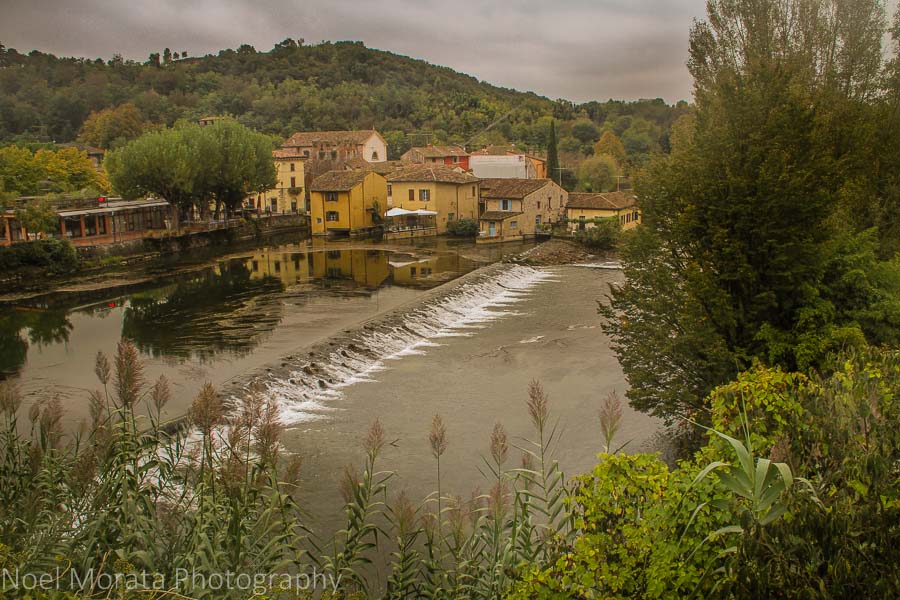 If you enjoyed this post, please check out some of my other posts in the Lake Garda region
Luxury stay in Peschiera del Garda
A visit to the sweet hamlet of Borghetto
Garden tour at Parco Giardino Sigurtà
automotive museum at Museo Nicolis
Well that was a fun way to eat our way through the Vallegio district and enjoy the day touring the city and tortellini shop to make some delicious hand made tortellini. Thanks also to Lake Garda Tourism, for hosting me on this the amazing trip visiting the Lake Garda region. All opinions and thoughts were my own and I really enjoyed touring this wonderful city and lake region in Northeastern Italy.
If you like what you see, come and check out my other social media channels for more updates, including Instagram, Pinterest and Twitter