Travel Photo postcard – exploring Virginia City
Welcome to the Travel Photo postcard series to get you out on the weekends and hopefully visit some of these wonderful destinations. Some of them maybe easy day road trips or even quick getaways from where you live so I hope this inspires you to see some of the world around you even if its close by to where you live. Today we are visiting Virginia City in southwestern Montana which is located about 90 minutes away from Yellowstone National Park.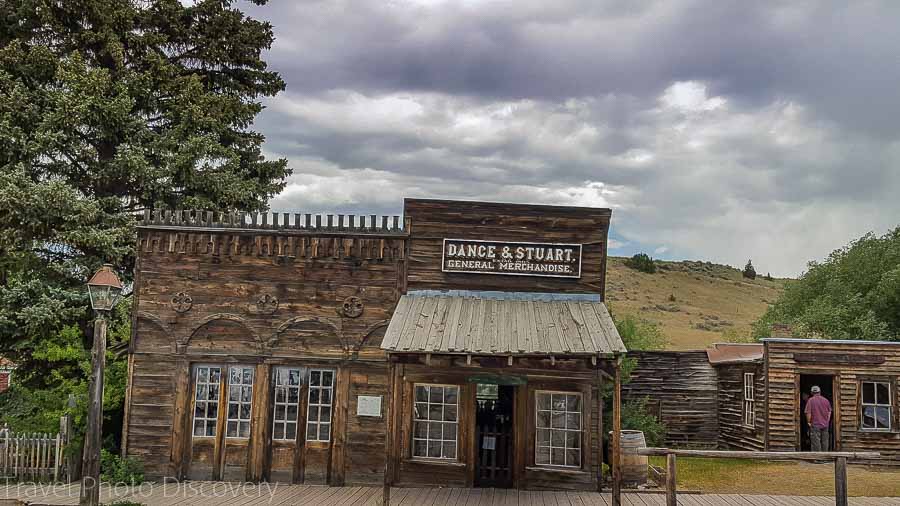 What to see and do at Virginia city in Montana
Virginia City is a worthwhile tourist destination for visitors exploring Yellowstone National Park and is an easy day road trip or overnight stay from the west side entrance of the Park. Located in the famous Madison County folklore, the route from US 287 takes you through fascinating western towns including Ennis, Virginia City and Nevada city and surrounding area which is designated as a national historic landmark district.
Exploring the main downtown area of Virginia City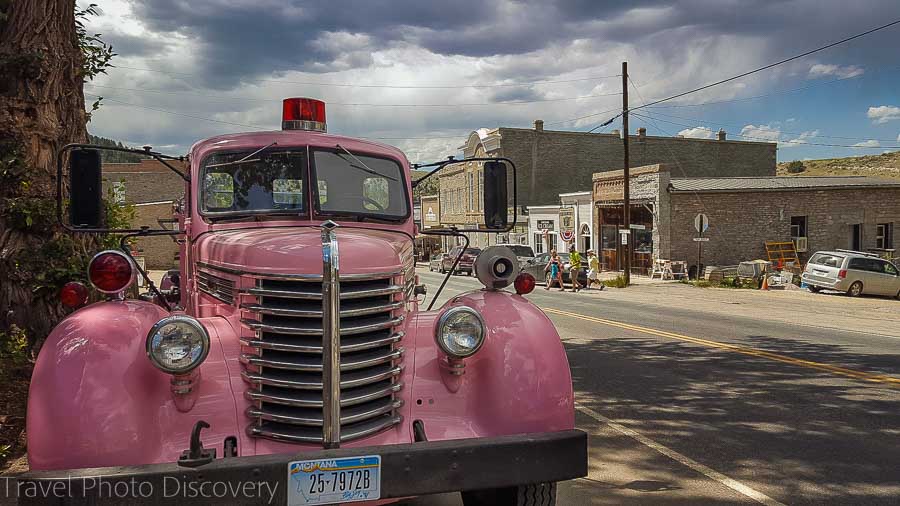 Originally a mining camp for gold seekers looking to strike it rich around the various regions with small towns popping up to support the mining community including Virginia City which was the capital city in the territory. The rich Alder Gulch was located in between Virginia city and Nevada city and was one of the biggest gold strikes along the Rocky Mountains. You can also take tours of the mining areas with this cool military truck and explore the abandoned trails of the early gold settlers.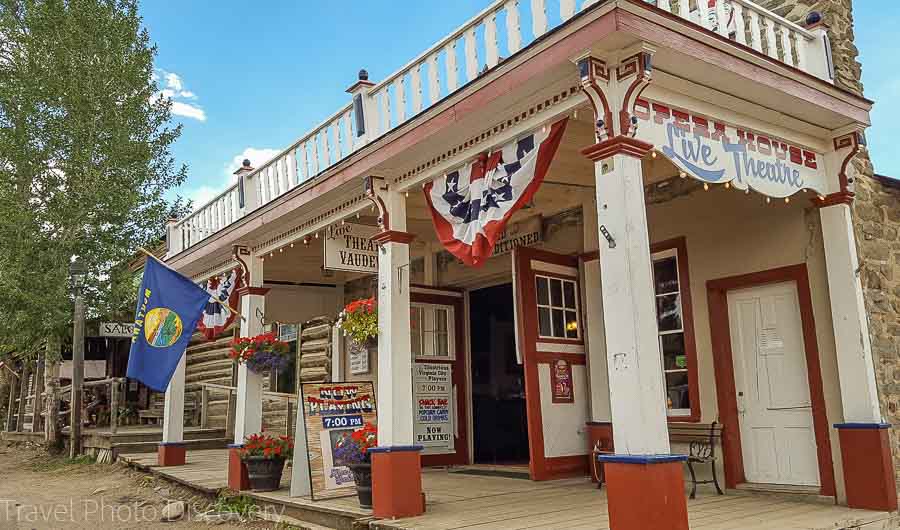 Virginia City's bars and gambling halls
The once ghost town, is very much alive and represents a living history and museum of an old Montana western town circa 1864-1875. Many of the main storefronts are frozen in time, representing the Victorian era and lifestyle with gambling halls and bars, sundry shops and women's apparel shops, theaters and a slew of western style businesses that supported the mining community.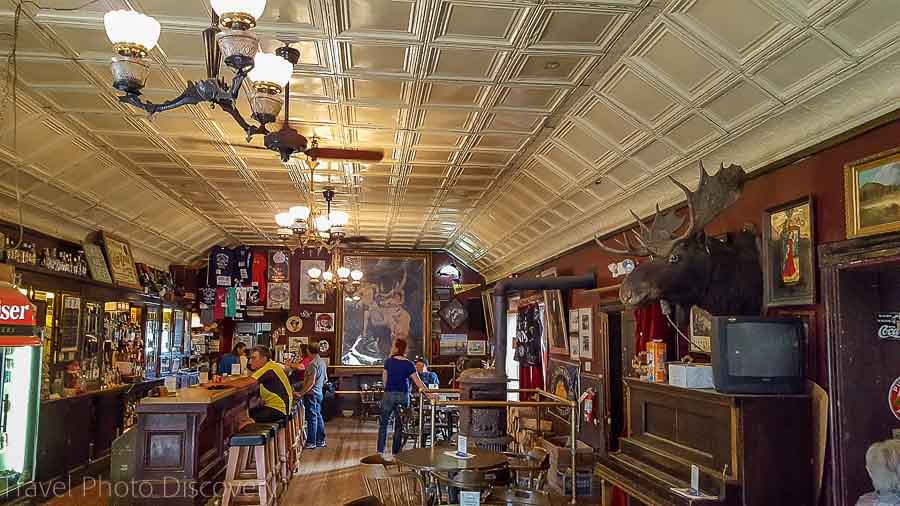 Old one room shacks converted into an outdoor artisan mall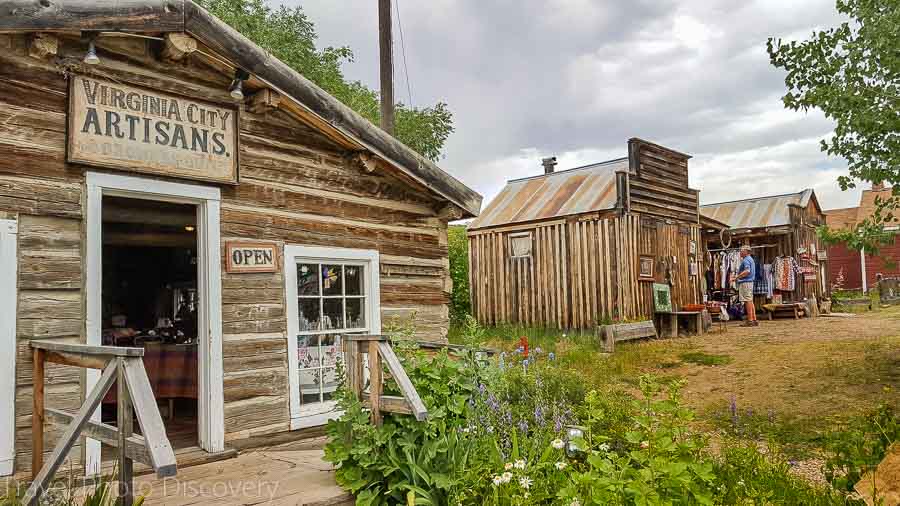 A foodie jamboree event on the outskirts of Virginia City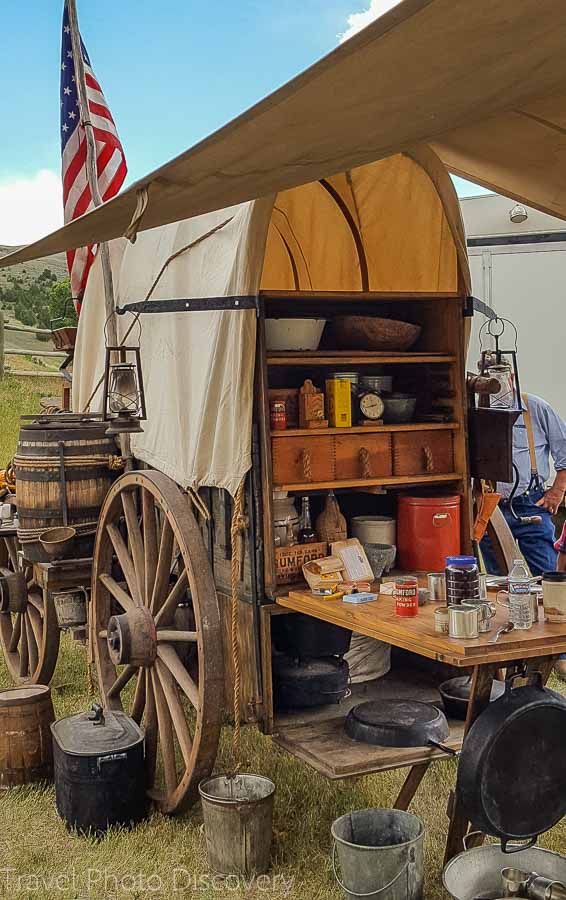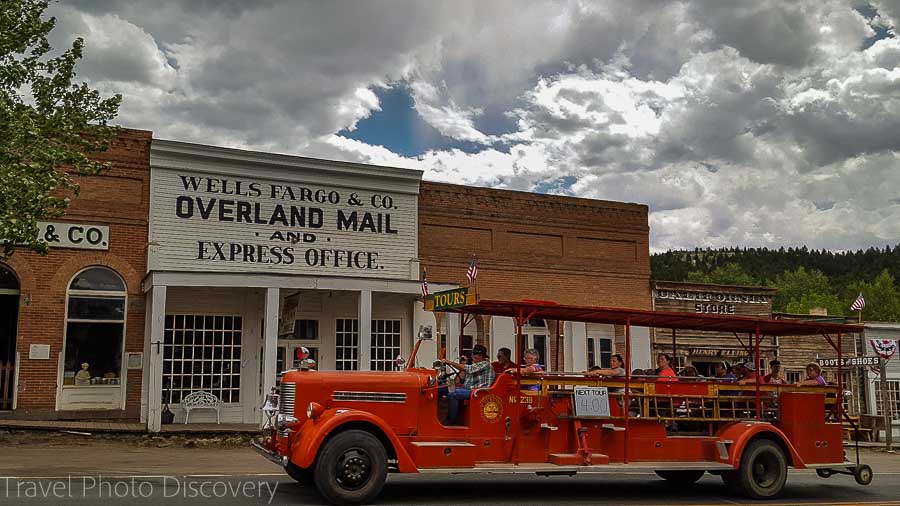 The popular red fire engine has been reconfigured into a tour bus that goes around town and stopping at various places of interests and historical value. Many of the shops maintain their original nature from the newspaper journal, livery stables to general sundry shops that you can go into and check out what an actual business would look like from the Victorian era in this Montana town.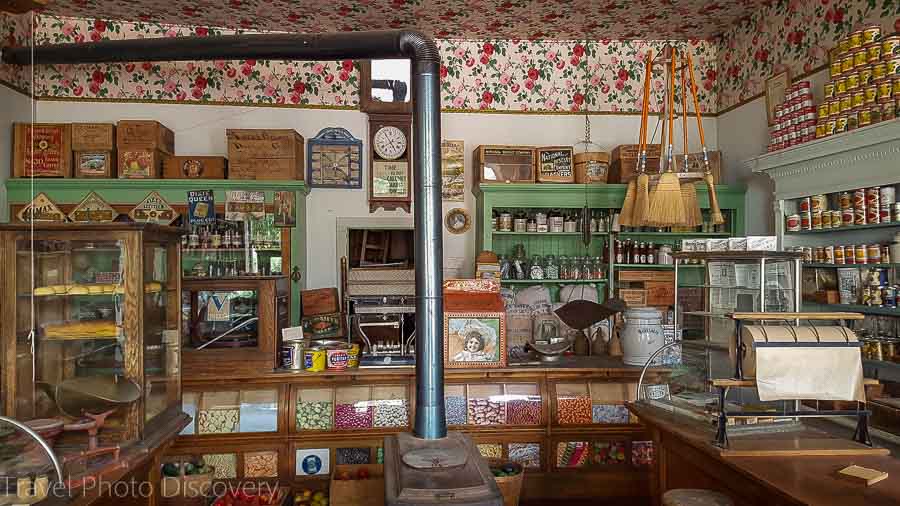 A general store and candy shop above and women's sundry shop below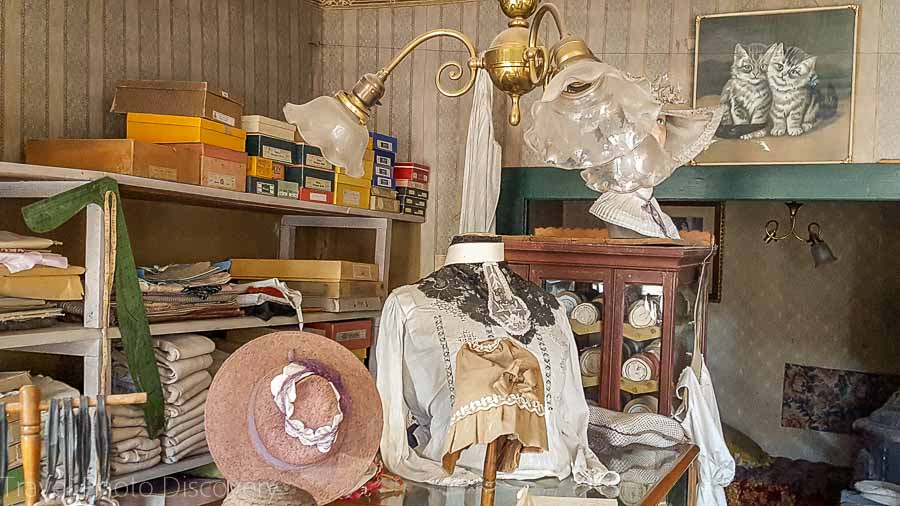 Along these storefront boardwalks are actual living museum stores mixed in with actual tourist shops selling a variety of western gear and souvenir items.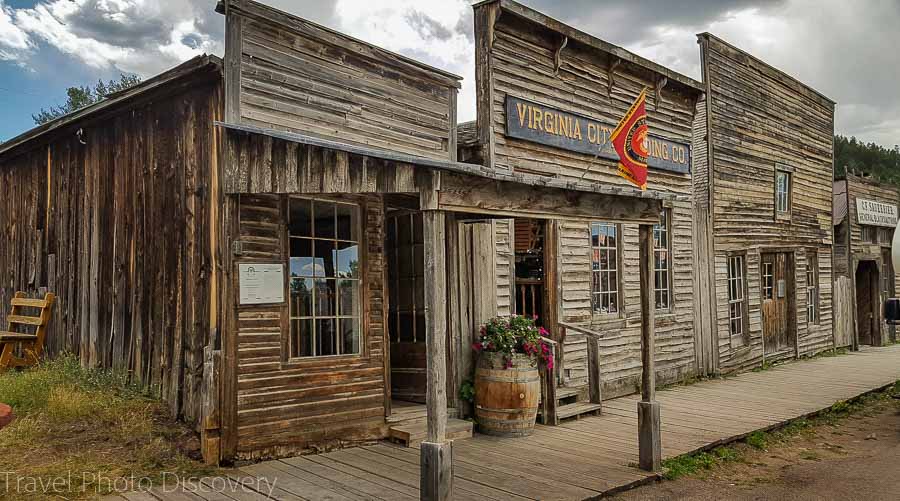 Virginia City's Amusement centers
Outside the bars, gambling halls and short term hotels lined up on the main drag, there were other entertainment venues including this center that houses all these cool vending amusement collections that actually work and are a fun nostalgic look at the popular trends, entertainment and lifestyle amusement machines of its day and still operating for visitors to enjoy.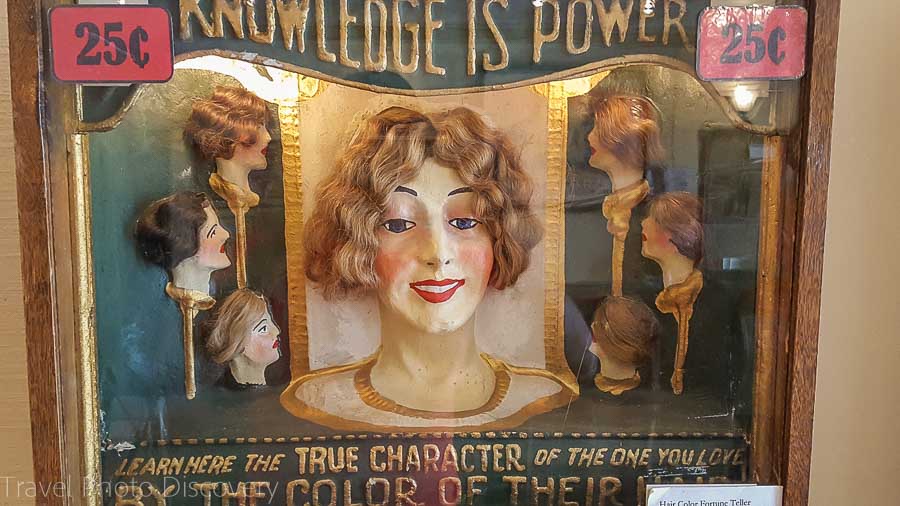 The homes around the outskirts of the city, point to the wealth of the gold riches and elaborate Victorian homes that were built from the era. A few of these homes still are around and some have been converted into inns and other tourist businesses in the area.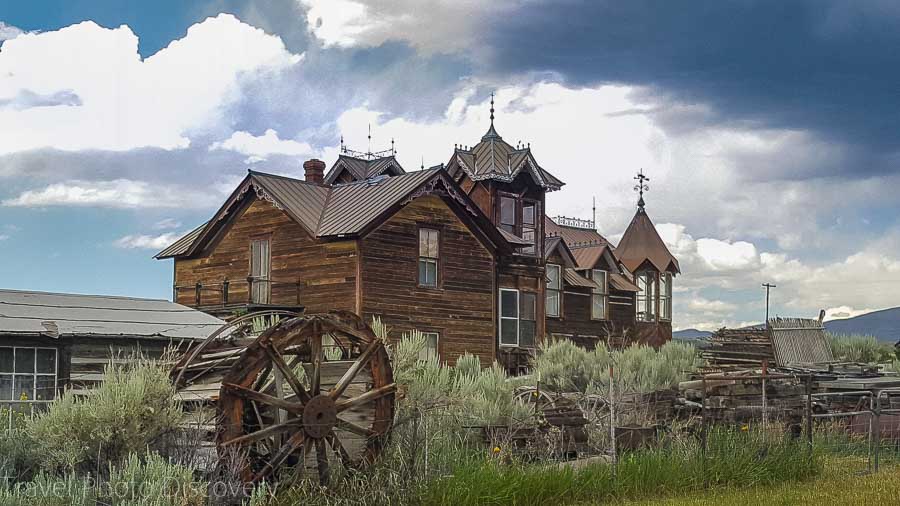 More details to visiting Virginia City
Open 10 – 6pm, every day between Memorial to Labor day weekend.
The Virginia Shortline Railroad connects Virginia City to the adjoining Nevada City on a roundtrip train ride.
The Nevada city museum hosts history events within the ghost town, collectible displays and other cool exhibits.
Check out the Virginia City tourism website here for more details, updates and calendar of events.
If your looking to stay a few nights to explore the area, check out these hotel sites below for availability.

Want to see more posts of the immediate area, check out the links below
Places to explore outside Yellowstone National Park
Wildlife tour at Yellowstone National Park
Grand Teton National Park & wildlife tour
Northwest National Park road trip
Thanks for visiting today and checking out this post on the Travel Photo postcard – exploring Virginia City, if you enjoyed the images and post, could you please share it with any of the social media buttons located around the post.
If you like what you see, come and check out my other social media channels for more updates, including Instagram, Pinterest and Twitter
Disclosure – There are affiliates links on this posts which provide a small commission to support this site at no extra cost to you. Thank you for reading, and happy travels