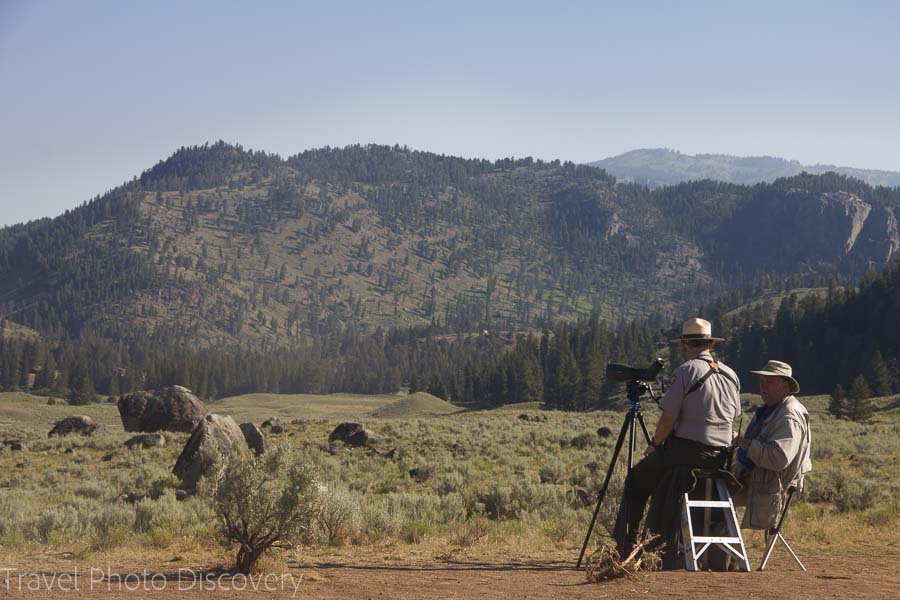 Wildlife tour at Yellowstone National Park: find the best places to scout the wildlife and scenery
Spotting wildlife at Yellowstone National Park would just be a happy coincidence spotting them on the road or in some landscape within the park. Since I was keen on seeing some of the big game that Yellowstone is known for, I decided to sign up for a tour with my niece Sunny on seeing some amazing wildlife. I booked a tour with Mountain Mike's Yellowstone tour which to my surprise started at the crack of dawn at 6:30 in the morning. What I didn't realize is that most of the big game love to get started early to eat or start the day on the valley floor before they head uphill for more shelter from the direct sun and heat later in the morning timeframe.
So I was able to get my niece up and out at the crack of dawn which was no small feat and we quickly drove to the west gate of Yellowstone to meet up with our guide on the first part of our two day road trip through Yellowstone. Piling on to the large SUV, we quickly entered the park gates and stopped briefly to witness raptors flying through the canyon entrance areas and just as quickly, we were able to spot our first big game, a solitary bison that was sauntering slowly across the main road, looking for yummy young vegetation that he could munch on. This was not to be the last of bisons, roaming directly across our path, but it seemed like a continuous stream of bisons wanting to get across the other side of the road like some comedy stick. When you do a Yellowstone itinerary like this, you are bound to really see a lot of wildlife from the area.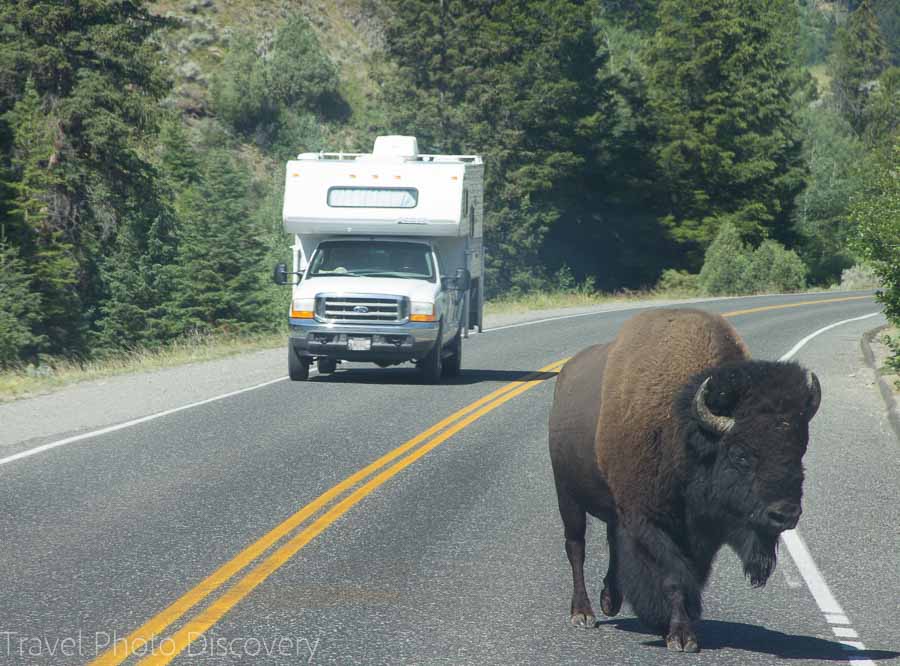 After this quick stop, we head out to the east side of the park where there are more open meadow areas and slow moving rivers. This not so visited part lacks a lot of visual drama but is perfect for the wildlife  that congregate in these areas. We head first to Mount Washburn to some of the main overlook areas of the mountain to try to spot some grizzlies that Mike spotted a few days earlier. It seems like the grizzlies are prone to sticking closer to the cooler areas of the park which heats up dramatically after sunrise.  No luck with spotting the grizzlies but we run into a small herd of Elk surprisingly along the roadway and across a canyon lookout point, we spot some big horn sheep clinging to some steep cliffs across from the road.
You'll find that the best things to see at Yellowstone demands that you cover visiting the entire park, so spending a few days or more will allow you to visit all the key highlights below.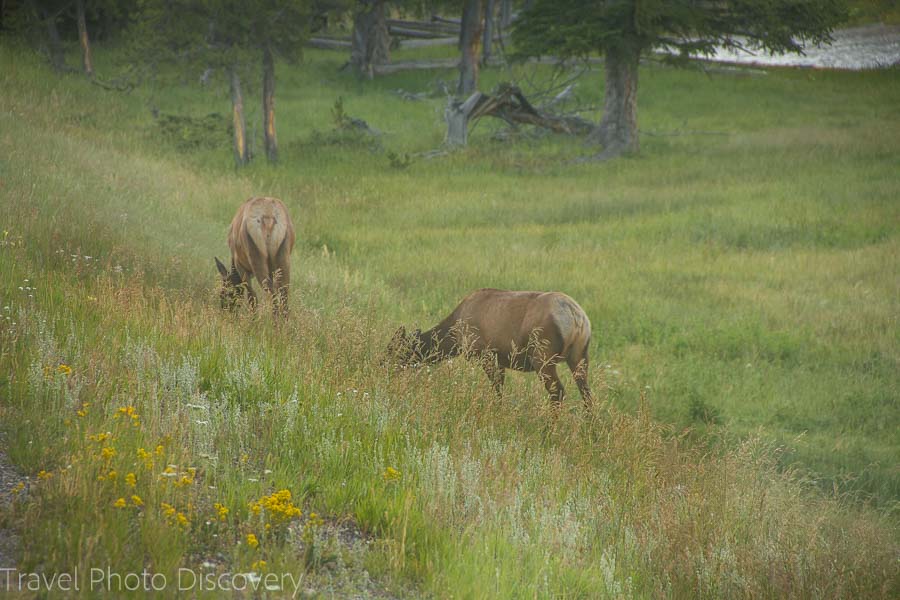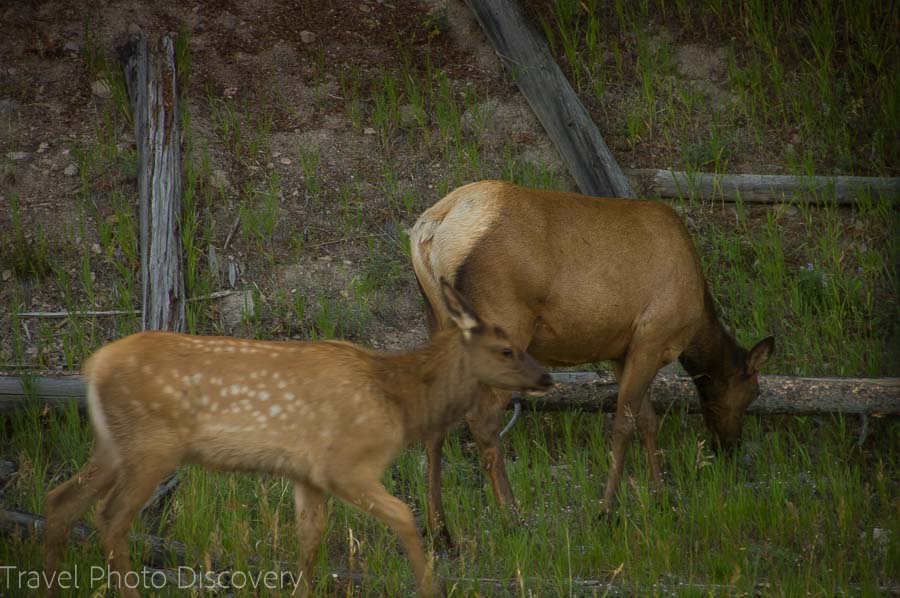 Explore Lamar Valley
On the way to the lower areas of the Lamar Valley which is one of the most popular areas for spotting wildlife including: bison, elk, fox, bears and other large game. We immediately run into large herds of bison again trying to cross the road to the other side and clogging up traffic in both directions that were interesting in capturing their wildlife photograph souvenirs. This was to occur on a regular basis throughout the day, that it didn't seem as exciting seeing another bison practically right next to my window as we slowly pass by to head out to this meadow filled with bison and of course, they were crossing the roads which created a big bottleneck of drivers trying to capture some photographs. Fortunately, there was a ranger close by to help watch and direct traffic as soon as there were gaps for people to safely cross over.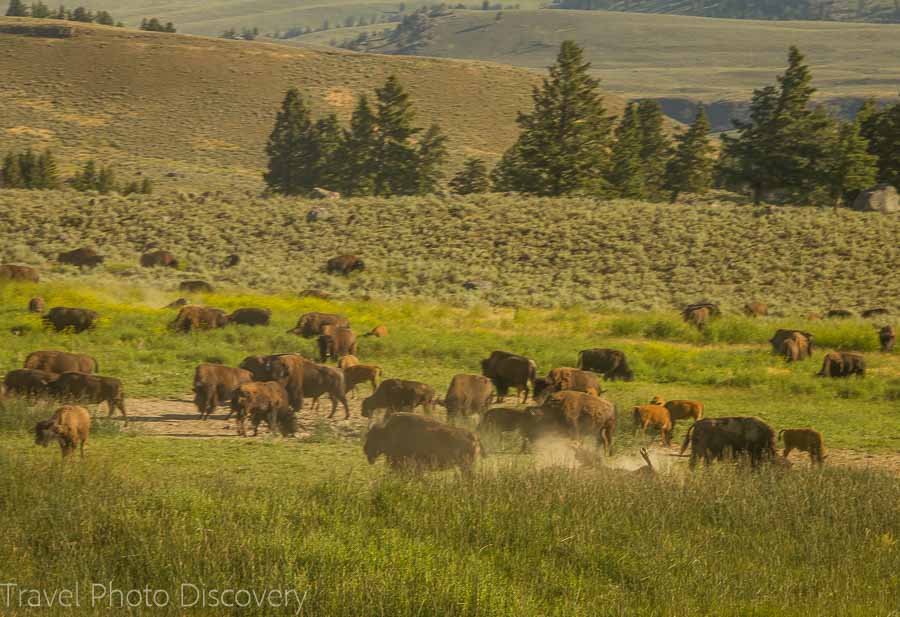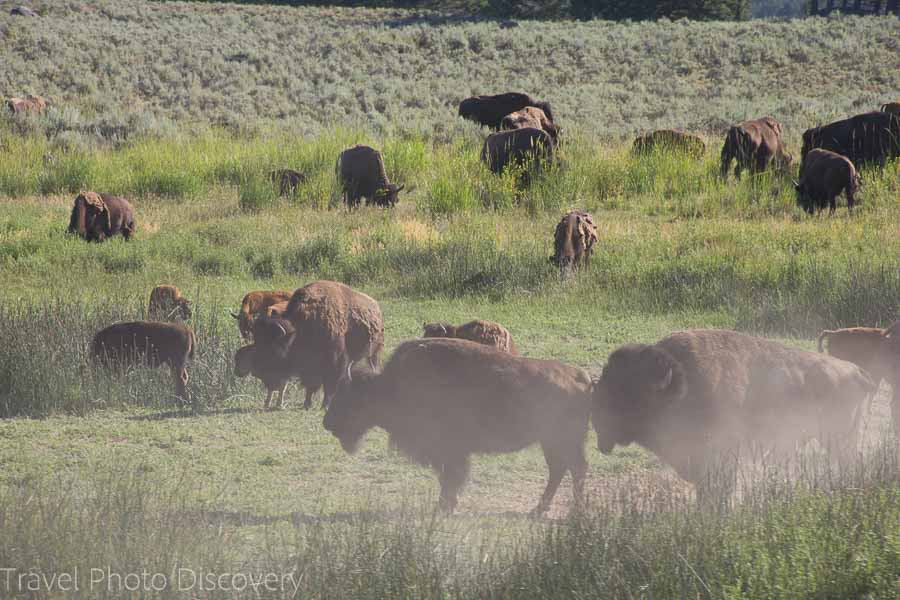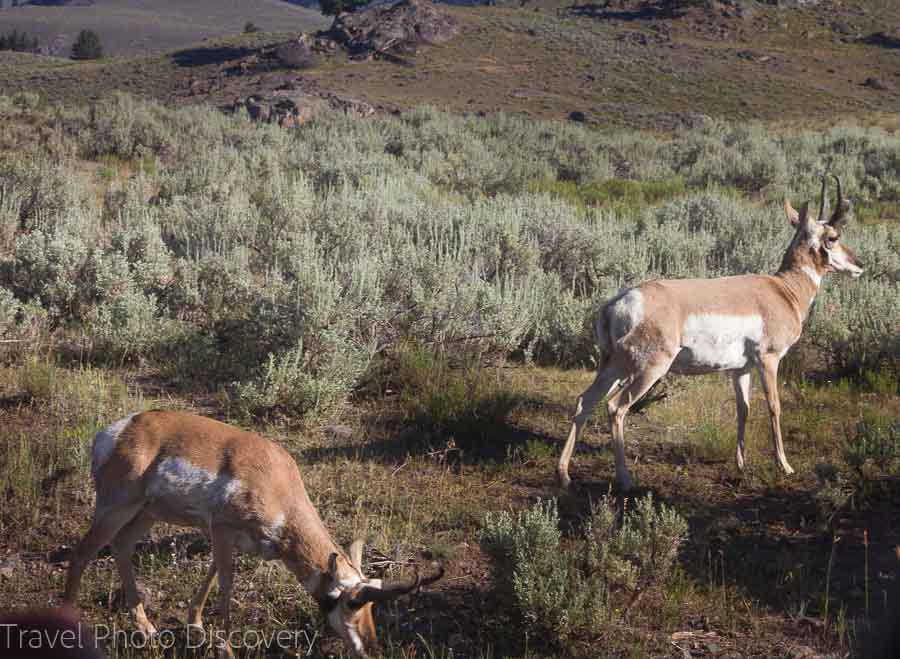 It seemed like most of the wildlife were starting to finally come out in this area and we quickly spotted some deer just off the side of the road. It's always tricky trying to capture images driving by, so a good tip would be to always have your camera ready with all the settings already made so all you have to do is point and shoot – easier said then done especially when many of my shots get blurry. Another good tip would be to just put your camera setting on burst mode so at least a few images will turn out okay.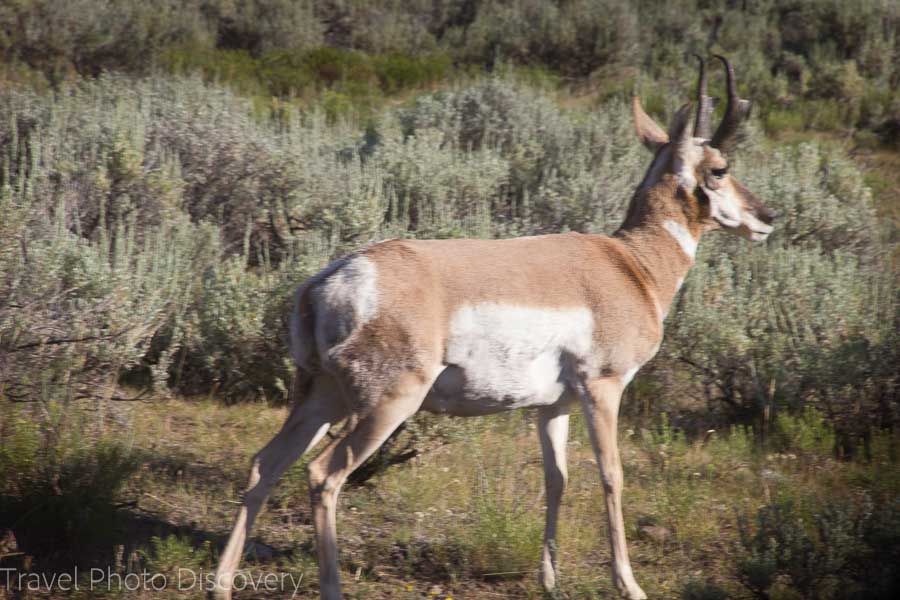 While driving we spotted a series of cars lined up on the road which typically indicates some wildlife in site and after talking to a few people, our guide quickly set up his scope for us to view our first grizzlies. A mother and cub playing up a hill in a distance which was very safe but at the same time impossible to photograph. In any case it was spectacular to view a young cub with his mother in the park. I did take a photograph of a grizzly below and it was from the visitors center on the North entrance to the park, so this was as close as I could get to one and even touch it.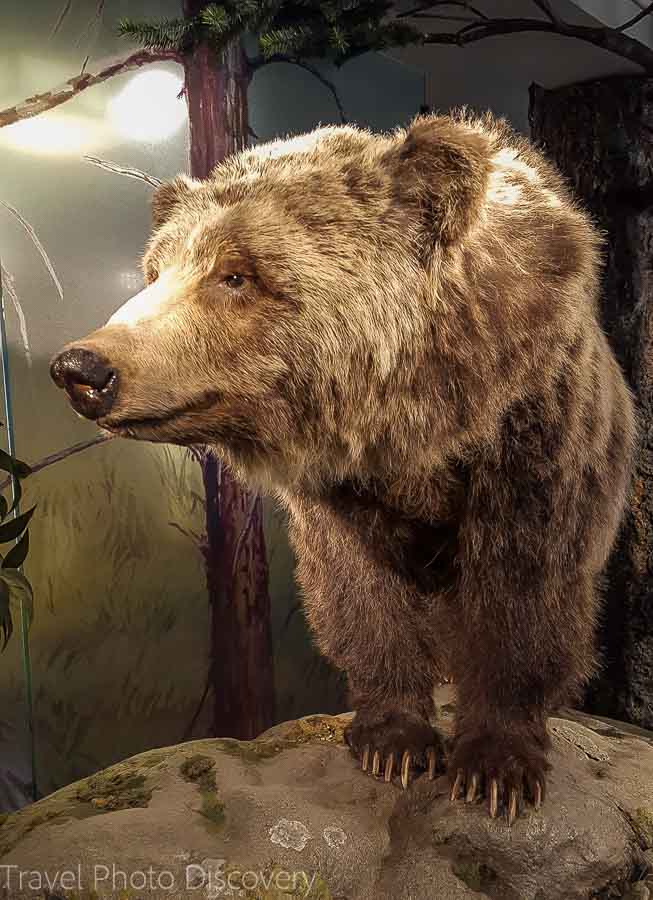 I also spotted a cute wolf mother and pups at the  Yellowstone visitors center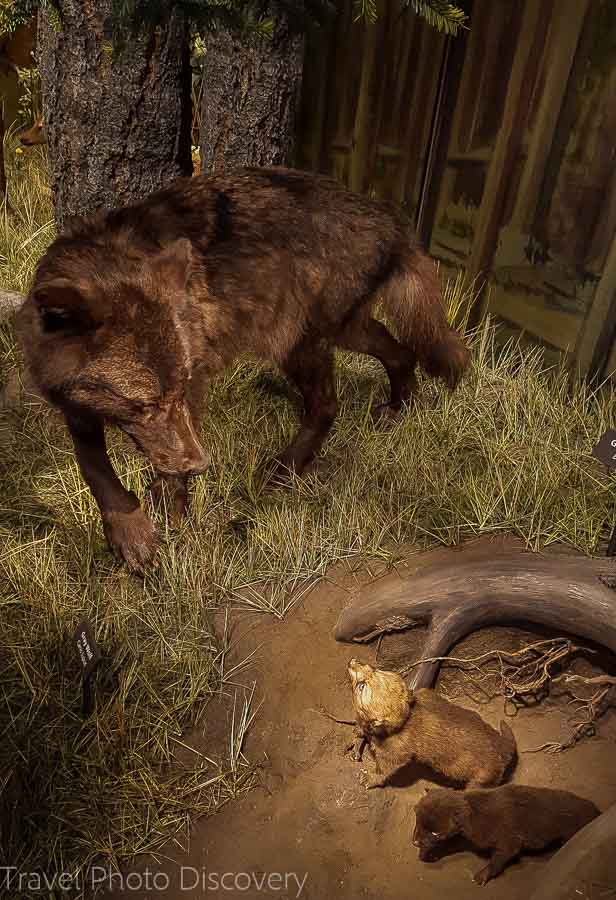 We drove a short distance to an area where some wolves have a den and talk to the local ranger and fox researcher who study them daily. Across from a creek the den is located at a safe distance from public access, but both the researcher and ranger are here to monitor visitors also checking them out. Even though we were not able to spot the fox and cubs at this point, it was nice to talk to both ranger and researcher to get a better picture about the reintroduction of the fox into the park and how well they are starting to build their population base in the park system.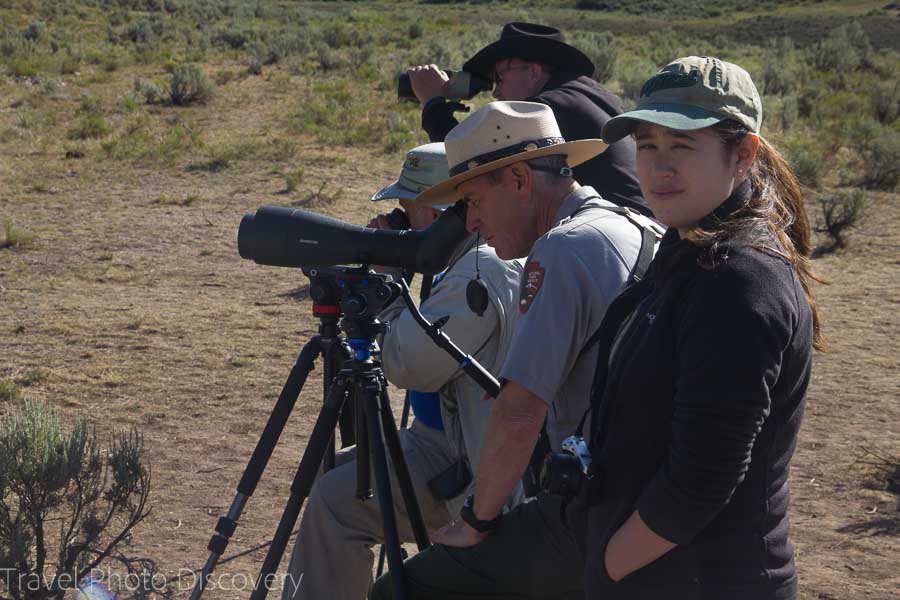 Well we did spot a few of these curious prairie dogs wanting to see if we had some goodies to share with them. This black  tail prairie dog was watching us for the longest time but never did get close enough for his close up photo.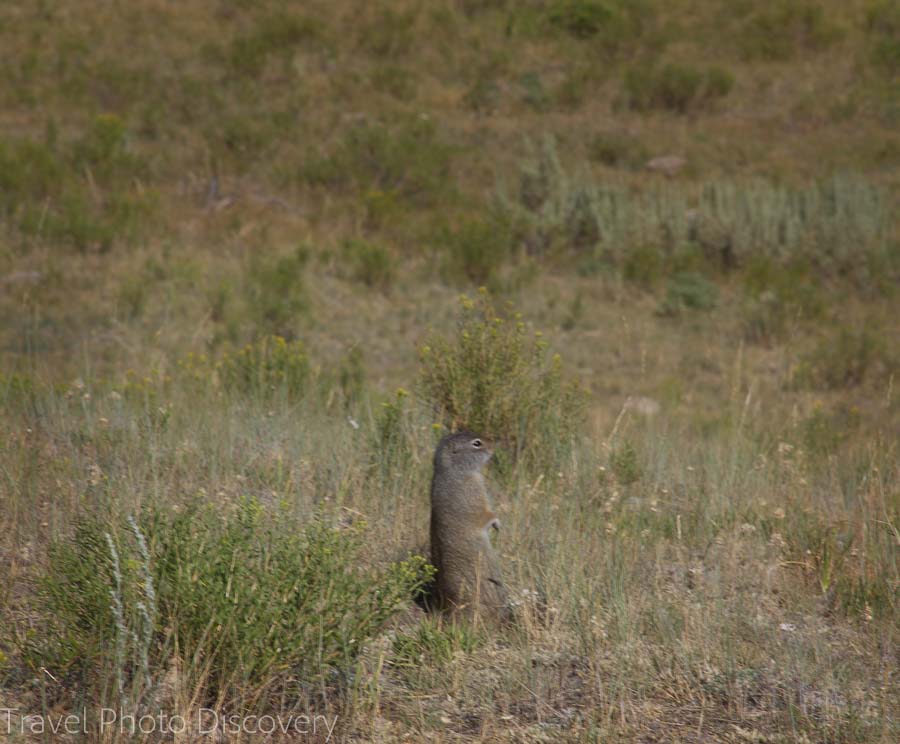 A visit to Old Faithful
As part of the wildlife tour we also get to visit the Old Faithful geyser and attractions in the area to break up the mid day tour especially when a large part of the wildlife start to retreat to the higher country in the afternoon heat. So we head out to visit this historic landmark and it is packed as usual but still fun to witness in person.  Of course, this is the most popular attraction in the park so parking is key along with finding the best spot to view and photograph the geyser when it is doing its thing.
Finding a spot along with thousands of visitors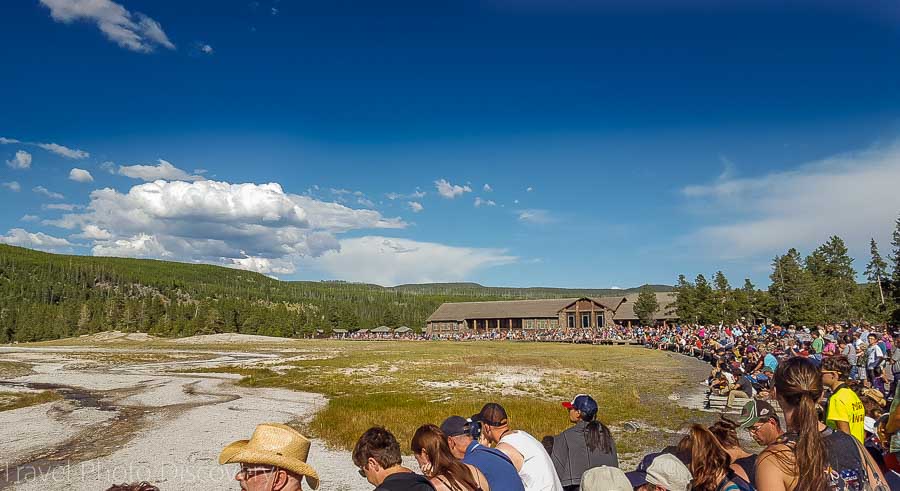 Close by to the geyser is a fantastic visitors center which should be visited if you have more time to explore all the fascinating displays, interactive exhibits and a movie of the park and attractions.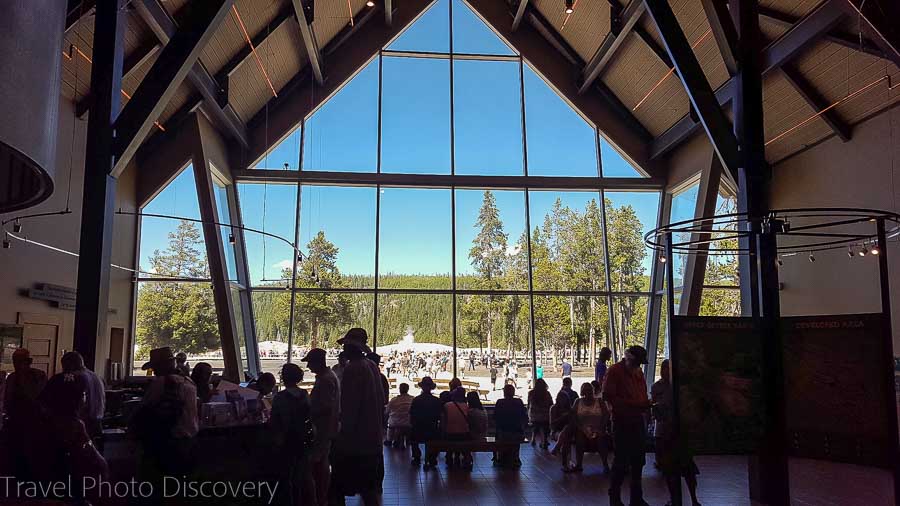 Cool interactive displays at the Yellowstone visitors center at Old Faithful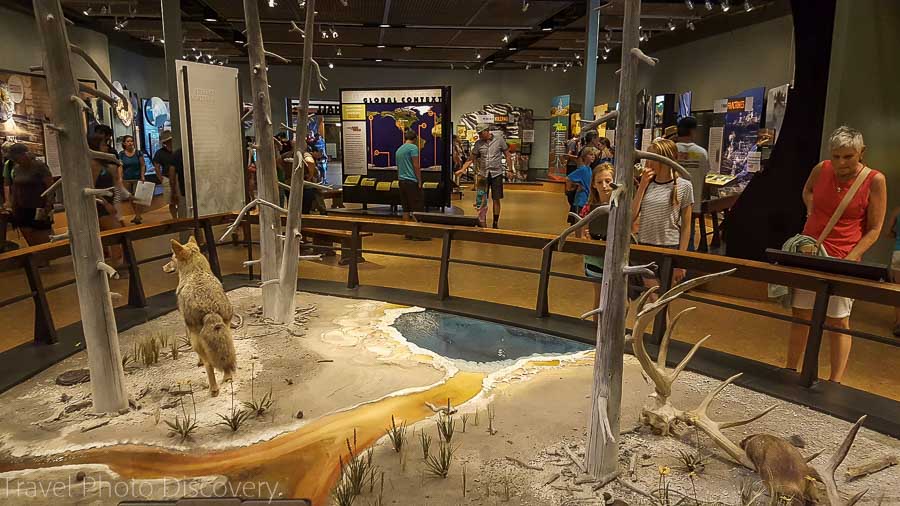 At the end of the tour, I took a nice selfie shot with Mike in a scenic spot over looking the Lamar Valley. Afterwards, we head back towards the west entrance of the park to where we parked the car and said our goodbye to Mike, it was a great experience and we ended up seeing a lot of wildlife and beautiful scenery on this tour of Yellowstone National Park.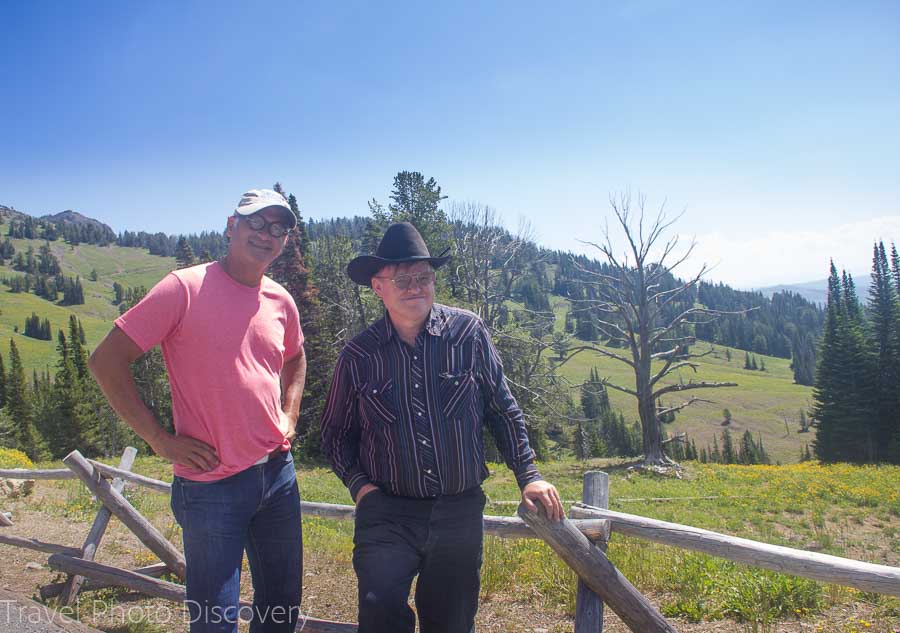 Were to stay at Yellowstone.
While visiting Yellowstone, a stay at the historic Old Faithfull Inn is the ultimate in experiencing the iconic log built lodge and lifestyle in Yellowstone. This national historic landmark is the most popular and requested lodging in the park system and it is truly a unique stay while visiting the park. The inn is simply spectacular and considered the largest log structure in the world with a massive stone fireplace and amazing architectural details and beautiful interior spaces.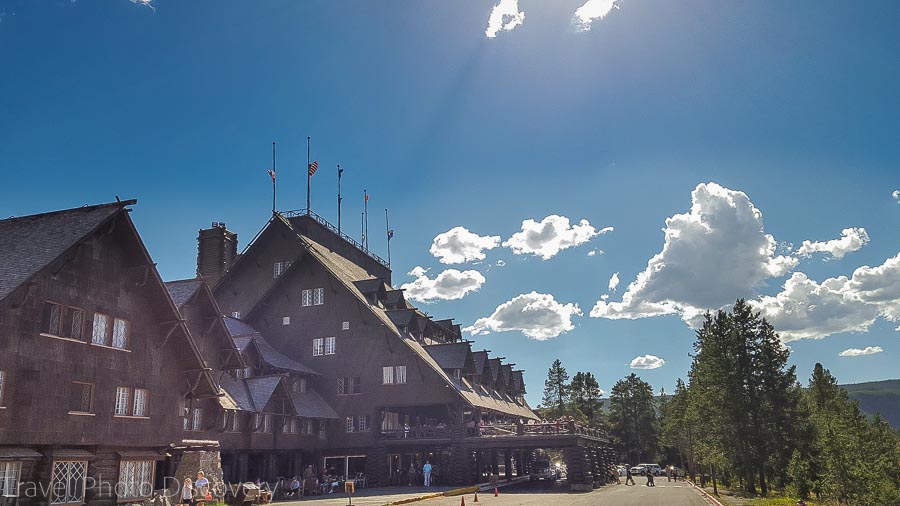 Stunning log interiors at the Old Faithful Inn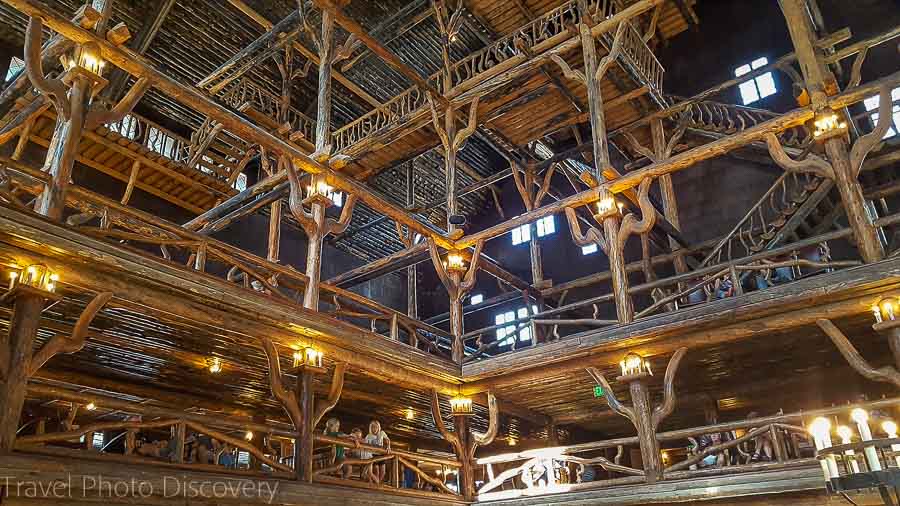 The beautiful dining room at Old Faithful Inn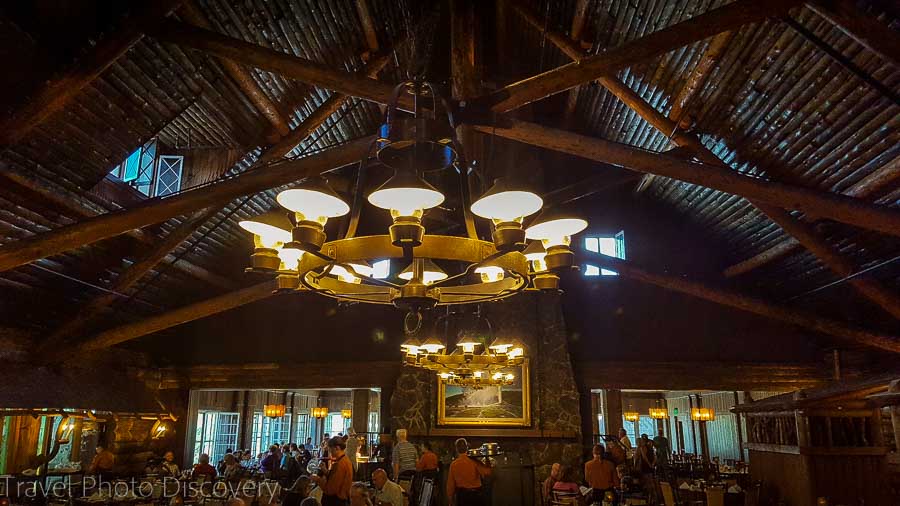 The bedrooms in the newer wing are updated to modern standards with nice amenities, but the older section of the historic lodge does not have bathrooms in many of the rooms and wifi is not available in the entire facility.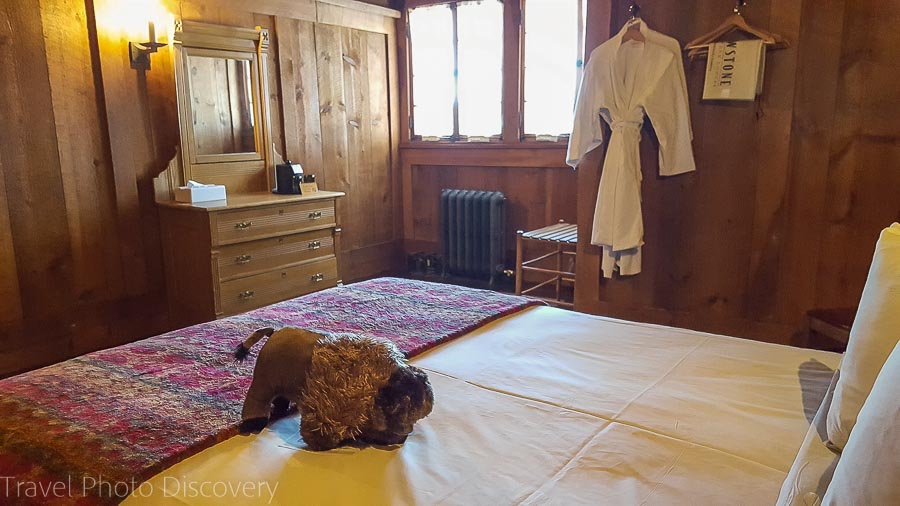 One of the few bathroom/bedroom combos in the older lodge section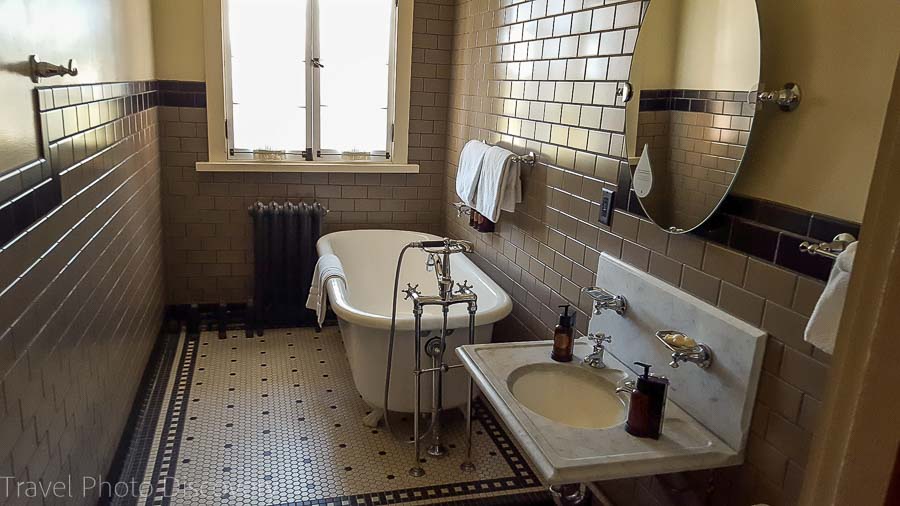 There are a variety of options in where to stay in the older or newer sections of the Inn, you can check out more information here about the different room types and latest prices on your stay.
Tip – if you want to stay at this historic inn, you have to book a room months, if not a year in advance so do your planning now. Also you can check out some of the other popular hotels in the park offered here along with current prices.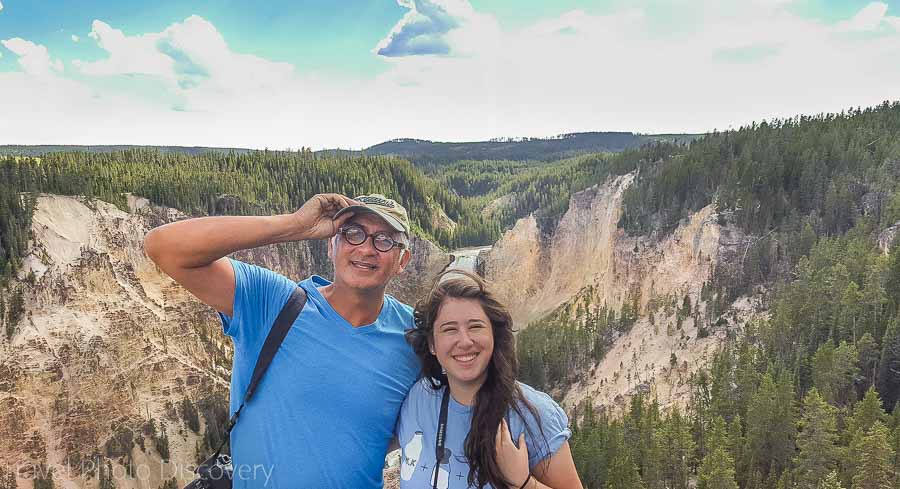 If you enjoyed this post check out the road trip post I did of the National Parks in Wyoming and Montana below
Northwest National parks road trip
Thanks for visiting today and checking out this post on Wildlife tour at Yellowstone National Park, hopefully you will be able to see and experience these amazing national parks on a road trip and enjoy the rest of the evening at a Holiday Inn close to the parks. If you enjoyed the images and post, could you please share it with any of the social media buttons located around the post.
If you like what you see, come and check out my other social media channels for more updates, including Instagram, Pinterest and Twitter
Disclosure – this wildlife tour was done in collaboration with Mountain Mike's Yellowstone tour, all thoughts and opinions are completely my own and the road trip was a fabulous way to visit the national parks. There are affiliate links on the post that offer rooms and help to fund my site – I appreciate your supporting me and booking through this post.