Experience the most beautiful gardens of Kyoto now (updated 2023)
Kyoto is blessed with so many amazing monuments and temples that are part of the Unesco world heritage sites. Just as stunning are the many gardens that are either part of those complexes or they are stand alone locations worthy of a visit. Of the many zen and Japanese style gardens there are a few that really stand out in terms of beauty and historic importance. Most Zen gardens and other strolling gardens were used by monks for meditation and were created for quiet and meditation. Viewing the garden should be slow and thoughtful, reflecting on its shapes and colors and textures enjoy these beautiful gardens of Kyoto. In my experience and love of visiting gardens around the world, Kyoto has some of the best zen and urban gardens that will wow you the minute you enter each of these magical spaces.
Best time to visit the gardens of Kyoto
The gardens typically are part of a temple complex and a year round destination for visiting the gorgeous temples and gardens of Kyoto. Spring time is popular for the sakura and cherry blossom blooms along with other colorful perennials that are blooming in the gardens. Another popular timeframe to visit is fall time when all the fall time colors from the many maple and local trees and shrubs start to change colors in a burst of orange, yellows, reds and browns from the leaves changing colors in the garden and making a special landscape and viewpoint to visiting at this view point of time of year.
If you are planning on visiting  the Kyoto Gardens, any of the famous things to do in Japan, you should consider coming in Fall or Spring time to see the gardens in their best season and these are probably the best times to visit them.
How to get around Kyoto area
Navigating the Kyoto area is convenient, thanks to a well-connected transportation network. Here's how to get around:
Public Buses: Kyoto's bus system is extensive and covers most tourist spots. Look for bus stops with route maps in English. Consider purchasing a Kyoto City Bus One-Day Pass for unlimited rides.
Subway: Kyoto has two subway lines, the Karasuma Line and the Tozai Line. They are efficient for traveling within the city and connecting to key attractions.
Japan Rail (JR): JR trains can take you to destinations both within Kyoto and nearby cities like Osaka and Nara. The JR Sagano Line is convenient for reaching Arashiyama.
Bicycles: Renting a bicycle is a popular choice for exploring Kyoto. The city is bike-friendly, and many rental shops offer hourly or daily rates.
Taxis: Taxis are readily available but can be expensive. Use them for convenience or when traveling in a group.
Walking: Many of Kyoto's attractions are within walking distance of each other, especially in areas like Gion and Higashiyama. Wear comfortable shoes and explore at a leisurely pace.
Rideshare Apps: Uber operates in Kyoto, providing an alternative to traditional taxis.
Kyoto Sightseeing Card: Consider purchasing a Kyoto Sightseeing Card for unlimited rides on buses and subways within the city for a set duration.
Kyoto Bus Pass: If you plan to use buses extensively, the Kyoto Bus Pass offers convenience and savings for unlimited bus rides.
Local Trains: For day trips to nearby towns like Arashiyama or Fushimi Inari, use local train lines such as Hankyu, Keihan, and Randen.
Tourist Information: Visit tourist information centers for maps, transportation guidance, and assistance with planning your routes.
Smartphone Apps: Utilize navigation apps like Google Maps or Japan-specific apps for real-time transportation information.
By using these transportation options, you can efficiently explore Kyoto and its beautiful surroundings, making the most of your visit to this historic city.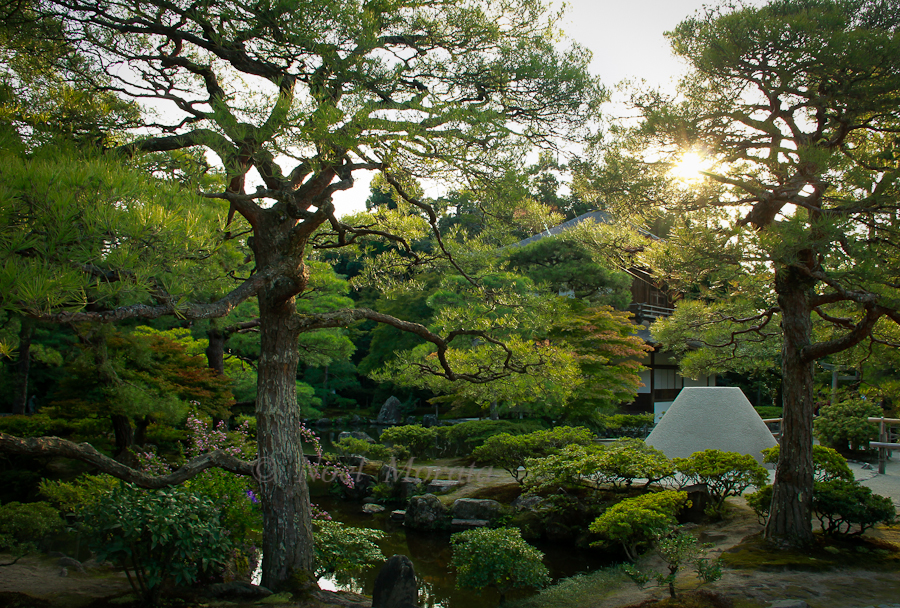 Touring Kyoto's famous Japanese gardens
Many of these gardens are very popular and busy all day long so it is avisable to visit early before all the tourist and crowds come to the gardens. Check out all these popular gardens to visit below.
Possibly the most well-known of zen gardens throughout the world is Ryoan-ji nestled in the along the quiet foothills in the northwest sectors in Kyoto. Ryoan-ji's name means 'temple of the peaceful dragon.'The main temple grounds and zen gardens of Ryoan-ji are designated a UNESCO world heritage site. Ryoan-ji has 15 boulders all of different shapes within the zen garden and the gravelled areas are raked every day by monks to form their patterned effects. The grounds surrounding the temple are large for city standards and include a lake with various paths to walk through.
Even though the artistic garden of Ryoan-ji is open for interpretation, many theories about the garden persist including the rocks resembling islands and the ocean, peaks of mountains rising above the clouds to baby tigers playing and swimming. The compositions in the arrangements represent natural abstractions that hope to bring out a meditative mindset when sitting on the large veranda viewing the entire garden in one sitting.
Within the temple grounds of Ryoan-ji is a large water garden and pond built-in the 12th century along with a tea house and adjoining garden built-in the 17th century. The tea house garden has a famous stone water basin that continually flows and is used as a ritual for purification and reminder of being humble in natures surroundings.
The beautiful temple of the silver pavilion or Ginkaku-ji in Kyoto is zen garden with a two-story kannon-den (main temple) originally started in the late 14th century. Built initially as a place of rest and solitude for the shogun, the temple and grounds were converted to a buddhist temple at the shogun's death. The famous sand garden at the main entrance is thought to symbolize Mt. Fuji and the garden landscape is supposedly designed by Saomi, a famous Japanese landscape designer.
I have recently posted on Ginkaku-ji temple, please visit this link for more information on this magnificent garden and temple.
The famous moss gardens of Saiho-ji in Kyoto which is also called "Koke-dera" or moss temple is part of the Historic monuments of ancient Kyoto.  The moss garden is mostly located in a circular promenade around a golden pond "Ongochi" that symbolizes the heart or mind. Surrounding the pond and three small islands are over 120 different varieties of moss that developed from an initial flooding to the grove and temple grounds during the Edo period.
The moss garden contains three tea houses, a main temple, study and three-story pagoda used to store copies of the sutras (manual on Buddhism). On the northern part of the temple grounds is a zen rock garden and temple known as Shito-an.
Due to limited access and advanced reservations prior to visiting, this garden and temple grounds are usually not on the mindset of most visitors interested in viewing an amazing assortment of gardens in one large complex.
The golden temple or Kinkaku-ji at Kyoto is famous for its three-story temple with gold leaf used to purify any negative thoughts around death. The beautiful strolling style garden around the temple borrows distant views from the mountains and surrounding landscape to make the grounds look more expansive. There is a large pond surrounding the temple with strategically placed rocks, bridges and plants to represent famous Chinese and Japanese literature and the perfect harmony of heaven and earth combined.
To see more images and  information, please check out my recent post here about this Unesco world heritage site.
The elaborate grounds of the Nijo castle contain a vast assortment of gardens surrounding the various palaces and temple grounds which were built for the personal residences of the Tokugawa shoguns in Kyoto. With over 275,000 square meters, the complex houses two large concentric wall fortifications, two palaces and extensive grounds and gardens.
The larger Ninomaru garden was designed by the landscape architect and tea master Kobori Enshu and has a large pond with three islands and carefully placed bonsai trees and large boulders in strategic locations.  Another large garden area is the Honmaru garden is located on the inner walled area of the Honmaru palace grounds. Although the palace is not open to the public the exterior of the palace and grounds are available to pass through with beautiful scenic vistas and the castle keep to see views of the entire palace grounds and central Kyoto.
To see more images of Nijo castle and the gardens, please check out this recent post I wrote about this historic site.
The popular bamboo grove of Arashiyama is well cared for and intimate in size. Access directly from the main street of Arashiyama, you can also visit the local temple Tenryu-ji Temple, at the same time. There are two actual separate bamboo groves and you can do a self walking tour here to see the highlights of visiting both groves.
How to get around Kyoto area
Navigating Kyoto and its surrounding areas is relatively easy, thanks to the city's efficient transportation system and options for getting around:
Public Transportation: Kyoto boasts an extensive public transportation network, including buses and subways. The Kyoto City Bus and Kyoto Bus are convenient for traveling within the city, with routes that cover major attractions. The Kyoto Subway is another option, especially for reaching destinations along the Karasuma and Tozai Lines.
Japan Rail (JR) Pass: If you plan to explore beyond Kyoto, consider a Japan Rail (JR) Pass. This pass allows unlimited travel on JR trains, including the shinkansen (bullet trains), and can take you to nearby cities like Osaka and Nara.
Bicycles: Kyoto is a bike-friendly city with numerous bike rental shops. Exploring by bike allows you to see the city at your own pace and access less crowded areas.
Taxis: Taxis are readily available in Kyoto, but they are more expensive compared to public transportation. They can be convenient for reaching specific destinations or when traveling in a group.
Walking: Kyoto's compact layout makes it ideal for exploring on foot. Many attractions are within walking distance of each other, especially in areas like Gion and Higashiyama.
Rideshare Apps: Uber is available in Kyoto, providing an alternative to traditional taxis.
Kyoto Sightseeing Card: Consider purchasing a Kyoto Sightseeing Card, which offers unlimited bus and subway rides within the city for a set duration.
Kyoto Bus Pass: If you plan to use buses frequently, the Kyoto Bus Pass can provide savings and convenience for unlimited bus rides.
Tourist Information: Visit tourist information centers or use smartphone apps for maps and real-time transportation information.
Local Trains: To explore nearby towns and attractions like Arashiyama or Fushimi Inari, you can use local train lines such as the Hankyu, Keihan, and Randen lines.
Remember to plan your routes and transportation options in advance to make the most of your time in Kyoto and its picturesque surroundings.
 More inside tips for visiting the gardens of Kyoto
If you're planning to visit the famous gardens of Kyoto, here are some inside tips to make the most of your experience:
Plan your visit during the cherry blossom season or fall foliage season: Kyoto is renowned for its stunning cherry blossoms in spring (late March to early April) and vibrant autumn colors (mid to late November). Timing your visit during these seasons will enhance the beauty of the gardens.
Visit early in the morning: The gardens can get crowded, so arriving early will allow you to enjoy the serenity and tranquility of the surroundings before the crowds arrive. It's also a great time for photography.
Wear comfortable shoes: Most of Kyoto's gardens have extensive walking paths, so comfortable footwear is essential to explore them. You'll likely spend a significant amount of time on your feet, so choose shoes that provide good support.
Take your time: Kyoto's gardens are meant to be savored slowly. Instead of rushing through multiple gardens in a day, focus on a few and immerse yourself in their beauty. Enjoy the details, listen to the sounds of nature, and embrace the peaceful atmosphere.
Follow the etiquette: Respect the rules and customs of the gardens. Avoid stepping on lawns, picking flowers, or climbing trees. Many gardens have designated areas for sitting, so use those spots rather than sitting on the ground.
Bring snacks and water: Some gardens have tea houses or vending machines, but it's always a good idea to carry a bottle of water and some light snacks to keep yourself hydrated and energized during your visit.
Check the garden's website for events: Kyoto's gardens often host special events, such as tea ceremonies or cultural performances. Check their official websites or inquire at the entrance for any upcoming events during your visit.
Explore beyond the famous gardens: While the famous gardens like Kinkaku-ji (Golden Pavilion) and Ginkaku-ji (Silver Pavilion) are must-visit sites, don't overlook the lesser-known gardens. They often offer a more intimate and less crowded experience, allowing you to connect with nature on a deeper level.
Take public transportation: Kyoto's gardens are well-connected by buses and trains. It's recommended to use public transportation as it can be more convenient and cost-effective than driving or taking taxis, especially during peak tourist seasons.
Capture the memories: Finally, don't forget to bring a camera or smartphone to capture the beauty of the gardens. Kyoto's gardens are incredibly picturesque, and you'll want to relive those moments long after your visit.
Remember to check the official websites of the gardens you plan to visit for the latest information on opening hours, admission fees, and any COVID-19 guidelines or restrictions that may be in place during your visit. Enjoy your time exploring the enchanting gardens of Kyoto!
.
If you enjoyed this post, please pin it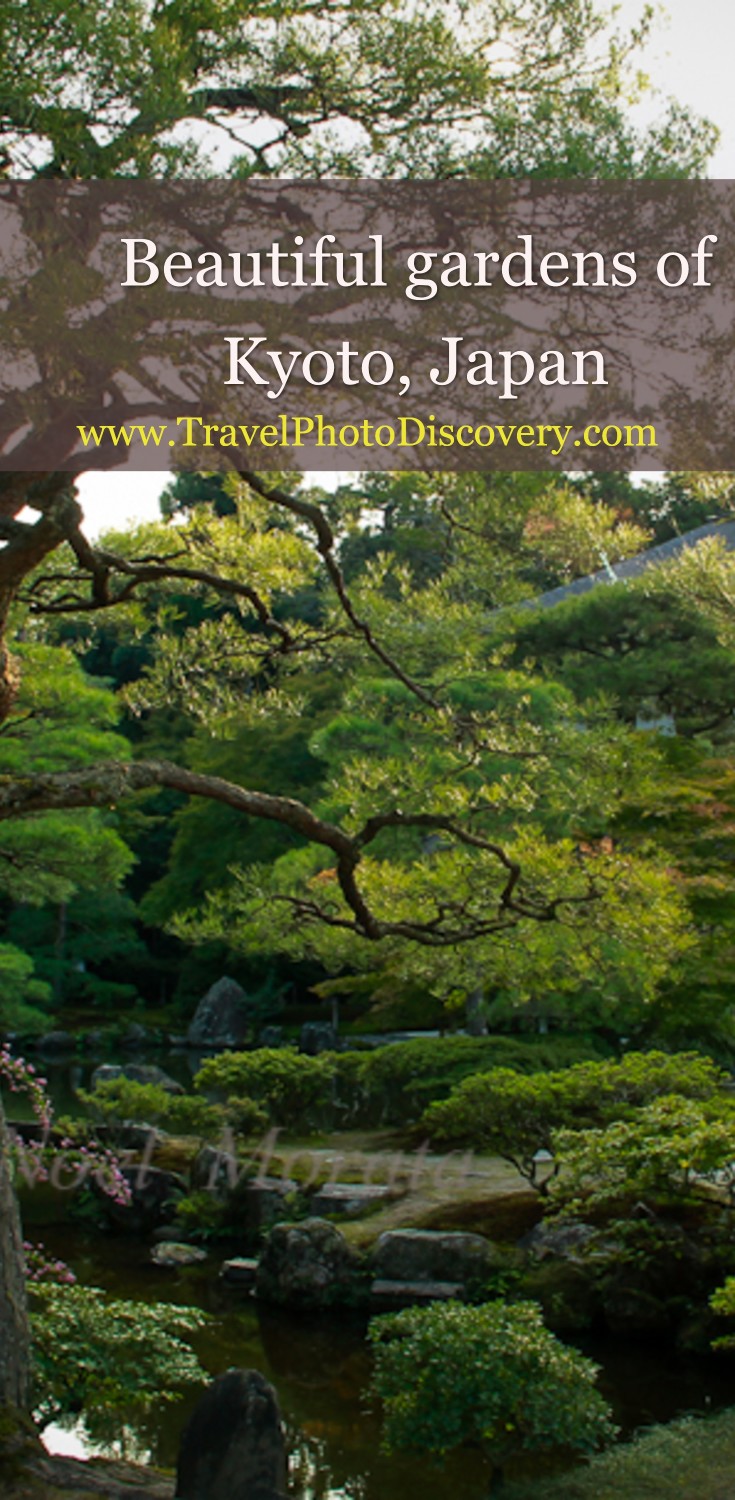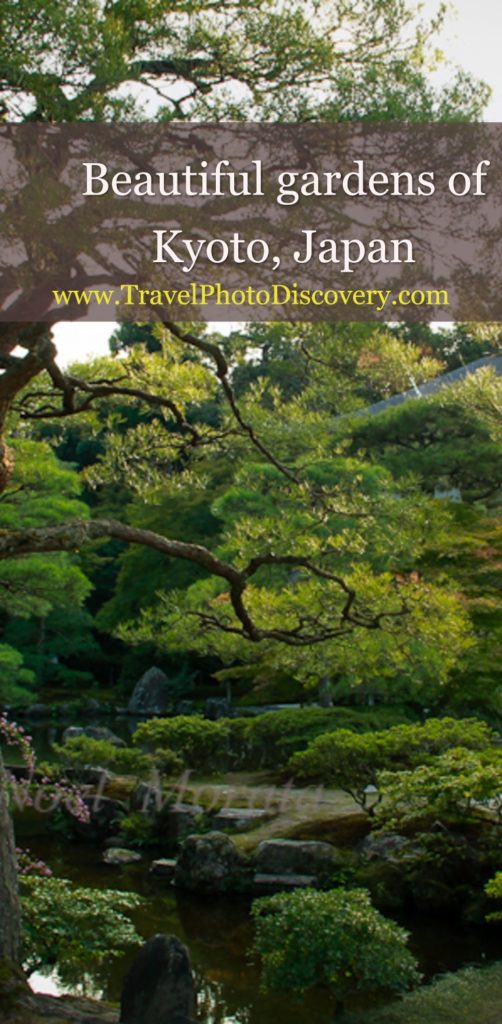 Please check out these other posts on visiting Kyoto, Japan
If you are planning on exploring more of Kyoto area, check out these other posts for inspiration and images to planning your visit to this amazing city and region in Japan.
Visiting the Silver Pavilion in Kyoto, Japan
Have you explored any of these beautiful zen gardens in Kyoto?
Any of these beautiful gardens you have visited or other favorite places around this city? Please share your thoughts in the comments below.
If you like what you see, come and check out my other social media channels for more updates, including Instagram, Pinterest and Twitter
Conclusion to visiting the famous gardens of Kyoto
There are many more beautiful gardens surrounding Kyoto and part of many historic temples around the city. These are just some of the main gardens of interests that are part of more elaborate temples or are historic monuments and some of the reasons to visit Kyoto. Thank you for visiting these Beautiful gardens of Kyoto today and if you enjoyed the post, please do share it with any of the social media buttons below. If you are looking for more historic, cultural sites and attractions, check out this post on day trips you can do from Kyoto here for more inspiration