There's so much to see and do visiting California with all the popular attractions in the state and even off the wall locations that give you a sense of history and place around the Golden State that has remained unchanged – quite surprising for a state that is in constant change and reinventing itself. Following are some of the best examples of quirky, fun and not so well known places to visit around California from top bloggers from around the world. See how many of the best places to go in California here you've actually seen or will place in your bucket list to visit soon. You might even want to do a road trip around California to see all these amazing places.
Unusual and cool places to go in California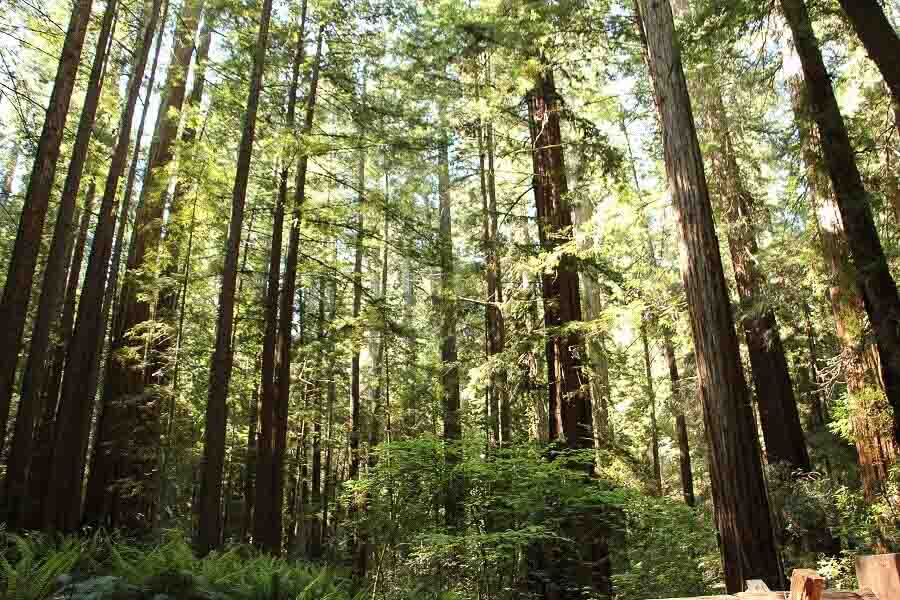 Armstrong Woods State Natural Reserve
Armstrong Woods State Natural Reserve is a stunning, dramatic destination in California where you can experience the true majestic beauty of the tallest living things on the planet. The coastal redwoods live up to an average of 500-1000 years and stand 200-250 feet tall. The park offers multiple hiking trails, picnic areas, and a visitor center. The Pioneer Nature Trail is the most popular easy option as it leads visitors along a path that is ADA accessible and stroller friendly. This trail provides the opportunity to view the park's tallest and oldest trees. Advanced hiking trails are also available up to 9 miles in length. The grove is very family-friendly and children will find great joy in climbing the roots of fallen trees and making forts inside the hollowed out trunks.
Be prepared to pay a fee for parking ($10) or you can park outside the entrance and enter as a pedestrian for free. Please note that dogs are not allowed on the trails. Armstrong Woods is located in Sonoma County and can be easily found about a half hour off of Highway 101 in the little riverside town of Guerneville.
Check out Sierra's blog called Free to Travel Mama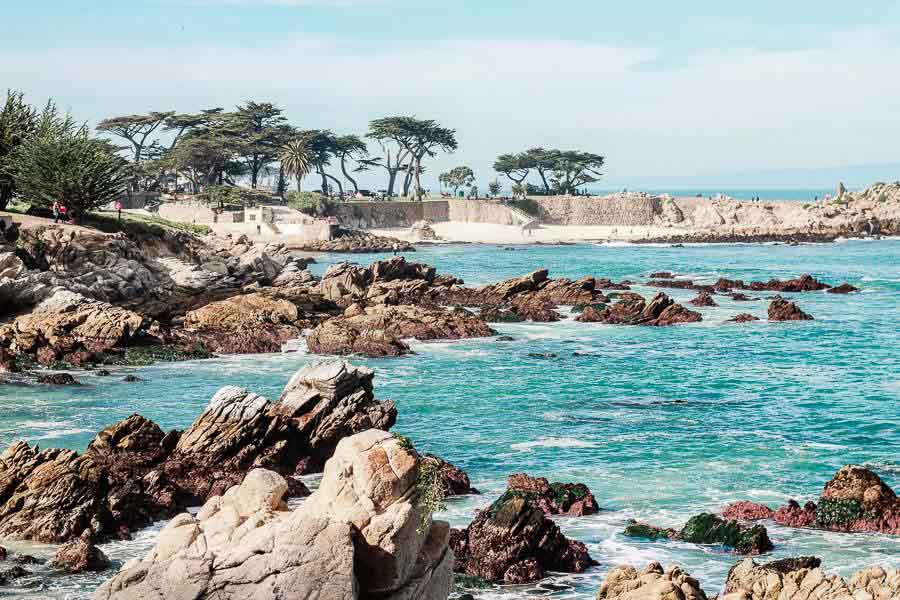 The coastal community of Pacific Grove
Pacific Grove is a quaint town on the Monterey Peninsula with stunning ocean views. In Pacific Grove, you are at the perfect location for enjoying the coastal trail which starts at Lovers Point and leads to the famous Monterey Bay Aquarium. Monterey Bay is teeming with sea life and you will often see otters, seals, sea lions, and even whales in the bay. Pacific Grove is also a great jumping off point for exploring 17-mile Drive, Point Lobos State Park, Carmel-by-the-Sea, and Big Sur.
You can get to Pacific Grove by flying into Monterey but flights are sometimes limited. It may be easier to fly into San Jose or San Francisco and then drive to Pacific Grove. Pacific Grove also makes a great stop on a Pacific Coast Highway road trip.
Enjoy the farmer's market in Pacific Grove on Monday nights, come hungry and get some food at one of the food trucks. Kids will love Caledonia park just steps away from Lovers Point and Lighthouse Avenue where you will find restaurants and shops. Bottomless brunch at Crema is a local favorite and you can find delicious gelato at Cafe Ariana.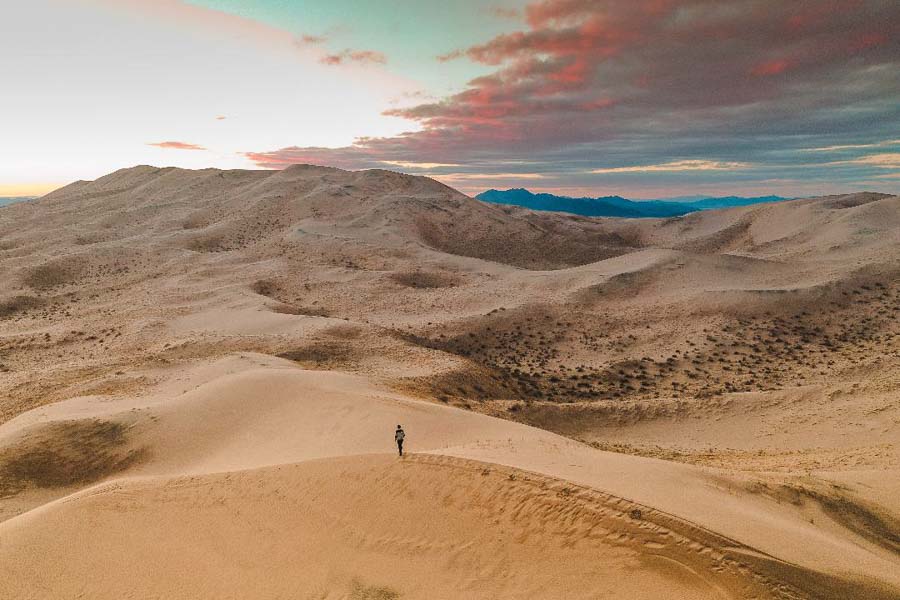 Mojave National Preserve
One of my favorite places to visit in my home state of California is the Mojave national preserve. It is now the largest area of protected land in the US at over 1.6 million acres, and yet it's not that popular, so it's quite easy to go all day without seeing very many other people! You can access it through the turn off at Baker from the 15 freeway. Make sure that you fill up on gas and have plenty of water with you because you'll be venturing into the desert. You also want to prepare to camp, particularly at the base of the Kelso dunes. My favorite things to see there are the lava tubes, the Kelso dunes of course, and the Amboy crater which you can see on your way out to Joshua Tree. You can access all of these without a 4 x 4 vehicle, though if you do have one, you'll be able to access some of the more remote dunes as well, provided you have experience with driving on sand.
Check out Kristin's blog post on a California deserts road trip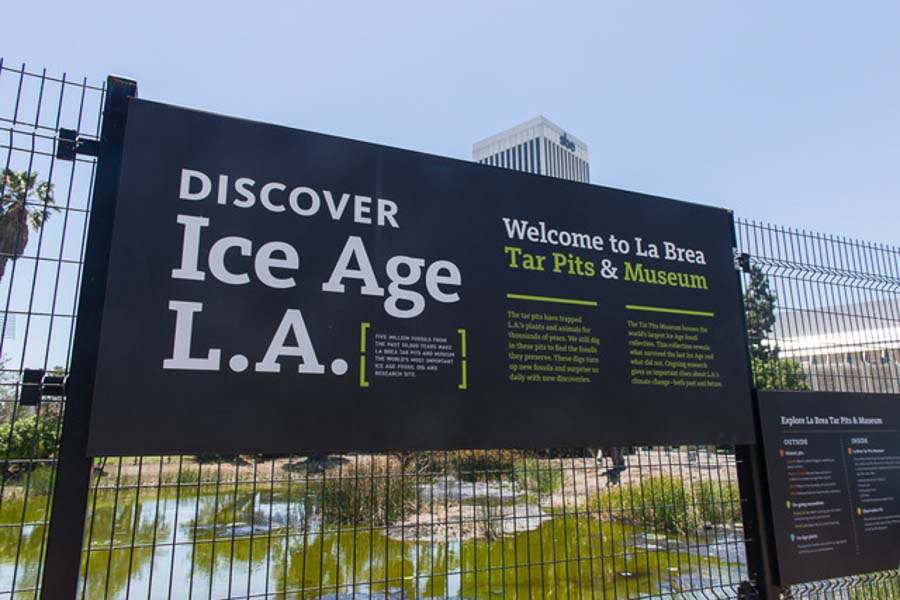 Fascinating La Brea Tar Pits
Surrounded by a sprawling metropolis of houses, skyscrapers, and the glitz and glamour of celebrities and high-end shopping in downtown Los Angeles, it is hard to believe that over 11,000 year ago saber-toothed cats, dire wolves, and giant mastodons roamed around this same area during what is known as the Pleistocene Era.  The proof of their existence is bubbling up to the surface at the La Brea Tar Pits and Museum, one of the richest paleontological sites in the world.  Discovered on August 3, 1769, by the Spanish explorer Gaspar de Portola, paleontologists are continuing to discover many new ice age treasures stuck in the gooey tar that trapped the animals thousands of years ago.  The museum is located in the historic Miracle Mile neighborhood of Los Angeles on what is referred to as Museum Row. Within a few blocks, there are many more museums and iconic landmarks to explore, as well as restaurants and food trucks if you get hungry after visiting the museum.  The museum is open 9:30 am to 5 pm every nearly every day of the year, and ticket prices range between $7 and $25, with parking an additional $15.
 Jacki Dyrholm with DC Day Tripping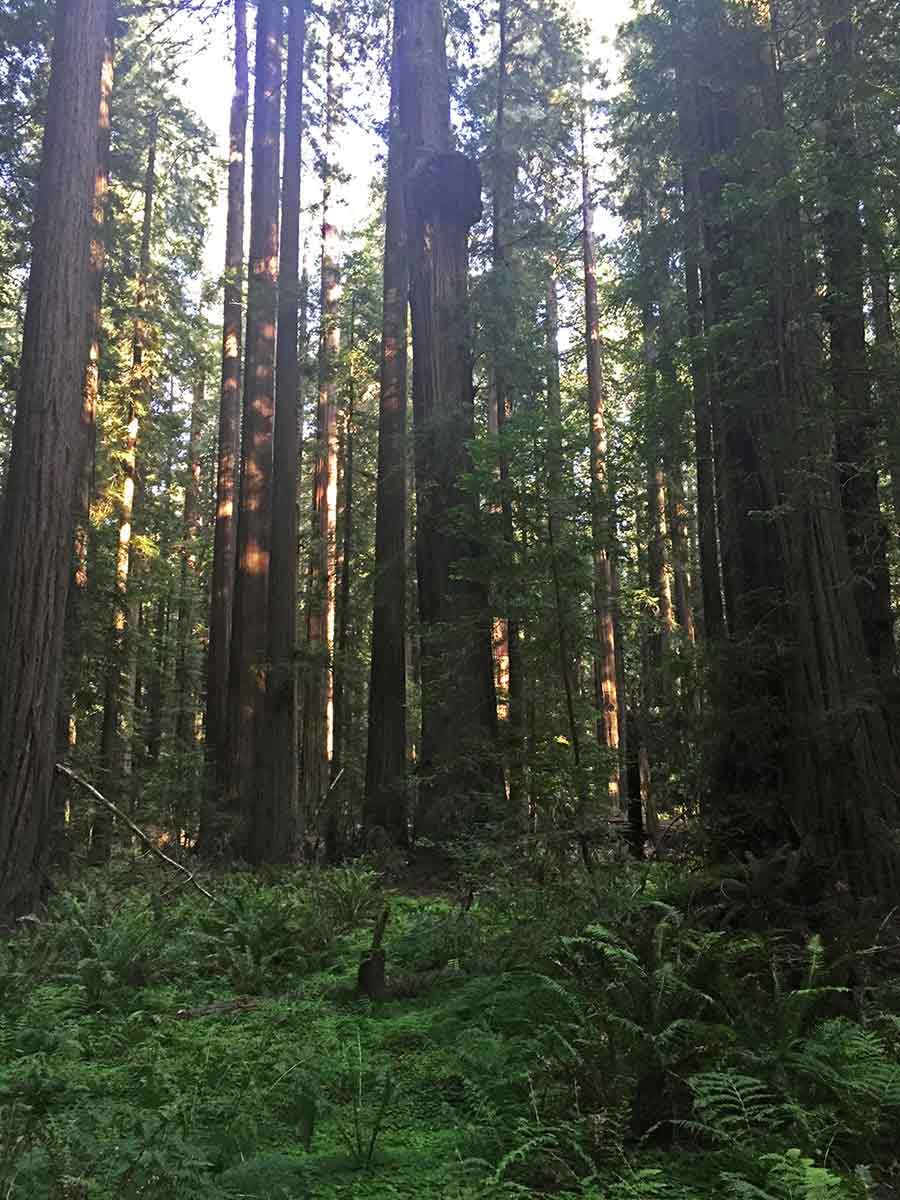 Redwoods National Park
The redwoods in California are some of the largest (and definitely tallest) trees in the world. Though the tallest redwood is located at Redwoods National Park, Humboldt Redwoods State Park is still one of our favorite places to visit and a great park to see, not to mention the fact that it is much closer to San Francisco!
The best thing to do in Humboldt Redwoods State Park is to hike! The redwoods are so beautiful and amazing to see, it's difficult to picture trees so huge until you actually see them in real life! Be sure to check out the fallen Dyerville Giant as well as the still-living trees in Founders Grove.
We recommend taking a road trip from San Francisco, north to Humboldt Redwoods State Park since the park is easily reached by taking Interstate 101-North for approximately 4 hours. Starting your hikes early in the morning is best because the forest will be quiet and you might even get a glimpse of the morning fog, which is vital to the survival of these coastal redwood trees.
Constance with The Adventures of Panda Bear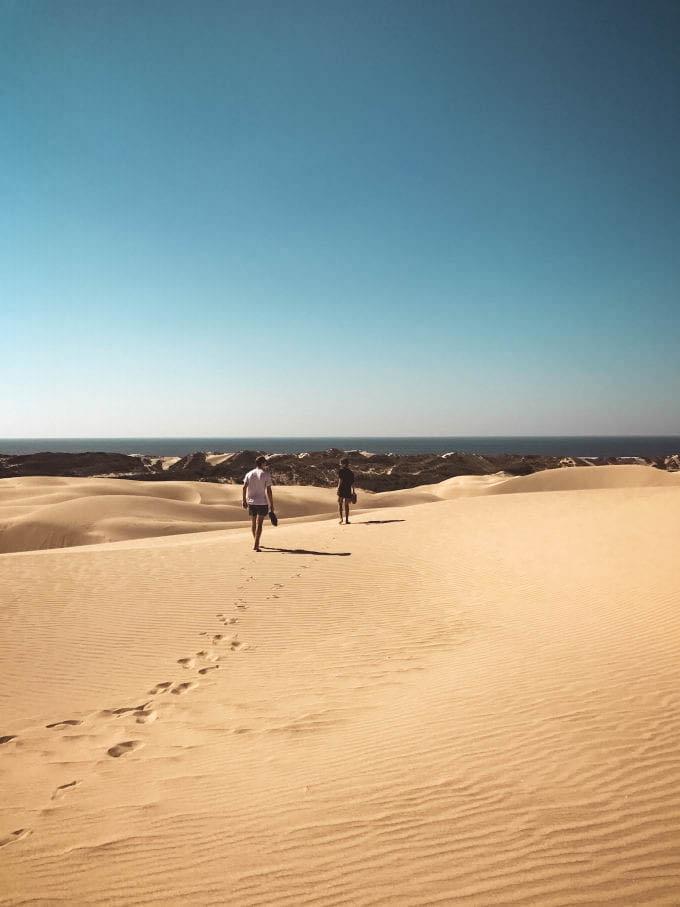 Pismo Beach in Central California
During our 17-month long road trip across the U.S. and Canada, we spent quite a bit time in California. Our goal was to not only visit family and friends but to see parts of the state we hadn't experienced before. One of those places was Pismo Beach.
Pismo Beach sits on California's Central Coast between Monterey and Los Angeles, making it a prime location for a stop when traveling along the coast.
Since we were traveling by RV, we looked for a Pismo Beach RV park with close access to the sand dunes and beaches. The Pacific Dunes Ranch RV Resort was backed up right to the dunes and a short walk or drive from the beach. It was the perfect location.
During our stay there, we surfed on the sand dunes, watched visitors ride rented ATVs along the coast and over the dunes, soaked in a sunset on the beach and enjoyed the laid back lifestyle this location offers. On your visit, we highly recommend a campfire on the beach, which is allowed in certain areas, complete with makings for s'mores.
Check out Julie's post on the Pismo Beach RV park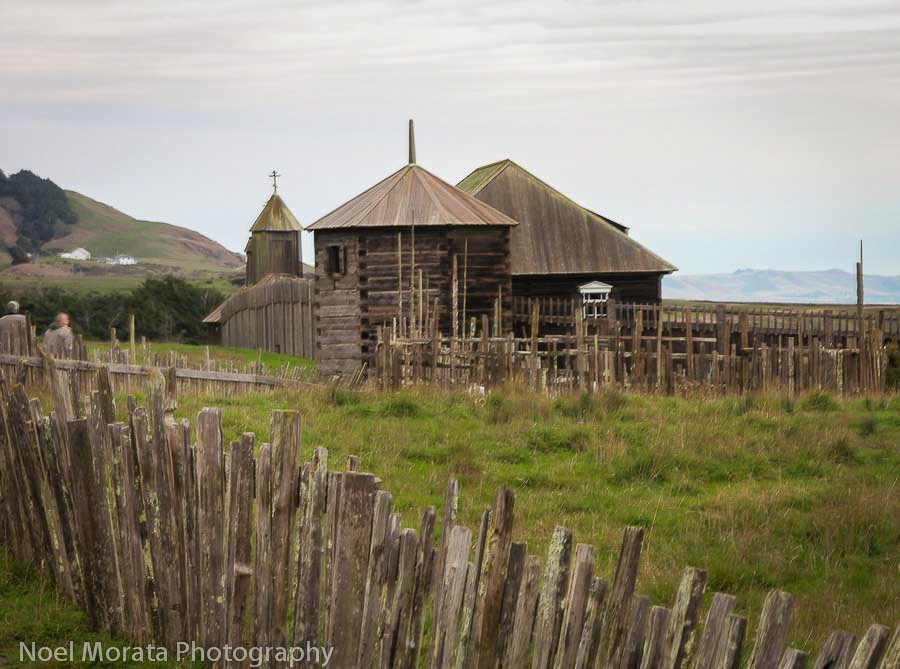 A Russian settlement at Fort Ross
At a time when the coastal areas of Northern California where being contested by the Spanish, American and Russian governments, Russia created one of the most established trading posts of its day on the coastal area of the Sonoma coast north of the Russian river at For Ross. With the Spaniards more inland with their missions the coastal areas were largely untapped and the Russians plied the area and north to Alaska to pursue their fur trade and other trading outlets. With the help of the local indian tribes, the Russians established themselves at Fort Ross and  became a viable trading post until the demise of fur trapping along the coastal areas of California. Eventually the fort was left to ruins and the Russians exited up the northern routes and locations for more fur trapping opportunities. What you get to see and visit at the reconstructed fort is a slice of everyday life with some re-enactments from local groups dressed to share their knowledge and historical perspectives of everyday life during this time frame. It really is a fascinating visit and experience to see and explore the area – for more inspiration, check out my post on Fort Ross and Russian expansion to America here for more details and images.
Noel with Travel Photo Discovery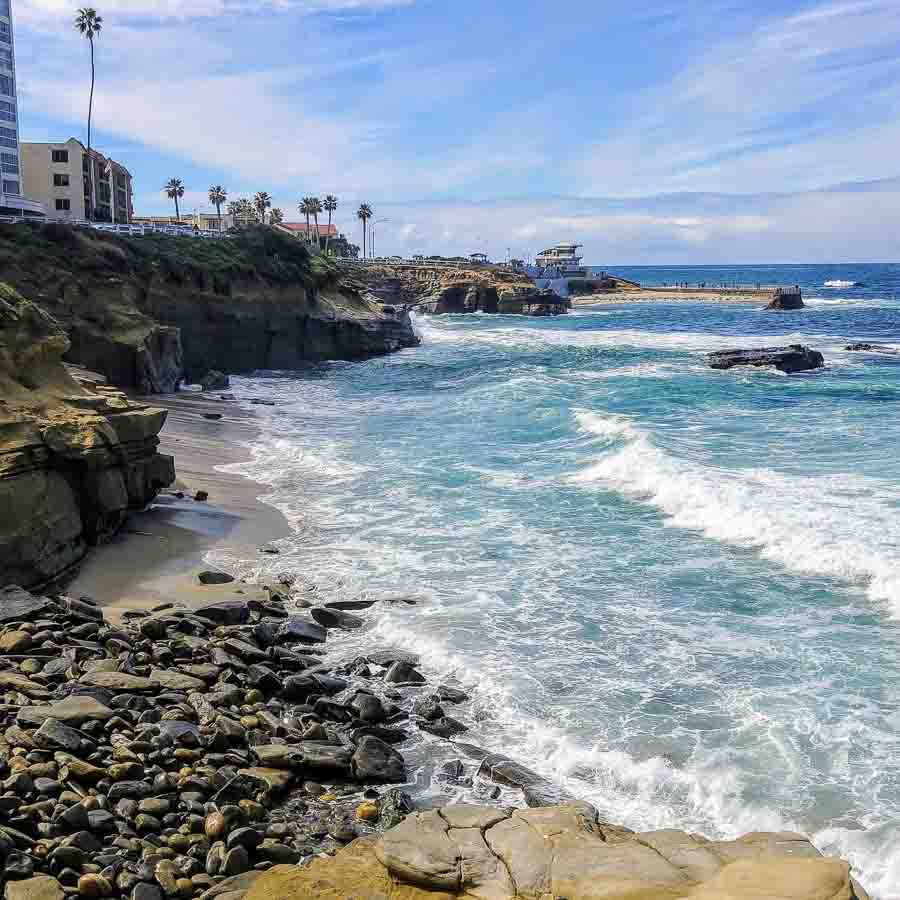 A visit to sunny La Jolla
I recommend that anyone travelling to Southern California to stop in La Jolla. La Jolla is one of the top places to see in California. This quaint little seaside town is so unique and is known for its beautiful rugged coastline and hiking trails. La Jolla Cove has beautiful ocean views and the beach is home to seals and sea lions. You will often hear them before you see them.
La Jolla is approximately a 30-minute drive north from San Diego. If you only have a day to spend in La Jolla I would recommend an early morning hike through Torrey Pines State Reserve hiking trails and then head down to La Jolla beach to watch the entertaining seals and sea lions. I have to warn you that as you get closer to sea lions there will be a strong smell of seal and sea lion poop. I wouldn't recommend getting too close to the sea lions as they will bite if they feel threatened.
This area is ideal and safe for snorkelling and kayaking during the summer months.
If you enjoy outdoors then trying one of the great activities such as snorkelling, kayak tours, scuba diving, surfing, or stand up paddle boarding.
If you love to shop then stroll La Jolla streets and visit the charming shops where you will find many unique items. There are many restaurant options but for the best views, head to lunch to the La Valencia Hotel and sit out on their patio for spectacular beach views.
Tip: If you are parking your car I would recommend arriving early as it tends to get busy and parking spaces fill up quickly.
Diana with Diana's Healthy Living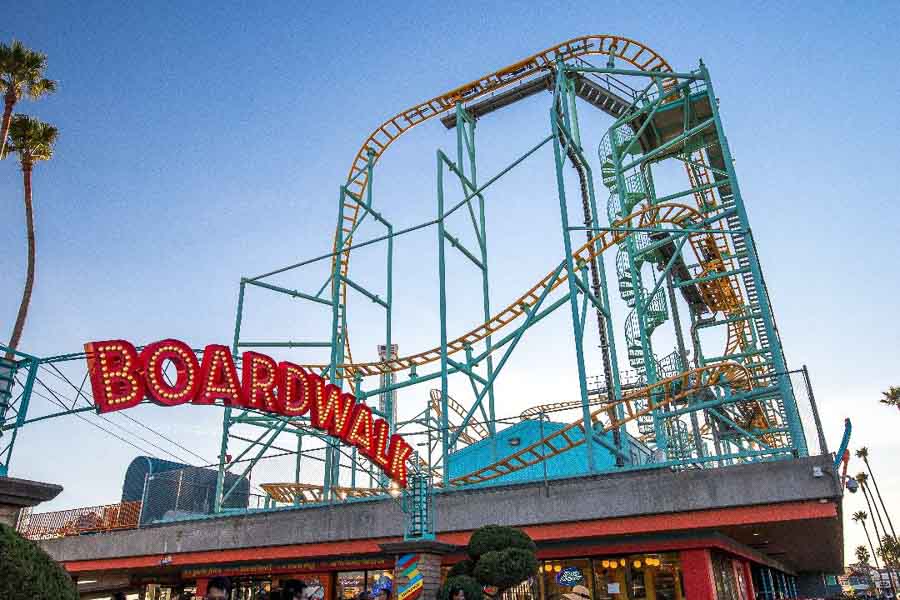 Santa Cruz Beach Boardwalk
Ever imagined yourself sitting on a roller coaster rolling on a wooden track, surrounding yourself with classic snacks and candies stores, and enjoying the summer sun without the heat? Well, you can find all of them in Santa Cruz Beach Boardwalk!
Located in the small town of Santa Cruz in California, the Boardwalk has always been the highlight and the main attraction of the summer town. Being one of the oldest amusement parks in the US, it was founded back in 1907, more than a century ago!
Despite the old age, all the facilities, rides, stalls and beaches have been well-maintained by the company. With more than 40 rides operating in the summer, Santa Cruz Beach Boardwalk should definitely be in your summer bucket list.
And guess what, every Wednesday in the summer, there will be a free movie night where they play movies on a huge screen on the beach, and free band performances on every Friday night!
To enjoy it all, be sure to visit in the early morning and spend a whole day there. Foods there are expensive so consider bringing your own lunch. Don't forget your sunscreen and ride the Giant Dipper!
If you are looking for more things to do in Santa Cruz, check out this post on 101 things to do in Santa Cruz for inspiration.
Looking for more things to do in Santa Cruz? Check out  Yen's post on visiting Santa Cruz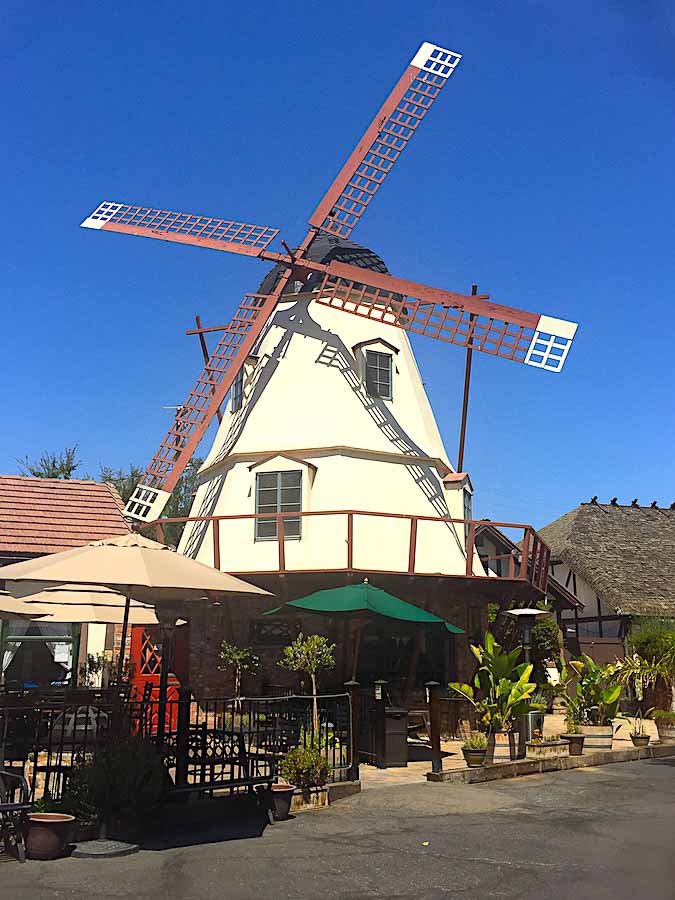 The Danish city of Solvang
There are countless reasons to visit the state of California. One of those reasons is the city of Solvang. During a trip to California, I decided to visit Santa Barbara wine country with a stop in Solvang. Solvang is located in Santa Ynez valley. The 45 minute drive from downtown Santa Barbara thru the Santa Ynez Mountains was beautiful. Solvang is a rather small city but has over 1 million visitors per year. It was developed in the early 1900s. Danish Midwesterners traveled further west to establish this unique city. The architecture resembles Denmark down to the windmills. Head to the Danish Village Bakery area for some delicious treats including almond pastries. Other attractions include Hans Christian Anderson Park, Hans Christian Anderson Museum, Old Mission Santa Ines and a replica of the Little Mermaid statue located in Copenhagen. And, if you love wine, there are wineries and vineyards in the surrounding area.
Nadeen White with The Sophisticated Life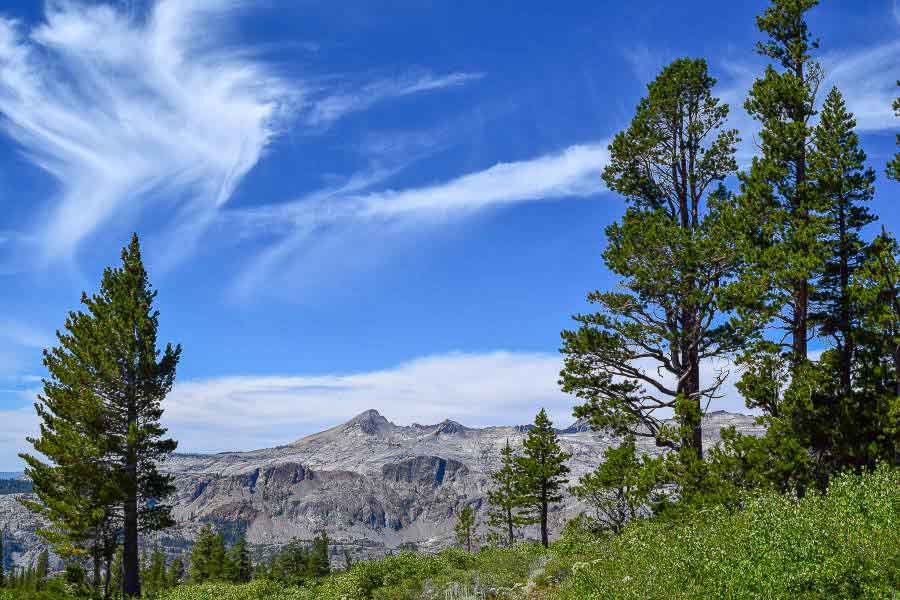 A visit to Lake Tahoe
Lake Tahoe is located 200 miles northeast of San Francisco and forms part of the border between California and Nevada. This freshwater alpine lake is in the heart of the Sierra Mountains, which makes it a perfect destination for outdoor lovers. I recommend Lake Tahoe to anyone who loves nature, outdoor sports and having a good time.
 During the winter months enjoy skiing and snowboarding at your choice of more than 10 ski resorts. In the summertime the lake becomes alive with tourists enjoying various concerts, festivals and other events. Make sure to pack your hiking shoes, as there are trails suited to all abilities and fitness.
 My top tip for the best lake views is to hike the Mount Tallac trail located on the west side of the lake. This trail is best suited to moderate to advanced fitness levels as it ascends quickly. Allow around six hours return and pack plenty of water.
 The lake gets very busy and prices increase during state and nationwide holidays. If possible plan your trip to arrive outside of these dates.
 Erin with Curiously Erin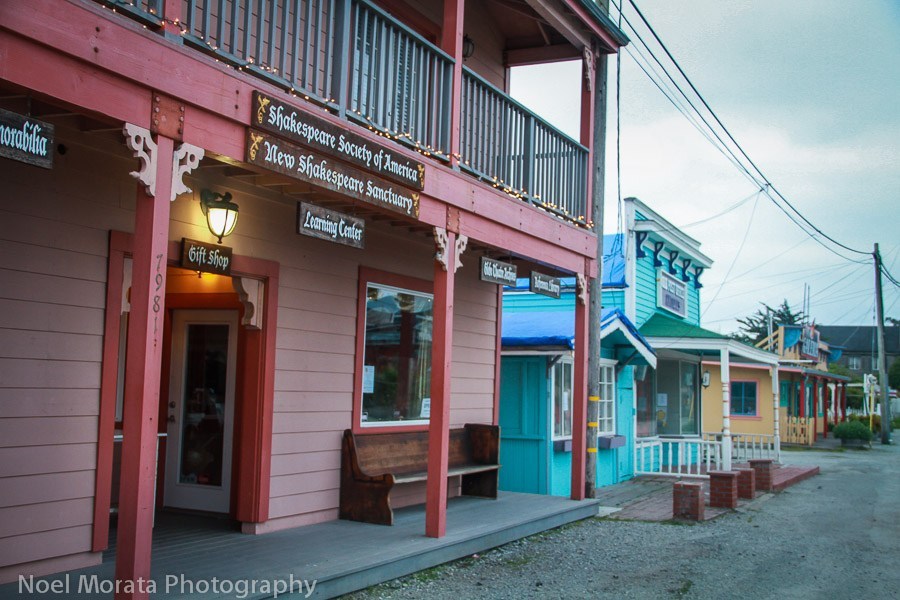 The quirky town of Moss Landing
If you blink you'll definitely pass by Moss Landing which is a small community just north of Monterey and a really colorful and fun place to explore.  With a bold and western like downtown and strange amusement collections parked into antique and collectible shops, you'll be amused by all the strange and fun things that pop up along this weird downtown area. Moss Landing is just one of those fun pit stops that if you take the time to explore will really get a sense of the quirky community and interesting displays in all the shops. Close by are nature reserves, isolated beaches and even a wonderful harbor to explore and photograph and if you're looking for some local bites, there's fresh seafood cafes, a very cool Mexican restaurant and other cool cafes to indulge in. Check out the highlights on my Moss Landing post here for more inspiration to visiting this fun town in Central California.
Noel at Travel Photo Discovery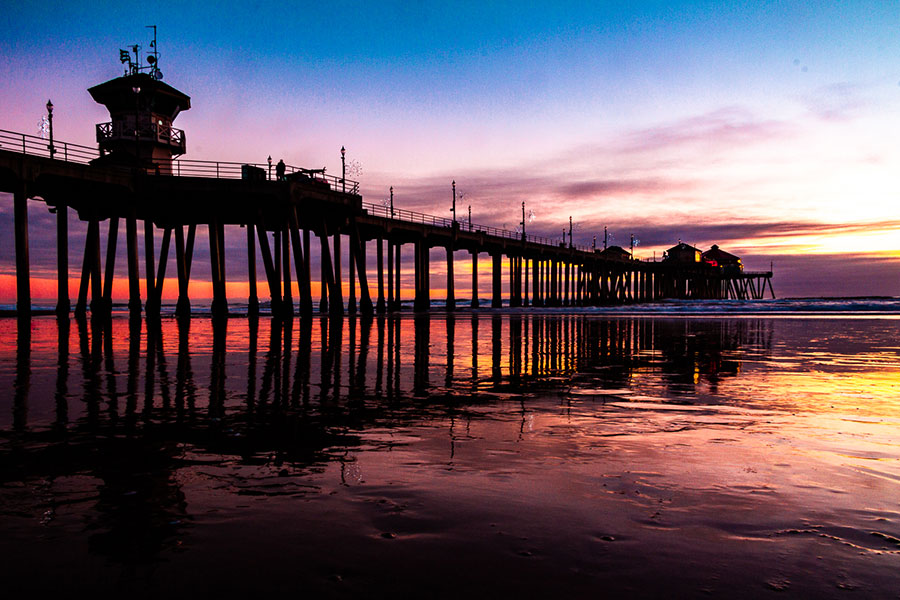 Orange County Beach Scene 
With 40 miles of stunning coastline and endless beaches, not many places are better than Orange County, California. Visit Huntington Beach (pictured) for a laid back surfer vibe, after all it is called Surf City USA if you fancy hitting the waves! Mingle with the people, admire the huge beachside houses and live it up in Newport Beach and visit Laguna Beach for the fantastic art scene, beautiful oceanside parks, hidden coves and tidepools.
How to get there:
Car:
By car is always the easiest and most convenient way to travel in Southern California. From Los Angeles, take the 405 south through Long Beach and into Orange County. Take exit 16 onto 39 Beach Blvd which you can follow all the way down to Huntington Beach. From Huntington Beach, both Newport Beach and Laguna Beach can be easily reached via the PCH.
The Amtrak Pacific Surfliner which runs from San Diego to San Luis Obispo also has six stops in Orange County. The closest Amtrak station for Laguna Beach is in San Juan Capistrano. The closest Amtrak stations to Huntington Beach and Newport Beach are in Irvine, Santa Ana and Anaheim.
Attractions:
Huntington Beach: International Surfing Museum, Surfing Walk of Fame and Huntington Beach Pier as well as the 11 miles of gorgeous beaches.
Newport Beach: 'The Wedge', a popular surf spot, Whale Watching in the Pacific Ocean. For shopping, Fashion Island. Art, The Orange County Museum of Art exhibits modern and contemporary art, with emphasis on the work of Californian artists.
Laguna Beach: Laguna Art Museum, Heisler Park, Pirate Tower at Victoria Beach and many art galleries in the surrounding area and stunning beaches.
Laura with Country Girl Explores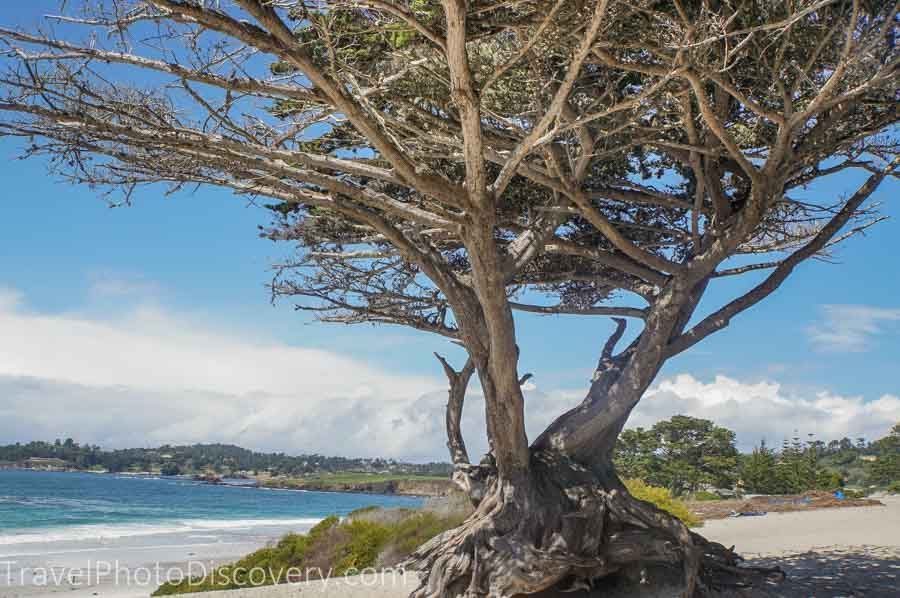 European charm at Carmel by the Sea
Carmel located in the mid coastal areas of California is a tourist destination and definitely worth a visit when you are exploring Monterey county. Carmel by the Sea is filled with art galleries, boutique stores, delicious bakeries and restaurants and an old world charm you wouldn't expect to see in California. The old downtown area is fun to explore and walking down to the sandy beaches with panoramic views of the Monterey coastline is stunning. Other fun things to do in Carmel include visiting Carmel Mission, wine tasting in Carmel Valley, a ride through the scenic 17 mile drive and exploring more attractions in Monterey, Pacific Grove and down the coastline to Big Sur. You definitely can do a nice quick getaway vacation or use Carmel as a hub to visit the many beautiful communities, towns, parks and landscapes in Central California. Check out my post on visiting Carmel by the Sea here for more images and inspiration to visiting this lovely and colorful area in Monterey County.
Noel with Travel Photo Discovery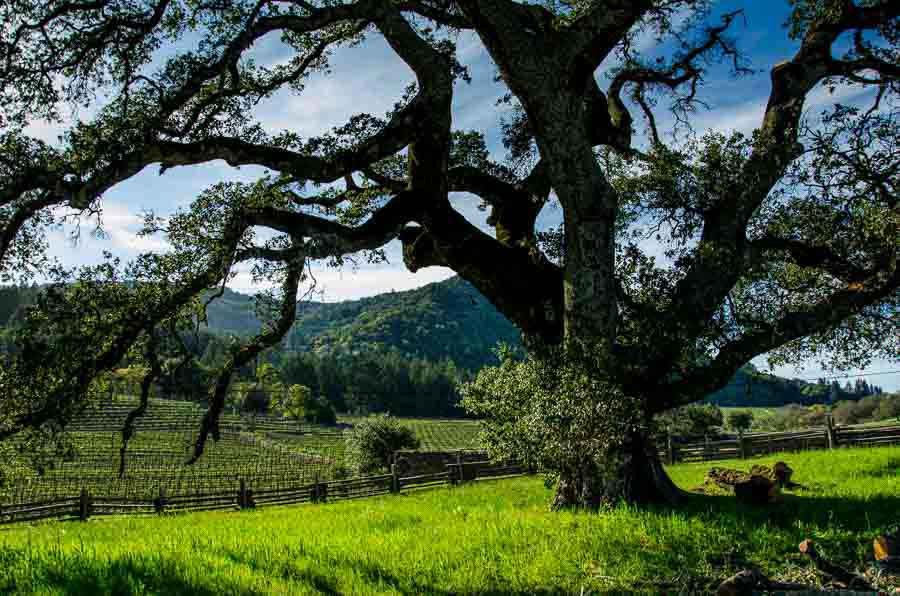 Hiking around Jack London State Historical Park
What, of course, one remembers about the writer Jack London is that he had a great sense of outdoor adventure, and the park that is made out of the land he settled on in after his wandering time was over illustrates his life nearly as well as his books.
There's a small home that he and his wife lived in, the vineyards and pastures he rescued from the overuse and erosion–effects of the previous pioneer farmers–and, most impressive, the redwood forest climbing the mountain overlooking the cultivated area.
For London was also a conservationist. In addition to the vineyards and forest, he constructed a system to catch the sparse rain and use it for irrigation and as a waterfowl habitat.
The park has many signs along the walking paths that lead you through the various points of interest, and they mostly include quotes from London himself about what he was trying to accomplish by bringing the farm back to fruition after the area had been rendered sterile by the practices of his predecessors.
The Jack London State Historical Park, near Glen Ellen, preserves his legacy as conservationist and author. If you're in California's wine region, it's well worth a visit.
Check out Tom's post on Jack London State Park

The Hollywood sign in LA
One of the first things you may think of when you think of California, is probably Hollywood. And the Hollywood sign is one of the most iconic spots in the city. You'll be able to see the Hollywood Sign from lots of different places while driving or walking around the city, but we recommend taking a hike to the sign for an up close experience. There are several different trails to the Hollywood sign, so you'll want to research to be sure you find a good one for your hiking abilities. The sign was built in 1923, with white letters that stand 45 feet high. It's a great place to get up close to for some photos, and enjoy a little bit of California history. There are also several things to do around Hollywood, that will give you great views of the sign as well. Be sure to see it from afar, and up close with a hike as close as you can to the letters.
Sara with Our Kind of Crazy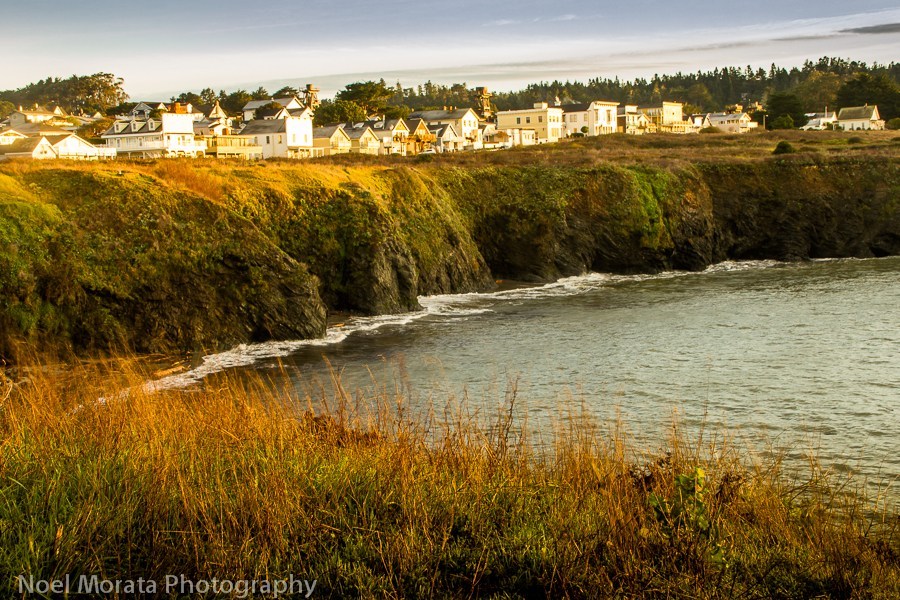 Exploring the Northern coastal city of Mendocino
Mendocino is one of my favorite places to visit in California. Mendocino is located just off the Pacific Coast Highway, three hours north of San Francisco. As a small coastal town, Mendocino boasts access to beautiful beaches, a charming downtown, state parks, and outdoor fun. The dramatic cliffs along the shoreline make for spectacular scenery. One of the unique features here is that there are two rivers that meet the ocean – the Little River and Big River. Biking, paddling, and wading in the river are common activities in this area. Mendocino also has some sea caves that have become a popular kayaking destination. Hiking is plentiful around Russian Gulch State Park and the Mendocino Headlands area. This was just one of our many stops during our San Francisco to Seattle drive. If you're looking for outdoor activities and some beautiful coastal views away from the hustle of San Francisco, Mendocino is a great place to visit.
Margie with DQ Family Traveler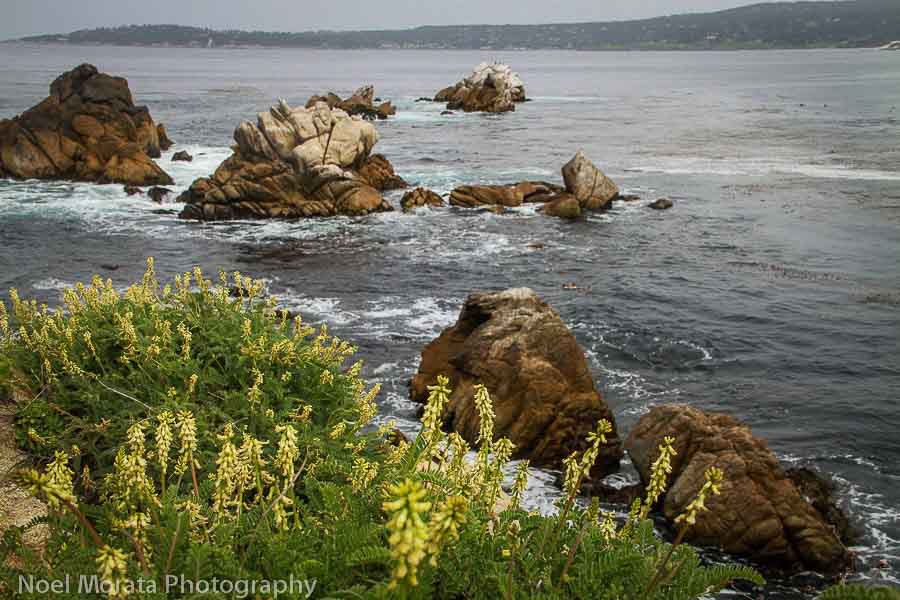 The gorgeous coastline of Point Lobos State Reserve
Point Lobos is one of those special places in Monterey County that is often overlooked when visiting Monterey county and should be on your bucket list of places to visit. Along the way down from Monterey and Carmel, the scenic drive to Point Lobos is easy with gorgeous coastal views. When you arrive at the park, stop by the information center to see what the best hikes and views are along the various trails of the park. I would recommend taking some of the popular hiking trails along the coastlines dotted with beautiful annual blooms. The jagged rock islands and terrain is really breath taking to see and photograph even in cold or cloudy days, which tend to happen regularly along the Monterey coastline. If you don't have that much time, you can easily drive to the coastal parking areas for a shorter visit and look out to the magnificent scenery and picture taking.  You can see more of my post and visit to Point Lobos State reserve here for more inspiration and images to visiting the park.
Noel with Travel Photo Discovery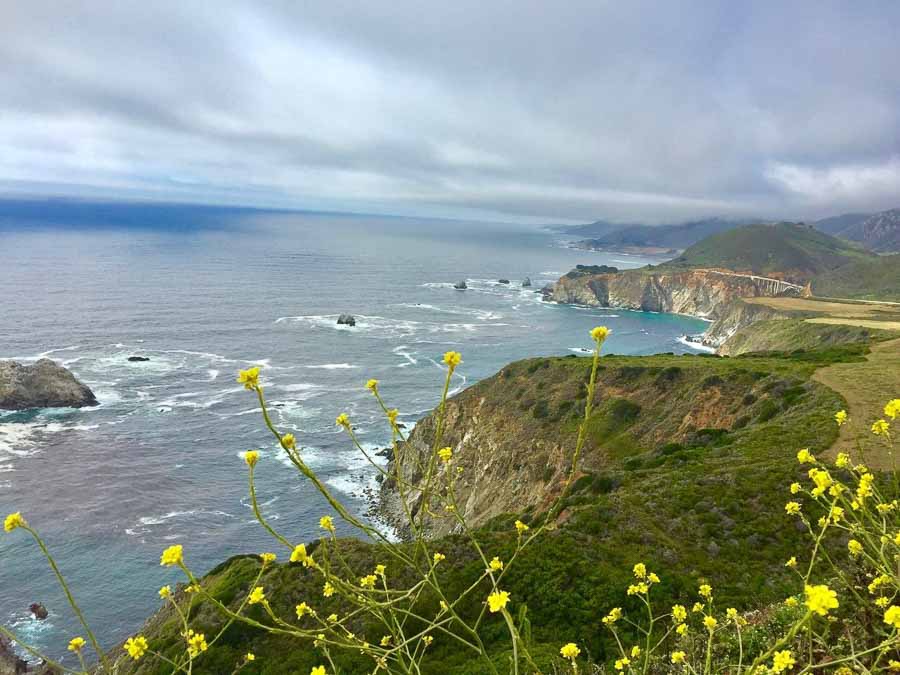 Exploring the best of Monterey
Monterey is my favorite day trip from San Francisco Bay Area. The drive from the Bay Area to Monterey, along the Pacific coast is absolutely stunning. I've never seen it being fogged in like we see the city so the water is always the perfect shade of blue with waves dashing on to the rocks.
There is so much to do in Monterey with the amazing restaurants, beaches, wildflowers, surfing and whale watching. The most famous attraction is the Monterey Bay aquarium. Build next to a deep ocean gorge, it is home to some unique deep water species not to be found anywhere else. No wonder it's one of the top aquariums in the world. The Cannery starts right by the aquarium. It supper popular for dining, particularly for sea food. But I doubt they have any vegan options. We usually head inland or to Carmel by the Sea for lunch.
As an insider tip – be sure to visit Dennis the menace park. It's a ton of fun for children of all ages but it's closed on Tuesdays.
To get to Monterey, take 101 South from the Bay Area, exit to 156 West and then 1 South. It takes about an hour from South end of San Jose in non-traffic times.
Check out Jyoti and Nirmal's blog at Story at Every Corner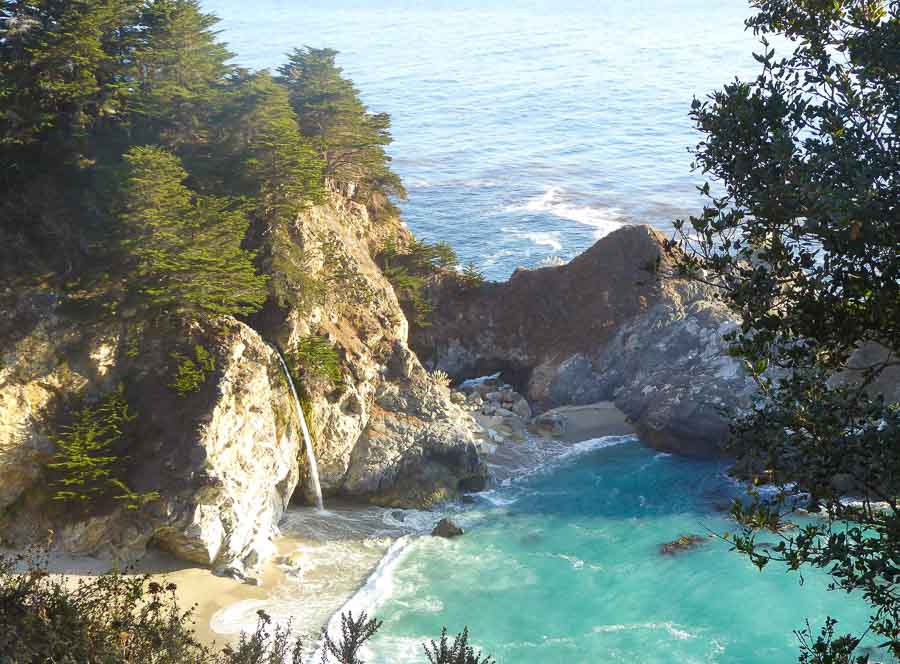 A drive through Big Sur coastline
One of the most gorgeous drives in California is the drive along the Big Sur Coast from Carmel to Ragged Point or Cambria. Just 75 miles if you drive up to Ragged Point or 100 miles up to Cambria, the drive can be done as a day trip from Carmel or as part of a longer trip along the Pacific Coast. Driving north to south, you will have unobstructed ocean views and a thrilling drive along the cliffs of Big Sur.
The drive on its own is spectacular, especially if you do it in the spring, when wildflowers are in bloom. But it is also lined with stunning places to stop and explore. Just south of Carmel is one of California's most scenic state parks: Point Lobos State Reserve. Further south are the wild trails of Garrapata, and the historic Bixby Creek Bridge. McWay Falls, where the waterfall empties out into the beach, is a popular Instagram spot, and Pfeiffer Beach will have you amazed with its purple sand.
Give yourself plenty of time to do the drive: a full day is ideal. That way you can stop at pullouts to take photos, do short walks, or just stop and enjoy the beauty of the wild road.
Dhara from It's Not About the Miles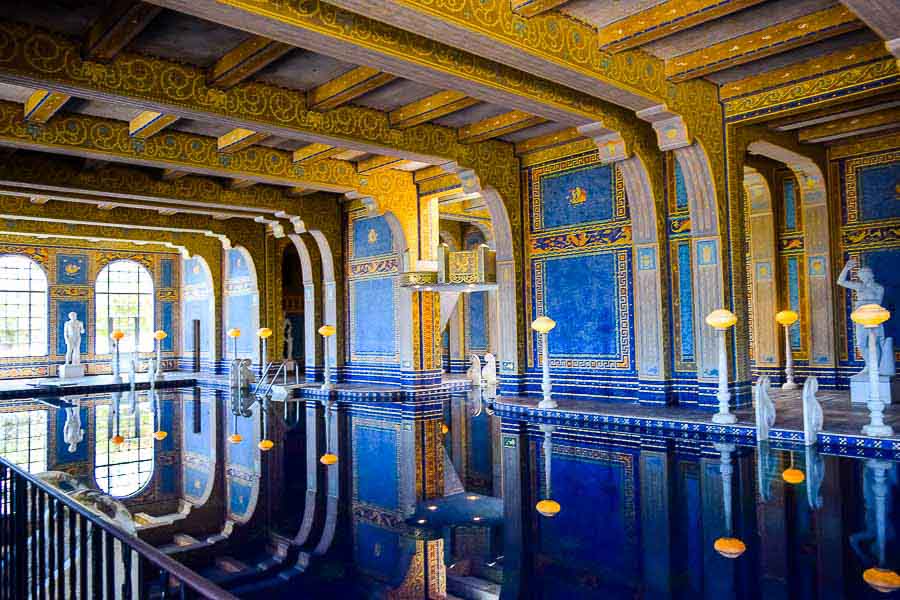 Visiting Hearst Castle in Central California
William Randolph Hearst's La Cueste Encanta, the Enchanted Hill, sits along California's Pacific Coast Highway half-way between San Francisco and Los Angeles overlooking the Pacific Ocean. Hearst was an art collector. He took advantage of Europe's post World War I economy and purchased entire rooms, including the ceiling. Hearst Castle was then designed around the purchased room. The front of Casa Grand is a façade from a cathedral in Rhonda Spain and the swimming pool is covered with three million Murano glass tiles. The main house has 115 rooms; 38 are bedrooms used to entertain Hollywood's elite during the 1920s and 1930s. There are three guest homes, two swimming pools, a tennis court, a zoo, a 127-acre garden, theater, and an airport. Zebra continue to roam the hillside. Hearst Castle was under construction for 28 years. Hearst deceased before it was complete and the property was donated to the state. It is now a California State Park and open for tours. Tours do sell out, consider purchasing your ticket online. Be sure to stop by and say hello to the colony of elephant seals at Piedras Blancas before leaving the area.
Check out Sherianne's post on Hearst Castle with OutOfOffice.Blog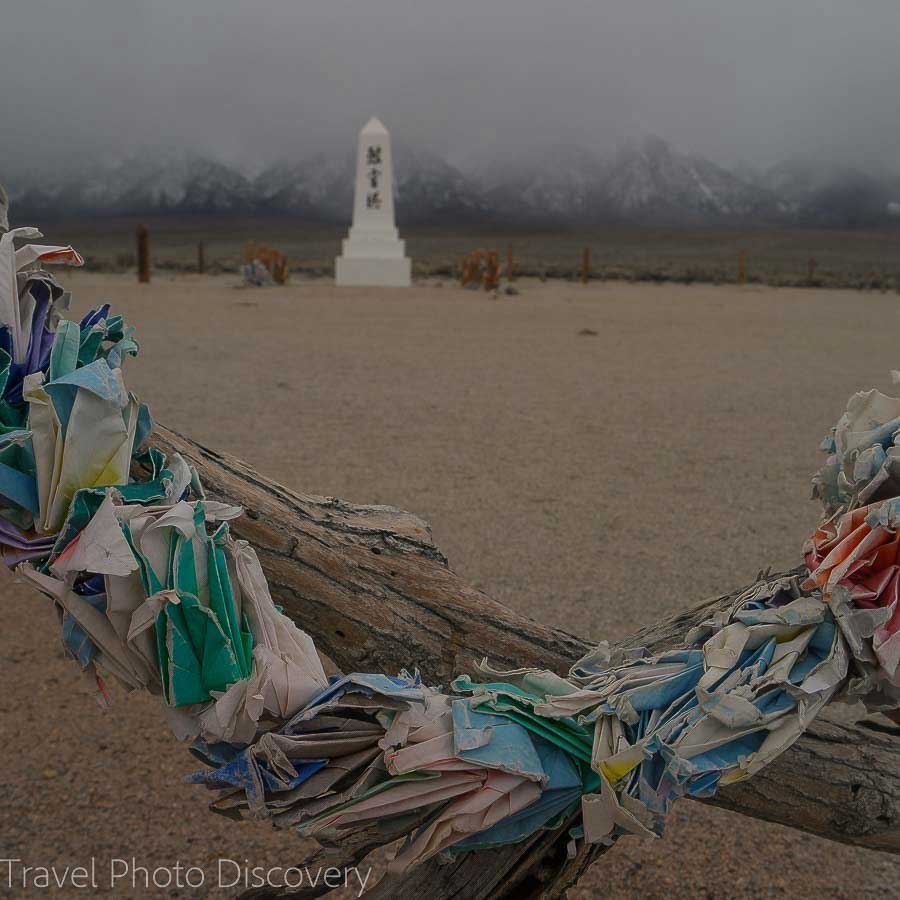 Manzanar National Historical Monument
In a deserted and barren landscape at the foot of the Easter Sierra Nevada range off I395 sits the Manzanar National Historical Monument. The site is one of the internment sites for American Japanese housed during World War II in this isolated place of extreme conditions. You'll get to visit the museum along with some of the remaining bunkers and outlying buildings and monuments that were constructed during this timeframe and hastily made to house Japanese from various parts of the west coast and Hawaii to these areas away from sight and mind. It's a fascinating and also sad visit to see how Americans treated other American citizens of Japanese heritage during the war time frame. Check out my post on visiting Manzanar here for more images and inspiration to visiting the area.
Noel with Travel Photo Discovery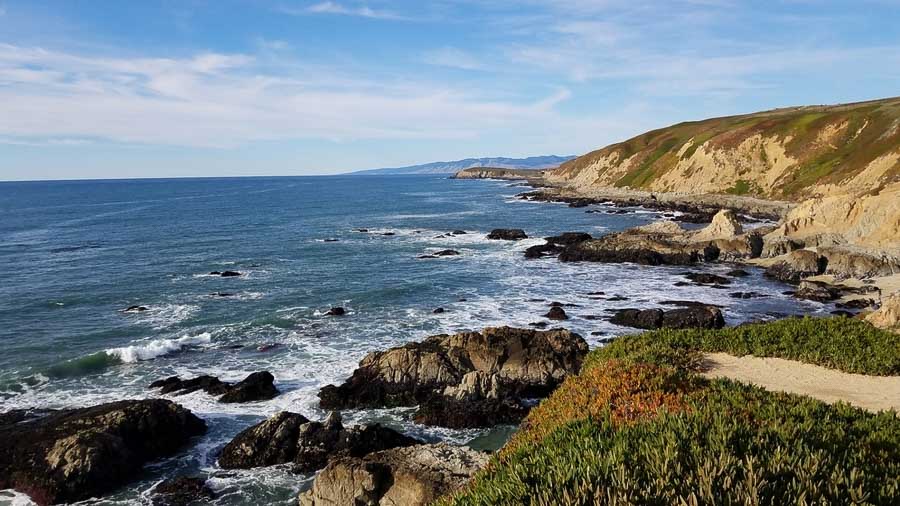 The coastal town of Bodega Bay
Bodega Bay is a beautiful California destination! Bodega Bay is located in Sonoma County, California, along the beautiful Northern California Pacific coastline. With a population around 1,000 people, it is a small and quaint little town, filled with beautiful things to do and see. To get there, simply take the beautiful State Route 1 (it less than 70 miles north of San Francisco). While you're in Bodega Bay, you will want to visit Bodega Head for a beautiful coastal hike and whale watching (and possibly a great white shark sighting). Adventure seekers will want to rent kayak and explore the harbor. Head to Doran Beach to enjoy kayaking and swimming in safe waters. Enjoy the award-winning clam chowder at Spud Point Crab Company and then stop by Patrick's Salt Water Taffy for a sweet treat (you cannot miss the adorable pink-and-white striped shop along CA-1 as you drive through the town)! Film enthusiasts will want to take a look at the filming locations of Alfred Hitchcock's The Birds (located in both Bodega Bay and the nearby town of Bodega). Bodega Bay is an excellent destination in California for adventure seekers, travel enthusiasts, and water lovers.
Check out Leah's post on what to do in Sonoma besides wine tasting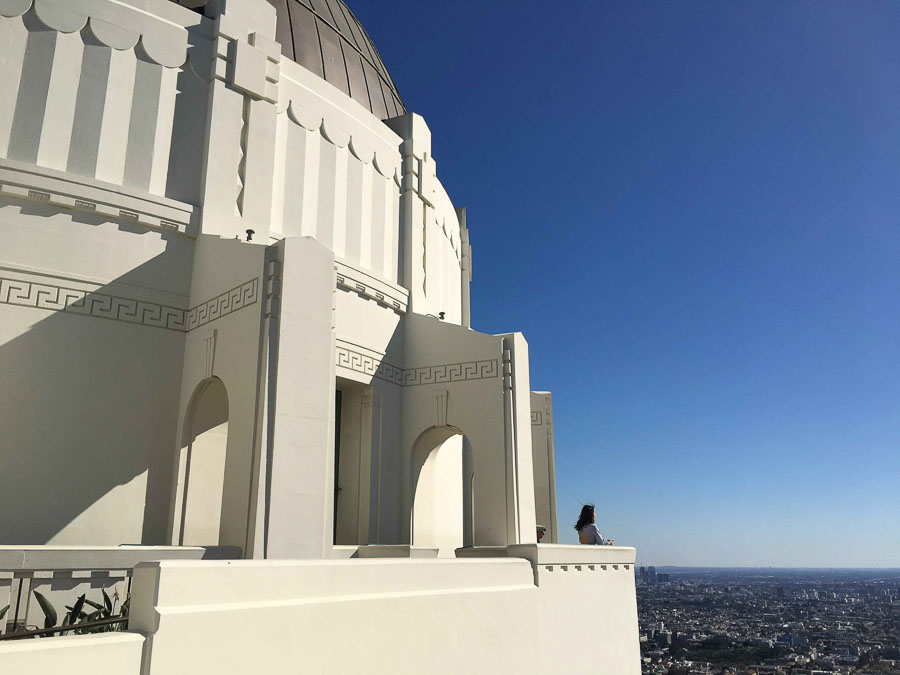 Griffith Park in Los Angeles
Griffith Observatory is a popular observatory and exhibition hall located in Los Angeles in Los Feliz. It is a popular tourist traction because of its extensive array of space related displays and planetarium shows as well as a close view of the Hollywood Sign. Admission to the building and the grounds of Griffith Observatory is free but there is a fee for parking and seeing the planetarium shows.
Even if you are not interested in space and science, Griffith Observatory and the Griffith Park is a great place to visit and get beautiful shots of Los Angeles. Many people also come to Griffith just to walk around the facility and get Instagram worthy shots. Note that during the weekends parking can be scarce but there is more parking at the bottom of the hill and you can take bus, hike, or bike up to the observatory.
You can also visit the grounds of Griffith Observatory at night and get amazing shots of the LA night view. In addition, if you are into hiking, you can hike near the observatory in Griffith Park. No matter what you are into, you will find something to do at Griffith Observatory and Griffith Park!
Check out Serena's blog at Serena's Lenses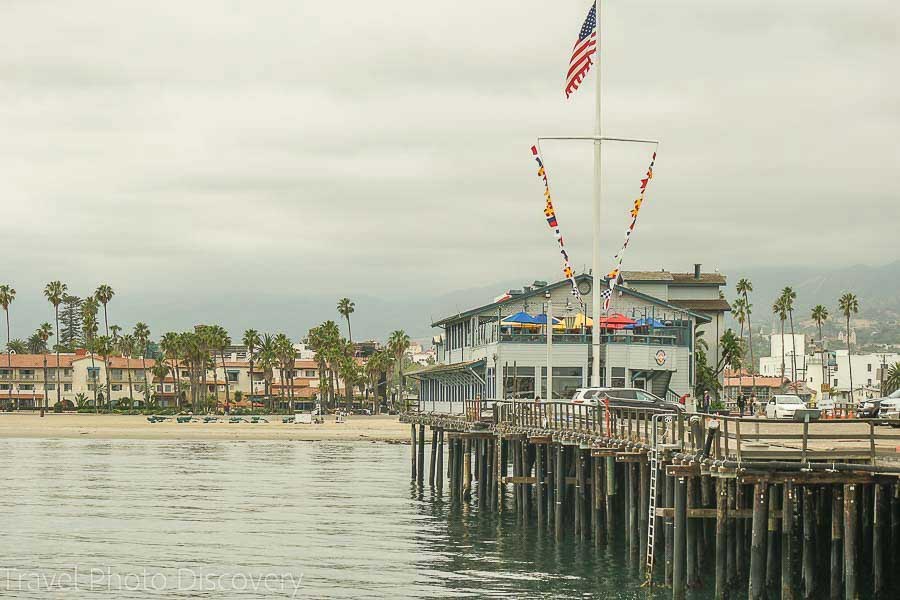 Exploring Santa Barbara
Santa Barbara is one of my favorite cities in California. It sits along the Pacific Coastline and is quite distinct from the bustling streets of San Francisco and LA. As such, it is a great getaway for some relaxing downtime.
California's blue waters and slender palm trees are some of the many reasons as to why it is a world of its own. Santa Barbara best represent these characteristics. Its water is crystal clear and its sand just a tad off-white, making it the perfect destination for beach-hopping. The city is also known for its many wine estates. A trek along the rolling hills and a sip at the different wineries will amplify your visit!
Aside from nature escapes, there are lots of other things to do in Santa Barbara, such as wine tasting and visiting its historical museums. Do slurp on some oysters at the local markets. They are fresh, delicious, and much cheaper than you'd find at restaurants! There are many buses between Santa Barbara and LA or San Francisco, or you can grab a flight straight to the Santa Barbara Airport.
Daisy with Beyond my Border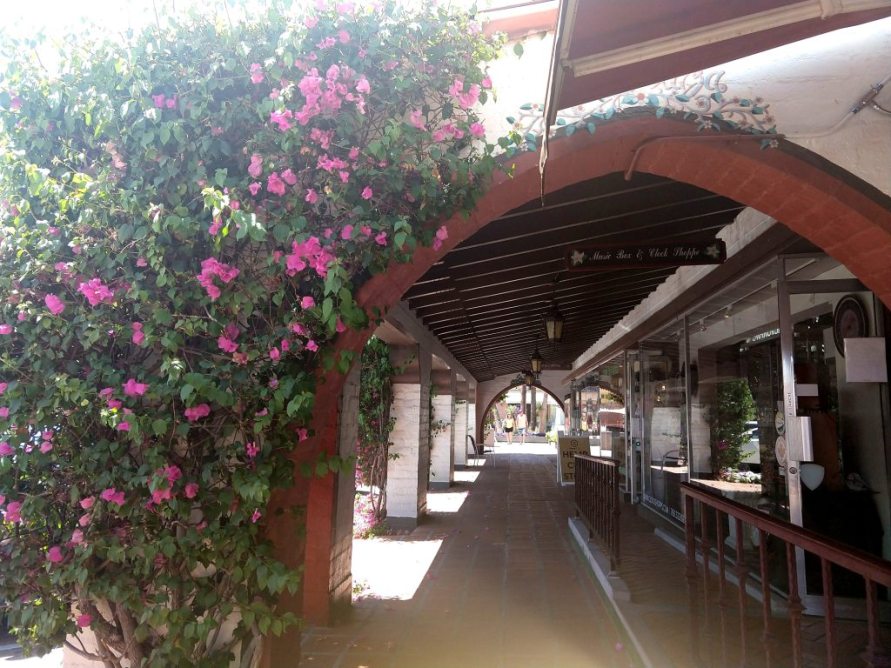 Palm Springs
The Desert Town of Palm Springs is one of our favorite places to visit while in Southern California. Palm Springs is located just 2 hours away from Los Angeles on I-10 and is Hollywood's favorite getaway city. The best time to visit the city is from fall to spring when the heat is mild compared to summer. Palm Springs has plenty of luxury spa resorts with pools, gourmet restaurants, and upscale shopping boutiques. The city is also known for its modernist architecture and music festivals in the Coachella Valley.
One of the most popular things to do in Palm Springs is the Palm Springs Aerial Tramway. The tram goes up to the San Jacinto mountain peak and from there, you have amazing views of the area. The city is also great for families and there are many things to do for kids in Palm Springs including Children's Discovery Museum of the Desert in neighboring Rancho Mirage, the Living Desert zoo and gardens, and the Boomers theme park.
Check out Ketki's post on Palm Springs with kids of Dotted Globe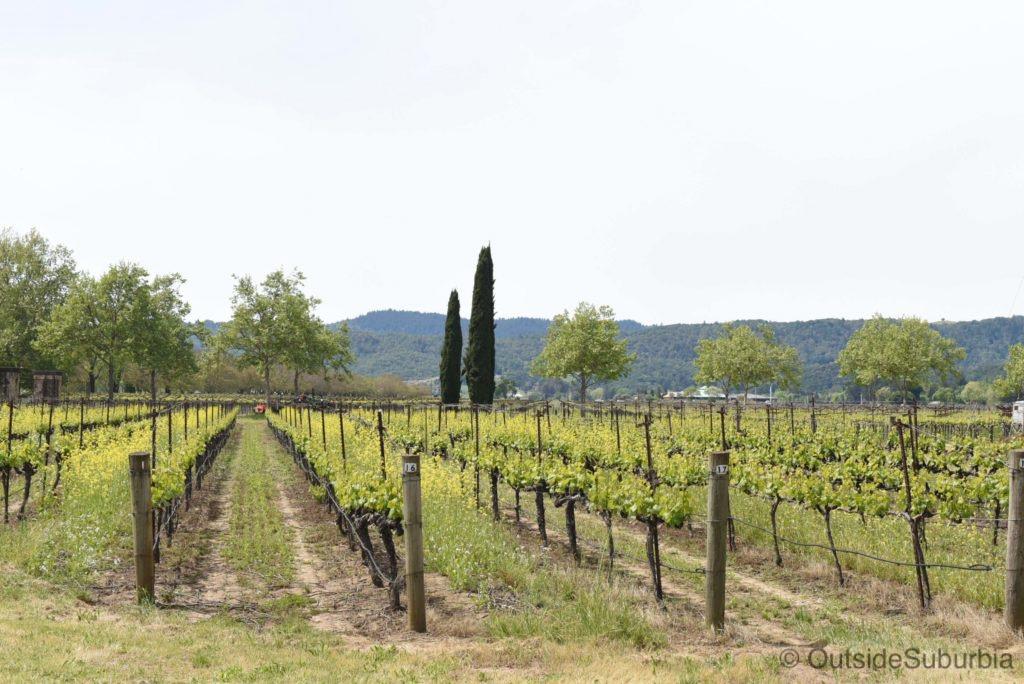 A Napa Valley experience
One of our favorite places in California is the Napa Valley. With rolling hills and over 500 wineries and farms, wine is the highlight of any trip to the region. It doesn't have to be just about wine and wineries when visiting Napa, you can find other fun things to do in the area.  Families can go on hot air balloon rides, explore the Sonoma Serengeti on an African wildlife safari alongside romping herds of exotic wildlife or relax in a luxury safari tent. A successful family friendly trip to Napa can be accomplished if you pick the right hotel – we loved the resort where we stayed at which has a nice golf course, Spa and kid friendly pool!  Don't miss dining in at least one of the many upscale Michelin starred eateries in town and sampling a wine tasting or two. Keep in mind while you can take kids to wine tasting, you must be over 21 to do a winery tour at most places except for a few. Napa is a perfect place to relax and unwind in the country, go on hikes and road trips to stop and admire the rustic landscape, play an easy-going game of bocce ball or wander around downtown Napa or Yountville admiring all the wonderful art.
Like this – Please pin it!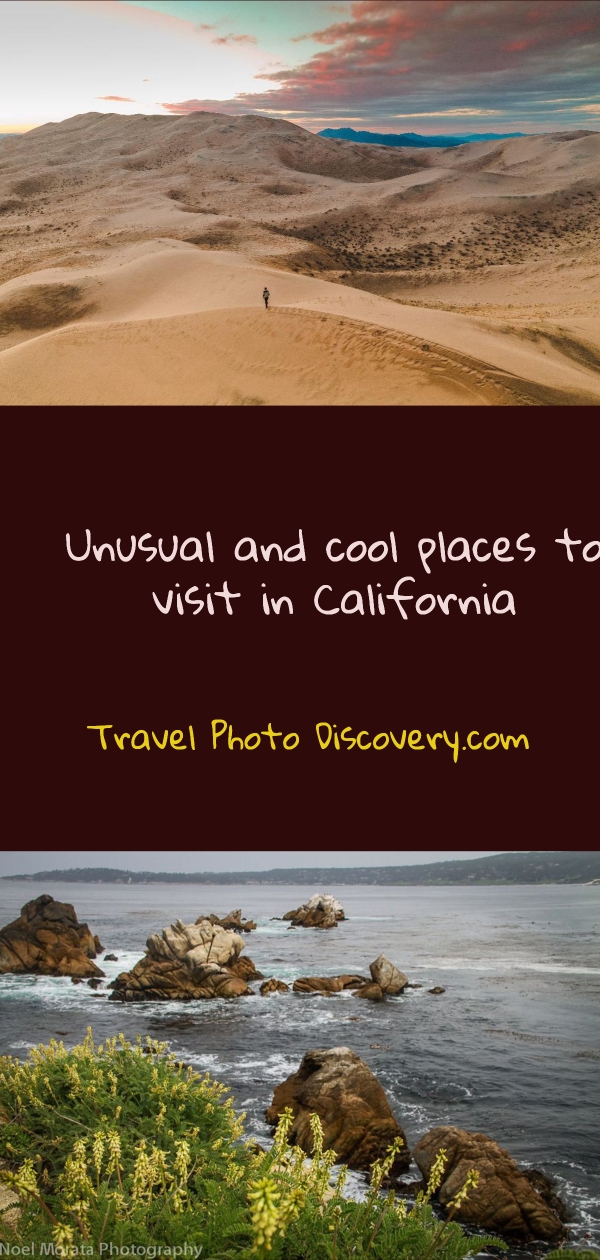 Thanks for visiting today and checking out this post on the Best places to go in California. If you enjoyed the images and post, could you please share it with any of the social media buttons located around the post.
If you like what you see, come and check out my other social media channels for more updates, including Instagram, Pinterest and Twitter
Disclosure – There are affiliates links on this posts which provide a small commission to support this site at no extra cost to you. Thank you for reading, and happy travels