I'm presenting a regular Travel Photo postcard to get you out on the weekends and hopefully visit some of these wonderful destinations. Some of them maybe easy day road trips or even quick getaways from where you live so I hope this inspires you to see some of the world around you even if its close by to where you live. Today's travel photo post is at the Manzanar National Historic Site.
Visiting Manzanar National Historic Site
It was a cold and somber day when I visited Manzanar early March when I thought it would be already spring, but was greeted instead with a cold front.  From the Eastern Sierra's dark clouds threatened the mountains and quickly covered the entire valley and afterwards snow flurries started to come down followed quickly by intense wind and snow coming at you in all directions – it was truly horrific and I fled into one of the "Tar paper city" barracks dotting the landscape. It was a respite from the snow, but still freezing in these poorly built shacks, the floorboards on some of these still pushing up dust and cold air from the outside – one could only imagine the horrors of being forced into this type of situation beyond their control and protest. I was here on a cold spring day, but can't imagine how it must have been during some of the more extreme weather conditions in freezing cold or extreme heat in this arid and undesirable location.
While I was visiting, all I could think was how could our government do this to its own people, naturalized or US born Japanese. With a stroke of an executive order every one of this ethnic heritage were rounded up from the western states and Hawaii and brought to these 10 internment camps in the inhospitable places in America. How could this happen and will this ever happen again in our lifetime, I was wondering – what do you think?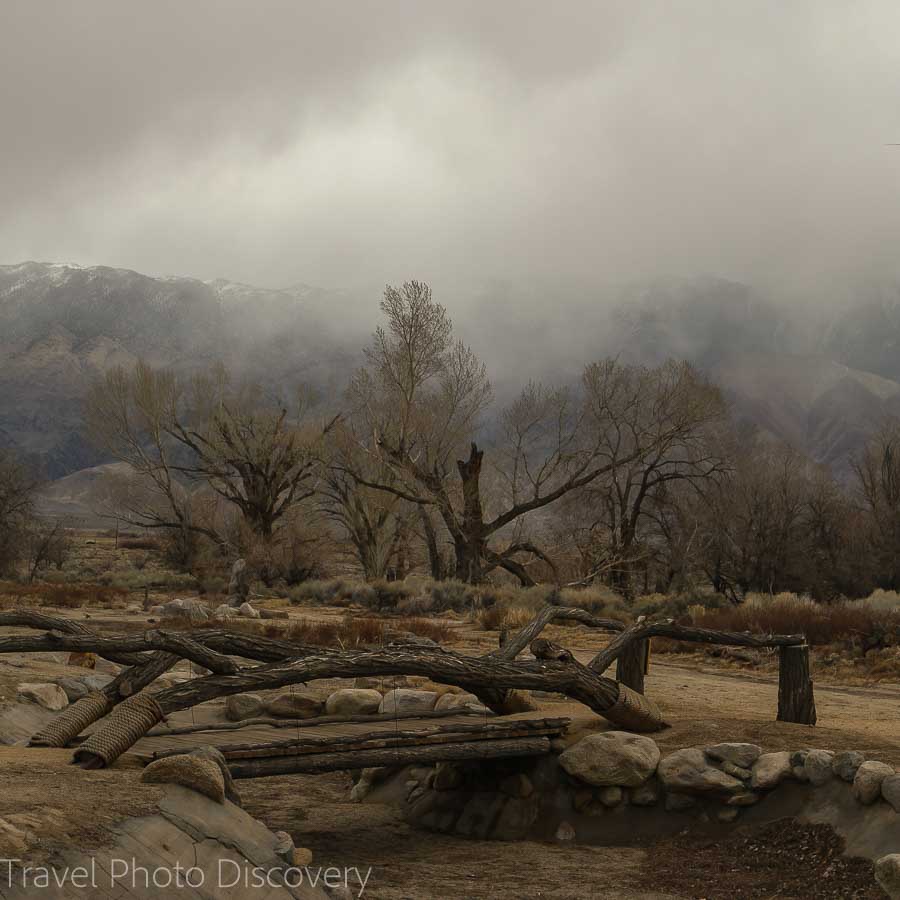 The grounds, camps and visitors center were all laid out very well with wonderful displays, interactive dioramas and collectibles from survivors – it really is a loving tribute to those who lived in the camp and wanted to share their personal stories, memories and collectibles for the public to learn from this experience.
I'm planning on doing a more detailed visit with images soon on this blog of the visit and personal experience, but wanted to share Manzar in this photo postcard series. Please stay tuned for an updated post on visiting Manzanar National Historic Park, meanwhile check out more information on their website here for more details about the experience in Manzanar National Historic Site.
Check out these other posts in the area
Alabama Hills in the Eastern Sierras
Exploring Death Valley National Park
A visit to Pinnacles National park
A post card from Pinnacles National park
Thanks for visiting today and checking out this post on the Travel Photo Postcard – Manzanar, if you enjoyed the images and post, could you please share it with any of the social media buttons located around the post.
If you like what you see, come and check out my other social media channels for more updates, including Instagram, Pinterest and Twitter