Christmas Markets and Celebrations Around the World: Embracing the Festive Spirit with Global Traditions and Delights
Step into a winter wonderland as we embark on a magical journey through "Christmas Markets and Celebrations Around the World." Delight in the enchanting allure of festive markets aglow with twinkling lights, where the aroma of spiced treats fills the air. From Europe's historic cobblestone squares to Asia's vibrant street bazaars, discover the cherished customs, heartwarming traditions, and joyful festivities that unite people across the globe during this cherished season. Embrace the holiday spirit as we uncover the most captivating Christmas markets and celebrations, offering a glimpse into the world's diverse yuletide magic. Let's embark on this unforgettable festive adventure together!
Christmas is celebrated around the world in so many and wonderful ways. Whether you visit any of the amazing Christmas markets, Christmas parades or unique and regionally inspired activities, there's always something special about how a particular culture or region gathers with friends and family and celebrate the Christmas holiday and spirit.
Following are some travel bloggers from around the world sharing their Christmas inspirations and traditions
Christmas in Japan
In Japan, Christmas is seen as a romantic holiday.  Many young couples go out to a restaurant for dinner. It seems more like valentines Day in the USA.
In addition, it is a a chance for businesses to commercialize of course…so shopping is a Christmas activity..probably mixed with the Japanese New Year tradition of gift-giving.  Illuminations "lighting up" are also popular. Thou one rarely see the green and red colors of Christmas. I include a photo of a tree lit up with a heart and not a star at the top….as an example of the "misconception?" of Christmas as a romantic holiday and not a religious holiday.  In Japan, Christianity is a very minor religion…only a few people are Christians and Christmas is seen as a festival similar to many of the traditional Japanese festivals.
I guess the idea of romance and Christmas may have come from the movie industry as well as lonely American servicemen after WWII
Susan Branz

Christmas in Greece
Christmas isn't such a big occasion in Greece.  Easter is the biggest where food such as lab is eaten with wild abandon.  But desserts and cookies are plentiful at Christmas time…my favourite being melomakarona—I wrote a post about it here.  It's a gorgeous olive oil based recipe that produces orange & honey flavoured mini round paties (referred to as cookies in Greece) – topped off with chopped almonds.
The traditional recipe uses fire ash mixed in…some of the more traditional families, especially the old ladies still do this.  Luckily I buy mine from the bakery, hence I (hope) they refrain from this practice!
Why do I love melomakarona?  Because it's not commercialized, it's good, wholesome and delicious traditional food, without an MSG in sight.  Whether you're in Athens, or a tiny Greek island, your local baker's will stock them for sure.
Kala Xristonia everybody.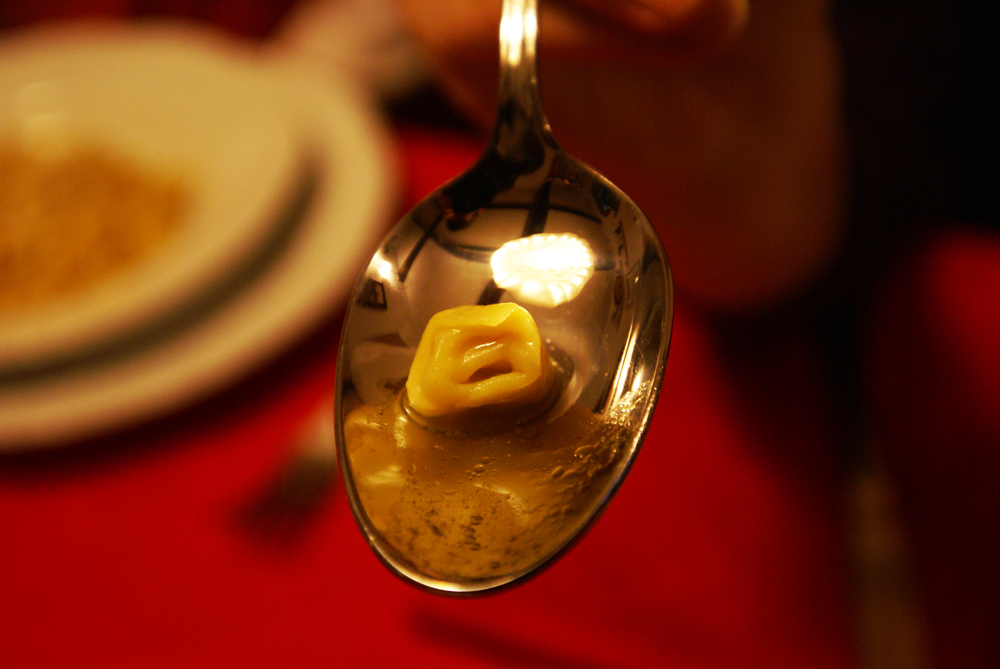 Christmas in Bologna
We live in Bologna (center-north of Italy) and we use to live the tradition of Christmas Time with our family.
Not only a religious ritual but, first, a beautiful occasion to spend time with our beloved.
One of the most famous appointment during this time is with Christmas markets: lots of little stands, under the cold sky of winter time, organized in every city, where we can buy Christmas decorations, funny gifts for our friends or….hand made Christmas Cribs
But the most important event is the meeting with all the family on december the 25th, possibly sitting around a big table full of good food, coming directly from the old traditions brought to us from our grandparents. Bologna is famous for a particular kind of pasta called "Tortellini", made of puff paste filled with a particular composition of meat. The recipe is quite easy but it takes a lot of time (and of experience of course) to realize it. But, if you'll come to Bologna you've to pay attention: the real "Tortellino" is very small, realized with the smallest finger…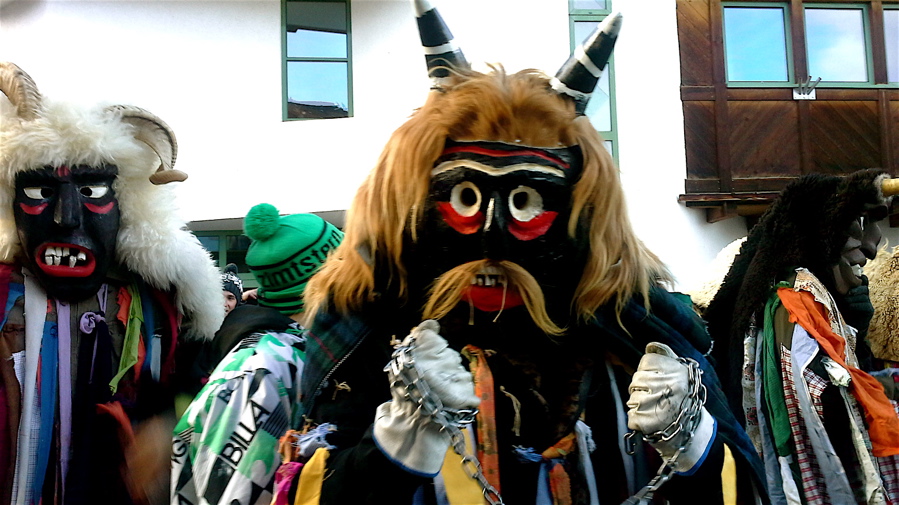 The is a part in Northern Italy, on the Alps, where ancient pagan traditions are still alive. 
In the little village of Stelvio there is a particular rite linked to the arrival of St.Nikolaus. 
There is an Italian tradition called Klosen, and they 
are three different figures that represent wild creatures which spend their days in the dark of winter time. 
On the Alps, the value of the light is anything but symbolic: I do not know how many hours of sun might have Stelvio during winter days but it sure does not shine for a long time.
The light and the contrast with the darkness are the real key to understanding all the rites of December.
Three different figures come down from the mountains. 
The first are the Weisen, little devils with fagots of wood. They whip all those who have not been good. Then there's the Esel, dressed of colored cloth and with cowbells. 
With their noise frightened the dark forces and awaken the sun. 
At the end came the Klaubauf, with their wooden diabolical masks.
The figures walk around the village many times, pinching and punishing those who have been naughty. 
At the end, they go into the Church led by St. Nikolaus, who made his appearance with a lot of angels. 
At the first hint of prayer, they bow their head and take off their masks.
Giovy Malfiori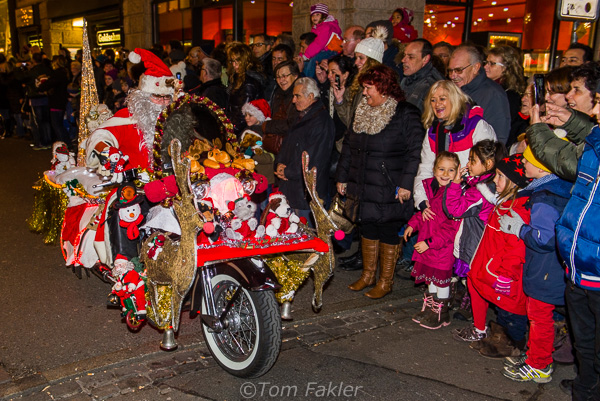 Basel, Switzerland's unique "biker Christmas"
Visit Basel at Christmas-time, and you will find one of Switzerland's prettiest and largest Christmas markets. Arrive on December 6th just about dusk, and you may see something else, as well–one of the most unusual Christmas traditions anywhere–a bevy of Santas, complete with red suits and white beards, and bearing gifts– riding into town on Harley Davidson motorcycles decorated with Christmas lights, angel wings and more. The bikers of Niggi-Näggi, as the event is called, parade through the center of Basel, to the delight of children and Harley fanciers alike. They bring along gifts to hand out on the Market Square, and use the event to promote Theodora Stiftung, a children's charity. This year, to mark Niggi-Näggi's fifteenth anniversary, the Santas arrived on a Saturday, the 7th of December.  The next Niggi-Näggi will be held on December 6, 2014.
 Anita Breland & Tom Fakler
@AnitasFeast and @TomFaklerPhoto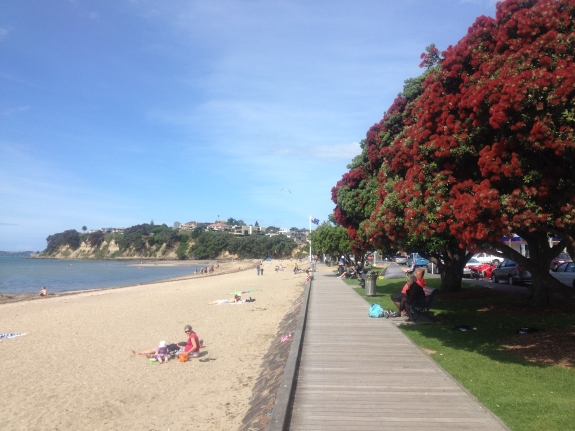 Christmas in New Zealand
Tourists visiting New Zealand for Christmas will probably find it less Christmasy than they're used to as there tend to be a lot fewer decorations up.  New Zealanders take the day off on both Dec 25th and 26th, and New Year's Day. Catholics especially will often go to a midnight mass on Christmas Eve.
Each small town usually has a "Santa Parade" for children around the 10-15th of December. There are also big "Christmas in the Park" concerts in Christchurch and Auckland in the lead up to Christmas. Local singing groups will usually do performances in some smaller parks, which may be of interest to visitors.
Some NZers will have a traditional roast meat Christmas lunch (most), while others will have a BBQ. Pavlova is a very popular Christmas dessert.
People tend to only buy gifts for their families, and sometimes only the children and not the adults. We would usually buy for our nephews plus our parents but not our siblings, and there is definitely no tipping your mailman and doorman at Xmas (not that anyone in NZ has a doorman!).
Kate http://www.30traveler.com/
Twitter:  @30Traveler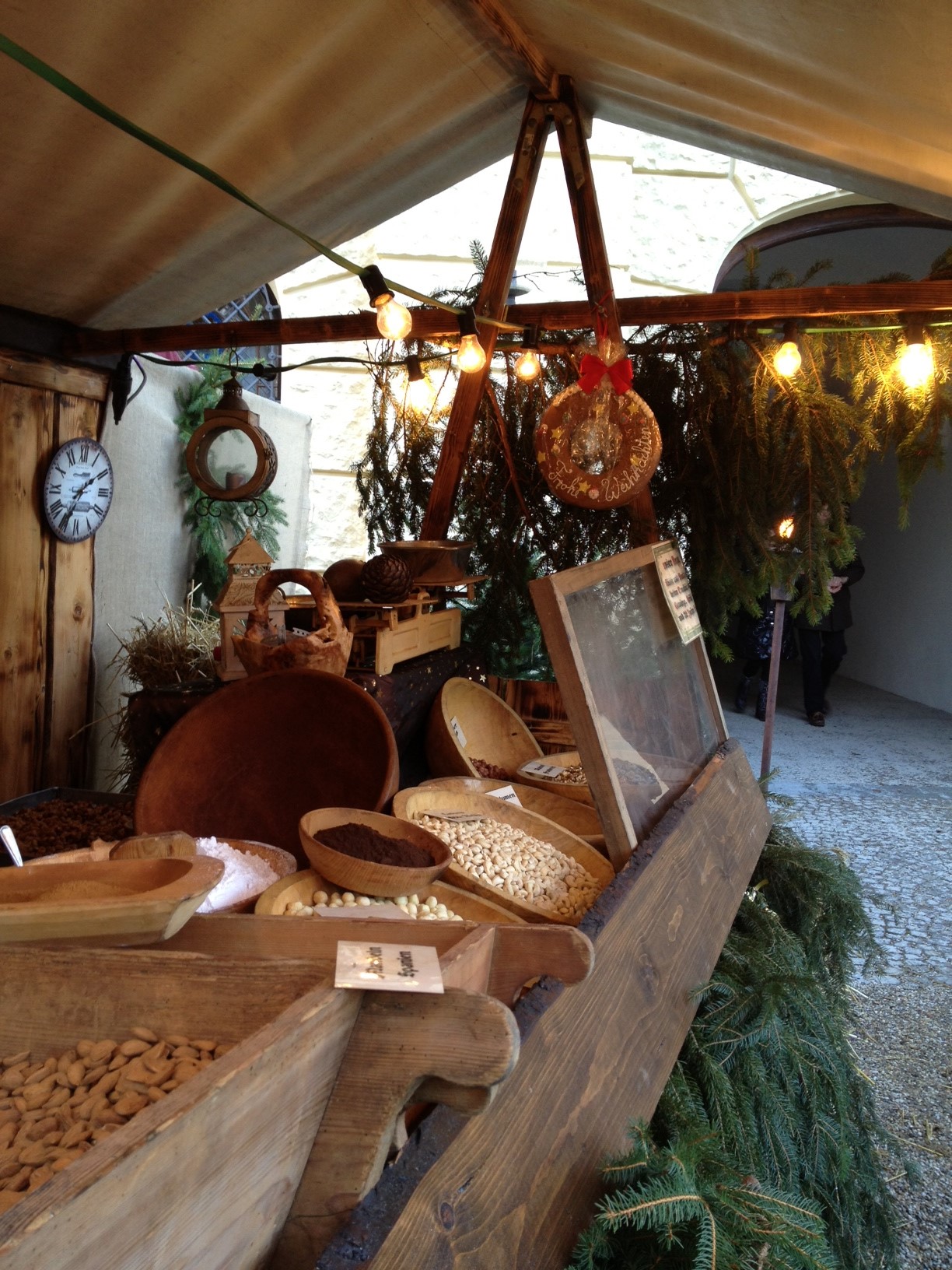 Christmas market in Germany
Christmas in Regensburg, Germany
This past weekend I had the pleasure to visit the famous Romantic Christmas Market (28 November to 23 December 2013) in the courtyard of Thurn and Taxis Palace in Regensburg, South Germany. The market is a real highlight and by many people regarded as the most beautiful market in Southern Germany. After you have paid your entrance (7eur) a fairy tale atmosphere awaits you with traditional handcrafts and local Bavarian delicacies. In the evening the market is lit up by torches creating a magical atmosphere. You can keep yourself warm by the many fireplaces and do not miss out trying the German Gluhwine.  
Malin Lundberg Müller
founder of luxury online guide http://www.hautecompass.com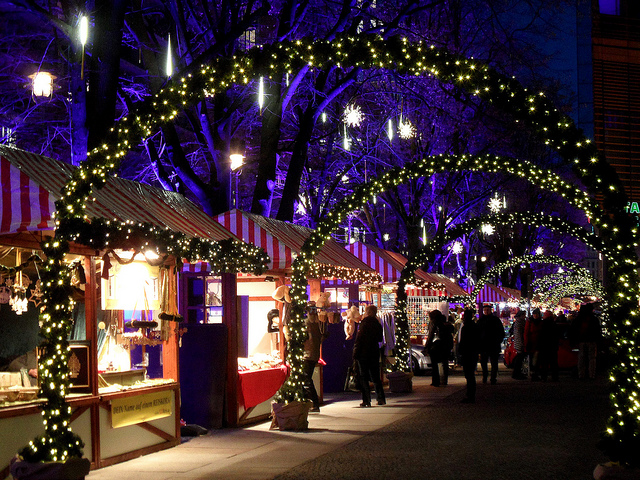 Christmas in Berlin
The cool Berlin winter temperatures mean that Christmas in Berlin is often romantically white. About 60 Christmas markets, possibly the most famous image of Christmas in Berlin, pop up around the city from early December selling all kinds of festive fare, decorations and warm food and drink. There is a definite festive cheer in the air as Berlin's capital approaches Christmas Day, when residents celebrate with family and friends. And then, preparations are underway for Berlin's mega New Years Eve celebrations (the biggest party at the Brandenberg Gate typically hosts 1 million people!)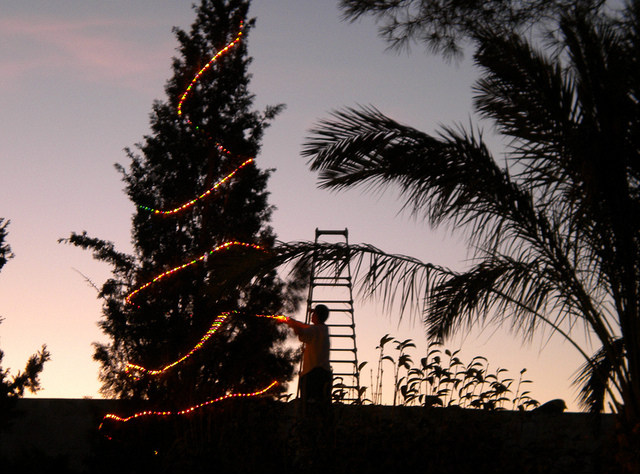 Christmas Jerusalem (Madmartigand)
Christmas in Israel
Christmas in the Holy Land, the place where it all began is nothing like what you might expect. whilst life in the country continues as usual over Christmas, certain areas, such as the Old City of Jerusalem, Nazareth, Jesus's Hometown, and, of course, the Palestinian city of Bethlehem do have massive celebrations, and anyone who's celebrated Christmas in the Holy Land would agree that it's an experience which is totally different to their expectations, yet totally incomparable. And, of course, Russian Orthodox Christmas falls about two weeks after most people celebrate, so it all happens again on January 7th!
Ben Julius
http://www.touristisrael.com/christmas-in-the-holy-land/8777/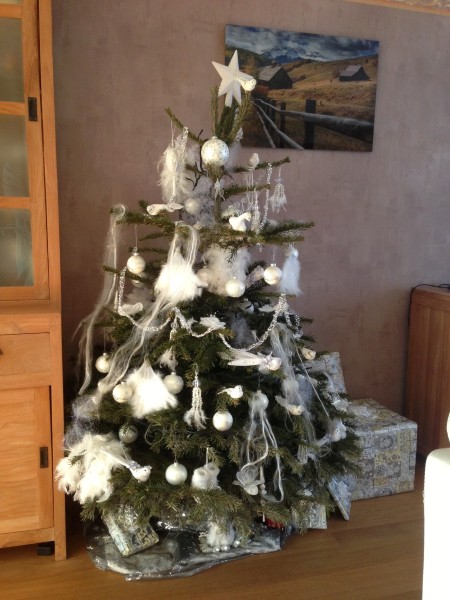 Christmas in Belgium
I think I spend Christmas Eve like most people in Belgium do: with family. We always get together around 6 pm for some appetizers and it never takes long before the first presents are being opened. After that it's time for our Christmas dinner: a starter (usually fish), soup, the main course (usually game) and – when everyone's full – dessert. Dessert can be anything, but it's traditional to have 'Christmas bush': a sort of sponge cake in the shape of a tree trunk.
Our way of spending Christmas Eve might not be special, but I wouldn't want to miss it for the world.
Sofie Couwenbergh
http://wonderfulwanderings.com
Be sure to follow her on Twitter and Facebook.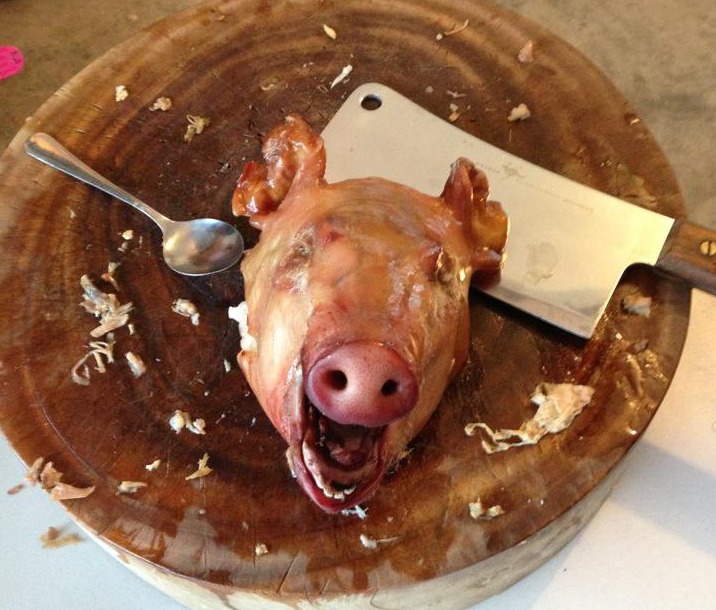 Christmas in Croatia
Christmas traditions are aplenty here in Croatia. After all, the majority of us are Roman Catholics and Christmas is the day we celebrate the birth of Our Jesus Christ. My top 3 favourite traditions are: Number 1, the Christmas Wheat. You plant wheat seeds and watch the grass grow during December. The success of your grass is said to determine how your following year will pan out. Small limp grass is bad, but long and tall grass means a prosperous new year! Number 2, The Badnjak, which is big fat log of wood that is cleaned, dried & decorated with ribbons & flowers and such. Then on Christmas Eve you burn it in your fireplace and take turns as a family to ensure the log stays alight. The 3rd tradition, and best of all,  is the little piggy that will be roasting on the spit in the backyard for our lunch. The crispy skin, and juicy meat are always a big favourite in our house. Merry Christmas from my family to yours.
Sarah-Jane Begonja (aka Mrs. Chasing the Donkey)
Blog: http://www.chasingthedonkey.com/
Twitter: https://twitter.com/chaseTHEdonkey

Christmas in Santa Fe, New Mexico
Christmas is one of the most special times of the year in Santa Fe. It was founded in 1598 as a Catholic city and it remains one today. There are many holiday events held throughout December. It all culminates on Christmas Eve. It seems like the entire city turns out for the annual Farolito Walk on historic Canyon Road. The street is lit up by farolitos (sandwich-sized brown paper bags partially filled with sand with a candle resting on top of the sand) and luminarias (piñon wood bonfires) set along the narrow winding street. People spontaneously sing Christmas Carols, some galleries and merchants serve hot drinks and the atmosphere is festive. If it snows, the entire evening becomes even more magical.
Read our blog at http://www.santafetravelers.com
Follow me on Twitter at http://twitter.com/santafetraveler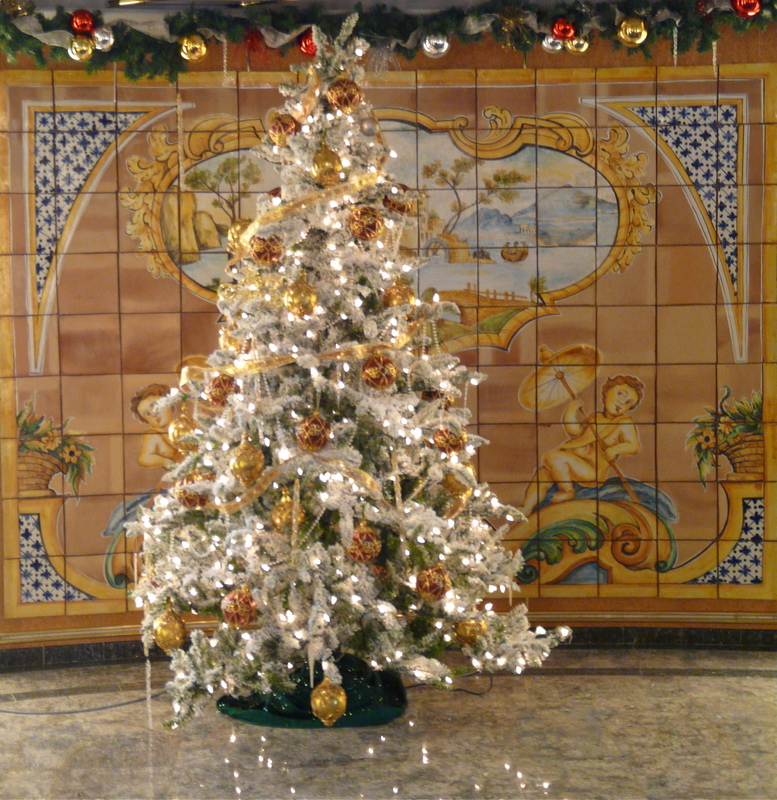 Panama cruise
A Christmas Cruise
A s life changes, so do our holiday traditions. Divorce, widowhood or the new daughter-in-law who insists your son spend Christmas with her family can sometimes make you want to totally skip the holidays. Have you ever felt like that? Do like we did, spend Christmas and New Year's at sea. On a cruise from San Diego through the Panama Canal to Ft. Lauderdale, we experienced just enough holiday events to keep us in the spirit without the sad reminders of the way Christmas used to be. And this relaxing vacation didn't include cooking or decorating the tree. It's a boomer adventure that we'll be repeating.
Donna Hull
http://myitchytravelfeet.com/2011/12/27/christmas-on-silver-cloud/
 M y Itchy Travel Feet http://myitchytravelfeet.com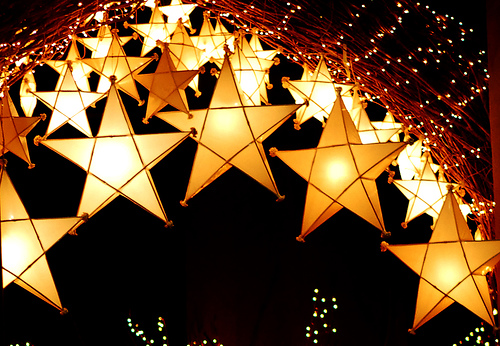 Creative Commons, taken by amsdaily.net.
Christmas in the Philippines
Celebrating Christmas is a major event in the country. It starts not in December, but on the start of the -ber months. Once September rolls around, you would already hear Christmas carols in the air, and people would start making their Christmas list and writing Christmas cards. Some would begin putting up Christmas decorations, especially the parol (native star-shaped lantern), while TV stations would start the countdown. All over the country, streets would be livened up with multicolored lights. Truly, Christmas in the Philippines is one festive occasion!
Travel–Solitary Wanderer–http://www.solitarywa
Follow me in Twitter: @ALEAHphilsnderer.com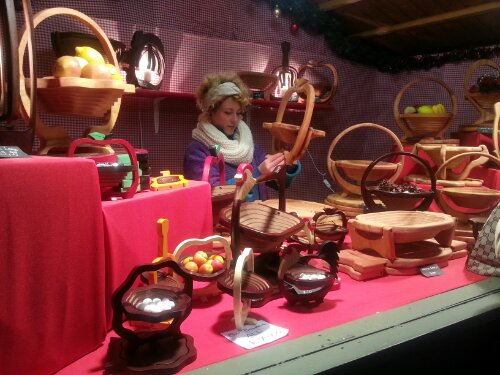 Christmas in Birmingham, UK
On an annual basis, the Frankfurt Christmas Market commences in Birmingham, UK to commemorate the start of the Christmas season. Lining the city centre streets, it's a huge attraction that draws local and visitors alike to tempt shoppers with promises of German beer, warm pretzels, ostrich burgers and more. Visitors gather to shop for souvenirs and memorabilia-type gifts or to catch up with friends over a hot glass of mulled wine. Whether with friends, colleagues or family, it's a fun environment for bringing people together to experience German culture in England.
Colleen Williams
Further information can be found here: http://adlibtraveller.com/blog/united-kingdom-uk/german-inspired-christmas-birmingham-uk/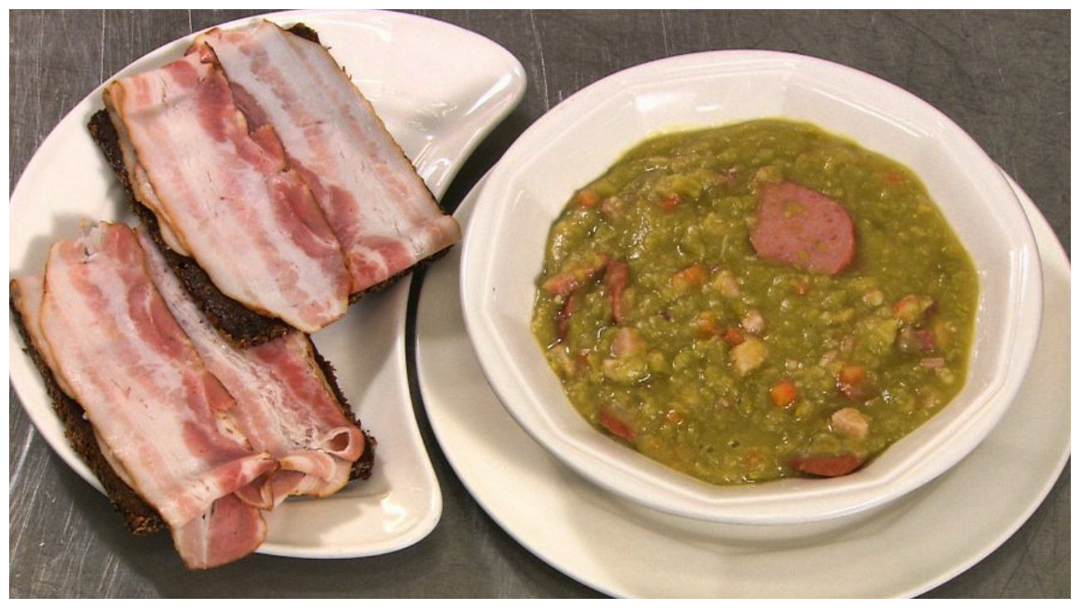 A Dutch Christmas specialty soup
I live in a small village in The Netherlands, it is called Hellendoorn and is near the German border.
Each year around Christmas there is a market in the centre of Hellendoorn. The market is situated around the church build in the12 century. The market is in the style of Charles Dickens, they perform an act every hour at the side of the church and everywhere people are walking in style.
When you get hungry you can buy some real dutch things like: a typical dutch soup Snert or Erwtensoep. It is a peassoup with saucage and pork and vegetables in it. It is a thick soup, only served in wintertime. Also rookworst with mustard. Rookworst is a kind of sausage which we really like. I can not compare it with another sausage.  This one also mostly eaten in the wintertime
Jacomijn Heupink
Blog: www.jacomijns.blogspot.com
Twitter: @LocalizeJ

Christmas in China
Christmas was no overly celebrated in China, however a tradition of giving apples to friends and family on Christmas Eve has been around a long time. This is because in Chinese Christmas Eve is "Píng'ānyè" (平安夜) which sounds similar to the word for apple, "Píngguǒ" (苹果). Apples are seen as symbols for good luck and a happy future and my students gave me some, lucky me!  
Sarah Bennett
http://thefurtheradventuresofbennett.com
@penguinbennett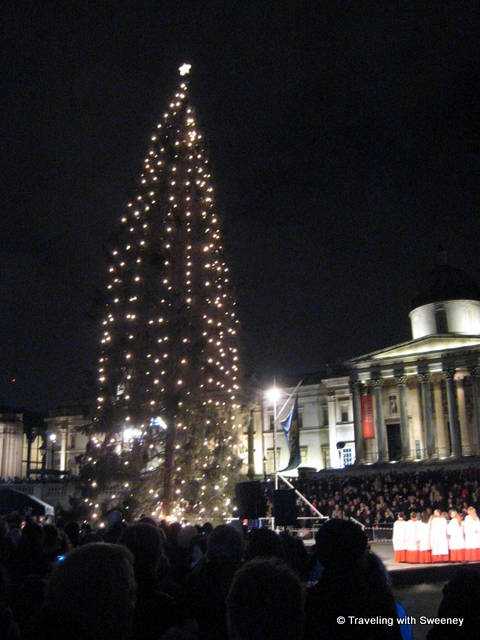 London at Trafalgar Square
Christmas in London
London is a fantastic city to kick off the holidays with Christmas spirit and traditions evident throughout the city. A few years ago, we were thrilled to be part of the festivities and were especially excited to be there for the traditional lighting of the Christmas tree in Trafalgar Square.  It was a highlight of the trip with impressive setting, enthusiastic crowd, carol singing, and the illumination of the tree's energy-efficient white lights. Norway has been giving the people of London a Norway spruce since 1947 in gratitude for British support during World War II. It is presented at the tree-lighting ceremony by the Mayor of Oslo
Catherine Sweeney
http://travelingwithswe@TravelingWithSeney.com/2011/12/01/lights-action-london/
@TravelingWithS

Christmas in Paris
There is no place that feels more like Christmas to me than strolling along the Champs-Élysées or a visit to the Eiffel Tower. With the glisten of lights, the energy and life in the people passing by, the music playing from the shops and the aroma of fresh made crepes in the air, it is Christmas! Everywhere you look there is a twinkle in the tree, along the lamp posts, along the ice skating rink, and adorning the trim on the Christmas Village huts. Stop at a nearby café for a hot chocolate and just enjoy that moment. Soak it all up and feel how it warms your soul.
Wagoners Abroad (Heidi and Alan Wagoner)
Blog – http://wagonersabroad.com Christmas in Paris post – http://wagonersabroad.com/christmas-in-paris/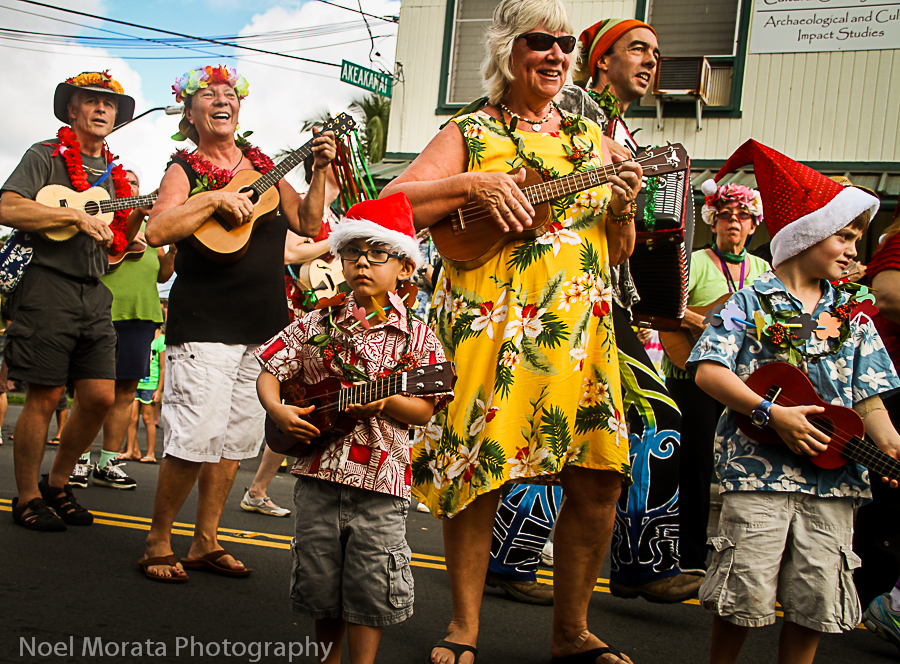 The Pahoa holiday parade on the Big Island
Christmas in Hawaii
Christmas in Hawaii is filled with colorful Xmas parades in almost every major town throughout the various islands of Hawaii.  Since a large percentage of food and products are imported from the mainland USA, there are many Christmas fairs that try to offset this imbalance and support focus on Hawaii made products and hand-made arts and crafts from Hawaii.  It's a great feeling to know that you can purchase something beautiful made in Hawaii and support locally made products while keeping the local economy strong during the holidays.  During this timeframe, there are many Christmas programs, musicals and comedy shows from local theater companies, Nutcracker ballets to well-known Hawaiian singers presenting their Christmas specials, along with a variety of Christmas fundraisers for various charities and small organizations.
Probably the most common activity is spending some quality time with family and friends that we call 'Ohana' and sharing a potluck style meal that is predominant in every community and offers such a large variety of food from every nationality since Hawaii is definitely a melting pot of many cultures.
Noel Morata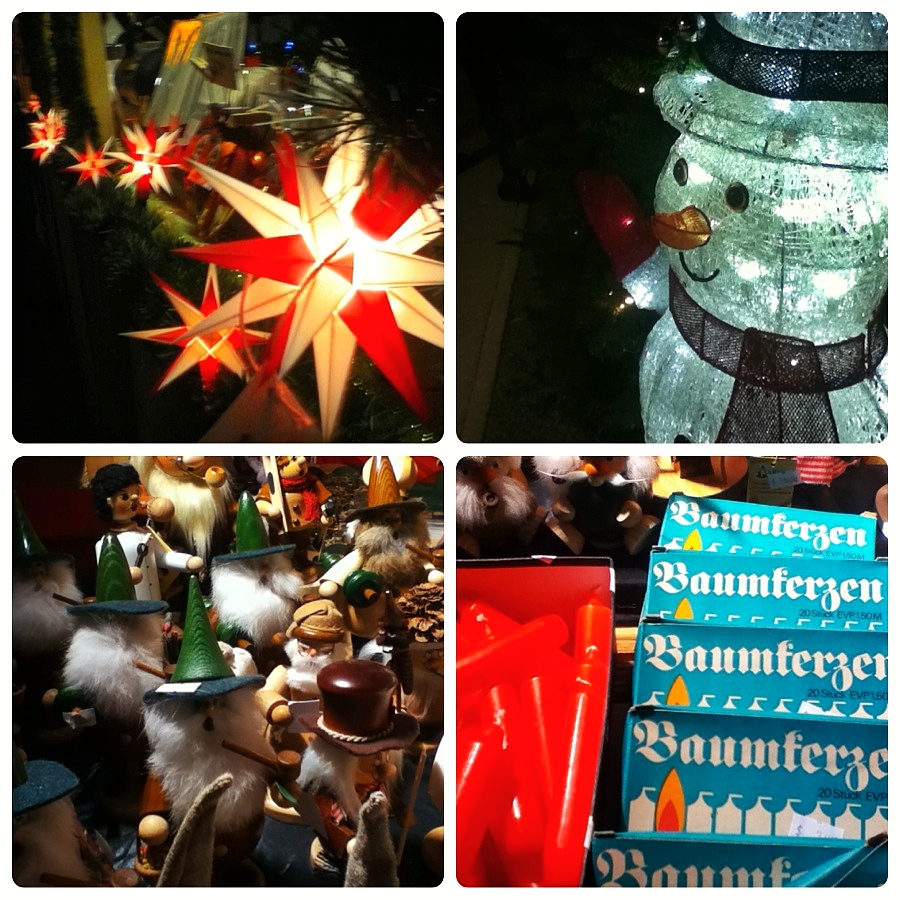 Christmas in Vancouver
For the 4th consecutive year, Vancouver hosts a large German-style Christmas market in the Canadian city's downtown area. This year, the market has drinks including Glühwein, Feuerzangenbowle, hot cider, hot chocolate, German beer; food including Bratwurst, Currywurst, Schewinehaxe, Schnitzel, Kartoffelpuffer, Flammkuchen, Spätzle; sweets including chocolate-dipped fruit, candied popcorn, cakes, honey, maple-syrup candy; toys and a carousel for kids, plus various stands selling ornaments including the ubiquitous Käthe Wohlfahrt. With many speaking German, the market makes me feel a lot like being back "home" in Germany.
The Vancouver Christmas Market runs November 22 to December 24 inclusive.
  
Henry Lee
I wrote about the market's opening weekend: http://wp.me/p1BIdT-42r

Twitter @fotoeins
Check out these other related topics and stories
Best places to spend Christmas in the USA
Inside tips to Christmas markets and celebrations around the world
Embrace Local Traditions: Immerse yourself in the local customs and traditions of the region you're visiting. From participating in unique holiday rituals to trying special seasonal dishes, embracing the local culture adds a meaningful touch to your Christmas experience.
Plan Ahead for Popular Markets: Many Christmas markets draw large crowds, so it's wise to plan your visit during weekdays or early in the evening to avoid the busiest times. Research the market's opening hours and specific events to make the most of your visit.
Sample Festive Treats: Indulge in the delectable treats unique to each destination, like German gingerbread (Lebkuchen), French Yule log cake (Bûche de Noël), or Mexican tamales. Exploring local delicacies is a delightful way to savor the holiday spirit.
Join Local Festive Events: Check out local Christmas concerts, carol sing-alongs, and performances. Engaging with the community's festivities offers an authentic and heartwarming experience.
Admire Decorations: Take time to appreciate the elaborate Christmas decorations adorning streets, shops, and public spaces. Capturing the ambiance through photos will serve as lasting souvenirs of your festive journey.
Attend Midnight Mass: Consider attending a traditional midnight Mass or holiday service at a local church. It's a beautiful way to connect with the spiritual aspect of Christmas and witness the local faith traditions.
Discover Hidden Gems: Explore beyond the touristy spots to discover hidden Christmas gems, like lesser-known markets, cozy cafes with festive decor, or local crafts markets.
Join in Street Celebrations: In some places, Christmas festivities spill out onto the streets with parades, processions, and colorful displays. Engaging with the local community and joining street celebrations adds a sense of camaraderie.
Learn Some Local Phrases: Learning a few holiday greetings in the local language can be a heartwarming gesture, fostering connections with the locals and enhancing your cultural experience.
Capture Memories: Document your Christmas journey with photos, videos, and a travel journal. Reliving these precious memories later will evoke the spirit of the season and the joy of exploring Christmas festivities around the world.
Conclusion on celebrating Christmas festivities around the world
Step into a winter wonderland as we embark on a magical journey through "Christmas Markets and Celebrations Around the World." Delight in the enchanting allure of festive markets aglow with twinkling lights, where the aroma of spiced treats fills the air. From Europe's historic cobblestone squares to Asia's vibrant street bazaars, discover the cherished customs, heartwarming traditions, and joyful festivities that unite people across the globe during this cherished season. Embrace the holiday spirit as we uncover the most captivating Christmas markets and celebrations, offering a glimpse into the world's diverse yuletide magic. Let's embark on this unforgettable festive adventure together!
These are just a few ways that fellow travel bloggers visit and take part in Christmas festivities around the world. It's a wonderful time to go out and share the holiday spirit with friends and family or even strangers and connect in this celebration of spirituality, gathering, observing traditions or just sharing a delicious meal together – Happy holidays to everyone!