Venice and enjoying its local food through pub crawls is definitely a must do in the later afternoon or happy hour time frame. Right when your ready to take a break from a full day of sightseeing, it's nice to have glass of local wine and snack on some small bites or Cicchetti as they are called.
After a fun day of touring the main attractions, canals and other unique historic and cultural sites in Venice, it's time to relax and find a fun local bacari (bar) that serves up delicious Cicchetti to tie you over before dinner service. This can be late in the afternoon until early evening when restaurants will slowly start to open. But don't rush, enjoy the vibe and scene's and maybe even try a few more bacari that we recommend below to hang out in.
Experience Venice with Cicchetti and the pub crawl experience around town
Tasting delicious Venetian Cicchetti
Like typical Venetians, it's a fun experience visiting a favorite bacari or bar and enjoying conversation with friends and visitors alike. It's a convivial atmosphere and fun tasting the various Cicchetti being offered at each bar along with a nice local glass of "ombra" (wine). Ombra by Venetian standards are local inexpensive wines by the glass. You can have an affordable and filling dining experience in Venice by just visiting a few bacari on your pub crawl and sampling some local Cicchetti in Venice specialties or the perfect street foods of Italy.
Each bar has its specialty, but the most common dishes served around Venice includes:
Polpette, spicy fried meatballs, marinated seafood served with polenta
Marinated seafood or raw sashimi style fish
Sauteed vegetables or stuffed vegetables
Fried potato and ham combinations
Fried olives
Small crostini topped with proscuitto, sauteed vegetables or seafood. Try the Venetian specialty called bacala mantecato – dried salt cod mixed with virgin olive oil into a creamy spread
Fried seafood mixes are very popular bar food that you can eat at the bar or take with you from street vendors selling from the bar, take-out style.
The types of Cicchetti can almost outnumber the many bridges through Venice so do pace yourself with all the offerings. Typical prices of Cicchetti range from 1-3 euro per piece to 10 euro for a mixed fried seafood platter. So for under 15 Euro including wine, you can almost have a complete meal sampling a variety of local Venetian specialties.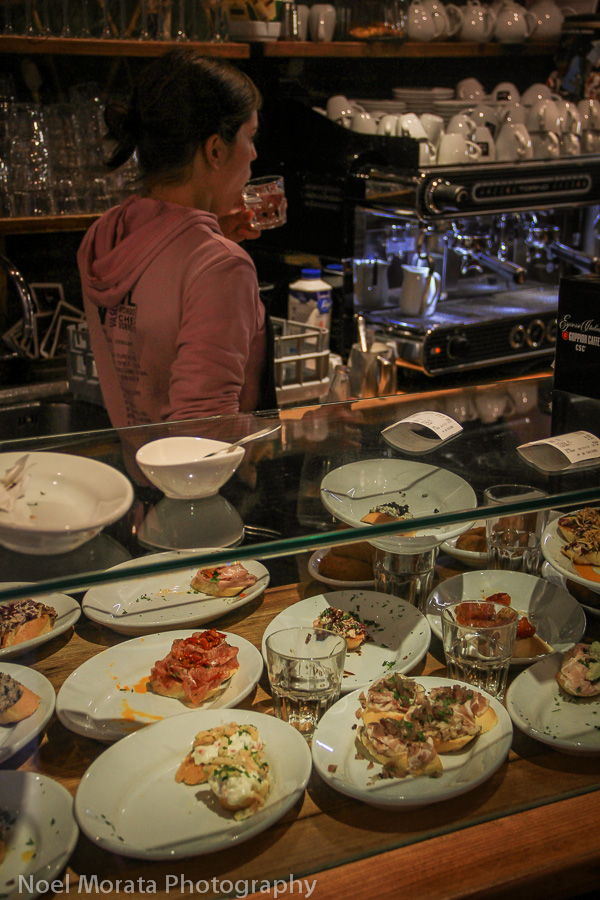 Bacari and bar tours
There are even popular bacari and Cicchetti tours available with a guide taking you to some of the off the beaten path locations. The guides love to share some great stories and local folklore while offering Cicchetti tastings and wine to a variety of bacari that you walk to in a tour. There are many tours available which you can easily review on sites like Yelp and Tripadvisor. Take your time reading about the tours and book them ahead of time, because they are smaller and limit the number of guests per tour.
Check out these local and popular Bacari around Venice
Venice is renowned for its charming bacari, small local bars, where you can savor cicchetti, a delightful selection of bite-sized snacks. Here are a few fabulous bacari to try:
Cantina Do Mori: As one of the oldest bacari in Venice, Cantina Do Mori exudes historic charm. Sample their creamy baccalà mantecato (whipped cod) and traditional Venetian wines.
Osteria Al Squero: This cozy bacaro near the gondola workshops offers a variety of cicchetti, including seafood delights like sarde in saor (sweet and sour sardines).
All'Arco: A local favorite, All'Arco is known for its inventive cicchetti creations. Try the polpette (meatballs) and pair them with a glass of regional wine.
Bacaro Risorto: Located near Rialto Bridge, Bacaro Risorto is perfect for a quick snack. Don't miss their marinated artichokes and selection of cheeses.
Cantinone Gia' Schiavi: Known for its extensive wine list and cicchetti, this bacaro is a must-visit. Enjoy classics like prosciutto and melon along with a glass of fine wine.
Bacaro Jazz: Jazz enthusiasts will appreciate this bacaro's live music, complemented by delicious cicchetti. Try the mozzarella and tomato bruschetta.
Bancogiro: With a stunning view of the Grand Canal, Bancogiro offers a unique bacaro experience. Enjoy cicchetti with a picturesque backdrop.
Cantina Do Spade: Visit this historic bacaro dating back to 1448. Try their delightful crostini and sample regional wines.
Osteria Al Portego: This tiny, popular bacaro is known for its flavorful cicchetti, including the delectable meatball and mushroom crostini.
Bacaro da Fiore: Located in a picturesque square, this charming bacaro serves delightful cicchetti and an array of wines. Try their creamy codfish.
Venture into these bacari to savor the authentic flavors of Venice through its delightful cicchetti and immerse yourself in the local atmosphere.
If you are even more adventurous, you can create your own itinerary and sampling by checking out these traditional and popular bars like the ones listed in this food guide.
 I'm taking my mixed sea food plate to go!
When you do visit Venice and your exhausted from a day of looking at art, architecture and attractions, take some time early in the afternoon to enjoy a pub crawl experience Venetian style with Cicchetti!
If you loved reading this post on Venice, please check out some of my posts below
Evening magic and the romance of Venice
Venice – ten random thoughts, advice and quirky observations
Venice – highlights in black and white
If you did enjoy the post, please do share it with any of the social media buttons below – thanks so much for visiting!
Conclusion to trying out
Cicchetti and the pub crawl experience in Venice
In conclusion, trying out the delicious local cicchetti and doing a pub crawl in Venice is an adventure that takes you deep into the heart of this enchanting city's culinary and social traditions. From savoring bite-sized delicacies at quaint bacari to exploring hidden corners of Venice's vibrant nightlife, it's a journey filled with flavors and camaraderie. Cicchetti provide a tantalizing glimpse into Venetian cuisine, while a pub crawl offers the opportunity to meet locals and fellow travelers, forging connections over shared experiences and shared glasses of wine.
Whether you're seeking culinary delights, cultural immersion, or simply a good time, Venice's cicchetti and pub crawl scene offer a unique and unforgettable way to experience this timeless city.