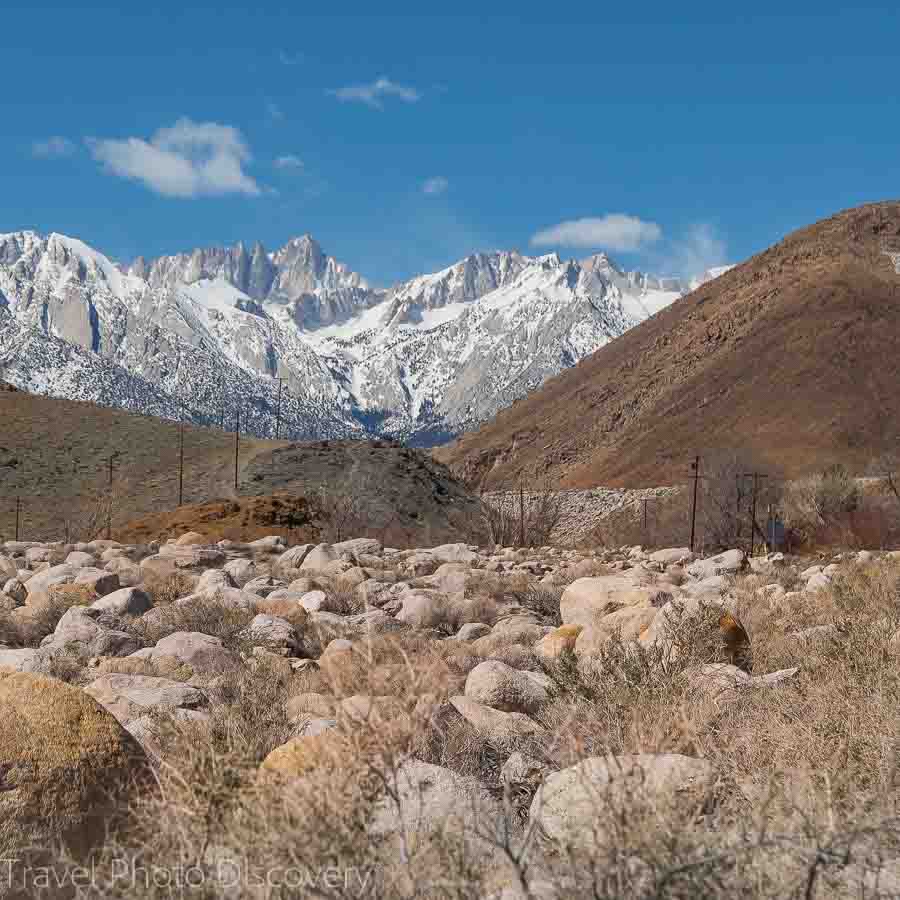 California's Eastern Sierra tends to be an area limited to Southern Californian's looking for a Sierra snow getaway. But for those looking to explore a different facet of California's historic past, culture and fascinating little towns worth exploring, an Eastern Sierra road trip through the region is a must! Below are some highlights of what to do and see taking an Eastern Sierra road trip through the major attractions along Highway 395 in California.
Exploring the Eastern Sierras on Highway 395
Most travelers entering the Eastern Sierras come from the San Bernardino region through Southern California but there is also a way of getting through the Sierras in the Central California region through I120 or even further up north from the Lake Tahoe area. For a really scenic drive consider taking route going through I178 passing scenic orange groves, beautiful canyon roads with gushing rivers and the mountains filled with Joshua trees and other desert succulents. You also pass through the rural but scenic Isabella lake area and head uphill through mountain and desert terrain until it connects with I395, the main corridor through the Eastern Sierras.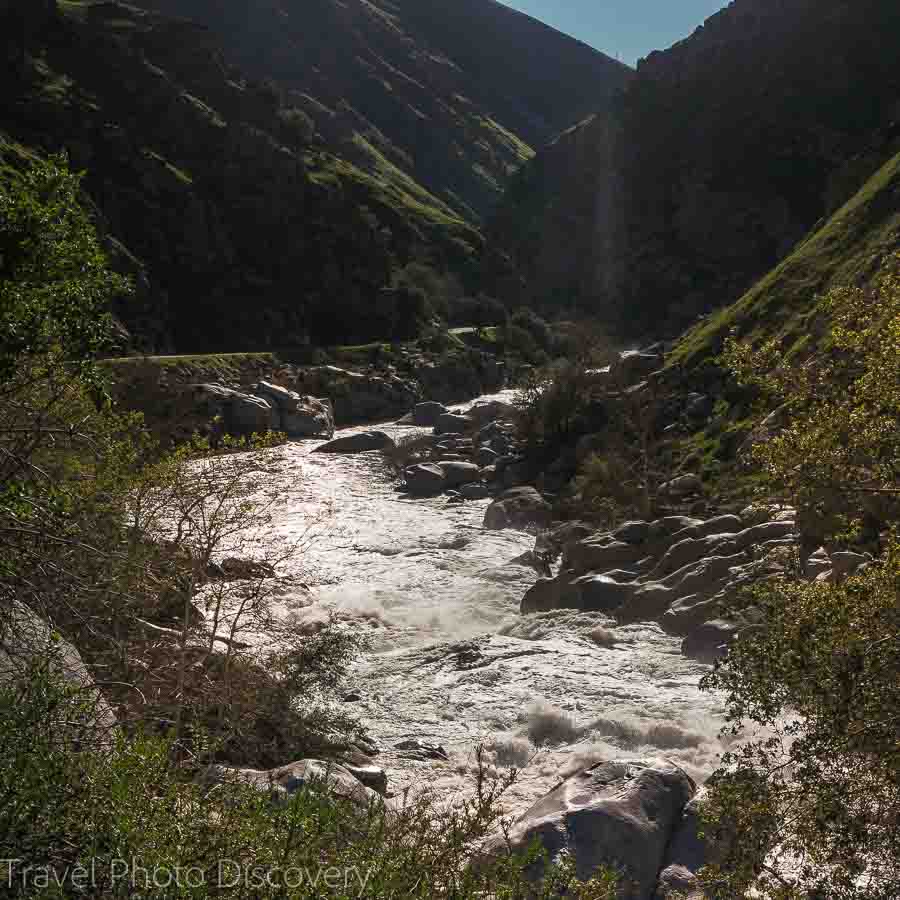 Road trip on I395 along the Eastern Sierras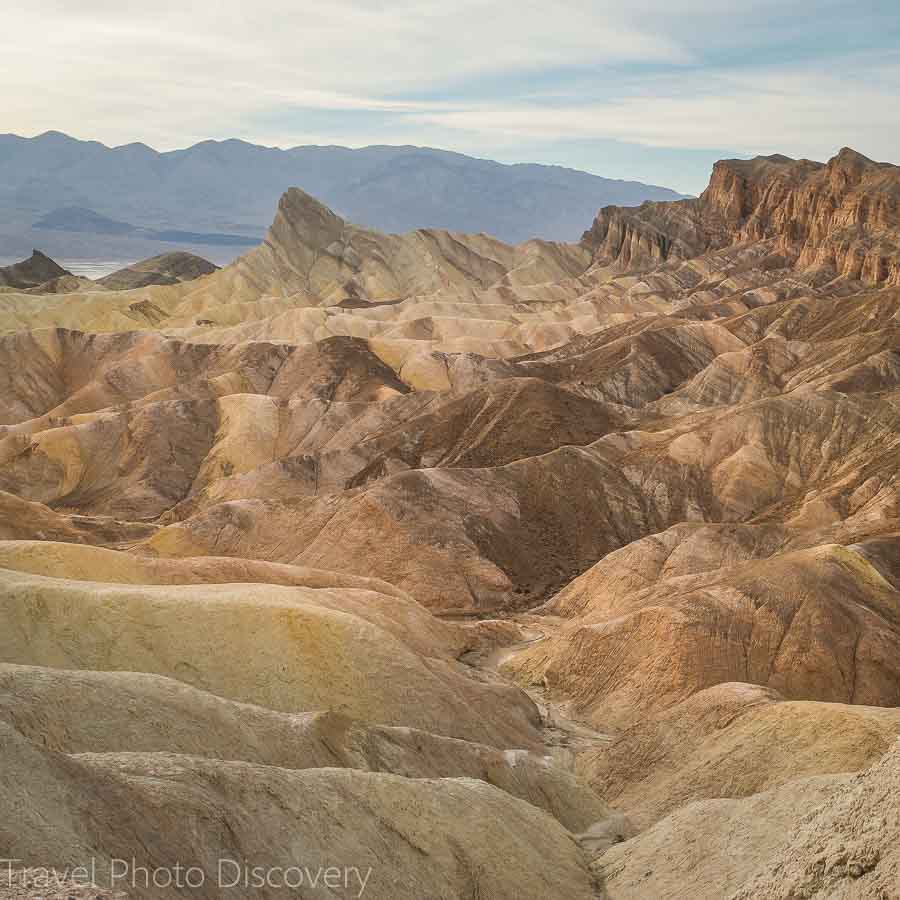 Eastern Sierra road trip – Death Valley National Park
One of the most popular places to visit is Death Valley National Park – one of the largest national parks with surprisingly diverse mountain terrain to complete desert with the famous salt flats and sand dunes of the valley to explore. It really is an amazing experience to see this national park, landmarks and unique places to visit and take some photo drives or hikes through the many places to visit. For more inspiration and photographs of the National Park, check out my Death Valley experience here for more details and some of the wonderful attractions and photo worthy spots to visit around the park.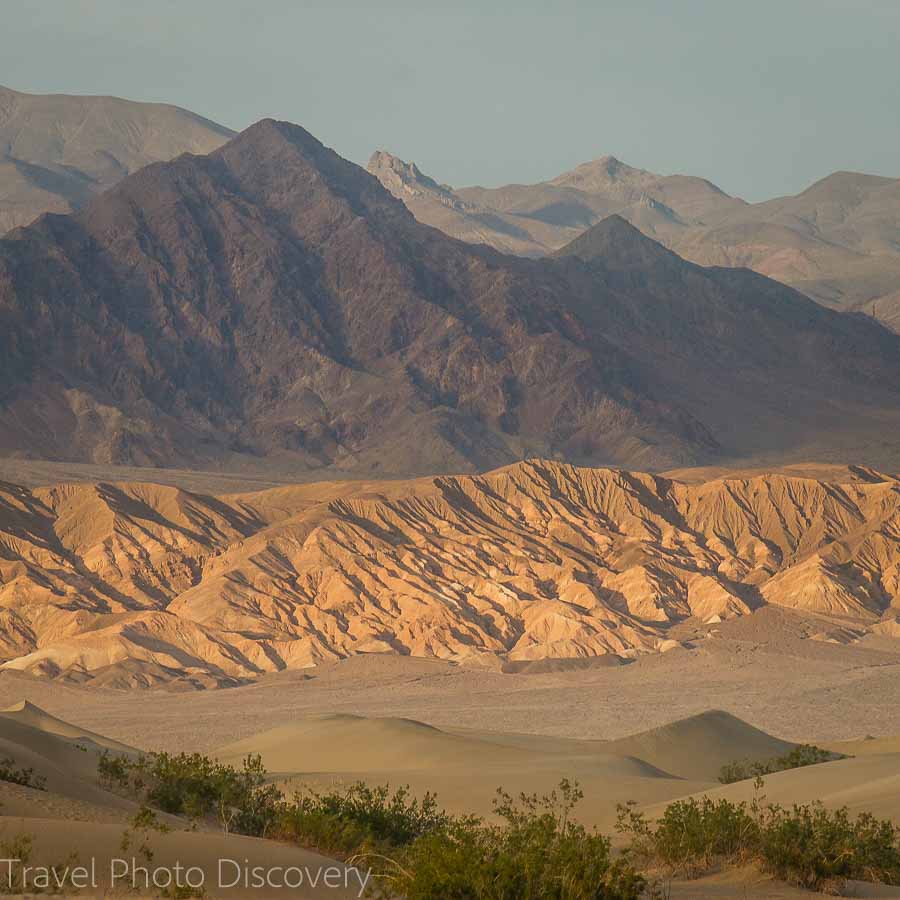 How to get to Death Valley
You can continue on I178 east which goes through scenic areas to see on a road trip from the west side of the park and the entrance at Stovepipe Wells. Another option is to continue driving I395 north to I190 East which also leads you to the main west side entrance of the park at Stovepipe Wells.
Where to stay in Death Valley
Because it is a long drive to the entrance of Death Valley, I would recommend staying within the park or just outside in the perimeter towns. Here are some suggestions of places to stay around the park area.
Furnace Creek Inn and Ranch – the most iconic resort located right in the park at Furnace Creek with a beautiful pool and outdoor setting is like an oasis in this desert setting.
Stove Pipe Wells Village Hotel – located on the west side entrance, this basic hotel is recently remodeled with clean rooms, excellent air conditioning and restaurant/store services in the village.
El Portal Motel – large clean rooms, comfortable beds and friendly front desk service in this quiet budget accommodation.
Check out these Trip Advisor reviews and prices here for more details and updated availability.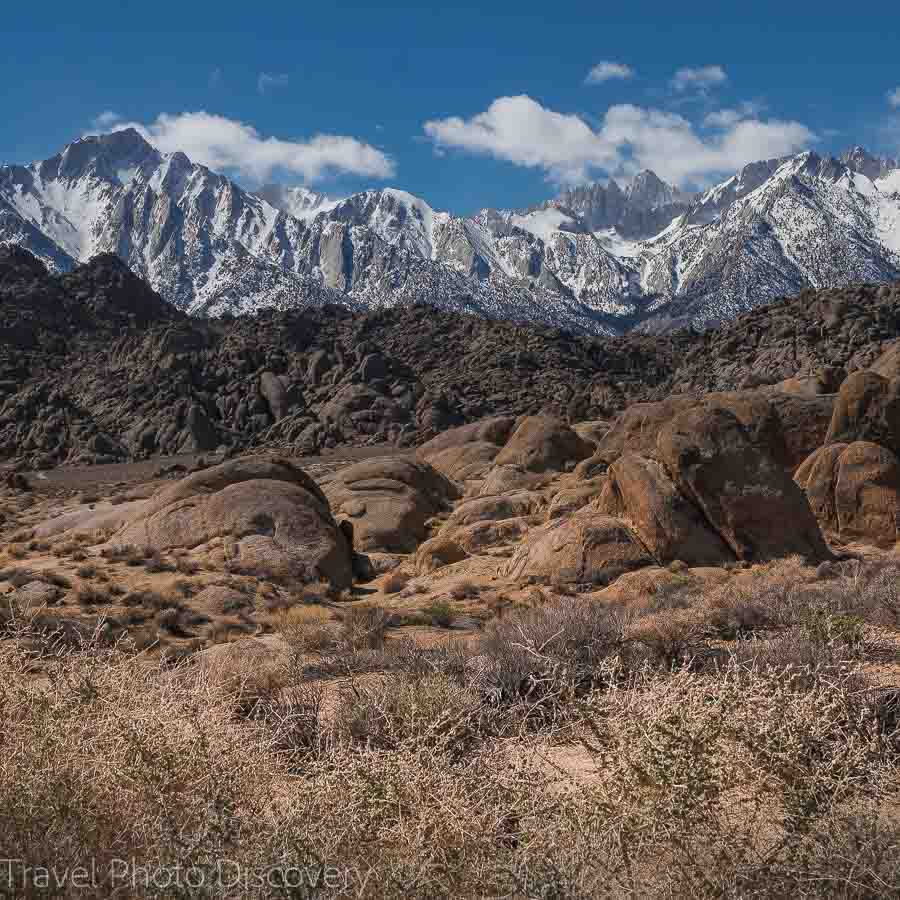 Eastern Sierra road trip – Lone Pine and Mt. Whitney 
Heading up north on I395, you finally get to one of the larger towns passing through at Lone Pine. It's worth a stop for grabbing a nice lunch, walking through the main strip or heading out to visit Mt. Whitney and drive up to the base camp area of Mt. Whitney on the back sides of the Eastern Sierras. The drive up through Whitney Portal Road takes you all the way to the base parking area and start of the Mt. Whitney trail head where you can climb all the way to the peak of Mt. Whitney at 14,505 feet or you can opt for a shorter 4 hour hike up to the Mt. Whitney trail camp and passing through bridges, stream crossings and gorgeous ride and mountain views of the Eastern Sierra's and Mt. Whitney.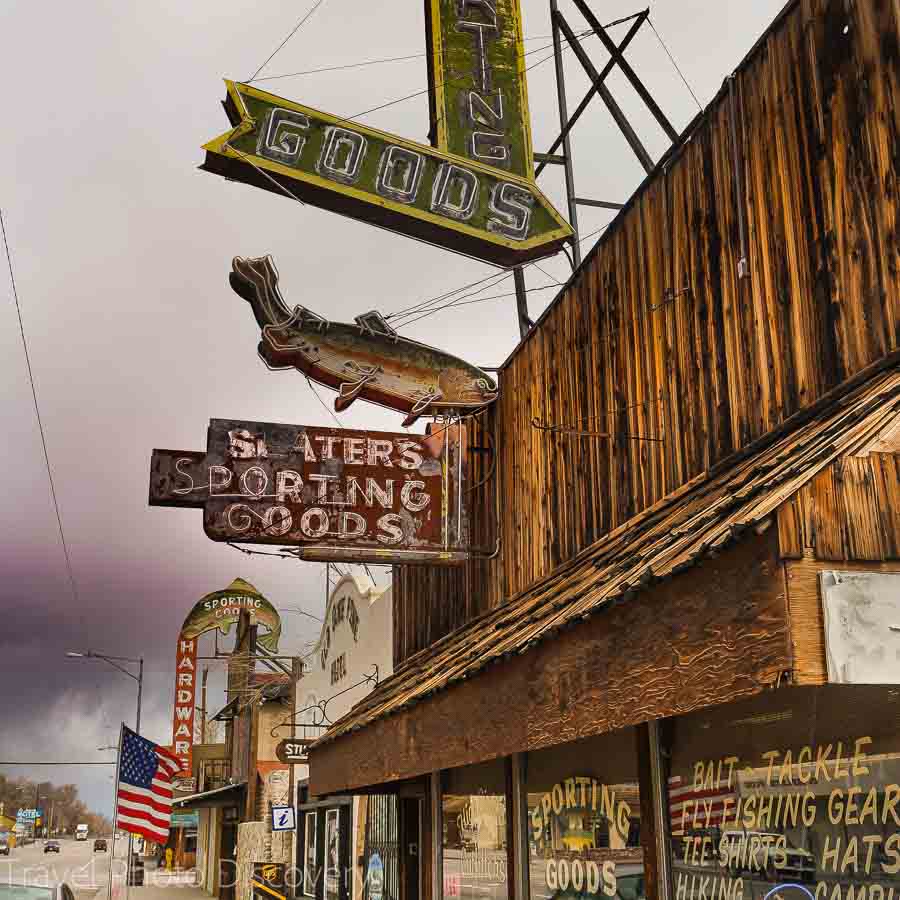 Having a barbecue lunch at a Lone Pine diner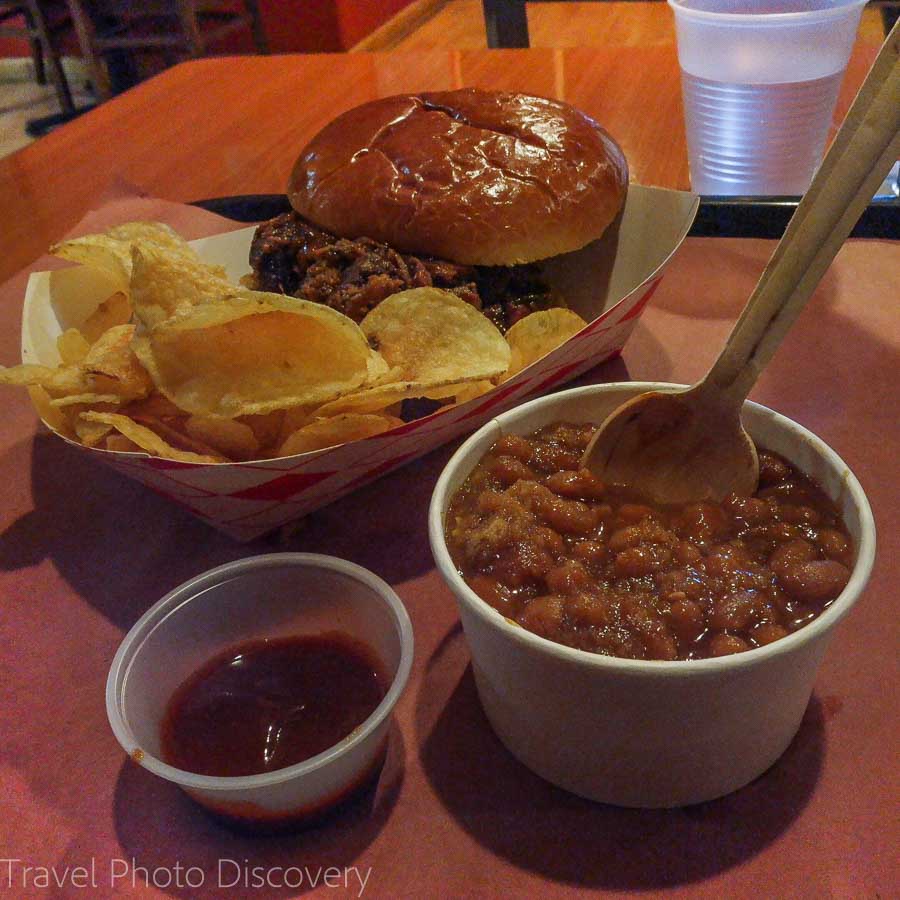 Whitney Portal Road up to the Mt. Whitney trail head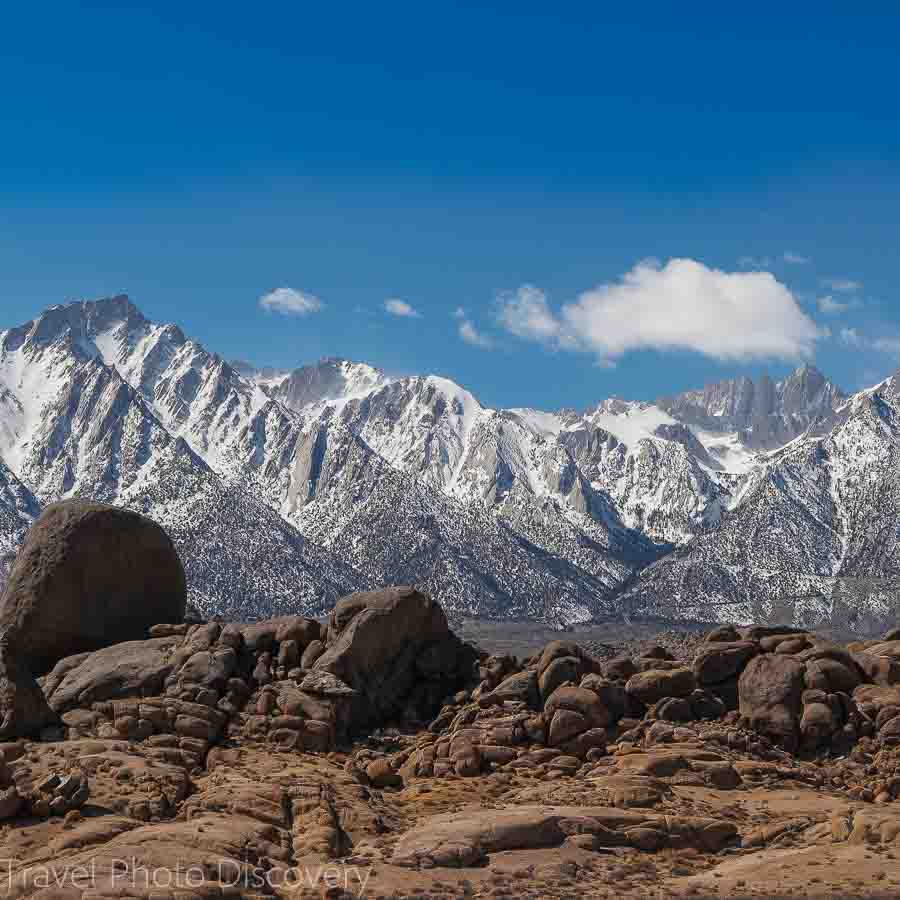 Eastern Sierra road trip – The Alabama Hills
Another fun experience for a road trip from the Lone Pine area is a drive to the Alabama Hills along the same Whitney Portal Road from Lone Pine. Follow the turnoff sign to the Alabama Hills and you will shortly enter dirt roads that pass through rugged and scenic desert that almost like your driving through an untouched part of the Eastern Sierras that hasn't changed from early California settlement to this area. Check out my Alabama Hills article here for more pictures and the full experience visiting this unique and beautiful area of the Eastern Sierras.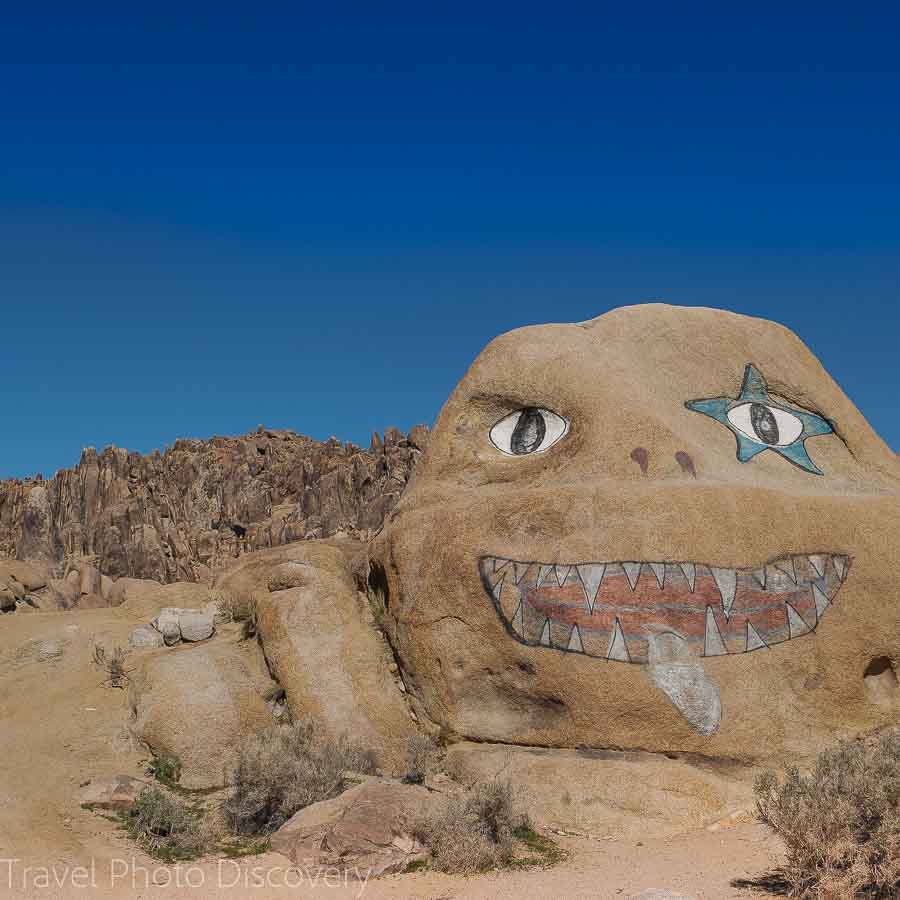 Driving through dirt and gravel roads around the Alabama Hills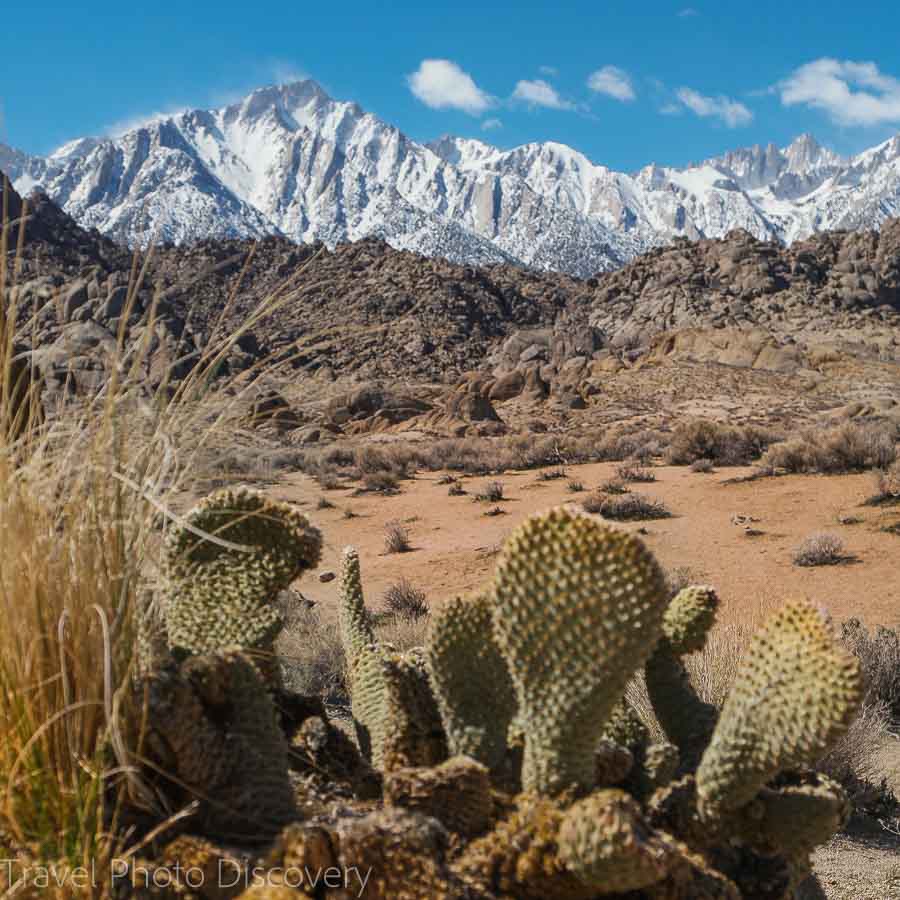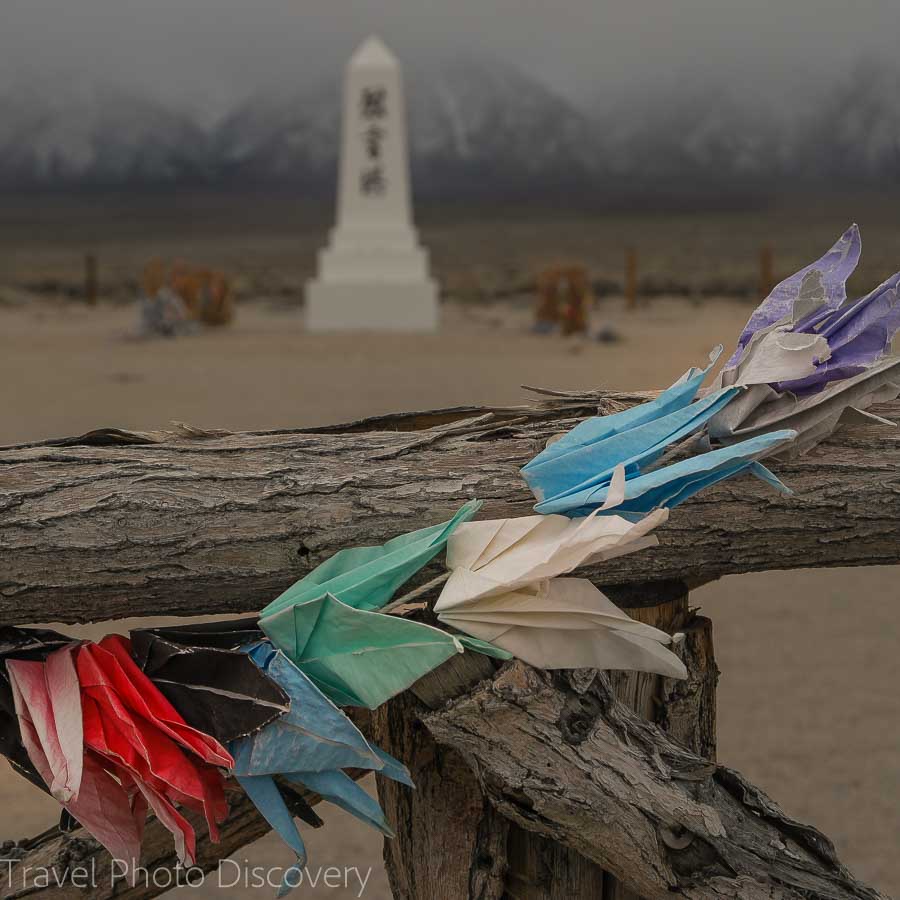 Eastern Sierra road trip – Manzanar National Historic Site
Just a few miles outside of Lone Pine on I395 is the Manzanar National Historic Site. The historic site will immerse you into one of the darkest moments of US history with the internment of Japanese Americans to this desert valley area. Manzanar National Historic Site shows the remains of a hastily built community development made of poorly made tar papered wooden row houses and other buildings and a museum that shows how these loyal Japanese American citizens coped with the terrible environment and difficulty of internment life out in this isolated region of the Eastern Sierra. For more details and information, check out my Manzanar post here for photographs and explanation of the experience visiting the camp.
Tip – first visit the wonderful visitors center and enjoy the documentary film and afterwards do the loop drive along the camp to visit the track homes, gardens and official monument to the internment camp.
Fantastic dioramas and displays at the Manzanar Visitors center and museum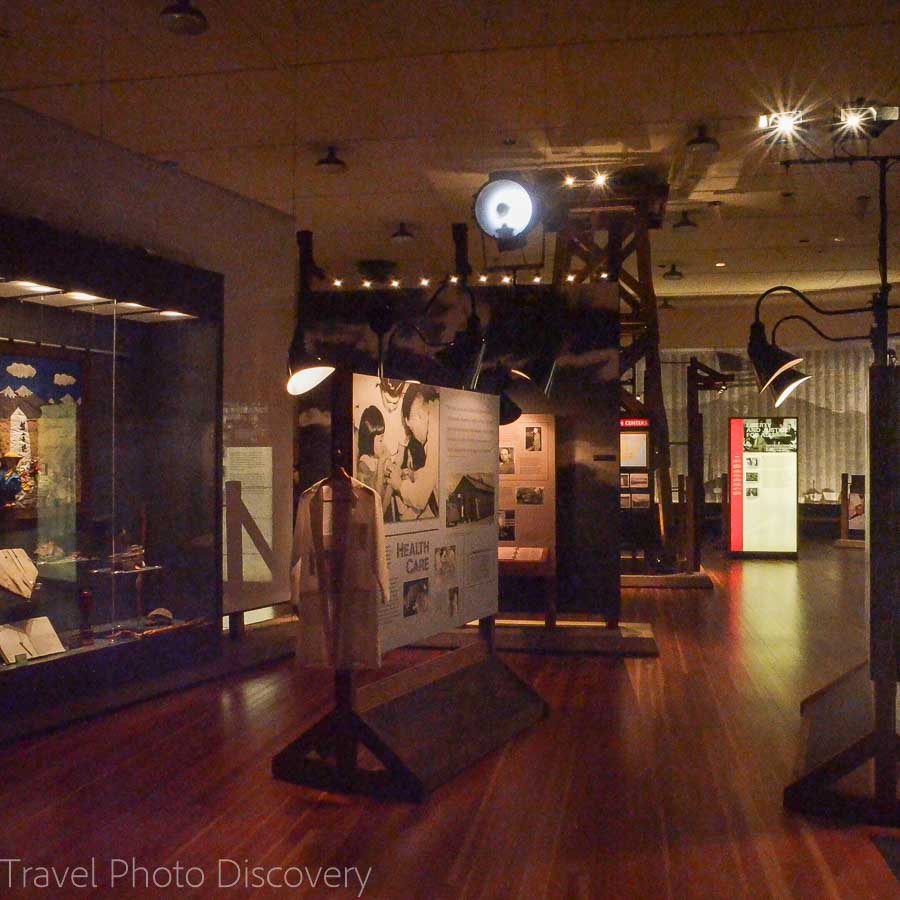 Eastern Sierra road trip – Mt. Whitney Fish Hatchery
This historic fish hatchery just off I395 north of Manzanar is a beautiful and classic tudor style building that is worth a visit especially when you can tour inside the facility. California's first hatchery was created to provide for a variety of trout to the Sierras and is now a museum/wildlife interpretation center. Even if the building is not open, the grounds are a nice spot for a picnic or place to take a break from your road trip along I395. For more information on visiting this hatchery and open hours, check out their website here for more details.
Snowy spring weather at the Mt. Whitney fish hatchery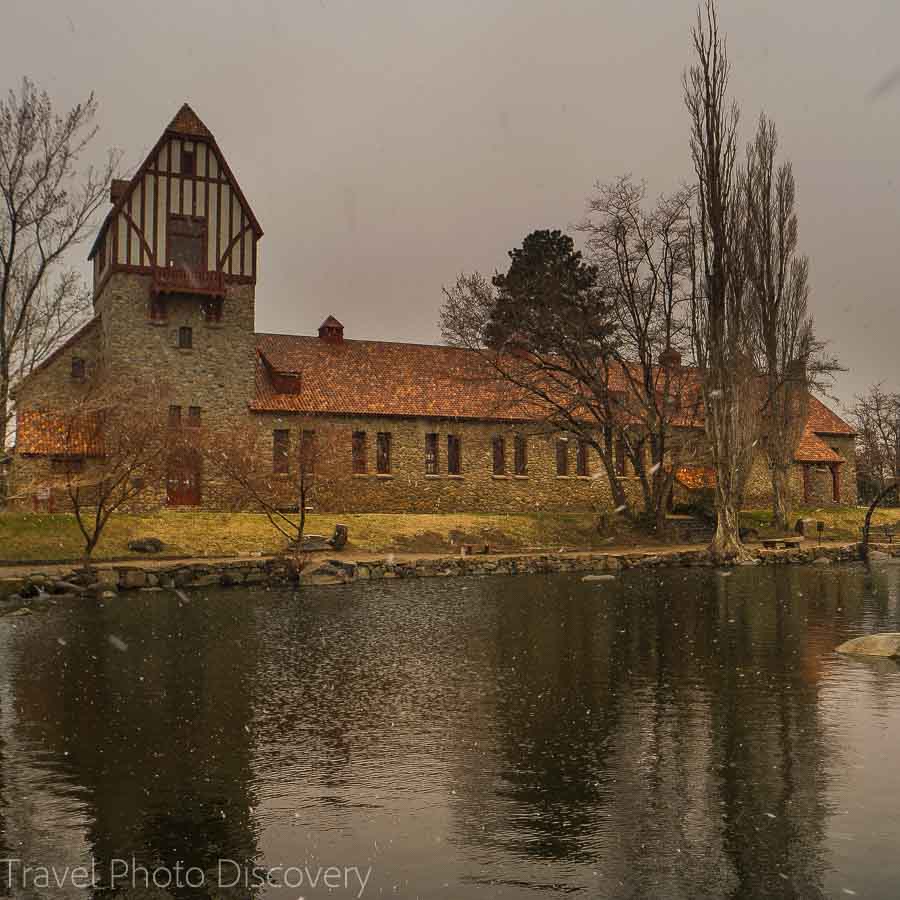 Eastern Sierra road trip – The regional capital at Independence
The county seat of Inyo county at Independence is a large main strip that I395 passes through with the prominent county courthouse located on Edward street along with other buildings and homes built around the 1860s and one of the earliest adobe structures still standing in Inyo County.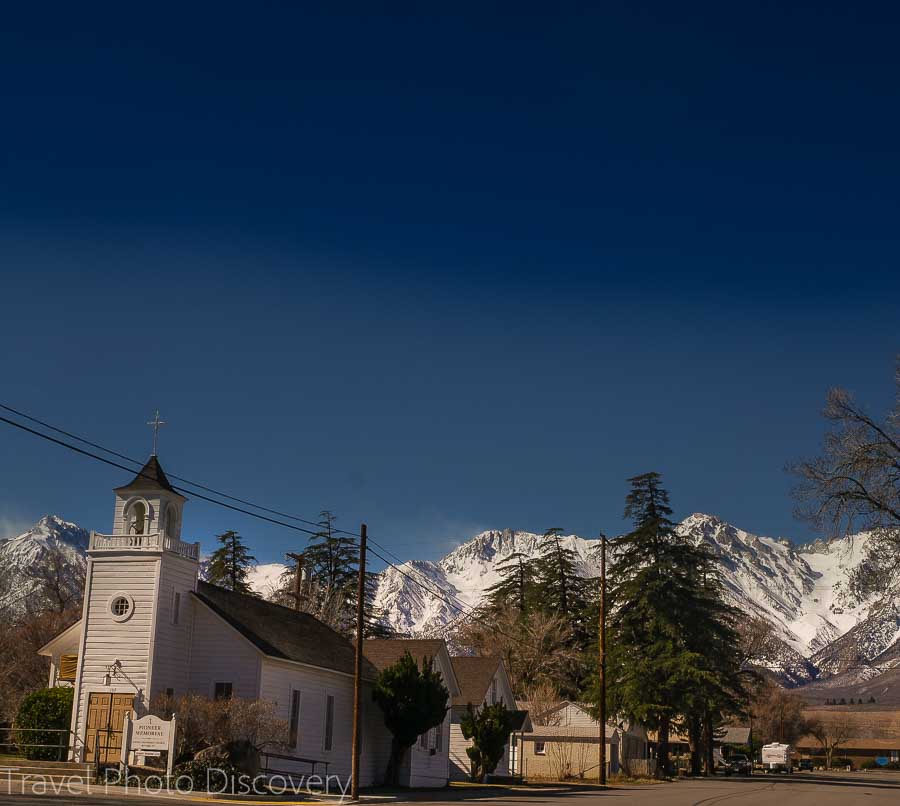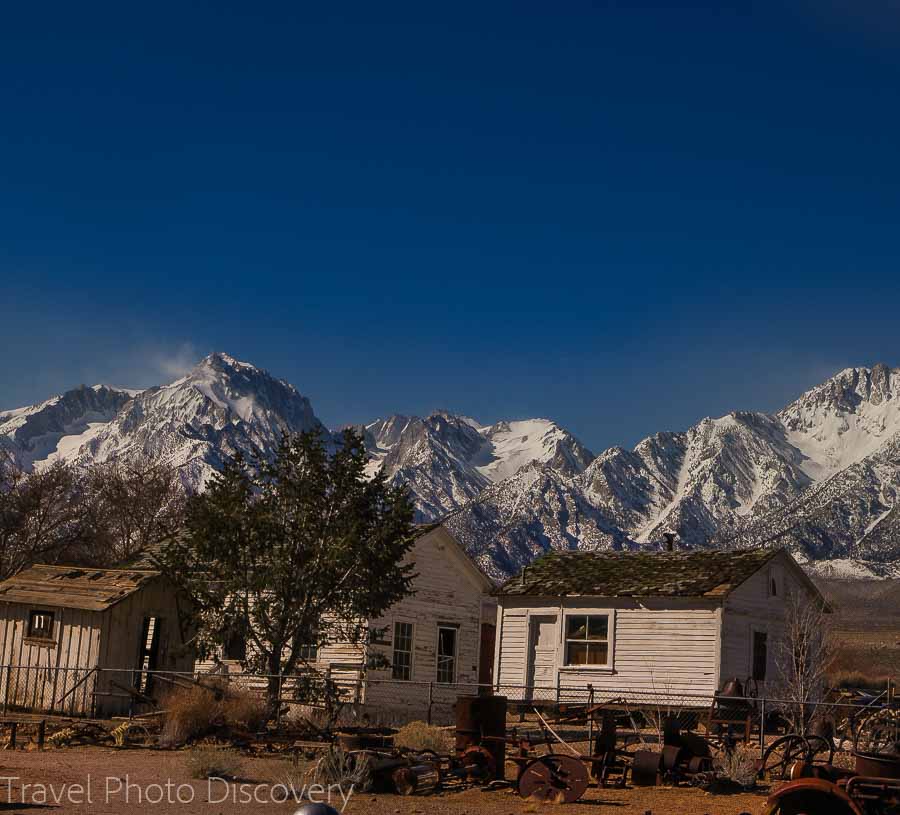 The Eastern California Museum – a complete gem to visit at Independence is this museum which also has an outdoor area of collectibles, saved buildings, transport & equipment and other fascinating displays & collections about early California settlers and lifestyle.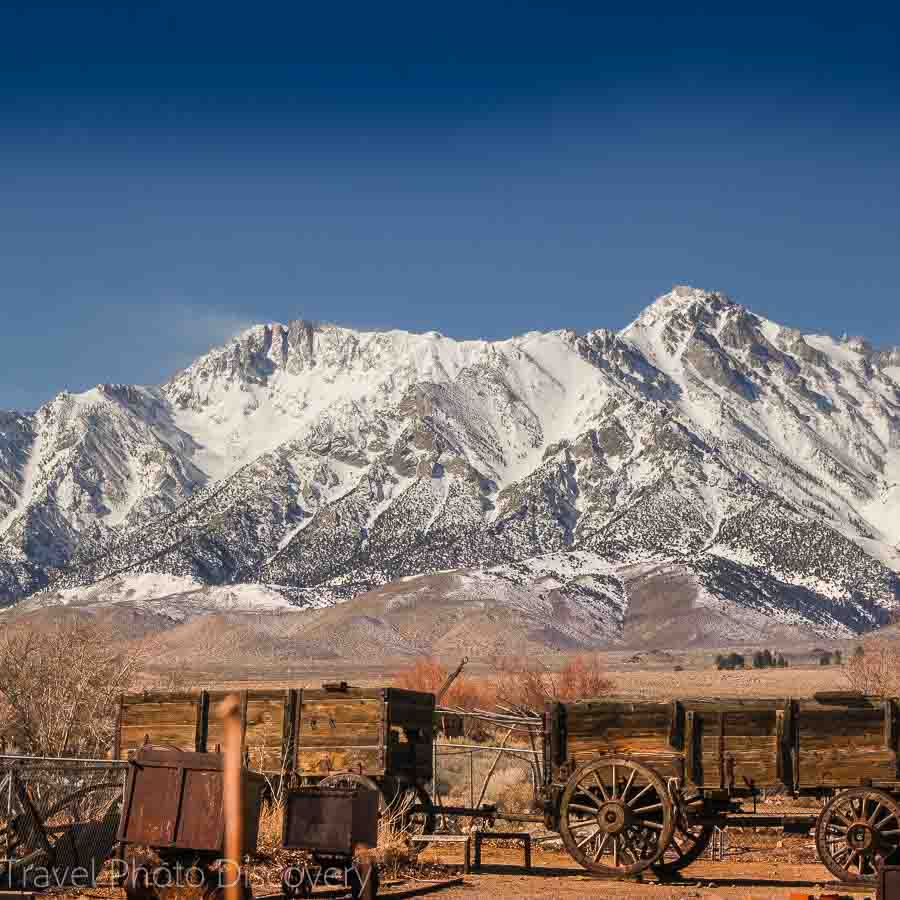 Checking out the outdoor transportation and collectibles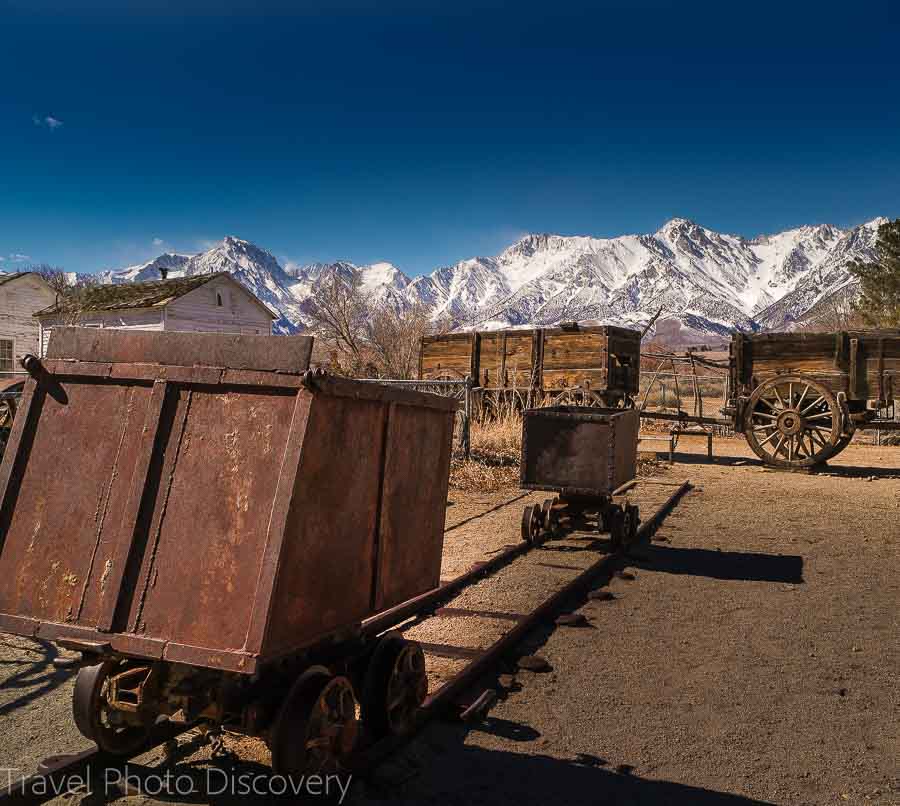 Exhibits at the Eastern California Museum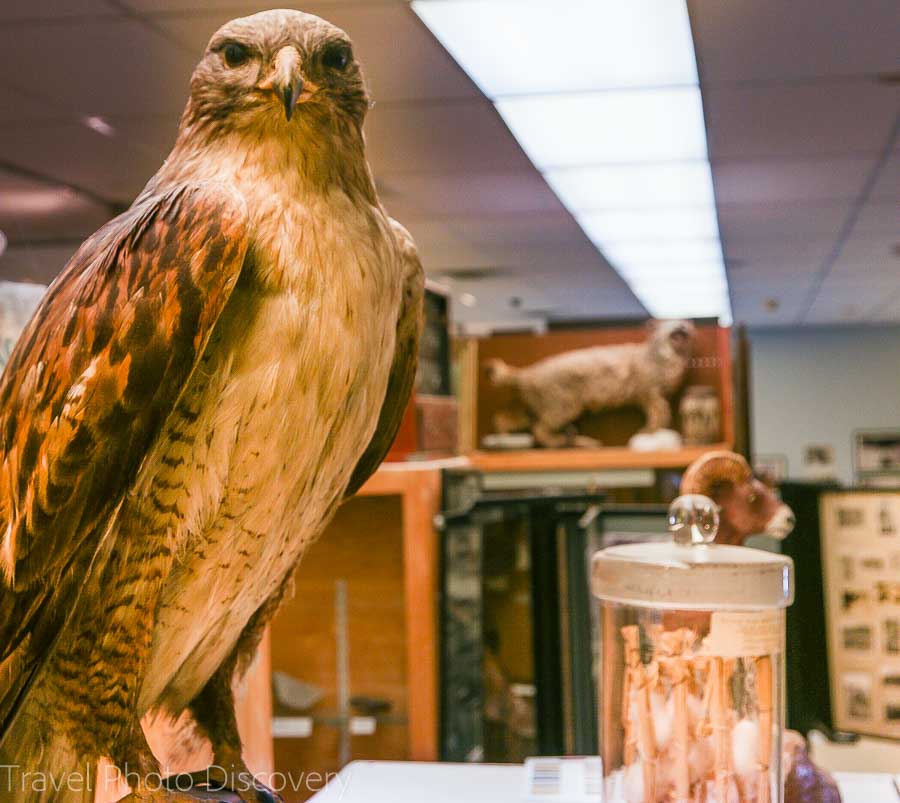 Eastern Sierra road trip – A visit to Bishop
At the northern tip of Inyo county is Bishop town which is the largest community in the county with a variety of hotels, restaurants and other tourist focused venues for visitors stopping by or staying for a few days and using Bishop as a base to explore both Inyo and Mono counties.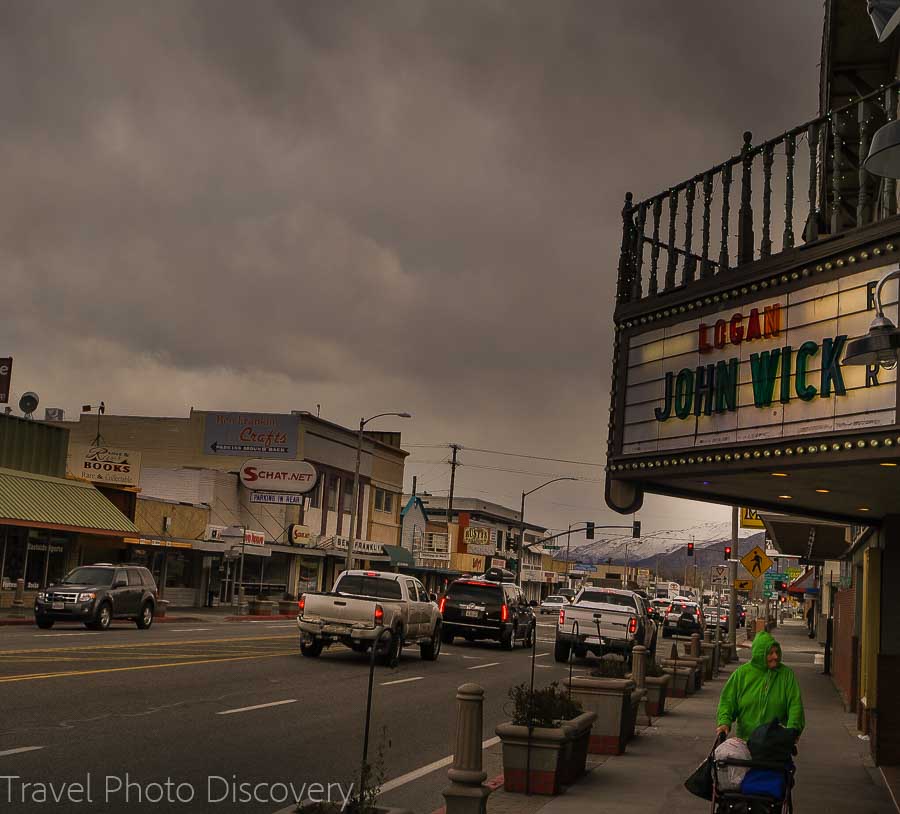 Places and attractions around Bishop town
There are a variety of fun and historic places to visit in and around Bishop town covering many historic places to visit, scenic natural landscapes and parks offering camping, hiking and other adventure & recreational opportunities and the following:
Paiute-Shoshone Cultural Center Museum – presents the history and culture of the Paiute-Shosone who lived in the Owens valley with displays and artifacts including local crafts and indian artwork sold at the gift shop.
Laws Railroad Museum – A collection of buildings representing the old town of Laws next to Bishop and exhibits historic trains, depot and other related buildings that are preserved as a living museum to old-time Inyo county life and culture in the Eastern California Sierras.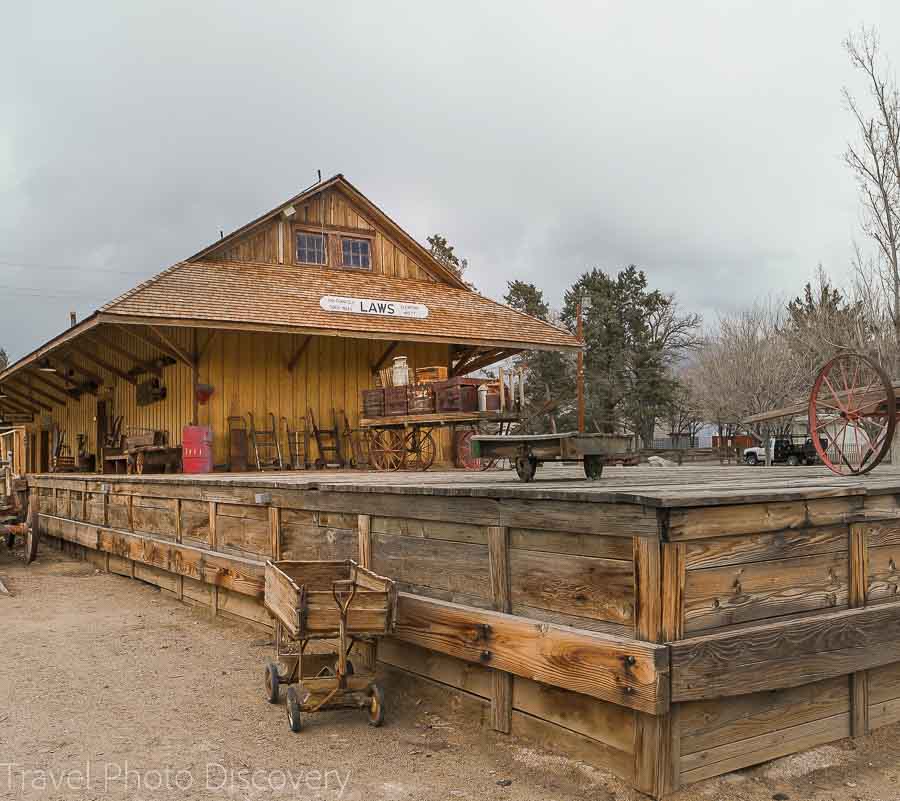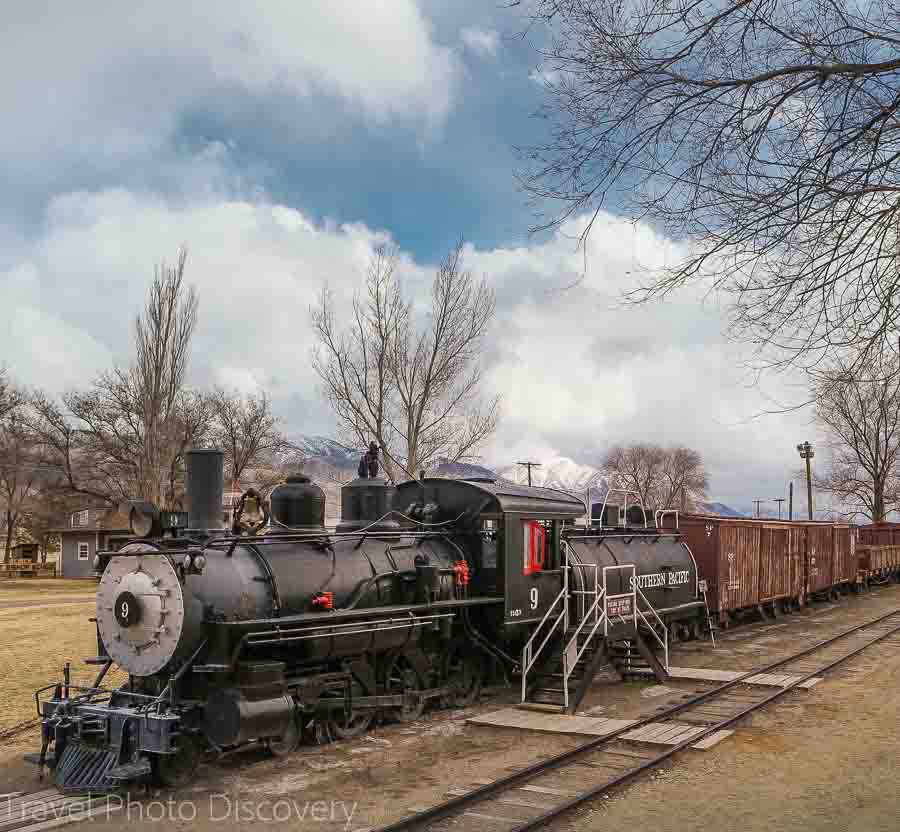 Bishop Creek Canyon – a beautiful area with scenic vista points, Treasure and Marie Louise and other lakes, the Bishop pass trail and rustic lodges for outfdoor adventure and stays in the area.
Keough's Hot Springs – Just located outside of Bishop, this is the largest hot springs in the Eastern Sierras with campsites, RV sites and glamp camping tents along with the historic hot springs that have run since 1919 and used by locals and visitors to the area.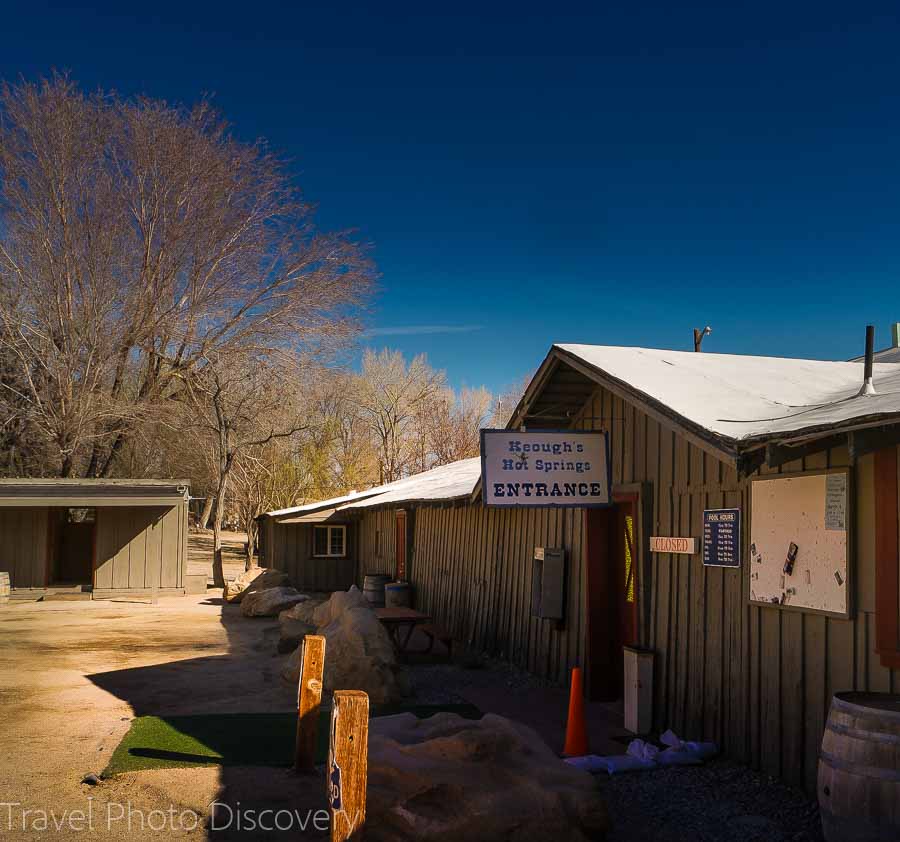 Ancient Bristlecone Pine Forest – East of Big Pine on Highway 168., the Bristlecone Pine Forest Scenic Byway is a steep winding road with magnificent views of the Eastern Sierra range, the Bristlecone Forest visitors center and visit to some of the oldest trees from 2,000 to almost 5,000 years old – the oldest trees living in the United States.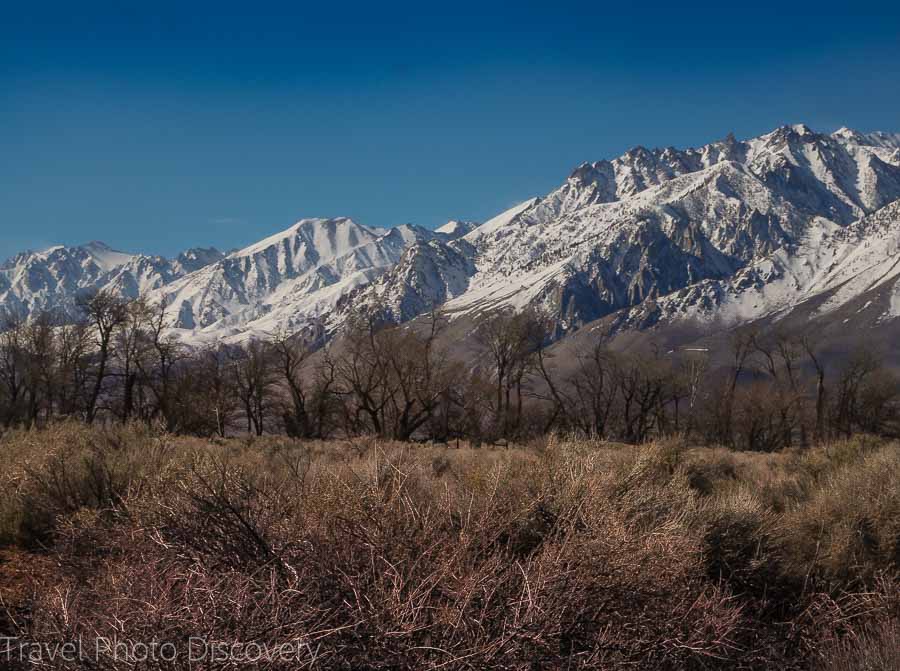 Where to stay in the Bishop area
Bishop is a great town to be based for exploring attractions and beautiful outdoor activities and landscapes around Mono and Inyo county. With a variety of choices for accommodations and food in the area and visitors can easily visit many attractions that are an easy drive while being based in town. Most hotels are in the moderate to value priced range for travelers visiting this area.
Bishop Creekside Inn – recently renovated with spacious and clean rooms with comfortable beds. Friendly staff and free breakfast service
Vagabond Inn – Value priced property with clean and some remodeled rooms, comes with wifi, continental breakfast and comfortable rooms.
Best Western Inn Bishop – Great location in a quiet area of Bishop with good-sized rooms, comfortable beds, AC/wifi and free breakfast buffet with hot entrees.
Holiday Inn Express Bishop – Centrally located with large comfortable rooms with fridge and microwave.  Pet friendly with free breakfast buffet service.
Check out these other Trip Advisor reviews and current hotel prices for more updated information and availability.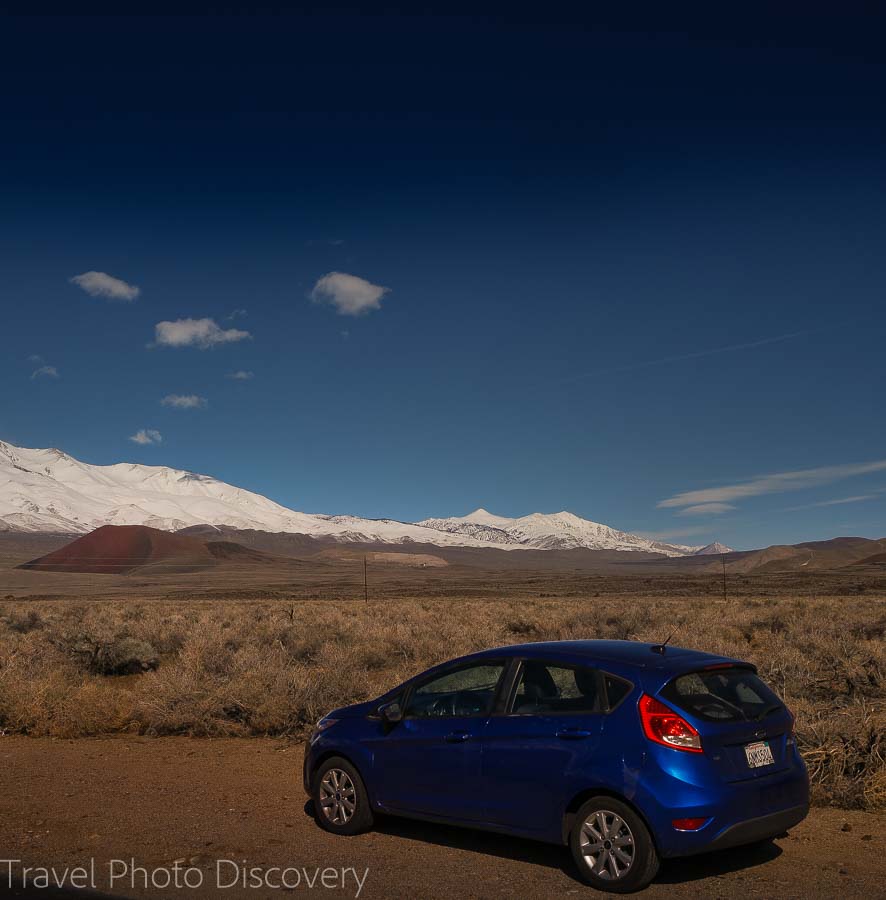 Car rentals for a visit through the Eastern Sierras
You can rent a car direction from the San Bernardino county and La base region for a visit to the Eastern Sierras and Highway I395.
Priceline rental cars – name your price for the best rental car deals
Hertz car rentals – check out their ongoing rental car deals
Travelocity car rentals – check out their wheels and deals programs
If you enjoy this, please pin it!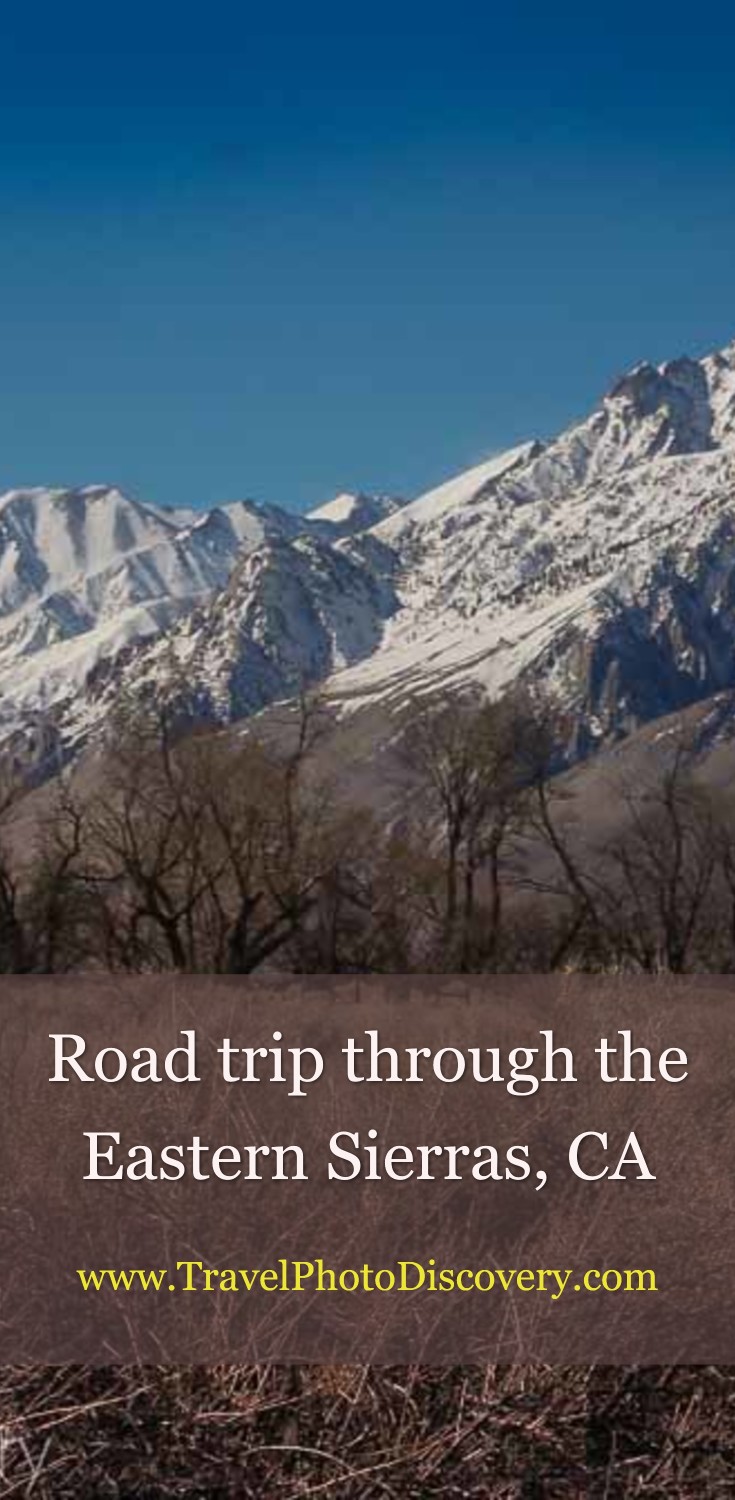 Thanks for visiting today and checking out this post on an Eastern Sierra road trip, if you enjoyed the images and post, could you please share it with any of the social media buttons located around the post.
If you like what you see, come and check out my other social media channels for more updates, including Instagram, Pinterest and Twitter
Disclosure – There are affiliates links on this posts which provide a small commission to support this site at no extra cost to you. Thank you for reading, and happy travels