Fall road trip through Croatia: enjoy a trip through Dalmatia to inner parts of the country (2023)
You would never think fall time would be the ideal timeframe to visit the gorgeous Dalmatian coastline or take a road trip through different parts of Croatia. But if you like to travel in the off season and avoid the hordes of tourists visiting this popular region, then the fall is a fantastic time to explore the Dalmation coast. Taking a road trip from the coastal cities and into the national park area of Plitvice is a fall adventure worth exploring in Croatia.
Here are some highlights to visiting Croatia in Autumn
 
Driving from Split north through the Dalmatian coast to Plitvice National Parks
You can easily pick any spot along the Dalmatian coastline to start a wonderful road trip in Croatia, but if you want to actually see some fall colors, the ideal would be to visit Croatia's iconic national park at Plitvice. A good starting off point would be to start in Split mid way along the Dalmatian coastline. Before you get a rental car, spend a few days at Split to discover some of the amazing sites in this Unesco World Heritage site of Tiberius' Diocletian palace in the historic district.
A road trip through the Dalmation coast is one of the highlights and most affordable European holiday destinations to experience here in Croatia. You'll enjoy our itinerary below for inspiration.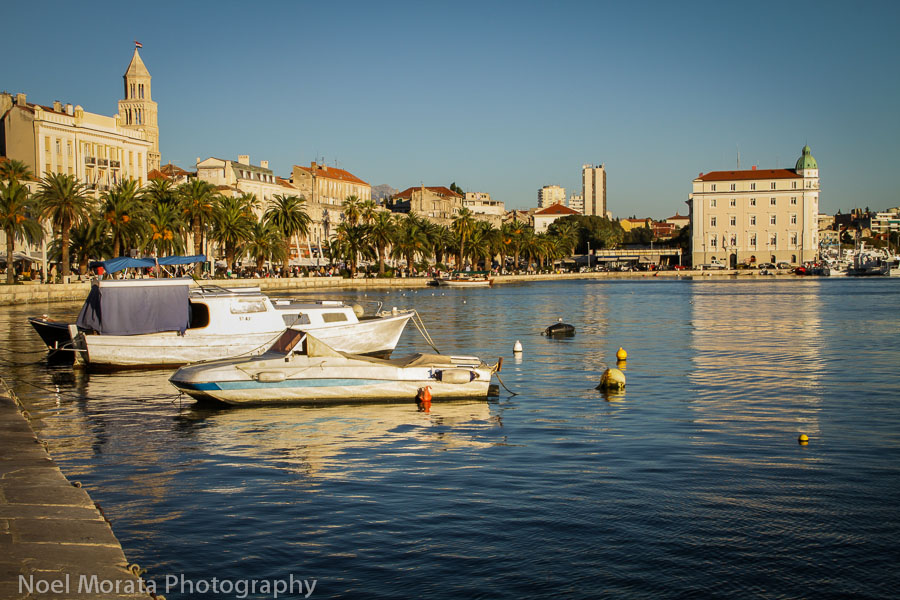 Split
The largest city in the northern portion of the Dalmatian Coastline, Split is considered the gateway to the islands of the Croatian Adriatic Sea. The historic central district in Split is comprised of the historic ruins of the Diocletian palace on which most of the old ramparts, walls and other buildings have transitioned into a labyrinth of shops, cafes, galleries and other tourist oriented attractions. For more images and stories about this historic city, check out a variety of posts I have created about Split below.
Split –  photo-worthy spots to visit in the city
Split – a free city tour of the Diocletian Palace
Split – a visit to the farmers market
Early morning fish market in Split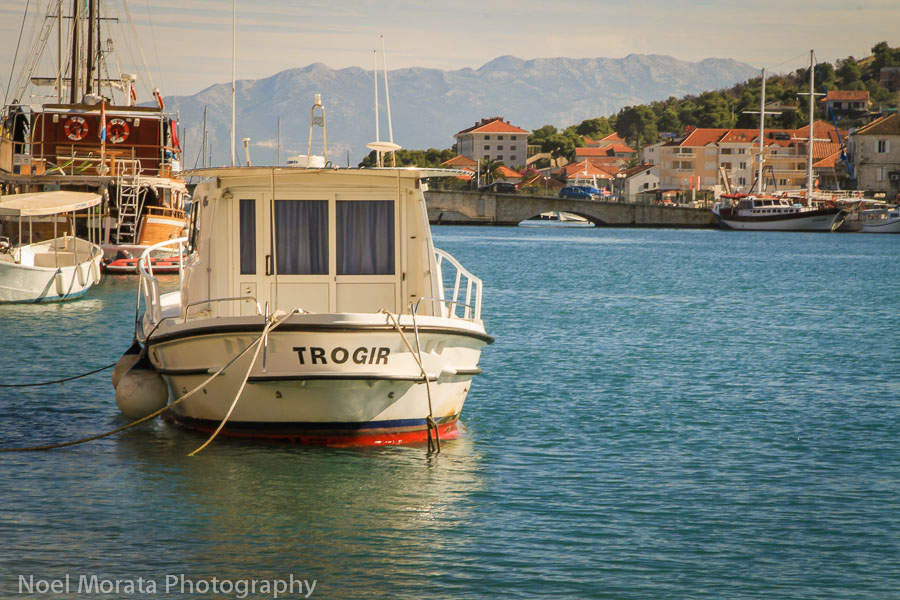 Taking the coastal road in Dalmatia
Taking buses is doable but time consuming and irregular along the Dalmation coastal road, so it is much easier to rent a car in Croatia and enjoy the freedom to stop and go anywhere along the route that suites your timeframe. From Split it is an easy route on your car travel through Croatia and the Dalmatian coastline going north and visiting some of the lovely towns and or islands along the way. Some of the easy and quick visits you can do along the way include: Trogir, Primostene and the larger city of Zadar. The trip from Split to Zadar takes about 170 kilometers and from Zadar to Plitvice is about 150 kilometers. This stretch can take a few days or longer depending on how much time you want to spend exploring the small villages or cities along the way. If you want to get there sooner, you can take the highway E65 which is about 150 kilometers from Split to Zadar.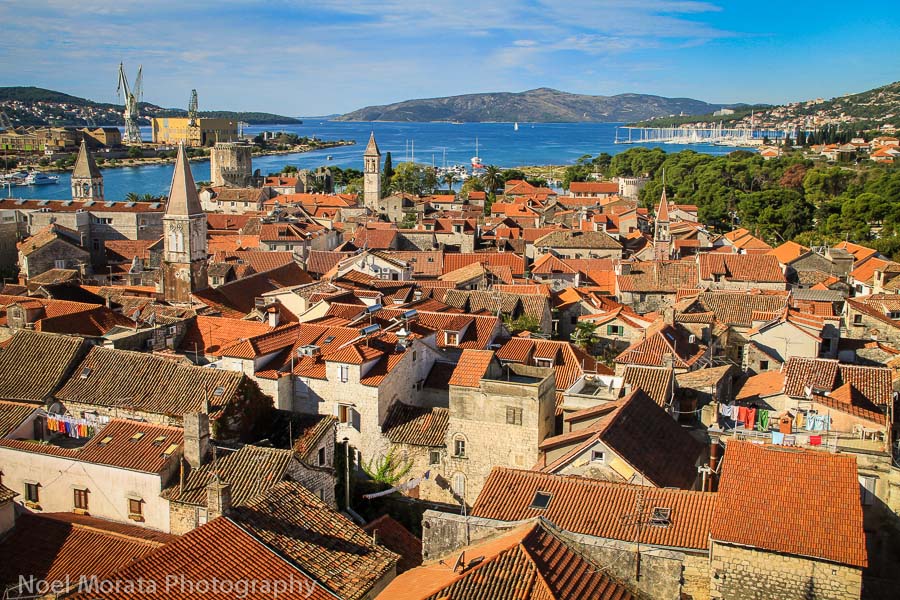 Trogir
A short hour drive north of Split and you will head directly into the outskirts of Trogir and the main island adjacent which is where the historic center lies. Trogir is filled with historic and cultural treasures dating from many centuries and rulers from Croatia's past including the stunning Venetian influence and architecture prevalent throughout the island.  For more images and story about this fascinating island, check out my post of Trogir below.
Enjoying a day in Trogir, Croatia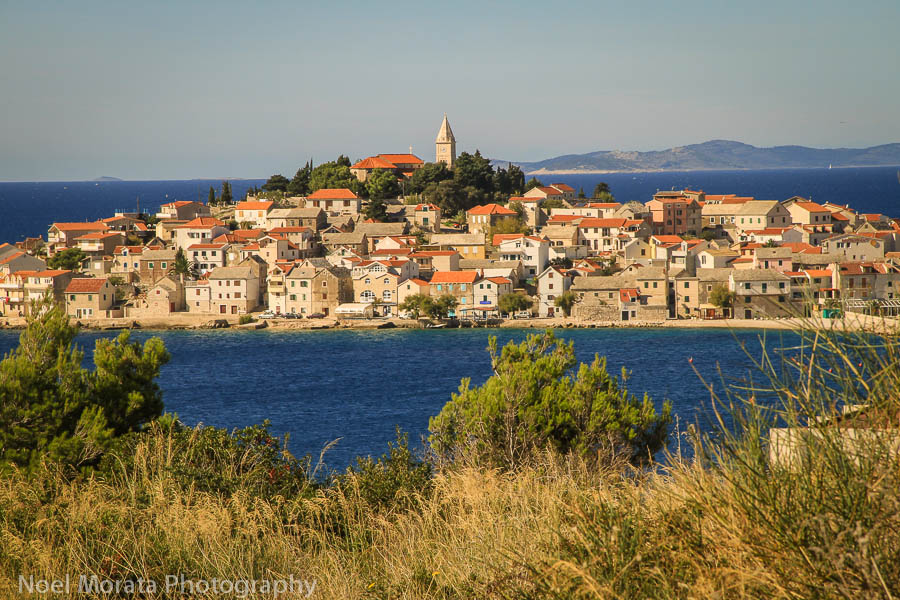 Primosten
Almost an island but connected to the mainland by a narrow road, Primosten is a very quiet village that caters to mostly a tourist crowd but is relatively quiet especially during the shoulder season in October/November. It's fun to just wander and explore the streets all the way to the top for a magnificent view of the area. Afterwards, a nice walk down to the waterfront area to discover some of the local cafes fronting the ocean and checking out what's fresh on the menu is the way to enjoy a short trip here. For more images and details, check out my post of Primosten below.
Plitvice National Park
One of Croatia's most outstanding national parks, Plitvice National Park with its myriad of waterfalls and beautiful landscape is even more spectacular during fall time. Visiting Plitvice during the shoulder season is really the best time to be at the park to enjoy the fall and the stunning display of fall colors throughout the park. If you can spend a day or even more time to relax and walk through some of the magnificent trails and scenic routes around the waterfall areas and other observation points, you will be rewarded with amazing views and scenery.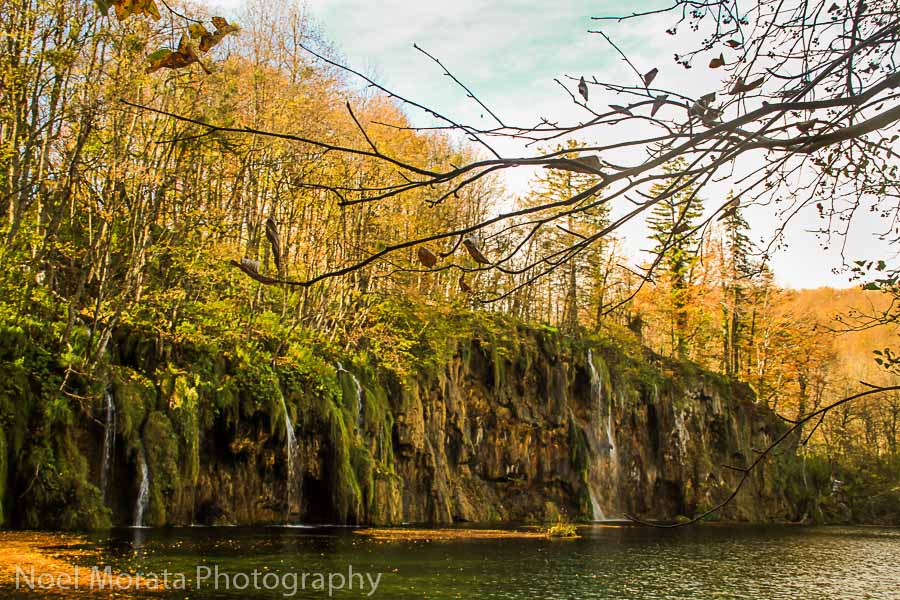 For more photographs and stories about a visit during the fall, check out my post on Plitvice National Park below.
Fall time in Plitvice National Park – part 1
Fall time in Plitvice National Park – part 2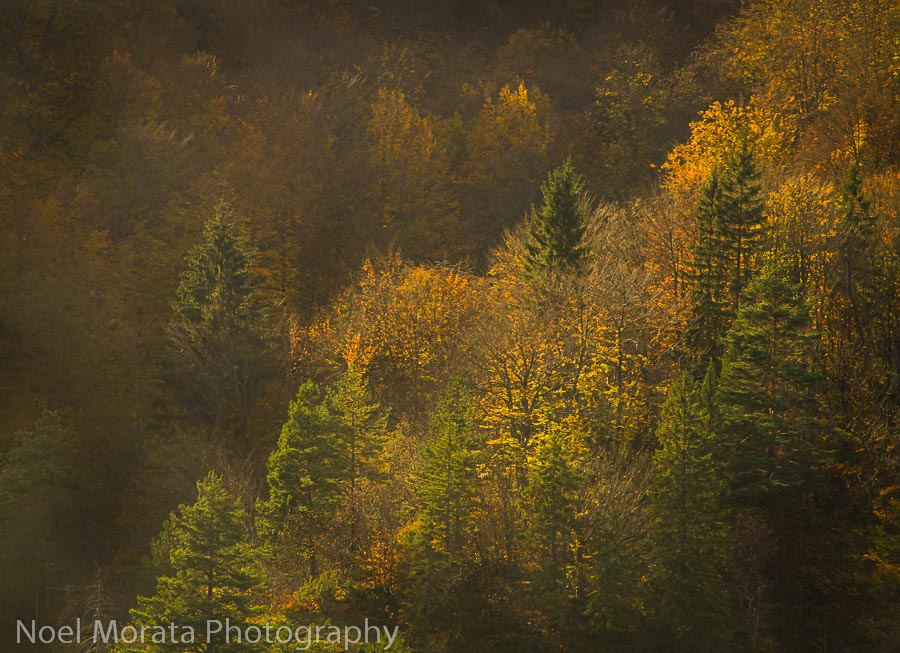 Details for a road trip adventure in Croatia
Rental cars
You can find all the major rental car companies available in Croatia and when you arrive in Split. Most of the rental car companies are actually located in the city and not the airport, so it is an easy taxi or shuttle ride into the city center where you can stay and not need a car to get around. Here are some of the rental car companies that you can check out their websites for more information.
Auto Europe Rentals website for latest prices and availability
Car Rental 8 website for latest prices and availability
Priceline and name your own price for car rentals
Where to stay along the Dalmatian Coast
In the main cities of Split and Zadar, there are adequate hotel and bnb accommodations to work with. In smaller towns including staying up in Plitvice National Park, choices are a limited and can also be popular during the fall timeframe, although not as busy as the summer. Here are some recommended sites to check for accommodations and availability.
Check out some of these deals and hotel details below
Book with TripAdvisor and receive an Amazon gift card
Priceline and name your own price for hotel deals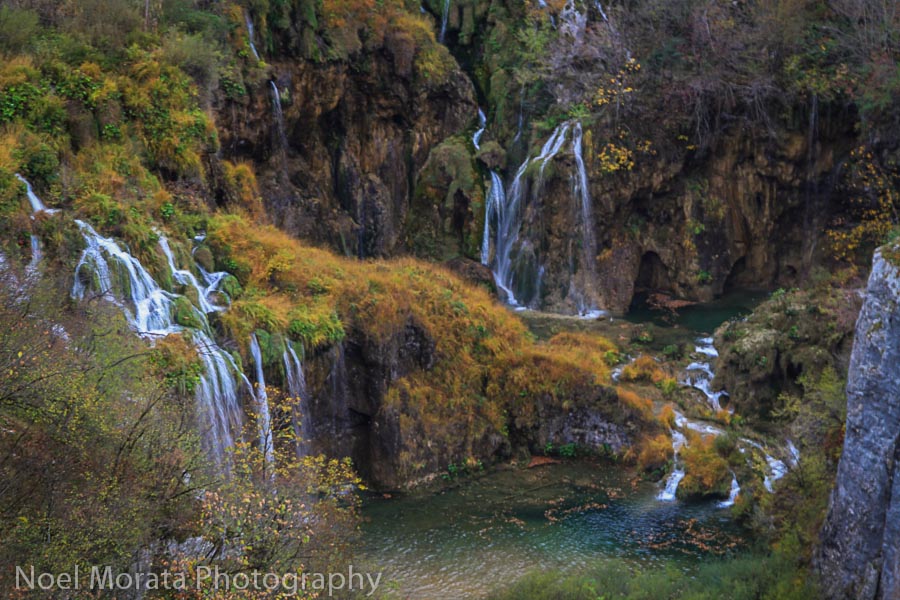 Thanks for visiting today, if you enjoyed reading this post on a fall road trip through Croatia, please do share it with any of the social media links below, thank you.
If you like what you see, come and check out my other social media channels for more updates, including Instagram, Pinterest and Twitter.
Disclosure – my site is supported with these sponsors with affiliate links if you book through my site and this post. Thank you so much for supporting these brands and my website, I appreciate it.