Capturing the Charm: Must-Visit Photography Spots  around Split, Croatia  (updated 2023)
It seems like everywhere you turn in Split, Croatia is so photogenic that you can take so many beautiful pictures. Be careful though, before you know it, you'll have a ton of pictures to sort through in capturing the best of the best. I sometimes found myself taking too many pictures while visiting many of the popular spots in the historic district, instead of striking a balance of being present and enjoying the moment. There are just too many things to look at and photograph but let me share the best spots in Split, Croatia – the most photo worthy spots to visit.
Split, Croatia, is a city that seamlessly blends rich history with breathtaking natural beauty. Situated along the stunning Dalmatian Coast, Split boasts a captivating mix of ancient Roman ruins, charming medieval streets, and idyllic coastal landscapes. As you wander through the narrow alleyways of the UNESCO-listed Diocletian's Palace or soak up the sun on the picturesque beaches, you'll find yourself immersed in a world of cultural heritage and stunning vistas. With its vibrant atmosphere, welcoming locals, and a plethora of attractions, Split is a destination that promises to leave a lasting impression on every traveler. Get ready to embark on a journey of discovery and experience the magic of this Adriatic gem.
Why should you visit Split, Croatia?
Split is one of the jewels of the Dalmatian coastline and a historic site that developed from the ruins of a famous roman ruin and uniquely transformed into a historic city. The Roman ruins of the Diocletian's palace were repurposed by ordinary citizens into their homes, shops and livelyhood while creating a lively city center and historic district that visitors love to explore. With so many fascinating vantage points and places of interest to visit, we share the most photo inspiring places to visit around Split and surrounding areas.
How to get to Split, Croatia
Getting to Split, Croatia is relatively easy, and there are several transportation options available. Here's how you can reach this beautiful coastal city:
By Air: Split Airport (SPU), also known as Resnik Airport, is the nearest airport serving the city. It is well-connected to various European destinations and handles both international and domestic flights. Several airlines offer direct flights to Split from major cities across Europe. From the airport, you can take a taxi, private transfer, or airport shuttle bus to reach the city center, which is approximately 25 kilometers away.
By Train: Split is connected to the Croatian railway network, with regular train services operating from other major cities in Croatia, including Zagreb. However, train travel to Split may be slower compared to other modes of transportation, and it is recommended to check the schedules and connections in advance. The train station in Split is located near the city center, making it convenient to access local attractions and accommodations.
By Bus: Buses are a popular and cost-effective mode of transportation to reach Split. There are reliable and frequent bus services connecting Split with other cities in Croatia, as well as neighboring countries like Slovenia, Bosnia and Herzegovina, and Serbia. The main bus terminal in Split is conveniently located near the city center, making it easily accessible for travelers.
By Ferry: Split is a major transportation hub for the Croatian islands, and there are numerous ferry connections available. Jadrolinija is the main ferry operator, offering services to popular destinations like Hvar, Brac, Vis, and Dubrovnik. Ferries are a scenic way to reach Split, especially if you plan to explore the stunning Dalmatian islands. The ferry port is located near the city center, within walking distance of the main attractions
.
By Car: If you prefer the flexibility of driving, you can reach Split by car via Croatia's well-maintained road network. The A1 highway connects Split with other major cities in Croatia, including Zagreb. However, keep in mind that parking in the city center can be limited and expensive, especially during the peak tourist season. It's advisable to check parking options and consider accommodations that offer parking facilities.
Once you arrive in Split, the city's compact size makes it easy to explore on foot. You can also use local buses or taxis for getting around or rent a bicycle to discover the city and its surroundings at your own pace. With its excellent transportation connections, reaching Split allows you to embark on a memorable journey and experience the beauty of Croatia's Adriatic coastline.
Split, Croatia – the most photo worthy spots to visit – old town, markets, palace & gorgeous views
Split, Croatia FAQ
Split is Croatia's second largest city and located along the Dalmation coast has many attractions and things to do and see. It is definitely worth visiting the city and even use it as a base to explore the Dalmation coast and nearby islands.
What are the must see sites at Split?
The must see site here at Split is the Palace of Diocletian, which is a World Heritage Site. The city is also full of culture, historic attractions and has a host of excellent museums and gorgeous vista points.
To see the highlights of the city allocate around two days to visit the main attractions. You can extend it longer if you want to do more day trips around the coast or do some island hopping to the many islands nearby.
Here's where to go for the best views and photo sites around Split, Croatia
There are so many things to do and see in Split, Croatia. To save you some time finding the most scenic spots, I've put together some of the most photo worthy spots to visit in Split and the surrounding countryside. This includes the many facets of this colorful city from old to new, gorgeous vistas, harbor views, historic landmarks and the natural beauty of the Dalmatian coastline.
Following are my top places to visit in Split and the most photo worthy spots to visit around the city and not just the usual tourist attractions of Split to visit.
Split farmers market
It happens every morning beyond the east or silver gate of the city, the farmers market is a lively and colorful venue to visit. One of the fun things to do in Split, the outdoor markets are a perfect spot to photography and capture fresh produce and  products, vendors and locals shopping, attractive flower stalls and every day activities focused on shopping within the historic center.
It's worth checking out and even picking up some picnic food or local snacks for your day. Early in the morning is when the vendors are busy setting up so there is not as many shoppers and more time to take pictures as long as you aren't in the way of them setting up, you should find some great photo opportunities in this not so tourist attraction in Split.
There's a fantastic daily market in the old town and also the fish farmers market that is also fun to visit in the same part of town.
Check out the market tour visit below
The Split fish market
One of the most unusual and ornate places to visit in split is the local fish market. It is a lively and busy place to photograph and capture the busy market, loud vendors and some amazing seafood on display in a gorgeous old building that has been the market venue for many generations. It's a must do place to see, smell and photograph the markets in the early morning hours when the locals go shopping for evenings meal.
The market and outside stalls are all perfect places to photograph what is being caught, prepped and sold to buyers so you will definitely find something good to capture. One of the best ways of adding to your Split Croatia photography is to go where to locals love to shop, dine and hang out and the fish market fits all of those requirements.
You'll find some of the most beautiful and even ugly fish and shellfish for sale and if you have any interest in cooking, these are definitely worth getting to prepare a fantastic meal here in Split.
Check out this visit to the colorful fish market at Split
The bell tower of Saint Domnius cathedral
One of the best views from Split involves climbing the main bell tower of the cathedra is a real adventure, and you will be rewarded with amazing views and scenic places to see of Split with spectacular views of the harbor, coastline and the surrounding mountains. It's a relatively easy climb but a little scary since the tower is open air with a windy uphill climb – so do take precaution especially when both climbing and descending stairs are the same. Once your on top, you can walk around all the different sides with 360 degree views below and around Split.
Definitely one of the most iconic tourist attraction in Split you'll see in town, it's worth the effort to climb the tower for spectacular views around the city and countryside. You'll definitely get the best views of Split from above the bell tower.
Here's the views from the bell tower looking at the old town and harbor
Exploring Split's historic district
The entire historic district used to be the remains of the Diocletian Palace and now houses the various plazas, markets and small streets filled with tourist and curio shops. Some of the most picturesque portions include the four main entrance gates, the Peristil square (the main square of Diocletian's palace), and Jupiter's temple which faces Peristil Square. You'll find some wonderful architectural studies, people photography and even musicians or performers that are perfect subjects while visiting these attractions.
Check out this walking tour of the Old Town of Split
Touring Split's bay front area
One of the best Split instagram spots is on the waterfront area around the harbor of Split. The waterfront and harbor is a fantastic area for capturing many scenes including the entire city skyline, mountains surrounding the city, harbor views and scenic coastline views past the harbor. Even finding a spot along the cement platforms at Riva harbor is an excellent place to enjoy people watching, and then capturing some beautiful sunset photographs looking out to the harbor and ocean. Late afternoon to sunset is an ideal time to get great light and sunset to evening views along the scenic waterfront area.
Enjoy a walking tour around the harbor area of Split below
 Views from Marjan Hill
Just to the west of Split is an oasis of green and a popular spot for long walks and great panoramic vistas of the city from the top of Marjan Hill. One of the best views to photograph in Split, the area is relatively quiet area that mostly locals take for a nice walk or even some alpine climbing on the south side area of the hill. If your looking for quiet green spaces away from the maddening day trippers in town,  go and climb up to the top of Marjan Hill and you will be rewarded with beautiful views, some ruins and smaller churches to visit along the park areas of Marjan Hill and some gorgeous Split viewpoints to capture in photos.
Tip – If you plan to visit Marjan Hill late in the day, this is definitely where to watch sunset in Split and capture images of the entire city and harbor area.

Here are some highlights to visiting Marjan Hill below
Inside tips to visiting Split, Croatia and capturing the best pictures

Walking through Split's port and harbor
One of the most beautiful and Splt Instagram able places is at the harbor area. Along the port and a short walk uphill is a peninsula and small park- another scenic spot to capture some nice panoramas of the harbor and the entire city beyond the harbor.  A relatively short walk from the central district, the area around the harbor and park are worth the effort and quiet from the bustling crowds in the tourist areas of the historic district.
One of the best view spots in Split to check out the daily scenes of fishermen with their setting up their tackles and baits or unloading the fresh seafood early in the morning to go off to the market area.
Tip – Walk all the way around the harbor to the view points looking back to the historic district to capture the best views of Split from the harbor area

Visiting Galerija Meštrović
One of the off the beaten tourist attraction to explore just outside Split is the Galerija Mestrovic. A short bus or taxi ride from the central district is the home and now converted gallery/museum to Croatia's most famous artist and sculptor Mestrovic. The cool galleries all contain many of his masterpieces which fit perfectly in each gallery space. From the upper levels, beautiful vistas and views of the Dalmatian coastline are perfect spots to capture at the gallery. If you are more energetic the walk back along the coastline is also stunning and a wonderful way to see some of the small inlets, beaches and coastal views around Split
These unique Split viewpoints looking out to the ocean and around different parts of the villa make for instagrammable Split vistas and scenes that you can easily capture in touring the villa and gardens.
Here's a fun visit of the Gallery below
Beaches Around Split
There's a lot of smaller beach areas that are popular local beaches but also a must if you want to get some of that mediterranean sun and swimming in the Adriatic Ocean.
Check ot the gorgeous coastlines and beaches of Split, here's five great beaches to enjoy around the city area below
Where to stay in Split
There are many places to stay in the historic center inside the palace area, on the waterfront or some of the more quiet outlying areas and neighborhoods. Here are some suggestions of where to stay in Split.
Piazza Heritage Hotel – located close to the Palace grounds in one of the main squares in a beautiful classic style building, the hotel is well maintained, friendly service, spotless rooms and exceptional breakfast service
Hotel Luxe – Modern and clean with large sized rooms, many with harbor views, great breakfast buffet and good customer service
Hotel Marul – Centrally located, this boutique hotel within walking distance of the historic district, great front desk service, good breakfast service and comfortable and elegant bedrooms.
Palace Augubio – Located in the historic district this small boutique inn has only three rooms and is very quaint and exudes sense of place in the historic area, beautifully furnished with excellent breakfast service
For more reviews and price updates on the TripAdvisor in Split, you can check the link for updates and calendar availability.
Please pin this post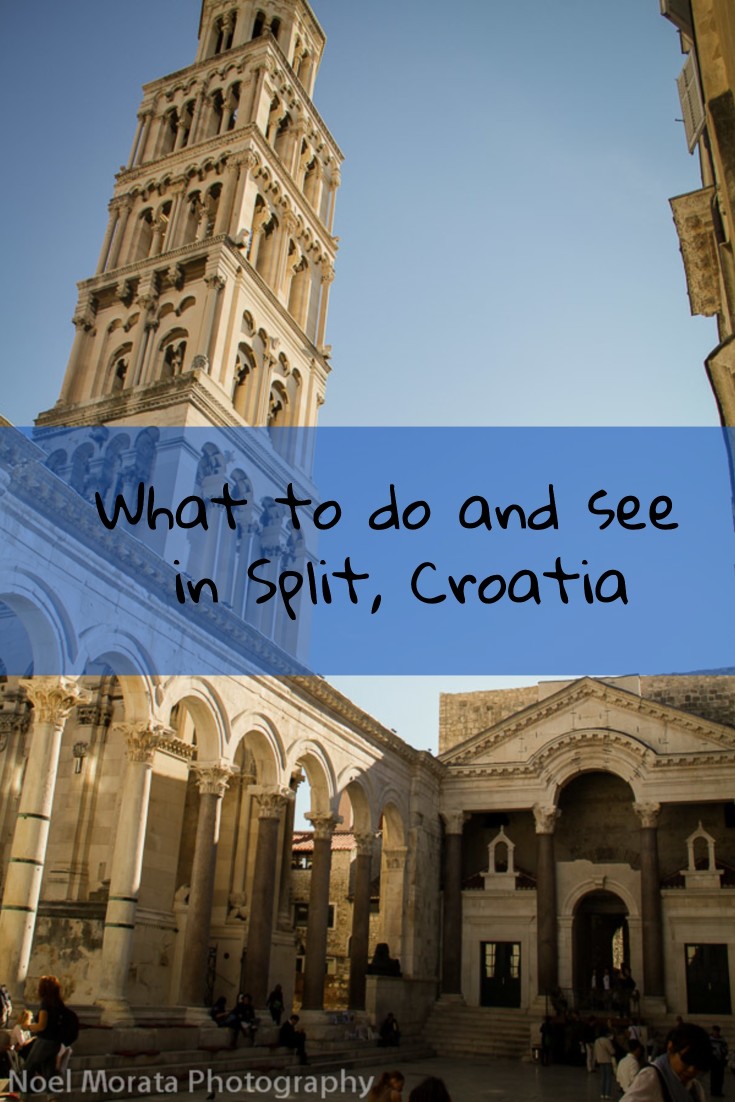 What are the local foods to eat in Split
When visiting Split, Croatia, you'll have the opportunity to indulge in a variety of delicious local foods that showcase the region's culinary traditions. Here are some must-try dishes in Split:
Peka: This traditional Croatian dish consists of meat (usually lamb or veal) and vegetables slow-cooked under a metal bell-shaped lid, known as "peka." The result is tender, flavorful meat and perfectly roasted vegetables infused with aromatic herbs.
Black Risotto (Crni Rižot): A popular seafood dish made with cuttlefish or squid, rice, garlic, onions, and red wine. The black color comes from the squid ink, which imparts a rich flavor and unique appearance to the dish.
Dalmatian Prosciutto (Pršut): This dry-cured ham, typically made from locally raised pork, is a delicacy in the region. Savor thin slices of this savory, aged ham with cheese, olives, and freshly baked bread for a delightful combination.
Fresh Seafood: Being a coastal city, Split offers a fantastic array of fresh seafood. From grilled fish (such as sea bass or bream) to octopus salad, black cuttlefish risotto, and shellfish, you'll find a wide range of options to satisfy your seafood cravings.
Pašticada: A slow-cooked beef stew marinated in red wine and herbs, then served with homemade gnocchi. The meat is tender and flavorful, thanks to the lengthy marinating and cooking process.
Soparnik: A traditional Dalmatian pie made with a filling of Swiss chard, onions, and garlic, wrapped in thin layers of dough. It is baked until crispy and served as a flavorful vegetarian option.
Maraschino Liqueur: Produced in the nearby town of Zadar, Maraschino liqueur is made from Marasca cherries and has a unique sweet flavor. Enjoy it as an aperitif or mixed into cocktails.
Croatian Wines: Croatia has a rich winemaking tradition, and Split offers an excellent selection of local wines. Look for Plavac Mali (a robust red wine), Pošip (a crisp white wine), and Babić (a medium-bodied red wine) to accompany your meals.
Where to eat in Split
With glorious food from Dalmatia, delicious seafood and local food to explore in the area, there's so many worthwhile eating venues to consider in the city. Check out these popular video tours of the best places to eat in Split now.
Split – Croatian food and food venues
Top places to eat in Split, Croatia
Foods to eat in Split, Croatia
More tips to capturing Split, Croatia
Certainly, capturing the essence of Split, Croatia, in your photographs is a rewarding experience. Here are some more tips to help you make the most of your photography journey in this beautiful city:
1. **Golden Hours**: Make the most of the early morning and late afternoon golden hours. The soft, warm light during these times enhances the city's beauty.
2. **Historic Alleyways**: Explore the charming historic alleyways of Diocletian's Palace. These narrow streets are full of character and provide excellent opportunities for capturing the local life.
3. **Peristyle**: The Peristyle is a central courtyard within the palace and is often a hub of activity. Try to visit when it's less crowded to capture its grandeur.
4. **Marjan Hill**: Hike up Marjan Hill for breathtaking panoramic views of Split, the Adriatic Sea, and nearby islands. Sunset shots from here are particularly magical.
5. **Riva Promenade**: The Riva Promenade along the waterfront offers various perspectives of the city and is perfect for street photography.
6. **Cathedral of Saint Domnius**: This iconic cathedral is a magnificent subject. Experiment with angles to capture its impressive architecture.
7. **Local Life**: Don't hesitate to interact with locals and include them in your photos. The friendly people of Split can add a personal touch to your images.
8. **Island Hopping**: If you have the chance, take a boat tour to the nearby islands. The crystal-clear waters and charming villages make for excellent photo opportunities.
9. **Sunsets by the Sea**: Split's sunsets are legendary. Head to one of the city's beaches or the waterfront for breathtaking sunset shots.
10. **Reflections**: Look for reflective surfaces like water puddles after rain or polished stone floors to create stunning reflections of the cityscape.
Remember, the best photos often come from exploring off the beaten path and experimenting with your creativity. Enjoy your photography adventure in Split!
Places to explore around Split and Dalmatia
There's some really cool places to visit close to Spilt and the gorgeous Dalmatian coastline, consider adding these to your bucket list of places to visit around Split.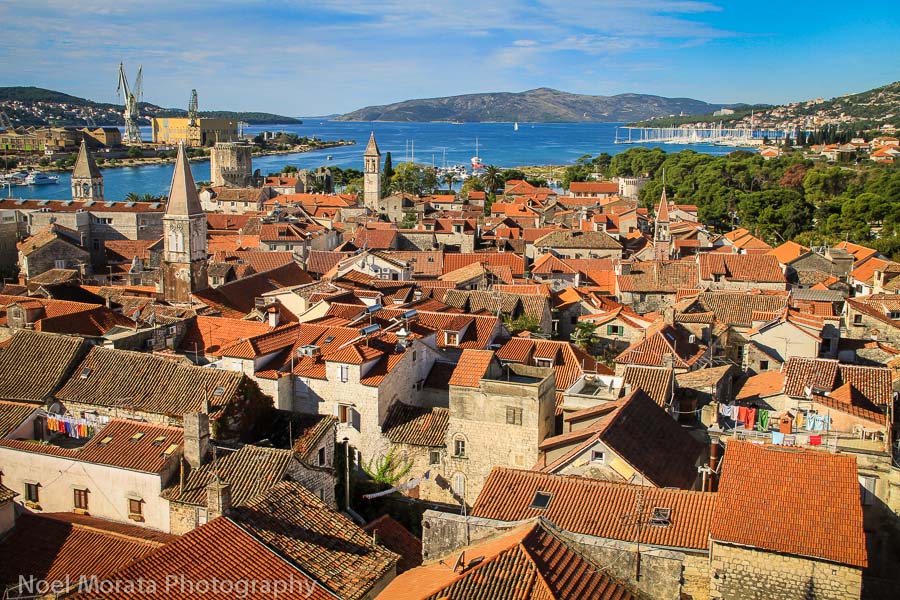 Visit to Trogir
Trogir is a short drive on the Dalmatian coastline from Split and a fantastic place to explore. An island that is connect to the mainland through bridges, Trogir is mostly pedestrian oriented which makes it easy to explore the many narrow streets and squares around the island. Filled with architectural treasures and attractions, there's a lot to see and enjoy around Trogir and the waterfront areas.
Chect out this post on enjoying a day in Trogir, Croatia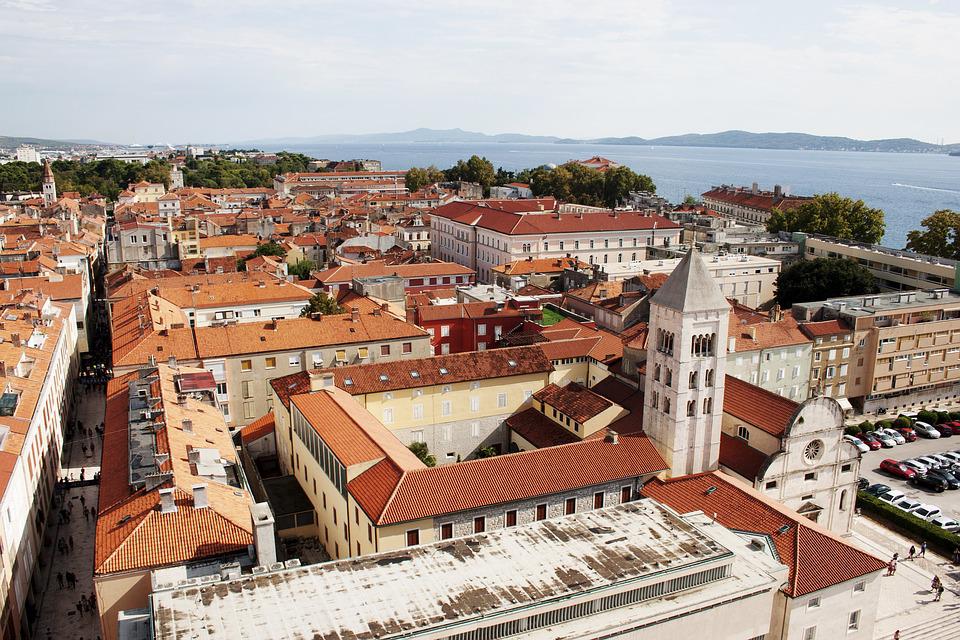 Exploring historic Zadar, Croatia
A long peninsula juts out of the Dalmation coast where Zadar is situated in the northern part of the country and is a historic city to explore. Inside the city gates of Zadar, you'll find the remains of the Roman city to Venetian architecture in a variety of different and unique building styles in the city to explore. It's compact and walkable around the historic town and make sure to spend some time along the waterfront to enjoy the wave organ and the cool lit greeting to the Sun which is this unique Large scale solar panel that you can actually walk on.
Check out the highlits to a Visit to Zadar, Croatia

Visit to Pr
imosten, Croatia
An easy short drive along the Dalmation highway from Split will get you to Primosten in under an hour. The little town juts out of the peninsula with a small hill above with the town site and attractions to visit in this small town. You'll find cool churches, shops and narrow streets that lead to the larger waterfront area squares where most of the restaurants are. Serving a variety of fresh seafood and Dalmation food specialties from the area, this easy day trip to Primosten is a fun way to explore around the Dalmatian coast of Croatia.
Check out this visit to Primosten here 
Weather and best time to visit Split, Croatia
Split, Croatia enjoys a Mediterranean climate, characterized by hot, dry summers and mild, wet winters. The city's weather makes it an appealing destination year-round, but the best time to visit Split depends on your preferences and the activities you plan to engage in. Here's an overview of the weather and the ideal times to visit:
Summer (June to August): Summer is the peak tourist season in Split. The weather is hot and sunny, with temperatures averaging between 25°C to 30°C (77°F to 86°F). This is the perfect time for beach lovers and water enthusiasts to enjoy the crystal-clear waters of the Adriatic Sea. The city comes alive with festivals, outdoor events, and vibrant nightlife. However, be prepared for larger crowds and higher accommodation prices during this period.
Spring (April to May) and Autumn (September to October): Spring and autumn offer pleasant temperatures and fewer crowds compared to the summer months. Average temperatures range from 15°C to 25°C (59°F to 77°F) during these seasons, making it ideal for outdoor activities and exploring the city's historical and cultural sites. Spring brings blooming flowers and vibrant green landscapes, while autumn showcases beautiful fall colors. These shoulder seasons provide a comfortable balance between favorable weather and a more relaxed atmosphere.
Winter (November to March): Winter in Split is mild compared to many other European destinations, with average temperatures ranging from 5°C to 15°C (41°F to 59°F). While the weather may not be suitable for swimming, winter can be a great time to visit if you prefer fewer crowds and lower prices. You can explore the city's attractions without the summer hustle and bustle and enjoy a more authentic experience. However, be prepared for occasional rain and cooler temperatures, especially in December and January.
It's important to note that weather patterns can vary, and it's always a good idea to check the forecast before your trip. Regardless of the season, Split offers a unique charm, with its rich history, stunning coastal scenery, and delicious cuisine. Whether you're basking in the sun on the beaches, exploring ancient ruins, or indulging in local delicacies, Split promises an unforgettable experience throughout the year.
How to get around Split, Croatia
Getting around Split is convenient and straightforward, thanks to its well-connected transportation system. Here are the main modes of transportation you can use to navigate the city:
Walking: Split's compact city center is pedestrian-friendly, making walking the ideal way to explore its narrow streets and historic landmarks. Stroll through the ancient Diocletian's Palace, wander along the Riva promenade, and discover hidden gems at your own pace.
Public Transportation: Split has an efficient public transportation system operated by Promet Split. Buses are the primary mode of public transportation, serving the city and its surrounding areas. You can purchase tickets from kiosks or directly from the bus driver. Buses are a convenient option for reaching destinations outside the city center or exploring nearby towns.
Taxis: Taxis are widely available in Split, and they can be hailed on the street or found at designated taxi stands. Ensure that the taxi has a working meter or agree on a fare before starting the journey. Ride-hailing services like Uber are also available in Split, providing additional options for transportation.
Bicycles: Split offers a bike-sharing system called Split City Bike, which allows you to rent bicycles for short-term use. You can find bike stations throughout the city, and it's a fun and eco-friendly way to explore Split's sights and waterfront areas.
Car Rental: Renting a car gives you the freedom to explore Split and its surrounding areas at your own pace. Several car rental agencies operate in the city, and there are parking lots available, although finding parking can be challenging in the city center during peak tourist seasons.
Ferries: Split is a major transportation hub for exploring the stunning Dalmatian islands. Ferries operate from the main Split Ferry Port, connecting you to popular destinations such as Hvar, Brac, Vis, and the beautiful Blue Cave. Ferry services are a scenic and enjoyable way to explore the nearby islands.
When planning your journeys, consider using mobile apps or online resources for public transportation schedules and routes. Split's compact size and well-connected transportation options ensure that you can easily navigate the city and discover its historical treasures, scenic landscapes, and vibrant atmosphere.
Looking for more Croatia stories?
For more posts on visiting the fascinating city of Split and Dalmatia – check out my other stories below
A free Split city tour of the Diocletian Palace
Local foods of the Dalmatian coastline
Visit to the morning fish market in Split
Pin and save this for later
Conclusion to Finding the best views around Split, Croatia
Split, Croatia offers a plethora of photo-worthy spots that are sure to captivate photographers and travelers alike. From its ancient Roman ruins and historic landmarks to its stunning coastal vistas and charming alleyways, Split provides a visual feast for all. Whether you're capturing the iconic views of Diocletian's Palace, exploring the vibrant markets of the Old Town, or admiring the crystal-clear waters along the promenade, there are endless opportunities to capture unforgettable moments. The city's rich history, natural beauty, and vibrant atmosphere make it an ideal destination for photographers seeking to capture the essence of Croatia's Adriatic coastline. With its picture-perfect settings and timeless charm, Split is truly a photographer's paradise.
These are some of the ideal photo worthy spots around Split for those interested in taking pictures with fine views and interesting subject. Hope you do visit some of these locations to round out your photo captures of the Diocletian palace and areas surrounding Split.
Did you enjoy this post on capturing the best views of Split?
Any parts of split you would like to visit first? Please do share it in the comments below.
If you like what you see, come and check out my other social media channels for more updates, including Instagram, Pinterest and Twitter
If you enjoyed this post on Split, Croatia – the most photo worthy spots to visit, please do share the post with any of the social media buttons below.
Disclosure – There are affiliates links on this posts which provide a small commission to support this site at no extra cost to you. Thank you for reading, and happy travels