Ferry Plaza Farmers Market in San Francisco: A Vibrant Culinary Haven for Locals and Tourists Alike
The Ferry Plaza Farmers market at the San Francisco Embarcadero is the most popular and busy outdoor and indoor market to visit in San Francisco. On market days, you'll find vendors from all around the state converge around the plaza, sides and back are of the Ferry Plaza and set up to sell delicious fresh produce, finished artisanal products and oh so good foods to go from the various booths around the marketplace.
This guide shares some of the highlights to visiting the marketplace from the outdoor venues to indoor booths, stores and restaurants that you can see and experience on a food tour here.
.
It's Fun to shop at the Ferry Plaza Farmers Market
The Ferry Plaza farmers market is widely acclaimed for providing the freshest and largest variety of produce straight from the farms, artisanal products and finished brands along with other certified organic products.  As a certified California farmers market, the Ferry Plaza farmers market upholds a high standard while promoting sustainable, local production and distribution of these raw and finished products. It's definitely a foodie hangout and attracts top local chefs and fussy buyers to support well-known artisanal and farm products grown or made locally.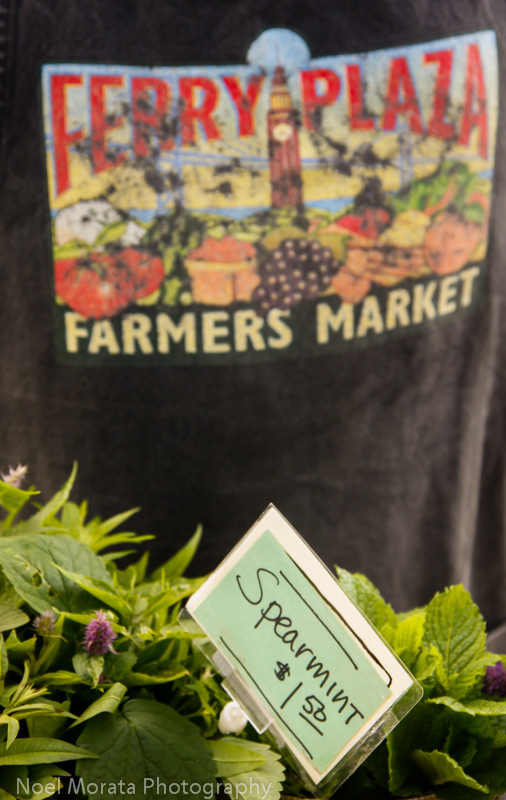 Ferry Plaza FAQ
Where is the Ferry Plaza in San Francisco?
The mecca of farmers markets in San Francisco is held outside in front of the Embarcadero ferry terminal three times weekly, with the largest market taking place on Saturdays. Located at the Embarcadero Center at the Ferry Plaza terminal, the historic ferry gateway to the city, the market sprawls around the front, side and back areas of the outdoor areas. The indoor galleries are also food focused with restaurants, kitchen shops and specialty foods sold in the area along with other specialized artisanal producers from the area.
Why visit the Ferry Plaza Farmers market?
Probably the biggest farmers market happening weekly in San Francisco, the Ferry Plaza market is very popular and huge, spilling out the sides, back and front of the Ferry Plaza building and celebrates all things fresh, produce, specialty finish goods and delicious take out foods to enjoy with artisanal vendors from the region. It really is fun to see what foods are in season and to try some of the local and really cool bites you'll want to try here while visiting around the market and then the interior halls of the Ferry Plaza.
Are dogs allowed at the farmers market?
Since this is a certified organic market, they sponsors ask that you do not bring any pets outside of service dogs which are allowed to come with owners to help them navigate the market.
What are the hours for the farmers market?
The Ferry Plaza Farmers Market regular hours are from 10 am to 2pm on Tues and Thursday. On Saturday the main market areas are open from 8am to 2pm.
A Delicious artisanal market
Not only is there amazing produce for sale, but there are also popular artisanal products available here including jams, cheese and cured meats, baked breads and pastries. Also, there is also a wide array of artisanal street food available outdoors with vendors selling grilled meats, wood fired pizza, and a variety of other ethnic specialties. It's almost mandatory to try out some of the delicious offerings from the food vendors after a busy morning visiting and shopping at your favorite produce and artisanal vendors.
Check out the artisanal food purveyors inside the Ferry Plaza 
The Ferry Plaza Farmers Market in San Francisco is renowned for its diverse range of artisanal food vendors. Here are some notable vendors you can find at the market:
Cowgirl Creamery: Known for their exceptional artisan cheeses, Cowgirl Creamery offers a variety of handcrafted cheeses made with locally sourced ingredients.
Acme Bread Company: A beloved bakery that specializes in traditional, handcrafted bread using organic ingredients and time-honored baking techniques.
Blue Bottle Coffee: Renowned for their high-quality, meticulously sourced and roasted coffee beans, Blue Bottle Coffee serves up delicious cups of coffee and espresso drinks.
Primavera: This vendor offers authentic Mexican cuisine, featuring handmade tortillas, tamales, and other traditional dishes made with locally grown ingredients.
Humphry Slocombe: A popular ice cream vendor known for their unique and adventurous flavors, such as Secret Breakfast (bourbon and cornflakes) and Vietnamese Coffee.
Fort Point Beer Company: A local craft brewery that offers a variety of well-crafted and flavorful beers, including their popular Fort Point IPA.
Dandelion Chocolate: This vendor specializes in small-batch, bean-to-bar chocolate made from ethically sourced cacao beans, resulting in exceptional chocolate bars and confections.
Marla Bakery: Known for their delectable pastries and baked goods, Marla Bakery offers a delightful selection of bread, croissants, scones, and more.
Here's a fun tour of the Ferry Plaza Farmers market below
Weather and best times to shop at the Ferry Plaza
The weather at the Ferry Plaza Farmers Market in San Francisco varies throughout the year, but overall, it enjoys a mild and pleasant climate. Summers are typically cool, with average temperatures ranging from the mid-60s to low 70s Fahrenheit (around 18-23 degrees Celsius). Winters are also mild, with temperatures averaging in the mid-50s to low 60s Fahrenheit (around 12-16 degrees Celsius).
When it comes to the best times to shop at the Ferry Plaza Farmers Market, there are a few factors to consider. The market operates on Tuesdays, Thursdays, and Saturdays from early morning to early afternoon. Saturdays are often the busiest and most bustling days, drawing a large crowd of locals and tourists. If you prefer a lively and vibrant atmosphere, Saturday mornings are the prime time to visit.
For a more relaxed shopping experience with fewer crowds, Tuesdays and Thursdays can be ideal. These weekdays still offer a fantastic selection of fresh produce, artisanal goods, and delectable treats, but with a bit more breathing room. Arriving early in the morning ensures a wider array of choices, as some popular items tend to sell out quickly.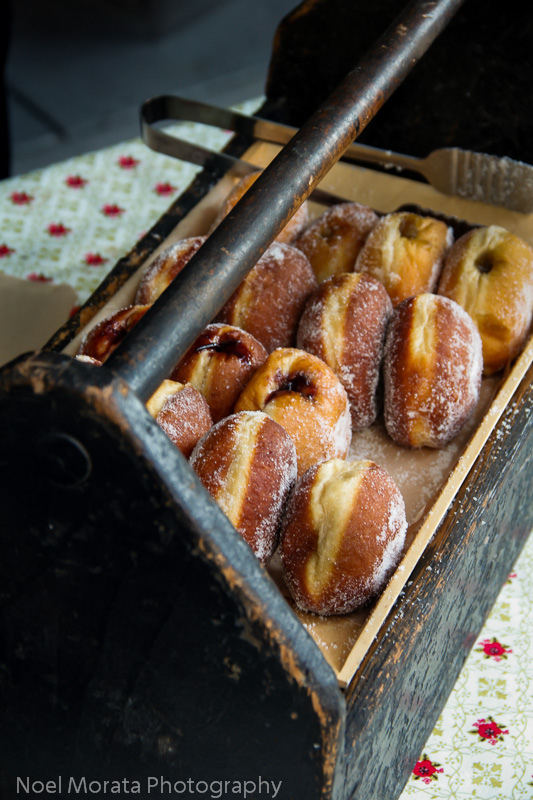 Portuguese malasadas (donuts) are filled with exotic fillings like mango, passion creme and guava
Check out the Ferry Plaza Farmers market video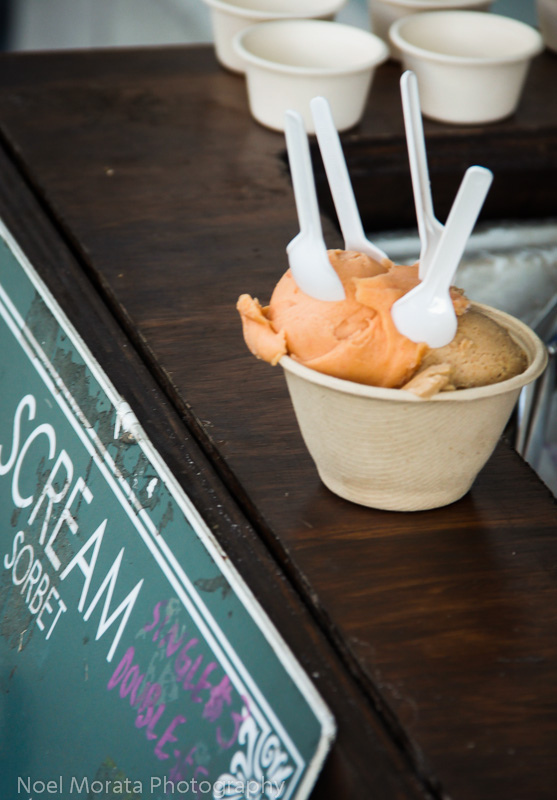 Specialty food focused
It is a cornucopia of different raw, artisanal product and street food available all in one place. Along with the weekly farmers market, the Ferry Plaza Embarcadero houses some of the most original and well-known food brands, restaurants and purveyors from Northern California all under one large complex. You'll definitely be in foodie heaven when you visit this mecca of food and food lifestyle in San Francisco. You can easily spend an entire day at the farmers market and then shop at the Ferry Plaza, then capping it all with a delicious meal with the outdoor street vendors or any of the fabulous restaurants inside the Ferry Plaza Embarcadero.
Focus on education, supporting local and artisanal creations
The organizers of the market offer fantastic and free cooking classes, demonstrations, tours and other fun public events during market days and is a great way to promote healthy and good eating in the city. While visiting the market, check out the information booths for free talks and events that may be happening that day for you to participate in.
Here are a few more favorites on display during the market days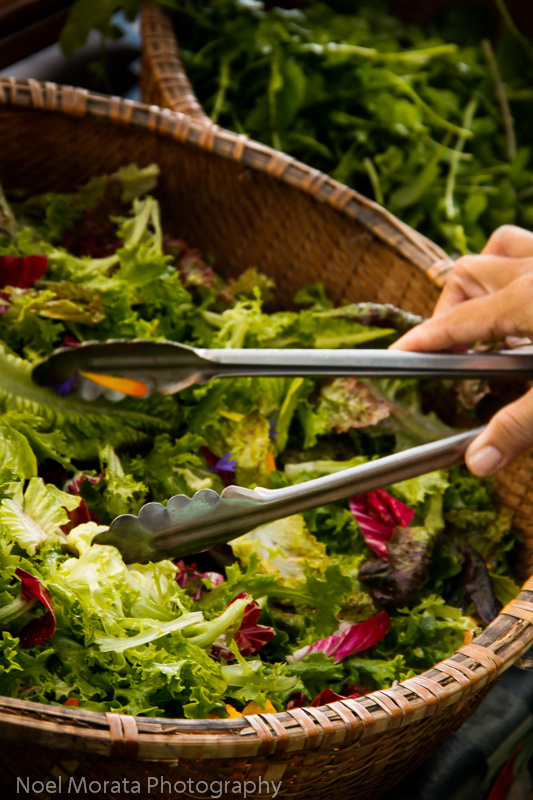 A medley of salad greens and edible flowers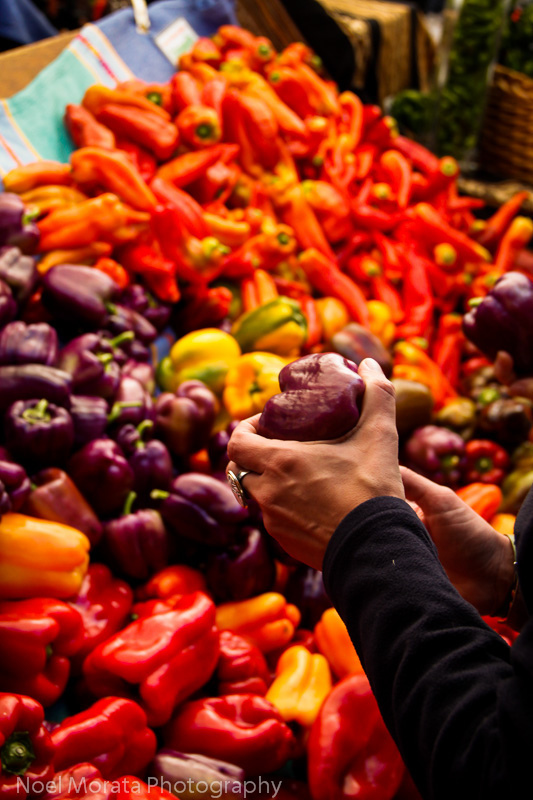 An assortment of colorful peppers from mild to extremely hot.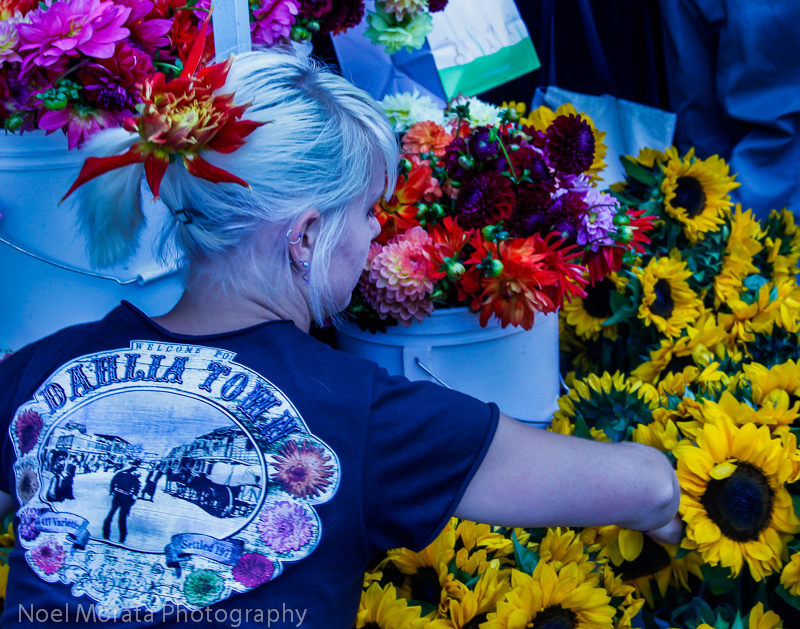 The dahlia lady, makes preps up her display for some fast selling dahlias and sunflowers.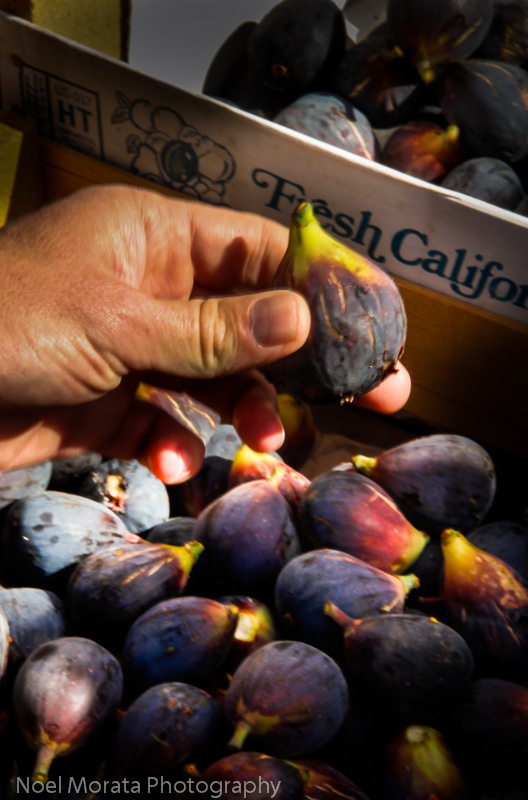 Specialty food growers at the Ferry Plaza Market
The Ferry Plaza Farmers Market in San Francisco is home to several specialty growers who offer unique and high-quality produce. Here are some of the specialty growers you can find at the market:
Dirty Girl Produce: Known for their exceptional organic strawberries, Dirty Girl Produce also offers a variety of other seasonal fruits and vegetables
County Line Harvest: This farm specializes in organic produce, with a focus on salad greens, heirloom tomatoes, and a wide array of vegetables.
Marshall's Farm Honey: A local beekeeper that specializes in artisanal, single-varietal honey, offering a range of flavors based on the nectar from different flowering plants.
Full Belly Farm: This certified organic farm produces a diverse selection of fruits, vegetables, herbs, and flowers, showcasing the bounty of Northern California agriculture.
Little Organic Farm: Specializing in heirloom and specialty vegetables, Little Organic Farm offers unique and hard-to-find produce varieties that are grown using organic and sustainable practices.
Capay Organic: With a commitment to organic farming, Capay Organic grows a wide range of fruits and vegetables, including heirloom tomatoes, stone fruits, and leafy greens.
Hamada Farms: Known for their exceptional stone fruits, Hamada Farms brings a variety of juicy peaches, nectarines, and plums to the market during the summer season.
Catalán Family Farm: This family-owned farm specializes in organic citrus fruits, offering a diverse selection of oranges, mandarins, lemons, and other citrus varieties.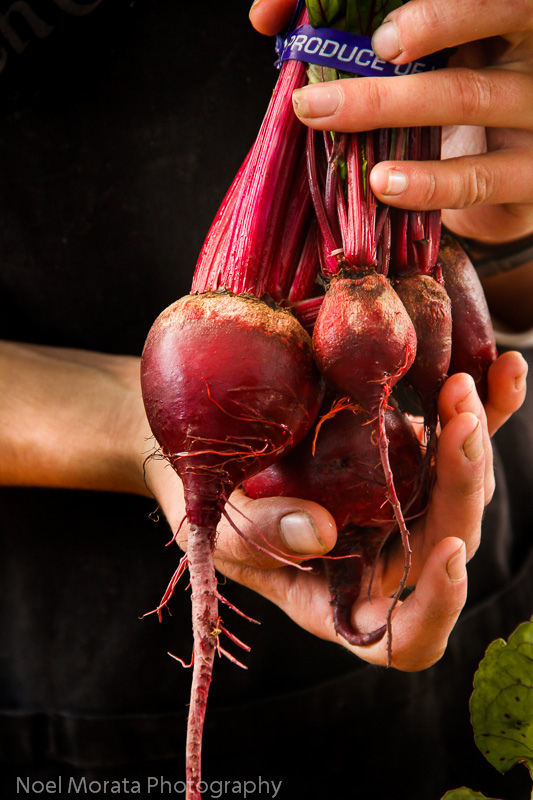 Aren't these gorgeous looking beets?
Visiting the specialty galleries at the Ferry Plaza
Details to visiting the Ferry Plaza Farmers Market
Take public transportation to the Embarcadero, it's easy, no parking hassles and cheap
There are free talks, cooking shows and events that happen at the market, so check with the info booths for a schedule
Sample all those delicious and in season produce but also try some of the amazing specialty foods available at the market
The interior halls of the Ferry Plaza have more fine dining options and fun shopping for kitchen, home and garden.
The public wharf walkway is close by and fun to walk through and enjoy those water views of the city and bay.
Make sure you bring your own recycled bags to carry away your goodies home.
Restaurants to visit inside the Ferry Plaza
Not only are there food venues to explore outside but inside the Ferry Plaza are amazing foodie focused venues and restaurants that you can enjoy even if the market is not in session on the days that you visit here.
Who are the restaurants inside the Ferry Plaza at the Embarcadero
The Ferry Plaza at the Embarcadero in San Francisco houses a variety of fantastic restaurants and eateries. Here are some notable ones located inside the Ferry Plaza:
Hog Island Oyster Co: Known for their freshly shucked oysters, Hog Island Oyster Co also offers a range of seafood dishes and a casual dining experience with scenic views.
The Slanted Door: A renowned Vietnamese restaurant that serves up modern, flavorful dishes with a focus on fresh, local ingredients and a stunning waterfront setting.
Boulettes Larder: Offering a unique dining experience, Boulettes Larder features a rotating menu of seasonal, farm-to-table cuisine, showcasing flavors inspired by Mediterranean and Middle Eastern influences.
MarketBar: A vibrant restaurant with an open-air setting, MarketBar offers an eclectic menu featuring Californian cuisine with a focus on fresh, local ingredients.
Gott's Roadside: A popular eatery that serves up delicious burgers, hot dogs, and shakes, using high-quality ingredients and offering both indoor and outdoor seating.
Blue Bottle Coffee: Alongside their coffee shop, Blue Bottle Coffee also has a café inside the Ferry Plaza, where visitors can enjoy their signature coffee drinks and pastries.
Out the Door: A Vietnamese-inspired eatery that offers a variety of flavorful dishes, including banh mi sandwiches, rice bowls, and noodle soups.
Check out some of the fun places to explore inside the Ferry Plaza building and indulge in a delicious tour below
Here's a discovery tour of the shops and other eateries to check out inside
Wondering what to eat inside the Ferry Plaza market inside the galleries and outside at the farmers market.
Don't forget to check out the gorgeous bay views from the Ferry Plaza piers
How to get to the Ferry Plaza in San Francisco
Getting to the Ferry Plaza in San Francisco is convenient, and there are several transportation options available. Here's how you can reach the Ferry Plaza:
Public Transportation: San Francisco's public transportation system, known as Muni, offers various options to reach the Ferry Plaza. You can take a Muni bus or streetcar to the Embarcadero Station, which is located just a short walk away from the Ferry Plaza.
BART (Bay Area Rapid Transit): If you're coming from outside San Francisco or from the East Bay, you can take BART to the Embarcadero Station. From there, it's a brief walk to the Ferry Plaza.
Ferry: The Ferry Building is a major hub for ferry services in San Francisco. If you're coming from locations such as Sausalito, Alameda, or Vallejo, you can take a ferry that arrives directly at the Ferry Plaza.
Bike: San Francisco is a bike-friendly city, and there are bike lanes and paths that lead to the Ferry Plaza. You can ride your bike and park it in the designated bike parking areas near the Ferry Plaza.
Walk: If you're in the vicinity of the Embarcadero or downtown San Francisco, you can simply take a pleasant stroll along the Embarcadero and reach the Ferry Plaza on foot.
Ride-Sharing or Taxi: Ride-sharing services like Uber or Lyft, as well as traditional taxis, can drop you off directly at the Ferry Plaza.
Looking for more fun things to do in the area?
There's so many cool and off the beaten path places and neighborhoods to visit around San Francisco. Check out some of our favorite places for you to visit and discover below.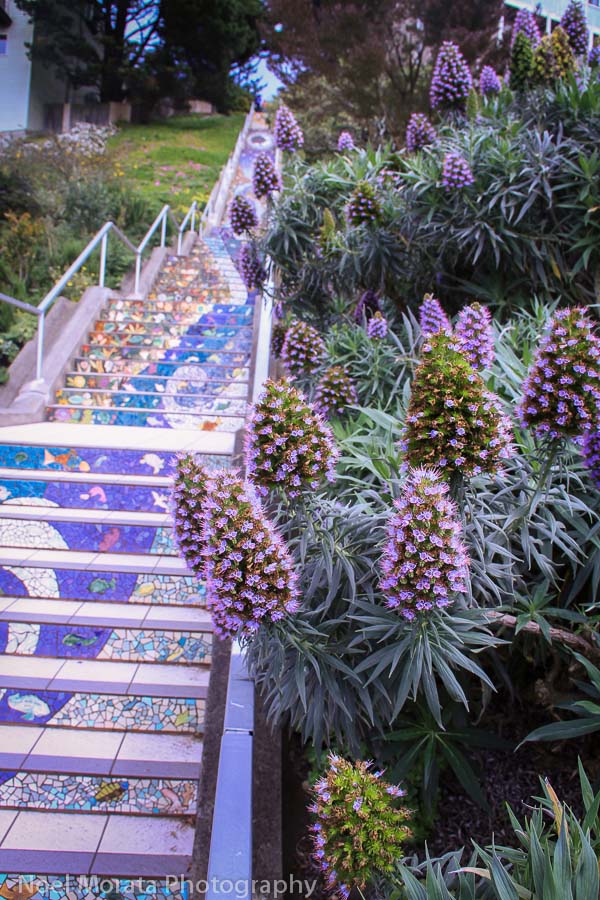 Visit the Cool Stairs of San Francisco
San Francisco has so many amazing stairs to explore in very unique and colorful neighborhoods. Many have beautiful gardens with art and sculpture and even gorgeously decorated with mosaic tile. Check out our post on the cool stairs of San Francisco here for more inspiration and images to visiting these fun places in the city.

Check out the SF views from above
If you love checking out fun viewpoints from above then you'll want to visit all of the fantastic viewpoints. We've picked the most scenic vista points around the city with this post on the best views above San Francisco here for you to get inspired with this wonderful views and capture your own photos and selfies here.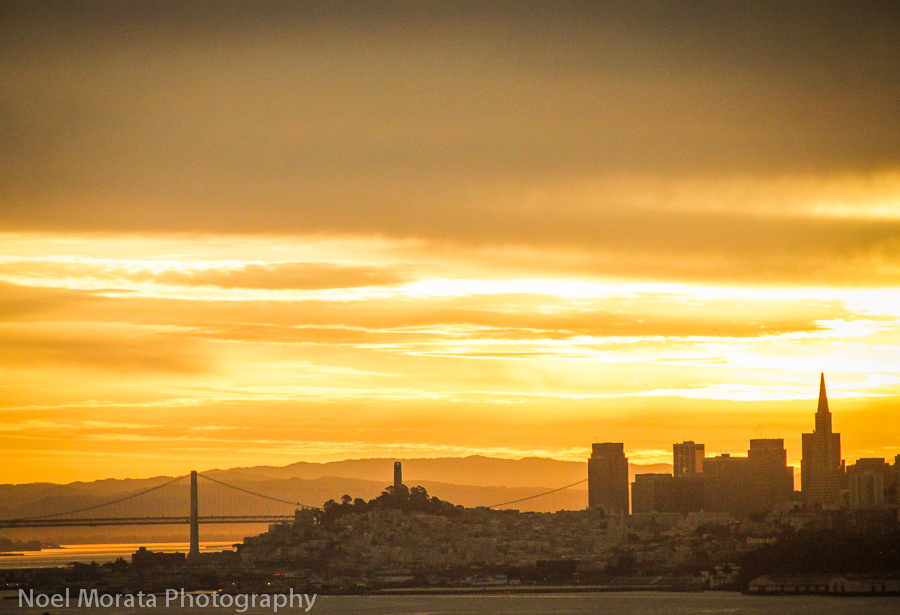 Unusual and quirky San Francisco
San Francisco has so many fun and unusual places, neighborhoods and unique attractions that are above the typical in the city to visit. Many of these are only in San Francisco type places that you definitely should visit if you have free time from visiting the normal tourist attractions.
Check out our post on these 20 quirky and fun places to explore in San Francisco, you'll love visiting all of them when you visit the city.
Check out these other posts to visiting San Francisco
Best San Francisco views from above
Best places to eat in San Francisco
The cool stairs of San Francisco
Cool graffiti at Clarion Alley
Conclusion to the Ferry Plaza Farmers Market
Not only is the Ferry Plaza farmers market a foodie magnet, it is also a great place to photograph the Embarcadero plaza, the market and of course some beautiful images of food. The Embarcadero ferry builing and interior is also worth visiting and taking some more pictures. Just outside the terminal are seating areas and walkways with scenic vistas of the bay front, and the Bay Bridge in the background. If you would like to see some more images of the Embarcadero and the farmers market, please visit my Flickr page and enjoy the images.
Have you been to some amazing farmers markets like the Ferry Plaza market? Please share your favorite markets with us in the comments below.
If you enjoyed this post on Ferry Plaza Farmers Market, a photo essay, please subscribe below and also share the post with a of the social media buttons surrounding the post, thank you.