Unveiling the Charms of San Francisco's Cool Stairs: A Staircase Enthusiast's Delight
Get ready to climb, snap, and explore – the stairs of San Francisco are waiting for you! These vibrant and colorful stairs are a unique feature of the city's urban landscape, with over 350 stairways scattered throughout the hills and neighborhoods. But these aren't your typical stairs – each set has its own personality, history, and stunning views. So whether you're a fitness enthusiast looking for a challenging workout or a photographer seeking the perfect Instagram shot, the stairs of San Francisco are an attraction not to be missed. In this article, we'll take a fun-filled journey through some of the most popular and picturesque stairways in the city, and discover what makes them so special. Climbing up the secret stairs of San Francisco in my experience, is always exhilarating with a fantastic view, secret gardens and artwork to amuse you when you visit.
Why explore the stairs of San Francisco?
There is nothing like climbing up somewhere that is inspiring and part of a journey, and when you finally get to the top, you just may be rewarded with fantastic views of a city skyline or even a peak to San Francisco bay. That's probably what you may find climbing some of the amazing and cool stairs of San Francisco – you just don't know what to expect to find at the end of your climb.
Don't worry, it's worth the effort visiting some of the local stairs in these neighborhoods which are lovingly cared for by the community. Checking out the cool stairs of San Francisco is definitely a fun way to explore the different parts and unknown areas of the city.
How to get to the hidden staircases of San Francisco?
Most of these are not really hidden any more but more local spots around San Francisco that were created by the local communities and collaborations with artists to beautify and area and create a unique stamp and character to that neighborhood. Most of these are easily accessible by bus transportation, Uber or taxi or walking around the city on your own. The staircases of San Francisco are fun and unique and offering some wonderful neighborhood views, gardens and color in that part of the city.
Below, we share many of our favorites and the most colorful and unique stairs to visit and many with fabulous views to enjoy!
Weather and best time to visit San Francisco
San Francisco's weather is influenced by its unique microclimate, resulting in mild temperatures and varying conditions throughout the year. The best time to visit San Francisco largely depends on personal preferences and desired activities. Here's a general overview of the weather and recommended times to visit:
Spring (March to May): Spring in San Francisco is characterized by mild temperatures and occasional rainfall. It's a great time to visit if you enjoy blooming flowers and lush greenery. However, layers are recommended as the weather can be unpredictable.
Summer (June to August): San Francisco experiences cooler summers compared to other parts of California. The temperatures range from mild to warm, with occasional fog rolling in from the coast. While it can be a bit cooler, summer is a popular time to visit due to its many festivals and outdoor events.
Fall (September to November): Fall is often considered the best time to visit San Francisco. The weather is generally mild and pleasant, with fewer crowds compared to the summer months. It's an ideal time for outdoor activities and exploring the city's attractions.
Winter (December to February): San Francisco's winter is mild with cooler temperatures and occasional rain. It's a great time to visit if you prefer fewer crowds and want to explore the city's indoor attractions, museums, and galleries. However, it's always advisable to pack a light jacket or layers as the weather can be changeable.
The fabulous mosaic stairs of Lincoln Park Steps
Created mostly from private funds and fundraising from the Katherine Delmar Burke School next door, this stunning staircase display at Lincoln Park steps is stunning to witness and a relatively new addition to the mosaic stairs in the city. Created by artist Aileen Barr who spent over ten years to create and finesse this stunning mosaic staircase. It is truly a labor of love from the artist and the local community that did all the prep work and fundraising to make this stunning art display and staircase to the top of Lincoln Park. The staircase is only 52 steps and when you get to the top, you'll see Lincoln park and the surround neighborhood with views of the downtown skyline in the background.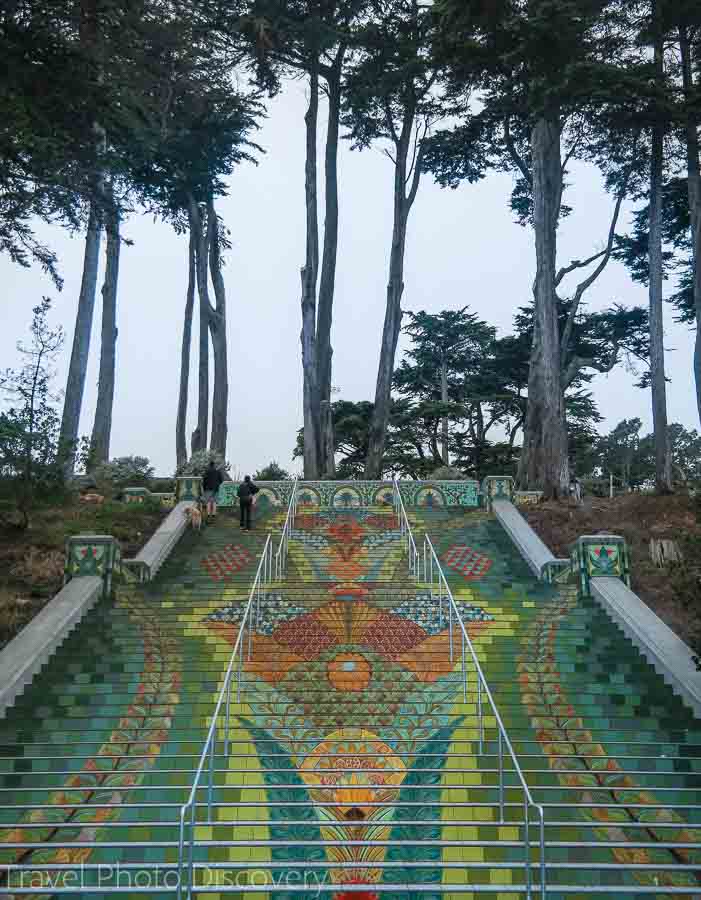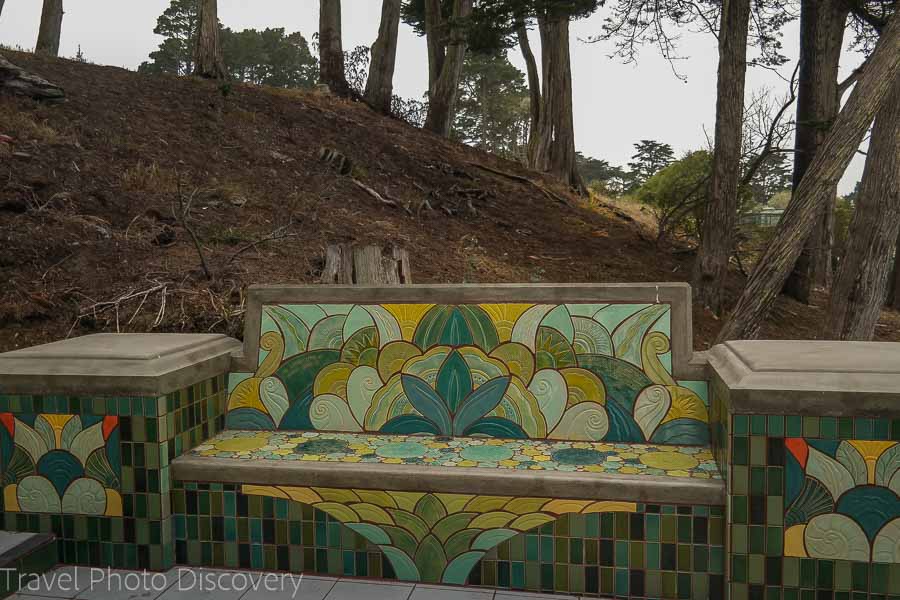 Beautiful stairways with colorful hand made tile details from local artists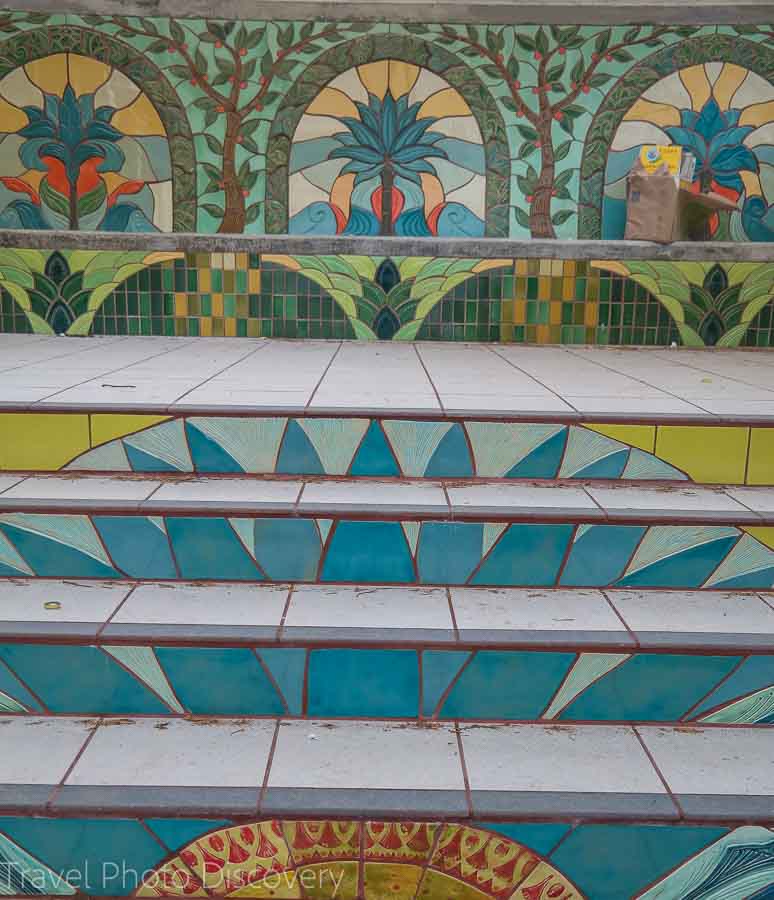 The Lincoln stairs are really amazing and colorful, check it out below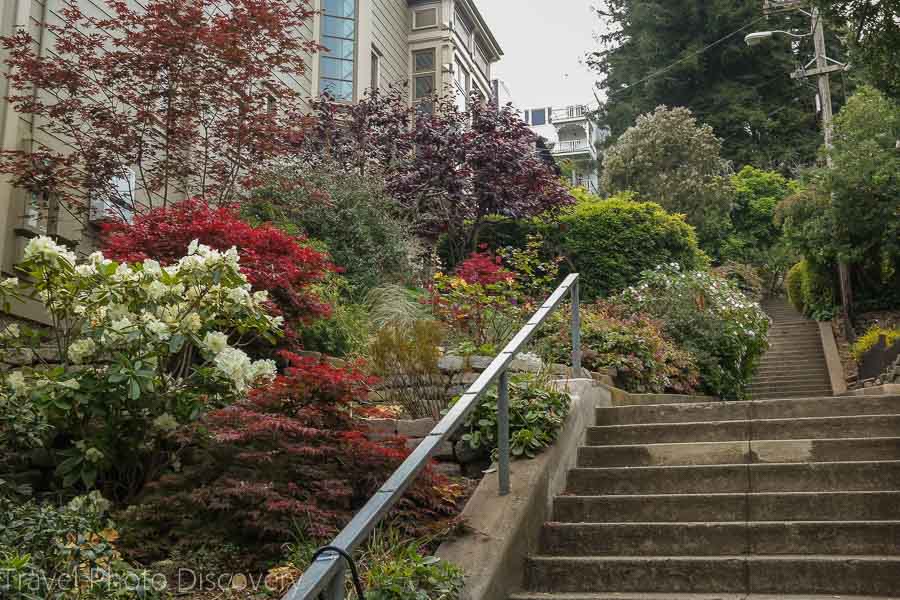 Cool stairs in San Francisco – The Vulcan Steps
Not well visited but well maintained by the local gardeners that have homes in the area, this hidden staircase is about two blocks long and almost feels like a jungle in the big city. With mature trees and sweet peek a boo gardens, it is fun to walk through and even have a nice talk with some of the neighbors that help to keep up the garden staircase. You will find some quirky homes and interesting gardens to look at along the way to the top with some nice views of the immediate neighborhood below.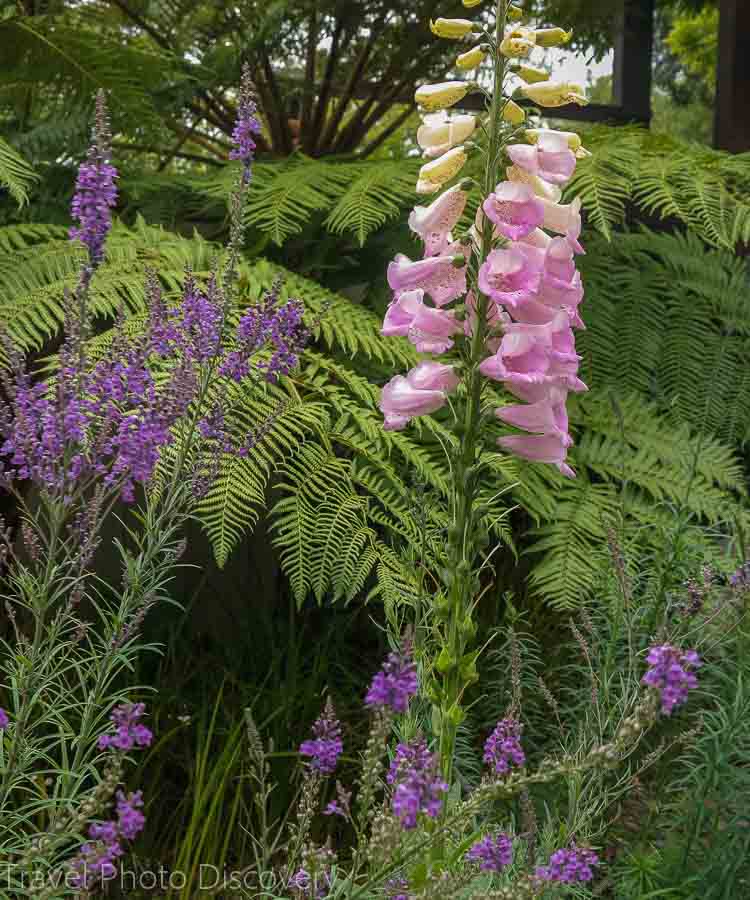 Cherry blossoms in bloom on the Vulcan Steps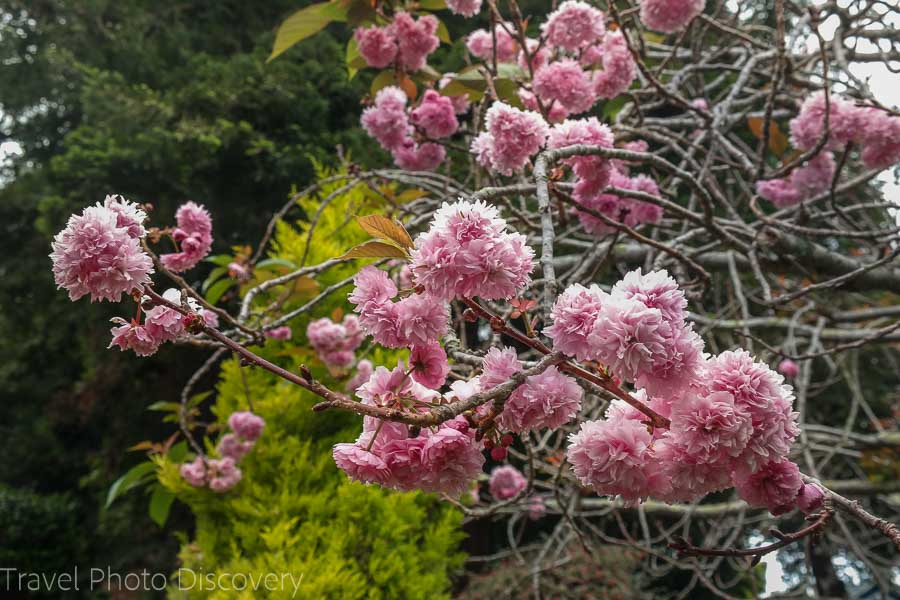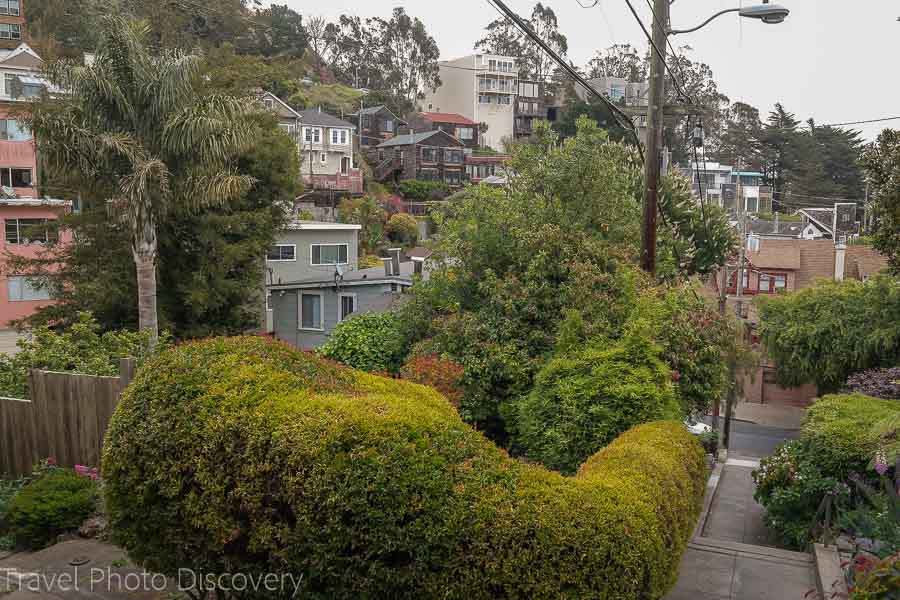 Check out this cool neighborhood and homes at the Vulcan Stairs below

The Saturn Street Stairs
Just a short walk down from the Vulcan stairs is another set of stairs at Saturn Street.  It's located off 17th street and Saturn with relatively easy parking on the street. (at least in the morning hours). From the street you can easily find the stairs to start your climb up the fairly easy block long staircase.  The best thing about visiting this local staircase is that it is lovingly cared for the entire neighborhood and if you make it to the top of this short climb, it has some wonderful views of the Castro area with peek a boo views of the bay below.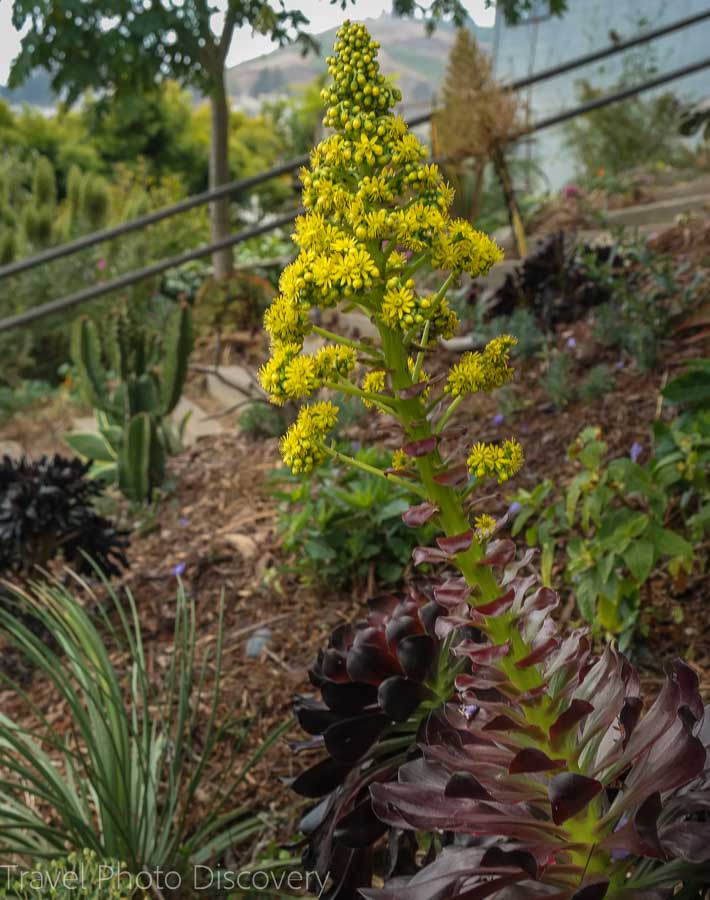 A profusion of annual colors on display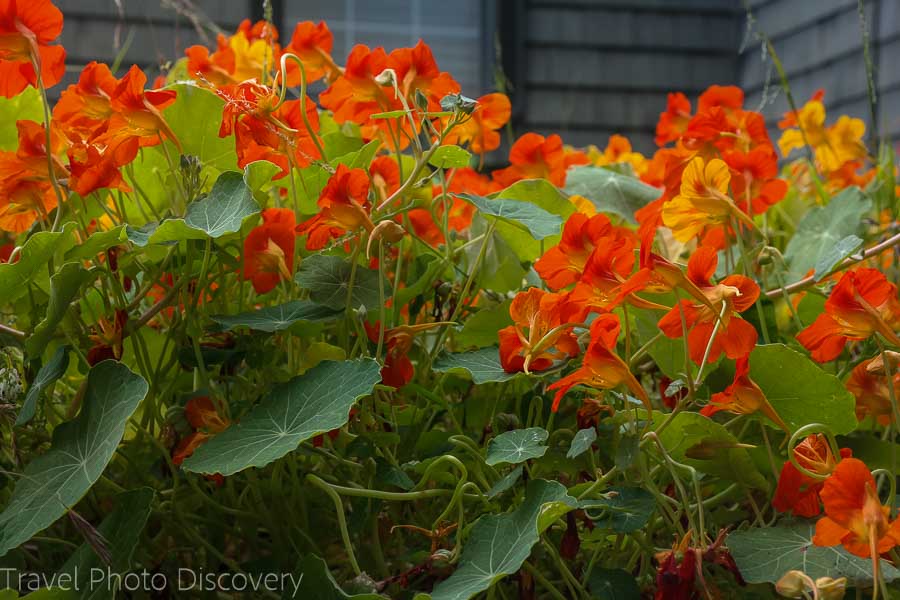 Views from the top of Saturn Street Stairs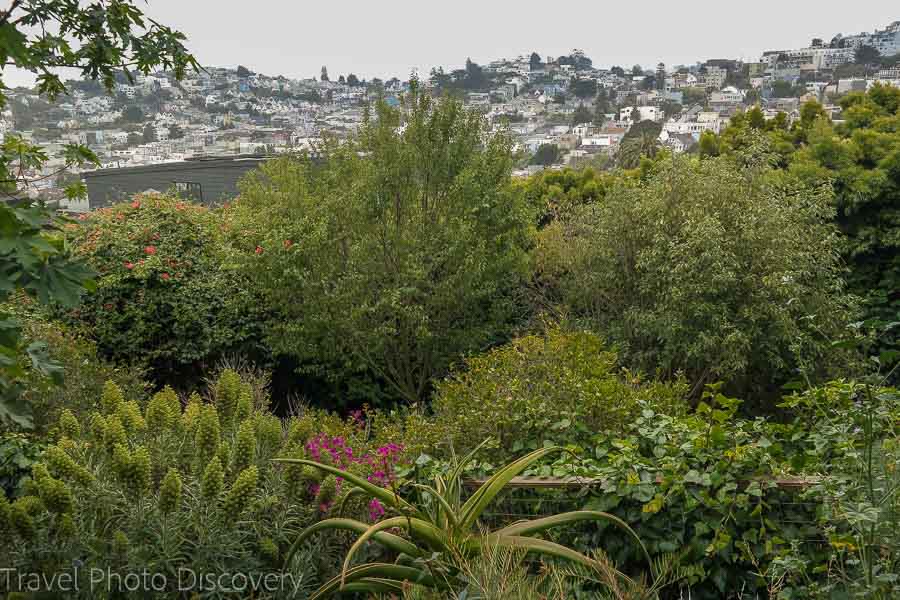 The famous 16th Avenue mosaic stairs
One of the most colorful and popular stairs to visit in San Francisco are the 16th Avenue mosaic stairs. This large staircase is definitely worth visiting and easy to get to with public bus transportation. At the base of the stairs you will find mostly California native plants that are carefully planted and maintained by local neighbors who live in the area.  To find out more information and cool pictures of stunning mosaic work, check out my recent post on the 16th Avenue stairs here.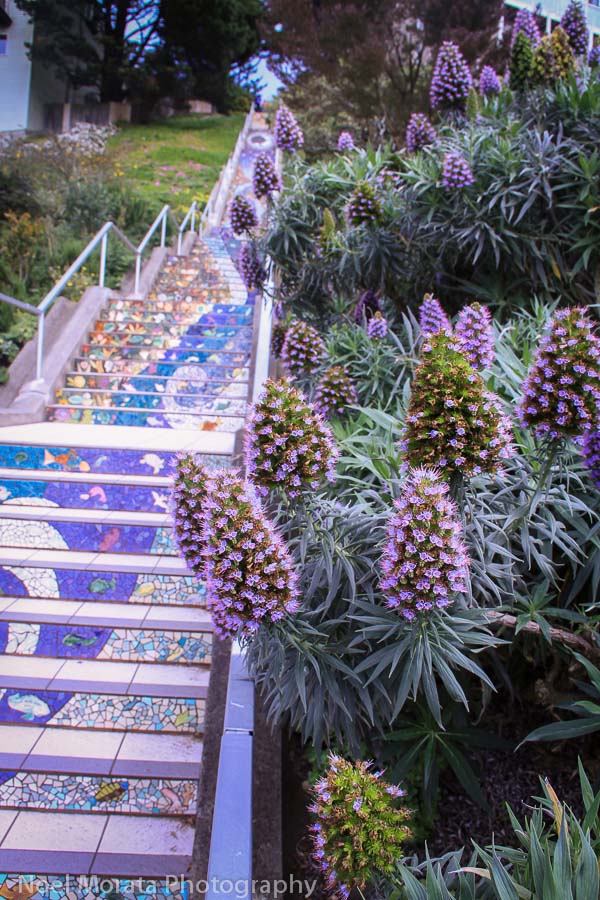 California native flowers blooming at 16th avenue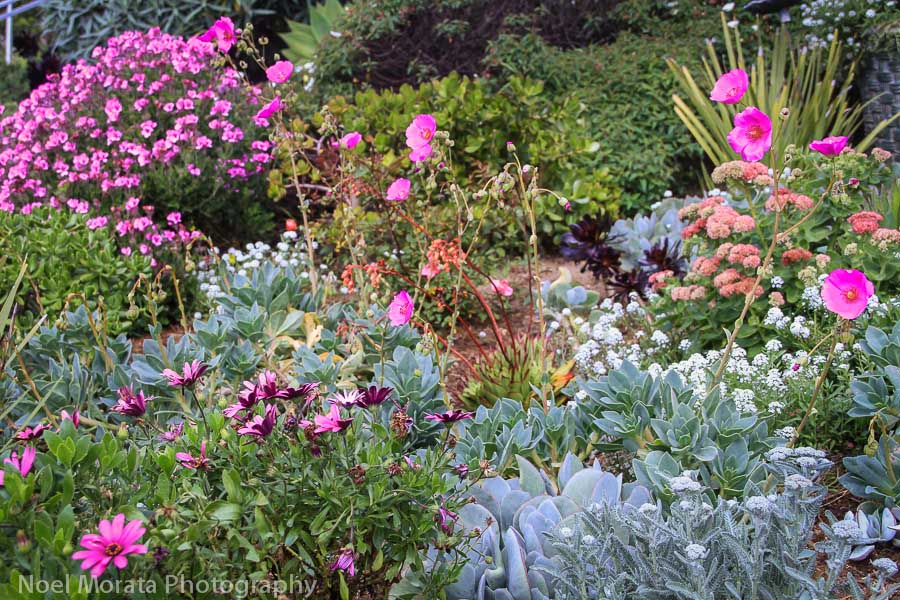 Here's a tour of the 16th avenue stairs to the top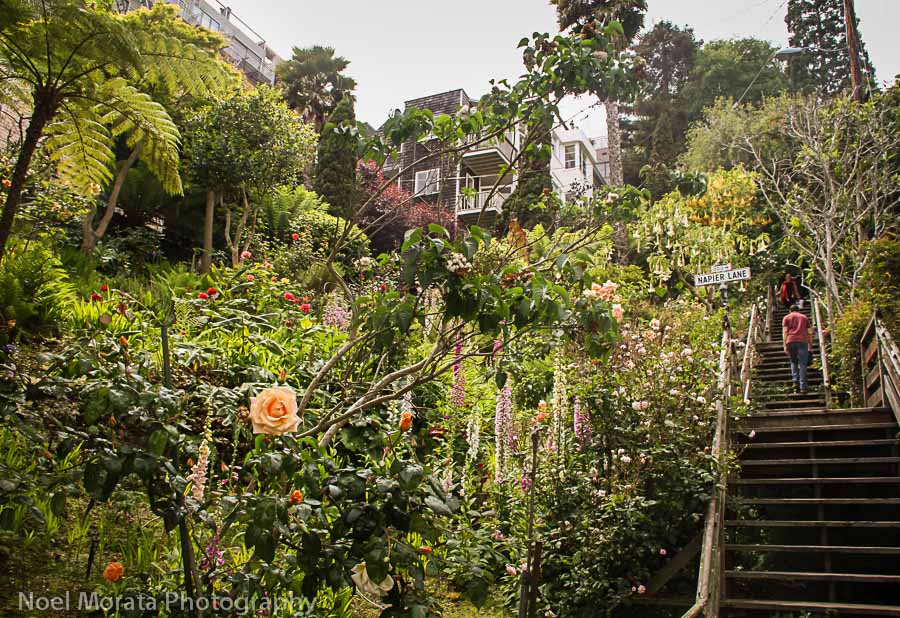 The Filbert Steps by Coit tower
A short walk from Little Italy and right at the base of Coit tower from the parking lot is where the Filbert steps can be found and leading you down to the base of the Financial district at Sansome street. Along the way you will find a lush and green oasis in the middle of the urban downtown areas of the city with hidden gardens, beautiful vistas of the bay and some fun garden art sprinkled around this walk down the Filbert Steps. If you want more information and details check out my post of the Filbert steps here. For those scared to climb the stairs back up to Coit tower, there is public transportation close by or you can easily flag down a cab to take you anywhere in the city.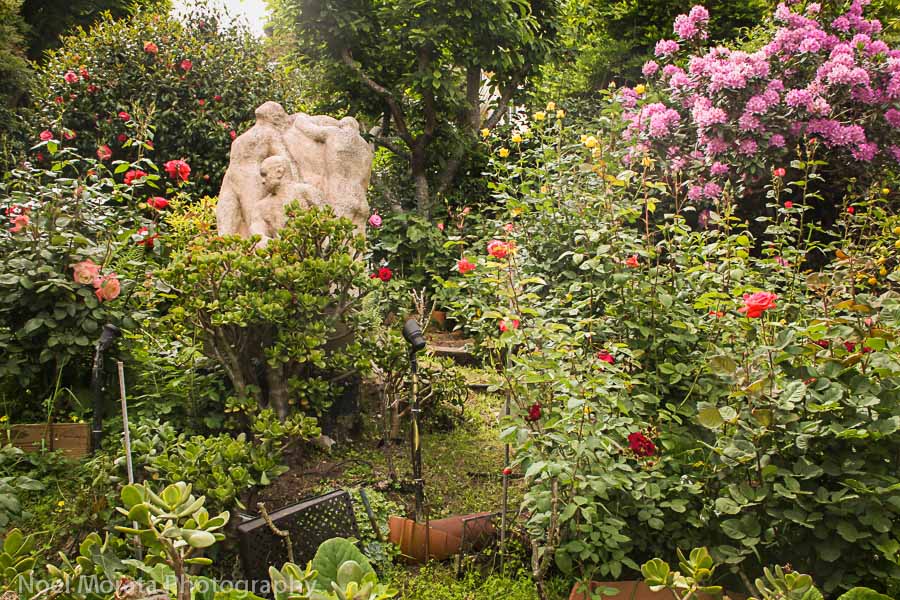 Gorgeous spring blossoms and hidden gardens at the Filbert Steps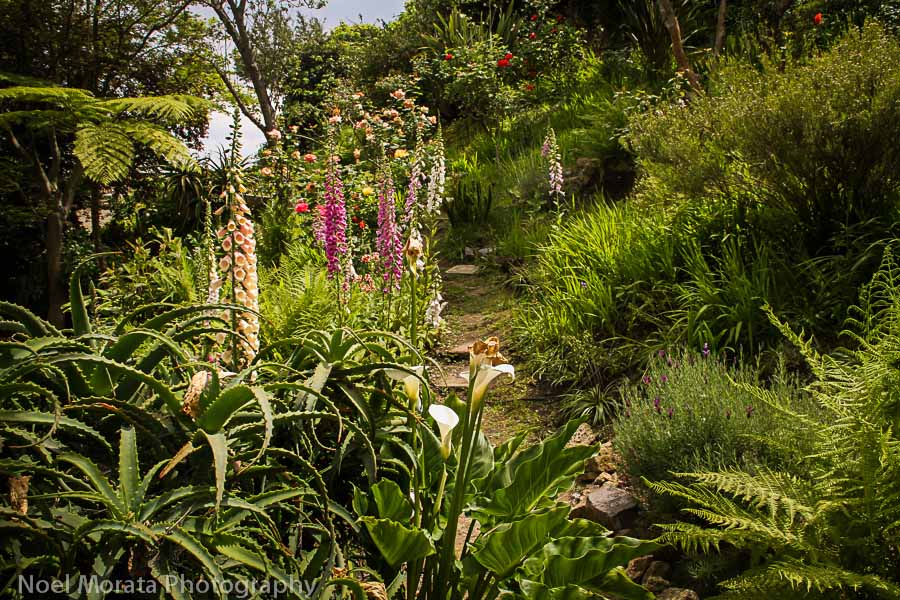 Cool stairs in San Francisco – Greenwich Steps
Another set of stairs that originates from the top of Coit Tower is the Greenwich steps. You can access the Greenwich steps from the parking lot and down to the main area with signage that leads you down a string of the stairs. You will find more secret gardens with beautiful annuals and perennials well taken cared of by the neighbors along with wonderful views of the bay below you.  For more details and lovely pictures of these hidden gardens and walks in North Beach, check out my Greenwich post here .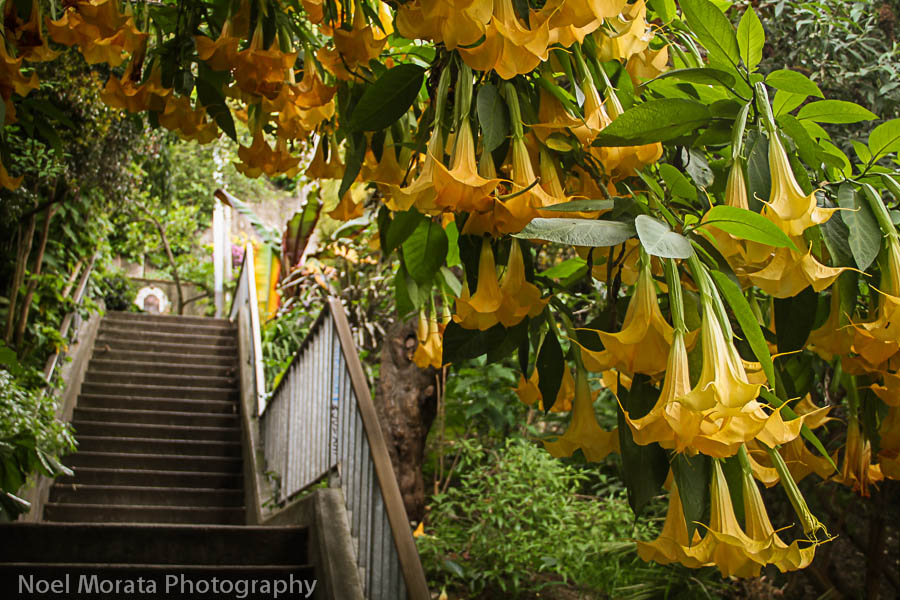 Here's a quick tour of the Filbert Steps and neighborhood
Beautiful gardens on Greenwich stairs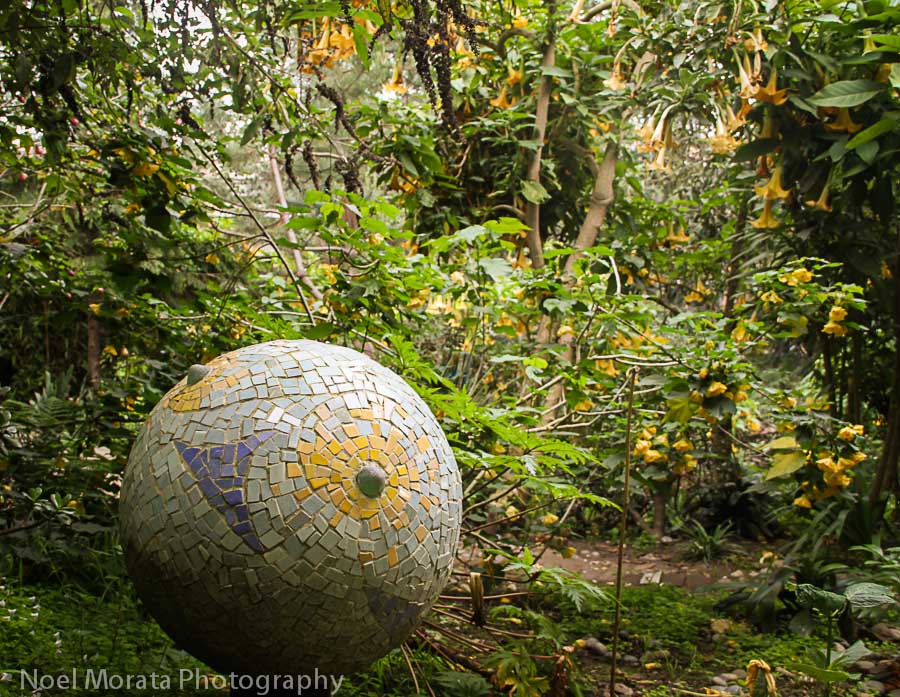 Check out this walking tour of the Greenwich stairs below
Cool stairs in San Francisco – University of San Francisco
Overlooked even by the locals this staircase and viewing areas above are quite nice  to visit and check out the scenic panoramas of the city.  The main entrance to the Lone Mountain University starts on the north side of Turk Boulevard in a curving staircase that is modeled after the Spanish Steps in Rome. Once you get to the top, you will be rewards with beautiful skyline views of the city, mountains and the bay area below you. Their are some nice gardens with benches on top to sit or you can walk around the campus to check out the views from all different parts of the promontory campus.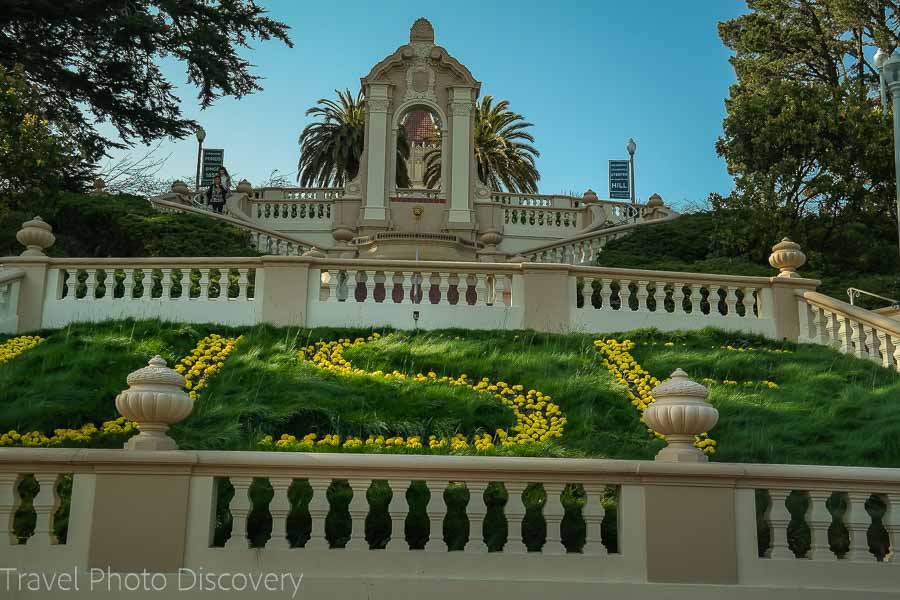 The classical stairs of USF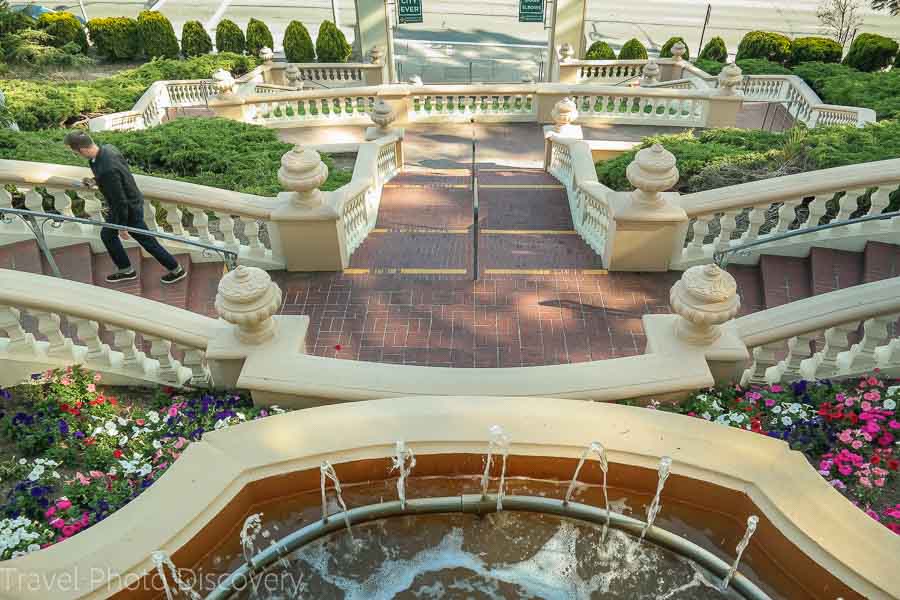 Hill views to Sutro Tower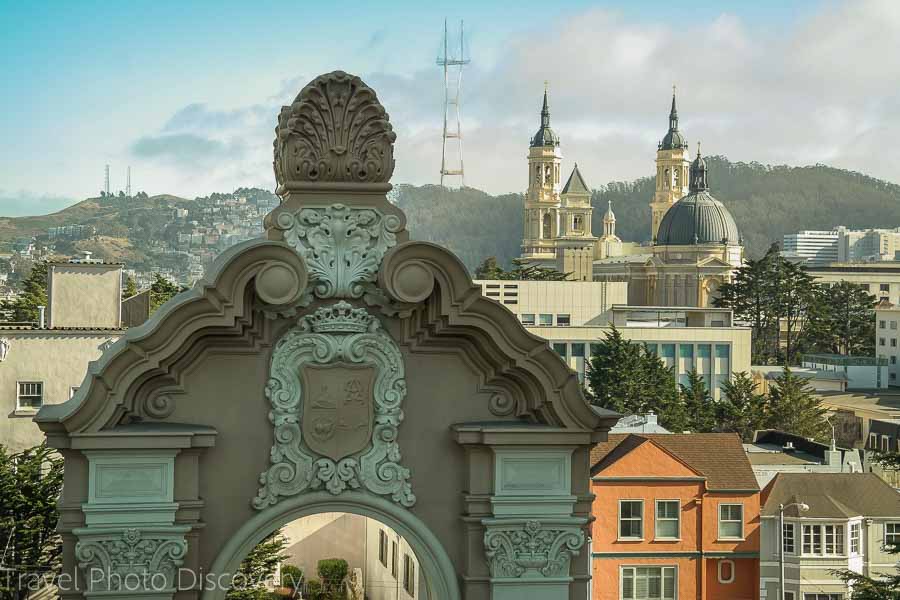 What else to see in San Francisco?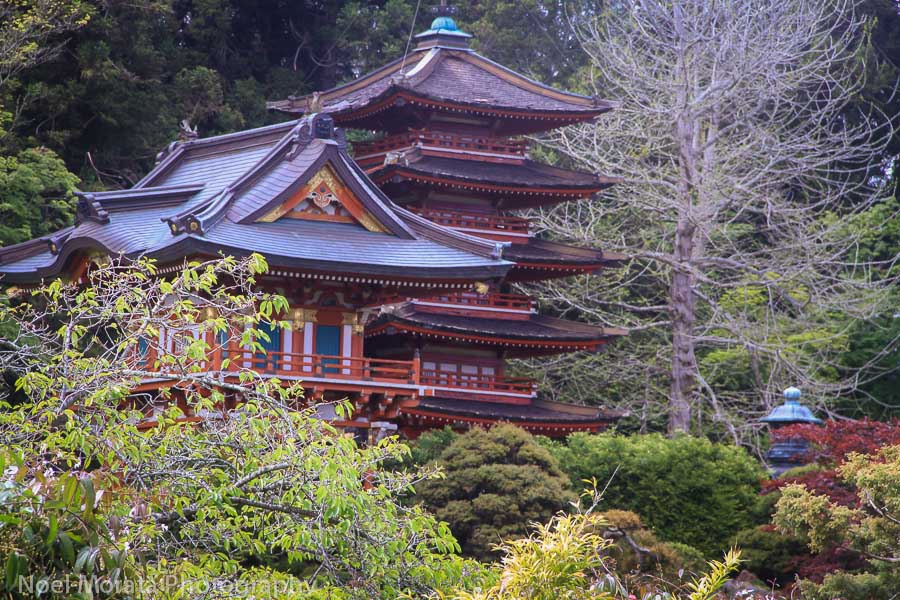 Golden Gate Park gardens
The gardens of Golden Gate Park and a great place to enjoy the open space and landscape around this expansive park area. Encompassing historic gardens from the conservatory, the Japanese Garden, Aids memorial, botanical garden, rose garden, there's so many wonderful open areas and specialty gardens to explore.
Check out our post on the gardens of San Francisco here for more inspiration and images to visiting the park.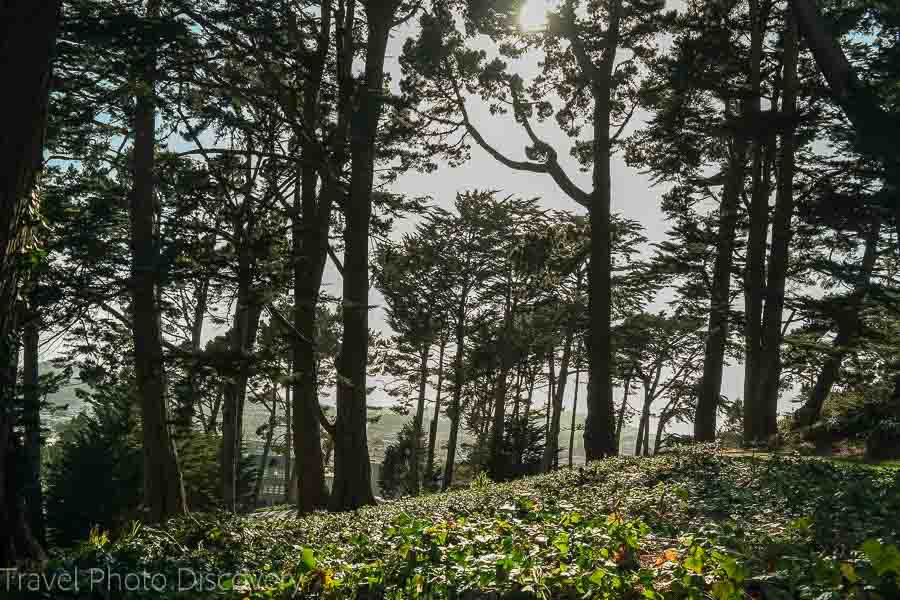 Unusual and quirky San Francisco
San Francisco has so many fun and unusual places, neighborhoods and unique attractions that are above the typical in the city to visit. Many of these are only in San Francisco type places that you definitely should visit if you have free time from visiting the normal tourist attractions.
Check out our post on these 20 quirky and fun places to explore in San Francisco, you'll love visiting all of them when you visit the city.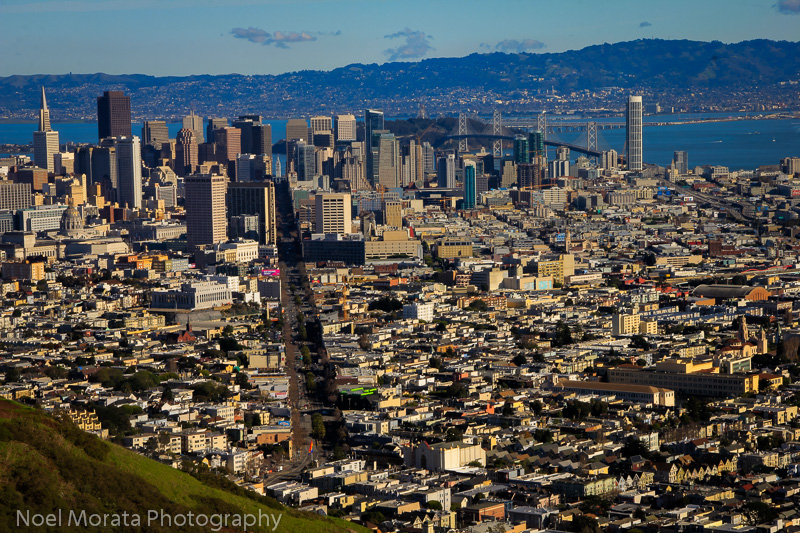 Best views of San Francisco from above
If you love checking out fun viewpoints from above then you'll want to visit all of the fantastic viewpoints. We've picked the most scenic vista points around the city with this post on the best views above San Francisco here for you to get inspired with this wonderful views and capture your own photos and selfies here.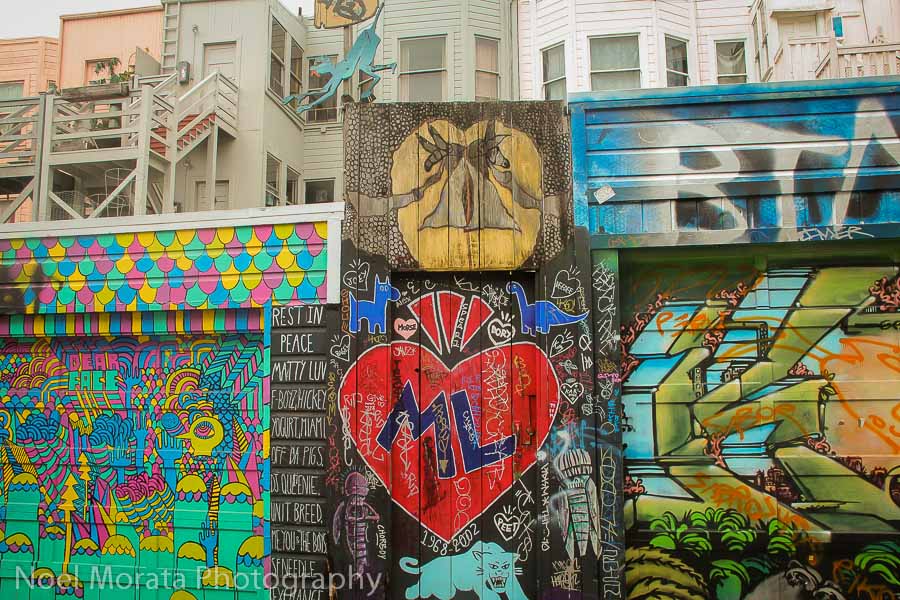 Cool Mission district graffiti at Clarion Alley
One of the most colorful alleys in the city is at the Mission called Clarion Alley. Located between Valencia and the Mission, this alley is painted constantly with images that covers the gamut from local politics, national news and other colorful tributes to the neighborhood and city. It's a fun visit to exploring the area and checking out some cool art.
Check out the Cool graffiti at Clarion Alley here for more inspiration and images to visiting the alley in the Mission.
More inside tips to exploring the steps of San Francisco
When exploring the iconic steps of San Francisco, here are some inside tips to enhance your experience:
Comfortable footwear: Wear comfortable shoes as you'll be climbing and descending many steps. Opt for sturdy shoes that provide good support and traction.
Layered clothing: San Francisco's weather can be unpredictable, so it's wise to dress in layers. Bring a light jacket or sweater that you can easily remove or put on as needed.
Explore different neighborhoods: San Francisco is home to numerous staircases, each with its own unique charm. Don't limit yourself to just one area. Explore neighborhoods like Telegraph Hill, Russian Hill, and Golden Gate Heights to discover hidden gems.
Take breaks and enjoy the views: Climbing stairs can be physically demanding, so take breaks along the way to catch your breath and admire the stunning views. Many of the steps offer panoramic vistas of the city and the Bay Area.
Capture the moments: Don't forget your camera or smartphone to capture the picturesque staircases and the surrounding scenery. The steps of San Francisco make for great photo opportunities.
Follow local recommendations: Seek recommendations from locals or online resources for the best staircases to explore. They may know lesser-known spots that offer unique experiences.
Respect residential areas: Many of the staircases are nestled within residential neighborhoods. Be mindful of residents' privacy and property, and avoid excessive noise or littering.
Plan for snacks and hydration: Bring along water and snacks to keep yourself hydrated and energized during your stair adventure. You may also find nearby cafes or food establishments to refuel along the way.
Take it at your own pace: Don't rush through the stair exploration. Enjoy the journey, soak in the ambiance, and appreciate the architectural details and artistic touches that often adorn the steps.
Engage with the local community: Strike up conversations with fellow stair enthusiasts or locals you encounter along the way. They might have interesting stories or additional recommendations to share.
Did you enjoy the post, please pin it!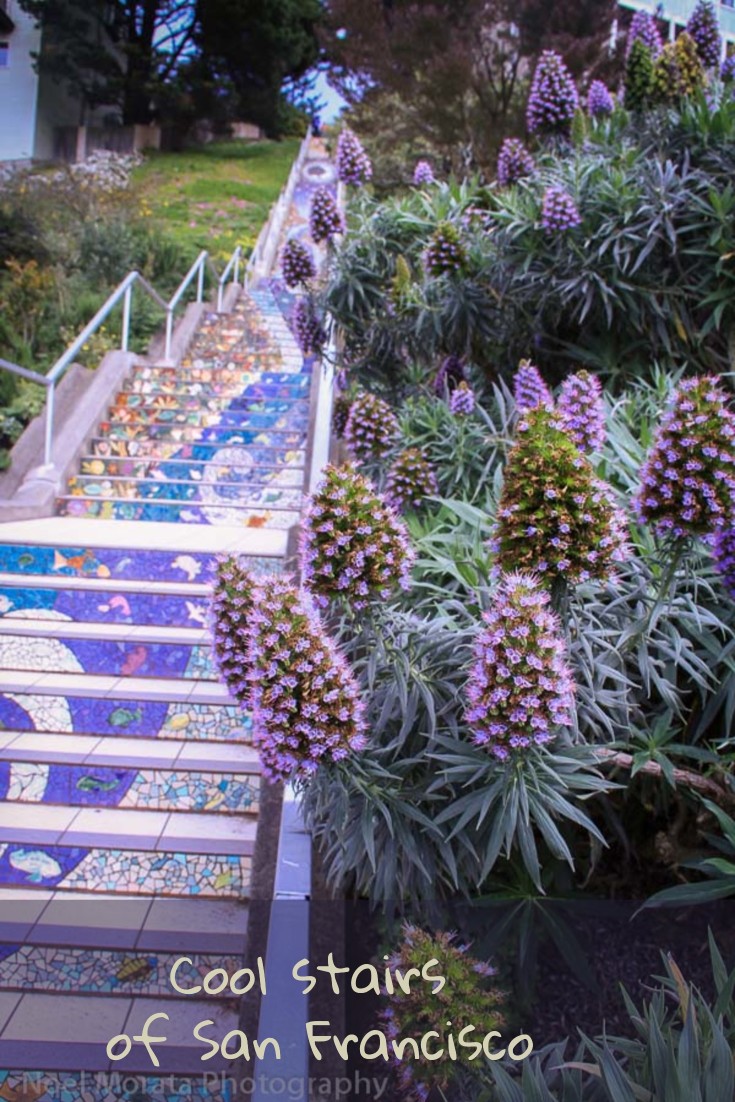 So many stairs of San Francisco to climb
As you can see there are plenty of choices of original and colorful stairs of San Francisco to explore and enjoy a really unique facet and artistic creation from the community. Which stairway stands out for you to explore if you visit the city? I'm sure you'll probably want to visit all of them.
If you're looking for a fun and unique way to explore San Francisco, then the stairs of the city are not to be missed. With over 350 stairways scattered throughout the hills and neighborhoods, each set of stairs offers its own personality, history, and stunning views. And the best part is, it's completely free! So whether you're a fitness enthusiast looking for a challenging workout or a photographer seeking the perfect Instagram shot, the stairs of San Francisco are an attraction that will not disappoint.
So why not step off the beaten path and experience the city in a new and exciting way? With so many stairways to choose from, you can customize your own walking tour and discover hidden gems throughout the city. From the famous 16th Avenue Tiled Steps to the hidden secrets of the Lyon Street Steps, the stairs of San Francisco are a true testament to the city's creativity and diversity. So pack your walking shoes, grab your camera, and start exploring – the stairs of San Francisco are waiting for you!
Check out these other posts on visiting San Francisco
Places to eat in San Francisco
20 quirky, fun and trendy places to visit in San Francisco
The cool stairs of San Francisco
Fun and unusual things to do in San Francisco
Exploring North Beach and the Greenwich steps
20 quirky and fun places to explore in San Francisco
Best views to photograph in San Francisco
Final Thoughts
Which ones were your favorite to discover? Please share your thoughts in the comments below.
Conclusion to Cool stairs in San Francisco
The cool stairs of San Francisco offer a unique and enchanting way to explore the city's neighborhoods and immerse yourself in its vibrant atmosphere. Whether you're an avid stair enthusiast or simply seeking a new perspective, these architectural marvels provide a delightful journey filled with picturesque views, hidden gems, and a touch of local charm. From the colorful tiled steps of Golden Gate Heights to the historic staircases of Telegraph Hill, each set of stairs has its own story to tell. So, lace up your shoes, grab your camera, and prepare to ascend to new heights as you uncover the captivating beauty and artistic allure of San Francisco's cool stairs.
I hope that this has inspired you for exploring some of these wonderful staircases and landmarks around San Francisco. Have you been to some of these places or know some other interesting places to explore and photograph? Please do share them in the comments section below. Thanks for visiting today and checking out this post on Cool stairs in San Francisco, hopefully some of these places will inspire you to visit when you come to the city. If you enjoyed the images and post, could you please share it with any of the social media buttons located around the post.
If you like what you see, come and check out my other social media channels for more updates, including Instagram, Pinterest and Twitter.