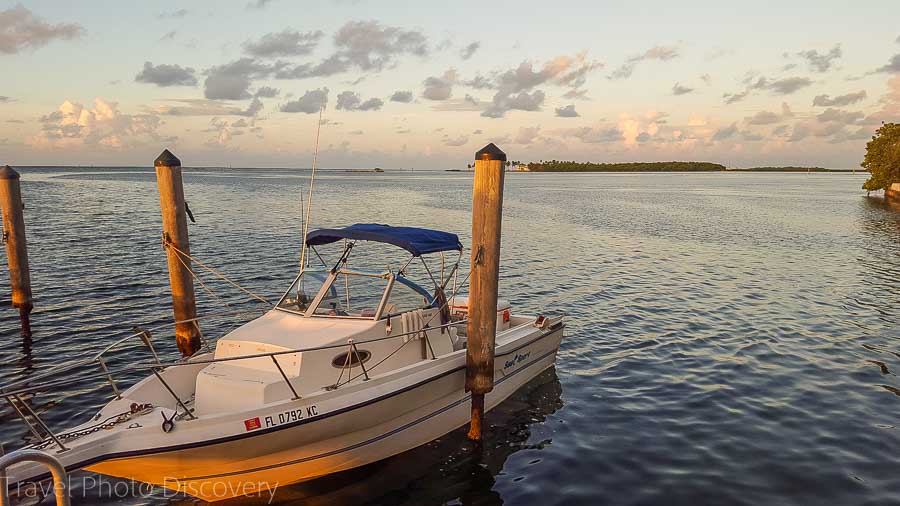 Islamorada Key is definitely coming up in the world with trendy new restaurants, hotels and recreational activities that cater to wide variety of prices from affordable to ultra luxurious options. With a relatively short drive from Miami, a quick getaway to Islamorada Key takes under two hours and you have a plethora of choices to relaxed and enjoy a variety of activities, food and hotel accommodations. For those looking for water recreation, Islamorada beaches and sports activities, the various islands of Islamorada offer a plenty choices to explore and enjoy the clear blue waters and coastline of the Florida Keys. Check out these Islamorada attractions, food and resorts for your next trip to the Florida Keys.
Things to do in Islamorada
With so many sports and recreational activities to choose from at Islamorada, along with more quiet time spent at Islamorada beaches,  you can be as busy as you like or just relax and enjoy some beach, bar or pool time to your hearts content..
Robbies Islamorada
Robbie's on Islamorada is one of those busy hubs where you can choose from a large choice of water activities from private boat charters, party fishing boats, snorkeling adventures to DIY kayaking or SUP ( Stand up Paddle board). There's a lot to explore along the scenic coastal waters just past the harbor area or further out into the ocean for more serious deep sea fishing or scuba diving excursions.

Here's a quick fishing video in Islamorada

Fishing is one of the biggest draws to the area and you also have a variety of options from private charters to larger party boat fishing tours. Robbie's marina offers many options for fishing from offshore fishing, back country fishing to lobster and fishing. For more affordable fishing, you can book a cruise on the Captain Michael which is a 65 foot deep sea fishing vessel. These half day tours sails out about 5 miles to a variety of fishing spots and they even help you with baiting, assisting in casting and netting your fish. At the end of the tour, the crew also cleans and filets all the fish you caught to take home or bring next door to be cooked.
You can check out details to Captain Michael's fishing tours here for hours and cost.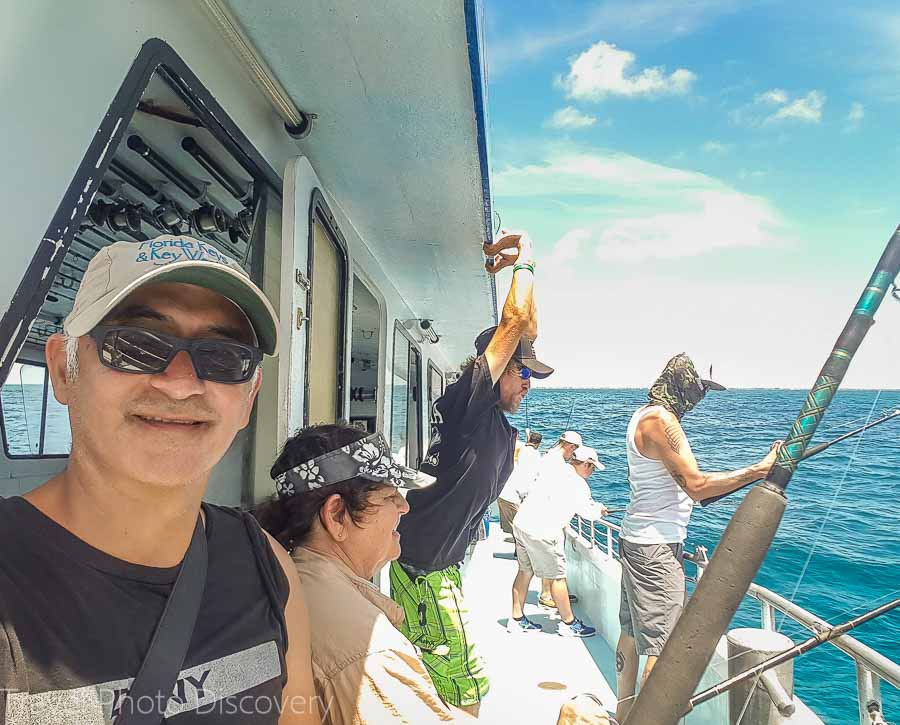 First catch of the day on Captain Michael's fishing tour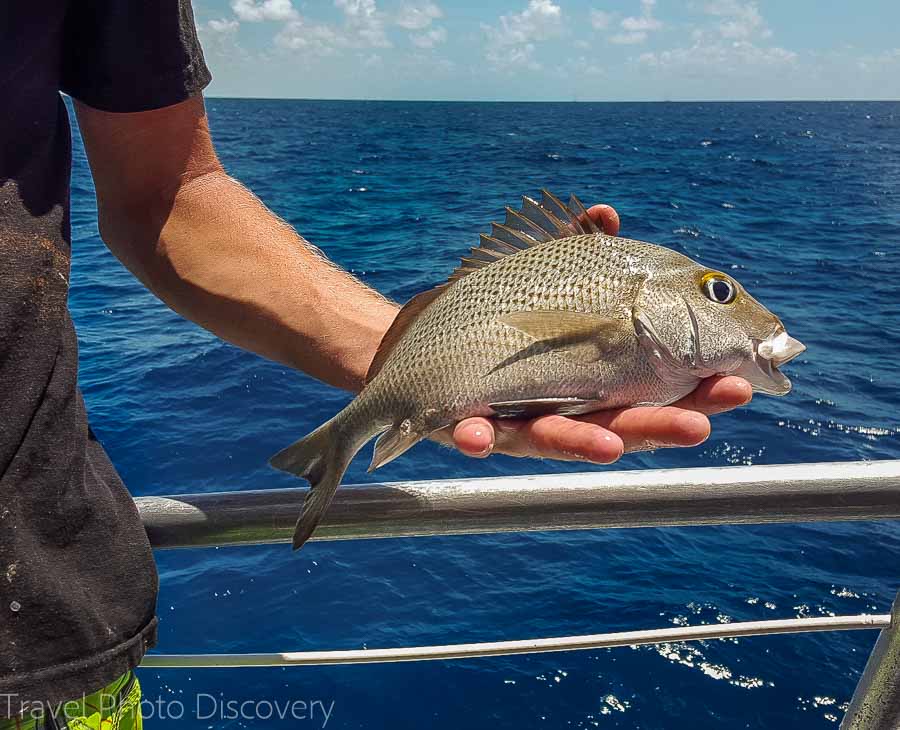 At the end of the tour, they even will filet or make steaks from your catch, a fantastic option. For visitors, you can take your catch next door to the Hungry Tarpon and have it grilled or prepared in many ways so you can enjoy your catch immediately and savor fresh fish varieties from the local waters.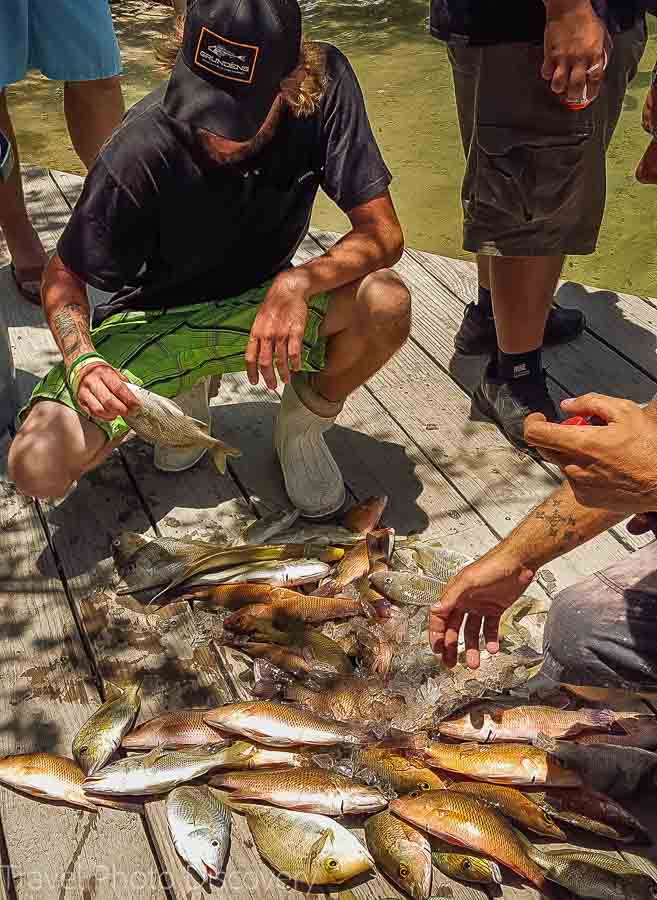 Enjoying our freshly caught catch prepared at the Hungry Tarpon restaurant
You can bring over your freshly caught seafood next door to the Hungry Tarpon where they will prepare it several ways to your liking from simple grilling, breaded to blackened and spicy fish. Make sure you grab a spot along the water's edge to enjoy the views or if you are interested in something more funky head to the covered bar with hundreds of dollar bills and you can mix with the locals and their pets. As far as Islamorada bars, the Tarpon also has one of those really cool retro style bars that makes it fun to hang out with the bartenders and locals hanging out around the bar area.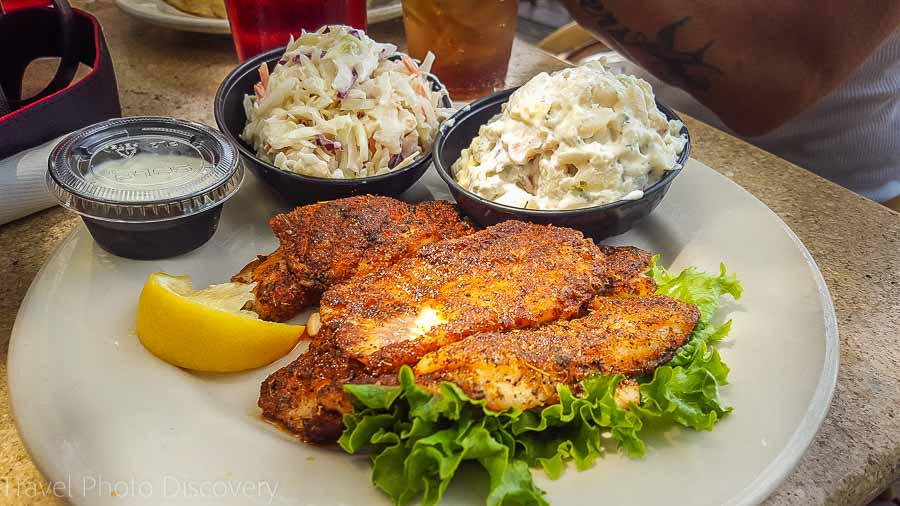 Renting a private boat and exploring the coastlines at Islamorada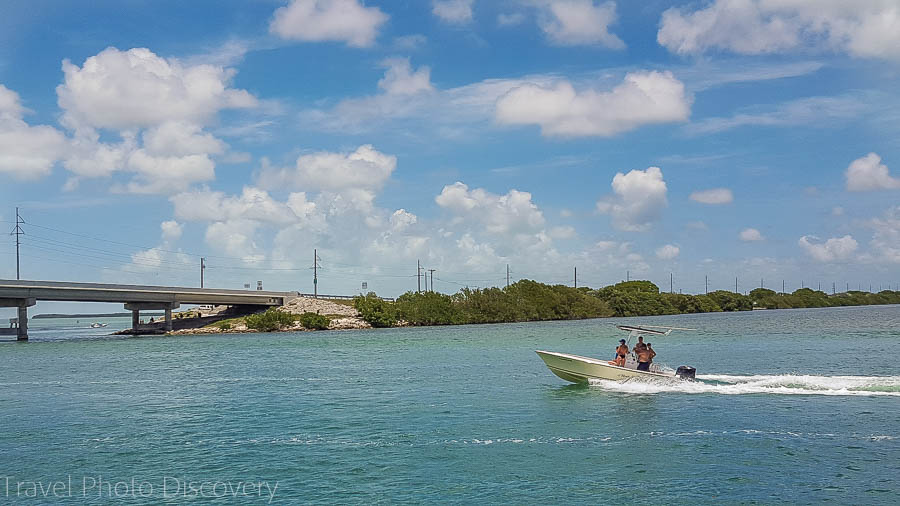 Trying out the Jet Pack at Islamorada
For adventure seekers looking for a real thrill then you should check out the Jet Pack water experience at the Postcard Inn Beach resort on Islamorada. Combining the thrill of flying and water jet skiing, this water experience is one of a kind with an expert guide that trains you at each step of the way and quickly shows you how to take advantage of this water sport. It is a guided experience but also allows you to push your own personal limit to how fast and high you want to thrust yourself out of the water. If you're looking for a real adventure, this Islamorada activity will definitely give you the thrill of a lifetime.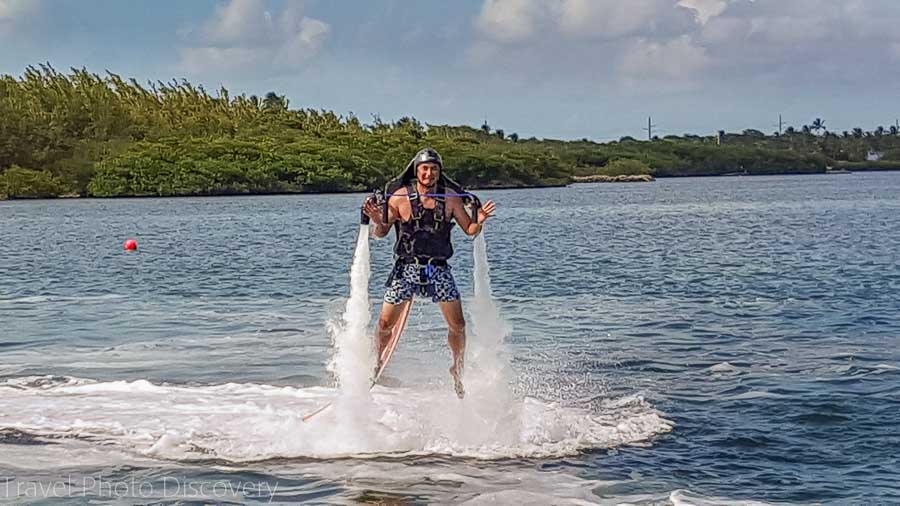 You will quickly learn how to navigate and start flying!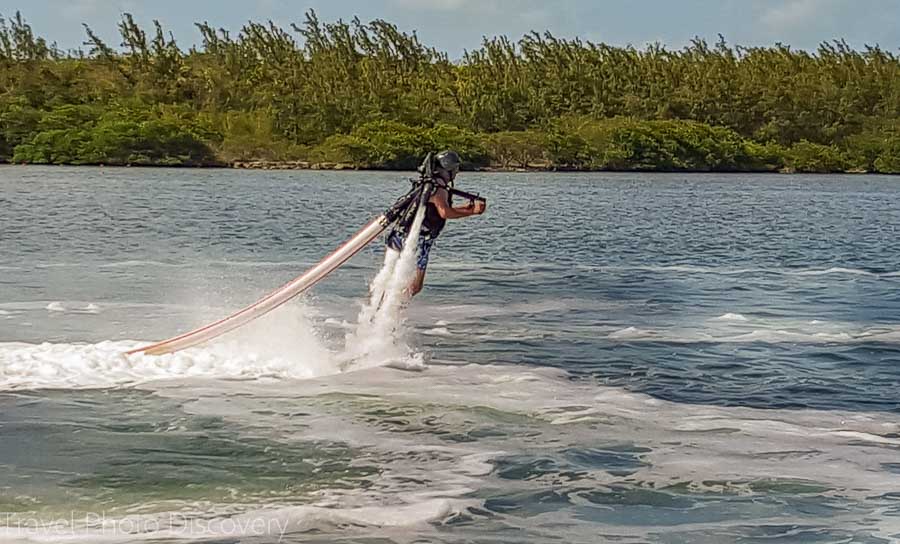 Here's a video highlight of the Jet Pack Experience
Islamorada restaurants
There are plenty of casual to fine dining options at Islamorada which has been elevated with wonderful new restaurants to explore and enjoy. Here are some delicious bites to visit and have a fantastic eating/drinking experience. Oltremare, the Italian seafood restaurant at the Amara Cay resort is modern with an inventive Italian inspired menu. You can choose from a variety of wonderful seafood specialties, and there are also delicious meat entrees like the short ribs or rack of lamb that is so tender and delicious.
A delicious meatball appetizer at Oltremare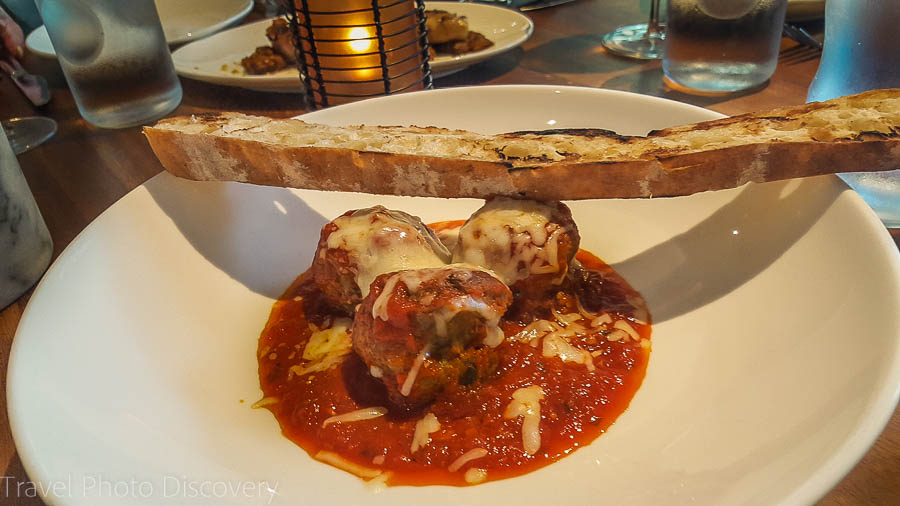 Delicious selection of mixed fritto misto at Oltremare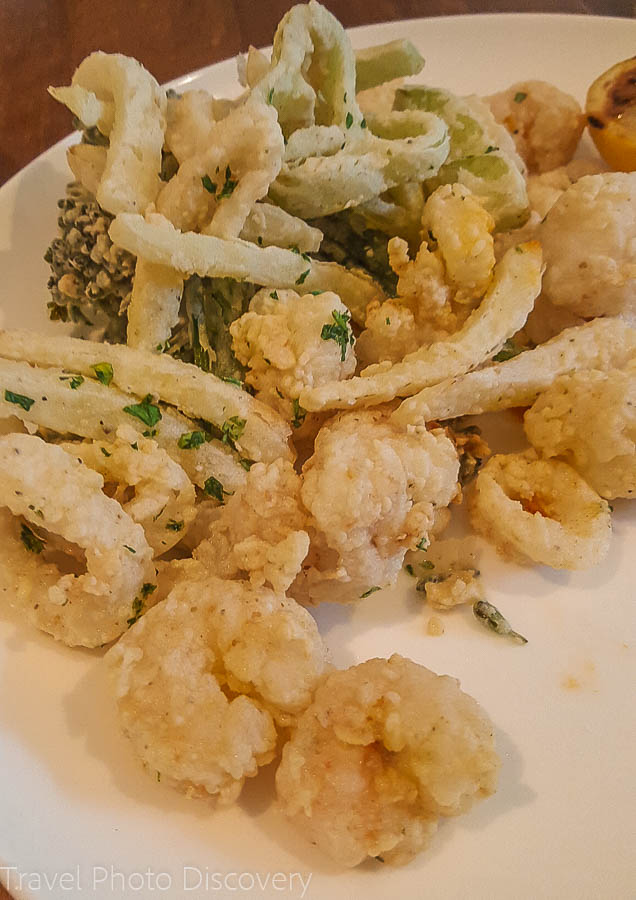 Dinner entrée rack of lamb at Oltremare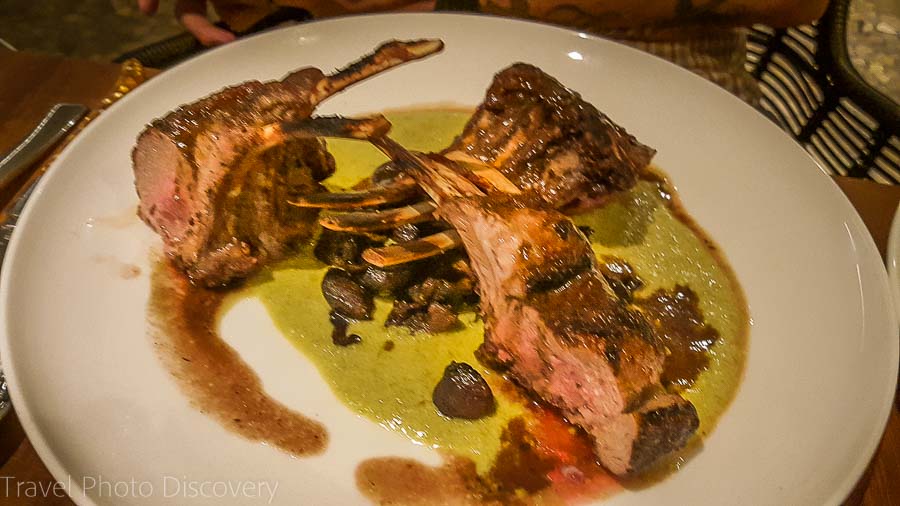 Why not have three kinds of dessert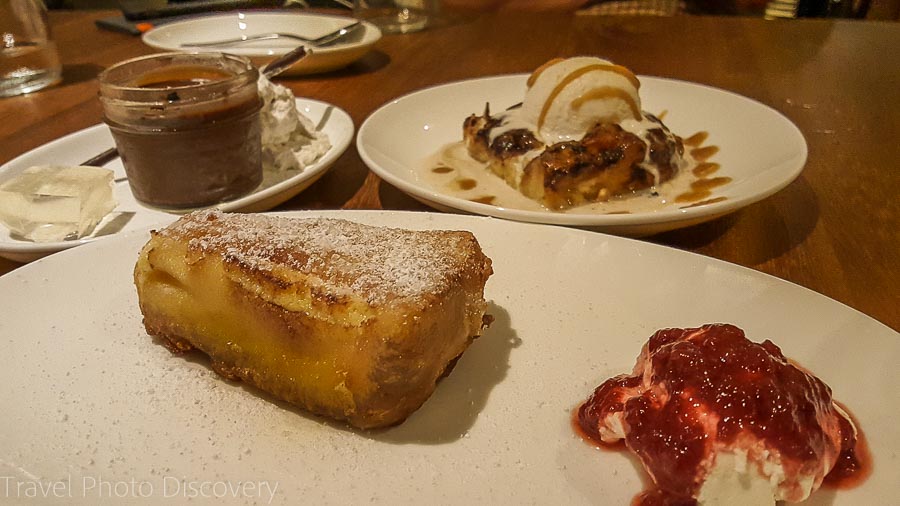 Chef Michael's at Islamorada
For a special only in Islamorada occasion, check out Chef Michael's restaurant which specializes in fresh seafood and other locally sourced ingredients for their appetizers to their main courses. You can't go wrong with any of the excellent dishes on Chef Michael's menu, everything is cooked perfectly starting with the appetizers, inventive entrees to some classic Floriday Keys inspired desserts.  The must try dishes worth ordering definitely are the fresh fish entrees which are served in a variety of styles grilled, blackened or sautéed with delicious sauces. If you can't make up your mind, Chef Michael offers a fantastic three types of fish and sauces in one dish which gives you a nice sampling of a regular entrée.
Coconut milk ceviche appetizer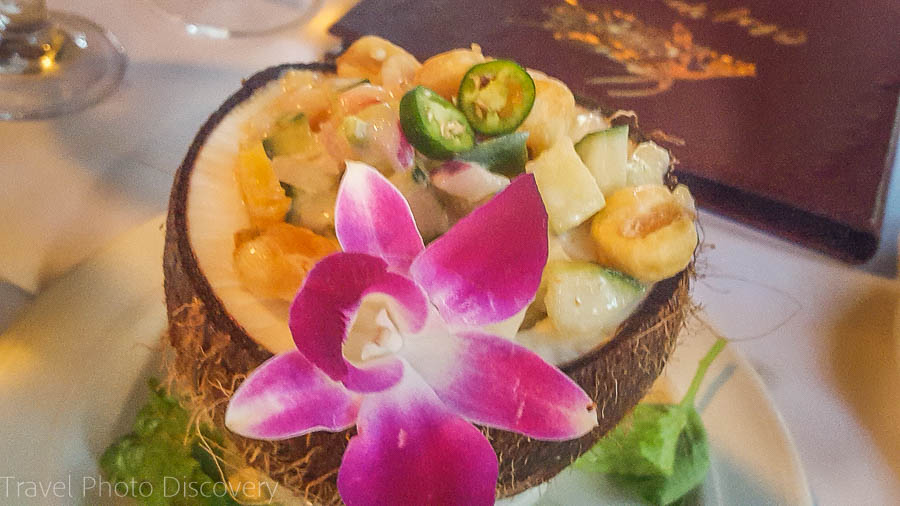 Fish three ways at Chef Michael's
Fish is a very popular option with your choice of grilling, saute, fried or breaded along with a variety of sauces. For those that cannot choose, you can try the fish done three ways which is a great way to sample the different types of fish and sauces and they are all excellent choices.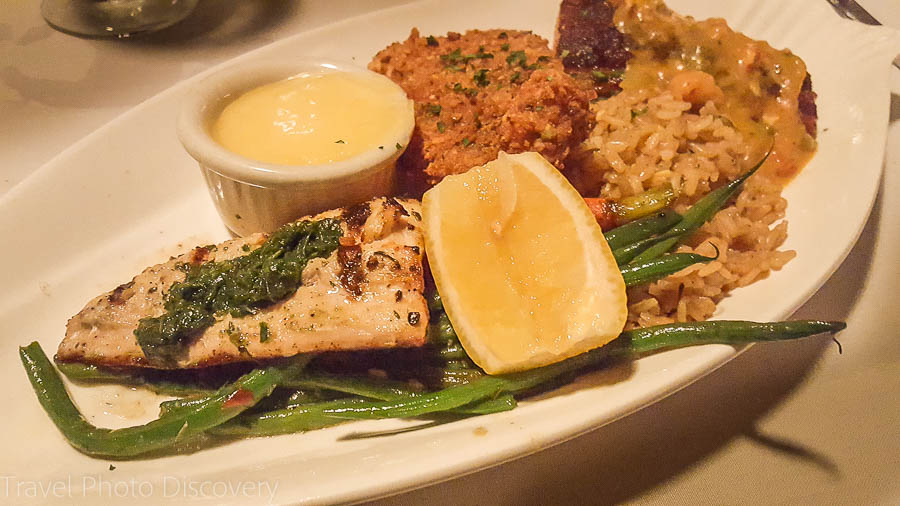 A traditional and oh so good Key Lime pie for dessert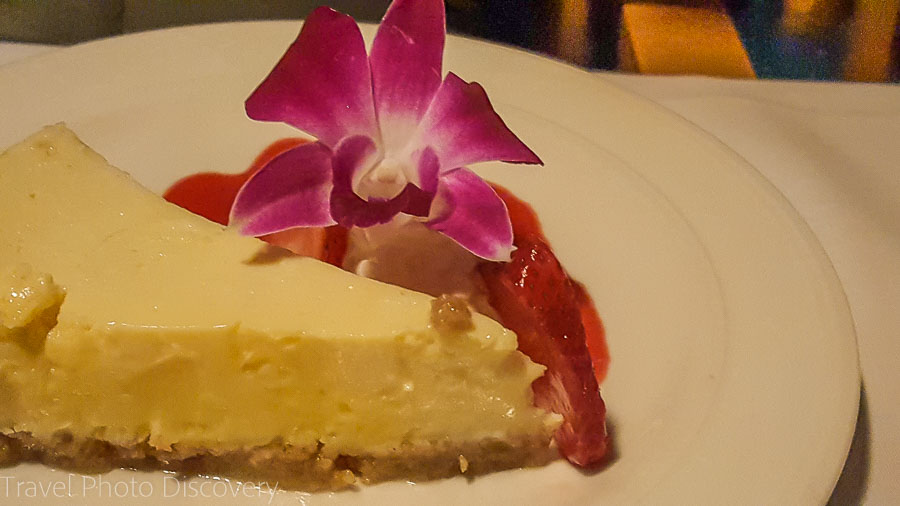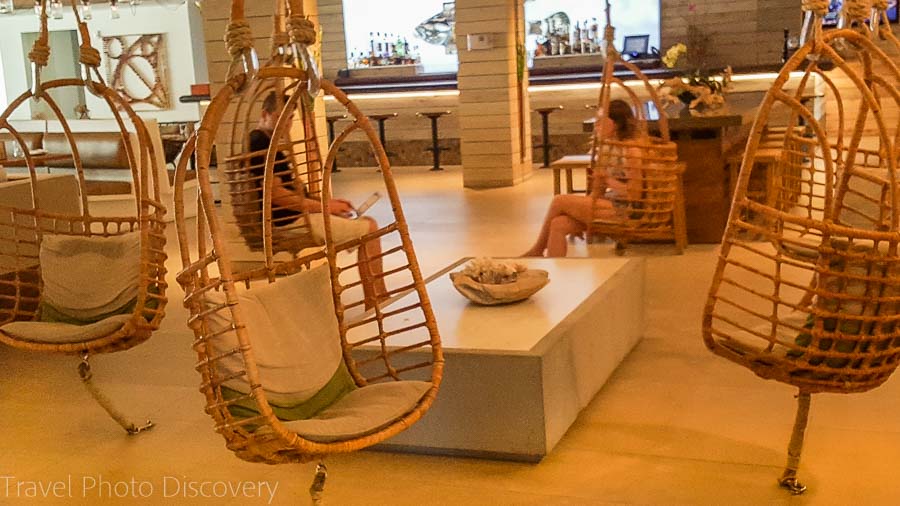 Islamorada resort stay at Amara Cay resort
Touted as an uber chic modern design hotel with eco/green sensibility, a stay at the Amara Cay resort is perfect for Islamorada. Upon entering this Islamorada hotel, you encounter some swinging bamboo chairs in the lobby – drawing out your inner child to try them to see how far they can actually swing. The rest of the lobby space is a comfortable blend of large, contemporary seating arrangements and chic/comfortable signature restaurant called Oltremare.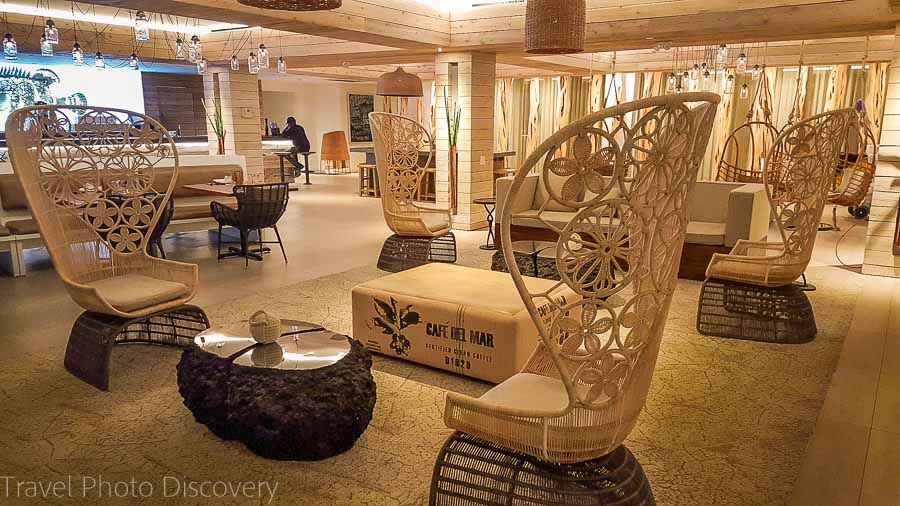 Modern design chic at the lobby of Amara Cay Resort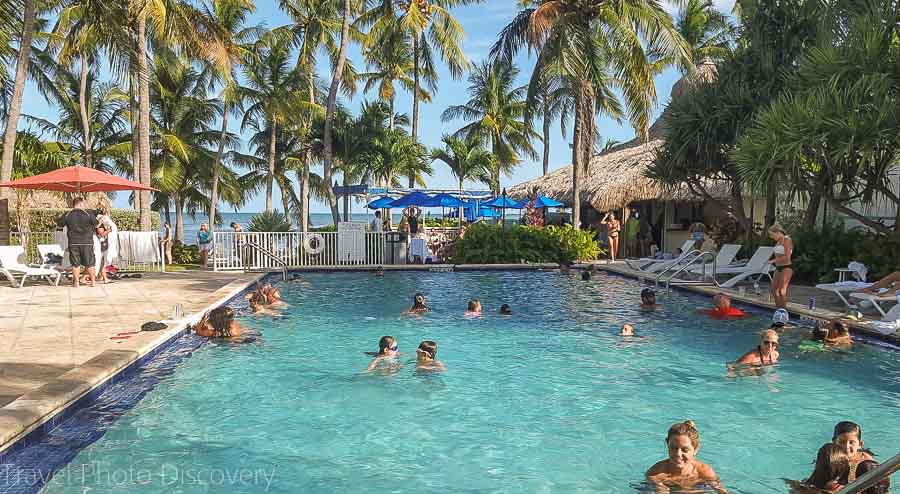 The pool/beach scene at Amara Cay Resort
The pool is nice and a great way to unwind at the end of the day with bar services close by, or you can choose to hang out at the white sandy beach with nice coastal views of the Islamorada. It's also a perfect spot to get out early and have the entire beach to yourself for sunrise, if you can wake up that early!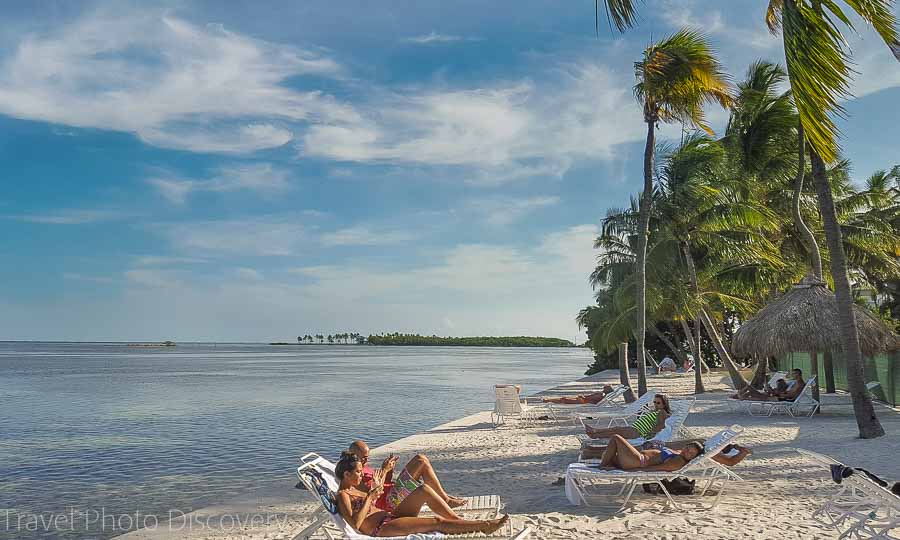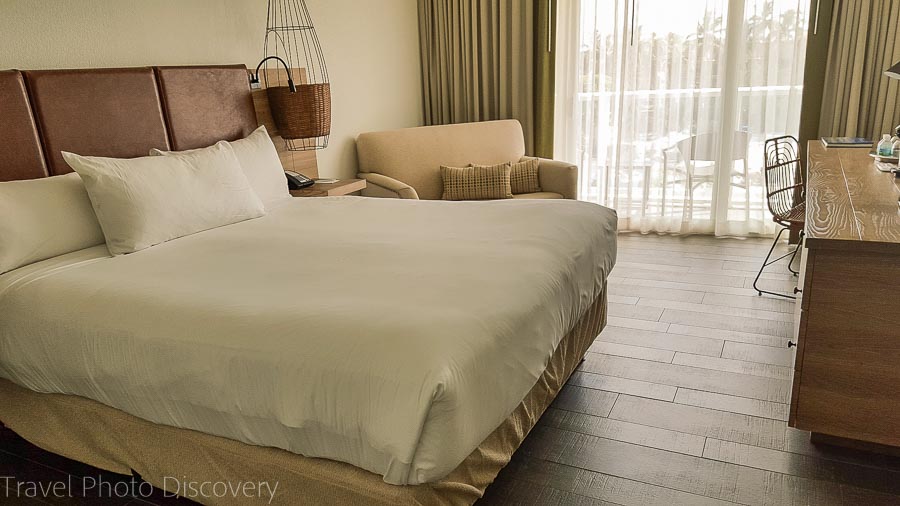 Modern and comfortable beds and seating areas in the bedroom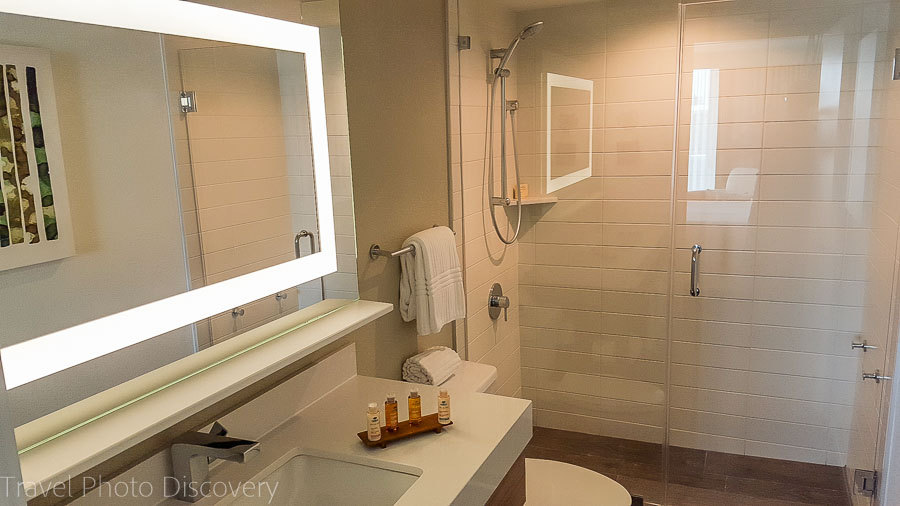 What to do in Islamorada always centers on being somewhere on the water. When you combine water recreation, exercise or sport on the island, then you definitely are maxing out on the fun and outdoor island lifestyle. Staying overnight at the Amara Cay resort allows you to have more time to explore and enjoy these outdoor activities and wonderful dining venues. Even if you doing nothing but enjoying the sunrise over the coastline, you'll be savoring every wonderful moment because it is all special and memorable at Islamorada.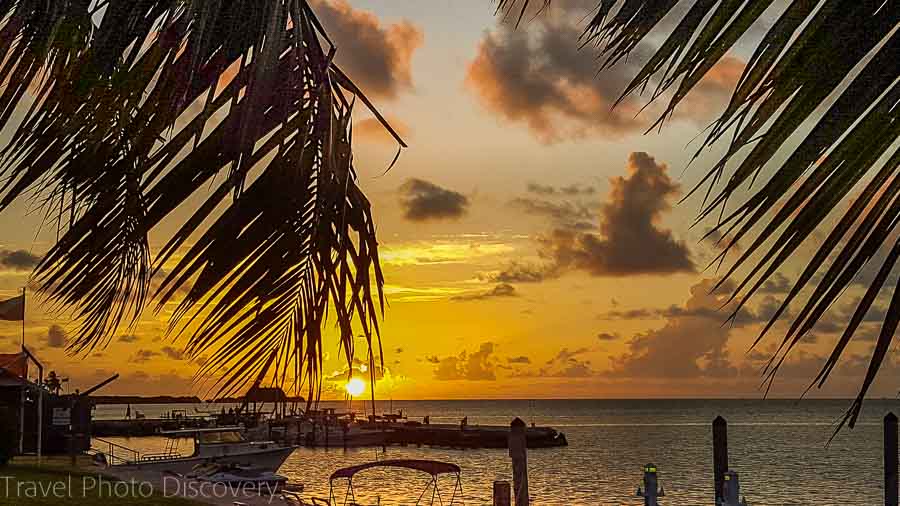 Want more of the Florida Keys and Miami, check these out
To 10 things to do in Key West
Things to do on Marathon Island, Florida Keys
Thanks for visiting today and checking out this post on Florida Keys – Islamorada attractions, food and resorts, hopefully you will be able to see and experience this attractive and fun island in the Florida Keys. If you enjoyed the images and post, could you please share it with any of the social media buttons located around the post.
If you like what you see, come and check out my other social media channels for more updates, including Instagram, Pinterest and Twitter
Disclosure – There are affiliates links on this posts which provide a small commission to support this site at no extra cost to you. Thank you for reading, and happy travels