A Miami to Key West road trip (fun, adventure sports, seafood &nd some cool places to stop along the way)
One of the best things to do visiting Florida is to drive from Miami to Key West on a road trip through the entire length of the Florida Keys.
It's a fantastic way to experience the casual and Caribbean and Florida lifestyle while visiting the beautiful landscape, cuisine and outdoor lifestyle of these gorgeous Florida islands.
Now you can do this as an easy but long day trip to visit the Floriday Keys all the way down to Key West, but why not just extend it out to a nice weekend or getaway vacation to the Keys? It's all about the pit stops and fun experiences along the way: tasting conch fritters, stopping for amazing sunsets or lonely beaches just for you to enjoy. Once you start heading out of the busy Miami metropolis on Route 1, you'll start to relax and unwind quickly even before you get out to your first island in your Florida Keys road trip.
Check out the details of this Miami to Key West road trip below or how about this Florida road trip through some cool areas around the state. Even a bigger New York road trip to Florida is a great way to explore the entire South to Florida experience.
When is the best time to do a road trip to the Florida Keys?
Really visiting the Florida Keys is popular year round with fantastic weather and road conditions. You do have to be wary of hurricane season in the area which runs a long timeframe in the Florida area so the off peak time frames or even winter season is ideal. The peak travel season in the Florida Keys tends to be in the winter season when visitors from Canada and the northern USA regions come to stay for a longer timeframe like most snow birds will do so you have to plan early to book various accommodations, food venues and entertainment in the area. Also you can easily use Miami or Key West as a base and do easy day trips to the various islands or even do a nice long day trip and back from either direction to experience the entire length of the Keys and all the islands.
Why do a road trip from Miami to Key West?
Getting out of the Miami metro district and doing a road trip to the Florida Keys all the way to Key West transports you to another world. It's so easy to do a road trip here and getting to the first island at Key Largo. The road trip is fairly easy and flat with slower driving when you arrive in each island and taking you into a complete island vibe that is slower paced, outdoors oriented and water and adventure focused.
The Florida Keys is about living outdoors and having a recreational lifestyle and doing this road trip can be an easy day trip or longer stays on each island chain all the way to Key West. Combining the history, sea life and each unique island vibe, you'll enjoy exploring all the beaches, adventure experiences, food culture and other cool and unique places to visit in the Florida Keys now.
Best time to visit the Florida Keys?
A popular year round destination, there is no best time to visit since it is so easy to do a road trip here. But the should season from March to May has fanastic weather that ranges from the 70s to 80s and not as many tourists visiting this time of key makes the roads and sites so much more pleasant to explore and stay around. Room rates and entertainment tends to be a lot more affordable during this timeframe of the year to visit the Keys.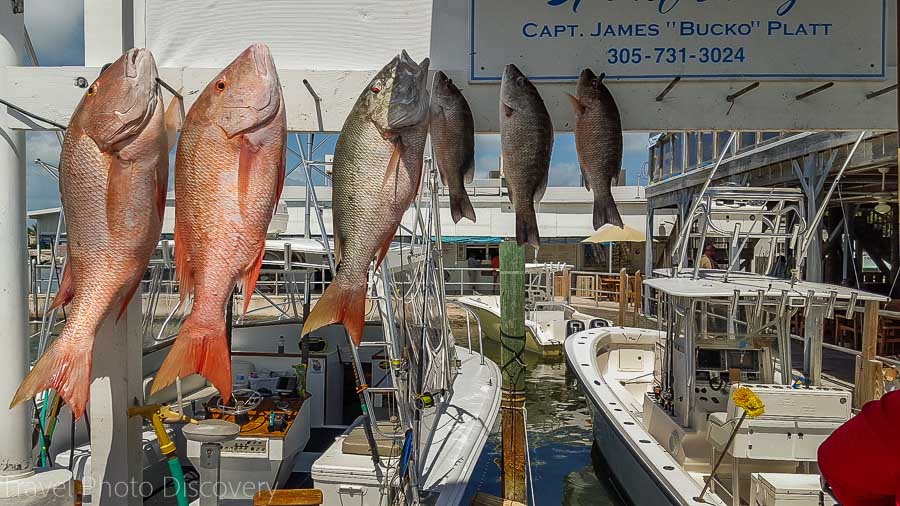 Exploring Key Largo
The first island to stop and the longest in the island chain is Key Largo which claim to fame is the John Pennekamp Coral Reef State Park,  the first underwater preserve in the United States. You drive to the state park at mile marker 102.5 and park by the visitors center where you can reserve a ride on their snorkel tours or take a glass bottom boat out to the underwater preserve. There's plenty of options if you just want to hang out at the nice sandy beach, reserve a kayak or SUP or even reserve a power boat to tour on your own. Outside of the State park, there are many wonderful regional beaches and outdoor activities that you can do an explore around the Key Largo area and surrounding cays that is fun and low key.
Check out these cool things to do around Key Largo area
Taking the comfortable and large glass bottom boats to the underwater preserve
Checking out the beautiful Coral at John Pennekamp State park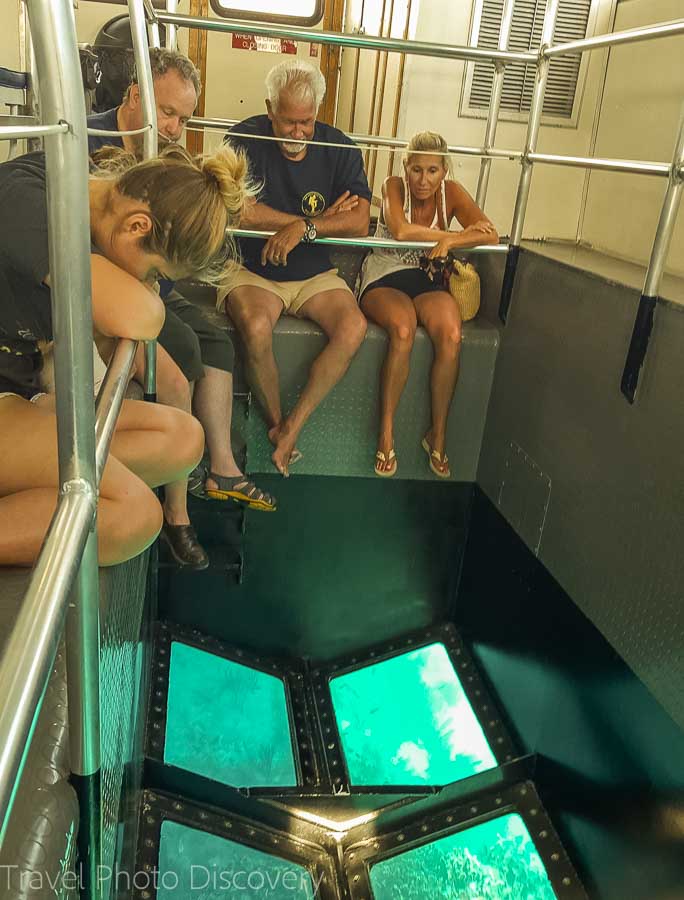 Exploring the outer islands off Key Largo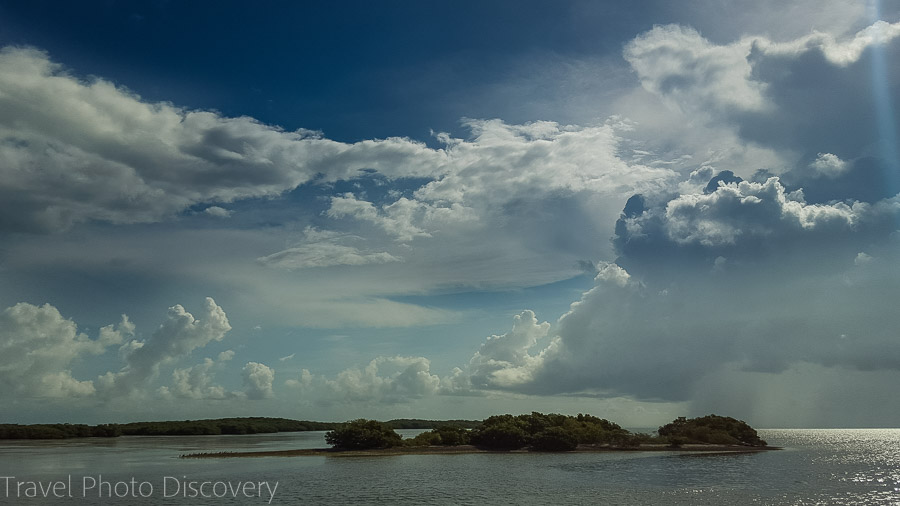 Enjoying a beautiful day on the beach in Key Largo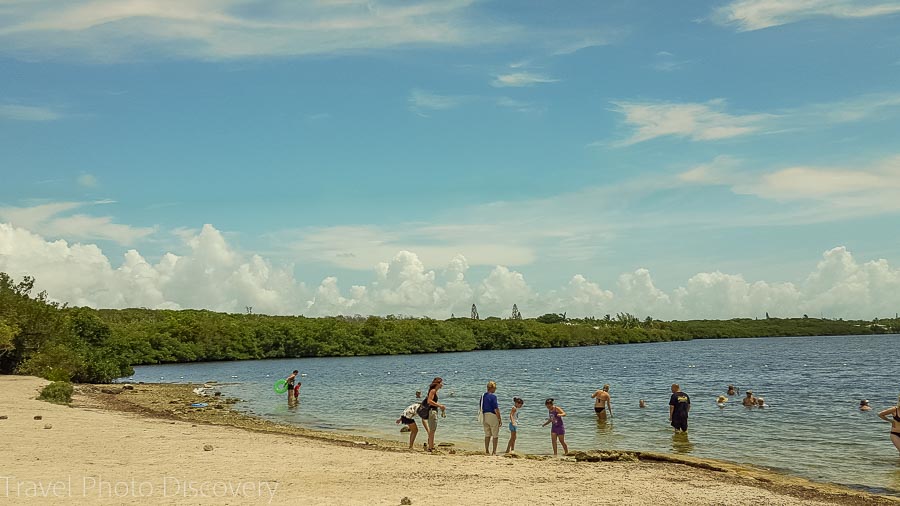 Here's a visit to the John Pennekamp Coral Reef State Park
Dining at a classic Key Largo eatery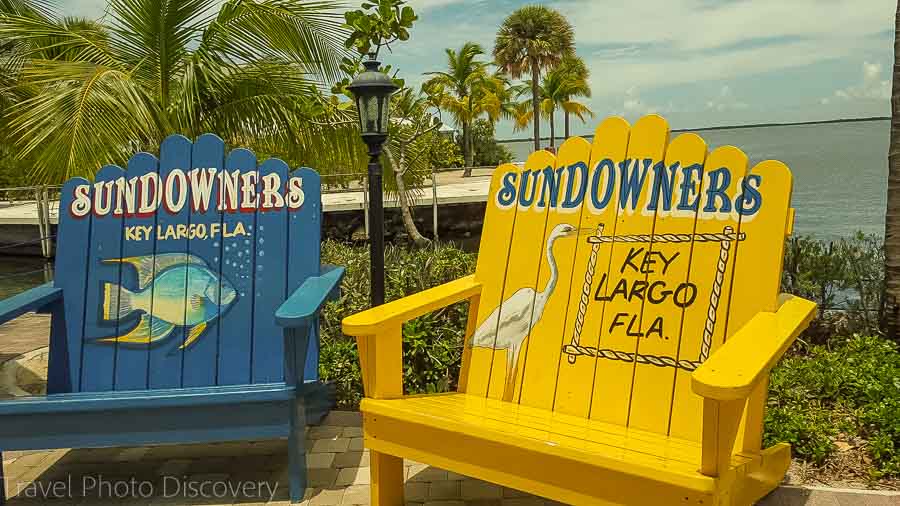 After a nice tour of the Pennekamp state park, how about a nice pit stop at a fantastic eatery close by at the famous SunDowners restaurant. With wonderful views ocean views of Key Largo's coastline, Sundowners offers up some of the best local seafood served traditionally and with a twist with a fusion of tropical flavors, not to mention the delicious cocktail drinks with really exotic ingredients to put you in that Key Largo Frame of mind. How about trying some of the favorite appetizers like some Fried Conch fritters and crispy calamari and then up to entrees like local blackened yellow tail snapper or Caribbean glazed mahimahi.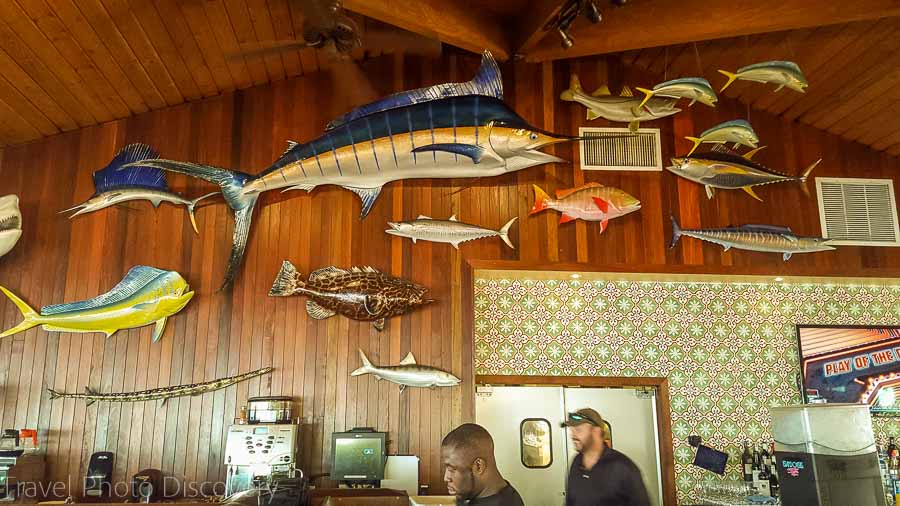 A classic mojito drink at the Sundowners in Key Largo
Where to stay in Key Largo
There are plenty of hotel and BnB options while staying in Key Largo from Luxury properties to mid range and more affordable lodging in the area. Check out the latest reviews and prices on these Trip Advisor postings here or you can shop for bargains and naming your own price on Priceline here for updates.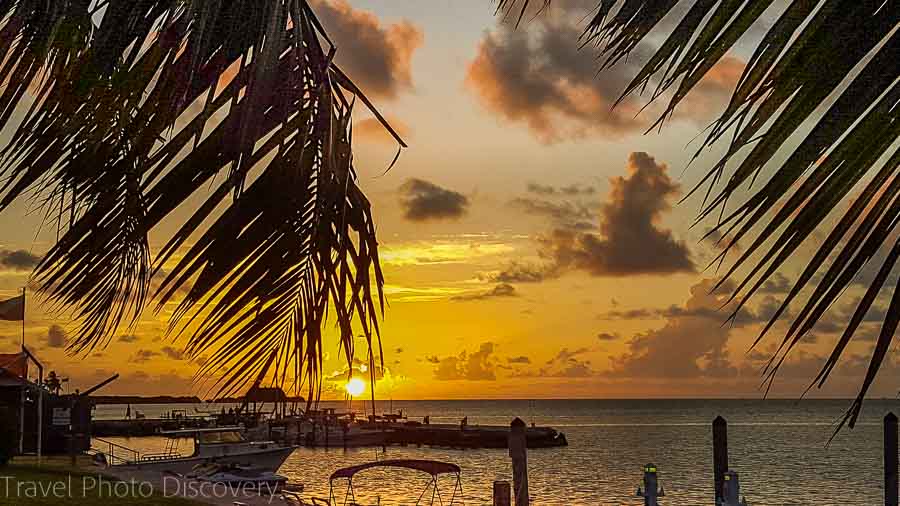 A visit to Islamorada
Islamorada Key is a popular stop along the Florida Keys for exploring outdoor sports and water adventures, fantastic dining venues, cool resort hotels and just relaxing and enjoying the beach or some fun water recreation. There's a lot of things to keep you busy around Islamorada, check out my post about staying here and some of the fun Islamorada attractions and activities here for more travel inspiration to this area.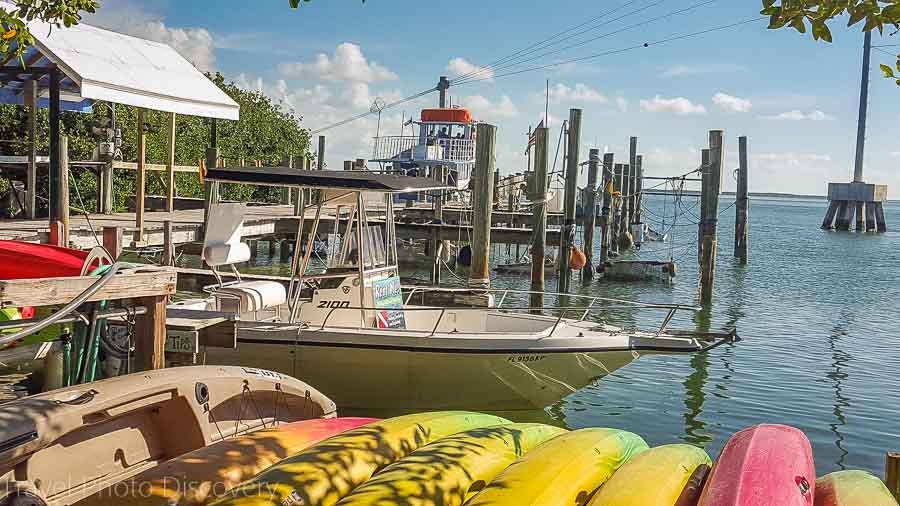 Robbie's
A local institution at Islamorada and located at mile marker 77.5 is Robbie's, an eclectic tropical village where you can check out the local market, rent a kayak or watercraft or have a nice seafood lunch serving some local fish and other fresh seafood favorites. There are many private fishing operators at Robbie's, or you can also take a group fishing experience with Captain Michael's fishing tours.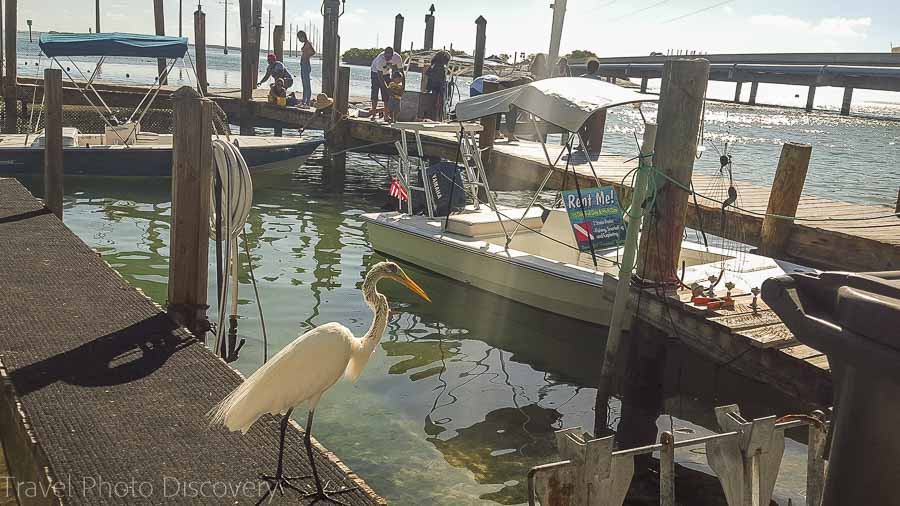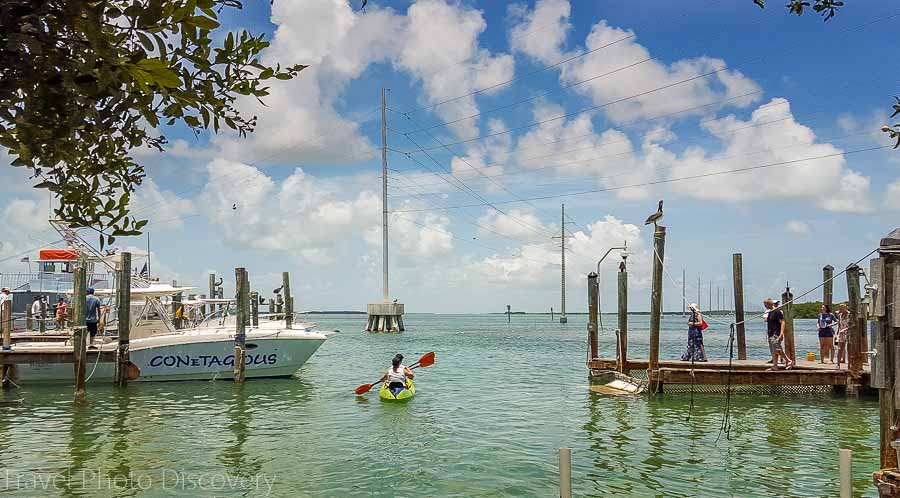 Here's more inspiration to visiting Islamorada below
Fishing tour with Captain Michael's at Robbies
A daily morning charter style group tour is an easy option to do at Robbie's. The fishing tour loads up Robbie's docks on the Captain Michael, a 65 foot deep sea fishing vessel. The offshore fishing experience is an affordable party boat experience going out into the open waters of Islamorada and all the essentials for a fishing experience is taken care of with fishing gear and tackle, they even set up the bait on your lines for you and if you catch something, the crew will gladly take the fish off the hook if you are a little skirmish in doing this icky part. At the end of the tour, the crew also takes all the fish that you have caught for the day and actually cleans up the fish for you in the end to take home.
Tip – Tours happen twice daily and the prices include pole, tackle and cleaning up your catch to take home. Tips for the dedicated crew in doing all the work is also appreciated.
Check out the tarpon feeding at Robbies wharf below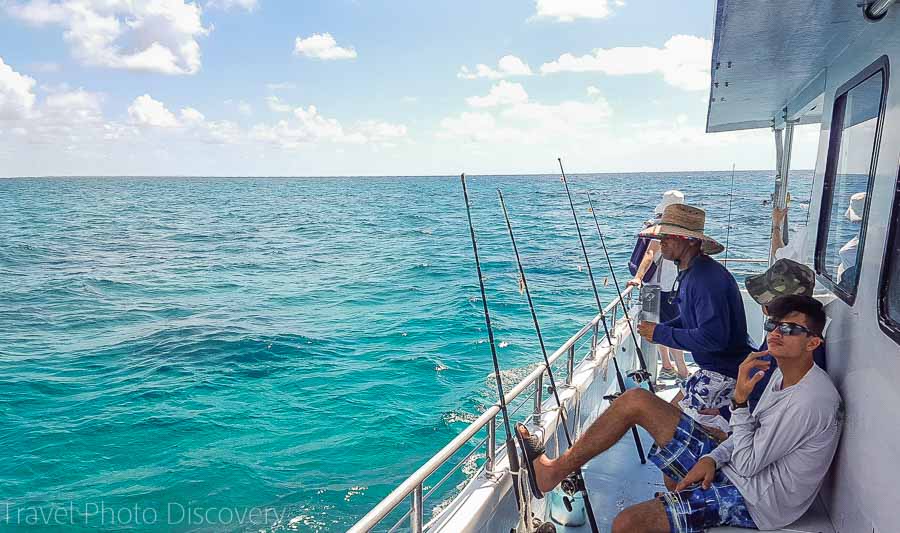 Beautiful ocean waters off Islamorada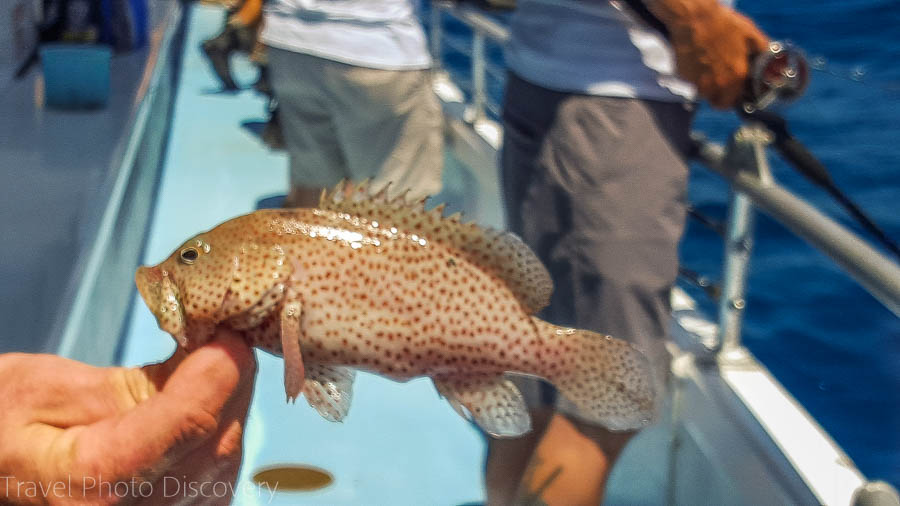 Hooking the bait on the Captain Michael's party boat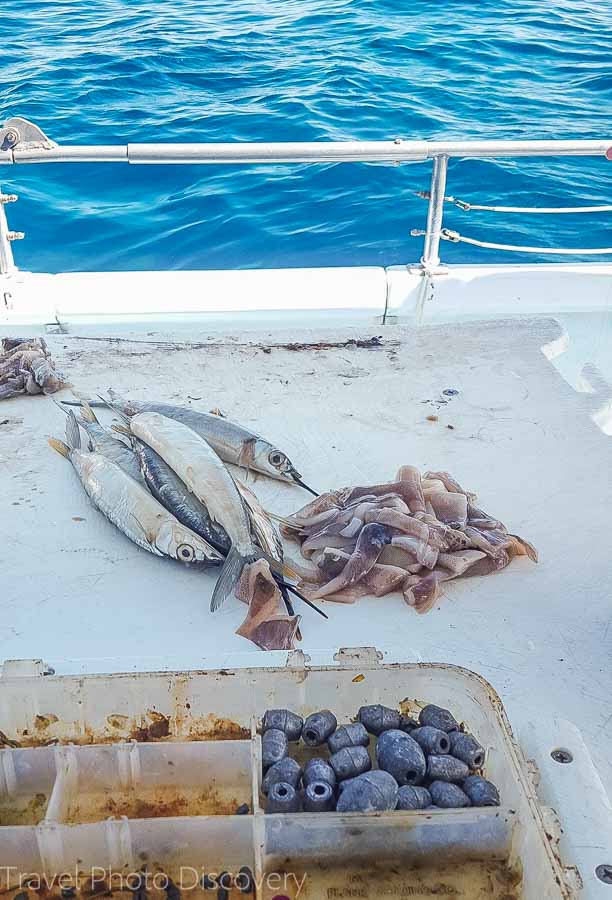 There are plenty of other outdoor adventure options at Robbie's from renting private charters or cruise boats, Kayaking the calm  waters at Islamorada to snorkeling and scuba diving expeditions in the warm Caribbean waters off Islamorada. Check out these other adventure tours or activities offered at Robbie's for updated prices and tour highlights.
Here's a video experience on the Captain Robbies fishing tour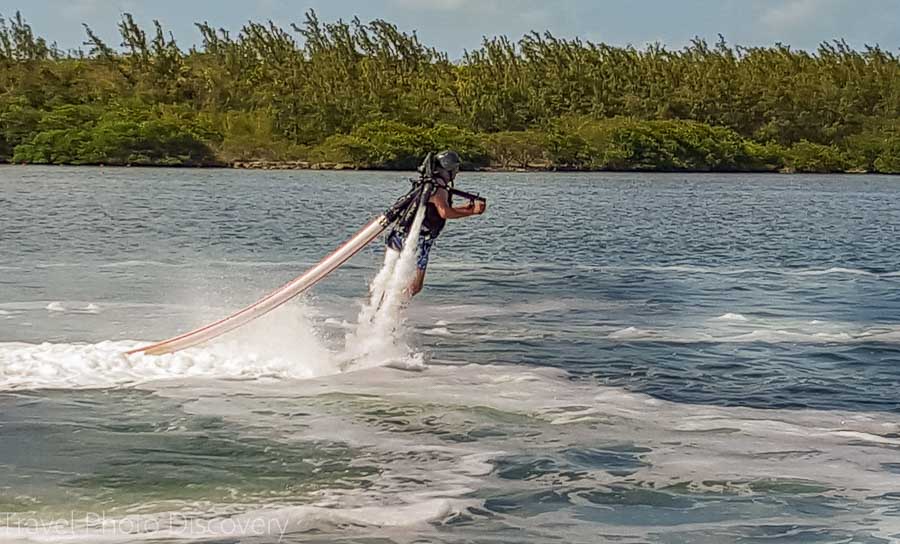 Tiki JetPacks at the Postcard Inn
If your idea of something fun and unusual includes flying up from the water A la James Bond style adventure, then you will definitely love the water jet pack propulsion experience with Tiki Jets. Think a combination of jet skiing with flyboarding,  after the safety session, you quickly get up to speed on learning how to walk on water, do high water propulsion lifts and drops back into the bay. It really is an adrenaline rush and you learn by doing with an expert guide showing you all the basic techniques while having some real adventures on the water.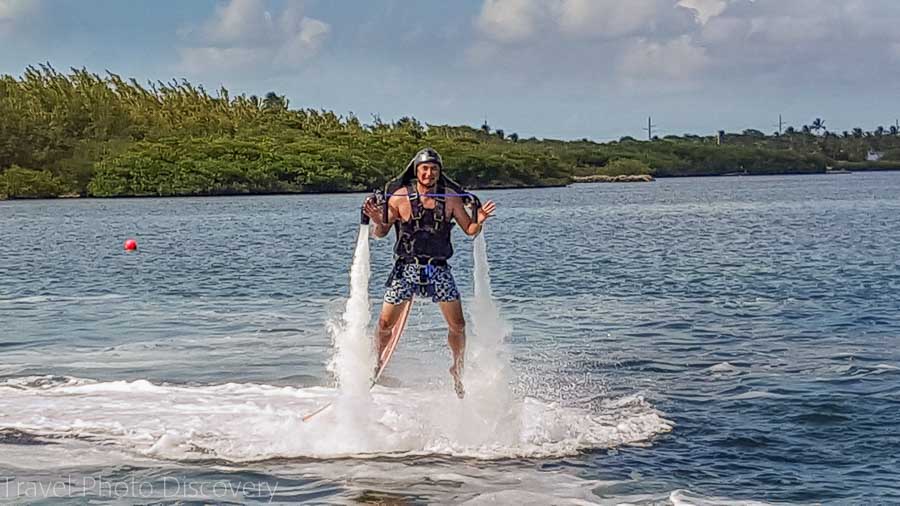 Here's a video experience to doing the Jet Paks below
Beach time in Islamorada
The beaches in Islamorada tend to be smaller stretches of beach or in little coves. A few resorts also have elevated beach areas that you have to go down ladders to reach the water, this is a way of protecting the precious beaches from eroding away overnight. Beach time at Islamorada is a well deserved time to just chill and maybe have a nice cold beverage handy when it really gets hot during the day time and the water temperatures are just as warm when you get in. Popular beaches around Islamorada include family friendly Anne's Beach, Library Beach Park, or Long Key State Park.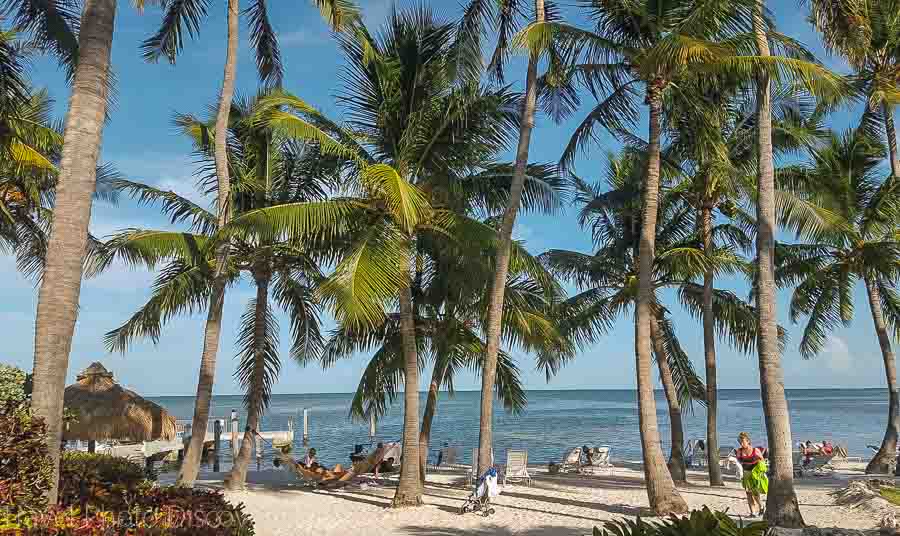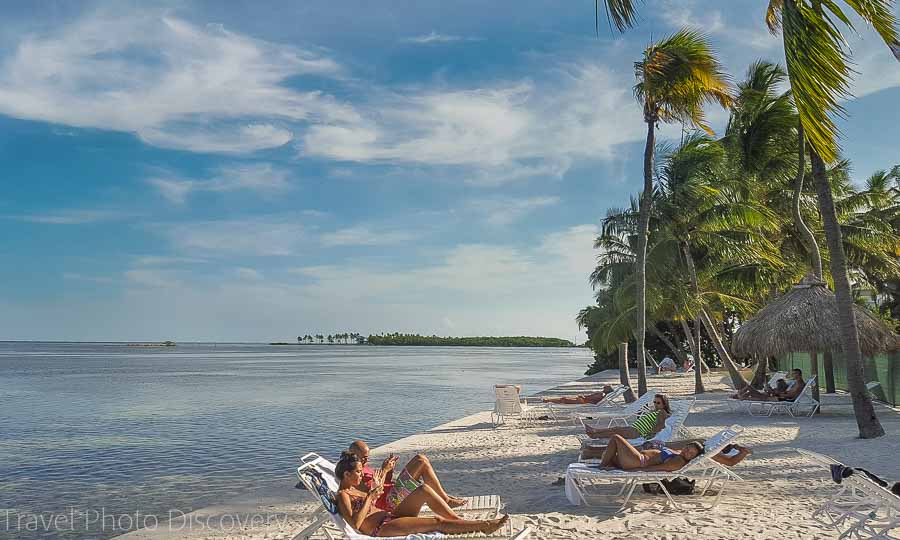 Enjoying Islamorada Sunsets
Finding a spot for a wonderful sunset isn't that difficult to do with all the scenic places and open areas that you can go to and enjoy a magnificent view while the sun goes down. Check out the Hungry Tarpon at Robbie's, Morada Bay Beach Café or the Lorelei Cabana Bar to enjoy sunset with a delicious tropical drink to toast another amazing day in the Florida Keys.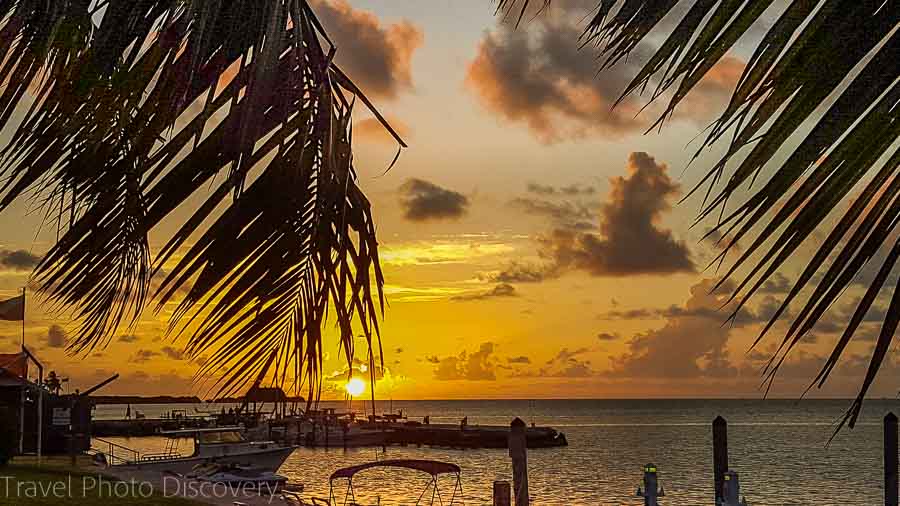 Enjoying sunsets in Islamorada – a perfect way to end the day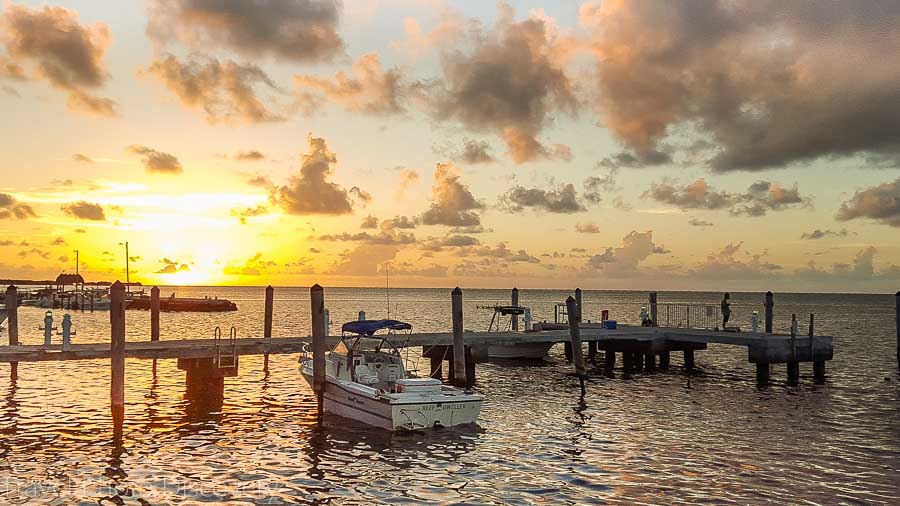 Where to Stay in Islamorada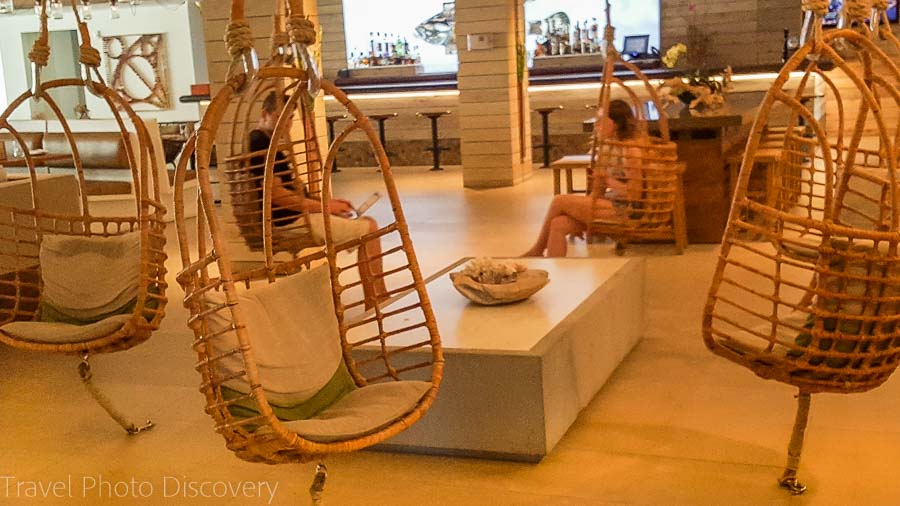 Amara Cay resort
A welcoming stay is perfect at the Amara Cay Resort designed in an organic and contemporary fusion that's both comfortable and very chic. This boutique luxury hotel has beautiful lounge areas, swimming pool and a beach area, it's hard to even leave the resort to explore the rest of Islamorada.  Check out the Trip Advisor site here for the latest prices and reviews.
Or, check out all these other reviewed hotel sites in Islamorada here for inspiration and current rates and availability.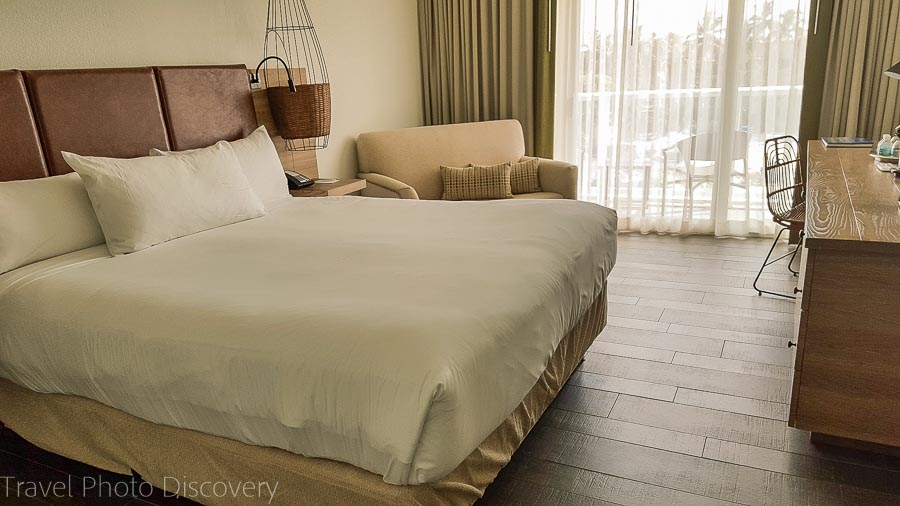 Additional hotels in Islamorada
For more lodging options staying in Islamorada check out Trip advisor here or check out the express deals with Priceline here for the latest reviews and prices.
Dining spots around Islamorada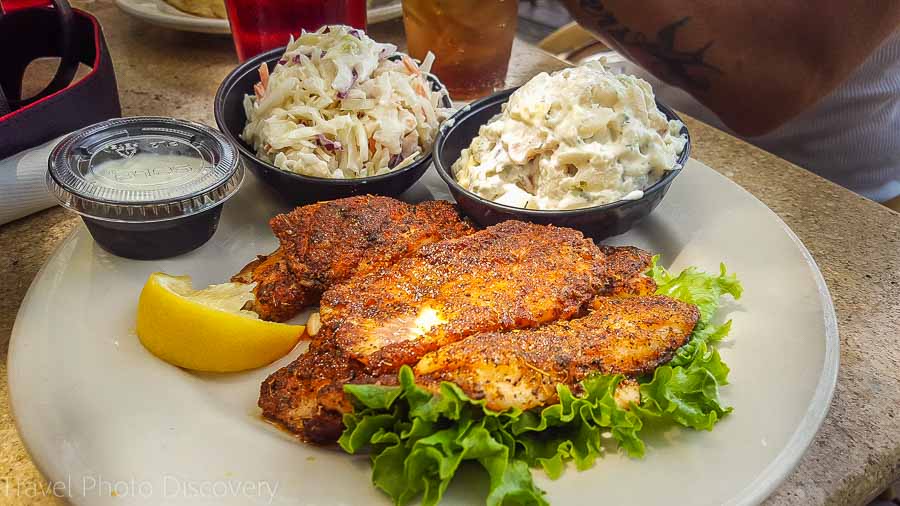 Hungry Tarpon at Robbie's
The Hungry Tarpon is a great venue for seafood in a casual environment next to Robbie's docks with views of the harbor area and surrounding islands. The extensive fish and seafood menu is as fresh as it gets with different fish and seafood locally sourced from the area and served a variety of ways just the way you like it.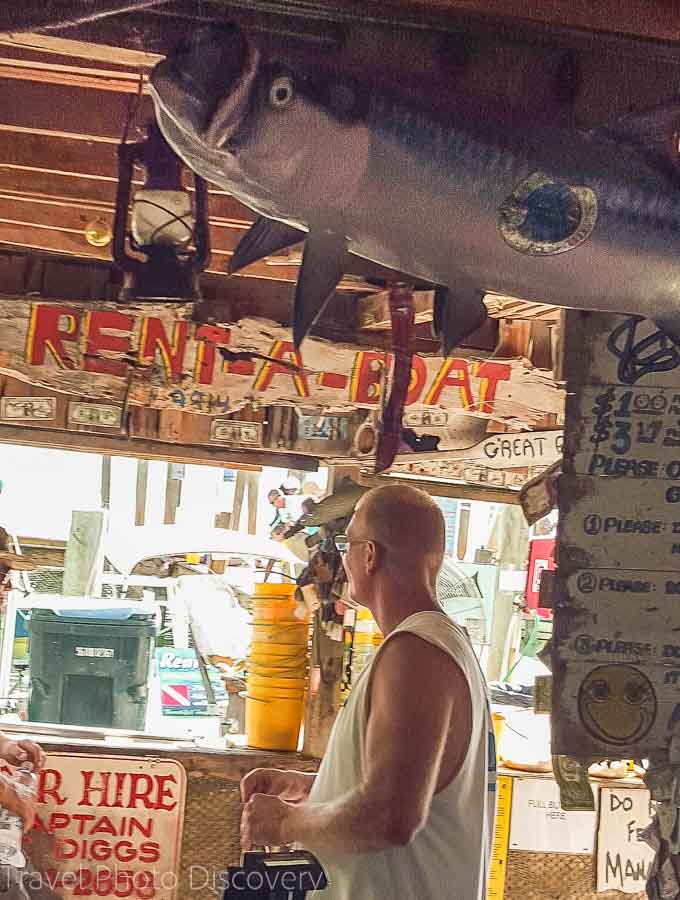 Oltremare Restaurant, Islamorada
Waterfront dining in a contemporary and chic restaurant with easy and comfortable dining atmosphere. Oltremare restaurant specializes in fresh seafood and wonderful prepared dishes that are flavorful and beautifully presented. There is an Italian infusion in all the dishes presented but with a tropical and modern aesthetic and preparation.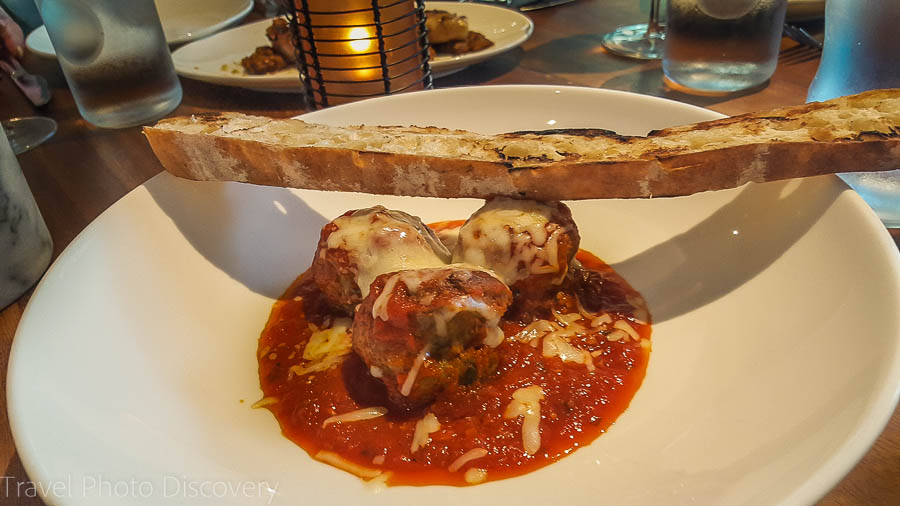 Delicious appetizers at Oltremare at Amara Cay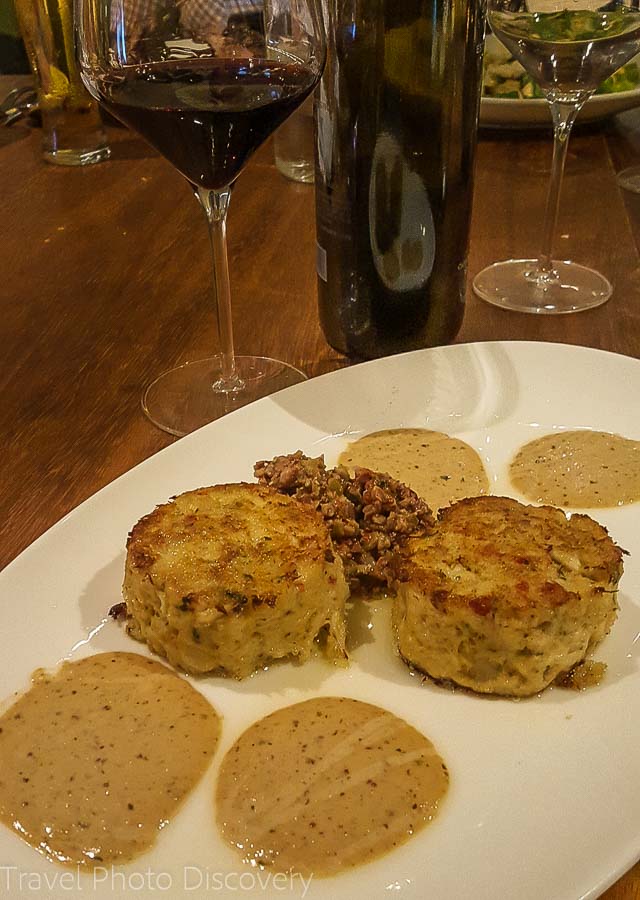 Fine dining at Chez Michael's
Local chef-owner Michael Ledworth trained in some of the finest restaurants in New York before settling down to Islamorada and opening his namesake restaurant Chez Michael's. Featuring the best quality seafood and other specialty foods from the area, the cuisine here is made to order with a variety of sauces and finishing techniques to cater to each individual's taste. It really is fine dining at its best in Islamorada.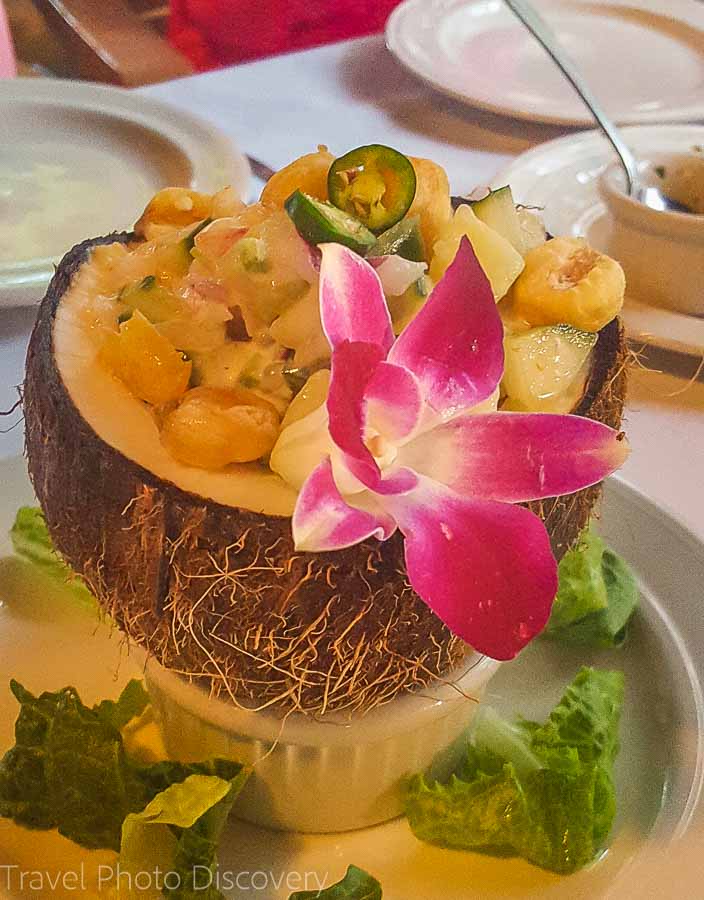 Dishes that are almost too good to beautiful to eat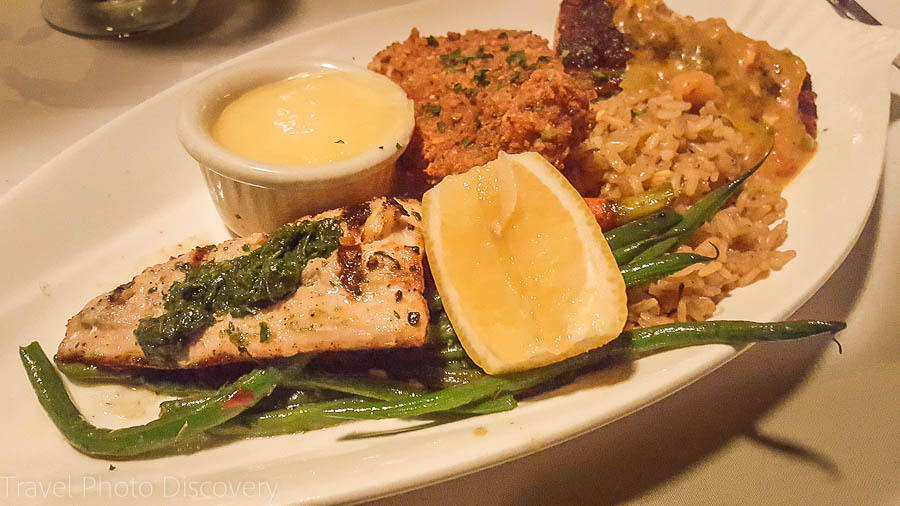 If you are looking for more places to eat, check out all these other Islamorada venues below
A visit to Marathon Key
Located right in the middle of the Florida Keys, Marathon Key stretches for about 10 miles and covers the main islands of Marathon, Vaca Key, Fat Deer Key and Grassy Key. This area is a boating haven for outdoor water sports along with so many different types of water recreation that can be found all around this area. You can find world class fishing, sailing diving and snorkeling along with beautiful beaches, eco attractions and even a turtle rescue center which you can visit.
Things to do in Marathon Key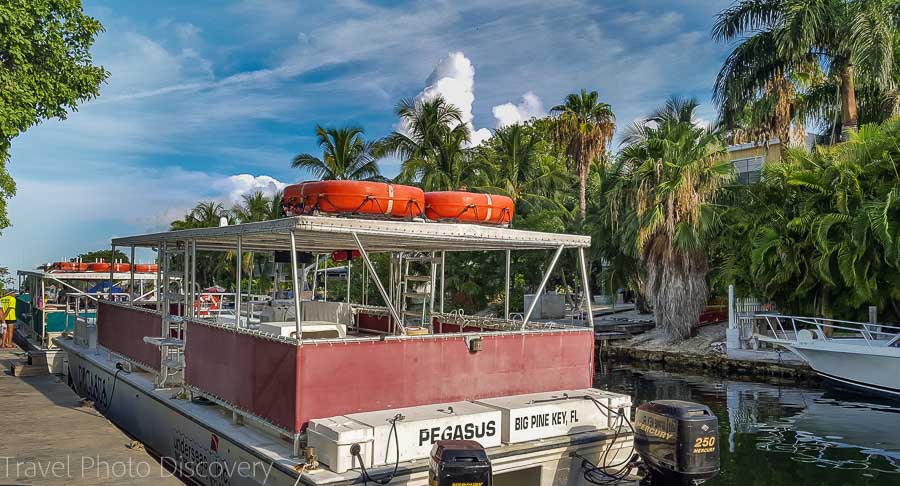 Florida National Marine Sanctuary off Marathon Keys
The Florida Looe Key National Marine Sanctuary is one of the most pristine coral reefs left in the world that can only be accessed by boat. Strike Zone Charters in Big Pine Key offers a morning cruise out to the sanctuary and offers snorkel or scuba diving experiences in the sanctuary.  Snorkel equipment is free, but the scuba dive equipment is extra along with any additional instructions. They also offer separate fishing excursion packages for catching big fish in the area – think sailfish, wahoo, tuna or mahimahi.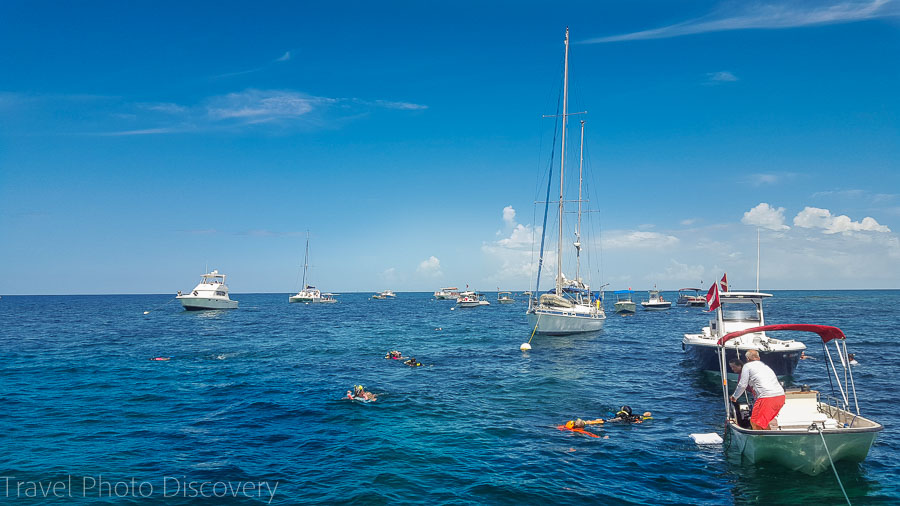 Underwater experiences of the Looe marine sanctuary courtesy of Florida Keys TV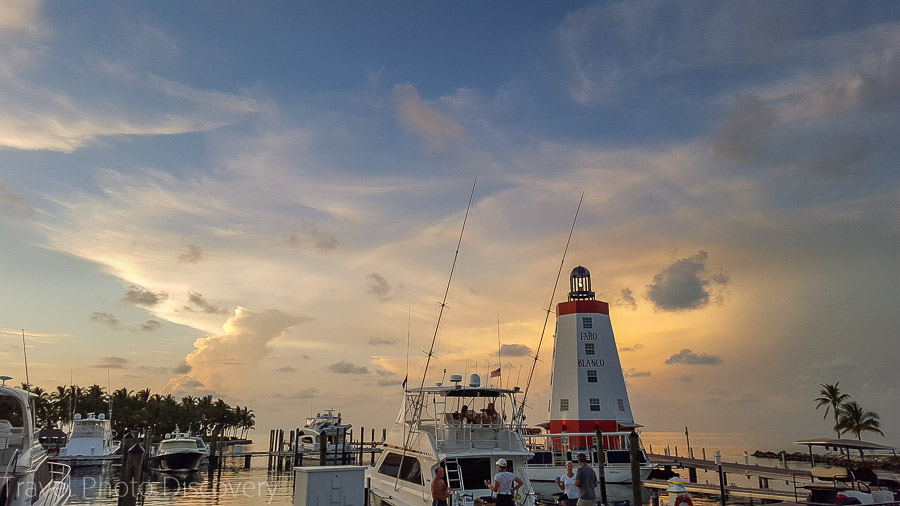 Check out the Faro Blanco Lighthouse
Mornings when the harbor area and lighthouse are still quiet from the tourist crowds make it a perfect time to visit and explore this wonderful area. If your inquisitive and friendly to the harbor master, he might just let you go up to the top for a nice view of the harbor and areas surrounding Marathon.
Morning views of Marathon from the lighthouse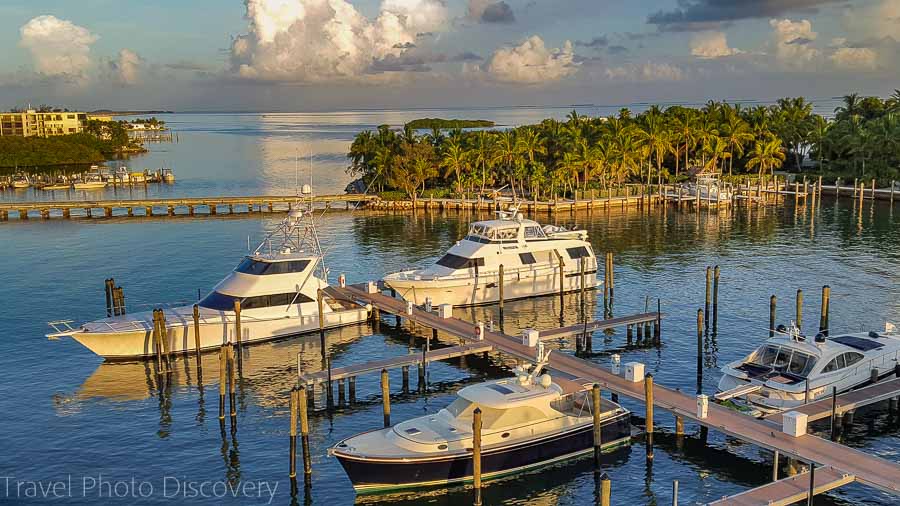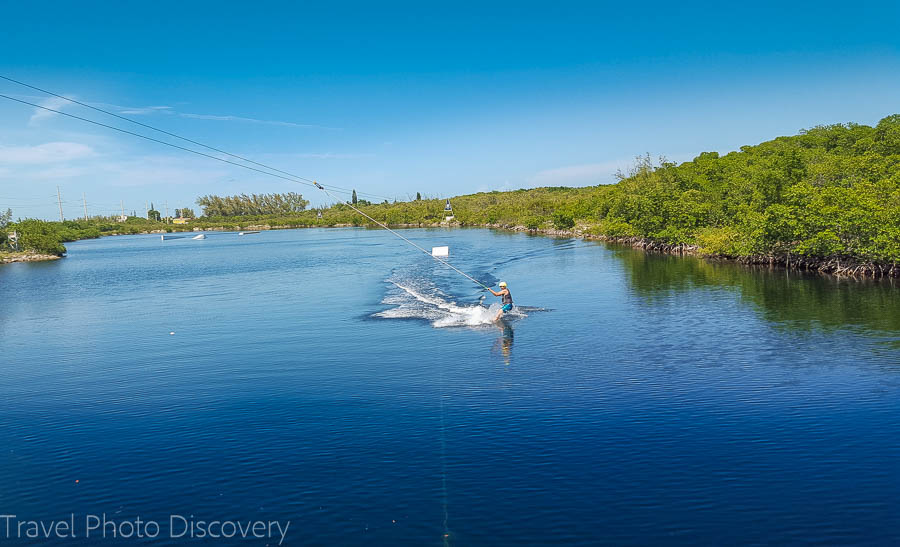 Wake boarding with Otherside Boardsports, Cable Lake
Adventure thrill seekers will love trying the wake boarding experience with Otherside Boardsports. A visit includes instruction and ski session or if you already have some wake boarding experience, you can just do a visit on an hourly basis. This outfitter also offers a variety of adventure experiences with kiteboarding in the Middle and Upper Keys. I love how attentive and patient the instruction is for beginners and how they can get you going very quickly to maneuver basic skills in one session.

Happy hour time in Marathon
Looking for a unique spot to grab a refreshing drink and check out the latest catch? Then head out to Keys Fisheries which is a combination seafood market, marina and restaurant that oozes fresh caught and made to order. There's plenty of places to hang out in the nicer restaurant overlooking the marina or right next to the fish market in a covered seating area. A late afternoon or sunset happy hour is a great time to hang out in this local hangout spot.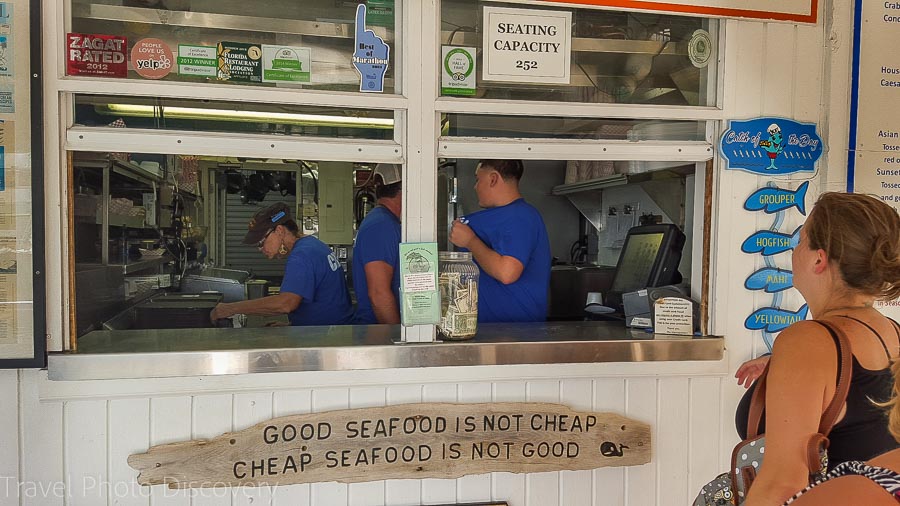 Happy hour and fresh catch of the day at Keys Fisheries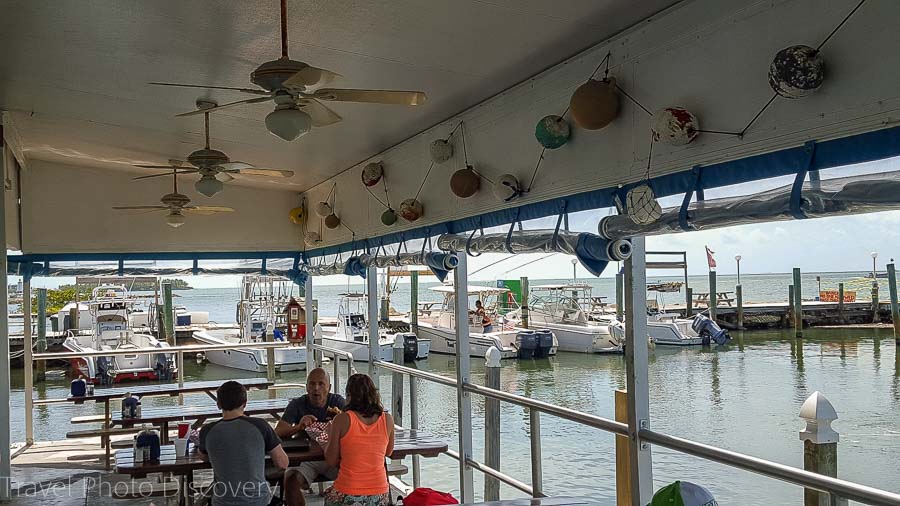 More fun Marathon Keys attractions and activities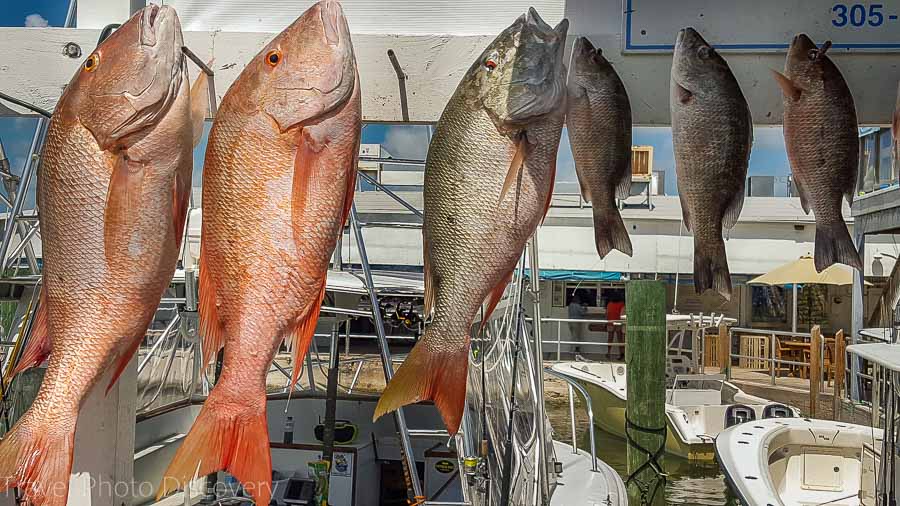 Catching the big fish at Marathon –  there are several fishing charters available for hire in Marathon for your fishing adventure. Check out this website here for a variety of fishing charters and services.
Best beaches at Marathon – The best beaches around Marathon can be found at Curry Hammock State Park,  Sombrero Beach, or Coco Plum Beach.
Turtle Hospital – at mile marker 48.5  is the only licensed veterinary hospital treating turtle injuries in the Florida Keys. Tours are available to visit and see the programs happening at the hospital.
Check out these other delcious places to eat at Marathon below
Where to Stay in Marathon Key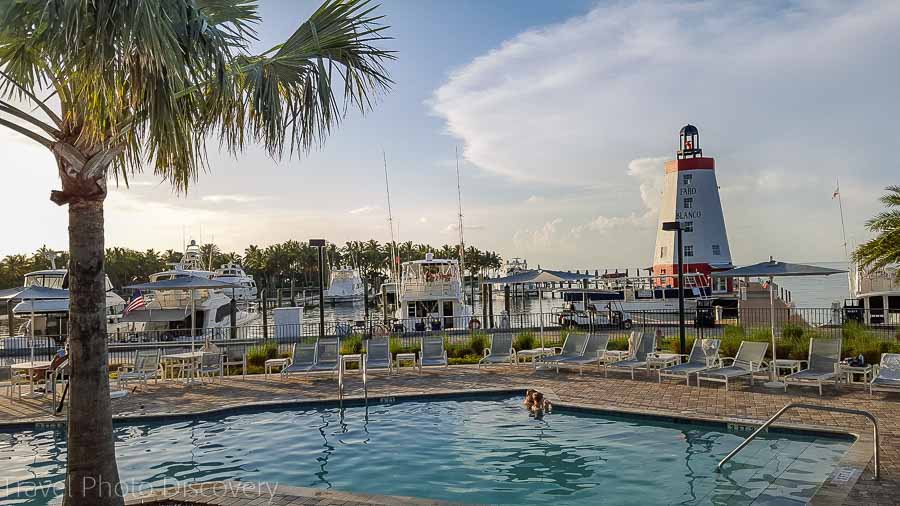 Faro Blanco Resort and Yacht Club -Hyatt Place
This Hyatt Place property sits next to the Faro Blanco Yacht Club and Lighthouse operating since the 1950s. This luxury property excels at quick check in with friendly and prompt front desk service. The rooms are large and spacious looking out to the pool areas and harbor scene towards the back of the property.  Click here for latest prices and reviews of the Hyatt Place property.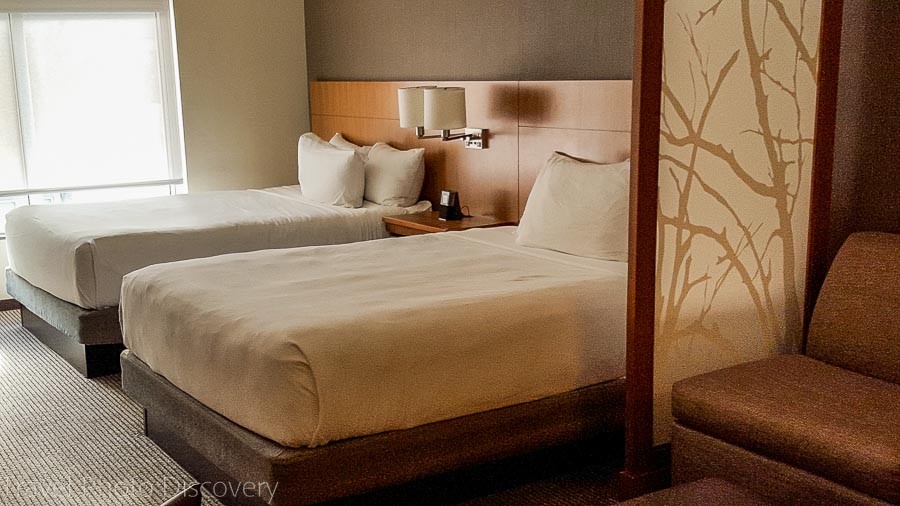 For additional hotel locations check out Trip Advisor here or the Express deals at Priceline here for the latest reviews and prices.
Dining venues on Marathon Key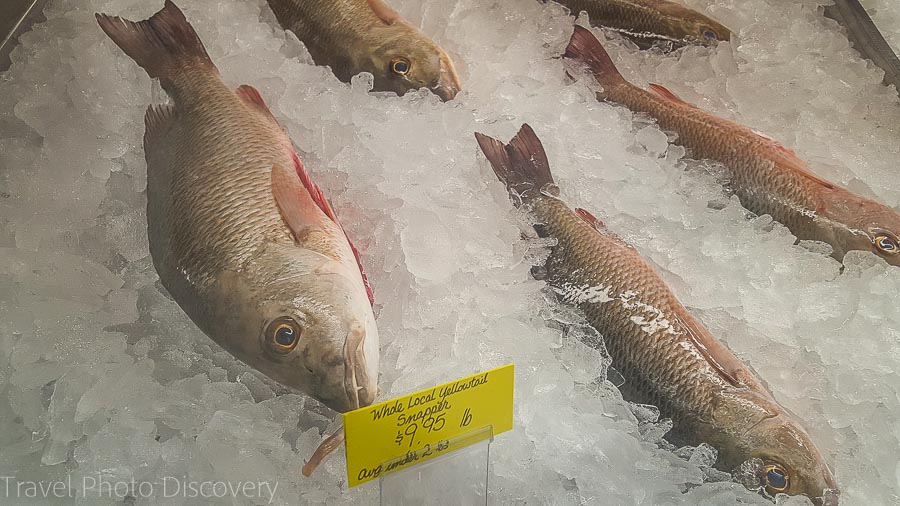 Baby's Coffee
A popular locals coffee shack to pick up some snacks or a light meal along with the excellent Baby's coffee or even smoothie drinks. It's an easy spot to just pick up some picnic or light food for the day.
 
Located on mile marker 48, this low key diner style café serves some creative and delicious cuisine that's sure to impress anyone. It's a popular locals spot that offers contemporary American style comfort food with fresh and tasty ingredients and home style goodness. Specials on the menu evolve with the seasons and depending on what can be sourced locally.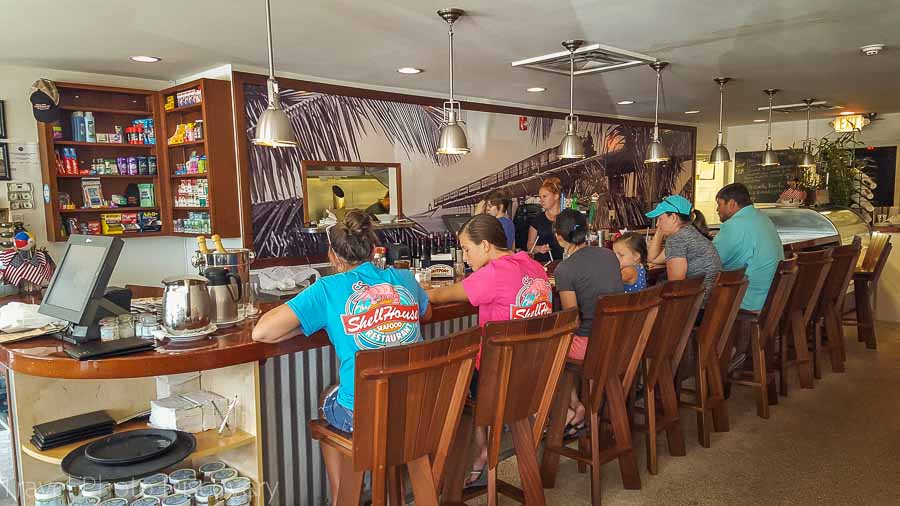 Casual home style dining at Grassy Key Outpost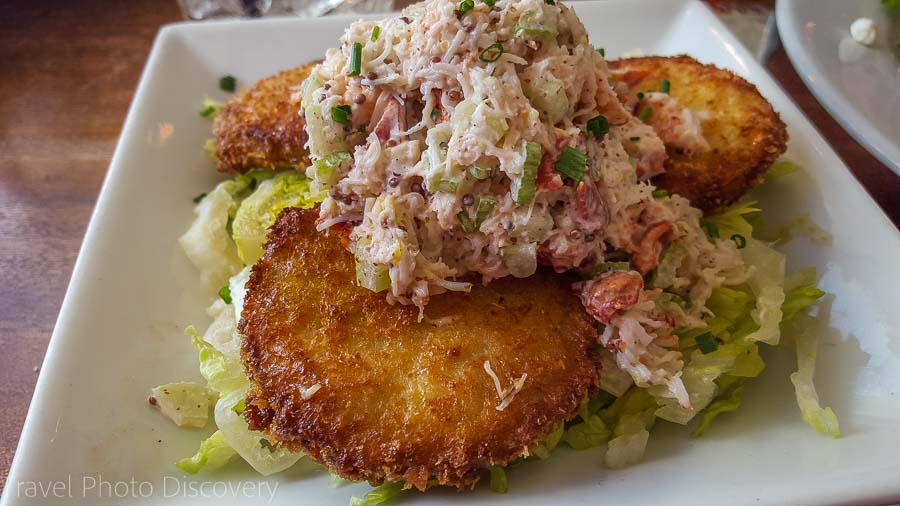 Bar scene and fresh fish
You can pick up some fresh seafood to go or just dine in for a casual meal with some very cold drinks at  Keys Fisheries in their upstairs dining or right next to their marina. Popular seafood just caught and brought into the store is prepared at their take out counter or full dinner service in their restaurant.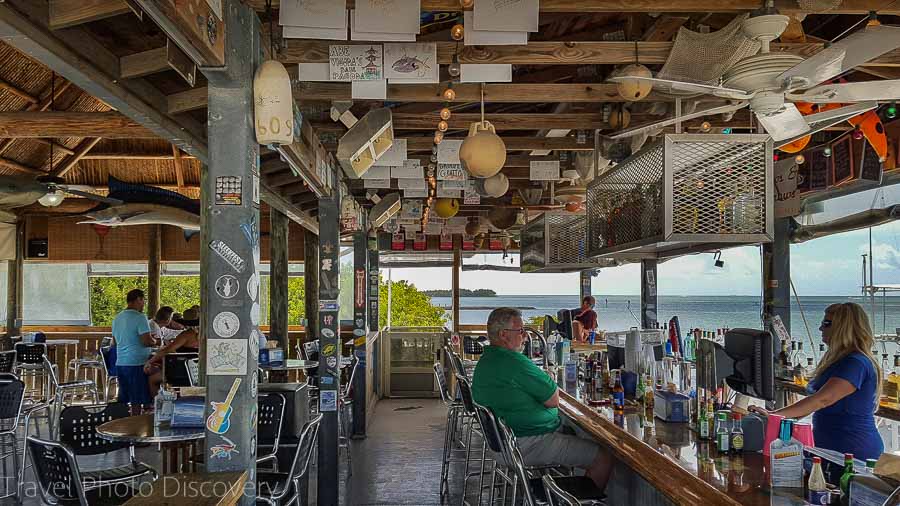 Faro Blanco Resort Lighthouse Grill restaurant
A gorgeous fine dining restaurant fronts the Faro Blanco Lighthouse Grill – you can choose to dine outdoors in  a covered outdoor dining area or inside in an air conditioned dining room.  The menu offers an amazing assortment of seafood specialty dishes that are simple to more complex in ingredients and preparation and signature drinks that really add to the dining experience.
A classic surf and turf dish at Faro Blanco restaurant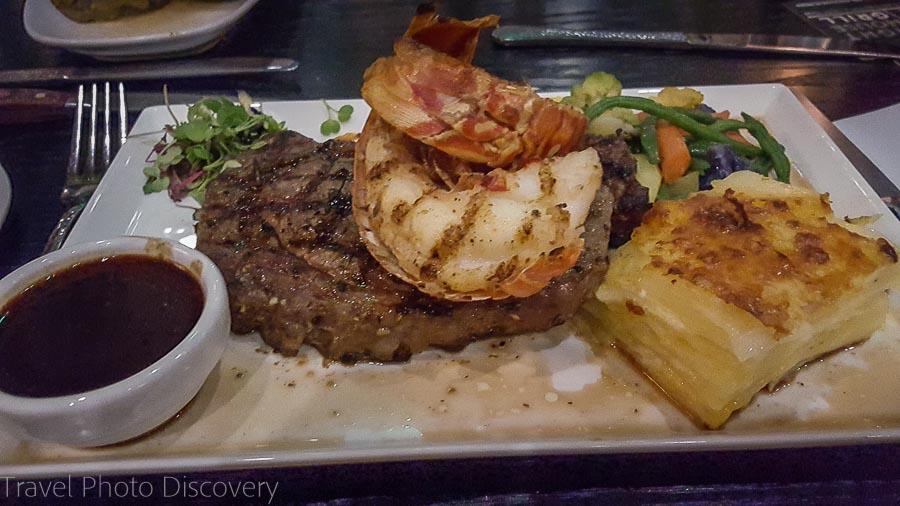 Experience Bahia Honda
Located in the Lower Keys, Bahia Honda State Park is one of the State's southern most parks and is known for its beautiful beaches, excellent snorkeling, picnicking and outdoor activities. You can bring boats to launch from the ramp, rent a variety of water craft or enjoy birding or swimming in the warm and shallow sandy bottoms around the island. There are also snorkeling excursions offered to visit the Looe Key National Marine Sanctuary from the docks at Bahia Honda.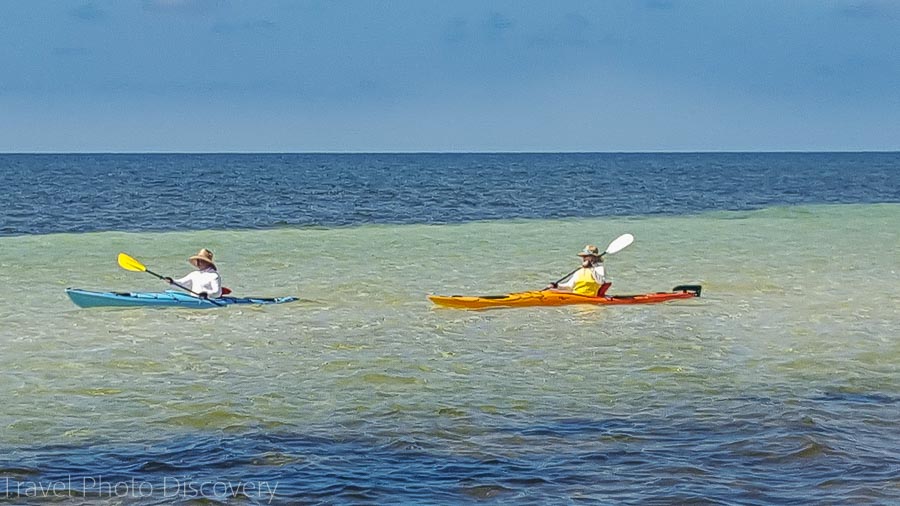 Here's a fun visit and tour of Bahia Honda below
A popular new concept of doing Yoga outdoors on Stand up Paddle boards is a real fun and easy experience within the shallow sandy banks of Bahia Honda.  After some initial instruction and demonstration on balancing with a SUP board, we progressed into easy Yoga positions and into even more challenging positions that the instructor altered to accommodate the water and wave action that makes it more difficult to mastering Yoga positions on the water. It's a fun way to exercise and experiment with Yoga poses without the fear of falling into deep water and I enjoyed being on the water while trying to keep up my balance and doing these poses correctly.

Bahia Honda– finding our yoga poses on Sup boards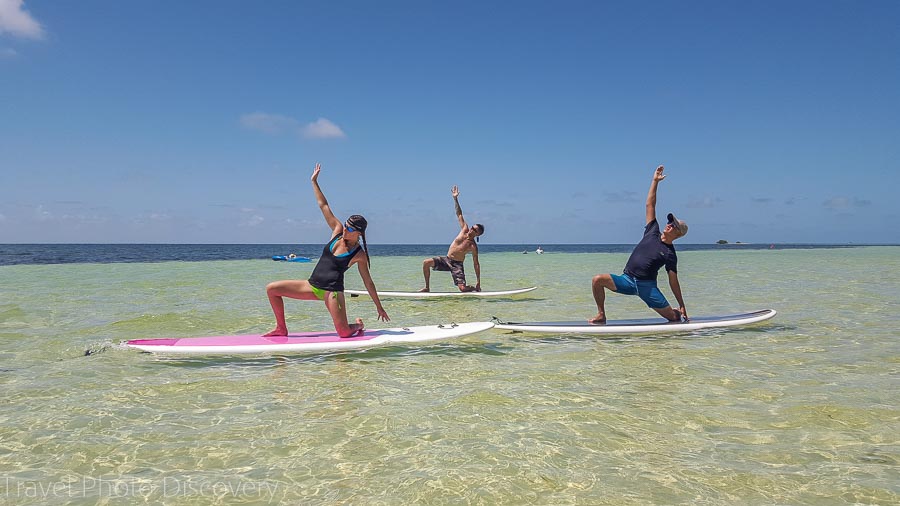 Top things to do in Key West
The tip of the Florida Keys finally ends dramatically at Key West, a larger than life city with so much history, lore and a colorful presence at the end of the chain of islands. Considering that this is the southern most tip of the Florida Keys, Cuba is only 90 miles further South from Key West. Facing the Caribbean on one side and the Gulf of Mexico on the other, the small 4 mile long island is full of life and activity from the busy Duval main street, the colorful sunset and night events at Mallory square and historical gems to visit like Fort Zachary, the lighthouse and the Hemmingway house, the Truman White House to many important homes that have been converted into historic and living museums.
For those looking for a more active and adventure oriented visit, you have plenty of choices from sailing, snorkeling, sunset cruises to night excursions on Sup boards or Kayaks. Here are some highlights below.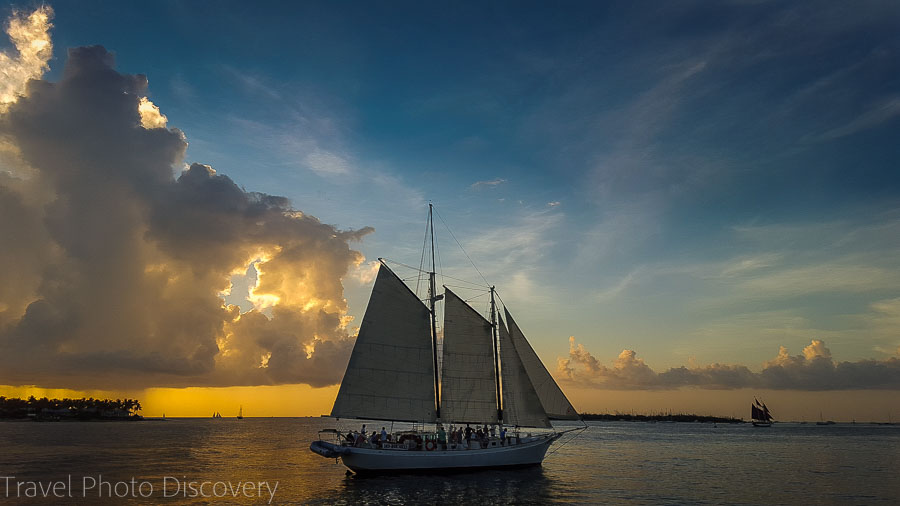 Sailing at sunset around Key West
What a better way to enjoy views of Key West, the surrounding islands and the sunset from a sailing vessel for the evening. It's a less crowded version than the hordes of tourists hanging out on Mallory Square at night.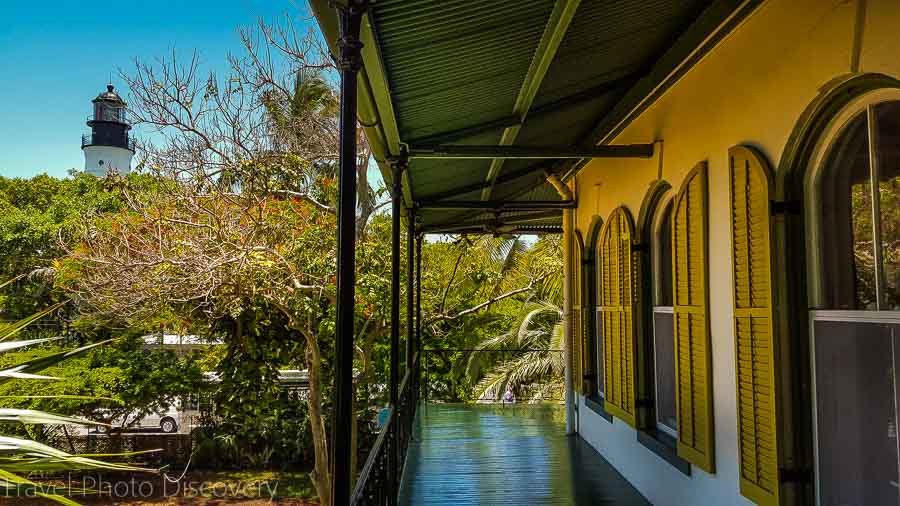 Hemingway's House
Located in the old town, local literary icon Ernest Hemingway built this little gem and created his masterpiece works including " For Whom the Bell Tolls" and "Farewell to Arms". The personal home converted into a living museum houses all the Hemingway's personal furniture, collections and other personal effects for the public to visit and see in person. There are several out buildings to explore, a beautiful garden and the first in ground swimming pool built in Key West.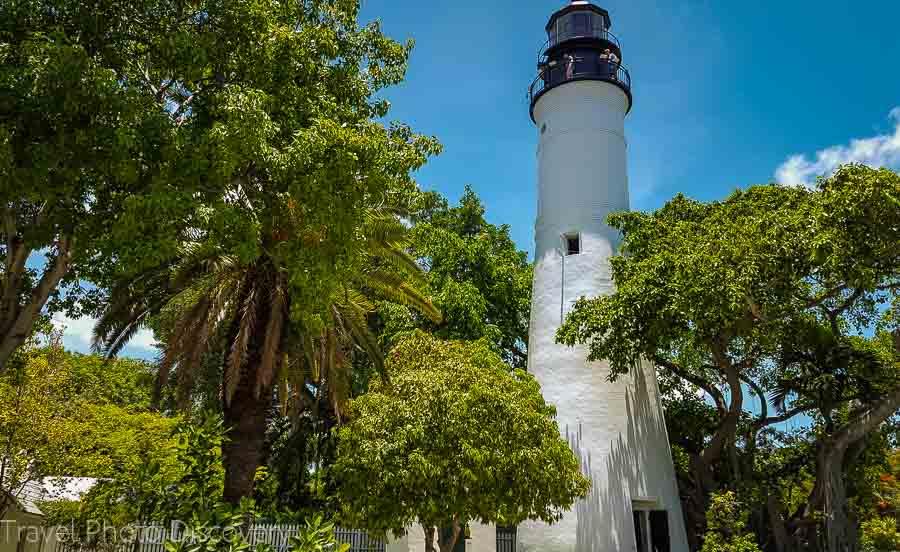 The Key West lighthouse from above
The main light house fronting the Hemingway House is the perfect spot to climb up to the top and get a complete 360 degree view of the entire island from the light house.  There's only 88 step to the top observation point and worth the effort to see the entire island. Also located on the property is the keepers home which contains artifacts and other personal effects from previous tenants living at the property.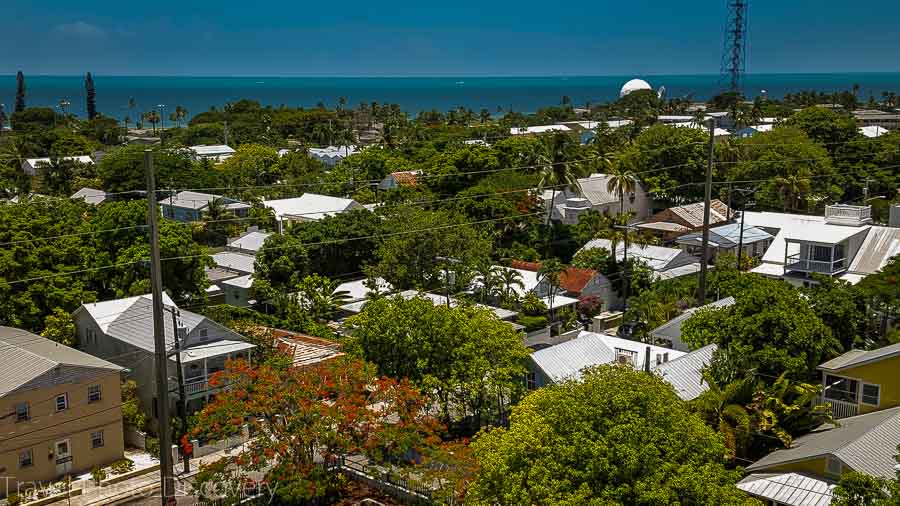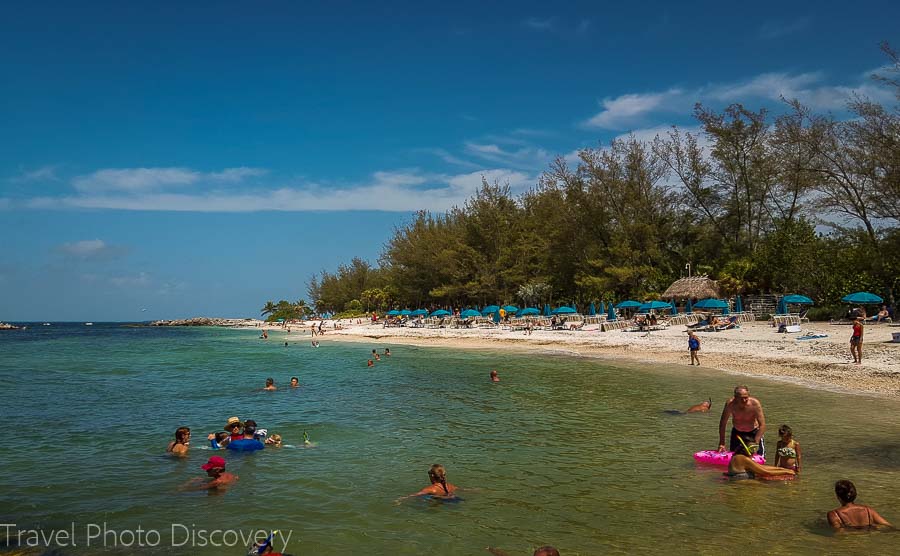 Beach time at Fort Zachary Taylor park
The white sandy beach is a popular spot located in Key West with a beach protected with rock barriers for safe swimming in the beach area. Close by is the Civil War brick fort which you can explore on your own or with a guide to explain how Fort Zachary operated during this pivotal time frame during the Civil War.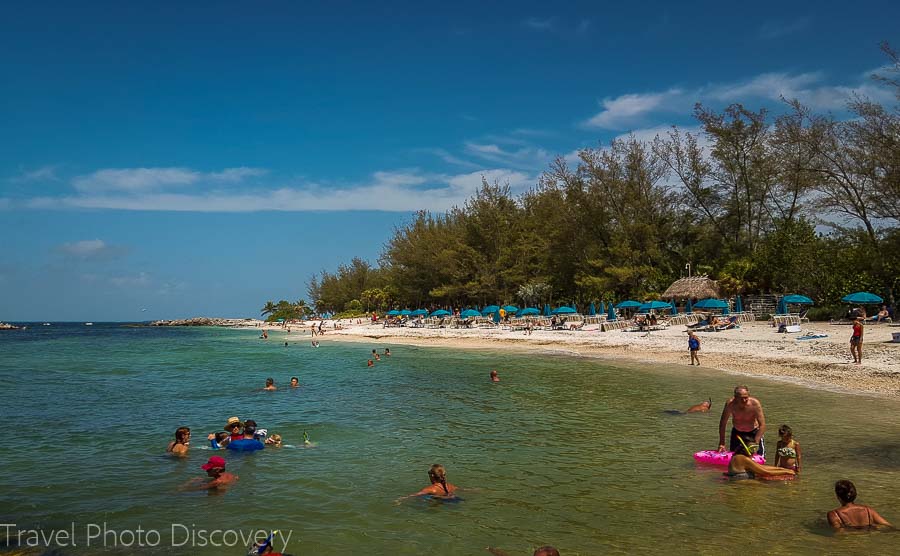 Brick arched interior walls of Fort Zachary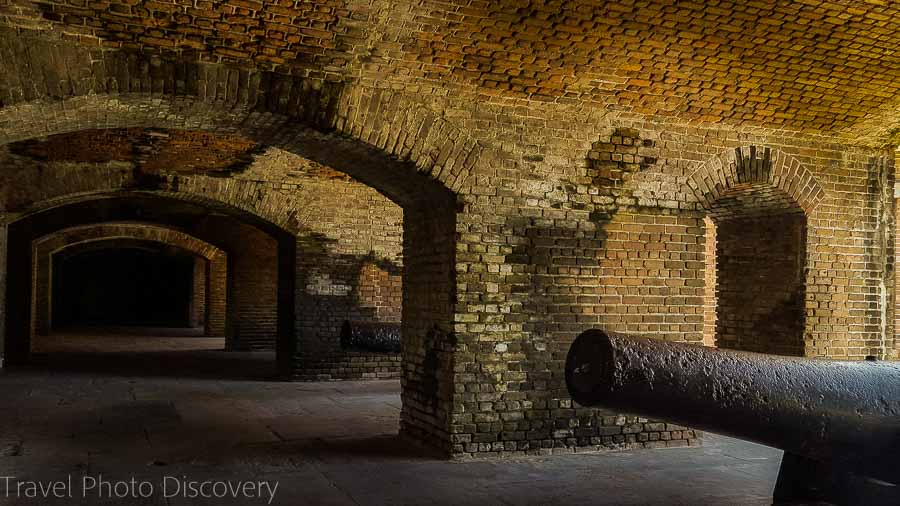 Here's a visit to the historic state park below
Sunsets & street performers at Mallory Square
Mallory Square is where you should be to watch sunset at Key West. Not only is the views and sunset spectacular from this vantage point but the area is active with street performances and street food vendors to make this a lively entertainment spot to hang out at night time in Key West and later on at Duval Street for the bar and clubbing scene happening late into the evening.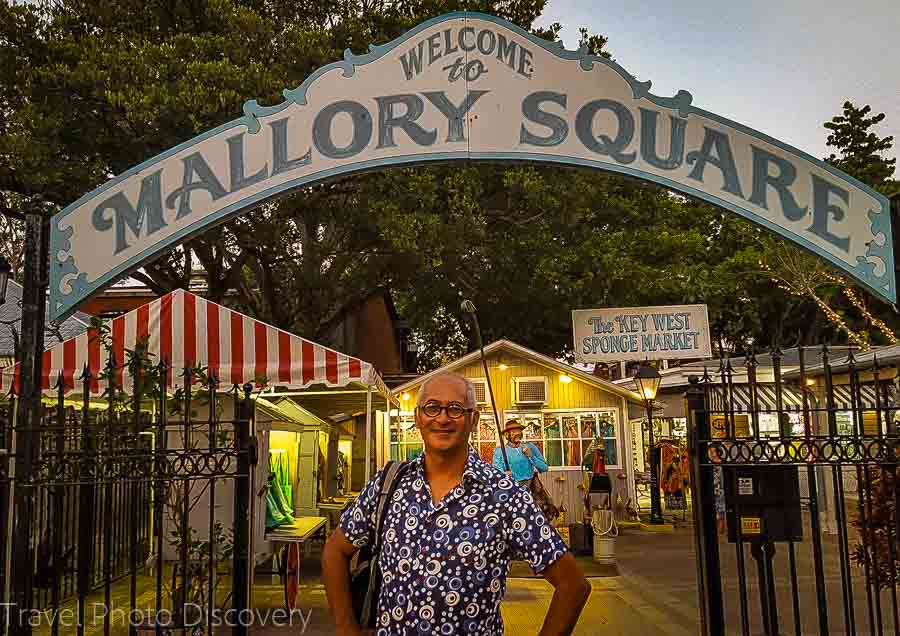 Check out the sunset experience at Key West in Mallory Square
Where to stay in Key West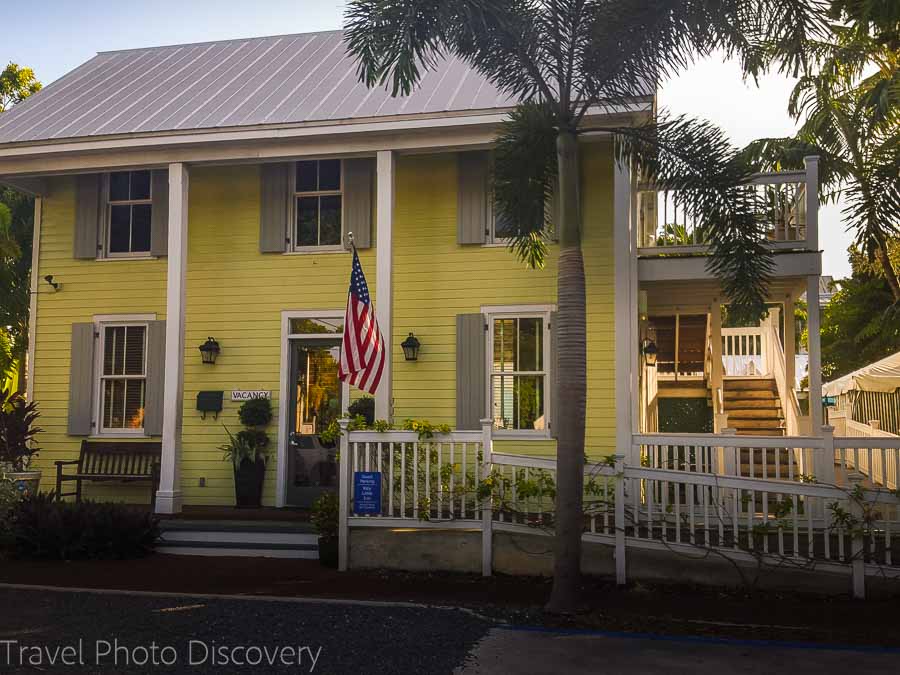 The Key Lime Inn – part of the Heritage Hotels of Key West, the Key Lime Inn on Truman street is a classic style home that has been converted into a wonderful inn with separate cabins and adjacent buildings smartly designed in the classic Key West Florida style with modern comforts and amenities. Click here for updated reviews and prices.
Or, check out all these other reviewed hotel sites in Key West here for inspiration and current rates and availability.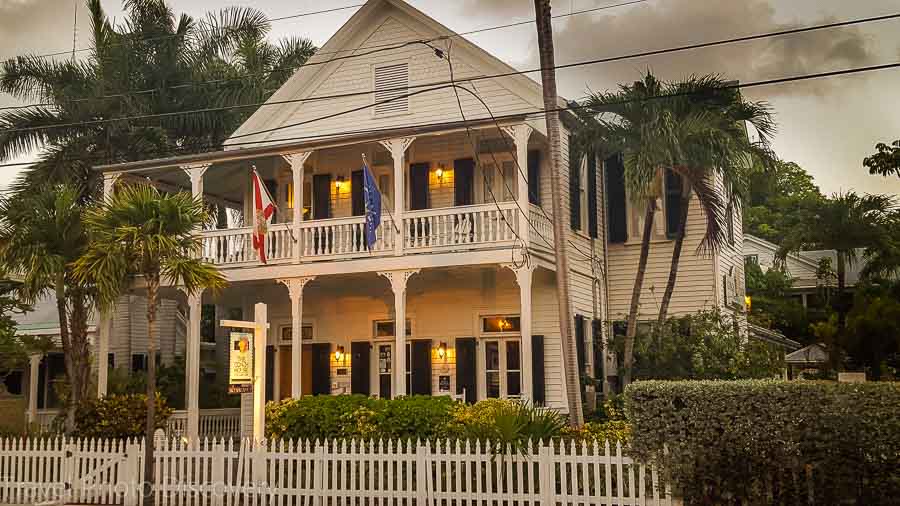 The Conch House Heritage Inn – Also part of the heritage hotels of Key West, the inn located on Truman street is a classic Victorian style home converted into a heritage inn on the property with cabins and adjacent buildings. The main home has the front desk, lounge areas and upstairs bedroom suites. Back of the property contains a swimming pool, cabanas and beautiful gardens to walk around to your personal suite on the property. Click here for updated reviews and prices.
For additional hotel locations check out Trip Advisor here or the Express deals at Priceline here for the latest reviews and prices.
Where to eat in Key West
 
Stone crab and other local seafood favorites at the Stone Crab
This is where you go for the freshest seafood raw or prepared a variety of ways and sauces to your liking. The Stone Crab faces a serene lagoon area and sanctuary just inside the marina. There's also adventure sports with kayaking, Sup board rentals and other night illuminated tours in the lagoon area.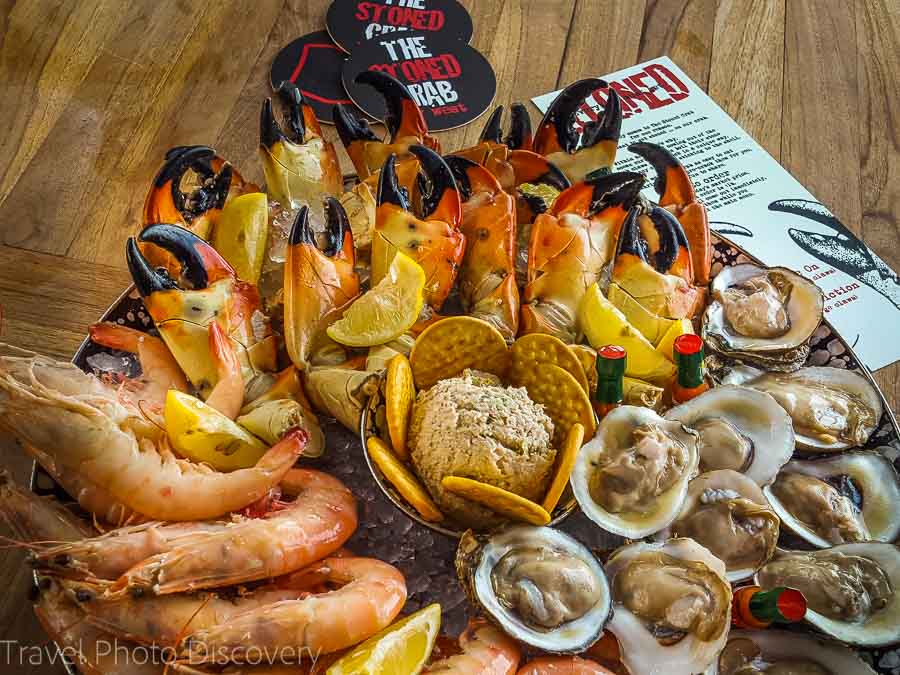 Casual dining at the Blue Heaven
Located on Petronia street with homes dating back a century, the Blue Heaven is an eclectic and colorful breakfast/lunch institution worth having a nice meal and then exploring the neighborhood.
Tip – their Key Lime pie is one of the best on the island and is a huge slice so you can share with friends.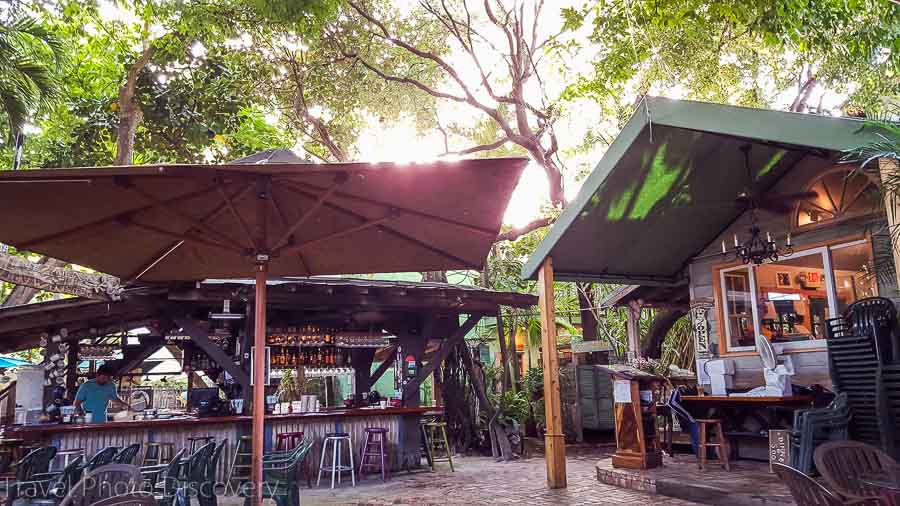 Lobster eggs Benedict special at the Blue Heaven

Hog Fish Bar and Grill on Stock Island
It's worth the short drive from Key West to adjoin Stock Island to eat at local favorite dining spot Hog Fish Bar and Grill. Which serves up local seafood specialties right on the dock including local favorite, the Hog Fish which tastes so much better than it looks. After a delightful meal, a way around the colorful marina and harbor is a must before you head back into Key West.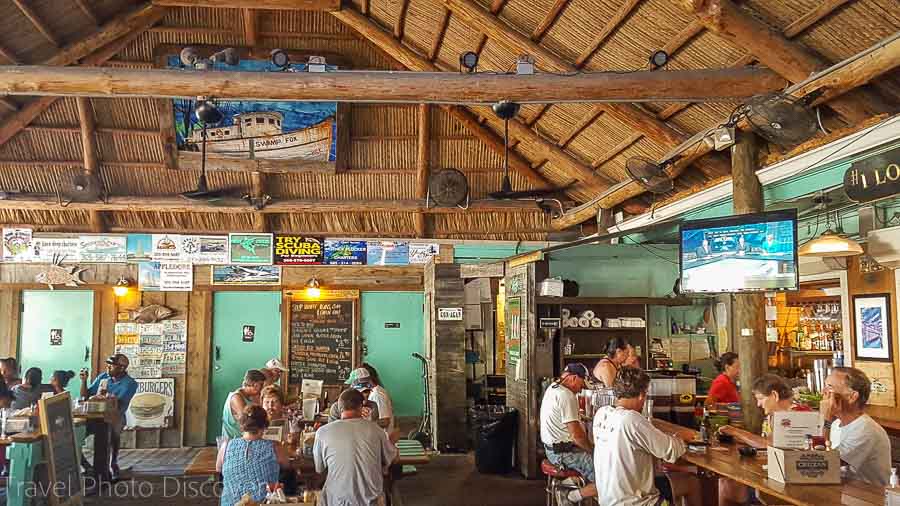 Fresh seafood served right up at Hog Fish Bar and Grill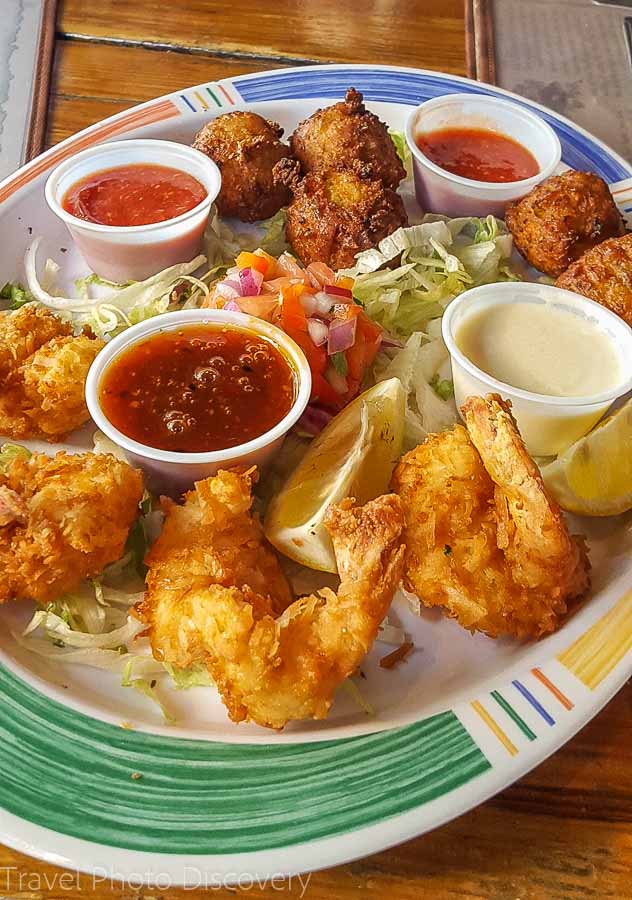 Casual street food and dining at Mallory Square
There's plenty of choices trying some of the street food vendors on Mallory Square to more informal cafes lining the main boardwalk area  and attracting the nightly visitors to the area to witness another perfect sunset and then checking some of the local eateries in the area.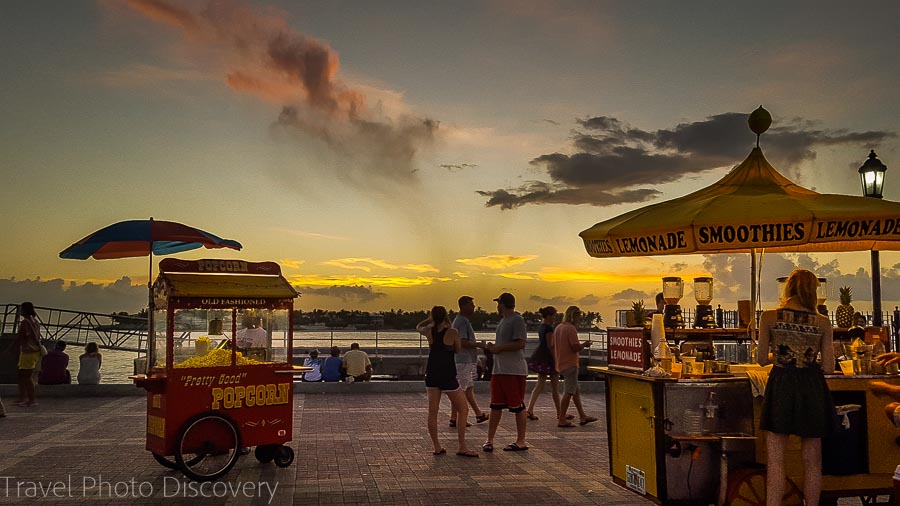 So many more food choices here in Key West below
There's so much more to do and see in Key West on your road trip.  Check out more highlights and images from my Key West post here for more details. For more information about visiting any of the Florida Keys islands, check out the Florida Keys website here for more details, current events and and updated news on visiting the region.
Rental car for your road trip to the Florida Keys
There are plenty or rental car companies to choose from Miami, but a little more limited if you are flying into Key West and heading back to Miami for a road trip. You can check out the latest prices to these car rental sites below for the most competitive prices on your rental car.
Priceline car rentals – click here for latest prices.
Travelocity car rentals – click here for latest prices.
Cool adventure or activity tours in the Florida Keys
If you are looking for more unique and cool touring ideas around the Keys, check out these fun adventure or active tours around the Keys.
Helicopter flight around the Florida Keys –  if you have limited time, this is a great way to see all the islands in the Florida Keys from above which is a fantastic way to experience the chain of islands all the way down to Key West.
Day trip to Key West – let someone else do the driving while you enjoy the views and photo moments exploring all the islands with a nice long open visit time frame in Key West. Check the link for all the details.
Miami and the Keys explorer pass – admits one to the top attractions and other discounts along the Florida Keys and Miami for one price which is a great deal if you take advantage of all the attractions.
Key West sunset schooner sail – Enjoy sunset on a wooden two masted sail schooner along with champagne, cheese and other light appetizers while sailing into the sunset and coastline of Key West.
Check out these other cool adventure tours around the Florida Keys here for updated prices and information.
Check out these other Miami and Florida Keys posts
How to spend a long week in South Florida
Florida Keys and top attractions and things to do in Islamorada
Things to do and see on Marathon Island
Top 10 things to do in Key West
What to see and do in Miami, Florida
Touring the Wynwood district of Miami
Visiting Vizcaya Museum and gardens
The Holocaust Memorial in Miami
Like the post?  Please pin it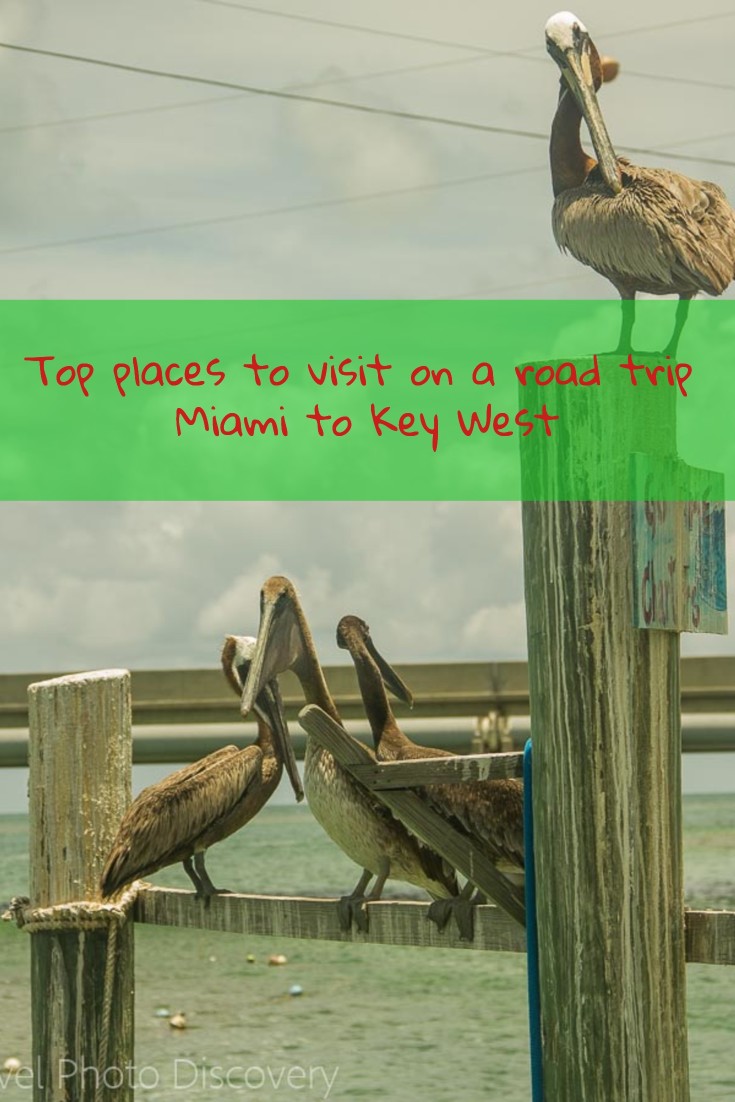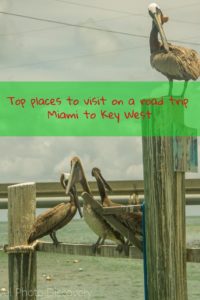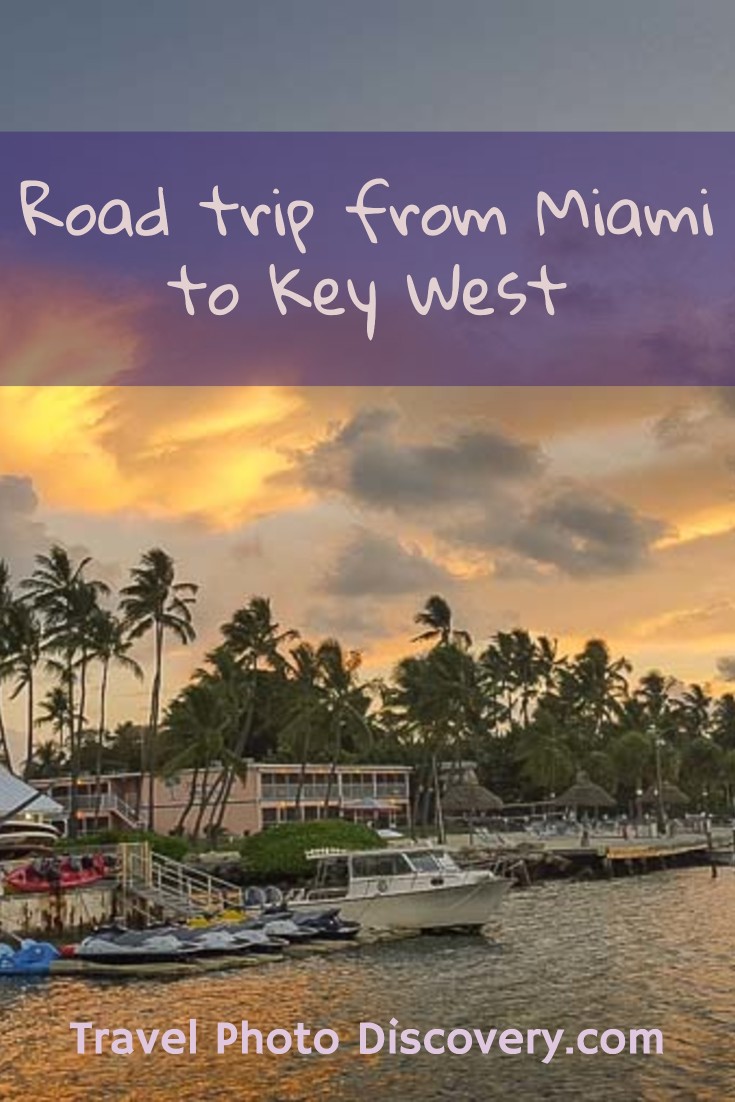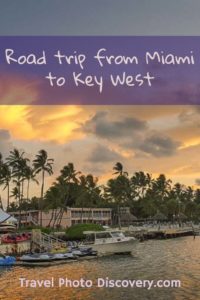 This this inspire you to visit Key West?
Have you been to Key West on a road trip, what was your favorite part of the trip? Please share in the comments below.
Thanks for visiting today and checking out this post on Miami to Key West road trip,  hope you are inspired to plan a vacation to the Florida Keys and enjoy some of these wonderful attractions. If you enjoyed the images and post, could you please share it with any of the social media buttons located around the post.
If you like what you see, come and check out my other social media channels for more updates, including Instagram, Pinterest and Twitter
Disclosure –  Some links in this article on this Miami to Key West road trip are affiliates which provide a small commission to support this site at no extra cost to you. Thank you for reading, and happy travels