When you travel around Mexico's fabled beach areas, colonial cities and modern metropolis, it would be hard not to visit any of the street markets and artesianas or craft and art collaboratives. Featuring beautifully crafted jewelry, clothing, arts and crafts, the beautiful things to take home with priceless. Check out all the best souvenirs from Mexico you can find in the many regions of Mexico and you just might want to take home some of these wonderful memories of your trip to this amazing country. Mexican Souvenirs are fun to collect and treasure from your travels around this gorgeous country.
The best Mexican souvenirs to take home and treasure
What kind of souvenirs from Mexico can you Buy?
You'll find a whole gamut of fantastic things to bring home or give as gifts and most of these cheap souvenirs are typically nice handy crafts made locally in something unique from the areas you visit featuring local textiles, ceramics, wood working, jewelry or even clothing. It's fun to bring home something from Mexico that you'll treasure from your holidays traveling around the country.
Whether you see these at a local market, handi craft store or gallery, know that you are supporting local arts and crafts from the area and that these souvenirs will always bring a nice memory of time spent in Mexico.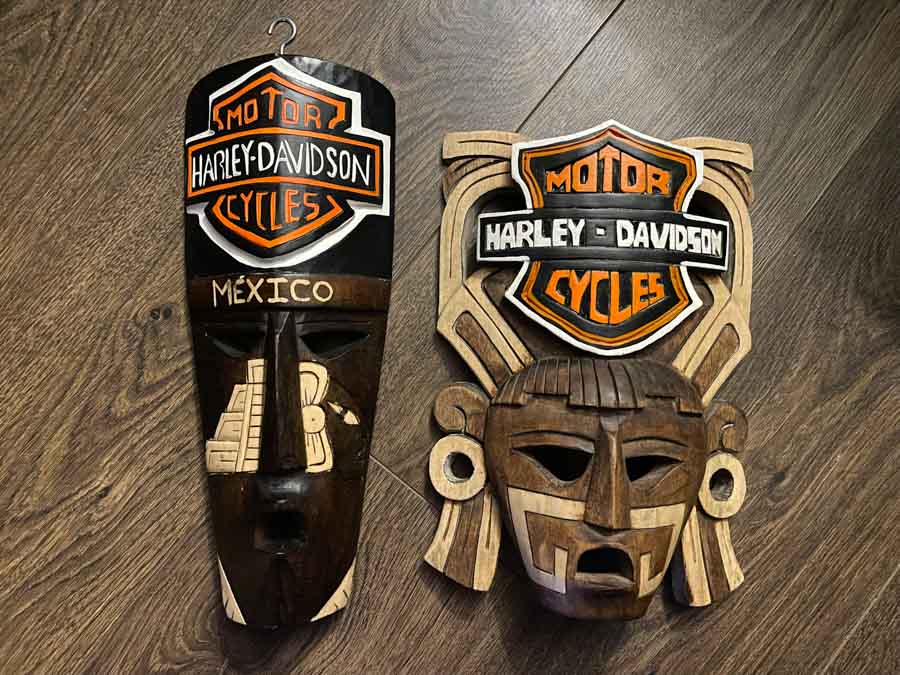 Carved masks from Playa del Carmen
Throughout Mexico you will see an assortment of different hand-carved wooden masks available as souvenirs. While these often resemble the history of a particular region or have some link to spiritual or superstitious belief, some of them are just made for fun.
In the Playa del Carmen region, there are wooden masks that have a hand-painted head piece that reflects a popular sports team or brand. As I'm from the UK, most of these had no relevance for me, at least that was until I spotted a Harley Davidson Motorcycles mask.
I bought the mask at the Ocean Maya Royale Resort thinking it was unique. However, when I ventured along the infamous 5th Avenue in Playa del Carmen, I saw several places that sold similar masks (at a fraction of the price), so I bought another.
Both masks are wall mounted in our kitchen and fit well with rustic, spiritual or colorful décor. They are light and therefore easy to pack in a suitcase or hand-luggage so there is no difficulty in getting them home. Branded masks provide a fun combination of a travel memento mixed with a team or lifestyle that you love. Just don't buy them from a resort unless you're happy to pay a premium.
Contributed by Kerry Hanson from VeggTravel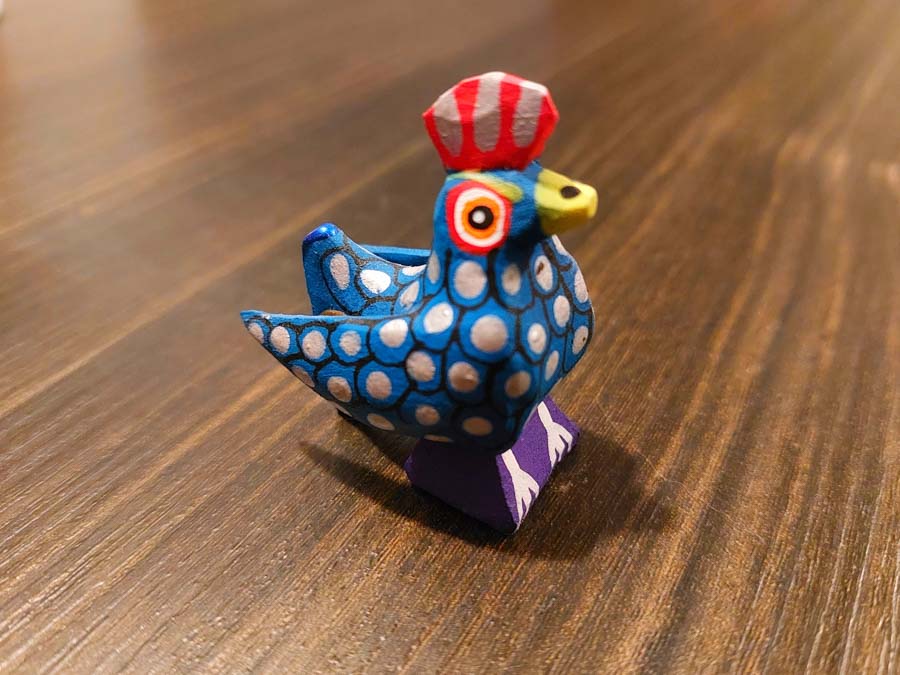 Woode alebrije carvings from Quintana Roo
My favorite souvenir from Mexico is the wooden alebrije carving I got during a trip to Bacalar in Quintana Roo, Mexico. Alebrijes are brightly colored Mexican folk-art carvings of fantasy creatures. The first alebrije artwork originated in Mexico City in the 1940s by a carton artist named Pedro Linares. Cartoneria are paper mache sculptures, which while popular and affordable to make don't always hold up as well over time. The alebrije carving method was changed to use copal wood in the 1990s.
Thanks to the 2017 movie, Coco, alebrije have become well known even outside Mexico. These colorful wood sculptures of animals range from small two-inch tall creatures one might see every day, like chickens, to large fantasy animals, like dragons, that may not be able to fit in a suitcase. Each unique piece is hand-carved and hand-painted.
I let my son choose the carving we purchased. It was at a store we discovered while wandering the Zocalo in Bacalar Centro. When we returned home, we chose to display it where a majority of our other travel souvenirs are located. It's a fun way for us to reminisce about past travels. In addition, the colorful design is an uplifting design to enjoy every time I pass it in my home.
Contributed by Brodi Cole of Our Offbeat Life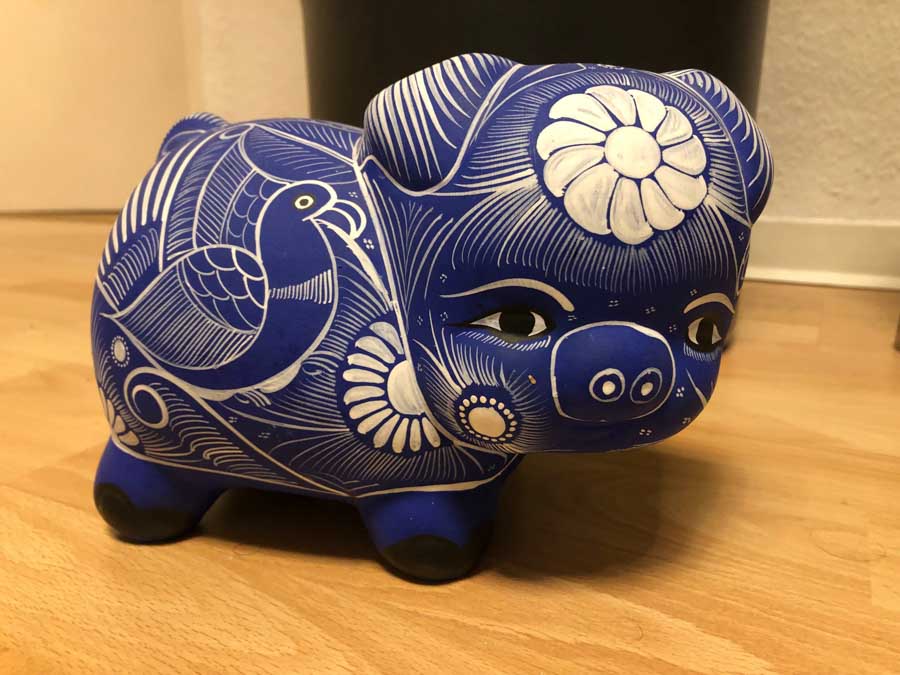 Clay piggy bank from Veracruz
A truly exciting travel souvenir from Mexico is my big blue clay piggy bank.
The piggy bank is a souvenir from a trip through the province of Veracruz. Especially recommended there is a visit to the large port city of the same name, Veracruz, and – if you have the opportunity – at least one day in Cancún. The famous city for beach vacations and parties is an ideal starting point for a trip along the Riviera Maya with highlights like Tulum.
The pig is considered a symbol of prosperity and good fortune in many cultures around the world.
Whoever "had a pig" in earlier times at least had something to eat or was able to expand his property through numerous piglets.
Already in the Middle Ages, pigs made of clay were used by the common people to save coins in them for difficult situations.
Traders from Spain and Italy brought the piggy bank on their travels to South America – where today it is sold as a souvenir, colorfully painted and decorated in the typical way of the country.
The piggy bank was bought at a market in Cordoba, a city halfway between Veracruz and Puebla.
But beware. The Mexican version of the worldwide popular piggy bank has no closure on the belly to open and remove the diligently saved money.
This means that after saving up, the only thing left to do is to destroy the beautiful piggy bank.
For this reason, I have never thrown even a coin into my pig.
Recommended by Phil from JOURNICATION Travel Blog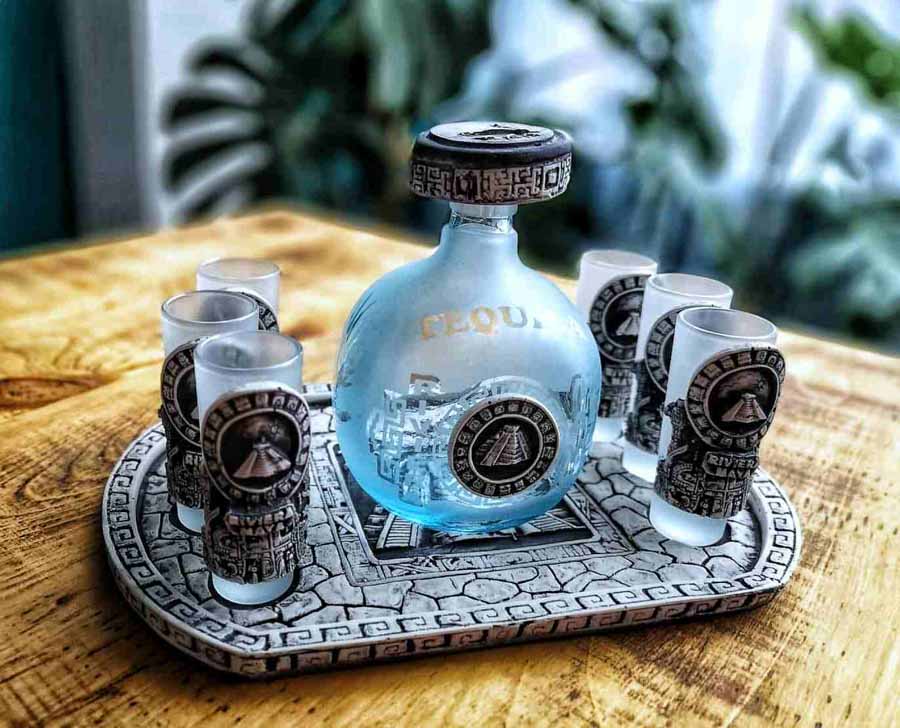 Tequilla from Jalisco
Mexico is most famous from its Tequila so I could not imagine buying different souvenir than handmade Tequila set. Beautiful blue bottle with the same color as agave plant reminds me of Mexico every day. Base ingredient of Tequila grows among others in state of Jalisco. Visiting an agave plantation is one of top things to do when exploring Mexico. Perfect weather and nutrient-rich land makes it a great location to cultivate this large succulent which is used in alcoholic beverages.
Other attraction that cannot be missed is Chichen Itza – one of the New Seven Wonders of the World. Tequila set with the iconic symbol of Mexico was something that I had to buy. I keep my souvenir in tall glass display cabinet in my dining room. It looks amazing behind the glass and add vacation vibes at my house.
I bought my Tequila set in Grand Sirenis Riviera Maya Resort & Spa. All guests can visit hotel's market once a week. Some of the most amazing handmade crafts can be found there. Prices are negotiable and souvenirs look wonderful so I think this is a great place to visit if you want to buy a gift from Mexico for yourself or your friends.
Check out Paulina's post on Visiting Isla Holbox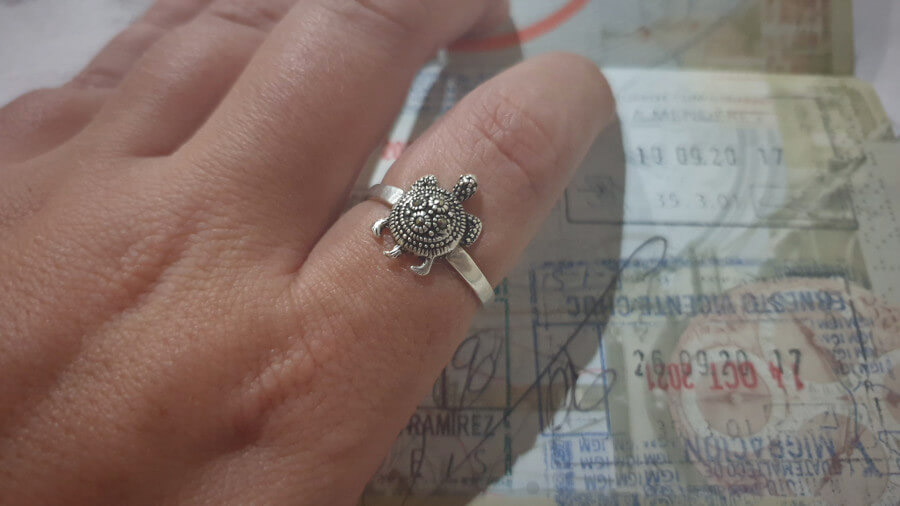 Silver from Taxco
Taxco – in the state of Guerrero – is famed for its silver production. This unique mountainside Pueblo Magico is home to some of the oldest silver mines in the world.
Silver mining in Taxco dates back to the Aztec period when it was used for jewelry, ceremonies and as gifts to the Gods. When the Spanish came in the 1500s, Taxco silver became famous across Europe. And, there was even another peak in popularity during the early 20th century as two world wars resulted in a decline in silver mining in Europe.
Today, much of the Taxco silver is actually mined in other nearby towns as Taxco's mines dry up. But that doesn't stop the town from being full of silver stores and proud of its history. The silver for sale is mostly jewelry: rings, bracelets, necklaces and earrings. But other items do exist if you look hard enough and in the right places.
You can spend hours in the town wandering the cobbled streets visiting many locally-owned, independent silver sellers. The best place to look for silver stores is along Calle Benito Juarez and in El Mercadito de Plata – where you can also watch demonstrations and where my turtle ring is from. On the weekends, there are also market stalls selling silver along the narrow Callejón de Mora – it's an experience, that's for sure!
My turtle ring travels with me everywhere. Six countries together and counting so far!
Follow Zoe at https://www.zoegoesplaces.com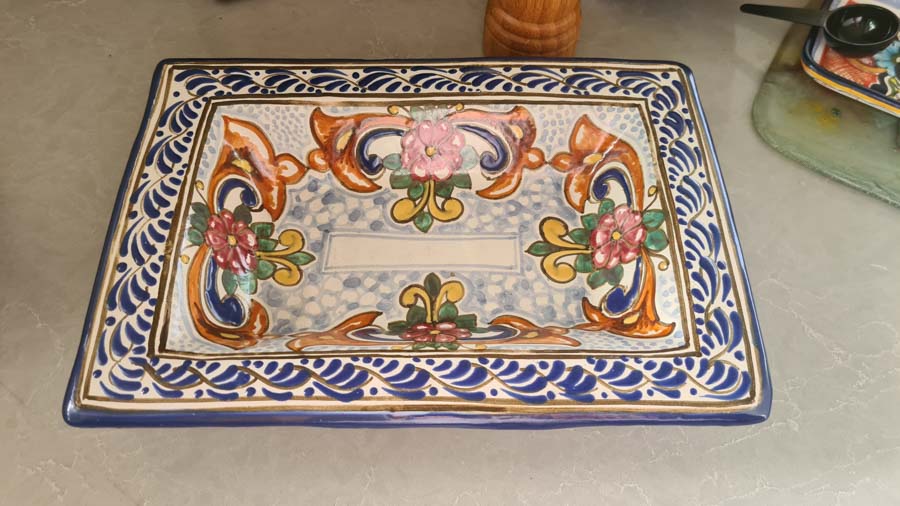 Gorgeous ceramic ware from Puebla
Puebla has some gorgeous places and markets that sell the beautiful ceramic works from the region. You'll find gorgeous and affordable ceramic platters, decorative objects, jewelry and so many fantastic small souvenirs you can take home. One of the many markets in the city specializes in locally produced arts and crafts with ceramic ware being the best and most colorful takaway. I went through several ceramic shops before I found this beautiful deep dish that I actually use for dinner parties serving appetizers and desserts. It is a colorful souvenir that also becomes a nice talking piece about what souvenirs I brought back from Mexico.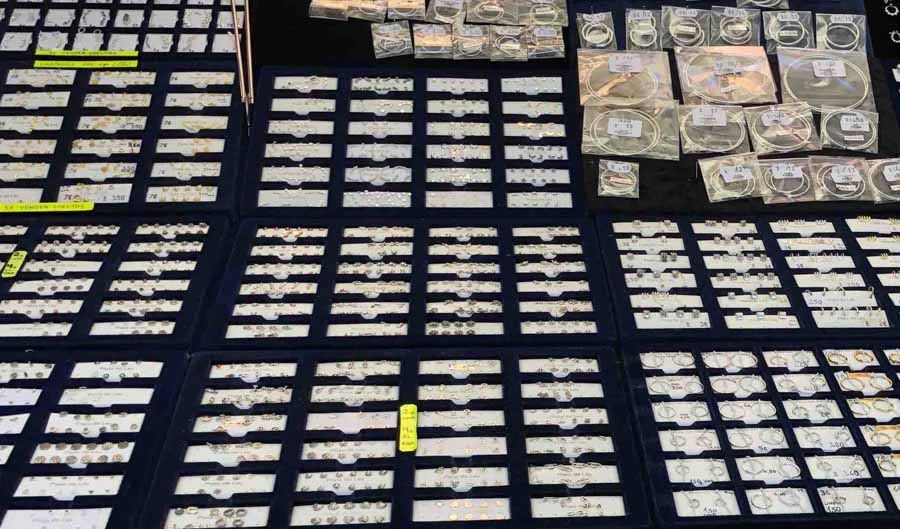 Silver from Playa del Carmen
Mexico is known for its silver and beautiful silver jewelry is one of the best souvenirs you can buy on your trip. If you're visiting the popular beach town of Playa del Carmen you won't only get to enjoy the delicious street food and pristine beaches but also a lot of souvenir shops to choose from. But if you're looking for something more memorable than a magnet or shot glass you need to look for little silver shops selling souvenirs in the streets close to the popular fifth avenue. Bracelets, necklaces and rings are all on offer and silver is the most common material. Just beware of fakes and obvious tourist traps. Some stores might try to sell fake silver for elevated prices so read reviews online and only go to trusted shops. Jewelry makes for the perfect souvenir as it won't sit on a shelf and collect dust but you'll actually get some wear out of it. You can start to collect jewelry items such as earrings or rings from every place you visit. Then every time you wear your souvenir, you'll be reminded of your time in Playa del Carmen. Silver Palace is a great spot to buy jewelry if you're looking for a trustworthy store.
Victoria with Guide Your Travel.com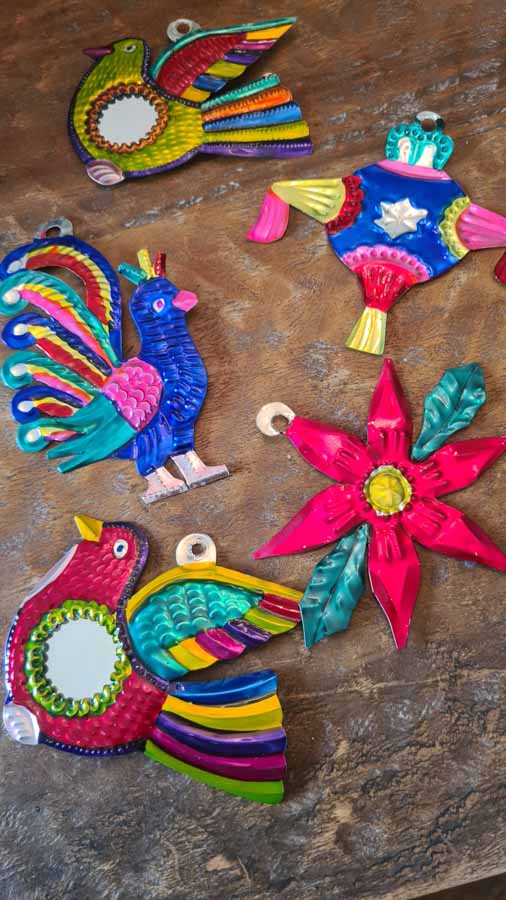 Tin ornaments from Oaxaca
Oaxaca is such a colorful and magical city to explore and you'll find some amazing arts and crafts vendors and artisan markets that really showcase the amazing craftsmanship and beauty of the work here. I visited the Artsesianas gallery and found a lot of these gorgeous and very colorful tin ornaments. Perfect, flat and easy to pack, I bought a lot of these home for presents and also to decorate the Christmas tree during the holiday season and it always reminds me of my fantastic vacation in Oaxaca, Mexico.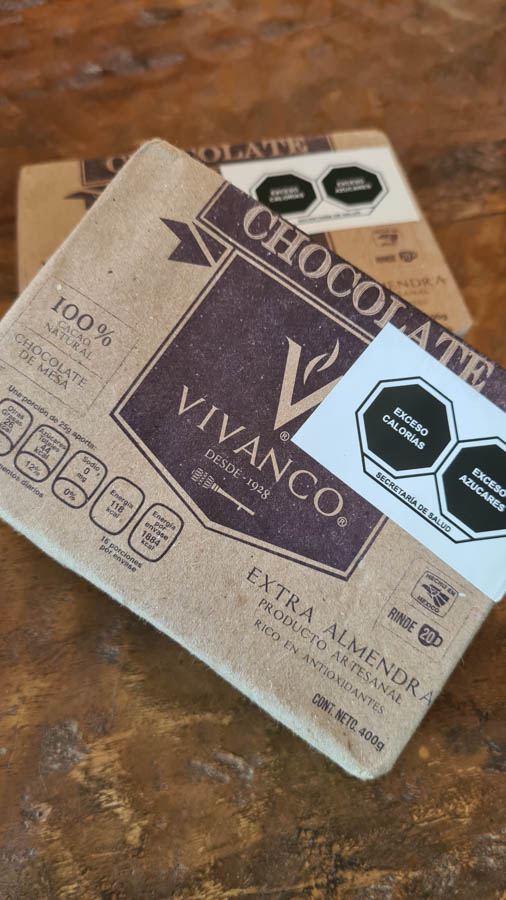 Chocolate from Oaxaca
What's not to like when you can bring home 100 % cacao from Mexico from the state of Oaxaca where chocolate products are a premium and a fantastic gift or souvenir to take home. A place where chocolate drinks, nips and bar chocolate is the thing to experience in the city, you can take home these huge bars for a cheap price and replicate some of the drinks, baked dishes or desserts that you have tried in Oaxaco or other places in Mexico especially the local specialty mole negro from the region.
Check out these other topics on visiting Mexico
Fantastic places to visit in Mexico in Winter
Conclusion to finding the best souvenirs from Mexico
Hope that this inspires you to be on the lookout for fantastic arts and crafts all around Mexico. If you also have brought back other unique gifts or hand crafts, please share these in the comments below for our readers to get inspired by. Thanks for visiting today and if you enjoyed the post please share this with your friends or on social media around the post.