Places to Visit in Mexico During Winter: Embrace the Sun, beaches, History and Culture (updated 2023)
What could be better than a nice hot winter getaway to Sunny Mexico? The weather is great, food is amazing and everything is inexpensive. I've asked some travel blogger friends to share their favorite winter-time getaways to Mexico and these are all amazing. See how many of these Mexican vacations you might want to put on your bucket list for this cold winter season.
Whether you love to go to Mexico's sunny coastlines and beaches or more historic centers and colonial sites, you'll will enjoy visiting any of these destinations as a winter escape from around the world.  Check out the best places to visit in Mexico in winter now!
Winter in Mexico FAQ
Mexico is a popular winter destination for many snowbirds looking for a warm destination. Winter from December to March where the average day of 10 hours of daylight is ideal. The country has many different temperatures depending on the locations but day time averages between 20 Celcius to 25 Celcius in the warmer coastal zones around the country.
Winter season does happen around Mexico and starting around mid December with milder temperatures around the country with warmer climates around the coastline areas of the country.
Temperatures in the winter months vary from the central parts of the country compared to the coastline areas. Most of Mexico does stil receive over 10 hours of dayline and coastline areas will be warmer for beach time fun on both coastal areas of the country.
The holidays including December is a very popular timeframe to visit Mexico. With fantastic weather that is dry and warmer than the northern USA and Canada climates, Mexico is popular to visit from Christmas, New Years and into the rest of the winter season.
Check out these fabulous winter destinations in Mexico 
Valle de Guadalupe
Just east of Ensenada and not at all far from San Diego near Mexico's northern border in Baja is one of the very best destinations and reasons to visit  Mexico during wintertime: Valle de Guadalupe.
More than half of tourists here are Mexican with the other arriving from California. One thing that everyone has in common though is the desire for a first class foodie and wine tasting experience. Think Napa Valley before it was crowded and popular.
This is a destination on the rise. As you wander the bumpy dirt roads in the valley between wineries, you'll notice an abundance of big beautiful gates—custom designed, hand carved or wrought iron—sometimes with nothing but a dream behind them. And yet, You'll also find more than 75 mature, world class wineries here.
Each has its own personality, too. Watch a sunset high on a hill from a winery with an Old Mexico vibe, followed by a raucous rooftop bar scene among technicolor murals and trendy cocktails at another. Then see a sleek winery—all clean lines and curved glass—come into view around the next bend. Where to stay? From sophisticated boutique hotels to eco-friendly options, there are dozens of incredible hotels to choose from in Valle de Guadalupe.
Even if you're not drinking, come for the foodie scene. World-class chefs assemble here along side gourmet food trucks on back roads. Best of all, you'll miss the festival crowds and the heat mid-summer in winter time. While many wineries here close for one month after November, the food and wine scene is back in all its glory come January.
Chris with Explore Now or Never
Check these TA hotel reviews here and images for more information to planning your trip.
Here's why you should visit Vale de Guadalupe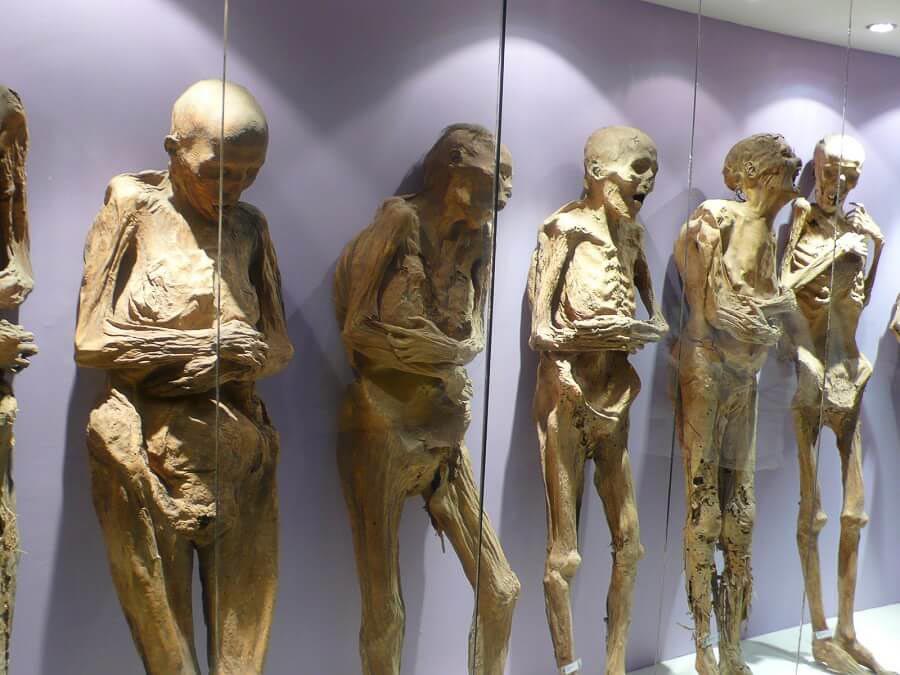 Seeing the mummies in Guanajuato 
Guanajuato, a beautiful city in central Mexico is a great place to visit any time of year but winter is ideal. This is when the weather is a comfortable average temperature in the mid 70s F and it is the middle of the dry season.
The town is most famous for its wide central plazas surrounded by colonial architecture. The streets are narrow with the balconies on the upper floors sometimes leaning so close over the street that they almost touch. The "Callejon del Beso" or Alley of the Kiss is one such street. A couple in two buildings facing each other could lean out the balcony and kiss. That's how close the buildings are.
There are tons of interesting things to do in this fascinating city. The museum lover will appreciate the Museo Regional de Guanajuato for its rich colonial collections. The art lover will love visiting the home of famous muralist Diego Rivera.
One spectacle you can see any time of year are the famous Mummies of Guanajuato. This is a macabre collection of mummies that were mistakenly buried alive in haste during a cholera outbreak in the mid 1800s. The rare properties of the earth in the burial site preserved them and they are on display now. It is worth a visit…if you dare.
Talek Nantes with Travels with Talek
Check these TA hotel reviews here and images for more information to planning your trip
Check out gorgeous Guanajuato below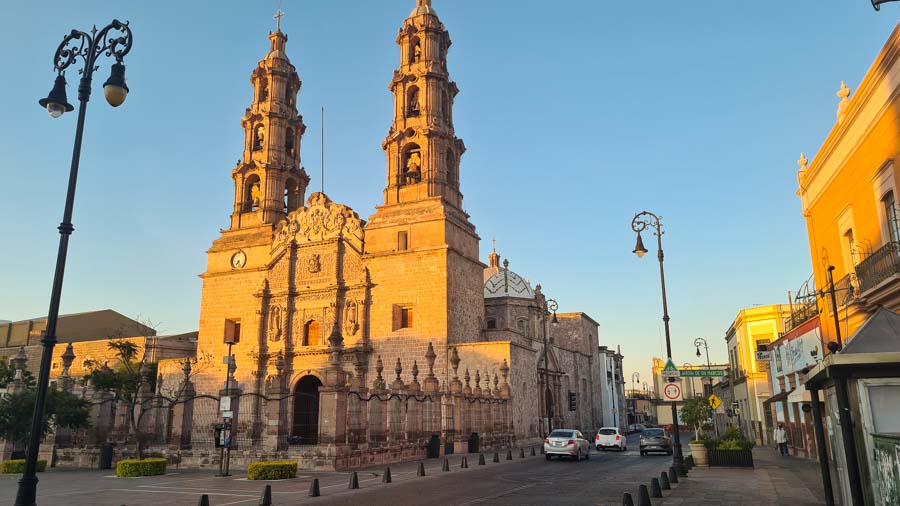 Off the beaten path – Aguascalientes
Most visitors to Mexico have never heard of Aguascalientes but this northern city which has direct flight connections to the USA is stunning and colonial with a gorgeous historic downtown district. Very European Spanish in appeal the area off the main plaza is beautiful with a stunning cathedral and many gorgeous buildlings and neighborhoods to explore. There are many easy pedestrian promenades and the streets are clean and wonderful to explore through the many different neighborhoods. You'll be surprised at how wonderful it is to explore the historic zone and the many surrounding neighborhoods that are quite safe, clean and friendly without all the tourist visiting this magnificent city.
With lots of fantastic local museums, art galleries and cultural sites to visit in the city, you'll have a wonderful time exploring, trying some delicious regional food or just hanging out in all the wonderful public squares and getting into the vibe of this attractive city.
Noel with The Mature Traveler
Spending a day in Aguascalientes below, it's surprisingly nice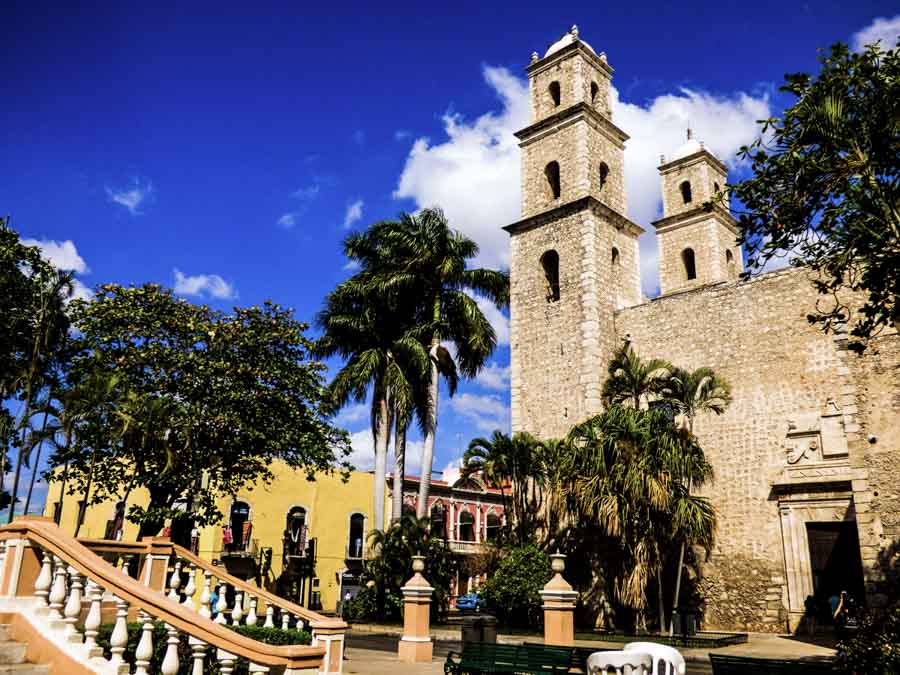 Merida, Mexico
The colonial city of Merida is beautiful, vibrant, and welcoming and it's one of our favorite Mexican destinations to visit in the winter. The combination of Mayan and European influences have harmonized to create a unique and colorful city that oozes culture.
Merida is overflowing with great architecture, delicious Yucatan cuisine, and so many cultural events that you could attend something every day of the week. An example of just one day in Merida could include a morning stroll along the mansion-lined Paseo Montejo, lunch at a restaurant overlooking the Plaza Grande, followed by an afternoon of visiting some of the many historic buildings and museums. We suggest heading back to your hotel for a siesta before a full evening of traditional music and dance at one of the squares followed by a tasty meal at a traditional Yucatan restaurant. If you're ready for more fun check out some of the many cantinas for mezcal and dancing.
Although there's plenty to keep you occupied within the White City there's also an array of amazing sights within a short drive. Mayan ruins, cenotes, beaches, nature reserves and historic haciendas are just some of the options for day trips from Merida, Mexico.
Sarah with Live, Dreams, Discover
Check these TA hotel reviews here and images for more information to planning your trip.
Check out the capital of the Yucatan at Merida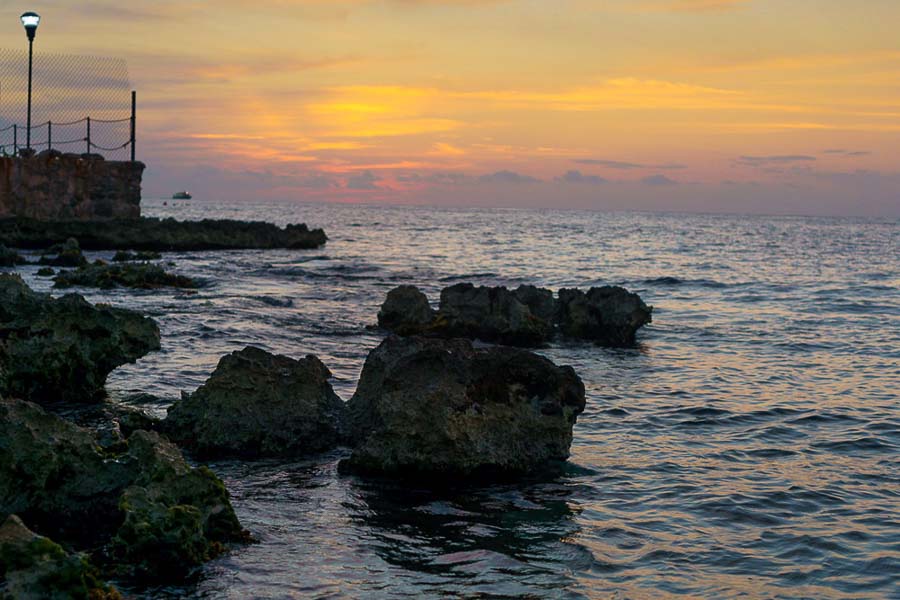 Cozumel in Winter time
Cozumel is a small Caribbean island off Mexico's Yucatán Peninsula that is a wonderful place to escape to during a cold winter. Between its ideal climate, beautiful beaches, and expansive marine parks, Cozumel makes for a great warm weather getaway. It can be reached by air servicing its small airport or people may take the ferry from Playa del Carmen so arriving on the island is easy and it just gets better from there!
For those who like to explore, there are ample activities to enjoy there from tequila tasting, SCUBA diving, and even cycling around the whole island. For others who like to relax while taking in a great view, the island's sprawling beaches provide ample opportunities for that as well. They are especially beautiful at sunset, so make sure you find a good spot to take in the nightly show.
The island hosts many delicious restaurants, coffee shops, and bars so there's something for foodies to enjoy as well. Fans of immersive travel can take a cooking class with a local chef and tour the islands biggest market in San Miguel. Regardless of what you fancy, Cozumel has something for every flavor!
Thea with Zen Travellers
Check these TA hotel reviews here and images for more information to planning your trip.
Check out the top things to do in Cozumel now
Nohoch Mul Pyramid, Coba
Mexico enjoys a rather temperate climate. I had a great time in Cancun and its surrounding areas during December because it's comparatively dry and temperature drops to a more comfortable level. Especially when you are on an excursion to Mayan heritage sites where they have no shades.
Coba is one of my favorite sites apart from the famous Chichen Itza and Tulum. The site is another ancient Mayan heritage located 44 kilometers northwest of Tulum. While Chichen Itza has all the attention of the tourists, Coba is actually much bigger. During its prime time, Coba has five reservoirs and a population of 100,000.
Coba was a Nexus of the largest network of stone causeways of the ancient Mayan world; it is filled with historical evidence of the Late Classic Period of Mesoamerican civilization. The structures are scattered in the woods and connected by branches of plaster roads. The best way to explore the site is to rent a bike and cycling through the wooden paths under the overgrown jungle, trees, and vines. Don't miss out the Nohoch Mul Pyramid! The 42 meters tall pyramid is the tallest in Yucatan and one of the best viewpoints. Here, tourists could climb the pyramid.
Kenny with Knycx Journeying
Check these TA hotel reviews here and images for more information to planning your trip.
Visiting the expansive grounds of Coba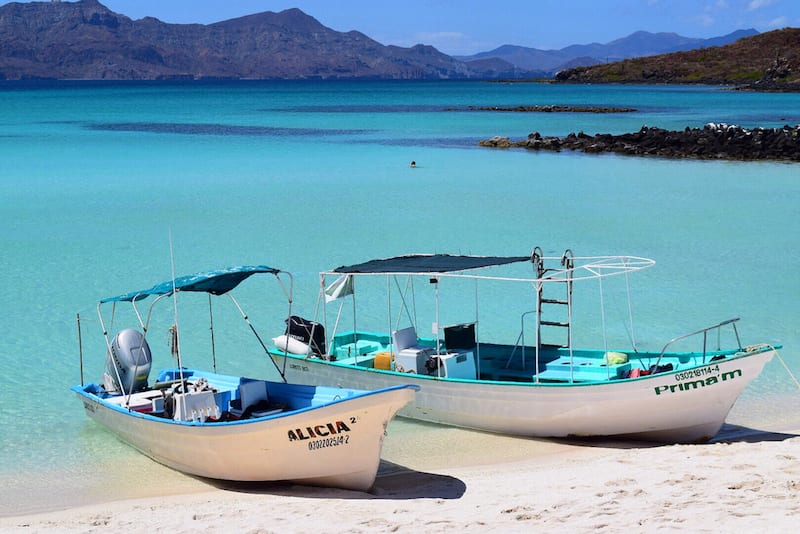 Winter time in Loreto
Winter in the Baja is a magical time. The arid desert cools down while the turquoise seas remain warm and inviting. It's the perfect time to visit, for tourists and animals alike. Grey whales swim down to birthing lagoons on the Pacific Coast while blue and humpback whales come to the Sea of Cortez for winter foraging. You can base in the town of Loreto to observe both of these migrations, enjoy the Bahía de Loreto National Park, and a traditional Mexican town.
Every winter visitor to Loreto should take a boat trip into the National Park of Loreto Bay. It's nearly 800 square miles of the bluest ocean you'll ever see with five uninhabited islands. You can scuba, whale watch, snorkel, or just picnic on the white sand beaches. No matter what trip you choose, you'll find your slice of paradise.
You can reach Loreto with direct flights from select US airports but search carefully because many routes aren't run daily. Search for two one-way tickets instead of a round trip to see the maximum selection. You can also make Loreto part of a Baja road trip as well. It's a whopping seven-hundred miles sound of San Diego, but only a four-hour drive north of La Paz. No matter how you get to La Paz, you're sure to find something special when you arrive.
Jenn and Ed Coleman with Coleman Concierge
Check these TA hotel reviews here and images for more information to planning your trip.
Check out Gorgeous Loreto and why it is beautiful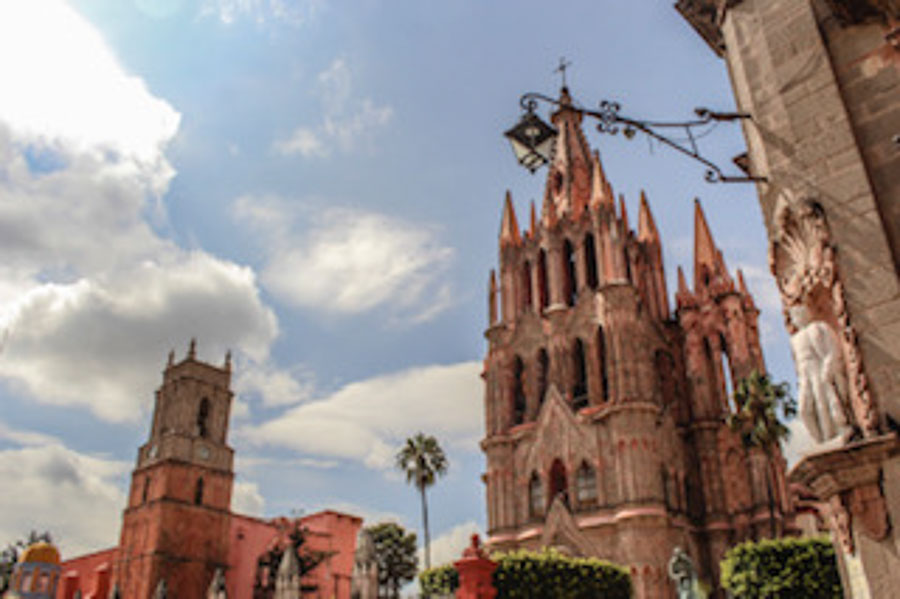 A winter visit to San Miguel de Allende
A Unesco World Heritage city, San Miguel de Allende is a colonial jewel. Although rich in history, its culture, gastronomy, art, and mainly its people are what make it the "heart' of Mexico.
Located in the Bajio region of Mexico, in the state of Guanajuato,  it is known for its picturesque cobblestone streets and towering churches ( which you cannot miss). But its beautiful colonial architecture, the eternal spring temperatures, its many cultural celebrations, and its wonderful gastronomy,  have made the town a draw for many tourists. It has even been voted as the best city in the world for four years in a row by Travel and Leisure!
El Jardin, the main square and the heart of the town, is where you can spend time people- watching or catching a local concert or festival; it is wonderful just to sit and admire the beautiful topiaried trees in this formal French-style garden.
In December, the magic of the season in San Miguel is apparent as families make their way to the El Jardin while carrying candles during some of the posadas ( Traditional Christmas Festivals).
The holiday season in San Miguel de Allende starts on Dec 12th, with the  Día de la Virgen de Guadalupe until January the 6th, the Día de Los Reyes Magos. Several celebrations go on throughout this time with New Year's Eve ending in a spectacular fireworks display.
Throughout the rest of the year, there are many weekend festivals you can take in celebrating music and dance, or you may even catch a mariachi concert.
San Miguel is not a beach destination, people come here to enjoy the culture, the food, the people, the architecture and the sunsets. Outside the city, you can get in touch with nature; bathe in hot springs, visit the area vineyards, or enjoy a magical balloon ride!
Rossana Wyatt with Life is Full of Adventures
Check these TA hotel reviews here and images for more information to planning your trip.
Find out why San Miguel de Allende is everyone's favorite colonial city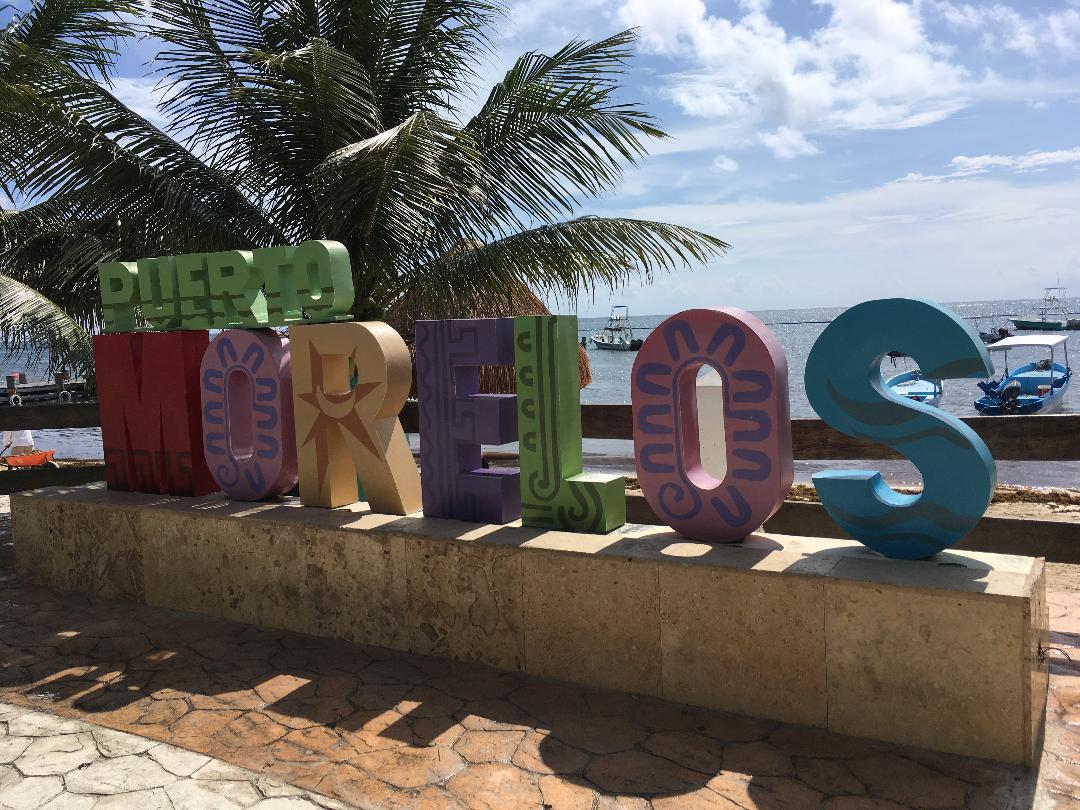 Visiting Puerto Morelos
Puerto Morelos, or the port of Morelos not to be confused with Pueblo Morelos the town of Morelos. I was given this distinction from a local recently. A small town and seaport in the easterly state of Quintana Roo, half way between Cancun and playa de Carmen with a growing tourism industry.  Puerto Morelos is the oldest, largest and most important seaport in the state of Quintana Roo. 
If you are looking for a place to get away rom the hustle and bustle of Cancun or playa de Carmen this is the town for you. Plenty of bars, restaurants to relax in and souvenir shops to keep your wallet busy. Unfortunately you'll never get away from the constant heckling to visit a shop or take a tour but it is much easier to tolerate here. Make sure to visit the leaning lighthouse on the beach.  The town square is a great place to start and end your visit with a picture of the town name on display over looking the beach. This town is also a great place to go scuba diving many options the worlds second largest reef to get certified or go on a shallow dive of visit a nearby shipwreck. 
You won't find high-rise hotels here or giant complexes that go for miles, you are more likely to see small local owned hotels and boutique resorts. There is a few larger resorts near by and you can easily get to the town of Puerto Morelos by taxi from them. 
 Michelle with Oh What a Journey
Check these TA hotel reviews here and images for more information to planning your trip.
Check out the highlights of visitng Puerto Morelos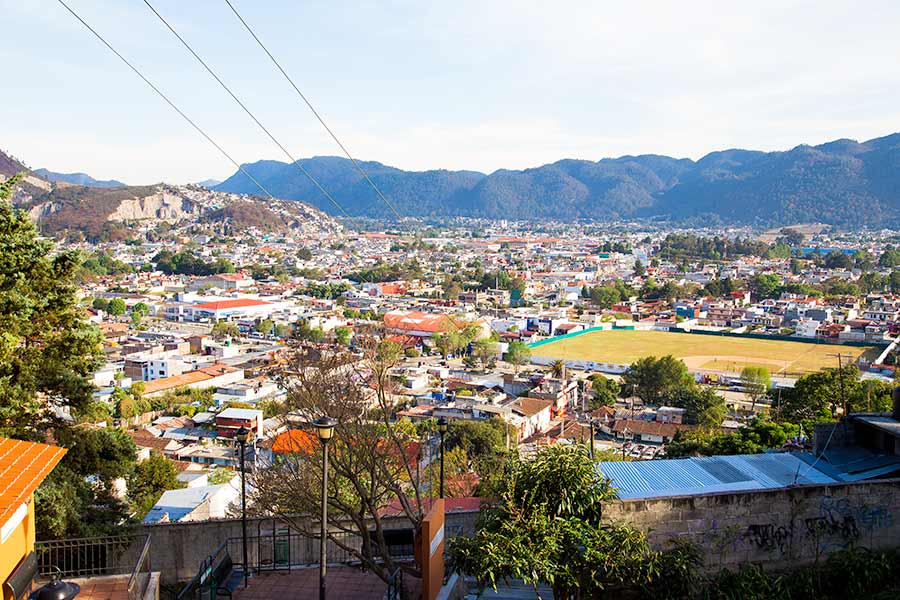 Visiting San Cristobal de las Casas
San Cristobal de las Casas is a charming colonial city located in Mexico's southernmost state of Chiapas. The town is renowned for its impressive Spanish architecture as well as containing a rich indigenous culture throughout its many streets. San Cristobal has been designated as one of Mexico's Pueblos Magicos, which is a reference to destinations in Mexico that are celebrated mostly for their historical and cultural significance.
One of the best aspects about this colonial city is its strategic location and the abundance of activities that can be found throughout the state of Chiapas. There are tours in San Cristobal that will take you to imposing canyons, majestic waterfalls, ancient cities, and vibrant lakes.
Speaking of location, the town is a great launching point for travelers wishing to cross the border between Guatemala and Mexico. It's also located in the middle of a common tourist trail that runs from Mexico City to Cancun.
From San Cristobal, one can head west towards Oaxaca, north towards Villahermosa, northeast towards Palenque, or south towards Guatemala. This strategic location gives travelers many options to choose from when they're done spending time in this beautiful destination.
Michael Ryan Anderson with Passport Explored
Check these TA hotel reviews here and images for more information to planning your trip.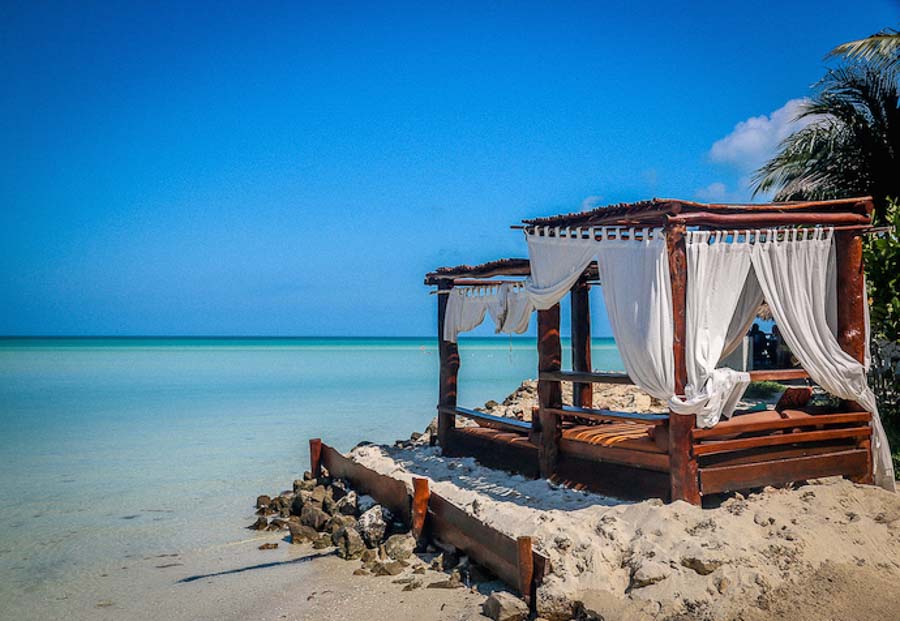 Visiting Isla Holbox in winter
Located 6 miles off the north coast of the Yucatan Peninsula, Isla Holbox was a sleepy fishing village before tourists discovered its laid-back charms. Even now, the 21-square-mile ecotourism hotspot (part of the Yum-Balam Biosphere Reserve) doesn't allow cars. It's easy to get around the small town quickly using golf cart taxis or bicycles, but most Isla Holbox hotels and resorts are less than a 10-minute walk from the center of Holbox.
There are tons of attractions and activities on Isla Holbox, including fishing, kiteboarding, snorkeling, and kayaking in the nature reserve. If you dig buirdwatching, visit the shallow lagoon that separates Holbox from the rest of Quintana Roo. The area is home to Cormorants, Flamingos, Herons, and countless other bird species. An island-hopping boat tour can also take you to swim in nearby cenotes, visit a bird sanctuary, and other local highlights.
Most Isla Holbox tour operators offer once-in-a-lifetime opportunities to swim with Whale Sharks, who gather off the coast of Isla Mujeres every year (June through September) in great numbers to breed and feed on krill. But if you want to travel in peak summer season, make sure you book your tours and accommodations early. No longer as under-the-radar as it once was, this slice of tropical paradise seems to be getting more popular every year.
Bret Love & Mary Gabbett of Green Global Travel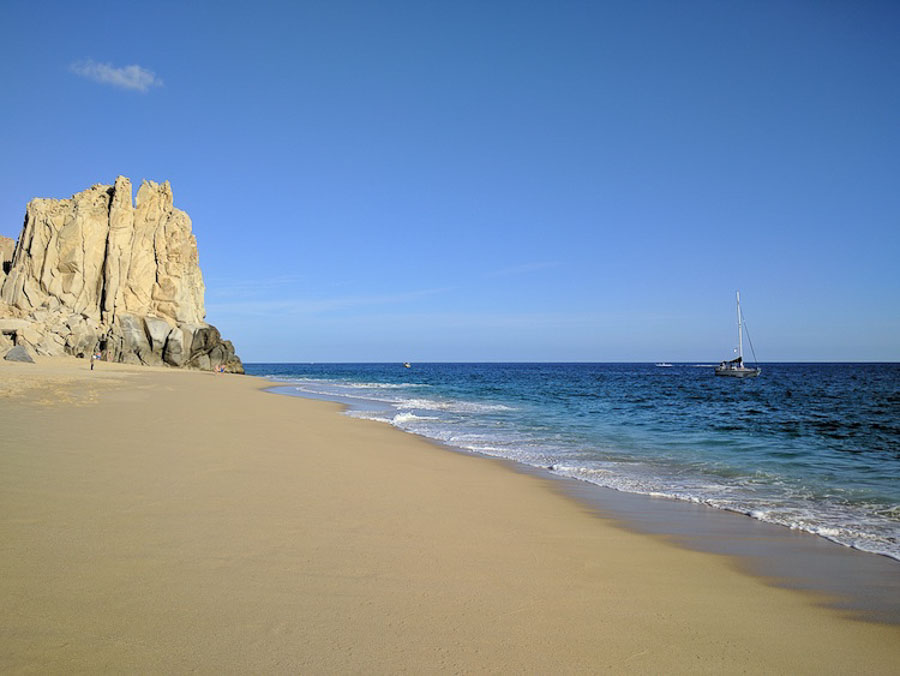 Winter in Cabo San Lucas
Cabo San Lucas is a a great destination all year round because of its warm temperatures and its lack of rain. The southern part of the Baja California peninsula has desert-like weather and enjoys little rainfall. While the water remains cool throughout the year thanks to the cold Pacific waters, the land activities are fantastic during the quieter Northern Hemisphere winter when they are less crowded with tourists.
Cabo has a host of things to do, from diving with large marine mammals (sharks and whales in season) to touring historical towns, partying the night away or going on a beach hopping adventure. Lover's, Divorce and Land's End beaches are particularly popular. You can also partake in several water-based activities from kayaking to snorkelling with sea lions to simply sailing at all times of the day and night.
For art lovers, nearby San Jose del Cabo has lots of galleries and Art Walks on Thursday evenings in the historical cobblestoned downtown area

Check these TA hotel reviews here and images for more information to planning your trip.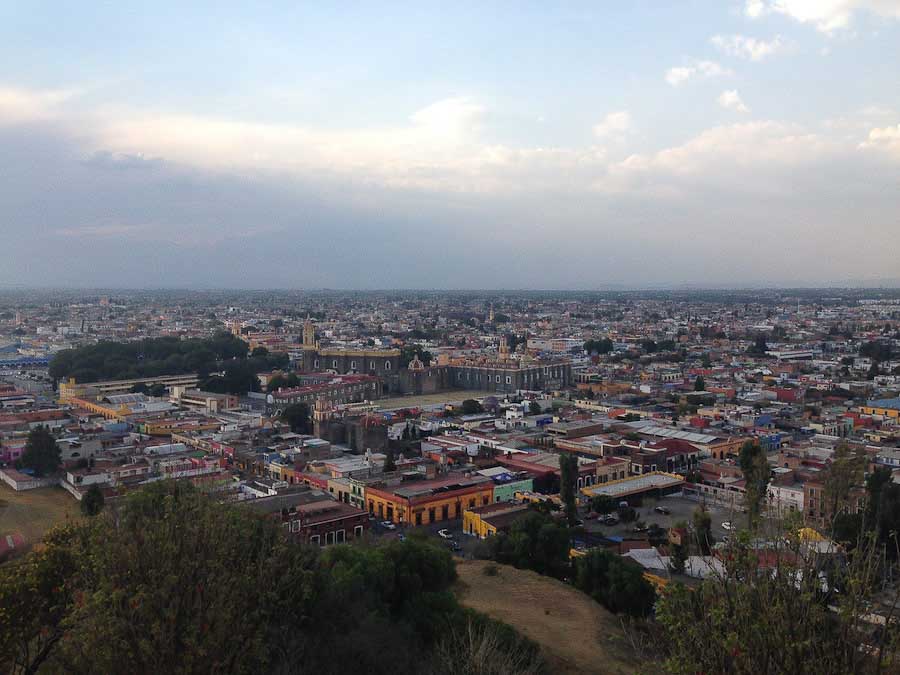 Visiting Puebla in Winter
Whilst looking for the best wintertime destinations in Mexico you may not want to miss Puebla. Famous for its delicious food heritage and by many for being a recognized UNESCO World Heritage Centre. Also, with Cholula so close by, you have access to both cites within a short drive. Expect an average temperature of 20°C in Puebla during the winter months.
Meaning, it's not too hot and the perfect temperature for getting active. From the historic center you can explore many different tourist attractions Puebla has to offer. Aside from being a culinary delight for many food lovers, Puebla is home to a remarkable Cathedral which is at the heart of its historic center. There are 70 churches within the center alone.
Whilst staying in Puebla you can visit nearby Cholula, a city and district famous for its Pyramid. The man-made Pyramid, known as Tlachihualtepetl in Spanish, is currently the largest Pyramid in the world. If you decide to travel to Mexico, Puebla is a location with a moderate temperature during those winter months. Whether it be living the groovy arts-and-crafts culture or experiencing the vibrant food scene. In Puebla, you'll find many landmarks and things to do.
By Daniel James with Layer Culture
Check these TA hotel reviews here and images for more information to planning your trip.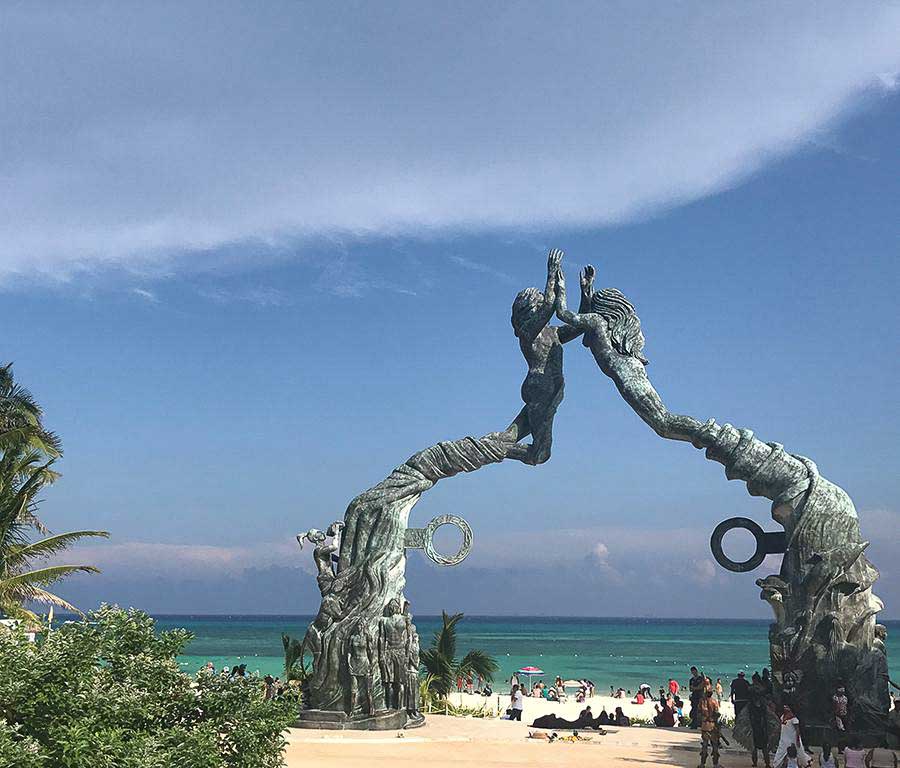 Playa del Carmen
If you're looking for a warm, tropical spot to soak up some sun this winter, Playa del Carmen, Mexico might be the perfect place.
Located in the heart of Mexico's Riviera Maya, Playa del Carmen offers the perfect blend of luxurious beachfront resorts, nightlife, and laid back beach vibes.
One of Playa del Carmen's most attractive qualities is that the weather is gorgeous during the winter. From November through February you'll encounter little rain. The days are warm, usually in the low 80s, and the ocean temperature is similar.
The city sprawls along a stretch of pristine white sand beaches. If you want to be part of the action, set your towel down on Mamita's Beach and join the party in the beach club. For a more relaxing experience, head down the Playacar beach for the day and sunbathe in peace. Don't forget to pack some drinks and snacks in though, as there are no restaurants at this end of the beach.
Active travelers will enjoy participating in snorkeling or diving tours, or visiting nearby cenotes to marvel at underwater rock formations. If you find yourself needing a break from the sand, hop on a tour to Chichén Itzá to visit the Mayan ruins!
By Janine of Janine in the World
Check these TA hotel reviews here and images for more information to planning your trip.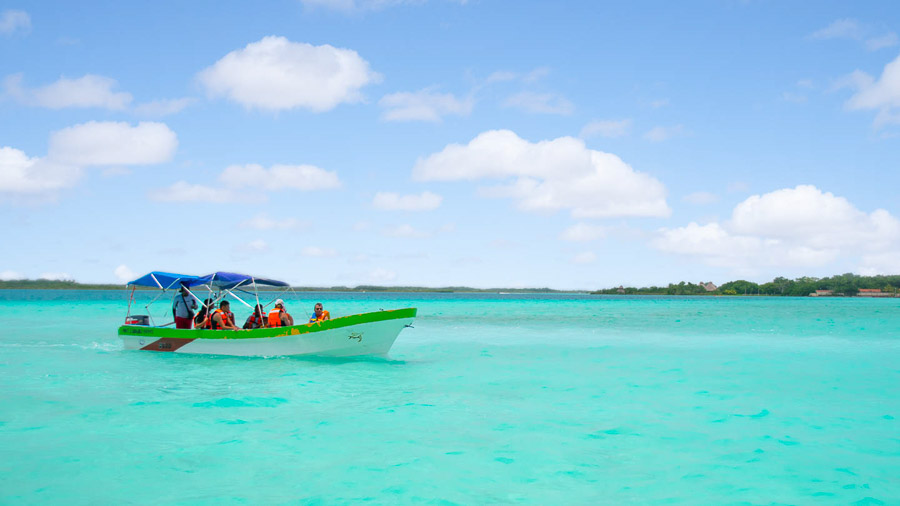 Bacalar in Winter
We couldn't agree more that Mexico is one of the best destinations to escape to come winter time, and every time we go back, we try and visit a new place. If you haven't visited Bacalar, Mexico yet, you're missing out.
You can find Bacalar on the south east side of Mexico, sharing a border with Belize. There's isn't an actual beach, but the Laguna de Bacalar more than makes up for it and is the main reason to make the trip. The lagoon is known for its seven shades of blue water, ranging from baby blue to aqua to deep royal blues.
Enjoy the Laguna with a boat tour on the crystal clear water or you can choose your own adventure, from paddleboarding and kayaking to snorkeling. And if you're in the mood to explore further, check out the El Canal De Los Piratas, one of the most stunning sections of the Laguna.
After a day on the water, head inland and check out Fort San Felipe and San Joaquin Parish Church to learn about the history and culture a bit more. End your days with local cuisine that features fresh fish and other locally-produced ingredients from any of the great restaurants the city has to offer.
Hannah & Adam Lukaszewicz @GettingStamped
Check these TA hotel reviews here and images for more information to planning your trip.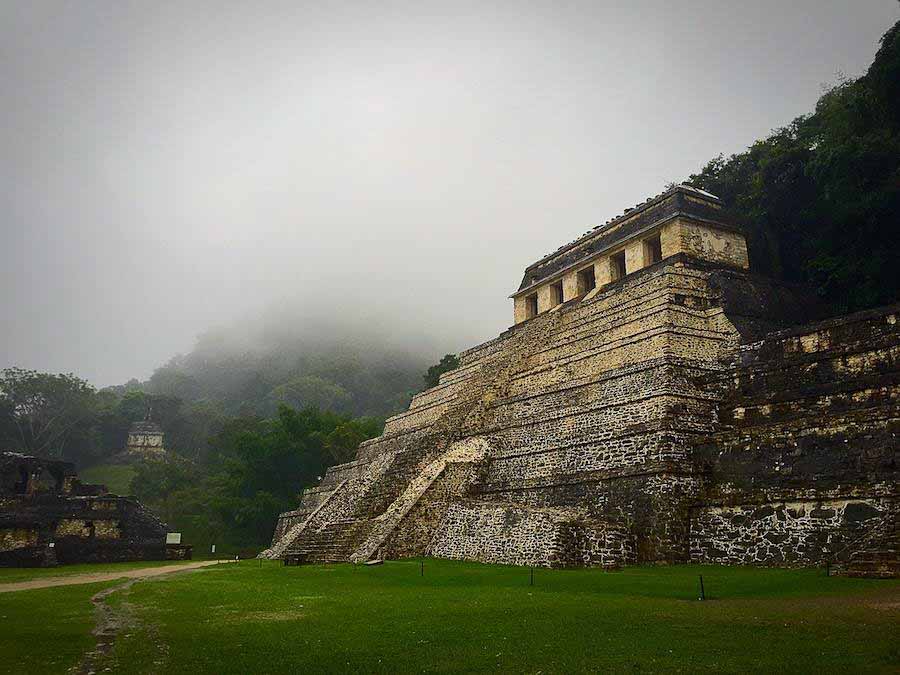 Palenque, Chiapas
The ancient city of Palenque is home to one of the best examples of Mayan architecture in Mexico, and is the top attraction in Chiapas. The temple ruins are nestled in the lush Lacandona jungle and are often shrouded in mist and fog. It is recommended to visit as early as possible, when the jungle is quieter so it's more likely you'll be able to hear the howler monkeys shrieking in the distance. For those who aren't aware, Howler monkeys are famous for their dinosaur like growls and their roars were even used in the Jurassic Park films to create the T. Rex's roar. It's often difficult to spot them but their presence definitely adds to the eerie atmosphere of these temple ruins.
Apart from the UNESCO World Heritage site there are also a few turquoise waterfalls in Palenque that are worth visiting. Namely the cascades named, Roberto Barrios, made up of six swimming areas, caves, and natural slides, it is around an hour drive away from the town and there is an entrance fee of 20MXN. Misol Ha, is the other waterfall worth visiting but is a two hour drive away and costs 40 MXN for enter the falls and the cave. A collectivo to either of these waterfalls is 50MXN each way per person.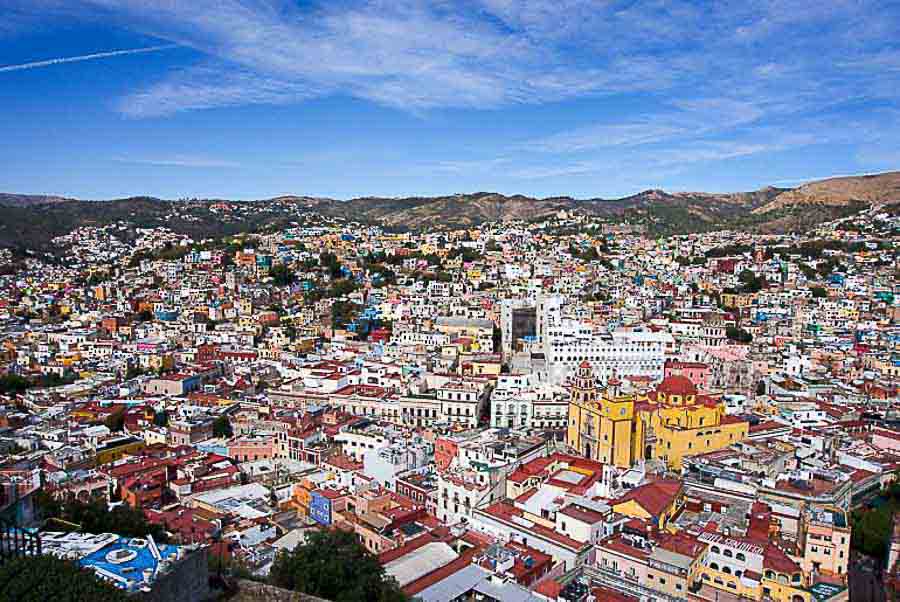 Winter in Guanajuato City
Mexico is a great place to visit in the winter time. One of our favorite places to visit in winter in Mexico would have to be Guanajuato City. There are so many awesome things to do in Guanajuato City that it makes it a lovely place to visit. Since the weather is a great high to mid-'70s and a low 60 degrees- walking around the city is extremely pleasant. We would recommend taking a couple of days just to admire the gorgeous architecture of the city and wander through its pretty streets while soaking up the culture. Guanajuato City is a university town so there are lots of things going on and the streets come alive after dark. Make sure to check out Centro, the center of the city where there are lots of mariachi bands playing while people sit at tables outside enjoying delicious food and drinks. Another great thing to do while visiting is to check out El Piplia, the overlook of the city. You can either hike up to the top or take a tram to the top to avoid the steep climb. Whatever you decide to do while visiting Guanajuato will sure to please, and since the weather is so nice you will have a great time while there!
Check out Jessica's post on things to do in Guanajuato, Mexico.
Check these TA hotel reviews here and images for more information to planning your trip.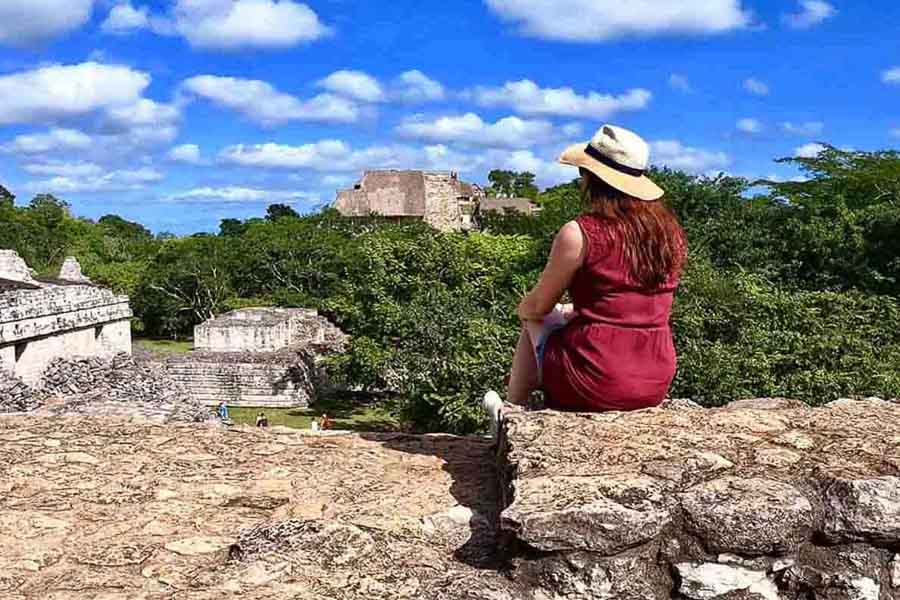 The Mayan ruins of Ek Balam
These incredible ruins are one of the last places in Mexico where you can walk onto and inside the ruins, really getting a feel for how the Mayans lived.
Ek Balam is just north of Valladolid. We rented a car and drove there from Cancun, which took about 90 minutes (we also almost ran out of gas, but that's another story!)
What we loved most about Ek' Balam was how quiet it was compared to other nearby sites, suchas Chichen Itza. There were hardly any people around, and we visited in December! It was wonderful being able to wander around and climb up the Acropolis
TOP TIP- we chose not to have a guide, but in Ek' Balam I think they're probably worthwhile. The site is quite new and isn't very well presented like some of the other Mayan sites. There are very few signs or information about what things were used for, so next time we would pay for a guide.
Also, make sure you visit the incredible denote next to Ek Balam. This beautiful cenote has a zipline and a waterfall and we spent several hours here with hardly anyone else around. It was completely magical.
Kat with Wandering Bird
Check these TA hotel reviews here and images for more information to planning your trip.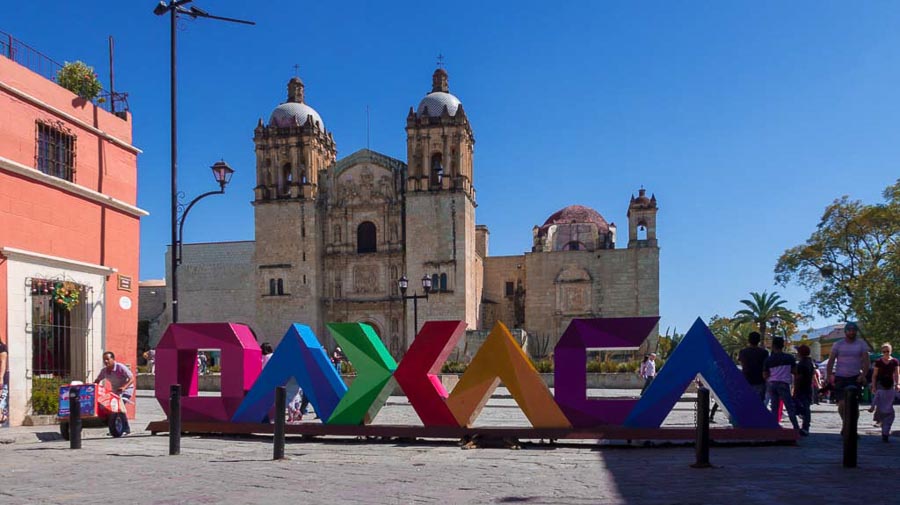 A visit to Oaxaca
Oaxaca is one of Mexico's most intriguing cities, and the winter is the best time to visit. At least as popular with local tourists as it is with international visitors, Oaxaca can get pretty busy in the summer months. In the winter, however, you'll feel like you have the city to yourself – and get to see a more local side of life because of it. The weather is preferable at this time of year, too, with the same warm daytime temperatures but next to no rainfall.
When you're planning your Mexico itinerary, allow at least 3-4 days to explore everything Oaxaca has to offer. Oaxaca is the kind of city you can simply stroll around, soaking up the colourful architecture, impressive churches and bustling streets. The one thing you will want to plan ahead for is the food. Oaxaca may just have the best food in all of Mexico, and there are a number of things you won't want to miss. Make sure to stop by a tamales stall early in the morning, head to one of the city's many food markets for lunch (I recommend tlayudas at Mercado 20 de Noviembre) and finish the day with a local mezcal from one of the many bars just outside the main square.
—
Jodie Dewberry with Ala Jode.com
Check these TA hotel reviews here and images for more information to planning your trip.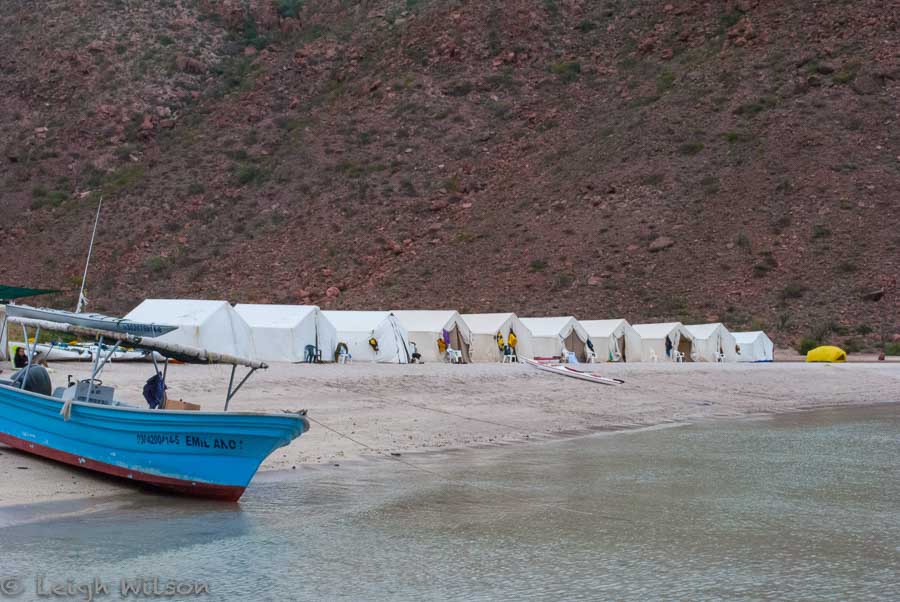 Exploring the Baja Peninsula and Sea of Cortez
One of my favorite winter activities in Mexico is a Sea of Cortez kayaking trip where we camped on Isla Espiritu Santo. Located along the eastern coast of Mexico's Baja Peninsula, the city of La Paz was the starting point of this outdoor adventure vacation. We took a speedboat out to Isla Espiritu Santo, where we camped for several nights right on the beach. We had our own private cove where our camp was set up, complete with a camp kitchen serving up three delicious meals each day.
Every day on this trip brought new adventures. We took several kayak outings around the islands, went on hikes from camp and from our kayaks, and we also had several opportunities to snorkel throughout the trip. In addition to amazing sunsets and crashing waves to lull us asleep at night, my favorite part of this trip was snorkeling with the friendly sea lions who seemed to enjoy splashing around in the water with us.
With warm days and cool nights, winter is the perfect time to explore Mexico's Baja Peninsula. I would take this same trip again in a heartbeat!
Leigh Wilson with Campfires and Concierges
Check these TA hotel reviews here and images for more information to planning your trip.






Winter in Puerto Vallarta
With over 40 kms of beaches, several of which are secluded and some only reachable by boat; Puerto Vallarta is the perfect winter destination.  This paradise is located in the State of Jalisco, on the Pacific coast of Mexico and sits at the mouth of Banderas Bay, where it is surrounded by the Sierra Madre mountains.  With its near-constant temperatures throughout the year, its lush jungle and its many waterfalls, Puerto Vallarta offers plenty of opportunities to experience wonderful eco-tour adventures.
Although there are many different activities to enjoy throughout the year, there is more of an opportunity from the months of November to March, to see whales frolicking in the waters just off the coast.  During this time, you can also help release the baby turtles once they hatch to help them find their way out to the sea to increase their survival.
If adventure is not your thing, there is plenty to do in town.  A stroll down the Malecon offers you wonderful vistas off the bay, beautiful colonial architecture to enjoy as well as an outdoor gallery to experience; the boardwalk is lined with beautiful sculptures along its mile length. If you are there just after noon and around 6 pm, you will catch the Voladores de Papantla performing their traditional "dance" and enjoy some of the regional culture.
If you thought Puerto Vallarta was only about tacos, ( although they do have amazing ones)  you are in for a surprise! Known as one of Mexico's gastronomic centers, they have something for everyone's culinary tastes. The seafood here is incredible and oh so fresh! Having dinner on the beach is pretty amazing too.
After dinner, enjoy some of the most spectacular sunsets.
Rossana Wyatt with Life is Full of Adventures
Check these TA hotel reviews here and images for more information to planning your trip.

A winter visit to Magdalena Bay
As moonlight takes over from blazing blue skies, gazing at Gray whales in Mexico's Magdalena Bay evolves into a bedtime, whale-spouting lullaby. On sand dunes overlooking the protected lagoons, where the whales have come to give birth, we snuggle inside our glamping style tents. Drifting off to sleep in a wilderness few explore, mothers and calves 'log' and rest for the night.
When dawn arrives in an explosion of pinks and purples, we watch the whales surface and shimmer on the bay as they swim toward deeper water to begin feeding. Our days in Magdalena Bay are spent open mouthed and wide eyed. On boat excursions our heads spin as if we are watching a 360-degree tennis match gone wild. Whales breach while others show off giant tail flukes. Gray whale heads thrust skyward looking at us with their giant eyes.
Returning to camp we pepper the naturalist guides with questions about this longest, mammal migration. Kayaking after lunch, in nearby mangrove estuaries, white and born pelicans and frigate birds casually watch.
Under the protection of a national reserve, the whales frolic from mid January to late March. More information on Magdalena Bay can be found here.
Sue with Travel Tales of Life
Check these TA hotel reviews here and images for more information to planning your trip.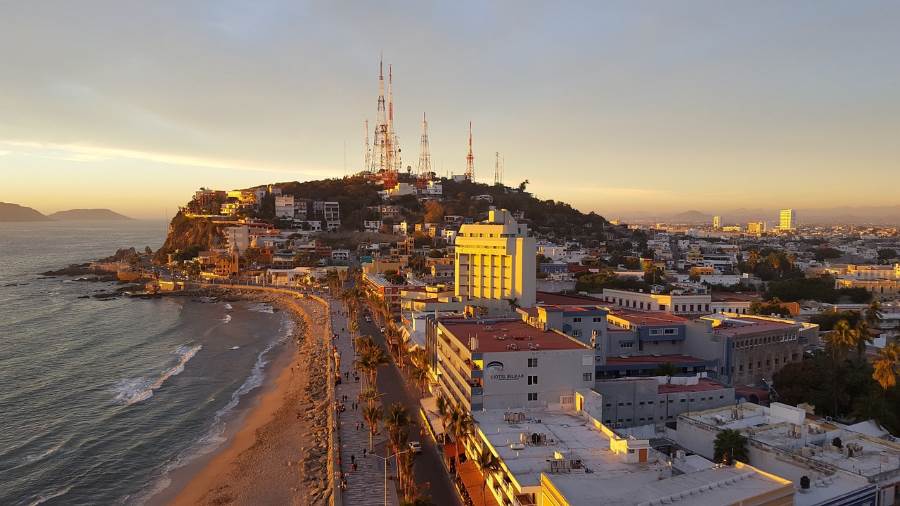 Uncrowded Mazatlan
Mazatlan for Wintertime fun and escape is perfect if you want a sunny coastal area that is far removed from the huge winter tourist crowd but still a relatively fast flight from Los Angeles or many USA cities. Mazatlan has a 21 kilometer malecon or waterfront area with sandy beaches fronting the malecon. You can enjoy some of these fantastic beaches, explore the old town of Mazatlan including the Conception basilica and the performance hall Teatro Ángela Peralta.
There is a modern district to hang out in called the Zona Dorada is known for nightlife, fantastic dining and bar venues and many choices of hotels spanning different price ranges. Matzatlan is more off the beaten path compared to Puerto Vallarta and the Cancun spots on the Yucatan area but is definitely a better value and still fantastic with amenities and activities to explore in the area.
Popular local foods and street foods of Mexico to try
When exploring Mexico, don't miss the chance to savor its vibrant culinary scene. There's so many regional flavors and ingredients that makes food different and tasty in each area, although there are basic similarities. Here are some popular local foods and street foods to try:
Tacos:
You can't visit Mexico without trying authentic tacos. Whether it's al pastor, carne asada, or fish tacos, they're a must-try.
Tamales:
These savory or sweet stuffed corn dough treats are often served wrapped in banana leaves or corn husks.
Chiles en Nogada:
A festive dish, these stuffed poblano peppers are topped with walnut sauce and pomegranate seeds, representing the colors of the Mexican flag.
Guacamole:
Made from fresh avocados, lime, cilantro, and sometimes tomatoes or onions, it's a delicious dip or topping.
Pozole:
A hearty soup made from hominy (dried corn kernels) and meat, typically garnished with shredded lettuce, radishes, and lime.
Elote:
A popular street food, elote is grilled corn on the cob slathered in mayonnaise, chili powder, lime juice, and cheese.
Ceviche:
Perfect for coastal regions, ceviche is fresh seafood marinated in lime or lemon juice with onions, cilantro, and sometimes tomatoes.
Churros:
These fried dough pastries are often coated in sugar and cinnamon and served with chocolate or caramel sauce for dipping.
Mole:
A rich sauce made from ingredients like chili peppers, chocolate, and spices, often served with chicken or turkey.
Street Tacos:
Explore the vibrant street food scene with tacos from local vendors. Each region has its specialty.
Aguas Frescas:
Refreshing fruit-based drinks like horchata, tamarind, or hibiscus, perfect for quenching your thirst.
Chapulines:
For the adventurous eater, try roasted grasshoppers seasoned with spices. They're crunchy and packed with flavor.
Remember, Mexican cuisine varies by region, so don't hesitate to try regional specialties as you travel throughout this diverse country. Enjoy your culinary journey in Mexico!
More inside tips to visiting Mexico in winter
Here are some inside tips to enhance your winter visit to Mexico:
Pack Accordingly: While Mexico is known for its warm weather, winter months can bring cooler temperatures, especially in the evenings. Pack layers, including lightweight sweaters or jackets, to stay comfortable during chilly mornings and nights.
Plan for Popular Festivals: Mexico hosts several vibrant festivals during winter, such as the Day of the Dead (Día de los Muertos) and Christmas celebrations. Research the dates and locations of these events to immerse yourself in the rich cultural traditions and enjoy the lively atmosphere.
Explore Beach Destinations: Mexico boasts stunning beach destinations that are perfect for winter getaways. Head to places like Cancun, Playa del Carmen, or Tulum on the Yucatan Peninsula, or Los Cabos and Puerto Vallarta on the Pacific coast, to soak up the sun and enjoy water activities.
Discover Colonial Cities: Mexico is home to charming colonial cities that offer a glimpse into the country's history and architectural beauty. Consider visiting cities like Mexico City, Guanajuato, Oaxaca, or San Miguel de Allende, where you can explore cobblestone streets, visit historic sites, and indulge in traditional cuisine.
Experience Cultural Sites: Mexico is rich in archaeological sites that showcase the country's ancient civilizations. Make sure to visit iconic sites such as Chichen Itza, Teotihuacan, or Palenque to marvel at the impressive ruins and learn about the fascinating history of Mexico.
Embrace Local Cuisine: Winter is an excellent time to savor the diverse flavors of Mexican cuisine. Indulge in hearty dishes like pozole, mole, or traditional tamales. Don't forget to try Mexican hot chocolate, a warm and comforting beverage enjoyed during the colder months.
Consider Off-Peak Destinations: While popular tourist destinations can be crowded during winter, Mexico offers hidden gems that are equally enchanting. Explore lesser-known towns like Bacalar, Sayulita, or Guaymas, where you can enjoy a more tranquil and authentic Mexican experience.
Be Mindful of Holidays: Mexico celebrates various holidays during winter, which may affect transportation and business hours. Check the local calendar to plan your activities accordingly and ensure you can fully enjoy your visit.
Engage with the Locals: Mexicans are known for their warm hospitality and friendly nature. Interact with the locals, strike up conversations, and embrace the opportunity to learn about their traditions, customs, and recommendations for the best local experiences.
Check out these other popular Mexico topics
Chapultepec park in Mexico City
Visit to the Yucatan Peninsula
Things to do in Puerto Vallarta
Like this – please pin it!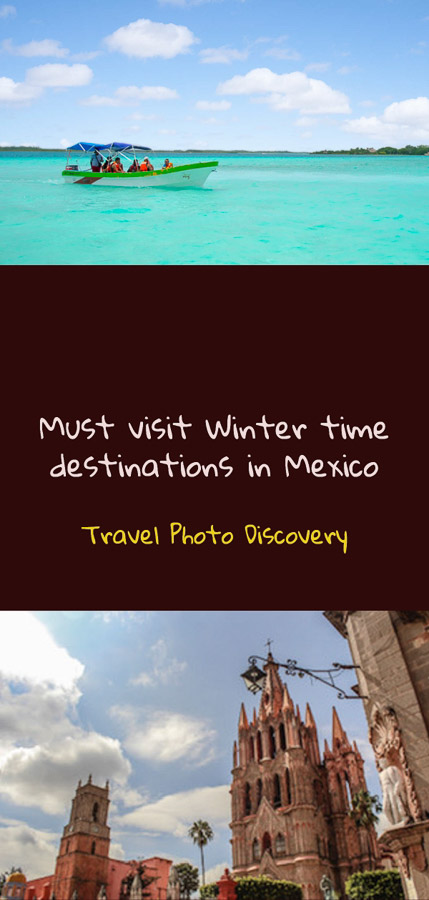 Conclusion Places to visit in Mexico at winter
In conclusion, Mexico offers a wide array of captivating destinations to explore during the winter season. Whether you're seeking warm beaches, rich cultural experiences, or historical sites, Mexico has it all. From the stunning coastal destinations of Cancun and Puerto Vallarta to the charming colonial cities like Mexico City and Oaxaca, there is something for every traveler. Don't forget to indulge in the vibrant festivals, savor the delicious cuisine, and embrace the warm hospitality of the Mexican people. A winter visit to Mexico promises a memorable and enriching experience that will leave you with lasting impressions.
Thanks for visiting today and checking out this post on Places to visit in Mexico in winter. I hope you are inspired to plan a visit and enjoy these wonderful attractions. If you enjoyed the images and post, could you please share it with any of the social media buttons located around the post.
If you like what you see, come and check out my other social media channels for more updates, including Instagram, Pinterest and Twitter
Some links in this article on Places to visit in Mexico are affiliates which provide a small commission to support this site at no extra cost to you. Thank you for reading, and happy travels