Exploring the Enchanting Yucatan in Mexico: A Gateway to Ancient Wonders and Tropical Beauty
A visit to the Yucatan in Mexico is so diverse and beautiful. Outside of the warm stretches of sandy beaches, resorts and islands, the Yucatan boasts historic cities, archaeological treasures, gorgeous cenotes to explore and Magico Pueblos or the designated magic towns of distinction worth visiting around the country.
The Yucatan in Mexico is rich in cultural sites, amazing regional cuisine and some of the most popular attractions around the region for visitors to explore every part of the region from the north to the historic sites and colonia in the center and the fun and hip places to hang out in the southern part of the Yucatan to explore and discovery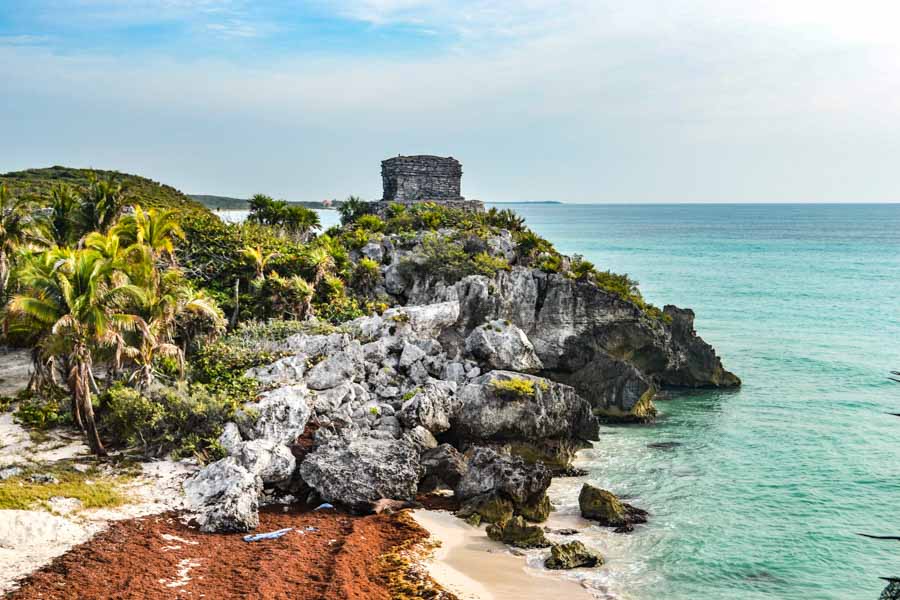 A little history on the Yucatan, Mexico
Always strategic point and colonial capital of Mexico, the Yucatan has always maintained a strong indigenous culture with the Mayan civilization building grand pyramids and ancient cities throughout the region. Major historic sites of the Mayan and Olmec left large scale ruins of Chichen Itza, El Balam, Sayil and Uxmal which have are certified UNESCO World Heritage sites.
The major export in the 19th century of henequen (a fibrous plant that was made into rope and twine) placed Merida on the map and made it an influential and wealthy city. After the demise of henequen export markets, an agricultural base of citrus plants and then tourism created a growth and steady commercial industry in this region of Mexico.
Visiting the Yucatan FAQ
The Language – Mostly Spanish is spoken and English is the prevalent in many of the tourist zones of the Yucatan and locals also speak the local dialect of the Maya
The Currency – Mexican Peso
Time Zone – Central Daylight Time (GMT-5)
Airports in the Yucatan –  Merida International Airport (MID), Cancún (CUN), Cozumel (CZM)
Electric socket – Most older locations will have the Type A or two prong and also have the the Type B three prong (USA standard). You can use the universal adaptor if you do not have other systems
Entry Visa – The majority of travelers coming to the Yucatan do not need a visa to enter the Yucatan including Canadians, Americans, Europeans and Japanese citizens. Maximum allowed time to visit Mexico is set at 180 days but set at the discretion of Mexican entry.
Sim or Wifi – Sim cards can be easily purchased at the airport and most convience stores which the OXXO brand is the most well known arround the country. Wifi is also available at hotels, restaurants and many tourist attractions around the Yucatan area.
For more tips to visiting Mexico check out our Mexico travel tips here for more details and information.
What are the main airports in the Yucatan Peninsula?
Cancun International Airport (CUN): Located in Cancun, Quintana Roo, this is the busiest airport in the region and serves as the main gateway for international travelers visiting popular tourist destinations such as Cancun, Playa del Carmen, and Tulum.
Merida International Airport (MID): Situated in the capital city of Yucatan, Merida International Airport serves both domestic and international flights. It provides access to the city of Merida, as well as nearby attractions like Chichen Itza, Uxmal, and the cenotes of Cuzama.
Cozumel International Airport (CZM): Situated on the island of Cozumel, this airport primarily serves as a connection point for tourists traveling to the island's renowned dive sites and beautiful beaches. It also offers limited international flights.
Chetumal International Airport (CTM): Located in Chetumal, Quintana Roo, this airport serves as the gateway to the southern region of the Yucatan Peninsula, including destinations like Bacalar and the Costa Maya. It primarily operates domestic flights but also has some international connections.
Best time to visit the Yucatan peninsula
Located in the south eastern region and peninsula in Mexico, the mostly flat area is filled with dense jungles surrounding gorgeous coastal areas, historic UNESCO sites and other places of interest. The Yucatan region is mostly a tropical and humid year-round but cooler to visit and pleasant in the winter months. The weather here is mostly two seasons, hot and hotter with the winter season popular with snowbirds and visitors to the region that want nice weather but not too hot during the November to March months.
The popular times to visit the Yucatan peninsula is in winter when many visitors from the north come for long visits or extended stays along the Yucatan destinations in the region to enjoy sun, fun and delicious regional cuisine from the area.
Most visitors flock to the southern regions with a Cancun itinerary to keep them occupied with beaches and exploring the area. But, you'll be surprised that the northern and central attractions with historic sites is also worth visiting around the entire Yucatan peninsula.
A Yucatan, Mexico Guide (Culture and historic sites, colonial cities, cenotes & cool places)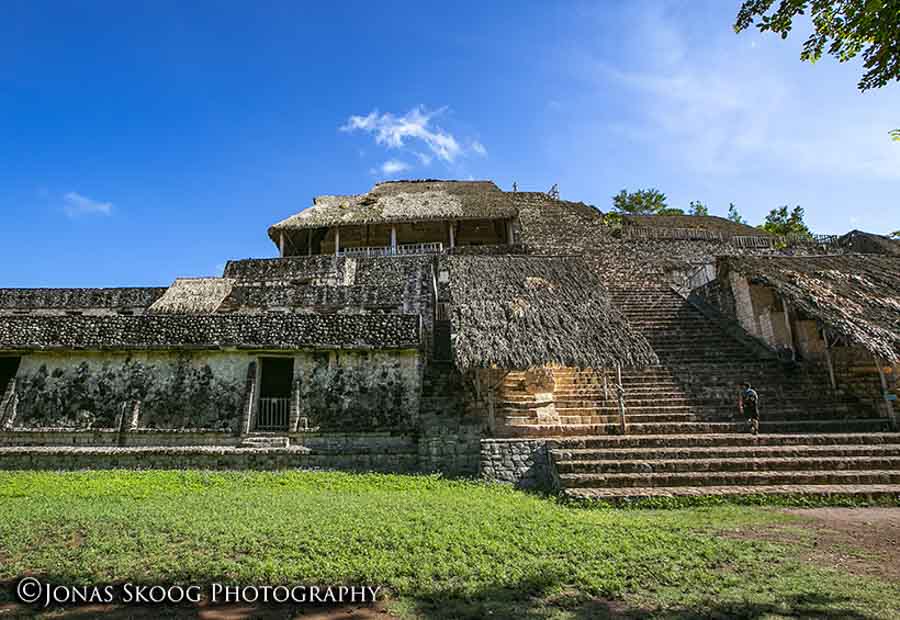 Why visit the Yucatan peninsula in Mexico?
The Yucatan peninsula in Mexico is one of the most popular regions to visit in Mexico with fantastic resort destinations and famous places to visit, gorgeous beaches and relax on Mexico's eastern coast. But there are also historic sites, wonderful cenotes, biosphere reserves and even small and authentic Pueblo Magicos in the region. The food scene is spectacular with a mixture of Mexican, Caribbean and other Latin flavors from the area that made the food spectacular with amazing restaurants, public markets and local food a worthy region to explore here. The Yucatan is large and fun to explore all around this region from the north to the southern areas of he region and you can do some easy and inexpensive group tours exploring many of the historic sites and pyramids, Pueblo Magicos and other natural coastlines around the region.
The gorgeous beaches of the Riviera Maya are not to be missed and if you love diving check out this post on diving in Cozumel for inspiration. If you are planning on visiting the Yucatan region soon, check out the best places and things to do below with these favorite places shared from travel bloggers and journalists. Hopefully this will help inspire you to explore all the popular historic sites and attractions in this amazing region of Mexico.
Explore the Northeastern region of the Yucatan peninsula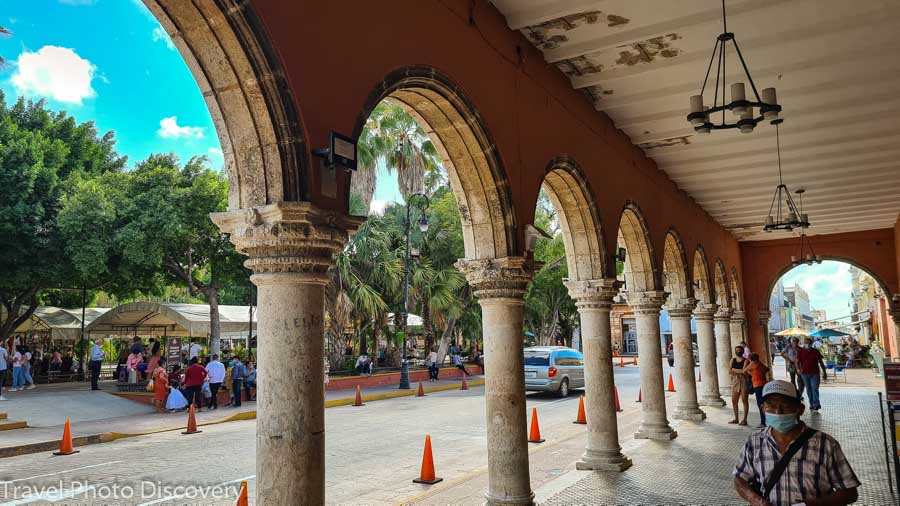 Experience the capital at Merida, Mexico
The Colonial capital at Merida is colorful, historic and a vibrant regional capital city located in the northeastern area of the Yucatan and about an hour drive from the coastline areas. The city grew wealthy with trading Heinekin and other natural resources to make this a wealthy city with wealthy mansions, ornate churches and impressive government buildings that have been converted into museums, tourist sites and other commercial purposes. Exploring the main square showcases the main cathedral, civic buildings with grand porticoes filled with restaurants, bars and other places to hang out. Impressive Yucatan food and fusion flavors are presented in so many amazing restaurants, bars and cafes around the city along with public markets, specialty shops and arts and crafts galleries offering fantastic shopping in the area. If you love visiting colonial cities then Merida has the bulk of historic treasures, haciendas and ancient sites that are easy to visit in the surrounding region and worth exploring.
Popular places to explore in the city include the main Plaza Grande area, Calle 47 for the amazing dining and bar scene, historic villas at Paseo de Montejo and the fabulous museums and living home museums all around the city to explore.
Noel with Visit Spain and Mediterranean
If you are considering a stay here overnight or a few nights, check out the best and top reviews with Trip Advisor hotels and inns here for more information and current prices.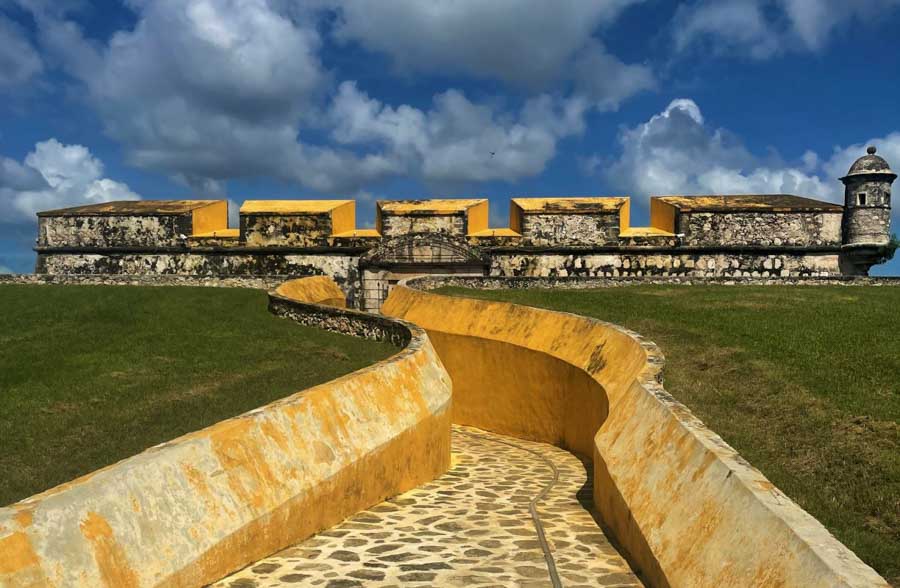 Visit to Campeche, Mexico
Campeche is the least visited state in the Yucatan Peninsula, making it the perfect destination if you are seeking Yucatan charms without the usual crowds that come with it. In particular, visiting Fort San José el Alto in San Francisco de Campeche (more commonly referred to as just Campeche) is one of the unique highlights of the state, and more than worth the stop when you're in the area if you're interested in history.
Fort San José el Alto sits atop the highest point in the Peninsula, and is one of two forts built to protect Campeche, aptly nicknamed the Fortified City. While the fort pulls a lot of visitors due to its bright yellow walls, inside holds the Museum of Boats and Arms and features artifacts from Campeche's colonial period as well as ships used by the Mexican Navy. There is ample free parking, though and a shaded picnic area under the trees.
If you are just looking for a quick stop, the outside offers panoramic views of the gulf, as well as the iconic yellow walkway into the fort. If you do want to stay longer, entrance to the fort is $45 Mexican pesos, and is open 9am to 3pm, Tuesday through Saturday. As you walk through the fort, there are also placards in Spanish and English that detail the different parts of the fort and their uses.
After, when you're feeling hungry, there is always at least one local restaurant promoting their food outside of the fort, typically with discounts or happy hour deals. Or if you need a short break from Yucatan cuisine, head to the cutest restaurant in town, Hikari Maid Cafe, which also has the best Japanese food in the state. With casual prices, delicious food, and cozy atmosphere, it's a nice reprieve from Campeche's otherwise merciless humidity
Kay with The Awkward Traveller
If you are considering a stay here overnight or a few nights, check out the best and top reviews with Trip Advisor hotels and inns here for more information and current prices.
El Corchito Reserva
 El Corchito Reserva near Progresso was created by the local community who developed it as a way to encourage preservation of the mangrove swamps and as a means of earning an income for local fisherman when fishing is not in season.
 You are taken by a small boat into the groves to visit the reserve. Sunscreen is not allowed but you should make sure you have used a good mosquito repellant before you enter the reserve. You are also not allowed to take food into the reserve.
 You can enjoy a picnic before getting on the boat to cross to the reserve and you will find a snack stand and facilities at the entrance. The cost for entrance is around $3.00 US per person. 
El Corchito has 3 cenotes and two fresh water springs, the cenotes include the Cenote Ferns which has beautifully clear waters and is very shallow and perfect for the little ones to enjoy a paddle.  The second is the Cenote Venado which can be reached by crossing over a wooden bridge and it is a little deeper than Ferns.
 If you follow the path through the mangroves you will come across the third cenote The Birds. This is an emerald green pool which just invites you to jump in and cool off.
 Along the paths and within the Reserva you will spot the coatimundi's and you will also see lots of marsh birds, iguanas, snakes, termite mounds and if you are very lucky you may spot turtles & crocodiles.
Faith with XYUandBeyond.com
If you are considering a stay here overnight or a few nights, check out the best and top reviews with Trip Advisor hotels and inns here for more information and current prices.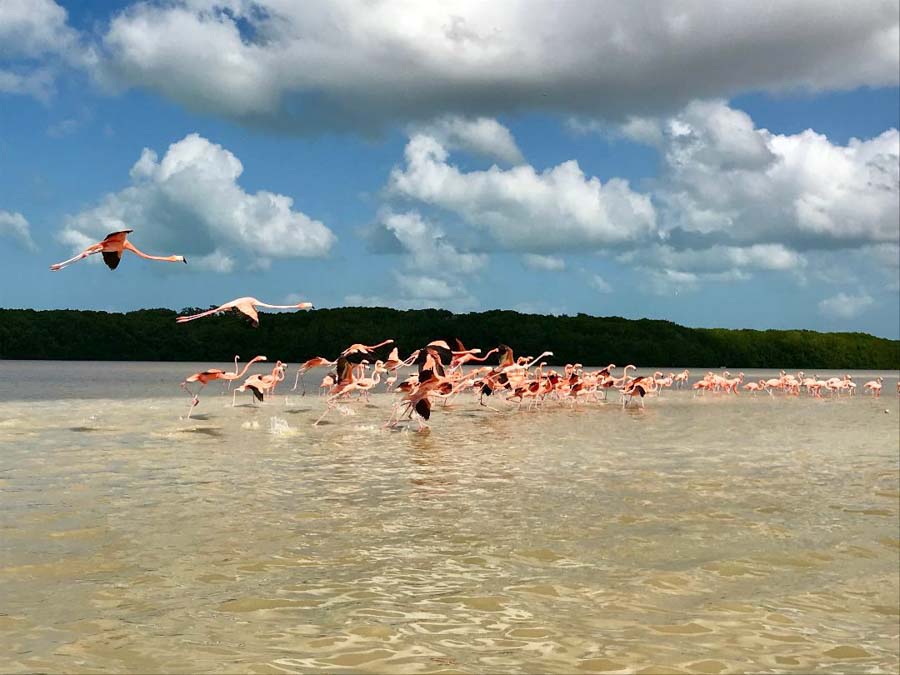 Bio reserve at Celestun
If you are visiting Yucatán and you are interested in seeing some fantastic wildlife, you definitely should take a day trip to Celestun.
The sleepy little beach village in the west of the Yucatán peninsula is mainly known for two things: an unbelievable concentration of flamingos and the beautifullush mangrove forest. Both are located in the Ria Celestun Biosphere Reserve, a good 1,5h drive from Merida.
Even though you can join a group and take a hassle-free day trip to Celestun from Merida, organizing the trip on your own is not very complicated. There are several busses a day leaving direction Celestun. Once arrived, head to the beach, where the boatmen are already waiting for clients. You can just pick a boat that leaves at a convenient time – they all wait until they gathered enough passengers for their tour and there is no difference in pricing.
The tour takes around 2 hours and your captain is navigating you right where the flamingos are. Expect to see hundreds and more of these beautiful pink birds and keep your camera ready, taking off flamingos are a wonderful picture motive. The best time to visit the Ria Celestun Biosphere Reserve is from November to March.
The next destination of your boat trip is the luxuriant mangrove forest, and you surely see more exotic birds and with a bit of luck even a little crocodile. Make sure you apply enough mosquito repellent, though!
After a rather short journey through the forest, you will take a stop and are invited to explore the mangroves on your own. A wooden food bridge leads you to a waterhole where you can even take a dip, granted you packed your bathing suit, of course.
The boat tour ends by the moorings a bit outside Celestun. You can walk back to town or take a taxi. Either way, it is not very far.
Before heading back to Merida, you have enough time to relax on the beach or enjoy a delicious lunch in one of the beach restaurants.
Check out Lena's blog Salut from Paris
If you are considering a stay here overnight or a few nights, check out the best and top reviews with Trip Advisor hotels and inns here for more information and current prices.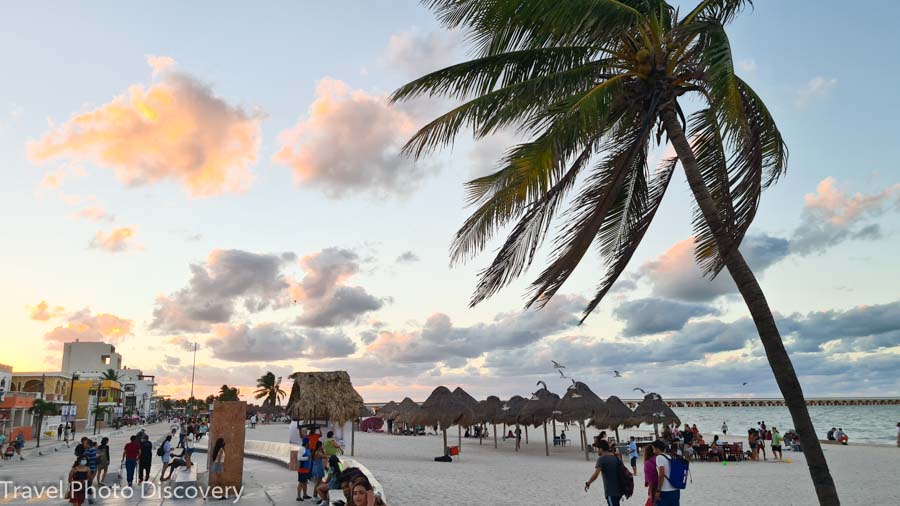 Visit the beach areas and port of Progresso
The closest beach areas to Merida are located on the coastal areas east of the city at Progresso which is morelow key and inexpensive with great restaurants and decent hotels and inns to stay at. The port city of Progresso has a variety of beach areas that you can visit and a popular boardwalk area with nice seafood restaurants to explore on Playa Puerto Progresso and the Malecon of Progresso. With good restaurants, shopping and a nice local beach scene, things are morelow key then the glitzy Maya Riviera down south of the Yucatan area.From Progresso, you can also visit major Mayan ruins like Uxmal and Chichen Itza, visit any of the cenotes in the area and even explore the popular pink lakes of Las Coloradas and see the pink flamingos at Parque Natural Ría Lagartos.
If you are considering a stay here overnight or a few nights, check out the best and top reviews with Trip Advisor hotels and inns here for more information and current prices.
Noel with Visit Spain and Mediterranean
If you are considering a stay here overnight or a few nights, check out the best and top reviews with Trip Advisor hotels and inns here for more information and current prices.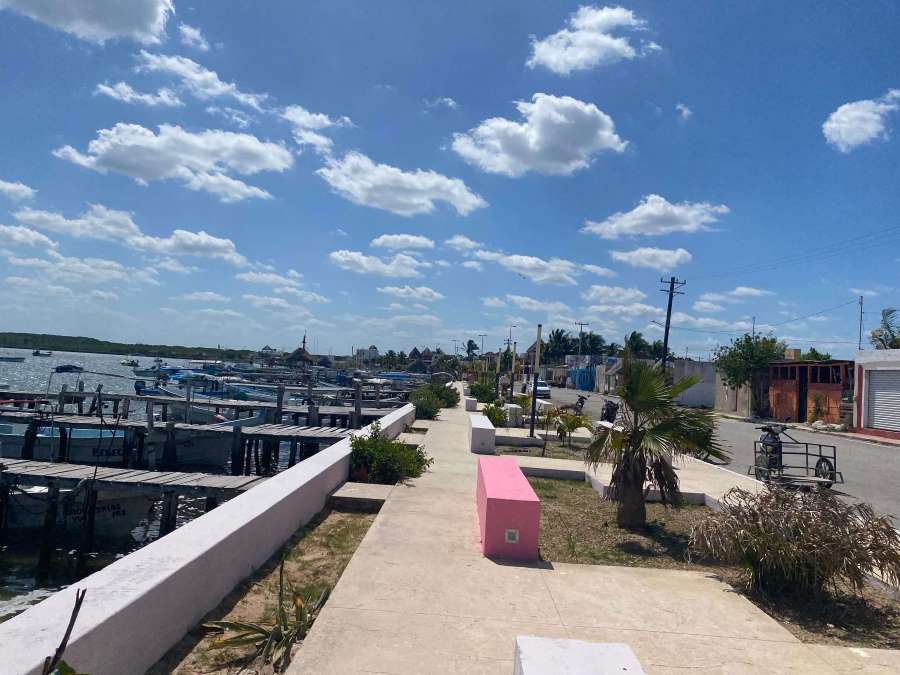 Explore Rio Lagaritos for the Pelican sanctuary
Rio Lagartos is a tiny town located about a 1.5 hour drive away from Valladolid or a 2.5 hour drive from Mérida.
It is located right by a lagoon, which is part of a natural reserve, and makes Rio Lagartos the perfect place to go on a boat tour around the lagoon and spot some amazing wildlife.
One of the best things to do in Rio Lagartos is to go on a boat tour and go see some flamingos. There are plenty of boats lined up, waiting to take tourists out on the water, and you do not need to book anything in advance.
Other than watching flamingos, you can also spot some crocodiles in Rio Lagartos. There are crocodile night boat tours and also a place just a 15-minute walk away from the main area, where you can see two crocodiles if you are lucky.
Close to Rio Lagartos, you can also find Las Coloradas, where the pink lake is located, and there are some beaches nearby as well. Most tourists only come to Rio Lagartos for a day trip, but I would recommend staying for the night and to spend some more time here. It ended up being one of my favourite places that I had visited in Yucatán.
Becky with Becksplore – Travel
If you are considering a stay here overnight or a few nights, check out the best and top reviews with Trip Advisor hotels and inns here for more information and current prices.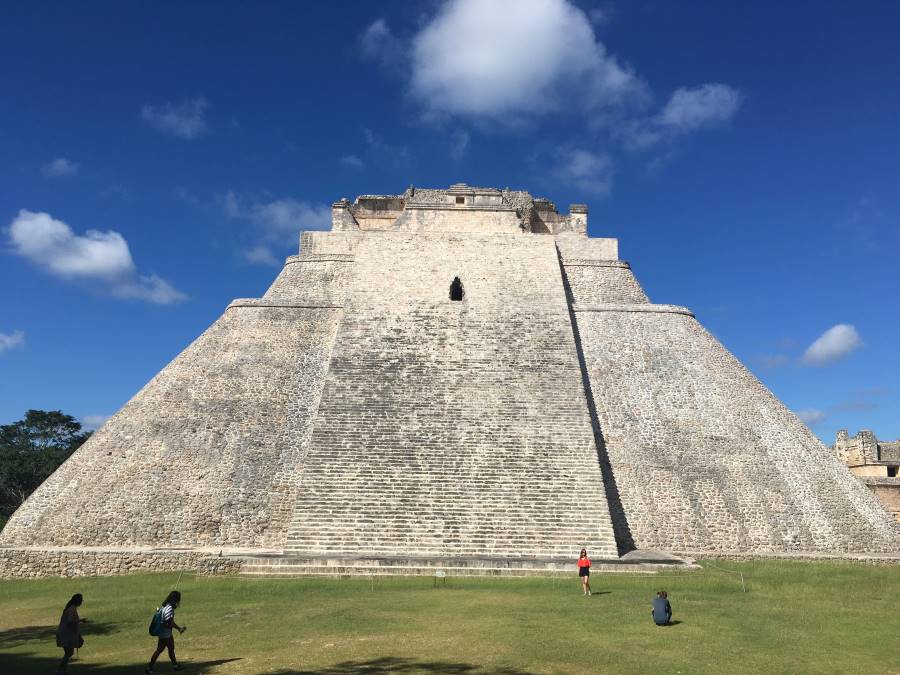 Explore the ruins of Uxmal
One of the most incredible experiences you can have in the Yucatan is visiting Uxmal, a set of Mayan ruins that are a bit off the beaten path. This UNESCO World Heritage Site is set on the western half of the Yucatan Peninsula near the city of Mérida. The buildings and stone structures of Uxmal date between 700 and 1000 A.D.
Although Chichen Itza sees far more visitors every year, Uxmal is the best preserved of all the Mayan ruins, thanks to a painstaking restoration project. At Uxmal, you'll see the hallmark indications of deep astrological and mathematical knowledge that is common among Maya ruins. Hire a guide or read up on the astrological significance of Uxmal before you go; that will make it much easier to appreciate the site.
The site is stunningly beautiful, and you'll see all manner of lizards, including iguanas, scampering across the ruins. Spend some time wandering through the ruins and imagine what life might have been like in that very spot 1,200 years ago. Let the timelessness of Uxmal encourage you to be fully present while you wander through the remnants of an ancient civilization.
The easiest way to access Uxmal is by car, given its relatively remote location about 75 minutes from Mérida. There are some food options available, but you'll want to bring snacks and water just to be on the safe side. As a visitor, you can wander the site on your own, or you can hire a guide for an additional fee.
Contributed by Amber from Amber Everywhere
If you are considering a stay here overnight or a few nights, check out the best and top reviews with Trip Advisor hotels and inns here for more information and current prices.
Explore the central Yucatan region and coastline areas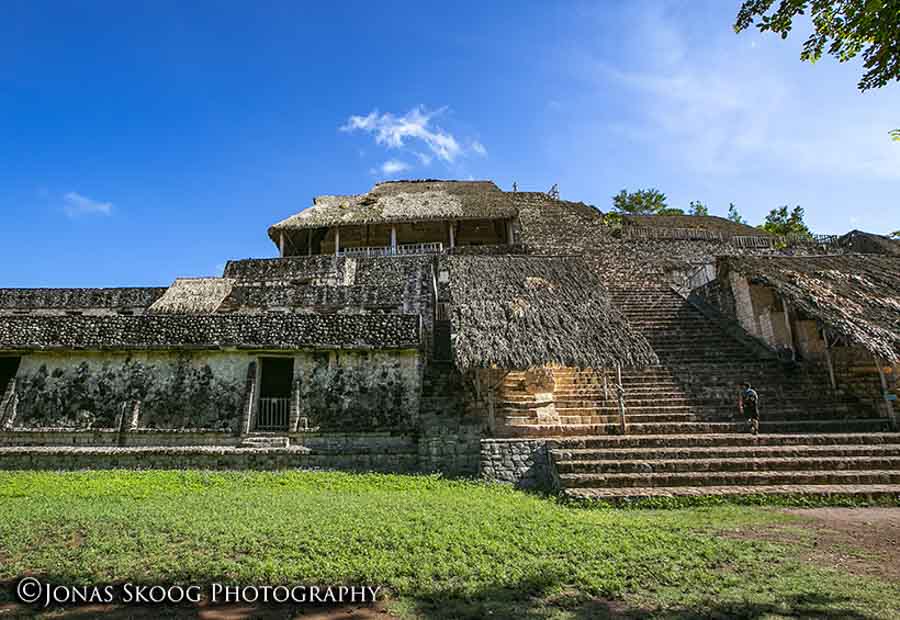 Historic site at Ek' Balam
Ek' Balam is an ancient Mayan archaeological site located 25 kilometers north of Valladolid in the Yucatán in Mexico. This area is a great year-round destination; however, you will experience the best weather between the months of November to March / April as temperatures are at their mildest with less chance of rain.
The Mayan ruins of Chichén Itzá are famous worldwide and are an amazing sight to see, however, the ruins of Ek' Balam are still extremely impressive and far less 'touristy' allowing you the opportunity to really explore the site without the crowds.
The city of Ek' Balam was inhabited for over 1000 years from 600BC. At its height from 770AD to 840AD, Ek' Balam served as an economic epicenter for the empire and the home to over 20,000 people. Today, only its center has been excavated and uncovered which adds to the overall mystery.
In Ek' Balam, unlike Chichén Itzá, you are allowed to climb up on and explore the many structures including the largest structure on the site, the 'Acropolis'. Upon climbing to the top, you'll have an amazing overview of both the ruins and surrounding jungle. Also, some of the carvings and sculptures are in an incredible state of conservation, especially those decorating El Torre on the fourth level of the Acropolis.
Our top tip for visiting Ek' Balam is to arrive early or later in the afternoon to avoid the hottest hours of the day, and allow approximately 2 hours to thoroughly explore these amazing ruins. If you visit in the morning, head to X'Canche cenote after which is located in the same complex for a refreshing swim.
Peta and Jonas of Exit45 Travels
If you are considering a stay here overnight or a few nights, check out the best and top reviews with Trip Advisor hotels and inns here for more information and current prices.
Ruins of Chichen Itza
One of the most important and impressive Mayan ruins are pyramids and ruins of Chichen Itza located in the central region of the Yucatan Peninsula. This well-preserved historic site and Unesco World Heritage site is an amazing place to view the ancient Mayan civilization and a tour with an experienced local guide will tour you through the most significant structures, uses and daily life and rituals of the Mayans around this historic site. This ancient and popular ruin receives over 2.6 million visitors to the site every year.
The largest ancient civilization located in the Yucatan established from 600AD to 1200 AD with a diverse population that created a varied architectural design. The historic site became the most significant regional capital that controlled the entire peninsula of the Yucatan and nearby islands. Controlling the political, economic and sociocultural lifestyles of the area, Chichen Itza rose to prominence with demise of the other regional cities in the area. Some of the most important monuments to visit at Chichen Itza include visiting: The temple of Kukulcan, the great ball court, the temple of warriors, the temple of tables and the group of a thousand columns along with the sacred cenote
Noel with This Hawaii Life
If you are considering a stay here overnight or a few nights, check out the best and top reviews with Trip Advisor hotels and inns here for more information and current prices.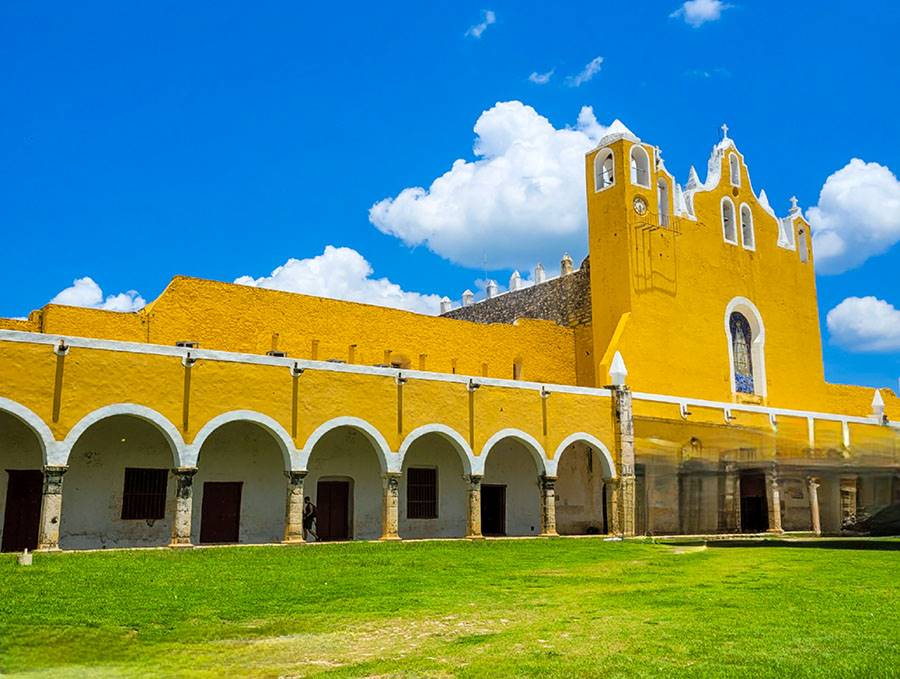 Visit The Yellow City of Izamal – Yucatan, Mexico
Just a 20 minute detour off the road that connects the tourist-hub of Cancun to the colonial capital of Merida, lies the magical yellow city of Izamal. Regarded by Mexicans as one of the most sacred places in the country for both Catholics and Mayans, this little slice of sunshine somehow is still under the travel radar.
The story of why the city is yellow remains unconfirmed but most locals will tell you it is to honor the Mayan Sun God, but this isn't just a wild guess. The great pyramid to the Mayan Sun God is located right in Izamal, just a short walk to the central monastery. This huge pyramid has a base that covers over 2 acres and is free to visit. Worn down by time, footsteps, and neglect, this may not be the most ornate of pyramids, but it offers a stunning view over the city.
At the heart of this charming colonial town stands the beautiful Convento San Antonio de Padua. Mexico is known for the clash of cultures that was born from the arrival of the Spanish, and Izamal is no exception.
The Convento San Antonio de Padua was built upon the central acropolis of the Mayan city and is the central focus of the town today. The convent sits high above the town square and has been a pilgrimage site for those seeking miracles since a visit from the Pope in the early 90s. The convent and gardens are also free to visit, and an enchanting lightshow is held in the courtyard each night.
With bags of culture and history, any trip to the Yucatan should include a visit to this picturesque golden gem.
Ashlea J. Russell with She Roams About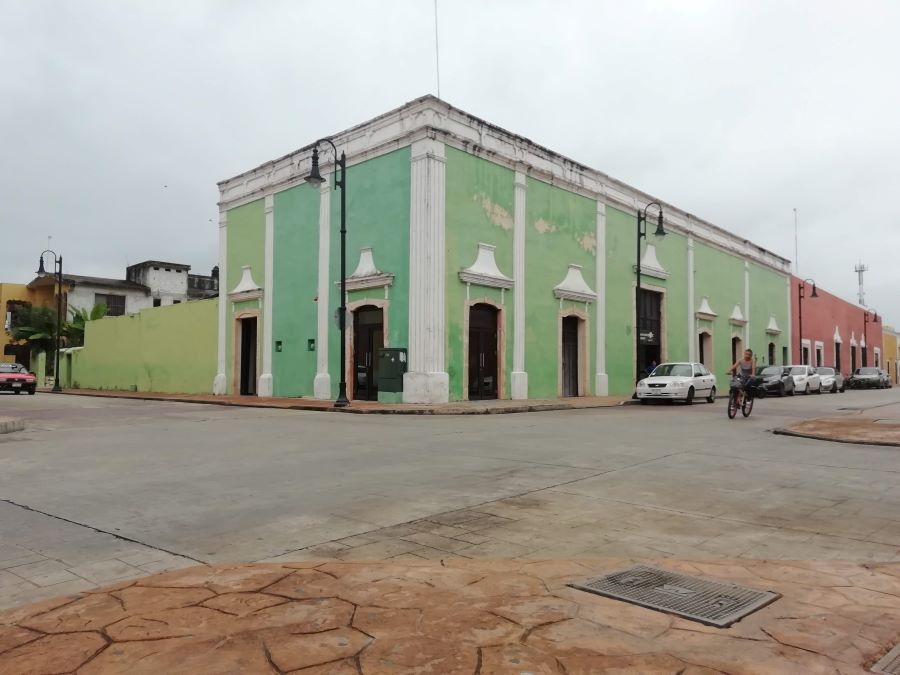 Explore Colonia Valladoid
Valladolid is one of the best places to visit in Yucatan if you are looking for a cute town that can serve a base for many great activities in the area.
Valladolid is a relatively small city with a population of only 48,000. It feels more like a small and charming town. And it's exactly that atmosphere and the typical colorful houses that make Valladolid such as great place for a base.
The best things to do in Valladolid include simply strolling around town. And capturing the classical colorful houses, with cobbled streets, colorful doors and often vintage cars in matching colors.
Valladolid is not extremely popular among tourists (yet) which is why you can still find plenty of authentic Mexican restaurants and taste some of the local dishes.
From Valladolid you can easily access Chichén Itza (about a 25 minute car ride) and many beautiful cenotes such as Dzitnup, Saamal, Chukum, Oxman, and Suytun (this is the cenote with a catwalk towards the middle that you have certainly seen in photos somewhere).
The other cool thing to do is visit cenote Zaci, which is located inside the city itself, and it's probably one of the easiest accessible cenotes in Yucatan.
If you are considering a stay here overnight or a few nights, check out the best and top reviews with Trip Advisor hotels and inns here for more information and current prices.
Explore the southern coastline and regions of the Yucatan region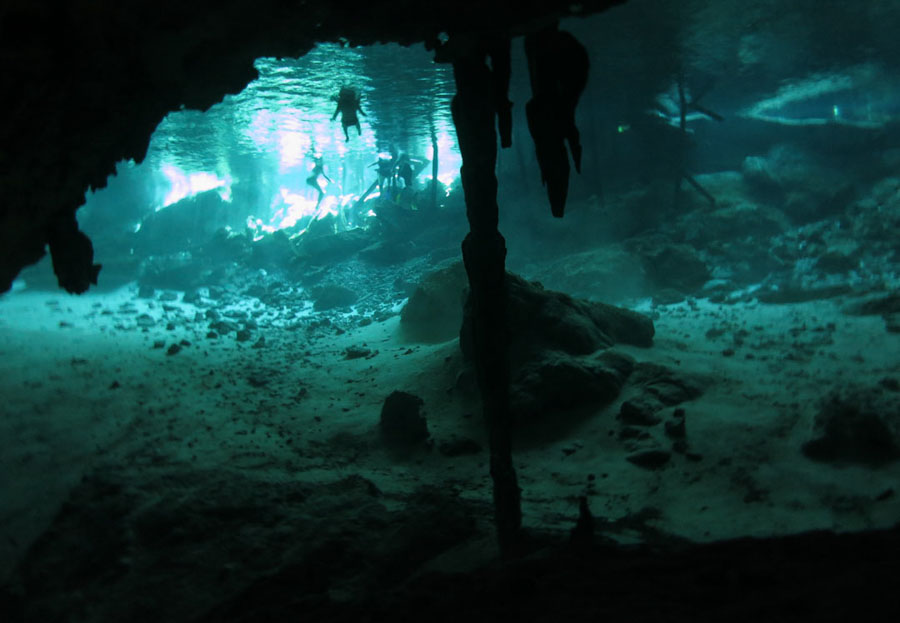 Diving the Dos Ojos Cenote
The Yucatan Peninsula in Mexico is home to a massive network of underwater rivers and limestone caves fed by rainwater that filters through the ground to fill this system with crystal clear water. When the roof of a limestone cave collapses a cenote is formed. Scuba diving in the cenotes of the Yucatan Peninsula in Mexico is a bucket list experience for many divers. Diving conditions in these caves are excellent with calm water and amazing visibility. Driving in a jeep to your dive site through the jungle to plunge into an underwater cave is a unique experience. The cenote, Dos Ojos, located near Tulum is extremely popular for Scuba diving and snorkeling.  Dos Ojos (two eyes in Spanish) refer to the two large cenotes connected by a 400-metre-long cavern. The dive site is classified as a cavern dive and special cave diving training is not required to dive here. This cenote is not very deep and can be dived with only an open water diving qualification. The water is crystal clear with plenty of natural light. The warm water temperature (about 25C) all year round creates a fantastic location for diving and snorkeling. You can either snorkel independently or take a guided snorkel or dive tour. On these tours you will swim through the caverns where you can see bats, stalactites and experience the fantastic blue color of the water in Cenote Dos Ojos. Good facilities are available here, with snacks, drinks, dressing rooms, toilets and snorkel gear rental. Dive tours can be booked on site or through an external operator. Day trips are available from Cancun or Tulum.
Alya with stingynomads.com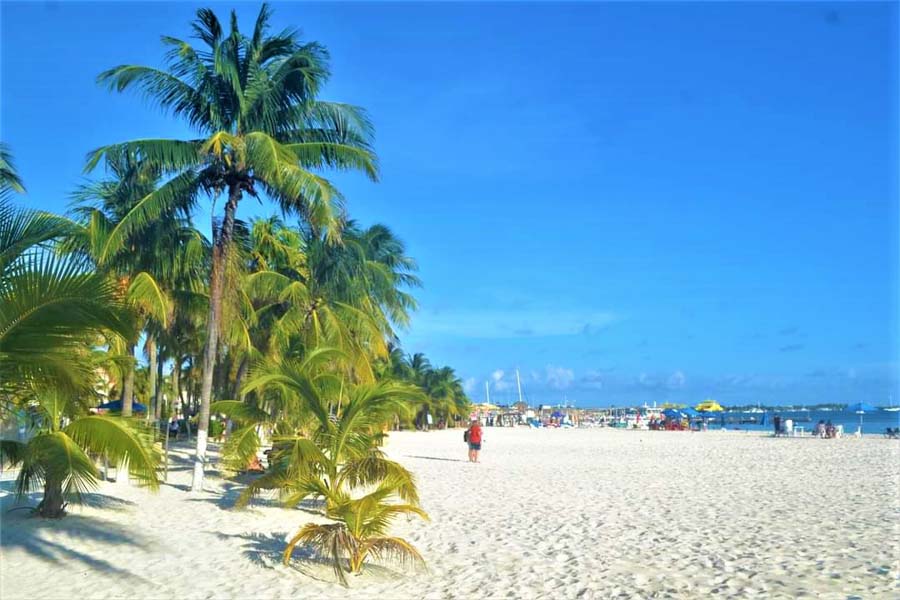 Exploring Isla Mujeres
Isla Mujeres is a tiny island, just five miles long, that is just a 25-minute ferry ride from Cancun. Despite its close proximity to Riviera Maya's party central, the vibe on Isla Mujeres is much more relaxing. This makes it an amazing place to visit on a day trip, or even for a longer stay.
For its small size, there is a wide variety of things to do there. The best way to see and do everything there is by renting a golf cart. Visitors using a golf cart longer than three hours (which is pretty much everyone) will find it cheaper to rent the cart for the day rather than by the hour. The going rate as of 2021 is 1,100 pesos per day. However, it can be even higher during peak times like Christmas and Easter weeks.
From driving to Punta Sur to see the Iguanas to returning to Playa Norte to watch the sunset, there is a variety of options for keeping busy on Isla Mujeres. Even if all a visitor wants to do is eat or drink their way across the island, there are fun bars and quality dining to suit many palates including Rooster, Mangoes Cafe, Isla Brewing Company, and the Ice Bar.
Regardless of whether one stays for a week or comes for a day trip, Isla Mujeres offers something for everyone. The chill and pleasant vibes are so different from the Cancun parties that it's certainly worth a stop on any Yucatan itinerary.
Contributed by Brodi Cole of Our Offbeat Life
If you are considering a stay here overnight or a few nights, check out the best and top reviews with Trip Advisor hotels and inns here for more information and current prices.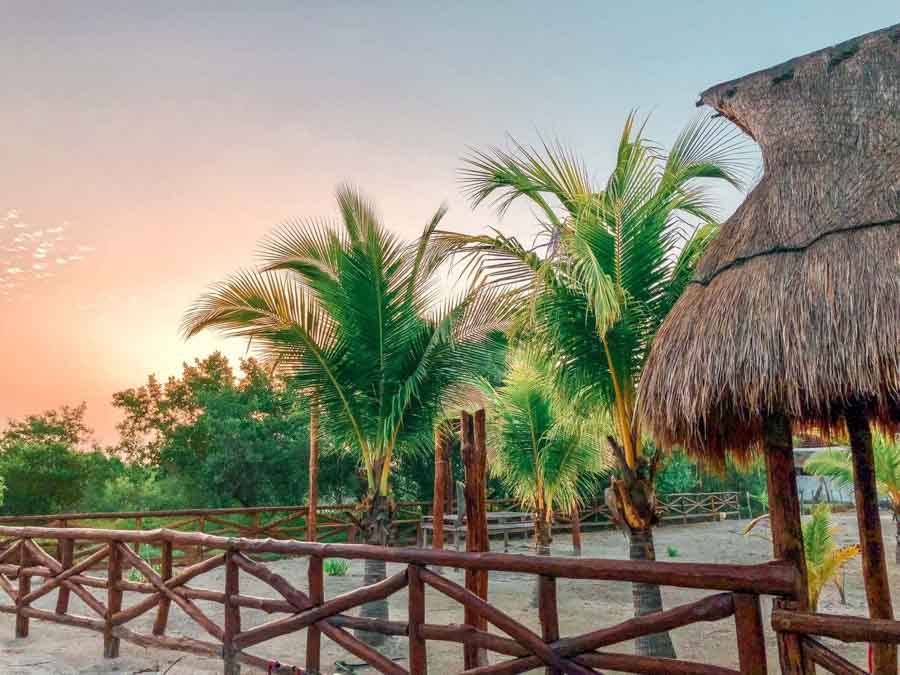 Enjoy the Island of Holbox
Holbox is a beautiful island in northern Yucatan, Mexico. It's actually quite large, but it feels like a perfect beach vacation, as only a small part of the Holbox is inhabited. Cars are not allowed in Holbox and the main way to get around is with rented golf carts. Of course, there are also golf cart taxis available. The island of Holbox is known for its authentic nature and rare wildlife. Be sure to take a boat tour as you can see whale sharks, manta rays, flamingos and even bioluminescent plankton here. Tickets for day-tours are expensive but the experience is more than worth it. There are many different things to choose from depending on what you want to see. You can go snorkeling, swimming and even diving. Of course, there are plenty of beaches to spend the day and relax by the shallow waters and white sand. The Holbox sea is usually very calm and not deep at all, making it ideal for inexperienced swimmers.
The island is spared by crowds of tourists who tend to go to the other islands of Yucatan, such as Isla Mujeres and Cozumel. Holbox is much more authentic and you'll feel like you're seeing a piece of the real Mexico. Spend at least a week in Holbox to truly see all of its beautiful beaches and fantastic street art. Of course, the authentic street food in this area of Mexico is a must-try and will leave you wanting more.
Victoria with Guideyourtravel.com
If you are considering a stay here overnight or a few nights, check out the best and top reviews with Trip Advisor hotels and inns here for more information and current prices.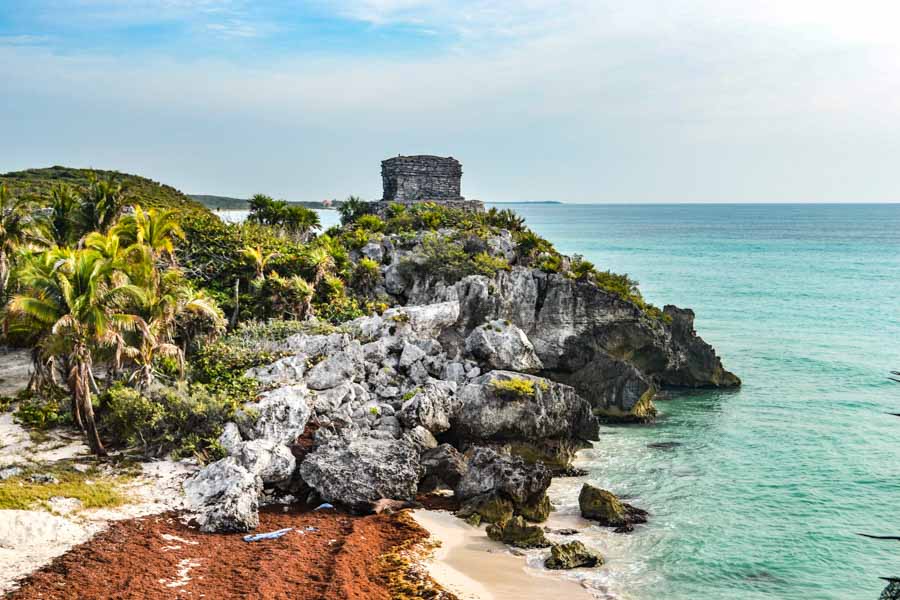 Tulum ruins
The archaeological zone of Tulum with ancient Mayan ruins and a dramatic setting by the Caribbean coast is one of the best places to visit in the Yucatan Peninsula.
Tulum was an important port city during the time of the Mayans. Even though it was settled around 500 AD, it grew in importance and reached a peak during the Late Postclassic period (13th – 15th centuries). Many important buildings were built during this time, some of which you can still see in ruins.
Highlights at Tulum include the El Castillo, a pyramid which has a shrine on the top. El Castillo isn't as huge as other pyramids you will see in Yucatan but is impressive and probably served the purpose of a lighthouse in its heyday.
Another interesting structure at Tulum is the Temple of the Descending God, named so because of the God's upside-down images all over the place. The Temple of Murals with an intact mural painting is not to be missed either.
However, the most magical thing about Tulum ruins is their location on a small cliff by the Caribbean Sea. You can access the beach nearby provided it is not filled in by Sargassum seaweed at the time of your visit.
Tulum is one of the closest Mayan ruins near Cancun and therefore, is a popular day trip option. The journey from Cancun to Tulum takes about 2 hours one-way and is pretty scenic.
Tulum archaeological site is open between 9am – 5pm, Monday – Sunday. Admission cost is 80 pesos and the site has its own parking.
Recommended by Soumya from Stories by Soumya
If you are considering a stay here overnight or a few nights, check out the best and top reviews with Trip Advisor hotels and inns here for more information and current prices.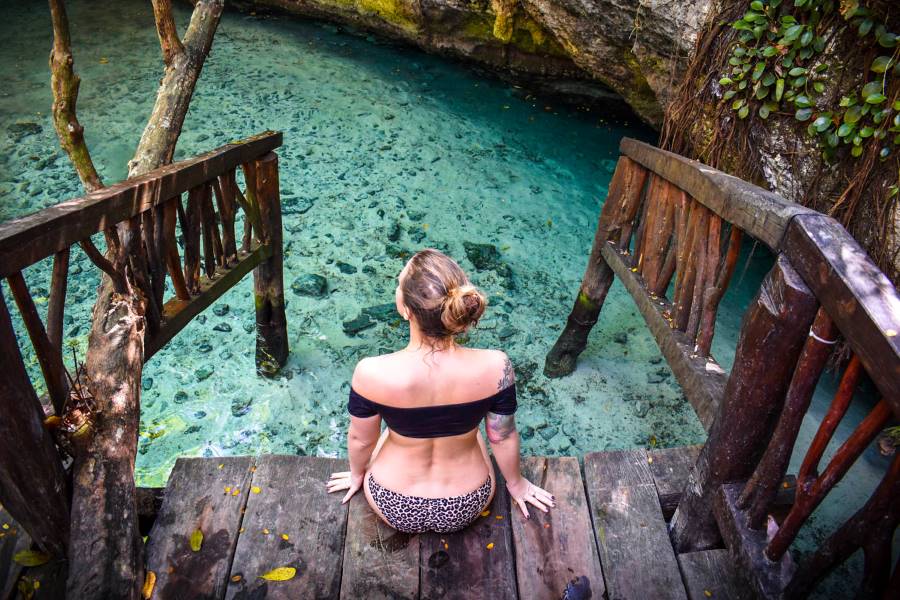 Gran Cenote near Tulum
If you're looking for some place to cool off near Tulum, look no further than the Gran Cenote, found just 5 km north of the city.  Here, you'll find not one, but two beautiful open-air pools of clear turquoise water.
The first pool is much larger, with massive stalagmites and stalactites piercing the water, creating spectacular underwater light rays. If you pass through a small tunnel, you'll find a much smaller pool, perfect for wading around and relaxing in the cool water.
While the pools themselves are beautiful, what makes Gran Cenote really special is the abundant wildlife that call its waters home, with plenty of tiny turtles, small fish, and blue crabs swimming through the water with you. If you prefer to observe wildlife without a snorkeling mask, you don't have to go far- the tunnel connecting the two cenotes is teeming with hundreds of chirping bats, sleeping and flitting overhead.
Presumably because of its proximity to Tulum, Gran Cenote is a bit pricey as compared to some of the other cenotes in the Yucatan- 500 MXN or $25 USD. However, given your entry comes with a complimentary snorkeling set and life jacket rental and the opportunity to explore one of the most picturesque cenotes, it's the perfect place to cool off and enjoy one of the most unique aspects of the Yucatan!
Jessica with Uprooted Traveler
If you are considering a stay here overnight or a few nights, check out the best and top reviews with Trip Advisor
hotels and inns here
for more information and current prices.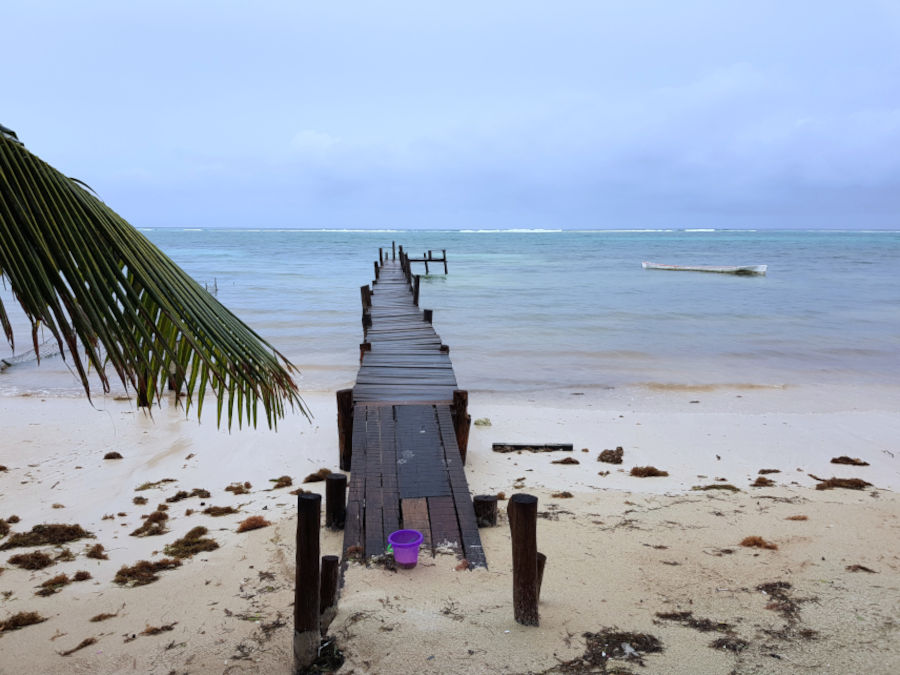 Go scuba diving or snorkelling in Mahahual
Mahahual is a great addition to your Yucatan itinerary.  Scuba divers and snorkelers will find Mahahual to be a paradise. It lies next to the Mesoamerican Reef System, which is the second-largest coral reef system in the world after the Great Barrier Reef. Compared to places like Playa del Carmen or Cancun, Mahahual is significantly less crowded. The reef is in good condition and you can see schools of fish, turtles, and healthy coral.
If you are confident enough to snorkel on your own, you can reach the reef directly from the beach without booking a tour. Turtles and more remote reef stretches can be seen on guided tours towards Xcalak and the southernmost point of the Mexican Caribbean. You'll find several dive shops in town offering guided dives in Spanish and English.
With cabanas on the beach, hammocks in the sea, bars with swings as chairs, and other instagramable items, Mahahual is also a great place to relax – while being significantly less crowded than Tulum. Note that as a cruise ship port Mahahual can get a bit crowded on cruise days.
You can easily spend a couple of days relaxing at the beach and eating at restaurants with a sea view even if you don't explore the underwater world every day.
Carena with Bucketlist 2 LIfe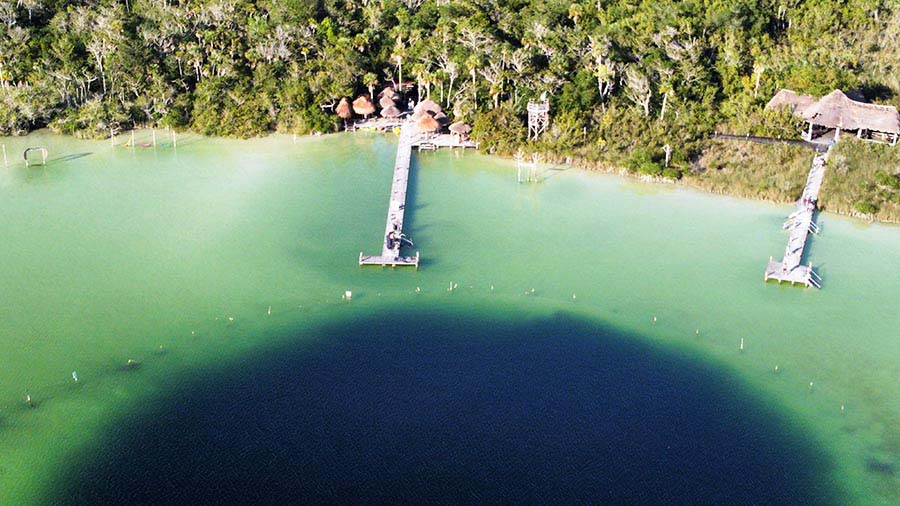 Laguna Kaan Luum
If you like swimming in shallow, warm, fresh water, then the Kaan Luum Lagoon is the ideal place to spend an afternoon. This gorgeous swimming haven is located 15 minutes south of Tulum. The water is varying shades of turquoise and emerald and is stunning.
The Kaan Luum lagoon is very shallow with the exception of the centre. The dark blue water you can see in the image is a deep cenote that reaches 80 metres deep. The area surrounding the cenote is roped off as you are not allowed to swim in the cenote. However, if you are a certified scuba diver you can book a scuba diving tour.
There are no amenities at Kaan Luum so be sure to pack a picnic lunch for your visit. Bring lots of water so you don't get dehydrated as there is very little shade here. If you like to snorkel, you'll have to bring your own gear as there are no rentals here. You may see some fish, but that is likely it.
I suggest wading around in the shallow waters, playing on the swings and enjoying the hammocks you'll find in the water. If you wish to sunbathe on the docks, be sure to bring a blanket or towel to lie on.
To get the best view of the lagoon, head up to the top of the viewing platform.
Parking is free and the entrance fee is 150 pesos. Hours are 9 am – 4 pm seven days a week.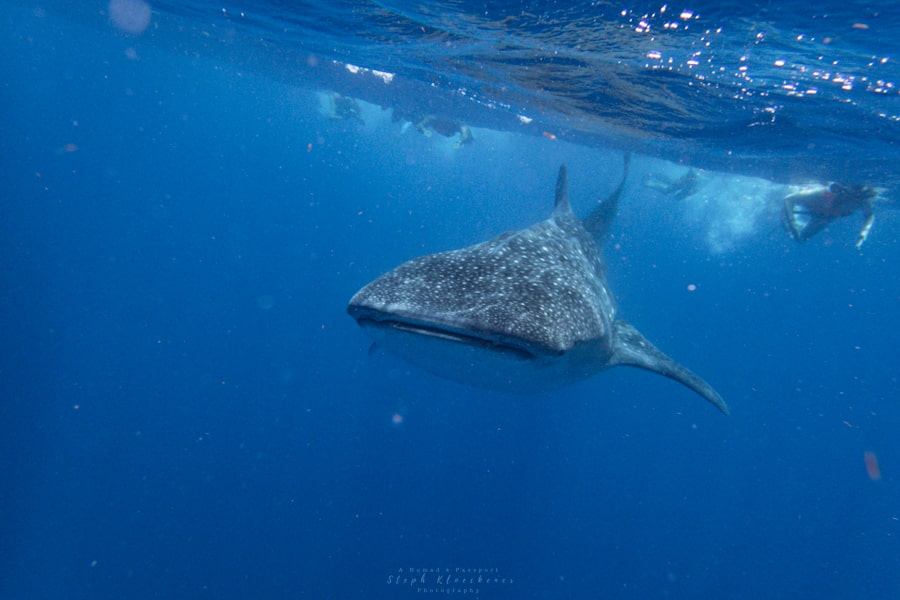 Swim with whale sharks
Whale sharks are the largest fish in the oceans, and many consider swimming with them a bucket list experience. Therefore, it is one of the best things to do in the Yucatan. After all, the Yucatan Peninsula is one of the best places in the world to swim with whale sharks.
The gentle giants frequent the area north of Isla Contoy from late May to September and boats head out daily during the official whale shark season. Thanks to governmental regulations, these whale shark encounters off the coast of the Yucatan are ethical. Therefore, animal lovers can join the tours without having to worry about the morality of doing so.
The boats to the whale shark area depart from Cancun, Isla Mujeres, and Holbox. Cost- and time-wise, departing from Isla Mujeres is the best option.
During your whale shark tour, you can swim with the whale sharks up to three times. The sharks are fast, so the individual encounter is never long, but that does not take away from the magical experience. After the whale shark encounter, the boat will head to Playa Norte where you can go for a swim in the crystal clear water, while the boat crew prepares ceviche and guacamole.
Steph of A Nomad's Passport
Check out this fun video to exploring the Yucatan below
How to get around the Yucatan Peninsula
Here are some common ways to explore the region:
Renting a car: Renting a car gives you the freedom to travel at your own pace and explore the Yucatan Peninsula's diverse attractions. Several car rental agencies operate at major airports and cities. Just remember to have a valid driver's license and familiarize yourself with local driving rules and regulations.
Public buses: The Yucatan Peninsula has an extensive and affordable public bus network that connects major cities and towns. ADO is a reputable bus company that offers comfortable and reliable services. From luxury coaches to more budget-friendly options, buses are a popular choice for both locals and tourists.
Colectivos and Vans: Colectivos are shared vans or minibusses that operate along popular routes, often connecting smaller towns and attractions. They are an affordable and convenient mode of transportation for shorter distances and allow you to interact with locals along the way.
Taxis: Taxis are widely available in urban areas and can be a convenient option for short trips within a city or town. It's advisable to negotiate the fare beforehand or ensure the driver uses a meter to avoid any misunderstandings.
Bicycle or scooter rentals: Many tourist destinations in the Yucatan Peninsula offer bicycle or scooter rentals, which can be an enjoyable and eco-friendly way to explore the local surroundings. Always prioritize safety by wearing helmets and following traffic rules.
Guided tours: If you prefer a hassle-free experience, joining guided tours is a popular choice. Various tour operators offer day trips or multi-day excursions to key attractions, providing transportation and knowledgeable guides who can enhance your exploration.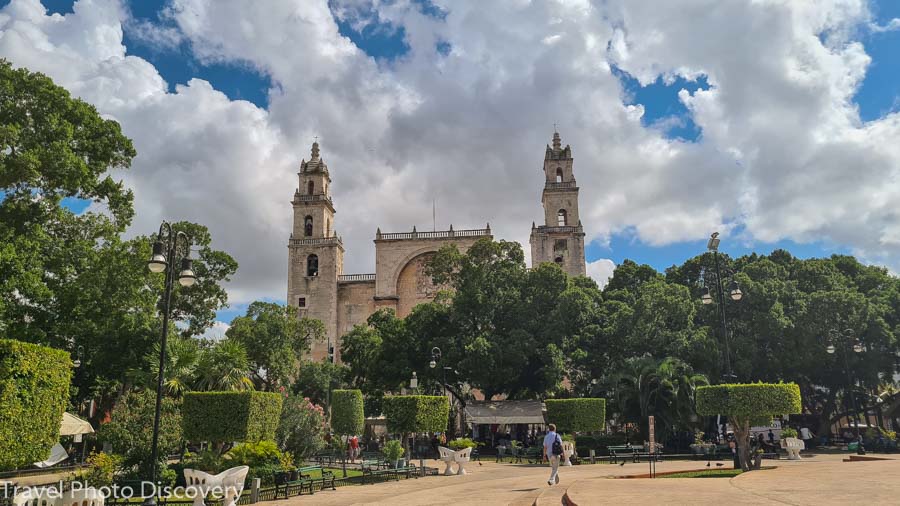 What local foods should you try in the Yucatan Peninsula?
The Yucatan Peninsula is renowned for its rich culinary heritage, blending indigenous Mayan flavors with influences from Spanish, Caribbean, and Middle Eastern cuisines. Here are some must-try local foods in the Yucatan Peninsula:
Cochinita Pibil: This iconic Yucatecan dish consists of slow-roasted pork marinated in a blend of citrus juices, achiote paste, and aromatic spices. The meat is traditionally cooked in banana leaves, resulting in tender and flavorful pulled pork. It is often served in tacos or tortas (sandwiches) with pickled onions and habanero salsa.
Panuchos and Salbutes: These popular Yucatecan snacks feature a base of corn tortillas topped with various ingredients. Panuchos are stuffed tortillas with refried black beans and topped with shredded turkey or chicken, lettuce, avocado, and tomato. Salbutes are similar but not stuffed, with the toppings placed on the fried tortilla. Both are typically garnished with pickled onions and habanero salsa.
Poc Chuc: Poc Chuc is a grilled pork dish marinated in sour orange juice, spices, and topped with onions. The meat is tender, juicy, and bursting with tangy flavors. Poc Chuc is often served with rice, beans, tortillas, and garnished with avocado and tomato.
Sopa de Lima: This traditional Yucatecan soup features a refreshing blend of chicken broth, lime juice, shredded chicken, and crispy tortilla strips. It is light yet flavorful, often enhanced with aromatic herbs and spices. Sopa de Lima is a popular choice for a comforting and zesty appetizer or a light meal.
Relleno Negro: Relleno Negro is a unique Yucatecan dish that showcases the region's culinary diversity. It is a black turkey stew made with a blend of charred chiles, spices, and ground corn. The rich and savory stew is often served with white rice and accompanied by corn tortillas.
Papadzules: Papadzules are a traditional Mayan dish consisting of rolled tortillas filled with hard-boiled eggs and topped with a savory pumpkin seed sauce. The dish is typically garnished with tomato sauce, onions, and cilantro, creating a harmonious combination of flavors and textures.
More inside tips to visiting the Yucatan Peninsula in Mexico
Certainly! When visiting the Yucatan Peninsula in Mexico, these inside tips will enhance your experience:
Cenote Diving
Explore underwater cenotes, natural sinkholes, for a unique diving experience. Dos Ojos and Ik Kil are must-visit cenotes.
Mayan Ruins
While Chichen Itza is famous, consider visiting lesser-known sites like Ek Balam or Coba to avoid crowds.
Local Cuisine
Savor Yucatecan specialties like cochinita pibil (slow-cooked pork), papadzules, and sopa de lima at local eateries.
Learn Some Spanish
While many locals speak English, learning basic Spanish phrases can enhance your interactions and experiences.
Visit Haciendas
Explore historic haciendas, some of which have been converted into charming hotels or museums.
Traditional Markets
Shop at local markets like Mercado Lucas de Galvez in Merida for handmade crafts and fresh produce.
Responsible Tourism
Respect the environment and local communities. Use eco-friendly products and support sustainable tourism initiatives.
Bug Protection
Pack insect repellent, especially if you plan to visit jungle areas or cenotes.
Time Your Visits
Many attractions are best enjoyed early in the morning or late in the afternoon to avoid the heat and crowds.
Swim in Underground Rivers
Xcaret and Xel-Ha offer opportunities to swim in beautiful underground rivers amid lush surroundings.
Sun Protection
Bring sunscreen, a hat, and sunglasses to protect yourself from the strong Yucatan sun.
Try Mezcal
hile tequila is famous in Mexico, the Yucatan is known for its mezcal, so give it a try.
Reserve Tours Early
Book popular tours, such as swimming with whale sharks or exploring Rio Lagartos, in advance.
Cultural Festivals
Check the local calendar for festivals and events, which offer a glimpse into the vibrant Mayan culture.
Explore Caves
Venture into the Loltun Caves near Merida for a fascinating underground adventure.
Remember that the Yucatan Peninsula offers a blend of natural beauty, rich history, and diverse culture. These tips will help you make the most of your visit and create lasting memories in this enchanting region of Mexico.
Further reading
Places to visit in winter in Mexico
Travel References
Love the post – pin and save it for later
Conclusion to visiting the Yucatan region of Mexico
Visiting the Yucatan region of Mexico offers a truly enriching and unforgettable experience. From the breathtaking ancient ruins of Chichen Itza and Uxmal to the pristine beaches of Tulum and the vibrant city of Merida, this region captivates travelers with its rich history, stunning natural landscapes, and warm hospitality. Immerse yourself in the fascinating Mayan culture, indulge in the tantalizing flavors of Yucatecan cuisine, and explore the mesmerizing cenotes and underground rivers. Whether you're seeking adventure, relaxation, or cultural immersion, the Yucatan region has it all. With its diverse attractions and hidden gems, the Yucatan promises a remarkable journey that will leave you with cherished memories and a deep appreciation for this captivating corner of Mexico.
The Yucatan is huge and a popular destination zone world-wide to the gorgeous coastal areas of the region, but you should also go out and explore most of the region either by tour, custom tour or just driving around on your own. Hope these attractions have inspired you to go and visit the many cool places, historic sites and fun coastal regions of this part of Mexico.