If you are visiting Mexico soon and craving some really good and authentic foods from different regions of the country, then you are in for a real treat. Every region or state in the country treasures its local dish for you to try and enjoy, so I asked some travel blogger and food writers to share their favorite dish from that area where it should be tried. So, keep this bookmarked on what types of local dishes you should look out for in your menu or even street vendor when you visit the country, because eating delicious and local foods around Mexico is beyond tacos and enchiladas below will open you up to trying some of these delicious and authentic foods from each region of Mexico.
What popular foods from Mexico you should try now?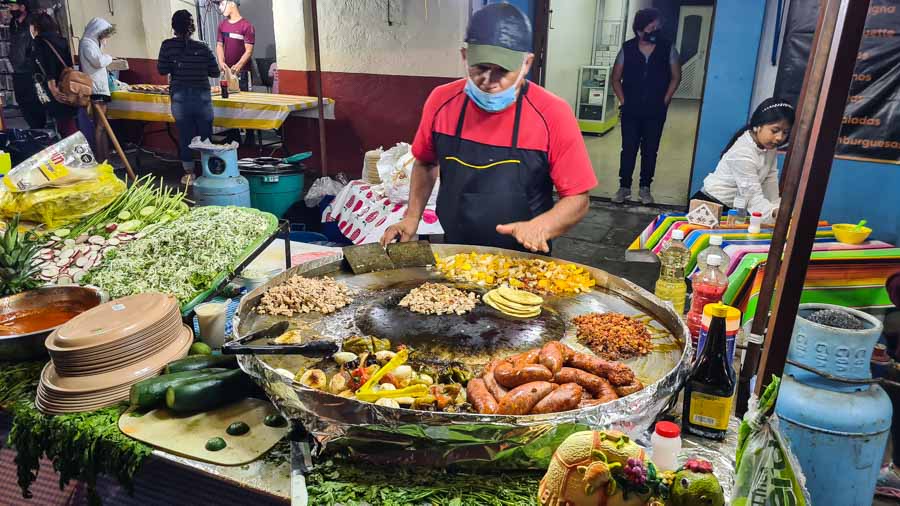 With so many unique states and regions, you'll find so many delicious foods to try from these foodies inspired destinations,
Mexican Riviera popular foods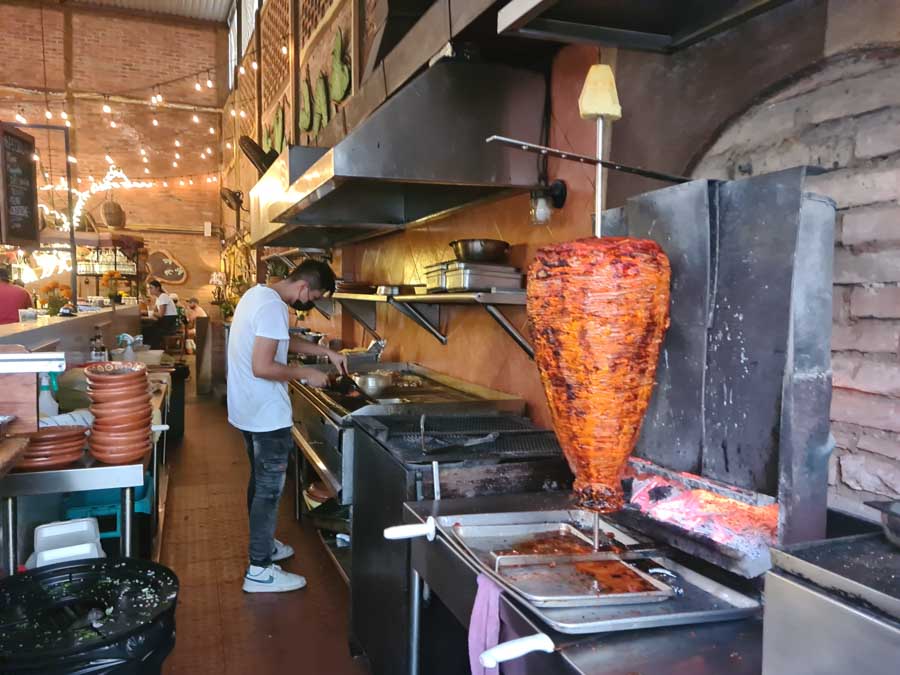 Tacos al Pastor in Puerto Vallarta
One of the tastiest tacos to try in Mexico and readily available from many small mom and pop shops and restaurants, tacos al Pastor are the celebrated food to eat here in Puerto Vallarta. After a long day exploring the top sites around the city, it's fun to enjoy some of the delicious foods of Puerto Vallarta and find a place that serves this local favorite dish. Tacos al Pastor is called the King of Tacos in Mexico for its celebrated pork shoulder roasted in a turning spit and is Lebanese in it's origin. This dish came to Mexico from shawarma! Lebanese immigrants moved to Mexico in the early 1900s and primarity used lamb to roast with but it eventually changed to pork which is the more popular meat served around the country.
The marinaded strips of pork in spices chiles and then stacked into a long spit (like a verticle rotisserie) and then turned and cooked with the outer layer getting crispy from the heat and the insides juicy and tender almost falling off the bone. The outer layers are shaved and served with tortillas in a variety of sauces made with different ingredients and heat factor.
Some of the best Tacos al Pastor in the city to enjoy this dish includes: El Carboncito, Pancho's Takos, Los Molcajetes and Tacos Revolucion. Come hungry and you want to eat more than a few of these super tasty tacos.
Noel with Travel Photo Discovery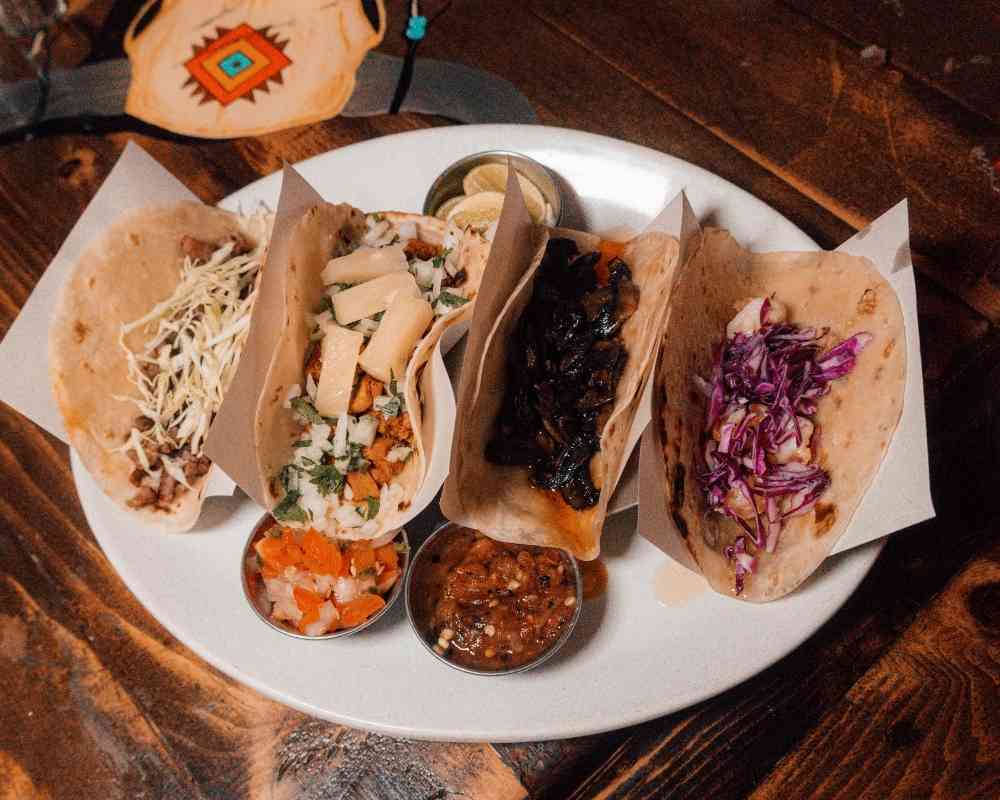 Baja-style fish taco (state of Baja California)


There are many types of fish taco in Mexico and the most common that you will encounter all over the country is literally fish meat (ground) put in a tortilla.
But Baja California has a different kind. We usually call it "tempura" because it's battered and pan-fried.
The fish is marinated in garlic, lime juice, oregano, salt, pepper, and fresh chilies for an hour. The batter is usually made with water and mustard but there are many different batter recipes all over the Baja Peninsula.
As usual, it is tucked in a fresh tortilla topped with cabbage and mayonnaise and chipotle sauce. It might be weird for you to put mayo on a taco but in Baja California, this is a cultural trend. They put mayonnaise to everything (even ceviche!)
The Baja-style fish taco was featured in Netflix's taco chronicle (Taco Fish La Paz restaurant) as one of the most notable (and best) tacos in the country. You can have this everywhere (from 5-star restaurants to street food stands) but I prefer having it on the streets, especially in La Paz.
Check out Maria Veloso's post to visiting Baja California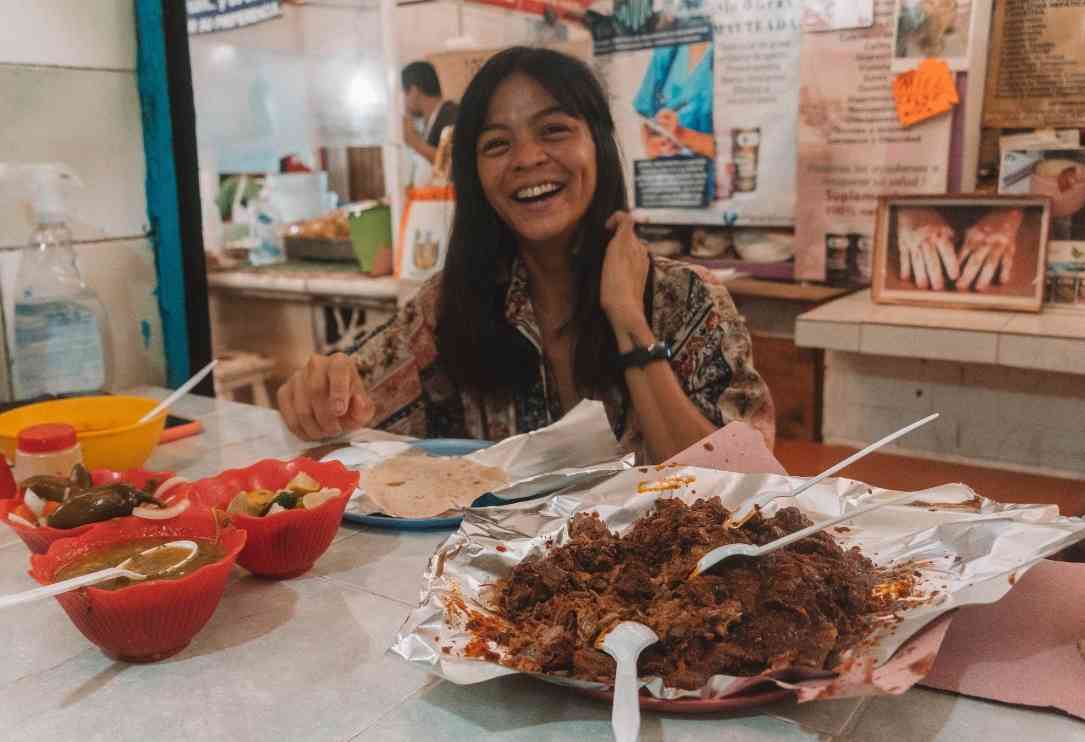 Barcacoa de Chivo (at Acapulco, state of Guerrero)

Note that every state in Mexico has its own specialty when it comes to food. While there are many types of tacos in Mexico, the state of Guerrero is very unique for its barbacoa de chivo (goat barbecue).
Okay, so you might not be enticed to eat goat meat but this one is slowly cooked for 10 hours on an earthen pot (you'll notice this taste).
I had it first in the cities of Taxco and Acapulco where you will see them in every corner. In Acapulco, the best place to have it is in Mercado Central where locals have their own delightful recipe.
It is usually advised to order it in kilos (a kilo can be shared between 3 people) and eat with tortilla as you go. On the side, you will automatically be given consome which is the juice/soup of the chivo. Consomes are often used in the bone broth diet trend.
Many people asked me if this is spicy but for me, the spice is just a kick; not literally the Mexican spicy we always imagine.
There is no particular time of the day to have barbacoa de chivo – you can literally have it for breakfast, lunch, and dinner!
Yucatan popular foods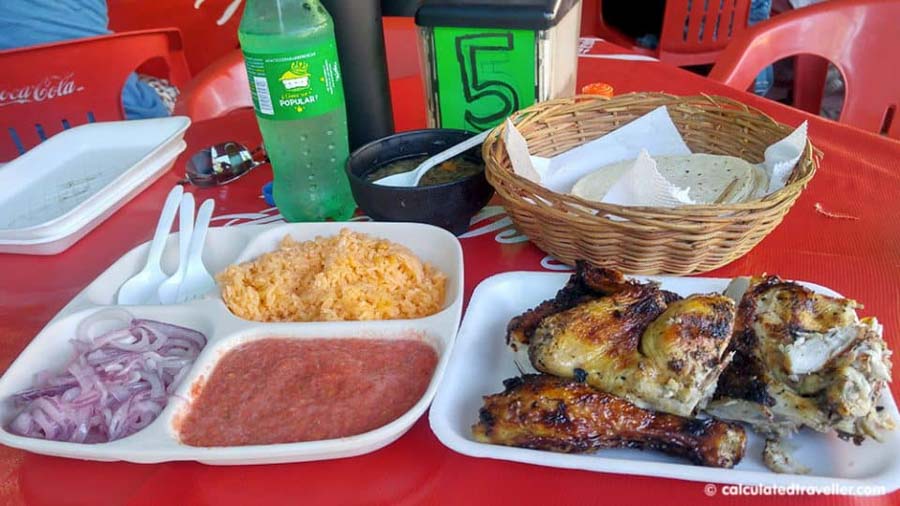 Asadero el Pollo – Playa Del Carmen
Calle 2 and 20 Avenida Nte
My favorite food experience in Mexico was eating the barbecued chicken at Asadero el Pollo in Playa del Carmen. This casual open patio restaurant with chain-link fence walls is full of character and warm hospitality; wait for an open patio table and chair, have a seat and get ready to dig in.
The marinated seasoned chicken is spatchcocked (flattened) and roasted on a charcoal grill in an open kitchen where the scent, sight, and sounds entice you from the street. Resistance is futile! Served with a basket of tortillas, seasoned rice, a spicy red salsa, and pickled onions, half a chicken cost us just over 100 pesos. The price of my soda was the same as my meal!
The best way to eat this dish is to tear off strips of meat and dip it in the salsa. Or, you could place the chicken, salsa, a bit of onion and wrap it inside a tortilla. Either way, the chicken is moist and smokey with a hint of citrus and heat – one word – delicioso!
Check out Mary's post on Playa del Carmen restaurants on a budget
Cochinita Pibil – Yucatan Mexico
The quintessential dish of the Yucatán and served everywhere but dominantly on Sundays. Cochinita Pibil is pit-cooked pork that has been marinated overnight in a naranja agria (sour orange) and annatto.
Initially devised as a way to preserve meat, Pibil has become the region's most famous dish. A Mayan word that means to bury, or to cook underground, Pibil is pork, wrapped in banana leaves and then baked in a cooking pit for several hours.
Cochinita means suckling pig so true Cochinita will take a suckling pig and marinate it and then bury in a Pibil or pib until tender The meat is marinated in achiote and wrapped in banana leaves. Achiote or annatto are small red seeds that are ground and mixed with the orange juice. This mixture was also used by the Mayas as bug repellent and colorant for paint and textiles. The meat is left for a minimum of 8 hours.
Traditionally Cochinita Pibil is eaten as is with a garnish of pickled red onions and Habanero salsa and is scooped up with corn tortillas.  It is usually purchased by the kilo and the roadside stands that dot the Yucatan pop up on Sunday mornings so you have to get there pretty early. It will come with all the condiments and tortillas in most places and the cost is generally around $15US a kilo. Contributed by Faith of The Worlds Kitchens.
Faith with XYU and Beyond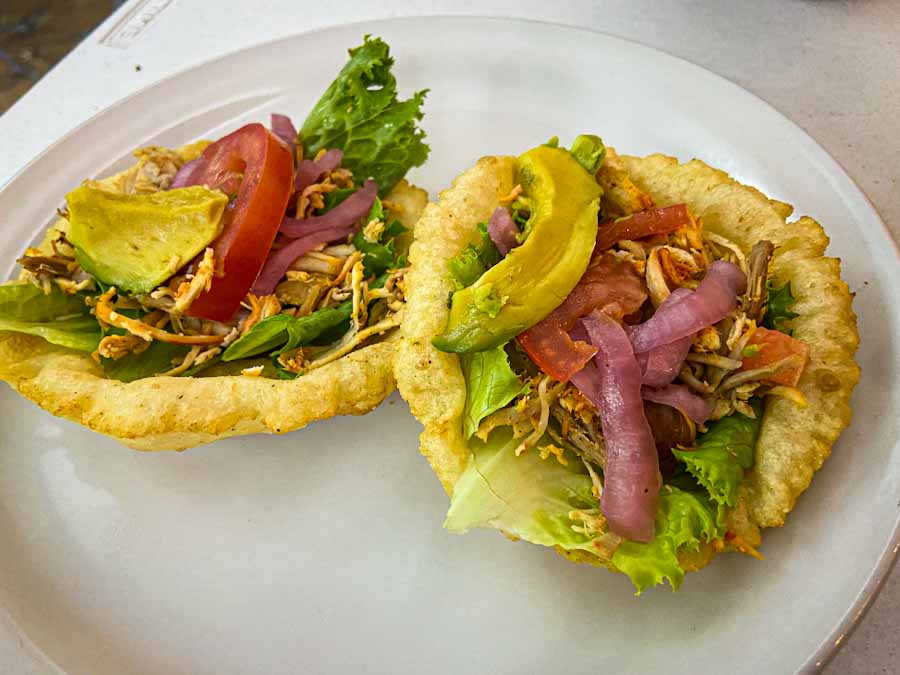 Salbutes – Yucatan Peninsula
One dish you shouldn't miss out on while traveling through the Yucatán peninsula are salbutes. They are a popular dish found all throughout the peninsula, and are an economical option for lunch or dinner.
Salbutes are puffed corn tortillas commonly found in the Yucatán peninsula of Mexico.  A typical salbut is topped with lettuce, pickled onions, avocado, tomatoes, and shredded turkey. However, salbutes can also be topped with cochinita pibil (suckling pig slow-cooked underground in a banana leaf) or relleno negro (turkey slow-cooked with a black sauce).
Our family enjoyed sampling salbutes while traveling in Playa del Carmen and Mérida. You can find salbutes at local loncherías, or places where antojitos (Mexican street food) are served. Common condiments to accompany salbutes are limes and salsa verde. You can also enjoy salbutes with some aguas frescas (fresh juice drinks).
Our favorite lonchería in Playa del Carmen is Lonchería Doña Mary. And in Mérida, we enjoy eating salbutes with relleno negro at Lonchería La Lupita. Salbutes at loncherías typically cost less than 20 pesos, or $1 USD. However, our favorite place to enjoy salbutes is at Manjar Blanco in Mérida. There, salbutes cost around 125 pesos, or $6.25 USD, for an order of 4.
If you're planning to travel through Mérida, Playa del Carmen, or anywhere else in the Yucatán peninsula, be sure to sample some salbutes for yourself.
Astrid Vinje with Mexico Family Travel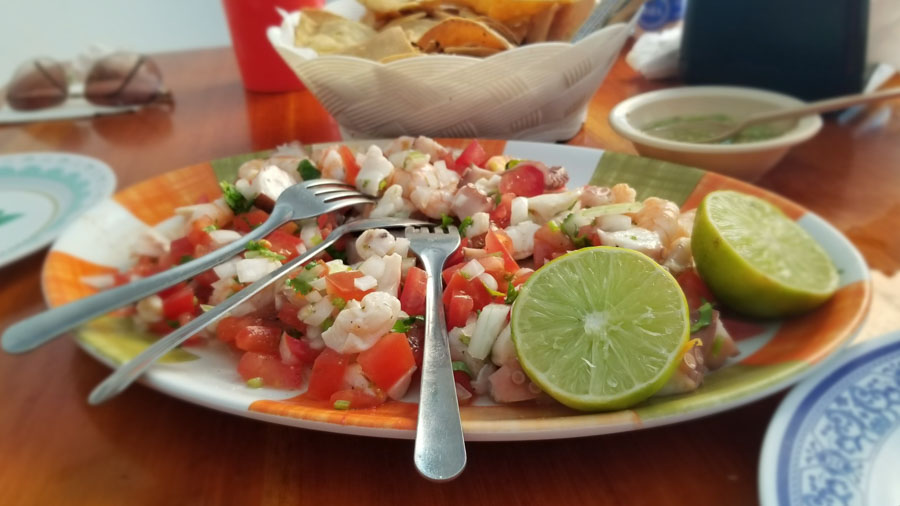 Yucatan Ceviche
When you mention ceviche people usually think of the traditional Peruvian dish. However, the Yucatan has its own version of this refreshing and delicious seafood starter or meal. One of the big differences is that in Yucatan ceviche the seafood is more cooked. This is done either with a quick dip in hot water or with a soak in lime juice. It is "cooked" in the lime juice for much longer than the almost raw Peruvian version.
The seafood in Yucatan ceviche is almost always shrimp which can also be joined with a firm white fish, octopus or caracol (conch). Red onion, cilantro and diced tomato are added to the seafood and lime mix and it's all served with avocado and crispy tortillas or tostadas. It is a perfect meal for the typically hot and humid weather in the Yucatan.
We have tried Yucatan ceviche in numerous places from the beach towns of Riviera Maya, like Cancun and Playa del Carmen, to the inland cities of Merida and Valladolid. It's rare that we've tasted a Yucatan ceviche one we haven't liked but one of our favorite spots is El Pirata in Playa del Carmen. This little eatery is loved by both locals and tourists so be prepared to line up. It's worth the wait I promise!
Check out Sarah's post on Things to do in Cancun Mexico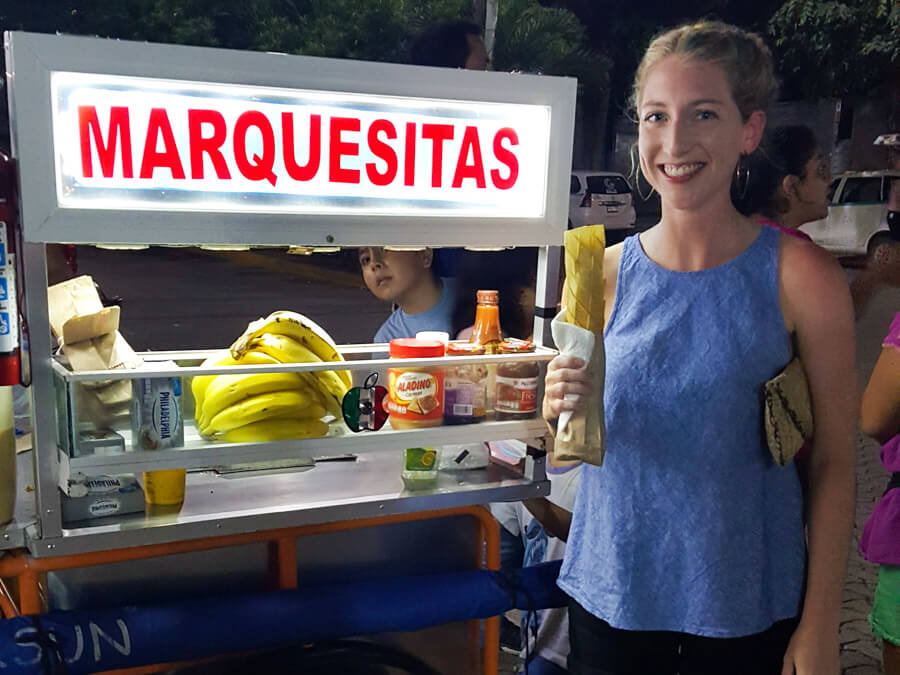 Marquesitas in Playa del Carmen
Similar to a crepe, "marquesitas" are sweet rolled wafers that are native to the Yucatan region of Mexico and one of the most popular Playa del Carmen street foods.  You'll see vendors selling marquesitas from rolling carts on many of the street corners around Playa del Carmen's famous 5th Avenue.  At less than $50 pesos (~$2.50 USD) each, they are an inexpensive and tasty dessert enjoyed by both locals and tourists.
While ordering marquesitas, you can choose from a variety of sweet fillings like bananas, strawberries, fruit jams, caramel, nutella, peanut butter, cream cheese, queso de bola, and chocolate sauce.  Personally, my favorite combination is bananas topped with chocolate and caramel sauce.
After choosing your fillings, the vendor will pour the batter over a hot waffle iron, heat it over a flame, add the desired toppings, and roll it up just as it's getting crispy.  Then you'll get to enjoy a sweet and crunchy treat that can be eaten without utensils.  You'll want to have some napkins handy as they can get messy!
Marquesitas make for a tasty dessert after dining at the restaurants in Playa del Carmen and are enjoyed by many while strolling down 5th Avenue.  Make sure to save room as they can be very filling!
Allison with Viva la Travelista
Colonial capitals popular foods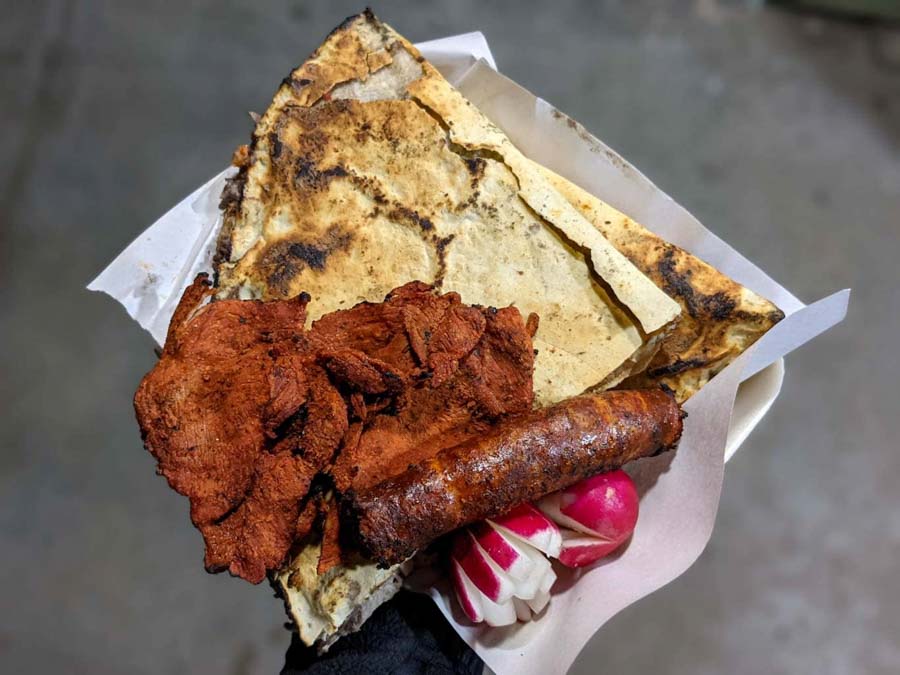 Tlayudas from Oaxaca
One of the best food experiences you can have in Mexico is eating Tlayudas from Oaxaca. Known as Mexican Pizza, this traditional Oaxacan dish is unique to this region of Mexico. Giant corn masa balls are pressed into burrito-sized (or larger) tortillas before being griddled on a hot ceramic comal.
These thin tortillas are brushed with asiento (lard) and then stuffed with refried beans seasoned with avocado leaves. Quesillo cheese (Oaxacan cheese) is layered on top of the beans then folded in half. It is then grilled over an open charcoal fire giving it a smoky aroma and a crispy texture with the cheese melting into a delicious gooey mess inside.
Tlayudas can be enjoyed sencillo (plain) or you can add different types of meat such as tasajo (salt-cured beef), cecina enchilada (chili marinated pork), and chorizo links. We typically go with the chorizo but feel free to try different combinations. There are several condiments that are served with this dish such as roasted chile de agua, radish, guacamole, hierba de conejo, and a selection of salsas.
Tlayudas can be a very satisfying meal on their own and can cost anywhere from 40 to 120 pesos ($2.00 to $6 USD). When looking for great tlayudas in Oaxaca, we found the ones sold from street carts the best. You also want to make sure to get ones that are cooked over an open charcoal flame as some places skip this important step.
Kristel + Gabriel Glasier with Chef Travel Guide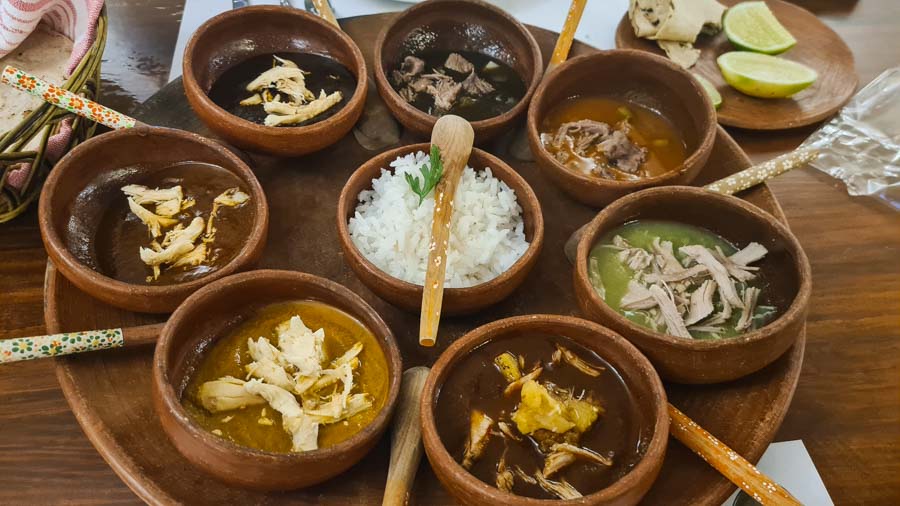 Mole from Oaxaca
The celebrated mole from Oaxaca is very popular and a must eat dish to enjoy when visiting this famous food capital city. In fact mole here consists of 7 different types of moles with the most famous being the black mole dish called Mole Negro that is typically served in major restaurants, food stalls and even street foods of Oaxaca. If you're game, you should try out all the famous mole from mole Negro, mole Verde (green), mole Chichilo, Mole Amarillo (yellow), mole Coloradito, mole Poblano (red) and mole Manchamantel. There are even places around the city that serve you a big platter with the seven mole sauces and the typical meat that they are served in.
Mole is celebrated in Oaxaca during the many feasts and significant timeframes yearly in the city. The making of mole is labor intensive and using a lot of complex ingredients and stages of creating the dish. The main ingredients used in mole comprise of chiles, dried fruit, tomatillo, chocolate, sesame seed, nuts and a variety of spices. The process is intensive and time consuming to make, so just ordering and savoring the complex taste and melding of flavors will give you an appreciation to how special this dish is when you try it in Oaxaco or any other locations around Mexico.
Noel with Big Island Photography Now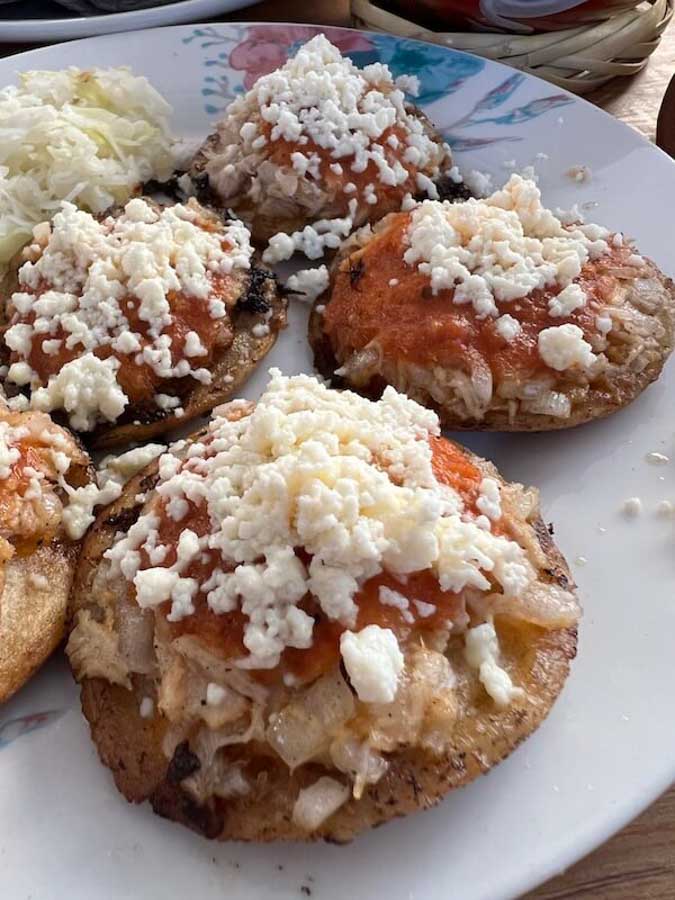 Garnachas from Oaxaca
During my recent trip to Oaxaca I discovered a new favorite Mexican food- garnachas.
Garnachas are small balls of masa that are flattened and fried crispy before being topped with stewed shredded meat and condiments such as onions, cheese, shredded cabbage in vinegar and of course salsa.
As garnachas are so small (smaller than the size of a corn tortilla) there are often quite a few in an order.
My favorite was the version with shredded pork and green sauce but you can find many different versions, including vegetarian. If you're vegetarian make sure to ask if they're being fried in lard or not.
Prices range from about $1 USD for an order if you're buying them as street food up to $5-6 in a nicer restaurant but I recommend trying the street food version first.
This is definitely one of my new favorite Oaxacan dishes!
Nathan Aguilera with Foodie Flashpacker
Central Mexico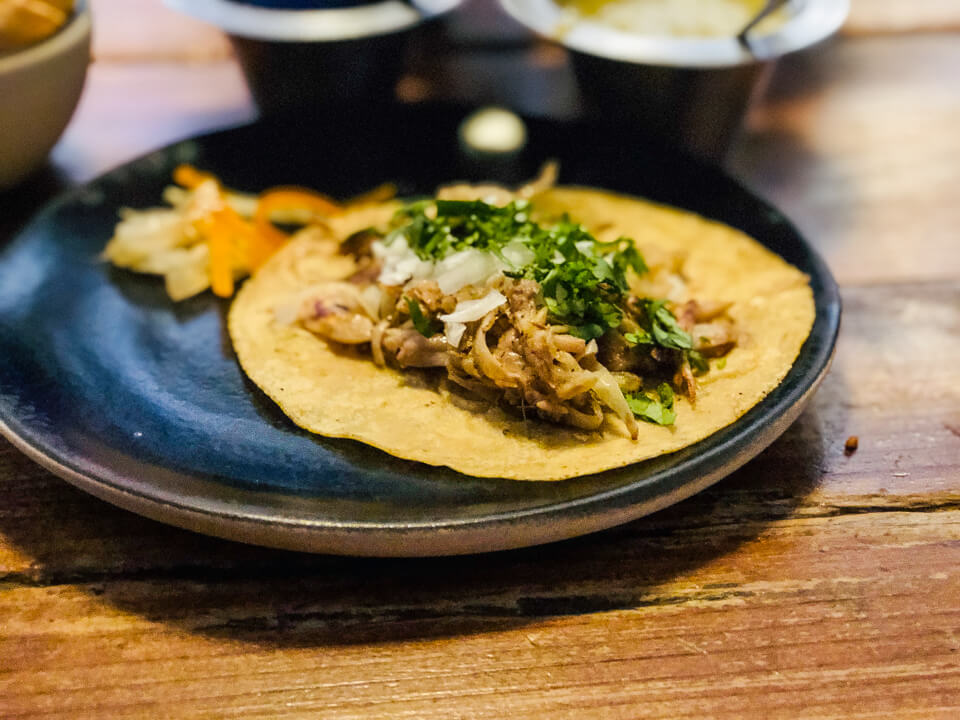 Vegetarian tacos in Mexico City
" As a vegetarian, moving to Mexico City was a frightening experience because of the largely meat eating population of Mexico. Yes, it may be difficult to find Vegan/vegetarian food in some parts of Mexico. However, with a bustling cosmopolitan crowd, Mexico City has numerous vegan restaurants spread across the city and most Mexicans here make it a point to have vegan food at least once a week. Over the course of the next 4 months, I ended up going to around 90% of the vegan restaurants in Mexico City.
My favorite food experience would definitely have to be trying the different permutations and combinations of Vegan tacos all around the city. From Vegan taco trucks like Por Siempre Vegana Tacqueria where you can easily have 3-4 tacos for less than 2 USD (40 pesos) to the ultra posh Vegan Inc in Miyana where a meal could set you back by around 20-30 USD (600 pesos). And instead of relying only on vegan substitutes like Pastor or Seitan, many of the restaurants had their own take on Vegan tacos using locally sourced unique ingredients like Cacti, Cauliflower or jackfruit tacos. The pulled jackfruit tacos were the most unique and one of my favorite things about living in Mexico
Take a tortilla. Fill it with the vegan topping of your choice. Spread some tomatillo or Guacamole sauce. Top it with raw onions or Pico De Gallo and cilantro. And the best way to eat is by getting your hands dirty like the locals."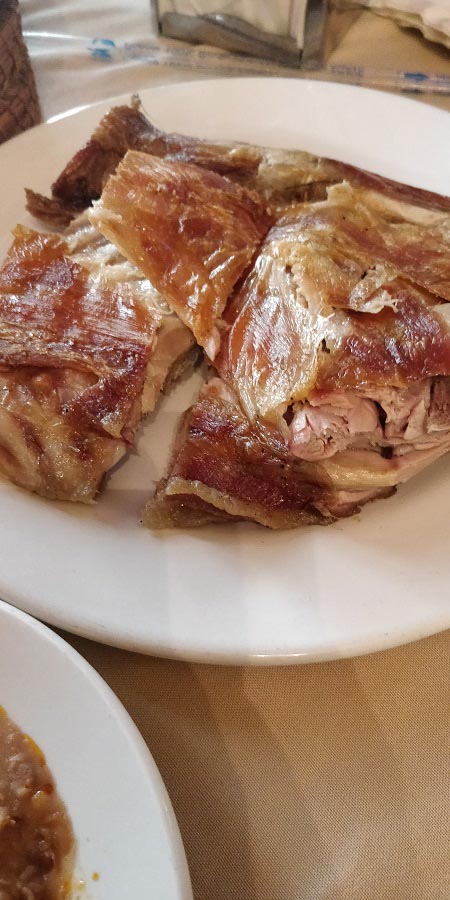 Cabrito tacos from Monterrey
There are many things to do in Monterrey, a city to the north of Mexico. A popular food is the taco de cabrito (lamb taco). There are a few restaurants that specialize in the taco de cabrito and it is not easily found in most other restaurants. Cabrito is probably one of the more expensive tacos you will find. The taco itself is different from expected in that it is not prepared beforehand, you choose what piece of meat you want including leg, shoulder, breast, and kidney cuts. They then bring the full portion of grilled meat which you then have to shred and put into the taco. The tacos are flour since they are easier to roll and do not break up as easily. And the waiters keep an eye on whether you need a refill of flour tacos. When ordering tacos in Mexico, it will almost always have sauces available. I went with someone from Monterrey, regio/regia and she recommended refried beans to have with the taco. Then you build your taco with the lamb, beans, sauces and surprisingly, without vegetables. I didn't have any sauces because I'm not a fan of spicy food and usually sauces have you sweating. Maybe I missed out on a lot of the flavour having not had the sauces, but the meat was so well cooked. It costs about $340 Mexican pesos ($16.70 USD). If you're in Monterrey, taco de cabrito is definitely something you have to try.
Venaugh with Venaugh.com
Chilaquiles in Mexico
Originally starting in Central Mexico, Chilaquiles is a very common food in many Mexican families. There are a lot of different ways chilaquiles are served since they originated as a way to make breakfast from day-old tortillas. Chilaquiles are basically leftover tortillas sliced into triangles and sauteed in salsa. Then, they are topped with protein: chicken, beef, and/or eggs. Last, they are finished off with cream, shredded cheese, cilantro, and some red onion slivers.
There are only two real ways to eat this fabulous breakfast dish. Either treat it as breakfast nachos and eat with your hands. This does get a bit messy, but so are nachos! Most people tend to use a fork, though. Especially, when eating them in a restaurant.
Chilaquiles has become popular with foreign tourists in recent years. This has caused many Mexican restaurants that serve them to raise prices in tourist areas. At a touristy breakfast spot in downtown Playa del Carmen, Chilaquiles may sell for as much as 250 pesos ($12 USD). Alternately, a neighborhood restaurant in inland Mexico may sell chilaquiles for 50-70 pesos ($3 USD). Usually, even in popular vacation spots like Isla Mujeres, the price runs closer to 125-150 pesos ($7 USD).
Brody with Our Offbeat Life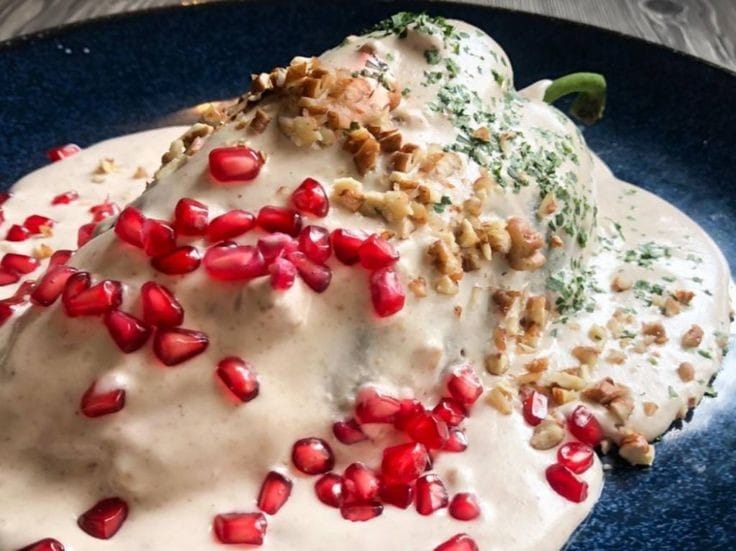 Chile en Nogado from Puebla
One of the most popular regional dishes that typically is served at certain times of the year is always on the menu at most eateries and fine dining restaurants in Puebla. Chile en Nogado is a gorgeous dish to see and then eat with it's attractive white sauce, red pomegranate seeds and green chiles together resembling the Mexican flag. This famous dish was created to celebrate the new country of Mexico forming with a specialty dish from the area where the Mexican military leader Agustín de Iturbide signed a document of Mexican independence from the Spanish. Nuns from a local convented created this colorful dish in his honor as a special meal and it is typically served on their Independence day on September 15 with this dish and a variety of events.
The first bite of Chile en Nogado just sinks in to the juicy and savory insides with a delicious punch of sweet and savory and this thick white walnut sauce and insides of green chiles, dried fruits and meat. Preparation for making this dish can take up to six hours for the ingredients, prep and presentation. You don't have to be in Puebla to order this dish, but typically around or before September 15th, you'll find this celebrated dish served in Menu's all around the country to enjoy a very special dish from Mexico
Noel with Oahu Travel Now
Sweet to Eat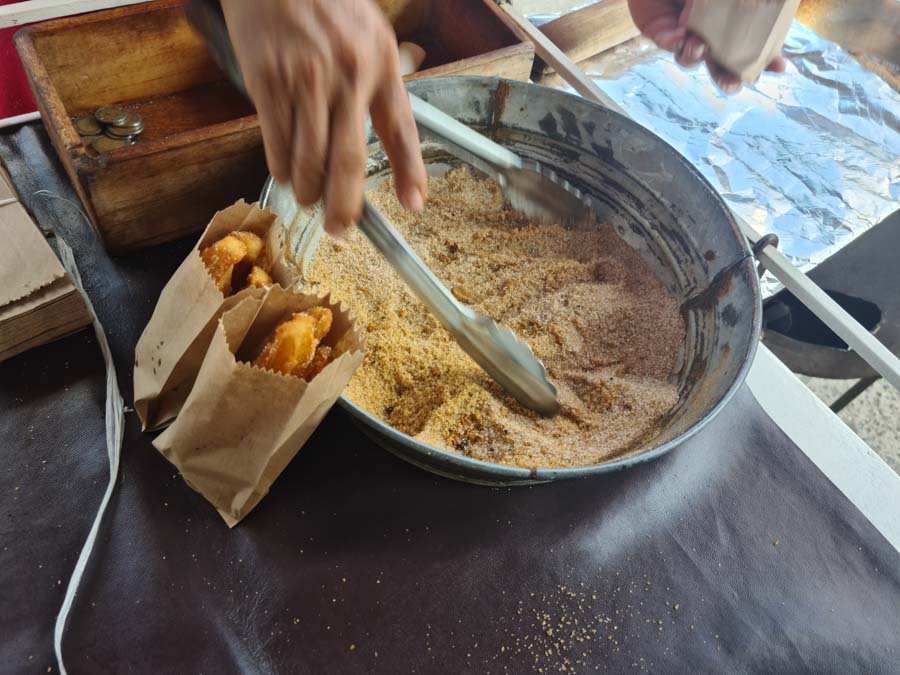 Churros
A fantastic easy and hot dessert that can be found in every street food vendor or pastry shop around Mexico, churros are well loved and there is usually a line for the fresh hot fried dessert and typically served with delicious hot chocolate for a decadent dessert. Cheap, fresh and easy take out food, churros came from the Spanish who brought it to all their colonial capitals around the world and it seems that every area of the world has their own spin of this delicious fried dessert sprinkled with sugar or a caramel sauce and served hot from the fried pan. Hot and crispy on the outside and soft and chewy on the inside makes for a perfect and really cheap take out dessert you can get from street food vendors in every city in Mexico.
Noel with This Hawaii Life
Other food and Mexican related topics
Places to visit in Mexico in Winter
Things to do in Puerto Vallarta
Conclusion to foods to eat in Mexico
Even though many of these specialty foods come from different regions around Mexico, you'll probably see them in many menus, street food vendors and places around Mexico. Keep this post list of foods to try in Mexico for inspiration when you plan on visiting the country. You'll enjoy sampling all these fantastic special foods from each region of the country.
If you enjoyed the post, please do share it with the social media buttons below, thanks for visiting Travel Photo Discovery.