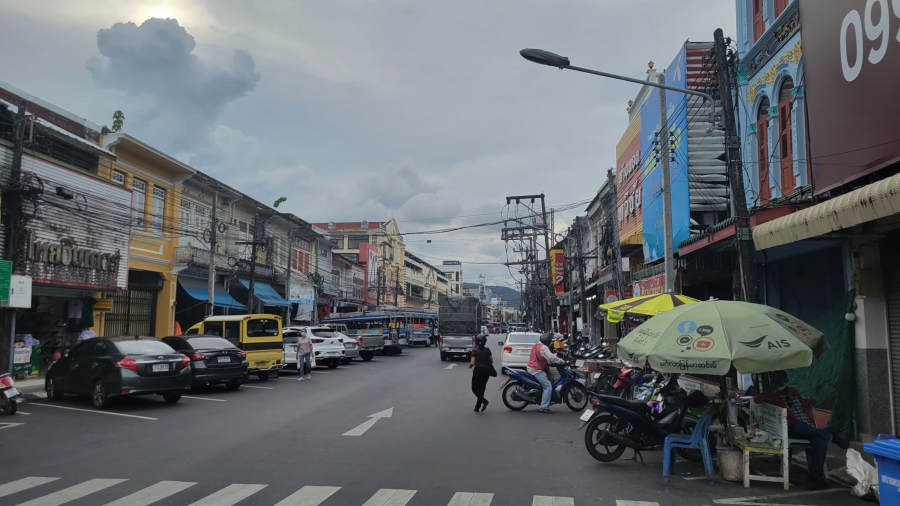 Phuket city (A fun guide around the historic district)
Phuket in the southwest of Thailand is Thailand's largest island covering around 540 square kilometers. Known as the Pearl of the Andaman Sea, the island is linked to the mainland from the Sarasin Bridge with the capital city at Phuket Town.
The area has so much to offer and explore the many attractions, unique features and landscapes and popular beach towns like Patong Beach on the west side of the island.
When you visit Phuket for the first time to the island, you will be surprised by the beauty and natural landscape surrounding the island with many resort and development areas and a fun beach holiday or adventure experience cruising around the islands and interior landscapes around the island.
Visiting the historic district of the old town and cultural treasures along Thalang Road will give you a better look at the colorful and historic heritage of the island capital city. There's so many things to do in Phuket and you should definitely make an effort to visit the historic old town district when you do visit the island.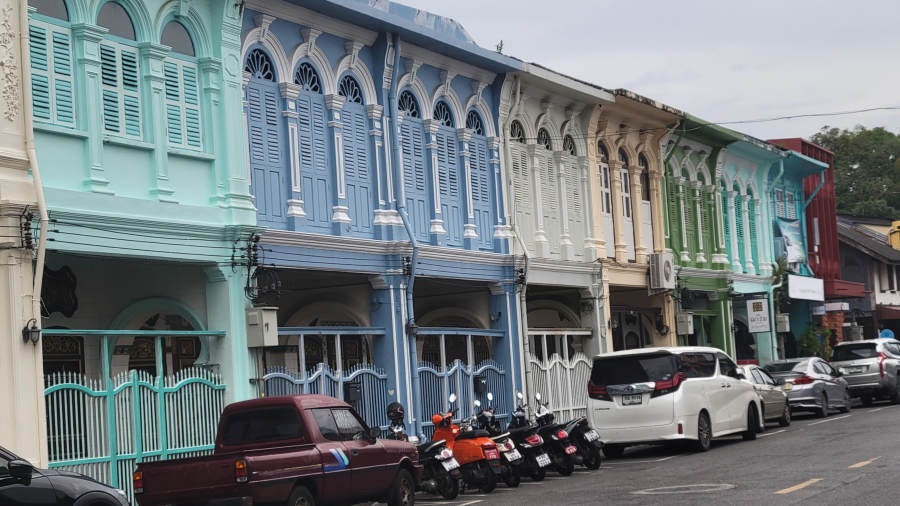 A little history on Phuket Old Town
Phuket's old town is quite special and historic to explore. The main stretch of road in town is along Thalang Road with many side streets that you can explore and enjoy.
Phuket's main industry around the 16th century was tin mining, fishing and rubber production. The Old town became a trading center with traders from around Asia and Europe acquiring the tin, precious metals and rubber. Chinese immigrants came to the area to be the major workforce in the mines and created a small industry of shops and venues to support the Chinese migrants.
Towards the 1800s the Old Town started to develop and grow from the mining wealth and trade with different businesses catering to trading resources and increasing the many different shops, eateries and other small businesses.
Today, Along the main and side streets are beautiful old restored homes and commercial buildings that have been converted to delicious restaurants, boutique stores and galleries, living museums and many other shopping venues.
Why visit Phuket city and the old town?
Visiting Phuket City and its old town is a must to explore this historic and cultural center of the island with it's unique architecture and historic sites to visit.. Phuket's old town is a treasure trove of rich cultural heritage, reflecting the island's multicultural past. As you wander through its narrow streets, you'll be greeted by charming Sino-Portuguese architecture adorned with colorful shutters and intricate detailing, providing excellent subjects for your photography. But it's not just the architecture that will captivate your senses; it's also the local cuisine. Phuket's street food scene is vibrant, offering delectable dishes like Hokkien Mee, Roti Pancakes, and fresh seafood, all of which you can showcase on your blog.
Moreover, historical sites like the Phuket Thai Hua Museum and the Old Phuket Town Foundation offer glimpses into the island's history and its multicultural roots. The streets of Phuket Old Town also feature vibrant street art murals that tell stories about the local culture and history, making them perfect subjects for your photography and storytelling.
As a traveler with a keen eye for unique finds, you'll appreciate the boutiques and market stalls around the old town, where you can uncover one-of-a-kind souvenirs and crafts to share with your readers. Depending on your timing, you might even have the chance to witness local festivals, like the Phuket Old Town Festival, which adds a vibrant cultural dimension to your visit.
Interacting with the friendly locals is an essential part of the Phuket experience. They are eager to share their stories and traditions, providing you with valuable insights that can add depth to your travel narratives. Additionally, Phuket City serves as a gateway to the island's stunning beaches, offering opportunities for day trips to beautiful spots like Patong Beach, Kata Noi, or the Phi Phi Islands.
However, it's essential to note that Phuket City and the old town can get crowded with tourists, especially during peak seasons. As you share your insights, be sure to inform your readers about the pros and cons of visiting during different times of the year, helping them make the most of their Phuket adventure. In conclusion, Phuket City and its old town offer a blend of history, culture, and culinary delights that make it a must-visit destination for any traveler, and as a content creator, you have the opportunity to capture its unique charm through your writing and photography.
Where is Phuket city located on Phuket Island?
Phuket City, also known as Phuket Town, is located on the southeastern coast of Phuket Island, which is the largest island in Thailand. It serves as the capital of Phuket Province and is situated on the eastern side of the island, facing Phang Nga Bay. The city is approximately in the central part of the island's eastern coastline, making it a convenient hub for travelers exploring both the town itself and the various attractions on Phuket Island.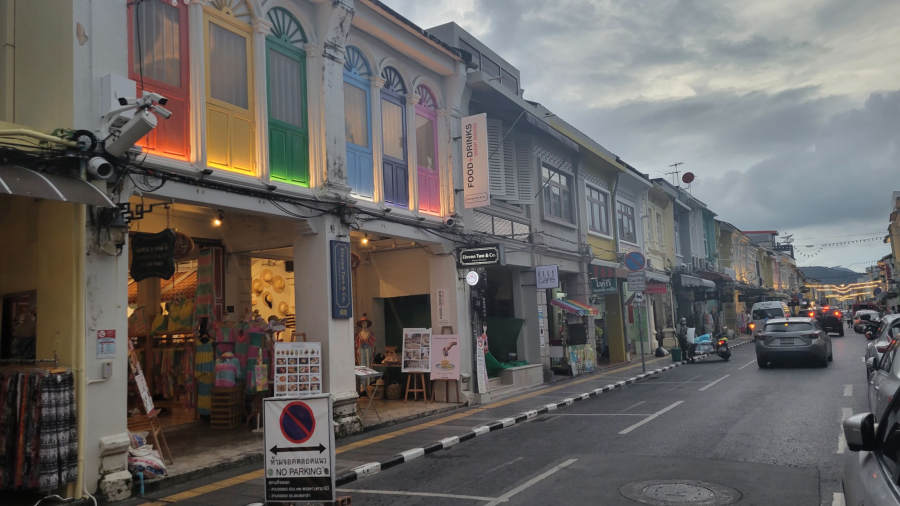 Highlights to visiting old town
Do an Architectural Walk
The downtown area is eclectic with an architectural style that is a mixture of Chinese and European influence. When you walk around old town, you'll see that the predominant look is of a Sino-Portuguese style that is prevalent with many other colonial cities of Asia including Melaka, Singapore, Penang and Kuala Lumpur.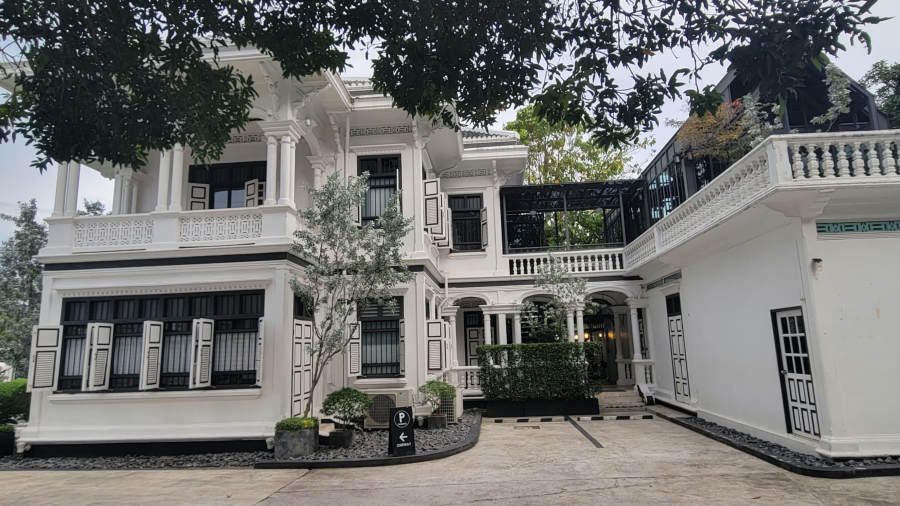 Visit the historic buildings
When you explore this wonderful and regentrified area, you'll enjoy the many historic buildings that have been converted into small inns, restaurants, boutique stores in bold colors that just draw you in to explore them and discover some unique treasures and take aways. There's so many cool hotels and inns in town and many other budget friendly hotels around Phuket island to choose from with gorgeous historic details to pass throught.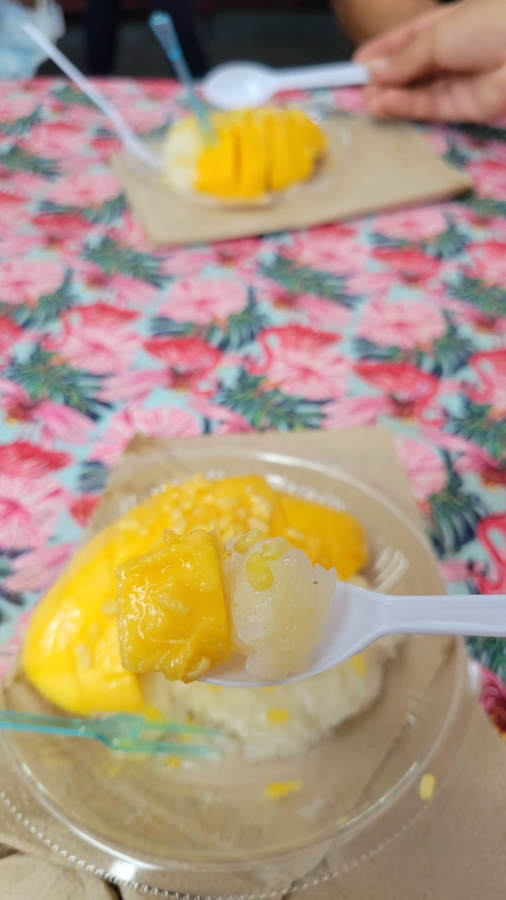 Eat the local cuisine
The foods around Old Town covers the gamut of Thai, Chinese to Pan Asian flavors that will intrigue and satisfy any hunger pangs when you explore the area for food venues. You definitely should try out some of the popular local foods from the many restaurant venues here to enjoy some local foods in town.
Things to try in the old town include:
Hokkien noodle dishes
Satay Pork appetizers
Kanom Jeen (soft and thin noodles made from fermented rice)
crab meat in yellow curry
Dim Sum
Pad Thai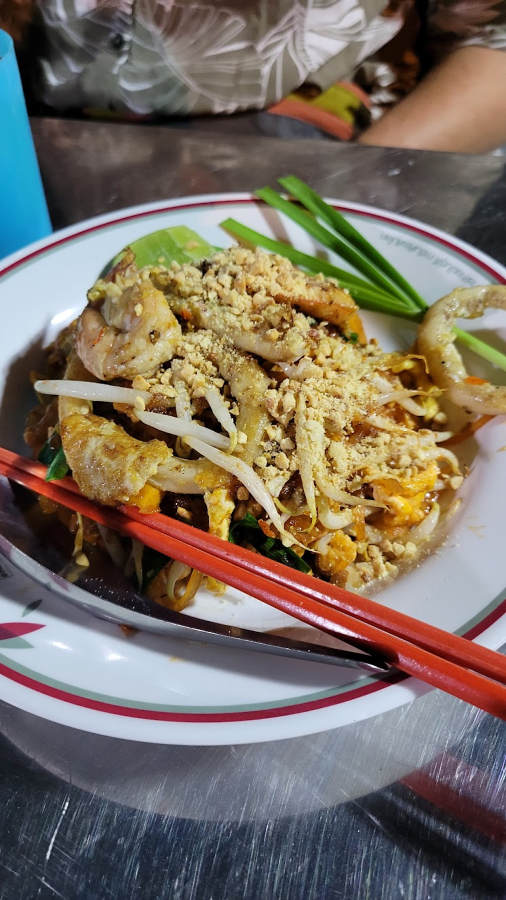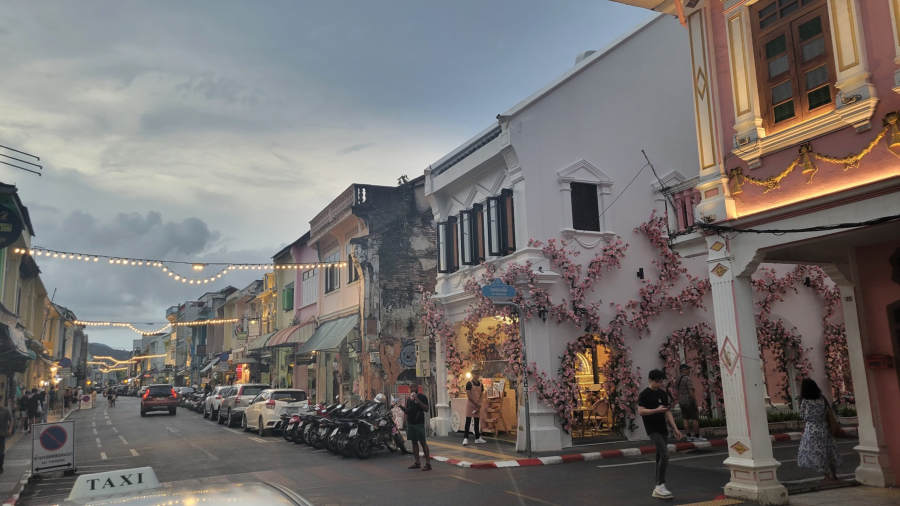 Soi Romanee
One of the most picturesque streets in Old Town, Soi Romanee is one of the most colorful street blocks located in the heart of Phuket Old Town and a must-do for anyone looking for Phuket's historical vibes. The street area to visit is to walk along the street that connects Thalang Road with Dibuk Road for the most colorful section of the Soi Romanee.
The shop fronts are done in the local Sino-colonial-style with shophouse storefronts. Some of the vintage buildings have been converted into bars, guesthouses and cafés.
Enjoy the Phuket Murals
When you walk around town, you'll be surprised by many beautiful murals that pop out at you from unexpected spaces. Started along the main thoroughfare and then into the side streets, you'll find street art from many local and now international artists that have added to the creative vibe and artistic look to visiting the historic district.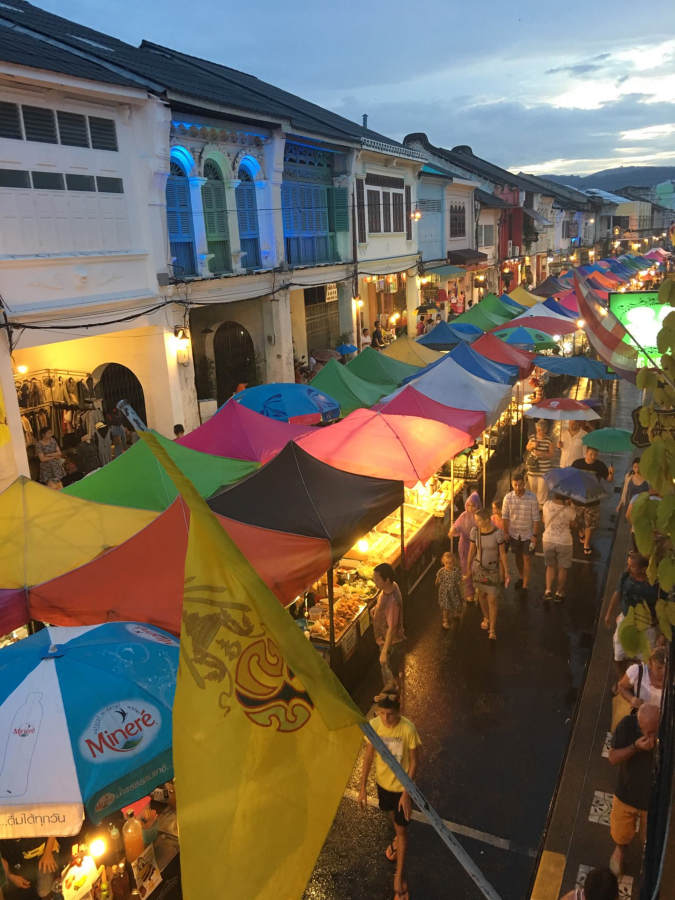 Sunday night market
The popular Sunday night market in the Old Town happens along the main Thalong road. Starting from 4pm to late night, the night market spans the gamut of street food vendors, souvenir stands, local art, jewelry and clothing for sale.
This is a great time to explore the old town and enjoy the market and sampling some local food and entertainment at the same time.
Hang outs and Café Culture
Of course, there are many fun hang out venues and café scenes that invite you to lounge and just hang out around Old Town. With a slew of fun and trendy cafes and bars to entice you to visit and relax, the café culture scene here in Old Town is fun with roof top bars, cool art scenes and eclectic venues to discover here.
For traditional sweet and strong kopi (coffee) as well as other sweets to go with it with the coffee, try the local favorite coffee shop at  Kopitiam, a kopitiam-style open-air cafe in town.
Visit Central market
The Central Market in Phuket town is as central as it gets with over four stories of fruits and perishables, flowers, snacks and take away foods or you can sit down and eat at many of the delicious food stands in the marketplace. It's fun to just explore and see what's odd or unusual and capture those moments with your camera or fun selfies.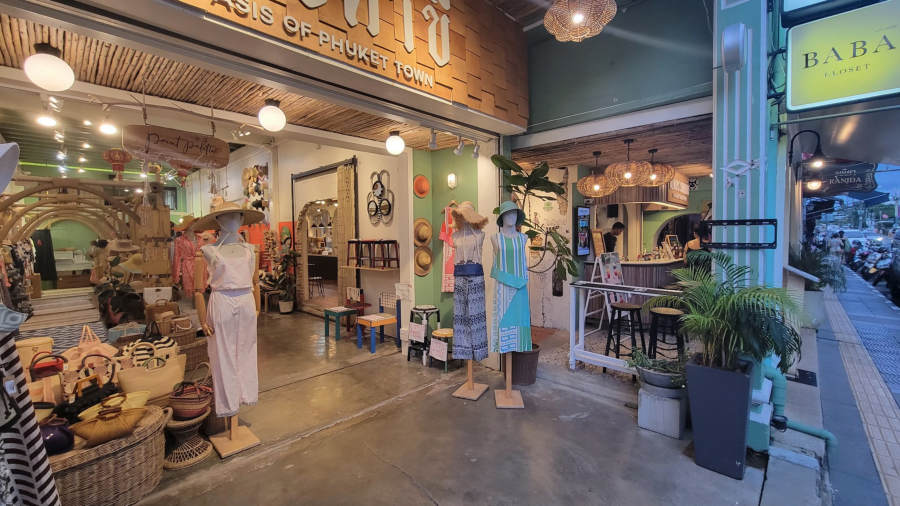 Shop till you drop in Old Town
The shopping scene here in Old Town is funky, eclectic and fun with many cool shops and boutique stores featuring colorful clothing, accessories and souvenirs or unusual finds that you'll probably only find shopping at these fun venues.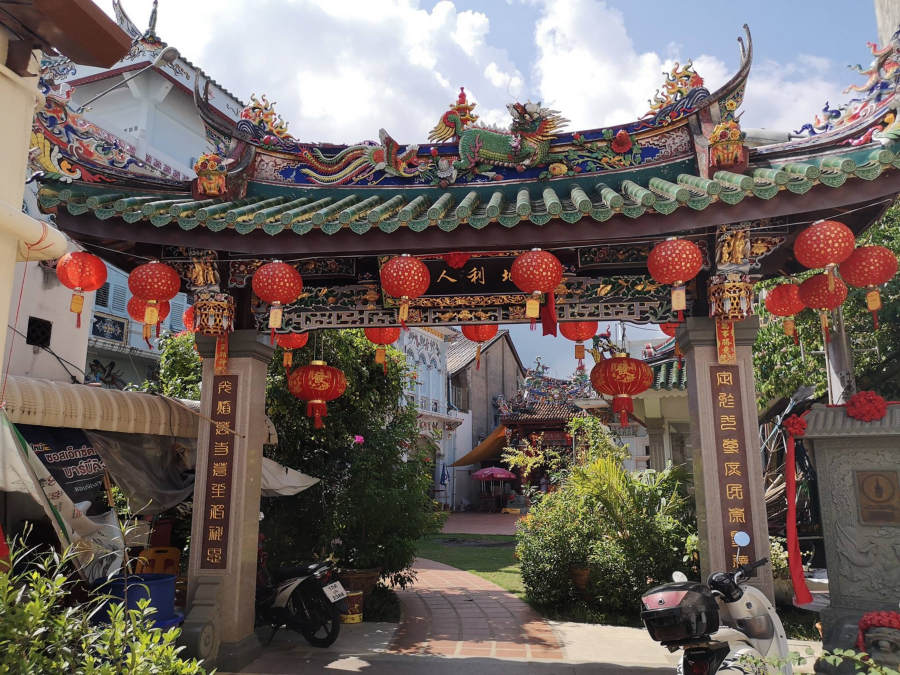 Visit Historic temples in Old town
The Old town has many beautiful and ornate temples that you can explore in town and open for the public to visit. These includes Chinese shrines that are tucked in between the mansions and ornate buildings of old town. These include:
Saeng Tham Shrine with dragon carvings on the Chinese gate entry, the small shrine is beautiful and ornate with decorations of Chinese -Thai design
Hockchew Club is another Chinese shrine better seen at night with Chinese lanterns that are lit at night and fun to explore the gate into the shrine area and small complex.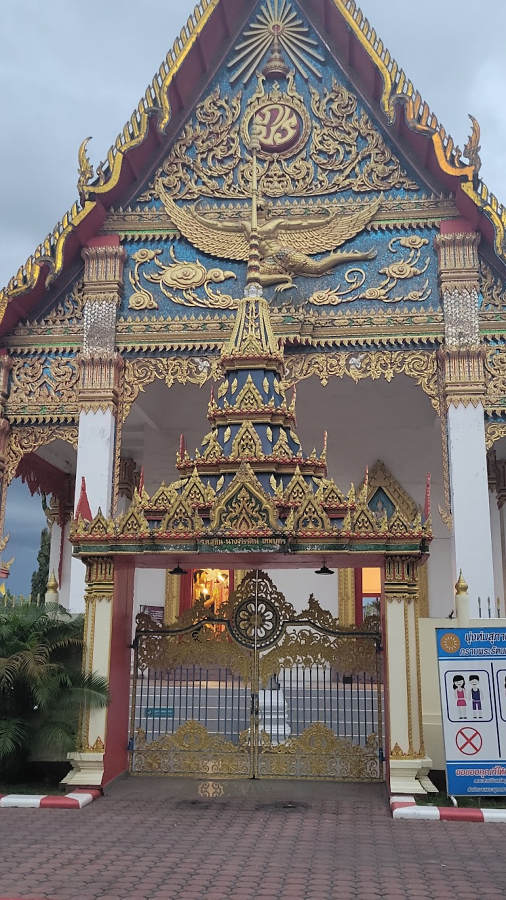 Wat Putta Mongkon
One of the largest temples in the Old Town, Wat Putta Mongkon by Dibuk road and just off the Soi Romanee. The temple is made of a central temple of Sino-Portuguese style and ornate design features, carvings and a dramatic yellow chedi located behing the temple. Located around a nice garden area, the temple is used as a school to young monks in the area.
Visit Phuket Thai Hua Museum
Once a historic mansion in Phuket, the Thai Hua Museum is beautifully restored into a living museum and housing the historic and cultural heritage of the city.  This colonial house built in 1934 used to be a school and now houses exhibits and displays of the Chinese migrants to the city and learn about the fascinating mix of cultures and traditions in the city.
Entrance to the museum is 200 baht and open 9am to 5pm.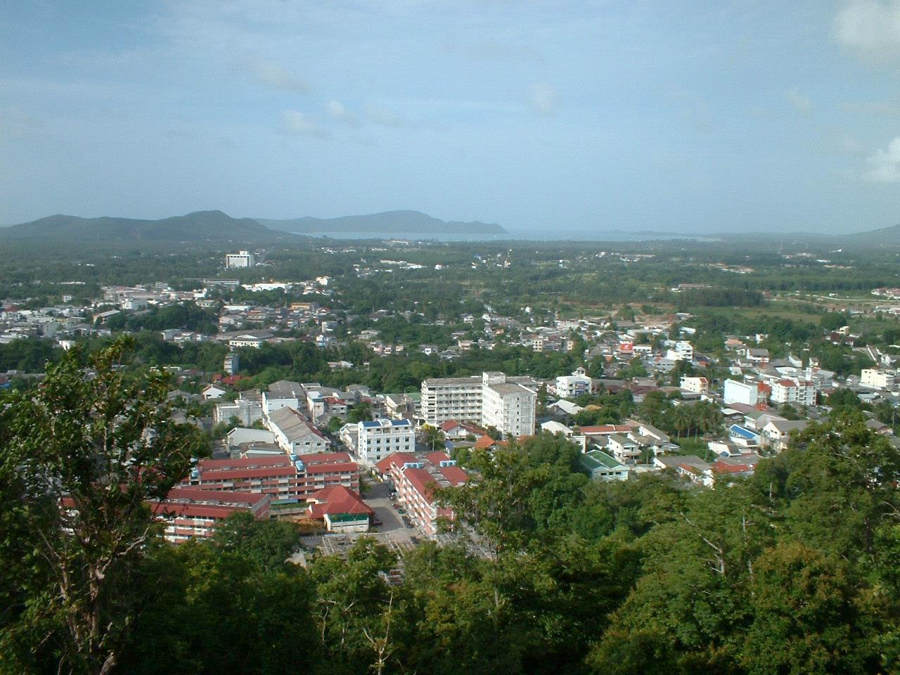 Cool Vista point at Khao Rang Viewpoint
For a fantastic viewpoint lookout, check out the Kaho Rang Viewpoint which is just an easy walking distance from the Old town and offers a fantastic viewpoint to the town and all the way to the southeastern coast of the island. Come here for some spectacular sunset views of the city and coastlines below.
Other places to enjoy around Old Town in Phuket Island
It is easy to travel to places in visiting the area south and west of Old Town with many resort areas in between. Unfortunately, the main road direct to Patong beach is still damaged so the only route is through the southern highway around the tip and back to Patong Beach. You can take expensive taxi rides, but there are also inexpensive shuttles that drive through both areas for affordable prices.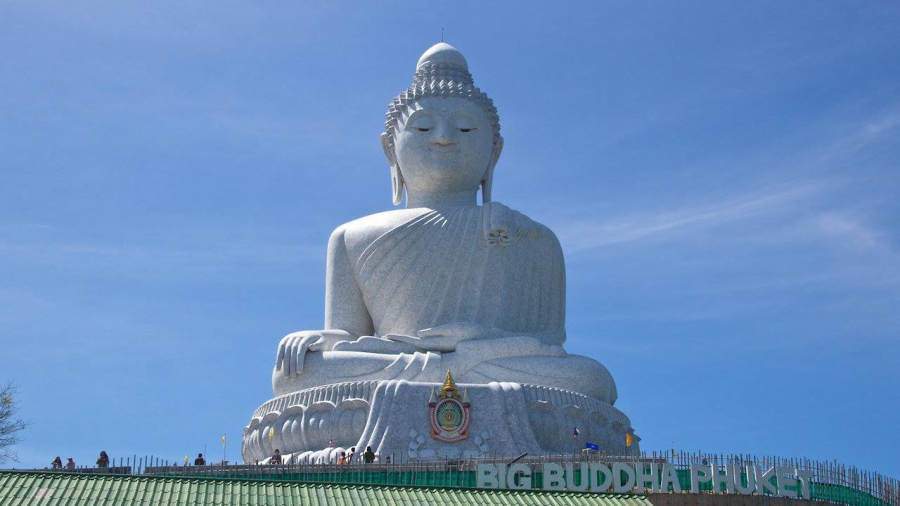 Visit the Big Buddha
The large Big Buddha in Phuket is located just south of the Old town and an easy tuk tuk or taxi ride away. Called the 'Phraphutthamingmongkhol-akenagakhiri Buddha', this translates into Happiness on top of Nakerd Mountain where the buddha sit atop majestically.
Phuket Big Buddha started in 2002 and made with a white marble stone and there are priests located at the site to give blessings and holds ceremonies for local visitors.
The observation areas are magnificent with gorgeous views looking out to Chalong Bay and further out to Phang Nga Bay. On the main terrace you can also get views out to Kata Bay and Kata Noi Bay.
There are dress restrictions if you wear skirts or short shorts and will be required to wear a borrowed sarong to enter the area grounds.
Tip: The Big Buddha and Wat Chalong are relatively close to each other so you can set up a visit to see both sites or even sign up for a land tour here to see more of the region.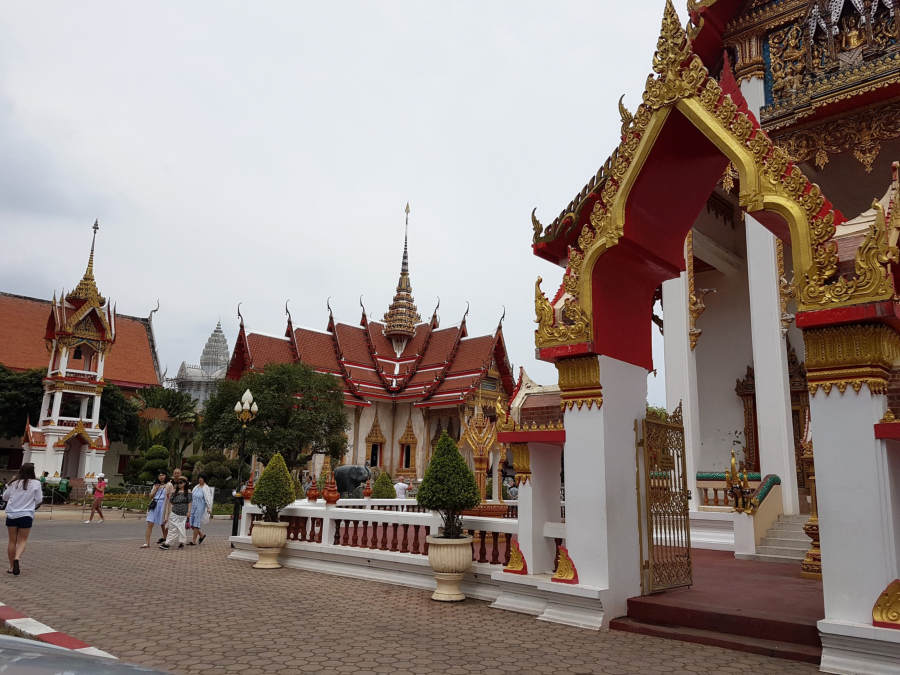 The complex at Wat Chalong
One of the largest and holiest temples and shrines in Phuket Island is Wat Chalong which is located just outside of Phuket City. The biggest and most famous buddhist temple in Phuket island, the temple is formally known as Wat Chaiyathararam. Built around the 19th centurey in 1837, the complex contains a large stupa that is over 60 meters tall and contains a bone relic of the Buddha. You are allowed to enter the 3 levels of the stupa and view the fragment along with spectacular views of the complex and surrounding landscape.
Located in the Chalong district of Phuket, the complex is open from 7am to 5pm and no skirts or shorts are allowed visiting the religious sites.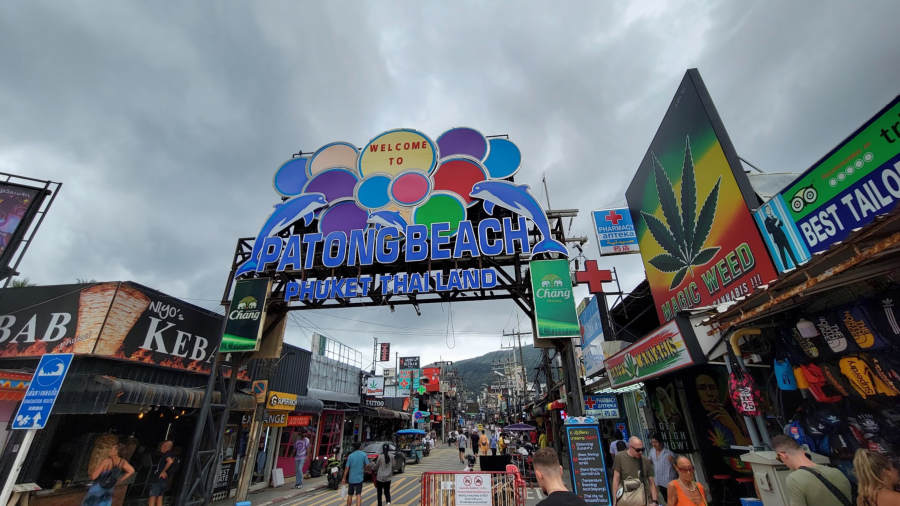 Patong Beach
Patong beach on the west side of Phuket island is the party area of the island with a long street filled with bars, nightclubs, restaurants and other fun hang out spots in the area. At the end of the strip is the long and expansive Patong beach that is lined with lounging areas or you can participate in a wide variety of recreation activities from banana boats, paragliding to jet skiing around this colorful bay. Mega shopping malls, street food vendors and cheap legit massage parlors can be found in the rest of the downtown area.
Patong Beach is active day time and late into the night when the neon lights, bar and food barkers and night clubs are busy and active for the late night partiers that love to hang out and just have a fun or wild time, depending on your threshold for lively to over the top fun.
Patong Beach is separated from Phuket Old Town and the only route at the moment is around the southern portion of the island on a shuttle bus or expensive taxi or tuk tuk. So if you are planning on visiting Patong, then you might want to book a night or few nights to relax and enjoy the vibe here without the commute headaches.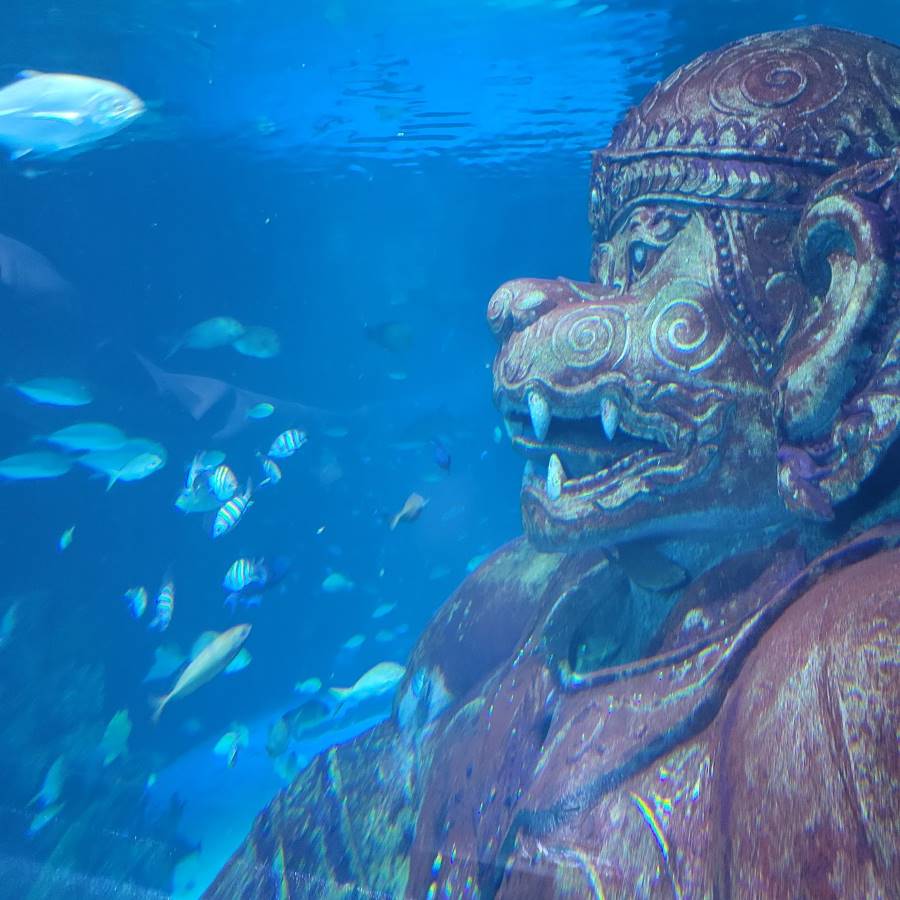 Phuket Aquarium – Aquaria
The Phuket Aquarium is located in Cape Panway, it is the largest mall of Phuket called the Central Floresta Shoppoing Mall and it is called Aquaria. Part Marine Biological Center dedicated to rescuing dolphins, turtles and dugongs. The Aquarium is fairly small but has fantastic exhibits and marine displays with large tanks featuring local marine life, walk through tunnels and even a child marine petting area to enjoy with kids.

GETTING TO OLD TOWN IN PHUKET
Old Town of Phuket is located in the center of Phuket Island and is also the capital of the island. Getting to Phuket town and the old town district is easy with public transportation, taxi, tuk tuk and grab
Many visitors to Phuket will choose to stay around west side of the island and also centering around Phuket city.
From any of these areas you can take a taxi, tuk tuk or take an open-air bus called the Blue Songthaew servicing Phuket Old town. From the west side to Phuket town takes about 30 minutes.
You can also use local tuk tuk service or book with the Grab app to get around different areas of Phuket to get to the Old Town. Just know that Grab and Tuk Tuks are expensive taking you outside of the city with limited service so prices are quite high.
**You can customize a private tour of Phuket town and these attractions on a guided private tour here for more information and prices.
Check out this affordable group land tour of Phuket town and surrounding attractions on this island tour here for more information and itinerary.
Other topics and places to visit on Phuket Island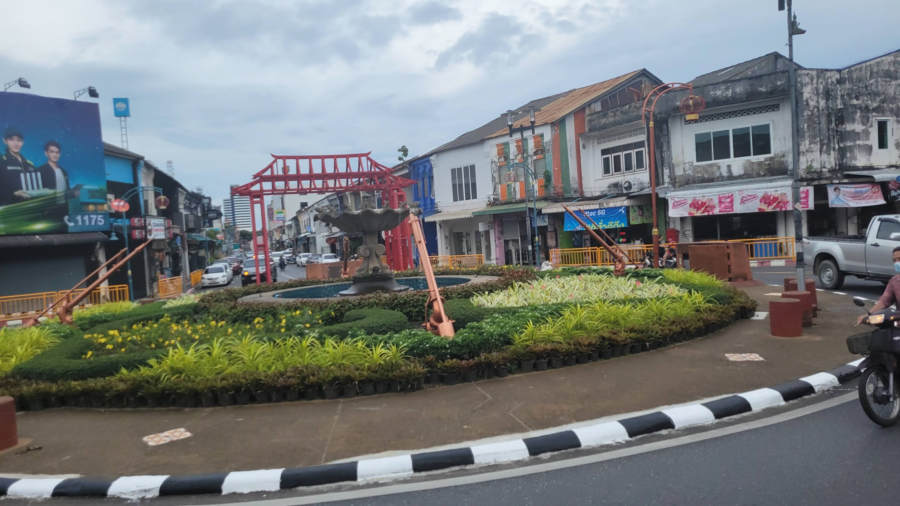 More inside tips to visiting Phuket City
If you are planning on visiting Phuket City, here are some insider tips to enhance your visit to Phuket City:
Local Markets
Explore the local culture by visiting markets like the Phuket Weekend Market (Talad Tai Rot) and the Chillva Market. These markets are excellent for sampling street food, finding unique souvenirs, and experiencing the lively atmosphere. Be sure to try local favorites like mango sticky rice and Thai iced tea.
Old Town Exploration
While the old town's architecture is a major draw, don't forget to explore its hidden gems. Stroll down Soi Romanee, one of the oldest streets in Phuket, and discover quaint cafes, boutique shops, and colorful street art.
Museum Visits
In addition to the well-known Phuket Thai Hua Museum, consider visiting smaller museums like the Phuket Trickeye Museum, which offers interactive 3D art exhibits, and the Chinpracha House, a beautifully preserved Sino-Portuguese mansion.
Local Seafood
For seafood enthusiasts, Rawai Beach is a must-visit. It's known for its seafood restaurants where you can savor fresh catches of the day while enjoying seafront views. Don't miss the chance to try grilled prawns and crab curry.
Hidden Temples
Explore lesser-known temples like Wat Khao Rang, which offers panoramic views of Phuket City. These temples provide a tranquil escape from the bustling streets and offer insights into local spirituality.
Street Art Hunt
Beyond the well-known street art murals, keep an eye out for hidden and evolving art pieces. Street art in Phuket City is ever-changing, and you might stumble upon new creations that are yet to gain widespread attention.
Local Transportation
Consider using local transportation like tuk-tuks or songthaews (shared minibusses) to get around Phuket City. It's not only a budget-friendly option but also a chance to interact with locals and gain unique insights.
Evening Vibes
Phuket City comes alive in the evening with its night markets and vibrant street food scene. Head to the Phuket Indy Market for a lively atmosphere and more culinary delights.
Off-Peak Visits
To avoid crowds and get the most authentic experience, plan your visit during the low season (usually May to October). Accommodation and activities may be more affordable during this time.
Learn Basic Thai Phrases
While many people in Phuket City speak English, learning a few basic Thai phrases can go a long way in connecting with locals and showing respect for the culture.
Remember to capture these hidden gems and unique experiences through your photography and storytelling, allowing your readers to appreciate the true essence of Phuket City beyond the tourist hotspots.
Conclusion to visiting Old Town Phuket city
Thanks for checking out this post at Phuket city, it really should be on your list of worthwhile places to visit here in the Phuket region.
Hope that this post has been helpful to planning your visit to the city and if so, please do share it with any of the social media channels and buttons located below.
Disclosure – some of the links above are to affiliate sites that are either reviews or recommendations if you book helps to keep our site running at no additional cost to you. We appreciate your supporting our website meanwhile.
Sharing is caring 🙂