One of the most iconic attractions is the Big Buddha in Phuket worth visiting on the island. With fantastic 360-degree views of the southern part of island from above and the Big Buddha as a historical site, you'll want to see this fantastic landmark. The 45-meter (around 150 foot) Buddha is made of marble and is located on top of Nakkerd hill in Chalong and is quite an impressive landmark to experience here on the island of Phuket.
Alongside the Big Buddha is a smaller buddha statue with a golden hue and is actually made with over 20 tons of brass. There are other smaller statues and sites to explore while visiting the Big Buddha temple of Phuket.
Discover the Majestic Serenity of Big Buddha Phuket: A Spiritual Oasis Amidst the Beauty of Phuket Island
Visiting the Big Buddha in Phuket – Iconic landmark and spectacular views above Nakkerd Hill
A little history to the Big Buddha in Phuket
This famous symbol is one of Phuket's most cultural and religious symbols. It was built in 2018 and is called Phra Phutta Ming Mongkol Eknarkiri or in short, the Ming Mongkol Buddha. Made with Burmese white marble the statue sits on a base with stairs that lead to the landmark and is about 45 meters in height from the base.
The Big Buddha is an active temple with monks that at attend to the site so if you do visit, please make sure to wear appropriate and modest clothing. This particular buddha is a statue in the memory of Maraviya Buddha and is a recent construction that was started in 2004 and completed in 2018.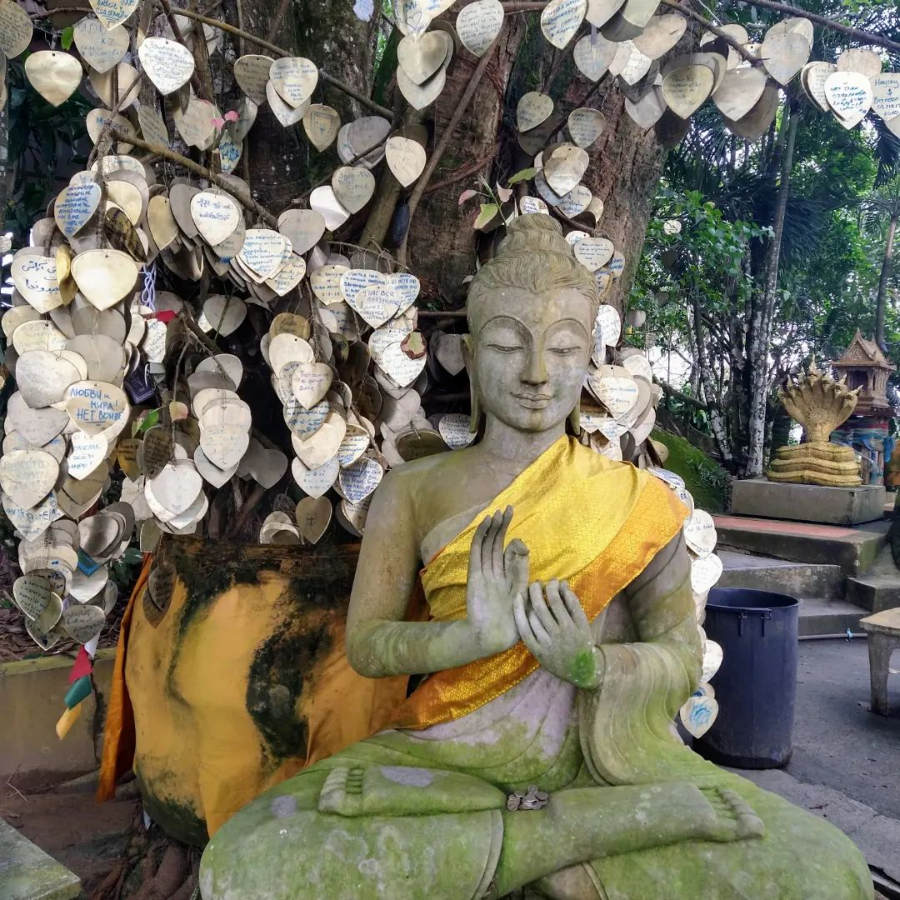 Best time to visit the Big Buddha
Best time to come and avoid the crowds is early morning and you get special sunrise views if you come early enough. Sunset is also a great time to enjoy the views from above Nekkard hill and capture the Big Buddha in golden light and late into the evening.
From above Nakkerd hill, you'll get spectacular views of Phuket town, Karon, Chalong Bay and Kata below with panoramic 360-degree views.
This is one of the best attractions to see in Phuket, so put it on your South Thailand itinerary when you visit the region.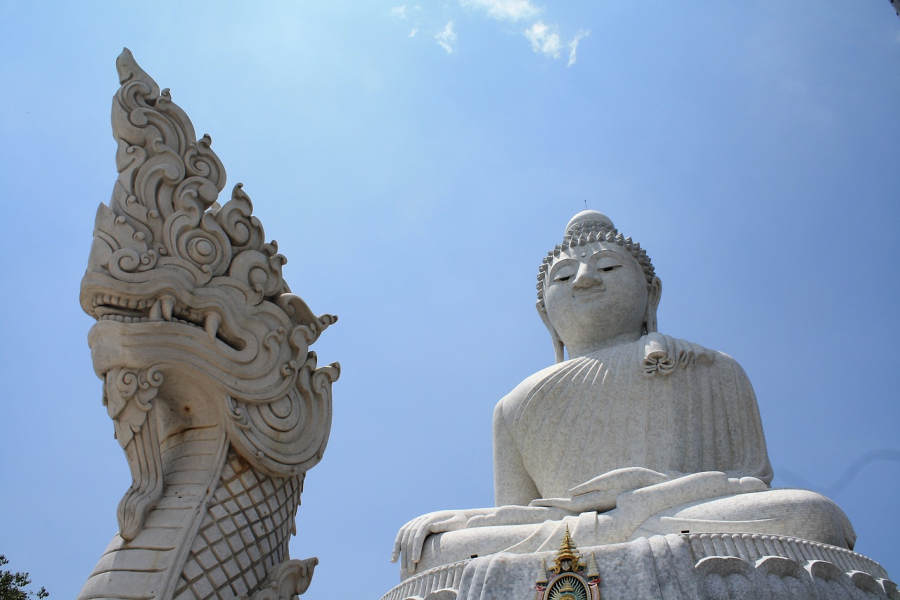 Exploring the Big Buddha
With an average of over 1,000 people visiting daily, this popular attraction is actually a free site to visit. Donations are welcomed to help in maintaining the site along with writing messages on items purchased from the shop for good luck or in memory of loved ones.
There are other things to see around the Big Buddha site with smaller buddha, bells and of course the gorgeous views of the southern part of the island.
Sunset is a popular time to visit the Big Buddha with impressive views and golden light that hits the buddha along with those sunset views.  Do expect big crowds the come during this timeframe since it is one of the best places to view Phuket from above during the sunset time frame.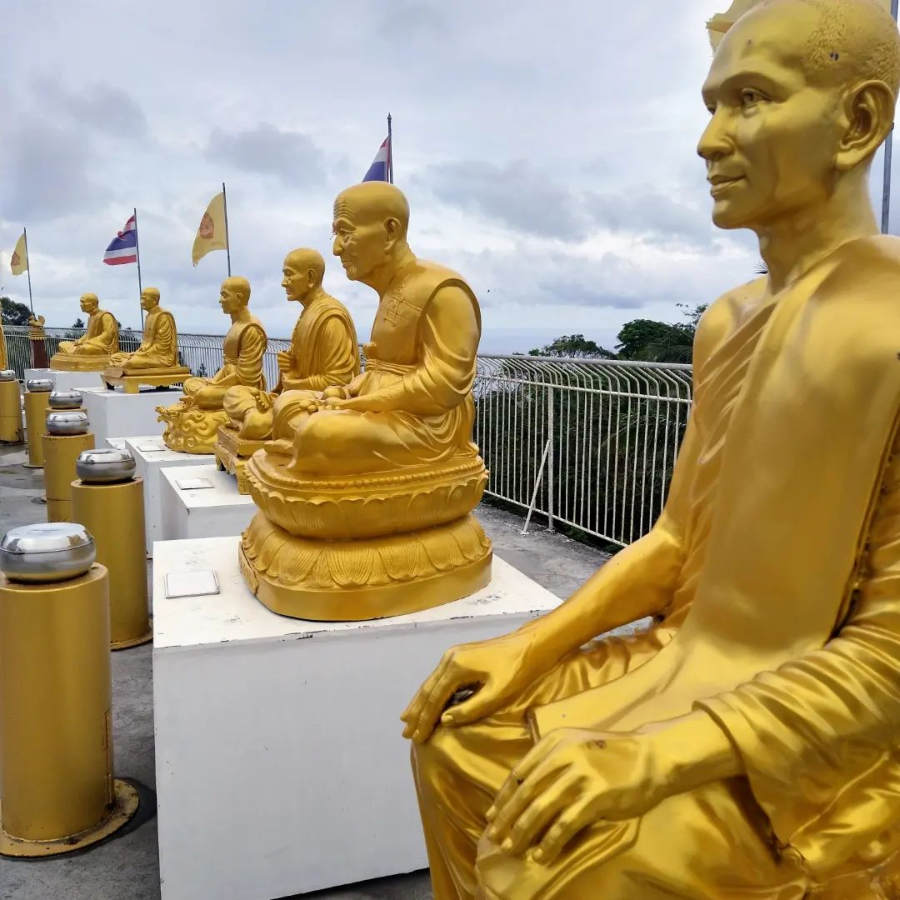 How to get to the Big Buddha
Located in the southern part of the island in Chalong, the drive from Phuket city is about 17 Kilometers and from Patong is about 23 kilometers. The easiest way of getting to the Big Buddha is by taking a tuk tuk, Grab or even renting your own scooter for the day to visit this attraction and other sites around Phuket area.
There are land tours that cover visits to The Big Buddha, Wat Chalong and many other attractions in the Phuket area, check out this half day tour offering here for more details and information.
If you prefer a private tour with car, check out this private tour experience here to customize your own tour of Phuket island including visits to The Big Buddha.
** This fun day land tour includes a visit to Phuket town, Big Buddha and Wat Chanlong and some other cool beaches in the area.
Tip – the cheapest way to get to the Big Buddha and also explore other local sites is by renting a scooter which is around 200 THB to use per day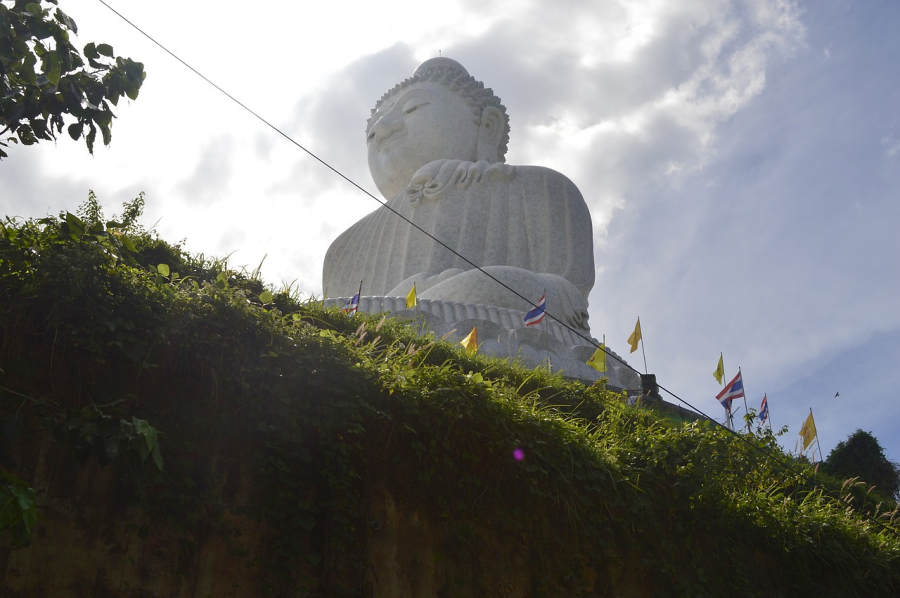 Tips to visiting the Big Buddha
Entrance requires that you should dress modestly since it is an active temple so cover your shoulders and knees and no beach wear. There is a check on entry and sarongs are provided for those not dressed appropriately.
Many tour companies do tours of the Big Buddha and other attractions in the area, you can do this fun Phuket tour here which offers road trip tours around the island.
Entrance to the Big Buddha is free but donation boxes are located around the site and welcomed for helping to maintain this site.
If you visit sunset time frame, expect large crowds coming for the views and experience. For less crowds come earlier in the morning time frame.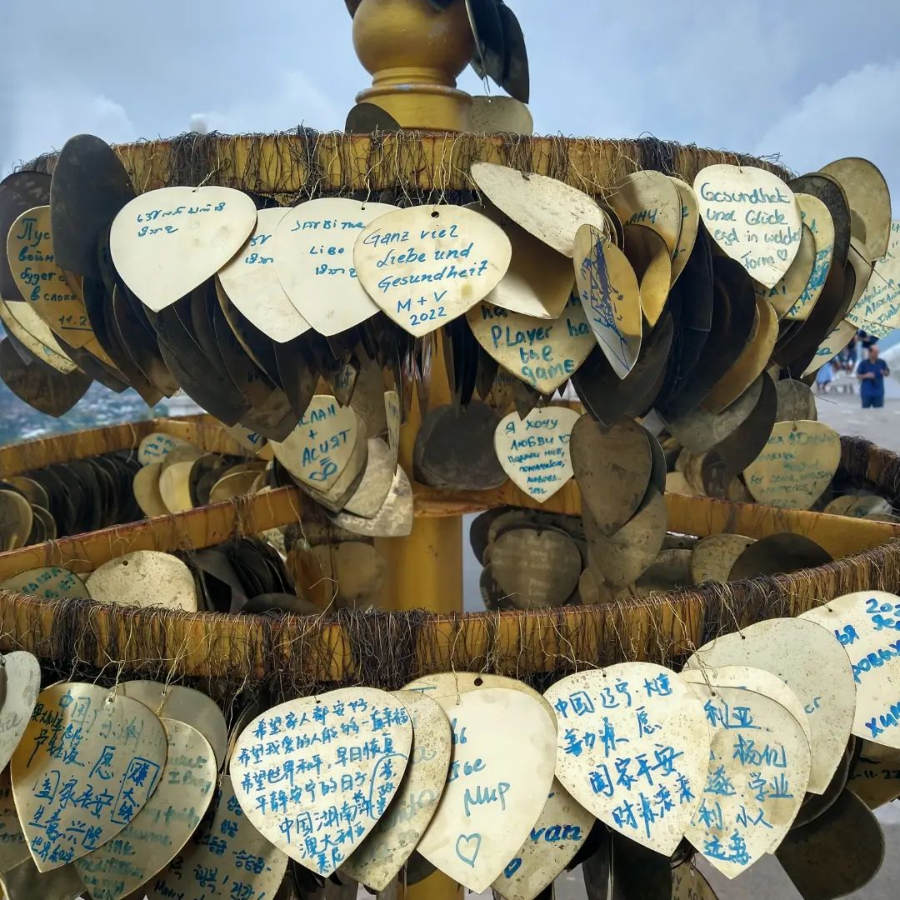 Nearby attractions and places to visit around Phuket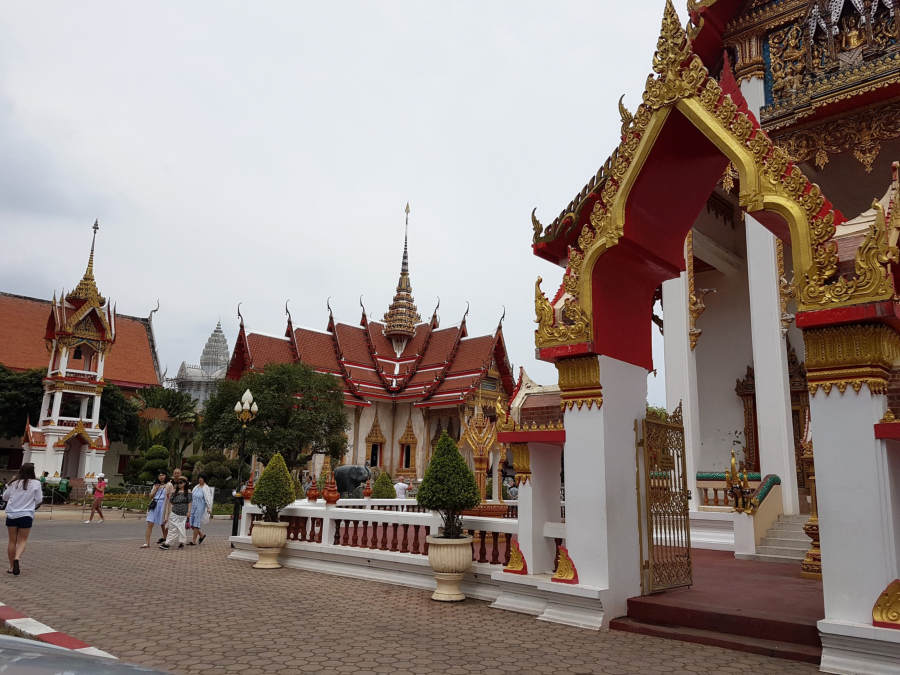 Wat Chalong
One of the most popular and largest templets to visit in Phuket, Wat Chalong is a complex of temples that is known formally Wat Chaiyathararam. The temple was started in the 19th century with a unique chedi that is about 60 meters long and houses a bone of the buddha with detailed interiors depicting the life of the Buddha. You can climb the 3 levels of the Chedi to get stunning views of the surrounding landscape below.
The temple is important pilgrimage site for locals and Thai tourists that come to pay respect and pray for the many important founders and revered monks from the temple who helped to lead a Chinese revolt against the Chinese rebellion in 1876.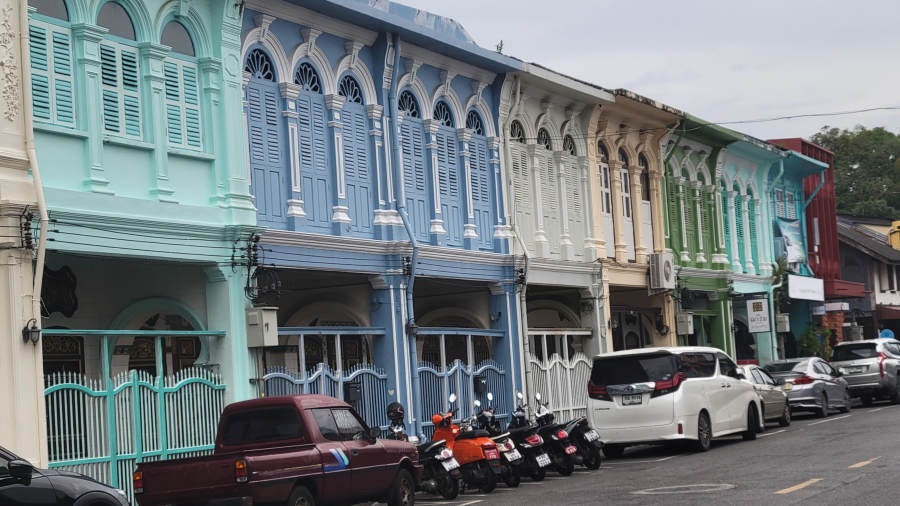 Visit Phuket Town
Phuket town and the old town district is a fantastic way to experience the beautiful architecture, amazing food venues and unique boutique stores and shops around the many colorful streets in the city. It's fun to explore the area, check out the shops and cafes or enjoy some of the more trendy venues or coffee hang out spots in town.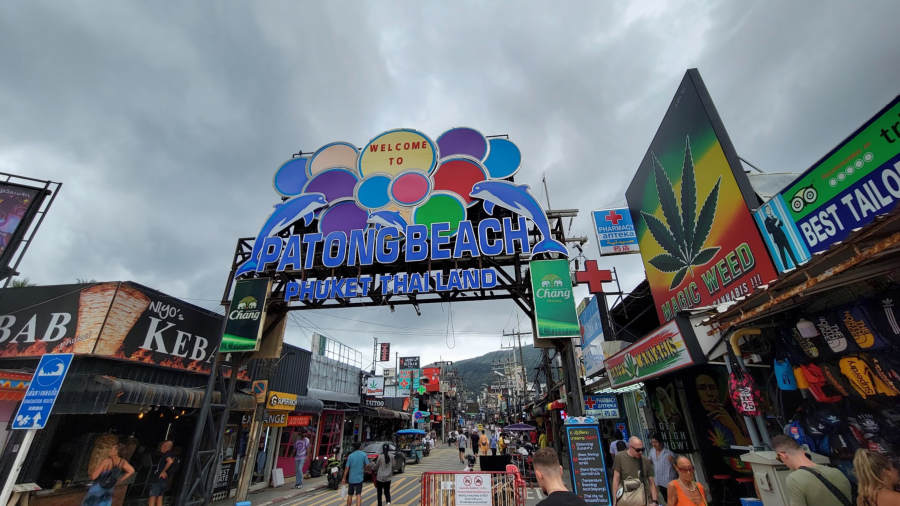 Patong Beach
This well-known tourist venue on the western coastline of Phuket island is party central for visitors wanting to experience the lively and party atmosphere that the area is known for. The popular strip known as Bangla road is garish, loud and active day time and even livelier at happy hour and into the late night with night clubs, go go bars, massage parlors, restaurants and shops all vying for those tourist Baht to spend. There is another popular area to hang out close to Bangla Road called the Paradise Complex with mostly gay venues.
At the end of the strip lies the expansive Patong Beach which spans out over 1.7 miles of Patong's west side. Outside of the beautiful beach and ocean, you will find a plethora of water recreation to include parasailing, jet skiing, banana boat rides, kayaking and sailing the beautiful ocean areas around the beach area.
More Inside tips to visiting Phuket Island
Here are some inside tips for visiting Phuket Island:
Best Time to Visit: The best time to visit Phuket is during the dry season, which typically runs from November to April. This period offers sunny weather and pleasant temperatures, ideal for exploring the island's beaches and outdoor activities.
Beach Selection: Phuket is known for its stunning beaches. While Patong Beach is the most popular and lively, it can get crowded. Consider visiting Kata Beach or Kamala Beach for a more relaxed and family-friendly atmosphere. Freedom Beach and Banana Beach are also worth exploring for their secluded and pristine settings.
Exploring the Old Town: Take a trip to Phuket Old Town, located in the capital city. The area is rich in history and culture, with colorful Sino-Portuguese buildings, vibrant street art, and charming cafes. Stroll along Thalang Road and Soi Rommanee to experience the town's unique charm.
Island Hopping: Phuket serves as a gateway to numerous beautiful islands nearby. Don't miss the opportunity to go island hopping to destinations like Phi Phi Islands, Similan Islands, and James Bond Island. You can join organized tours or rent a private boat for a more personalized experience.
Local Cuisine: Phuket offers a wide range of delicious Thai food. While exploring the island, be sure to try local specialties such as Tom Yum Goong (spicy shrimp soup), Pad Thai (stir-fried noodles), and Massaman Curry. Street food markets like Banzaan Fresh Market and Chillva Market are excellent places to sample authentic dishes.
Renting a Scooter: Renting a scooter is a popular way to get around Phuket and explore its hidden gems. However, make sure you have a valid international driver's license, wear a helmet, and adhere to traffic rules. Familiarize yourself with the roads before venturing out, as some areas can be busy and challenging to navigate.
Respect Local Customs: Thai people are generally friendly and welcoming. To show respect, it's advisable to dress modestly when visiting temples or sacred sites. Remember to remove your shoes before entering religious buildings and be mindful of cultural customs.
Bargaining: Bargaining is a common practice in Phuket's markets and street stalls. Feel free to negotiate prices, but do so in a friendly and respectful manner. Remember that it's essential to find a fair and mutually beneficial price.
Safety Precautions: Phuket is generally a safe destination, but it's always wise to take precautions. Be cautious of your belongings, especially in crowded areas, and use hotel safes for valuable items. It's also advisable to drink bottled water and use sunscreen to protect yourself from the sun.
Sustainable Tourism: As a responsible traveler, be mindful of the environment. Avoid single-use plastics, participate in beach clean-ups, and choose eco-friendly tour operators. Respect the marine life and coral reefs while snorkeling or diving by not touching or damaging them.
Check out these other posts to visiting Thailand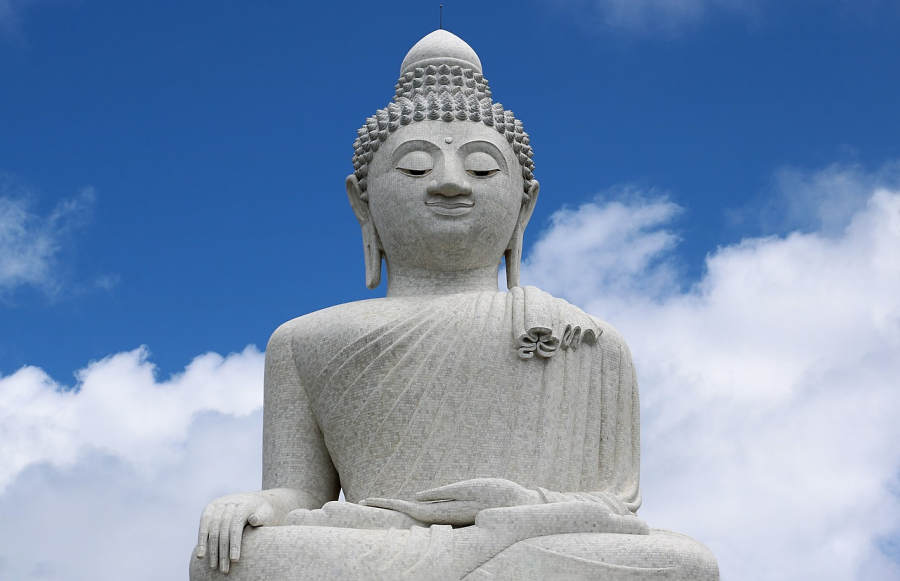 Conclusion to visiting the Big Buddha Phuket
Thanks for checking out this post on the Big Buddha Phuket, it really should be on your list of worthwhile places to visit here in Bangkok.
Hope that this post has been helpful to planning your visit to the city and if so, please do share it with any of the social media channels and buttons located below.
Disclosure – some of the links above are to affiliate sites that are either reviews or recommendations if you book helps to keep our site running at no additional cost to you. We appreciate your supporting our website meanwhile.
Sharing is caring 🙂