Boating experience to Racha Island from Phuket (updated 2023)
Racha Island is one of the easy boat day trips from Phuket Island with tour operators that take you out to snorkeling and island hopping experiences. One of the most popular snorkeling and diving experiences in Phuket the cruise to the islands are easy and visually stimulating with a visit to one of both Racha Island, Racha Noi or Racha Yai, the two main islands comprising Racha. Check out this tour experience.
Boat tour experience cruising to Racha Island
The main island geared for day trippers is to Racha Yai which comprises of hotels, restaurants and bar area with a floating dock that most boating tour operators dock at. Walking from the dock to a gorgeous white sand beach, the bay is mostly U shaped and called Ao Tawan Tok. Gorgeous clear waters turn into aqua color ocean and are perfect for swimming, snorkeling and doing some fun water sport recreation.
Racha Yai is also home to the getaway resort called The Racha which is a nice getaway from Phuket Island and low key and ocean front to the white sandy beach.
Getting to Racha island
boating operators ply through with speed boats to Racha island with day tours that offer a combination of snorkeling stops and lunch and lounging activity at Racha Yai. You can also do Long Tail or speed boat transfers that take about 45 minutes to reach the island. Most departures leave from Chalong pier or at Rawai harbor area. From Chalong pier there are many tours of islands that you can also tour from including the famous Phi Phi islands which is a popular attraction you can get to from Phuket.
You can check out these outdoor outfitters below for more details.
Full Day itinerary
Many of the outfitters include pick up from different areas and resorts around Phuket island to the Rawai harbor and assigned to the speedboats that take you directly to the islands. It takes about 45 minutes to an hour to the first destination and typically a local snorkeling spot around Rachai Yai or Racha Noi.
A snorkeling experience is first in line offshore at Rachai Yai, a more remote and uninhabited and more popular with diving and snorkeling visits to the area. Anchored offshore the outfitter let's visitors enjoy some time snorkeling the colorful reefs and tropical fish that can be found in these reef areas.
After the snorkeling tour, the speed boat continues to the next island at Racha Noi for lunch and lounging around the beautiful beach area. Lunch is included in the experience with a buffet lunch in an open air pavilion which is delicious and easy to accommodate the entire party.
Lunch is served
Once we docked at Racha Noi, we followed everyone to the dining pavilions and the buffet area is set up easily for everyone to access the food and order their drinks. Needless to say everyone was already hungry and ready to eat.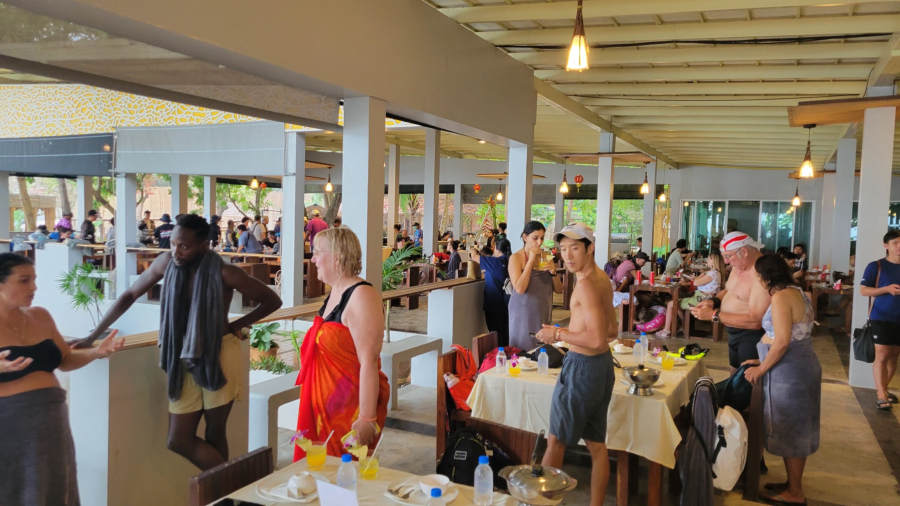 A scrumptious lunch meal and drinks were served quickly to the starving day trippers.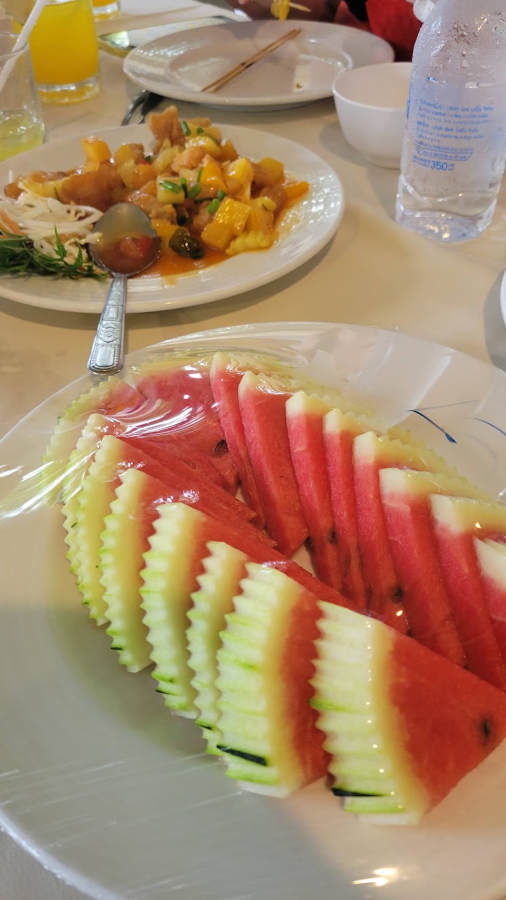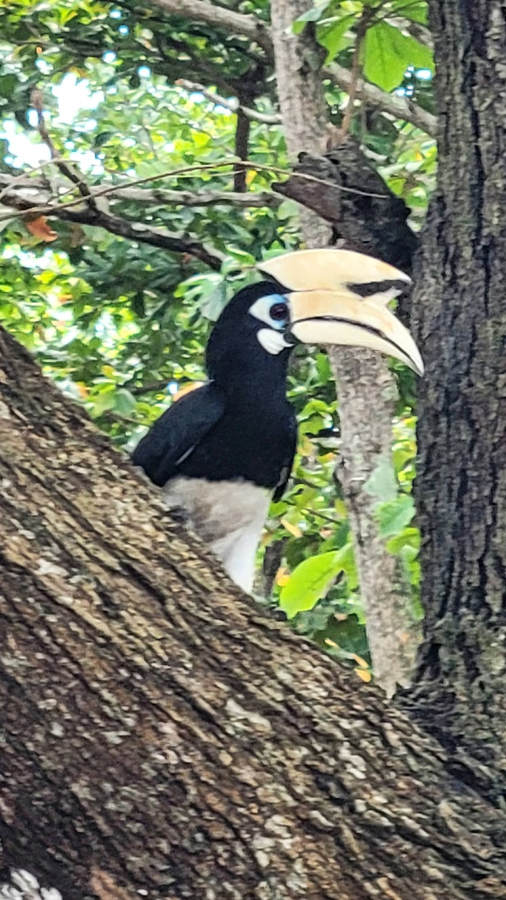 Spotting local wildlife on the island
Along with lizards and tropical fish you'll find around the island, check out the most colorful inhabitant which is the giant bush crested hornbills that live in the trees and forested areas. They typically fly into the tourist spots to pick up some of the throw away foods that are fed to them. These hornbills are quite loud and gregarious and hang out in groups squawking at each other and the visitors rushing to photograph them.
Here's a video of what these hornbills look like up in the trees.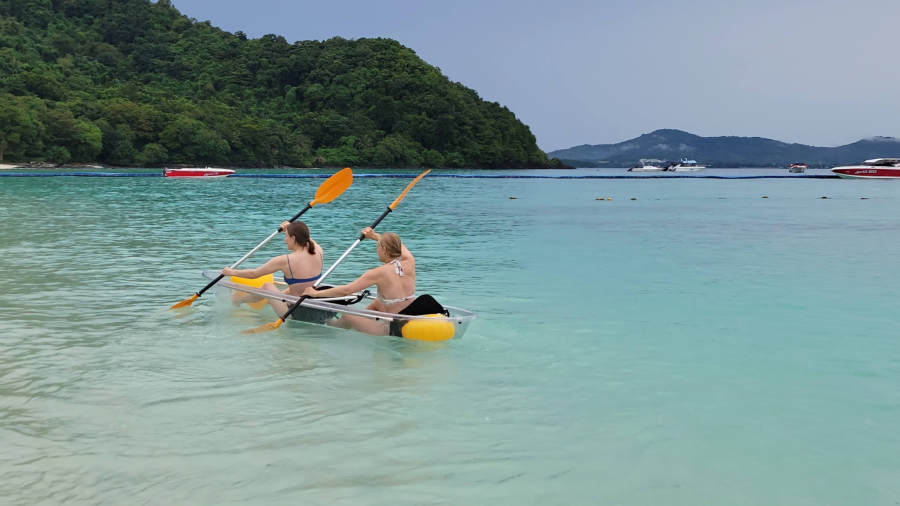 Free time and water recreation on Racha Noi
The rest of the afternoon timeframe is open to exploring the island, lounging around the beach or doing some of the fun adventure experiences like parasailing, kayaking or SUP boarding on crystal clear waters. You could just relax at the bar and swing on the beach swings, swim or take nice long walks on the beach.
This down time was all about enjoying the beautiful beach here at Racha Noi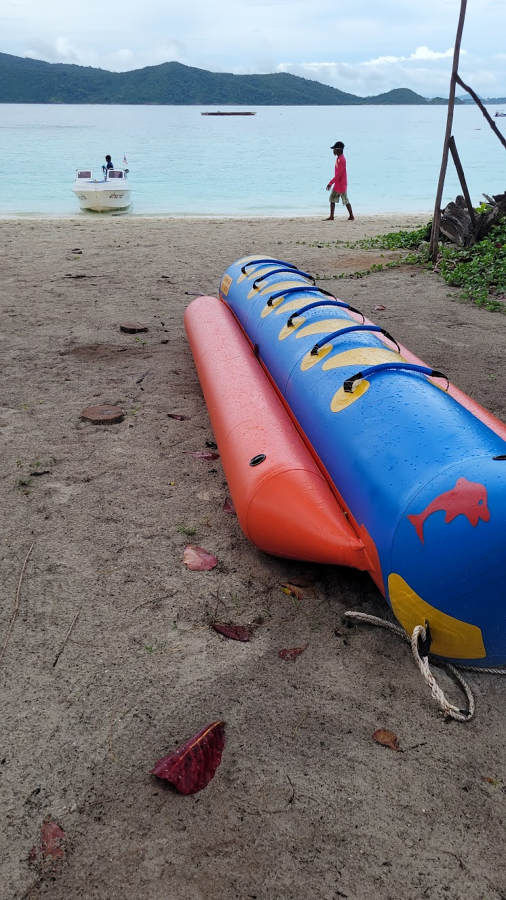 Banana boat for or para sailing are all water options for the adventure seekers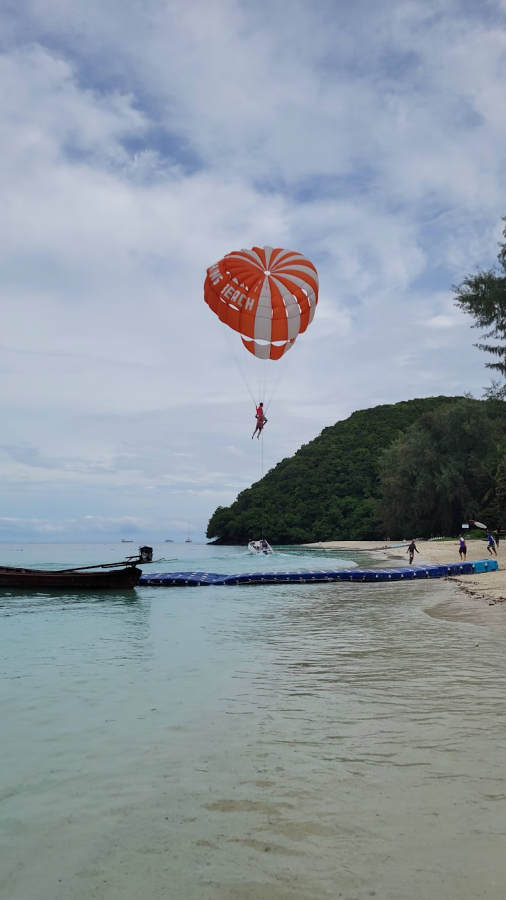 More inside tips to visiting Racha Island to consider
Here are some more inside tips to consider when visiting Racha Island:
Day Trip vs. Overnight Stay: Racha Island is relatively close to Phuket, making it a popular day trip destination. However, if you prefer a more tranquil experience and want to enjoy the island without the crowds, consider staying overnight. The island's atmosphere becomes much quieter and serene once the day-trippers leave.
Accommodation Options: Racha Island offers a few resorts and bungalows for overnight guests. It's advisable to book your accommodation in advance, especially during the high season, to ensure availability.
Pack Essentials: As Racha Island has limited facilities, it's essential to pack everything you might need for your stay. Bring sunscreen, insect repellent, beachwear, snorkeling gear, and any other personal items, as the options for purchasing these on the island might be limited and more expensive.
Snorkeling and Diving: The waters around Racha Island are teeming with marine life and coral reefs, making it a great spot for snorkeling and diving. If you have your own snorkeling equipment, bring it along to save on rental costs and ensure a comfortable fit.
Cash and ATMs: There are no ATMs on Racha Island, and not all establishments may accept credit cards. Bring enough cash with you for your stay and any activities you plan to do.
Respect the Marine Life: When snorkeling or diving, make sure to practice responsible tourism. Avoid touching or damaging the coral reefs and marine creatures. Respect the underwater ecosystem to help preserve the island's natural beauty.
Mosquito Prevention: During the rainy season, mosquitoes can be more prevalent. Bring mosquito repellent and consider wearing long sleeves and pants during the evenings to minimize bites.
Hiking and Exploring: Racha Island offers hiking trails with beautiful viewpoints. Wear comfortable footwear and bring plenty of water if you plan to explore the island's interior.
Island Time: Embrace the laid-back island lifestyle. Things may move at a slower pace, which is part of the charm. Relax, unwind, and enjoy the natural surroundings.
TIme for some easy SUP boarding on crystal clear waters off Racha island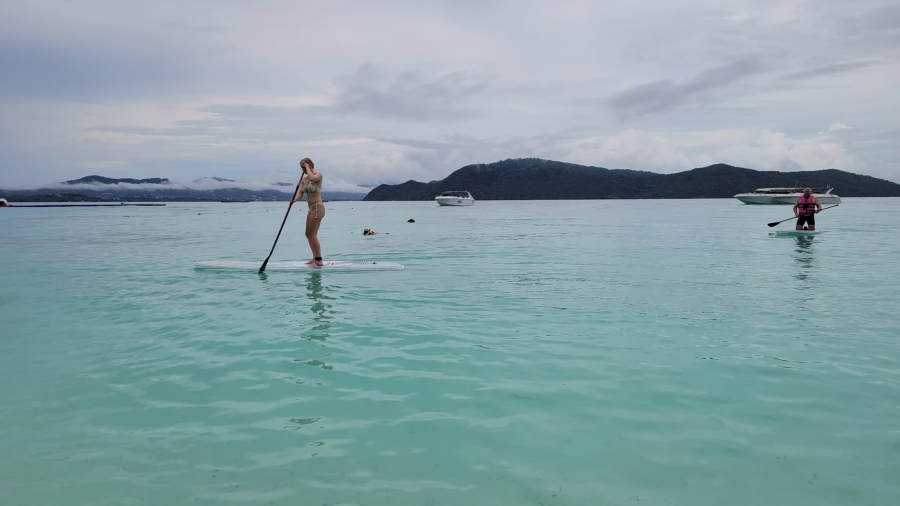 Returning back to Phuket
It was a generous time spent at Racha Noi do any water fun or just lounging on the beach and do as you please. Eventually it was time to head back to Phuket and everybody loaded back onboard for the speed boat ride back.
A delicious fruit spread and cold drinks were set up for the trip back which was a really nice touch.
Weather and best time to visit Racha island in Thailand
Racha Island, also known as Ko Racha or Raya Island, is a beautiful tropical island located off the southern coast of Phuket, Thailand. The weather in Racha Island is characterized by two primary seasons:
Dry Season (November to April): The dry season is the best time to visit Racha Island. During this period, from November to April, the weather is generally sunny and dry, with lower humidity and little to no rainfall. The sea is calm and ideal for swimming, snorkeling, and diving, allowing visitors to fully enjoy the island's pristine beaches and crystal-clear waters.
Rainy Season (May to October): The rainy season in Racha Island spans from May to October. This period experiences increased rainfall and occasional storms. The seas can become rougher, and some boat services to the island might be limited due to weather conditions. While the island is still accessible during this time, it is not the best time for water-based activities.
To make the most of your visit to Racha Island, plan your trip during the dry season to ensure pleasant weather and optimal conditions for enjoying the island's natural beauty and outdoor activities.
Tour operators to Racha Island
There are a variety of speed boat operators that offer these day snorkel and island tours to the Racha Islands. You can check out the different tours offered below.
Book a Racha Island Tour
Racha Island sailing experience to Racha and Coral Island
Full day Racha Noi and Racha Yai experienceRa
Diving experience at Racha Noi and Racha Yai experience
Racha Island game fishing experience in Phuket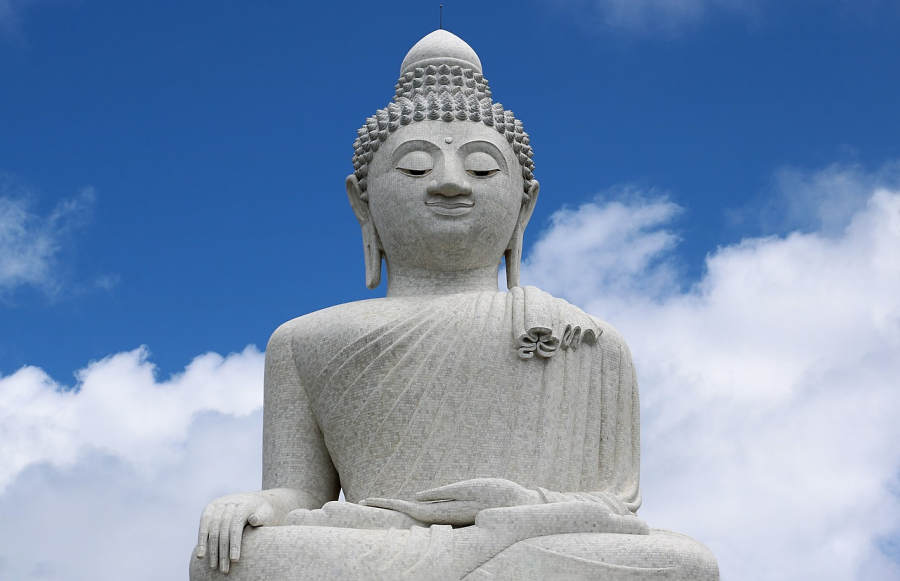 Check out these other posts to visiting Thailand
Conclusion to visiting the Racha Island
The day trip snorkeling and hanging out at Racha island was fun, easy and a great way to explore the neighboring islands around Phuket, I would definitely recommend this as a fun day trip to exploring the nearby islands.
Thanks for checking out this post on Racha Island, it really should be on your list of worthwhile places to visit here in Phuket.
Hope that this post has been helpful to planning your visit to the city and if so, please do share it with any of the social media channels and buttons located below.
Disclosure – some of the links above are to affiliate sites that are either reviews or recommendations if you book helps to keep our site running at no additional cost to you. We appreciate your supporting our website meanwhile.
Sharing is caring 🙂