There are just too many amazing places to visit in Italy making it difficult to choose your next vacation exploring the country. I've asked some top travel bloggers and journalists to share their own favorite places to visit in Italy and some inside tips and experiences that you can also do yourself. Check out the best places to visit in Italy and start planning your next trip soon to some exciting new destinations around the country.
Exploring Italy: Unveiling the Enchanting Destinations to Visit
Weather and the best time to visit Italy
Italy is a country with diverse climates, offering a range of weather conditions throughout the year. The best time to visit Italy depends on your preferences and the specific regions you plan to explore. Here's a general overview of Italy's weather and the ideal times to visit:
Spring (April to June): Spring is a beautiful time to visit Italy as the weather becomes milder and nature comes alive with colorful blooms. The temperatures are generally pleasant, ranging from mild to warm, making it an ideal time for outdoor activities and sightseeing. It's worth noting that popular tourist destinations can get crowded during this time, especially in May and June.
Summer (July to August): Italy experiences hot and sunny summers, particularly in the central and southern regions. The coastal areas, such as the Amalfi Coast and Sicily, are popular vacation spots during this time. However, it can get crowded and humid, especially in major cities. If you plan to visit during summer, consider coastal areas or higher altitude destinations where temperatures are slightly cooler.
Autumn (September to October): Autumn in Italy is characterized by mild and pleasant weather, with temperatures gradually cooling down. It's a great time to explore Italy's cities, countryside, and vineyards. The autumn foliage adds a magical touch to the landscapes, creating picturesque scenes. September is also a popular time for grape harvesting and wine festivals.
Winter (November to February): Winter in Italy varies by region. Northern Italy experiences colder temperatures and snowfall, making it ideal for winter sports enthusiasts. Central and southern regions have milder winters, but can still be chilly, especially in the mountainous areas. The cities, such as Rome and Florence, are less crowded during this time, offering a quieter and more intimate experience.
Exploring Northern Italy
Northern Italy is a treasure trove of breathtaking landscapes, captivating cities, and rich cultural heritage. From the magnificent peaks of the Italian Alps to the charming canals of Venice, this region offers an abundance of diverse and enchanting destinations. Explore the timeless beauty of cities like Milan, known for its fashion and art, or immerse yourself in the historical grandeur of Florence. Visit the picturesque lakeside towns of Como and Garda, or indulge in the culinary delights of Bologna. With its blend of stunning natural scenery, iconic landmarks, and cultural richness, Northern Italy promises an unforgettable journey for every traveler.
Visiting Milan, Italy
Milan is one of my favorite places in Italy. This sophisticated city in Northern Italy full of beautiful architecture, mysterious churches, bone chapels, and delicious food.
There are enough things to do in Milan to spend months exploring, but if you only have a few days start with a trip to the city's famous cathedral, the Duomo di Milano. Take time to seek out the strange dinosaur creature that's part of the decorations on the building's front before you go on to tour the inside.
If you want to seek out the macabre, make sure to visit the bone chapel at the San Bernardino alle Ossa. You can also visit the Ambrosiana, an art museum and library which has a lock of Lucrecia Borgia's hair on display.
While in Milan, make sure to enjoy some traditional Milanese food. You can't leave the city without trying the Ossobucco at least once!
If you love Rennaissance art, plan ahead to get your tickets to see DaVinci's famous painting, The Last Supper. Designated a UNESCO World Heritage Site, the church here has been lucky to survive the devastation of World War II.
Finally, you can get out of the city for a bit. Milan is a great place to base yourself if you want to enjoy a day trip to Lake Como.
Stephanie with History Fan Girl
Check out these reviews and current hotel rates here for planning your next trip to Milan.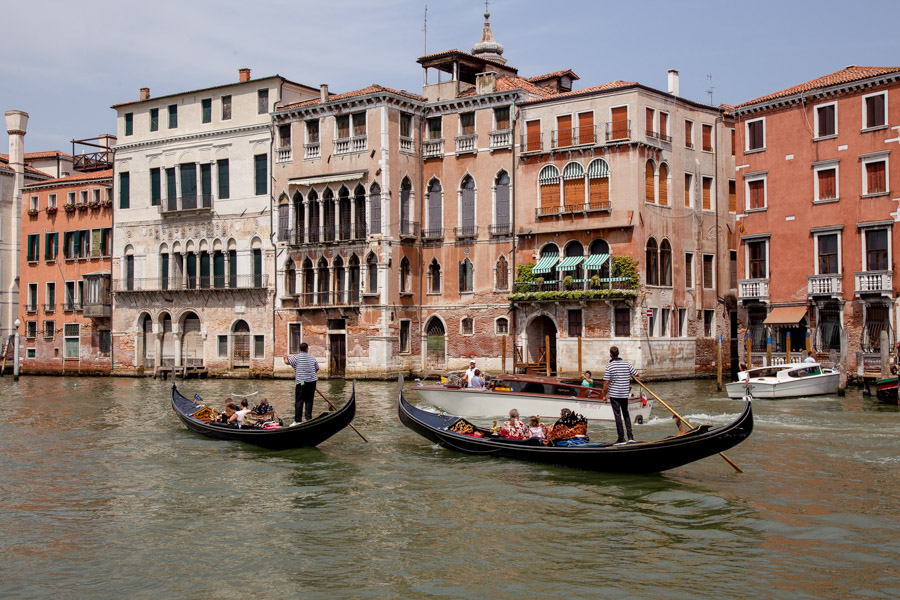 A visit to historic Venice
Venice, a city made up of 118 small islands is the capital of northern Italy's Veneto region and one of the most visited places in Europe. Venice is a car free island made up of small canals, winding alleyways and narrow foot bridges. You can easily arrive by bus, boat, train or car and set out on foot to explore the hidden streets and gothic architecture.
The main highlight of Venice is the sprawling St. Mark's Square with Saint Mark's Basilica and St. Mark's Campanile as the main attraction. The iconic cathedral and tower are the most recognizable landmarks in Venice and cannot be missed during your time in the city. At 99 meters high, the bell tower offers the best and highest views over Venice plus you can take a lift all the way up to the top.
Nearby St. Mark's Square and situated along the Grand Canal is another iconic spot in Venice called the Bridge of Sighs. The best viewpoint and photo spot for the Bridge of Sighs is from the small bridge behind it located along Rughetta S. Apollonia.
The Grand Canal runs through the heart of the city and flows underneath the ornate Rialto Bridge. From the top of the Rialto Bridge you will find some of the best views of the Grand Canal and be sure to visit both sides. For an amazing photo spot of the Rialto you'll need to walk out onto the gondola platforms located along Riva del Ferro across from Hotel Bartolomeo.
Within the many islands that make up Venice you will find plenty of hidden gems. Don't miss the offbeat bookstore, Libreria Acqua Alta where you can find vintage novels, resident cats and a unique canal view. Give yourself at least 3 days to explore Venice and the surrounding islands of Burano and Murano. Burano is known for its colorful and vibrant buildings while Murano is where you can watch the glass blowing that Venice is well known for. You can easily reach Murano and Burano by taking a vaporetto on Venice.
The romantic city of Venice is a popular destination year round but the best time to visit is in late spring or early fall to avoid the crowds. However, one of Venice's most iconic events, Carnivale di Venezia, happens annually during the month of February and is one of the most famous carnivals in the world. During these two weeks, local Italians dress up in elaborate costumes with ornate masks while parading around Venice's most iconic landmarks. It is an even that can't be missed if you are traveling through northern Italy in February.
Check out Marisa's posts on places to visit in Italy
Check out these reviews and current hotel rates here for planning your next trip to Venice.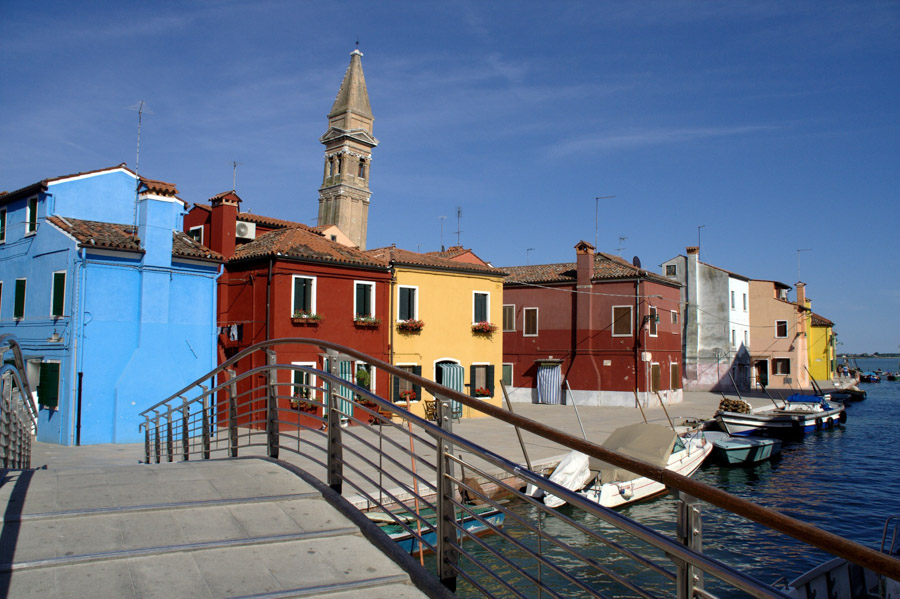 A trip to colorful Burano
After a day in Venice, we decided to hop on a "vaporetto" and set our destination to Burano, one of the most fascinating locations in the Venetian Lagoon. Its name comes from its position downwind from the fierce "Bora" wind. Its fame from its splendidly coloured houses; Blue, pink, red, orange even purple. The story goes that the fishermen painted their abodes in such a way that they could make them out in the fog of the lagoon. Whatever the reason, the vivacious colors are a delight to the senses and one of the most Instagramable places to visit in Italy.
There is no precise itinerary in this small island-village of 2500 inhabitants. The duomo and its leaning bell tower are main sights in the central Piazza Baldassare Galuppi. Inside is a 300-year-old canvas by the maestro Gianbattista Tiepolo. Back on the streets, one can notice that aside from fishing, the main occupation of the Buranese is lacework. This centenary tradition is to Burano what intricate glasswork making is to nearby Murano. The Museo dei Merletti is staunchly dedicated to this practice.
We move forward to the house of Bepi Suà. Its walls are covered in hypnotizing geometrical forms of all the primary colours. It takes the cake as most colourful house in Burano. We finish the day at the Riva Rosa, one of the best "osterie" of the entire region. After a delightful meal of locally trawled fish we have a bussolai, a delectable donut-shaped pastry. The sunset comes and the bustle of nearby Venice clashes with the placid serenity of this tranquil lagoon haven.
Dushan with Spottico.com
Check out these reviews and current hotel rates here for planning your next trip to Burano.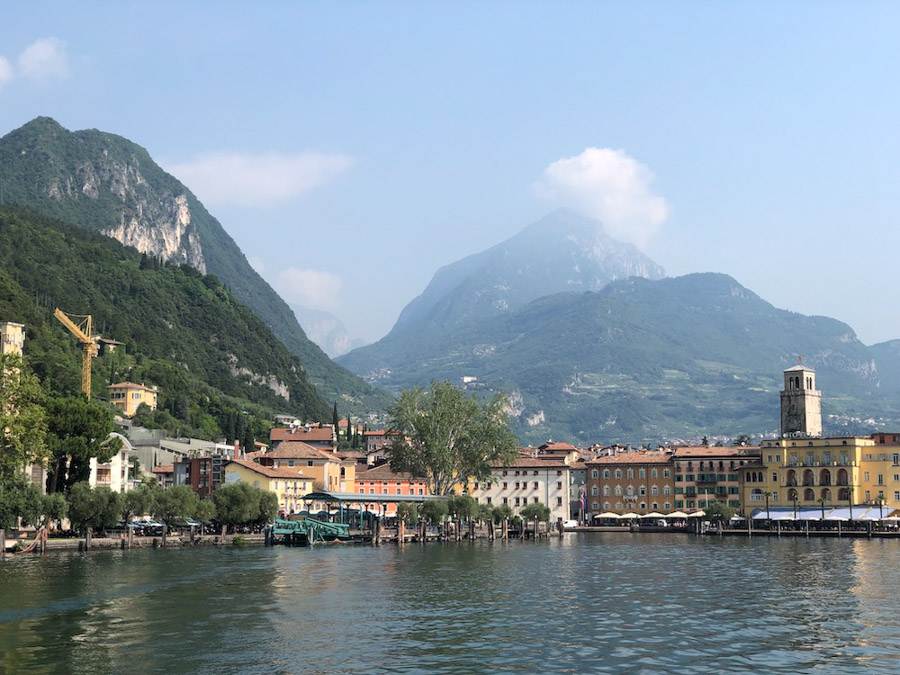 Exploring Lake Garda
Lake Garda, Italy's largest lake 135 km east of Milan on the edge of the Dolomites is one of the most colorful places to visit in Italy in not all of Europe. Its crystal clear blue waters overlooked by lush green hillsides of lemon groves and snow capped mountains a truly splendid natural environment offering something for everyone.
For the active this rich environment is an incredible location for outdoor sports. The northern region popular with mountain bikers, road
cyclists and hikers. Malcesine on the lake's eastern shore home to the famous sailing club as well as one of Europe's premier paragliding
destinations.
More leisurely pastimes include the opportunity to explore one or more of Lake Garda's numerous charming villages. A stroll through narrow
cobbled streets with a refreshing gelato followed by lunch or a glass of local Bardolino at a lakeside restaurant is difficult to beat.
In the Lake's northern region highlights undoubtedly include Riva del Garda and the stunning Limone Sul Garda with its hillside lemon groves
offering magnificent views from the western shores.
In the south the medieval village of Sirmione is the undoubted star of the show. Boasting an incredible location at the northern tip of a
narrow peninsula don't miss the unbelievably picturesque Castello Scaligero. Concerned there is too much choice for where to base yourself? Don't
worry!
The frequent and inexpensive Lake Garda ferry service provides visitors with the most attractive way to travel between villages to explore
centuries of history. A holiday to Lake Garda fully deserves to be on everyones travel bucket
list.
Check out Paul's post on a Lake Garda guide.
Check out these reviews and current hotel rates here for planning your next trip to Lake Garda.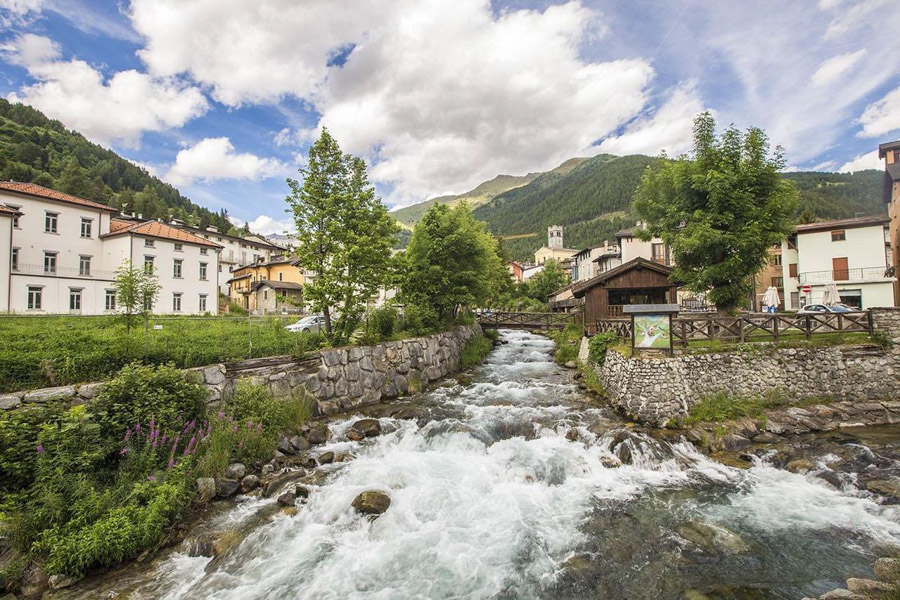 Ponte de Legno
I always love to talk about Ponte di Legno, Italy, because it holds a special place in my heart and one of the special places to visit in Italy.
That's where I have fallen in love with snowboarding and where I realized that traveling alone was not so bad after all. In fact, all my friends didn't care about skiing so I found myself going every weekend on my own and going up and down those white slopes, my feet on my board, all day long from 8 am to 5 pm tirelessly and I loved it. Maybe that's exactly where all my solo traveling mania began. I never thought about that before.
Ponte di Legno is a typical mountain town with the cute stone and wooden houses surrounded by white peaks in winter and green carpets in the summer.
It's a pretty town with delicious restaurants and high-end stores, a place that you love all year round.
The winter is for the snow lovers with 42 slopes among Ponte di Legno, Tonale, Presena, and Temu, all connected, and for all levels. Ski schools are available for all ages and skills. Bar, restaurants, beautiful hotels, and entertainment are guaranteed.
For the summer the white soft mountains turn into green carpets, with so many hiking trails that you could walk for weeks. You don't need a guide. All trails are mapped and well marked and free bunking cabins are available for hikers and bikers to camp and mingle after a full day exercising.
It's a destination for solo, couples, and family alike. Solo travelers will find it easy to socialize on the mountains with locals and other travelers, couples will find spectacular hotels and fine restaurants for their romantic escape, and family with kids will be entertained by the multiple outdoor activities available.
Almost all restaurants serve the delicious local specialties, but make sure you try cold cuts with wine for the aperitif and the "gnòc de la cùa" as the main dish. It's local dialect for "gnocchi" which are potato dumplings but made in the local way, which is a secret. Just try it and let me know how much you like them.
Isabella with Bountless Roads
Check out these reviews and current hotel rates here for planning your next trip to Ponte di Legno.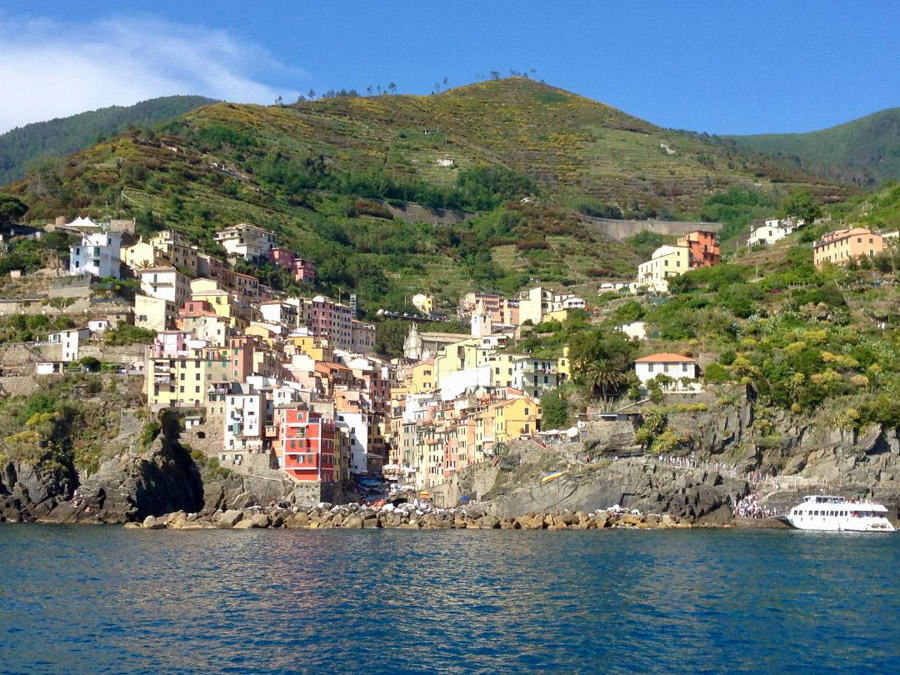 Hike the villages of Cinque Terre
One of the most picturesque areas in Italy is in the northwest Liguria region. The Cinque Terre—five (cinque) villages are some of the most stunning places to visit in Italy —line the Italian Riviera and you can get breathtaking views of each town from a boat or while you are hiking between the villages.
Cinque Terre is part of the Cinque Terre National Park, which has been designated a UNESCO World Heritage site. The 5 villages that make up the "Cinque Terre are Monterosso al Mare, Vernazza, Corniglia, Manarola, and Riomaggiore. These fishing villages are incredibly popular with tourists to the point where there has been debate about limiting the number of visitors. It can get very crowded in the summer so a visit in May and September is much more enjoyable (and not as hot).
The star attractions are the views of each village. Forget about driving from one village to the next. Cars are forbidden in the villages unless you are a resident. You can park outside the village and from there you can hike or take a bus, train, or ferry.
If you have the time, combine a few forms of transportation. For example, hike between a couple of the towns (ie. between Vernazza to Monterosso al Mare) and also tie in a train ride and a trip by ferry. In this way you'll get to see all the towns and great views from above and from the ports.
Corniglia is the only village that is inland. It is surrounded by vineyards. The other villages have harbors and have been built on rocks so the colourful buildings that often overlook the sea make for great photographs.
Riomaggiore is the first of the 5 villages and often the starting point for hikers who would take the Via dell'Amore trail to Manarola. It is currently being repaired and will not be reopened for a number of years. There are trails, however, between the other villages. After your hike you'll be rewarded with delicious Italian cuisine.
Restaurants offering seafood are plentiful in Cinque Terre and you can easily find take-out vendors selling freshly grilled or deep fried sardines, anchovies, and calamari served in paper cups. You'll also enjoy fresh pasta and seafood dishes accompanied by local white wines and limoncello. This is an area that receives plenty of sunshine and it is perfect for growing lemons and the Bosco grape.
Check out Janice's post on Cinque Terre, Italy 
Check out these reviews and current hotel rates here for planning your next trip to Cinque Terre.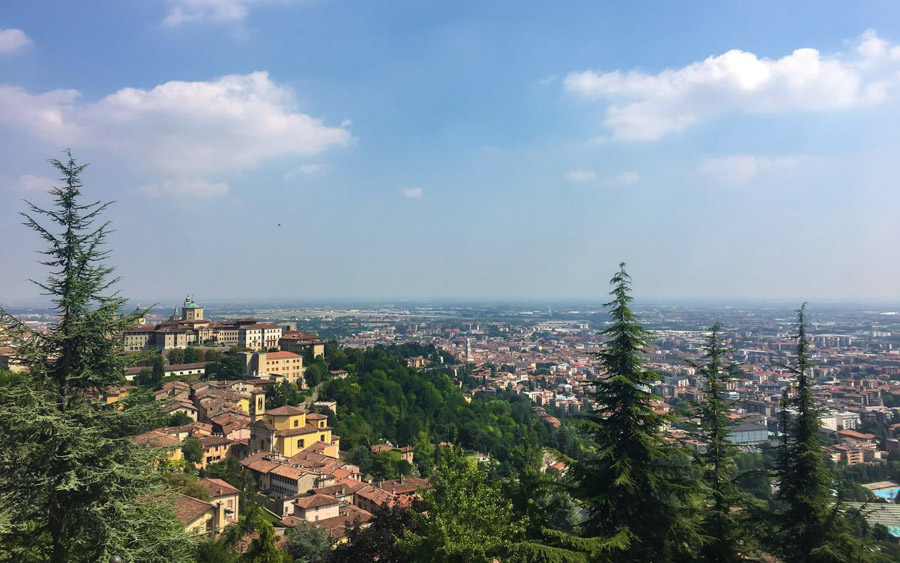 Bergamo in Northern Italy
Bergamo is located in between Milan and Lake Como and serves as a great base to explore the Northern Italy region and one of the most scenic places to visit in Italy. Bergamo itself is famous for its abundance in historical architecture such as the Colleoni Chapel and its enchanting medieval atmosphere. What makes Bergamo even more unique, is its separated upper and lower cities. Città Bassa, the busy and modern lower city. And Città Alta, the upper city with a rich heritage in art and history.
There are many beautiful places to visit in Bergamo such as the Piazza Vecchia, Santa Maria Maggiore, Cinta Muraria and the City Gates, Colleoni Chapel. And of course don't miss to take the old Funicular to the old town. No trip to Bergamo is complete without taking the historic Funicular railway from the lower new city to the upper old town. This railway is more than hundred years old and still serves as a convenient transportation method to the higher ground of the old town. The station is located on the Viale Vittorio Emanuele II in the new town where you can purchase tickets as well in the foyer.
If you're looking for a first class dining experience, then Enoteca Zanini restaurant in Città Bassa, is the place to eat. This restaurant has a great location on the Via Borgo Santa Caterina combined with an authentic interior. From here you can easily explore the rest of the city, or find a nice spot to enjoy a drink in the afternoon.
Ilse with Digitaltravelcouple
Check out these reviews and current hotel rates here for planning your next trip to Bergamo.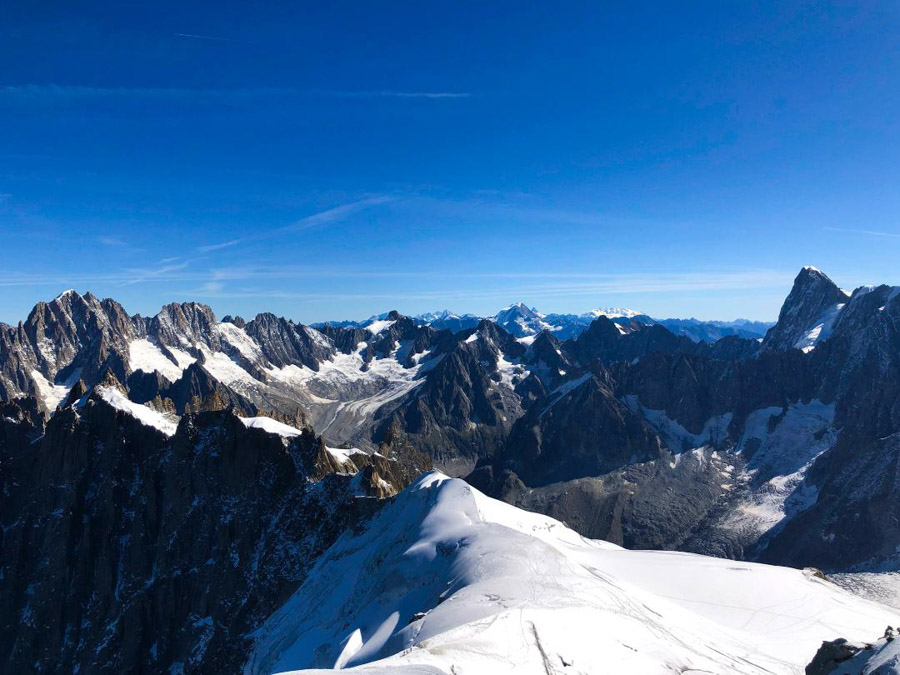 Courmayeur and Mont Blanc
When people think of vacation in Italy, it's often medieval towns, sunny beaches, and beautiful vineyards that spring to mind. However, in the northern part of the country, there is an incredible natural wonder which should not be forgotten. It's called Mont Blanc.
This famous mountain borders up to three countries: France, Switzerland, and Italy, where it's actually known as Monte Bianco.
From Italy, the gateway to Mont Blanc lies in the Alpine town of Courmayeur. Found 2,5 hours northwest of Milan, this cozy little town is a hotspot of hiking, mountain biking, rock climbing, and mountaineering. However, you don't have to be a daring adrenaline junkie to enjoy the beautiful mountain scenery.
From Courmayeur itself, anyone can board "Skyway Monte Bianco", one of the most impressive cable cars in the world. It'll carry you from the small, unassuming town, all the way up to the roof of Europe at 3,466 meters. Here you are welcomed by unobstructed vistas of the Alps in all their glory. You'll get a panoramic view of hundreds of snow-covered peaks, including, of course, the main attraction, Mont Blanc.
From the top, you can even board a secondary cable car, carrying you leisurely over the entire mountain range and ultimately all the way into France.
For the more active, the whole region is jampacked with hiking trails offering some of finest mountain views in Europe. The most famous of them all is the legendary Tour du Mont Blanc trek. Taking 10-12 days to complete, covering more than 160 kilometres, it's no mean feat. It's a much more exhausting holiday than you'd expect anywhere else in Italy, but it also happens to be an experience you'll remember for the rest of your life. Now, isn't that worth breaking a sweat for?
NIck with the Danish Nomads
Check out these reviews and current hotel rates here for planning your next trip to Courmayeur.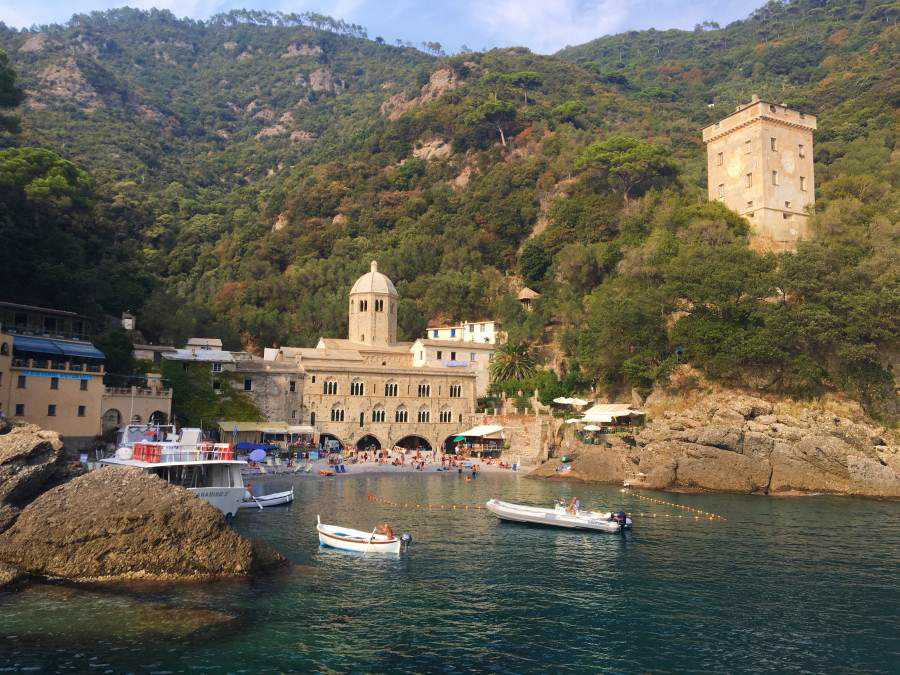 Scenic San Fruttuoso
One of the best places to visit in Italy is San Fruttuoso. This small cove on the Italian Riviera can only be reached by boat or by hiking there from Portofino, Portofino Mare or Camogli. The bay has several restaurants, a two-room B and B and a beautiful abbey, dating from the tenth century.
Part of the abbey was built in medieval times, and part of it is Romanesque. There is a turret with a dome, arches right on the beach and a separate, square watchtower, which you can climb. The arches used to allow boat access to inside the abbey, but the water level has decreased over the years and now there is a small beach lining the shore. It is possible to rent sun beds and umbrellas (recommended, since the beach is pebbly). The restaurants mostly serve seafood and make a lovely way to break up the day. La Cantina, in a tiny bay just around the corner, is a safe pick; reservations are recommended.
The cove is small and easy to explore. Even if you don't do longer hikes, it is worth walking up the trail to see the abbey and cove from above. The views of the bay from the boat approaching the bay are especially lovely, as the bay is surrounded by steep wooded hills.
James Ian at Travel Collecting
Check out these reviews and current hotel rates here for planning your next trip to San Fruttuoso.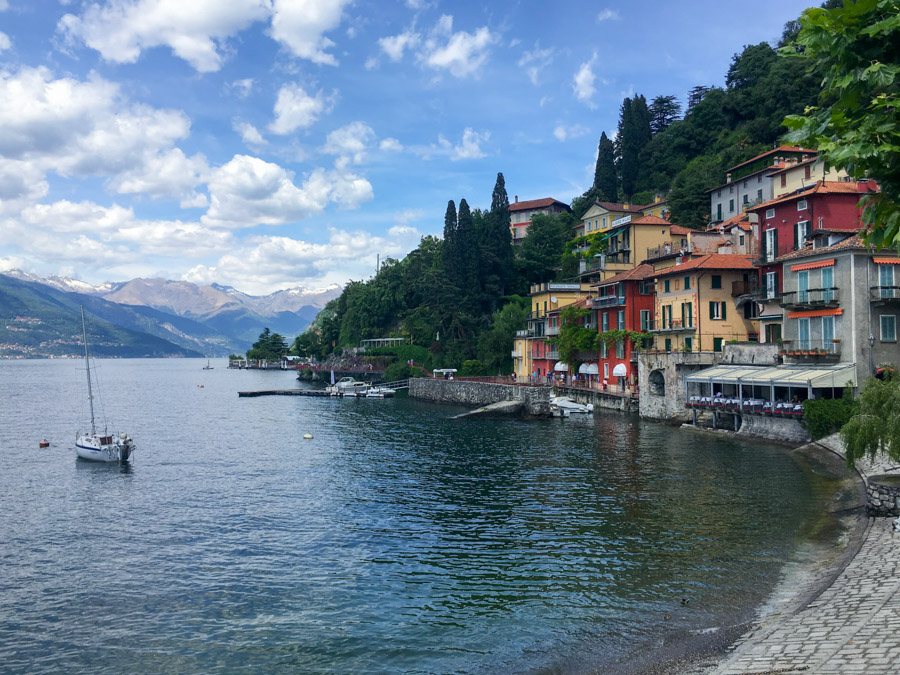 The gorgeous Lake Como region
Lake Como is a beautiful region in northern Italy located just 1.5 hours from Milan by train. The lake itself resembles a wishbone and is surrounded by rolling hills, and the shorelines are dotted with the orange roofed homes. Your entry into Lake Como will likely happen through the town of Como, which is easily overlooked by tourists but has a few nice attractions. For example, take a trip up the funicular for stunning views of the lake and a great bowl of gelato.
The majority of your time, however, will be spent in the smaller towns along the shores of Lake Como, almost all of which are only accessible by the ferry from Como. On the boat from Como, you'll pass by Villa del Balbianello, which was featured in both a James Bond and a Star Wars film. Rumour has it George CLooney's villa is too far from here.
Varenna is one of the most popular – and most beautiful – towns along Lake Como. Come here to see Villa Cipressi, climb to high ground for views of Castello di Vezio or check out the botanical gardens. Bellagio is another beautiful town and considered to be the pearl of Lake Como. Here the colourful home facades line cobblestone streets and Church of San Giacomo is rarely out of sight. Pop into the beautiful shops for artwork and home Italian cooking.
Lake Como is such a beautiful region, making it worthy of any itinerary or bucket list in Italy.
Mikaela of Voyageur Tripper
Check out these reviews and current hotel rates here for planning your next trip to Lake Como.
Exploring the best places to visit in central Italy
Central Italy is a captivating region that boasts a wealth of enchanting destinations waiting to be explored. From the architectural wonders of Rome to the picturesque landscapes of Tuscany and the cultural treasures of Florence, central Italy offers a rich tapestry of history, art, and natural beauty. Discover the ancient ruins of Pompeii, bask in the charm of medieval hilltop towns like Assisi and Siena, and indulge in the culinary delights of the Emilia-Romagna region.
Whether you're drawn to world-renowned landmarks or seeking off-the-beaten-path gems, central Italy has something to captivate every traveler. Get ready to embark on a journey that will immerse you in centuries of history, artistic masterpieces, and the warm embrace of Italian culture.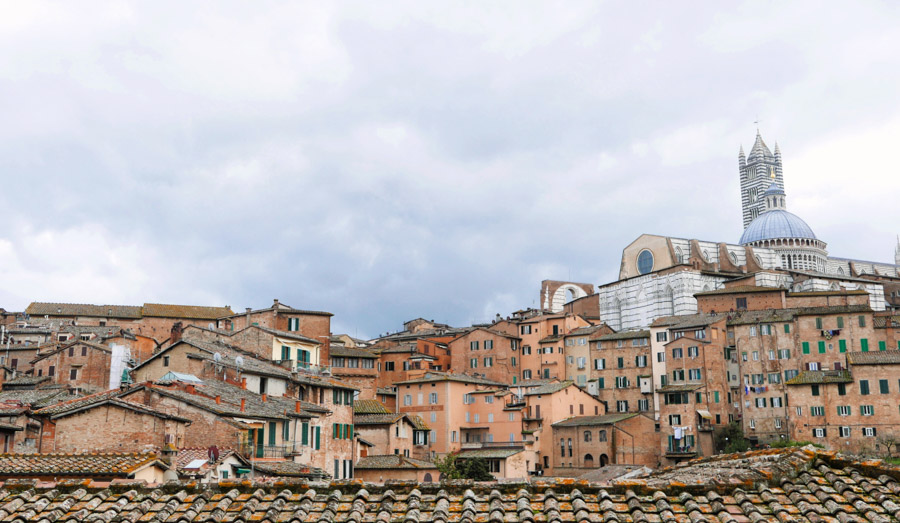 Stunning visit to Siena
Siena is a masterpiece in its own right. From a distance, marvel at the cityscape filled with terracotta rooftops and the cathedral's tower and dome. Inside the Gothic centre, there is a myriad of cobble-stoned streets that lead to and from the buzzing Il Campo Piazza, home to the world-famous horse race, Palio, where each year, 17 Contrados (districts) compete to be crowned the best. But you don't have to witness it to get a sense of grandeur and color. Wander each district, get lost and browse artisan shops, grab a coffee or a meal in the restaurants and quaint cafes that can be found in nestled in every street corner or even grab some of the best gelato around – there are plenty of parlors to choose from, as well as flavors! The Duomo is well worth a visit, even if it's just to walk around the ornate and impressive interior. Siena is like stepping back in time, from exquisite artwork in the Palazzo Buonsignori to simply just people-watching, Siena is a must if you're in Tuscany.
Check out Ting's post on visiting Siena with Kids
Check out these reviews and current hotel rates here for planning your next trip to Siena.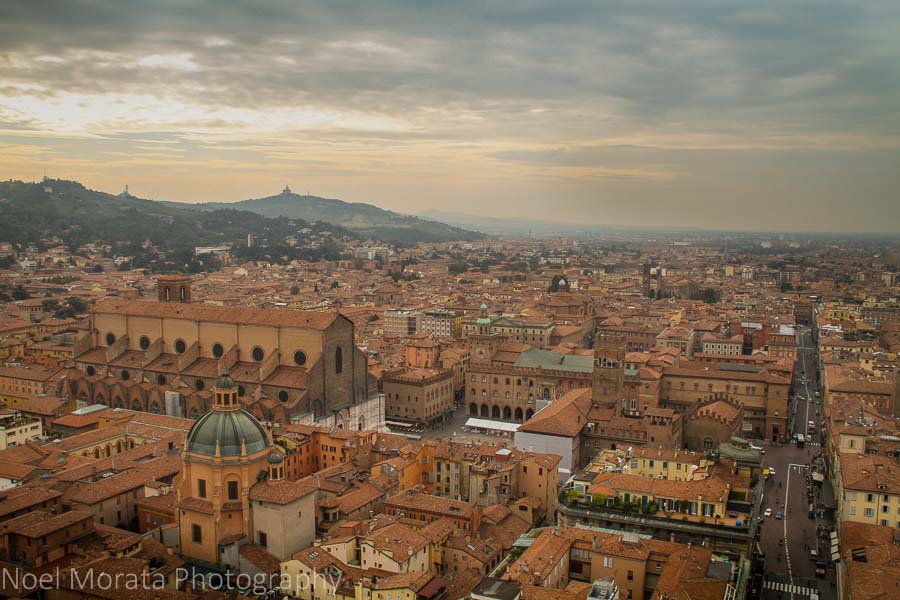 Visiting the foodie region around Bologna
Bologna has always been one of the best food oriented areas in the region of Emilia Romagna with so many unique food products, fresh produce and other delicious prepared foods in the region. With plenty of amazing food markets including the famous Quadrilatero market in the heart of the historic district, their are so many specialty food producers, markets and stores to explore throughout the city. The regional capital also has stunning architecture, gorgeous churches, lovely historic squares and statues and of course the famous covered porticoes or arcades that you can admire while exploring the city. From above, you can actually climb some of the old stone towers of which there are still around 20 towers sprinkled around the city. It's fun to just wander the many districts, get lost and happen upon some wonderful church, gorgeous building or an ancient ruin around the city. While you're touring Bologna, check out the fantastic outdoor markets and specialty food venues around the city here for more inspiration on why the foodie scene is so big in the region.
Noel with Travel Photo Discovery
Check out these reviews and current hotel rates here for planning your next trip to Bologna.
Experiencing the Bologna Appenines
If you love traveling to Italy but are keen to find the less-traveled destinations, the region in Emilia Romagna around the Bologna Appenines is a perfect place to visit. Exploring this part of Italy is for the adventurous traveler who wants to go deeper and communicate with local Italians even if you don't speak the same language. It's a less-traveled and more authentic part of Italy, nestled between Emilia Romagna and Tuscany, and well worth spending a week or so discovering its hidden gems.
Running the length of Italy from Liguria into Sicily, the Apennine Mountains of Bologna offer stunning natural landscapes from craggy and mountainous forests to rolling green hills.
But it's the secret gems tucked between these hills and valleys that reveal the treasures: dozens of small towns reflect the local culture and history. The barely-inhabited Borgo La Scola for example, or the jaw-dropping medieval castle at Rocchetta Mattei and the Castle in Vignola. Dining doesn't get much better than at the Michelin-rated Trattoria Amerigo 1934 in Savigno, where you should spend the night in their charming locanda just around the corner.
Italy is a country of iconic landmarks and must-see cities, but the small towns of the Bologna Apennines offer a glimpse into the authentic heart of Bella Italia.
Lori with TravlinMad.com
Check out these reviews and current hotel rates here for planning your next trip to Bologna Appennines.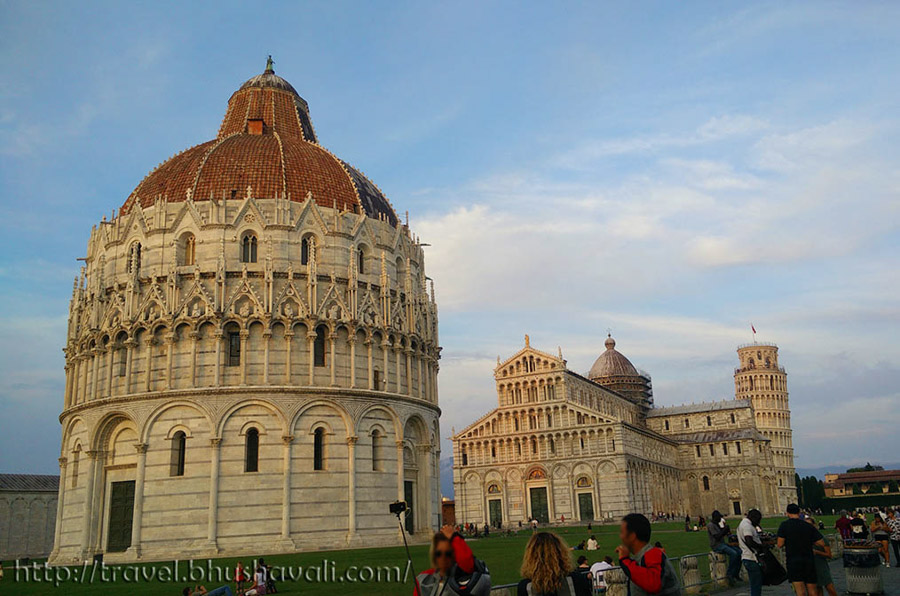 A visit to Pisa
Pisa is the home to the very famous, very unique Leaning Tower of Pisa! But apart from the Tower there are quite a few landmarks to not miss in Pisa.
First thing is that the entire Pisa complex called Piazza del Duomo Pisa is a UNESCO World Heritage Site which includes not only the Pisa Tower but also the Pisa Cathedral, Baptistry and Camposanto. If you like art, the most important place to visit, of it all, would not be the Leaning tower but the Pisa Camposanto. It is filled with such splendid frescoes that date older than Sistine chapel!
Camposanto literally means cemetery and like any other Cathedral's cemetery, this too is filled with tombs, some of which have some exquisite marble sculptures. There is also a chapel of relics. Frescoes depicting death, heaven and hell painted in 14th C are a delight to any art history enthusiast. Another thing not to miss is the very rich mosaic work in the Cathedral's ceiling!
The Pisa town is, very surprisingly, quaint & beautiful. Many people visit Pisa as a half or one-day trip, so all the tourists are near the Leaning tower, leaving the rest of the town charming and non-touristy! A walk through the town, with the views of river Arno and very many little churches is a must thing to do.
Bhushavali with Travel Bhushavali
Check out these reviews and current hotel rates here for planning your next trip to Pisa.

Pontedera Town – Pisa Region
If you happen to be in Italy and aspiring to visit a traditional city, then the Pontedera town, located in the region of Pisa, Tuscany, in central Italy, sounds like the best option. It is situated just off the highway, between Pisa and Florence. Being the city of several historical campaigns, Pontedera is an exceptional place for encountering the tales of ancient battles and settlements, like the Republic of Siena triumph, the Battle of Marciano, etc. Most of Pontedera's villas were constructed in the late 1800s. However, the city name came from Ponte dell' Era – bridge on the Era (built-in 1099).
The commercial town includes popular attractions of many civic sculptures and photo-worthy spots, like Misericordia Church, Museo Piaggio, Elegant Villa Crastan, Braccini Lake, Rocca Della Verruca, and many more. You can also explore riverboat tours in a river park or try wearing 
ethical
 swimwear
 while visiting the closeby Mediterranean beaches that are just ten minutes away from there.
The artisanal town, Pontedera, has various shopping marts (like PALP Palazzo Pretoria, Amedei Tuscany, etc.) and restaurants (such as Kaaru, La Polveriera, etc.), both in and nearby the township. Plus, there are bars/cafes, pastry stores, and supermarkets in the town as well.
P
aulina with Paulina on the Road

Exploring San Marino
San Marino is a  micro-country that is often overlooked by travelers. The oldest country in the world boasts breathtaking views of the Italian countryside while being home to an impressive castle. Traveling to San Marino is a must for anyone visiting Italy.  Located three hours south of Venice by driving or under two hours by train, it's easy to get to.
You'll recognize San Marino by the towering castle on the peak of the mountain. The three peaks of Monte Titano have towers to explore. The First Tower, Guaita is the oldest tower built in the 11th century and most famous. The Second Tower, Cesta, is on the highest peak and is home to a museum holding over 1500 weapons dating back to the Medieval Era. The Montale, the third tower, is on the smallest summit and is not open to the public.
For a delicious meal, visit Ristorante Il Beccafico. Hand-tossed, fire-grilled pizza with local wine overlooking the countryside? What's not to love? If you still have time to explore, visit the Basilica de San Marino, the National Museum, or for something a bit different – the Torture Museum.
If you're able to stay in San Marino, then I recommend staying at the Hotel Cesare. They're located at the top of the mountain and have a patio overlooking the hillside.
Pam with Directionally Challenged Traveler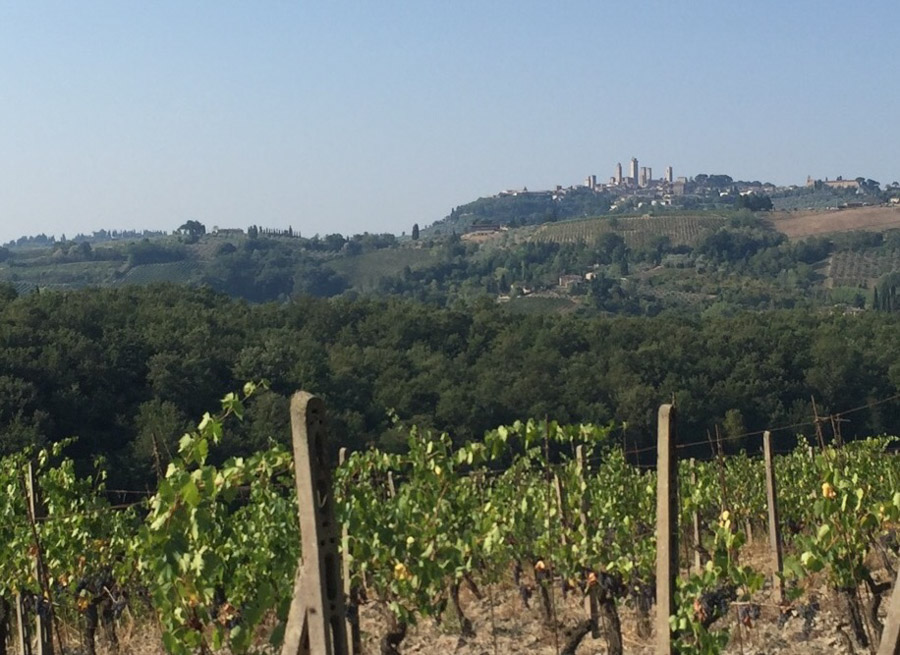 San Gimignano
Located between Florence and Siena, San Gimignano is a distinct and well-preserved town with medieval towers that can be seen from miles away. The small town was a hub in medieval times with families that constructed their towers to symbolize their wealth and power. While few of the towers remain, the town has been very well preserved.
From the hilltop of San Gimignano, the picturesque landscape of rolling hills is breathtaking. There are several lookout points which you can find by simply walking around the town.
You will feel transplanted into the past as you wander the city streets stopping by gift shops, a gelato shop that has been awarded the best gelato in the world, and delicious restaurants. San Martino 26, for example, is a typical Italian restaurant where you can enjoy a flavorful risotto with a perfect creamy texture or you can visit Il Trovatore for amazing pizza.
Every day, buses arrive from Florence and other nearby cities so it is best to stay nearby and go earlier in the morning or in the afternoon as they are leaving. Outside the city walls, you will find several bed and breakfasts to stay in, and for a unique experience, take a horseback ride through the vineyards and olive trees.
Dan Bagby – CabinCritic.co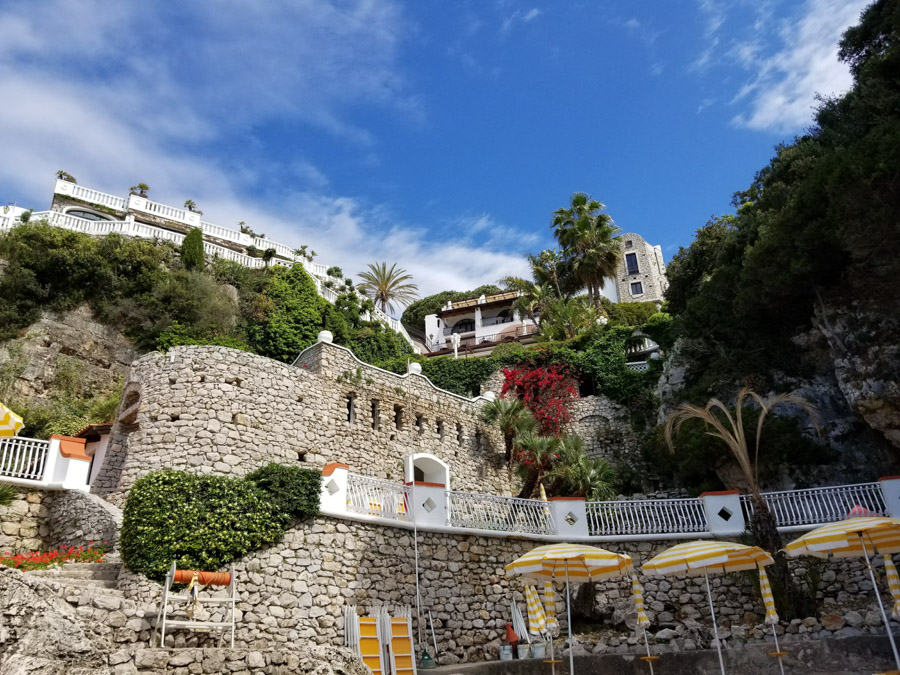 Exploring Gaeta, Italy
Have you ever heard of Gaeta, Italy? If you are an international traveler probably not. It is not listed in any guidebooks and there are no train stations nearby. It is a local treasure!
Gaeta may be one of the most beautiful places on earth! It is one of the most southern cities in the Lazio region of Italy. Located about two hours from Rome and about 2 hours from Naples it is the perfect spot to add to your Italian Itinerary.
Why We Went to Gaeta
We would have never found this amazing place had it not been for the fact we were tracking where our ancestors came from. My husband's great great grandfather immigrated to the United States from this area. We were interested to see if we could find any records. We were not planning a Gaeta Italy beach vacation but ended up having one by surprise!
Why You Should Go
There are seven beaches in Gaeta. These are the beaches the locals hit.(especially in August) There are beautiful cliffs and grottoes to explore. It is also a great place to scuba dive and snorkel. One of the beaches is only accessible by row boat, which is an exciting adventure. There are boat rentals, hiking trails, and bike rentals also available in this area.
Beautiful resorts are located along the coast which make for amazing views of the ocean.
Gaeta is worth checking out on your next trip to Italy!
Check out Lisa's post on a Gaeta Beach vacation
Check out these reviews and current hotel rates here for planning your next trip to Gaeta.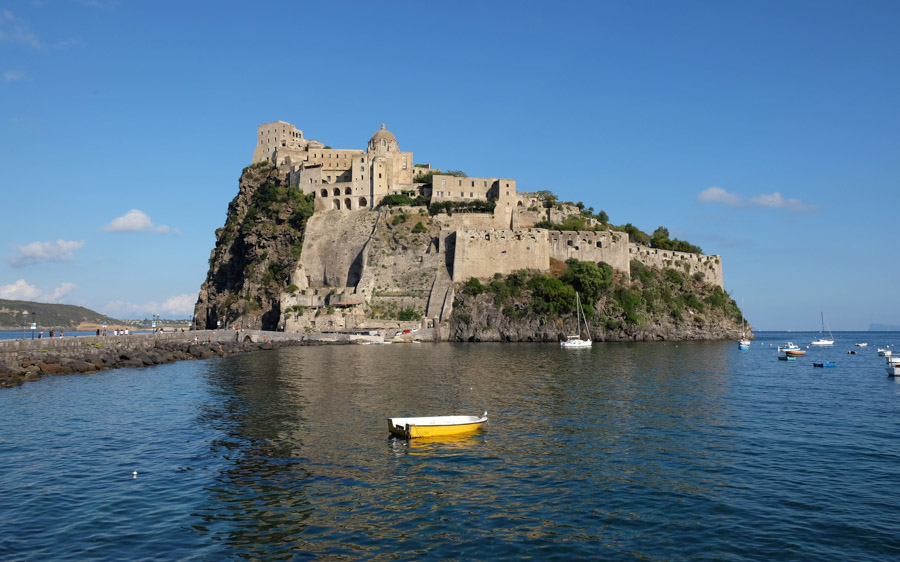 Discovering the island of Ischia
Ischia is undoubtedly one of the best places to visit in Italy for relaxation. A beautiful island around an hour by fast ferry from Naples, it gives the visitor a beguiling combination of pretty towns, must-visit attractions, great hiking and beaches, all in an island just six miles wide.
Start your visit to Ischia at its number one attraction, the Castello Aragonese. This medieval castle is set dramatically on a rock, linked by a long bridge to the mainland. It's a fascinating place to visit.
Other things to do in Ischia include visiting the two world-renowned gardens, Giardini la Mortella and Giardini Ravino; seeing pretty Sant'Angelo, a car-free village in the south of the island; hiking Monte Epomeo, the dormant volcano in the centre of the island, and spending time on one of Ischia's lovely beaches.
One activity you mustn't miss on your trip to Ischia is visiting a thermal spa. Ischia is blessed with over 100 hot springs, and many hotels have their own thermal baths. If yours doesn't, or if you want to make a day of it, there's plenty of choice. Popular thermal spas include the Negombo gardens and spa, where you can relax in 14 different ways. If you're not keen on that, you can try bathing Roman-style at the 2000-year-old Cavascura baths, or enjoy thermal waters for free at Sorgeto beach.
Helen with Helen on Her Holidays
Check out these reviews and current hotel rates here for planning your next trip to Ischia.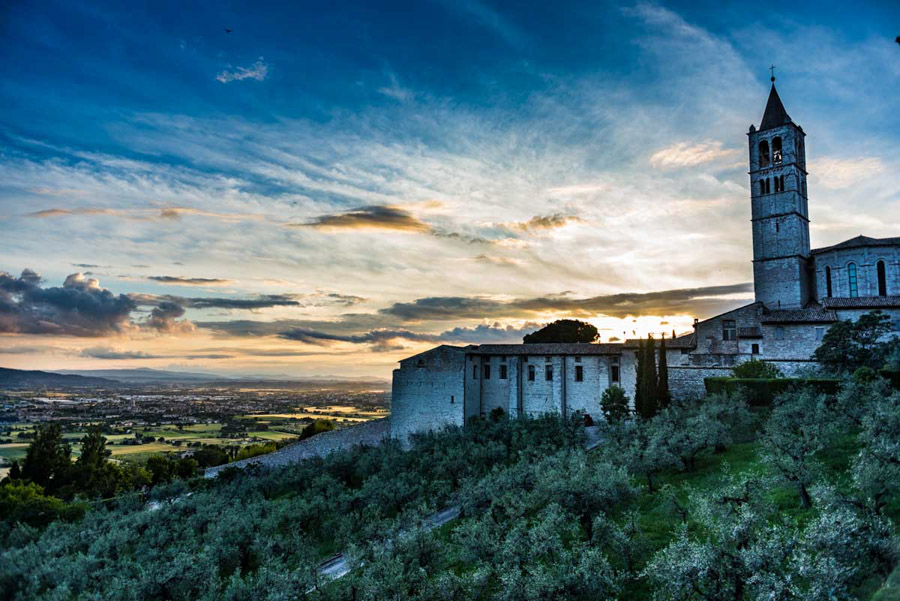 Touring Assisi
Before you start ticking off your list of things to see and do on your tour of Assisi, it would serve you well to at least take the time to learn just a little about the two saints, Francis and Clare, that make this Umbrian town the attraction that it is.
The two saints are the inspiration for the major attractions in Assisi, the basilicas that bear their names.
There are two Basilicas of Saint Francis on the same site, an upper church and lower church. Both churches were started at the same time, immediately after the canonization of Francis–only two years after his death in 1226. Both are decorated by the premier painters of the early Italian Renaissance, including Giotto and Cimabue.
The Basilica of Saint Clare was begun in 1257, only four years after her death and two years after her canonization. The basilica is distinguished mostly by paintings over the altar and a huge Byzantine crucifix.
Also of importance is the small chapel called the Porticuncula, which was a Benedictine chapel that has fallen into ruins and was restored by Saint Francis himself. The Portiuncula is now surrounded by the more modern Basilica of Saint Mary of the Angels.
That's not all there is to see in Assisi. Under Assisi's main plaza is the Civic Museum of Roman artifacts. You can see the actual 2000-year-old pavement from the ancient Roman city. Also preserved are several statues, gravestones, and other vestiges of the city's forum.
Tom and Kristin at Travel Past 50
Check out these reviews and current hotel rates here for planning your next trip to Assisi.

The hilltop town of Montalcino
Just a 45-minute drive from the popular Tuscan city of Siena, Montalcino is a beautiful hilltop town surrounded by the Val d'Orcia Natural Park that's known for its wine. With only 1,500 residents, but over 220 wineries, you're spoiled for choice but it's the Brunello red wine that most visitors to the town would recommend. Or, if white is more your thing, try the crisp organic Bianco in the relaxing courtyard of Podere Il Cocco.
One of the best restaurants in Montalcino to try the wine (& delicious Tuscan food!), is Osticcio. Osticcio has a stunning patio area with views of the rolling hills and the food is beautifully presented. It's the perfect place for a celebratory meal while on vacation. Be sure to try a few glasses of the Brunello red alongside dinner!
It's not just about the wine, Montalcino is also home to historical buildings and art. This includes the Rocca: a fortress constructed in 1361 which remains largely intact which becomes a spectacular setting for concerts and events including the Jazz and Wine Festival held every July. The Abbey of Sant'Antimo, just south of the town, is one of the must-see attractions in the area.
Of course, the winding stone streets of Montalcino themselves are part of the appeal of this town. An afternoon spent wandering and stopping to browse at art shops, cafes and wine bars would be an afternoon well spent!
Hannah with That Adventurer
Check out these reviews and current hotel rates here for planning your next trip to Montalcino.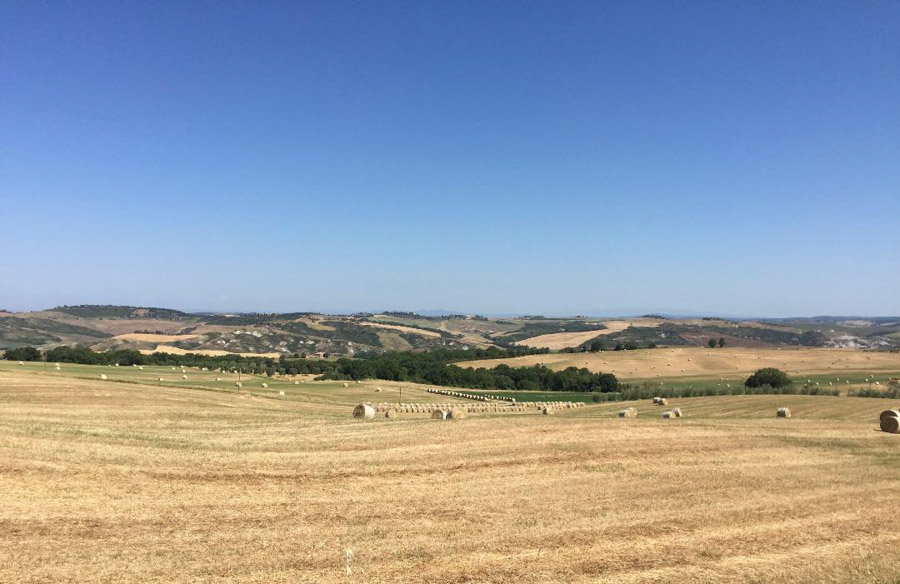 The hilltop town of Montepulciano
The medieval hilltop town of Montepulciano is a must see on any road trip of Italy. Deep in the beautiful Tuscan countryside, Montepulciano is a town of elegant palazzos, historic churches, pretty squares and secret corners, with the most incredible soaring views of the quintessentially Tuscan Val d'Orcia.
This is a town for wanderers, the tangle of cobbled streets and interesting diversions perfect for an afternoon of meandering. Piazza Grande is the central square and heart of the town. Surrounded by the Duomo, the Palazzo Comunale, the Palazzo's Tarugi and Contucci, the square itself will feed your need for culture and Renaissance architecture. If you're looking for those amazing views, duck into any of the side alleys coming off the main thoroughfare until you reach the ancient walls to find sweeping vistas of the gently rolling landscapes that surround Montepulciano and define Tuscany.
Montepulciano's main claim to fame is for the production of the full-bodied and fruity Nobile di Montepulciano red wine. You can visit several cantinas within the city walls which are situated under the palazzos, which historically belonged to the wine makers of the region. Along with excellent wines, the food in Montepulciano's trattorias is sublime; all the tastes of Italy with local twists like rice wild boar ragu and pici, a hand rolled pasta stuffed with creamy cheese sauce. To finish, choose local cheese and honey, an amazing combination that brings Tuscany alive on the tongue. Stay at Palazzo Carletti for opulent rooms with hand painted frescos, incredible views and an enviable town centre location.
Izzy with The Gap Decaders
Check out these reviews and current hotel rates here for planning your next trip to Montepulciano.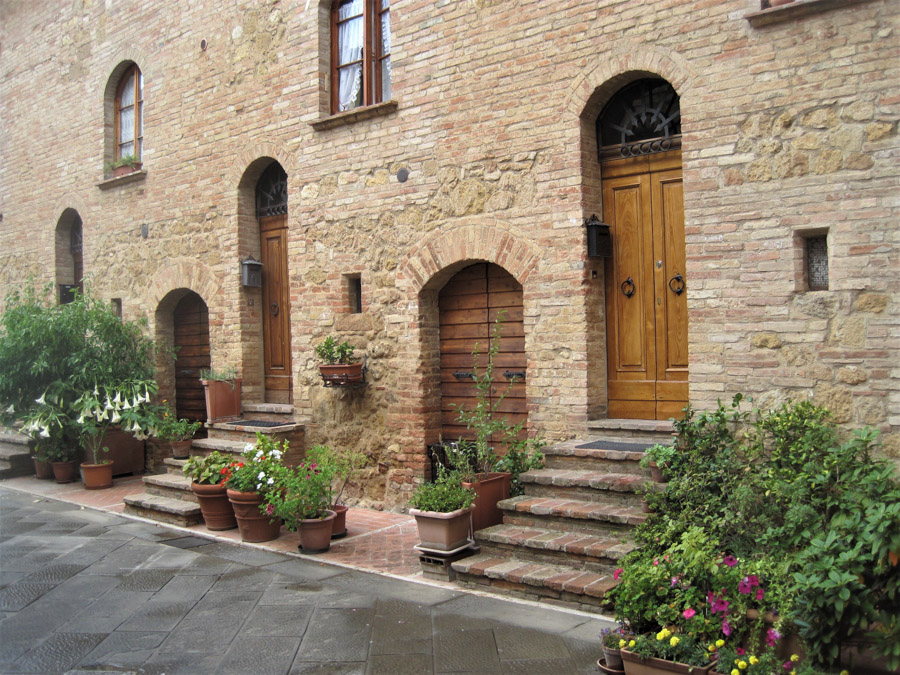 Pienza, Italy
Outside a stone villa in Siena, Tuscany, my boyfriend was  talking with one of the other guests, a local Italian man there  with his family. "What do you recommend we see in this region?"  he asked. "Pienza," said the local man without a moment's  hesitation. "And eat at Latte di Luna."
Through endless winding green hills, we drove to Pienza the  very next day. It rained the entire time but stopped as soon as  we arrived in this tiny, hilltop 15th Century town. Filled with  Renaissance architecture like the Pienza Cathedral and  Piccolomini Palace, the center of town is a UNESCO World  Heritage site.
We walked up a hill paved with stone, gorgeous views all along  the way, to Latte di Luna restaurant as the local man had  recommended. It was opening soon for lunch, and a very happy  woman stood in the long line ahead of us. "I came to this  restaurant four years ago. I've never forgotten it, and I've always  wanted to come back! she exclaimed. "The name means 'milk of  the moon.'"
The long line was worth it. Our meals at this out-of-the way spot  were the best we'd experienced in the region. Now, seven years  later, we still talk fondly about "milk of the moon" and the  charming, quiet Tuscan town of Pienza.
Sabina with World of Freelancers
Check out these reviews and current hotel rates here for planning your next trip to Pienza.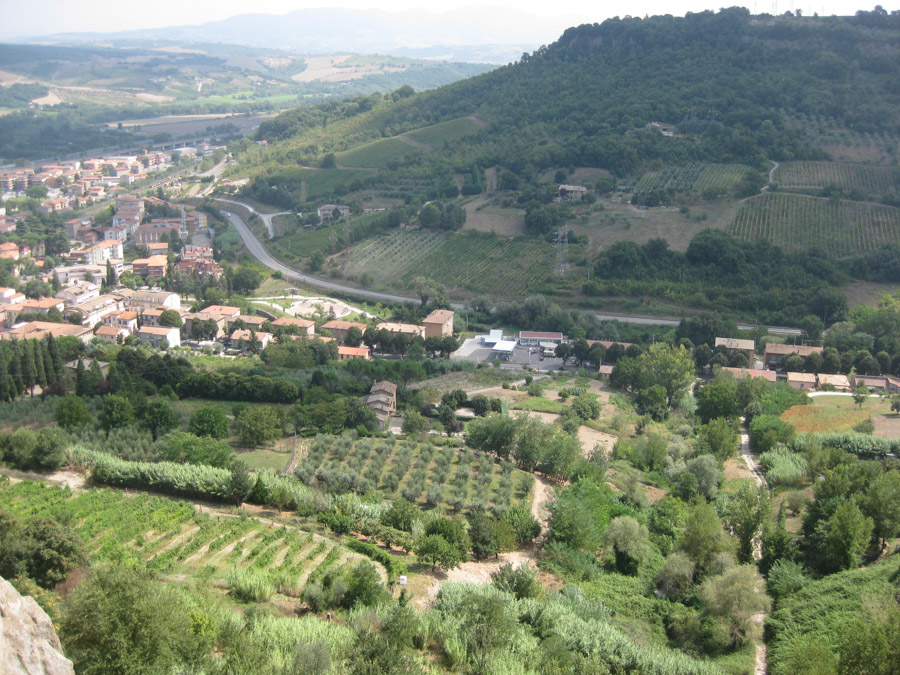 Bella Orvieto in Umbria
Orvieto is a gorgeous medieval hilltop city located in the region of Umbria in the centre of Bella Italia. Most travellers will take a day trip from Rome as it is just under 90 mins from the capital city but it is definitely worth an overnight visit if you have the time. It is a charming city, a hidden gem away from the chaos which can get busy, but not overcrowded with tourists.
You can spend your day exploring monuments, museums, and churches including the breathtaking Duomo. The most famous attraction though, and a must see, is the Pozzo di San Patrizio, a 53metre deep well which was completed in 1537 where you can climb down the 248 step spiral staircase to the water level.There are some amazing views above the city, however below you can find a wave of caves and tunnels where you can take a guided tour to explore the underground.
The city is known for it's delicious wine, and is filled with small restaurants serving up tasty meals featuring mushrooms, truffles, sausages, salami, and of course Umbria's traditional dish of wild boar. Sit back and relax with a glass of wine and a meal while you marvel at some of the spectacular views from the city.
Chontelle Bonfiglio – Mum's Little Explorers
Check out these reviews and current hotel rates here for planning your next trip to Orvieto.
Exploring the best places to visit in southern Italy
Southern Italy is a captivating region that invites you to immerse yourself in its rich history, stunning coastlines, and vibrant culture. From the iconic ruins of Pompeii to the breathtaking Amalfi Coast and the charming streets of Naples, this region offers a diverse range of experiences. Explore the ancient city of Matera, known for its unique cave dwellings, or indulge in the culinary delights of Sicily, home to renowned dishes like arancini and cannoli. Discover the picturesque beauty of the Amalfi Coast, with its dramatic cliffs and colorful villages, or delve into the enchanting history of the Greek temples in Paestum.
Southern Italy is a place of charm, authenticity, and a slower pace of life that invites you to unwind and savor every moment. Get ready to embark on a journey that will take you through breathtaking landscapes, fascinating history, and the warmth of southern hospitality.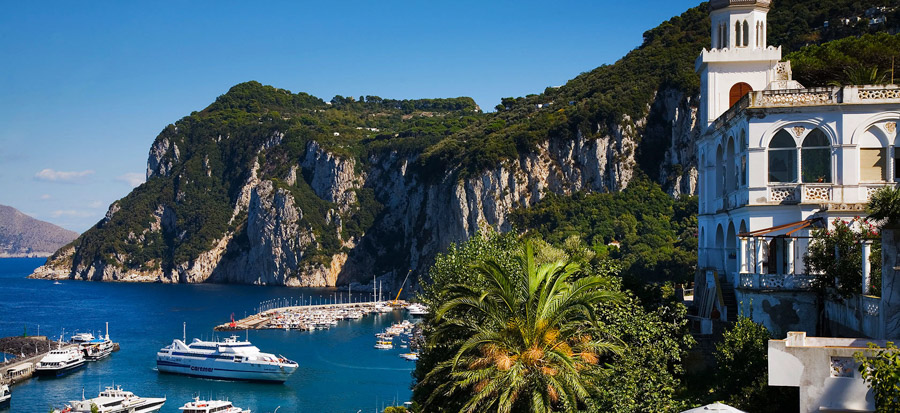 Sunny in Capri Island
To the South of Naples lies of Sorrento. Not only is it a beautiful town it's also a popular setting off point to the Island of Capri. Regular ferries run the 30-minute ride from the mainland out to Capri. As you make the ride over you won't help but notice the dozens of ginormous celebrity-owned yachts. They know Capri is the place to be.
The Island of Capri is well known for its picturesque rugged landscape but it's best known for its upscale hotels and high-end shopping. It gives off a feel of Monaco with all the wealth around but then also wows you with the stunning vistas and beautiful coastal scenery.
Popular activities on the island often involve boat trips to enjoy the beautiful Blue Grotto. This is a dark cavern where the water glows an electric blue. Stunning. Capri's coastline is dotted with many coves so there is plenty of exploring you can do.
On the Island head to Villa San Michele of views of the brilliant blue Gulf of Naples. You can also see across to the mainland. The villa itself is a stunning example of 19th-century Italian architecture.
It's referred to on maps as Piazza Umberto 1 but it's better known as La Piazzetta and you will need to make sure you see it lit up as the sunsets. Expect a crowd though, especially on summer nights, as this small square is a popular location. You can enjoy it from the relative calm of one of the cafes outside tables.
Try to make time to spend at least a day in Sorrento before you leave the area. The town is perched on two hills that are split by the marina. It is a popular tourist destination with a historic town centre full of small little alleys that lead you through the centre of the town.
Rob Best with Roam Yonder
Check out these reviews and current hotel rates here for planning your next trip to Capri Island.
.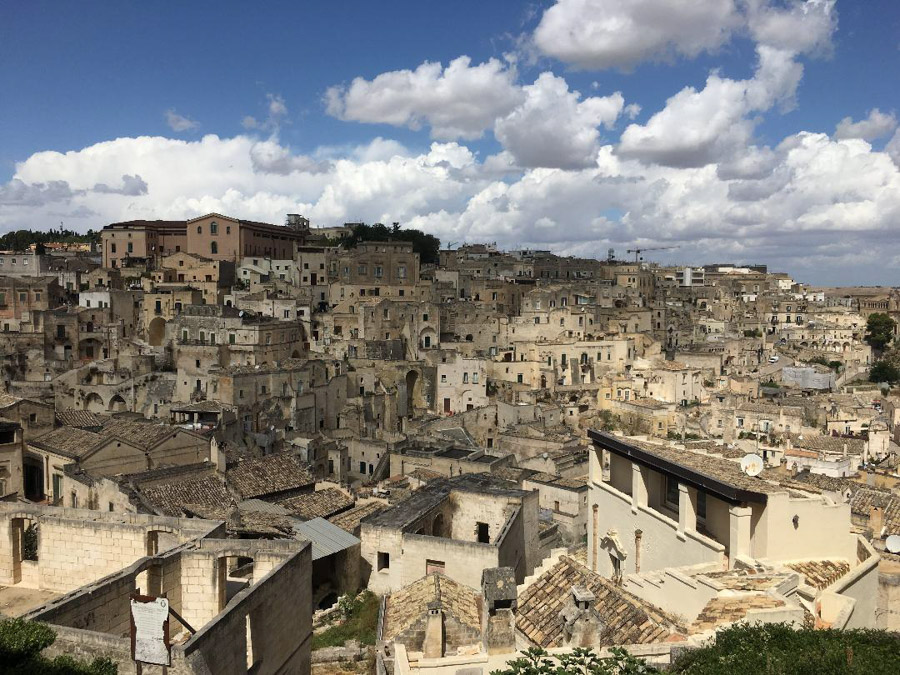 Visiting Matera, Italy
Down in the south, Matera is one of the best places to visit in Italy. This incredible city can trace its history as far back as the Paleolithic era when ancient peoples inhabited caves surrounding today's city center. While I was teaching English in Matera, we even spent a day hiking up to explore these caves.
The other historic area of the city is called the Sassi di Matera. The Sassi is comprised of buildings and homes that were literally built into the side of a mountain. While they were uninhabited for many years starting in the 1950s due to unsanitary conditions, these beautiful white stone homes have now been renovated and restored to modern-day requirements. Today, you can wander through the twisting streets of the Sassi and discover locally-owned shops and great restaurants. You'll find some impressive, unique Airbnb apartments in this aged neighborhood to rent during your visit.
At the center of Matera's downtown, you can take a tour of the city's former water cisterns and underground waterways. This ancient method of transporting water to the town's citizens was vital to the city's existence. Take an afternoon to wander through these fifteen meters high tunnels with a tour guide and learn about how the city's citizens accessed water.
Since Matera was named a 2019 European Capital of Culture, it's grown a bit in popularity. However, even now, when you visit Matera, you'll get experience in authentic, Southern Italian culture.
Check out Lyndsay's post on A guide to teaching English in Italy
Check out these reviews and current hotel rates here for planning your next trip to Matera.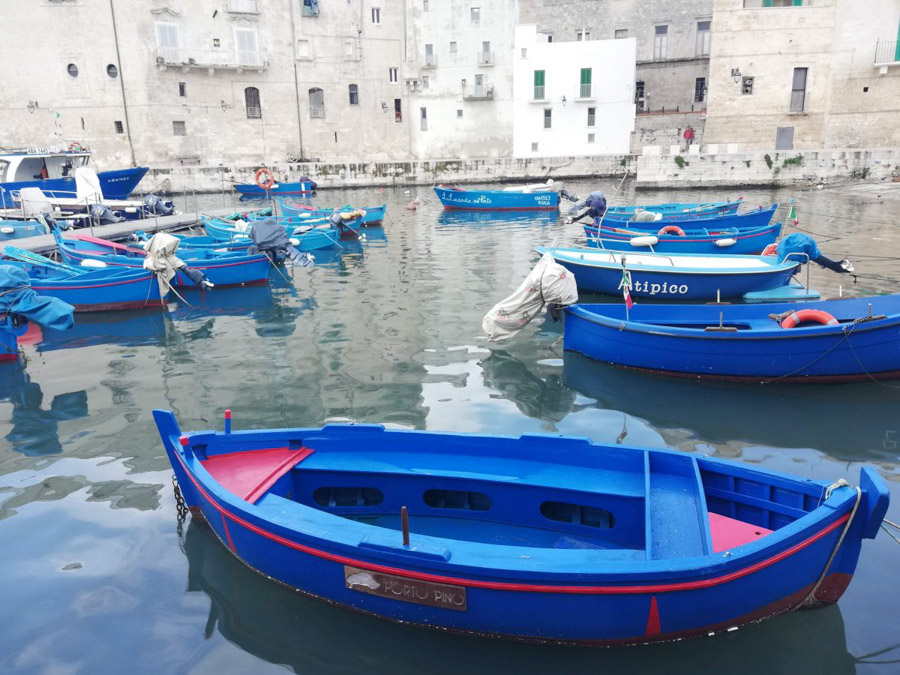 Southern tip at Puglia
Most foreign visitors to Italy stick to a well-trodden circuit in the center and north of the country, leaving southern regions like Puglia relatively undiscovered. But the heel of the Italian boot is full of hidden gems just waiting to be explored. The beautiful Baroque city of Lecce is full of ornate palaces and could give Florence a run for its money. Indeed, some people refer to it as the "Florence of the South". And for beach lovers, Puglia has plenty of beautiful seaside towns, such as Trani, Polignano a Mare, and Monopoli.
Then there's Alberobello, famous among domestic visitors for its "trulli". These traditional houses are small, round structures made out of stone, and topped with a conical stone roof. You'd be forgiven for thinking that you'd just wandered into the Smurf Village! Many of the trulli have been converted into restaurants and guesthouses, so don't miss the opportunity to dine and even sleep inside one. And be sure to taste some of the local specialties, such as orecchiette alle cime di rape, that are unique to Puglian cuisine.
As for Bari, the regional capital, it's often overlooked as simply a transport hub, but it definitely deserves a spot on your Puglia itinerary. The narrow, winding streets of the well-preserved old town are a joy to wander around and get lost in. And a must-visit is the twelfth-century Basilica of St. Nicholas, where Old Saint Nick (yep, otherwise known as Santa Claus) is buried.
Wendy Werneth of The Nomadic Vegan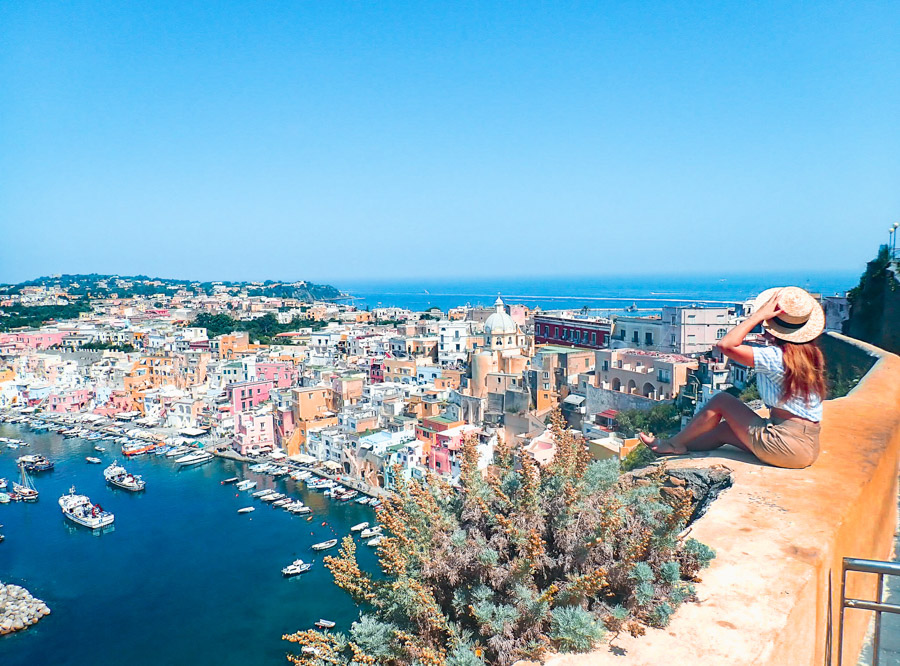 Procida Island close to Naples
"
Procida Island
, just a stone's throw away from bustling Naples is that exact island we all imagine when thinking of that Italian lifestyle- slow, glamorous and authentic- all at the same time! One of the most colorful islands in Italy, the notorious little fisherman's harbor Marina Corricella is dotted with pastel colored houses, vintage vespas parked out on each doorstep, and local fishermen busy at their nets waiting to tell a story or two.
The island is rich in history and has a past strongly intertwined and connected with piracy. In fact, as you wander around Terra Murata (which means "walled land") many of the doors that you see are actually fake so as to stall pirates during invasions. To this day, those doors have remained in place. This is also the highest point on the island where you will get the best panoramic views.
Right next door you can visit Palazzo d'Avalos, an abandoned Bourbon royal palace turned maximum security prison during the 1800s. You can take a tour here and I highly recommend it! As you wander around the halls of such an ornately designed architecture you can't help but feel such an eerie energy as you come by cells and torture devices- the juxtaposition makes the whole experience rather charged.
The island is also famous for its lemon orchards- you can actually dine underneath one at La Pergola Restaurant. If sea views however are more your thing, there are literally hundreds of restaurants to pick from. La Lampara in Marina Corricella has heavenly cuisine and sits overlooking the magnificent bay. Trust me, for an uncrowded Dolce Vita experience, Procida is the island to head to."
Linda with ladolcefitvita.com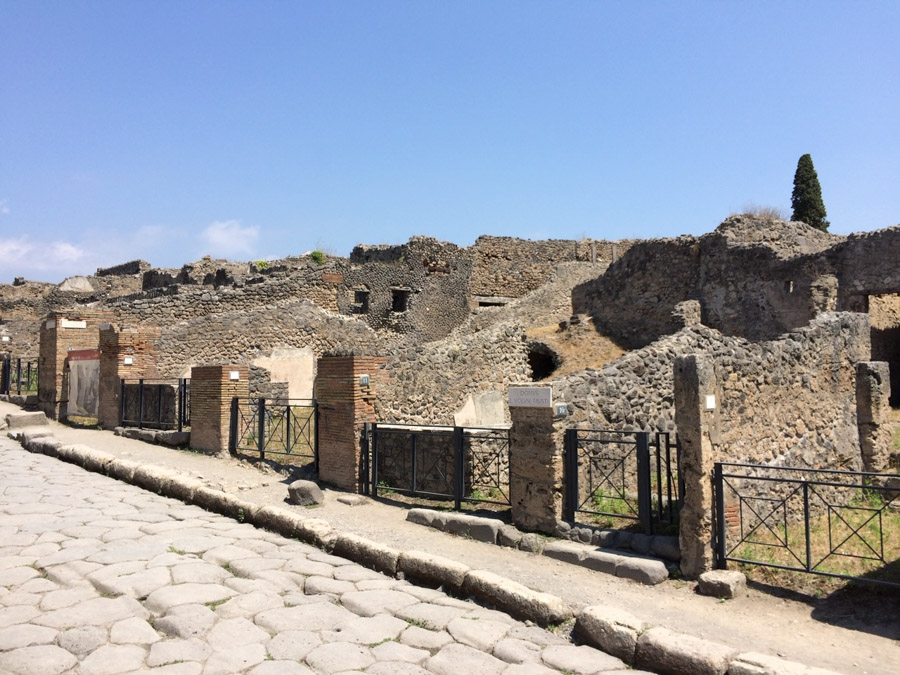 Pompeii and Vesuvius, Italy
Pompeii and Vesuvius are UNESCO World Heritage sites located close to the Gulf of Naples in Italy.  In the year 79, the Vesuvius volcano eruption buried the vibrant city of Pompeii under six meters of ash. Excavations later discovered that the city had been amazingly well preserved under the ash and provides an extraordinary insight to life in the Roman era. The amphitheaters display impressive acoustics still today and it's easy to imagine the restaurants and shops along the cobblestone main street. The Roman spa and the sauna section offer an incredible insight to the ancient culture and architectural capability of the time. Other impressive sights include temples, villas and a vast forum space with huge statues.
After seeing Pompeii it's convenient to continue to Vesuvius National Park where Mt. Vesuvius offers a fairly easy (yet possibly hot and dusty) hike up to the summit. Vesuvius is considered as one of the most dangerous volcanoes in the world and on the way up it's possible to see the lava flows of the last eruption in 1944. Good walking shoes and enough water are essential to bring along. There are also three cafes to buy water, snacks and souvenirs. From the summit there are fantastic views over Naples all the way to the sea.
Visiting Pompeii and Vesuvius is possible as a day trip from Rome and a must if visiting Naples and Southern Italy. In addition to guided tours offering great insights to history, public transportation is also possible via train from Naples to Pompeii and bus from Pompeii to Vesuvius.
Pia with Next Stop TBC.com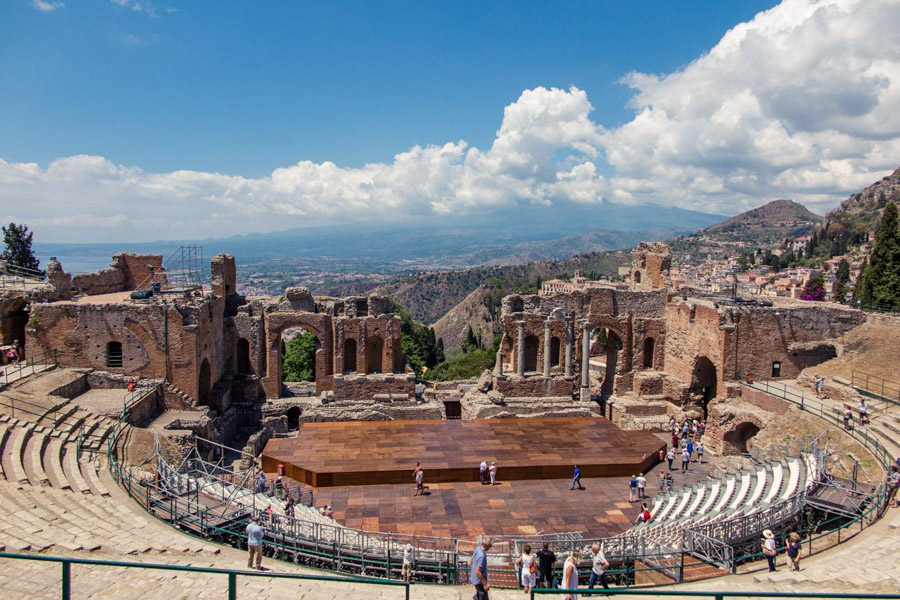 Exploring the eastern coast of Sicily at Catania
Catania is located on the eastern coast of Sicily and is home to 315,000 people. It's the second-largest city on Italy's beautiful island of Sicily and there is plenty to do for all types of travelers.
Let's start with some factual information about Catania for the history freaks among us.
Catania was originally founded by the Greeks, but as Sicily has been seized by various empires, so did Catania. It has some influences from the Carthaginians, The Roman Empire, and The Ostrogoths.
History and culture lovers will enjoy a visit to Teatro Romano is a great place to see the influence of the Roman Empire on Catania. Catania was a major hub during the Renaissance which is why you can still find remains of the renaissance culture, art, and history in Catania. For example when you visit the Basilica Sant'Agata, Museo Civico, or Ursino Castle.
City trippers and architectural lovers will simply love strolling around the city and exploring the beautiful buildings and squares in the cities are the best way to explore Catania. Via Dei Crociferi is one of the best streets to check out and after that head over to Piazza Del Duomo with its Elephant fountain and the Catania Cathedral for more historical buildings.
The Benedictine Monastery in Catania has also been included on UNESCO's world heritage list due to its stunning architectural style. Making the monastery and the connected San Nicoló l'Arena a must-visit in Catania for world heritage travelers.
Of course, a visit to Catania cannot be complete without a visit to Mount Etna, the ever-active volcano next to Catania. With its 3327 meters, it is also the highest volcano in Europe and the most active. A visit to the top is both beautiful, eye-opening, and educational about Catania and how the people of Catania have lived with an active volcano for such a long time!
Lara from Both Feet On The Road
Check out these reviews and current hotel rates here for planning your next trip to Catania.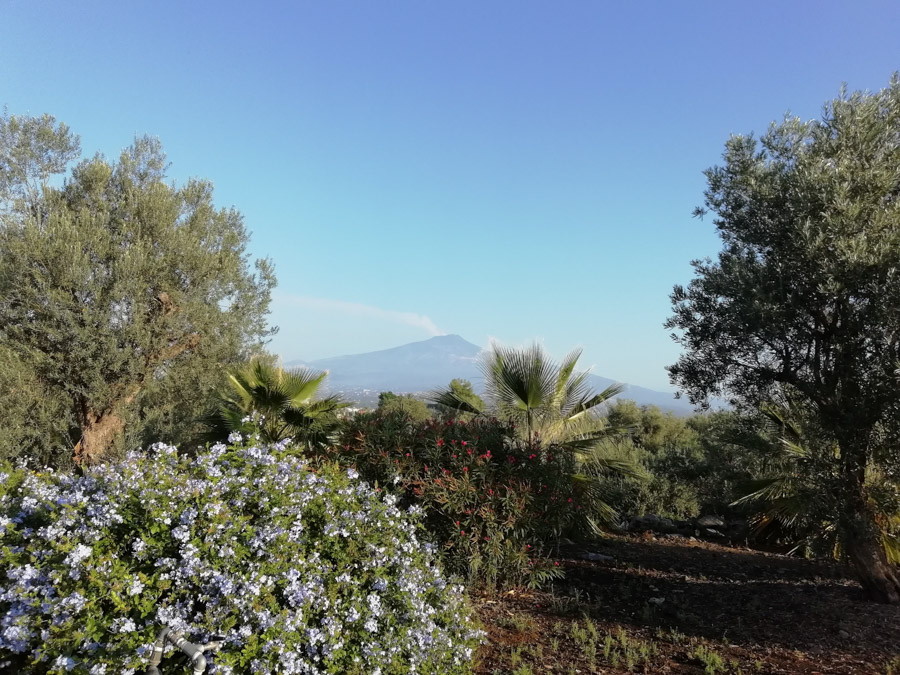 Touring around Taormina
One of the best places to visit in Italy is the quaint hilltop town of Taormina. Not far from Mount Etna, it's located on the east coast of Sicily. Surrounding the picturesque town are medieval walls with dramatic gates and cliffside overlooks.
There are many attractions and things to do in Taormina like planning a day trip to Mount Etna. There are many trails leading to the summit of the active volcano and excursions by all-terrain vehicles are led daily. For a more traditional trip, buses also take visitors to the site of the volcano.
A second must-see attraction in Taormina is the Teatro Antico di Taormina, an ancient Greco-Roman theatre. When you visit the theatre, which is still used today, you'll enjoy unbelievable views of the beaches and protected coves below.
Perhaps the best reason to visit Taormina is the nearby beaches. The most beautiful beach in the area is Isola Bella. To reach it, you can hike down a footpath, take a bus or buy a ticket for the funicular to the shoreline. Isola Bella is an island and nature reserve just off of the coast which is reachable during low tide. However, you may have to wade back depending on the tides.
Finally, make time to explore the gorges of Alcantara, a natural marvel 20km from the city. The Alcantara Canyons were carved into black lava flows and are 50m tall tall. The rock formations of the walls, the cold water running through them and the countless lava caves are a must-see.
For stunning beaches, ancient ruins, natural wonders and a medieval Italian town – you have to visit the city of Taormina.
Check out Robe's post on Things to do in Taormina
Check out these reviews and current hotel rates here for planning your next trip to Taormina.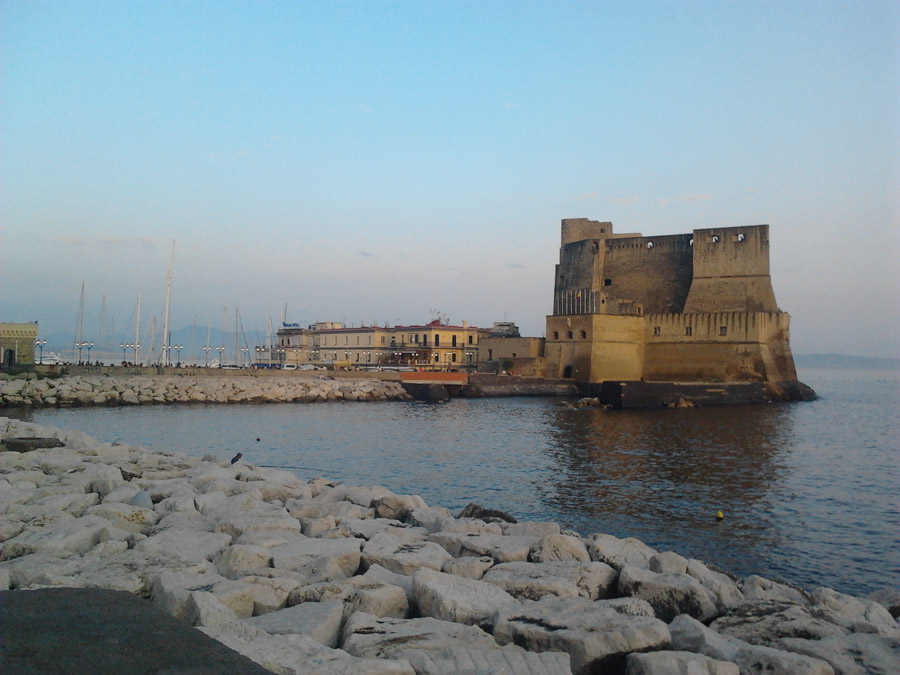 Archeology and castles of Naples
Naples is not usually at the top of the list of places to visit in Italy. There are many other places in Italy that market themselves far better than Naples. However, skipping Naples is a mistake. The third-largest city in Italy has many selling points that should place it among the top 5 cities to visit in Italy.
Let's just browse quickly through some of them. Naples has 3 large castles to visit and one of them, Castel dell 'Ovo is situated right by the sea. The city has an incredible promenade by the sea, where you can walk and take tons of photos with Mount Vesuvius always in the background. The Archeology Museum in Naples hosts not only incredible collections of Roman artifacts from Pompeii and Herculaneum but also vast Greek and Egyptian collections. Also, there are literally hundreds of historic churches worth visiting in Naples.
But there is more to Naples than a list of things to do. You will truly experience Naples on the streets, in the piazzas, castles or in the busy markets. Moreover, food is an important part of Italian culture in general and Naples has some of the best food in Italy. After all, they did invent pizza.
One last thought, Naples is loudly alive and will make you feel the same.
Anda Bartos with Travel for a while
Check out these reviews and current hotel rates here for planning your next trip to Naples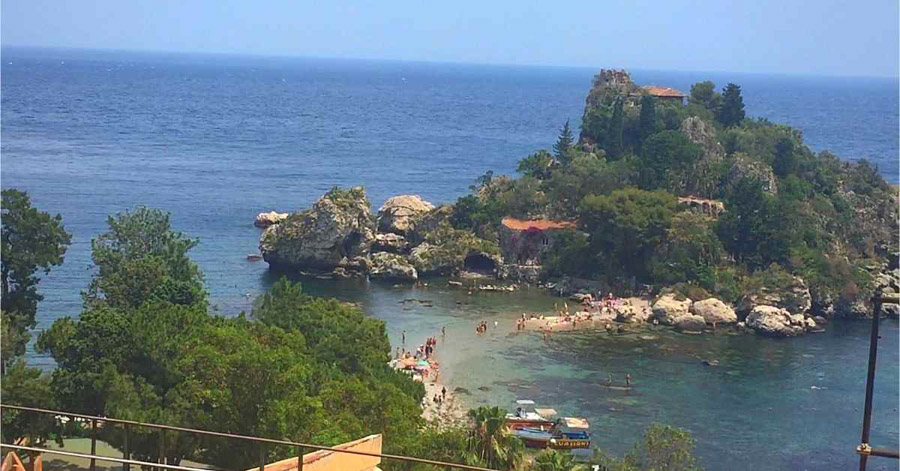 Visit all around Sicily
Sicily, a large island off Italy's "boot" should be on top of anyone's list of places to visit in Italy.
The whole island of Sicily is varied and offers so much to see and do. While the capital of Sicily, Palermo, can be found in the West, I personally think the East of Sicily is the most interesting part.
Catania, the main city in the East, features a pretty Old Town, a rough fresh fish market and a few interesting excavations from Roman times. It's however, the towns and villages surrounding Catania, which should draw most attention.
Etna, the still active volcano, is an absolute highlight of the region. Often hiding its peak in a cloud of smoke, the volcano can be hiked and there's even a cable car to take you to the very top. Etna's moon-like surface is breathtaking on its own and the many craters it created over decades of more or less violent activity can be explored freely.
The East of Sicily features a high number of lovely seaside towns where ancient architecture meets the refreshing Mediterranean Sea. A perfect example of that is Taormina. Its Ancient Greek Theatre overlooks the sea and belongs to one of the most important monuments in the region. The charming town features a few beaches too, which are accessible by a cable car. Isola Bella Beach is the largest and the prettiest, thanks to a little islet of the same name connected to the beach by a strip of land.
Sicily's Southeast is famous for its well-preserved Baroque architecture centered in a historical region called Val di Noto and inscribed on the UNESCO World Heritage List. Notable cities comprising Val di Noto include Noto, Ragusa, and Módica. All these lovely towns can be easily visited on day trips from Catania.
When in Sicily, you shouldn't miss out on tasting the famous Sicilian granita, a frozen sorbet-like dessert, typically eaten for breakfast with a brioche. The best cafés to try granita at are Café Sicilia in Noto and Bam Bar in Taormina.
Veronika with Travel Geekery.com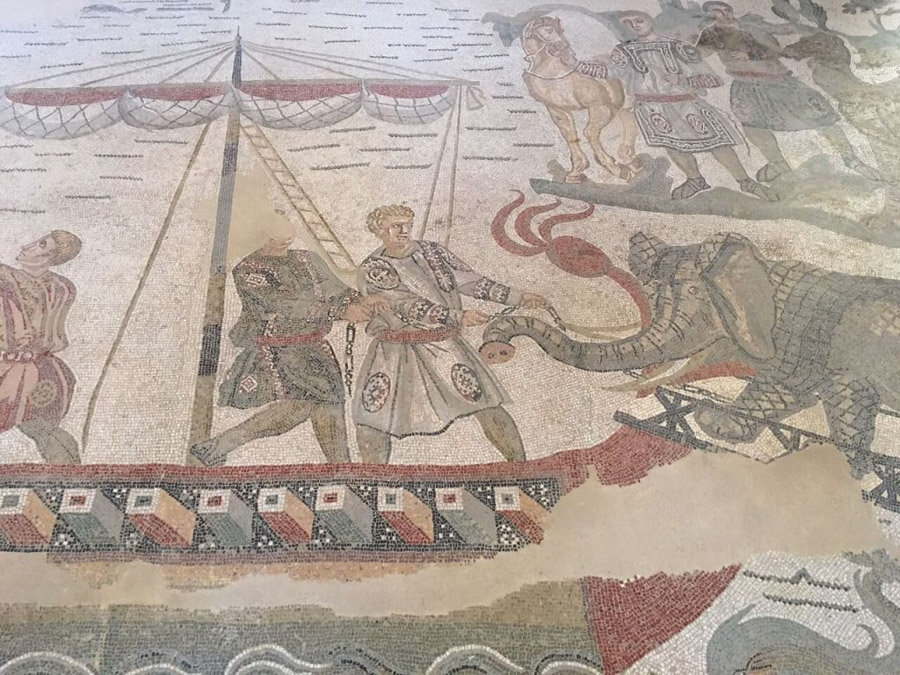 Villa Romana in Sicily
Sicily has a whopping 7 UNESCO World Heritage sites and Villa Romana del Casale is one of the most impressive.
About an hour east of Agrigento, Villa Romana can be easy to miss. Most people visit the area in search of Greek ruins in the Valley of Temples in Agrigento unaware there is another archeological wonder nearby.
Villa Romana del Casale was built in the 4th Century CE by Romans wanting to transfer the architectural grace and glory they were accustomed to in Rome to their southern territory.
The structure is more of a small palace than a villa with high ceilings, spacious rooms, soaring columns and long hallways. The villa's main claims to fame, however, are the mosaics; some of the most impressive and best-preserved ever discovered. These intricately designed works of art are found throughout the villa on the floors and some walls.
The mosaics depict daily life in the villa, represented by dancing girls or mythological figures like the ship fighting off a giant octopus. The level of detail and artistic mastery is striking.
The villa was damaged throughout its history then totally destroyed in the 12th Century when it was covered by a landslide. Excavations during the 20th Century restored much of it.
Talek of Travels with Talek
Share or Pint this for Later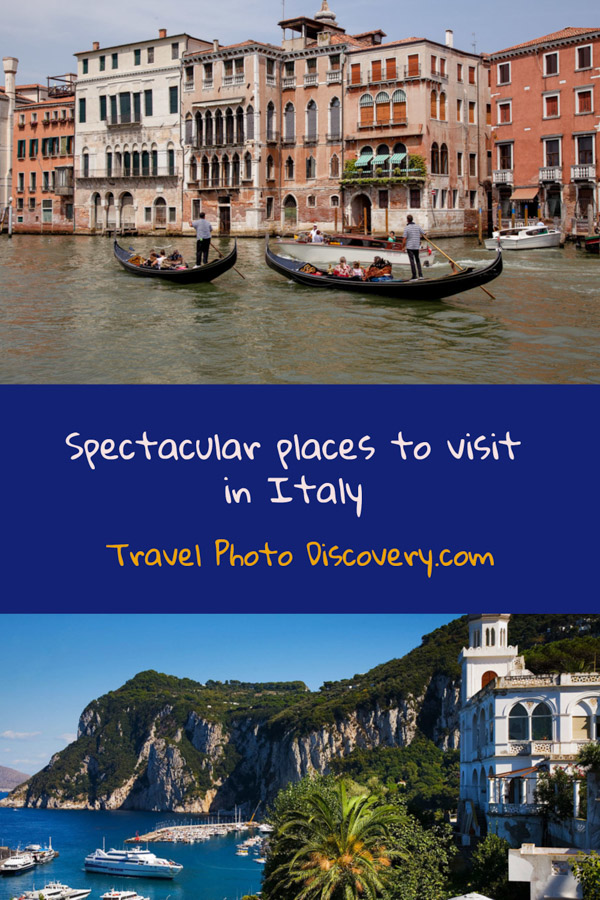 Check out some of my favorite posts on places to visit in Italy
Traditional Italian food specialties
20 Pictures to inspire you to visit Rome
Exploring and tasting specialty foods in Trastevere 
Conclusion to places to visit in Italy
Italy is a destination that truly captures the imagination and leaves a lasting impression on all who visit. With its rich history, stunning landscapes, and world-renowned cuisine, Italy offers an endless array of places to explore and experiences to cherish. From the iconic cities of Rome, Florence, and Venice to the picturesque coastlines of the Amalfi Coast and Cinque Terre, each region has its own unique charm and allure. Whether you're wandering through ancient ruins, admiring Renaissance art, indulging in delicious gelato, or simply taking in the breathtaking views, Italy never fails to captivate the senses. Whether you're a history enthusiast, an art lover, a foodie, or an adventurer, Italy has something to offer everyone. So pack your bags, embrace la dolce vita, and embark on a journey that will leave you with cherished memories of this remarkable country.
Thanks for visiting and checking out this post on Places to visit in Italy. Bookmark this post for future reference when you are looking for some Hawaii activities, adventure or fun experiences.
Please do share this post with any of the social media icons on the side bar and thanks for visiting today!
Some links in this article on a Places to visit in Italy, are affiliates which provide a small commission to support this site at no extra cost to you. Thank you for reading, and happy travels