Traditional Italian food specialties from Italy that you'll just love!
Delicious pastas, soothing granita and gelato, bruschetta and antipasto, it's fantastic traveling all around Italian and trying all these delicious regional food specialties that are very popular in their area. There are so many amazing and wonderful food inspired areas of the country to discover and we are sharing regional favorites from these food and travel bloggers sharing their best discoveries and recipes. Check out all the best traditional Italian food specialties from Italy and eat like a local in Italy with the best foods to try below. Italy for gourmets is a foodie lovers destination and you'll love tasting all these delicious dishes below.
Try these delicious Italian dishes
Delicious pastas, tasty appetizers and snack foods and to die for regional food specialties are featured below. See which of these are your favorite and bookmark this post for referencing these regional foods around Italy and how to make them.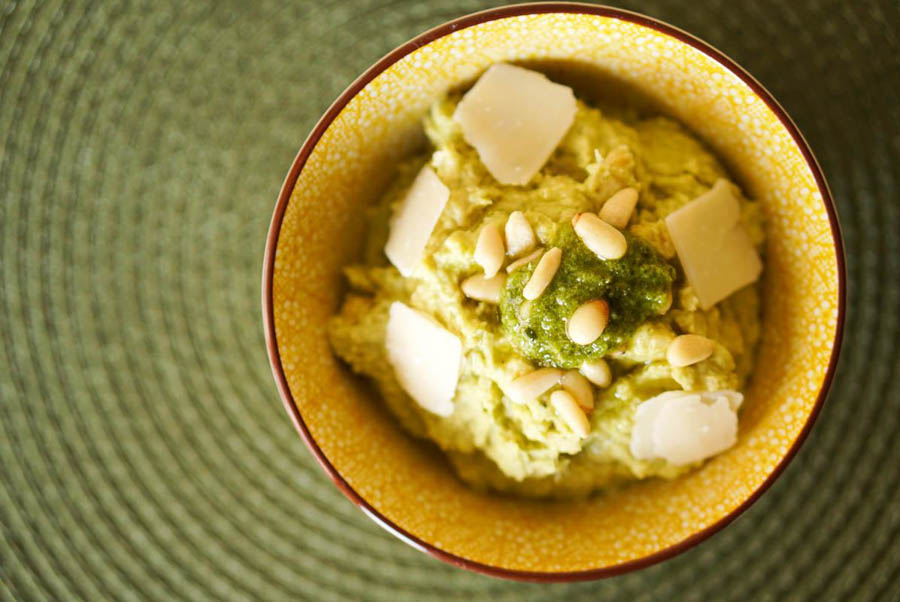 Learning About Basil Pesto in Genoa
Many people don't realize that the pesto sauce served around the world is from Genoa in the Italian region of Liguria. Pesto from Genoa includes Genovese basil, Ligurian olive oil, pine nuts, garlic, salt, and cheese.
The Genovese basil is a DOP protected product under European Union and Italian law. This ensures that only basil grown in specific areas within Liguria can be called Genovese Basil DOP. The cheese is normally an aged Parmigiano Reggiano from Emilia Romagna.
Visit the Mercato Orientale in Genoa, the local fresh market. You can see stacks of fresh basil for sale, as well as local Ligurian olive oil, and Parmigiano Reggiano. Parmigiano Reggiano is from Emilia Romagna, but it is the "official" cheese used in pesto. To know which basil is the best for use in pesto, look at the wrapping around the basil plants to look for the genuine DOP stamp. Within the market, there are a handful of food stalls that sell handmade pasta with pesto made from the ingredients from the market. This is the best way to learn about the local dish. It's super easy to make pesto at home for pasta dishes, but it can also be turned into a basil pesto hummus. The hummus is a great snack, but also can be spread on sandwiches.
For more information about food tourism in Genoa and to learn about pesto and other specialties, check out Liguria by Luisa.
Amber Hoffman with The Bean Bites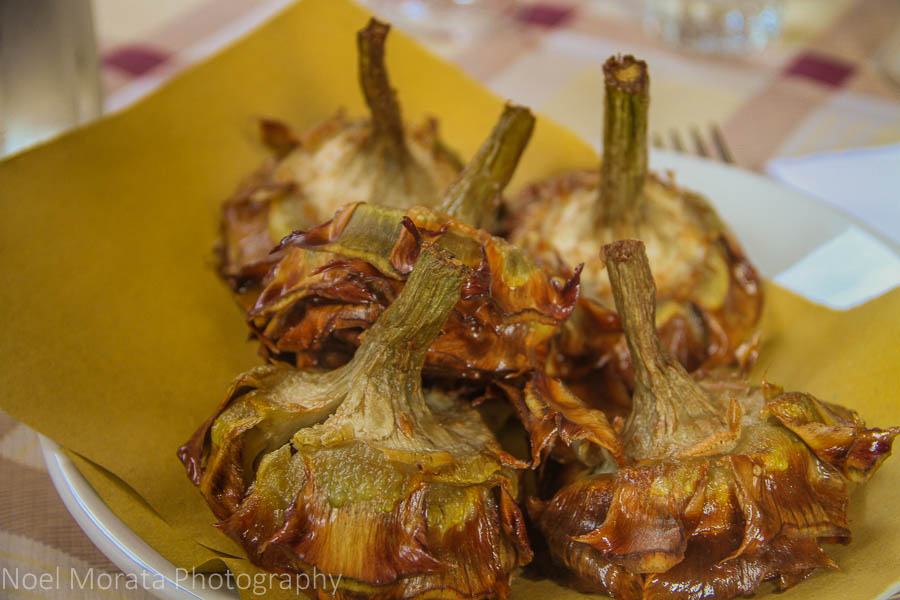 Tasty fried artichokes in Rome
When fresh artichokes are in season in Rome, everyone flocks to the local food markets, restaurants and even bars that feature these delicious appetizers or antipasto. These delicious artichokes and deep-fried whole are so good freshly made and served and easily pared with a nice wine or Italian Prosecco. Artichokes are typically in season starting in November when you start seeing the smaller purple artichokes come into the markets and displayed in the menu's around Rome to enjoy. Peak season comes around February when the larger globe artichokes start coming into the markets and various stores and restaurants selling these delicious vegetables. This poor man's vegetable was first incorporated into Jewish people living in ancient roman times and became a very popular and favorite dish In Rome.
You'll find artichokes incorporated into many different dishes in recipes and menus around the city. But the best if typically, the simplest freshly deep-fried artichokes called Carciofi alla Giudia, and made to order. A simple preparation with a delicious dipping aioli or sauce that tastes so amazing, soft and fried goodness. If you are looking for the fried version of artichokes, check out this artichoke recipe/video below and the following aioli made as a compliment for this dish.
Noel with This Hawaii Life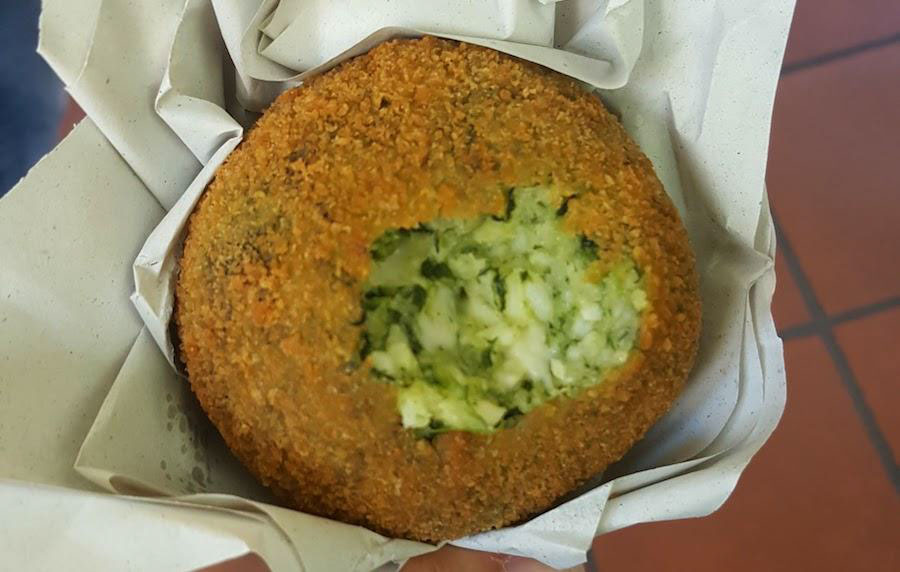 Arancino al pistacchio from Catania
If you ever get a chance to go to Sicily and more specifically the province of Catania, you must try an Arancino al pistacchio. 
Located 25 miles from the heart of Mount Etna, the village of Bronte is home to the world's best pistacchio. Pistachios in Bronte are cultivated in volcanic soil, which makes them better than anywhere else. As a matter of fact, it's even nicknamed "the green gold".
This is why you will find many recipes with pistachio in Sicily but if there is one that is particularly popular and authentic, then it's the Arancino al pistacchio. 
The arancino is a typical sicilian snack. This pointy ball of rice stuffed with ragu and coated with breadcrumbs is an absolute delight. It's generally made with bolognese but near Catania, the star Arancino is made with a pistachio sauce. 
This street food delicacy is the best example of Catanese food you can find. It's perfect when you are on the go and need something quite filling. 
Here are some of the ingredients used: pistachio powder, white wine, butter, Grana Padano and lardons. Sounds good, right?
The Arancino al pistacchio are typical from the region of Catania and if you try them anywhere else, you may be disappointed but if you want to try to make some at home, you can use the following Youtube Video (in italian): 
Or this recipe (in english):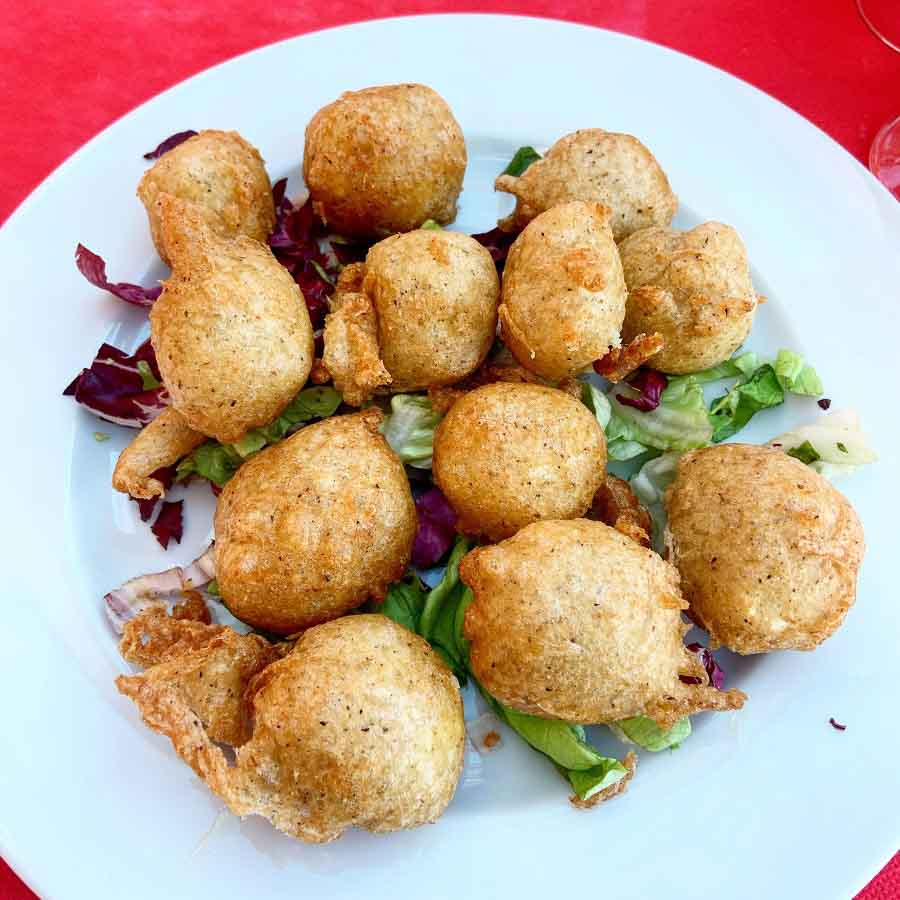 Sciatt from Valtellina
One of my favourite Italian dishes comes from the mountain region of Valtellina. Being a colder mountainous area, hearty, comforting dishes are prolific. Delicious firm cheeses, prosciutto, and polenta. Local wines produced in small vineyards that hug the slopes of the mountains in long delicate spidery lines and are harvested by hand due to their precarious position.
My must-have dish is a starter called 'Sciatt' which means 'toads' in local dialect. Possibly as these are little crunchy balls and have irregular shapes. They are produced by taking little pieces of Casera mountain cheese dipped in a batter of buckwheat flour, frying them and serving on a bed of chicory. The bitterness of chicory mixed with the gooey cheese and the crunchy coating is divine.
Sometimes people have a plate of this to themselves as a primo (first course) or it can be enjoyed as a sharing plate alongside other dishes when you're dining as a group.
You find this speciality all around the villages and stopovers in the mountain areas of Lombardy but once you head down towards Como and Milan. Despite being in the same province; the food changes. The flour and cheese used for this dish don't make it out of the mountains it seems!
Kristie with Mama Prada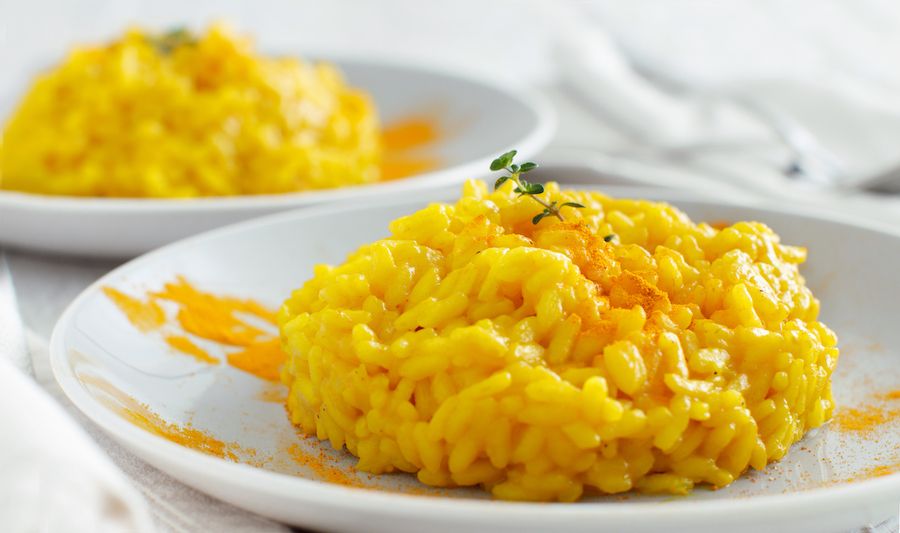 Risotto alla Milanese from Milan
There are so many Italian specialties I'm fond of, but one of my favorites is Risotto alla Milanese. This typical dish from Milan is a must if you're visiting the city and it's so delicious you won't regret tasting it.
Flavored with saffron, Risotto alla Milanese is easy to spot from its yellow color. It's also the reason why locals often refer to it as Risotto Giallo, which means yellow risotto.
Traditionally, it is accompanied with ossobuco, a piece of cross-cut veal shank slowly braised with vegetables in broth and wine. However, you can also have it as a first course, without the meat.
Even if you don't have the chance to visit Milan soon, you can add a flavor of Italy to your table, preparing it at home. Cooking Risotto alla Milanese is not particularly difficult, but like most Italian specialties, you'll need the right ingredients.
Here's the recipe for four people:
Rice (Arborio or Carnaroli) 320 gr
Onion 1/2 (if a big one)
Butter 125 gr
White wine 40 gr
Saffron 2 envelopes 0,125 gr each
Parmigiano 80 gr (better a piece grated by you, otherwise grated cheese in a packet)
Broth 1 lt (The best would be to prepare a broth with mixed meat and a few vegetables. If you're vegetarian, you can also cook vegetables broth. Alternatively, you can make broth with powder or bouillon cubes. But it certainly won't be as good.)
Preparation – About 30 minutes:
Finely chop the onion, put it in a large saucepan, add 50 gr of butter and stir it at low heat for about 5 minutes. The onion should become almost transparent. Add the rice, increase the heat, and stir it for 1 minute.
Add the saffron to the wine, and pout it on the rice. Continue stirring until it's absorbed.
Add the broth one ladle at a time, as soon as the rice absorbs the previous one, and stir regularly. Let the rice cook for about 15-18 minutes (check the box as it may vary). A couple of minutes before the time advised, turn the heat off. The broth should be absorbed, but the rice has to be soft and creamy. Add the remaining butter immediately, the grated cheese, stir the rice and cover it for a couple of minutes. Then serve it right away, and enjoy!
Simon Falvo – Wild About Travel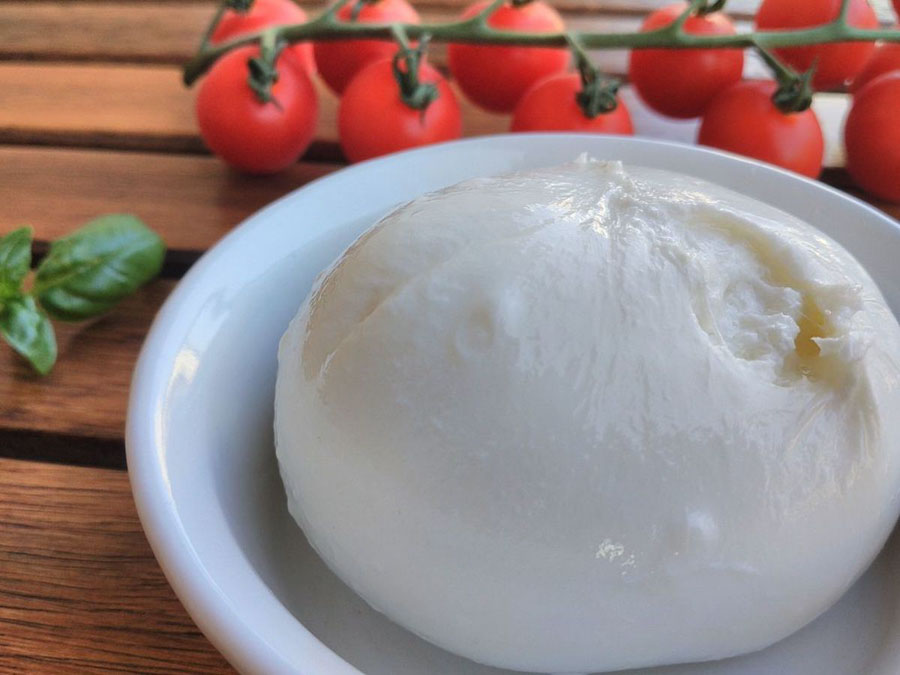 Savoring Burrata in Puglia, Italy
My favorite Italian food experience happened while I was touring the southern region of Puglia, where I was introduced to burrata for the first time. The best way I can describe it is to imagine mozzarella formed into a pouch and then filled with a delicate, creamy curd.
The best way to enjoy the mild, creamy, yet slightly sour flavor of the burrata is to keep it simple with a drizzle of olive oil from the region and a touch of salt. Of course, it can also be paired with anything from tomatoes, basil, rosemary, summer melons, or berries, Make sure you have a chunk of good bread on hand, and you are good to go!
Burrata was invented in Puglia only about 50 years ago but is today considered one of the best products in the Apulian cheese-making tradition.
To make burrata you need to create a sack of "pasta filata" (stretched or pulled curd) and then fill it with creamy curds and tie it neatly into a ball. The process can take years to master.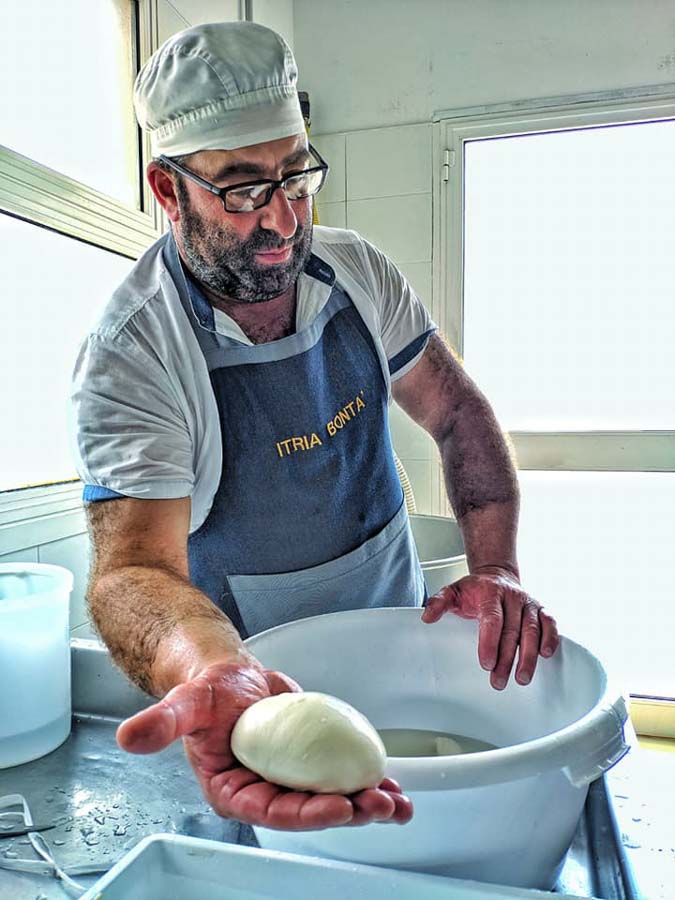 How to Make Burrata Cheese at Home | Food How To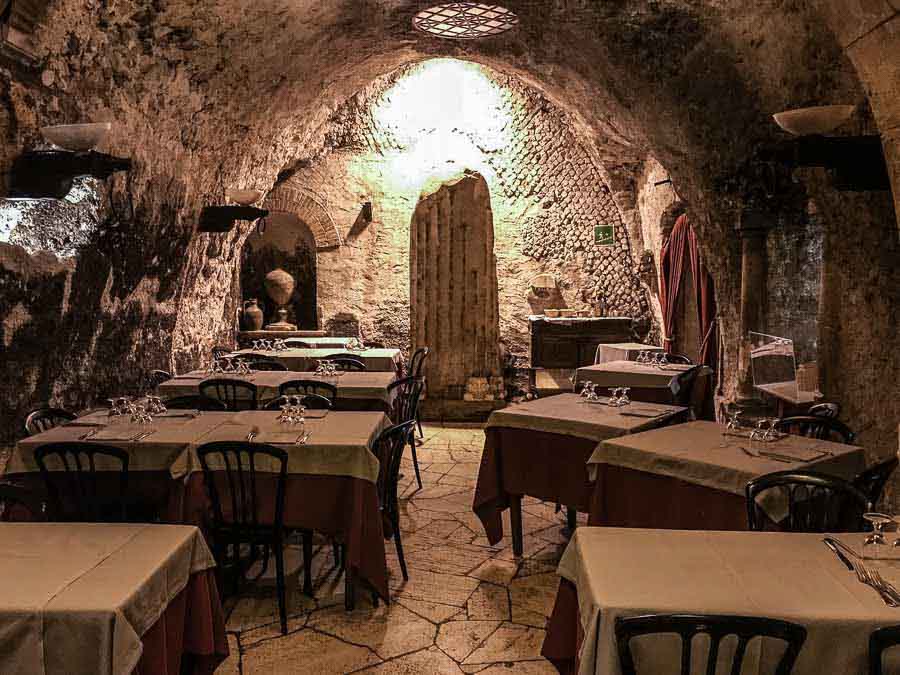 Stuffed fried zucchini flowers in Rome
The Roman piazza called Campo di Fiori was once a meadow, thus the name that means "field of flowers." The Campo di Fiori hosts a daily flea and flower market, that, for most people, is the best reason for a visit the piazza. But, even cooler, is the Ristorante da Pancrazio, just off the plaza. The Pancrazio, aside from having the best fiori de zucca (fried zucchini flowers) I've ever eaten, sits atop the ancient Theater of Pompey, which is where Julius Caesar was assassinated. The owners of the restaurant have taken it upon themselves to excavate the theater under their restaurant, and if asked, will gladly show it to you.
Their fried zucchini flowers are second to none, because they add in just enough anchovy into the stuffing to offset the creamy cheese filling with an unexpected salty splash of flavor. While they didn't exactly give up their recipe, here's one I've found that most closely approximates.
Make a flour batter with two eggs, a cup of flour, sea salt to taste, and a half cup of cold sparkling water. Heat an inch of neutral tasting oil in a heavy frying pan.
Make a stuffing for the zucchini flowers with a couple ounces of mozzarella, a little Parmesan, and about one half anchovy filet per large zucchini flower.
After stuffing the flowers, coat them in the batter and slip them into the hot oil. Don't crowd them. When they brown on one side (about two minutes) turn them once with tongs and let them brown on the other. When done, drain on paper towel. Repeat until they are all done. Sprinkle with a little sea salt and a squeeze of lemon before serving.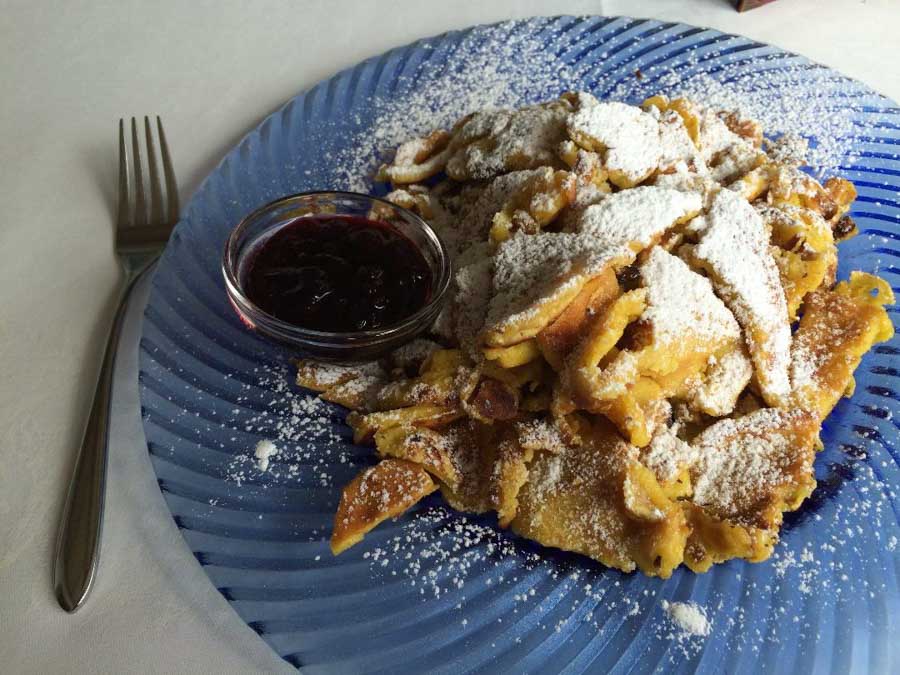 Kaiserschmarrn in South Tyrol (Northern Italy) 
Oh, we remember the times when we sat on mountain huts in South Tyrol and munched a good old Kaiserschmarrn after a heavy hike. It is the best food that you can have in the mountains, while enjoying the views of the Dolomites. Trust us, it is the best.

But what is Kaiserschmarrn actually? It especially tastes good to the little ones, but not only. We are talking about the well-known Kaiserschmarrn, a Tyrolean specialty. 

Nobody knows exactly where the name Kaiserschmarrn comes from. However, it is clear that the name was given by Emperor Franz Josef I, since the dish also comes from Austria. It also has a really nice legend that comes with it: The dessert was first served to the Austrian Empress Elisabeth in 1854, and the dessert was said to be accidentally torn when served, which later became a special feature. Only then was the sweet dessert Emperor Franz Joseph I "rededicated" and called Kaiserschmarrn. Today it is not only famous in Austria, but it also has become indispensable to the South Tirolern cuisine, and the locals also like to serve a Kaiserschmarrn.

Kaiserschmarrn consists of flour, milk, eggs, sugar and salt and is baked in lots and lots of butter. No wonder that it is oh so good! The Kaiserschmarrn is usually served with a jam at will, but pear compote also goes well with it. Kaiserschmarrn tastes differently wherever you try it as everyone has his or her own take of it – but this is what makes it so special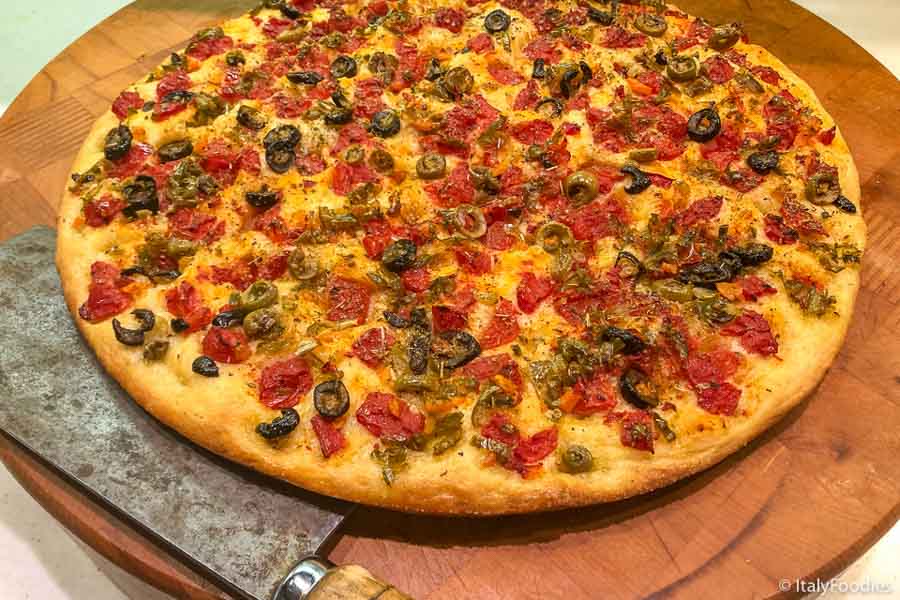 Focaccia alla Barese from Puglia
While there are many wonderful Italian foods, there are those that stand out and become favorites. One such dish is Focaccia alla Barese, a traditional Italian flat bread named after the city of Bari in Puglia, the heel of Italy's boot.
Similar to pizza crust only thicker and a bit fluffier, the bread dough is simple, combining only flour, semolina, water, yeast, and olive oil. Focaccia can be found throughout Italy topped with anything from fresh local herbs and tomato slices, to sliced olives, onions, and even seafood like tuna and anchovies. Toppings can vary with seasonal ingredients and the baker's imagination. But Focaccia alla Barese is traditionally made with sweet juicy tomatoes from Puglia pressed into the dough, a generous drizzle of olive oil and sprinkles of dried oregano.
This unique dish can be found throughout the Puglia region especially in the major cities, and is a favorite in Bari. We ate it so much that we had it at Aperitivo (Happy Hour), and for lunch several times with just a glass of wine. Thankfully, Focaccia all Barese is easily made at home, for a delectable Italian food experience from your own kitchen.
Lori with Italy Foodies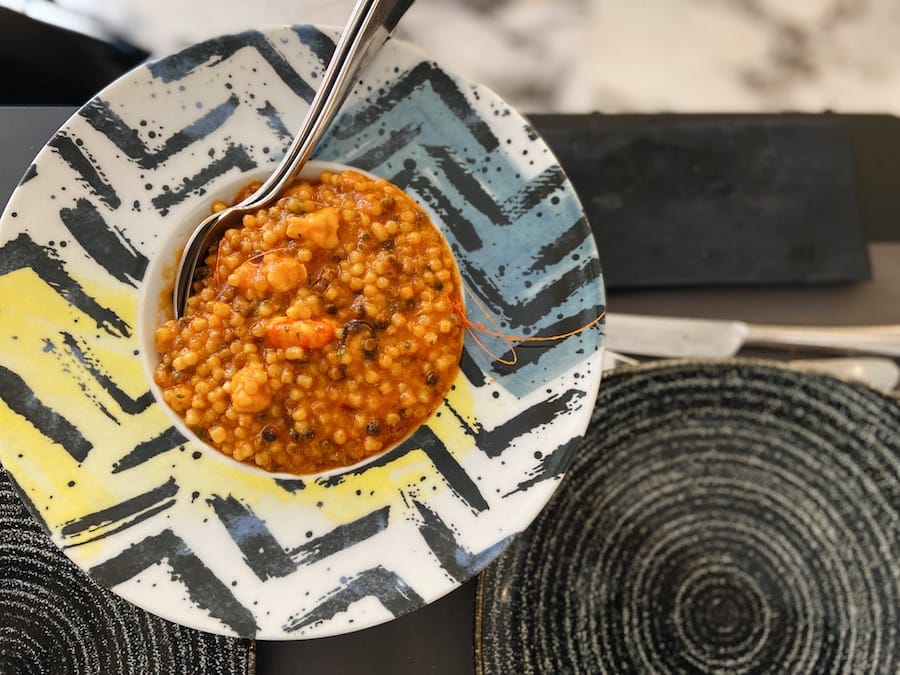 Fregula from Sardinia
Fregula, or 'fregola' if you're Italian, is one of the best and most interesting types of pasta in Italy.  The semolina-based variety is reminiscent to that of different types in the Middle East and North Africa and the best place to enjoy this pasta is in its home, Sardinia.
One of the best 
things to do in Cagliari
 is to hunt down some delightful places to get your hands on it. You can find it almost anywhere throughout the Sardinian city.  I really enjoyed tasting it at Lapola, a local restaurant that focuses on seafood, as well as Antica Cagliari Bistrot, a rather touristy spot but one that had really tasty food and seafood fregula.
Alternatively, you can take Sardinian cooking classes on the island that will specialize in creating this tiny pasta.  Since making regular consists of one rolling semolina dough into small balls (around 2-3mm in diameter), it takes special care and skill in order to do so.  It is definitely advised to learn how to do this from someone with knowledge and experience if you want to be able to create these dishes back home after your trip.
However, if pasta making isn't your thing but you still have access to varieties of pasta at your supermarket, you can still make delicious fregula at home!  This recipe is the 
traditional fregula with clams
 recipe that you'll see ubiquitously in Sardinia and this alternative recipe is 
perfect for vegetarians
.
Megan Star with Megan Starr.com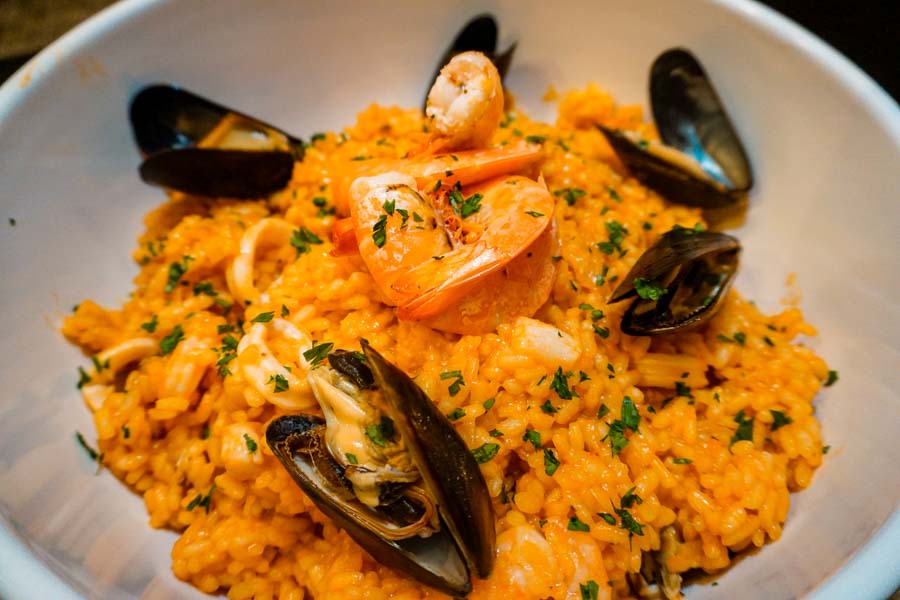 Seafood risotto from Emilia Romagna
One of my favorite Italian food experiences is when I had authentic seafood risotto on the bach in Gatteo a Mare, a small coastal town in the Emilia Romagna region. What made this experience special was the authenticity because Gatteo a Mare is not a touristy city. During our weekend stay, my family and I walked along the beach until we came across a small netted soccer field. As avid soccer players, we picked up a game and played for hours. After we worked up an appetite, we ordered seafood risotto at the beach restaurant next to the soccer field. This was hands down the best seafood risotto I have had!
Risotto is one of Italy's most popular dishes and to be able to enjoy it with the freshest seafood in one of Italy's smallest beach towns is truly one of the best food experiences you can ever ask for. The risotto was prepared in a rich tomato sauce with perfectly cooked mussels, scallops, octopus, and prawns. Moreover, when you have a flavorful seafood risotto while sitting on the sand and enjoying the beach – you cannot ask for a better combination.
Christina with Our Sweet Adventures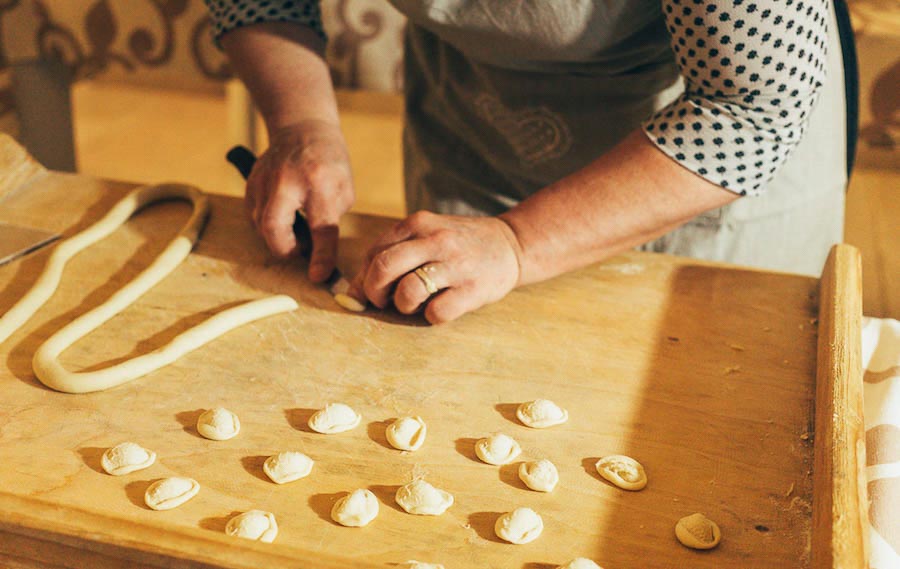 Orecchiette with turnip tops – Traditional dish of Puglia

Making pasta by hand is a tradition throughout Italy, but in Puglia, it's almost a religion. Recipes are passed down through the generations, with nonnas patiently teaching the practice of making 'little ears' out of sticky dough, and serving them up with un unlikely topping – the greens of a turnip. This dish dates back to the medieval period when it originated in the ancient town of Sannicandro di Bari.
It was in Puglia that I learned how to make this regional dish myself, and from one such nonna. Harder than it looks, the Orecchiette pasta is a bit of an art form to perfect. Although the pasta itself is easy enough to make – it only requires flour and water to make this simple dough – the rolling of it into the typical ear shape is best learned from the experts. Once you've successfully triumphed over the dough, you can prepare your greens. Again, the preparation is simple to allow the true flavours to shine. When it's all done, throw the turnip tops over the pasta, stir through with a little olive oil and you'll be transported to this special region in Southern Italy.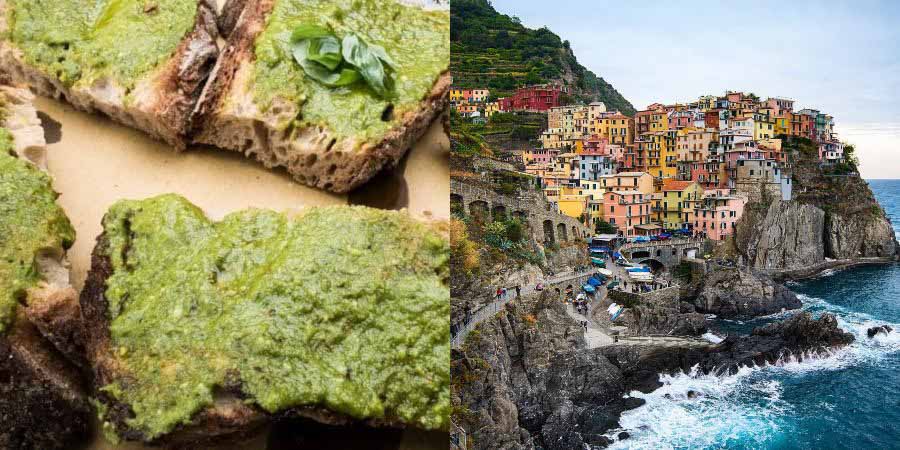 Bruschetta with pesto from Liguria
Few places are as beautiful as Cinque Terre, the five colorful villages in Liguria, in northern Italy, famous worldwide with millions of visitors each year. The Ligurian region is well-known for its delicious food, and Cinque Terre is not an exception.
At Nessun Dorma Cinque Terre, in the village of Manarola, it's possible to enjoy freshly made bruschettas with traditional pesto paste while sipping on some Aperol spritz and enjoying one of the world's most photographed views.
These pesto-bruschettas are mouthwatering and enough filling for lunch. It's the perfect combination of food and travel, where you get to enjoy the local flavors while enjoying scenic views.
The Pesto, also known as Pesto alla Genovese is a type of sauce/paste that originated in Genoa, which is the capital of Liguria, where Cinque Terre is located as well. It is made with a mix of basil, garlic, pine nuts, olive oil and grated hard cheese, such as Parmigiano-Reggiano, and some salt. These ingredients are mixed in a mortar until the paste gets the right texture.
Alexander with Gourmand Trotter
Alla Bolognese ragu from Bologna
What's Italy without pasta and pizza? Surely, when one steps foot on italian soil, it is inevitable to not try the dish a region is known for.
Visiting Bologna on the last leg of an Italian trip might not  have been a good decision. I was tired, and spent half a day sleeping. It gave hubby and I very little time to explore the city. But, it was also enough to fall in love with the charming, old city. And what best to do but to try food that named after Bologna itself? While we would be reminded of Bologna sausage, the city is also the birthplace of the Ragù, a meat-based sauce that we eat with our pasta. Ragù alla bolognese is more particularly Bologna's own. It is often served over tagliatelle or other broad pasta as opposed to the popular spaghetti many are used to.
Ragù alla bolognese is a regular fare on every restaurant in Bologna.  Walking around Bologna for hours worked us an appetite. So when we found a restaurant by the establishment strips in Piazza San Martino, we enjoyed  Ragù alla bolognese, grilled swordfish along with a glass of wine. We finished if off with the best italian dessert too, panna cotta.
Check out these other popular posts on Italian food and travel
Trastevere – tasting local and specialty food in Rome
An agriturismo farm tour and cooking lesson in Bologna
Bologna markets and specialty foods of the region
Venice Cicchetti and pub crawl
La Passieggata- an evening stroll in Italy
Check out these other posts on Fruits,  markets and foods of the world
Try these Exotic fruits around the world
Visit a Farmers markets in Hawaii
Experience the top food destinations around the world
Explore the best Street foods of Taipei
What are the popular food to eat in New York
What are the best countries for food around the world
Best popular foods to try in London
Traditional Catalan foods you need to try
8 Traditional Portuguese foods to try
10 must try dishes and street food of Sri Lanka
Outdoor markets and street food of Bologna
Local foods of the Dalmatian Coast in Croatia
Please pin this for later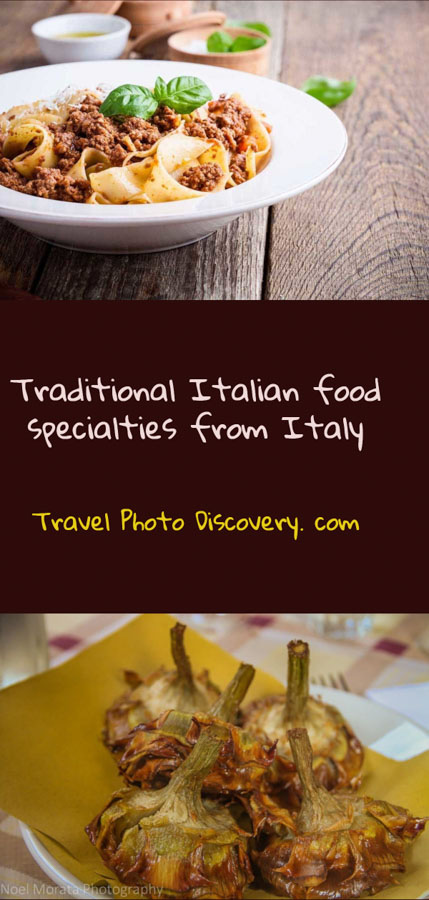 Conclusion on Traditional Italian foods
So was this delicious and inspiring for you, which dish would you like to try first? Please share any thoughts or comments below, thanks.
Thanks for visiting today and checking out this post on these Traditional Italian food specialties traveling Italy, if you enjoyed the images and post, could you please share it with any of the social media buttons located around the post.
If you like what you see, come and check out my other social media channels for more updates, including Instagram, Pinterest and Twitter
Disclosure – There may be affiliates links on this posts which provide a small commission to support this site at no extra cost to you. Thank you for reading, and happy travels