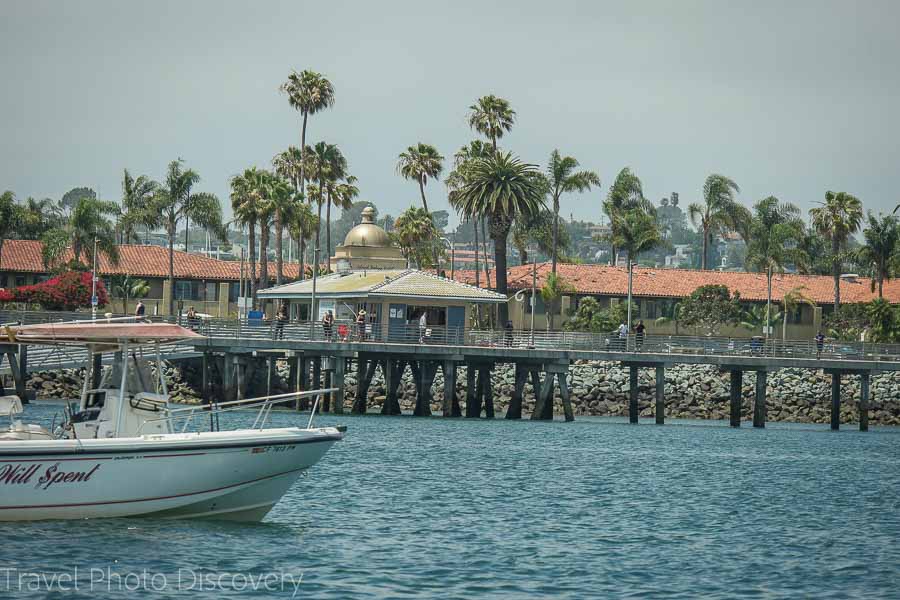 10 San Diego Tours: Discover the Hidden Gems of America's Finest City
Take an unforgettable San Diego tour and immerse yourself in the vibrant heart of America's Finest City. Get ready to uncover hidden gems, from pristine beaches to historic landmarks and captivating neighborhoods. Whether you're seeking thrilling adventures, mouthwatering culinary delights, or cultural experiences, San Diego has it all. Explore the iconic Balboa Park, soak up the sun at the stunning Coronado Island, or marvel at the magnificent sea creatures at the renowned SeaWorld. With our expertly crafted itineraries and insider tips, this blog post will guide you through the must-see attractions and local secrets that make San Diego an unparalleled destination. Get ready to create memories that will last a lifetime and we are sharing some of our favorite tours, excursions and adventure experiences around this fun and unique city.
How to get around San Diego
Navigating San Diego is a breeze with various transportation options at your fingertips. Whether you're a visitor or a local, here's a handy guide on how to get around America's Finest City.
Public Transportation: San Diego boasts an extensive network of buses and trolleys operated by the Metropolitan Transit System (MTS). Purchase a Compass Card for convenient fare payment and explore the city with ease.
Ride-Sharing: Services like Uber and Lyft are widely available in San Diego, offering a convenient and reliable way to travel within the city and beyond.
Bicycles: Enjoy the pleasant weather and explore the city on two wheels. San Diego offers numerous bike lanes and rental options, allowing you to pedal your way through popular neighborhoods and scenic routes.
Rental Cars: If you prefer the freedom of having your own wheels, renting a car is a popular choice. Numerous car rental companies operate in the city, offering a wide range of vehicles to suit your needs.
Ferries: Experience the charm of San Diego's waterfront by hopping on a ferry. The Coronado Ferry connects downtown San Diego with Coronado Island, offering picturesque views along the way.
Walking: San Diego's pedestrian-friendly neighborhoods make it a delight to explore on foot. Lace up your walking shoes and discover the city's vibrant streets, unique shops, and inviting cafes.
Remember to plan your routes in advance, check for any service updates or schedules, and consider the most suitable mode of transportation based on your destination and preferences. Getting around San Diego has never been easier, allowing you to make the most of your time in this beautiful coastal city.
Check out these 10 San Diego Tours and activities below
You'll find so many fascinating places and attractions around San Diego and working with experienced guides and tours will enhance your visit and enjoyment without all the added effort here.
Embark on an extraordinary adventure with Adventures in San Diego, where our tour is carefully crafted to showcase the finest locations in the city. You have the freedom to choose your own adventure or rely on our expert driver and local guide to curate a personalized experience just for you. With a selection of 5-7 remarkable locations in San Diego, you can immerse yourself in the beauty and charm of the city based on your preferences.
This tour includes convenient round trip transportation within a 10-mile radius of 92101, ensuring a seamless journey from start to finish. Whether you have specific destinations in mind or are open to recommendations, our team will tailor the experience to match your group's interests, creating an unforgettable outing in San Diego.
Duration – 5 hours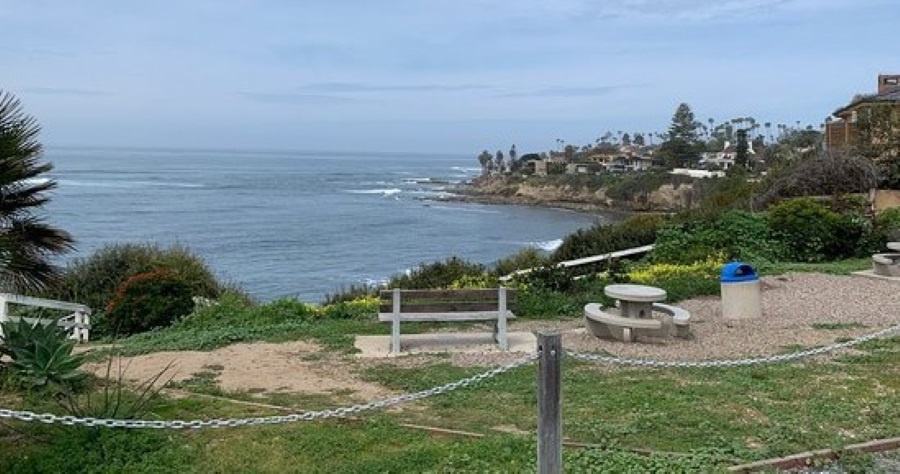 2. Two Hour San Diego Bay Cruise
Enjoy the best sightseeing on San Diego Bay with a professionally narrated harbor tour and private professional guide!
During our adventure on the Big Bay, we will traverse a distance of more than 13 miles. Along the way, we will have the pleasure of witnessing charming marine animals and majestic sea birds. Furthermore, we will engage in informative discussions about the local environmental initiatives aimed at safeguarding these remarkable creatures. You will have ample opportunities to capture the picturesque sights through photographs and videos, while our snack bar, fully stocked with delectable treats, will be readily available to cater to your cravings.
Duration – 2 hours
Book this Two Hour San Diego Bay Cruise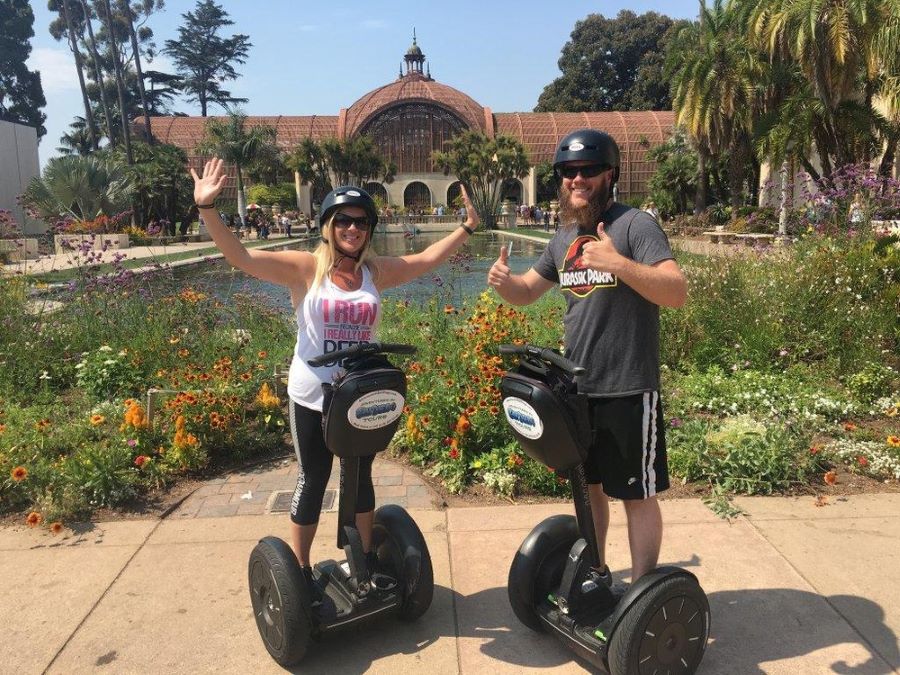 When you join Adventures in San Diego, our team of professional local tour guides will meet you inside the park. We'll provide comprehensive segway training, helmets, and bottled water for your comfort. Once you feel confident on your segway, we'll embark on a journey to unveil the hidden gems of San Diego, sharing both historical and current insights about the park. Get ready to explore the highlights of this magnificent city while enjoying a fun and informative experience.
What's Provided:
Helmets
Bottled waters
A guide
Segway Lesson
Duration – 2 hours
Experience the ultimate San Diego brewery tour with Adventures in San Diego. We offer private round trip transportation to five incredible brewery locations, allowing you to indulge in the thriving beer scene of the city. Optional tours are available, and you'll have the opportunity to enjoy tasters or a pint at each stop. With our professional driver and guide, you'll feel like a local as you learn about the booming San Diego beer culture. This tour includes convenient round trip transportation within a 10-mile radius of 92101, and we can personalize it to cater to the interests of your group.
Duration – approximately 5 hours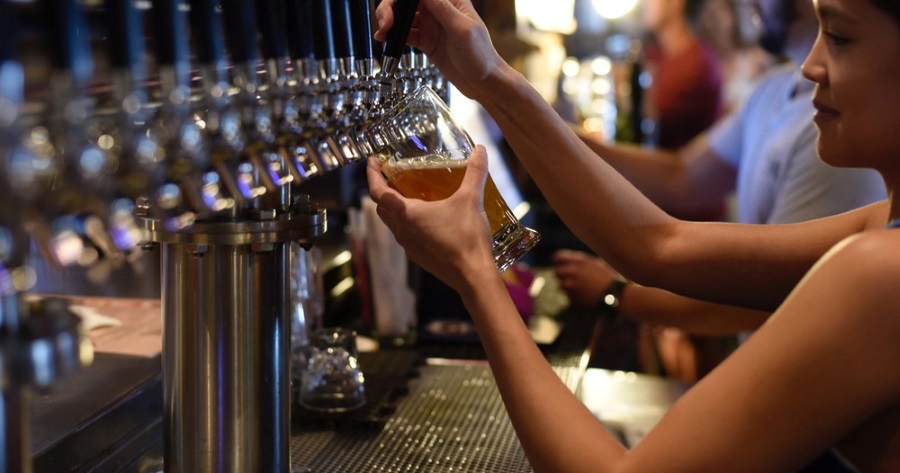 Experience an incredible adventure with a scenic 1-hour drive through the breathtaking mountains of Baja, east of Valle de Guadalupe, leading you to the extraordinary private ranch known as "Rancho Tecate." Upon arrival, a multitude of exhilarating outdoor activities await you. Soar through the air on a thrilling zip line adventure across the lake, explore hiking and mountain biking trails, take a refreshing swim or enjoy a leisurely canoe ride. If relaxation is your preference, indulge in a full range of SPA services, allowing you to disconnect from the world. Treat yourself to a massage, facial, or hot stone treatment while savoring wine and cheese. Lunch is served outdoors, accompanied by an equestrian show featuring graceful Andalusian and Arabian horses. Delight in a delectable feast of grilled steak and pork, accompanied by an abundance of organic vegetables and mouthwatering desserts. Following the outdoor activities and lunch, indulge in the finest craft beers of the region and partake in tequila and mezcal tastings, culminating in a memorable experience.
Itinerary
9 AM Pick up from San Diego (location to be determined by customer).
10 AM Cross the border into Mexico via Tecate/Campo east of San Diego.
10:30 AM Visit the town of Tecate (main plaza, downtown, and cerveceria Tecate).
11:30 AM Arrival at "Rancho Tecate" for a full tour of the facilities.
12:30 PM Start outdoor adventures. Your chance to try zip lining, horseback riding, canoe rowing, biking, hiking or whatever makes you tick!!
2:30 PM Lunch outdoors (on the grill with organic vegetables) while enjoying an equestrian show.
4 PM Time to do some tastings of mezcal and tequila from Jalisco and craft beer from the region.
5:30 PM Head back home.
7:30 PM Drop off at your location in San Diego.
Duration – 11 hours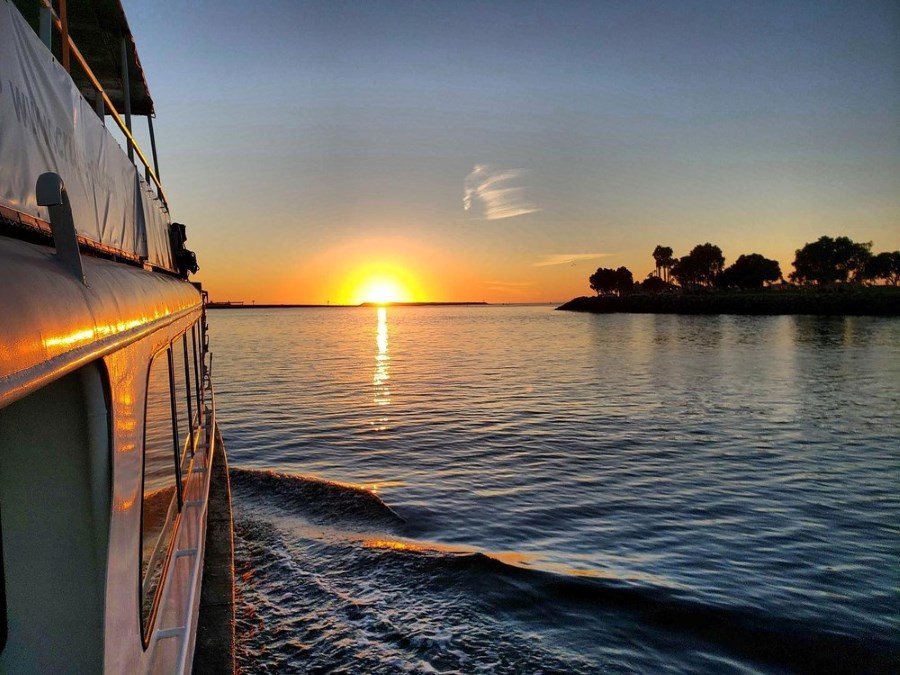 6. Sunset Cruise
Join us at Cruise San Diego for an unforgettable Sunset Cruise, where you'll witness a side of Mission Bay that is rarely seen. Our specially designed vessel is perfect for bay cruises, offering a relaxing atmosphere and breathtaking Pacific sunsets. Prepare to embark on a boat ride like no other, immersing yourself in the beauty of the "sunset" side of Mission Bay. Let us create a memorable experience as you soak in the awe-inspiring views and enjoy the unique ambiance of this extraordinary journey.
Duration – 75 Minutes
About
This tour was designed specifically for anyone seeking a personal touch to an average sunset cruise.
Explore the pristine waters of our Mission Bay lagoon on our year round cruise inside this beautiful bay. You will enjoy a great selection of music and alcoholic beverages, allowing you to experience an intimate yet laid-back mood unlike any other sunset cruise in Mission Bay or San Diego.
Whether you are looking for a romantic outing, or a relaxing way to enjoy the evening sunset, our sunset cruise will satisfy any occasion.
Book this Sunset Cruise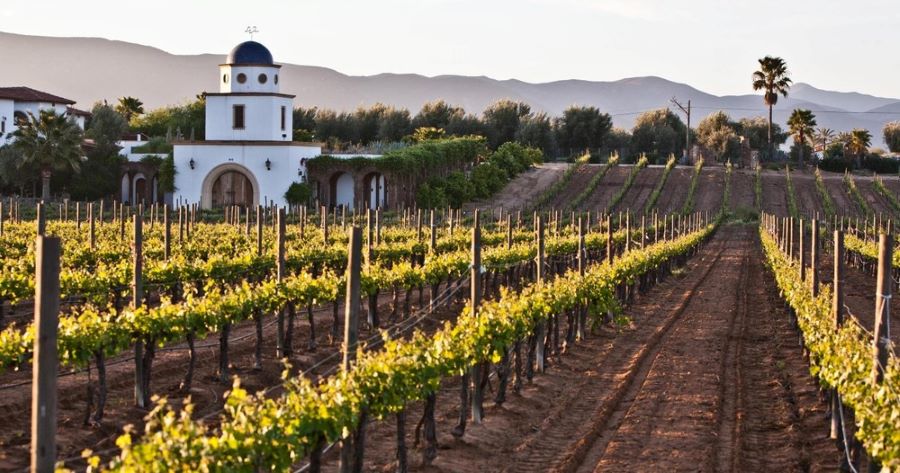 Take an extraordinary journey with Five Star Tours as you and your party explore the exceptional wines of Baja Wine Country on this exclusive tour. Your day begins with a southbound trip to Tijuana, followed by a scenic drive along the trans-peninsula highway that hugs the picturesque Pacific Coast, treating you to sweeping views, refreshing ocean breezes, and the splendor of nature. Next, we venture into Baja Wine Country, visiting three outstanding wineries. Enjoy a delightful lunch at a stunning hacienda overlooking Valle de Guadalupe, followed by a stop at a renowned pastry shop, where you can savor homemade pastries.
This tour is highly cherished and personalized, making it one of our most sought-after experiences. However, please note that it is limited and only available once a month. We take great joy in sharing the world of wine with you and our esteemed guests, ensuring an unforgettable and truly special outing.
Our tour includes:
Wine tasting at three wineries- LA Cetto, Adobe Guadalupe, Baron Blanche
Stop to taste local food with sparkling wine, pastries and chocolate
Gourmet sit down lunch at Hacienda Guadalupe
Round trip transportation
A wine expert
Behind the scenes look at the wineries
Vineyard Walking Tour with production wine tour
---
Sample itinerary:
9:00 AM Departure from San Diego, CA
11:30 AM Arrival at Valle de Guadalupe with visits to three wineries
3:00 PM Gourmet lunch at a winery and one glass of wine
4:00 PM Wine tasting at wineries
5:00 PM Visit last winery
6:30 PM Departure from Valle de Guadalupe
8:00 PM Arrival to San Diego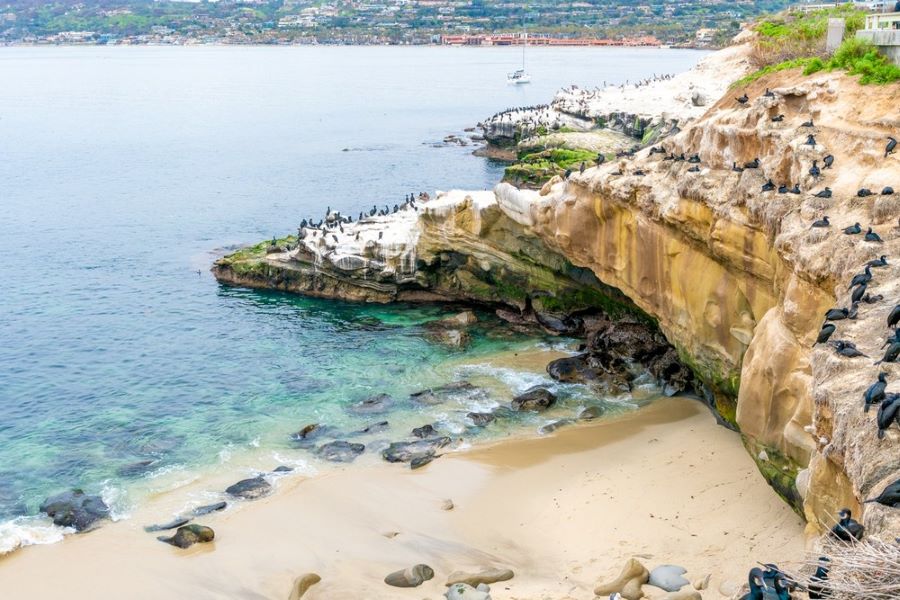 Take this Sip, Savor, and Sea Tour in San Diego, where you'll indulge in a remarkable food and drink tasting experience in the stunning beachside area of La Jolla. This affluent neighborhood is brimming with art galleries, charming boutiques, and exceptional local restaurants. Dive into the captivating history of the area, marked by visionary individuals who have fostered its growth in the arts, sciences, and sports. Take in breathtaking views, learn about groundbreaking discoveries in life sciences, capture photos of playful sea lions, explore a local art gallery, and treat your palate to delectable cuisine and beverages at three renowned restaurants. Be sure to save room for a taste of the finest gelato in San Diego.
Immerse yourself in a walking history tour of the enchanting La Jolla Cove and Village. Delight your senses as you savor original flavors from beloved restaurants. Listen to captivating stories about the pioneering figures of La Jolla, including many influential women. Rest assured, the culinary offerings will be plentiful, providing a satisfying meal.
Join us on this unforgettable journey where you'll experience the best of La Jolla's culture, cuisine, and natural wonders.
Duration – 3 hours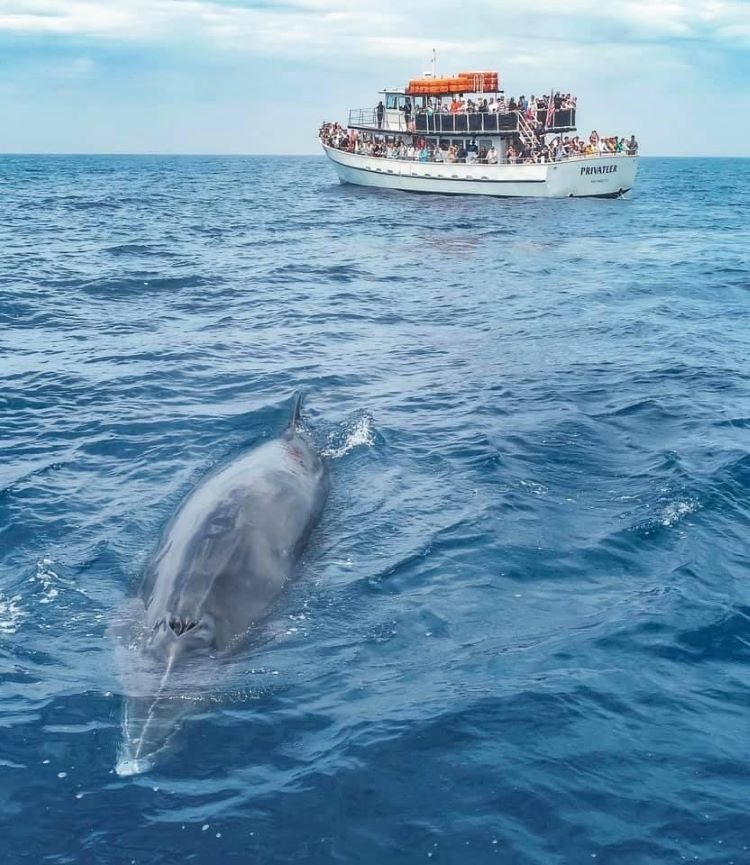 Embark on a breathtaking ocean-bound sunset cruise and witness dolphins and whales in their natural habitat. This exclusive tour is tailor-made for nature enthusiasts who yearn to observe wildlife against the backdrop of a stunning sunset. Our Dolphin and Whale Watching Sunset Cruise offers an unrivaled opportunity to marvel at Mother Nature's splendor. Our knowledgeable and friendly crew will guide you to remarkable sightings of these magnificent creatures while providing insightful information about their lives in our coastal waters. To conclude this extraordinary experience, be captivated by a mesmerizing San Diego sunset. Whether you seek a romantic outing or a unique way to savor the evening, our dolphin and whale watching sunset cruise promises an unforgettable adventure.
Duration – 2 – 2.5 hours

Experience the beauty of San Diego on a guided electric bike tour that spans 2.5 hours. Departing from our store location, this leisurely excursion takes you through the captivating sights of the city. Begin by exploring the historic Gaslamp Quarter, with its roots dating back to the 1860s and redevelopment in the 1980s. Next, hop on your pedal assist eBike and venture to the San Diego Bay, where you'll discover fascinating landmarks like the USS Midway, Billionaire Row, and The Bob Hope Memorial. Your licensed tour guides will then lead you through the sprawling Balboa Park, spanning 1,200 acres. As you pedal through Balboa Park, you'll encounter notable attractions such as the San Diego Zoo, Spanish Village Art Center, and the renowned Casa de Balboa. Animal lovers, beach enthusiasts, and outdoor enthusiasts will find this tour particularly appealing. Our guides will gladly capture memorable photos for you to cherish. The tour concludes back at our store location on K Street. Please note that this tour involves street riding, and guests must be 16 years or older to ride an electric bike. Additionally, baby seats or trailers cannot be attached to eBikes.
Duration – 2,5 hours
Weather and best time to visit San Diego
San Diego's weather is a true delight, making it an enticing destination year-round. With its Mediterranean climate, the city offers mild, pleasant temperatures and plenty of sunshine. Here's what you need to know about the weather and the best time to visit San Diego.
San Diego enjoys a mild and temperate climate throughout the year. Summers (June to August) bring warm temperatures ranging from the mid-70s to mid-80s Fahrenheit (mid-20s to low 30s Celsius), perfect for beach days and outdoor activities. Winters (December to February) are mild and typically see temperatures in the mid-60s Fahrenheit (around 18 degrees Celsius). It's a great time to explore the city's attractions without the summer crowds.
Spring (March to May) and fall (September to November) offer pleasant weather with temperatures averaging in the mid-60s to low 70s Fahrenheit (around 18 to 25 degrees Celsius). These seasons are ideal for outdoor adventures, such as hiking, exploring parks, and enjoying San Diego's diverse neighborhoods.
San Diego's coastal location also influences its climate. The coastal areas experience cooler temperatures due to the ocean breeze, while inland regions may be slightly warmer.
The best time to visit San Diego ultimately depends on your preferences and interests. If you're looking for beach days and vibrant summer energy, plan your visit between June and August. For milder temperatures and fewer crowds, consider visiting in spring or fall. Winter can be a great time for budget travelers, as hotel rates tend to be more affordable.
Keep in mind that San Diego hosts various events and festivals throughout the year, so checking the local calendar can help you align your visit with exciting happenings.
No matter when you decide to visit, San Diego's pleasant climate ensures a delightful experience filled with sunshine and enjoyable activities.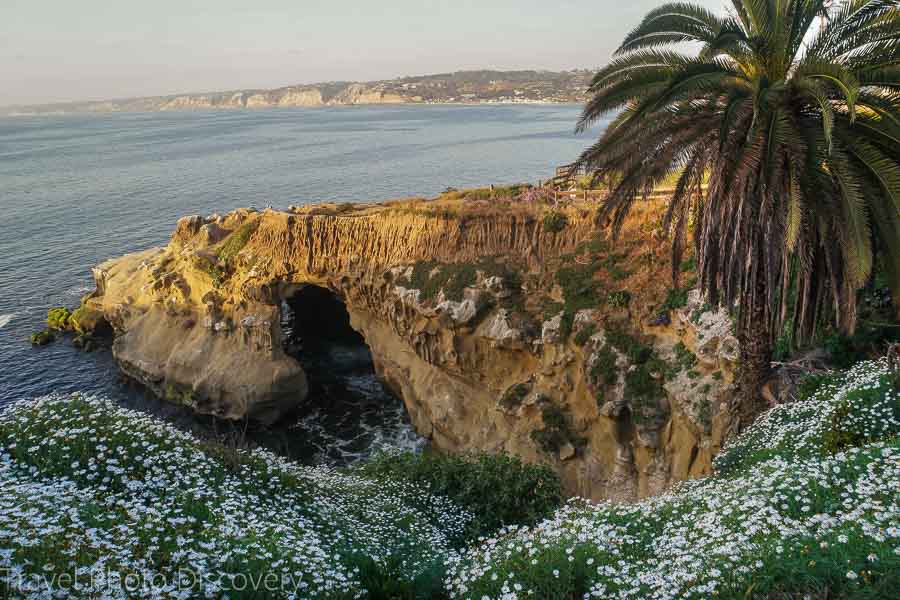 Check out these other San Diego attractions and activities to do in the area
Conclusion to the top 10 San Diego Tours
San Diego tours offer diverse experiences, showcasing the best of this vibrant city. From stunning beaches to cultural landmarks and delicious cuisine, San Diego has it all. With various transportation options and expertly crafted itineraries, exploring the city is easy. Whether you visit in summer or any other season, San Diego's mild climate ensures a pleasant experience. So pack your bags, embark on unforgettable tours, and create lasting memories in America's Finest City. Discover the charm of San Diego, from its coastal vistas to its captivating cultural attractions. Experience the best of this remarkable city.
If you like what you see, come and check out my other social media channels for more updates, including Instagram, Pinterest and Twitter
Disclosure – There are affiliates links on this posts which provide a small commission to support this site at no extra cost to you. Thank you for reading, and happy travels