For a short and easy drive from San Diego or Los Angeles – a weekend getaway to Escondido,  California is a real treat. There's so much to do and see in Escondido ranging from outdoor adventure and activities, touring local wineries, art and antique shopping downtown and even exploring an incredible dinosaur museum downtown. Escondido really surprises with fun activities and attractions to keep any visitors busy, and I found a lot of cool things that were entertaining and fit many of my interest in visiting a new destination and was surprised by the variety of cool things to explore in the area.
Enjoy a fun weekend getaway Escondido, California now
For a two or three day visit to this scenic region in north San Diego county, here's an itinerary of what I did visiting some of the fun venues, delicious eateries and some quirky discoveries along the way.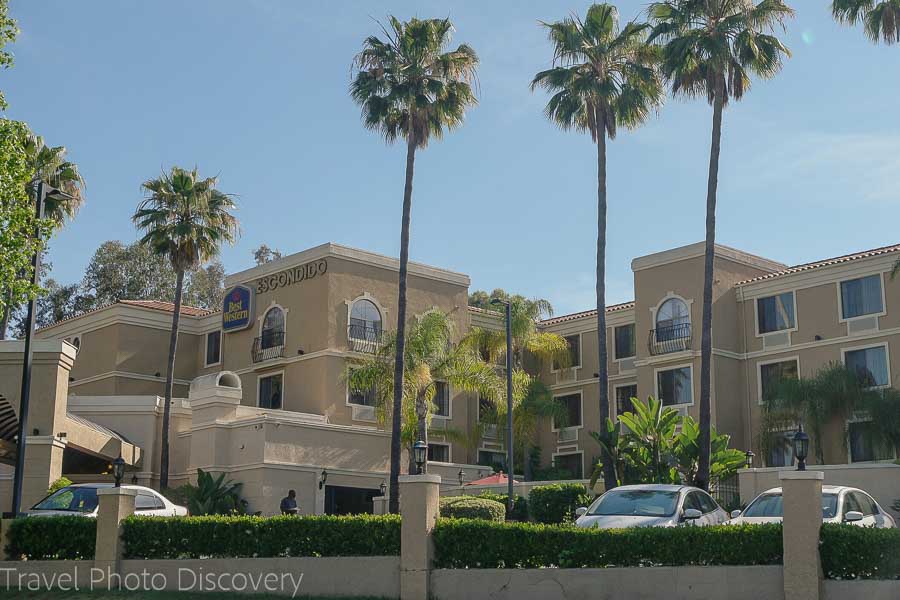 Friday afternoon arrival in Escondido
I checked into my hotel in the afternoon and enjoyed a little time to unwind in my spacious suite at the Best Western Escondido Hotel. With a convenient location to the downtown area and key attractions, this hotel was perfect to get to the freeway or other places of interest around the city. Bonus points for a beautiful outdoor and pool area, quick check in services, expert knowledge and help to finding places of interest and easy parking anywhere around the hotel.
Comfortable bedrooms at the Best Western Escondido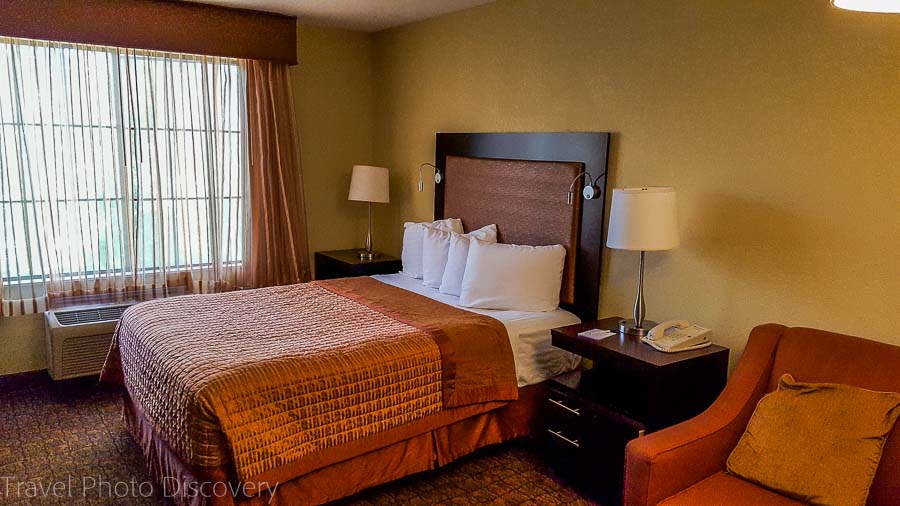 Weekend getaway Escondido California – wine tasting at Belle Marie
After checking in, my first visit was to one of the nearby wineries on Dear Springs Road at Belle Marie Winery, a large imposing castle sitting on a hillside surprisingly surrounded around an avocado orchard which I didn't expect considering the other nearby vineyards. While driving up the roadway, I noted lots of places to relax and picnic on the property which I think is a wonderful way to experience a nice bottle of wine from the tasting room. I entered the winery and was greeted by winery manager, Nick who quickly placed a Belle Marie logo glass and gave me a quick story to the Belle Marie line of wines. Belle Marie's winemaker, Jeff Lazenby, created a series of wines from locally grown California varietals along with a large selection of wine varieties brought in from different regions around the state. The winery produces a limited release of wines that are distributed only at the winery and their wine club. I try some of the interesting and delicious artisanal blends including: a rich Malbec, a complex Syrah, a dark and fruity Pinot Noir and last – a classic, crisp Chardonnay which had such a buttery finish. After the tasting, I got to tour the castle and the wine cave in the basement of the castle which was a treat to explore and see the entire grounds and gardens.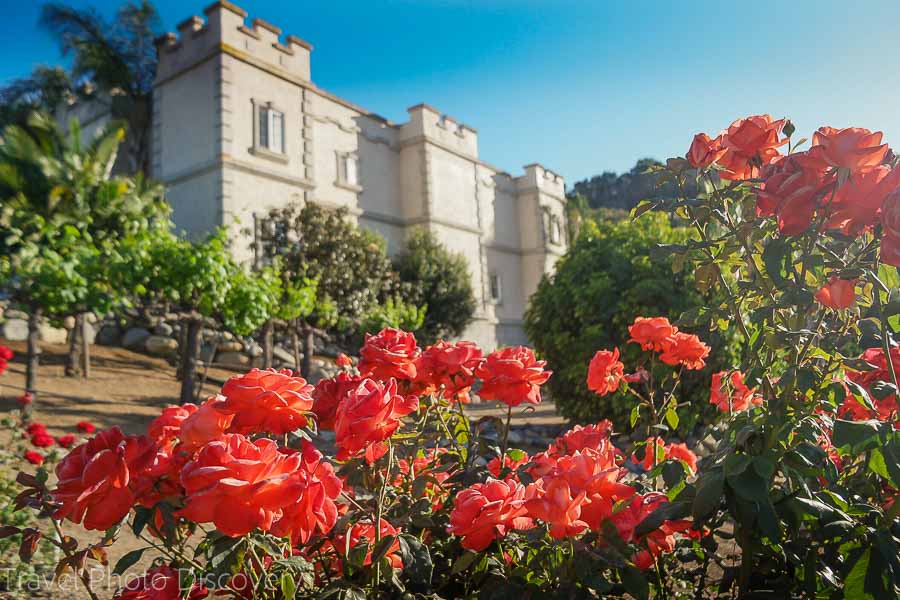 Sampling some of the wine varietals at Belle Marie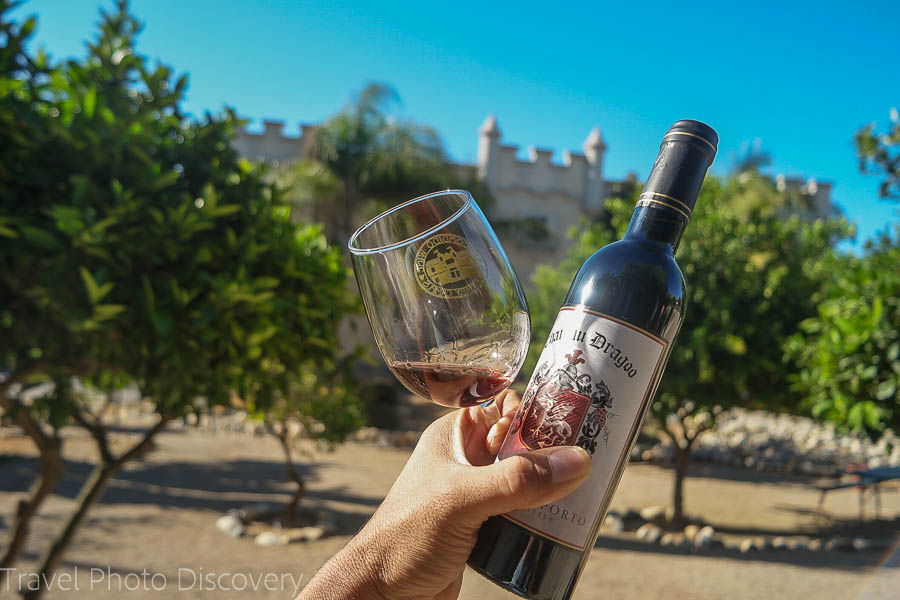 Wine tasting at Belle Marie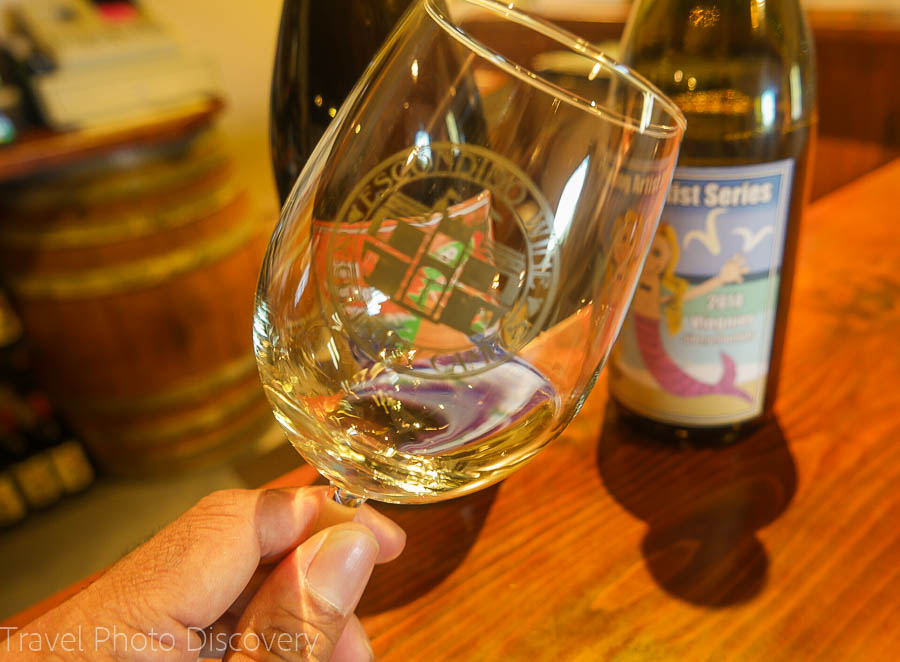 Dinner and beer flights at Stone Brewing in Escondido
I thought I was lost driving through a business park, buy my GPS lead me directly to the location for Stone Brewing World Bistro and Gardens. Once inside the boring business façade, the large brewery houses a large bar/restaurant with large  windows overlooking a beautiful garden and outdoor dining areas. I opt to sit at the expansive bar with views to the outside and the brew vats located next to the bar. The modern, organic space and design is both comfortable and cool with plenty of seating areas which is quickly filling up with the Happy Hour and dinner crowd. After checking out the expansive beer menu and appetizers, I opt to sample a beer flight of local favorites and an order of pork buns with pork belly. Everything I tried was a hit and I enjoyed hanging out in the bar area overlooking the entire restaurant. I thing this is definitely a fun space to eat and try some of Stone Brewing's popular artisanal beers.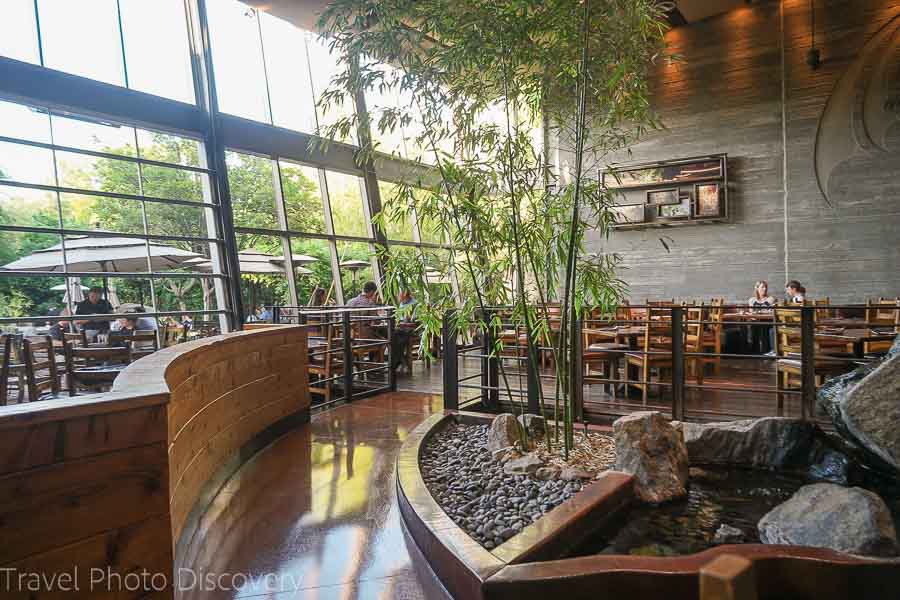 Hanging out at the bar at Stone Brewing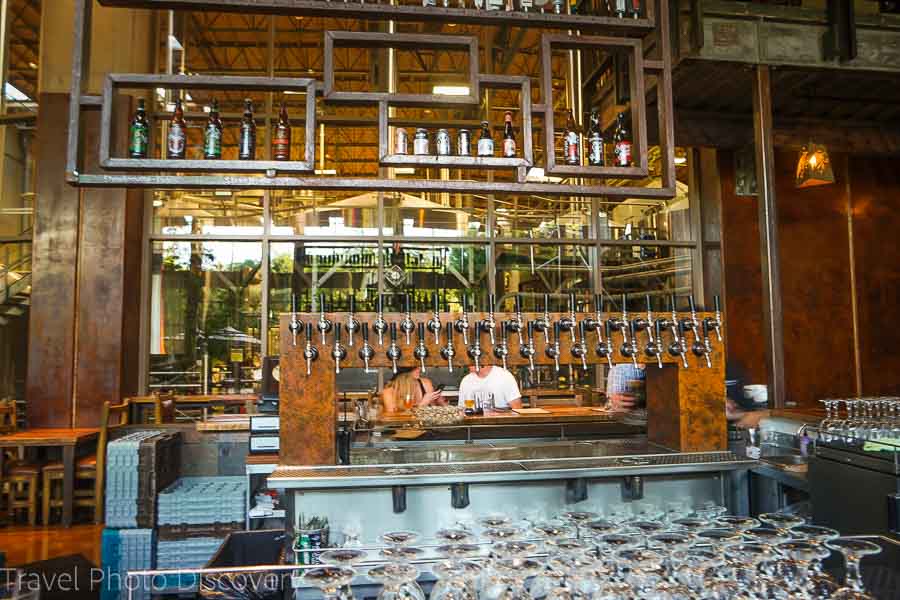 A delicious appetizer and IPA Beer at Stone Brewing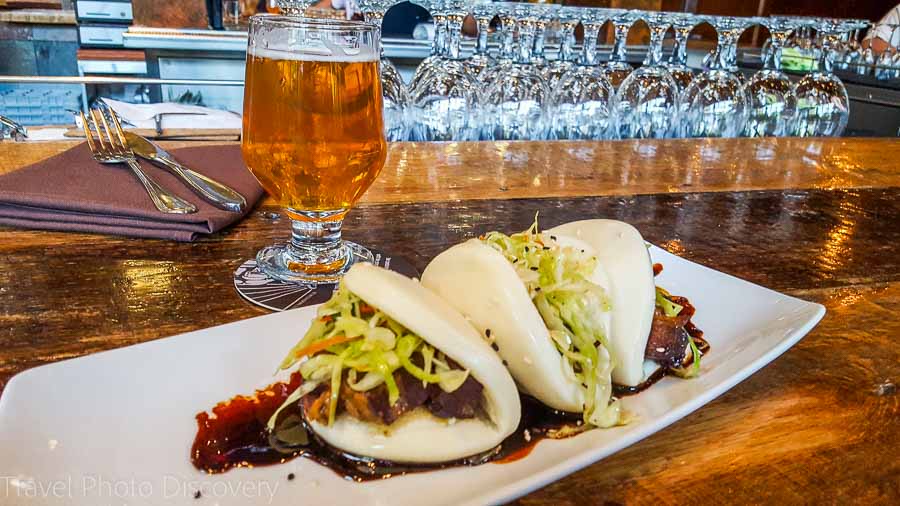 After dinner, I took a quick drive around the downtown area to get my bearings for spending a full day in town and surrounding areas. The downtown scene, looked lively with the bars and restaurants packed for the evening but I was ready for an early night and cruised back to the hotel for a blissful sleep on my plush king bed.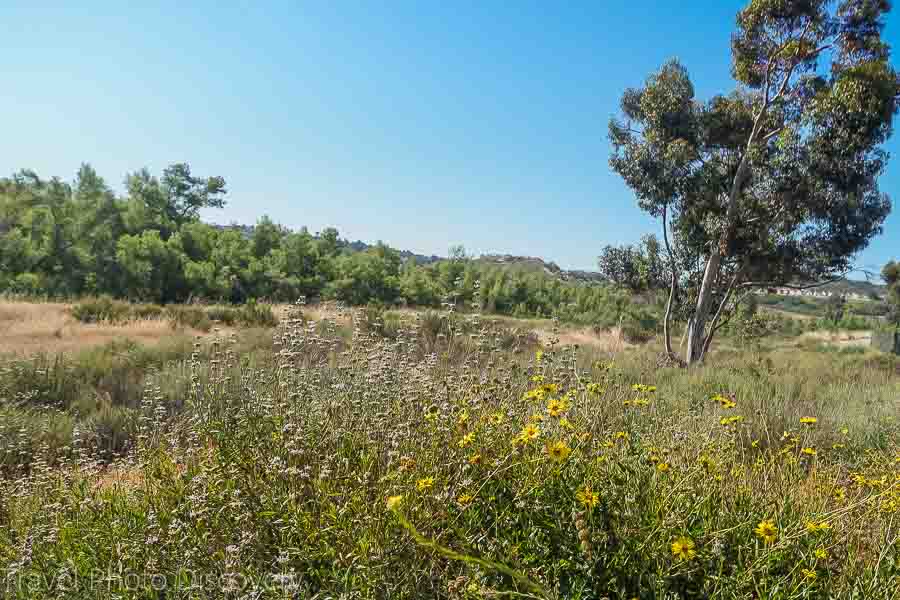 Saturday exploring downtown Escondido
The included breakfast service at Best Western Escondido is nice and better than the continent style offerings of most chain hotels so I opt to eat in and make a large waffle, eggs and bacon along with all the typical breakfast fare. After a filling breakfast, it was time to walk it off with a brief hike along shoreline of Lake Hodges. There are plenty of hiking options, but I opt for an easy and paved route to the walking bridge which is a mile in each direction from the parking area. This natural area and lake was a perfect hike and first impression to seeing the natural landscape around Escondido.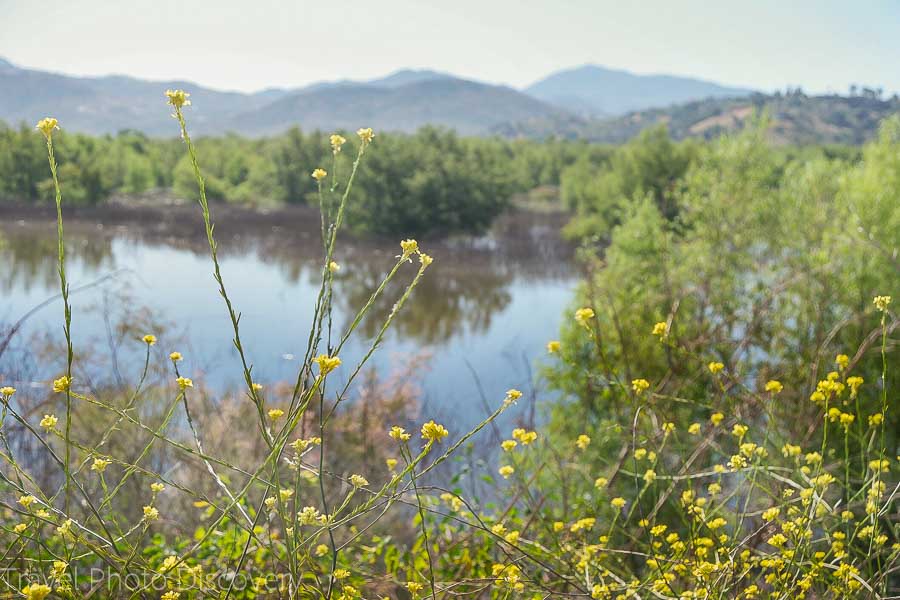 A visit to Queen Califia's Magic Circle garden
A short drive from Lake Hodges is Queen Califia's Magic Circle located in Kit Carson Park. A large sculpture garden created by the visionary artist Niki de Saint Phalle and one of her last major sculptural works in the United States, this colorful and whimsical garden depicts the imagery of California's historic and cultural roots. Filled with a black and white maze area, playful serpents and totem poles with the imposing statue of Queen Califia standing on the back of a five legged eagle along with other colorful animals, birds and imaginary characters in this vibrant garden. There is a docent sitting around the garden with photos to explain the meaning of the garden and vision of the artist who created this magnificent garden.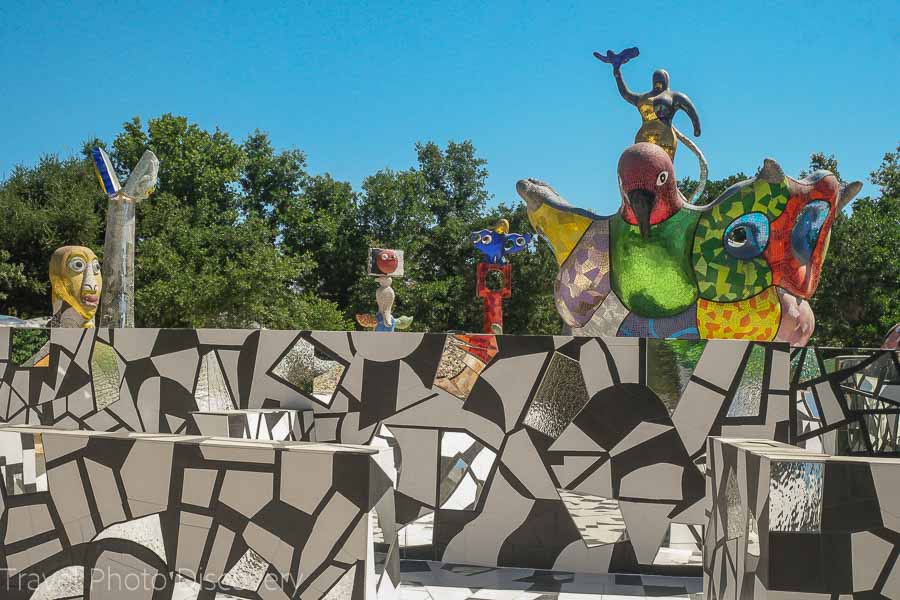 Exploring Queen Califia's garden
I loved visiting this amazing garden. If you want to check out more images and a complete tour of the garden, check out my recent post of Queen Califia's garden here for more details.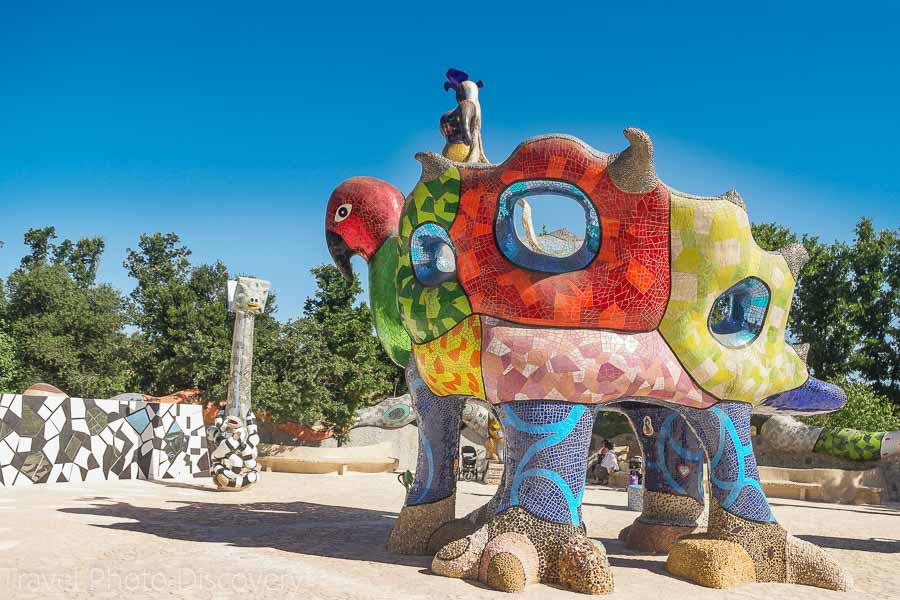 Tip – check the website above for visiting days and hours which are restricted due to limited volunteers who man the entrance and answer questions from visitors to the garden.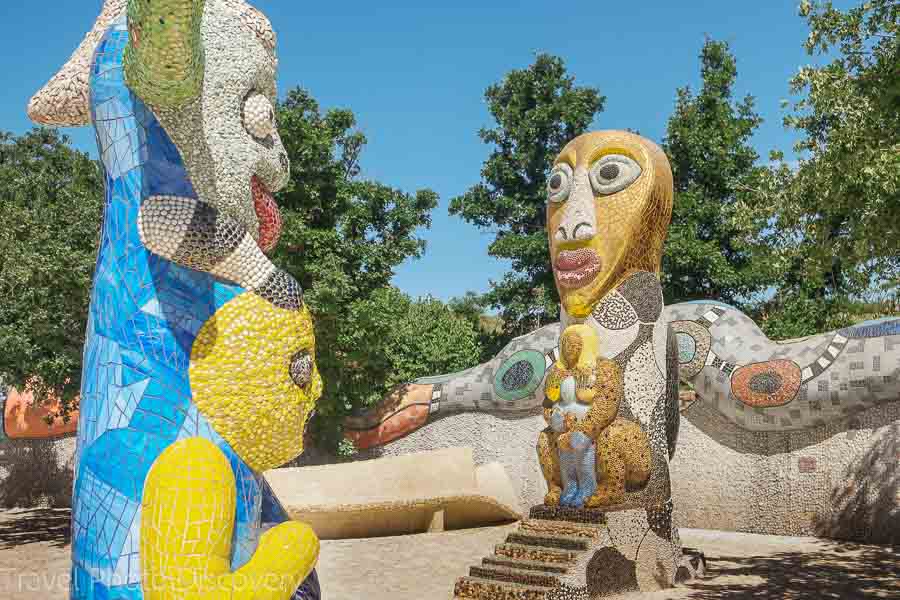 Touring downtown at Grand Avenue
The downtown district covers the main streets of Grand Avenue and a few other side streets. It's fun to explore the entire street filled with fantastic art galleries, antique shops, food venues and an electic mixture of galleries and shops. Being a fan of antique stores, I loved to explore all the cool antique malls and galleries all around this street to find that one of a kind souvenir to take home. I also loved to explore some of the local art at Art Coop Escondido Arts Partnership and the cool art gallery space called Distinction Gallery that showcases international artists, up and coming local artists and has artists studios in their upstairs galleries to explore. I loved seeing the mixture of up and coming artists and learning about the established core of Distinction's eclectic artist base and seeing so much variety and wonderful media and styles to enjoy viewing. If you love to see great art from the local art community, then check out the various artists represented at Distinction Gallery.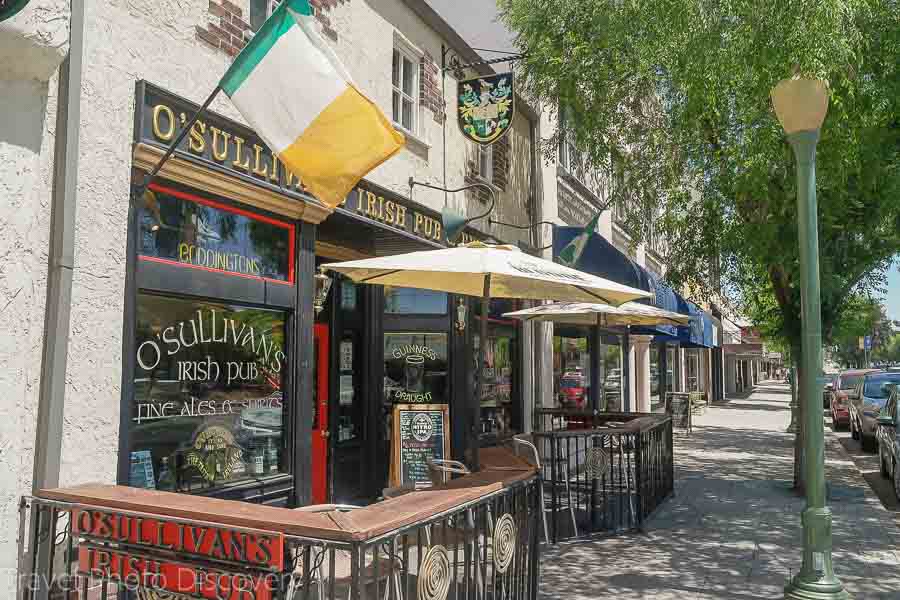 Checking the art gallery scene in Escondido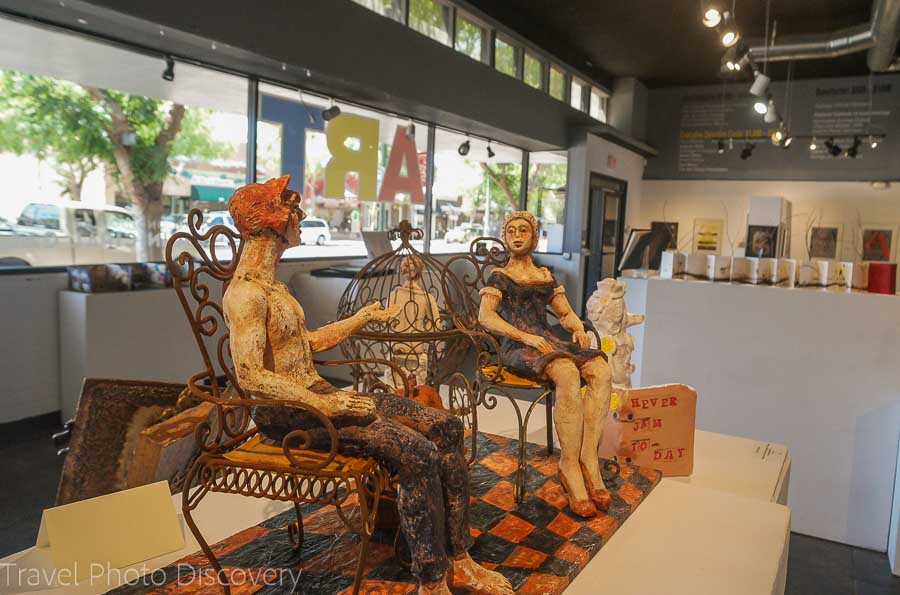 Checking out the cool art displayed at Distinction Gallery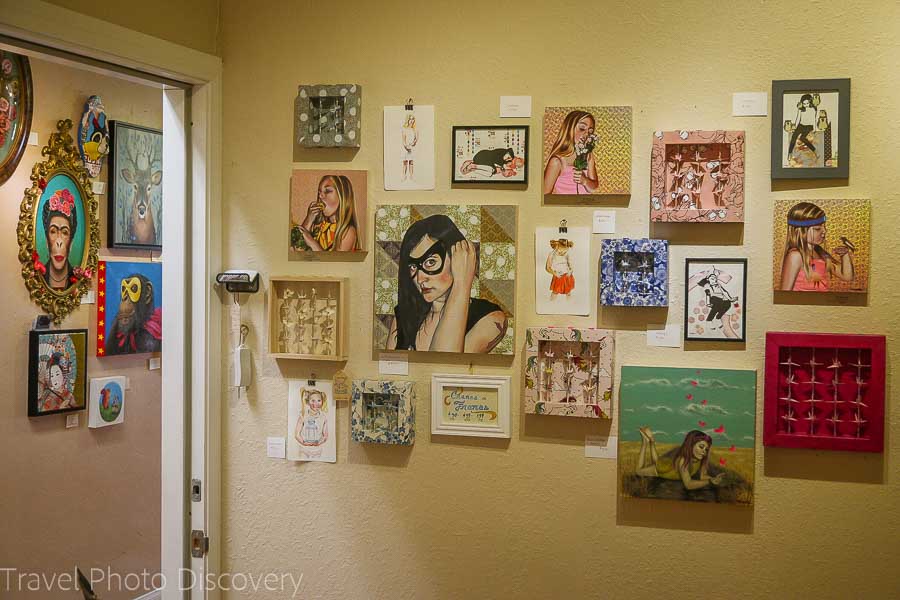 I love seeing repurposed and quirky art displayed in Escondido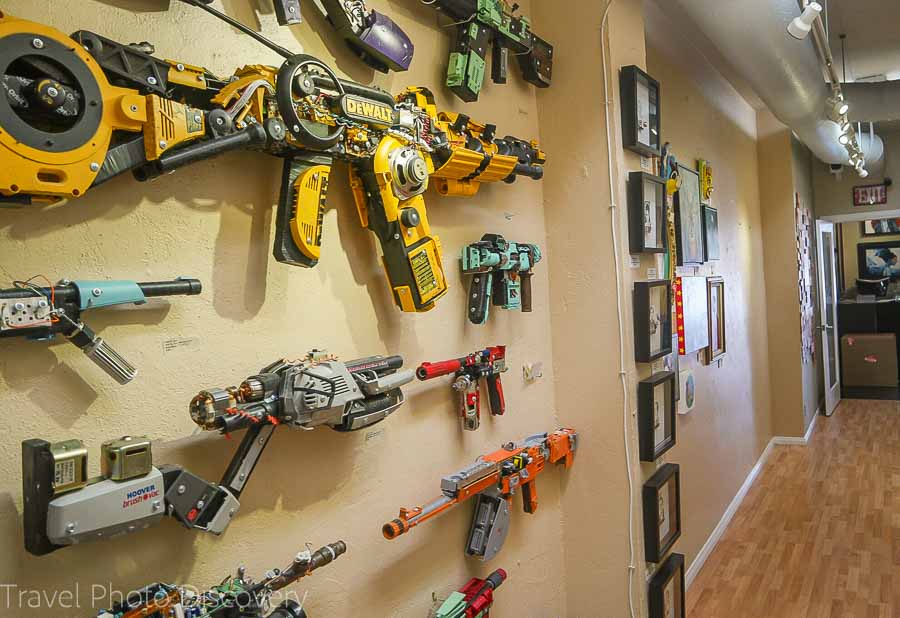 While visiting Grand Avenue, I also like to check out antique stores and galleries, and the street is full of coops and interesting stores that will keep you busy exploring for some hidden treasure and unusual finds. You can check out some of the popular favorites including: Escondido Antique Mall, Country Flowers and Antiques, Urban Barn, Grab Bag Antiques, S. A. Style and In the Cave. Most of these stores are located on the main drag so you will have a field day exploring the antique stores on Grand.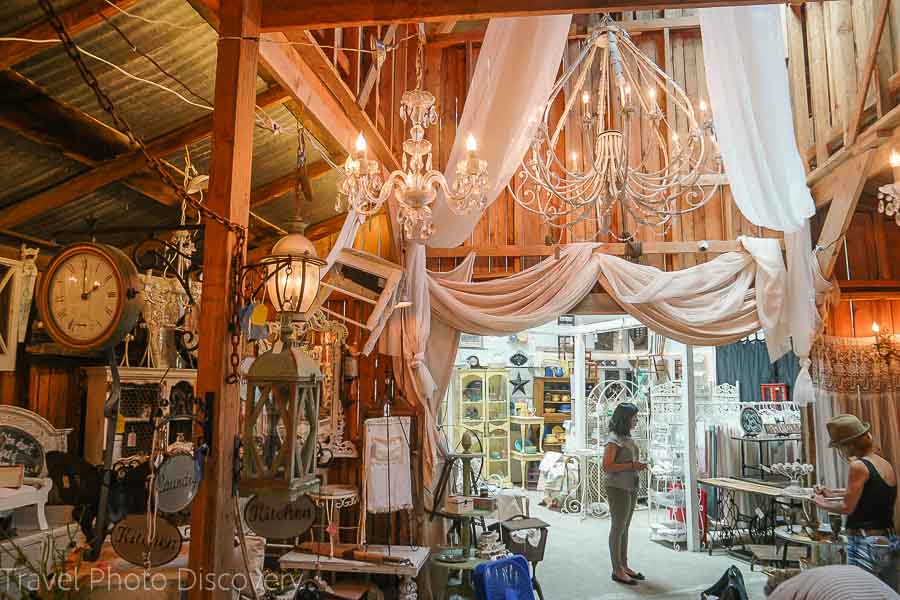 Antique shopping in downtown Escondido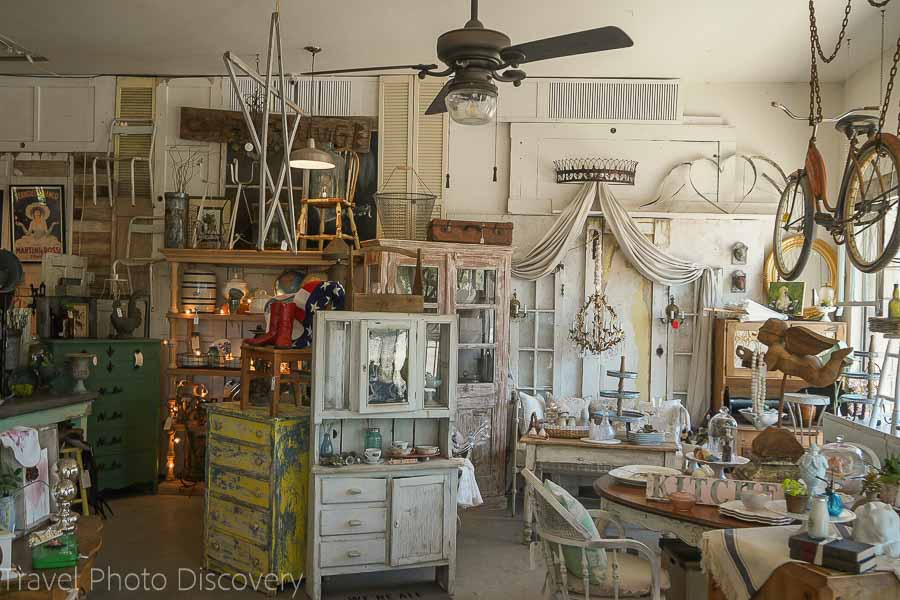 Lunch time at A Delight of France
If your in the mood for having a traditional French inspired lunch and pastry check out A Delight of France on West Grand Avenue. I enjoyed the wonderful lunch menu covering light to more hearty French fare in an airy bistro setting. I ordered a delicious Vol au Vent ( a puff pastry filled with mushroom and savory chicken) and a luscious three layer chocolate Opera cake. Lunch was a hit and I was ready for an afternoon nap, but I trudge on and visited a few more antique stores and a visit to a real dinosaur museum nearby.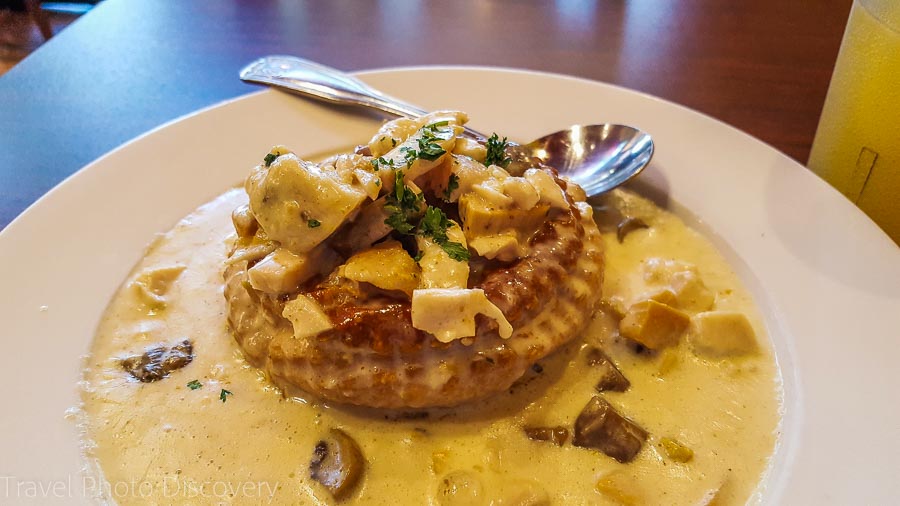 Vol au Vent entrée and luscious Opera Cake dessert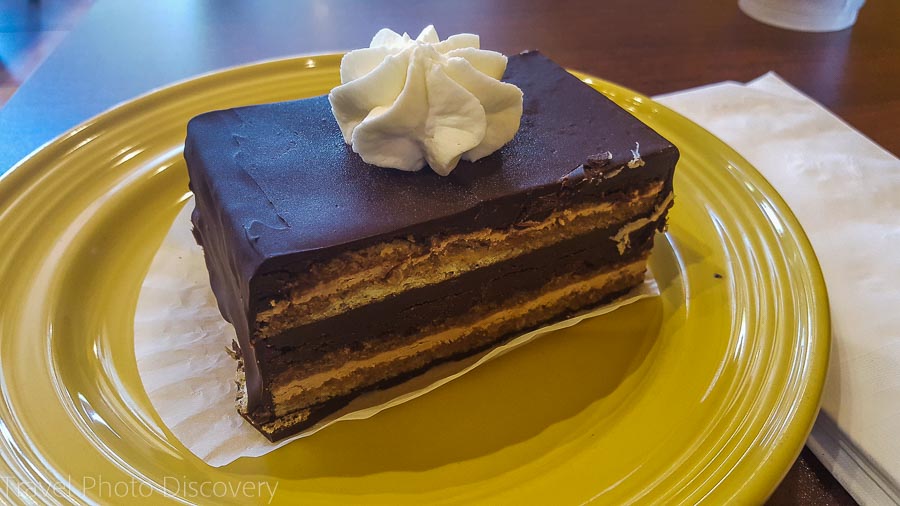 The Roynon Museum of Earth Sciences and Paleontology
After lunch, it was fun visiting the Roynon Museum and meeting the founder, Mr. Roynon who gave me a tour of the museum. Mr Roynon showed me some of his personal favorites and the background story of collecting different fossils to even a collection of dinosaur eggs purchased from sites around the world which are now impossible to do even for many non profit organizations.  First collecting fossils as a child, Mr. Roynon studied science and geology and continued his collection and later turning it into an education center and museum of fascinating fossils, caste reproductions and unique collectibles.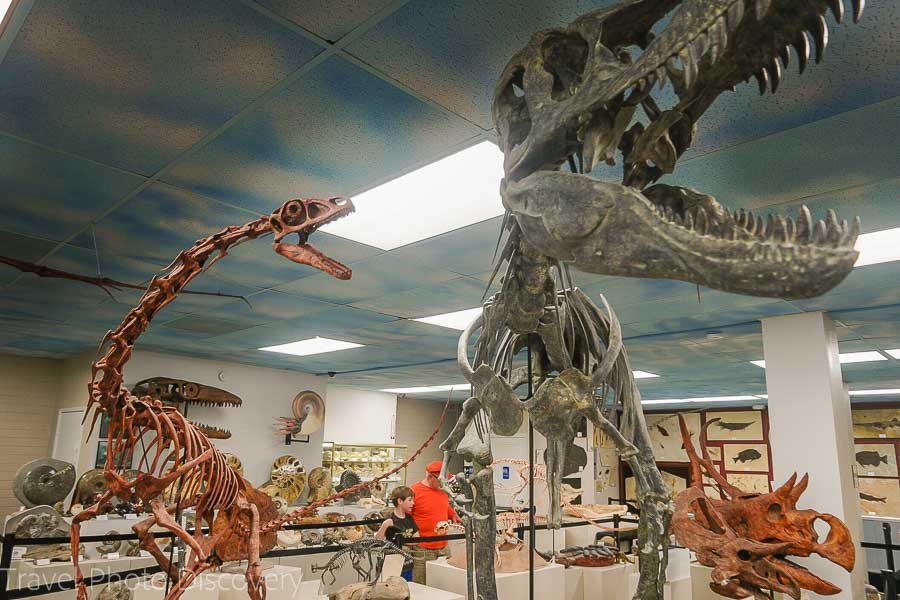 Checking out the dinosaur eggs at the Roynon Museum

Tip – even though the center is geared as an education center for children, there usually is a docent on the property to help with any visitors interested in getting more information about the Roynon collections or even creating a rock collection which looks like a fun activity to do with children.
Dinner at  Burger Bench in Escondido
I love a good burger joint and Burger Bench really delivers with an delicious selection of burgers, inventive appetizers, locally made craft beers and fun treats like parmesan tater tots and mini corn dogs.  The craft beer selections offer popular local craft beers from the immediate area and to general San Diego region. I opted to sit outdoors in the covered patio since it was a really nice and warm in the evening and what a perfect combination with a delicious IPA, tater tots and a humongous burger to devour.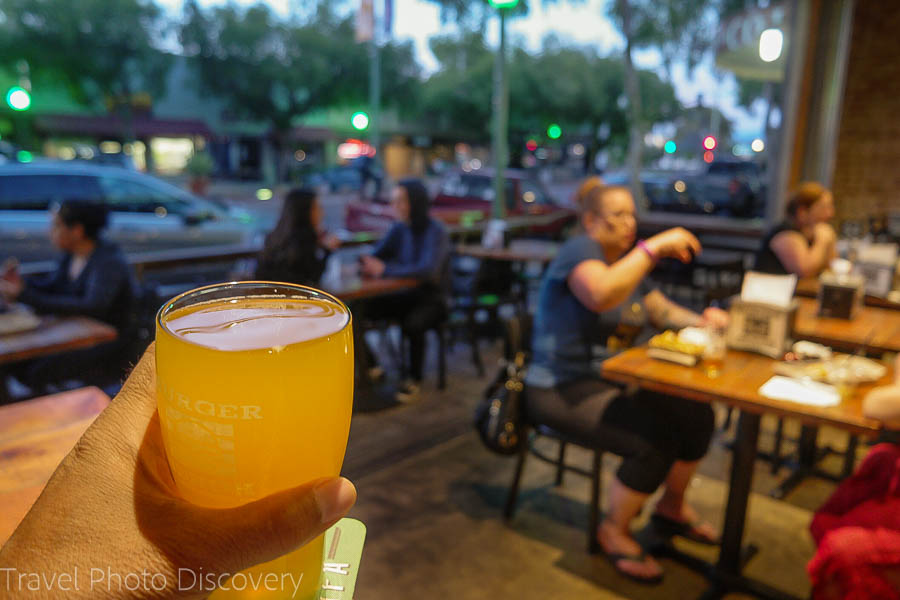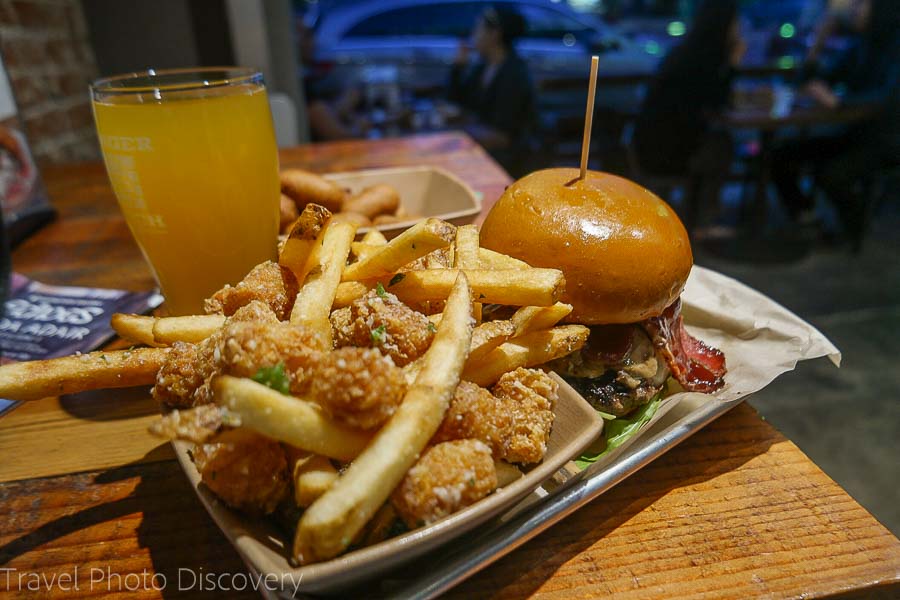 What's not to like with yummy mini corn dogs at Burger Bench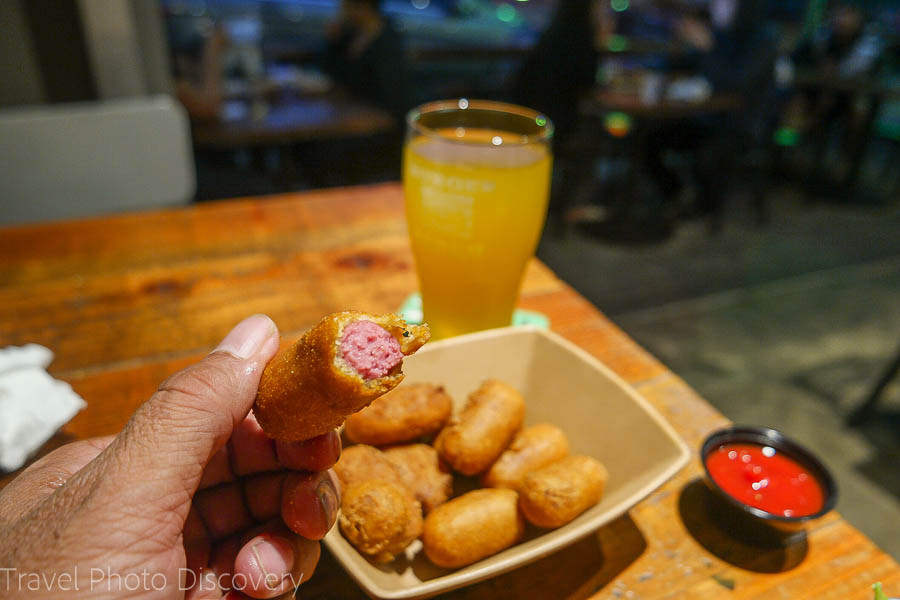 After a full meal, it was nice to just take another walk down the main drag at night and then call it quits after a full day exploring the downtown areas of Escondido and enjoying all the cool attractions around town.
Sunday check out and afternoon wine tasting
I enjoyed another breakfast at the Best Western and lounged by the pool for a few hours before checking out from the hotel. Instead of leaving, I decided to extend my stay and do some wine tasting at a few more wineries. First spot lined up for tasting was the beautiful Hungry Hawk Vineyards and Winery located on the top of the hill on Summit Drive with scenic views of the vineyards and surrounding countryside. Chief winemaker Mike created an eclectic collection of his favorite wines from over 15 grape varietals to include: Mourvedre, Malbec, Tempranillo, Grenache, and popular varietals grown in the area like Cabernet Franc and Cabernet Sauvignon. I tasted from the menu starting with a delicious Sauvignon and Sauvignon reserve which were delicious and followed by Albarino, a wine varietal I've never tried and it was full of fruit and aromas. This was rounded out with Grenache, Morvedre and the estate Malbec – a dark, pepper and cherry/plum infusion of flavors. A tasting menu at Hungry Hawk is really affordable at $12 for 5 tastings and everything I tried was really wonderful while getting the background story and efforts of growing wines in this region.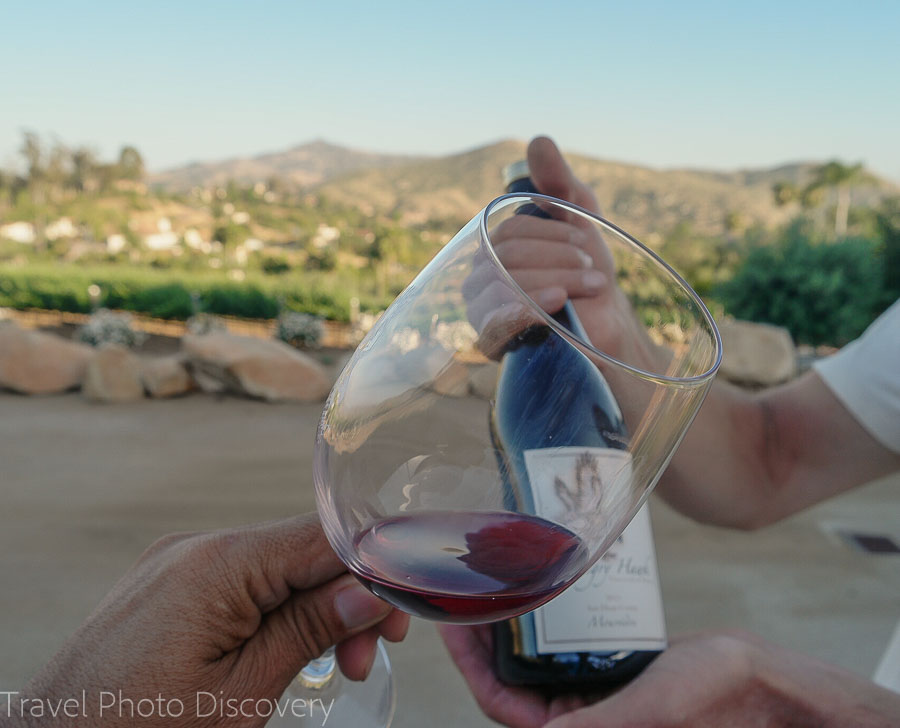 Tasting the artisanal wines at Hungry Hawk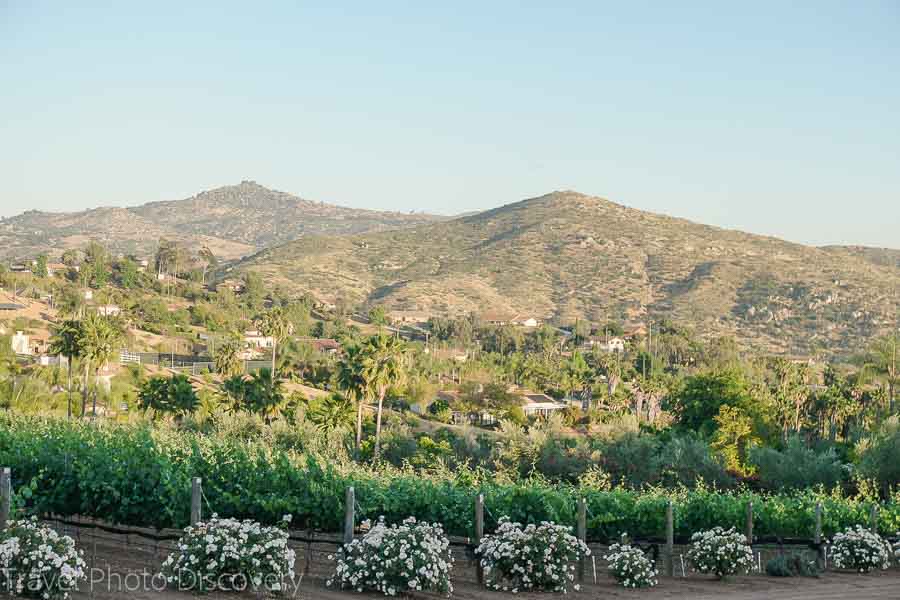 Checking out the wine cellar at Orfila winery
After the wonderful visit to Hungry Hawk, I drove down the hill to the popular winery, Orfila Vineyards and Winery.  I took their free tour which was under 30 minutes visiting the cellar, tasting rooms and vineyard and afterwards did a tasting of their popular wines.  Their tastings are $15 for trying out six varietals and you also get to keep a logo glass – it's perfect to hangout at the bar and then sit in the garden with really nice views of the vineyards and countryside.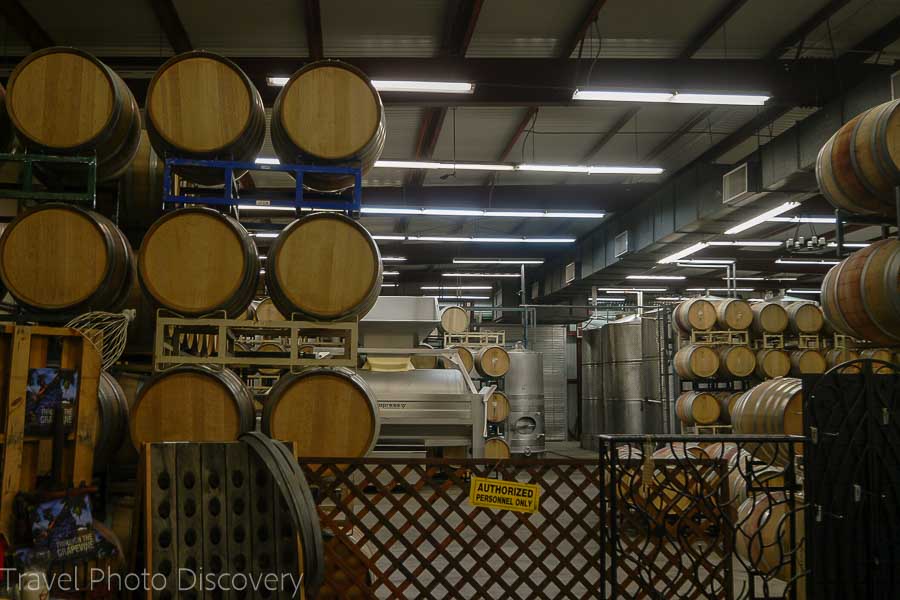 Outdoors at Orfila winery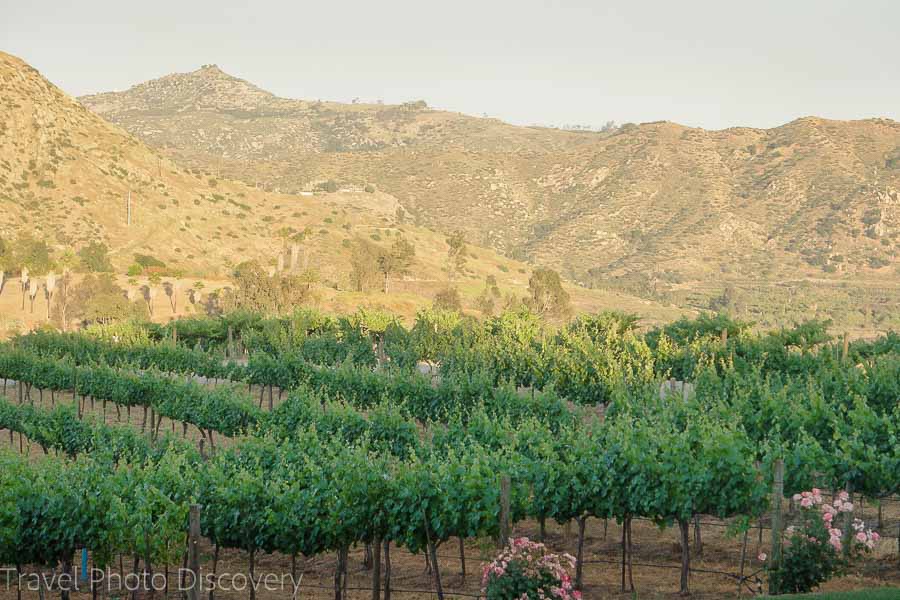 This weekend getaway to Escondido was a fantastic way to enjoy the attractions, cool things to do and tasting some of the regional beers and wines around around the San Diego Metropolitan area. I really enjoyed exploring downtown Escondido and visiting some unique and fun attractions around the city. For more information about exploring downtown Escondido and the surrounding area, check out Visit Escondido.com for more details and ideas about attractions and things to do.
Check out these Southern California posts
20 places to visit around Los Angeles
Exploring Balboa Park in San Diego
A visit to Queen Califia's Magical Garden
Visiting San Juan Capistrano Mission
40 Top things to do and see in San Diego
Travel photo postcard at Laguna Beach
If you enjoyed this please pin it!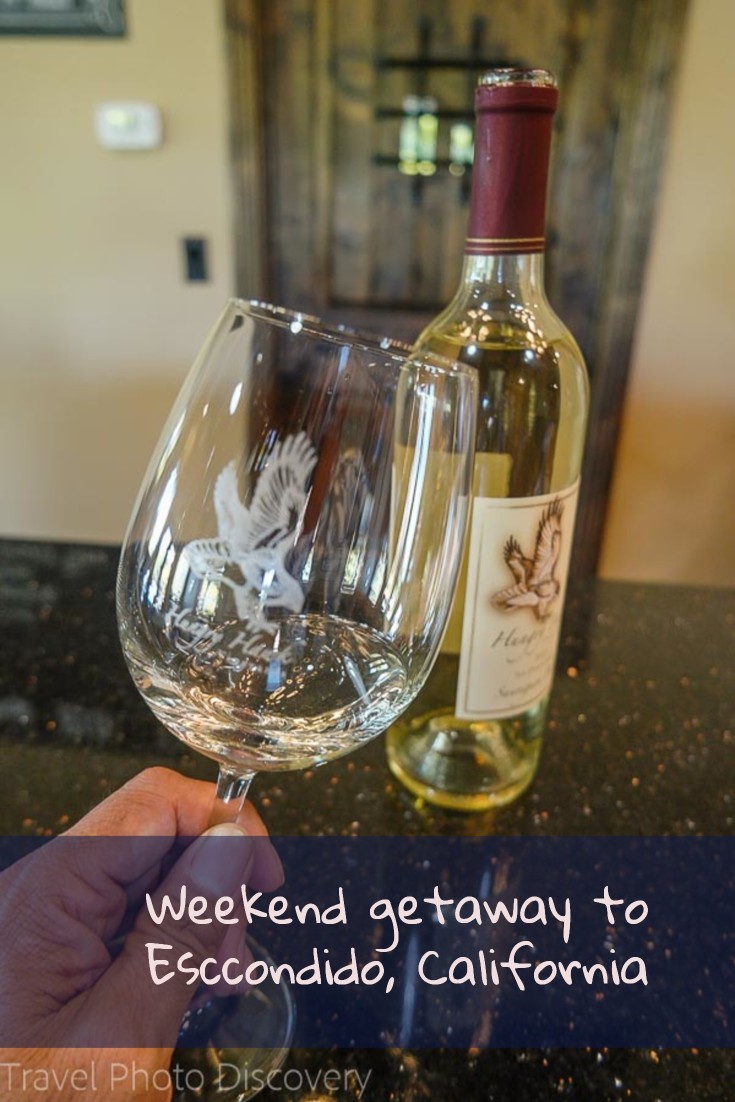 Thanks for visiting today and checking out this post on a weekend getaway, Escondido, California,  I hope you are inspired to do a road trip or getaway to enjoy some of these wonderful attractions in the region. If you enjoyed the images and post, could you please share it with any of the social media buttons located around the post.
If you like what you see, come and check out my other social media channels for more updates, including Instagram, Pinterest and Twitter
Disclosure –  Thanks to Escondido tourism for hosting me and setting up the visits and interviews in the area for me to share with you. Thank you for reading, and happy travels to you!