Things to do in Guadalajara – Mexico Itinerary For First Time Visitors to explore attractions and cultural gems
Planning your itinerary for Guadalajara, Mexico?
Guadalajara is one of the most stylish cities in Mexico and Latin America. The New York Times listed Guadalajara as one of the top 52 places to go in 2023 and the Colonia Americana was named the coolest neighborhood in the world by Time Out Magazine in October, 2022. 
This Guadalajara itinerary has been extensively tested and is meant to showcase the best of Guadalajara in a short period of time.
What makes Guadalajara such an interesting place to visit is the contrast between traditional and modern aesthetics in one place. That juxtaposition is visible in the food, the architecture, and even the people on the street. I recently saw a late-model sports car passing a horse-drawn carriage on Avenida Vallarta. There are a lot of artisans practicing their craft like it has been done for generations. Then one of the grandkids wants to branch out and try something new.
Guadalajara is definitively Mexican and cosmopolitan at the same time. Many people are well-traveled both within Mexico and abroad. They value their traditions but also want to know what the rest of the world is doing.
Where is Guadalajara, Mexico located?
Guadalajara is located in western Mexico, in the state of Jalisco. It's the capital city of Jalisco and is situated in the central region of the country. Guadalajara is known for its rich cultural heritage, vibrant arts scene, and as the birthplace of mariachi music and tequila.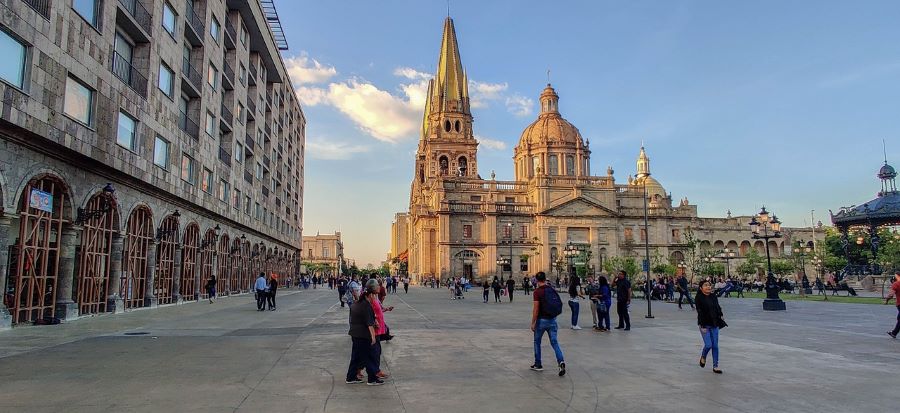 Day 0: Arrival and Check-in
The Guadalajara International Airport is located on the southern end of the metropolitan region. It is easy to get an official taxi from the airport and usually takes about an hour to get to Guadalajara. While Uber is a great option to get around Guadalajara it is inconsistent for airport pickups. It is better to use the official taxis. Buy a ticket at the stand outside of the luggage claim.
There are a lot of options for places to stay in Guadalajara. I recommend something near the Colonia Americana neighborhood because of the excellent restaurants and bars nearby. Casa Habita and the Demetria Bungalows are both great options because of the architectural charm that is representative of the neighborhood.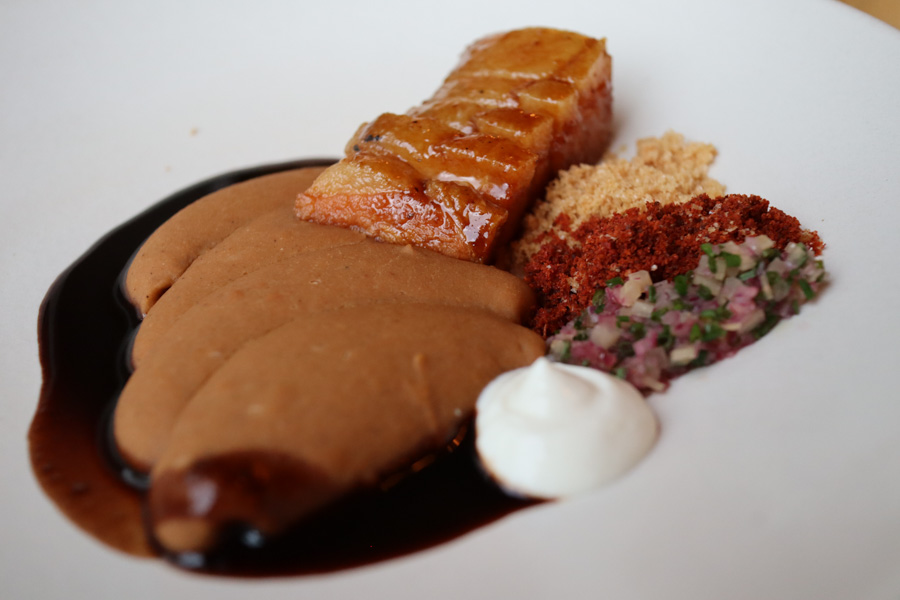 After getting checked into the hotel it is time for an early dinner with Chef Paco Ruano at Alcalde Restaurant, one of the 50 Best Restaurants in Latin America. Make sure to try the frijoles puercos appetizer and the arroz con leche dessert. These are classic dishes that have been reinterpreted by a world-class chef. Right next door to Alcalde is the Matera Restaurant which has an underground bar called La Luperca. If you are interested in getting a drink after dinner, La Luperca would be a great option. Try not to stay out too late because Day 1 of the itinerary starts early.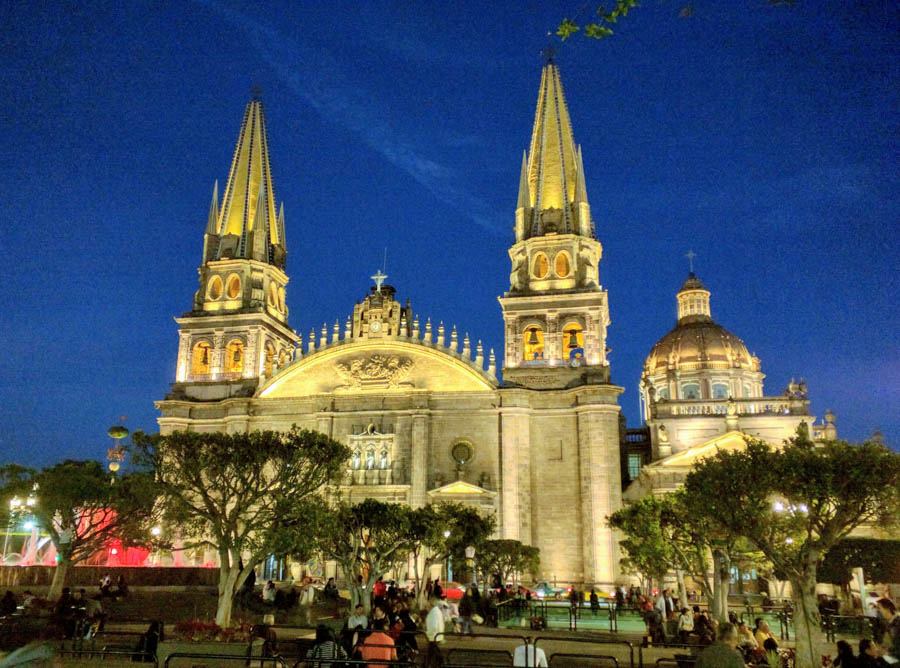 Day 1: What to do in Guadalajara in one day: Traditional and Modern
Stop #1 Downtown Guadalajara's Centro Historico
Downtown Guadalajara is magical. There is a long history that has been written in the buildings and streets of the historic core. If you only have one day to spend in Guadalajara then touring the downtown historic core should be the first thing you do. There is a massive concentration of interesting activities along pedestrian-friendly streets and plazas. 
Start with breakfast at one of the traditional restaurants in the Plaza de las 9 Esquinas. The restaurants are famous for preparing birria, a braised goat meat dish often served with consomme made from the braising liquid and lots of spices.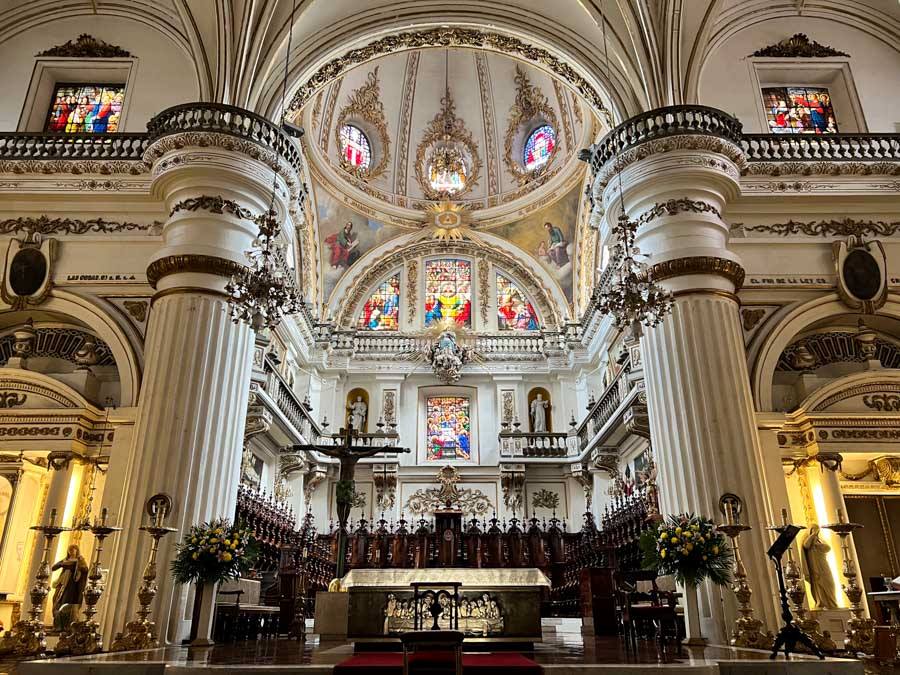 From the Plaza de las 9 Esquinas, it is a one-mile walk to the Cabañas Cultural Institute which is the most important museum in the region and a UNESCO World Heritage Site. Along the way, you will pass the Metropolitan Cathedral, The Rotunda of illustrious people from Jalisco, the main plazas shaped like a cross, the Jalisco State Government Palace murals, Cantina La Fuente, the Degollado Theater, and Mercado Libertad (AKA San Juan de Dios). The Centro Histórico of Guadalajara is a perfect place to start your exploration of the city and learn some history.
Stop #2 Puerta de Hierro and Plaza Andares
After a long morning exploring the historical center, you are probably going to want to relax for a few hours before getting ready for dinner.
 Puerta de Hierro is a contrast to the city center. It is a modern and wealthy area in the neighboring municipality of Zapopan. The skyline is decorated with architecturally interesting skyscrapers, there is a Ferrari dealership, and one of the most important malls in western Mexico. People come from out of state just to go shopping at high-end boutiques in Plaza Andares.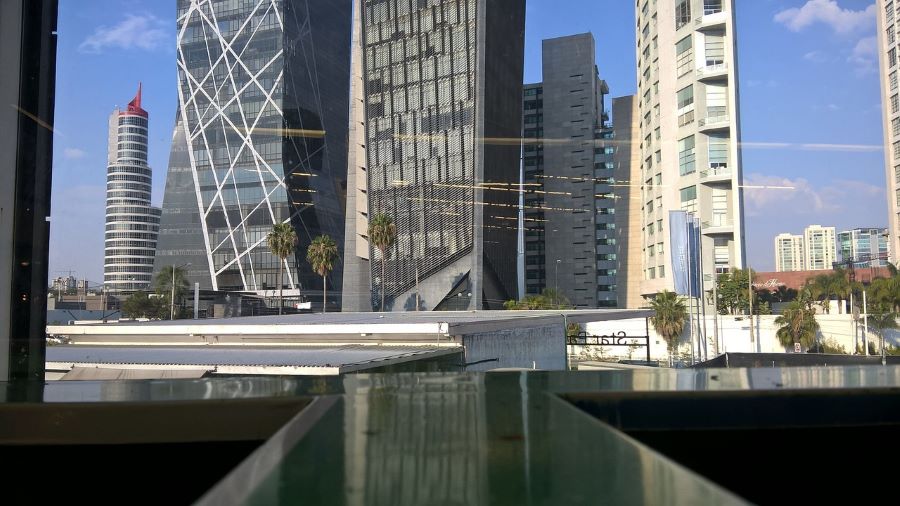 Modern Guadalajara skyline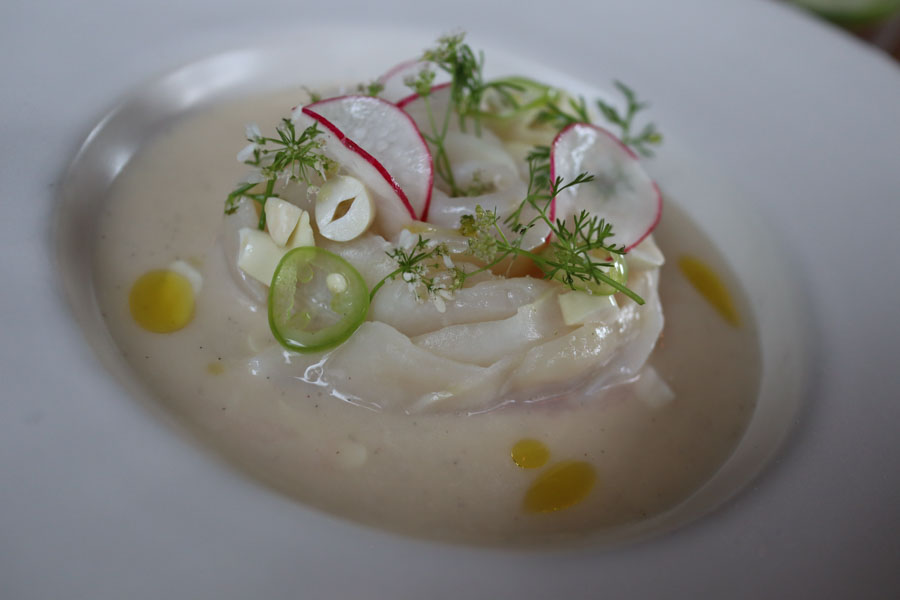 The local restaurant scene at Plaza Andares is exceptional. La Docena Oyster Bay launched Chef Tomas Bermudez to international fame and the best restaurants in Latin America list. Cuerno is a super high-end, Sonoran-style steak restaurant. Campomar Andares is one of the Nayarit-style seafood chain's largest restaurants to date. Their raw bar is exhilarating. If you liked Chef Paco Ruano's food from Alcalde the night before, he has a high-end cantina concept at Andares. There is no shortage of exceptional places to eat. Some of the best restaurants in Guadalajara are located in Andares
Day 2. Post-Colonial Independence.
Stop #1 The Colonia Americana
Time Out Magazine recently named the Colonia Americana the coolest neighborhood in the world because of the underground hipster culture. There are over a hundred years of architectural heritage that is very different from the Spanish colonial architecture prevalent in the historic downtown. Throw in a bunch of stylish restaurants, bars, boutiques, and galleries and you have a picturesque place to party. The area is still edgy so watch out for motorcycle thieves famous for snatching cell phones out of the hands of distracted tourists.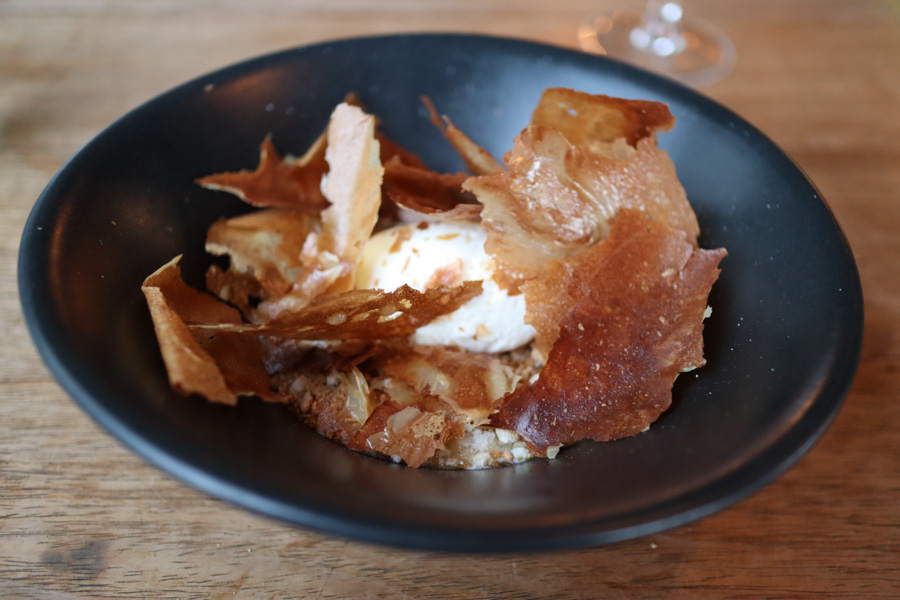 Start with breakfast and coffee at Café palReal. They prepare some of the best coffee in all of Mexico and the lonche de pancita (porkbelly sandwich drowned in a green sauce) is one of the most Instagramed plates in Guadalajara. I have run into both Chef Enrique Olvera (Pujol) and Chef Javier Plasciencia (Animalón) while waiting for a table on a busy day.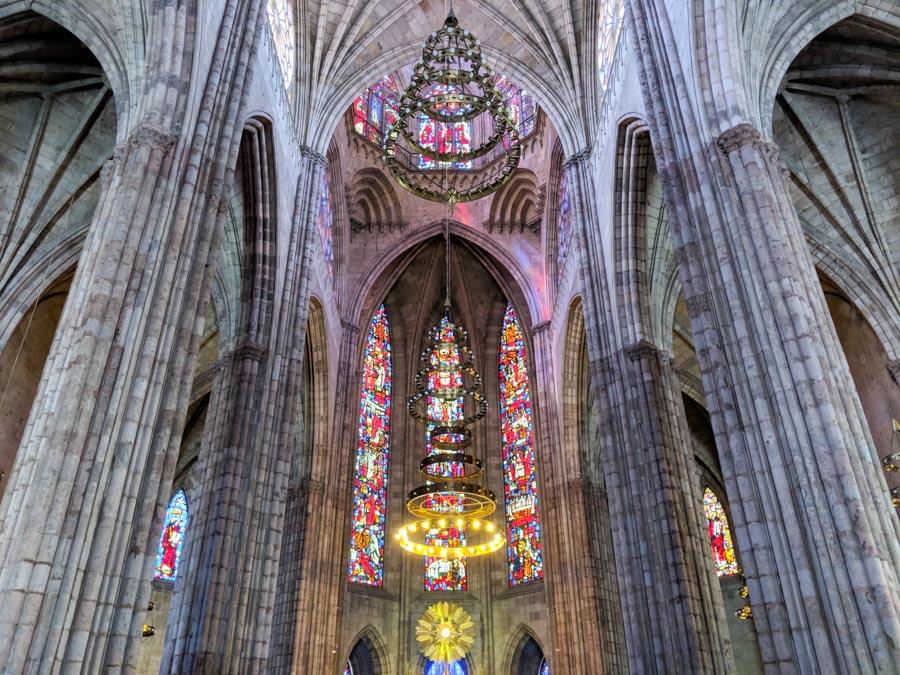 The Templo Expiatorio del Santísimo Sacramento is a must see. The Italian-style neo-gothic temple was commissioned by president/dictator Porfirio Díaz. Díaz personally invited Italian engineer Adamo Boari to Mexico to build some iconic buildings like the Palacio de Bellas Artes and the Palacio del Correo Mayor in Mexico City.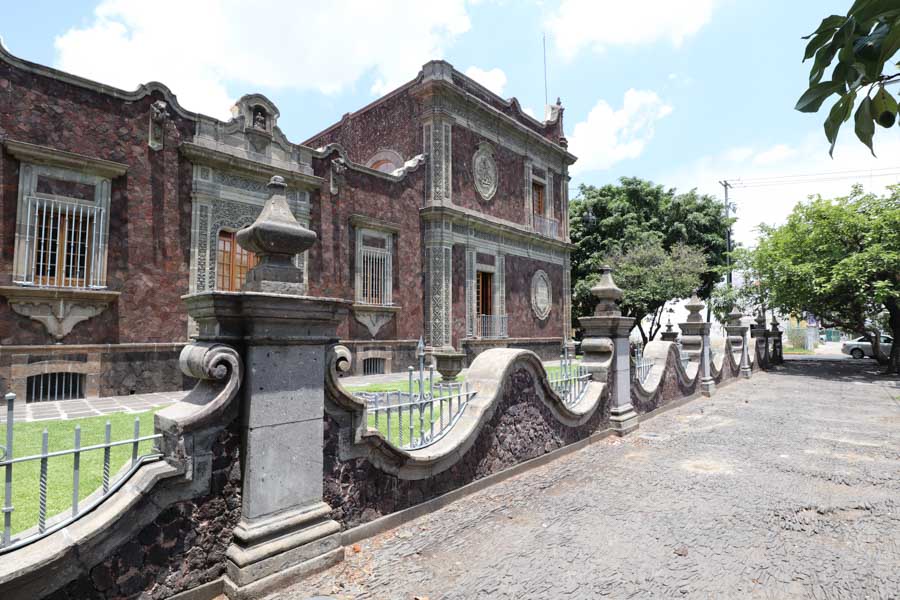 European style was a favorite of Porfirio Díaz and his clique of political underlings. Guadalajara developed an eclectic style of architecture during this period that appropriated different European styles into one building. Avenida Vallarta is a late 19th-century and early 20th-century millionaire's row famous for eclectic and regional mansions.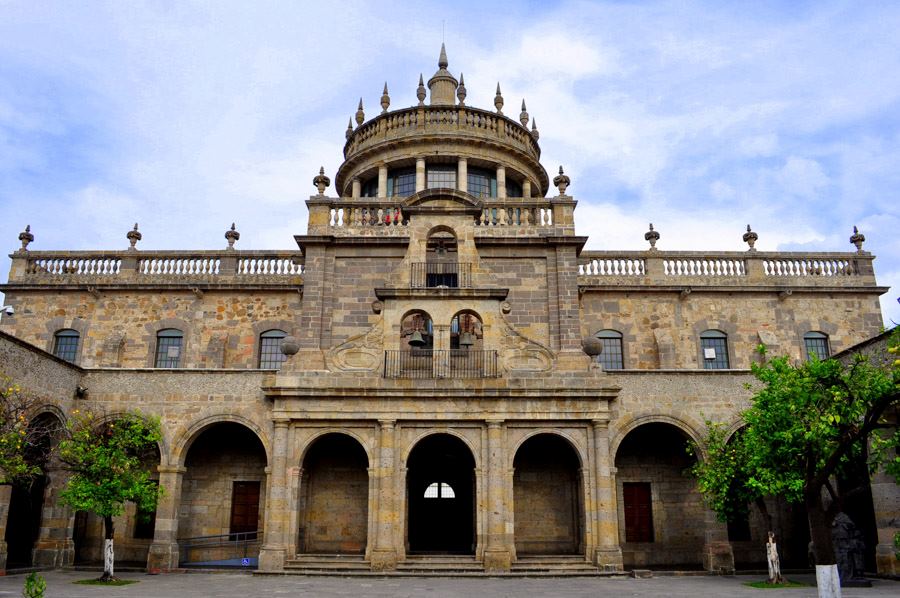 In front of the Expiatorio is the University of Guadalajara's Museum of the Arts (Musa). In addition to the top-notch series of international exhibitions, the museum houses two José Clemente Orozco murals. While the Orozco murals in the Hospicio Cabañas are considered to be his masterpiece these murals are still powerful. The Musa murals depict the monopoly of education and the abuse of power in the Porfirian era. The opulence of the era was built on the back of workers who were mistreated.
 The Colonia Americana also has a lot of street art too. Taking a street art tour with local guide Karen Mora is a great way to experience the work of living artists.
 Follow up the walking tour with something to eat or drink at a local establishment. The Gallo Altanero is the premier tequila bar in the world. Pare de Sufrir is an amazing place to learn about mezcal and agave culture. De La O Cantina is a modern interpretation of a rural cantina with artisanal Mexican products like pulque, tepache, and aguamiel. Chef Carlos Espinosa of Tikuun Comedor Local does exciting modern Mexican food. Chef Adolfo Galnares of Allium cooks a Mexican interpretation of farm-to-table. He sources some spectacular products from places that most people are not familiar with. The Colonia Americana is one of the most varied places to eat and drink in Mexico.
 Stop #2 A Sporting Event or the Theater
The Guadalajara Metropolitan Region has a population of 5 million people and a lot of them love soccer. Club Deportiva Guadalajara, more commonly known as Chivas, is one of the most popular soccer teams in the country. Akron Stadium, where Chivas plays, has been selected as a World Cup stadium for the 2026 North American tournament. The older Estadio Jalisco, where Atlas Fútbol Club plays, hosted games during the 1970 World Cup when Brazil won. They are both exciting venues to watch professional soccer matches.
 Guadalajara also hosts two professional baseball teams, wrestling, bullfights, tennis tournaments, golf, and basketball. There is a lot to choose from.
 If you are not into sports, see if the philharmonic orchestra or the ballet has an event at the Teatro Degollado. More than just the event itself, the venue and the spectacle of the event are a big part of the experience. Getting tacos before a soccer game or a cocktail during intermission at the theater is a memorable experience.
Day 3. Tlaquepaque Artists' Village
Stop #1 Breakfast in a Traditional Mexican Market
There are traditional markets in every neighborhood in Guadalajara. My favorite market is the Central de Abastos wholesale market. The retail section takes up the first two blocks next to the main road, Calzada Lázaro Cárdenas. There are some of the best examples of down-home, Jalisco-style cooking housed I that market. It is where the best chefs in the city come to shop and eat.
 Central de Abastos is an easy stop on the way to Tlaquepaque because Calzada Lázaro Cárdenas is the fastest route to get there.
Stop #2 Tlaquepaque Artists' Village
Both Tlaquepaque and Tonalá have been a hub of native culture going back long before the Spanish arrived in the region. The name Tlaquepaque comes from the Náhuatl for 'place above clay land.' They have been making ceramics in the region for a thousand years. The Regional Ceramics Museums gives an overview of the history while the Pantaléon Panduro Museum hosts the national ceramics competition highlighting contemporary works.
 Tlaquepaque is one of the best places in Mexico to buy fine ceramics. Jalisco has its own regional style of ceramics but you can find excellent examples of Talavera from Puebla and black clay from Oaxaca as well.
 Ceramics are just the beginning. Calle Independencia is a pedestrian street full of galleries and boutiques selling regional crafts like blown glass, leather, furniture, religious sculptures, textiles, traditional candies, and tequila. Many of the galleries and boutiques are housed in historic mansions.
 The Parian de Tlaquepaque is a great place to take in a mariachi show. The building was a 19th-century market that evolved into a series of 18 cantinas and restaurants set around a kiosk where musicians perform traditional music.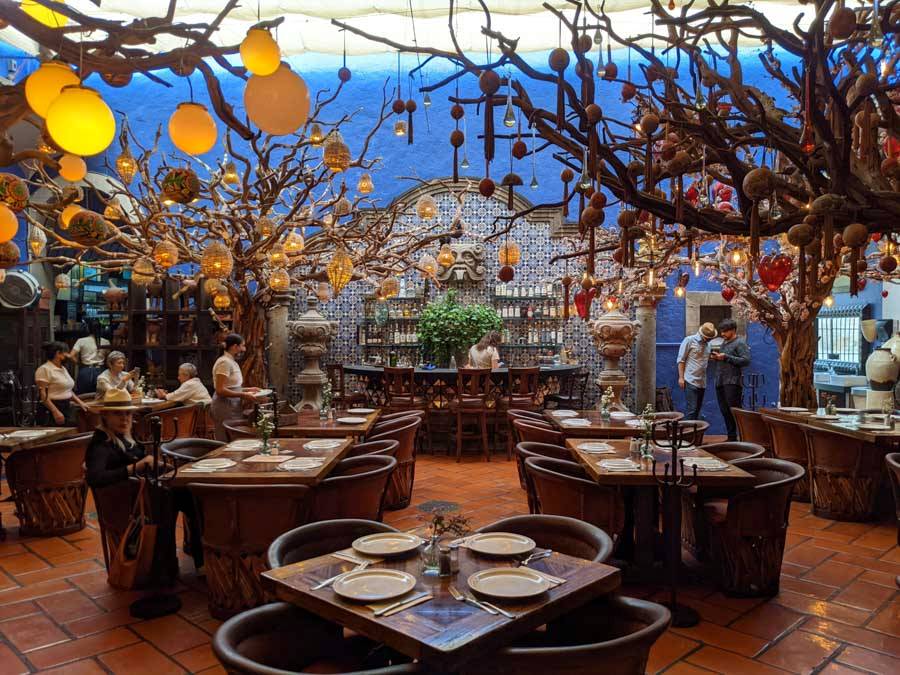 There are lots of beautiful restaurants in Tlaquepaque decorated with local art from Tlaquepaque. Casa Luna, El Zaguan, El Patio, and El Abajeño are all great choiced because of the both the atmosphere and the food. One of the most enjoyable culinary treats in the area is a simple corn on the cob in the main plaza.
Day 4. The Tequila Valley
The Tequila Valley is located just an hour outside of Guadalajara and deserves a look. In addition to the Pueblo Mágico of Tequila, there are pyramids, ex-haciendas, waterfalls, the blue agave fields and cult favorite distilleries. The agave landscapes and ancient industrial facilities of Tequila are a UNESCO world heritage site. It is a picturesque collection of small towns encircling the Tequila Volcano. Ranching culture from this part of Jalisco is quintessential to the Mexican national identity. 
There are Tequila tours from Guadalajara for every sort of traveler including those who don't drink alcohol. If you have an extra day or two, you won't regret spending it in the Tequila Valley. 
How to get around Guadalajara, Mexico
Getting around Guadalajara, Mexico, is relatively easy, thanks to a variety of transportation options available. Here's how to navigate the city:
1. **Public Transportation**: Guadalajara has an extensive public transportation system, including buses and a light rail system called the "Tren Ligero." These options are affordable and can take you to many parts of the city.
2. **Uber and Rideshares**: Uber and other ridesharing services operate in Guadalajara, providing a convenient and often cost-effective way to get around. Simply use the app to request a ride.
3. **Taxis**: Taxis are readily available in Guadalajara. Ensure that the taxi has a working meter (known as "la bandera") or agree on a fare before starting your journey.
4. **Biking**: Guadalajara is becoming more bike-friendly, with dedicated bike lanes and bike-sharing programs. You can rent bicycles from various shops and explore the city on two wheels.
5. **Car Rentals**: Renting a car is an option if you plan to explore areas outside the city. Many car rental agencies have offices at the Guadalajara International Airport and throughout the city.
6. **Walking**: In the city center and many neighborhoods, walking is a pleasant way to explore. You can discover markets, plazas, and historic sites on foot.
7. **Metrobús**: Guadalajara's bus rapid transit system, known as the Metrobús, provides a quick way to travel along specific routes, including the busy Avenida Vallarta.
8. **Tren Ligero**: The Tren Ligero light rail system connects various parts of the city, making it a convenient option for getting around, especially if you're staying near one of its stations.
9. **Colectivos**: Shared minibusses called "colectivos" provide transportation to neighborhoods and areas not served by larger buses. They are a budget-friendly choice.
10. **Private Transportation**: Some upscale hotels and resorts offer private transportation services for their guests. Check with your accommodation for options.
11. **Airport Shuttle**: If you're arriving at the Guadalajara International Airport, there are shuttle services that can take you to your hotel or destination within the city.
12. **Traditional Markets**: Exploring local markets on foot or by bike can be a fun way to experience the city's culture and cuisine.
Navigating Guadalajara is part of the adventure, and you can choose transportation options based on your itinerary and preferences. Whether you're exploring historic sites, enjoying the local cuisine, or experiencing the city's vibrant arts scene, you'll find transportation that suits your needs.
Specialty foods and dishes to try in Guadalajara
Guadalajara, known as the culinary heart of Mexico's Jalisco state, offers a tantalizing array of specialty foods and dishes that you must try during your visit. Here are some of the most iconic ones:
1. **Birria**: Birria is a flavorful stew, typically made with beef or goat. The meat is marinated in a rich blend of spices and chili peppers, slow-cooked until tender, and often served in tacos or as a soup. It's a must-try dish in Guadalajara.
2. **Torta Ahogada**: Literally meaning "drowned sandwich," this is a local specialty. It consists of a crusty roll filled with pork (usually carnitas) and then drenched in a spicy tomato or chili sauce.
3. **Birria Tacos**: While birria is often enjoyed as a stew, it's also a popular filling for tacos. These tacos are typically served with a side of consommé (broth) for dipping.
4. **Pozole**: Pozole is a hearty soup made with hominy corn and meat, often pork or chicken. It's garnished with shredded lettuce, radishes, onions, and a sprinkle of oregano. Lime and chili can be added for extra flavor.
5. **Tortas Ahogadas**: Similar to torta ahogada, these are drowned sandwiches but with various fillings like carnitas, chorizo, or even beans. They are smothered in the same spicy sauce.
6. **Sopes**: Sopes are thick corn tortillas with raised edges, topped with ingredients like refried beans, cheese, salsa, and your choice of meat or vegetables. They're a flavorful and satisfying street food.
7. **Carne en su Jugo**: This dish features thinly sliced beef served in a savory beef broth with beans, bacon, and cilantro. It's a comforting and hearty meal.
8. **Jericalla**: For dessert, try jericalla, a creamy and custard-like dessert similar to flan but with a unique local twist. It's often flavored with cinnamon and vanilla.
9. **Tejuino**: Tejuino is a traditional beverage made from fermented corn. It's slightly sweet, tangy, and often served with a scoop of shaved ice and a squeeze of lime. It's a refreshing choice, especially in the warm Guadalajara weather.
10. **Torta de Guacamole**: This sandwich is filled with guacamole, refried beans, cheese, and your choice of meat. It's a flavorful and indulgent option.
11. **Campechana**: A seafood lover's delight, campechana is a cocktail made with a mix of fresh seafood, usually shrimp and octopus, in a tomato-based sauce with onions, cilantro, and avocado.
12. **Charalitos**: These are tiny, crispy fish that are often enjoyed as a crunchy snack. They are typically seasoned with chili and lime.
When in Guadalajara, embrace the local culinary culture by sampling these dishes at street stalls, markets, or traditional restaurants. The city's vibrant food scene is a journey of flavors and a true delight for any food enthusiast.
Some Final Thoughts on Guadalajara
Guadalajara is a cool town. It is a big city that feels much smaller than the census data shows. As the third largest metropolitan region in Mexico there are a lot of different expedriences. The goal of this introduction to Guadalajara was to show a diverse picture of what is available. 
I truely hope that this article encourages somebody to actually come and visit Guadalajara. I am confident that they will have a memorable experience. 
Check out these other topics on Mexico destinations
Visit to San Miguel de Allende
A historic tour of Guanajuato city
Things to do in Guanajuato, Mexico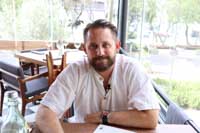 Paul Hudson
Paul Hudson is a food, travel, and surf enthusiast who writes about California in Spanish and Mexico in English. He is originally from San Diego, went to school in Santa Cruz, and moved to Guadalajara in 2009 for grad school. He loves to explore the coast, enjoys unique culinary experiences, and reads voraciously.
Check out his blog at  www.playasyplazas.com