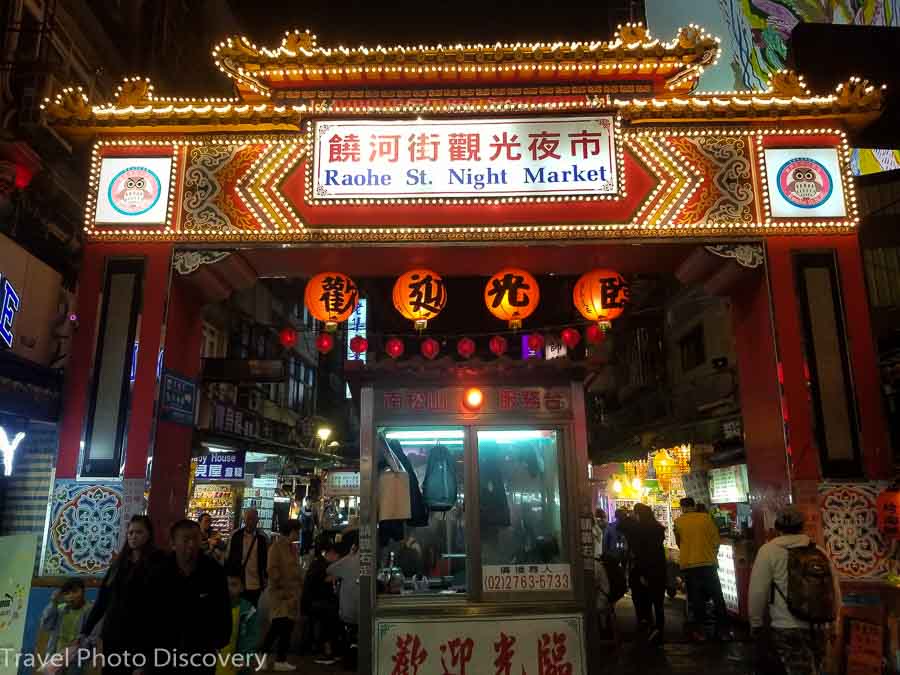 Taipei night market at Raohe – stroll, eat, shop and explore all the fun venues (updated 2023)
One of the most popular night markets to visit in Taipei is the Raohe market located on the east side of the city at Songshan district. You can easily get to the market by metro to the last stop on the green line at Songshan station and walk upstairs with the market with the colorful Ciyou temple visible on the street and the market open on the left side. Check out this popular attraction in the Taipei night market at Raohe and you'll want to try some of these amazing street foods when you visit the city.
** If you are looking for more of a guided tour of Roahe along with some other evening highlights to visiting Taipei, check out this Roahe tour experience here for more information and booking information.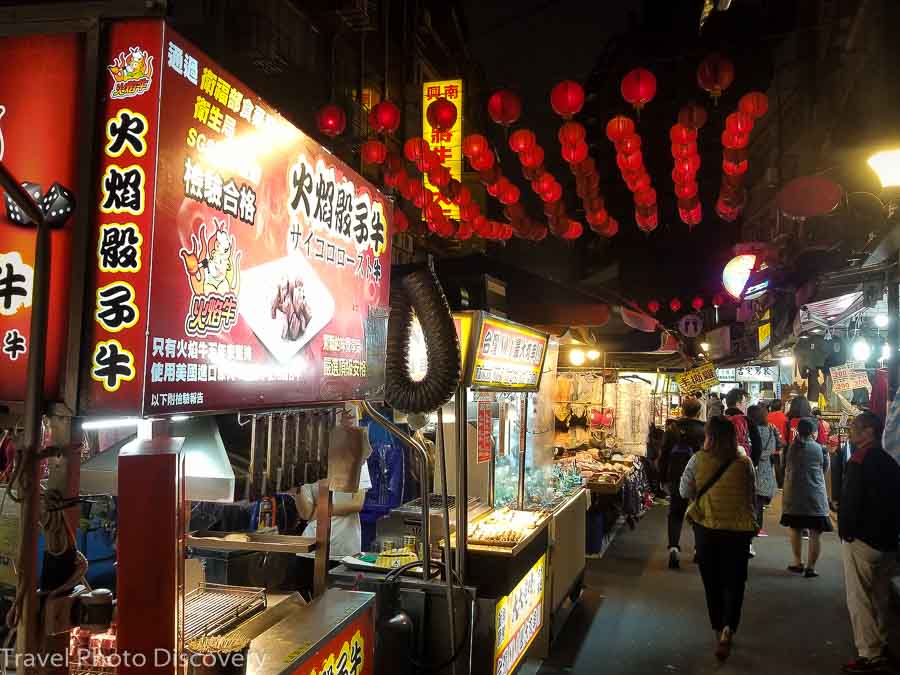 Highlights to visiting Raohe market in Taipei
Before you visiting the Raohe night market, make sure you save your appetite before going for the ultimate food experience. The market is well known for showcasing the best delicacies, fruits, snacks and desserts you can find anywhere in Taipei. Enjoy your visit and try some of the smaller bites around the market instead of complete dishes since there is a lot of fantastic food vendors and choices to experience. In fact there's so many to choose from that you definitely walk through most of the stalls to decide on which ones that are your top choices to try. With 48 hours in Taipei, a visit to Raohe night market is a must here.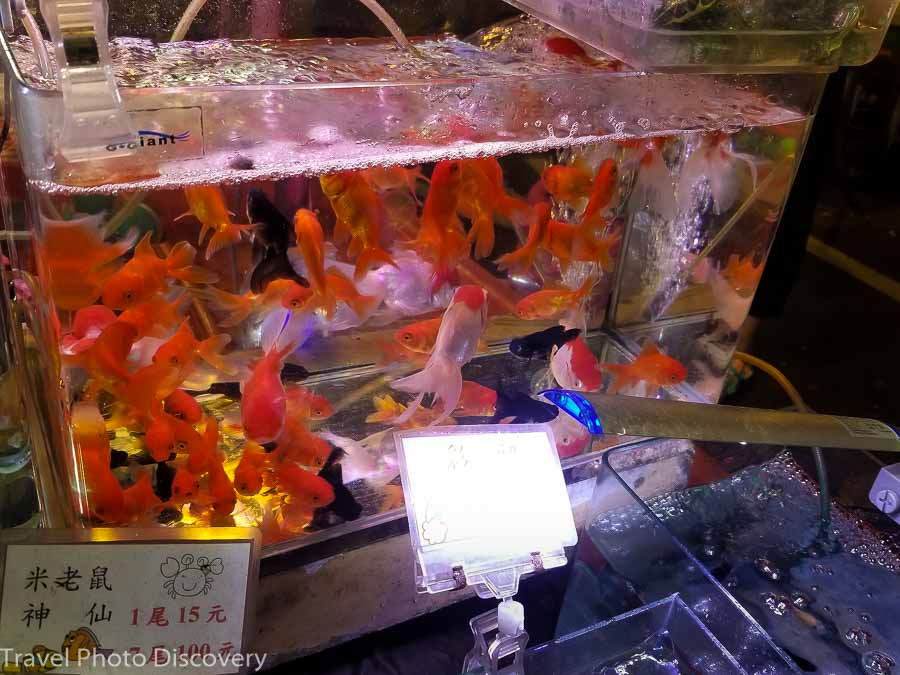 One both sides of the market with the street vendors in the middle are many smaller shops selling cheap products, clothing, shoes and the off-beat toy arcades, massage studios, small temples, even fortune tellers. You'll find the market to be both fascinating and a little intense depending on how busy and crowded it gets at night.
After you had your filled of fruits, delicious desserts, snacks, bubble tea and other local street food, there's plenty of souvenirs that you can take home with you from candies and local treats, baked goods and other special delicacies, clothing and cheap souvenirs, accessories and jewelry. These are usually vendor stalls that are on the side areas of the food booths located in the center aisles.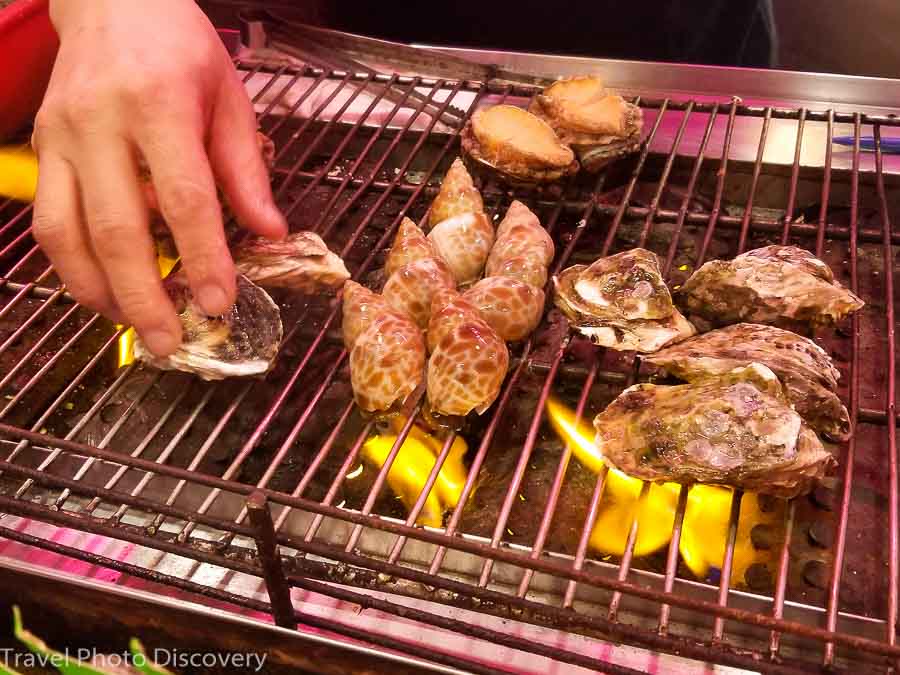 What to try at the Raohe market
The popular night market at Raohe is a foodie lovers street food experience, both sides of the street have dedicated food vendors in the middle aisles serving local style food, delicacies, snacks, desserts and other unusual goodies to try.  You'll find everything for sale is baked, steamed, boiled, grilled or barbeque, stir fried or even raw with a plethora of sauces or toppings served on or added later to the dish.
Here's a sampling below of the most popular to exotic finds you can try at the market below. Make sure you take your time to observe what is for sale before you start sampling, or at least check out some of these more popular food items for sale below so you can get an idea about what you'll be seeing.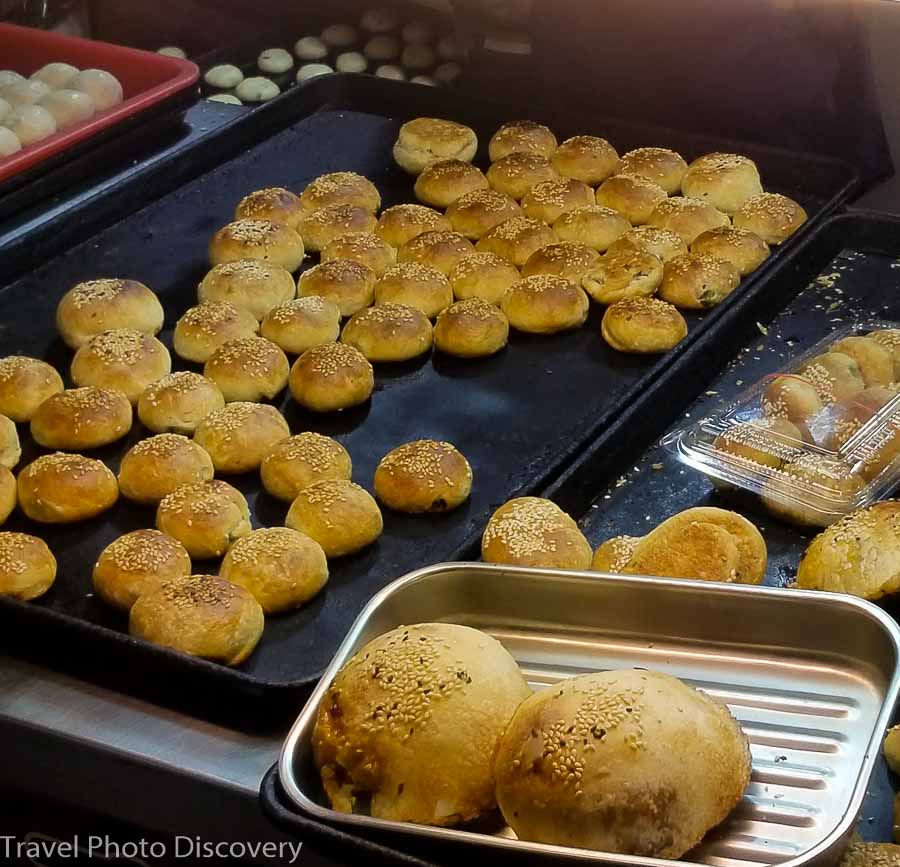 Fuzhou Pork Pepper buns
One of the most popular foods right at the entrance is the green onion beef buns. The long lines starting at the gate entrance to the vendor table clues in to this attractive and well known street food with a whole team creating the buns and filling right in front of you and then baked in local oven (tandoori style) until it is crispy outside and moist and tender inside.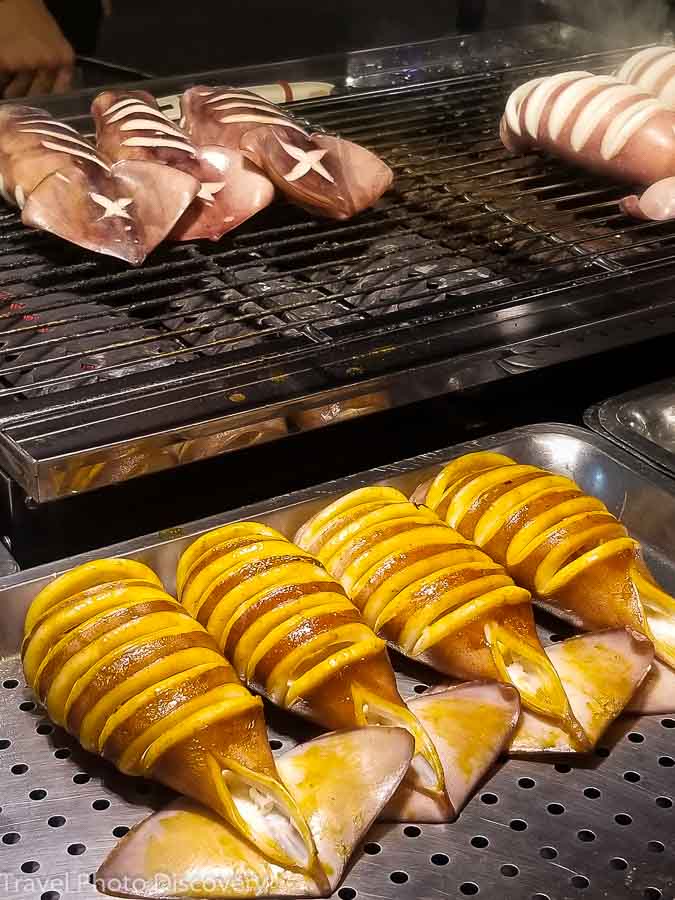 Grilled Squid
Prepared simply on a small grill, the squid is sliced into rings or flattened butterfly style with skewers. The squid is marinade in teriyaki sauce and sprinkled with chili powder for a quick take away snack. This popular snack seems to be very popular with many stands offering squid and other seafood mixes.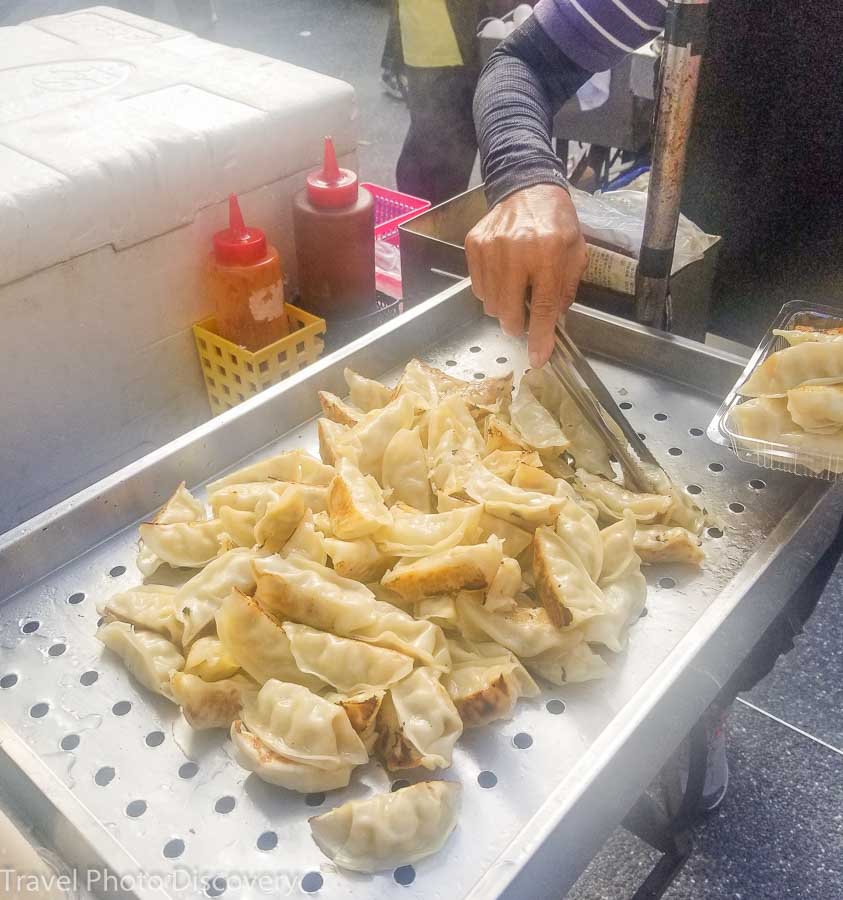 Fried Dumplings
A typical favorite at the market, freshly cooked dumplings like Xiao long bao style are filled with minced pork, vegetables and mushrooms and fried to get a crispy texture on one side and goey on the other. Made hot and fresh, these are just too good to pass up when you walk down the street for your next find.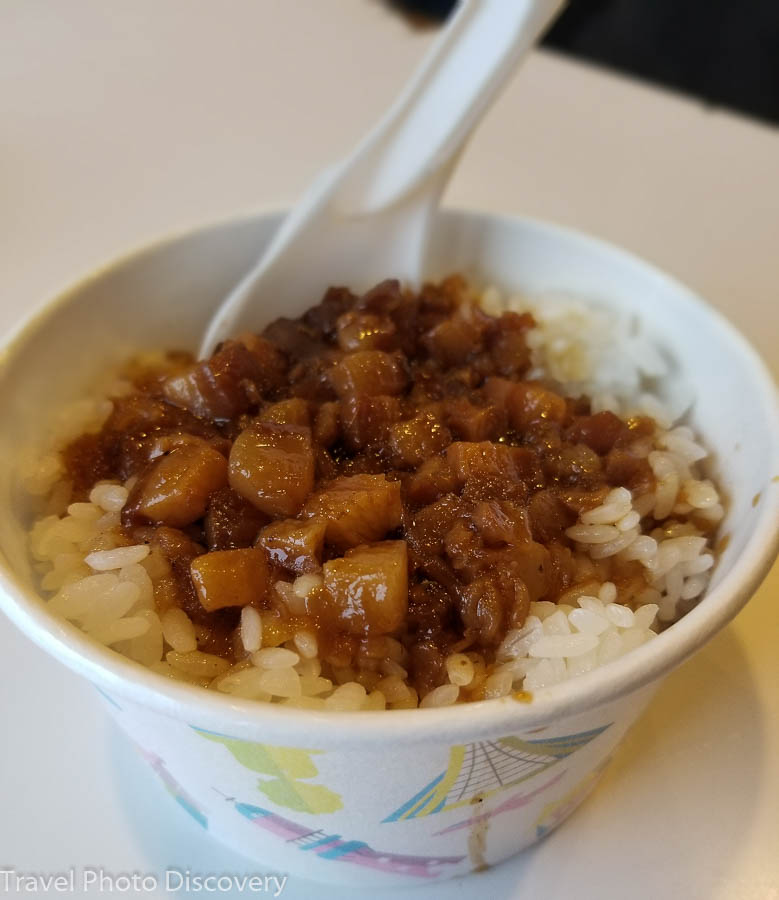 Braised rice pork
Another popular Taiwanese street food dish, braised rice pork is easy, cheap and delicious for those craving earthy, family style foods. Semi sticky rice with braised pork bits and oil topping and Chinese herbs make this nice hot country style rice dish to sample and eat hot and fresh.
Here's some more tastings around the night market in this video tour below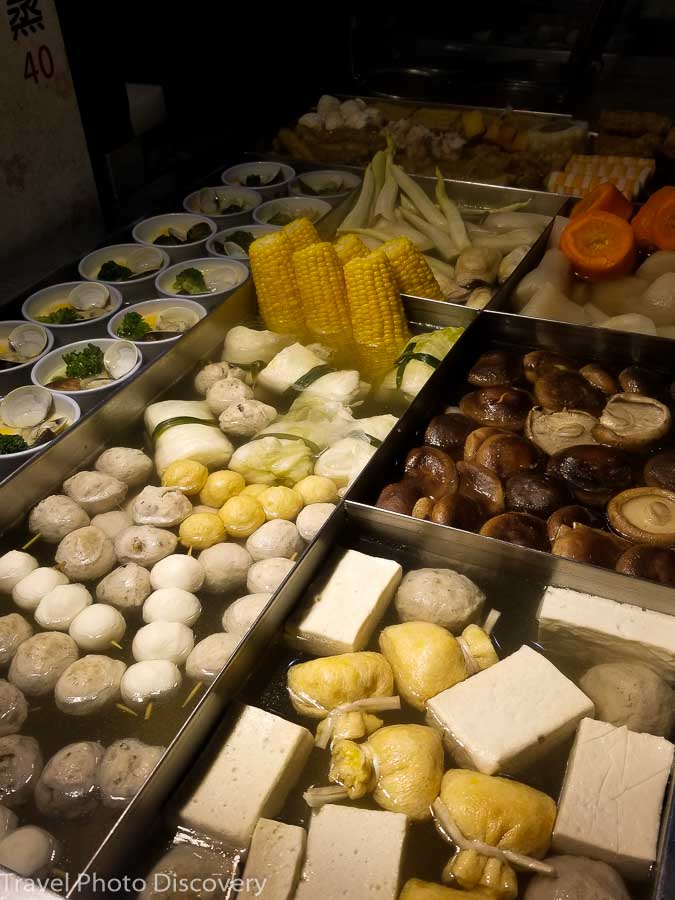 Soup dishes galore
Soup is a very popular offering at the Raohe night market. At this station, you can have your pick of different toppings to serve with hot delicious broth. Toppings offered here include fish balls, stinky tofu, shiitake mushrooms, meatballs, corn and even a nice egg and seafood mix that is hot and eggy good below.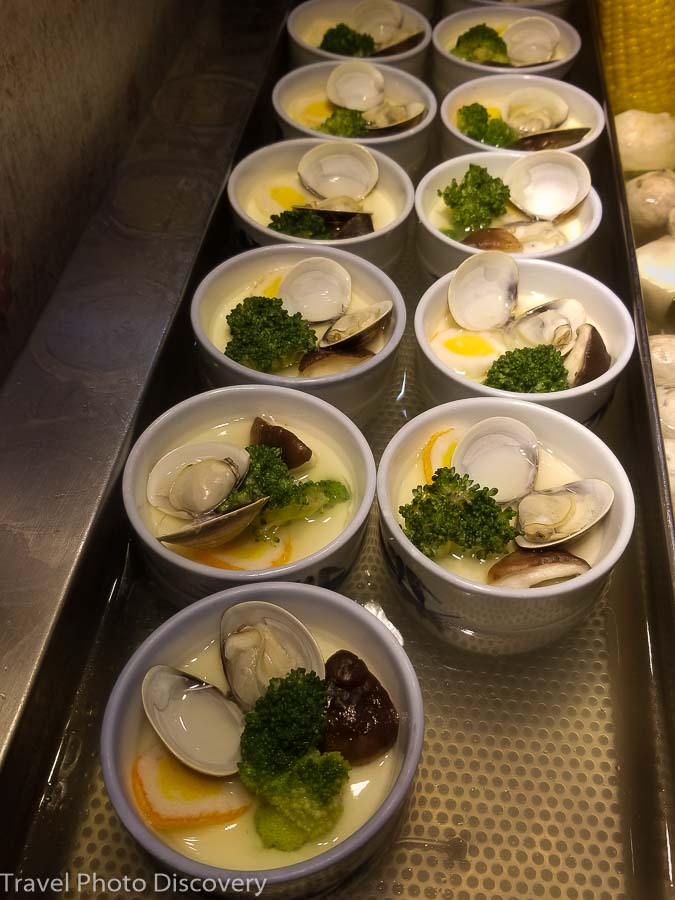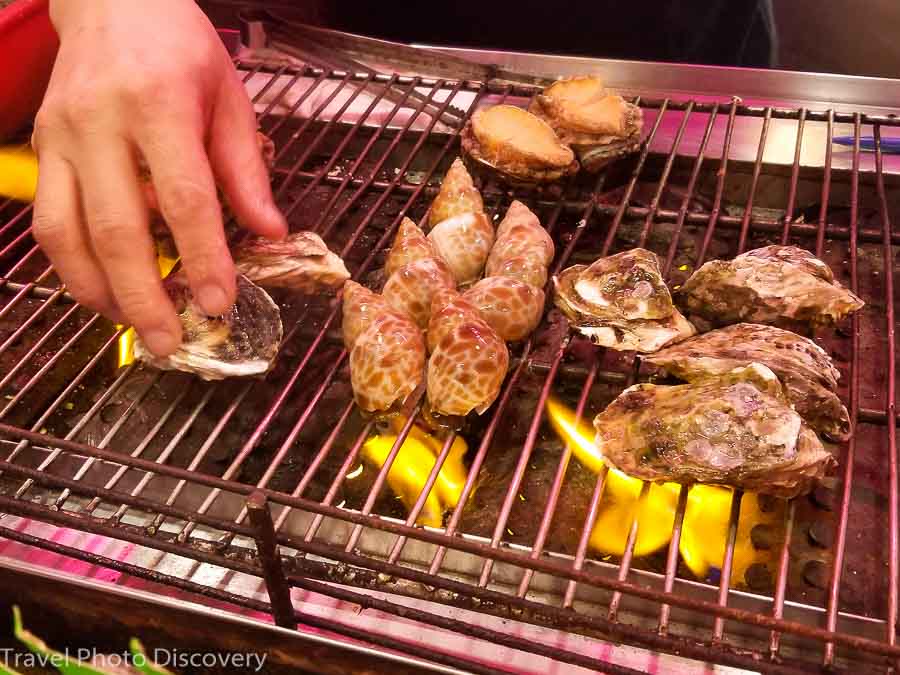 Grilled fresh seafood
At one end of the market is a seafood stand/cafe offering fresh fish and shell fish for sale. You can find exotic snails, abalone, shrimp, lobsters and fresh oysters (a local favorite). Served with a nice simple soy sauce and wasabi spice, it's hot, moist and delicious alongside a nice Taiwan style beer.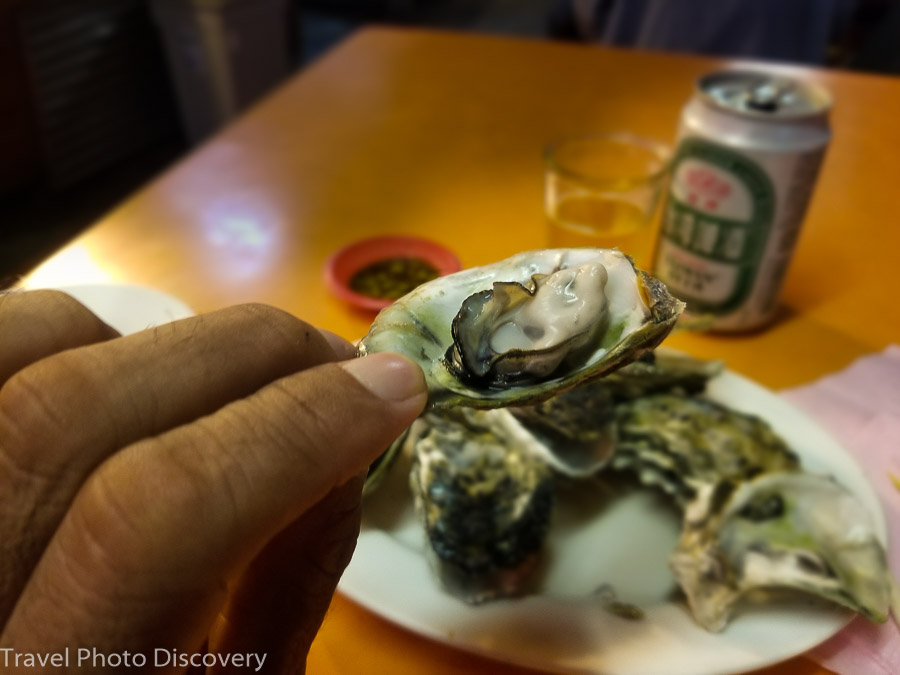 Fresh grilled abalone done perfectly…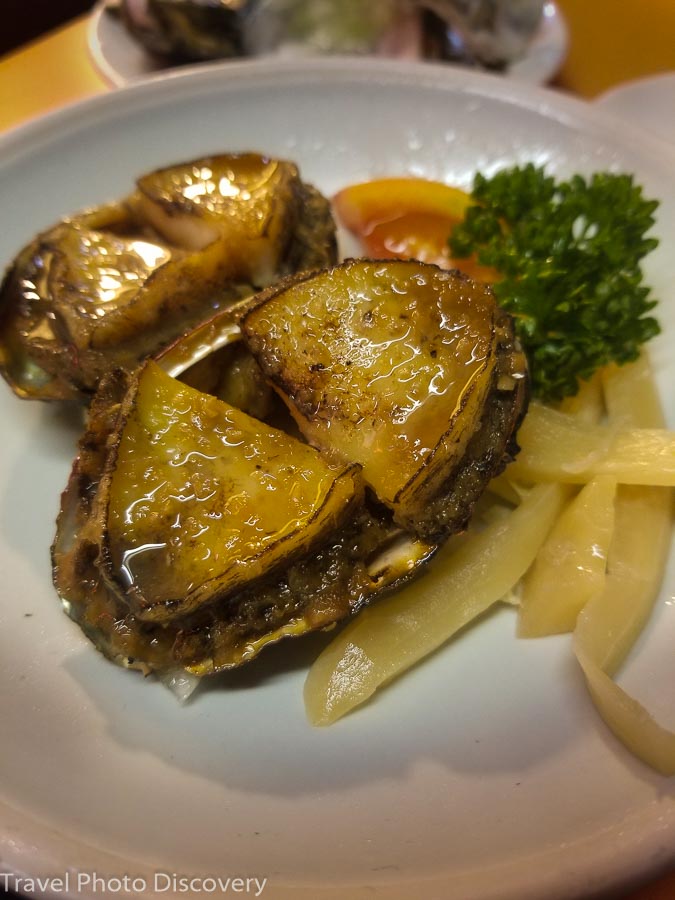 Other things to see around the night market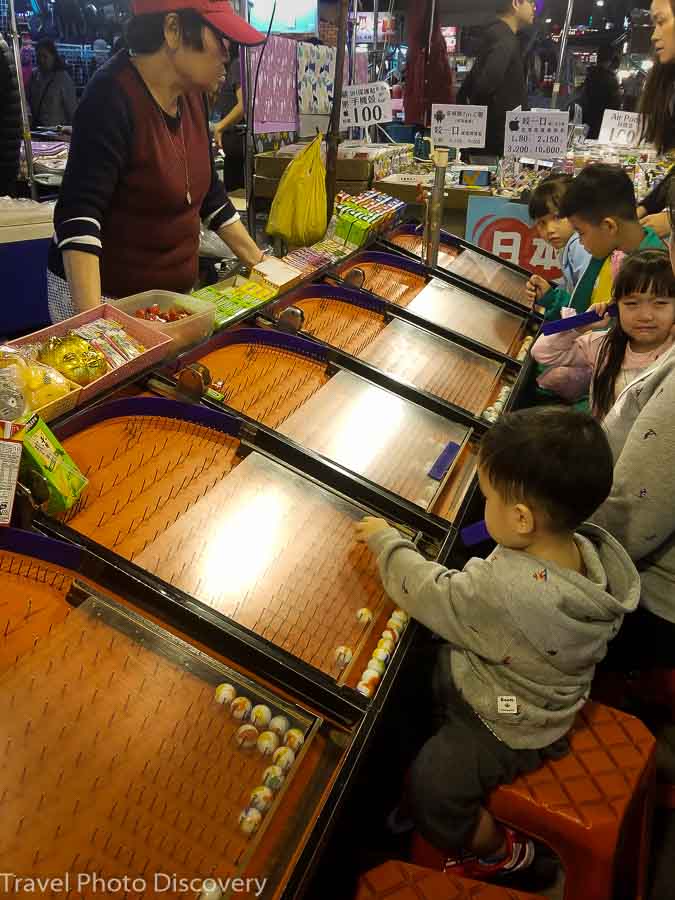 Get a facial, massage or play some games at the Raohe market
You can get a variety of cheap services done like facials, massages and even this unusual face string technique to make your skin more supple and maybe even get rid of the wrinkles for a short time frame. The night market hosts fun games, kiddie focused amusements and other fun shopping for souvenirs, snacks and inexpensive clothes or jewelry at the market.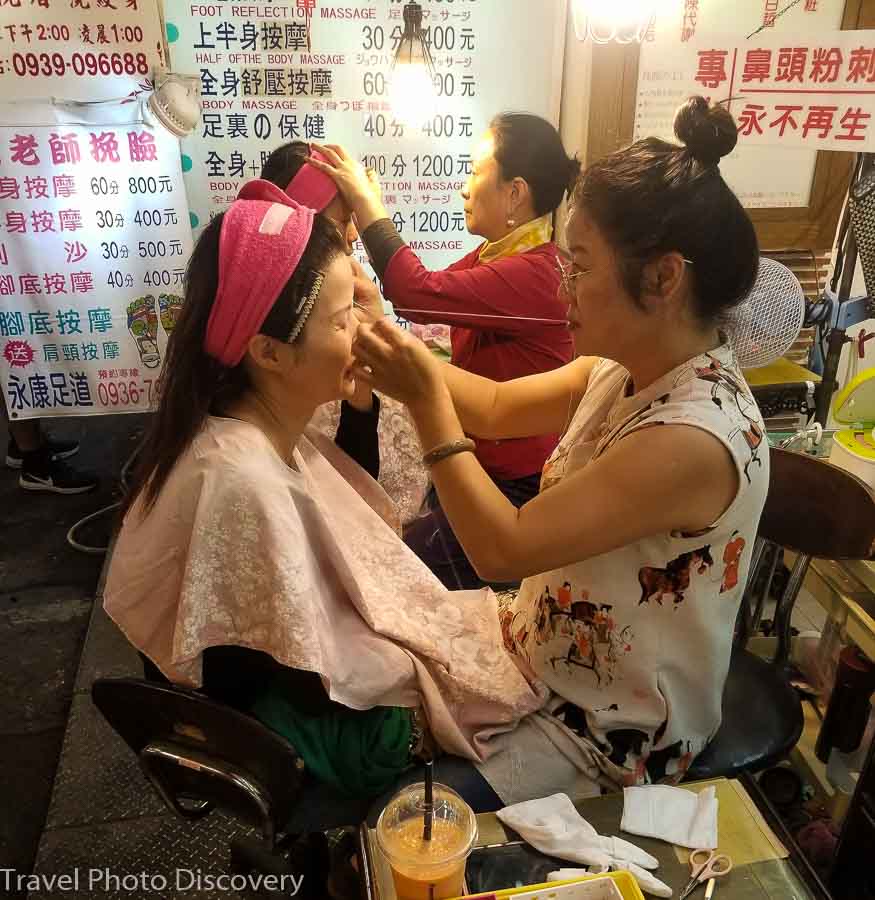 It's all about the food at Raohe Market at night-time in Taipei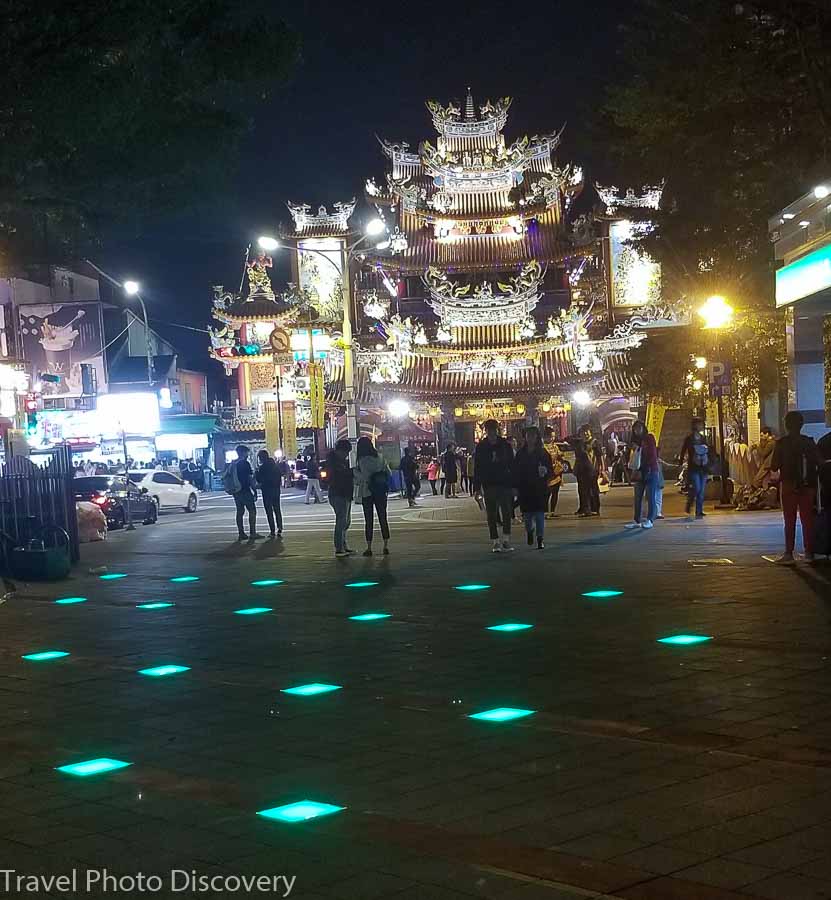 Check out the main temple next door at Ciyou temple
The beautiful temple grounds are lit up and magical when you visit at night with all the brightly colored lanterns, flowers and other displays well lit. You can walk around the temple grounds an observe the typical rituals of incense burning, fortune telling and making offerings of foods and flowers to the various gods located in the temple.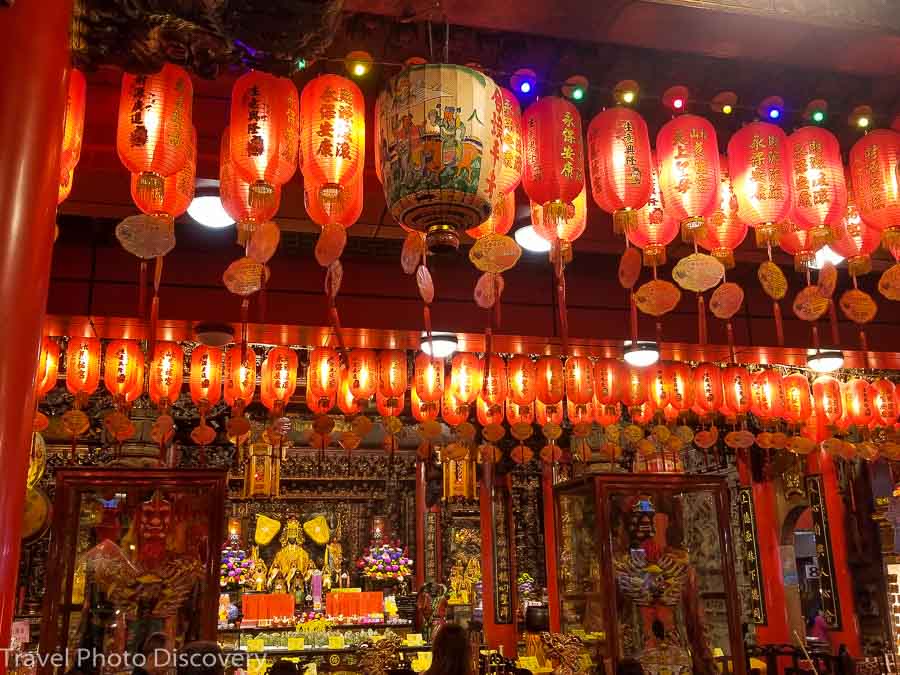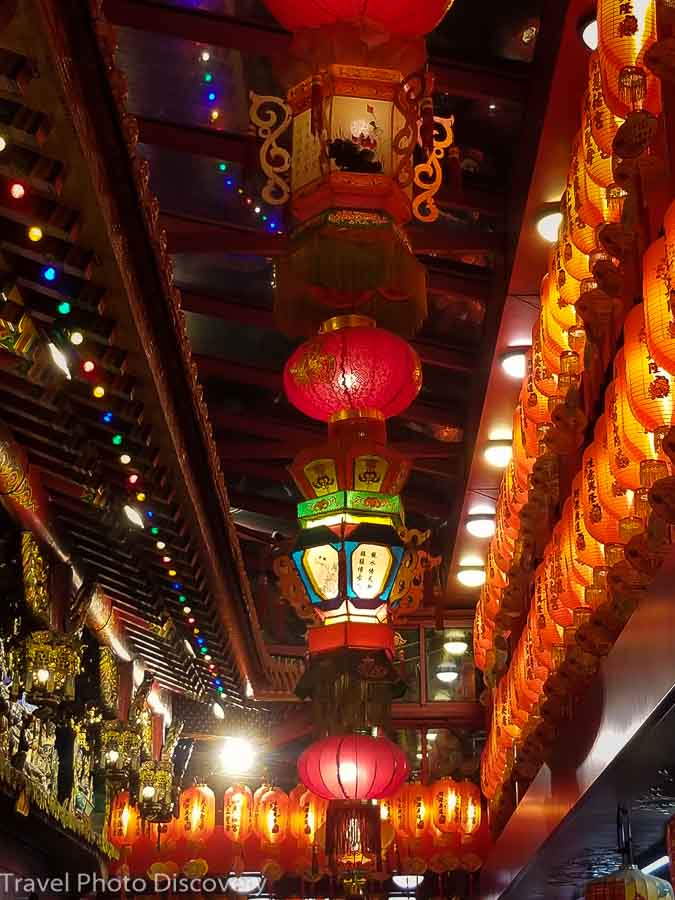 Detailed captures walking around Ciyou temple at Songshan of the interiors, lanterns and ornate craftmanship.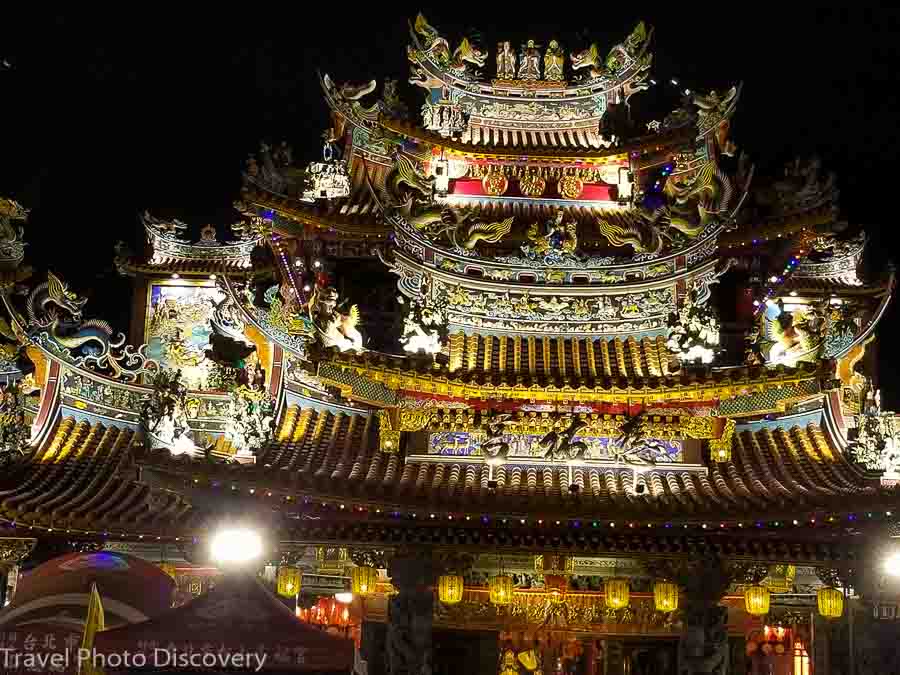 River walk on the Keelung river
Located behind the river is the river and river walk. All the bridges are lit up at night and it's a great spot to walk around and also take some nice scenic photographs. The views of the beautiful bridges lit up, joggers and even couples snuggling, make this an easy and safe place to enjoy a nice quiet walk on the banks of the Keelung and see locals in the area.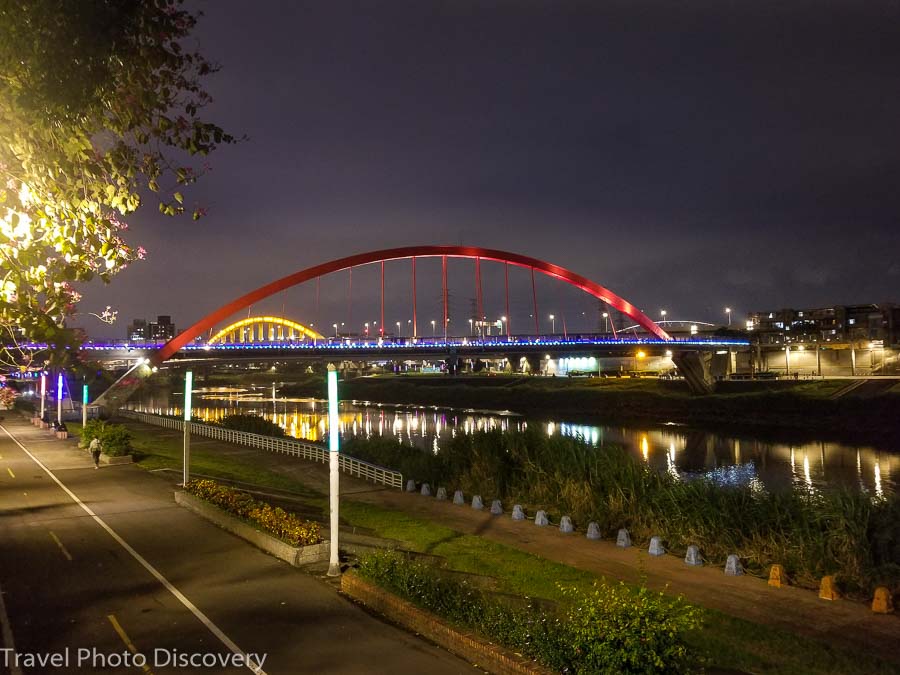 The Love sign fronting a beautiful red lit bridge on the Keelung river in Songshan district is a popular spot for taking photographs or doing a fun selfie.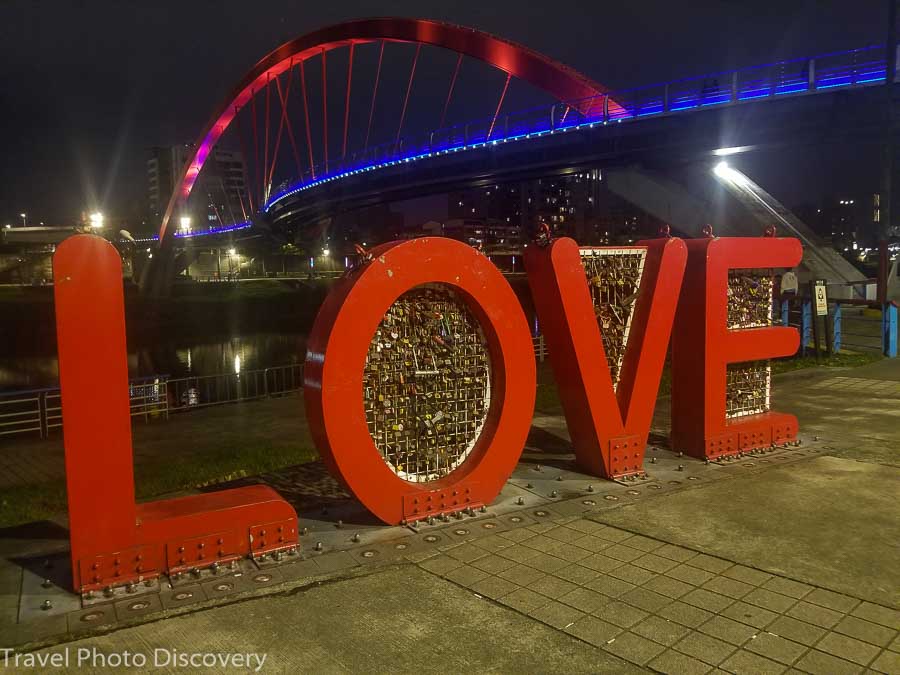 Transport hub
Songshan station is the major hub for railway and end of Metro for the green line, the station also has a nice mall with restaurants and fast food eateries and shops throughout the center.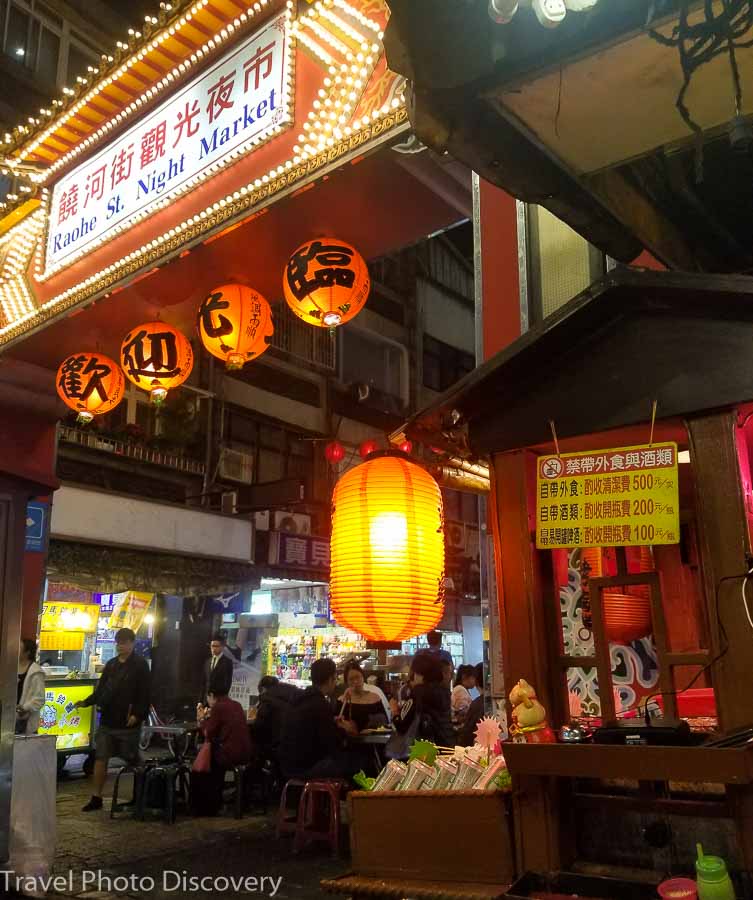 Tips on visiting the night market
1) You should just visit on the week days to avoid the crush of people mostly coming on the weekends.
2) The market is lively after 6 pm and food items are constantly cooked but stick to vendors that sell foods that are prepared on the spot and not sitting for awhile.
3) Make sure to bring lots of smaller change 100 NT notes since most vendors do not like changing larger notes and they appreciate exact change.
4) Many of the vendors offer small samples so if you don't have any idea about what the food tastes like, look for the freebie samples.
5) Also make sure to try the various tropical fruits or done as shakes around the market.
6) Take advantage of cheap services like massages, fortune telling, hair and facial services on a drop In basis.
6) Located throughout the market are kitschy but fun toy game arcades that fun to do and very cheap.
Additional tour experiences in Taipei
You can do these other fun tour experiences in Taipei for a guided tour of these various attractions and programs.
** Check out Raohe Market, Taipei 101 and a Din Tai Fung dinner here for more information and booking.
Custom private market tour and trying popular Taipei street food here on a night walking tour experience.
Experience the Shilin Night Market walking tour here with a private tour guide on a 2 hour experience.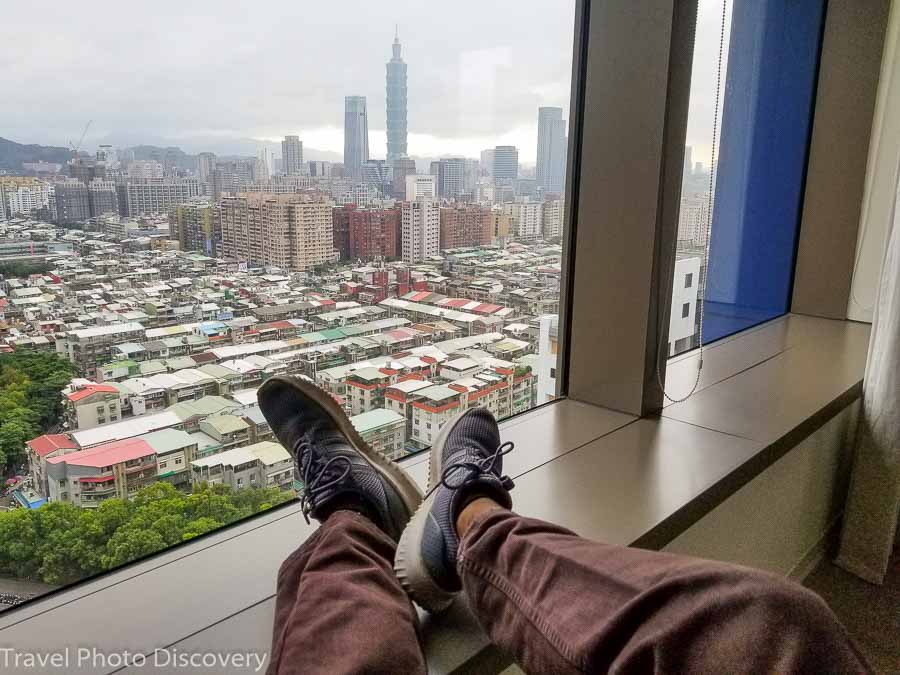 Stay close by at the Amba Hotel
For a nice stay in the area, check out the Amba Taipei Songshan Hotel and located on the 17th floor.
A modern and organic take to a busy urban scene, the Amba at Songshan is modern but comfortable and warm. Combining nice clean lines, wood details and relaxing furniture set to maximize the stunning views of the city and surrounding landscape the public and dining areas are beautiful in sophisticated elegance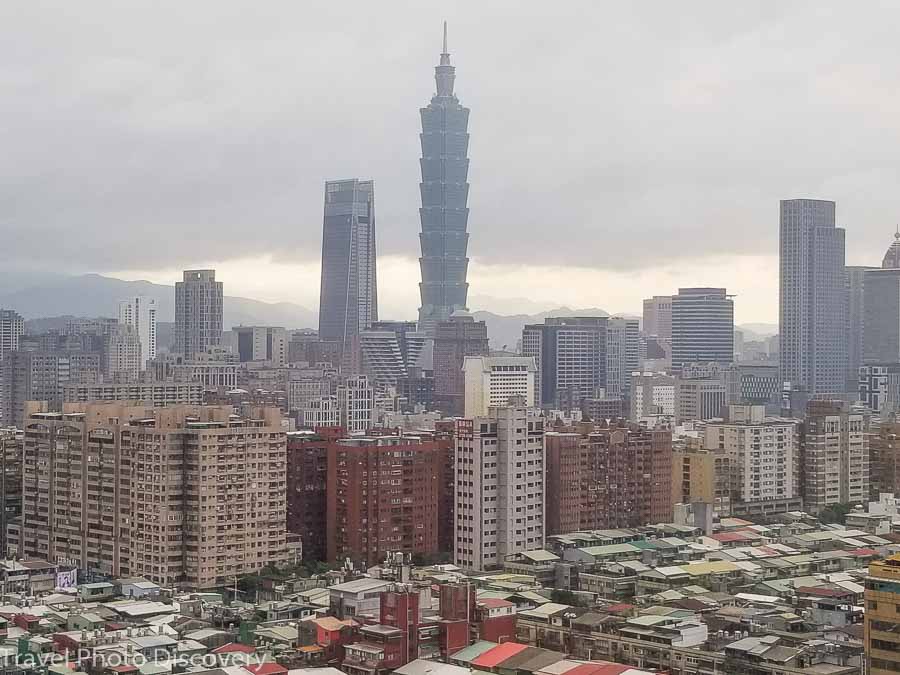 Easy check in service
Check in is fast and easy on the 17th floor with gorgeous views of Songshan district below with the famous 101 Tower in the background. The courteous front desk crew is helpful and friendly, willing to answer all questions about your stay and visit in the area.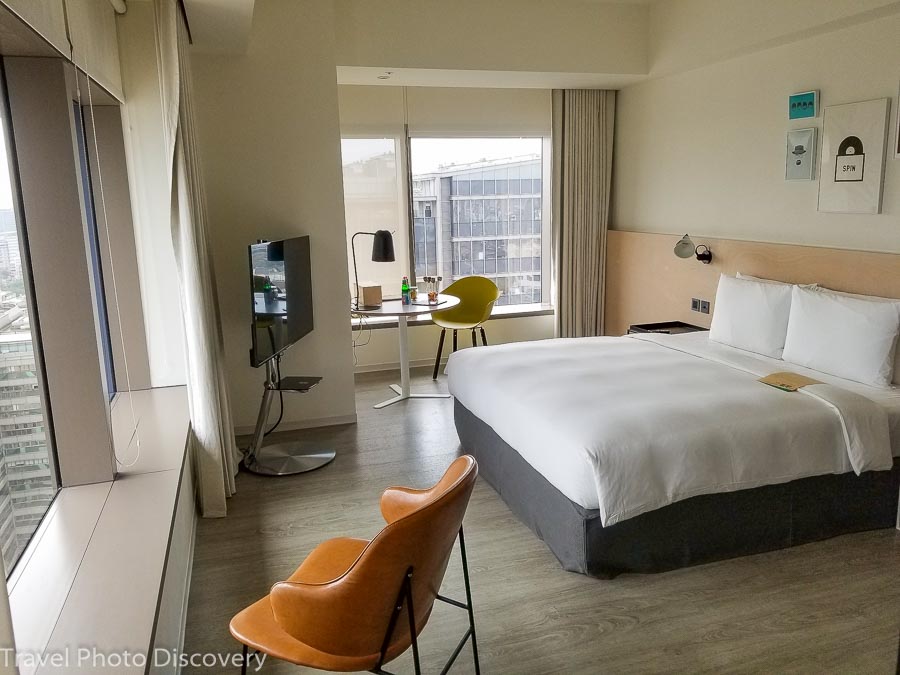 Spacious and beautiful Bedrooms
All the bedrooms have spacious rooms with large picture windows with city or river views. Rooms are comfortable and large sized with modern furniture that compliments the simple and graphic elements of the. The corner bedrooms have big window views that let you see the magnificent cityscape below with more privacy since the hotel rooms start high up on the 18th floor.
Bathrooms are well designed with separate shower, toilet and vanity areas that make it easy to use different parts with another guest at the same time. Nice eco amenities, safe storage, robes and even Amba slippers that you are allowed to take home as souvenirs.
Added pluses at the Amba Taipei Songshan 
A nice gym with complete set up and cardio equipment and weight sets
Free use of laundry and dryers on site, including detergent
Menu of additional equipment and in-house electronics for use at your disposal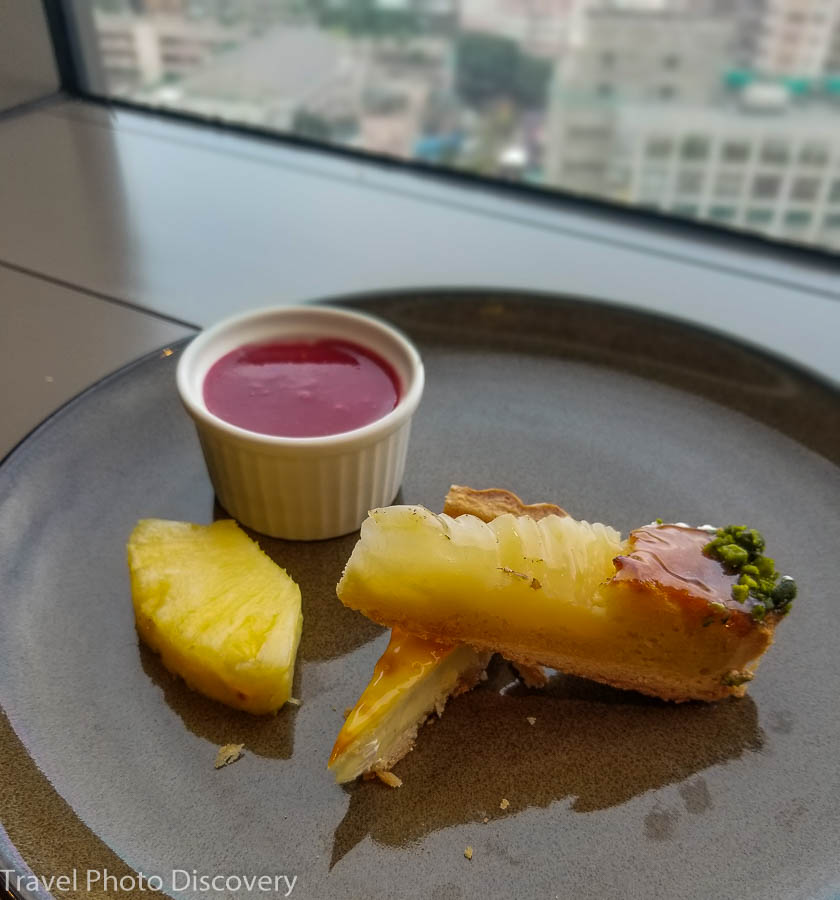 Amba Breakfast service
Having breakfast with amazing views is definitely a highlight in the morning before you explore the city. A full on breakfast buffet service incorporating Western and Asian dishes caters to all tastes including a custom egg station for your choice of hot entrée. The Amba also includes a unique wrapped sticky rice station made with your choice of condiments and other toppings. You'll enjoy all the fantastic baked goods, pastries, cheese and diary offerings along with all the traditional breakfast fare to enjoy.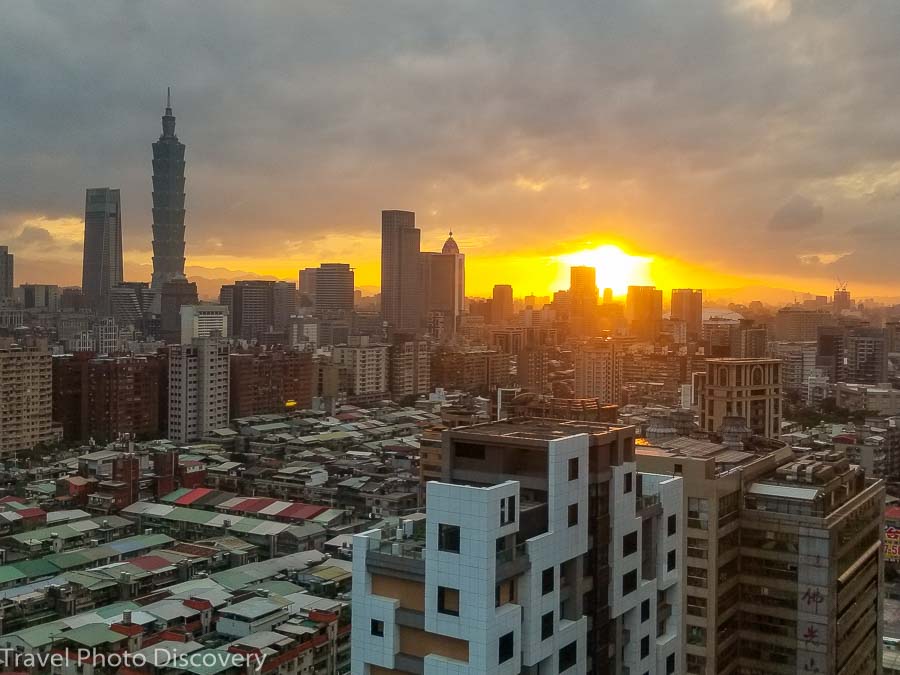 Pin this for later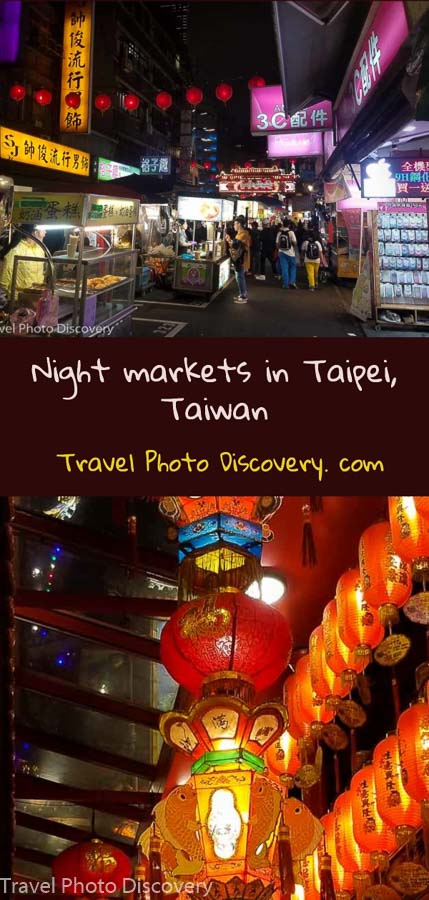 Check out these other Taiwan / Taipei posts for inspiration
Popular attractions in Kaoshiung
Conclusion to Taipei night market at Raohe
Thanks for visiting today and checking out this post on Taipei night market at Raohe. I hope you are inspired to plan a visit and enjoy these wonderful attractions. If you enjoyed the images and post, could you please share it with any of the social media buttons located around the post.
If you like what you see, come and check out my other social media channels for more updates, including Instagram, Pinterest and Twitter
Some links in this article on Raohe Night market in Taipei are affiliates which provide a small commission to support this site at no extra cost to you. Thank you for reading, and happy travels