Taiwan's day and night markets are truly legendary and the breath of food choices from the best street food vendors at these markets have gained a cult following from locals and even visitors to this foodie driven city of Taipei. You'll enjoy visiting the markets and sampling some of the most exotic and delicious little bites to bigger meals to sample at these amazing markets. Check out all the popular night markets and street food in Taipei below for more images and suggestions on what you'll find at these fantastic food venues.
Try the best street foods in Taipei's night market
There are many night markets all around Taipei to enjoy especially at night when the temperatures are cooler and the night time venues are loud, colorful and definitely foodie focused. You can visit the popular Taipei night markets at Shilin, Raohe, Huaxi, Ximending, LinJiang, Ningxia and many other local markets throughout the city. While exploring the chaotic and entertaining markets look out for these popular snacks and street food that you should try below. Some of the vendors do have English translations, but most are pretty cut and dry with their offerings with no explanation outside of some rudimentary English translation, so look with your eyes and nose and note some of these exceptional worth try street foods below.
Taipei's legendary Stinky tofu (Chou Dou Fu)
Do you dare try this favorite local food that Taiwanese crave at the local markets?
Try the famous Bubble tea in Taipei
Did you know that bubble tea originated in Taiwan and locals and visitors alike look forward to trying all sorts of bubble tea or "Boba" flavors and juices. Check out this popular brown sugar milk tea concoction in many of Taipei's night markets below.
Black pepper Beef pie (Shen Bin)
At the Raohe night market in East Taipei, the longest lines are right out the main front gate leading you to this vendor booth filled with workers making this amazing beef and onion baked pie in tandoori like ovens. It is hot, flaky and filled with beef and green onions in a goey and yummy mixture that you'll absolutely love and that's why it is so popular at the Raohe night market.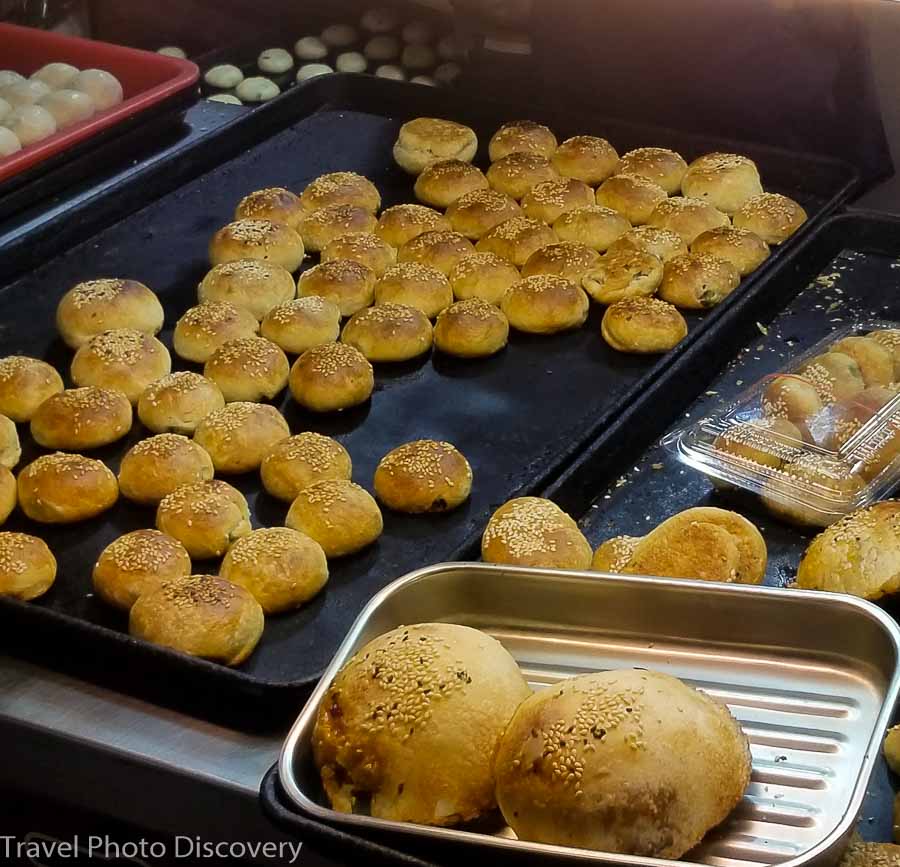 Here's a quick video of how it is prepared at the night market below.
Braised pork belly over rice (Lu Rou Fan)
Definitely a comfort food that is a popular take away dish at any of the markets in Taipei, if you are craving a nice hot rice, gravy and fatty pork dish, this is definitely worth trying out and enjoying while touring the rest of the markets offerings.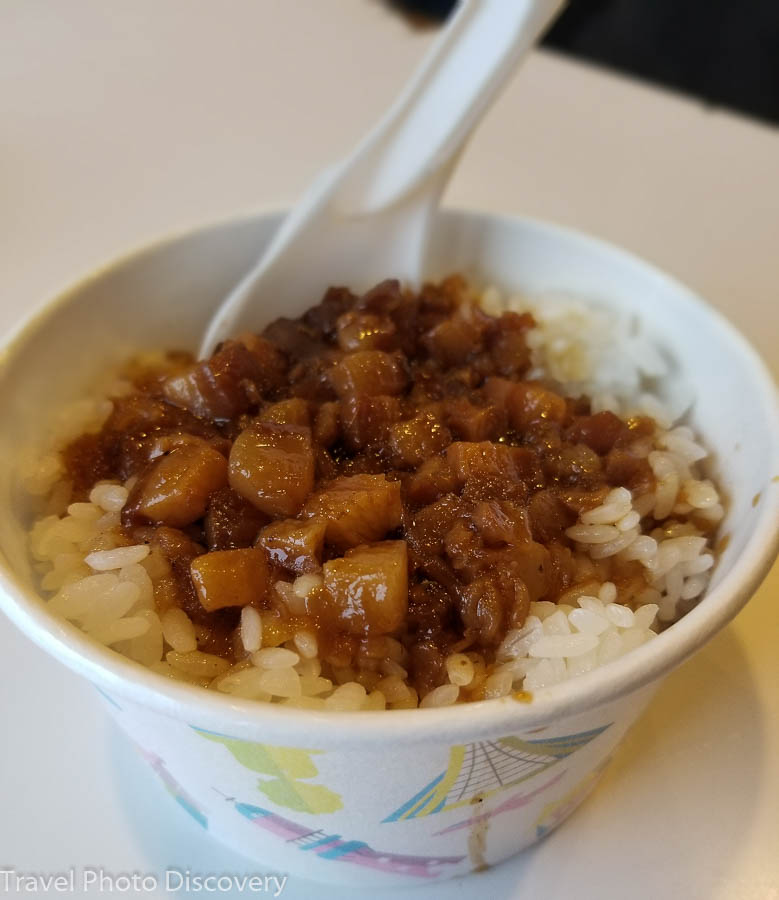 Check out where to find the most popular spot to try this delectable comfort food below
Deep fried dumplings (Goutie)
Another popular comfort food you can easily find at any outdoor markets are the deep fried dumplings called Goutie andy they so yummy. When you get them fresh from the fryer, they are hot and crunchy on one side and soft, chewy and of so delicious on the inside made with pork, shrimp or chicken with cabbage and various spices. A simple sauce of Soy, chili, vinegar and ginger and garlic make this a yummy take away this you can eat all by yourself which really you don't want to share with anyone.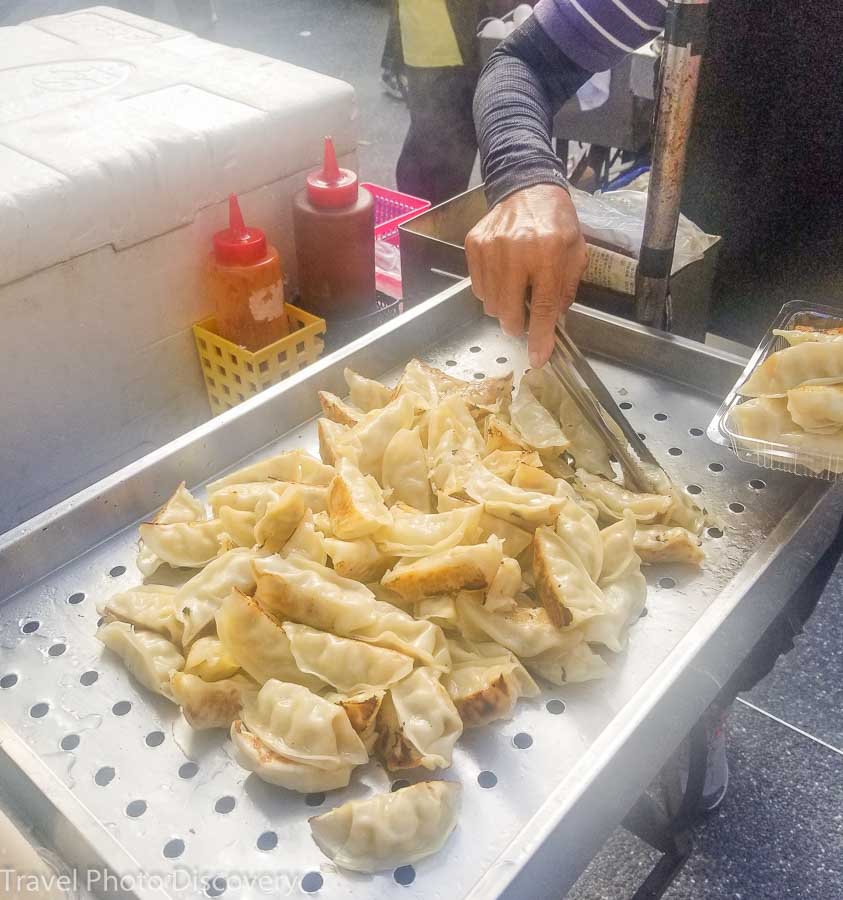 Stuffed wings with rice
This is a very popular street food that you can find all at outdoor markets all around Taiwan and this classic Taiwanese take away dish is a local favorite and easily prepared with chicken wings and stuffed with rice and made with a sweet honey and barbeque marinade. Crispy on the outside and tender, boneless and sweet flavored on the inside.
This is how they are typically prepared and sold at the local night markets in Taipei below.
Deep fried squid, crab or shrimp
If you love seafood then look out for these vendors that regularly sell a variety of fresh seafood deep fried to perfection and eaten hot from the pot and then grilled quickly on charcoal. These delicious seafood take out food are simply prepared,  hot and really yummy. They are usually sold per stick so by just a few so you can also savor some more street food at the markets.
Soup dumplings or (Xiaolongbao)
A really yummy treat with dumplings that are filled with hot soup broth inside the dumplings, these are a classic Taiwanese dish that everyone will just love. These delicate dumplings are made with thin dough with pork, spices and pork broth that is what comfort food is all about in Taiwan. Best way to eat the dumpling is to poke a hole in the dumpling to let the broth come out into the spoon since they are always piping hot.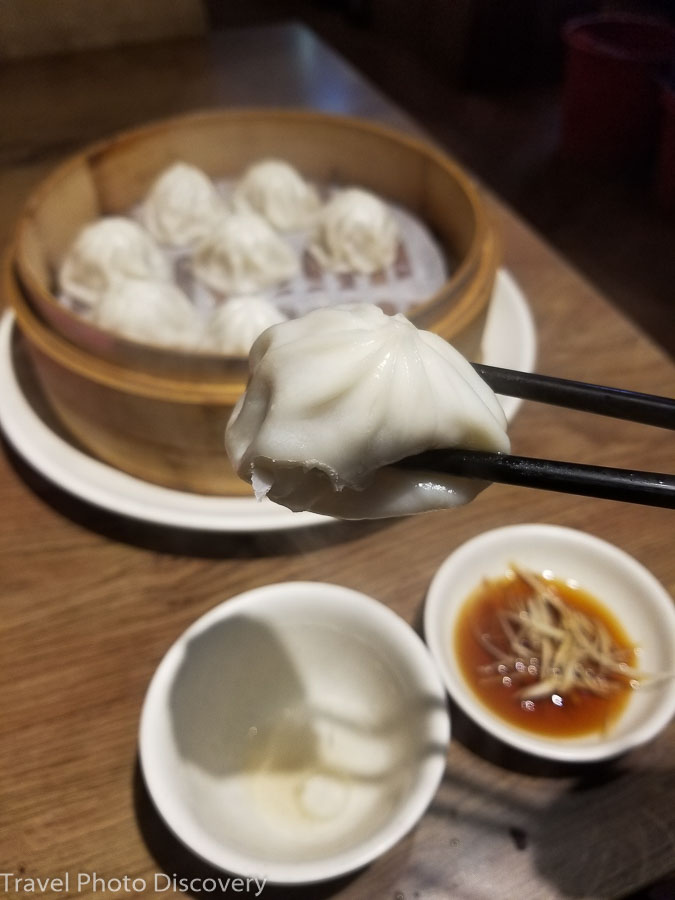 Chinese donut or (Youtiao)
Translated to oil stick in English these long donut type sticks are typically served for breakfast with any noodle type dishes and dipped into the soup to make them soft and dumpling like. Most of the time this twisted donut is served with sweet or savory soy milk, rice porridge or a local soup broth. These are the typical and more sit down type of foods you can find at any street vendor in any market.
The donuts are stacked and served with a simple soup dish below.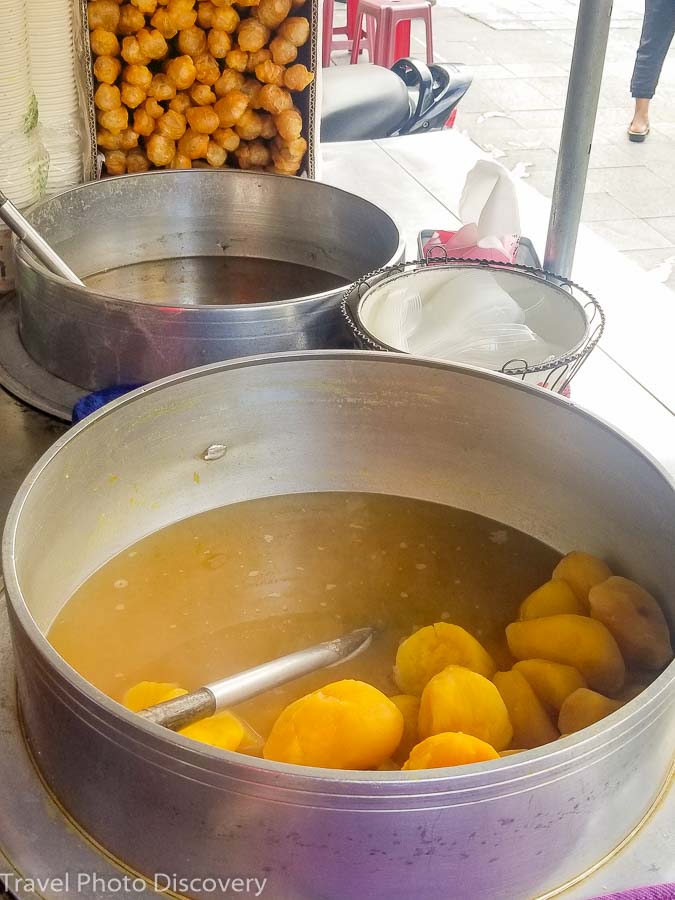 Pigs blood rice pudding
If your feeling adventurous, try the pigs blood rice pudding that's served on a popsickle stick. A semi gelatinous rice cake is drenched in pork blood then steamed and then covered with a sweet syrupy sauce. Afterwards, it is coated with peanuts and topped with cilantro. You get a mochi style savory dish that surprisingly is very tasty.
Simple grilled abalone and oysters
Taiwanese locals love their seafood and like to have them prepared very simple by grilling and served with a nice easy soy sauce combination dip. You'll find many street food to more café style eateries serving these delicacies along with other popular seafood dishes like local fish, eels, crabs and other exotic snail dishes.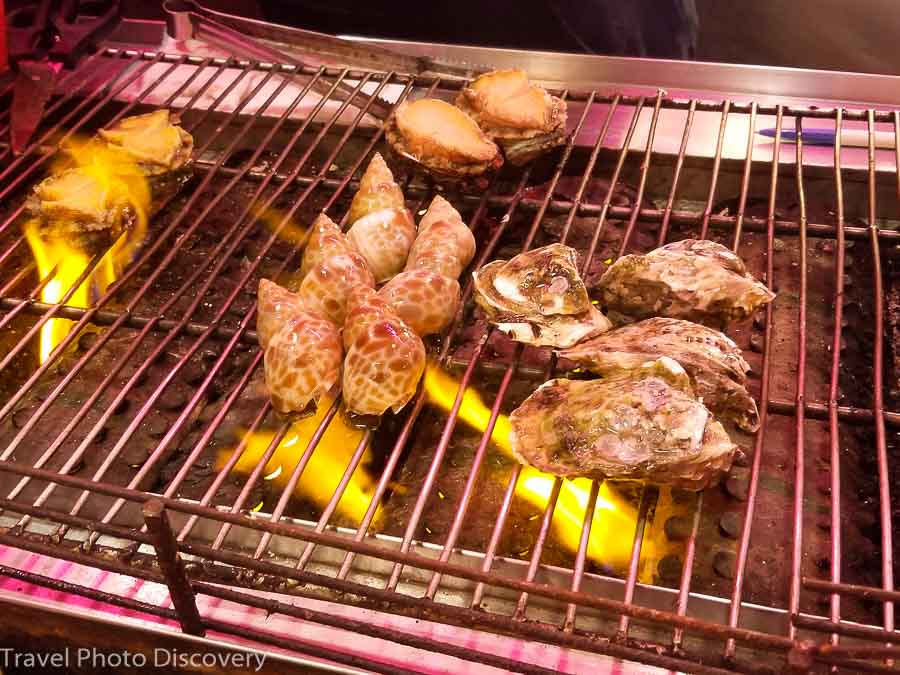 Taiwanese mixed intestines
For those food adventure seekers, you'll find quite a few stalls that sell a variety of different types of intestines and other internal parts from pig, pork, chicken and other animals at these vendor stalls. Popular favorites include pig intestines and stomach, beef tripe, liver either fried, boiled or stir fried with a simple soyu sauce.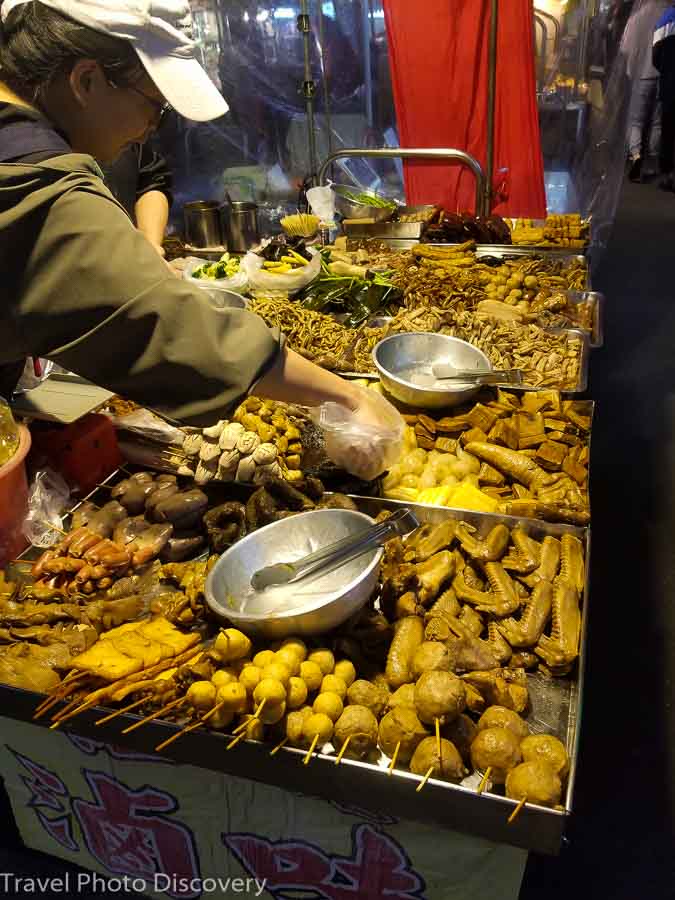 Quail egg Takoyaki balls
These delicious balls are filled with quail egg and shrimp and prepared Takoyaki style or done in an egg shaped container that is turned over and cooked on both sidesa to come up with an egg ball that melts in your mouth. This comes with a variety of toppings like Thai sour, honey mustard, orange yogurt or cheese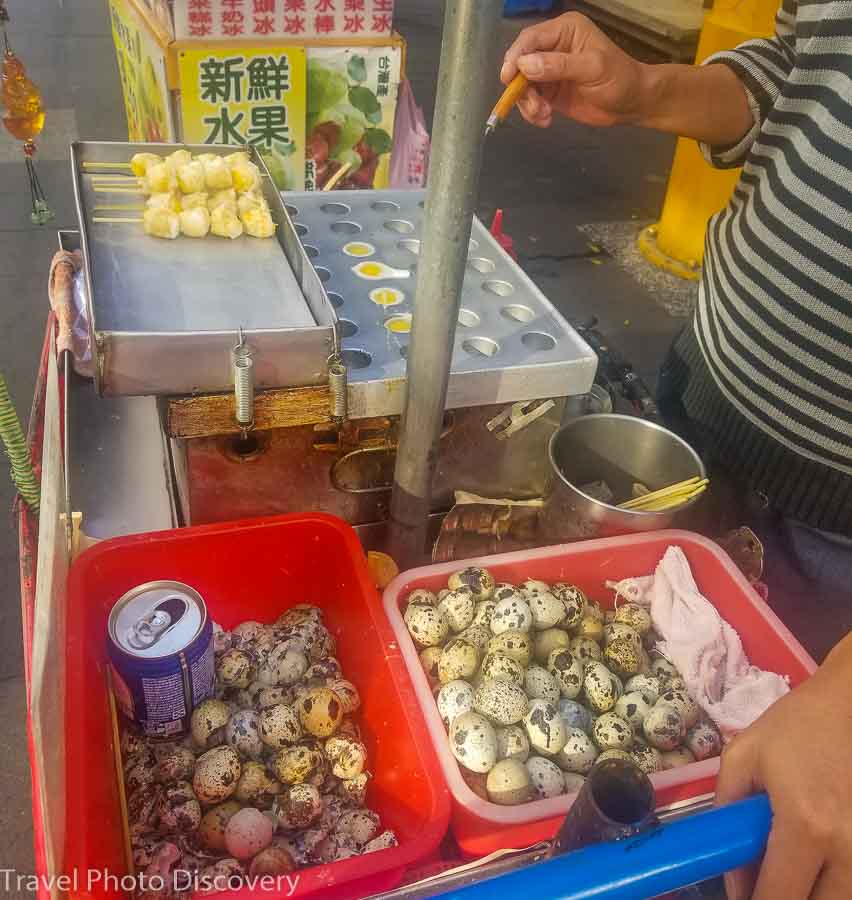 Grilled pork sausage (Da Chang Bao Xiao Chang)
A very simple grilled pork sausage that is the Taiwanese version of a hot dog either served on a stick on a bun. The pork sausage is wrapped with a glutinous rice sausage cover, garlic, vegetables and lettuce and served with soyu or soyu and wasabi combination. Try this small pork sausage wrapped in a big sausage combo treat at a street market when you find it being sold fresh from the grill.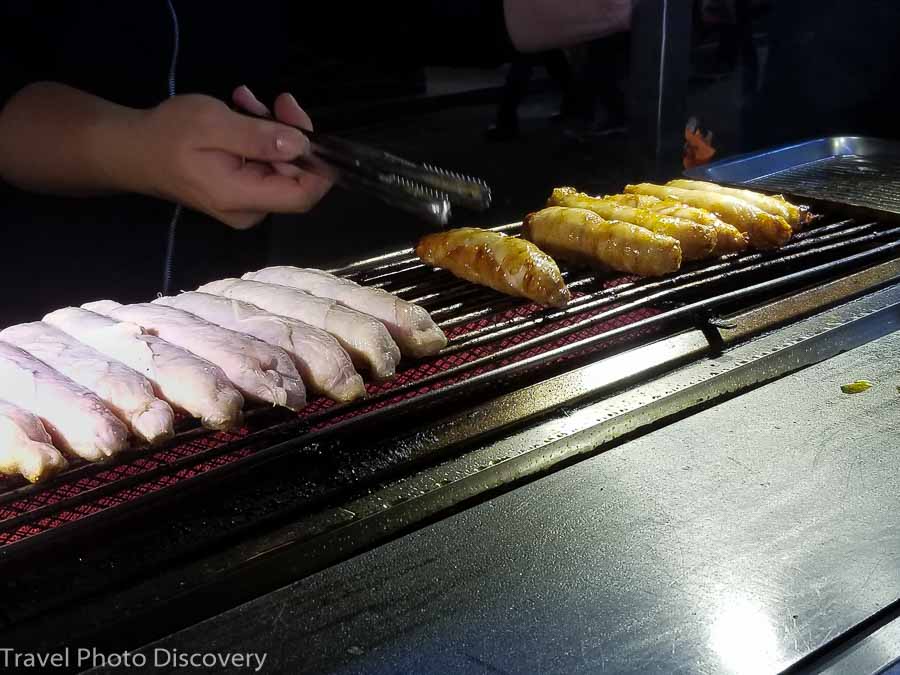 Pin this for later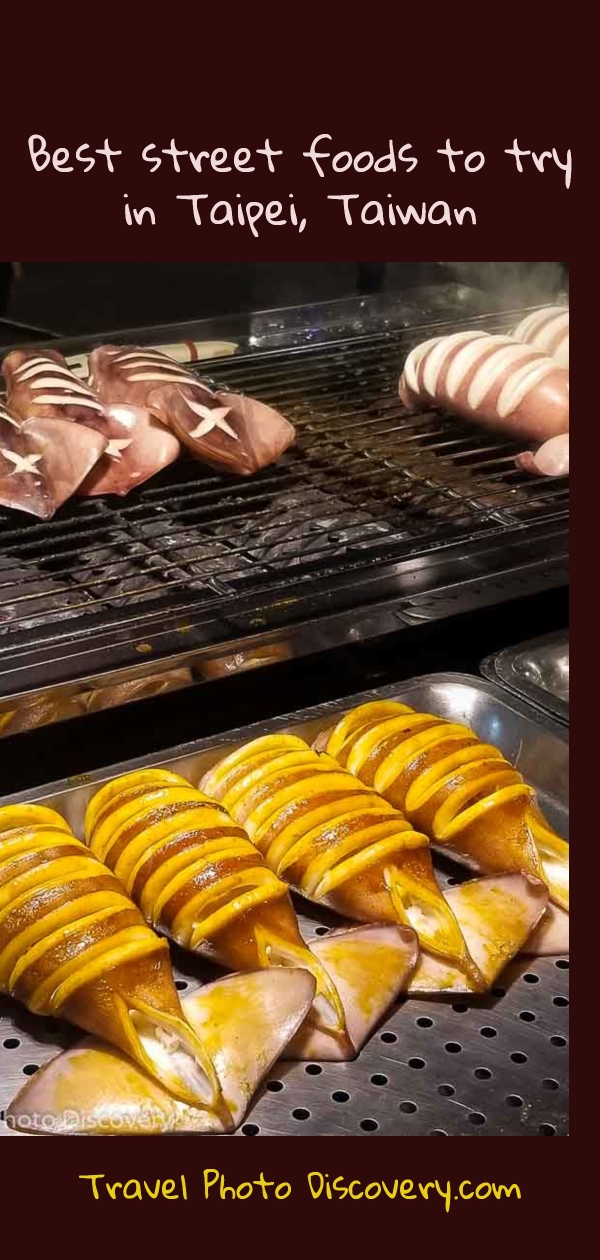 Check out these other posts on Fruits, markets and foods of the world
Exotic and unusual fruits around the world
Traditional Food specialties in Italy
Popular food to eat in New York
Best countries for food around the world
Traditional Catalan foods you need to try
8 Traditional Portuguese foods to try
10 must try dishes and street food of Sri Lanka
Outdoor markets and street food of Bologna
Local foods of the Dalmatian Coast in Croatia
Top food destinations around the world (travelphotodiscovery.com)
Visiting Taiwan – check out these other posts
Things to do in Taipei in 48 Hours
Thanks for visiting today and checking out this post on The best street foods in Taipei. I hope you are inspired to plan a visit and enjoy these wonderful attractions. If you enjoyed the images and post, could you please share it with any of the social media buttons located around the post.
If you like what you see, come and check out my other social media channels for more updates, including Instagram, Pinterest and Twitter
Some links in this article on The best street foods in Taipei are affiliates which provide a small commission to support this site at no extra cost to you. Thank you for reading, and happy travels