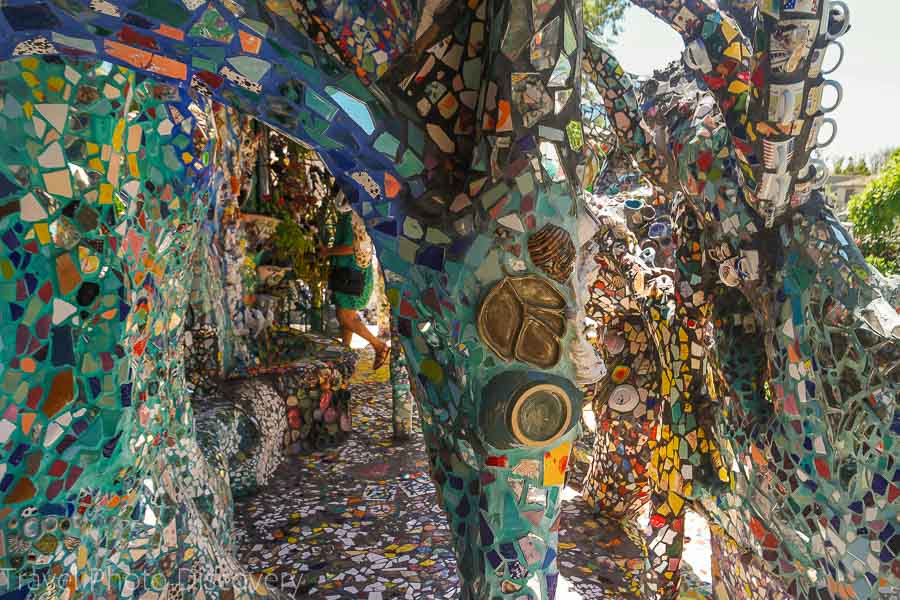 I love to see quirky places and it is true that Venice beach in Los Angeles has its share of colorful and eclectic attractions where it seems like anything over the top is the new normal. Consider this adorable couple who built their dream home all in mosaics – it was a passion done through their lifetime, both creating their stamp of living in this wonderful and quiet neighborhood. I visited the home of Cheri Pann and her husband Gonzalo Duran when I was touring Venice, and it was apparent how their affection and labor of love in creating this magical space was something I definitely had to see in person while exploring Venice.
Check out this amazing Venice Beach mosaic home and garden
https://www.facebook.com/BESTLABestProducts/videos/427394147693003/
Video credit – Best L.A.
Here's a tour of their home and garden
Not only is their love story inspiring but Cheri and Gonzalo made this home together completely on a whim and they have continuously been create art and mosaic is almost every square inch of their home, inside and outside including the outdoor gardens and that's about the size of a 6,000 square foot lot in total. Initially Cheri made tiles from scratch that Gonzalo broke up and placed in the exteriors and then the garden and before you know it, the entire house was covered.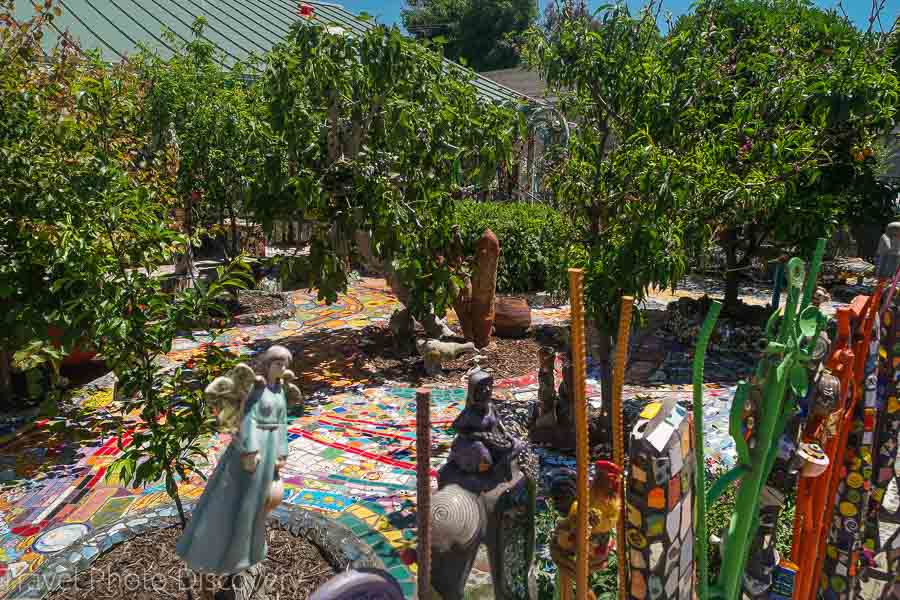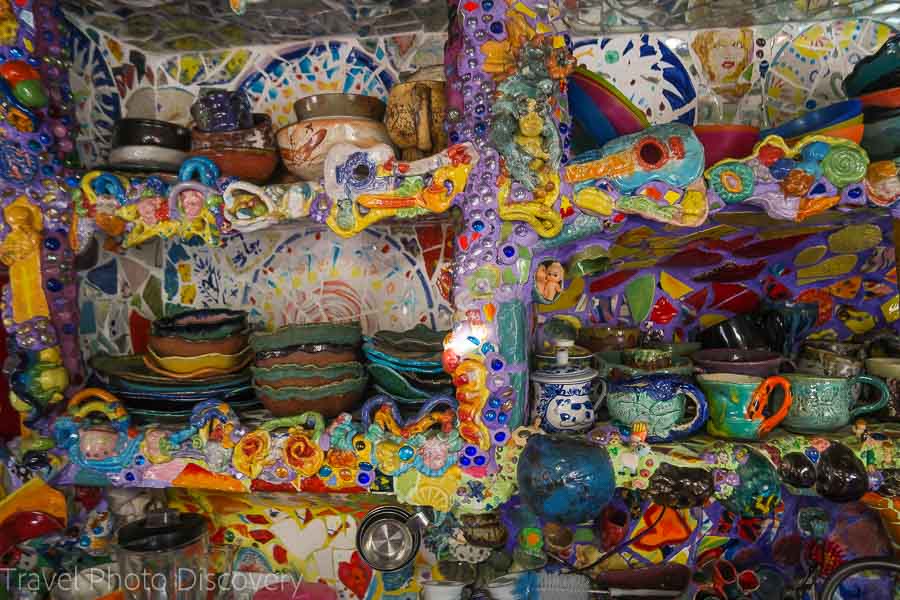 Kitchen details in this Venice Beach mosaic home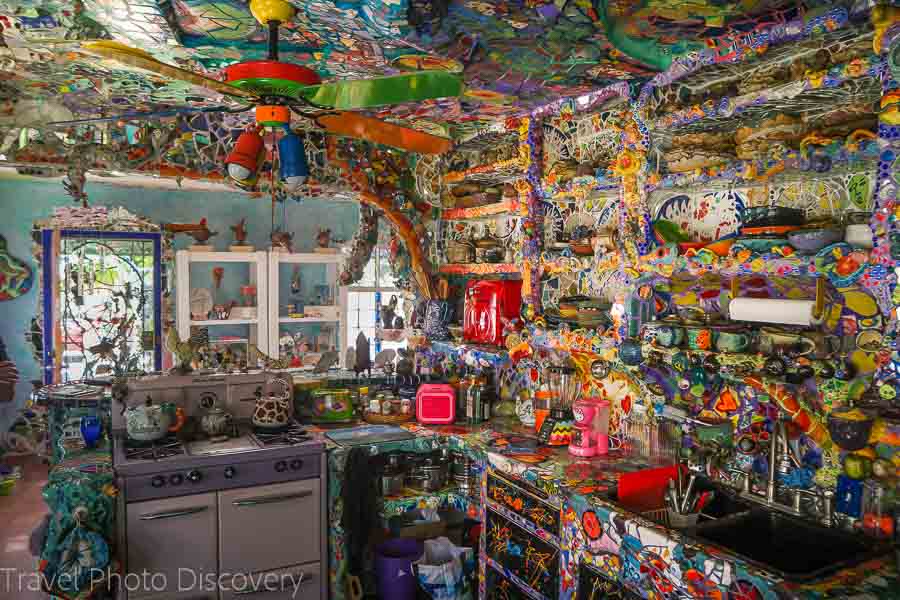 Studio gallery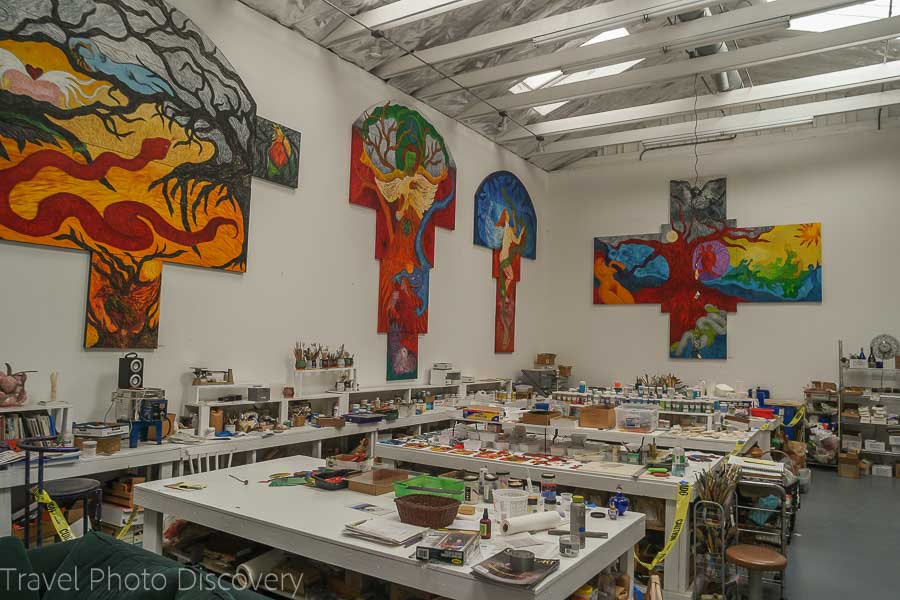 Gonzalo shows off a kinetic sculpture piece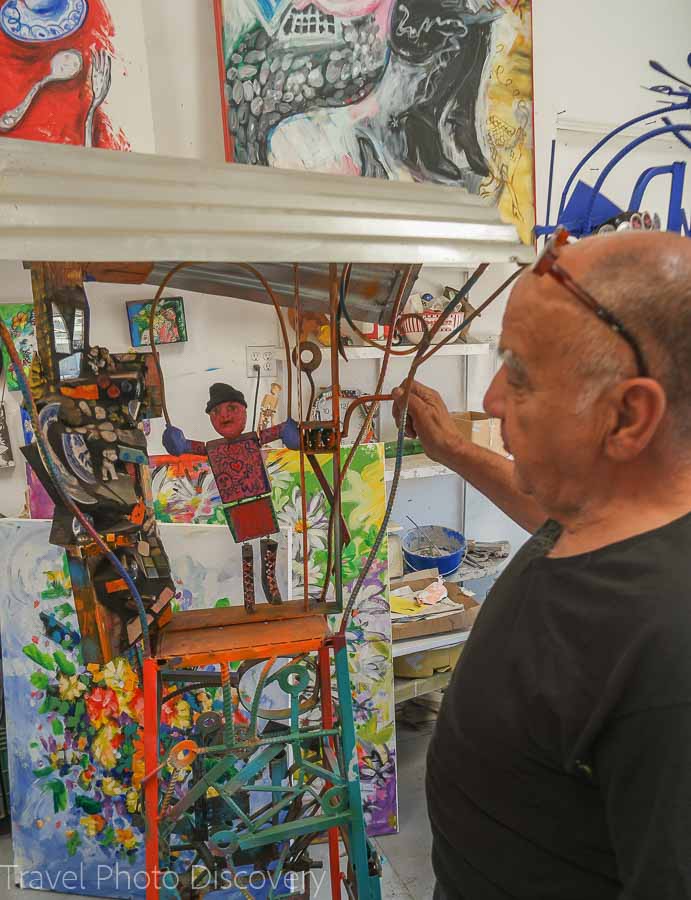 Outdoor mosaic garden
I particularly loved the exterior spaces and gardens the best – it was filled with ornate seating areas, cave like spaces and huge objects like a spoon door and a giant fortune cookie – everywhere you turned there seems to be a lot of art and objects to look at in this fascinating place.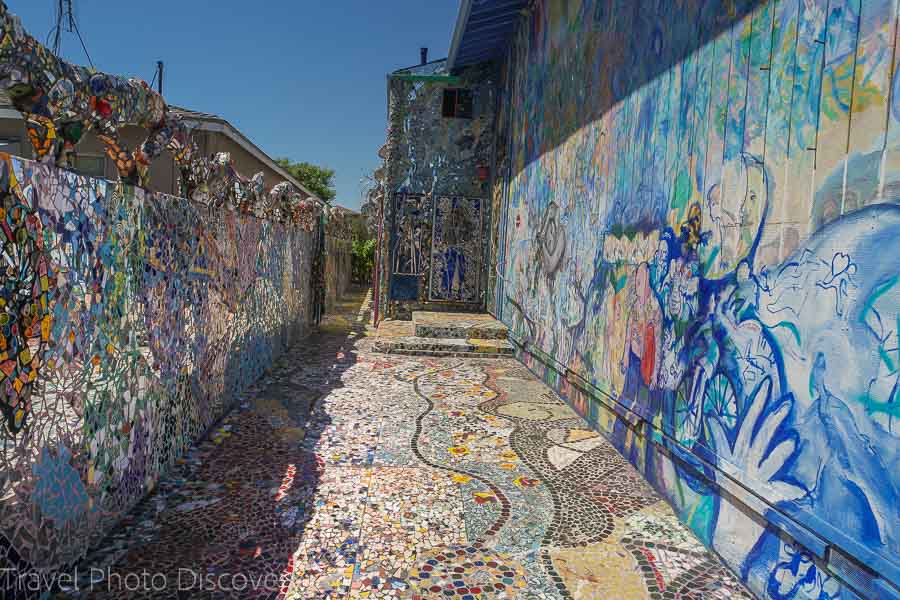 Whimsical bench and art pieces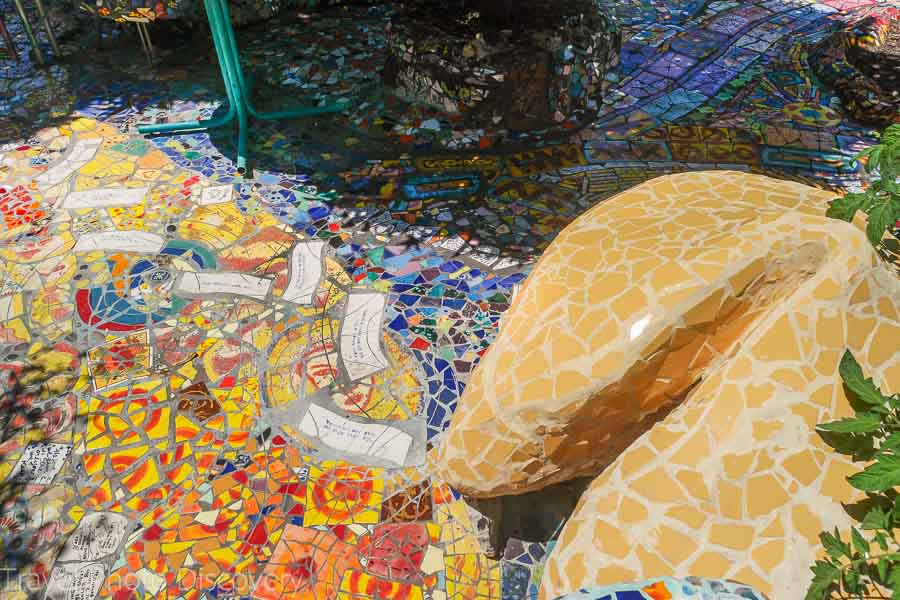 Who doesn't love a giant fortune cookie?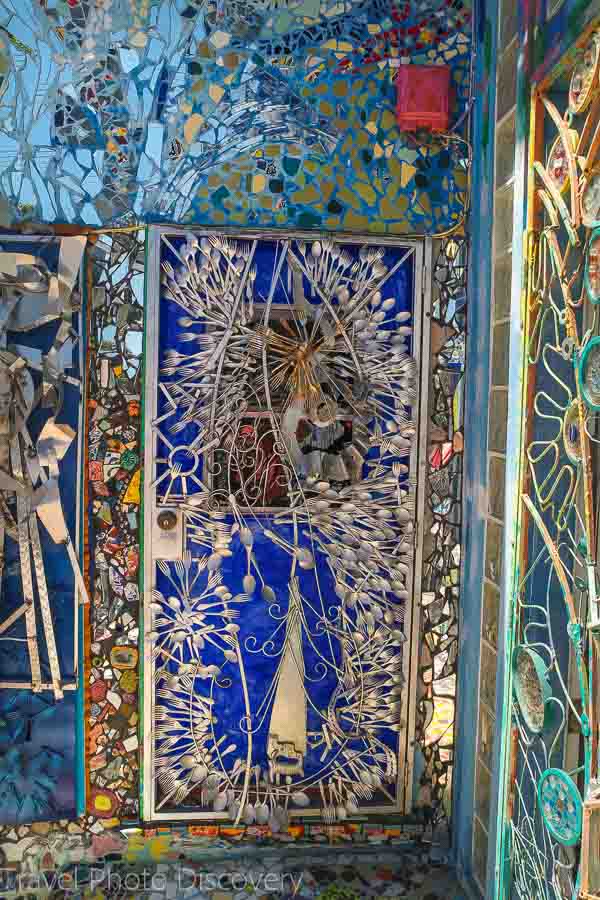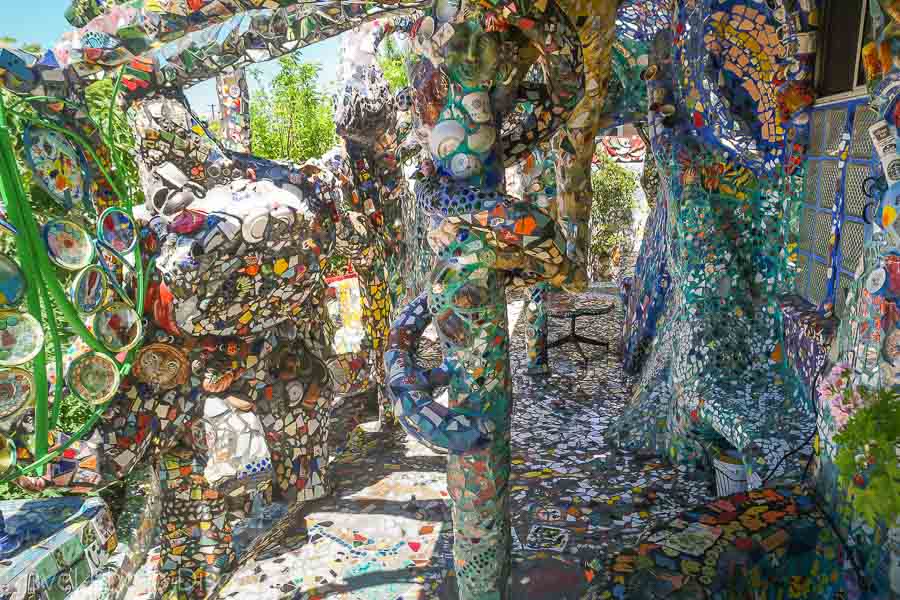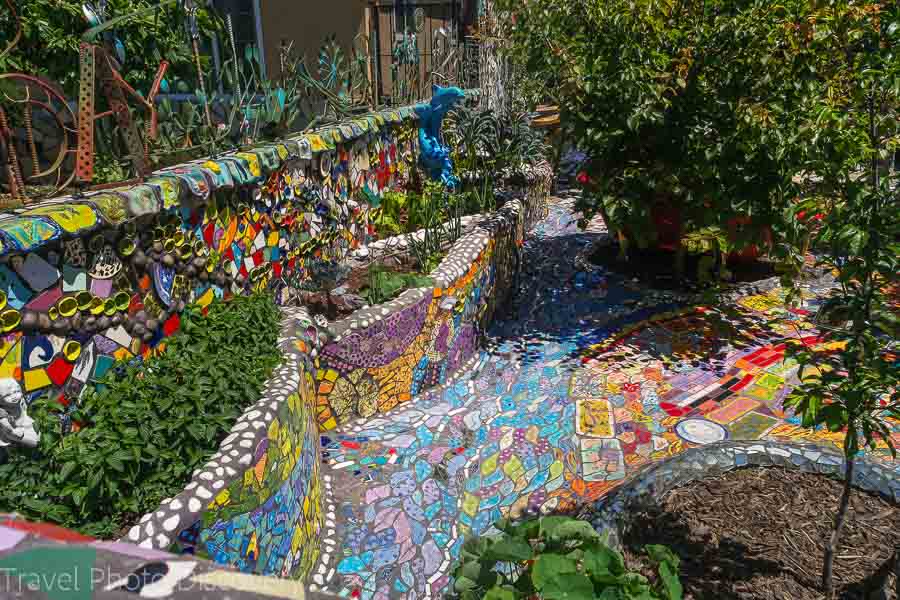 Visiting the Mosaic home at Venice
Fortunately Cheri and Gonzalo offers personal group tours of their home to the public and enjoy their colorful garden and quirky home.
Hours – Saturdays only from 1 -4 pm
Entry – $15 per person,  $10 age 7 – 12
You can check for more details about booking a tour on their site here for more information.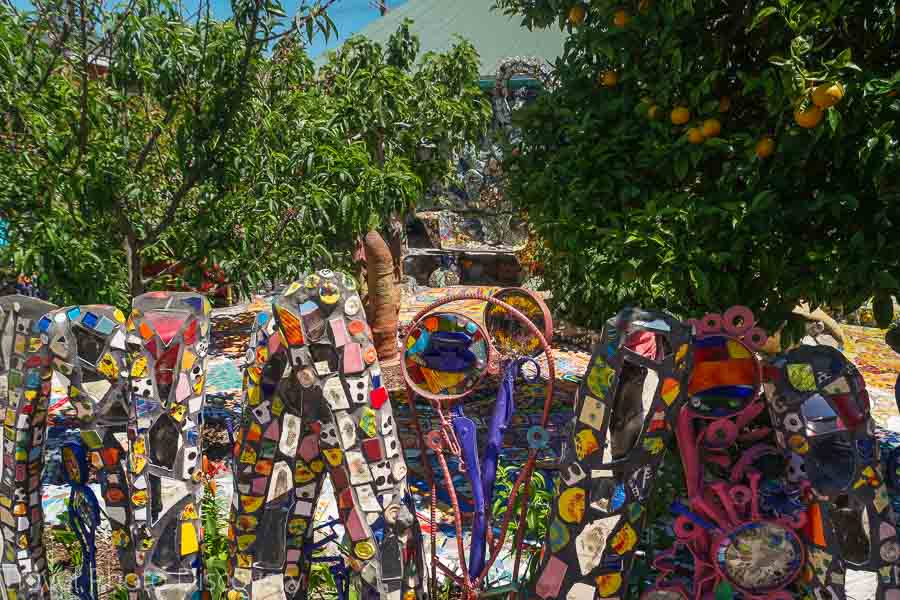 If you enjoyed the post, please pin it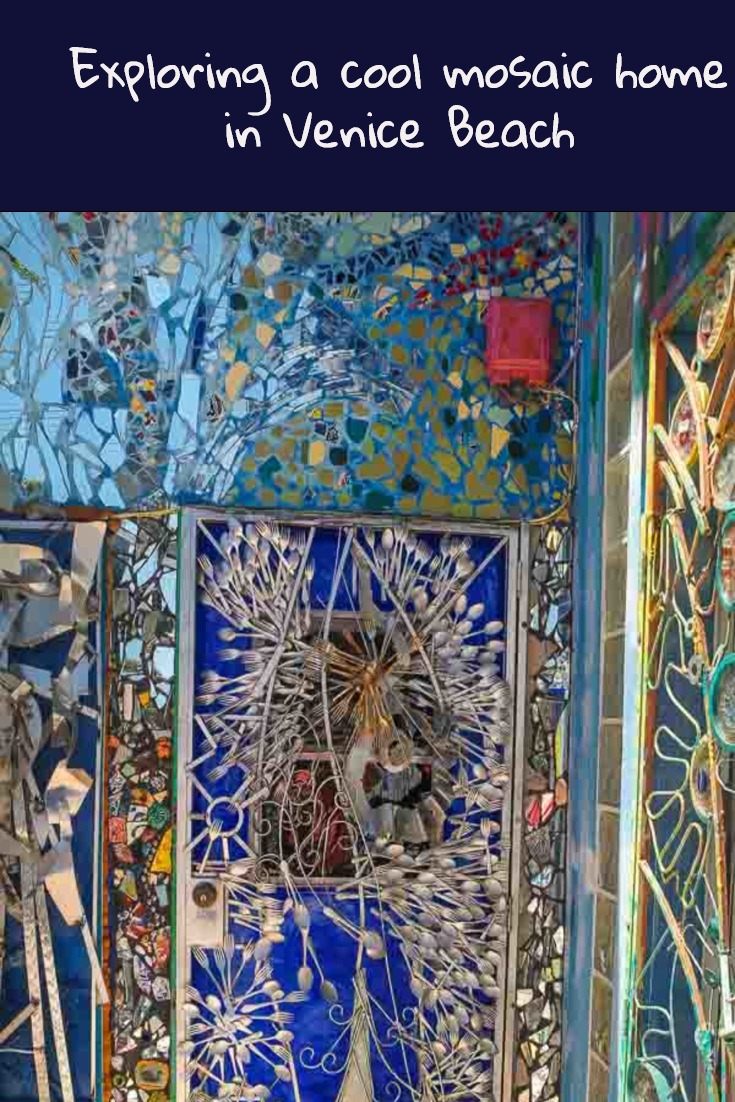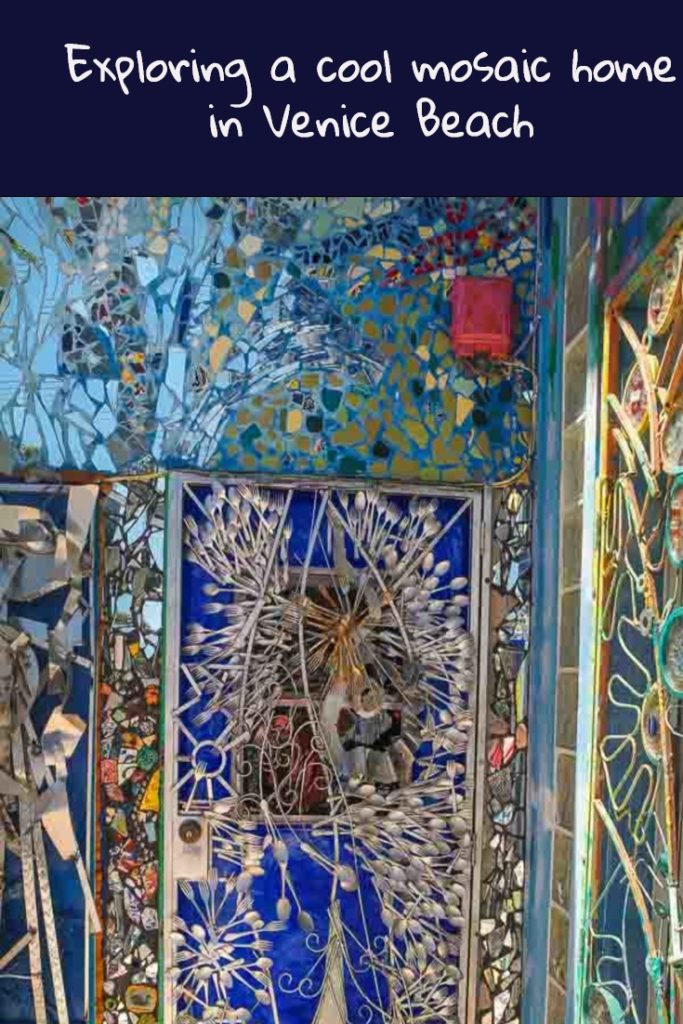 Staying in Venice Beach
There really is a lot to do in Venice and the surrounding area and what a better way to do this then to stay a night or two and enjoy the surroundings. Here are some very cool places to stay in the area.
Venice Beach Suites and Hotel – located on the boardwalk, this hotel
is perfectly located, has a rooftop deck, with spacious and comfortable rooms.
Hotel Erwin – A repurposed hotel in a great location at the Boardwalk area with cool and funky modern rooms and amenities.
The Kinney – a cool hotel with a retro vibe, colorful rooms, lobby in a great location close to Abbot Kinney. Friendly staff and fun hotel to stay in Venice.
For more reviews of hotels in the area, check this site for updated prices and availability.
For more posts about places to visit nearby, check the following:
Visiting San Juan Capistrano Mission
Exploring Balboa Park in San Diego
Top 40 things to do in San Diego
A visit to Queen Califia's Magical Garden
Thanks for visiting today and checking out this post on the Venice beach quirky mosaic art , if you enjoyed the images and post, could you please share it with any of the social media buttons located around the post.
If you like what you see, come and check out my other social media channels for more updates, including Instagram, Pinterest and Twitter
Disclosure – There are affiliates links on this posts which provide a small commission to support this site at no extra cost to you. Thank you for reading, and happy travels.