Visiting Miami and a South Beach food tour (walking tour, delicious foods and drinks)
I didn't get a chance to research any restaurants or specialty food places for my visit in Miami so it was so much easier to take a food tour around the South Beach area of Miami. The Miami Culinary tour was a perfect first impression for tasting some of the popular cuisine around South Beach and we did get a wonderful selection of different ethnic foods from the area.
Lead by a working private chef, the tour offered a flavorful visit to local restaurants and sampling a variety of exciting and tasty dishes to savor on the tour and walk through the Art Deco district of South Beach.
A foodie video tour of South Beach
I decided to do this tour in a video so you can get a better idea about the tour and our wonderful and informative tour guide who share some insightful stories about the restaurants and the owners of those establishments. Below are some video highlights from the tour.

First stop with churros at South Beach
I thought it was unusual as a first stop to try out churros, a typically sweet and tasty donut but shaped like a stick and typically served with espresso for those Miami to go mornings. But surprisingly our tour guide tells us that a little sweet is like a nice appetizer and palate cleanser that makes our taste buds hanker for more flavorful food with our meal.
Not one to argue, I took my first bite and quickly downed the entire churro to the last tasty morsel, and I think she was right – I definitely was ready to eat more!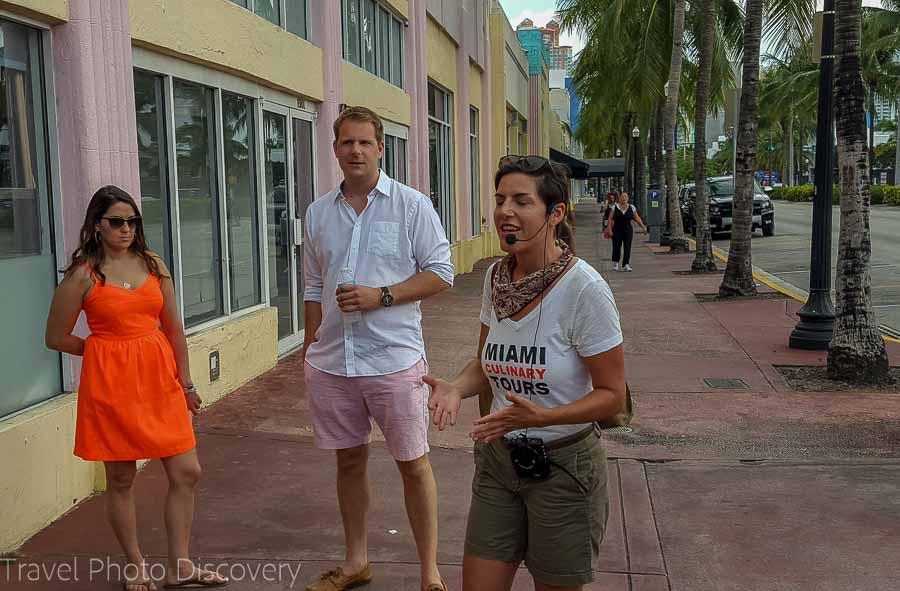 Starting things off with sweet churros for our first bite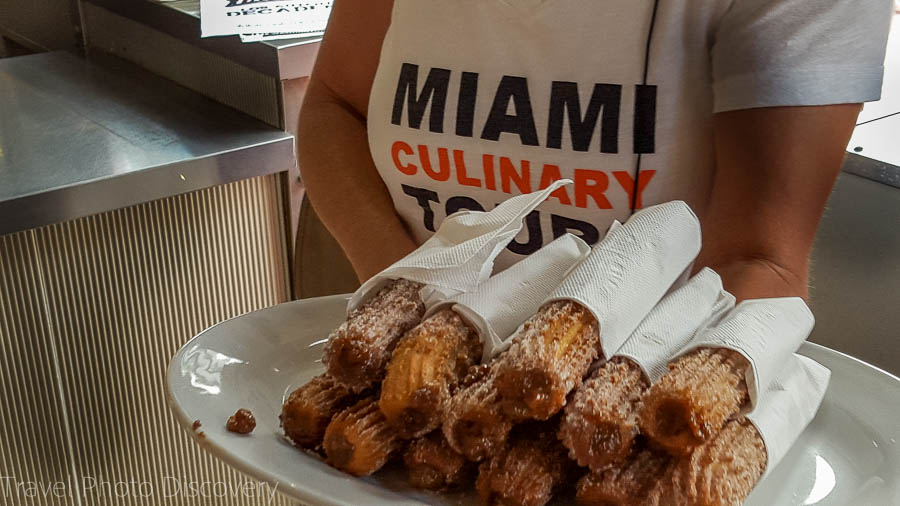 Fortunately, the next stop was just a few blocks away with a beautiful, modern and dark restaurant called Bolivar specializing in Columbian and some pan Latin inspired regional dishes. Our guide tells us that we are going to sample the traditional Columbian empanada along with Peruvian seafood Ceviche. She starts out by pouring us a local Columbian beer mixed with a citrus soda which is very popular in Columbia called Refajo.
Our loud and friendly group suddenly got quiet to focus on the delicious food that were being served in front of them – yes nice and crunchy fried on the outside with moist meaty morsels on the inside, followed up with a few spoonful of tangy fish ceviche. Wow, it was a burst of flavors which I shamelessly gulp down with two glasses of the chilled Refajo beer.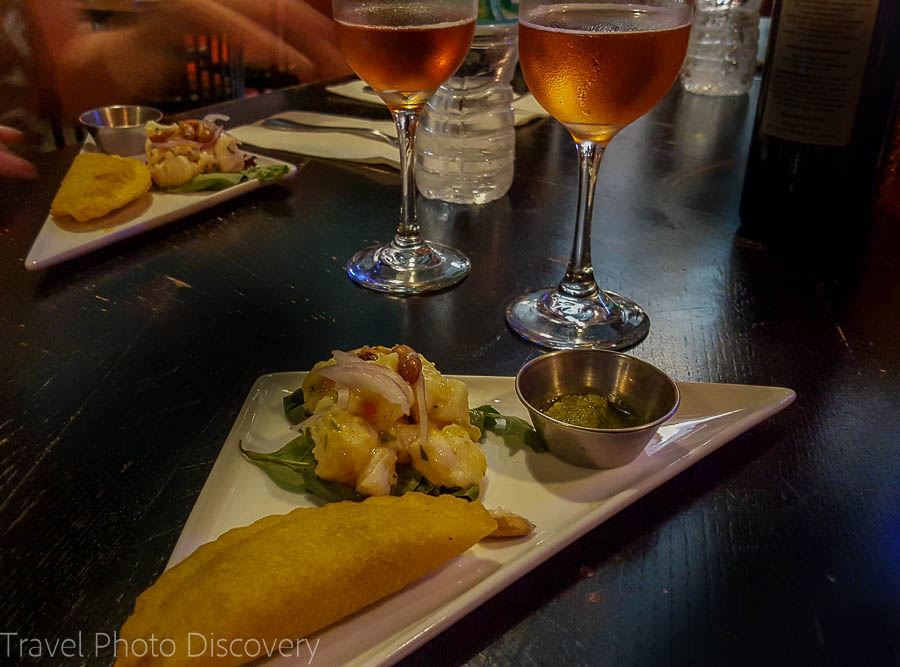 Art Deco walk in Ocean Drive on South Beach
After those two fantastic stops, we take a longer walk, heading out towards the bay front area of Ocean Drive while listening to our guide talk about the unique Art Deco features of this district filled with the most Art Deco architecture that you will find in any city around the USA. With over 800 structures located in this historic district, we passed many of the pastel hued buildings along Ocean Drive.
A nice bit of trivia that I learned from our guide was that during the early days in the 1920s to 1940s, all of these art deco buildings were painted white and were only recently painted in pastel colors in the 1980s.
This happened through the efforts of Leonard Horowitz and Barbara Capitman founded the Miami Design Preservation League. Both eccentric people, they started the pastel craze slowly building by building until it became more popular and eventually created the signature look of Miami.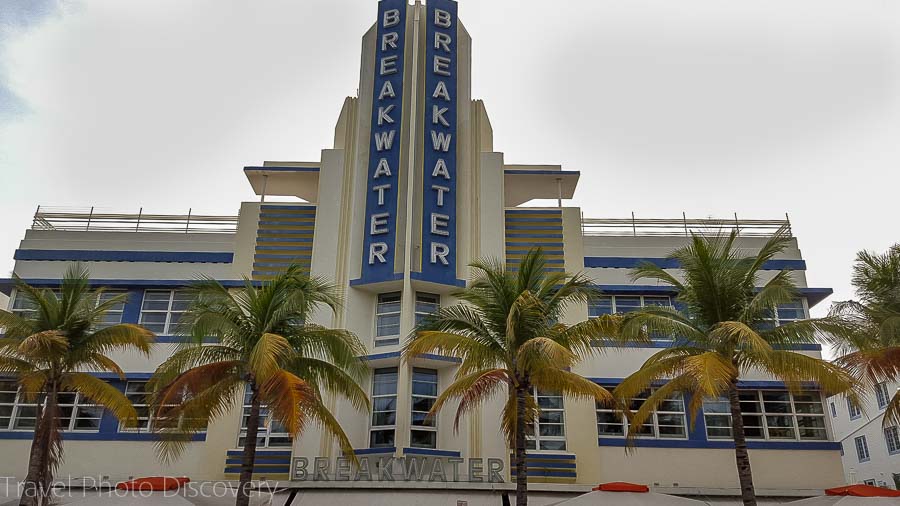 Gianni Versace's famous home on Ocean Drive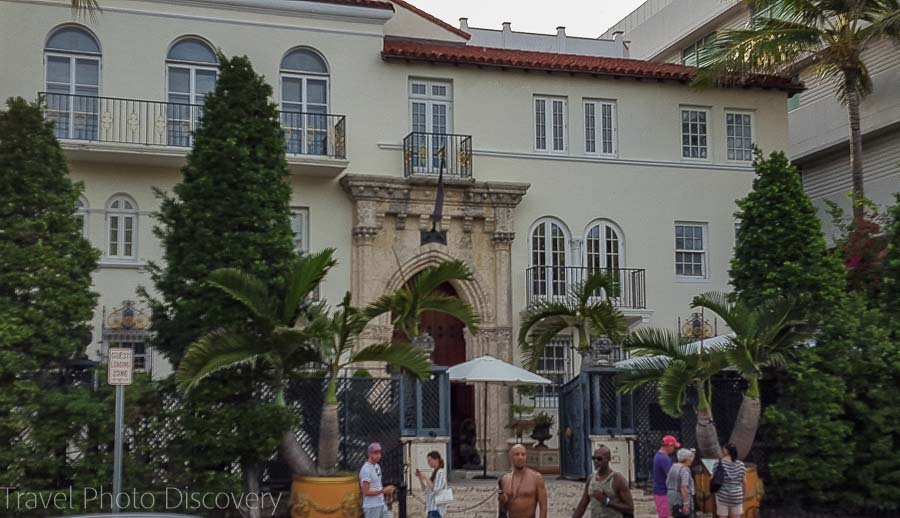 We pass by the previous home of Gianni Versace, a famous international fashion designer who lived here at his fabulous villa. The home was eventually turned into a luxury boutique hotel that you can book or have a delicious meal out on the veranda overlooking the stunning swimming pool area.
Gloria Estefan's Larios Restaurant on Ocean Drive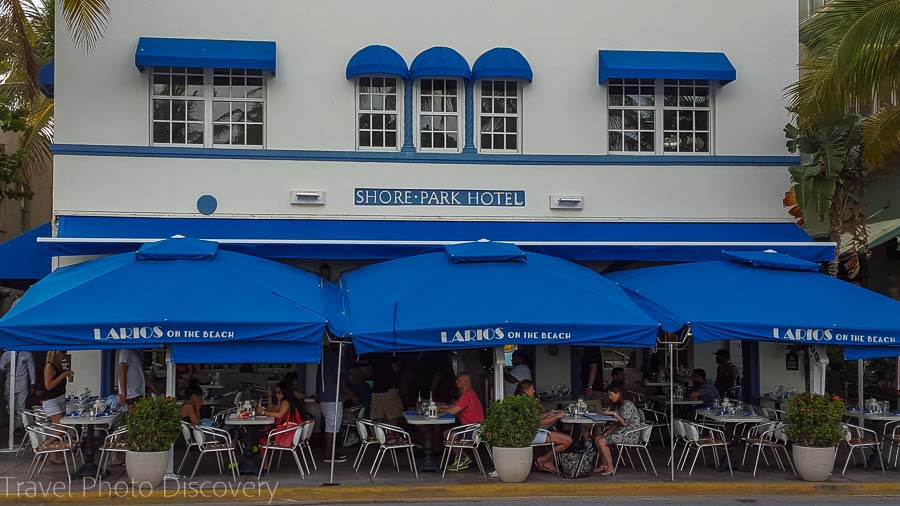 Gorgeous interior to Larios restaurant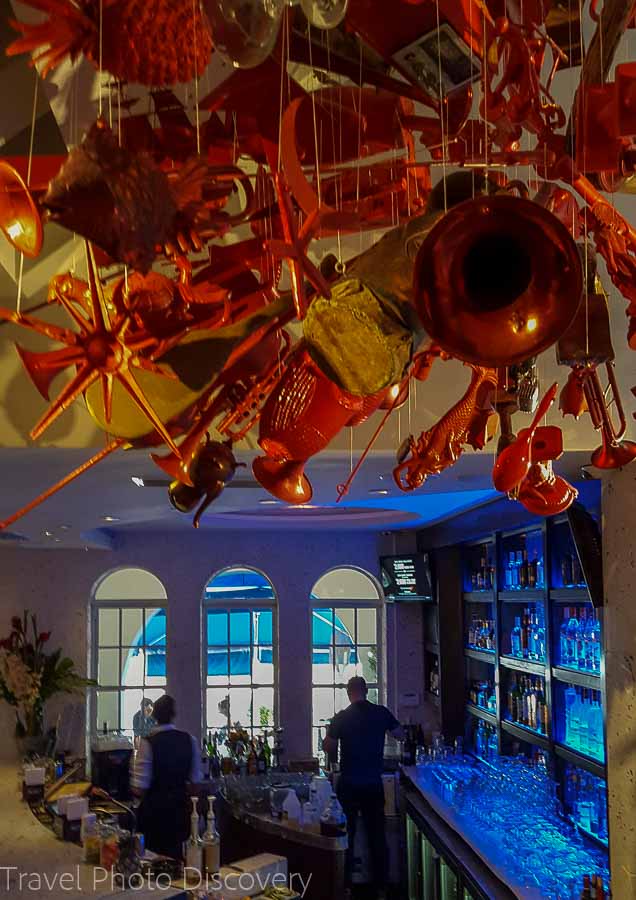 A tasting with Sofrito meat sauce and taro chips at Larios on South Beach
At Larios we are served Sofrito ( a delicious Cuban type of Sloppy Joe) with freshly fried taro  chips – a perfect combination of delicate chip flavor with the melt in your mouth meaty sofrito used primarily in Cuban empanadas and other dishes. The upscale restaurant was filled with colorful accents like the all red musical instrument sculpture and beautiful tilework through the entire restaurant. Our Sofrito and taro chip tasting was perfect and I could have easily stayed on for more tasty bites, but we still had a few more stops to make along our foodie tour of South Beach.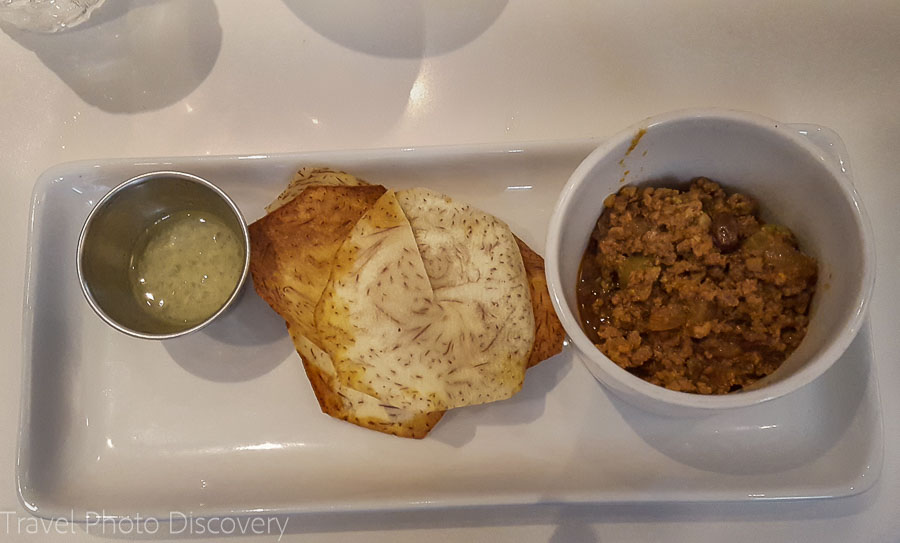 A delicious Mojito at Tides South Beach
The next stop was at one of the oldest and swankiest art deco hotels called the Tides smartly refurbished and designed in modern tropical flavors. We are here to taste the local favorite drink – the Mojito came along with a crispy fried plantain appetizer. The cool bar and hotel lounge were stunning, but The Tides also has a famous back room speakeasy gorgeously decorated with it's original copper furnishings and walls. It was a real treat to explore this speakeasy bar just off the main lobby.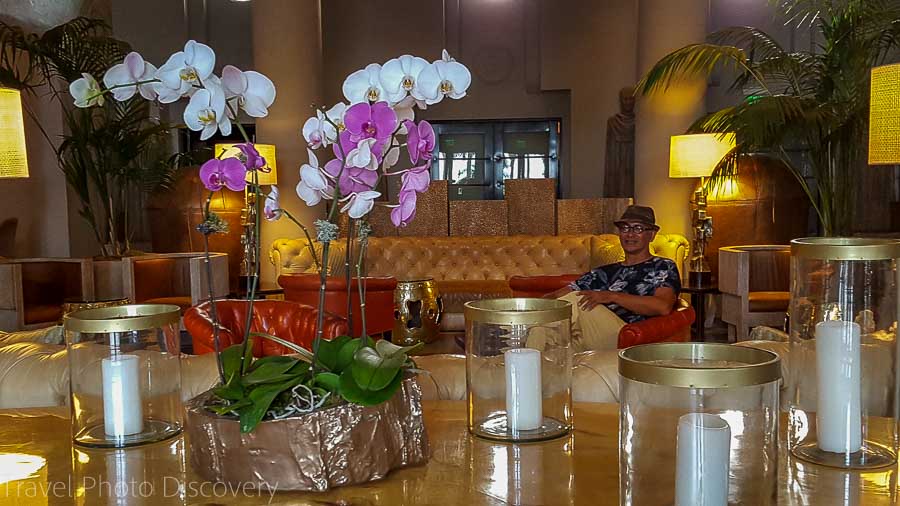 The hip and cool tropical bar at the Tides Hotel on South Beach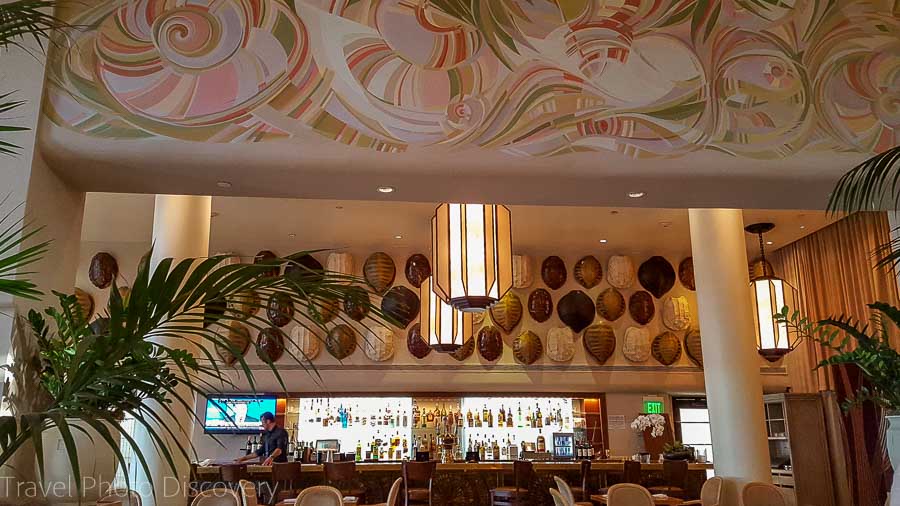 A classic Mojito fried plantains at the Tide's bar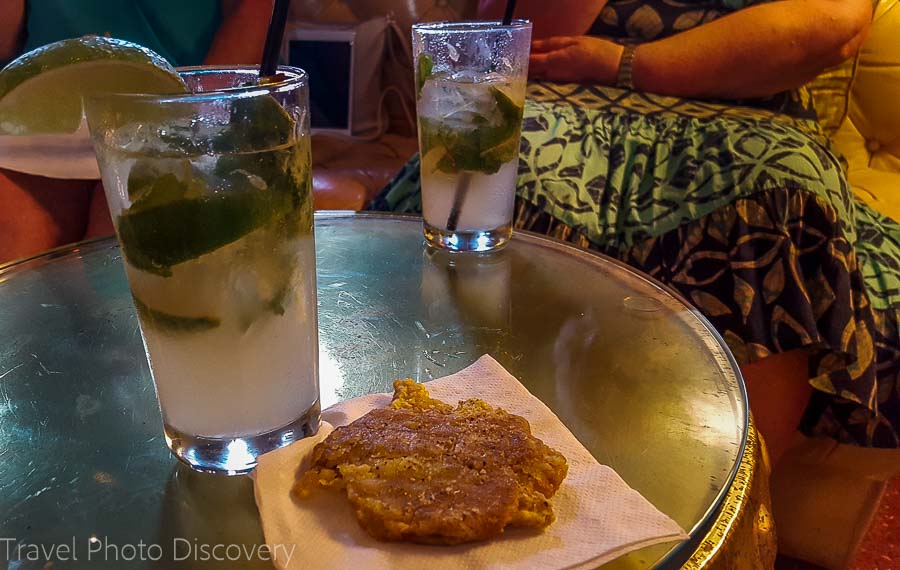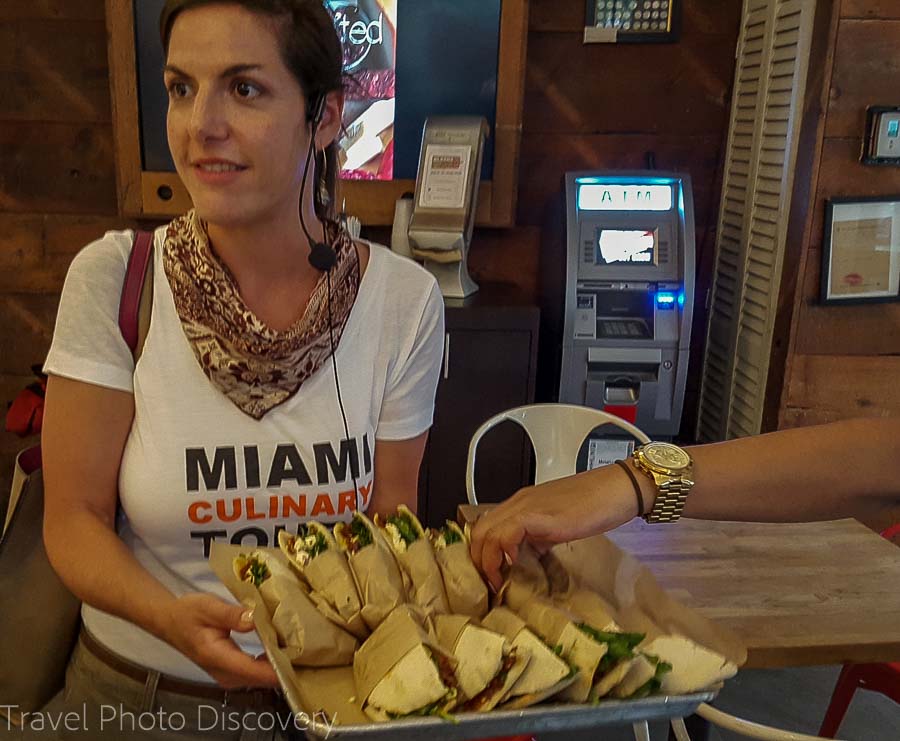 Italian take-out at Blocks Pizza Deli
A delicious pocket sandwich called a poluzzo at Blocks Pizza Deli, a popular Italian takeout shop specializing in homemade pizza and pocket sandwiches created with organic ingredients and made from scratch everyday. Our bite of fresh pesto with sundried tomato, spinach, feta cheese and olives in the pocket dough, and everything was tasty and flavorful.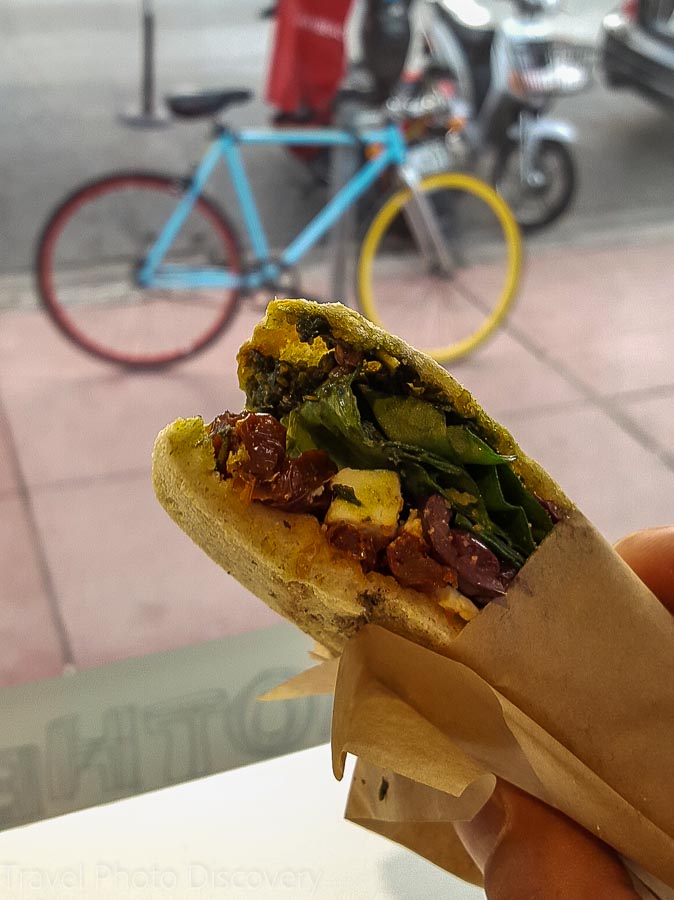 Yes, let's try gelato at South Beach for dessert
What's a foodie tour without a dessert finish, and the South Beach food tour ends with a delicious taste of homemade Gelato from Milani Gelateria on Espanola. Made from a master gelato maker that are made fresh from scratch every day to create these amazing flavors and with the best Italian ingredients. Of course the hard part is picking just the right flavors, but after almost sampling the entire selection, I was able to whittle it down to my two favorite flavors – chocolate and blackberry, a perfect Gelato combination in my opinion.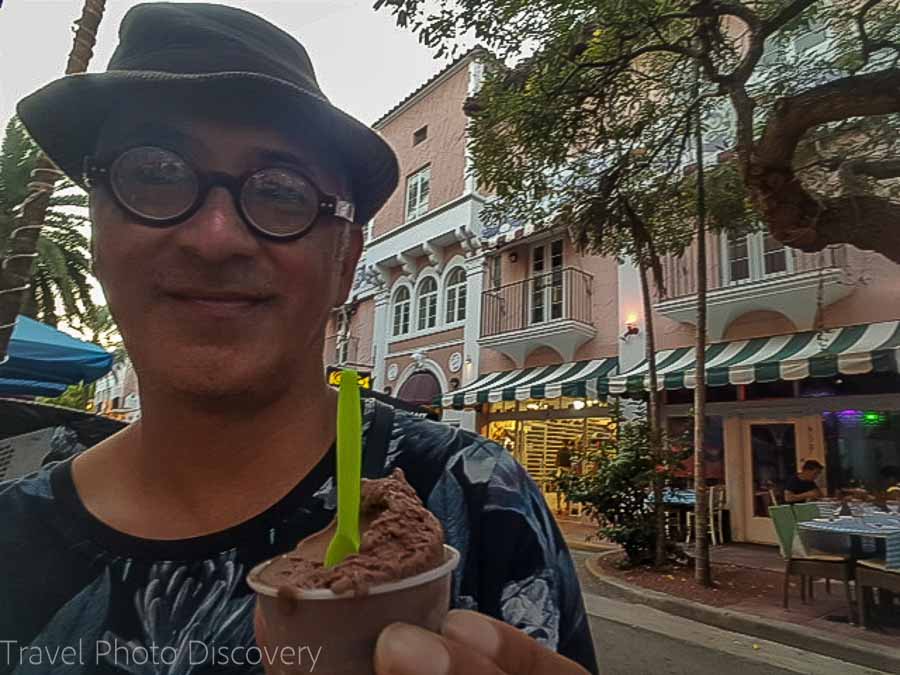 Freshly made Gelato on Espanola Way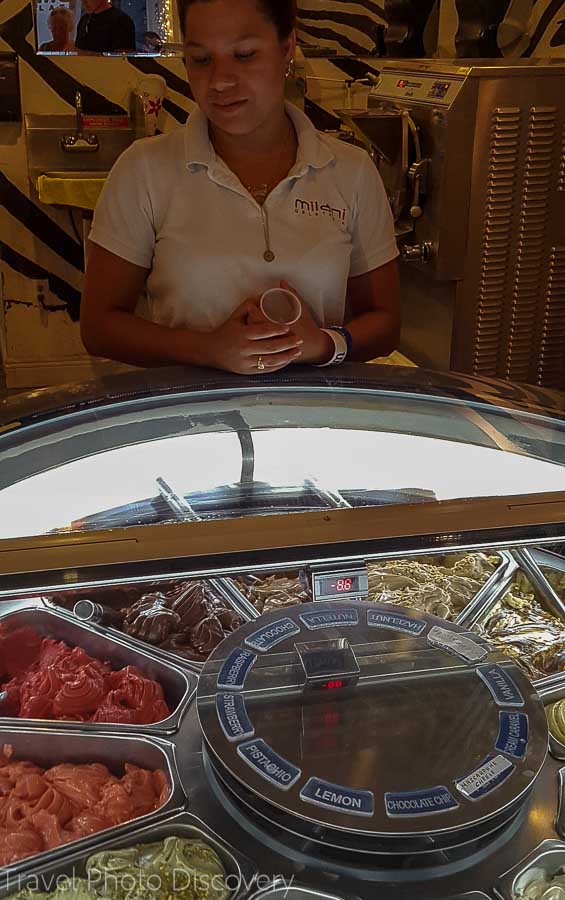 If you enjoyed the post, please check out my other posts about Miami
Visiting Miami – Miami Beach Botanical Garden
Little Havana, Miami Culinary food tour
Staying at an Art Deco hotel in Miami Beach
Thank you for visiting today I hope this post on Visiting Miami – South Beach food tour was educational and worthwhile, and maybe you'll try some of these establishments or take the South Beach food tour with Miami Culinary Tours. If you enjoyed the post, could you share it with any of the social media buttons on the post. Please do visit some of the other bloggers participating today for Travel Photo Mondays below
Disclosure – I was a guest with Miami Culinary Tours to experience the South Beach restaurant scene, all thoughts and opinions are entirely my own.