Savor the Flavors: Embark on a Little Havana Food Tour and Indulge in Miami's Culinary Delights
Little Havana just outside of the downtown Miami center is a very traditional Cuban neighborhood with a main road filled with Cuban inspired galleries, boutiques, eateries and bars. I was fortunate to have signed up for a lunch tour since I was already getting very hungry, having spent an hour earlier walking down through some of the interesting galleries and areas of interest in this historic neighborhood. I was eager to explore the area with Miami Culinary tours and taste some of the wonderful Cuban street food and other specialty products made locally in Florida.
Little Havana food tour is a journey that takes you through the heart of this iconic neighborhood, where you'll discover the captivating sights, sounds, and aromas that define the Cuban culinary heritage. From sizzling empanadas and mouthwatering Cubano sandwiches to refreshing mojitos and aromatic café Cubano, each bite and sip will transport you to the streets of Havana itself. As you stroll through the colorful Calle Ocho, guided by knowledgeable locals, you'll not only indulge in delectable dishes but also learn about the cultural significance and stories behind the food. Get ready to awaken your senses, embrace the lively atmosphere, and create lasting memories on this unforgettable Little Havana food tour.
Why do a food tour in Little Havana
Indulge in the flavors of Little Havana's Cuban cuisine on a food tour. Experience authentic dishes, learn about the cultural significance, and immerse yourself in the lively atmosphere of the neighborhood. Discover hidden gems, receive insider tips, and connect with the local community. It's a culinary and cultural adventure you won't want to miss. When you take a food tour with an expert guide, you'll get to sample the best local foods, street food and other specialties from this lively district of Miami.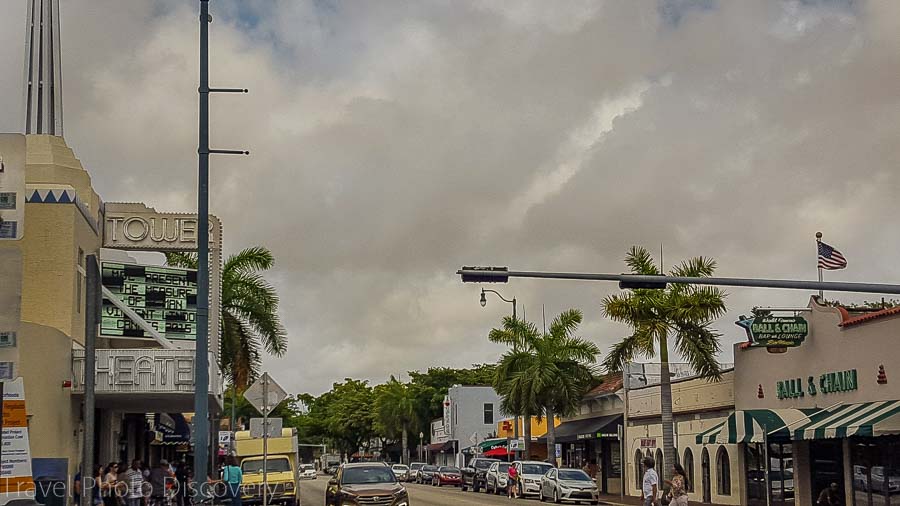 Eating the best of Little Havana in Miami
Little Havana Miami – Cuban street food and specialty drinks
The main area of Little Havana was originally a part of Miami where the new Cuban immigrants went to live and work especially with cheap rents and property in this part of the city. As a result, a variety of specialty shops and eateries were started to cater to the local crowds in this district.
First stop on the tour is one of the oldest restaurants in the area called El Pub. Filled with old photographs, posters and other Cuban Illustrations, this popular local eatery is where we got to sample the iconic empanada and Cuban sandwich, both typically street food takeaway food. The fried empanadas here are made with a peccadillo filling of ground beef, olives in a tomato based sauce. Cuban empanadas are not typically served with any sauce but the American Louisiana hot sauce offered, added a bit more vinegar and hot zing to the overall taste of the empanada. This was quickly followed with a plate of fries and a Cuban sandwich – a Panini like sandwich filled with ham, pork, melted cheese, pickles and mustard. I had to take some time to eat both of these dishes which could have easily filled you up right away.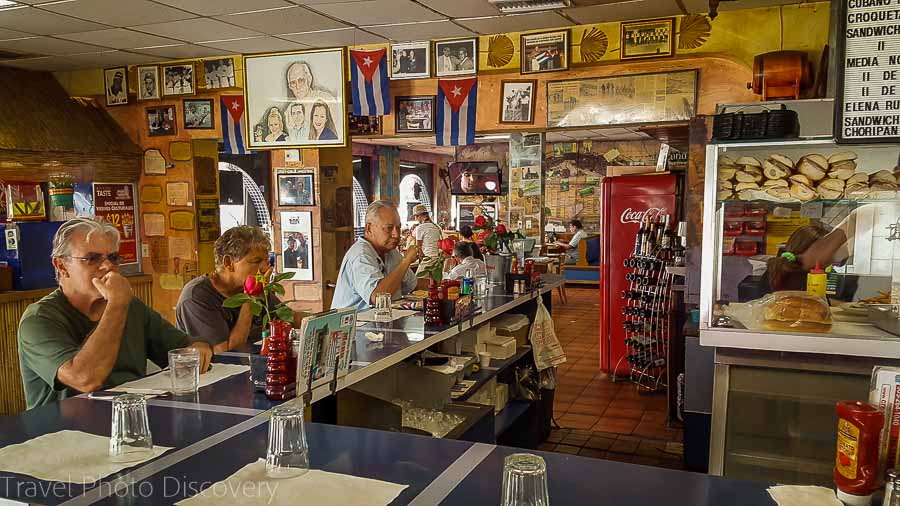 Popular Cuban sandwiches served at El Pub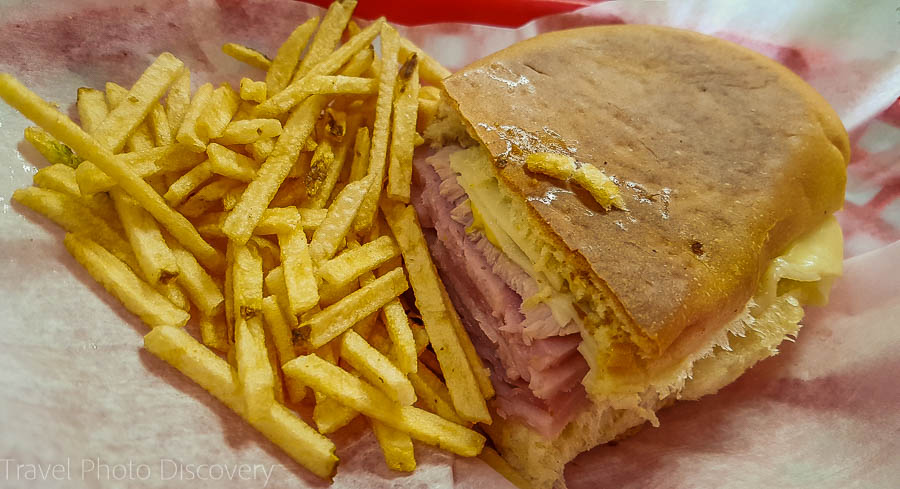 Empanadas are very popular street food in Little Havana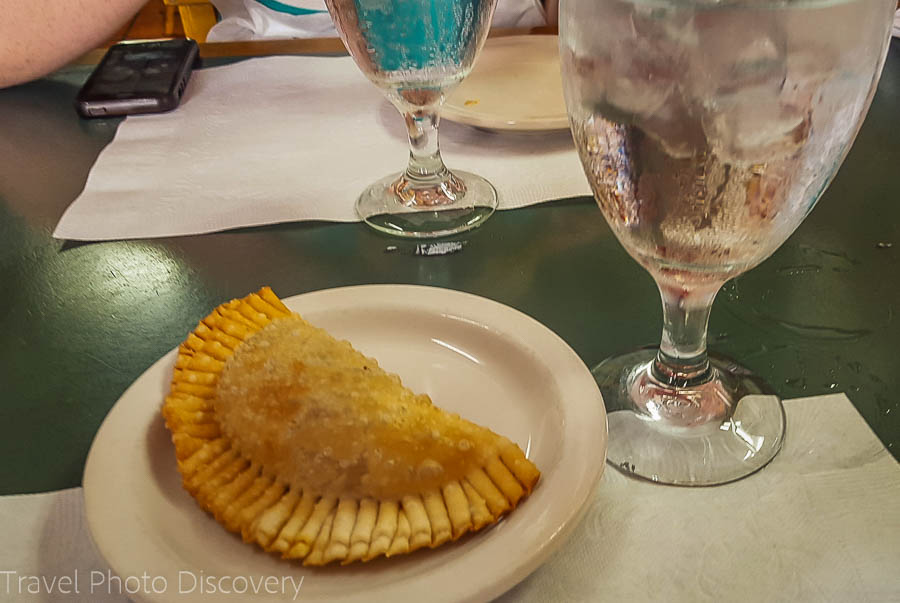 Little Havana Miami  – Cuban Coffee to go
After a nice first two bites at El Pub we walked outside to their street service window called a Ventanita were we sampled the typical Cuban coffee. Served in small cup size portion in a sugary sweet base, this intense espresso like coffee will definitely give you a shot of energy after a full meal. We find out from our guides that these popular Ventanitas sell Cuban coffees along with other popular street food and sweet delicacies for locals that want to take it to go.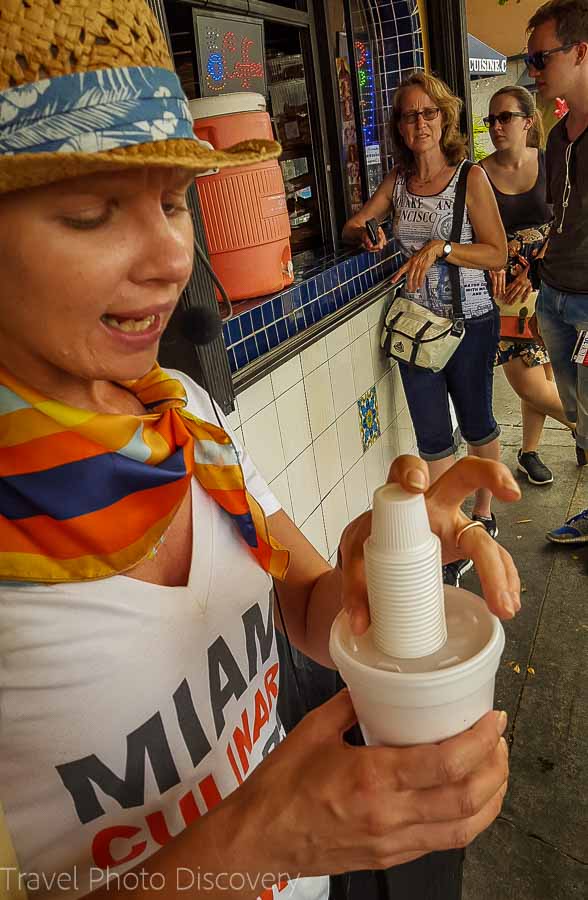 Little Havana Miami –  Cuban Cigar makers
Next on our visit to Little Havana is to one of the iconic Cigar makers called Bello Cigars which traces its roots to the 19th century. We walk inside to watch a worker roll their Cuban cigars which is later aged in cedar vaults. The entire places smells and oozes with musty cigar smoke and is charming right down to the family patriarch hanging out in the front door next to a large wooden chief in American flag regalia and waving to the crowds all day.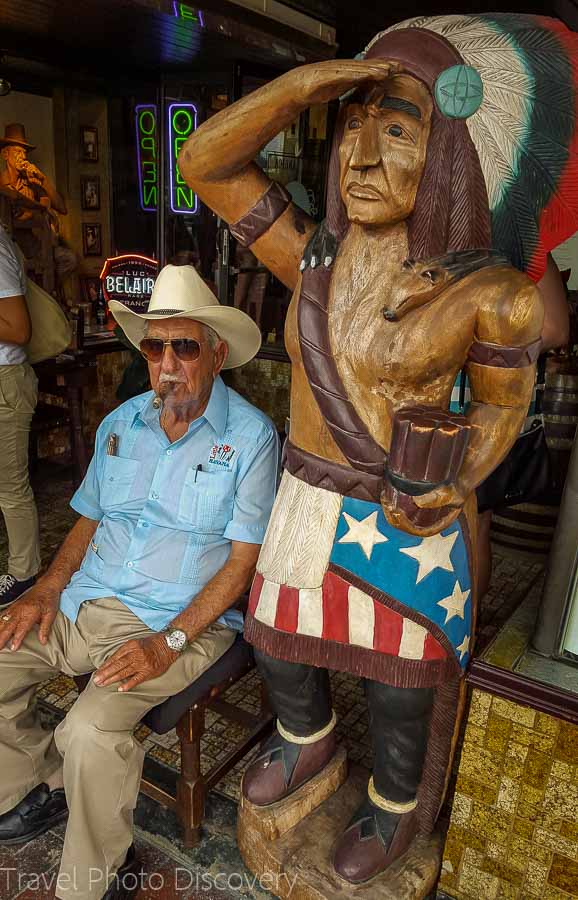 Watching a cigar rolling demonstration in Little Havana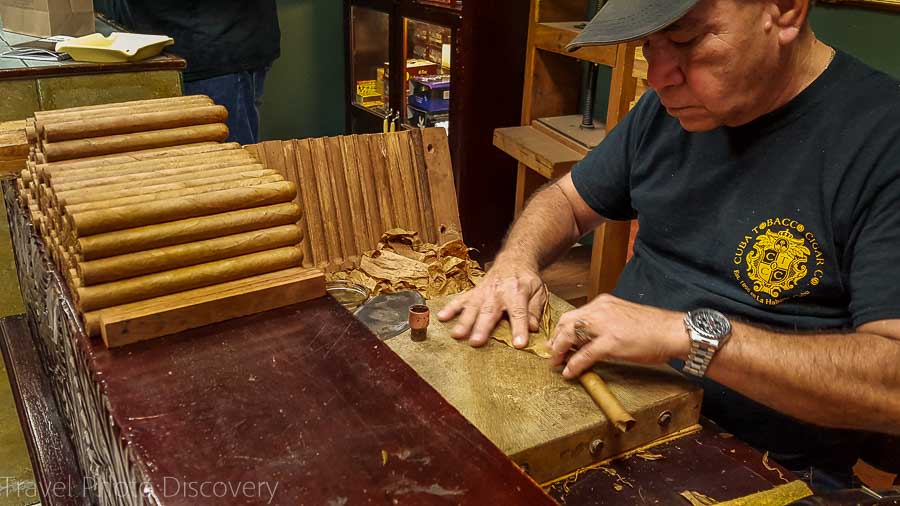 Little Havana Miami – takeaway snacks from a Ventanita
Ready to sample another quick bite we stop by another Ventanita to sample another popular street food – a Croqueta, which are crispy lightly breaded appetizer rolls filled with ham, eggs, spices and flour. It was just the right snack food and I ended up sampling more than a few of these fried snacks.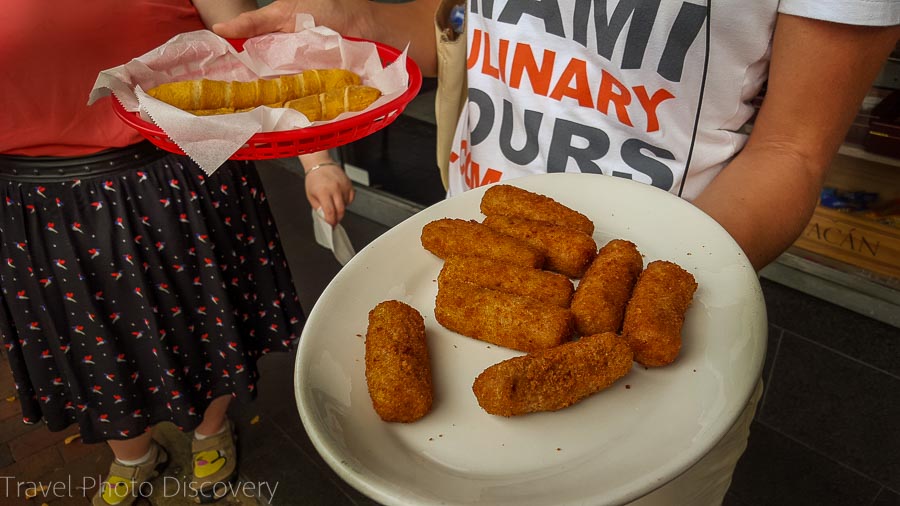 Fried snacks and sweets at a Ventanita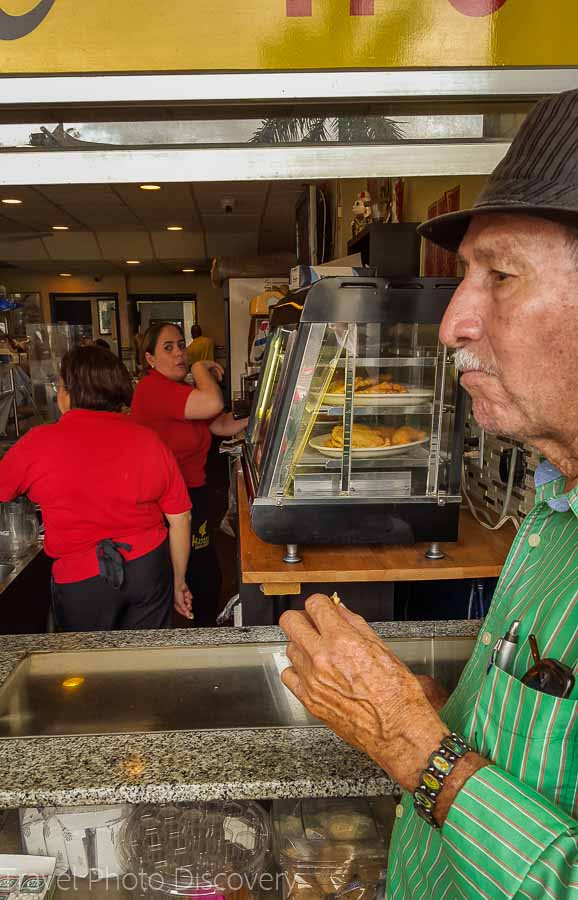 Little Havana Miami – action at Domino park
Playing dominoes is a very popular pastime in Cuba and this naturally spills over into Little Havana with the Domino park – a senior's only club where domino playing is serious and heated. It's a perfect spot to see and take some wonderful candid shots of locals playing a fast and furious game of dominoes.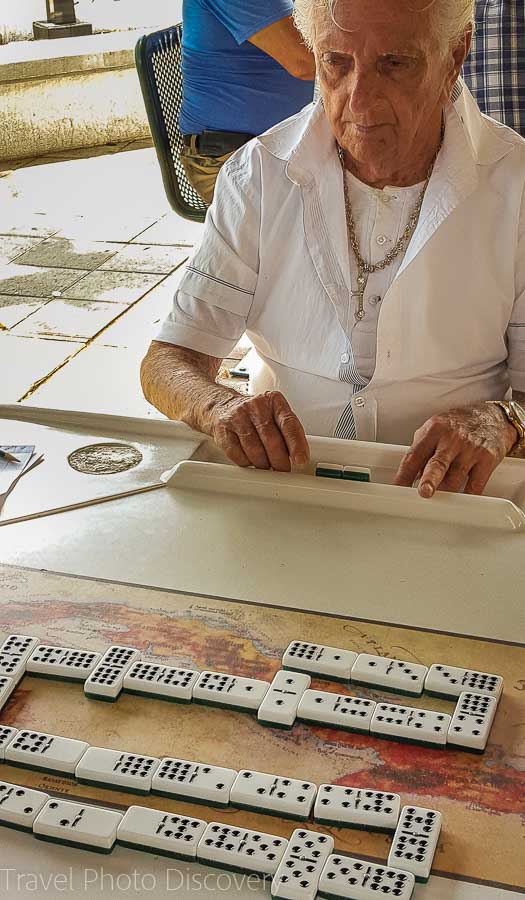 Little Havana Miami – Hemingway's favorite watering hole
Along with Hemingway, many famous personalities and musicians have visited the Ball and Chain bar an iconic establishment in Little Havana. We drop by to hear a fantastic live band while downing the local favorite – a classic Mojito. Made Havana style with crushed mint leaves, a squeeze of lime and island rum served over ice in the end, it is refreshing and the perfect drink to imbibe with the cool tropical music and vibe inside. Make sure to check out the outdoor back area with the huge pineapple stage that is fun to take a photo souvenir like my shot below.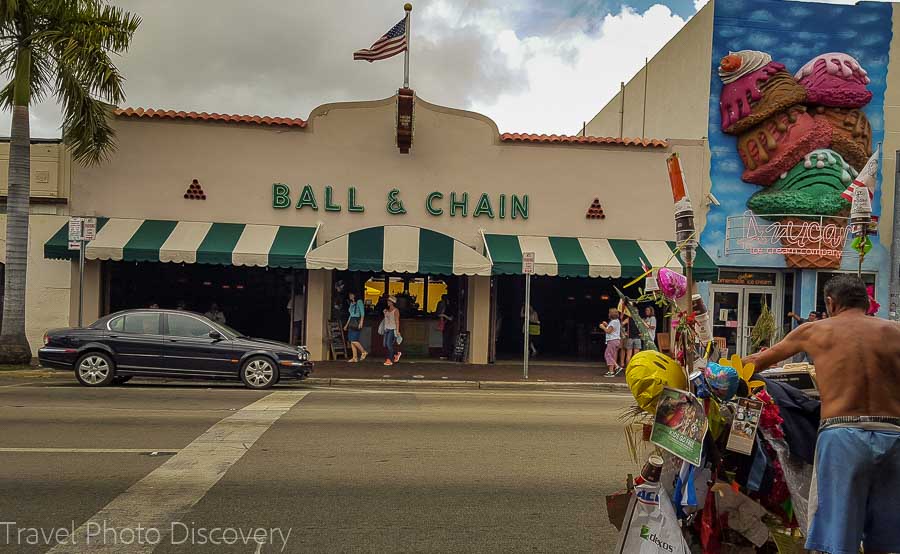 Little Havana Miami – Live music and cool vibes at Ball and Chain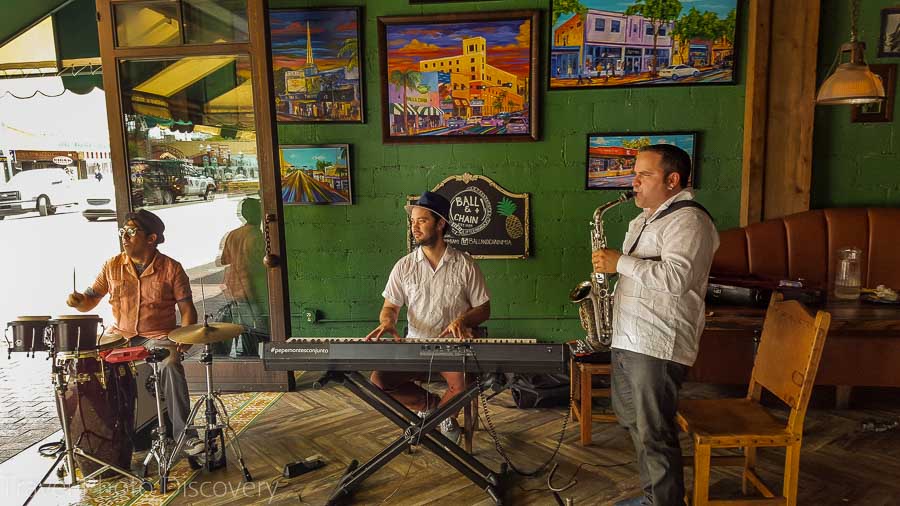 Photo selfie with the giant Pineapple stage in the back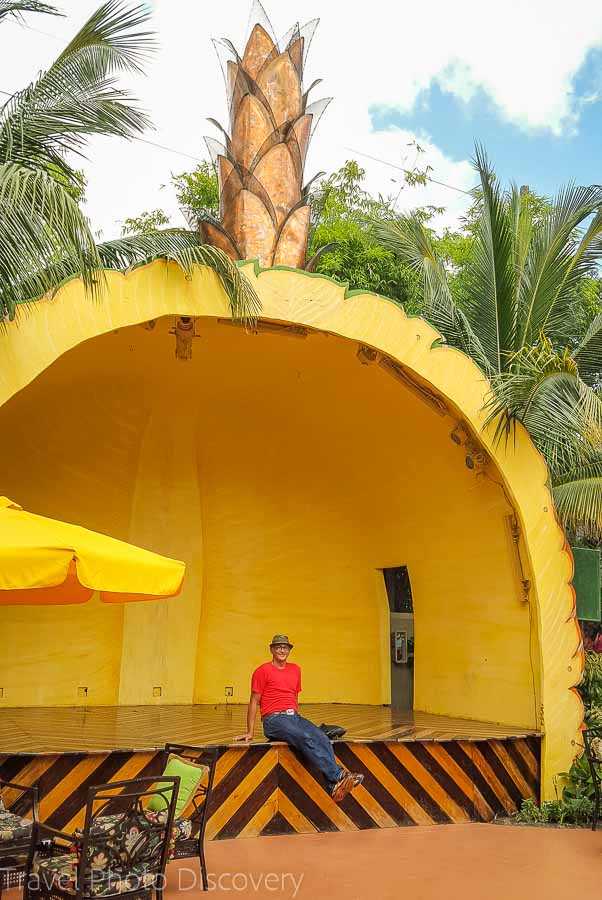 The classic Mojito at the Ball and chain – Little Havana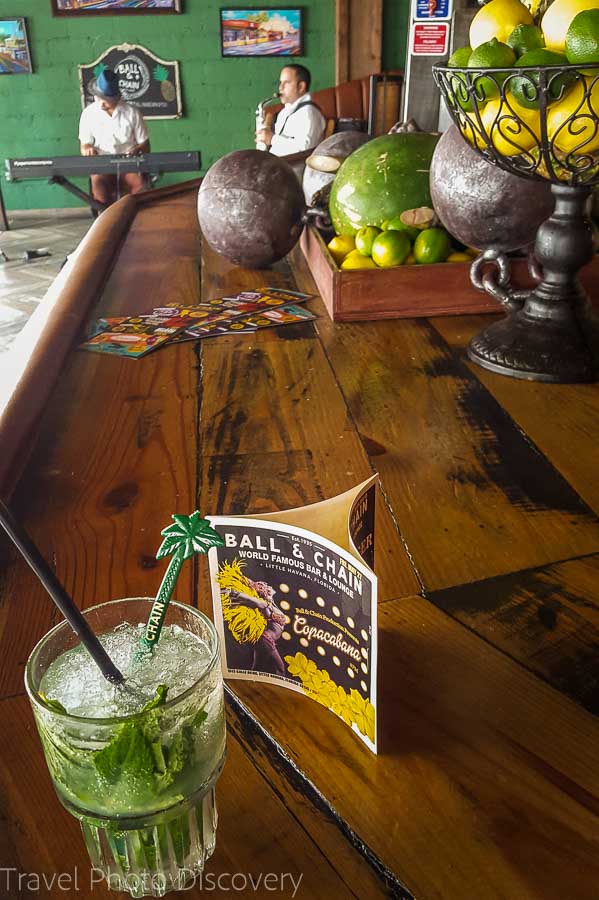 Trying a guayaba pastelito
If you like pastries then the Guava pastry at Yisil bakery is where to go for delicious baked goods. You can sample many Cuban baked goods but the Guayaba pastelito we tried was spot on flaky with a fruity middle of gooey guava goodness inside. I'm glade we were only offered one of the big pastries since we still had a desert finale coming up soon.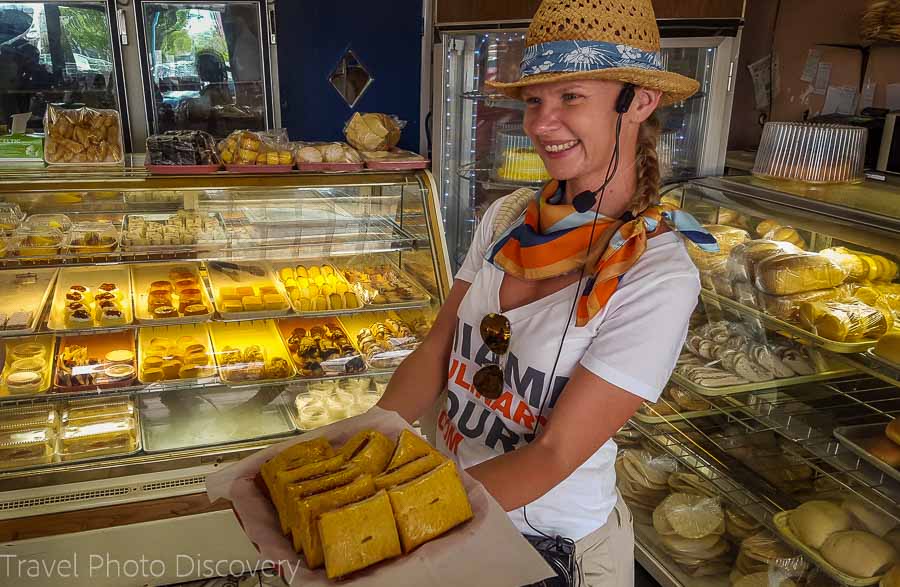 A nice and flaky Guayaba pastelito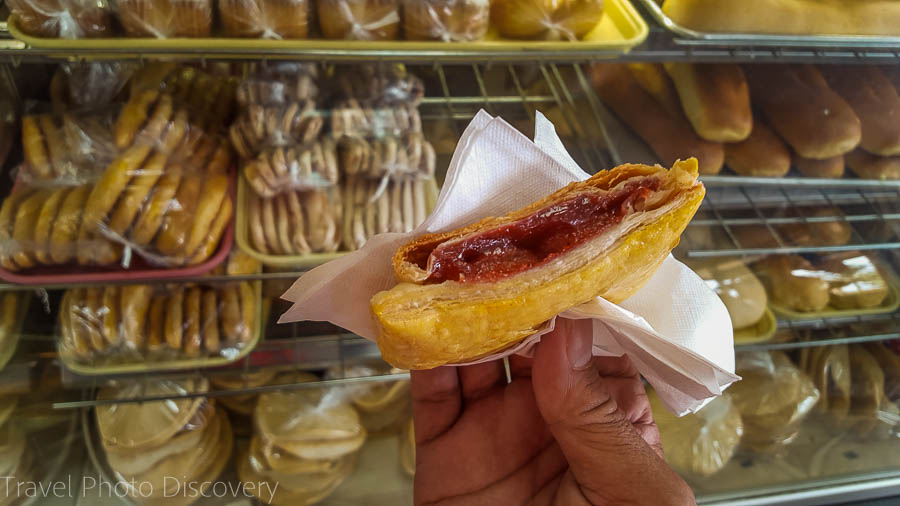 Little Havana Miami – Los Pinaderos Fruteria
No visit to Little Havana is complete without dropping by the local fruit stand and Los Pinaderos Fruteria is where you can get any of the in season fruits from Florida and other imported fruits not grown in the area. We sampled some freshly squeezed cane juice and it was refreshing and just sweet enough to quench our thirst from the afternoon sun.  We were also offered a variety of fruit samples that I cannot remember what we tasted but I remember it was all good and perfect for the late afternoon since we were winding down quickly to our last stop.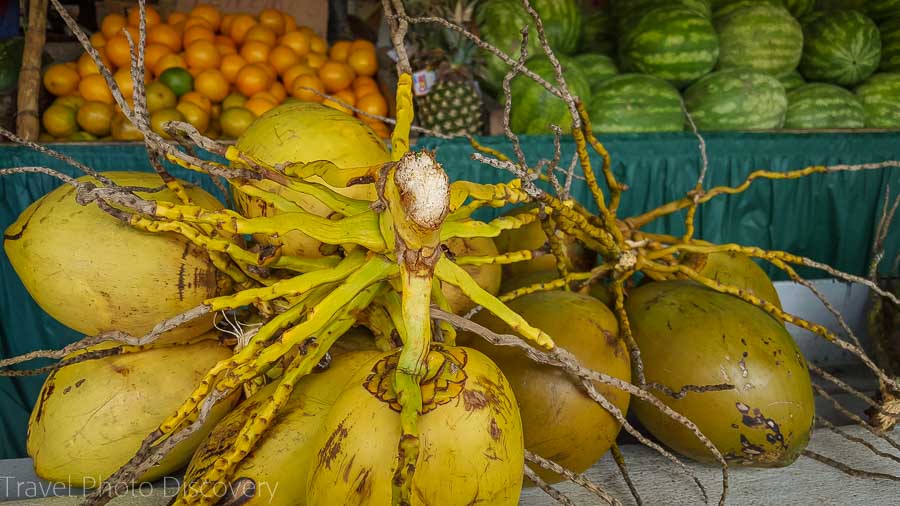 Trying some freshly squeezed cane juice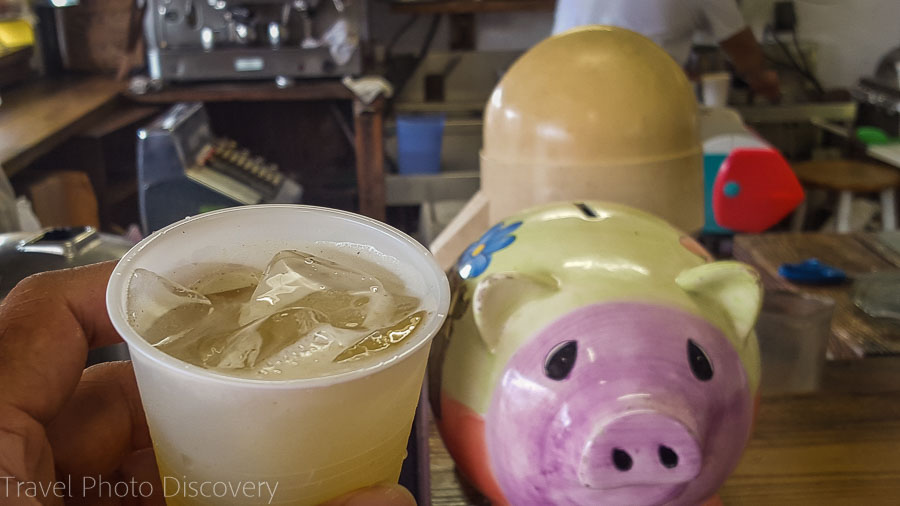 Little Havana Miami – Azucar Ice cream
Of course ice cream is the last stop on the Little Havana Miami food tour, Azucar Ice cream serves up traditional and modern ice cream flavors in exotic and latin inspired flavors. You can sample as many of the flavors in the entire display but eventually you can choose up to two flavors in a cup. I ended up choosing a delicious Mamey ice cream with chocolate combination and it was just creamy and a perfect melt in your mouth combination of flavors.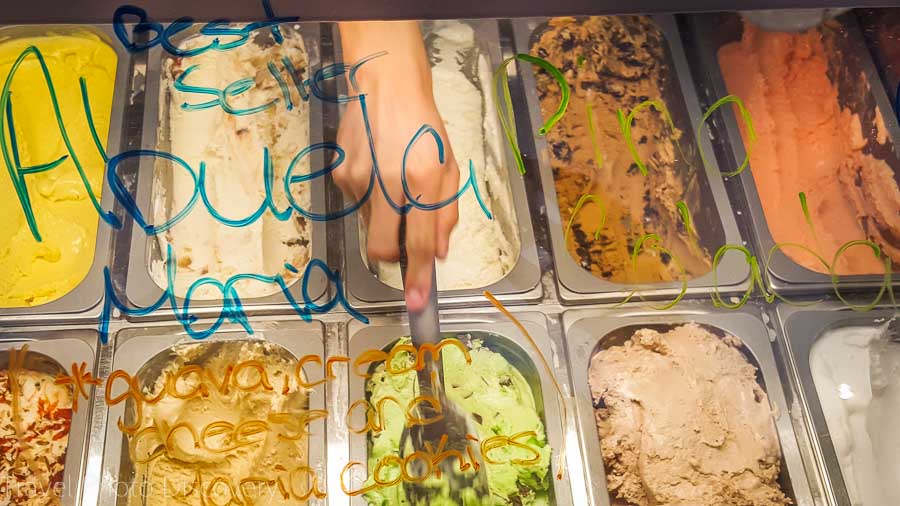 You can sample all the ice cream at Azucar

Well that was a fun tour and I finished satisfied with just enough food to be full but not bursting at the seams. It was fun to explore Little Havana and tasting our way through the entire neighborhood. If you enjoyed the places visited, you can sign up for the same tour with Miami Culinary tours and check out their tours and prices eating your way through different neighborhoods in Miami.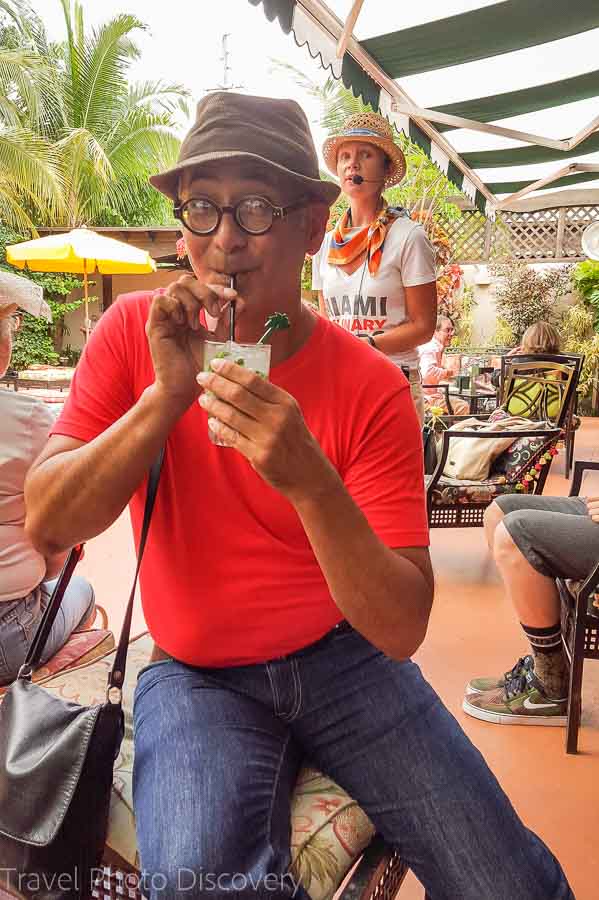 How to get to Little Havana in Miami
Getting to Little Havana in Miami is convenient, and there are several transportation options available:
By Car: If you have access to a car, you can drive to Little Havana. From downtown Miami, take SW 8th Street (Calle Ocho) westbound, and you'll enter the heart of Little Havana. Keep in mind that parking can be limited, so consider using public parking lots or garages.
By Public Transportation: Miami-Dade Transit operates bus routes that serve Little Havana. You can use the Metrobus system to reach different areas within the neighborhood. Plan your trip using the official Miami-Dade Transit website or a navigation app.
By Metrorail: The Miami Metrorail also connects to Little Havana. Take the Orange Line and get off at the Civic Center Station. From there, you can walk or take a short taxi or rideshare trip to reach Calle Ocho.
By Trolley: Miami's free trolley service, the City of Miami Trolley, has routes that pass through Little Havana. Check the trolley map and schedule to find the most convenient route.
Catch an Uber or Taxi to get your their faster and still affordable from any part of the city.
If you enjoyed the post, please pin it!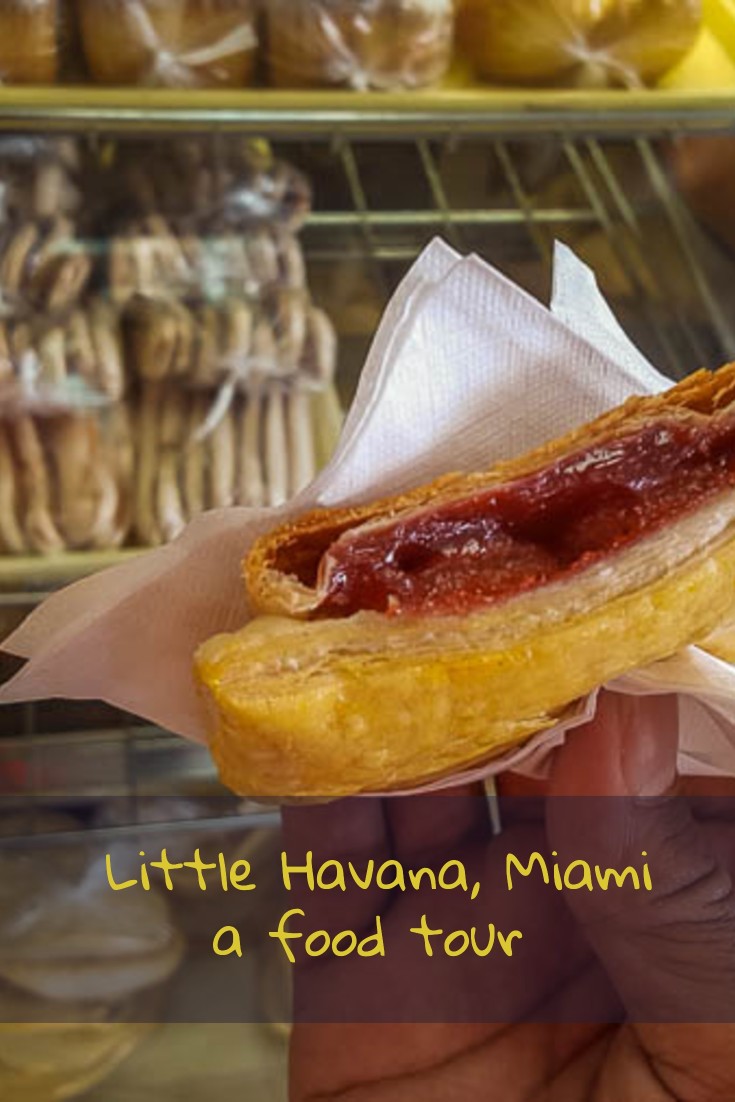 Here are some inside tips to make the most of your visit to Little Havana in Miami
Cuban Coffee: Start your day with a shot of Cuban coffee (colada) at a local café. It's strong, sweet, and a great energy boost.
Art Galleries: Explore the neighborhood's vibrant art scene. Visit galleries like Futurama 1637 and Cubaocho for a dose of Cuban art and culture.
Local Markets: Don't miss the Little Havana Market on Sundays. You can find handmade crafts, jewelry, and unique souvenirs.
Calle Ocho: Walk along Calle Ocho (Eighth Street), the heart of Little Havana. Admire the colorful murals, music playing from storefronts, and the lively atmosphere.
Cuban Cigars: If you're a cigar enthusiast, visit a local cigar shop and learn about the art of rolling cigars. Enjoy a freshly rolled cigar with a coffee or rum.
Live Music: Catch live music performances, especially on Friday and Saturday evenings. Ball & Chain is a famous venue, but you'll also find local bands playing in smaller spots.
Food Tour: Consider taking a guided food tour to sample the best Cuban dishes. Local guides can provide insights into the neighborhood's history and culinary traditions.
Dance Lessons: Try your hand (or feet) at salsa dancing. Some venues offer dance lessons for both beginners and experienced dancers.
Maximo Gomez Park: Visit Domino Park (Parque Máximo Gómez) to watch locals play dominoes, a traditional Cuban pastime. It's a great place to strike up a conversation.
Street Art: Keep an eye out for colorful street art and murals that tell the story of Cuban heritage and the struggles of the community.
Local Eateries: Beyond the well-known restaurants, explore small, family-run cafeterias for authentic Cuban sandwiches and snacks.
Community Events: Check if there are any community events or festivals happening during your visit. These often showcase Cuban music, dance, and traditions
Respect Local Customs: Cubans are known for their warmth and hospitality. Engage with locals respectfully and embrace the slow pace of life in Little Havana.
Learn a Few Phrases: While many locals speak English, knowing a few basic Spanish phrases can go a long way in connecting with the community.
Visiting Little Havana is like stepping into another world, where Cuban culture, food, and traditions come alive. By immersing yourself in the neighborhood's authenticity and taking these tips to heart, you'll have an enriching and unforgettable experience.
Check out these other cool places to visit in Miami
Touring the Wynwood district of Miami
Visiting Vizcaya Museum and gardens
The Holocaust Memorial in Miami
Have you visited Little Havana in Miami?
Enjoyed visiting the neighborhood and other fun things to do here? Please share your thoughts in the comments below.
Conclusion to doing a food tour in Little Havana
In conclusion, taking a food tour in Little Havana is a delightful and enriching experience that allows you to immerse yourself in the vibrant Cuban culture and indulge in the flavors of authentic Cuban cuisine. From savoring mouthwatering dishes to discovering hidden culinary gems and connecting with the local community, a food tour in Little Havana offers a unique opportunity to explore the heart and soul of Miami's Cuban neighborhood. Whether you're a food enthusiast, a cultural explorer, or simply seeking a memorable culinary adventure, a food tour in Little Havana is sure to leave you with lasting memories and a deeper appreciation for the rich culinary heritage of this iconic neighborhood.
Thanks for visiting today and checking out this post on Little Havana Miami food tour, hopefully some of these places will inspire you to visit when you come to the city. If you enjoyed the images and post, could you please share it with any of the social media buttons located around the post.
If you like what you see, come and check out my other social media channels for more updates, including Instagram, Pinterest and Twitter