Visiting Miami – Miami Beach Botanical Garden
The Miami Beach Botanical garden is a very easy and compact botanical garden to explore in the Miami Beach district. But don't let that small garden fool you with all the stunning displays and garden vignettes you'll find around the garden that let you discover each of the garden rooms slowly while visiting these intimate and colorful spaces. This is a fantastic place to photograph nature and explore the beautiful tropical landscapes and learn more about tropical plants that are prevalent around Miami Beach. There's even gorgeous sculpture, art and water features to explore in this fabulous garden that you can tour on your own or take a docent led tour which features some of the beautiful plants and tropical flowers in the garden.
Is it worth visiting the Miami Beach Botanical Gardens?
Yes, visiting the Miami Beach Botanical Gardens is definitely worth it for nature lovers, garden enthusiasts, and those seeking a peaceful oasis in the heart of Miami Beach. Nestled amidst the bustling city, this 2.6-acre botanical garden offers a serene retreat filled with lush greenery, vibrant flowers, and captivating landscapes.
The Miami Beach Botanical Gardens showcases a diverse collection of plants, including native and exotic species. Stroll through its well-maintained pathways, and you'll encounter an array of themed gardens, such as the Japanese Garden, the Edible Garden, and the Fragrance Garden. Each section offers a unique sensory experience and an opportunity to learn about different plant species.
Besides its enchanting flora, the garden hosts various educational programs, workshops, and events throughout the year. Visitors can participate in guided tours, gardening classes, art exhibits, and even yoga sessions held within the tranquil surroundings.
Moreover, the garden is conveniently located near the vibrant South Beach neighborhood and other popular attractions, making it an excellent addition to your Miami Beach itinerary. Whether you're looking for a serene escape, a place to connect with nature, or simply a picturesque spot for photography, the Miami Beach Botanical Gardens offers a delightful experience for visitors of all ages.
So, if you appreciate the beauty of nature and desire a tranquil respite from the lively atmosphere of Miami Beach, a visit to the Miami Beach Botanical Gardens is highly recommended. Immerse yourself in the natural splendor, breathe in the fragrant air, and let the serenity of the gardens rejuvenate your senses.
Where is the Miami Beach Botanical Garden located?
The gardens are located on the north side of Miami Beach area and right next to the Holocaust memorial. It is located at  200 Convention Center Drive in Miami Beach.
You can easily take a local bus that loops around Miami beach or catch an Uber or taxi direct to the garden entrance.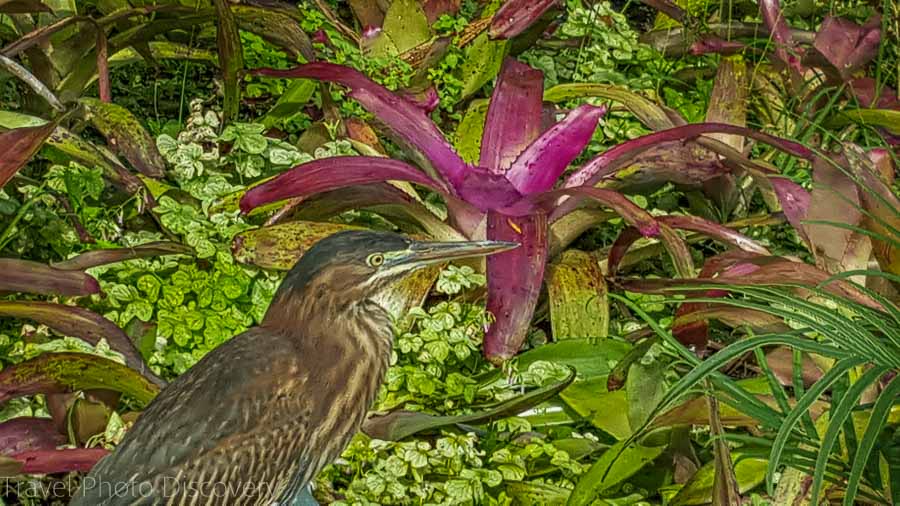 Weather and best time to visit Miami
Miami enjoys a tropical climate with warm weather year-round, making it a popular destination for sun-seekers and beach enthusiasts. Here's an overview of the weather and the best time to visit Miami:
Winter (December to February): Winter is the peak tourist season in Miami, attracting visitors from colder regions seeking warmth and sunshine. The average temperatures range from the mid-60s to mid-70s Fahrenheit (around 18-24 degrees Celsius), providing a pleasant escape from winter chills elsewhere. However, this is also the busiest time in terms of tourism, so expect larger crowds and higher accommodation prices. It's advisable to book in advance, especially during popular events like Art Basel and the Miami International Boat Show.
Spring (March to May): Spring brings mild and comfortable temperatures to Miami, with average highs ranging from the mid-70s to mid-80s Fahrenheit (around 24-29 degrees Celsius). This season offers a great balance of warm weather and fewer crowds compared to winter. It's an ideal time for outdoor activities, beach days, and exploring Miami's vibrant neighborhoods. However, keep in mind that spring break can attract college students, resulting in more crowded beaches and nightlife areas.
Summer (June to August): Summer in Miami is hot and humid, with average highs in the upper 80s to low 90s Fahrenheit (around 31-34 degrees Celsius). It's a popular time for beachgoers and water sports enthusiasts. However, summer is also the rainy season in Miami, with frequent afternoon showers and the possibility of tropical storms. Despite the rain, summer can still be enjoyable, and you may find better deals on accommodations. Just be prepared for the humidity and occasional showers.
Fall (September to November): Fall in Miami brings slightly cooler temperatures and less humidity compared to summer. Average highs range from the mid-80s to low 90s Fahrenheit (around 29-32 degrees Celsius). This season offers pleasant beach weather and fewer tourists. It's a great time to visit if you prefer quieter beaches, comfortable temperatures, and more affordable accommodation options. However, keep in mind that late summer and early fall can still experience occasional hurricanes or tropical storms.
No matter the time of year, Miami's vibrant atmosphere, beautiful beaches, and lively nightlife are always accessible. It's important to note that Miami experiences high humidity year-round, so be prepared and stay hydrated while enjoying outdoor activities.
In summary, the best time to visit Miami depends on personal preferences. Winter offers warm weather and a lively atmosphere but comes with larger crowds. Spring and fall offer milder temperatures, fewer crowds, and better deals on accommodations. Summer is hot and humid but attracts beach enthusiasts.
Plan your visit to Miami based on your desired activities, weather preferences, and tolerance for crowds. With its tropical climate and diverse attractions, Miami welcomes visitors throughout the year, offering a memorable experience of sun, sand, and vibrant city life.
Touring the Miami Beach Botanical garden
When you visit the gardens, you can sign up for a docent tour or also do a self tour with signage giving directions and descriptions of the areas you will be seeing around the garden. There are two entrances to the botanical gardens on Convention Center Drive with wonderful signage of what you can see when visiting the garden. Entrance to the botanical garden is free but they also do take donations to help maintain the garden.
At the main entrance is a grand grassy expanse lined with exotic palms and tropical trees in full bloom. Just to the right of the main entry is the large natural pond which lined with more palm trees and other exotic plants and bordering the main visitors and administrative center below.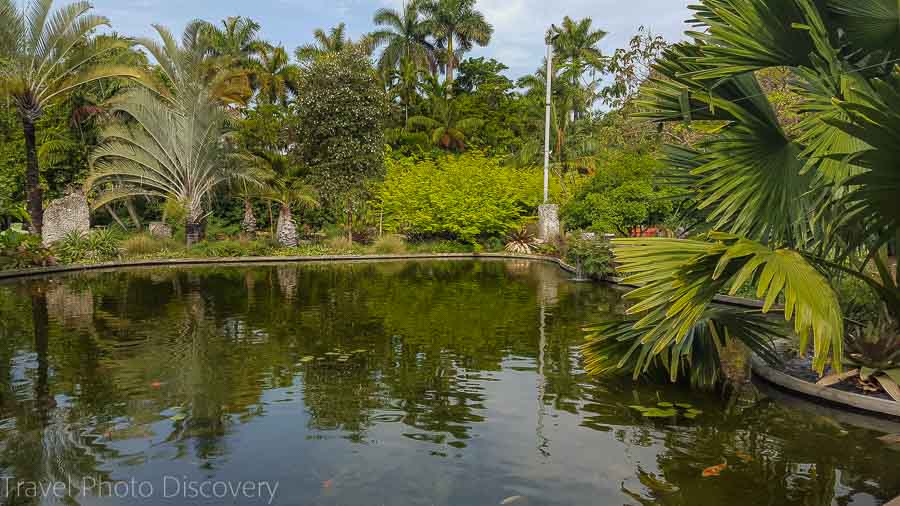 The natural pond with exotic palms, bromeliads and flowering trees
In the center of the botanical garden is a large pond area with fantastic views all around the garden. You'll be able to spot many of the wonderful tropical plants, trees and beautiful landscape to explore from this vantage point and enjoy the daily scene.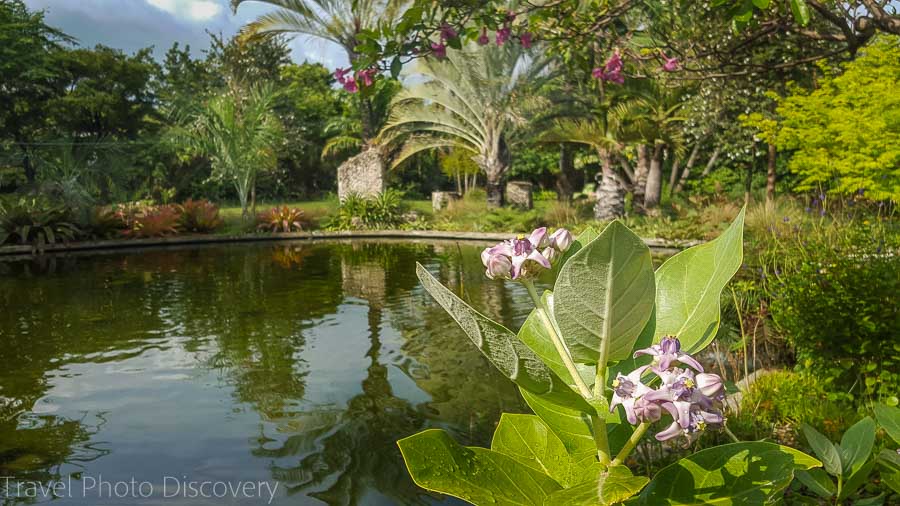 Plumerias add a sweet topical scent to the garden
The scent of the plumerias in the garden is very sweet, but you can also smell gorgeous whiffs from the tropical orchids, gardenias and other scented shrubs in the garden areas. Adding scent to the tropical garden and along the garden walks was envisioned by the gardeners to create a wonderful sensory experience while visiting the entire garden area.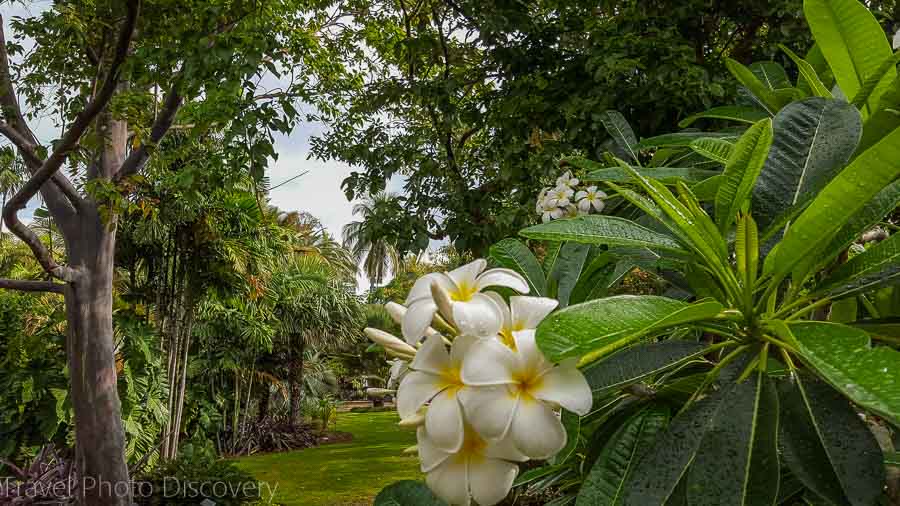 Tropical plants galore
The Miami Botanical garden hosts some of the most colorful and exotic tropical plants from the area and around the world for you to enjoy. Designed by master landscape architect Raymond Jungles, the small gardens are a real tropical oasis filled to the rim with so many unusual tropical plants to enjoy.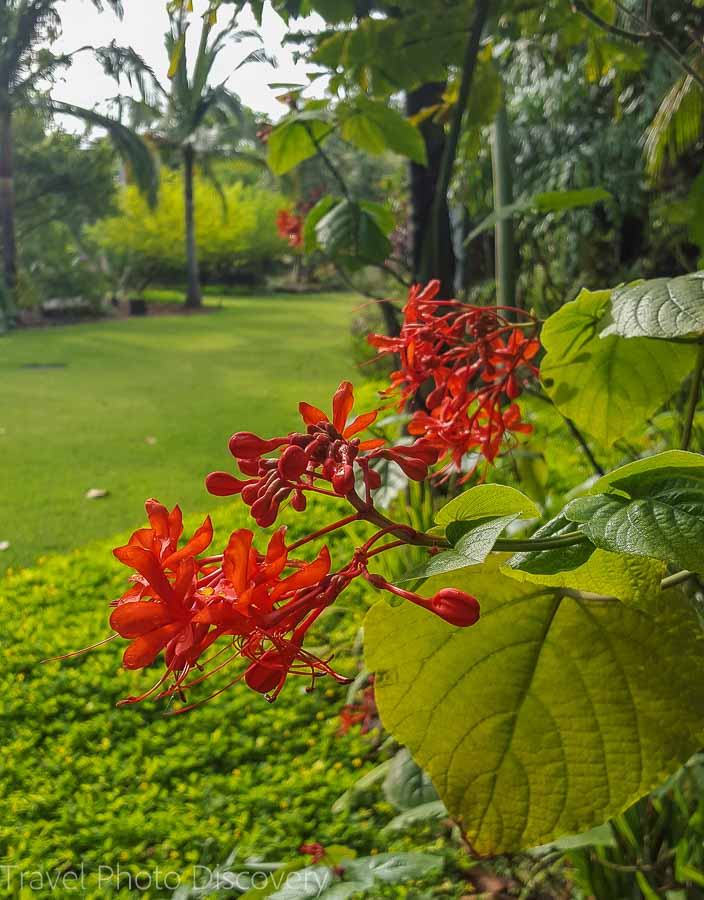 Red fiery accents with these tropical trees in bloom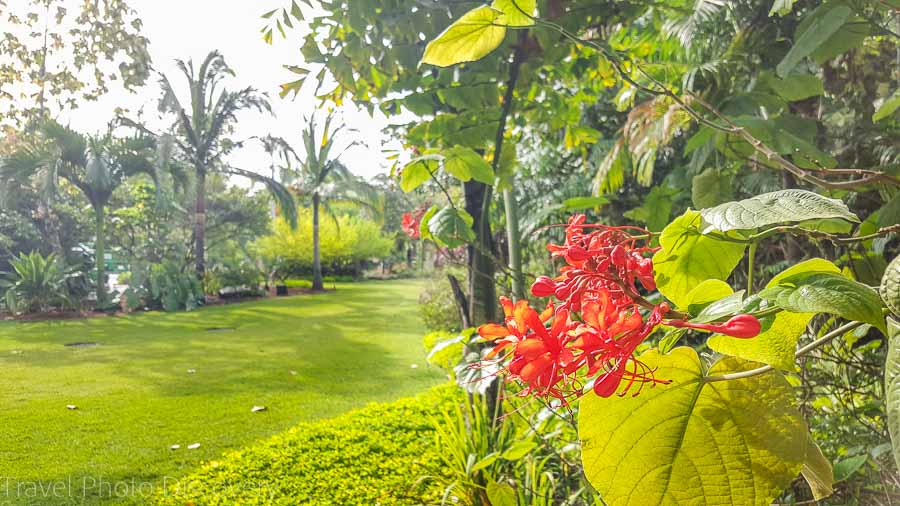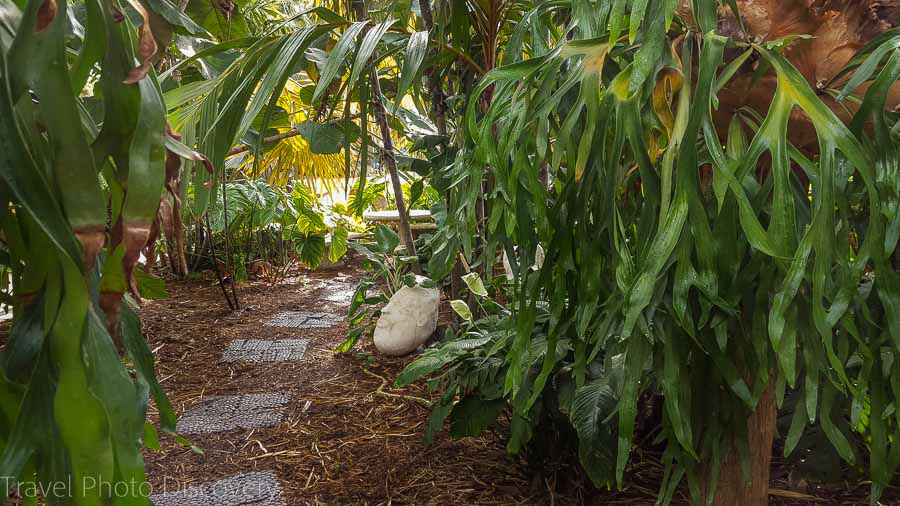 Art in the garden
Around the different gardens, you may happen upon some beautiful art, most made by local artisans and donating their works in the botanical garden. I spotted this gorgeous flamingo in the administrative center, painted with different genre of orchid blooms and tropical colors that made the sculpted piece stand out in this quiet space.
This garden is so art inspired for South Beach and Gay Miami as this area is well known for even though this district is an international destination spot to visit and the botanical garden one of those hidden treasures to visit in the city.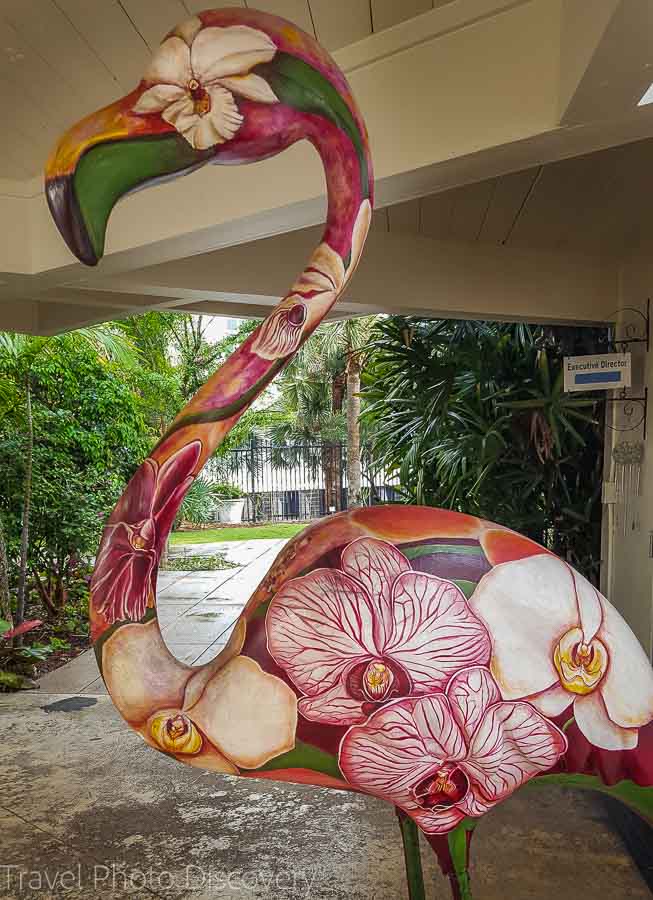 Fountain made with local coral stone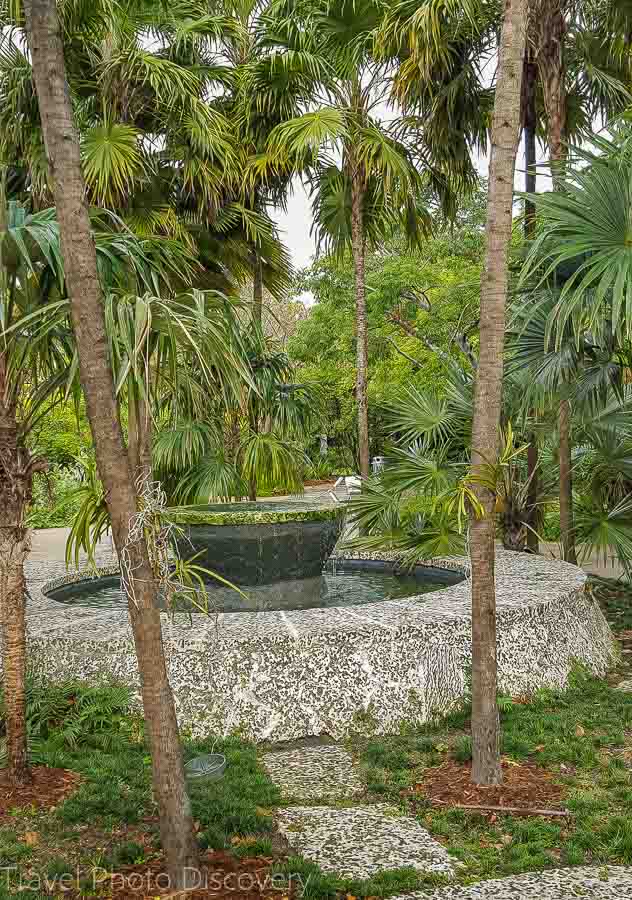 I always gravitate to water features when I visit any garden,  the ponds and fountains at the Miami botanical garden are set in just the perfect areas around the garden and are filled with so much wildlife. While walking along the smaller pond area, I spotted a variety of carp and other colorful fish, turtles and more tropical birds than you can imagine. No doubt, they are also happy in their perfect little water environments.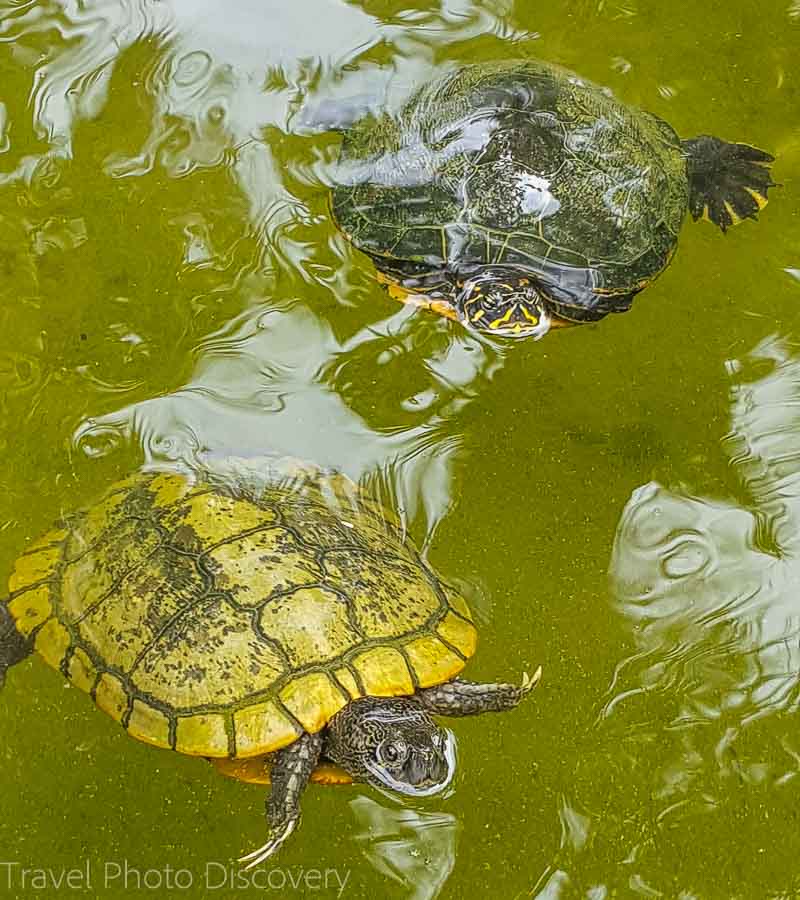 More art in the garden with these hanging styro globes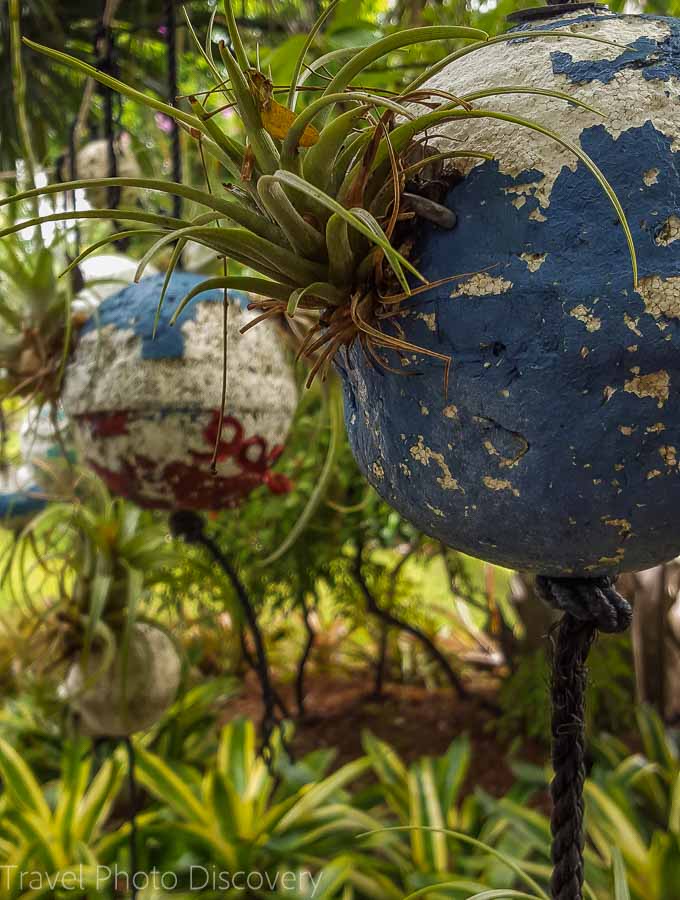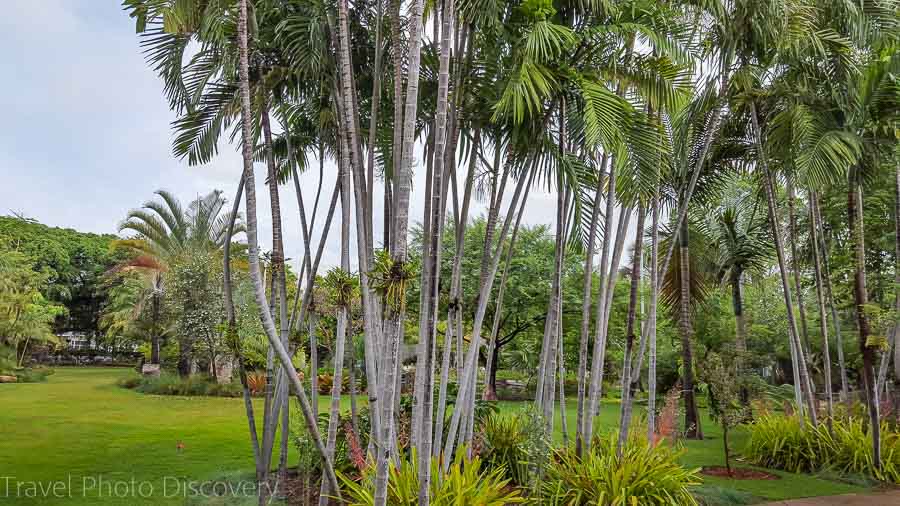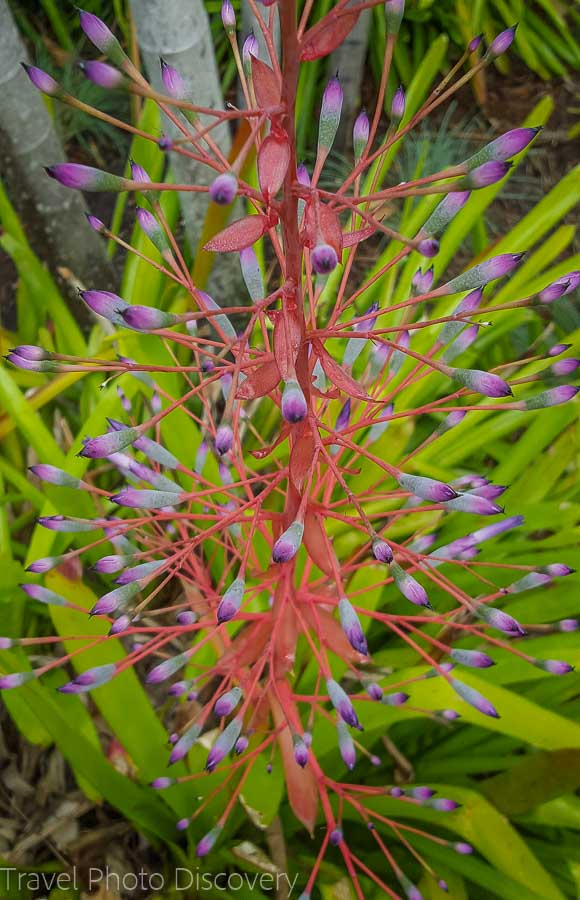 Colorful bromeliad blooms in the Miami garden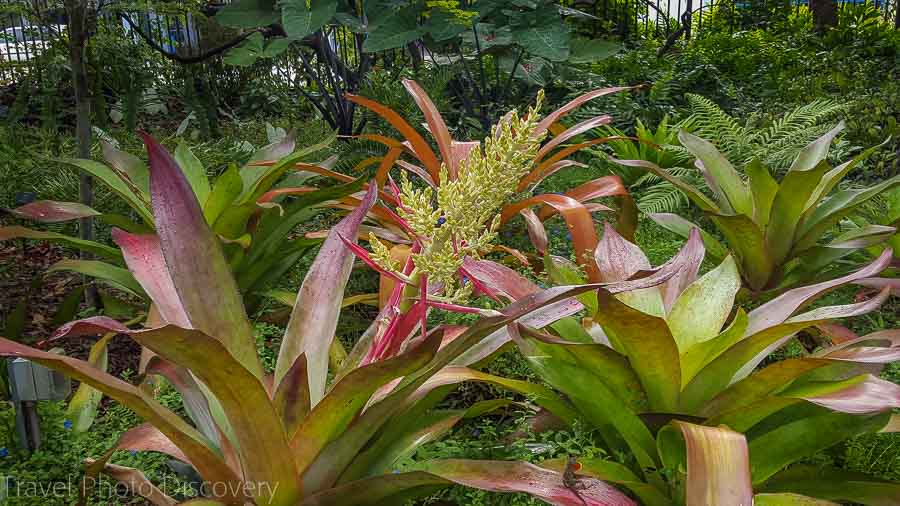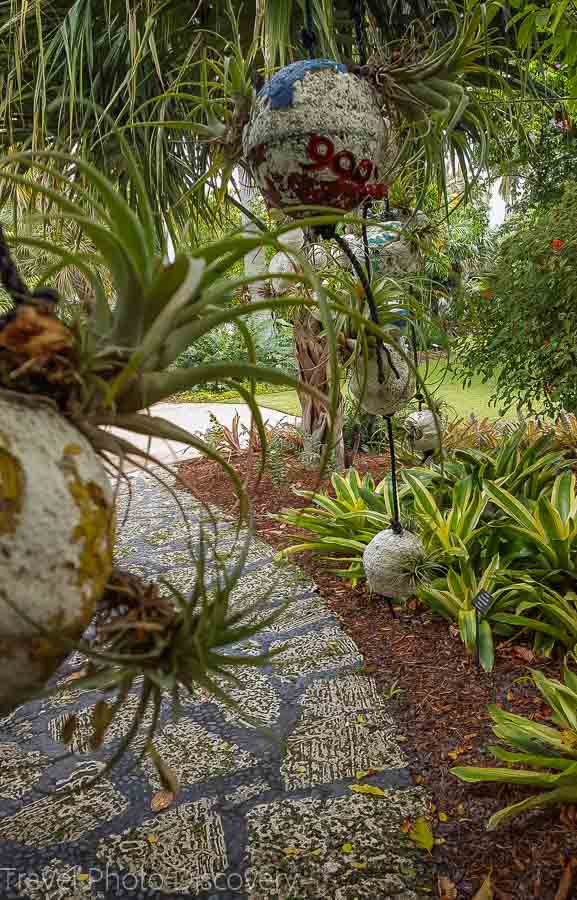 More details on your visit to the Miami Beach Botanical Garden
Entrance to the gardens are free – check out more details and information here about the gardens and calendar of events.
Open 9-5, Tuesday through Sunday
There is a suggested $5 donation per head for scheduled tours
There are also so many fantastic events to check out and visit at the same time in the gardens.
2000 Convention Center Drive
Miami Beach, Florida 33139
305.673.7256
How to get around Miami
Getting around Miami is relatively easy with various transportation options available. Here's a guide on how to navigate the city:
Metrorail: Miami's Metrorail is a rapid transit system that serves the downtown area, Miami International Airport, and select neighborhoods. It's a convenient mode of transportation for traveling longer distances. The Metrorail operates from around 5:00 AM to midnight on weekdays and has limited service on weekends.
Metromover: The Metromover is a free automated people mover system that operates within the downtown Miami area. It's a great way to explore downtown attractions, such as Bayfront Park, Bayside Marketplace, and the Brickell neighborhood. The Metromover runs from approximately 5:00 AM to midnight every day.
Metrobus: Miami-Dade Transit operates an extensive network of Metrobus routes that cover the entire city and surrounding areas. Buses are an affordable option for getting around Miami, but keep in mind that they can be affected by traffic congestion, especially during peak hours. Check the schedules and plan your routes in advance using the Transit Tracker app or the Miami-Dade Transit website.
Trolley: Miami's free trolley service operates in select neighborhoods, including downtown, Brickell, Wynwood, and Coconut Grove. Trolleys are a convenient way to explore these areas and hop on and off at various attractions. Each neighborhood has its own trolley route and schedule, so be sure to check the specific route information.
Ridesharing: Ride-hailing services like Uber and Lyft are popular and widely available in Miami. You can easily book a ride using their respective mobile apps.
Car Rental: Renting a car can provide flexibility, especially if you plan to explore areas beyond the city center. However, be aware of traffic congestion and limited parking options, particularly in downtown Miami and popular tourist areas.
Cycling: Miami has been expanding its cycling infrastructure, making it more bike-friendly. You can rent bikes from various rental shops or use bike-sharing services like Citi Bike, which has stations throughout the city.
Walking: Miami's walkable neighborhoods, such as South Beach and Wynwood, are best explored on foot. Enjoy the beautiful weather and vibrant atmosphere as you stroll through the streets.
It's important to note that Miami's public transportation system operates on a fare system, so make sure to have the appropriate payment method, such as an EASY Card or EASY Ticket, to pay for fares.
Consider using navigation apps or online maps to plan your routes and check for real-time transportation information. Miami's traffic can be congested at times, so plan your travel accordingly, especially if you have time-sensitive commitments.
With a combination of public transportation, ridesharing, and walking, you can easily navigate Miami and explore its diverse neighborhoods, iconic beaches, cultural attractions, and vibrant nightlife.
 
Check out these other Miami post below for more inspiration
Touring the Wynwood district of Miami
Visiting Vizcaya Museum and gardens
The Holocaust Memorial in Miami
Conclusion to Visiting the Miami Beach Botanical Garden
Visiting the Miami Beach Botanical Garden is a delightful experience that offers a tranquil escape amidst the bustling city. The garden's lush greenery, vibrant flowers, and serene atmosphere create a perfect setting for relaxation, exploration, and connection with nature. Whether you're a nature lover, a photography enthusiast, or simply seeking a peaceful retreat, the Miami Beach Botanical Garden has something to offer. Take a leisurely stroll through its themed gardens, participate in educational programs, or simply find a quiet spot to unwind. With its convenient location and diverse plant collections, the Miami Beach Botanical Garden is a must-visit destination that showcases the beauty of nature in the heart of Miami Beach.
Thanks for visiting today and checking out this post on Visiting Miami – Miami Beach Botanical Garden, hopefully you will be able to see and experience this lovely garden when you are in the Miami Beach area. If you enjoyed the images and post, could you please share it with any of the social media buttons located around the post.
If you like what you see, come and check out my other social media channels for more updates, including Instagram, Pinterest and Twitter