Zion National Park black and white landscapes
Can you imagined what Zion National Park must have looked like for the early Mormons who entered the valley for the first time and considered this sacred place as their Zion, or place of peace and refuge. I would have to agree with the reference to this area's spiritual place  – the entire park emits this powerful energy  and grandeur throughout the  canyon and surrounding rocky plateaus and outcrops. I can see why the early Mormon settlers considered this their Zion, a land they considered paradise and a synonym for the holy city of Jerusalem.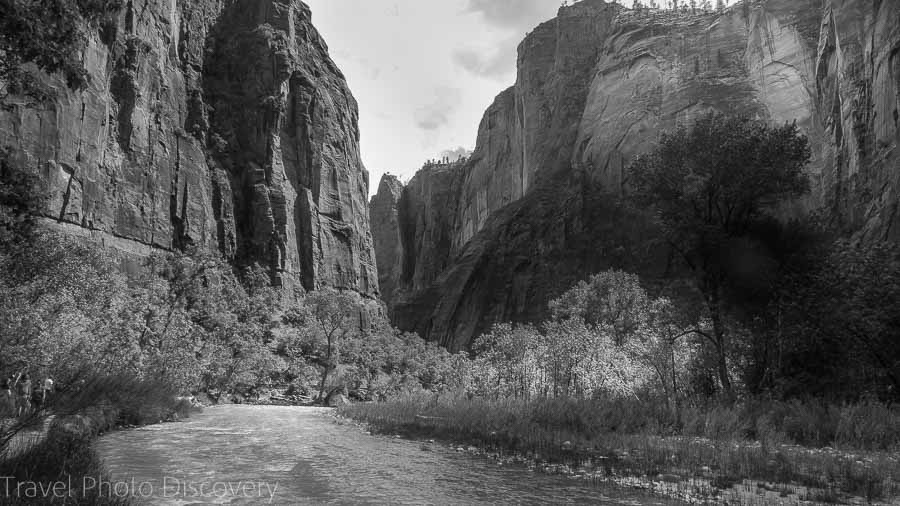 Even though the canyon and surrounding areas of the park are spectacular to visit and witness in full color, there's something just as special in viewing and presenting Zion classically in black and white images.  Even the well known photographer Ansel Adams spend some time exploring the famous monuments of Zion. In fact he was commissioned by the National Park service to create a photo mural of one of the landmarks for their Interior building in Washington.  In addition, he also photographed several iconic monuments including: Carlsbad Caverns, Glacier, Yellowstone, The Grand Canyon and Grand Teton, Rocky Mountain and a series of national park treasures.
I'm not sure why Adam's work on Zion was so limited, maybe it was because the source of commissions for some of the rest of the US other park systems were so limited and Zion not as well known as Yosemite during that timeframe. Or maybe it was his obsession with Yosemite, a close proximity to travel to and understanding all the photo conditions that drew him to visit Yosemite regularly – but I think he would also have found some inspiration here if he had more time, don't you?
Why do Zion in Black and Whte?
Yes the landcape is spectacular in color, but how often do you actually get to see Zion portrayed in black and white or even try capturing some black and white photographs of the landscape on your own for a challenge? The landscape, lighting, clouds and time frame makes capturing images and photography here at Zion a fun challenge. You'll love trying to find all the right opportunities with a black and white mindset when you visit and see if you can actually challenge yourself to do some of these captures when you visit this national park.
Here are some of my favorite landscapes at Zion
If you take any of the trails around the park, you will always find amazing landscapes and panoramic views along the way. The light constantly changes and creates different highlights walking through certain trails and clouds swirling above create even more drama and spectacular light like some of the images below along the Virgin River, the Kayenta trail below and other popular trails in the park. It is a family friendy and one of the fun thing to do In Zion with your kids that are looking for a challenge to some gorgeous landscape.
One of the most spectacular hikes is through the Narrows and these tips to know before hiking the Narrows will help you to make this challenging hike easier.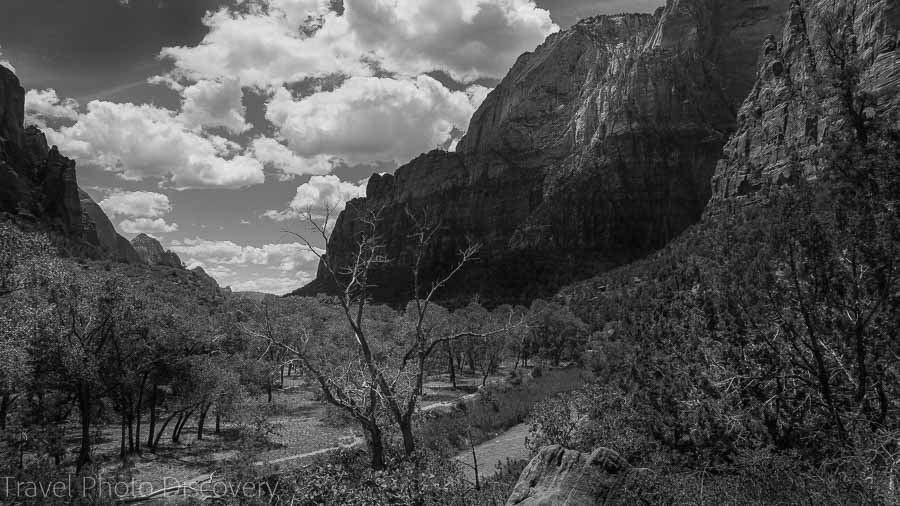 Hiking up the Kayenta trail to the Emerald Pools
The hike from the base of the canyon and walking up the Kayenta trail to the Emerald Pools is striking and varied in topography and gorgeous views. Skirting around the edge of the trail and looking towards the other sides of the canyon is breathtaking with the river views and landscape below. Once you get to the Emerald Pools the trail levels off to this spectacular attraction that makes you just want to relax and absorb nature and this view from so many different angles. It is a perfect area for capturing some wonderful imagery that you will love for your souvenirs and maybe even frame a few of the best shots from your adventure.
Truly one of the best hikes to do in Zion National Park with so much varied terrain, gorgeous vistas and even waterfalls to capture in pictures, this trail has it all to experience.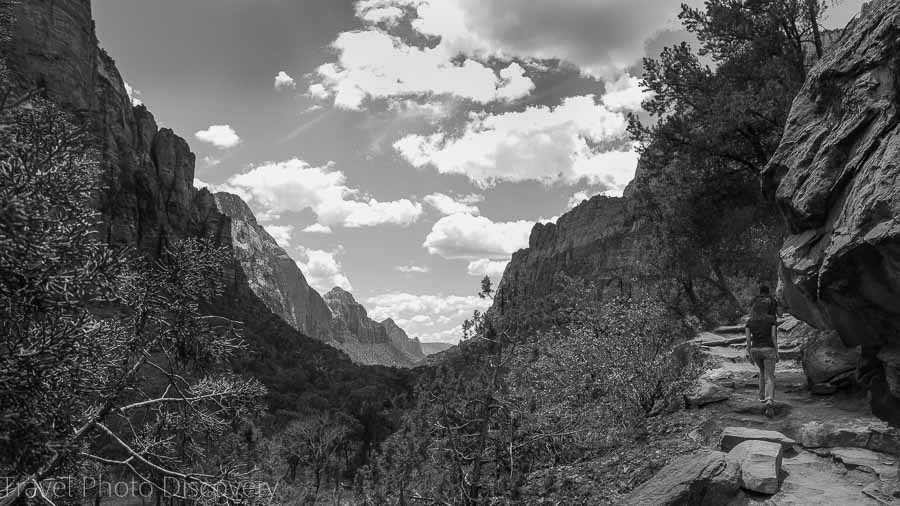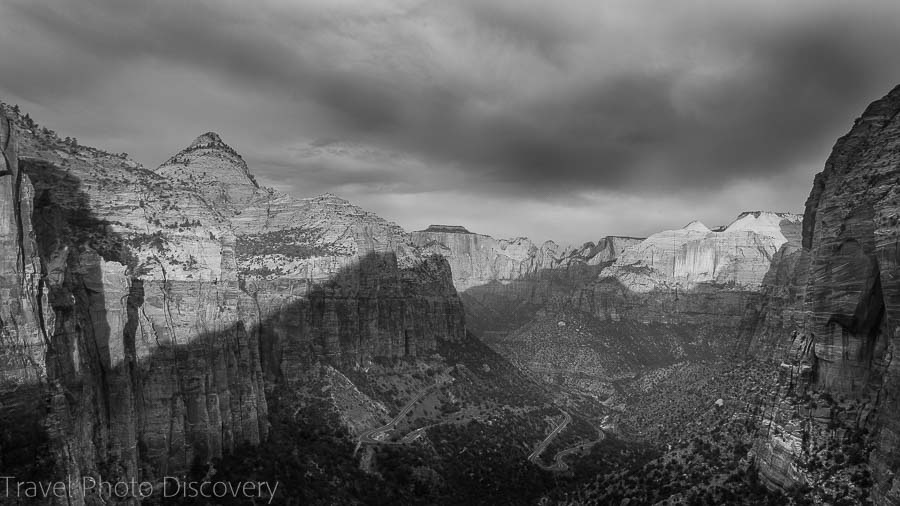 Sunrise over the Canyon Overlook Trail in black and white
I woke up early to drive up the canyon road and tunnel to hike on the overlook trail and capture sunrise coming over the canyon. Unfortunately, you cannot always time the weather at the park especially on cloudy or rainy days. Still , I decided to go for it and hike up to the canyon overlook, only having less than a few minutes to take a photograph when the clouds briefly cleared to highlight some of the canyon walls. Sometimes it truly is luck or having the time to come back regularly to get just the right conditions to capture a spectacular photograph.
Dark clouds and storms at Zion?
I love photographing areas that are changing and have interesting cloud formations. If things don't look interesting in the landscape, just wait a few minutes before you spot some dynamic light and the clouds opening up. Waiting for those delicious moments when the lighting changes and the cloud formations create some dazzling effects are what a dream photo experience rewards patient photographers visiting here in Zion.
For anyone interested in learning more about landscape photography, check out some of my tips below
15 photography trips on your road trip
Black and white photo tips for beginners
10 Photography tips for grey sky or rainy days
Flower and nature photography – tips on making your images pop
Photography tips for travel Photography
If you enjoyed this post on Zion National park, please check out my other articles on Utah's national parks and monuments below
Visiting Zion National Park and popular hikes
Visiting Bryce Canyon National Park
Conclusion to Zion National Park in Black and White
Thanks for visiting today and checking out this post on Zion National Park black and white landscapes, hopefully you will be able to see and experience this amazing national park and explore the amazing landmarks and scenic points around the park. If you enjoyed the images and post, could you please share it with any of the social media buttons located around the post.
If you like what you see, come and check out my other social media channels for more updates, including Instagram, Pinterest and Twitter