Bandelier National Monument: a spectacular natural landscape and Indian historical site
A visit to Bandelier National Monument is a breathtaking experience along with insight to the natural wonders and Indian cultural heritage of the area. This national monument is both a scenic and gorgeous landscape to explore, hike and experience the ancient culture and living conditions of the native Pueblo Indian tribes living in this harsh environment. You can enjoy a quick visit to Bandelier National Monument and grounds along the way to other nearby attractions or really dive in deep, do some outstanding hikes and enjoy the natural beauty of the area.
I enjoyed this day trip exploring this national park and nearby attractions around the Jemez mountains, Los Alamos and Jemez hot springs and you'll definitely want to visit this national monument to enjoy some spectacular landscape and immersion to native Indian culture from the region.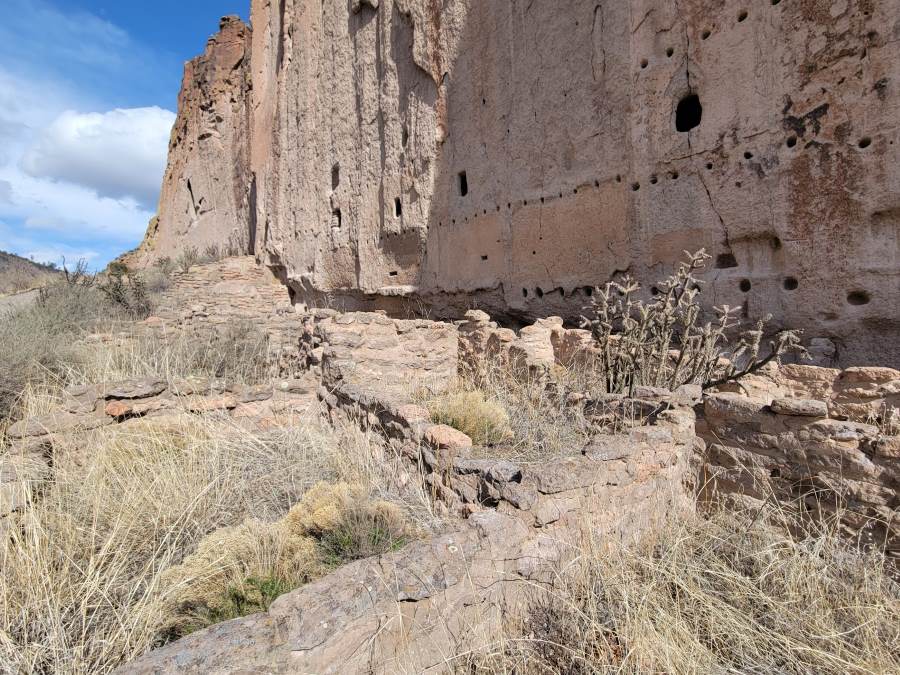 A brief history of Bandelier National Monument
Bandelier National Monument is a historical and archaeological treasure located in northern New Mexico, United States. Its history spans back thousands of years, offering insights into the ancestral Puebloan people who once inhabited the area.
Prehistory: The region that is now Bandelier has been inhabited by various Indigenous groups for over 10,000 years. The Ancestral Puebloans, also known as the Anasazi, settled in the area around 1150 CE. They built intricate dwellings, kivas (ceremonial structures), and carved petroglyphs into the soft volcanic tuff cliffs.
12th to 16th centuries: During this period, the Ancestral Puebloans flourished in the area, constructing multi-story cliff dwellings and expansive communities. They practiced agriculture, cultivating maize, beans, and squash, and developed an intricate societal structure. Kivas were used for religious and ceremonial purposes, showcasing their spiritual practices.
Late 1500s: Around the late 16th century, the Ancestral Puebloans began to leave the region for reasons that are still debated by historians and archaeologists. Factors such as drought, changing climate patterns, and social pressures might have contributed to their migration.
Modern history: In the late 19th and early 20th centuries, Bandelier gained attention as archaeologists explored and documented the ancient ruins. In 1916, President Woodrow Wilson designated Bandelier as a National Monument to protect its cultural and historical significance. Preservation efforts included safeguarding the ruins, artifacts, and natural landscape.
Today: Bandelier National Monument continues to provide valuable insights into the lives and cultures of the ancient Puebloan people. Visitors can explore the cliff dwellings, hike through the rugged canyons, and marvel at the petroglyphs. The park also offers educational programs to help visitors understand the significance of the site and its inhabitants.
Throughout its history, Bandelier National Monument has served as a living testament to the ingenuity and resilience of the Ancestral Puebloans, offering a window into their way of life and the challenges they faced. It remains a cherished destination for those interested in the rich cultural heritage of the American Southwest.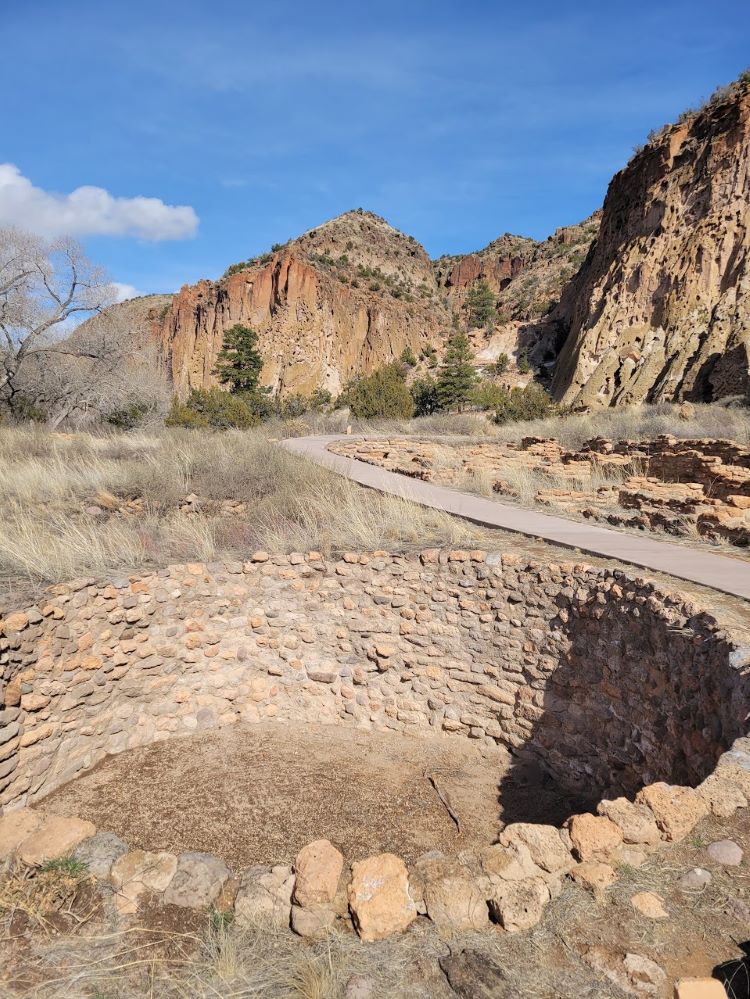 Location of Bandelier National Monument
Bandelier National Monument is situated in the state of New Mexico, in the southwestern region of the United States. Specifically, it is located in the northern part of the state, near the town of Los Alamos. The monument encompasses a rugged landscape of canyons, mesas, and cliffs within the Jemez Mountains. Its geographic coordinates are approximately 35.7785° N latitude and 106.2716° W longitude. The park's location within this picturesque terrain provides a unique setting for the preservation and exploration of the archaeological remains and cultural history of the Ancestral Puebloans.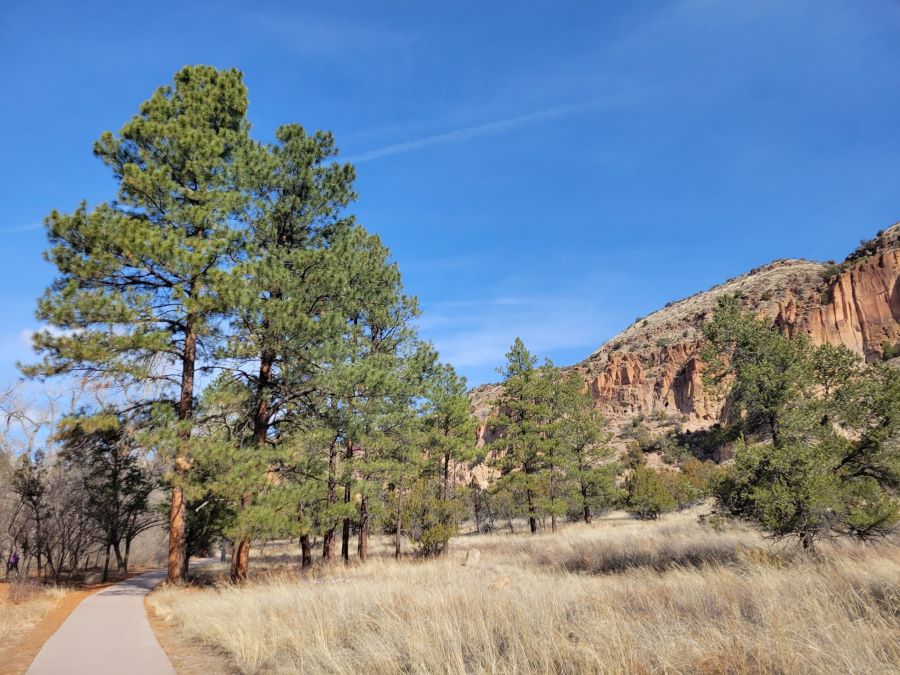 The main attractions to visit at Bandelier National Park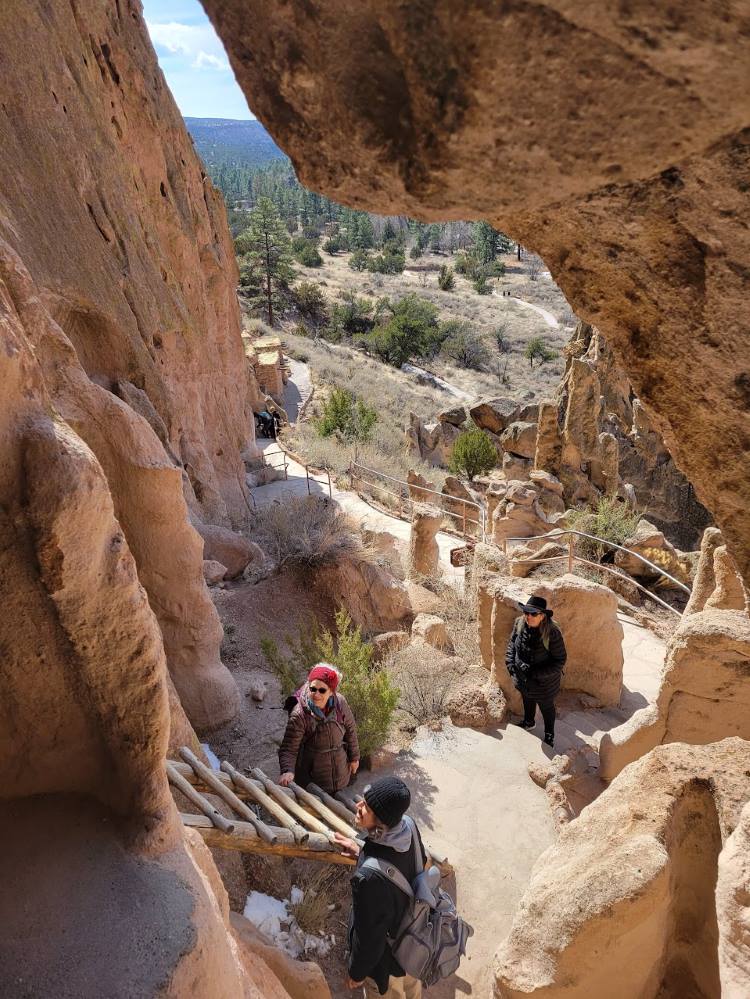 Bandelier National Monument offers a variety of captivating attractions for visitors to explore, providing a glimpse into the rich history of the Ancestral Puebloan people and the breathtaking landscapes they inhabited. Some of the main attractions at the park include: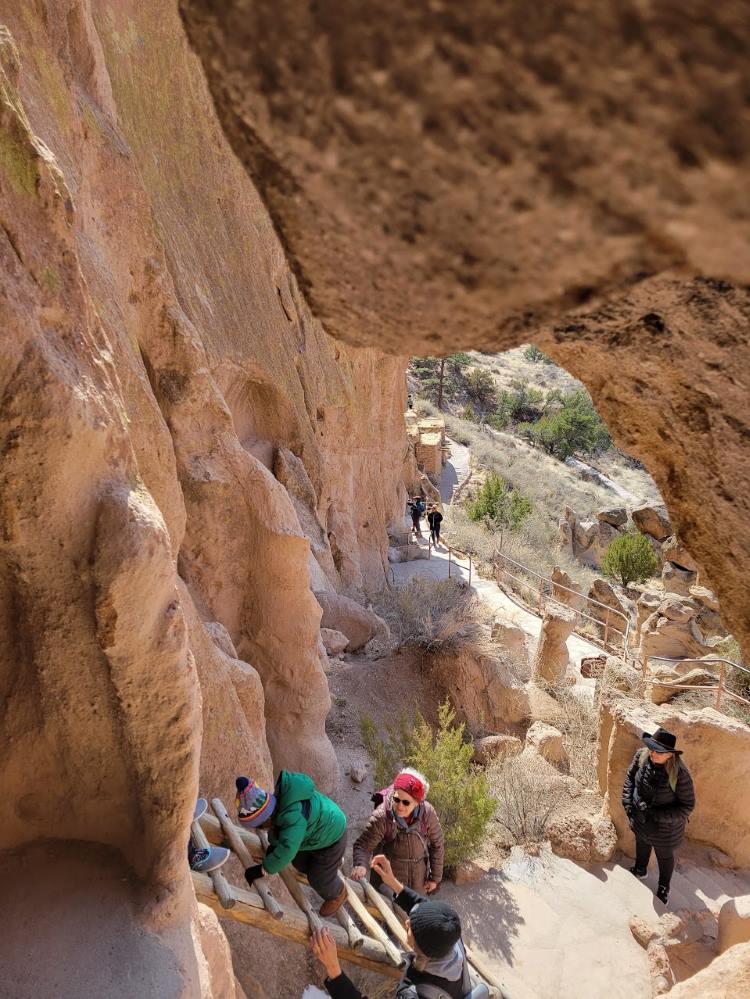 Cliff Dwellings: The park is famous for its well-preserved cliff dwellings, which were once the homes of the Ancestral Puebloans. Visitors can venture into alcoves and multi-story structures built into the cliffs, such as the Alcove House and Long House. These sites showcase the impressive architectural skills of the ancient inhabitants.
Main Loop Trail: The Main Loop Trail takes visitors on a journey through the heart of the monument. Along the way, you'll pass by ancient ruins, kivas, and petroglyphs, providing a comprehensive view of the cultural heritage of the area. The trail also leads to a viewpoint overlooking Frijoles Canyon.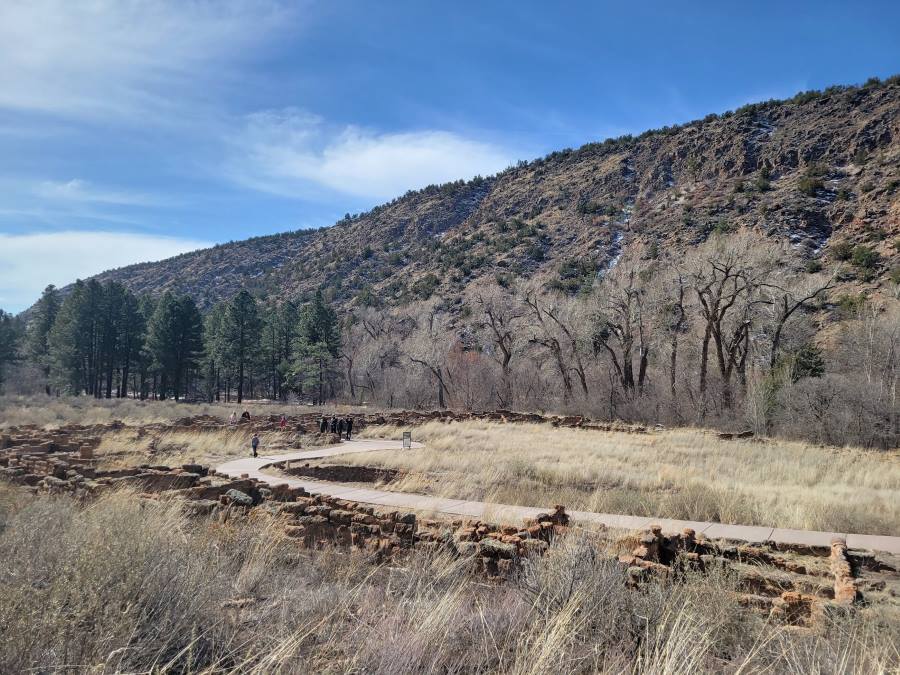 Tsankawi Village: Located on the Tsankawi section of the monument, this trail allows visitors to explore the remnants of a smaller Puebloan community. It features petroglyphs, cavates (hollowed-out areas in soft rock), and a rugged landscape that offers a sense of solitude and connection to the past.
Petroglyphs: Throughout the park, you'll find numerous petroglyphs etched into the rocks. These ancient symbols and designs provide insights into the spiritual and cultural practices of the Ancestral Puebloans. A short hike from the Visitor Center leads to a petroglyph viewing area.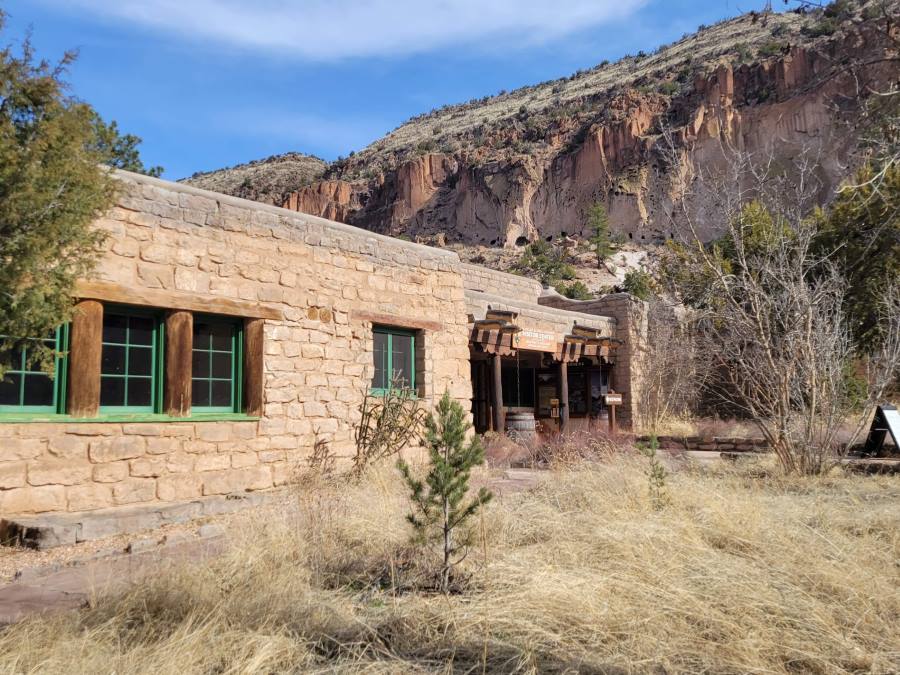 Visitor Center: The Visitor Center serves as an informative starting point for your visit. It offers exhibits, displays, and educational materials that delve into the history, archaeology, and natural features of Bandelier. Park rangers are available to provide guidance and answer questions.
Backcountry Hiking: For more adventurous visitors, Bandelier offers opportunities for backcountry hiking. Exploring less-visited areas of the park can provide a deeper appreciation of its natural beauty and archaeological sites.
Cultural Demonstrations: During certain times of the year, the park hosts cultural demonstrations that showcase traditional Puebloan activities such as pottery-making and weaving. These demonstrations provide insights into the daily lives and craftsmanship of the Ancestral Puebloans.
Scenic Beauty: Beyond the archaeological attractions, the park's landscapes are breathtaking. The rugged canyons, towering cliffs, and expansive views of the Jemez Mountains create a picturesque backdrop for your exploration.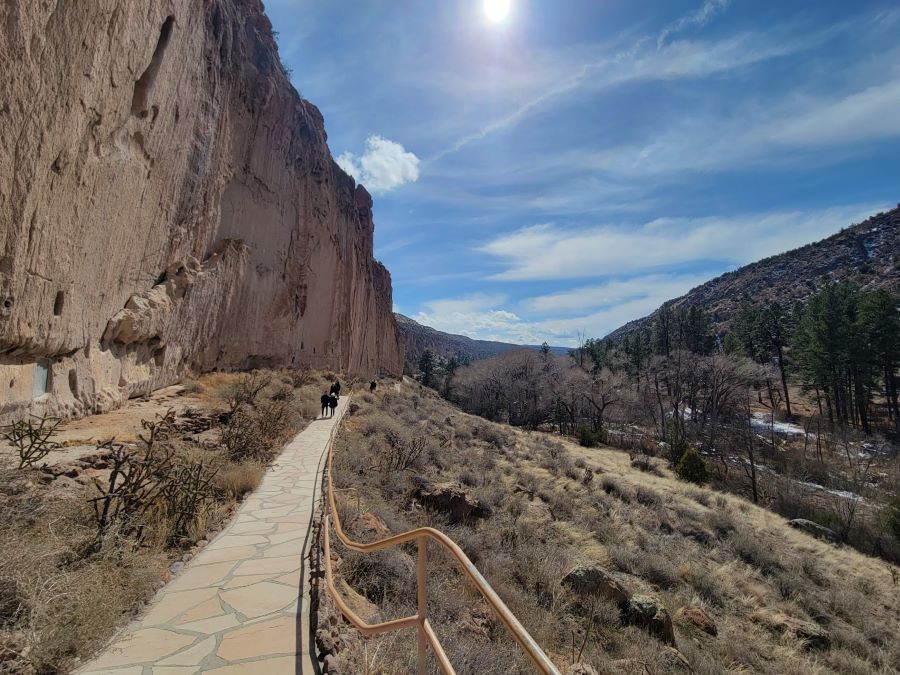 Best hikes to do around Bandelier National Monumnet
Bandelier National Monument offers a variety of hiking trails that allow visitors to explore the stunning landscapes, archaeological sites, and natural beauty of the area. Here are some of the best hikes to consider: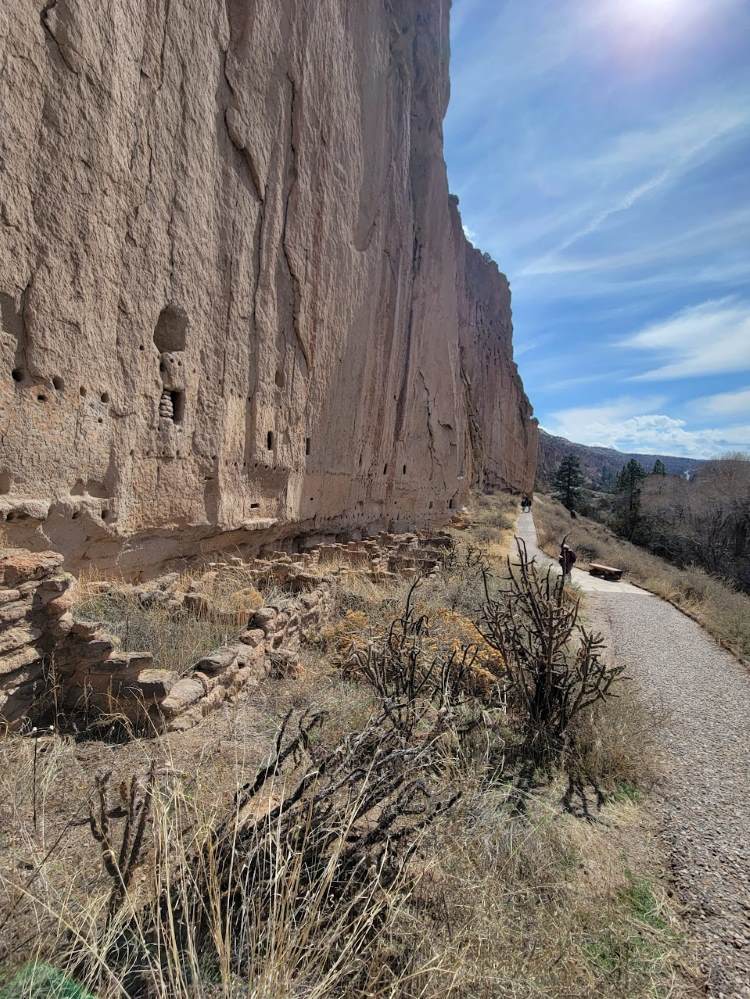 Main Loop Trail: This is one of the most popular hikes in the park and provides a comprehensive introduction to the archaeological and natural features of Bandelier. The trail leads you through the heart of Frijoles Canyon, passing by ancient ruins, kivas, and petroglyphs. It's an easy-to-moderate loop trail that offers a well-rounded experience of the park's attractions.
Alcove House Trail: For a more adventurous experience, the Alcove House Trail leads to one of the park's most iconic sites. The trail includes a series of stone steps and ladders that take you up to the Alcove House, a dwelling tucked into the cliffs. Once there, you can explore the rooms, kiva, and enjoy panoramic views of Frijoles Canyon.
Tsankawi Trail: Located in the Tsankawi section of the monument, this trail offers a unique experience with fewer crowds. It features rugged terrain, narrow paths, and ladders that lead to ancient cavates and petroglyphs. The trail provides a sense of solitude and a deeper connection to the archaeological sites.
Falls Trail: This trail leads to the Upper Falls and Lower Falls of the Rio de los Frijoles. It's a relatively short hike that offers the reward of cascading waterfalls, especially during the spring snowmelt or after a rain. The trail is a great option if you're looking for a refreshing natural feature.
Yapashi Pueblo Trail: This trail leads to the Yapashi Pueblo, a smaller archaeological site. The hike offers a chance to explore the remnants of a Puebloan community and provides a more secluded experience compared to the more popular trails.
Frey Trail: For a more challenging hike, consider the Frey Trail. It's a steep trail that ascends from the canyon floor to the mesa top. Once at the top, you'll be rewarded with panoramic views of the surrounding landscapes. This hike is a great way to experience the elevation changes and diverse ecosystems of the park.
Cerro Grande Trail: This trail is located outside the monument boundaries but offers a different perspective of the area. It leads to Cerro Grande Peak, providing expansive views of Bandelier and the surrounding mountains. The trail is longer and more strenuous, suitable for experienced hikers.
Remember to check with the park rangers for trail conditions and any necessary permits before embarking on your hike. Additionally, make sure to bring plenty of water, appropriate footwear, and sun protection, as the New Mexico sun can be intense. Each of these hikes offers a unique experience, allowing you to connect with the history and beauty of Bandelier National Monument.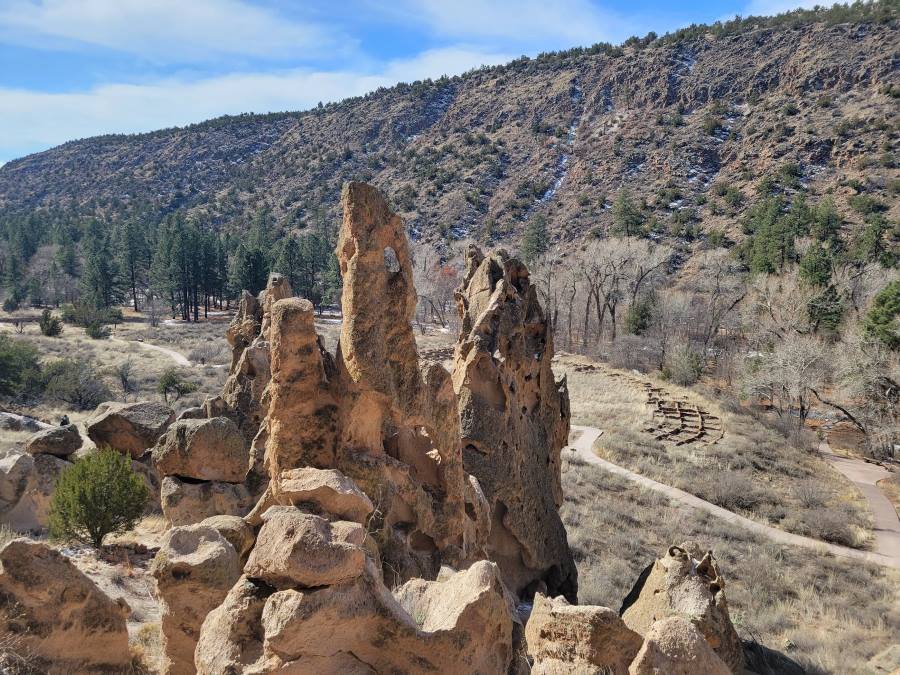 Directions to Bandelier National Park
Getting to Bandelier National Monument is relatively straightforward, and here are the directions to help you reach the park:
From Santa Fe, New Mexico:
Start by heading north on US-84 W/US-285 N from Santa Fe.
Continue on US-84 W/US-285 N for approximately 13 miles.
Take exit 177 for NM-502 W toward Los Alamos/White Rock.
Merge onto NM-502 W and continue for about 22 miles.
As you approach Los Alamos, follow signs for Bandelier National Monument and turn left onto NM-4 W.
Continue on NM-4 W for around 12 miles, and you'll reach the entrance to Bandelier National Monument.
From Albuquerque, New Mexico:
Begin by taking I-25 N from Albuquerque.
After driving for about 37 miles, take exit 276B to merge onto NM-599 N toward Los Alamos.
Continue on NM-599 N for approximately 11 miles.
Take the exit onto US-285 N/US-84 W toward Los Alamos.
Drive for around 13 miles and then take exit 177 for NM-502 W toward Los Alamos/White Rock.
Merge onto NM-502 W and continue for about 22 miles.
Follow signs for Bandelier National Monument as you approach Los Alamos, turning left onto NM-4 W.
Continue on NM-4 W for around 12 miles, and you'll arrive at the entrance to the park.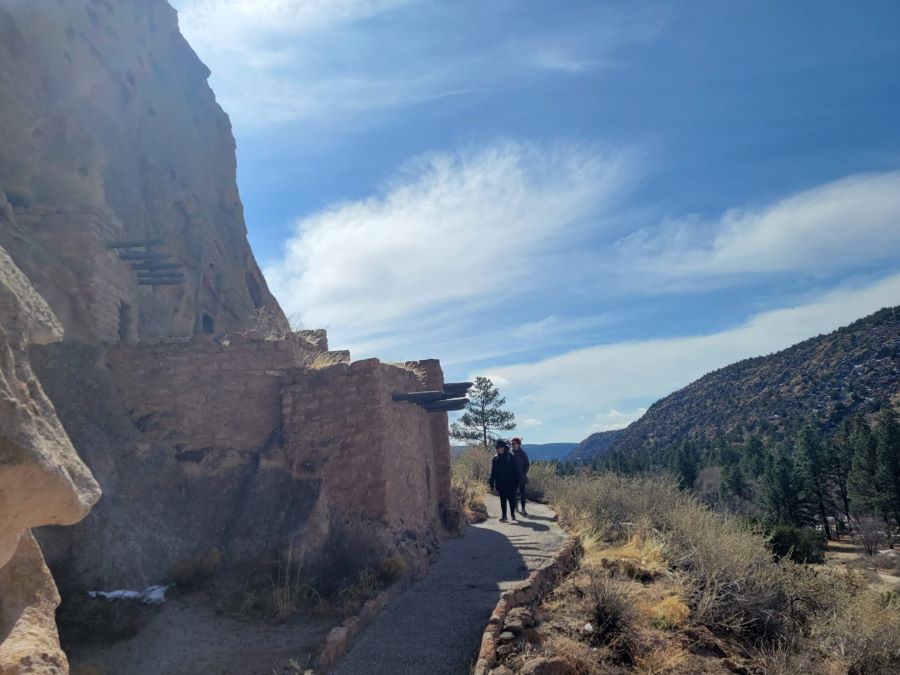 Weather and best time to visit Bandelier National Monument
The weather and the best time to visit Bandelier National Monument are important factors to consider for a comfortable and enjoyable experience.
Weather: Bandelier National Monument experiences a high desert climate, characterized by mild to hot summers and cold winters. Here's a general overview of the weather throughout the year:
Spring (March to May): Spring is a popular time to visit as temperatures start to warm up. Expect daytime temperatures ranging from 50°F to 70°F (10°C to 21°C). Spring also brings occasional rain showers.
Summer (June to August): Summers are warm to hot, with daytime temperatures ranging from 80°F to 90°F (27°C to 32°C). Thunderstorms can occur in the afternoons, so be prepared for sudden weather changes.
Fall (September to November): Fall is another pleasant time to visit with cooler temperatures. Daytime highs range from 60°F to 70°F (15°C to 21°C). The fall foliage can add an extra layer of beauty to your visit.
Winter (December to February): Winters can be cold, especially at higher elevations. Daytime temperatures range from 30°F to 40°F (−1°C to 4°C), and nighttime temperatures can drop below freezing. Snowfall is possible, particularly in the surrounding mountains.
Best Time to Visit: The best time to visit Bandelier National Monument is during the shoulder seasons of spring and fall. During these months, the weather is pleasant for hiking and exploring the park's attractions. Spring offers the advantage of blooming wildflowers and relatively mild temperatures, while fall provides colorful foliage and fewer crowds.
Summer can also be a good time to visit, but be prepared for higher temperatures and the possibility of afternoon thunderstorms. If you plan to visit in the summer, it's advisable to do outdoor activities early in the day and stay hydrated.
Winter visits can be rewarding for those interested in a quieter experience and a chance to see the park covered in snow. However, some trails and facilities may be closed due to weather conditions.
Regardless of the season, it's a good idea to check the weather forecast and any park advisories before your visit. Additionally, keep in mind that the park's high elevation can result in temperature fluctuations, so dressing in layers is recommended. Overall, Bandelier National Monument's unique beauty and historical sites make it a year-round destination worth exploring.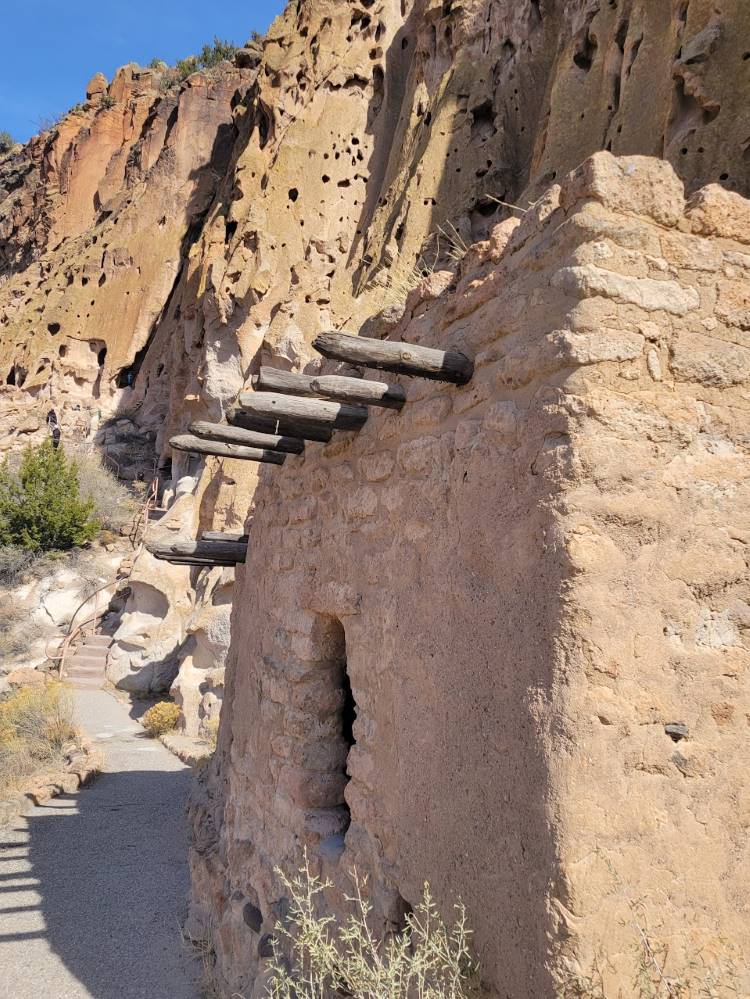 Details to visiting Bandelier National Monument

Certainly, here is the address and website information for Bandelier National Monument:
Address: Bandelier National Monument 15 Entrance Road Los Alamos, NM 87544 United States
You can find more information about visiting Bandelier National Monument on their official website: https://www.nps.gov/band/index.htm
Check out these other places to visit around New Mexico
Road trip to Santuario de Chimayo
Visit to Los Alamos New Mexico
Best things to do in New Mexico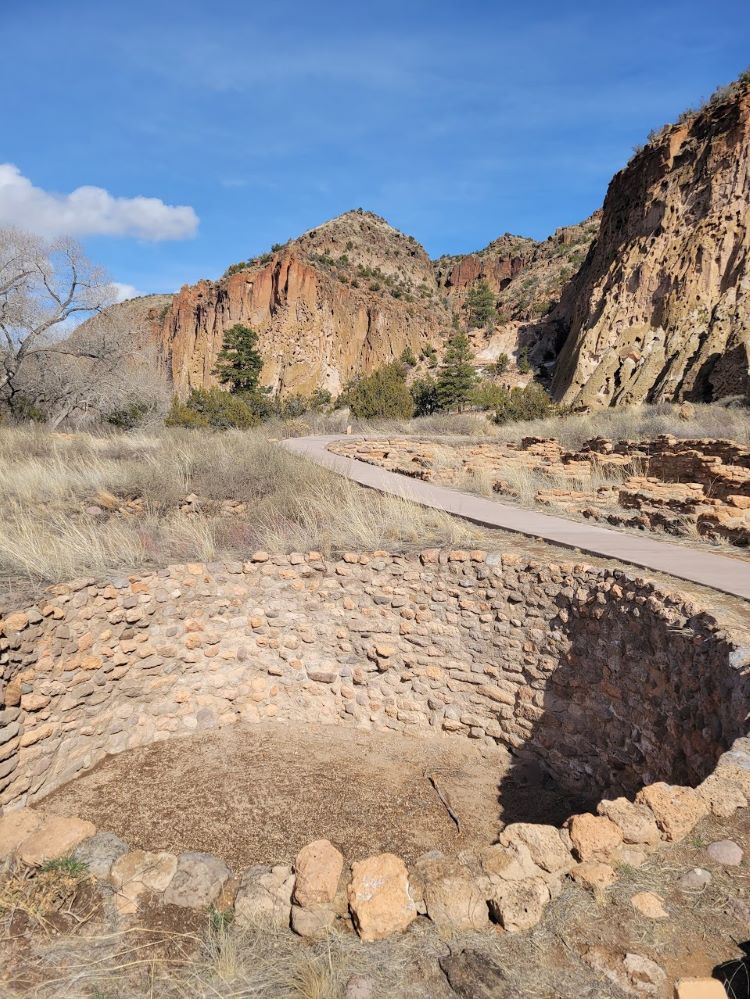 Conclusion to visiting Bandelier National Monument
A visit to Bandelier National Monument in northern New Mexico is a journey through time and culture. The preserved cliff dwellings, petroglyphs, and rugged landscapes offer a unique glimpse into the lives of the Ancestral Puebloans. Hiking the Main Loop Trail reveals the beauty of Frijoles Canyon and its archaeological wonders, while the Alcove House Trail leads to an ancestral dwelling with stunning views. Spring and fall are optimal times to visit, offering comfortable weather and the chance to witness blooming wildflowers or colorful foliage. Whether exploring the past or marveling at nature's beauty, Bandelier National Monument provides a memorable experience that connects you with both history and the present environment.
Thanks for visiting Travel Photo Discovery, Hope that this post has been helpful to planning your visit to the city and if so, please do share it with any of the social media channels and buttons located below.
Disclosure – some of the links above are to affiliate sites that are either reviews or recommendations if you book helps to keep our site running at no additional cost to you. We appreciate your supporting our website meanwhile.