27 Things to Do in Santa Fe: Exploring the Rich Cultural Heritage and Scenic Beauty
Things to do in Santa Fe are as diverse and captivating as the city itself. Nestled in the heart of New Mexico, Santa Fe boasts a rich cultural heritage, breathtaking natural landscapes, and a vibrant arts scene. Whether you're an art enthusiast, a history buff, or a nature lover, Santa Fe offers a plethora of experiences to indulge in. From exploring world-class museums and art galleries to immersing yourself in the colorful tapestry of local traditions, this enchanting city has something for everyone. So pack your bags, embark on an unforgettable journey, and discover the many wonders awaiting you in Santa Fe.
If you are visiting Santa Fe in the near future, use this easy guide to show you the best things to do in Santa Fe, places to eat, shop and stay for wonderful experience discovering the best attractions and events in town.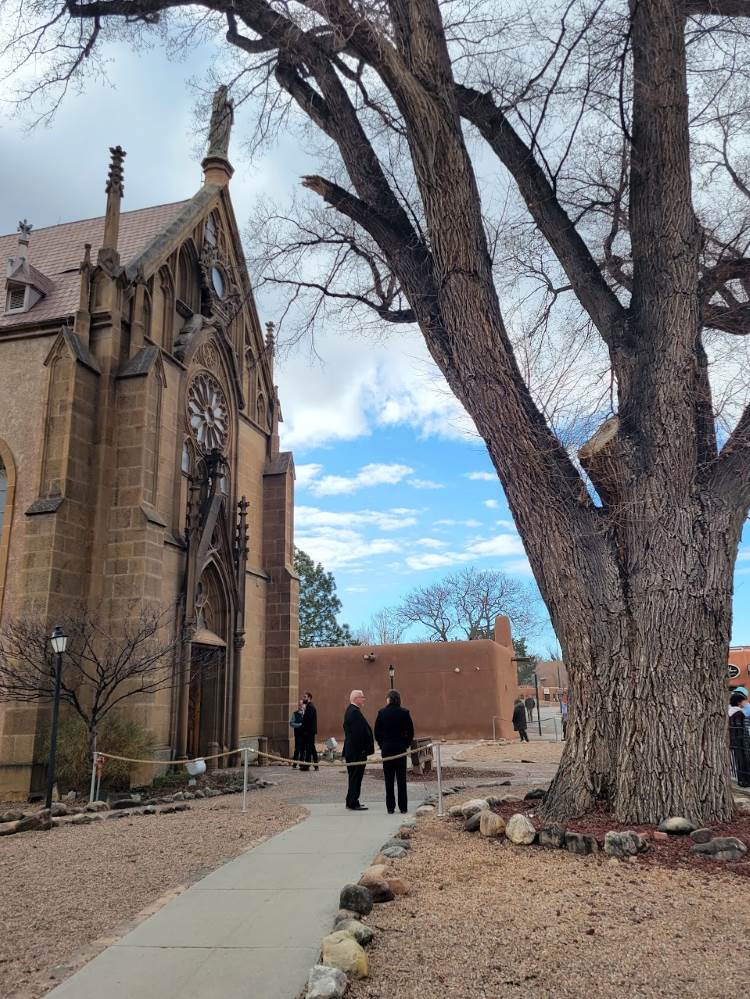 Weather and best time to visit Santa Fe
The weather in Santa Fe is characterized by four distinct seasons, each offering its own unique charm to visitors. The best time to visit Santa Fe largely depends on personal preferences and the type of activities you wish to engage in.
During the summer months, from June to August, Santa Fe experiences warm and pleasant weather with average temperatures ranging from the 70s to the 80s Fahrenheit (20s to 30s Celsius). This time of year is ideal for outdoor exploration, hiking in the surrounding mountains, and attending lively festivals and cultural events.
Autumn, from September to November, showcases stunning foliage as the city is blanketed in vibrant hues of red, orange, and gold. The temperatures begin to cool, ranging from the 60s to the 70s Fahrenheit (15 to 25 Celsius), making it an excellent time to wander through the historic streets, visit art galleries, and savor local cuisine.
Winter in Santa Fe, from December to February, brings chilly temperatures, often dipping below freezing at night. Daytime temperatures usually range from the 40s to the 50s Fahrenheit (5 to 15 Celsius). This is the perfect time for winter sports enthusiasts to hit the nearby ski resorts, indulge in cozy fireside dining, and explore the city's holiday festivities.
Spring, from March to May, marks the return of milder temperatures, with average highs in the 50s to 60s Fahrenheit (10 to 20 Celsius). This season unveils blooming flowers, offering picturesque landscapes for outdoor activities such as hiking, biking, and exploring the city's renowned art markets.
Overall, Santa Fe welcomes visitors year-round, each season offering its own distinct allure. Whether you prefer warm summer adventures, crisp autumnal colors, winter wonderland activities, or the rejuvenation of spring, Santa Fe has something to captivate you in every season.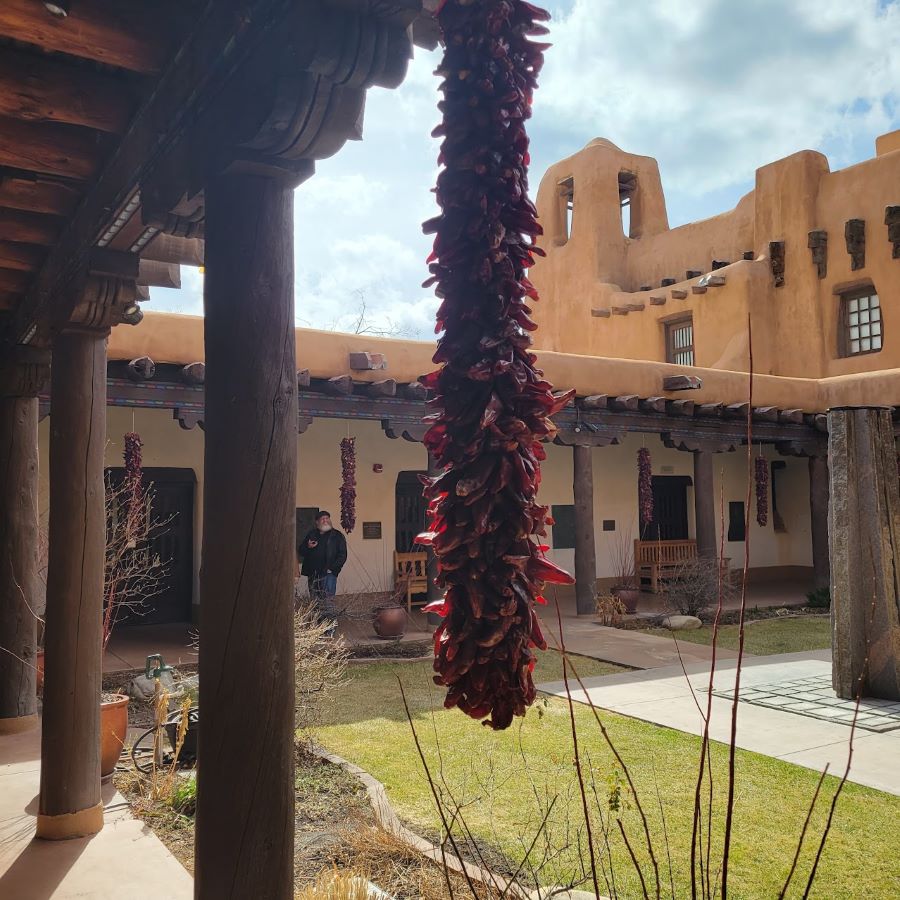 A little background history on Santa Fe, New Mexico
Santa Fe, the capital of New Mexico, has a rich and fascinating history that stretches back centuries. Founded in 1610, it holds the distinction of being the oldest state capital in the United States. The city's history is intertwined with the Native American Pueblo people, Spanish explorers, Mexican rule, and eventually American governance. Santa Fe served as an important trading post along the historic Camino Real, a trade route connecting Mexico City with Santa Fe.
Over the years, it became a melting pot of diverse cultures, blending Native American, Spanish, Mexican, and Anglo influences. The city's distinctive adobe architecture, narrow streets, and vibrant art scene are a testament to its vibrant past. Today, Santa Fe honors its history through its well-preserved historic buildings, museums, and annual events that celebrate its multicultural heritage. Exploring the streets of Santa Fe is like stepping back in time, where echoes of its rich history can still be felt and appreciated.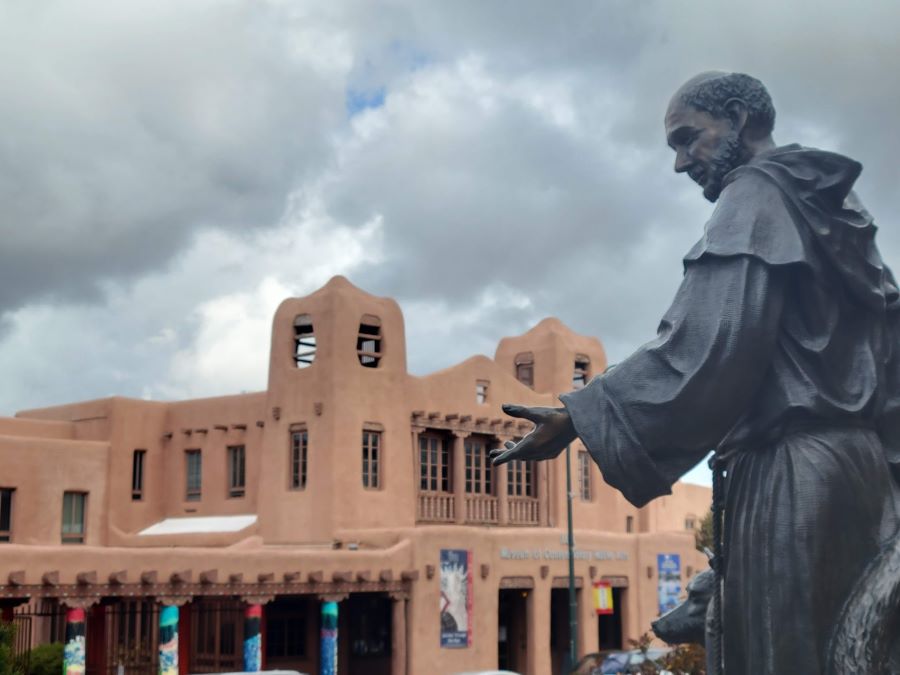 The top 27 things to do in Santa Fe now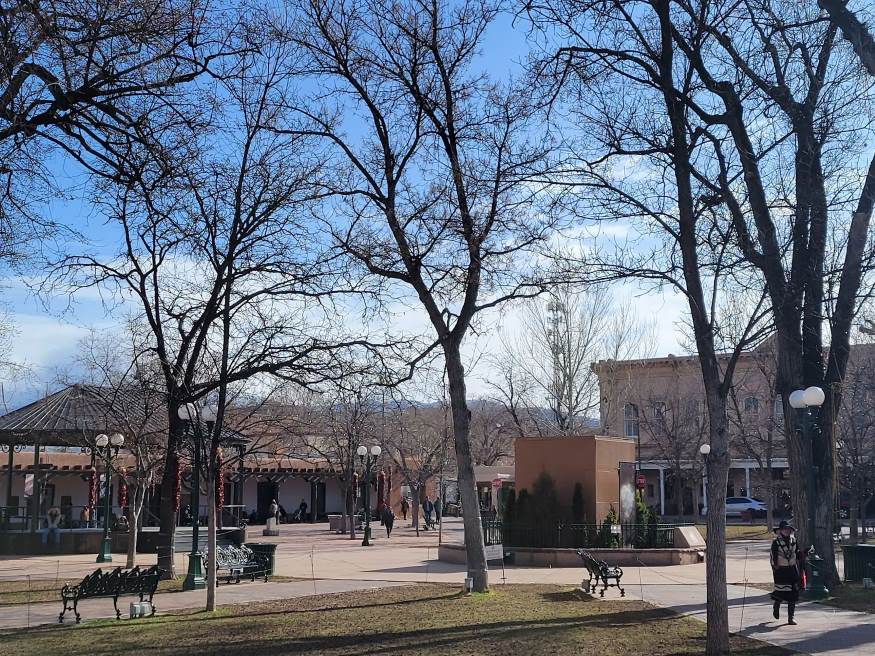 Explore Santa Fe Plaza
1. Visit historic sites such as the Palace of the Governors and the San Miguel Mission.
The Governor's Palace, also known as the Palace of the Governors, is a historic landmark nestled in the heart of Santa Fe, New Mexico. With a rich history dating back to 1610, it is one of the oldest continuously occupied government buildings in the United States. This adobe structure served as the seat of government for Spanish colonial governors, Mexican officials, and later American territorial governors.
The architectural style of the Governor's Palace reflects the adobe traditions of the region, featuring thick walls made of earth and straw, adorned with wooden vigas (beams) and latillas (slender wooden strips). The palace's exterior showcases a traditional Spanish Pueblo Revival design, blending harmoniously with the surrounding Santa Fe Plaza.
Inside the Governor's Palace, visitors can explore its well-preserved rooms, each offering a glimpse into the city's rich history. Exhibits highlight the cultural and political heritage of Santa Fe, showcasing artifacts, photographs, and documents that depict the various periods of governance and the diverse cultures that shaped the region. Notable rooms include the Sala Capitular (Capitol Room), the Governor's Office, and the Council Chambers.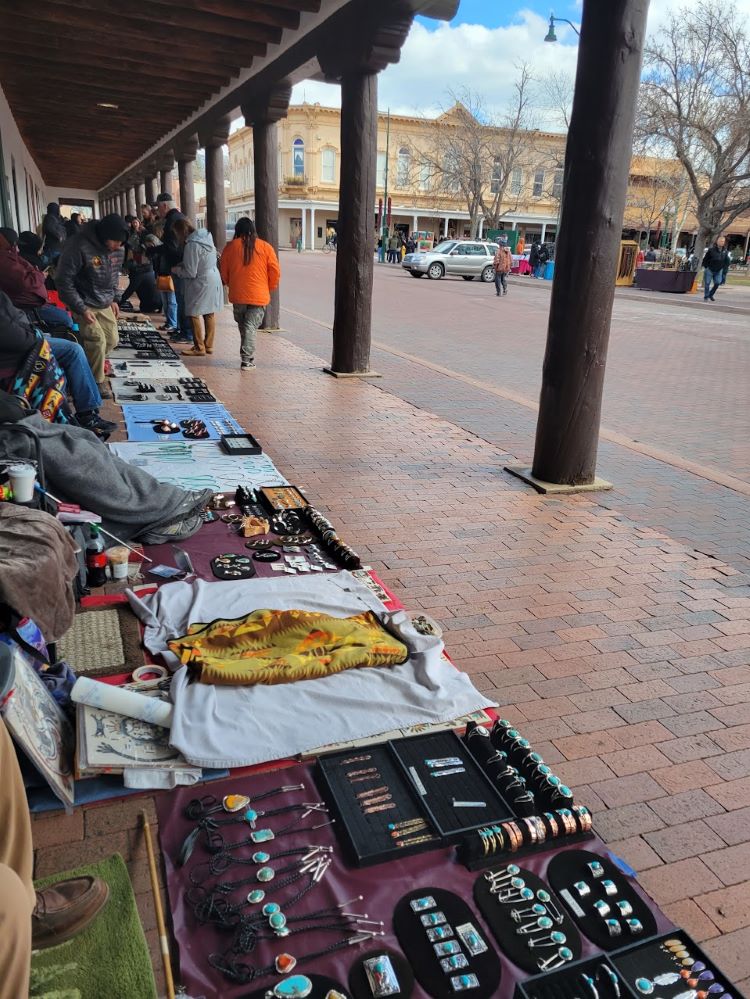 2. Browse through unique shops offering Native American arts and crafts
One of the highlights of the Governor's Palace is the long arcade that runs along its front façade. Here, Native American artisans display and sell traditional crafts, including jewelry, pottery, and textiles, as part of the Native American Artisans Program. This outdoor market has been a cultural and economic hub for centuries, connecting visitors with the rich artistic traditions of the Southwest.
You can visit the daily arts and crafts market that happens at the portico of the Palace of the Governors and find some treasures to take home with you.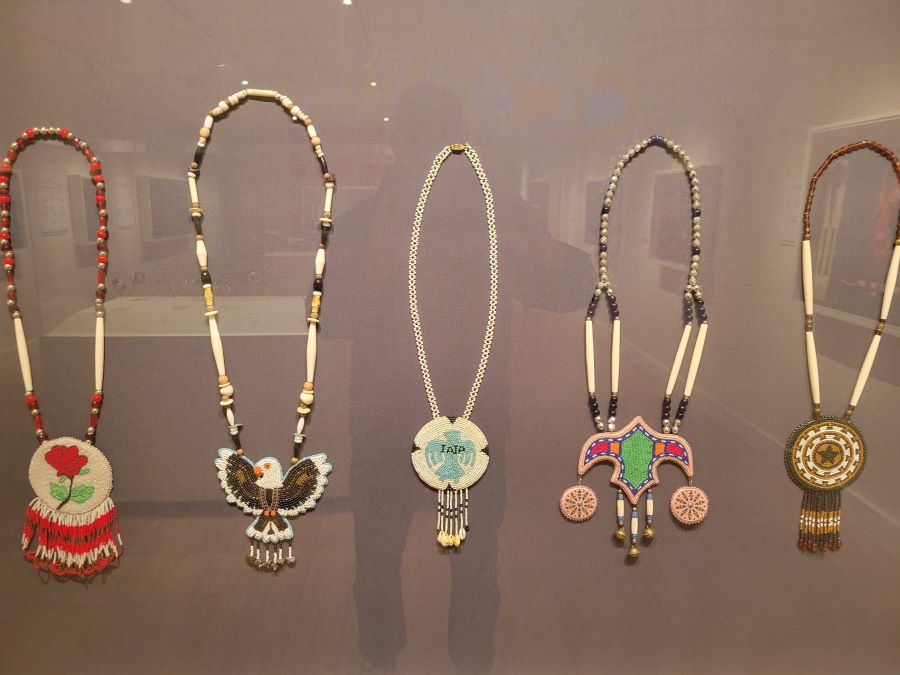 Downtown, the main thoroughfare through town hosts a variety of art galleries, shops and unique boutique stores with local artwork and local artisans featured in this city filled with art. The most notable shopping streets include:
Canyon Road: Known as one of America's premier art districts, Canyon Road is lined with over 100 art galleries, showcasing a wide range of artistic styles and mediums. Visitors can browse through paintings, sculptures, jewelry, and pottery, making it a haven for art enthusiasts.
Santa Fe Plaza: Located at the heart of downtown, the Santa Fe Plaza is not only a historic gathering place but also a hub for shopping. The surrounding streets are lined with shops offering an array of goods, including Native American crafts, handcrafted jewelry, clothing, and home decor.
Palace Avenue: Running parallel to the Santa Fe Plaza, Palace Avenue is a charming street dotted with unique shops, boutiques, and specialty stores. Visitors can find everything from locally made crafts to fashionable clothing, accessories, and gourmet food products.
Lincoln Avenue: Another vibrant shopping street, Lincoln Avenue features an eclectic mix of shops, including art galleries, clothing boutiques, antique stores, and gift shops. It offers a diverse shopping experience where visitors can find one-of-a-kind treasures and souvenirs.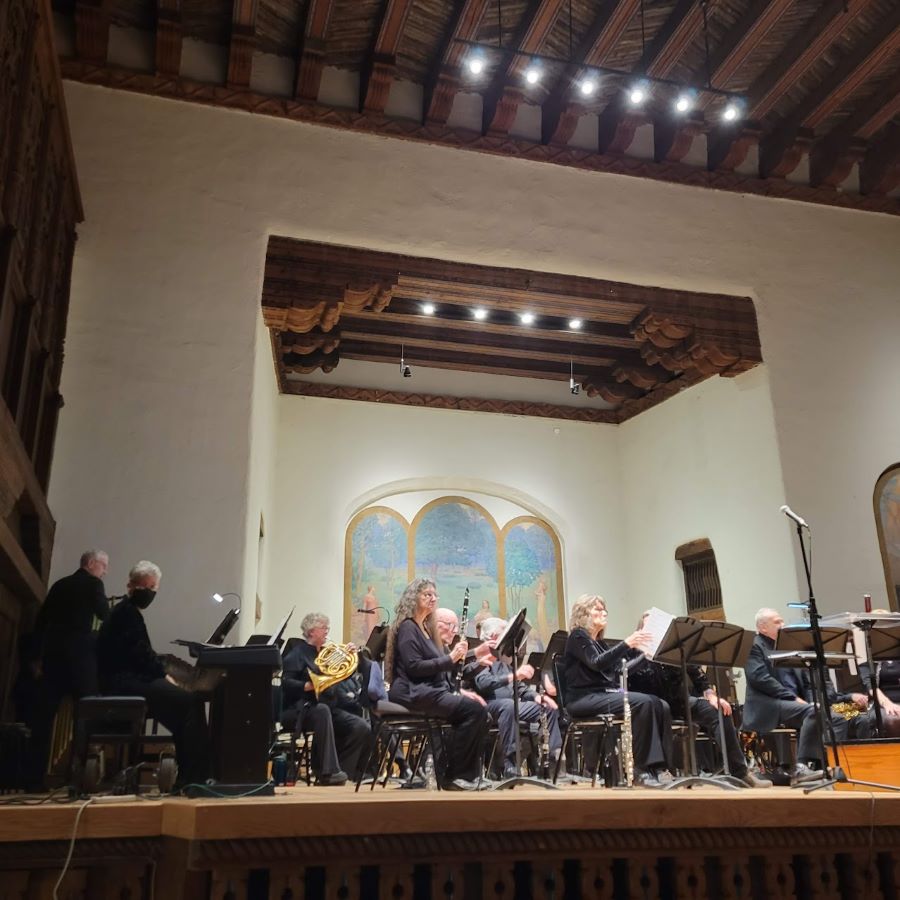 3. Enjoy live music and street performances in the Plaza and other venues
There are events, music and street performances that happen at the plaza regularly and you can enjoy some of the public events and pick up some of the cultural activities that happen around this historic plaza. Along with these events, you'll find plenty of outdoor and free performances being offered at the various museums, churches and other venues in the city.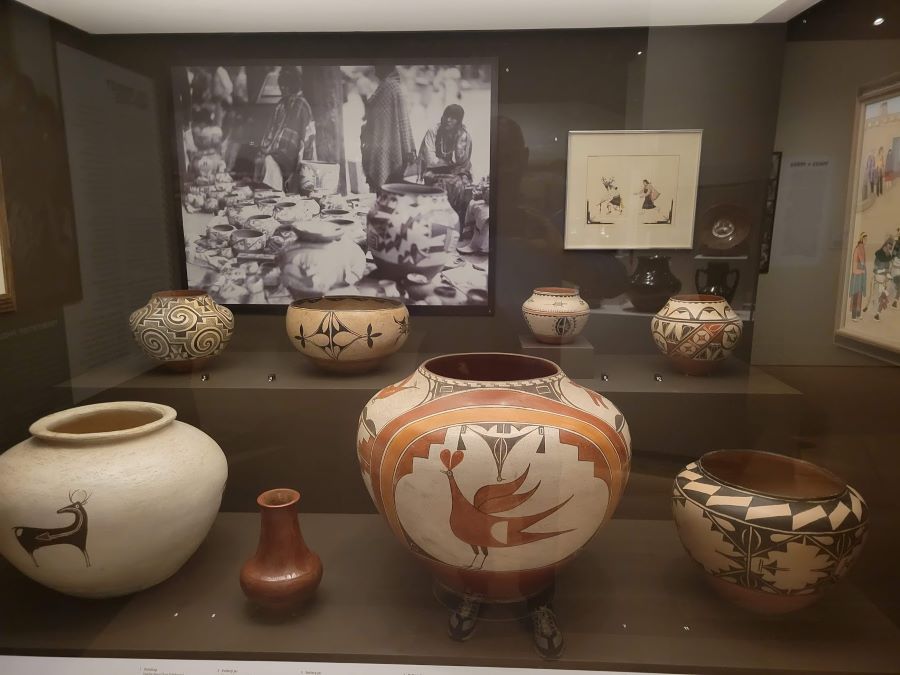 Immerse in the Art and Culture of Santa Fe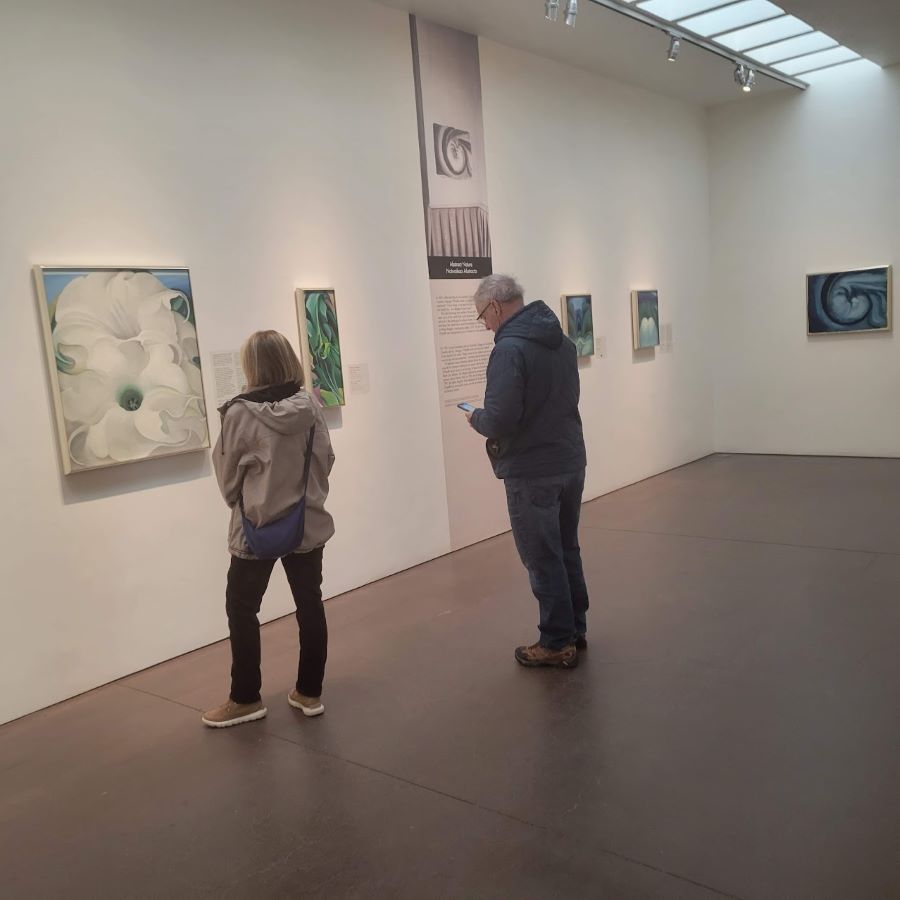 4. Visit world-renowned art museums like the Georgia O'Keeffe Museum
Visiting the Georgia O'Keeffe Museum is a must for art enthusiasts and admirers of one of America's most iconic painters. Located in the heart of Santa Fe, this museum is dedicated to showcasing the life and works of Georgia O'Keeffe, a pioneering artist known for her distinctive style and portrayal of the Southwest landscape. Stepping into the museum, visitors are greeted with a captivating collection of O'Keeffe's paintings, drawings, and sculptures, providing a comprehensive overview of her artistic evolution and creative vision. The museum's exhibits offer a glimpse into O'Keeffe's exploration of color, form, and texture, as well as her deep connection with the natural world. Alongside the permanent collection, the museum often hosts temporary exhibitions that highlight the influence and legacy of O'Keeffe's art. The Georgia O'Keeffe Museum provides a profound and intimate experience, allowing visitors to delve into the life and artistic journey of a true American icon.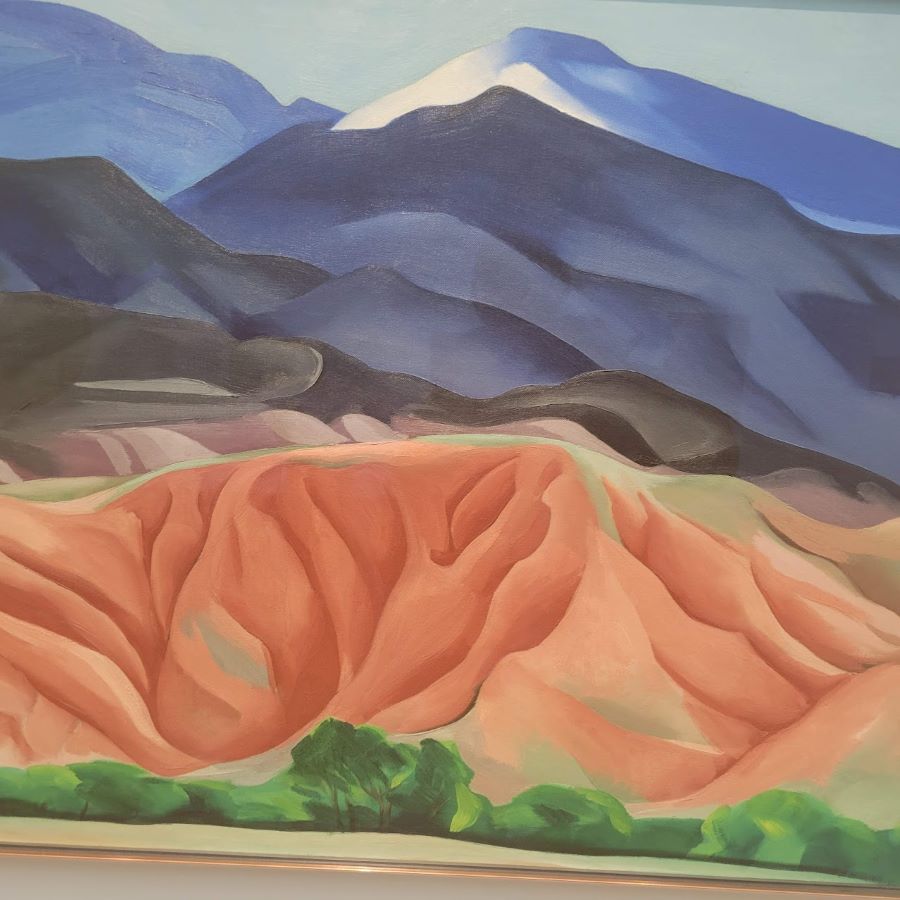 Check out The Georgia O'Keefe Museum on their website here for more information to visiting.
5. Enjoy the Museum of International Folk Art
The Museum of International Folk Art in Santa Fe is a captivating institution dedicated to preserving and celebrating the rich diversity of folk art from around the world. As one of the largest repositories of folk art in the world, the museum boasts an impressive collection of over 150,000 objects that span various cultures and regions. The exhibits transport visitors into a global tapestry of creativity, showcasing an array of traditional crafts, textiles, ceramics, paintings, and sculptures.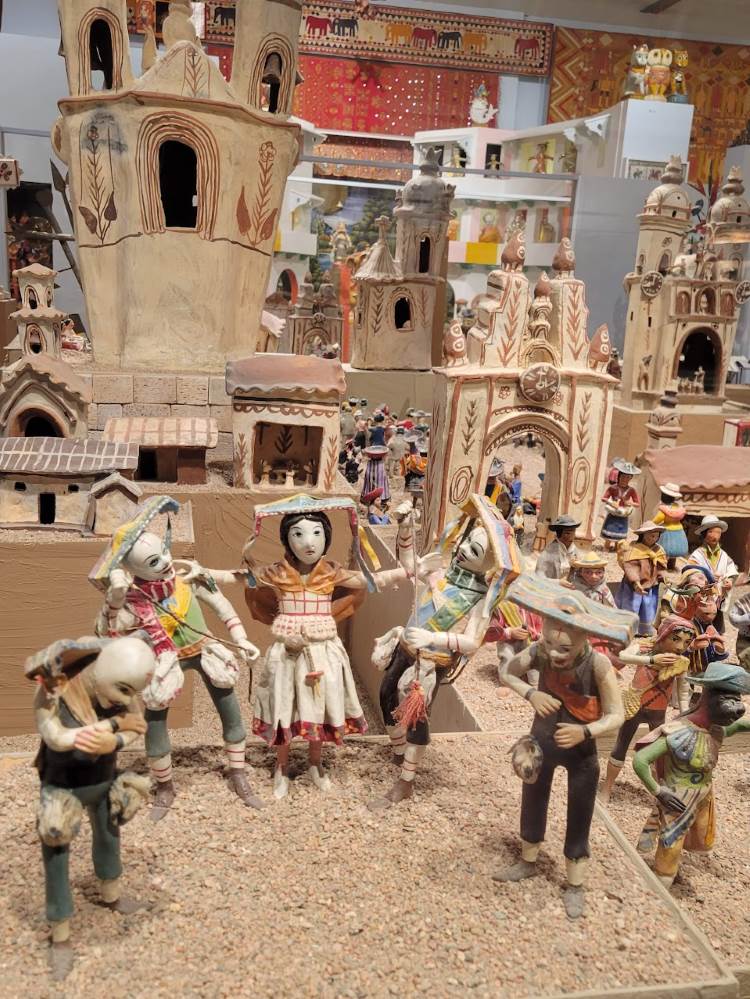 Each exhibit offers a glimpse into the unique cultural traditions and artistic expressions of different communities, revealing the universal human desire for creativity and storytelling. With its thoughtfully curated displays and interactive programs, the Museum of International Folk Art provides an immersive and enlightening experience, highlighting the beauty, craftsmanship, and cultural significance of folk art from diverse corners of the globe.
Check out The Museum of International Folk Art on their website here for more information to visiting.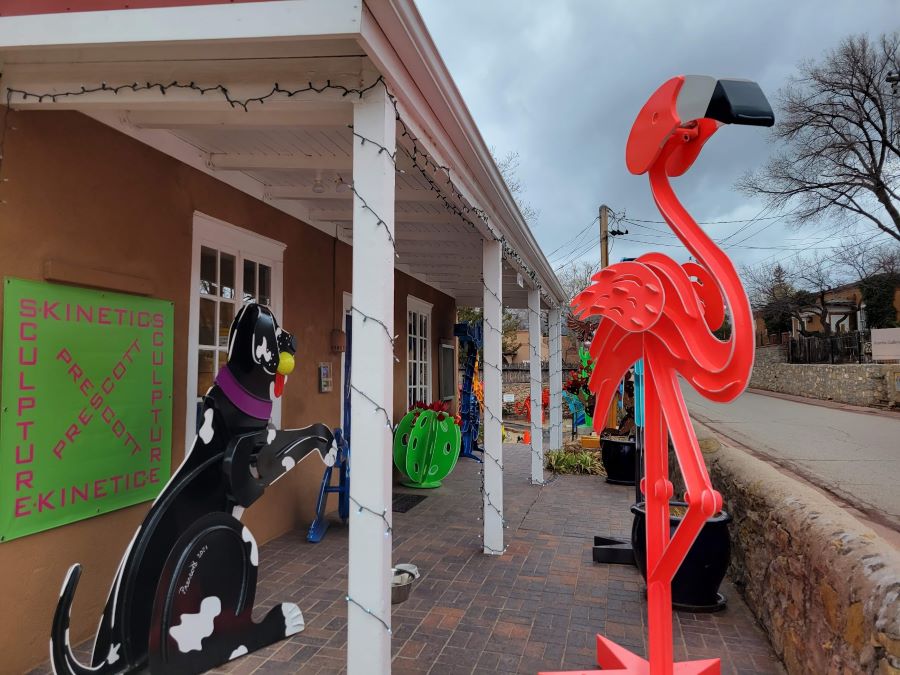 6. Explore Canyon Road, lined with art galleries showcasing diverse works
Canyon Road in Santa Fe is a renowned and enchanting destination that beckons art enthusiasts and seekers of cultural experiences alike. This historic road, lined with adobe buildings and framed by majestic cottonwood trees, is often referred to as an "Art Lover's Mecca." Stretching approximately one mile, Canyon Road is home to over 100 art galleries, studios, boutiques, and restaurants, making it a vibrant hub of artistic expression.
As visitors stroll along this charming road, they are immersed in a world of creativity and inspiration. The galleries showcase a diverse range of artistic styles, including paintings, sculptures, pottery, jewelry, and more. From traditional Native American art to contemporary masterpieces, there is a treasure trove of artistic gems to discover.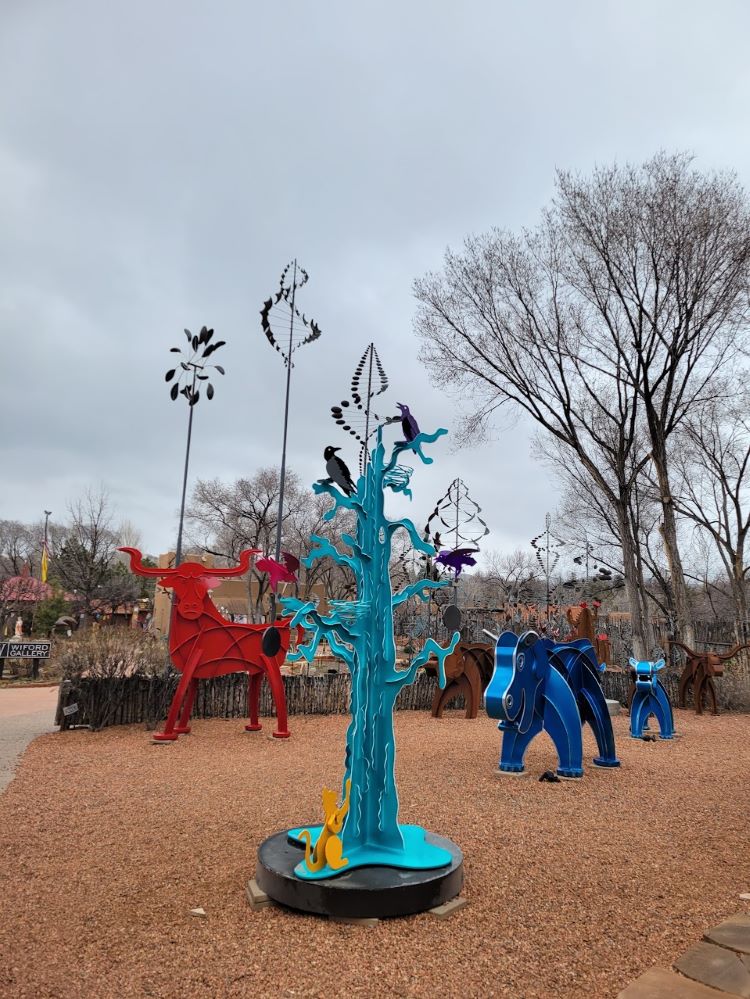 Beyond the galleries, Canyon Road offers a delightful blend of boutiques, specialty shops, and inviting eateries. Art collectors can find unique pieces, while others can indulge in Southwest-inspired fashion, home decor, or handmade crafts. The restaurants and cafes along the road provide delightful culinary experiences, ranging from casual dining to upscale cuisine, making it an ideal spot to refuel during an exploration of the arts.
7. Attend art and music festivals and events like the Santa Fe Indian Market and the Santa Fe Opera
Santa Fe is renowned for its vibrant cultural scene, and attending major festivals like the Santa Fe Opera and the Santa Fe Indian Market is a must for anyone seeking an immersive and unforgettable experience.
Both the Santa Fe Opera and the Santa Fe Indian Market offer not only an immersion into the arts but also a celebration of the city's rich cultural heritage. These festivals provide a platform for artists to showcase their talents, and for visitors, they offer an extraordinary chance to witness the beauty and diversity of artistic expressions. Whether you are captivated by the grandeur of opera or fascinated by the intricate craftsmanship of Native American art, these festivals in Santa Fe are cultural gems that enrich the soul and leave a lasting impression.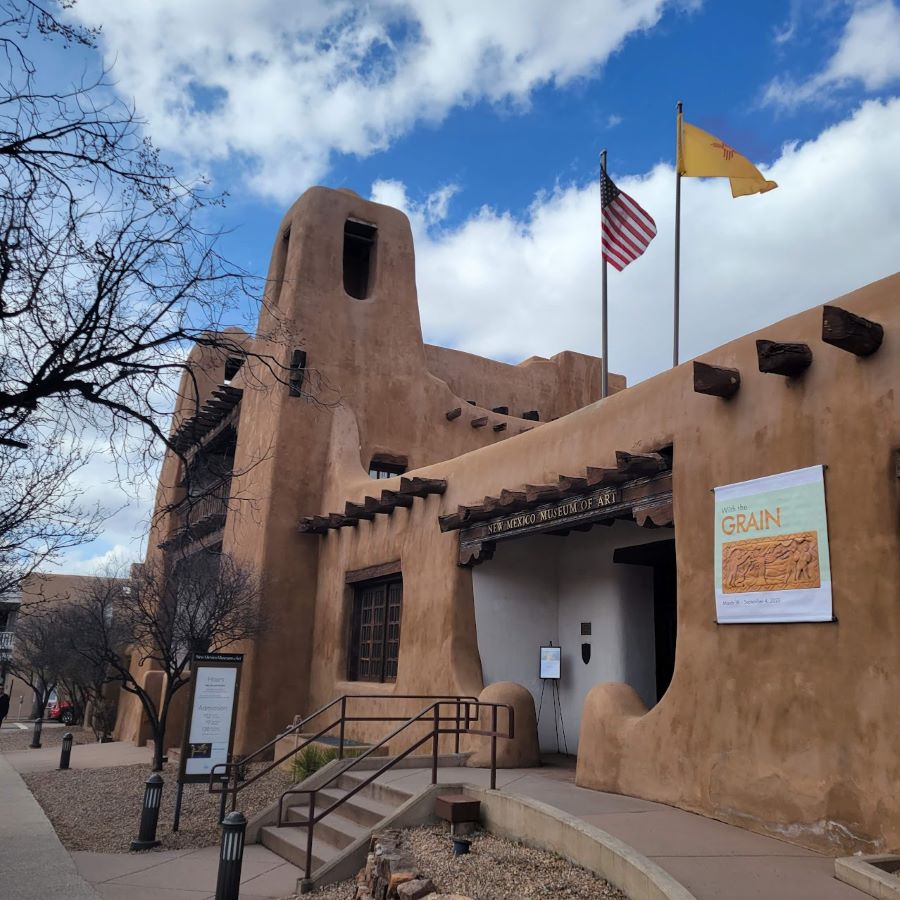 8. Visit the New Mexico Museum of Art
The New Mexico Museum of Art is a beautiful and rich cultural institution located in Santa Fe. Designed in a distinctive Pueblo Revival-style building, the museum stands as a testament to the region's rich artistic heritage. Inside, visitors can explore an impressive collection of artworks that span various periods and styles, showcasing the diversity and creativity of New Mexican and Southwestern artists. From traditional Native American art to contemporary masterpieces, the museum offers a comprehensive journey through the art history of the region.
Alongside its permanent collection, the museum hosts rotating exhibitions that highlight different themes, artists, and artistic movements. Through these exhibits, visitors can gain a deeper appreciation for the vibrant art scene that has flourished in New Mexico. The New Mexico Museum of Art is a must-visit destination for art enthusiasts, providing an immersive and enlightening experience that celebrates the artistic legacy of the state and its surrounding region.
Check out The New Mexico Museum of Art on their website here for more information to visiting.
Discover Native American Heritage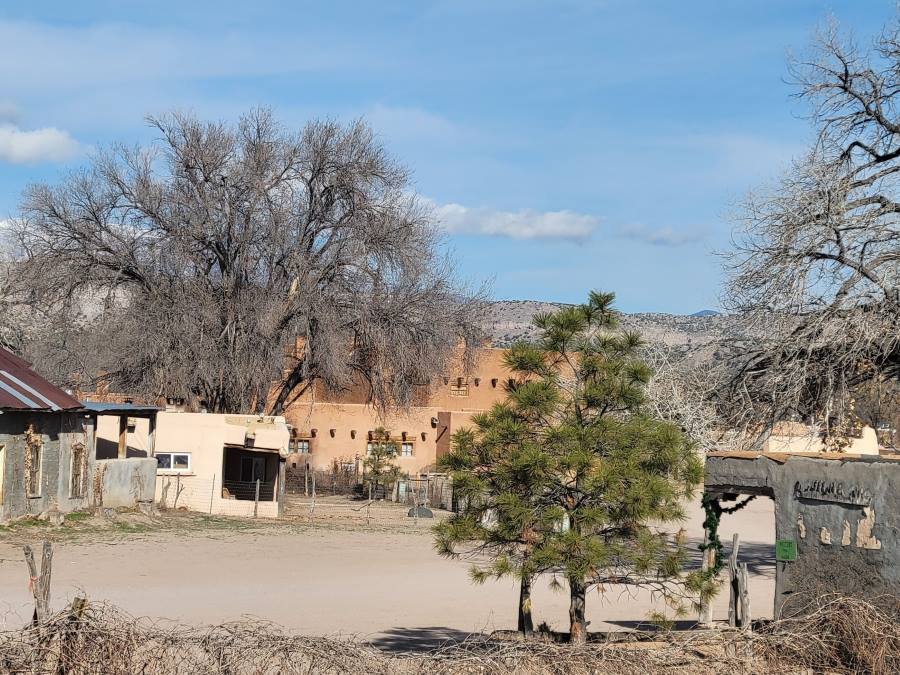 8. Visit nearby Native American pueblos, such as Taos Pueblo and Acoma Pueblo, to learn about their rich traditions and history.
Visiting the Santa Fe area offers the chance to explore several open Pueblos, providing a unique glimpse into Native American culture. Each Pueblo has its own history, traditions, and architectural beauty. Engaging with residents allows for a deeper understanding of their customs and craftsmanship. The surrounding natural landscapes add to the allure. It's important to respect their rules and privacy when visiting.
Please note that when visiting the Pueblos, it is important to respect their customs, rules, and privacy. Some Pueblos may have specific visiting hours or require permits, so it's advisable to check their respective websites or contact them in advance for the most accurate and up-to-date information.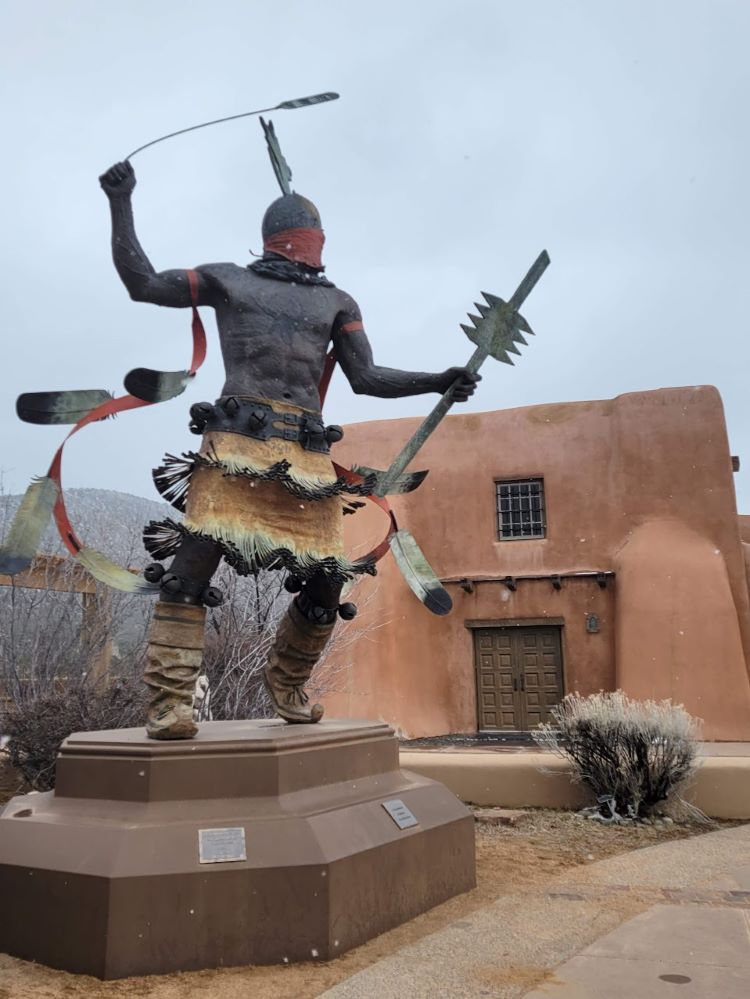 9. Experience traditional Native American culture and Indian collections at the  Museum of Indian Arts and Culture
The Museum of Indian Arts and Culture in Santa Fe showcases the rich and diverse world of traditional Native American culture. Its exhibits feature stunning art, artifacts, and educational displays that highlight the heritage and contributions of Native American communities. Visitors can explore the exhibits, learn about tribal traditions, and appreciate the artistic mastery of Native American artists throughout history. The museum also offers rotating exhibitions, educational programs, and workshops to provide a deeper understanding and cross-cultural appreciation of Native American culture.
Check out The Museum of Indian Arts and Culture on their website here for more information to visiting.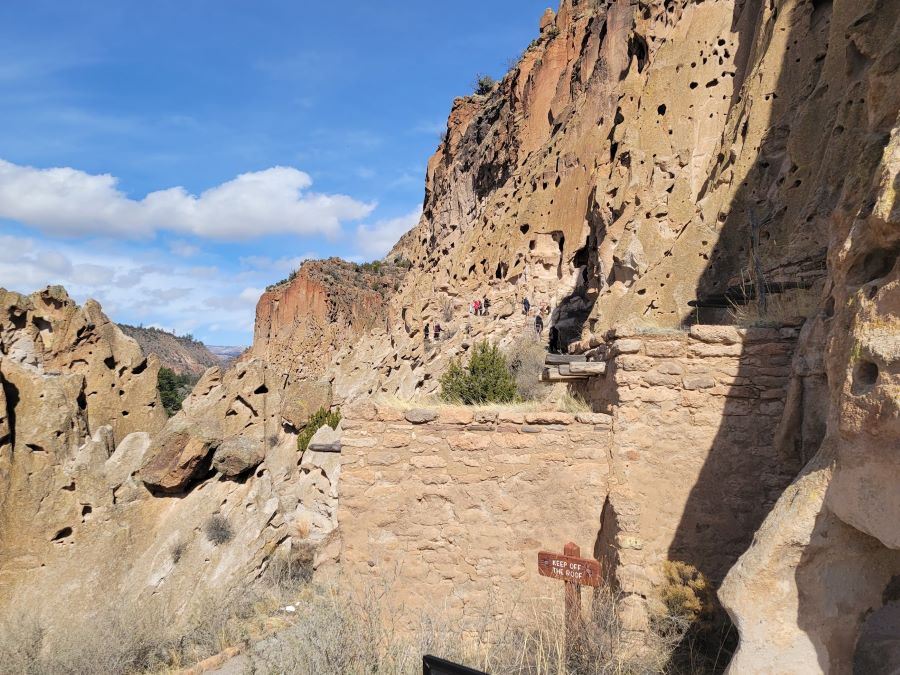 10. Visit Bandelier National Monument on a fun day trip
Bandelier National Monument in New Mexico offers a fascinating day trip with a blend of history, nature, and adventure. Explore the well-preserved cliff dwellings and petroglyphs of the Ancestral Pueblo people. Hike scenic trails, enjoy stunning landscapes, and engage in activities like rock climbing and camping. This captivating destination connects you to ancient civilizations and the beauty of the natural world. Note: Check for travel advisories before planning your visit.
Check out Bandelier National Monument on their website here for more information to visiting.
Delve into Santa Fe's History and Architecture
Walking around Santa Fe is like a fantastic history and architecture tour at the same time and the tight downtown district is easy enough to explore all the main highlights on foot.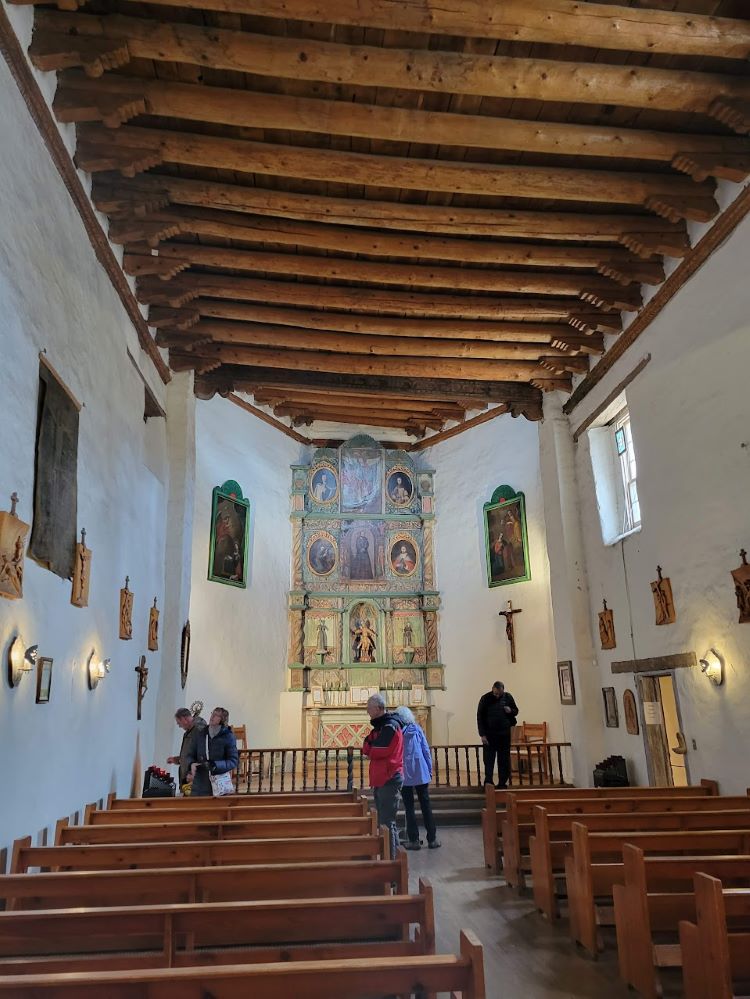 11. Explore the Loretto Chapel with its mysterious spiral staircase
The Loretto Chapel in Santa Fe is a captivating architectural gem that has become an iconic symbol of the city. This historic chapel, built in the late 19th century, is renowned for its exquisite spiral staircase, known as the "Miraculous Staircase." The staircase, a true marvel of craftsmanship, appears to defy the laws of physics as it ascends to the choir loft without any visible means of support. It is a testament to the ingenuity and skill of the unknown carpenter who constructed it. The chapel itself showcases a stunning Gothic Revival style, with its graceful arches, stained glass windows, and ornate wooden details. Inside, the ambiance is one of tranquility and serenity, inviting visitors to reflect and find solace. The Loretto Chapel continues to inspire awe and wonder, attracting visitors from around the world who come to marvel at its miraculous staircase and bask in the spiritual aura that permeates this enchanting place.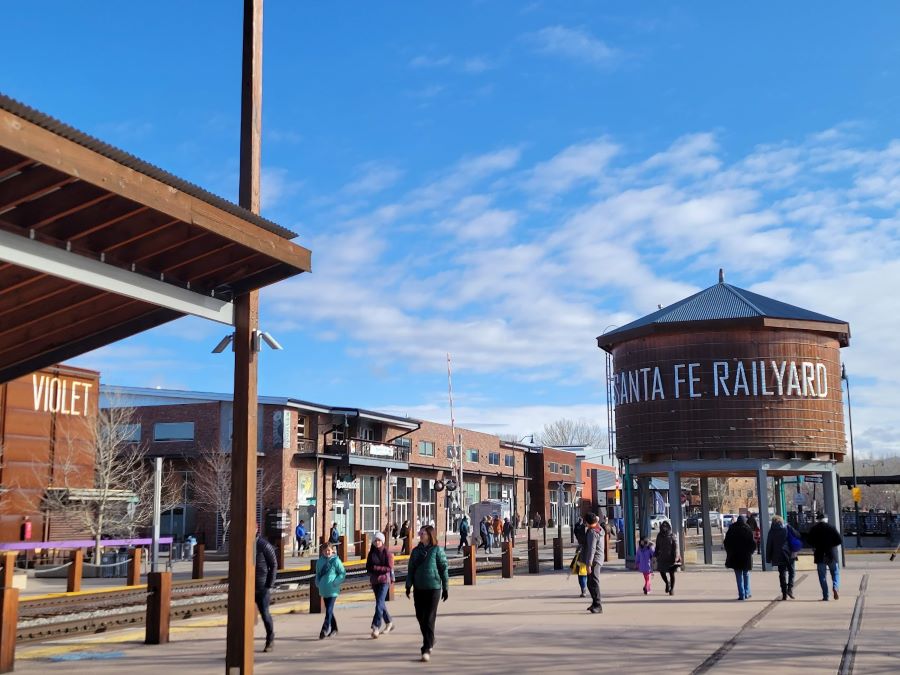 12. Take a tour of the historic Santa Fe Railyard and learn about its significance
The historic Santa Fe Railyard played a crucial role in connecting Santa Fe to the country in the late 19th century. After a period of decline, the railyard has been revitalized as a cultural district, featuring art galleries, theaters, restaurants, shops, and a vibrant farmers market. The area preserves its historic buildings while adding contemporary attractions, creating a dynamic blend of the past and present. The railyard serves as a hub for community events and celebrations, reflecting Santa Fe's commitment to honoring its heritage and embracing its evolving identity.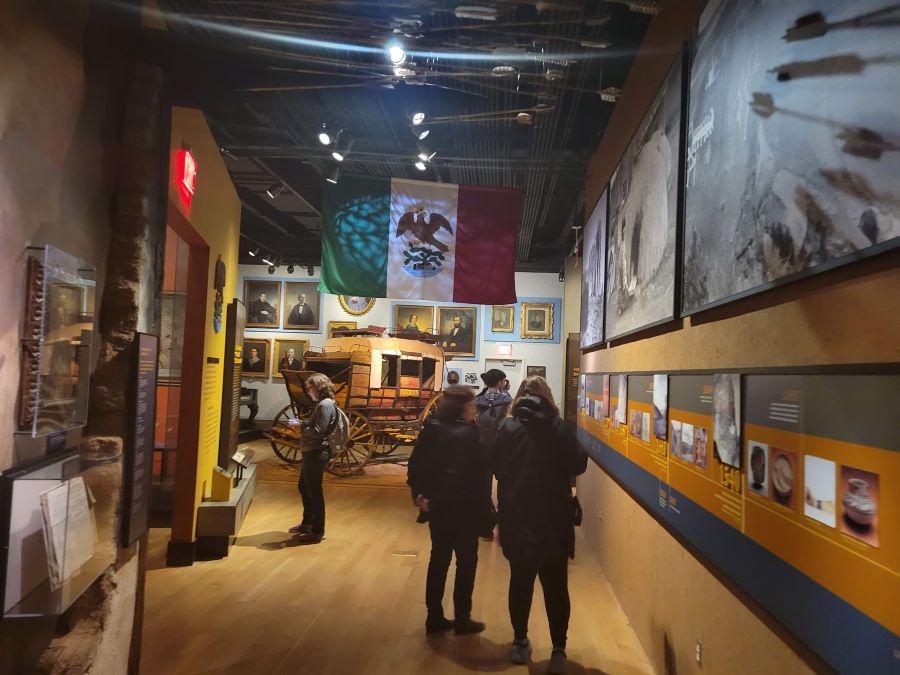 13. Visit the New Mexico History Museum to delve into the region's past
The New Mexico History Museum in Santa Fe is a captivating institution that presents the rich and diverse history of the state. It features exhibits, artifacts, and interactive displays that explore New Mexico's Native American roots, Spanish colonization, Mexican period, and American territorial era. The museum also houses the historic Palace of the Governors. With its engaging exhibits and educational programs, the museum offers a comprehensive and enlightening experience for visitors seeking to understand the cultural and historical heritage of New Mexico.
Check out The New Mexico History Museum on their website here for more information to visiting.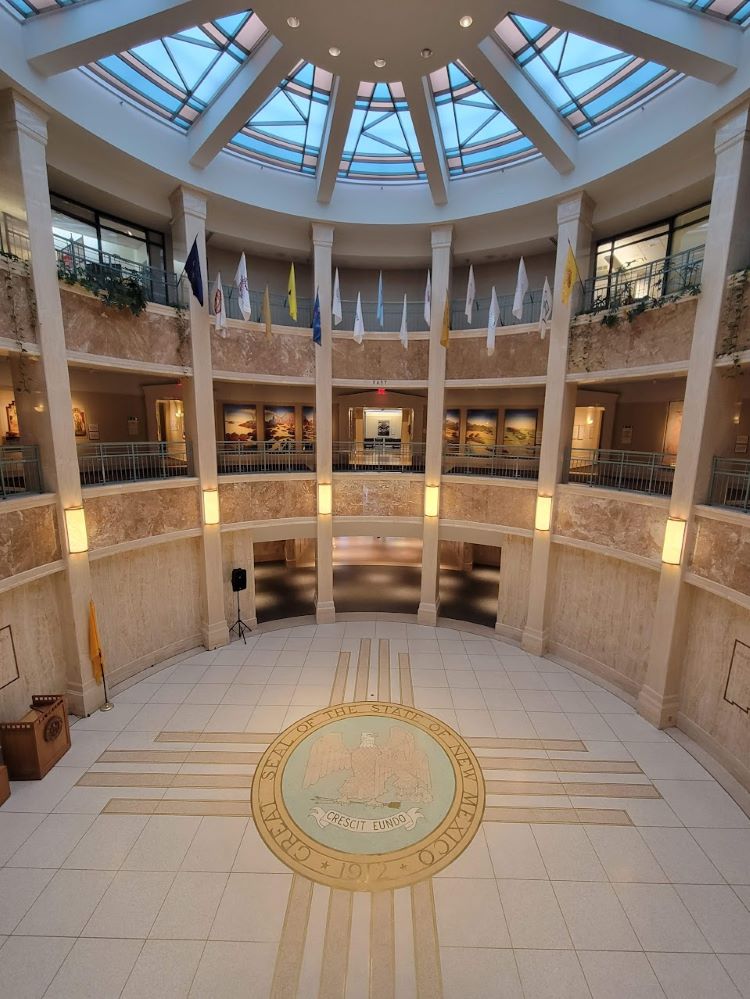 14. Check out the State Building of New Mexico and the fabulous art
Santa Fe, the state capital of New Mexico, is a historic and culturally vibrant city nestled in the breathtaking natural landscapes of the Sangre de Cristo Mountains. Known for its unique adobe architecture and status as the oldest state capital in the US, Santa Fe is home to the State Capitol Building and serves as the administrative center of the state. The city boasts a thriving arts scene with numerous galleries and museums, including the Georgia O'Keeffe Museum and the Museum of International Folk Art. Its natural surroundings offer opportunities for outdoor activities, while its culinary scene showcases the flavors of New Mexican cuisine. Santa Fe is a captivating destination that combines history, culture, natural beauty, and gastronomy, providing a rich and memorable experience for visitors.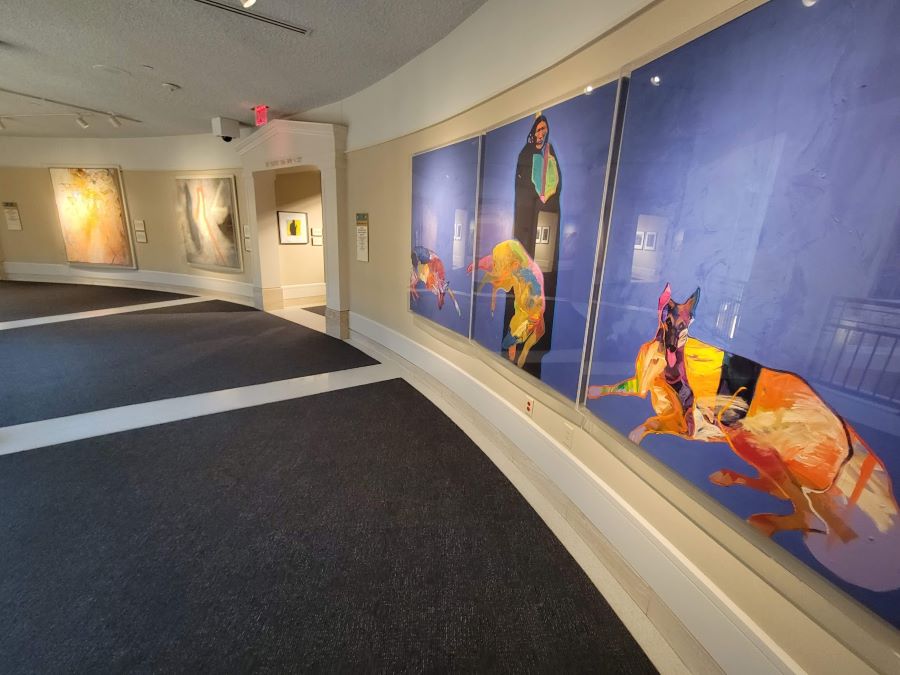 Check out the fantastic art collection at the Capitol building here for more infformation.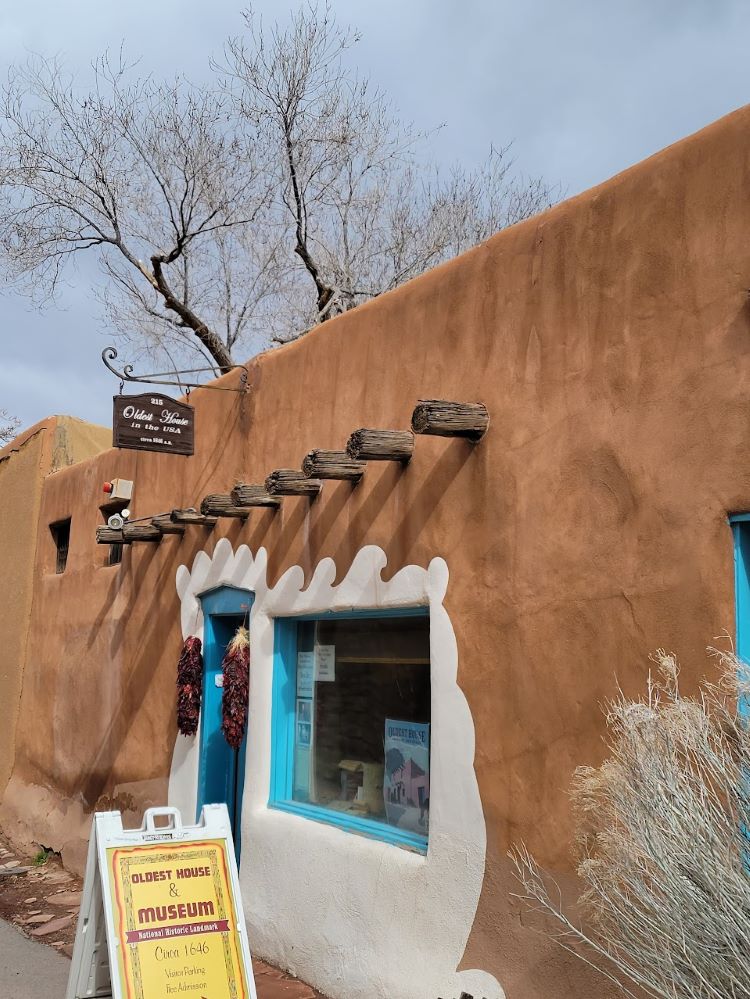 15. Visit the oldest house in Santa Fe
The oldest house in Santa Fe is a historic landmark that holds a significant place in the city's history. This adobe structure, dating back to the early 17th century, offers a glimpse into the architectural traditions of the region. With its thick walls, wooden vigas, and traditional features, the house stands as a testament to the enduring legacy of Santa Fe's past. Visitors can explore its rooms, which are filled with artifacts and exhibits that tell the story of the house and its inhabitants over the centuries. The oldest house in Santa Fe is a cherished piece of the city's heritage, allowing visitors to step back in time and experience the rich history of this remarkable adobe dwelling.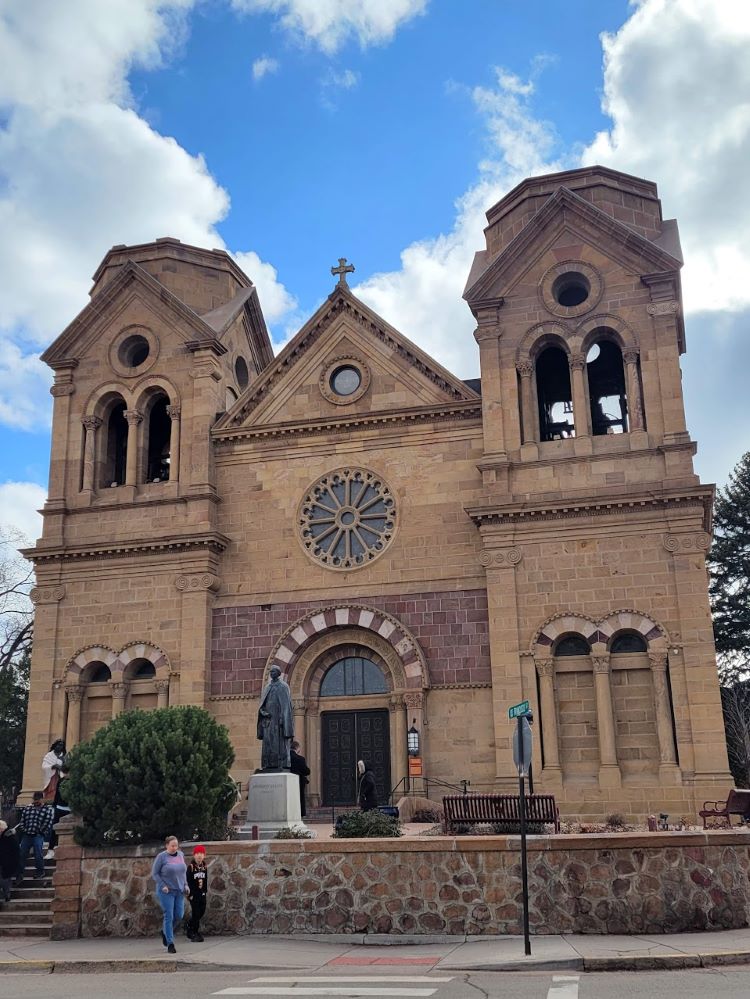 16. Check out the beautiful cathedral of Santa Fe or the Basilica of St. Francisco of Assisi
The Cathedral of Santa Fe, also known as the Cathedral Basilica of St. Francis of Assisi, is a magnificent architectural gem located in the heart of Santa Fe, New Mexico. This iconic cathedral is a symbol of faith, history, and artistic beauty.
Built in the late 19th century, the cathedral showcases a unique blend of architectural styles, including Romanesque Revival and French Gothic influences. Its impressive façade features twin towers, intricate stone carvings, and a grand entrance that welcomes visitors with a sense of awe.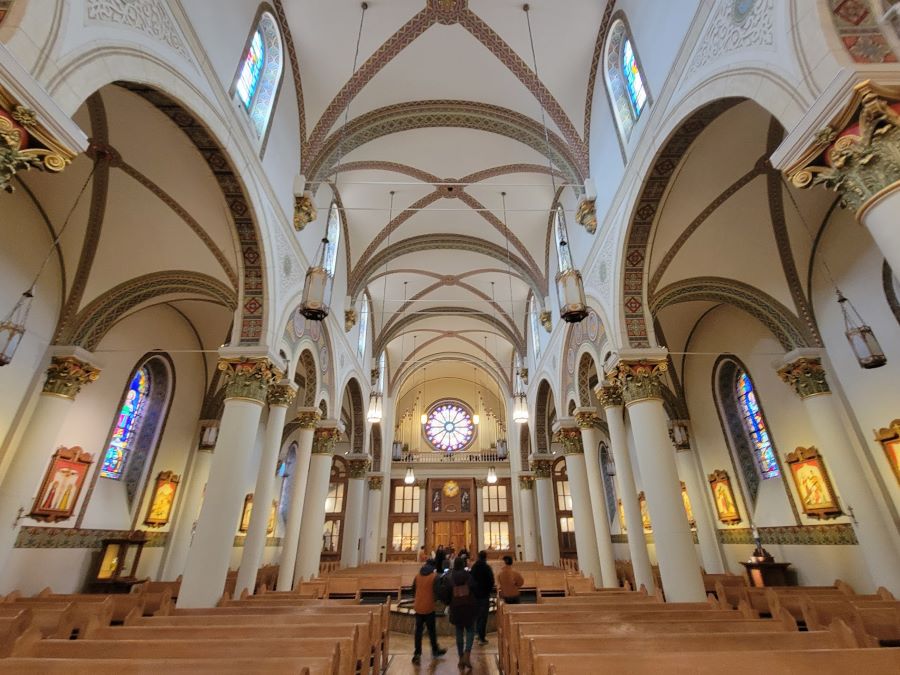 Inside, the cathedral boasts stunning stained glass windows, ornate altars, and beautifully crafted religious artwork. The grandeur of the interior is enhanced by its high vaulted ceilings and the warm glow of the natural light that filters through the stained glass.
The Cathedral of Santa Fe serves as the mother church of the Archdiocese of Santa Fe and holds great spiritual significance for the local community. It is a place of worship, prayer, and contemplation, offering regular Masses, religious ceremonies, and special events
Indulge in Nature and Outdoor Activities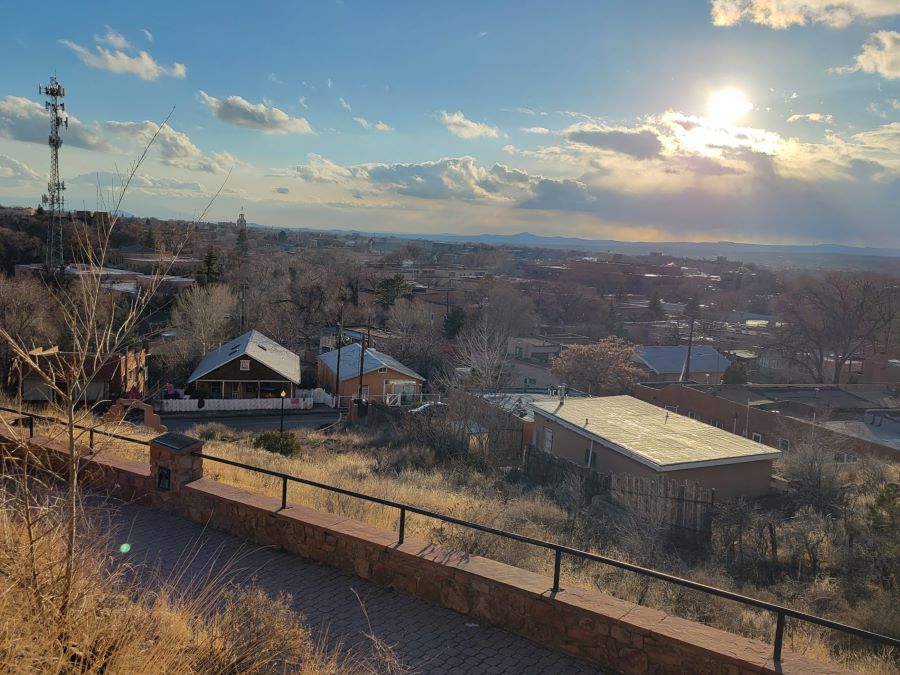 17. Climb to the tallest viewpoint of Santa Fe for sunset
Take a fantastic climb and sunset viewing from the Atalya lookout point for perfect views of the surrounding landscape. Perched atop Atalaya Mountain, this lookout point provides visitors with a panoramic vista of the city, the vast desert expanse, and the majestic Sangre de Cristo Mountains in the distance.
To reach Atalaya Lookout Point, visitors can embark on a moderately challenging hike along the Atalaya Trail, immersing themselves in the natural beauty of the area. The trail winds through piñon and juniper trees, offering glimpses of wildlife and captivating rock formations along the way.
18. Visit the Santa Fe Botanical Garden and enjoy serene walking trails.
The Santa Fe Botanical Garden is a serene oasis in Santa Fe, showcasing a diverse collection of native plants. Visitors can enjoy peaceful walks among themed gardens, learn about sustainable gardening, and appreciate the beauty of the high desert landscape. It's a place to reconnect with nature and experience the unique flora of the region.
Check out more by visiting the botanical garden website here for more information.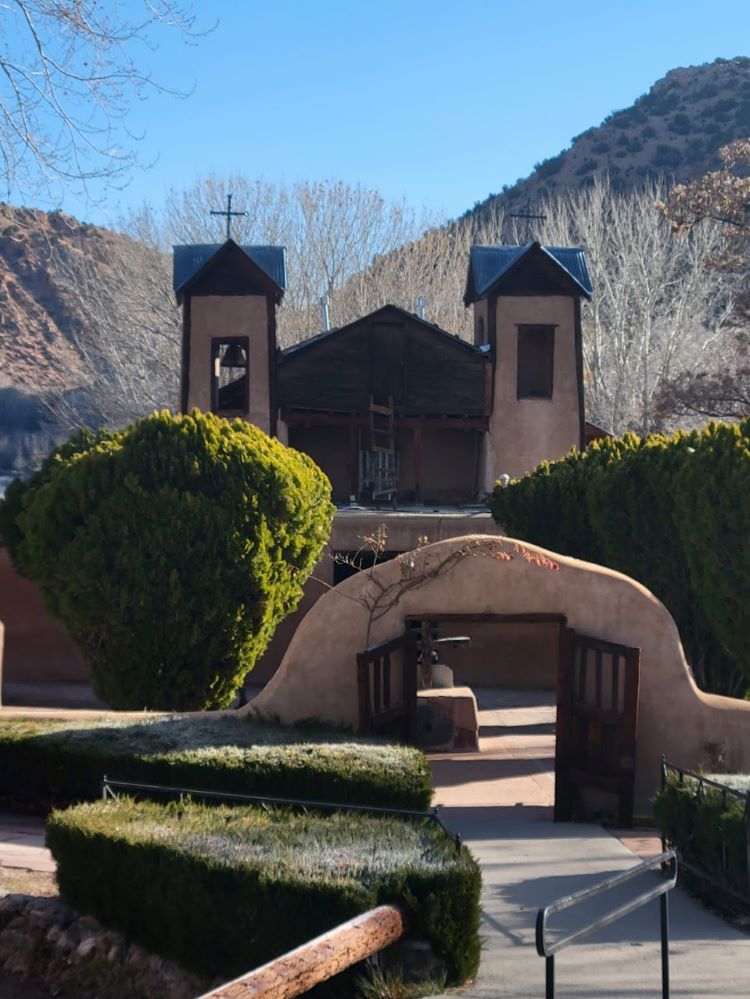 19. Take a scenic drive to nearby destinations like the picturesque village of Chimayo
Nestled in the picturesque landscape of northern New Mexico, Chimayo is a charming village that exudes a sense of tranquility and rich cultural heritage. This small community is renowned for its spiritual significance and its historic adobe church, the Santuario de Chimayo. Pilgrims from far and wide visit this sacred site, believed to possess healing properties, making it a deeply spiritual and reflective destination. Beyond its religious significance, Chimayo is also known for its traditional weaving and vibrant local art scene. Visitors can explore the village's art galleries, shop for handcrafted textiles, and immerse themselves in the vibrant colors and intricate designs that reflect the region's cultural heritage. Additionally, the surrounding landscape of Chimayo offers breathtaking beauty, with sweeping mountain views and scenic hiking trails that invite exploration. Whether seeking spiritual solace, artistic inspiration, or natural wonders, Chimayo offers a unique and enriching experience that captures the essence of New Mexico's cultural and natural treasures.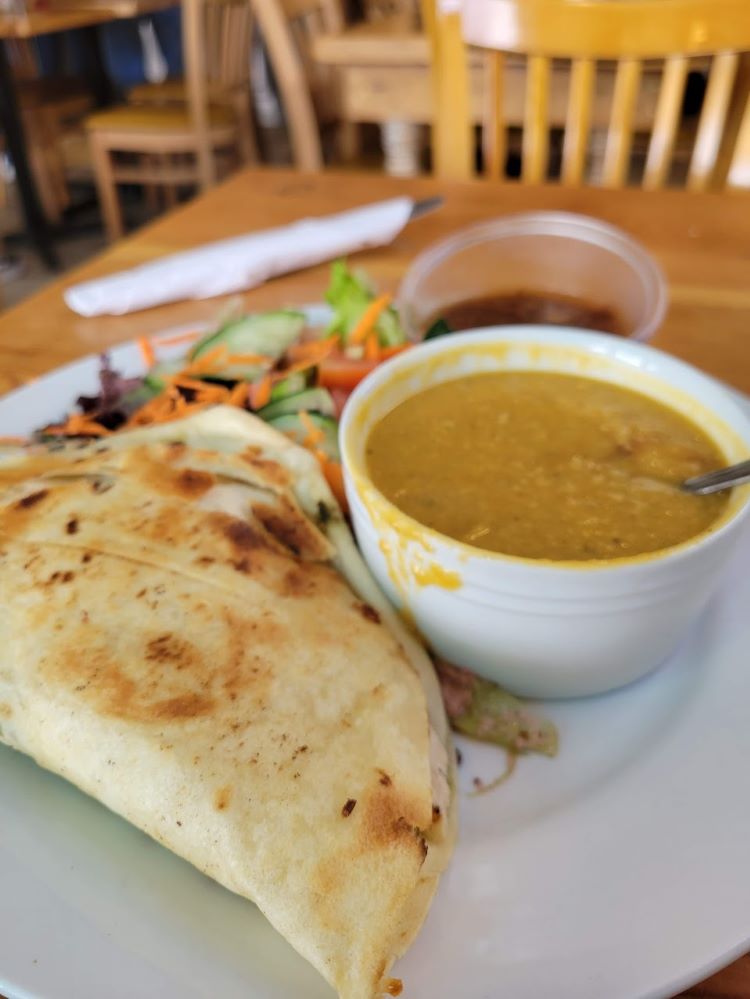 Relish Southwestern Cuisine
20. Sample traditional New Mexican dishes like green chile stew and enchiladas.
New Mexican cuisine is renowned for its bold flavors and unique culinary traditions. Two classic dishes that exemplify the essence of this cuisine are green chile stew and enchiladas.
Green chile stew is a hearty and comforting dish that showcases the beloved New Mexican green chile. The stew typically features chunks of tender meat (such as pork or beef), potatoes, onions, garlic, and, of course, the star ingredient—roasted and peeled green chile peppers. The chiles add a vibrant, smoky, and slightly spicy flavor that infuses the entire stew. The combination of ingredients is slow-cooked to perfection, allowing the flavors to meld together and create a satisfying and soul-warming dish that is a staple in New Mexican households.
Enchiladas, another popular New Mexican dish, are a mouthwatering delight. Corn tortillas are filled with a variety of ingredients, such as shredded chicken, cheese, beef, or beans, and then rolled up and smothered in a flavorful sauce. In New Mexico, the sauce of choice is often red or green chile sauce. Red chile sauce is made from dried red chile pods, rehydrated and blended with spices, while green chile sauce is made from roasted and peeled green chile peppers. Once the enchiladas are generously covered with the sauce, they are baked until the tortillas soften and absorb the flavors. The final touch is a sprinkling of cheese, onions, and sometimes a dollop of sour cream. The result is a harmonious blend of textures and tastes, with the richness of the sauce complementing the filling and creating a truly satisfying and flavorful dish.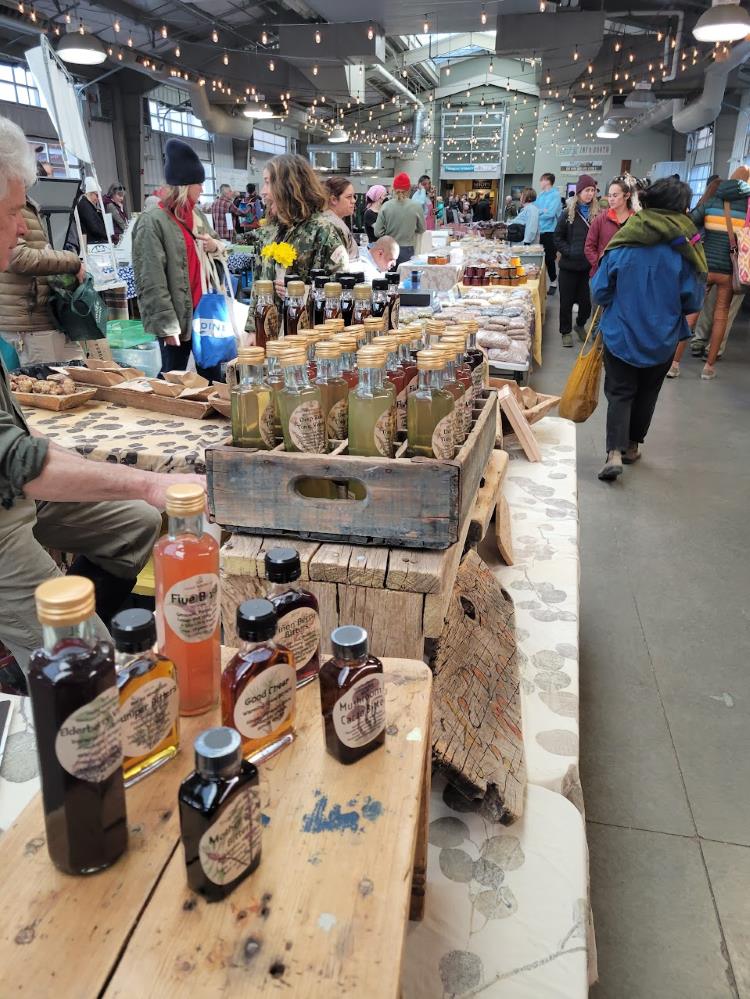 19. Explore the Santa Fe Farmers Market for fresh produce and local delicacies.
The Santa Fe Farmers Market is a vibrant and bustling gathering place that showcases the best of local agriculture and artisanal products. Held in the heart of Santa Fe, this renowned market attracts both locals and visitors alike with its wide array of fresh produce, culinary delights, and handmade crafts. Strolling through the market, you'll find an abundance of seasonal fruits and vegetables, artisanal cheeses, bread, honey, herbs, and more, all sourced directly from local farmers and producers. The market is not just about food—it also features an array of local crafts, including pottery, jewelry, textiles, and artwork. With its lively atmosphere, live music, and friendly vendors, the Santa Fe Farmers Market offers a delightful opportunity to connect with the local community, support sustainable agriculture, and savor the flavors of the region.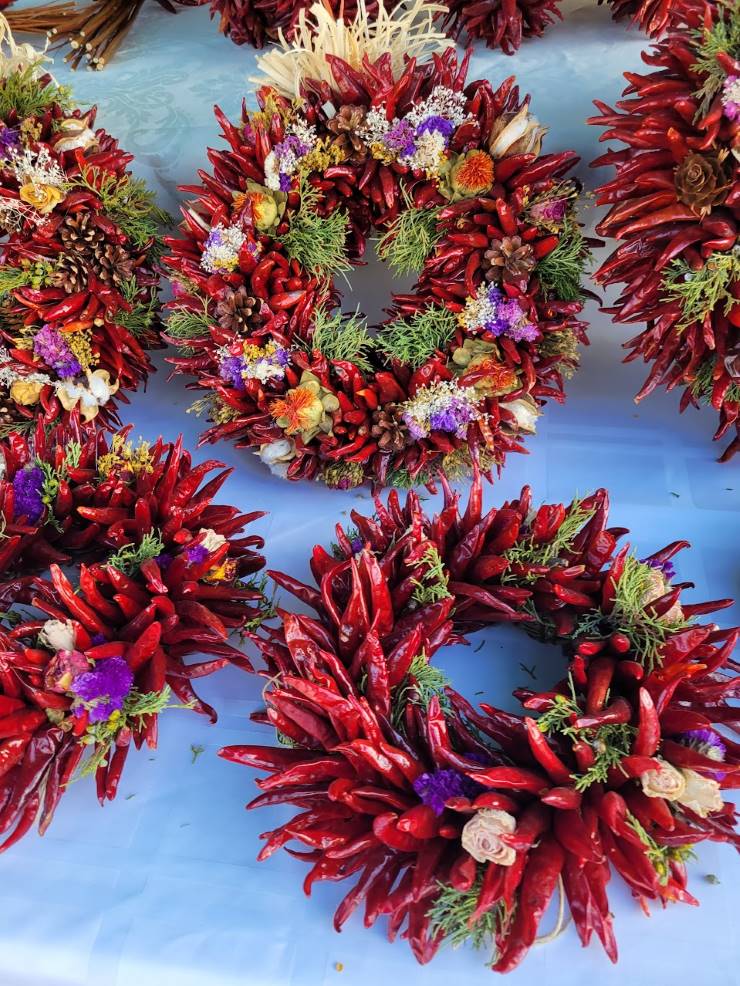 20. Indulge in gourmet chocolate experiences featuring a fusion of flavors at Kakawa Chocolate House
Kakawa Chocolate House in Santa Fe is a paradise for chocolate enthusiasts and connoisseurs. Step inside this charming establishment and embark on a delectable journey through the world of artisanal chocolates. Kakawa is renowned for its dedication to preserving historic chocolate recipes, infusing each creation with a touch of nostalgia and a dash of creativity. The aroma of freshly roasted cocoa beans fills the air as you explore their tempting offerings, from handcrafted truffles and bonbons to drinking chocolate elixirs infused with exotic flavors. Each chocolate is meticulously crafted, using high-quality ingredients and inspired combinations that tantalize the taste buds. The knowledgeable staff is always ready to guide you through the assortment, sharing the stories and traditions behind each chocolate creation. Whether you indulge in a velvety-rich cup of sipping chocolate or savor the complex flavors of their chocolates, a visit to Kakawa Chocolate House is an enchanting experience that satisfies both the cravings and the curiosity of chocolate lovers.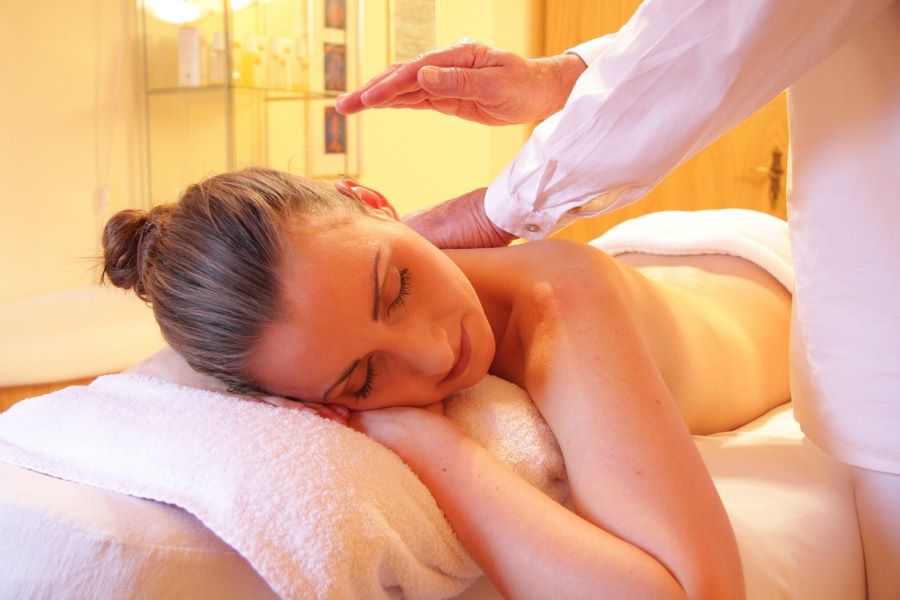 21. Treat yourself to a spa day at one of Santa Fe's renowned wellness retreats.
Sunrise Springs Spa Resort: Located in the serene outskirts of Santa Fe, this wellness retreat offers a range of spa treatments, including massages, facials, and hydrotherapy experiences. Immerse yourself in the natural beauty of the surrounding landscapes and enjoy the tranquil ambiance of their rejuvenating spa facilities.
Ten Thousand Waves: Nestled in the picturesque foothills of the Sangre de Cristo Mountains, Ten Thousand Waves offers a Japanese-inspired spa experience. Unwind in their private outdoor hot tubs, indulge in therapeutic massages, and enjoy authentic Japanese spa rituals, such as their renowned shiatsu massage.
Ojo Santa Fe Spa Resort: Situated in the scenic countryside just outside Santa Fe, Ojo Santa Fe provides a tranquil oasis for relaxation and healing. Experience their revitalizing spa treatments, soak in their mineral-rich hot springs, and rejuvenate your senses in a peaceful and serene environment.
The Spa at Loretto: Located in the heart of downtown Santa Fe, The Spa at Loretto offers a luxurious spa experience inspired by the rich cultural heritage of the region. Treat yourself to a variety of restorative treatments, including massages, facials, and body therapies, and immerse yourself in the serene ambiance of this exquisite wellness retreat.
Whichever wellness retreat you choose in Santa Fe, you can expect a rejuvenating spa day filled with pampering treatments, tranquil settings, and a focus on overall well-being. Allow yourself to unwind, recharge, and embrace a state of pure relaxation and harmony.
22. Unwind in the soothing waters of natural hot springs located nearby.
Ojo Caliente Mineral Springs: Location: 50 Los Banos Drive, Ojo Caliente, NM Situated approximately an hour's drive from Santa Fe, Ojo Caliente Mineral Springs offers a variety of hot springs pools with different mineral compositions. Relax in the soothing waters while enjoying the scenic surroundings.
Jemez Springs: Location: Jemez Springs, NM A picturesque village located northwest of Santa Fe, Jemez Springs is known for its natural hot springs. The area features several hot springs, including Spence Hot Springs and McCauley Hot Springs, where you can soak in warm mineral-rich waters amidst beautiful landscapes.
San Antonio Hot Springs: Location: Santa Fe National Forest, near Jemez Springs, NM Tucked away in the Santa Fe National Forest, San Antonio Hot Springs is a hidden gem. The springs are accessed via a hiking trail, offering a rewarding journey to reach these natural hot pools surrounded by stunning wilderness.
Montezuma Hot Springs: Location: Near Las Vegas, NM Located about an hour and a half drive from Santa Fe, Montezuma Hot Springs is a historic site with hot springs that have been enjoyed for centuries. Soak in the therapeutic waters while taking in the scenic beauty of the area.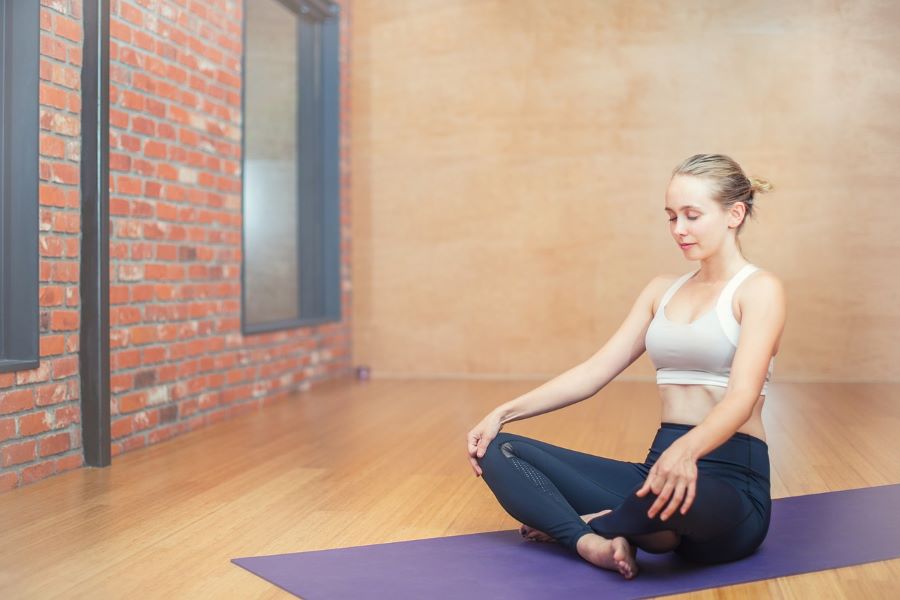 23. Attend yoga or meditation classes to rejuvenate your mind and body.
Here are a few yoga and meditation studios in the Santa Fe area:
BODY of Santa Fe: Location: 333 W Cordova Rd, Santa Fe, NM BODY of Santa Fe offers a variety of yoga classes, including Vinyasa, Hatha, and Kundalini, as well as meditation and mindfulness sessions. The studio provides a serene and welcoming space for practitioners of all levels.
Santa Fe Community Yoga Center: Location: 826 Camino de Monte Rey #B1, Santa Fe, NM Santa Fe Community Yoga Center offers a range of yoga classes taught by experienced instructors. They aim to make yoga accessible to everyone by offering donation-based classes and community events.
Santa Fe Kundalini Yoga Center: Location: 839 Paseo de Peralta, Santa Fe, NM The Santa Fe Kundalini Yoga Center focuses on the practice of Kundalini yoga, known for its dynamic movements, breathwork, and meditation. They offer regular classes and workshops to help individuals connect with their inner energy.
The Santa Fe Oxygen & Healing Bar: Location: 102 W San Francisco St, Santa Fe, NM The Santa Fe Oxygen & Healing Bar offers a unique combination of oxygen therapy, yoga, and meditation. They provide oxygen-enhanced yoga classes and guided meditation sessions to promote relaxation and rejuvenation.
Top activities and tours around Santa Fe
If you don't have a rental car or just staying around Santa Fe for a short visit, consider any of these cool tours to get you jump started to visiting the city and some of these fantastic attractions to enjoy and visit around the city.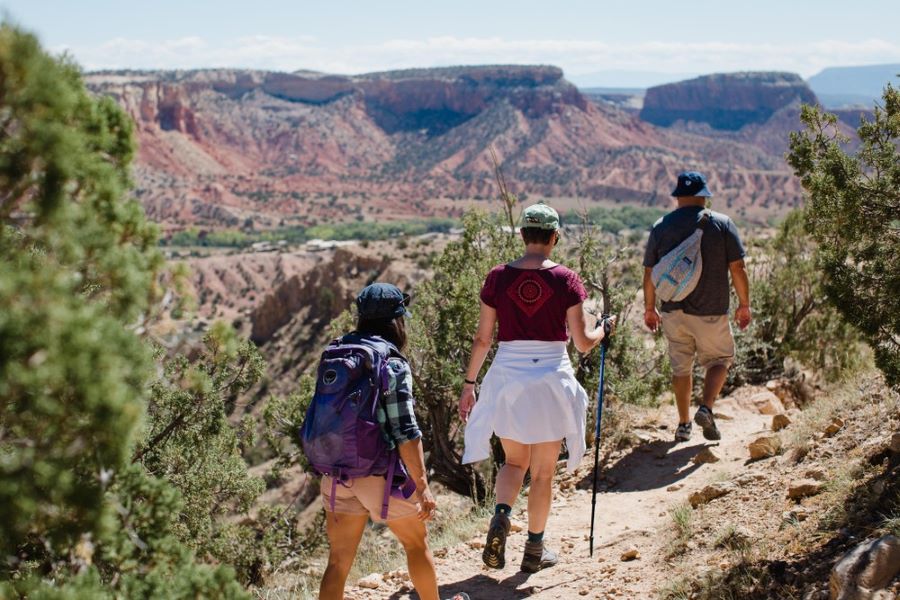 Enjoy a delightful picnic lunch arranged by your expert guide. Your guide is a professional with certifications in First Aid/CPR and Leave No Trace, ensuring your safety and the preservation of the environment. As part of the experience, you will receive a day pass granting you entry into the captivating Ghost Ranch, where you can immerse yourself in its natural beauty and explore its scenic wonders.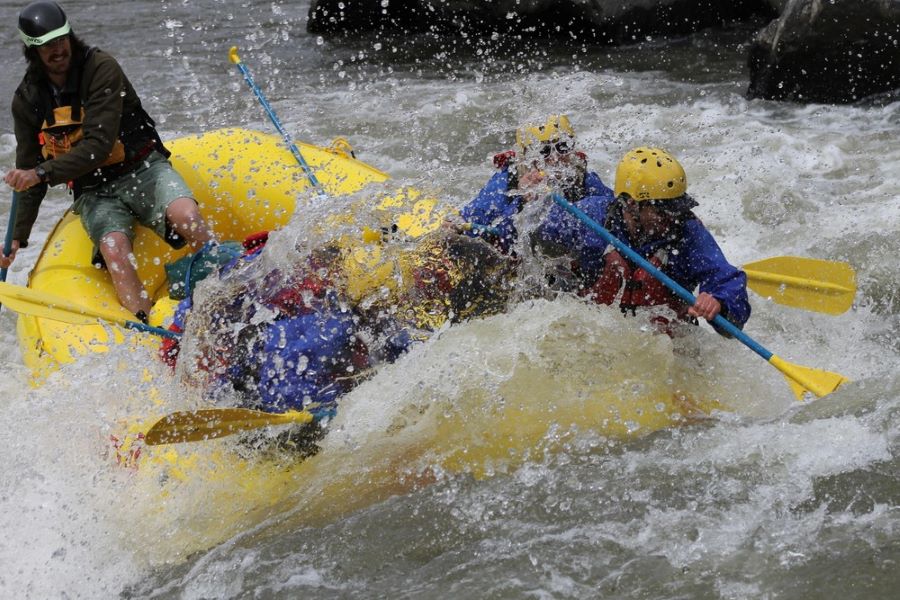 Embark on a thrilling culinary outdoor adventure from Santa Fe that combines exhilarating rafting on the Rio Grande with a delectable gourmet lunch at the picturesque Vivac Winery. Prepare to be amazed as you navigate the scenic river and soak in the breathtaking views. After your exciting rafting experience, indulge in a mouthwatering gourmet lunch at the winery, where you can savor delicious flavors and relax in a serene setting. This unforgettable adventure promises to be the highlight of your Santa Fe trip, offering a perfect blend of excitement, natural beauty, and culinary delights.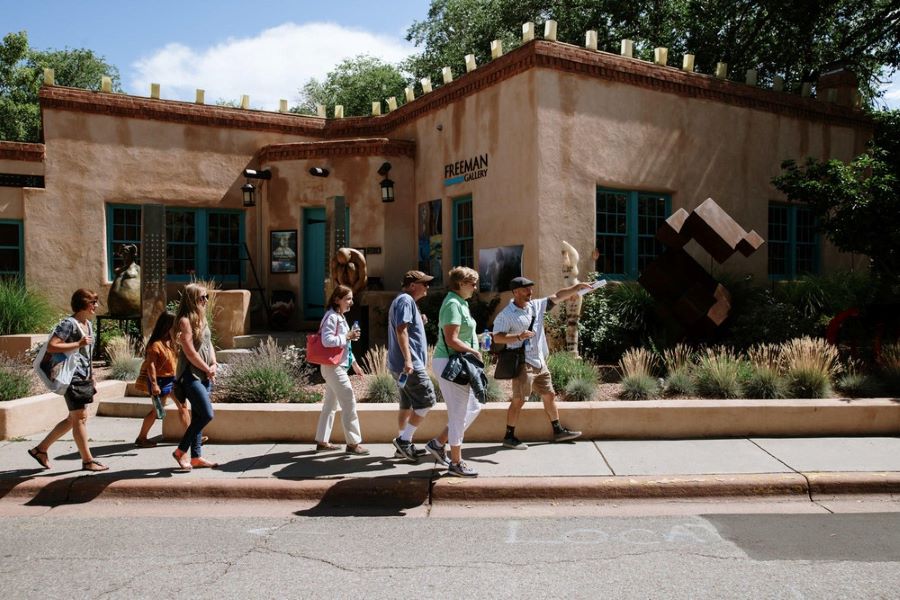 Immerse yourself in the charm of Santa Fe's historic eastside neighborhood and explore the winding residential gallery district of Canyon Road on a captivating three-hour walking tour. Discover the beauty of three distinct New Mexican architectural styles: Pueblo, Spanish Territorial, and Northern New Mexican. As you admire the exteriors showcasing these unique styles, delve into the rich history and significance of the traditional acequia system for water management. Inside the homes, marvel at the artfully curated interiors that reflect the personal stories and tastes of the residents. This tour offers a fascinating glimpse into the architectural heritage and cultural traditions of Santa Fe, providing a deeper appreciation for the city's captivating blend of history and artistry.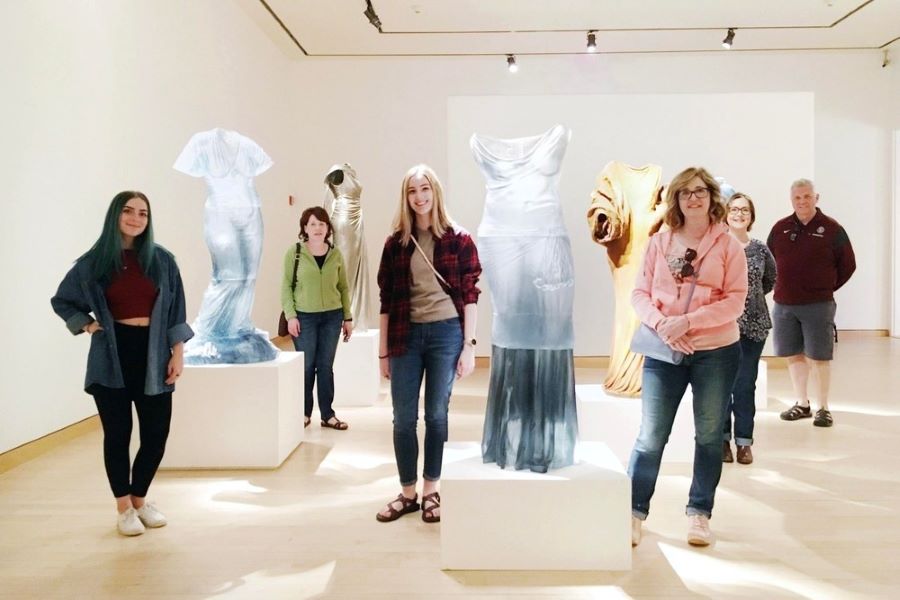 Experience a sensory delight as you embark on a tour of three exquisite art galleries, combined with a visit to the renowned Kakawa Chocolate House in Santa Fe. Immerse yourself in inspiring sculpture gardens, where artistic wonders come to life. Explore the captivating world of contemporary art, where cutting-edge creations ignite the imagination. Indulge your taste buds with the most sought-after chocolate elixirs at Kakawa Chocolate House, savoring the tantalizing flavors that awaken your senses. This extraordinary tour promises a fusion of art, culture, and culinary delights, creating an unforgettable sensory journey through the vibrant city of Santa Fe.
Santa Fe offers a diverse range of experiences, from immersing in art and culture to exploring its rich history and natural beauty. Whether you're a history buff, an art enthusiast, a nature lover, or a foodie, Santa Fe has something to captivate every visitor.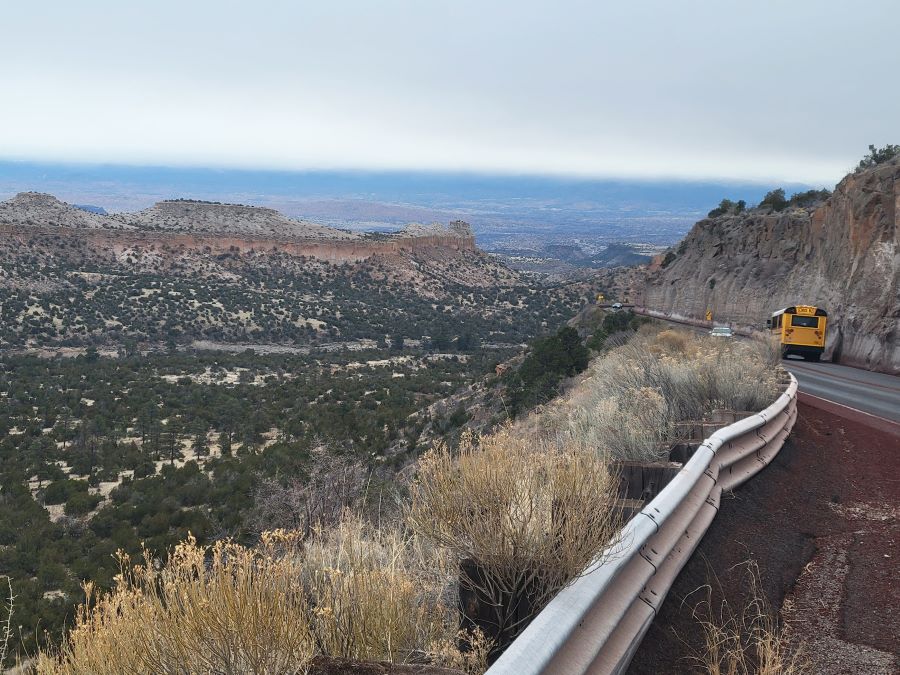 How to get to Santa Fe, New Mexico
There are several ways to get to Santa Fe, New Mexico, depending on your location and preferences. Here are some common transportation options:
By Air:
The nearest major airport is the Albuquerque International Sunport (ABQ), located about an hour's drive south of Santa Fe.
From the airport, you can rent a car and drive to Santa Fe or take a shuttle service directly to your destination.
Some airlines also offer regional flights to the Santa Fe Municipal Airport (SAF), which is located approximately 10 miles southwest of the city center.

By Car:

Santa Fe is easily accessible by car via major highways. If you are traveling from the north, you can take Interstate 25 (I-25) south from Colorado or north from Albuquerque. From the east or west, you can take Interstate 40 (I-40) and then connect to I-25.
Driving to Santa Fe allows you the flexibility to explore the surrounding areas and take scenic drives through the beautiful landscapes of New Mexico.

 By Train:

The Rail Runner Express, a commuter train, connects Santa Fe with Albuquerque. The train departs from the downtown Albuquerque train station and arrives at the Santa Fe Depot, located near the Santa Fe Plaza.
This train service offers a convenient and scenic option for traveling between the two cities
By Bus:
Several bus companies provide transportation services to Santa Fe. Greyhound and other regional bus lines have stops in Santa Fe.
Buses typically arrive at the Santa Fe Depot or the Santa Fe Bus Station, both located in the downtown area.
Once you arrive in Santa Fe, various local transportation options, such as taxis, rideshares, and rental cars, are available to help you navigate the city and reach your desired destinations.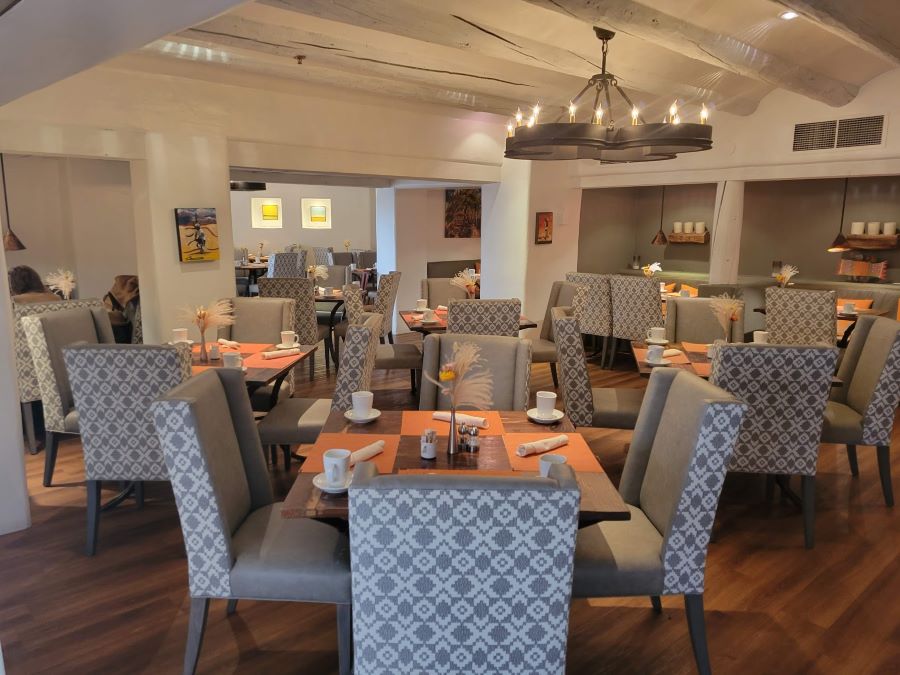 Best places to eat in Santa Fe
Santa Fe is a culinary paradise that offers a wide range of dining options to satisfy every palate. Here are some of the most popular and fun places to eat in Santa Fe:
The Shed: Known for its vibrant ambiance and mouthwatering New Mexican cuisine, The Shed is a Santa Fe institution. Indulge in their famous red and green chile dishes, enchiladas, and tamales, all served with a side of warm hospitality.
Café Pasqual's: This beloved eatery combines delicious food with a vibrant atmosphere. Café Pasqual's serves up organic and locally sourced dishes inspired by global flavors. Try their flavorful breakfast dishes, homemade baked goods, and creative takes on traditional favorites.
The Pantry: A local favorite for hearty breakfasts and classic American comfort food, The Pantry has been serving Santa Fe since 1948. Feast on their famous green chile cheeseburgers, stacked breakfast burritos, and delectable cinnamon rolls.
Sazon: For an upscale and unique dining experience, Sazon offers exquisite flavors of traditional Mexican cuisine. The intimate setting, personalized service, and thoughtfully crafted dishes make it a top choice for a memorable meal.
La Choza: Sister restaurant to The Shed, La Choza specializes in traditional New Mexican cuisine. Enjoy their flavorful dishes like blue corn enchiladas, carne adovada, and posole while immersing yourself in the lively atmosphere of this local gem.
Geronimo: Located in a historic adobe building, Geronimo offers a sophisticated dining experience with a menu featuring modern American cuisine with global influences. Indulge in their exquisite dishes, paired with an extensive wine selection, for a memorable fine dining experience.
Cowgirl BBQ: A fun and lively spot with a Western flair, Cowgirl BBQ serves up delicious BBQ fare, burgers, and Tex-Mex dishes. Enjoy live music, a vibrant outdoor patio, and their famous margaritas, making it a great place for a casual and enjoyable meal.
Kakawa Chocolate House: For those with a sweet tooth, Kakawa Chocolate House is a paradise. Sample their artisanal chocolates, sipping chocolate elixirs, and other delightful treats inspired by historic recipes. It's a must-visit for chocolate lovers.
These are just a few of the popular and fun places to eat in Santa Fe. With its diverse culinary scene, the city offers an abundance of delicious options to satisfy every taste and create memorable dining experiences.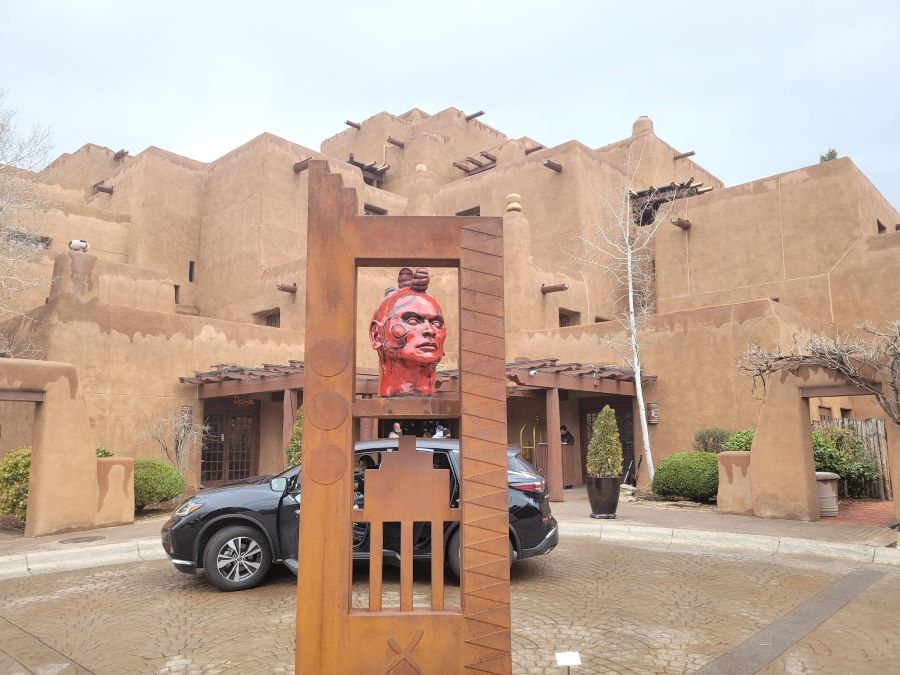 Where to stay in Santa Fe
There's a host of fantastic locations for accommodations to consider in Santa Fe or outlying areas if you want more quiet and open space beyond the city center. Check out all these fabulous places to stay below and are highly recommended. When you are centrally located downtown, everything is within walking distance.
Luxurious accommodations with Southwestern charm
Convenient location near the Santa Fe Plaza
Spa services and fine dining options available
Historic hotel with Pueblo Revival architecture
Central location overlooking the Santa Fe Plaza
Unique rooms, rooftop terrace, and multiple dining options
Elegant boutique hotel showcasing Native American artwork
Prime location near the Santa Fe Plaza and cultural attractions
Upscale accommodations, renowned dining, and personalized service
Contemporary luxury hotel in downtown Santa Fe
Full-service spa, rooftop pool, and fitness center
Multiple dining options, including a rooftop bar with panoramic views
Authentic Native American-owned hotel
Spacious rooms featuring traditional Pueblo-style decor
On-site restaurant, bar, and outdoor pool area
Check out these posts on other places to visit around New Mexico
Visit Bandelier National Monument
Visit to Los Alamos New Mexico
Best things to do in New Mexico
Road trip to Santuario de Chimayo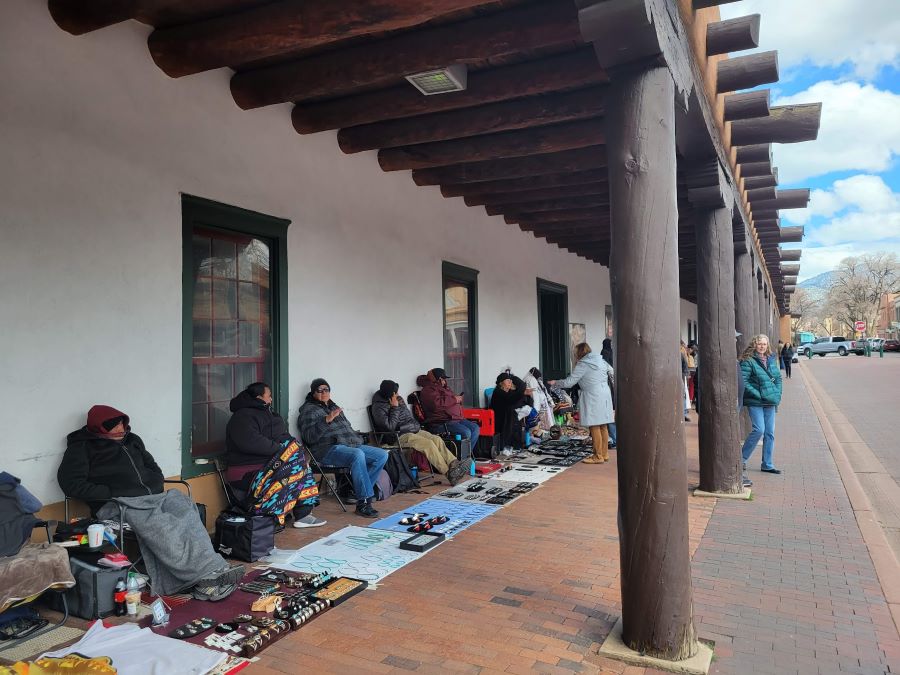 Conclusion to the Top 27 things to do in Santa Fe, New Mexico
Santa Fe offers a multitude of captivating experiences that cater to a wide range of interests and passions. Whether you're drawn to its rich cultural heritage, stunning natural landscapes, thriving art scene, or tantalizing cuisine, this enchanting city has something for everyone. From exploring the historic Santa Fe Plaza and delving into the art museums to immersing in Native American traditions and indulging in outdoor adventures, Santa Fe promises a journey filled with discovery and wonder.
The city's unique blend of history, art, and natural beauty creates a vibrant tapestry of experiences that leave a lasting impression on visitors. So, whether you're planning a weekend getaway or a longer sojourn, Santa Fe invites you to immerse yourself in its charm, embrace its diverse offerings, and create unforgettable memories that will linger long after you've left its captivating embrace.
Thanks for checking out this post on 27 things to do in Santa Fe, it really should be on your list of worthwhile places to around the state and adventure filled with inspiring places to tour.
Hope that this post has been helpful to planning your visit to the city and if so, please do share it with any of the social media channels and buttons located below.
Disclosure – some of the links above are to affiliate sites that are either reviews or recommendations if you book helps to keep our site running at no additional cost to you. We appreciate your supporting our website meanwhile.