Los Alamos, New Mexico: A Fascinating Blend of History, Nature, and Culture Awaits
Welcome to a captivating journey through Los Alamos, a town steeped in intriguing history, renowned for its pivotal role in the Manhattan Project. Join us as we explore the secrets of the atomic age and delve into the world of groundbreaking scientific discoveries. Los Alamos is not only a scientific research lab but it is also surrounded with stunning landscapes, from rugged canyons to majestic mountains, offering outdoor enthusiasts an abundance of adventures. Discover today's fusion of art, culture, and culinary delights that make Los Alamos an unforgettable destination to visit in the mountain regions of  the Jemez mountains in Northern New Mexico. We will take you through all the history, secret developments and an unforgettable exploration of this remarkable New Mexican gem!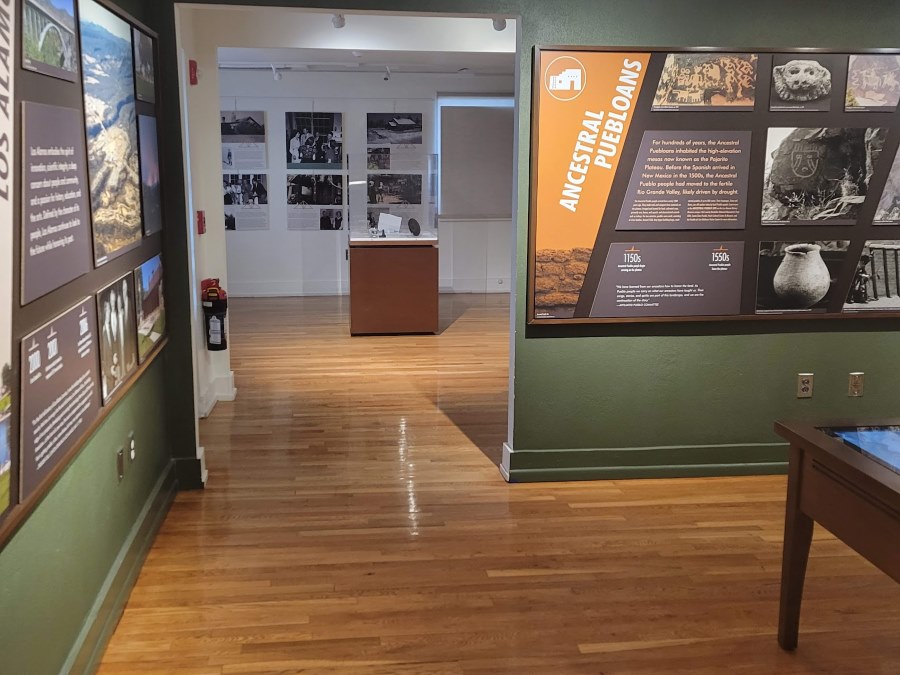 A brief history about the development of Los Alamos
The history of Los Alamos is deeply entwined with significant events that shaped the world during the 20th century. In the early 1940s, during World War II, the United States government established the Los Alamos National Laboratory as a top-secret research facility. Its primary mission was to develop the first atomic bomb as part of the Manhattan Project, a covert scientific endeavor.
The secluded location in the mountains of northern New Mexico offered the perfect environment for this classified research. Under the leadership of physicist J. Robert Oppenheimer, a brilliant team of scientists, engineers, and technicians worked tirelessly to unlock the secrets of nuclear fission.
On July 16, 1945, their efforts culminated in the successful detonation of the world's first atomic bomb, code-named "Trinity." The success of the Trinity test led to the deployment of atomic bombs on Hiroshima and Nagasaki, ultimately bringing an end to World War II.
After the war, Los Alamos National Laboratory continued its work in nuclear research and expanded into other scientific disciplines. Today, it remains a vital center for cutting-edge research, contributing to various fields, including national security, energy, and environmental science.
Beyond its scientific significance, Los Alamos has evolved into a thriving community, embracing its history while embracing the arts, culture, and outdoor pursuits that make it a unique and fascinating destination.
Here's a fantastic overview of the Manhattan project facilities and project sites at Los Alamos below.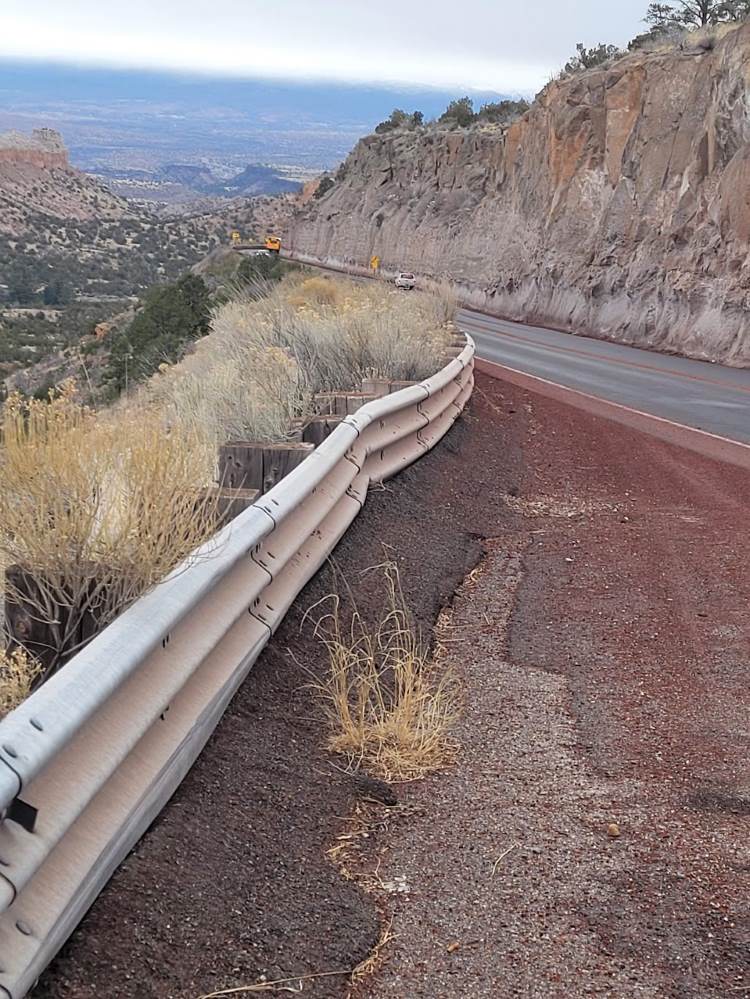 How to get to Los Alamos in New Mexico
Getting to Los Alamos, New Mexico, can be done by several means of transportation. Here are the primary options:
By Car:
If you are driving from nearby cities or states, you can reach Los Alamos by car. The town is accessible via major highways like US-84/285 and NM-502. Use a GPS or map app to find the best route from your starting location.
By Air:
The closest major airport to Los Alamos is Albuquerque International Sunport (ABQ), located about 90 miles south of Los Alamos. From the airport, you can rent a car or use shuttle services to reach Los Alamos.
By Bus:
Los Alamos is served by the New Mexico Park and Ride bus system, which offers routes connecting various cities and towns in the region, including Albuquerque and Santa Fe. Check the schedule and availability of buses for your desired route.
By Shuttle Services or private transport:
Some hotels or local businesses may offer shuttle services from nearby airports or cities to Los Alamos. Check with your accommodation or local transportation providers for availability and pricing.
Once in Los Alamos, you can use local transportation, such as taxis or ride-sharing services, to get around the town and explore its attractions. It's essential to plan your trip in advance and check for any updates or changes in transportation options before your journey. Safe travels!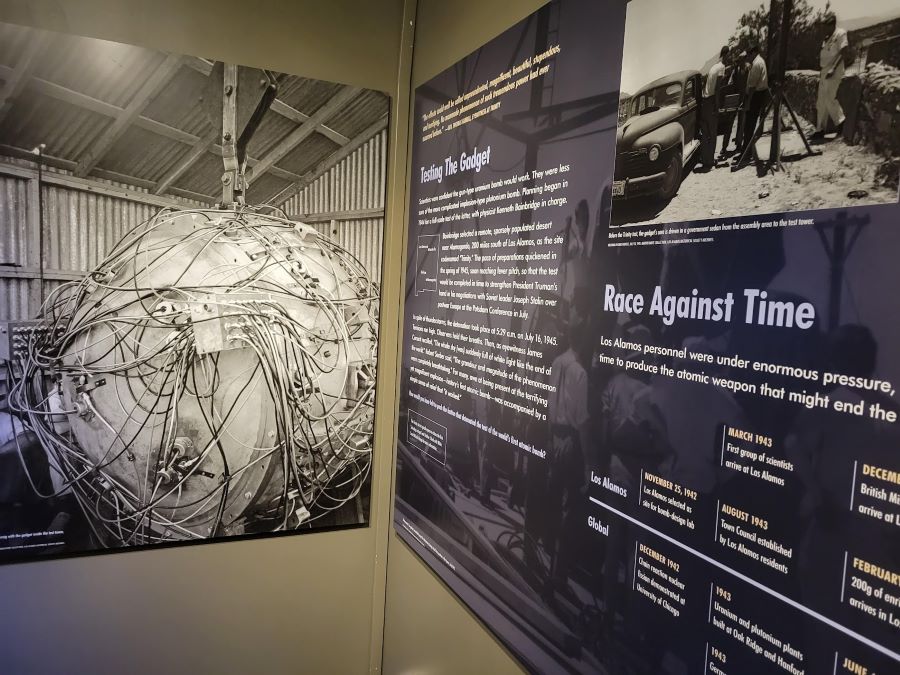 Top things to do and places to visit around Los Alamos
Los Alamos, New Mexico, offers a range of intriguing activities and sights to explore, catering to both history enthusiasts and nature lovers. Here are the top things to do and see in Los Alamos: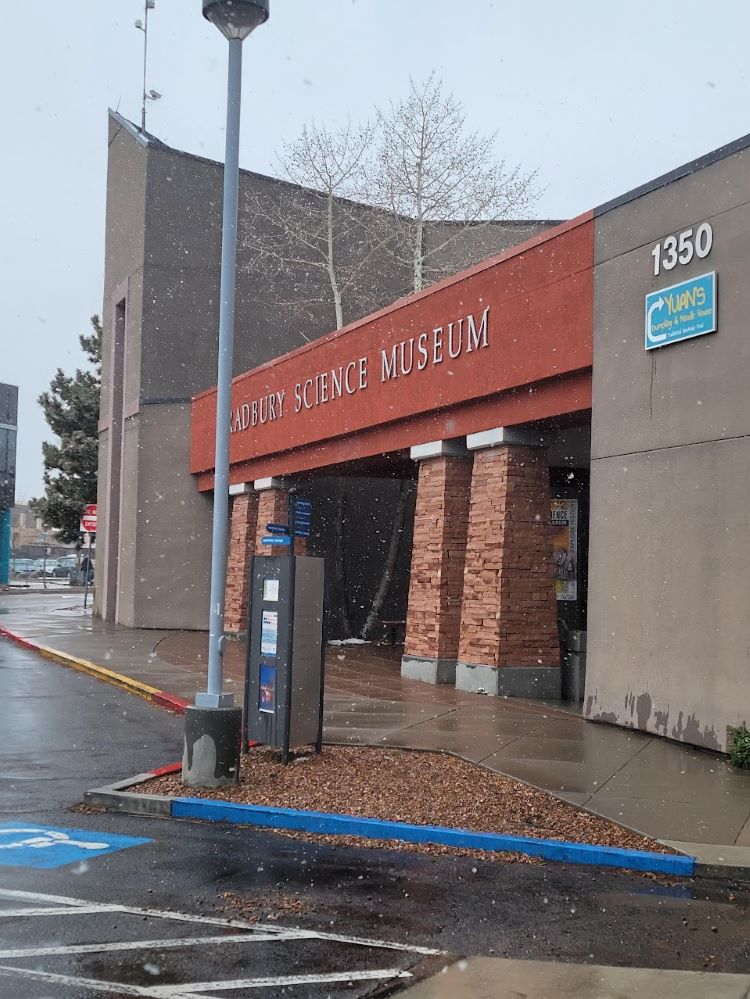 Los Alamos National Laboratory: Discover the birthplace of the atomic bomb and learn about groundbreaking scientific research at the Los Alamos National Laboratory's Bradbury Science Museum. Engaging exhibits shed light on the Manhattan Project and its impact on the world.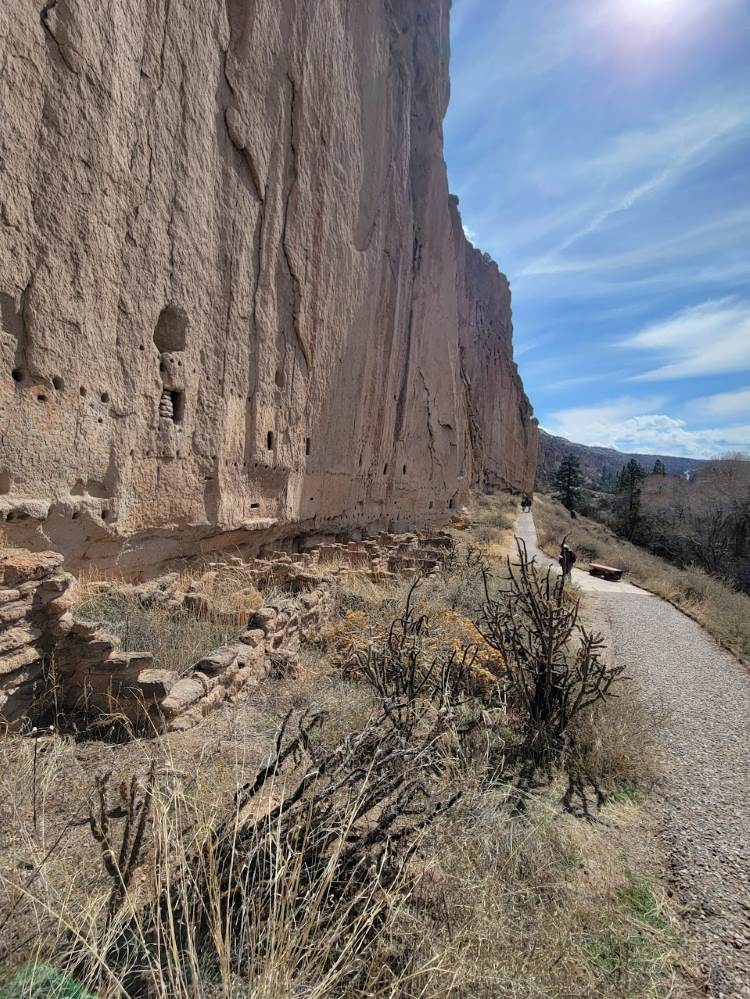 Bandelier National Monument: Immerse yourself in the ancient wonders of Bandelier National Monument. Explore well-preserved Ancestral Puebloan cliff dwellings, hike scenic trails through rugged canyons, and experience the beauty of petroglyphs. The park's main attraction is the Frijoles Canyon, where visitors can explore the ancient ruins and rock art of the ancestral Pueblo people.
Bandelier offers a range of scenic routes that lead through canyons, along streams, and up to overlooks with stunning vistas. The Main Loop Trail is a popular choice, taking visitors past the iconic Big Kiva and alcove dwellings. The Alcove House Trail leads to the Alcove House, a cliff dwelling accessible by climbing wooden ladders. Additionally, the Falls Trail leads to the stunning Upper Falls and offers a refreshing experience on hot days.
Pajarito Ski Area: In winter, hit the slopes at Pajarito Ski Area for some skiing and snowboarding fun. During warmer months, the area offers mountain biking and hiking trails with breathtaking vistas.
Valles Caldera National Preserve: Witness the awe-inspiring beauty of Valles Caldera, a vast volcanic crater transformed into a stunning national preserve. Enjoy wildlife watching, fishing, and serene landscapes.
Historic Fuller Lodge: Step back in time at Historic Fuller Lodge, an iconic building that once housed Manhattan Project scientists. Today, it serves as a community center, hosting events, art exhibits, and cultural programs. It is a beautiful historic building to walk through and you can sign up for a walking tour to cover the many buildings that were central to the project scientist that were involved with the creation of the atomic bomb.
Los Alamos Nature Center: Delve into the region's natural wonders at the Los Alamos Nature Center. The Los Alamos Nature Center is a captivating destination in Los Alamos, New Mexico. It serves as an educational and recreational hub, showcasing the region's natural wonders and diverse wildlife. Visitors can explore interactive exhibits, informative displays, and engaging programs that highlight local flora, fauna, and geology. The center also offers stargazing events and astronomy programs, allowing visitors to appreciate the night skies above. Surrounded by scenic beauty, the Los Alamos Nature Center is a perfect starting point for outdoor adventures, providing valuable insights into the rich biodiversity and environmental conservation efforts in the area.
Ashley Pond Park: Relax at Ashley Pond Park, a serene spot in the heart of downtown. Enjoy a leisurely stroll around the pond, have a picnic, or simply unwind amid picturesque surroundings. This popular pond was the center of social life and outdoor gatherings during the Los Alamos secret heyday and is still a popular spot to relax and participate with popular events that happen here.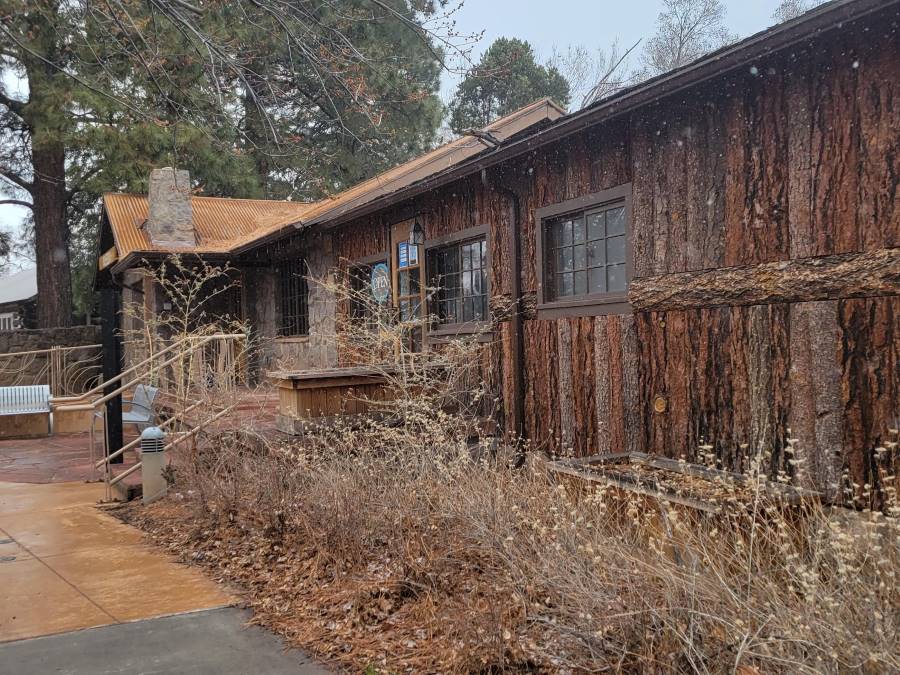 Los Alamos History Museum: The Los Alamos History Museum is a fascinating destination that delves into the rich history of Los Alamos, New Mexico. Located in the heart of the town, the museum showcases the area's pivotal role in the Manhattan Project during World War II. Through engaging exhibits and artifacts, visitors can learn about the top-secret research and scientific endeavors that led to the development of the atomic bomb.
The museum also provides insights into the post-war era, highlighting the evolution of Los Alamos from a secret scientific community to a thriving town. Visitors can explore displays featuring the local culture, historical events, and the contributions of the residents to the fields of science, technology, and national security.
Otowi Peak Trail: Take a hike on the Otowi Peak Trail for a challenging yet rewarding hike, offering panoramic views of Los Alamos and the surrounding landscape. The trail winds through the rugged terrain of the Jemez Mountains, leading hikers through diverse landscapes, including forests and meadows. As hikers ascend, they are treated to panoramic vistas of Los Alamos and the surrounding mountains. The trail's summit, Otowi Peak, rewards adventurers with a sense of accomplishment and stunning views of the picturesque valleys below.
Jemez Springs – Enjoy some outdoor activities, spa treatments or natural hot water springs around the the Jemez Mountains. The area is a charming and serene destination nestled in the Jemez Mountains. Known for its natural hot springs and stunning landscapes, this small village offers a tranquil escape from the hustle and bustle of city life. Visitors can relax in the healing mineral waters, hike scenic trails, and explore nearby historical sites, such as the Jemez State Monument and the Soda Dam. With its soothing ambiance and picturesque surroundings, Jemez Springs is a haven for nature enthusiasts, adventure seekers, and those seeking rejuvenation amidst the beauty of the New Mexican wilderness.
J. Robert Oppenheimer and his contributions to Los Alamos
J. Robert Oppenheimer, born on April 22, 1904, and passed away on February 18, 1967, was an American theoretical physicist and one of the key figures in the development of the atomic bomb during World War II. He is widely regarded as the "father of the atomic bomb" due to his significant leadership role in the Manhattan Project, a top-secret research initiative aimed at building the world's first atomic weapons.
Oppenheimer earned his doctorate in physics from the University of Göttingen in Germany in 1927 and later became a professor at the University of California, Berkeley. During the early 1940s, in the midst of World War II, he was chosen to lead the Los Alamos Laboratory in New Mexico, where top scientists collaborated to design and construct the atomic bomb.
Under Oppenheimer's direction, Los Alamos successfully produced the first nuclear weapon, which was tested on July 16, 1945, during the "Trinity" test. The success of this test led to the deployment of atomic bombs on the Japanese cities of Hiroshima and Nagasaki in August 1945, ultimately bringing an end to the war.
After World War II, Oppenheimer continued his work in physics and became an influential figure in the scientific community. However, during the Cold War and the era of McCarthyism in the United States, he faced scrutiny and was accused of having communist sympathies. Despite these challenges, Oppenheimer remained an advocate for international scientific cooperation and arms control.
J. Robert Oppenheimer's contributions to science and his role in the development of the atomic bomb have left a lasting impact on history and the world's understanding of nuclear physics. He remains an iconic figure in the fields of physics and national security.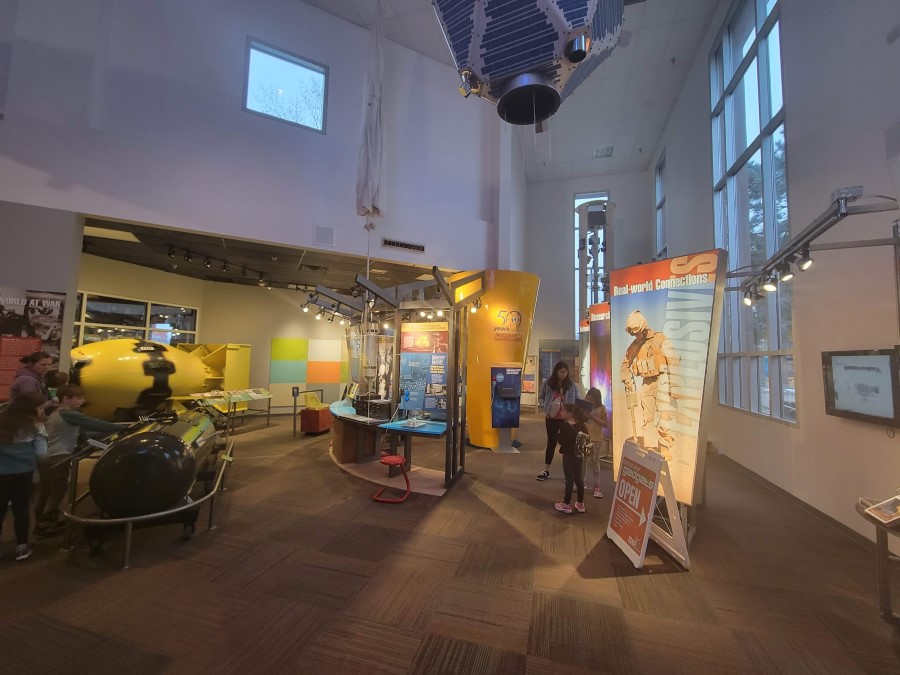 What Los Alamos Laboratory is used for today
As of the last update in September 2021, Los Alamos National Laboratory is still in operation and continues to be a prominent research institution. While its focus has evolved since its establishment during World War II, the laboratory remains dedicated to scientific research and national security-related work.
Today, Los Alamos National Laboratory is managed by the National Nuclear Security Administration (NNSA) under the United States Department of Energy (DOE). Its primary mission revolves around three main areas:
National Security: The laboratory plays a critical role in the nation's defense and national security efforts. It conducts research and development related to nuclear weapons, non-proliferation, and counterterrorism, among other areas.
Science and Technology Research: Los Alamos continues to be at the forefront of scientific advancements. It conducts research in various disciplines, including materials science, chemistry, biology, computing, and space exploration.
Global Challenges: The laboratory addresses global challenges, including climate change, energy security, and environmental sustainability, through scientific innovation and technological solutions.
The work at Los Alamos National Laboratory is highly classified and involves collaboration with other national laboratories, universities, and research institutions. The laboratory remains committed to advancing scientific knowledge, developing technologies, and ensuring the security and well-being of the United States and the world. Please note that specific research activities and projects may have evolved since my last update, so I recommend checking the laboratory's official website or recent news for the most current information.
References
Los Alamos National Laboratory
Legacy of J. Robert Oppenheimer

Weather and best time to visit Los Alamos region
The weather in the Los Alamos region varies throughout the year, with distinct seasons. Understanding the weather patterns can help you decide the best time to visit.
Weather Seasons:
Spring (March to May): Spring in Los Alamos brings mild temperatures with daytime highs ranging from the 50s to the 70s Fahrenheit (10-25°C). It's a beautiful time to visit as the landscapes bloom with wildflowers and the surrounding nature becomes vibrant.
Summer (June to August): Summers are warm in Los Alamos, with daytime temperatures ranging from the 70s to the 80s Fahrenheit (25-30°C). This season is popular for outdoor activities and events, but it can occasionally experience brief afternoon thunderstorms.
Fall (September to November): Fall showcases stunning foliage colors as temperatures cool down. Daytime highs range from the 50s to the 70s Fahrenheit (10-25°C). It's a picturesque time for hiking and enjoying the changing scenery.
Winter (December to February): Winters in Los Alamos are cold, with daytime temperatures ranging from the 30s to the 40s Fahrenheit (0-10°C). Snowfall is common, making it an excellent time for winter sports enthusiasts to visit the nearby ski areas.
Best Time to Visit: The best time to visit Los Alamos depends on your preferences and interests. If you enjoy mild weather and outdoor activities, spring and fall are ideal. The blooming landscapes in spring and the colorful foliage in fall offer picturesque views.
For those seeking warmer weather and outdoor adventures, summer is a popular time to visit, with various events and festivals taking place.
Winter is perfect for those who love snow activities and want to experience a more serene and cozy atmosphere.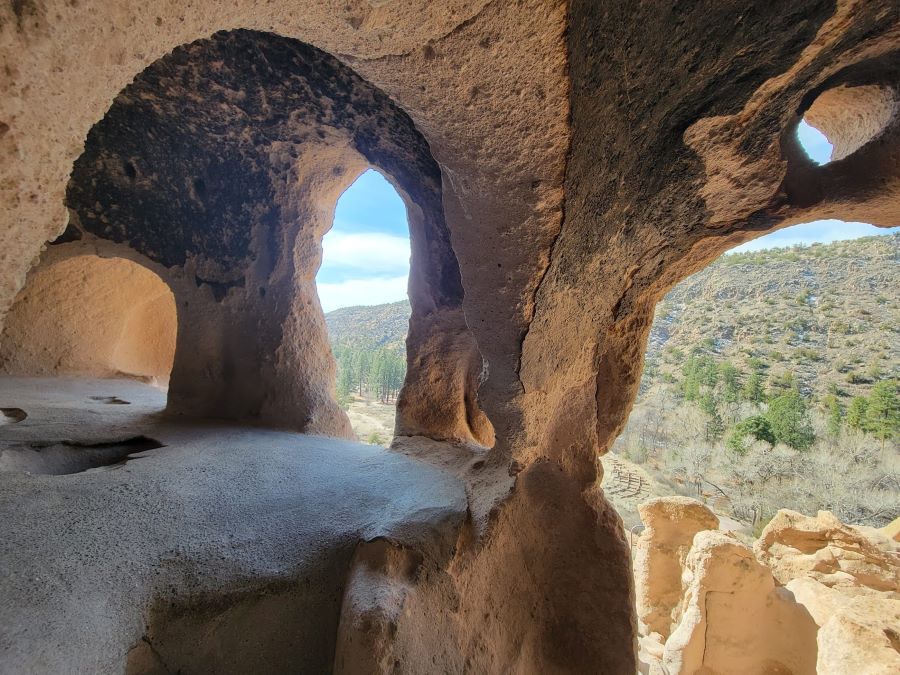 Check out these other posts to visiting New Mexico
Best things to do in New Mexico
Road trip to Santuario de Chimayo
Visit to Bandelier National Monument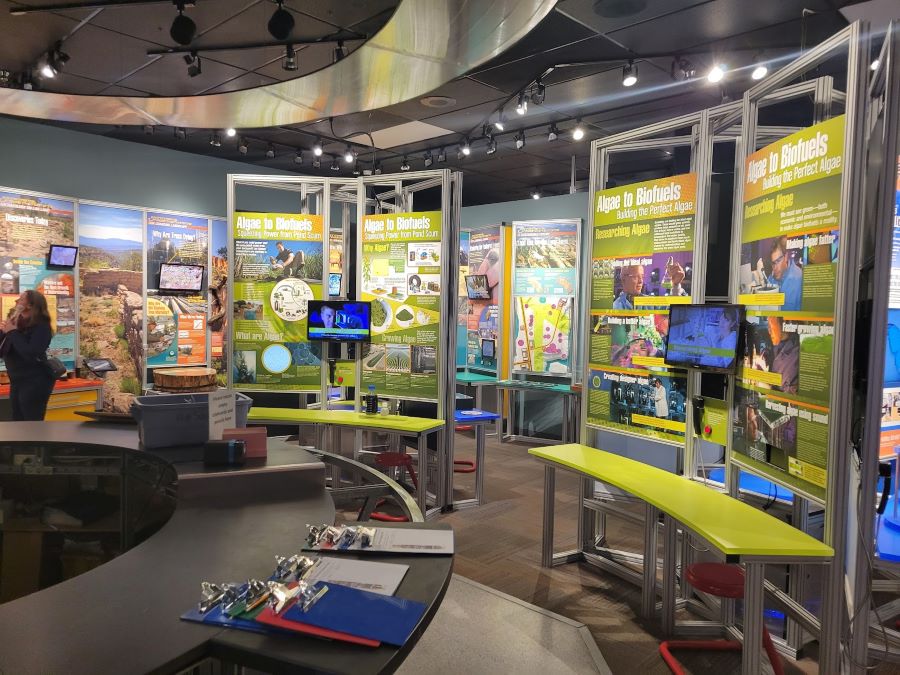 Conclusion to Los Alamos New Mexico
In conclusion, Los Alamos, New Mexico, holds a unique place in history as the birthplace of the atomic bomb, playing a significant role in shaping the world during World War II. Today, it stands as a vibrant community with a fusion of scientific innovation, natural beauty, and cultural charm. From exploring the secrets of the past at the Los Alamos National Laboratory and Bandelier National Monument to embracing the wonders of nature in the Valles Caldera, this captivating town offers a diverse range of experiences for visitors to enjoy. Whether you seek scientific discovery, outdoor adventures, or a peaceful retreat, Los Alamos welcomes you with open arms and a wealth of exploration opportunities.