Road trip to Santuario de Chimayo
Road Trip to Santuario de Chimayo: A Pilgrimage site form Catholic visitors
The origins of the Santuario de Chimayo trace back to the early 19th century when a local friar, Bernardo Abeyta, reportedly discovered a crucifix in a small pit on the site. This miraculous event quickly spread, and people began attributing healing powers to the soil where the crucifix was found. As stories of miraculous cures circulated, the chapel's reputation as a place of spiritual healing and solace grew.
In the years that followed, the simple adobe church was built to house the crucifix, and it became a focal point for religious pilgrims seeking blessings and cures. The Santuario's fame continued to spread, and it soon gained recognition beyond New Mexico, drawing visitors from across the United States and beyond.
Today, the Santuario de Chimayo stands as a cherished symbol of faith and hope. Every year, especially during Holy Week, tens of thousands of pilgrims flock to this sacred place to seek blessings, leave offerings, and connect with their spirituality. The church's small interior houses numerous religious artifacts and ex-votos, tokens of gratitude left by those who believe their prayers have been answered.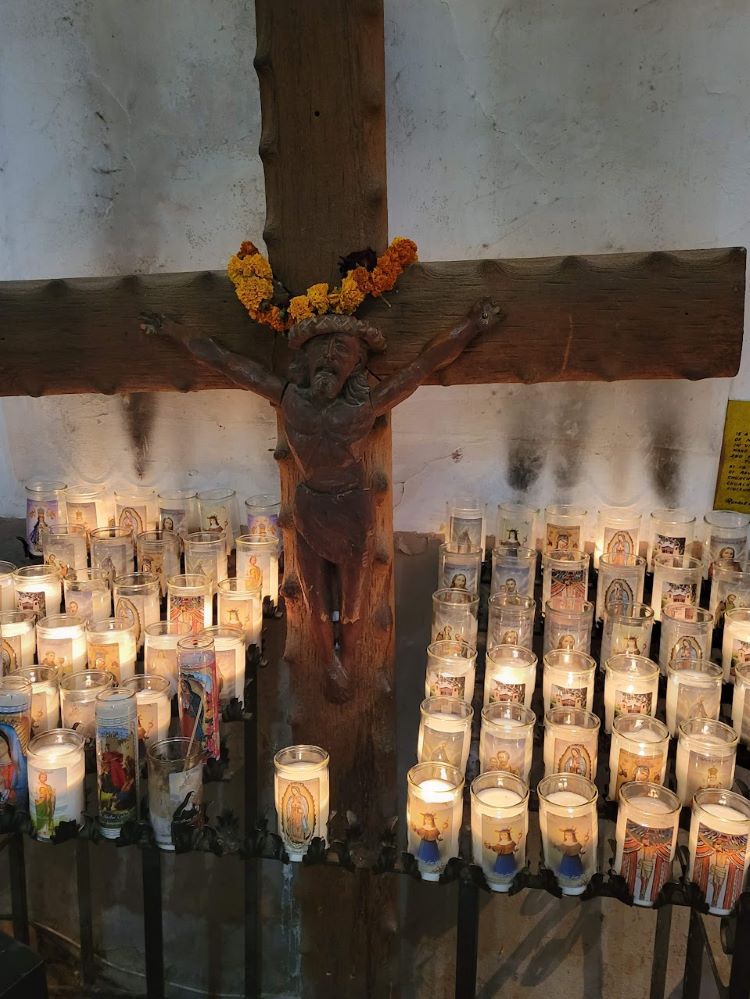 How to get to the Santuario de Chimayo
To reach the Santuario de Chimayo, follow these directions:
By Car: The most common way to get to the Santuario is by car. From Santa Fe, head north on US-285/84 for approximately 25 miles. Look for signs directing you to the Santuario de Chimayo; the turnoff is clearly marked.
Public Transportation: While there is limited public transportation directly to the Santuario, you can take a bus or train to Santa Fe and then rent a car or use a rideshare service to reach Chimayo.
Tour Companies: Some tour companies in the Santa Fe area offer guided trips to the Santuario de Chimayo. Check for available tours and book in advance.
Biking: For cycling enthusiasts, you can reach the Santuario de Chimayo by bike, enjoying the scenic countryside along the way. However, be prepared for hilly terrain.
Pilgrimage Walks: If you're seeking a more spiritual experience, consider joining one of the organized pilgrimage walks to the Santuario. Some groups embark on Holy Week journeys, while others plan special events throughout the year.
Accessibility: The Santuario itself is wheelchair accessible, ensuring that everyone can visit this sacred site.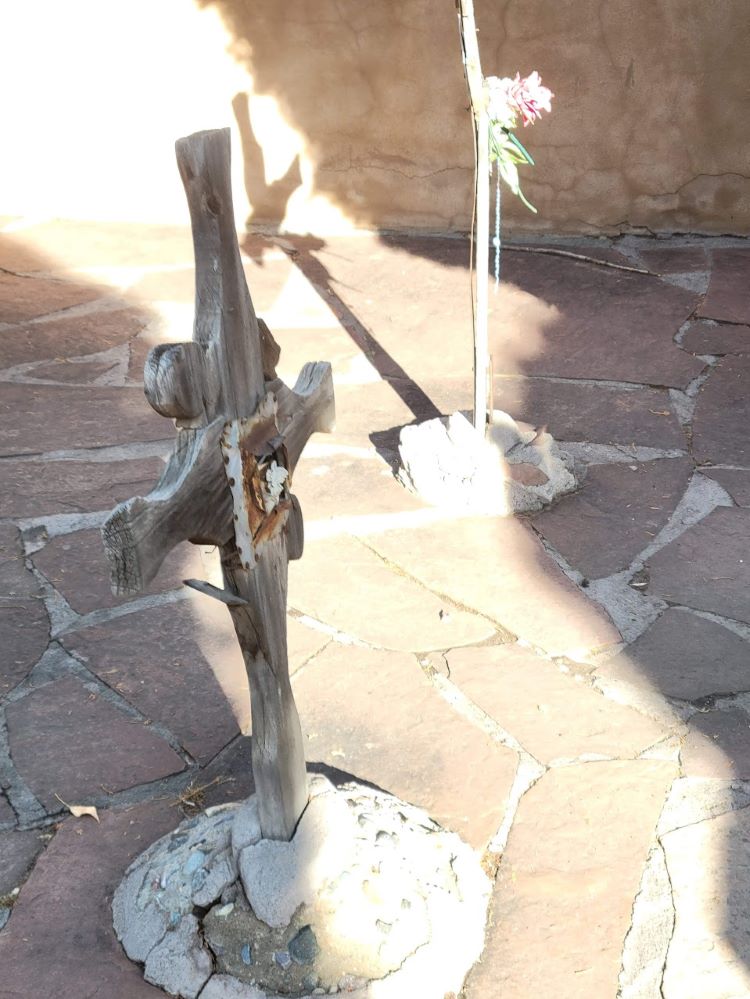 The road trip and visit to the sanctuary grounds
The small church and compound area is small and easy to manuever with good signage to explain the origins and the healing powers of this sacred site. The drive from the main highway to the winding country road is scenic and pleasant and part of the road is through the high road leading up to Toas as a different and more beautiful, slow journey to this ski mountain town. It's easy to just follow the direction signs that will lead you up to the pilgrimage site. Parking is straight forward and there are bathrooms to the left of the church.
Entering the church you automatically feel a sense of calm and spiritual being even if you are not Catholic, it still has a presence that impacts any visitor with the sheer simplicity and beauty of this hand crafted interior, altar and church displays done in traditional, folk art style of the Spanish Colonial period.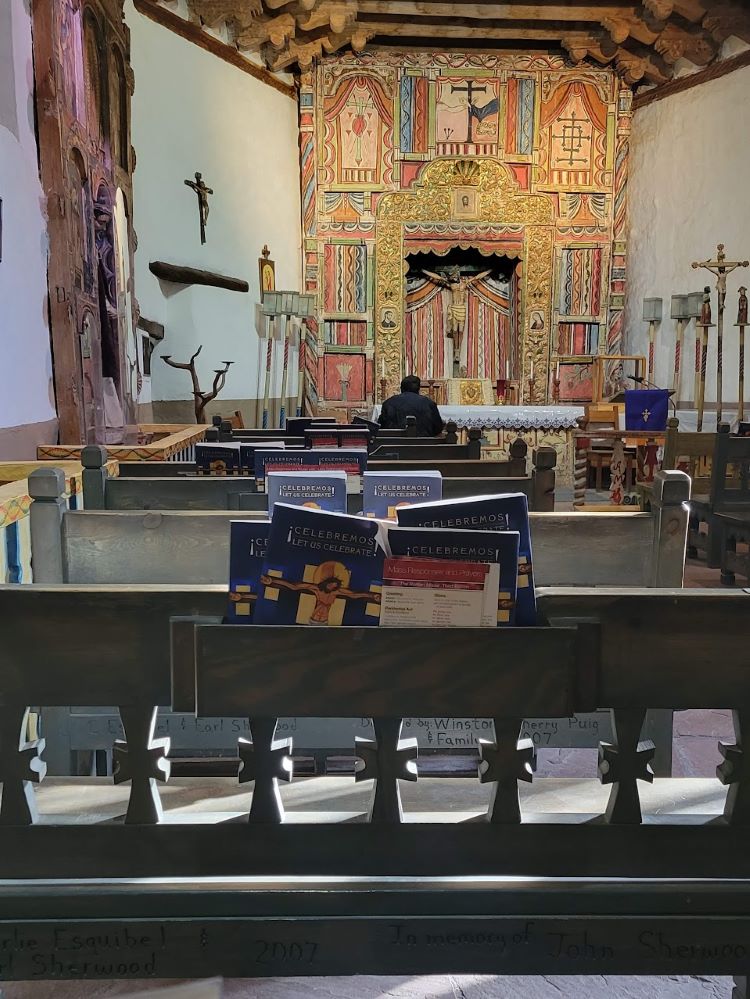 Visiting the Sanctuary of Chimayo
Things to see nearby
Nearby the Santuario de Chimayo, there are several other points of interest and attractions that visitors can explore. Here are some things to see and do in the vicinity:
El Potrero Trading Post: Located just a short distance from the Santuario, this trading post offers a variety of traditional and contemporary Native American arts and crafts. It's an excellent place to find unique souvenirs and gifts.
Chimayo Museum: Learn more about the history and culture of Chimayo at the local museum. Discover artifacts, photographs, and exhibits that showcase the area's rich heritage.
El Santuario de Santa Cruz de la Cañada: Approximately 30 minutes away by car, this historic church in the town of Santa Cruz de la Cañada is worth a visit. It features a beautiful adobe architecture and is an important religious site in the region.
Chimayo Chile Farms: Experience the region's famous chile culture by visiting one of the local farms. Learn about the cultivation process and sample delicious chile-based products.
Rancho de Chimayo Restaurant: Indulge in authentic New Mexican cuisine at this renowned restaurant. It's a great place to savor traditional dishes and immerse yourself in the local flavors.
Nambe Falls: For nature enthusiasts, a visit to Nambe Falls is a must. Located about 30 minutes away, it offers beautiful hiking trails and a picturesque waterfall.
High Road to Taos: Take a scenic drive along the High Road to Taos, which passes through Chimayo. Enjoy breathtaking views, charming villages, and art galleries along the route.
Ortega's Weaving Shop: Experience the art of traditional weaving at Ortega's, a family-owned shop in Chimayo. See skilled weavers create beautiful textiles and browse their impressive selection of woven goods.
Chimayo Trading Post: Another trading post in Chimayo, this spot specializes in handcrafted religious artifacts and offers insight into the local spiritual traditions.
Santa Fe: While not directly adjacent, Santa Fe is about 30 minutes away by car. Explore the city's historic plaza, art galleries, museums, and vibrant cultural scene.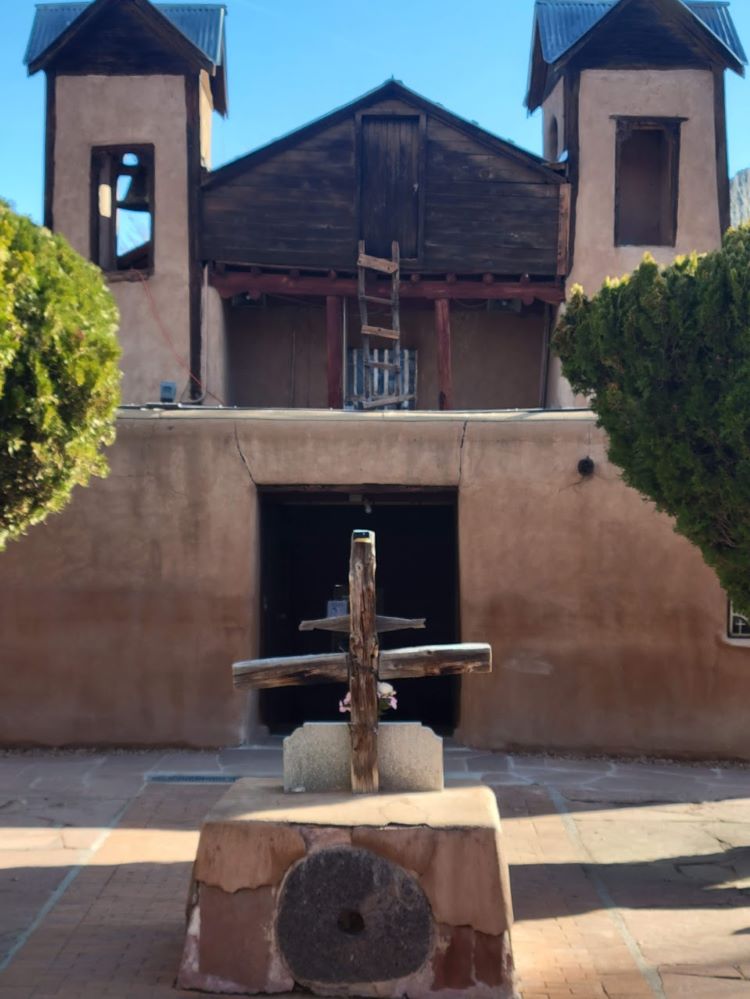 Check out these other posts to visiting New Mexico
Visit to Los Alamos, New Mexico
Top things to do in New Mexico
Explore Bandelier National Monument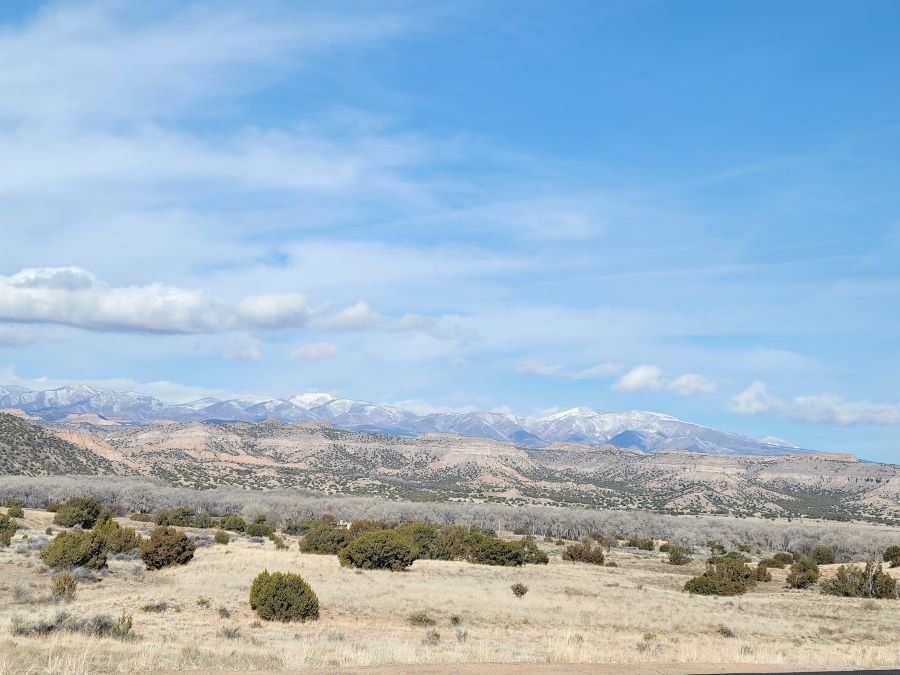 Weather and best time to visit Santuario de Chimayo
Santuario de Chimayo is a popular religious site located in northern New Mexico, USA. The weather in this region can vary significantly throughout the year. To help you plan the best time to visit Santuario de Chimayo, I'll provide an overview of the weather conditions during different seasons:
Spring (March to May): Spring is a pleasant time to visit Santuario de Chimayo. The weather starts to warm up, and the landscape becomes lush and green due to the spring showers. The average temperatures range from the mid-50s to the low 70s Fahrenheit (around 13-23°C). However, be aware that late spring may still have some unpredictable weather and occasional showers.
Summer (June to August): Summer is the peak tourist season in Santuario de Chimayo. The weather is generally warm to hot, with average temperatures ranging from the mid-70s to the low 90s Fahrenheit (around 24-34°C). It is essential to stay hydrated and protect yourself from the sun while visiting during this season. Keep in mind that summer also brings occasional afternoon thunderstorms.
Fall (September to November): Fall is a beautiful time to visit Santuario de Chimayo, as the weather starts to cool down, and the surrounding landscapes are adorned with vibrant fall foliage. The average temperatures range from the 50s to the low 70s Fahrenheit (around 10-23°C). It is generally less crowded during the fall season, making it a more peaceful time to explore the area.
Winter (December to February): Winter can be quite cold in Santuario de Chimayo, and there may be occasional snowfall. The average temperatures during winter range from the mid-20s to the mid-40s Fahrenheit (around -4 to 7°C). If you plan to visit during this season, make sure to dress warmly and be prepared for the possibility of icy conditions.
The best time to visit Santuario de Chimayo depends on your preferences. If you enjoy warm weather and want to experience the vibrant atmosphere of the peak tourist season, summer might be your choice. However, if you prefer milder weather and fewer crowds, spring and fall can be ideal. Winter is a beautiful time if you enjoy a serene and snowy setting, but some facilities may have reduced operating hours during this season.
Keep in mind that religious events and festivities can also influence your visit. Semana Santa (Holy Week) in spring and the annual pilgrimage to Santuario de Chimayo on Good Friday are particularly popular times for religious events in the area. If you plan to visit during these times, it's essential to check for any special arrangements or accommodations that may be necessary due to increased visitor numbers.
Final thoughts
The road trip out to the Santuario de Chimayo is gorgeous and worth the drive on its on to visit this historic pilgrimage site. You can also continue on to visit Toas through the high road to this scenic area or discover more places in the immediate area with recommendations above. The site is very historic and filled with spiritual energy and also a very photogenic spot to explore and capture in your photo travels.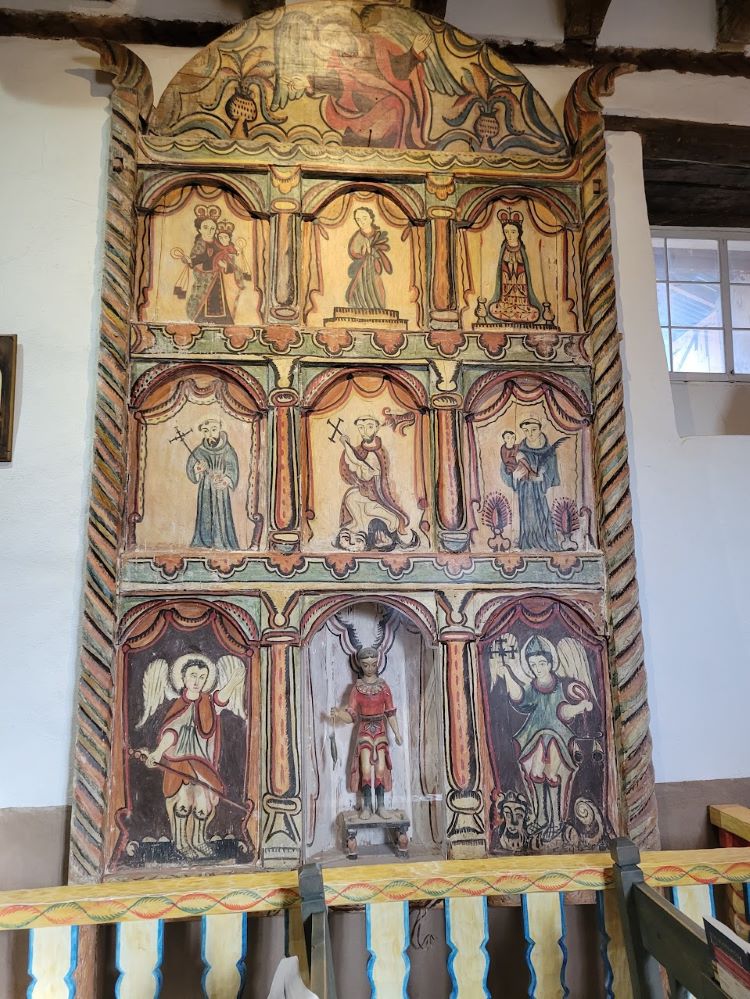 Conclusion on a road trip to Santuario de Chimayo
A road trip to the Santuario de Chimayo is a journey that intertwines spirituality, history, and natural beauty, leaving travelers with a profound and unforgettable experience. As you traverse the picturesque landscapes of northern New Mexico, the anticipation builds to witness this small yet impactful Catholic church that holds the essence of faith and healing.
Upon arriving at the Santuario, the sense of tranquility and reverence envelops you, inviting contemplation and connection to the centuries-old tradition of pilgrimage. The adobe chapel stands as a testament to enduring devotion, with its humble walls bearing witness to countless prayers and stories of miraculous healing.
The nearby attractions further enrich the road trip, offering a glimpse into the local culture, art, and culinary delights. Exploring the region's chile farms, weaving shops, and museums adds depth to the journey, giving insight into the vibrant tapestry of New Mexico's heritage.