Best places to visit for Halloween around the USA from small towns, spooky areas to cool venues
Halloween Celebrations in the United States are about Unleashing a great time in a fun community, town or even a city. You'll find across the USA, there's so many cool hair-raising haunted houses to ghoulishly grand parades, this blog post is your ticket to a thrilling journey through the country's most eerie and entertaining festivities. Discover the origins of beloved traditions, explore the creepiest haunted attractions, and find inspiration for the perfect spine-tingling costume. Join us as we uncover the magic, mystery, and macabre allure of the best places for Halloween in the USA.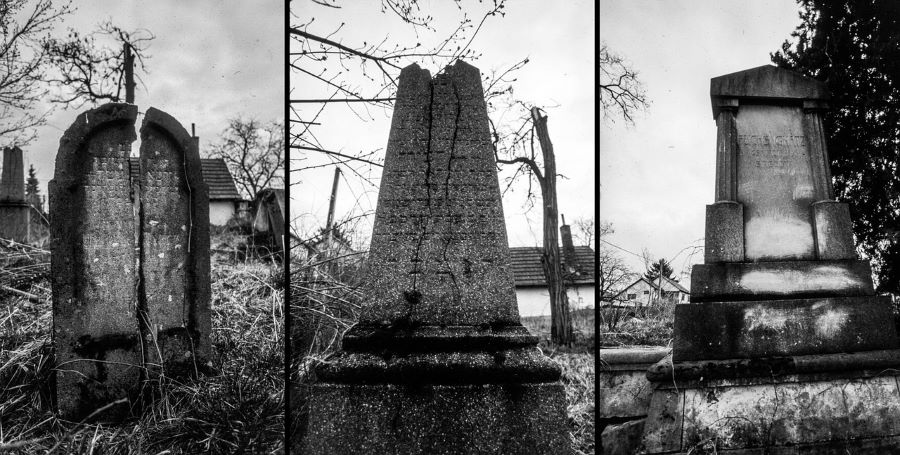 A brief history of Halloween celebrations around the USA
Halloween, as celebrated in the United States, has a rich history that has evolved over centuries, blending various cultural influences into the vibrant holiday we know today. Its origins can be traced back to ancient Celtic traditions and have been shaped by European immigrants, commercialization, and modern pop culture.
Celtic Origins: The foundation of Halloween in the USA can be attributed to the Celtic festival of Samhain, celebrated by ancient peoples in what is now Ireland, the United Kingdom, and parts of France. Samhain marked the end of the harvest season and the beginning of winter, during which the Celts believed the boundary between the living and spirit worlds was thin. People lit bonfires and dressed in costumes to ward off spirits and ensure a smooth transition into winter.
European Influences: In the 19th century, Irish and Scottish immigrants brought their Halloween traditions to the United States. These immigrants helped shape the early American celebrations of Halloween, incorporating elements of their old customs such as pumpkin carving, costumes, and activities like "souling" and "guising." Over time, these traditions merged with American culture, and Halloween began to take on a more community-based and social character.
Commercialization: The late 19th and early 20th centuries saw the commercialization of Halloween in the USA. Greeting card companies and candy manufacturers seized the opportunity to market Halloween-related products, contributing to the transformation of the holiday into a more consumer-oriented event. Trick-or-treating, where children go door-to-door in search of candy, gained popularity during this time as well.
Modern Pop Culture: The mid-20th century saw Halloween's association with horror movies, costumes, and spooky decorations becoming more prominent. The influence of pop culture, including television and film, helped solidify Halloween as a time for costume parties, haunted houses, and creative expressions of all things eerie and supernatural.
Family-Friendly Celebration: In recent decades, Halloween has evolved into a family-friendly holiday. Communities organize events like pumpkin festivals, costume parades, and neighborhood trick-or-treating, providing opportunities for both children and adults to participate in the fun. Safety concerns have led to organized events that offer a secure environment for children to enjoy Halloween festivities.
Cultural Diversity: The USA's cultural diversity has contributed to the expansion of Halloween traditions. People from various backgrounds have added their own customs and celebrations to the holiday, resulting in a fusion of global influences. This diversity has made Halloween in the USA a unique blend of traditional practices and contemporary interpretations.
In summary, Halloween in the USA has a multifaceted history that spans centuries and reflects the country's cultural mosaic. Its roots in Celtic traditions have been shaped by immigration, commercialization, and pop culture. Today, Halloween is a cherished holiday enjoyed by people of all ages, characterized by costumes, decorations, parties, and a sense of communal celebration. Check out a variety Halloween in New Orleans to family friendly Day of the Dead celebrations in San Francisco below.
The Best USA Cities and Towns to Visit for Halloween
East Coast Halloween experiences
If you are looking for fun New England experiences to do in the area, consider these fun Halloween experiences in the region below.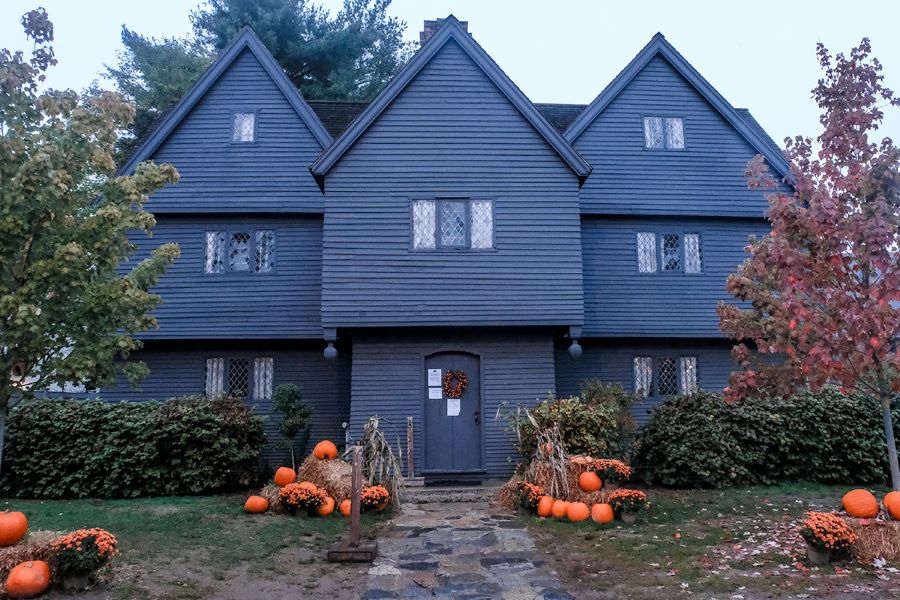 Visit Salem for Halloween
With a nickname like "Witch City," you know you're in for a perfect Halloween getaway in Salem, Massachusetts. Not only does Salem feel like a cozy New England town in the fall season, it's also packed with world-class Halloween events throughout the month of October.
Salem's Haunted Happenings events include parades, fairs, marketplaces, special shows, walking tours, and parties. In fact, you'll see a lot of people dressed up in costumes during your visit in October, so you may want to pack a witch's hat so you'll blend right in.
One of the most fun things to do during Haunted Happenings is to take a spooky ghost walking tour at night. With the city's rich history surrounding the infamous Salem Witch Trials, there's an incredible amount of local lore that's sure to give you a few goosebumps.
If you're looking for more treats, and fewer tricks, visitors of all ages will love the Hollowed Harvest pumpkin labyrinth. Walk through a path filled with glowing jack-o-lanterns at night, which is more fun than scary.
For the ultimate Salem Halloween experience, you'll want to plan your visit during the Witch's Halloween Ball, which is an epic themed costume party that features live music, food, selfie stations, psychic readings, and even cash prizes for best costumes.
To savor the flavors of the season, a fun place to stop for a drink is Far From The Tree Cidery, which typically releases a special Candy Apple cider in the autumn months. Better yet, grab a flight to sample what's on tap.
Salem makes for an easy day trip from Boston in the fall, as there's a convenient ferry that departs from Long Wharf with a direct trip to Salem. This is a great option because Salem is very walkable, and you'll avoid having to find a parking spot during the city's busiest time of year. Running through Halloween, the ferry ride takes less than 1 hour.
Check out this ferry experience from Boston to Salem for a fun Halloween journey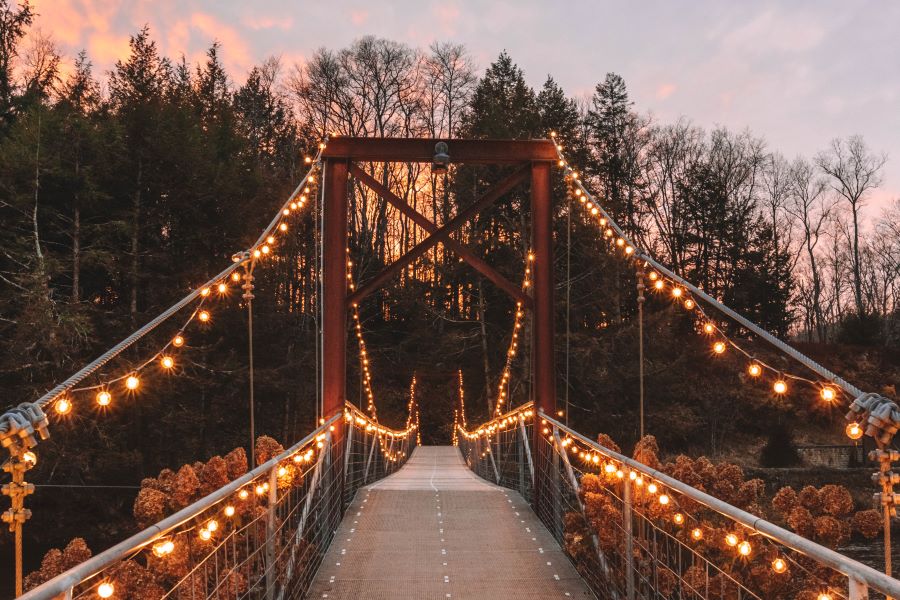 Western Catskills at Halloween
Upstate New York is a special destination during the fall season. If you're looking for a fun fall getaway, especially during Halloween weekend, the Catskills in New York is the place to go! The Eastern Catskills are great for hiking, and Western Catskills are perfect for spooky festivities.
In 1969, the Catskill Mountains was home to the 1969 Woodstock Festival, which took place at modern-day Bethel Woods Center for the Arts. During October, Peace, Love & Pumpkins is held at Bethel Woods, and it is a thrilling place to get into the Halloween spirit.
At Peace, Love & Pumpkins, you could admire hand-carved and lit-up Jack O Lanterns, talented pumpkin art, and excellent Halloween displays and decorations. For those looking for a fun thrill, Peace, Love & Pumpkins offers a haunted experience for those 16 and older.
Peace, Love & Pumpkins cost $23 for adults 18 years and older, $13 for children ages 3-17, and it's free admission for young children under two years old.
Antrim Streamside in Livingston Manor are luxury cabins that resemble a campsite. It's the best place to stay during Halloween weekend. A great restaurant nearby in downtown Livingston Manor is The Kaatskeller for artisan pizzas, great cocktails, and a cozy and fun atmosphere.
Upward Brewing Company in Livingston Manor and Seminary Hill Orchard and Cidery in Callicoon are other fun venues to enjoy during a fall getaway to the Western Catskills in New York. Both spots have great drinks, food, and a fun atmosphere with live music.
Taylor with Brown Eyed Flower Child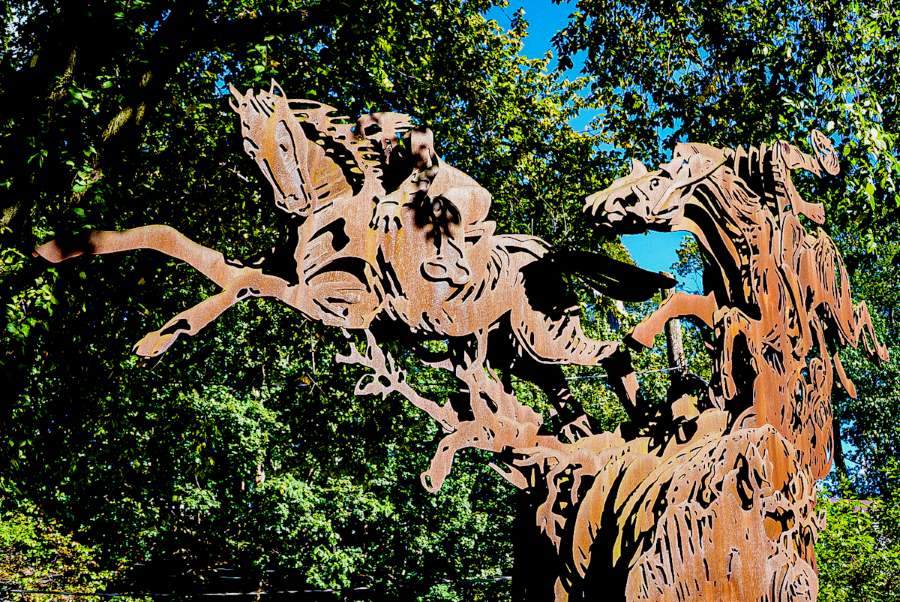 Sleepy Hollow, New York
"Believe it or not, this picturesque suburb of New York City overlooks the Hudson River and is one of the best Halloween towns in the USA.
That's because Sleepy Hollow is the location of Washington Irving's fictional tale, "The Legend of Sleep Hollow". So, this town in Westchester County takes this fact very seriously and goes all out for the Halloween season.
To get here, grab a Hudson Line Metro North train from Grand Central to Tarrytown station. After about a 45-minute journey pay homage to Washington Irving with a tour of his estate at Sunnyside. Next, embark on an expert-led guided night tour of the nearby, Sleepy Hollow Cemetery.
See if you can find the headstone of the famous businessman, Andrew Carnegie, before exploring the interior of the Dutch Reformed Church. Finally, get onto Route 9 and snap a selfie with the town's immortal Headless Horseman statue.
Just don't put your camera away since you'll want to take tons of photos at The Great Jack O'Lantern Blaze. Just be sure to reserve tickets right when they are released since visitors from around the country love seeing thousands of hand-carved pumpkins arranged to resemble dinosaurs, cars, and more.
Then, if you get a little chilly after walking through this magical place, head to the on-site food kiosk to grab some homemade apple cider and some delicious apple cider donuts.
And if you're in the area during the second week of October, attend the lively, Halloween-themed, Sleepy Hollow Street Fair. It transforms the streets into a Halloween wonderland that is filled with a wealth of food vendors, live music, parades, hay rides, and more."
By: Kelly of Travel New York Now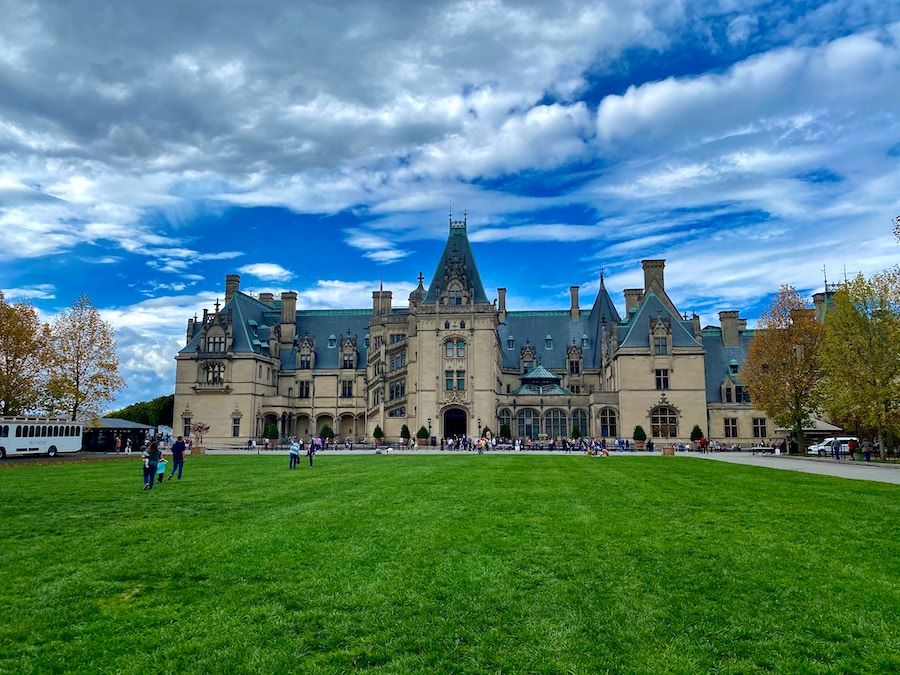 Spooky Halloween in Asheville, North Carolina
While Asheville may not be top of mind for Halloween destinations in the US, this beautiful mountain city is sure to surprise you.
Fall is already one of the best times to visit because of the changing leaves, amazing weather, and apple picking season. Peak leaf season is always toward the end of October.
Visit one of the many pumpkin patches in the area to pick up your pumpkin and carve a jack-o-lantern. Sky Top and Grandad's Orchard are two of the most popular.
As for Halloween events, many of the breweries downtown, like Highland and Catawba Brewing, put on markets, parties, and even a 5K.
Asheville is incredibly dog-friendly, so there are a few dog costume contests. There are also six different ghost tours in Asheville that you can choose from.
If you're looking for other things to do in the area, visiting the Biltmore is one of the most popular attractions, as is driving the Blue Ridge Parkway. The Parkway does get very crowded this time of year with leaf peepers so you'll want to get an early start.
Take a hike out to Craggy Pinnacle where you can enjoy stunning 360-degree views of the mountains. There are also cute shops and beautiful art galleries downtown that are fun to browse.
Don't miss eating at Tupelo Honey, Biscuit Head, or White Duck Taco while in town. All are iconic Asheville spots! If you have time, take a food tour as Asheville has really grown into a great foodie city.
Anna with Stuck on the Go.com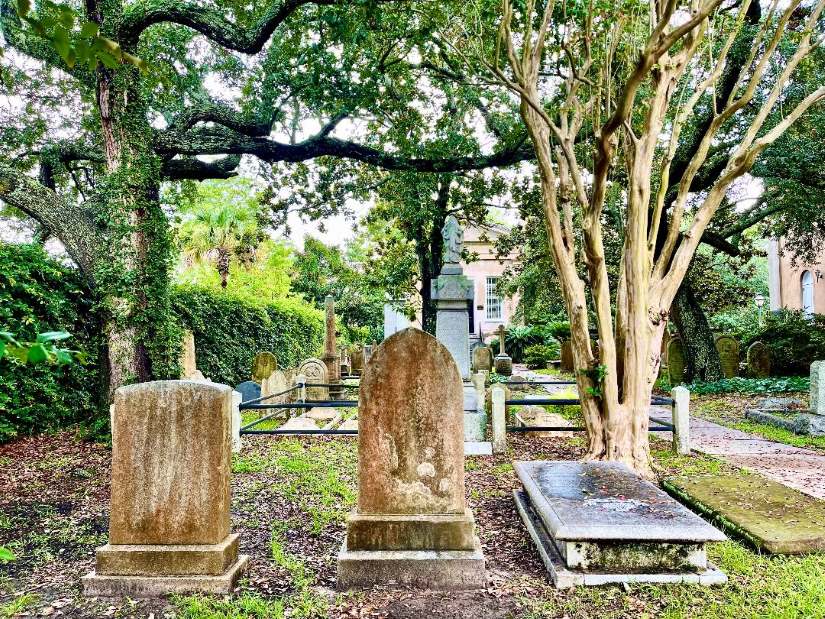 Halloween in Charleston
Charleston is the epicenter of the South Carolina food scene and has been the darling of travel magazines for the last decade. But did you know the Holy City also has a dark past and is known as one of the most haunted cities in America? Where else would you want to spend Halloween?
With a history deeply intwined in wars and slavery, it's not surprising a few ghosts were left behind. Some of the most haunted places in Charleston are noteworthy historic sites. The oldest building in the city (1713), the Powder Magazine is said to be haunted by an infamous woman pirate. The Old Exchange and Provost Dungeon kept Revolutionary War soldiers and some of their spirits seem to have never left. And legend has it that a few lost souls have inhabited the Old City Jail since 1802.
Although this haunted city can be scary anytime of year, it kicks it up a notch for the Halloween season and offers a slew of events and activities to celebrate. From graveyard tours to spooky plantation nights to creepy bar crawls to organized ghost stories on the beach—nonstop frightful festivities await.
In between hauntings, stroll down the main drag, King Street for shopping and sightseeing. Not-to-miss attractions include historic sites like Waterfront Park, the City Market, the Fireproof Building, and the Rainbow Row. Enjoy the local cuisine at Husk or Leon's Oyster Shop. Look for local favorites such as she-crab soup, low country boils, shrimp and grits, and pulled-pork barbecue.
Denise, Chef Denise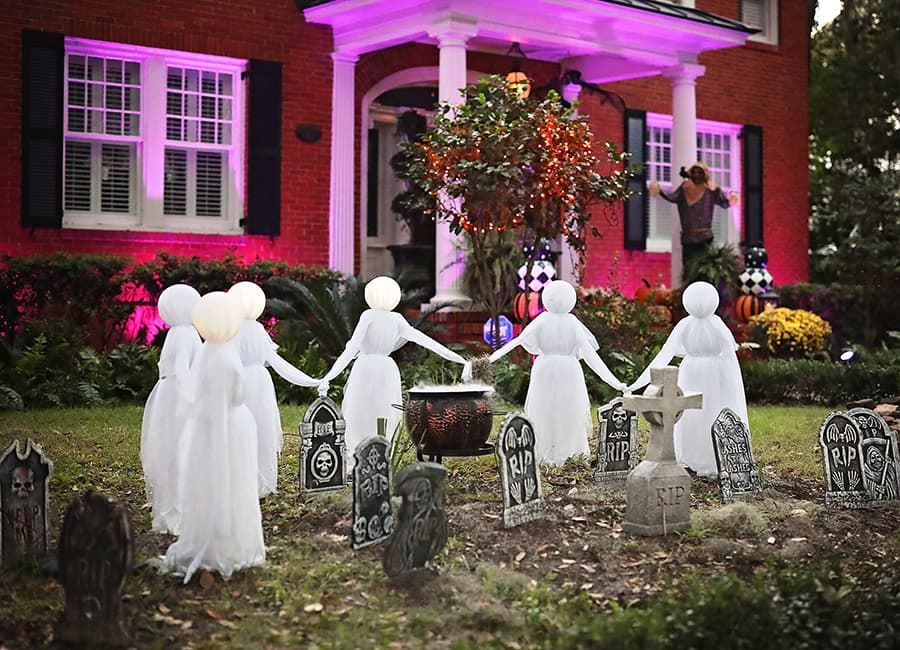 A Savannah Halloween
Savannah, Georgia is one of the most popular places to celebrate Halloween in the US — and for good reason! The city is known for its dark history, spooky lamplit streets, and hauntingly beautiful cemeteries.
Hollywood moviemakers even recognize its eerie atmosphere and recently chose downtown Savannah to film "Halloween Ends" starring Jamie Lee Curtis.
But just why is the city so haunted? There's no shortage of spooky places to stay, Savannah ghost tours to try, eerie cemeteries to explore, and cursed homes available for touring. It's a city that thrives on the sordid tales of its past.
Aside from all the spooky things to do, the city also looks haunted. With its massive moss-covered oaks and horse-drawn carriages echoing down cobblestone streets late at night, it's about as close as you can come to stepping inside a real-life version of Sleepy Hollow.
Visitors who love getting spooked can attempt a late-night tour of The Historic Savannah Theatre or opt for a paranormal tour of the Sorrel-Weed House. Graveface Museum makes an excellent option for true crime fanatics.
For those who get spooked a little too easily, the haunted trolley tours aren't nearly as scary, and the annual Wag-O-Ween parade is the perfect option for kids. It's a family-friendly event where locals dress their pets in costume and take them for a stroll around Forsyth Park.
If you'd like to stay in a haunted hotel during your visit, two of the most popular options are The Marshall House and 17Hundred90 Inn.
Erin with Savannah First Time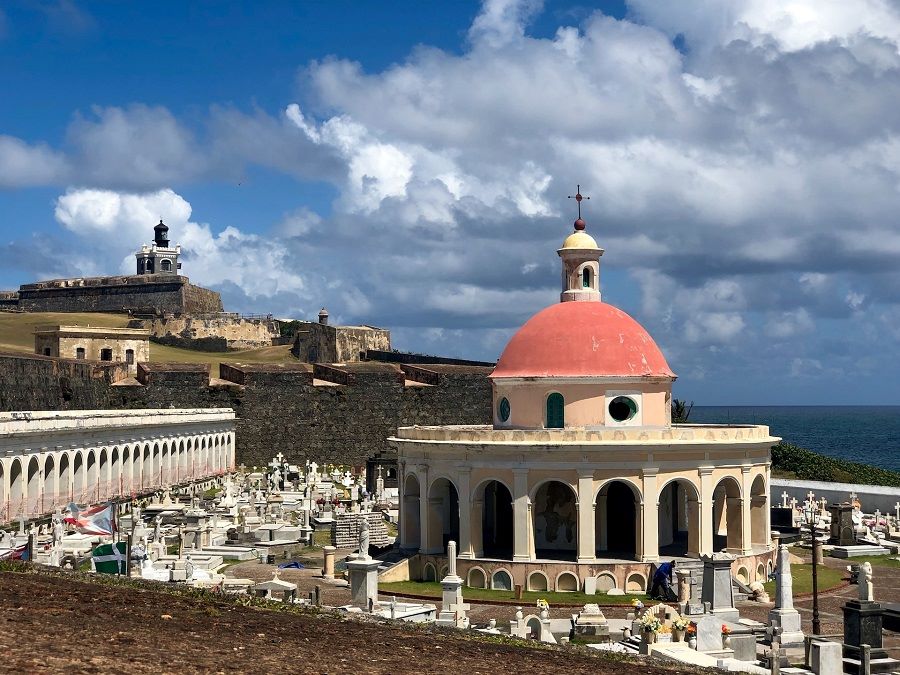 Halloween celebrations in San Juan, Puerto Rico
Halloween in San Juan, Puerto Rico, is a unique experience that blends traditional Halloween festivities with the local Caribbean culture. While less widely celebrated than in the U.S., San Juan still embraces the holiday with its own unique flair.
Trick-or-treating and house decorations are common, though not as prevalent as in other parts of the world. However, the city hosts standout events like House of Phobia, the biggest Halloween event in the Caribbean. The Concha Resort in San Juan organizes The Upside Down, a big party featuring international artists.
The city's historical area, Old San Juan, with its colonial architecture and cobblestone streets, provides a picturesque setting for ghost tours and haunted walks. Some even visit the haunted Fort San Cristóbal, known for its mysterious past. The cemetery of Santa Marta, one of the main highlights of San Juan, is an obvious site to visit around Halloween.
Local markets and restaurants join the fun by offering seasonal delights and Halloween-themed dishes, allowing visitors to indulge in Puerto Rican culinary specialties.
Many locals participate in the festivities by dressing up in costumes, and visitors are encouraged to join. Whether dancing on the beach, exploring haunted forts, savoring local delicacies, or going wild on a party bus, San Juan's unique blend of traditional Halloween themes with Puerto Rican culture creates a festive and charming atmosphere.
In short, Halloween in San Juan, Puerto Rico, offers a different but equally engaging experience, marked by vibrant parades, exciting events, delicious food, and a touch of tropical warmth. It's a celebration that can be both familiar to those used to traditional Halloween festivities and uniquely appealing to those looking for something a little different.
Odoardo Girardi with Caribe Vibes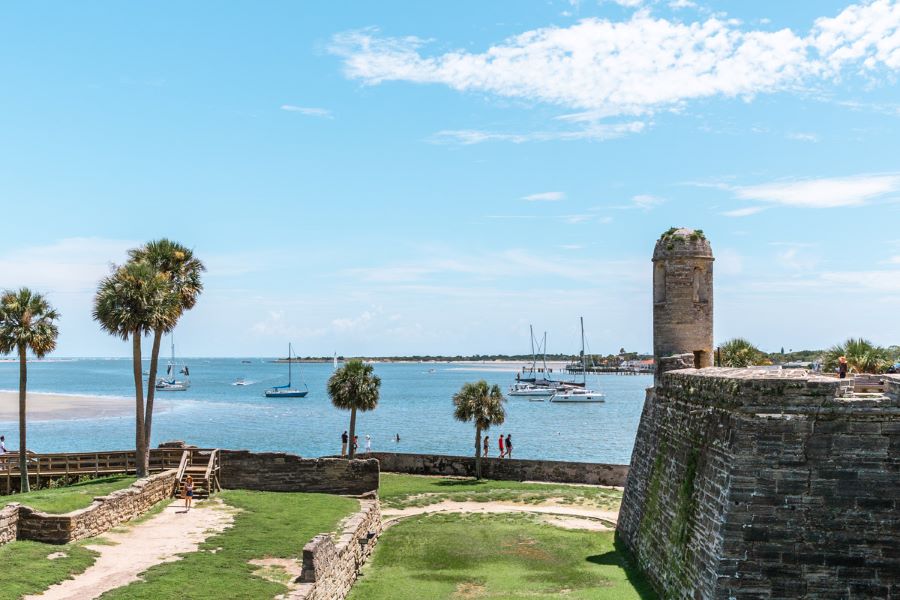 Saint Augustine in Florida is one of the best cities to experience Halloween in the US
Aside from St. Augustine being known as a haunted, the entire city goes all out when it comes to decorations. Find spooky exhibits featured in stores and pumpkins all around the charming streets.
Saint Augustine is also well known for its haunted destinations scattered throughout the city. Because of this, there are several tours that take you to these historic sights. The Nightly Trolley Tour is one of the most popular tours, which visits some of the supposedly most haunted sites, including Old Jail Museum and Tolomato Cemetery.
Alongside that, you can tour St. Augustine's spooky lighthouse, or for something lighter, head out on a ghostly cocktail tasting tour – with the tasting tours.
You could even consider staying at Casablanca Inn, which is said to be one of the most haunted accommodations in Florida.
For a more family-friendly option, the St. Augustine Alligator Farm Zoological Park hosts a "Creatures Of The Night" event where children can dress up in Halloween costumes and explore the park.
Additionally, be sure to check out some of the most popular sites on your St. Augustine itineraryincluding the cathedral Basilica of St. Augustine, the Castillo de San Marcos National Monument, and the oldest public square in the US, the Plaza Della Constitución.
As for food, The Blue Hen Cafe has delicious breakfast options, and stop by Prohibition Kitchen for an all-American experience.
If you do plan to see more of Saint Augustine, your best option is renting a car. There are a number of beaches you can visit during the day that will be far less busy during this time of the year.
Sam with Find Love and Travel.com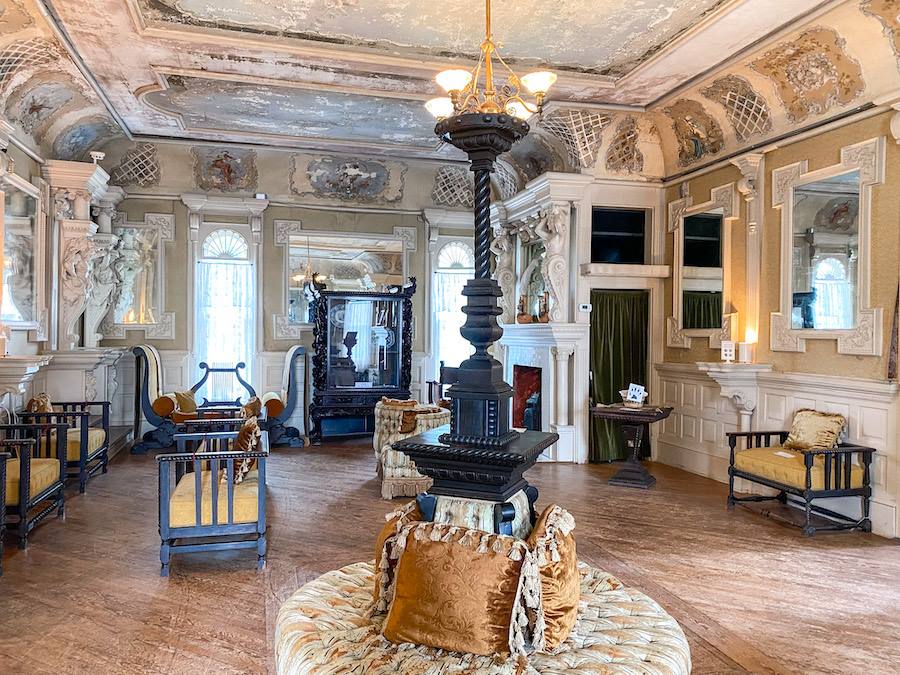 Winston Salem for Halloween
As a highly underrated destination, Winston-Salem, North Carolina, is perfect for your Halloween festivities. Start your time by stopping in one of the many vintage stores, such as Design Archives Emporium, where you'll find era-specific treasures to create the perfect costume. Also, grab a seasonally-flavored donut at Dough-Joe's in Reynolda Village. Walking inside the shop, you won't see a donut in sight — all are made to order.
If you've never been to Winston-Salem, take a segway tour with Triad Eco Adventures. As long as you can still don a helmet, wear your costume for their themed tour, where you'll hear spooky tales along the way. Other fall-centric activities turn macabre during October. Go through a corn maze at night, take a not-so-spooky hayride at a local farm, or attend other themed events via local businesses and breweries.
No matter the time of year, one odd sensation is a house gone somewhat awry. Now open for touring, Körner's Folly was once the home of an eccentric designer and decorator. With the penchant for using his home to showcase his vast skills, the house has rooms with cubbyholes, trapdoors, and ceiling heights ranging from 5 to 25 feet. It's genuinely a curiosity-lover's delight, especially at Halloween.
While in the city, stay at Kimpton Cardinal Hotel, where you shouldn't be afraid to venture into the basement. It's where a hidden game room — complete with bowling, basketball, and slides — takes center stage, so your only fear may be losing a challenge to your travel mate.
Jennifer with Hill City Bride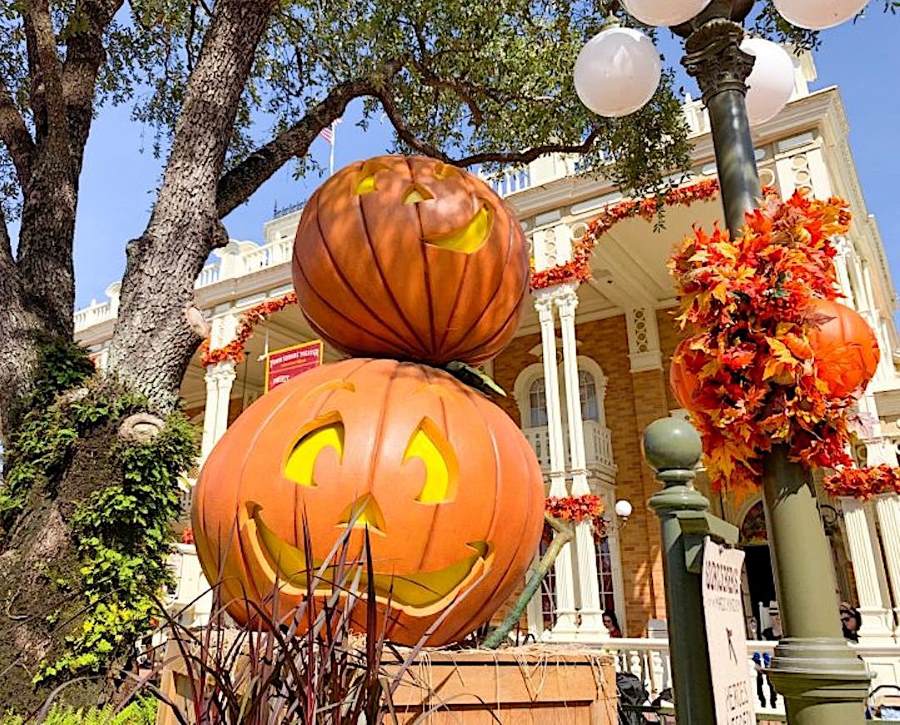 Key West Halloween in Florida
"If you're looking for one of the best cities to celebrate Halloween then you can't beat Key West, Florida.
See, this fun and funky beach town on the southernmost end of Florida comes alive with Halloween spirit. So, get creeped out by a visit to the Fort East Martello Museum to see the infamous "Robert Doll" this October in Florida.
In fact, many visitors have seen the doll move by itself and believe it has caused car accidents and other tragic events. So, visit Robert if you dare and see what happens.
Next, visit the Audubon House since this beautiful museum is one of the most haunted places in Key West. So, in addition to admiring works from John James Audubon, take a look at a portrait of his daughter Hannah. It is supposedly haunted and moves many visitors to tears.
Afterward, take the family for a fun stroll through the "Scarecrows in the Forest" at the Key West Tropical Forest & Botanical Garden. These hand-crafted scarecrows are made entirely of natural materials and you can cast a vote for your favorite before you leave.
Other fun Halloween-themed events include local ghost tours, haunted pub crawls, and an awesome Ghosts and Gravestones Trolley Tour. Your local guide will take you on an exciting trolley tour and introduce you to places in Key West where truly gruesome events occured.
It's the perfect activity to enjoy before attending Fantasy Fest, an incredible 10-day Halloween event with themed parties. Be sure to dress up and embrace the true spirit of Halloween."
By: Victoria of Florida Trippers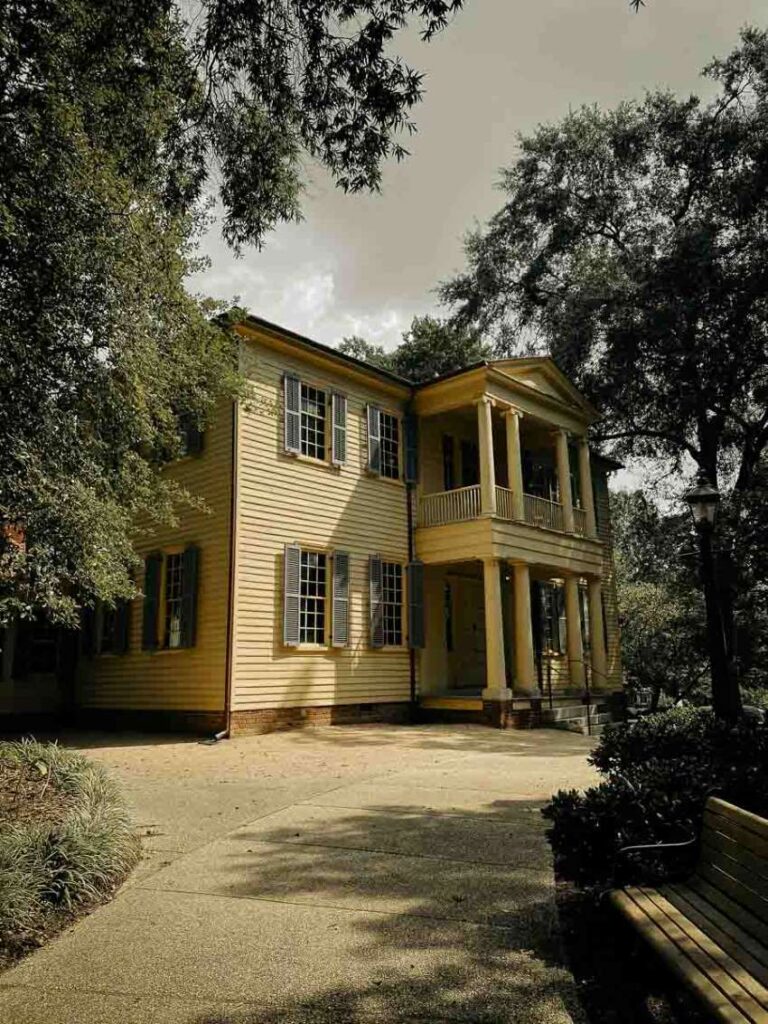 Raleigh for Halloween
The bustling capital of North Carolina, Raleigh is home to incredible coffee shops, cocktail bars, restaurants, and…ghosts? It's true! While North Carolina might not be the first place you think to go for Spooky season, you might want to reconsider!
The history of Raleigh is one of tragedy as the city was caught up in all the unrest of the antebellum years. The state was so divided about whether or not to split from the union that families fought each other and were torn apart. Instead of gathering together for fun family events, in the 1800s, the people gathered together to watch public executions in what is now known as Downtown Moore Square.
The most noteworthy haunted location in Raleigh is the Mordecai Mansion, which was once the largest plantation in the county and is said to be one of the most haunted houses in all of North Carolina. The paranormal activity here is known among ghost hunters at a national level.
Some say that you can hear the resident ghost of Mordecai house, Mary Willis who lived in the house from 1858-1937, playing the piano when no one is around or catch a glimpse of a wispy, gray mist hovering around the piano.
If you want something a little less spooky, you can take a stroll down the busy downtown streets for a high-class dinner at Death and Taxes. This extremely popular fine dining restaurant sits in a building that was first used as a coffin shop to handle the Spanish flu victims. It eventually turned into a mortuary, then a bank, and now a restaurant. Guest have reported footsteps and strange voices in the building while they eat their meal.
No matter your preference, you'll find something spooky to do during Halloween in Raleigh, North Carolina!
Taylor with Culture Craving Couple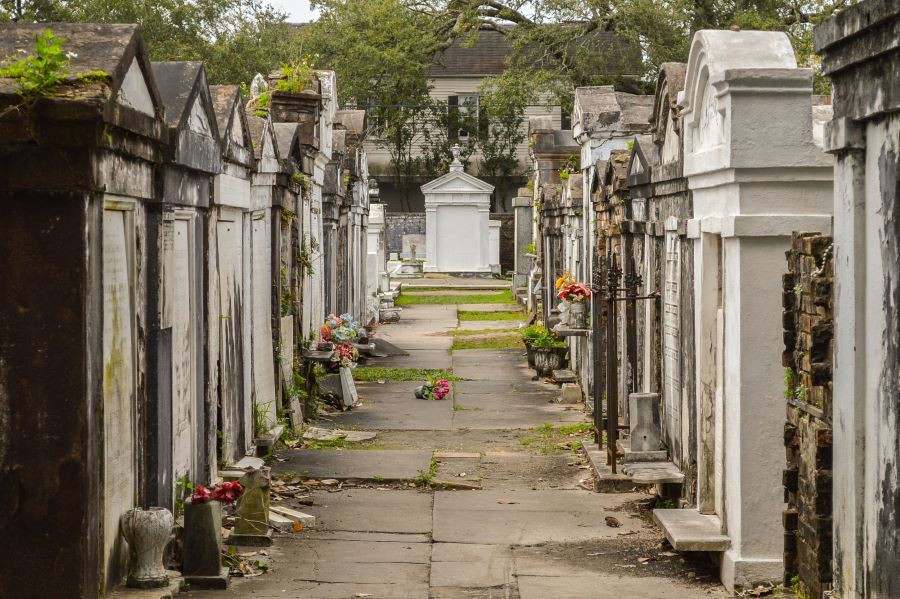 Halloween at New Orleans
What better place to visit for Halloween than one of the USA's most haunted cities – New Orleans!
Because of New Orleans' history with fires and epidemics, the death toll was high as were the subsequent ghost stories. When visiting nowadays, taking a ghost tour is a fun way to learn about some of the ghostly legends of New Orleans.
In that same vein, take a tour of the Cities of the Dead, aka the cemeteries of New Orleans. The construction of these cemeteries are quite interesting because of the need to build above-ground graves due to New Orleans' extremely low elevation relative to sea level.
Some other fun, spooky activities are visiting the New Orleans Historic Voodoo Museum as well as Marie Laveau's House of Voodoo, an authentic voodoo shop with dolls, tokens, and spell kits.
Don't miss the vampire-themed speakeasy, called Potions, above Fritzel's Jazz Bar. You'll have to get the password from Boutique du Vampyre, but be nice about it! For another spooky bar, check out The Dungeon on Bourbon Street. It's a bit intense with cages and skeletons abound, but so fun for Halloween!
One big event to check out for Halloween is VooDoo Music Fest, one of New Orleans' most prominent music festivals. In the past they've hosted Guns N' Roses, Post Malone, and Travis Scott, among many others.
Finally, when you're looking for somewhere to stay for Halloween, try a haunted hotel in New Orleans ! Rumors of ghost sightings are common at the Hotel Monteleone, Andrew Jackson Hotel, and the Jean Lafitte House.
By Alanna from Periodic Adventures
Halloween Celebrations in the Central states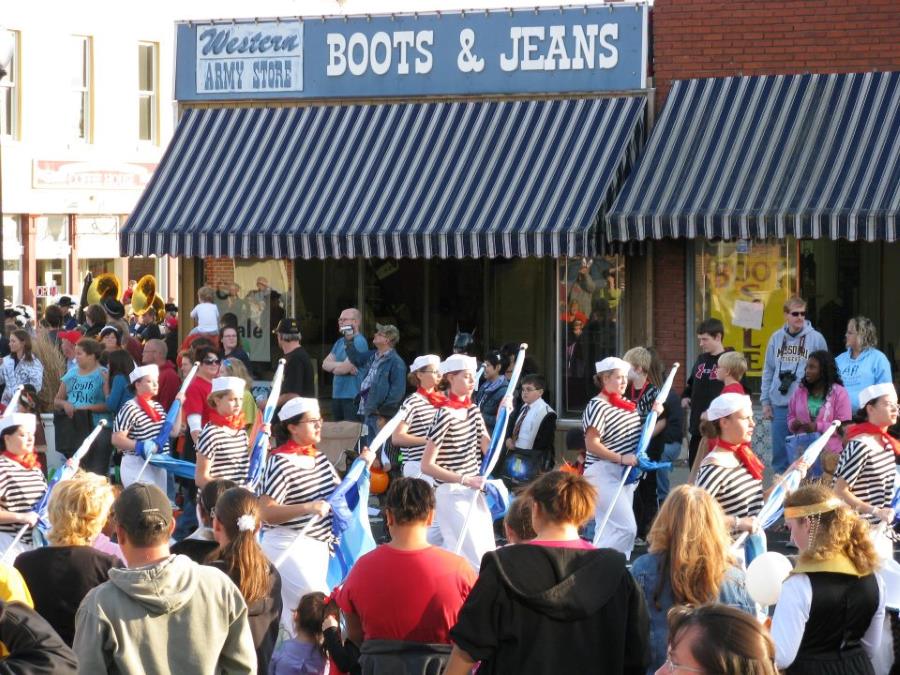 Halloween experience at Independence, MO
Independence, MO is an unexpected but amazing Halloween experience and fun excursion, especially if you're in the Kansas City area! Their Halloween Parade is the main event. It takes place the Saturday before Halloween (starting at 10am) each year, and is the longest-running one in the KC area (2023 is the 74th year). Thousands of people attend, and the parade is long with floats, marching bands, dancers, vehicles including classic cars, fire trucks and more. Make sure to dress up and bring something to hold all the free candy!
Beyond the parade, Independence also has a Halloween half marathon, 10K and 5K, a drive-in that plays Horror movies, the George Owens Nature Park Enchanted Forest, which is a non-scary, family-friendly storybook experience, and more decorations and events around town.
Independence's charming historic downtown square is where the parade takes place, and there are places to visit in and around the square. I recommend stopping at the visitor's center to find out about all the events, and then grabbing a Root Beer float at the historic Clinton's Soda Fountain, where Harry S Truman worked. Then, stop at the nearby shop Wild About Harry for some fun and unique items and photos! Beyond these, there are more shops, restaurants and breweries, outdoor hiking areas, and historic sites like the Harry S Truman National Historic Site, National Frontier Trails Museum, Chicago & Alton Railroad Depot, and more to explore.
Nearby Kansas City has even more Halloween events, such as Halloween Bar Crawls, Haunted Houses, a haunted forest tour (Dread Beyond the Border), Halloween Haunt (the Midwest's largest Halloween event), Harvest in the Heartland, Apple Picking at multiple orchards, Liberty Corn Maze, the nearby Weston Applefest, and more!
Sarah with Mukikapup's Travels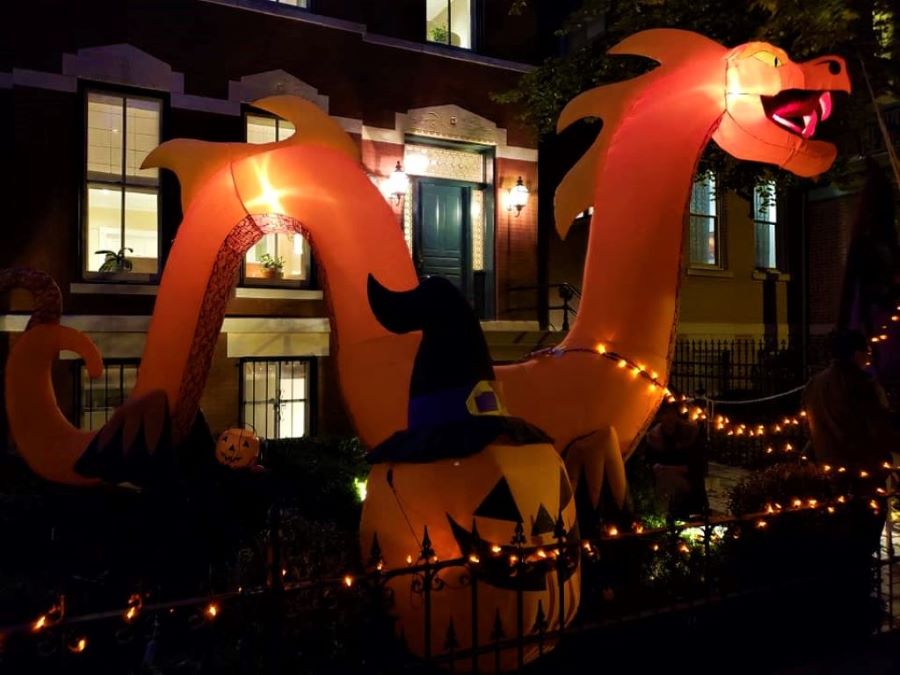 Chicago celebrations around Halloween
Chicago is an ideal destination to celebrate Halloween with its unique atmosphere, rich history, and vibrant traditions. From spooky parades to haunted tours, there are plenty of thrilling experiences that will make your Halloween in Chicago truly unforgettable.
Immerse yourself in the city's festive atmosphere and explore neighborhoods like Lincoln Park and Wicker Park, where charming houses are adorned with elaborate Halloween decorations. Join one of Chicago's renowned Halloween parades, such as the Logan Square or the Northalsted Halloween Parades, featuring extravagant costumes, mesmerizing floats, and live entertainment.
For those seeking spine-chilling thrills, Chicago offers a variety of haunted ghost tours that delve into the city's eerie past. Or, head to the Garfield Park Conservatory, which transforms into a spooky wonderland during the Halloween season. Encounter creepy crawlies, learn about nocturnal animals, and engage in interactive exhibits that educate while entertaining.
The Lincoln Park Zoo also offers a frightfully delightful Halloween experience with trick-or-treating, costume contests, and haunted houses. Explore the zoo after dark and visit the animals, who may be sporting their own Halloween-themed enrichment activities!
If you're up for a challenge, venture to one of the city's many parks, where you'll find traditional Halloween fun in the form of corn mazes, haunted houses, and pumpkin patches. The family-friendly mazes offer winding paths, hidden clues, and a dose of autumn charm.
Be sure to plan ahead by checking event schedules and booking tickets in advance, when possible, to secure your spot. Use public transportation or rideshare services to navigate the city's Halloween crowds and avoid parking hassles.
Dress up in your most creative costume to join in the Halloween festivities, and don't forget your camera to capture the countless photo opportunities offered by Chicago's iconic landmarks, decorated neighborhoods, and spooky attractions.
Brodi Cole with Our Off Beat Life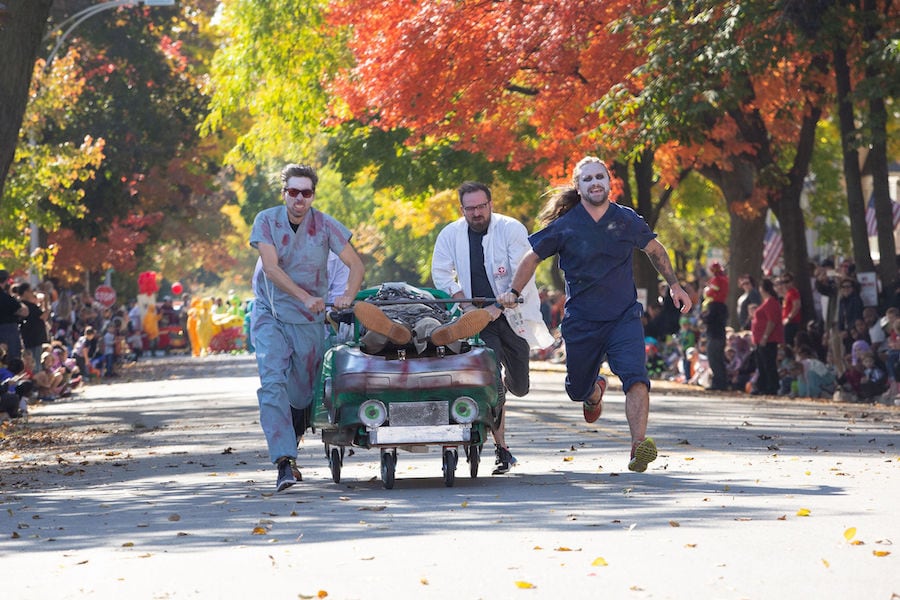 Halloween at Forest Park, Illinois
Welcome to Forest Park, Illinois, where the 800,000 dead residents in five cemeteries live side by side with the 15,000 live ones who enjoy the good life in this vibrant village community.
Run by the Forest Park Chamber of Commerce, the Annual Casket Races is a Halloween event that features teams of four who dress in elaborate themed costumes and race decorated caskets against the clock and each other to win 1st, 2nd, or 3rd place. Or the most coveted prize—"dead last."
The race is not just about speed—it is also about style and showmanship, with prizes awarded for the most frightfully funny or creepiest casket.
If you plan to attend the Forest Park Casket Races, which typically occur on the third Saturday in October, arrive early to secure a good viewing spot. The streets fill up, and you will not want to miss any action. And families—stick around after the races to trick or treat up and down Madison Street, Forest Park's walkable main street packed with top-notch independent restaurants, cafes, and shops.
Pair attending this spooky spectacle with spending a weekend in Chicago, overflowing with incredible things to do for a first-time visitor. Or, while in the area, consider a side trip to neighboring Oak Park, Illinois, the next-door bedroom community renowned for its world-class Frank Lloyd Wright architecture, for being the birthplace of Ernest Hemingway, and its own welcoming downtown full of excellent shopping and restaurants.
Janice Moskoff with Gather and Go Travel.com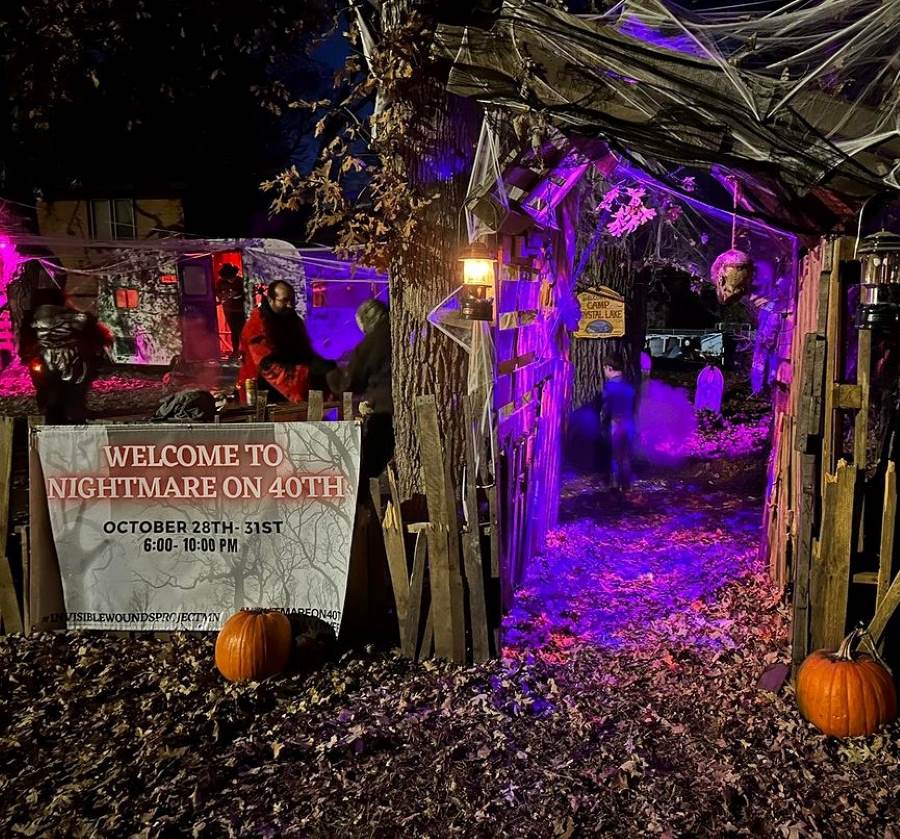 Halloween at Anoka, Wisconsin
Nestled along the banks of the Rum River, Anoka proudly wears the crown as the "Halloween Capital of the World." Its rich history and festive spirit make it an enchanting destination for Halloween enthusiasts.
Why It's Special: Anoka's claim to fame is its month-long Halloween festival, a celebration that dates back to 1920. Immerse yourself in the heart of autumn as the city comes alive with parades, costume contests, and a delightful assortment of events that capture the true essence of the season.
Don't miss the Grand Day Parade, where a river of creative floats and costumed characters wind their way through the streets. Experience the charming small-town atmosphere at the Halloween House Decorating Contest, where local residences transform into spooky spectacles.
Pumpkin Farms: Explore the pumpkin farms that dot the landscape, offering you the chance to pick your own pumpkin and bask in the joy of traditional fall activities. Engage in corn mazes, hayrides, and apple picking for an authentic autumn adventure. Anoka's history comes alive during the "Ghosts of Anoka Walking Tour." Traverse the city's historic streets, and hear captivating tales of its haunted past and restless spirits.
Indulge in hearty Midwestern fare at local diners and eateries. Savor comfort foods like hot dishes and Minnesota's famous wild rice soup. For a scenic experience, take a leisurely stroll along the Rum River, adorned with vibrant foliage.
Other attractions, like extending your stay by exploring nearby attractions. You can visit the Twin Cities of Minneapolis and St. Paul, known for their vibrant arts scene, diverse culinary offerings, and picturesque parks. Immerse yourself in the thriving urban culture.
Check out the Website festival https://szallasgyergyoban.eu/Kaposztafesztival-2023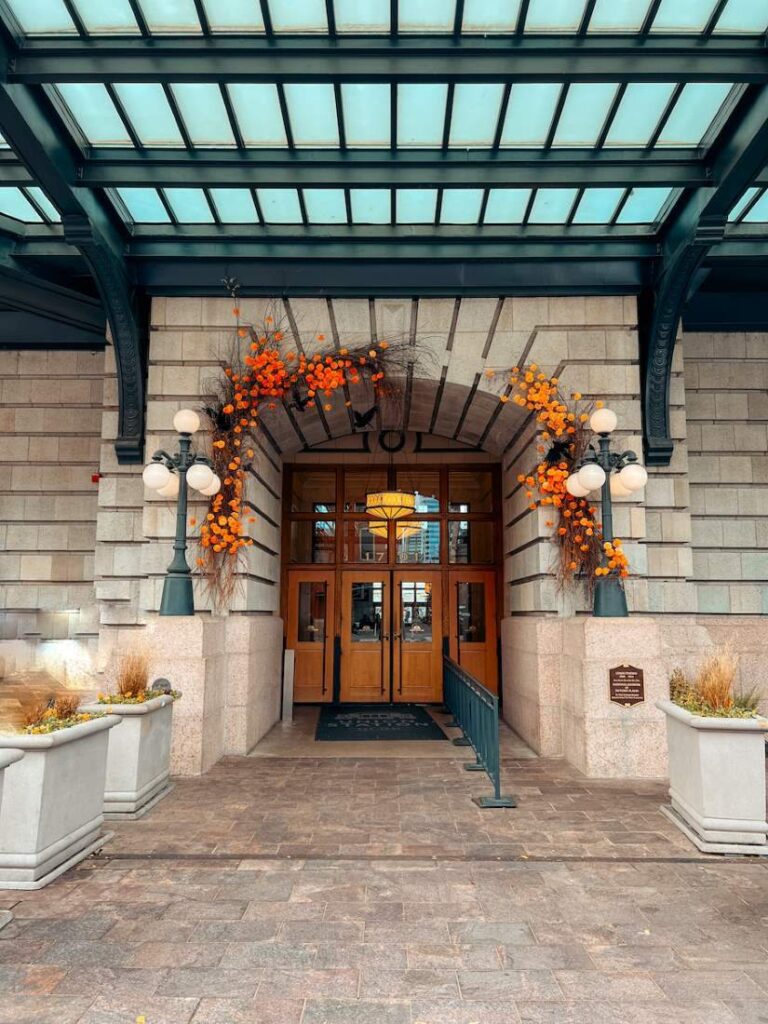 Halloween at Denver, Colorado
One of the very best United States cities to visit during the Halloween season is Denver, Colorado. The Mile High City has a wide array of Halloween celebrations for all to enjoy and countless buildings, restaurants, and bars decorate for the spooky season.
One of the best ways to celebrate Halloween in the Mile High City is to get festive and enjoy some delicious beverages at a Halloween inspired bar crawl or participate in a costume contest at one of the countless breweries in the area. Denver is an exceptional city to visit for Halloween for those looking for a boozy yet spooky celebration!
Another phenomenal way to spend Halloween in Denver is by participating in the Ghosts in the Gardens. This is where you explore the Denver Botanical Gardens after hours and hear haunted stories about paranormal encounters that have occurred in the area.
For those looking for more eerie experiences, be sure to check out one of the many ghost tours or haunted houses in the area. This is a great way to catch a thrill and learn more about Denver's haunted past.
If you are searching for a more laid back Halloween experience, Denver has countless pumpkin patches and corn mazes for those looking to get in the autumn spirit but would rather skip out on the haunted excursions!
Whether you are looking to enjoy a spooky date night with your significant other at the Denver Botanical Gardens, trying to enjoy a boozy Halloween night out with friends, or looking for a unique Halloween excursion, Denver has it all and must be on your list of cities to check out this Halloween!
Abby with Trekking Prices.com
Halloween celebrated in the Western USA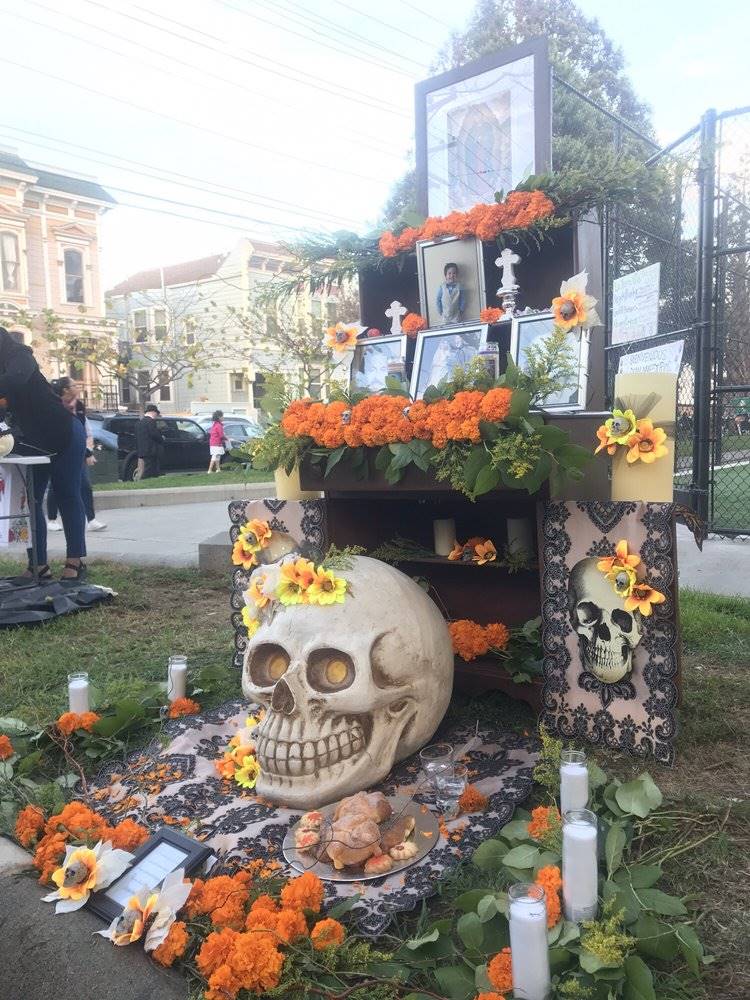 Haunted events and celebrations around San Francisco
San Francisco is noted as one of the most haunted places to visit in the USA with spooky ghost tours that happen everywhere from City Hall, Alcatraz island, the SF Mint and many other locations around the city with sponsored ghost tours. There are many kiddy sponsored events like the large Super Natural event at the Academy of Sciences and many other small neighborhood parties and parades. The Mission district will have popular Day of the Dead events and displays typically at
You'll find fun Halloween night music events like the SF Symphony and concerts at popular venues at the Bill Graham Civic Auditorium, The Great American Music Hall, Cafe Du Nord and many of the small venues and clubs around town that will be sponsoring fun Halloween themed events with DJs, live music, costume contests and other mix and mingle events. Around the Bay Area will be fun runs, haunted houses at the Oakland Zoo and even a party cruise at Jack London Square.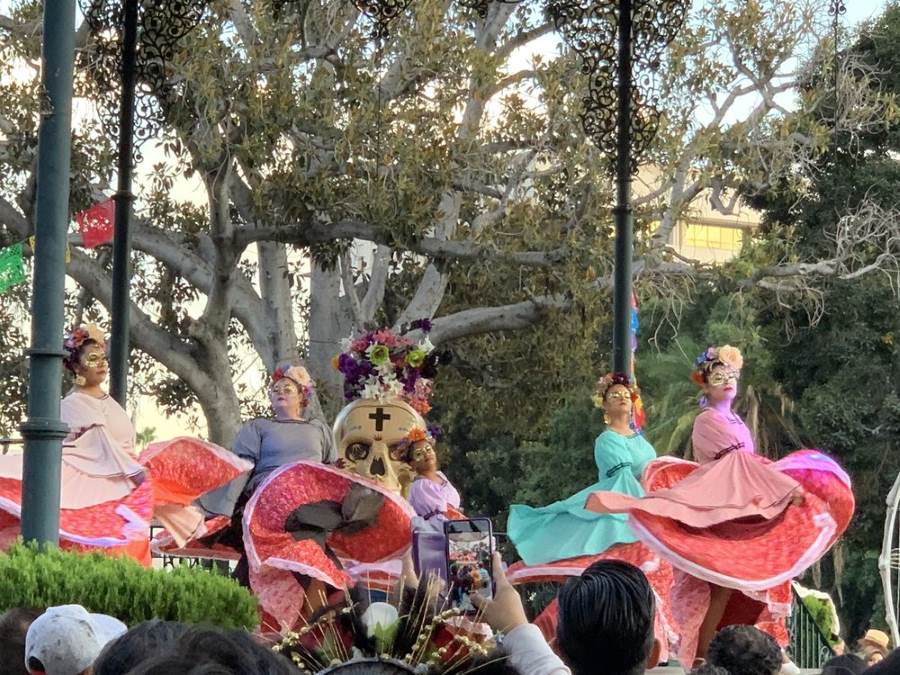 Los Angeles Halloween events
There are so many fantastic Halloween events that you will find out around the LA Metropolis area that ranges from neighborhood parades, pumpkin patches, block parties and other public Halloween events Happening all around the LA area. Here's a breakdown of popular events and places to celebrate Halloween below:
Popular pumpkin patch areas with events and photo ops includes the Calabasas famous Jack of Nights with thousands of pumpkins carved and decorated at night time show and the Mr Bones Pumpkin patch at Culver City with events, music, food and a slew of pumpkins to choose from.
Haunted houses you can visit includes the Haunted night of Destruction in Irwindale and the Haunted Little Tokyo Block party.
If you are looking for family friendly events consider the Boney Island Light Up Experience at the Natural Science Museum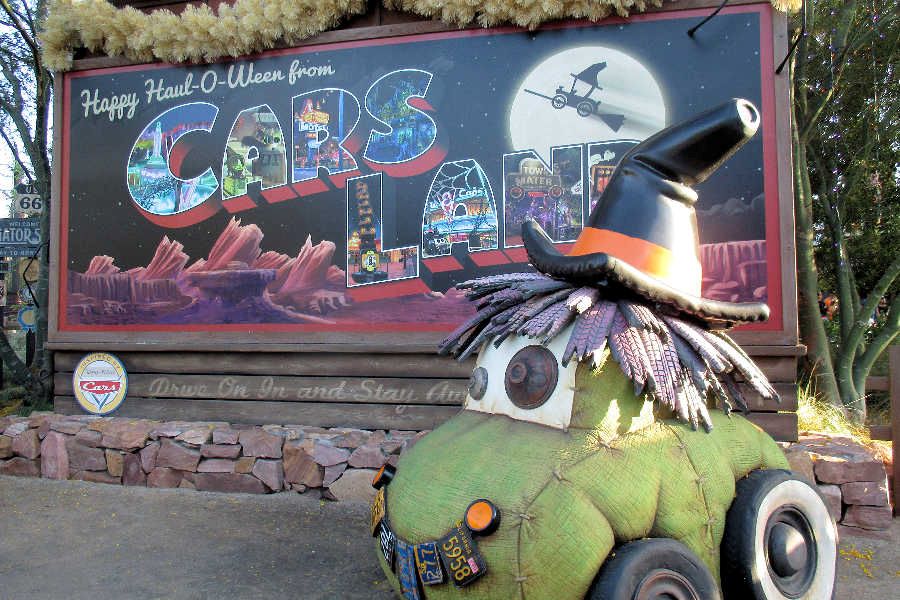 Disneyland And California Adventures
Disneyland is a magical place at any time of the year and is often listed as a bucket list destination for some. However, Halloween brings a special kind of fun and spookiness.
From the beginning of September to the end of October, Disney adorns its parks with pumpkins, Jack-o'-lanterns, spiders, and witches. But nothing is really scary because it's a family-friendly destination.
Don't be surprised to see visitors getting in the spirit by dressing up in costume for the occasion. Visiting at Halloween allows you to see your favorite Disney character in a costume.
During the Halloween event, California Adventures Park hosts an after-hours event called Oogie Boogie Bash. The event begins at 6 pm, and you must purchase a separate ticket to attend.
The party takes place three nights a week, and ticket holders have access from 3 pm to 11 pm. Tickets are expensive, and go up in price as Halloween approaches. Expect to pay around USD 190 pp to attend on October 31st. A ghoulish ticket price indeed!
Tickets sell out fast due to its popularity, so plan ahead if you want to attend the Oogie Boogie Bash. The event is open to all ages and provides a treat trail for the little ones. Expect scary music, ghoulish décor, and unique lighting.
During the evening, you can enjoy the Frightfully Fun Parade with characters from the Nightmare Before Christmas. It's a ghastly twist on the Mickey Mouse Parade.
Karen with Forever Karen.com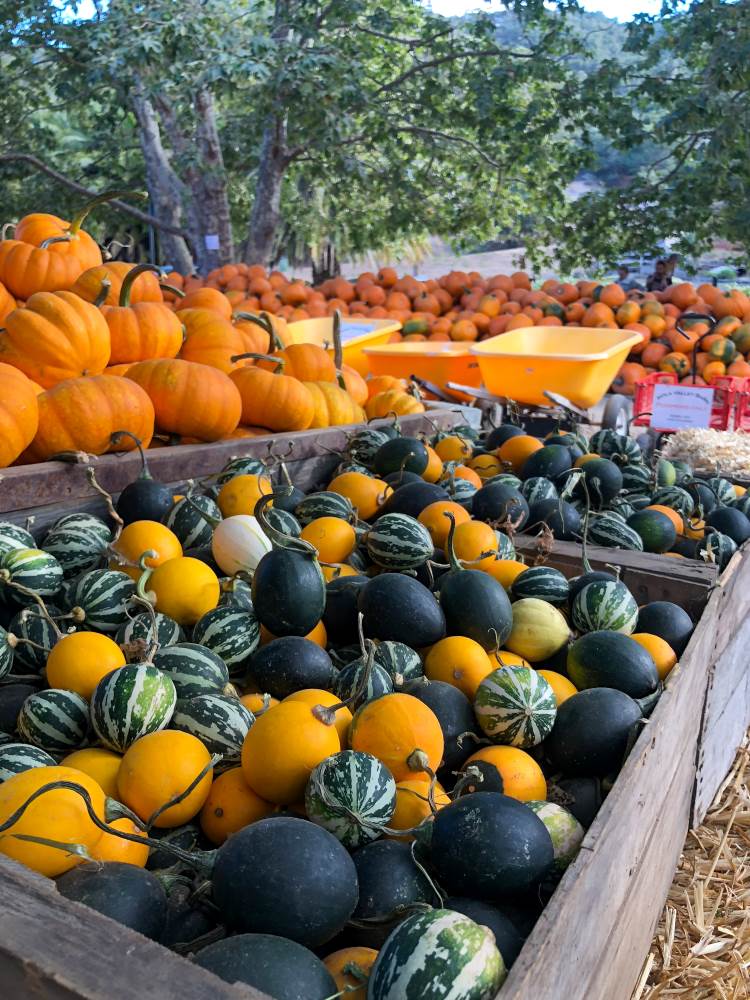 Avila beach for Halloween
Avila Beach is a spectacular town to visit in California for Halloween. This town, located halfway between San Francisco and Los Angeles, has a charming seaside village vibe and stunning ocean views making it a perfect destination for Halloween. During October, Avila Beach transforms into a wonderland of spooky decorations, creepy costumes, and festive activities for all ages.
The Halloween parade along the waterfront on October 31st is full of cleverly costumed adults and little ghosts. Be sure to bring your camera for some great photo ops! After the parade, head to the Avila Valley Barn for their Halloween Carnival. This family-friendly event features carnival games, trick-or-treating, a costume contest, and Halloween activities for kids. The barn is decorated with pumpkins cobwebs, and eerie lighting. It's the perfect place for families to celebrate Halloween together and let the little ones burn off some energy. I
f you visit in late October, don't forget to check out the Pumpkin Patch at the Avila Valley Barn. Wander through the rows of beautiful pumpkins, choose your perfect one, and get lost in the corn maze. For a tasty experience, book a reservation at one of Avila Beach's waterfront restaurants during your stay. Many restaurants feature special Halloween-themed menus and decorations. Savor dishes like pumpkin ravioli or blackened fish tacos while looking at the glistening ocean. It's the ideal way to unwind after a busy Halloween festivities.
With its charming seaside setting, family-friendly activities, and Halloween spirit, Avila Beach creates lasting memories you'll want to experience year after year. Be sure to plan your visit early to be part of all the festive events and spooky fun this picturesque town has to offer.
Check out Gladis post on things to do in San Franisco at night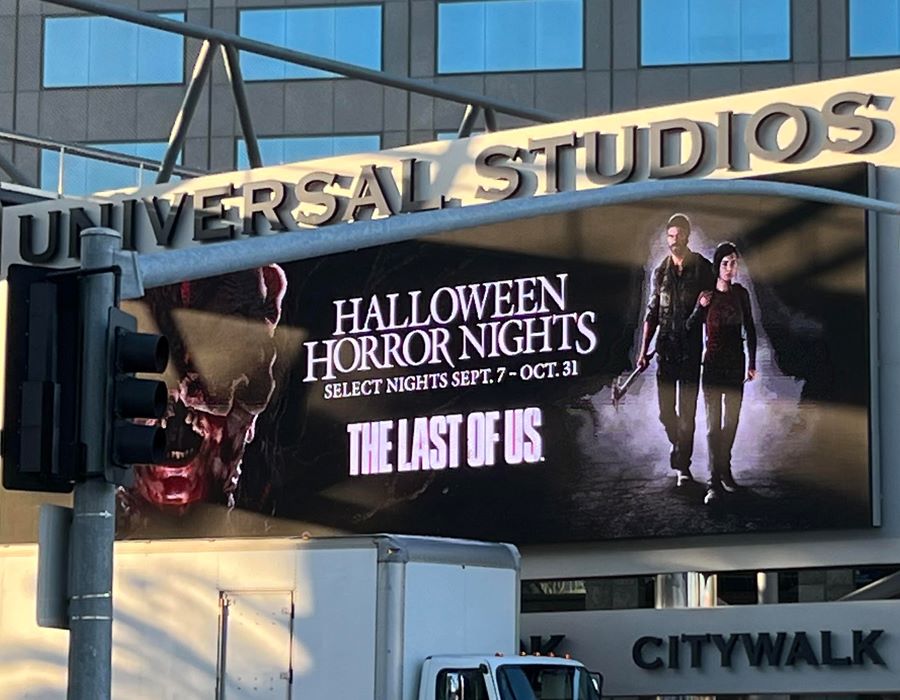 Universal Studios Hollywood Halloween Horror Nights
Halloween Horror Nights at Universal Studios Hollywood is the ultimate horror-seeker's event. This haunting occasion, which typically runs throughout the Halloween season (September 7 – October 31), takes guests through a gruesome landscape filled with some of the most iconic and frightful characters. There are several packages for this event but General Admission to Halloween Horror Nights starts at $74. Just be aware that this General Admission option does not include early access (which other packages do) or admission to the regular Universal Studios theme park.
Mazes That Give You Chills
Horror Nights is offering eight terrifying and elaborate haunted houses and mazes, allowing guests to literally walk into their favorite Halloween classics. This year, guests have the opportunity to come face-to-face with characters from "Stranger Things," The Last of Us," "The Exorcist," and many more. Maze lines tend to fill up quickly, so best to prioritize which mazes are a must-visit before getting to the park.
Scare Zones
Horror nights will keep you on the edge of your seat throughout your visit. Along with mazes, they've got "scare zones." Characters scattered throughout the park interact with guests once they enter these zones, so keep your eyes peeled. You never know what ghost or ghoul might be lurking in the shadows or following your every move.
Live Shows That Give You Goosebumps
Maybe being chased or scared to death isn't your thing? No sweat, Horror Nights offers two
.thrilling shows: "Blum House Behind the Screams" and "The Purge: Dangerous Waters." Blum House Behind the Screams gives guests a behind-the-scenes look at some of the most recent spine-tingling horror movies, including "Get Out" and "Insidious". The second show, The Purge Dangerous Waters" is an EDM-fueled stunt spectacular that takes place where Water World is, putting guests right in the middle of the action. The show follows a politician and crew trying to escape to an island and avoid the purge. All goes well until…the island is overrun by Purgers.
Visiting Universal Studios Hollywood is already a must when visiting Los Angeles. But horror nights offer an extra special opportunity to visit the park.
Marshall with Travel Breakdown.com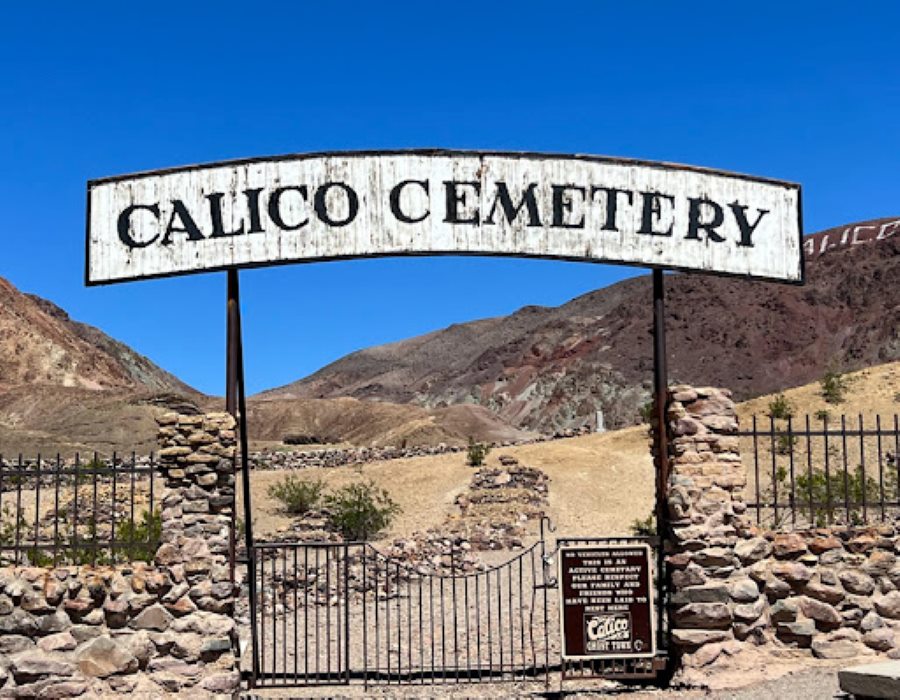 Calico Ghost Town Haunt
Calico Ghost Town — located on the I15 N towards Las Vegas in San Bernardino — is a once-booming mining town. This town, which boomed during the silver and gold rush of the 1800s became a "ghost town" shortly after the rush died. The town was later renovated and turned into a state park and a campground. The state park celebrates Halloween in style with its annual Ghost Town "Haunt."
With an affordable admission of only $8 to enter the park or $30 a night if staying at the campground (park admission included), Calico's Ghost Haunt offers a family-friendly, fun-packed day of activities.
The Maggie Mine:
A 1000-foot live silver mine that has survived since the late 1800s. Visitors can learn about the precious metals and minerals that miners excavated and also get a glimpse of what it was like to live in the mine during those times.
Calico Odessa Railroad :
This train has been running since the late 50s, providing guests with a fun and relaxing tour around the town, showcasing the town's history and the old ruins of what the town used to be.
Halloween Throughout the Town:
On top of the historical attractions, guests can also Celebrate Halloween with activities like trick-or-treating, thrilling costume contests, artistic pumpkin carving, a fun-filled kids' carnival tent, captivating live stage performances, spooky haunted attractions, and much more!
Camping Accommodations
As mentioned earlier, the town also has a campground attached so guests can spend the night. The campground offers over 250 sites hosting RVs, trailers, tents, and more. If "roughing it" isn't your thing, they also offer cabins and bunkhouses, which provide a little more comfort (heating and air conditioning included).
Marshall at Travel Breakdown.com
More inside tips to visiting these fun destinations for Halloween in the USA
Here are some general tips for a memorable Halloween experience in the USA:
Costume Creativity: Put thought into your costume; unique and creative outfits stand out.
Plan Ahead: Many events require advance tickets, so plan and book in advance.
Safety First: Trick-or-treat with a group, carry flashlights, and stay on well-lit streets.
Local Cuisine: Try seasonal treats like caramel apples, pumpkin pie, and candy corn.
Local Traditions: Learn about local Halloween traditions and participate to immerse yourself in the culture.
Capture Memories: Take lots of photos to remember the unique moments.
Respect Local Rules: Follow local rules and guidelines, especially in historic areas.
Ghost Stories: Explore local ghost stories and legends for added Halloween spookiness.
Attend Local Parades: Join Halloween parades if available; they're often a highlight of the festivities.
Engage with Locals: Interact with locals; they can provide insider tips for the best Halloween experiences.
By following these general tips, you'll make the most of your Halloween adventure in the USA! 🎃👻
Check out these other posts or events around the USA
Halloween celebrations around the world
Best places to visit in Fall Season
Conclusion to the best places to visit for Halloween around the USA
In conclusion, the best places to visit for Halloween offer a captivating blend of history, culture, and mystique. From the eerie charm of Salem's witch trials to New Orleans' lively parades and Sleepy Hollow's family-friendly festivities, each destination presents a unique experience. Transylvania's gothic castles and Dracula legend add an enigmatic allure. Whether drawn to Salem's history, New Orleans' vibrancy, Sleepy Hollow's charm, or Transylvania's mystique, these locales immerse you in the enchanting spirit of Halloween.