Autumn in the United States is blessed with so many amazing places around the country to explore. You'll find a lot of scenic and magnificent landscapes that are filled with fantastic fall foliage and change in the season in different corners of the USA. Check out these travel bloggers favorite places to visit in the United States for fall colors and be inspired to visit these places on your own. You'll love the start of fall colors in the east coast on a road trip experience or some fantastic visits in the region below.
Where to find fall colors in the United States
Fall colors in the northeast USA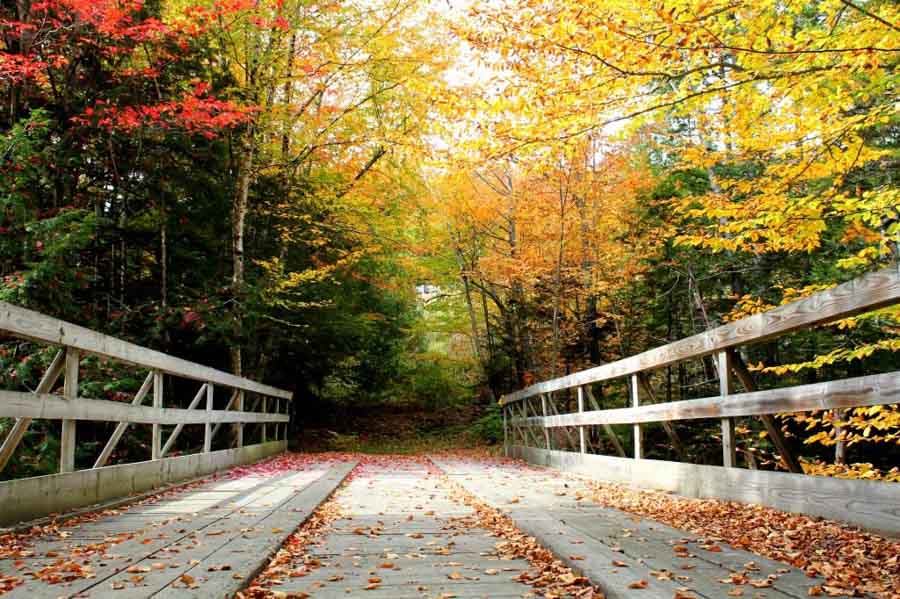 New Hampshire in the fall season
I may be a bit partial as I live here, but New England is the perfect place to experience fall. Not only are our trees are gloriously colored, nestled among them are cute colonial towns in mountains.
For the past 15 years, my family has visited Lincoln, New Hampshire every autumn to see the trees. Lincoln is the home of Loon Mountain, a ski resort, but is full of things to do all year round. There are so many activities here to keep us all happy and busy. We take the ski lift to the top of Loon Mountain to explore the caves and get a phenomenal view.
Hiking among the leaves is always an experience we enjoy. A few we love in the area are Lonesome Lake and Franconia Notch. You can also see the leaves by taking a steam train or zip lining through the mountains. When my kids were younger, we would take them to Santa's Village. They still like to go to Clark's Trading Post, another amusement park. While in New England, one must see our famous covered bridges and Lincoln has its own. You can even try to spot a moose on a tour. You can read on for more fun to have in Lincoln or
New England in fall
.
Jamie with the Daily Adventures of me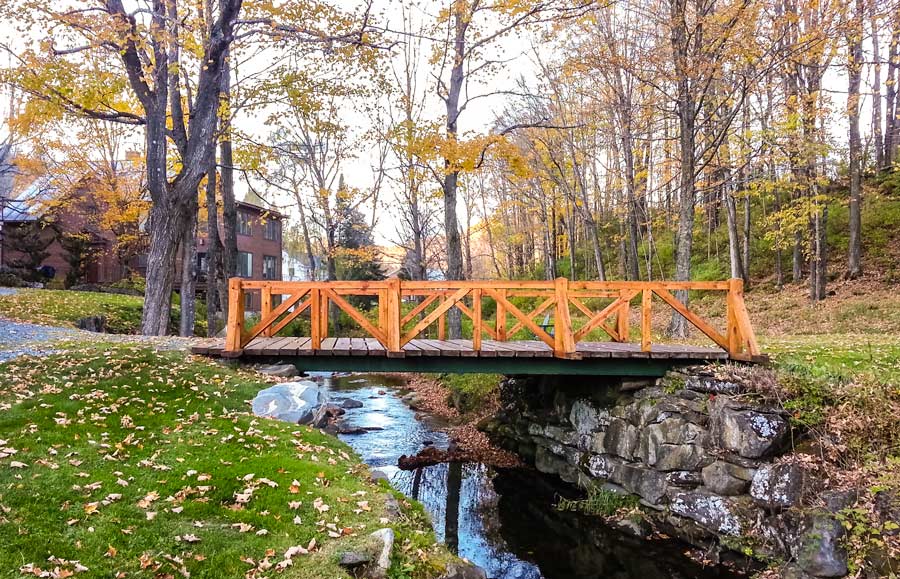 Woodstock, Vermont
Located an hour's drive south of Montpelier, Woodstock is a quintessential New England village nestled in the rural hills of Vermont. The historic village green has everything one could want to see in the fall, including tree-lined streets and a classic wooden covered bridge.
For incredible golden views over the area, head to Billings Park and climb the hill path. Once you've soaked in the sights, head further north to The Pogue pond, where you can see the beautiful trees reflected in the still water. Be sure to bring your camera to capture the lovely hues.
If the weather turns south, pop into The Village Butcher for some freshly baked cookies, or enjoy a good book in the vintage public library. In Woodstock, the plentiful trees mean fall colors will be visible wherever you go!
Don't miss the South Woodstock Country Store, which serves up amazing breakfast dishes like a homemade biscuit stuffed with sausage, cheddar, and apple butter.
Though Vermont's leaves begin to change mid-September, plan your visit for the first two weeks of October to enjoy peak foliage season. Woodstock accommodation books out months in advance, so be sure to make your reservations well before your departure date. The hotels and B&Bs near the village green are quite pricey, while the residential area of South Woodstock is beautiful and budget-friendly.
Central Park in New York is magical any time of year.  In winter the park is covered in a blanket of snow and hosts ice skating rinks, summer has the thick foliage and outdoor concerts and spring is festooned with wildflowers. Fall has its own special beauty. This is when the leaves start to turn and show off their brilliant colors of flaming red, warm orange, bright yellow and even purple. You can witness this kaleidoscope of colors anywhere in the park but some special places are The Mall, by the lakes when the colors reflect on the water, Bethesda Fountain and the park entrance on 59th Street. The best time to see beautiful autumn foliage in Central Park is in the second and third weeks of October.
One of my favorite Central Park moments is the first days of autumn when you sense the weather changing and there is a chill in the air. A brisk autumn walk in Central Park is a treat. If you really want to splurge and see the fall colors, you can rent a pedicab that will drive you through the park, rent a bike nearby, hop on a rowboat on one of the lakes and merely stroll through the many paths and walkways that make this such a user-friendly park.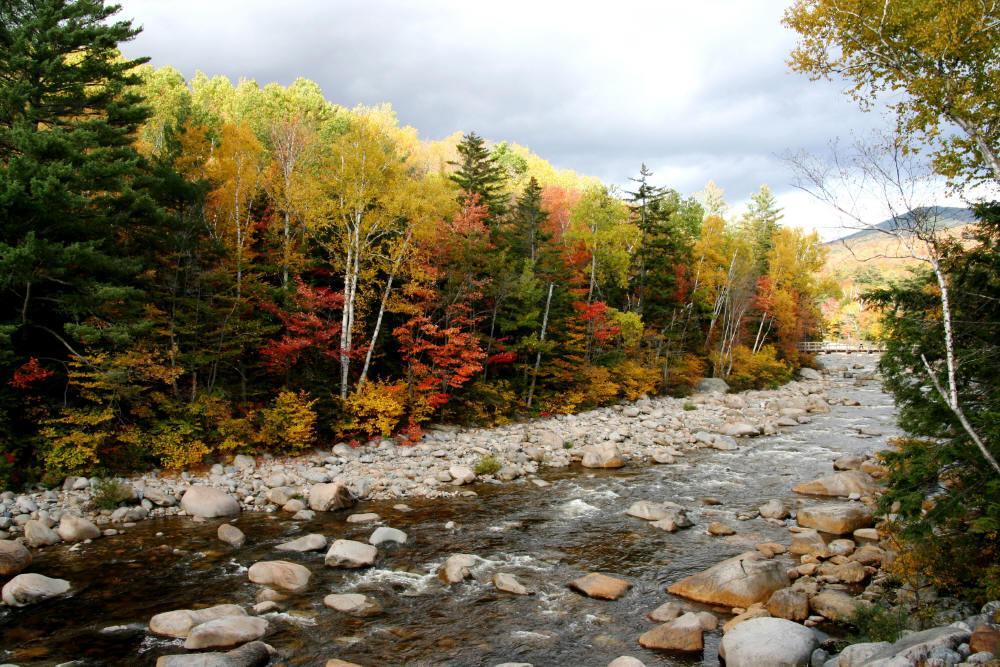 Scenic byway from Conway to Lincoln, New Hampshire
Fall foliage and New England are famously synonymous. Every Autumn "leap peepers" take road trips all around Maine, Vermont, New Hampshire, Rhode Island, and Massachusetts to witness nature's colorful show. Perhaps one of the most scenic drives is in New Hampshire's White Mountains. The vast White Mountains cover one quarter of New Hampshire and are New England's most rugged mountains. There is no shortage of activities here from camping to hiking to skiing to canoeing. The Kancamagus Scenic Byway (locals call it the Kanc) runs through White Mountain National Forest and is reknown for its stunning displays from the bright red, yellow, and orange maple trees that populate the region. 
The main part of this scenic route runs between the towns of Conway and Lincoln, NH. Some not-to-miss scenic lookouts include Kancamagus Pass, the highest point of the highway, Sugar Hill, Pemigewasset and Hancock overlooks. Another scenic highlight is a short and easy hike of less than half a mile to see the picturesque Sabbaday Falls, a popular stop on the highway. You can check online fall foliage calendars as peak color-viewing times can shift each year due to weather and elevation, but typically prime viewing falls somewhere between the last couple weeks of September and the first two weeks of October.
Lisa with LL World Tour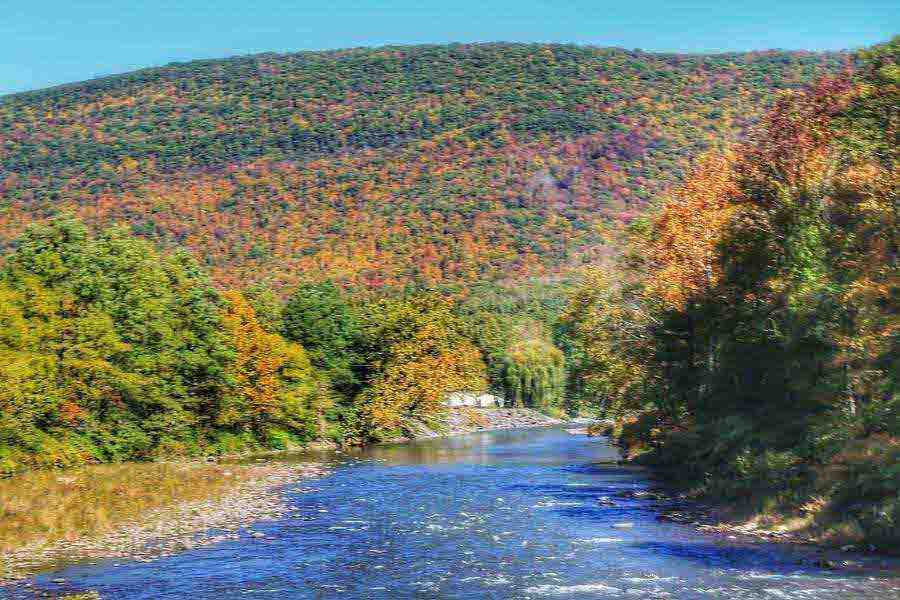 Catskill Mountains, NY in fall
Upstate NY is best to visit during the fall, especially the Catskill Mountains area with ample hikes and lookout spots to view the vivid foliage colors. But if you want to sit back and enjoy those hues of orange, red and brown, then Fall Adventure train rides from Catskill Mountain railroad are perfect. The 90 minute ride in the historic Steam locomotive winds through mountains and rivers for the perfect colorful vistas. You can even enjoy the views from the open-air coach on the train. The train departs from Westbrook Station at Kingston Plaza on fall weekends three times a day. So, make sure to check the timings.
Pro Tip: You can book the train tickets online well in advance to avoid the disappointment. There are no restrooms on the train.
If you love road trips, then the 52-mile-long Catskill Mountain Scenic Byway along NY-28 is your take. So, roll down those windows and indulge in the picturesque landscapes.
There is no shortage of enticing vista points in this region. Hudson river adds to the beauty of the deep colored mountains. Head out to the historic Catskills Point to see for yourself. Pack a lunch to munch at the picnic tables at Dutchman's Landing Park or dig in at the restaurant while you breathe in the fall crisp air. Another interesting place nearby is the Rip van winkle bridge where you can walk to see the views through the reflections.
Pro Tip: There is parking available at the end of the bridge, to park and enjoy the leisure walk.
If you are interested in hikes, then the cascading Kaaterskill Falls is the popular choice, but is a steep and rocky climb.
Whichever vantage point you choose, Catskill would not disappoint you and you will build some colorful memories that will last forever.
Neha with Travel Melodies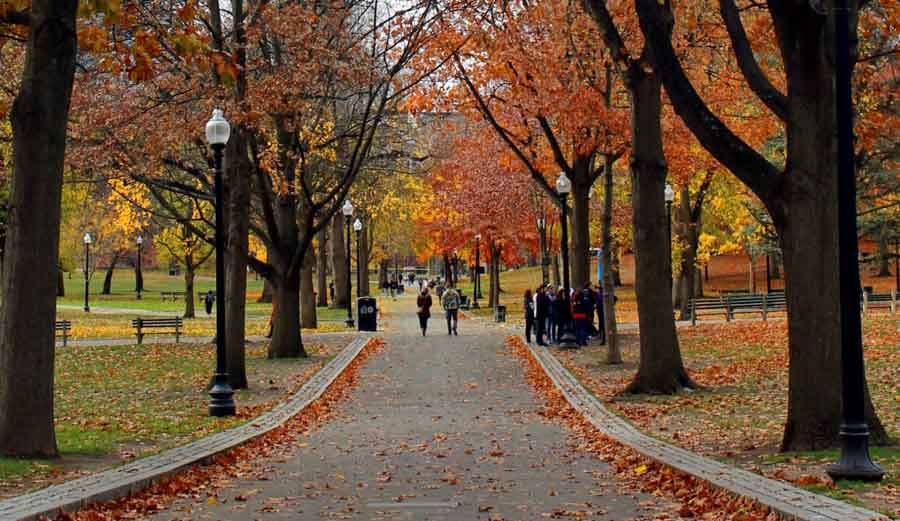 Boston
When you think about fall foliage, big cities aren't usually one of the first places that come to mind. However, located in the heart of Boston, Massachusetts are two parks: Boston Common and Public Garden. Boston Common is not only a major attraction along the Freedom Trail, but is also the oldest public park in America. Within the parks, you'll find a combination of various trees, including elm, birch, linden, maple, oak, redwood, and more, creating a stark contrast of color during autumn. Under the trees, you'll find several memorials and monuments dedicated to various historical events and people, including the Soldiers and Sailors Monument, Boston Massacre Memorial, and more.
While you're in Boston, make sure to also check out Faneuil Hall and Quincy Market. It's several stores and street performers keep the area quite lively. You'll also be able to find several Christmas shops as places begin to prepare for winter holidays.
If you didn't get your fill of shopping, you can head over to Downtown Crossings, which is considered one of the most bustling intersections in Boston during the weekdays. Or, if you're done shopping for the day, you can head over to the Boston Harbor for a nice stroll.
Check out Kiyoko's  post on visiting Boston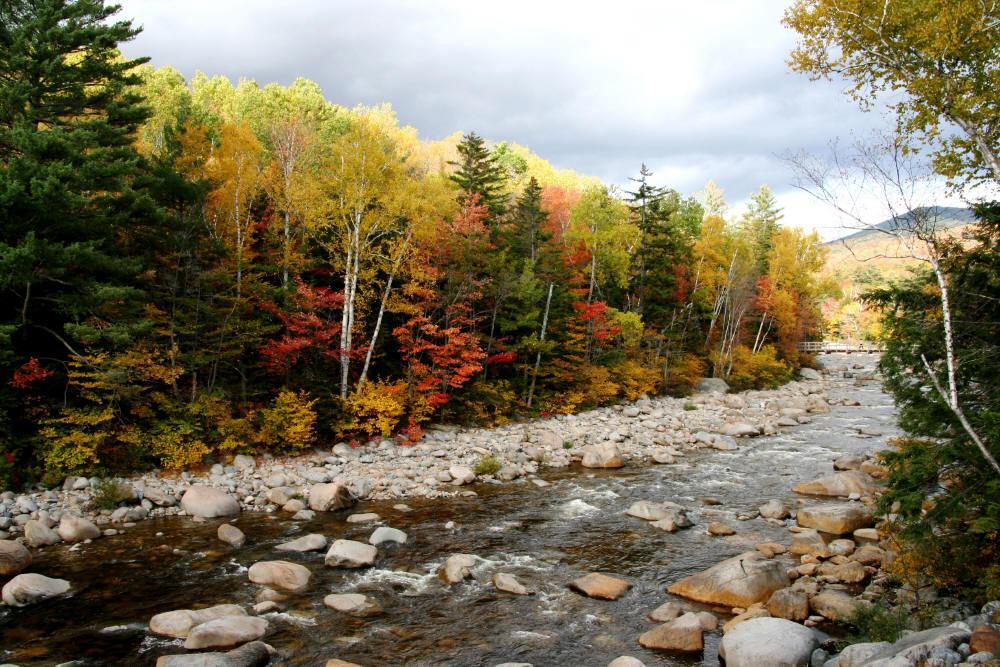 Kancamagus Scenic Byway, White Mountains
Fall foliage and New England are famously synonymous. Every Autumn "leap peepers" take road trips all around Maine, Vermont, New Hampshire, Rhode Island, and Massachusetts to witness nature's colorful show. Perhaps one of the most scenic drives is in New Hampshire's White Mountains. The vast White Mountains cover one quarter of New Hampshire and are New England's most rugged mountains. There is no shortage of activities here from camping to hiking to skiing to canoeing. The Kancamagus Scenic Byway (locals call it the Kanc) runs through White Mountain National Forest and is renowned for its stunning displays from the bright red, yellow, and orange maple trees that populate the region. 
The main part of this scenic route runs between the towns of Conway and Lincoln, NH. Some not-to-miss scenic lookouts include Kancamagus Pass, the highest point of the highway, Sugar Hill, Pemigewasset and Hancock overlooks. Another scenic highlight is a short and easy hike of less than half a mile to see the picturesque Sabbaday Falls, a popular stop on the highway. You can check online fall foliage calendars as peak color-viewing times can shift each year due to weather and elevation, but typically prime viewing falls somewhere between the last couple weeks of September and the first two weeks of October. Roads and hotels can get quite jammed so do plan ahead.
Lisa  with LL  World Tour
Best fall foliage in the Western USA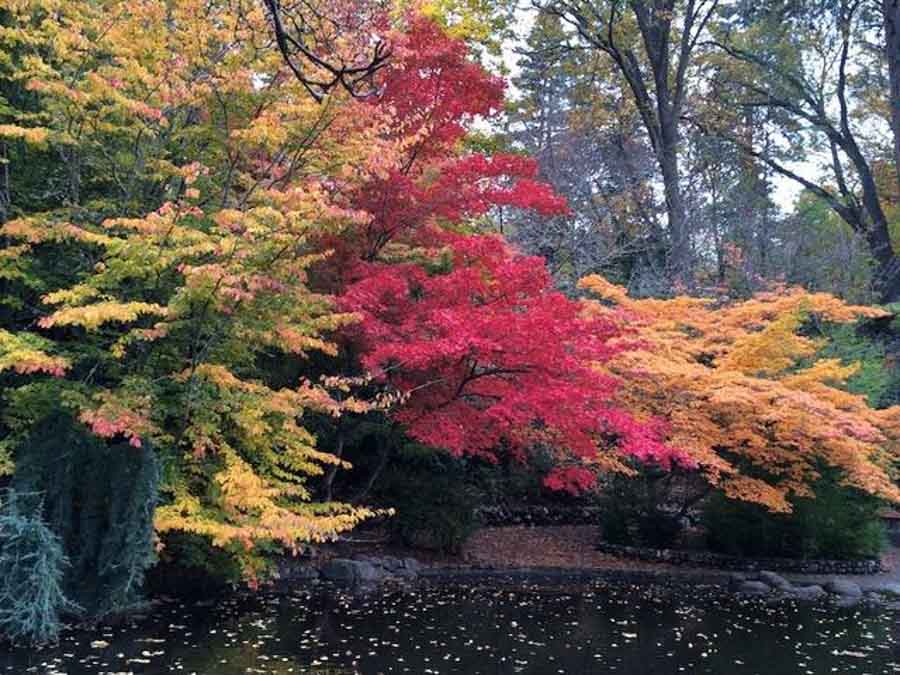 Ashland Oregon in Autumn
I'd been planning an East Coast leaf peeping trip forever so it was to my utter astonishment when we happened upon a leaf peepers paradise on the west coast. The fall colors were stunning in Lithia Park in Ashland, Oregon as we made our way to Portland. While the adorable town of Ashland was awash in reds, yellows, and oranges, it was in the park where the colors really turned Technicolor.
Lithia is Ashland's largest and most central park. With 93 forested acres along Ashland Creek, Lithia has been designated one of the top ten Great American Spaces by the American Planning Association. It's easy to see why: It includes a Japanese garden, two duck ponds, a formal rose garden, a Sycamore tree grove, and lots of secluded spots to hide away in. Lithia Park hosts ice skaters, wedding parties, and plenty of hikers on its extensive trail network, too.
But to see the fall colors, head straight to the lower duck pond and let your eyes feast on the brilliant red of the Japanese maples and cheery yellow and oranges of the Trident and Big Leaf Maples. Or head out on one of the super scenic trails. Consult the city's extensive trail guide for the park to identify all of the beautiful ornamental and native trees and plants you'll find here.
Christina with Explore Now or Never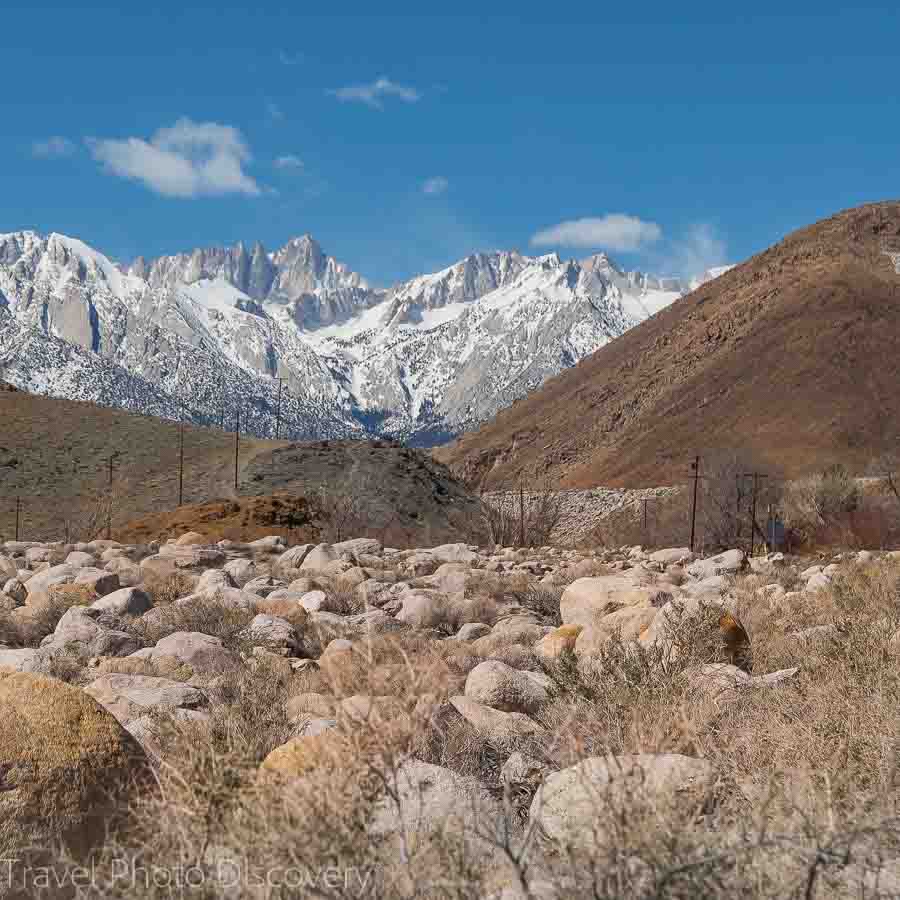 A road trip to the Eastern Sierras in California
The Eastern Sierras are a fantastic time to explore this quiet part of the Sierras and fall delivers a colorful show of the entire region. Taking highway 395 from Southern California and all the way to Lake Tahoe up north is a wonderful Eastern Sierra road trip and not so busy in the fall season, but you will be rewarded with typically good weather depending on the timing and when changes in fall foliage start to happen on the eastern side of the Sierras. Popular places to explore include Mt. Whitney and the Alabama Hills, Death Valley National Park, Lone Pine, Manzanar National Monument, Bishop, Mono and Mammoth lakes area and many other spectacular landscapes and parks to visit.
Check out my post on exploring the Eastern Sierra's here for more images and inspiration to visiting the area during the fall season.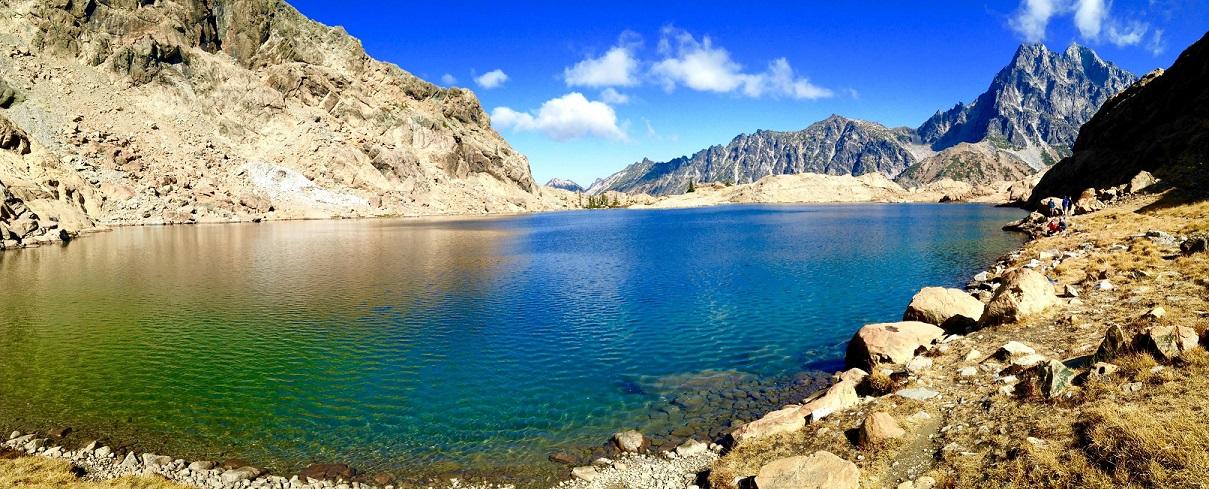 Cascade Mountains in Washington
Washington State teems with evergreen conifers, such as firs and pines, to the west of the Cascade Mountain range, but evergreens only add to the bursts of color that emerge from the scattered birch, aspen, and maple trees found throughout the region. Feeling the Washington vibe for adventure? Drive a little over 2 hours east from Seattle and you'll be in the heart of the Cascade Mountains. There are many trails on which to explore, but a top-tier mountain experience to get a feel for fall is a hike to Lake Ingalls. The hike itself is 9 miles round trip and if you're up to the task, you won't be disappointed. You'll begin by meandering through some luscious conifer forests, and after a few miles you'll emerge on mountain tops with stunning vistas. The alpine scrub will change colors just as the fall trees do, turning various shades of orange, red, and purple. This is one of the few places where you can spot unique deciduous conifers called larche.
s, which turn a brilliant yellow and drop their needles in autumn. Perched upon rocky alpine tops, these beacons lead the way to the stunning clear blue-green Lake Ingalls, with Mount Stewart on display in the background. Keep an eye out for mountain goats that roam the lake edges and alpine fields, and enjoy their presence from a distance. Check out the Washington Trails Association website for more detailed information on trail conditions, parking information, and more. Depending on the weather, variants of red, yellow, and orange will emerge in the mountains from September to October – Washington State offers a free Fall Foliage Hotline (800-354-4595) where the leaf color change status is updated daily.
Christa with Expedition Wildlife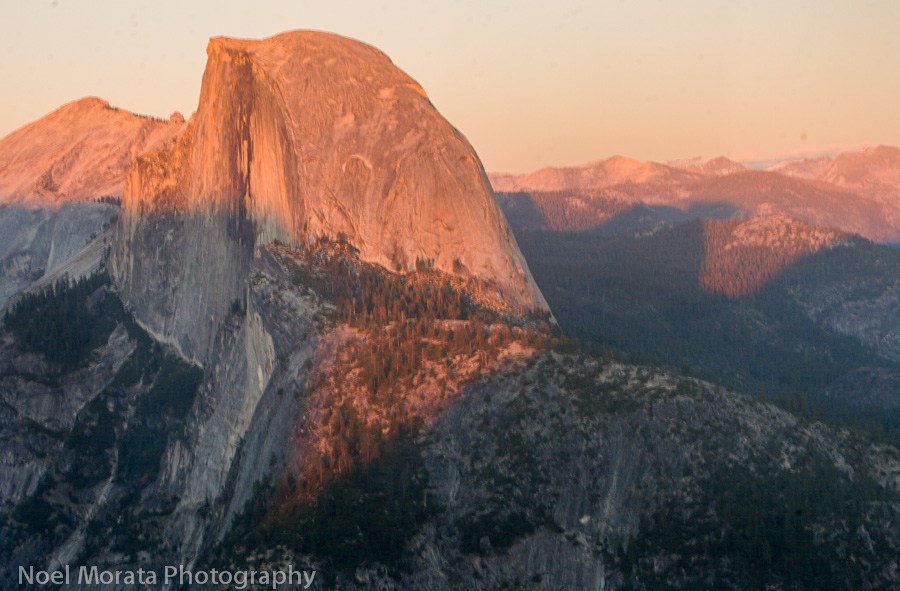 Yosemite National Park
Yosemite National Park which lies on the western side of the Sierra Mountains is a spectacular location to visit in the fall season. Even though you'll find fall colors a little muted  in this landscape which is dominated with green firs and pines, their are colors of changing colors or maples, dogwoods and black oaks on the valley floor. Fall is a great time to visit with Indian summer and less crowds visiting the national park and one of my favorite hikes to see amazing vistas of the park is Glacier Point. With spectacular views from every turn, sunset at Glacier Point is where you want to be to witness end of day at Yosemite. Check out my Yosemite Glacier Point hike here for more images and inspiration to visiting this wonderful national park.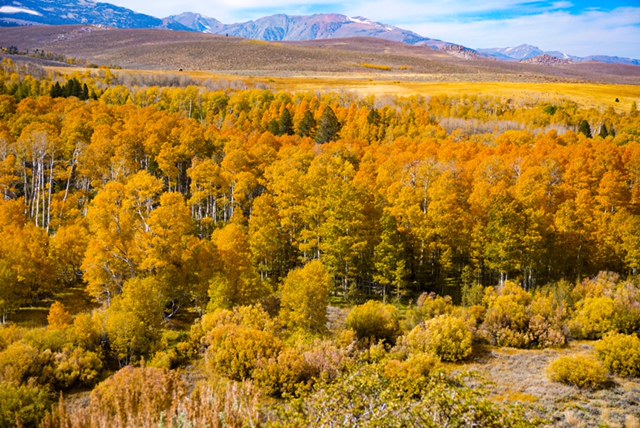 Route 395 in the Eastern Sierra's
One of the best places for fall leaf-peeping in the western United States is the Eastern Sierra of California. If you drive California State Route 395 between South Lake Tahoe and Bishop in the fall, you'll see magnificent swathes of color all along the route. You can either just drive the main road, or take a few days and explore the little side roads that lead to the mountain passes or canyons or lakes.
If you just drive the main road, look for great color at Conway Summit, the highest point on SR395. At peak, from the pullout at the side of the road, you can see entire hillsides covered in shades of yellow, ochre, orange, red, and burgundy. It's a magnificent panorama. Another great spot for fall color on this drive is the June Lake loop, a detour that takes you past four gorgeous lakes fringed with brilliant color in the peak weeks of fall color. Further south, cottowoods provide colo a little later in the season.
If you plan to spend a few days in the region, you have a wealth of options, especially if you have a high-clearance vehicle that can cruise the dirt roads. The entire region is known for its spectacular natural beauty. You will love not just the fall colors, which are a beautiful spectacle, but also the naturescapes along the route.
For updates on fall color in the region, you can contact Mono and Inyo Counties in California or look up their web sites.
Check out Dhara's post on a road trip visiting the Eastern Sierra's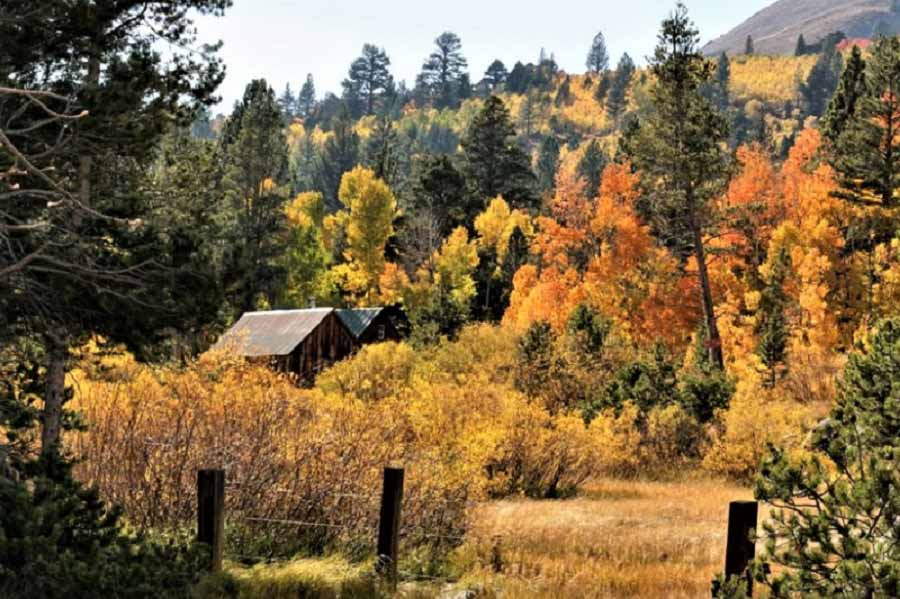 Lake Tahoe Region
Lake Tahoe is a stunning, deep blue body of water straddling California and Nevada covering a perimeter of 70 miles. It is nestled in the beautiful Sierra Nevada mountains and is a popular fall time destination especially due to lesser crowds, cool weather and the brilliant fall colors including yellow and orange from the Aspen and cottonwood dried leaves.
Getting to Lake Tahoe is a comfortable drive of about 4 hours on the I-80 east route from San Francisco.
The best colors of fall can be enjoyed in Emerald Lake state park and Hope Valley, both on the southern end of Lake Tahoe. If you drive about 15 minutes on the south Lake Tahoe, between highway 88 and 89, you will reach the spectacular Hope Valley. The whole valley is full of vibrant colors of yellow and orange with Aspens in contrast with the dark green of the forest. Sunset is the great time to enjoy these colors change shades. This place also has several hiking trails.
Another place of interest is Fallen Leaf Lake – a beautiful alpine lake on the south shore near Mount Tallac. Here some unique fall colors over water combinations can be viewed as also Aspen tree views down the same road. The lake also has kayak and boat rentals.
Don't miss Boathouse on the Pier – a popular waterside grill and bar with American cuisine while enjoying fall time views by the lake.
Jan with Leisurely Drives.com
USA places to visit in the Midwest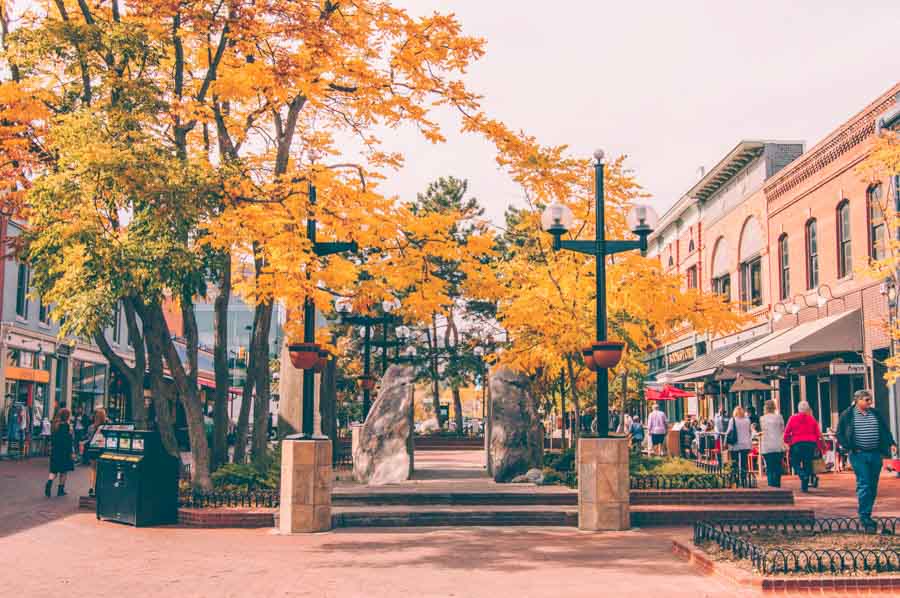 Fall in Boulder, Colorado
The little town of Boulder, Colorado, located at the foothills of Rocky Mountains, is a perfect fall foliage destination. To be honest, it's a perfect destination in any season, given how charming the town is and the incredible view of the mountains, but fall colors just take its beauty to a whole new level. 
According to the city's official site, the foliage season runs from the 27th of September till the 25th of October, and is at its very best between the 5th and 20th of October, which is when you can get an iconic Boulder picture of the colorful trees with the background of snow-capped Long's Peak. 
In the city, stroll around Mapleton Hill neighborhood and admire the beautiful houses covered by red and yellow leaves. If you want to take a scenic drive, peak-to-peak scenic byway is your best choice. The byway is one of the best places in Colorado to see fall colors. It runs all the way to Estes Park, the gateway to Rocky Mountain National Park where you can visit the Stanley Hotel that inspired Stephen King to write The Shining.
Yulia Dyukova with  That's What She Had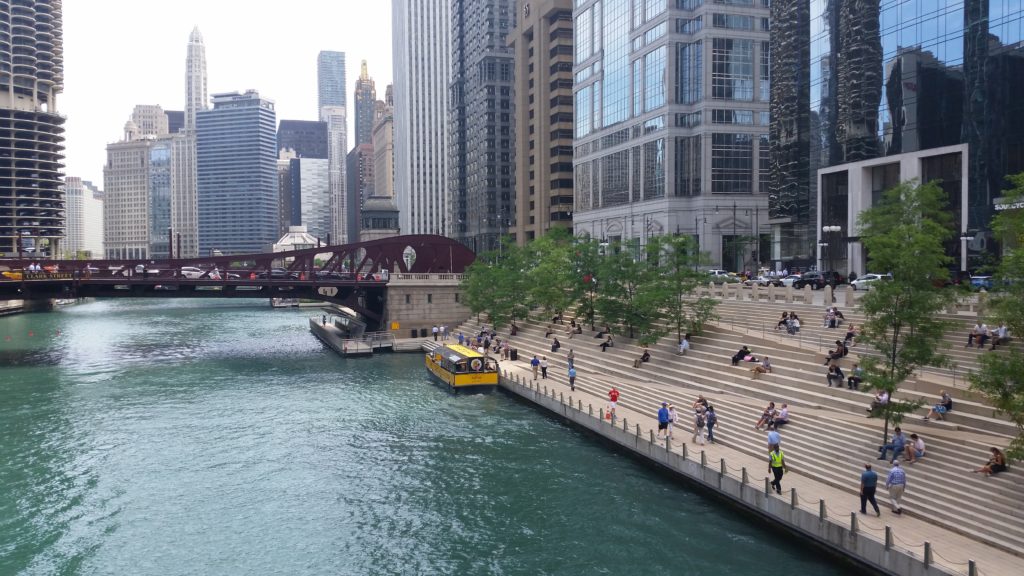 Visit Chicago in the fall season
I think that autumn is the best season to visit Chicago.  Chicago can be hot and humid in the summer and cold and windy in the winter but fall usually has the best weather.  Early fall is a good time to visit Chicago if you prefer warm summer like temperatures and visitors can enjoy many of the same fun outdoor activities and attractions that are available in the summer (including boat and architecture cruises, outdoor festivals, walking or jogging along the riverwalk and lakefront and drinking or dining at outdoor patios and rooftops).  Visitors that enjoy more moderate or cooler temperatures will enjoy visiting Chicago during mid to late autumn. Chicago is a great place to view fall foliage as it has many large parks and green spaces. Millennium Park (home to the famous Bean sculpture) and Lincoln Park are good places to enjoy the colorful leaves in downtown Chicago. For even more leaf viewing, head to the suburbs, especially Chicago Botanic Garden and Morton Arboretum, both of which are large with acres of trees. Another great thing about visiting Chicago in the fall is that the popular tourist attractions are less crowded than they are during summer because school has just started.
Patti with The Savy Globetrotter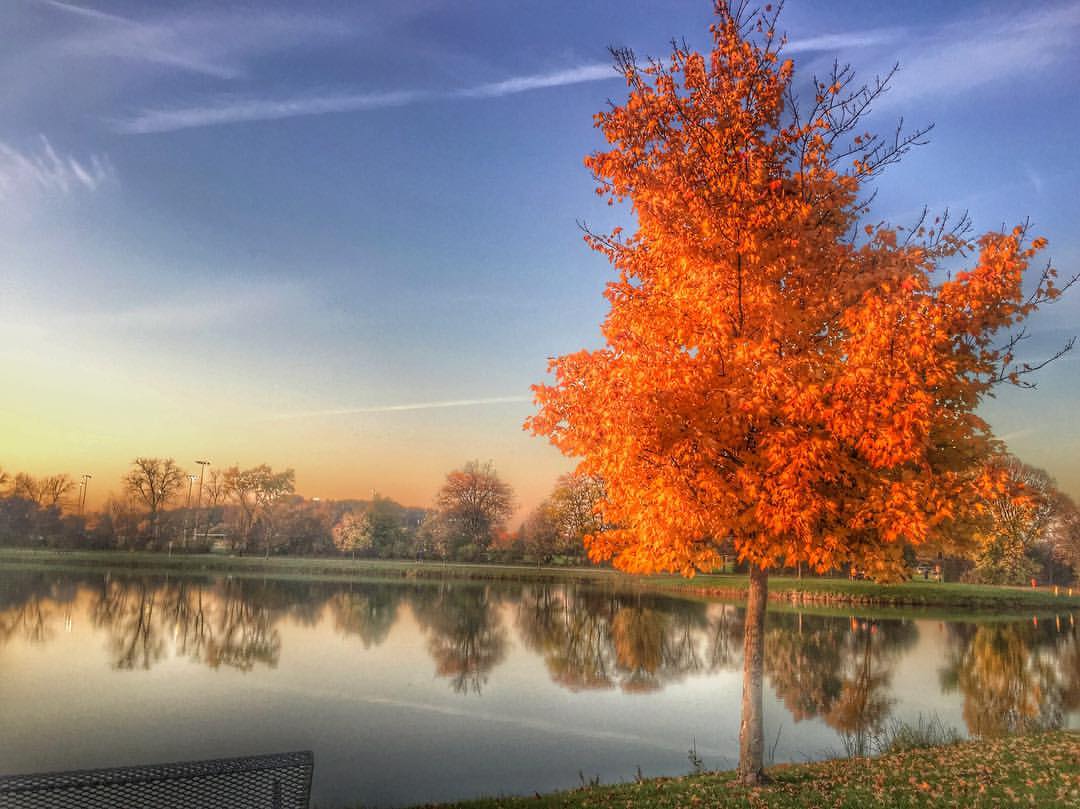 Fall time in Michigan
Fall is the BEST time to visit Michigan. If you are from Michigan, or the Midwest, then you know why. Sunny skies, crisp cool air, and the color changing leaves make Fall a magical and enjoyable time of year. My favorite way to celebrate this season is by visiting cider mills! Read on to learn the top 5 reasons to make a cider mill trip in the Midwest this Fall.
Apple Picking
One of my top reasons to visit a cider mill this fall is for the apple picking. There is just something special about picking your own fruit. I swear it always tastes better. Even reading the names of the apple varieties already gets my mouth watering; Golden Delicious, Fuji, Macintosh, Royal Gala, Honeycrisp
 

Cider and Donuts
Although there are countless reasons to visit a cider mill in the Fall, cider and donuts are obviously the MOST important reason. Depending on the weather, if I am visiting a cider mill earlier in the season, and the sun is still warm, I will opt for cold apple cider, or even an apple cider slushy. If the leaves are turning and the air is cooler, I will choose warm apple cider. Either way, the cider is just a sidecar to the donuts. Warm those babies up and dunk them in your cider, and you have a little piece of heaven right there.
Pumpkins
If you follow me on instagram then you already know how much I love color. And, orange is undoubtedly the color of Fall. The color and feel of autumn orange is represented best by pumpkins
Hay Rides
Of all the time spent at cider mills, the hay rides leave me with the most lasting impression in my childhood memories. Now that I am an adult, I still get a childlike thrill from the hayrides! I think that it is just the combination of the simplicity of this mode of transportation, with the open air, and the connection to the land and the surrounding nature that makes hay rides so special.
Animals
Another big reason to visit a cider mill this Fall is to see the animals! Much of the time while visiting apple orchards and cider mills you will see different barn animals
Don't let the autumn season pass you by without at least one stop at a cider mill in Michigan or the midwest.
Leah with Leah Little Travel Fashion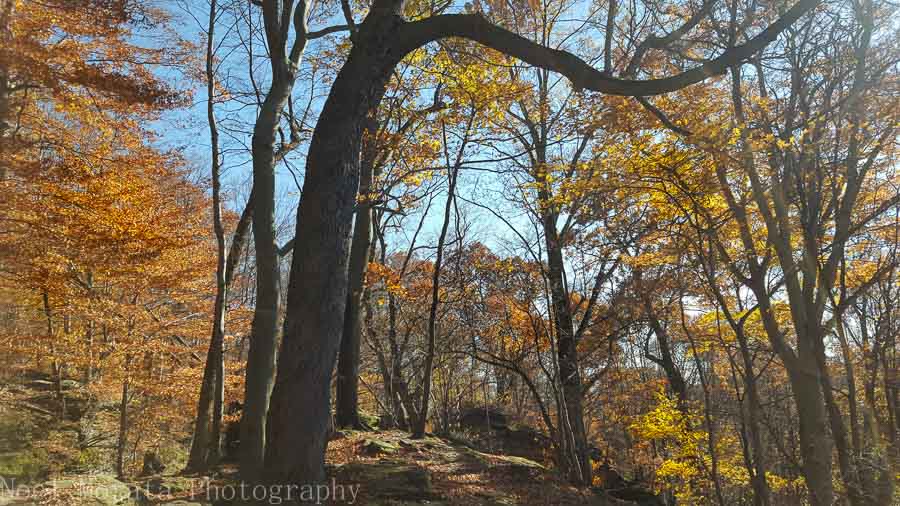 Cuyahoga National Park in the fall season
Ohio's national park at Cayuhoga shows spectacular fall colors in the autumn season and is a must visit park for visitors. The spectacular colors of amber yellow, oranges and reds dot the entire landscape in a full burst of colors that really deliver when you visit the region. Fall walks through the woods and canyons with their gorgeous waterfalls in the park set an amazing backdrop that is wonderful to experience first hand. The entire chain of Cleveland Metro parks is wonderful to visit in the fall time with all the parks bustling with a colorful show of fall leaves and beautiful landscapes to explore and enjoy.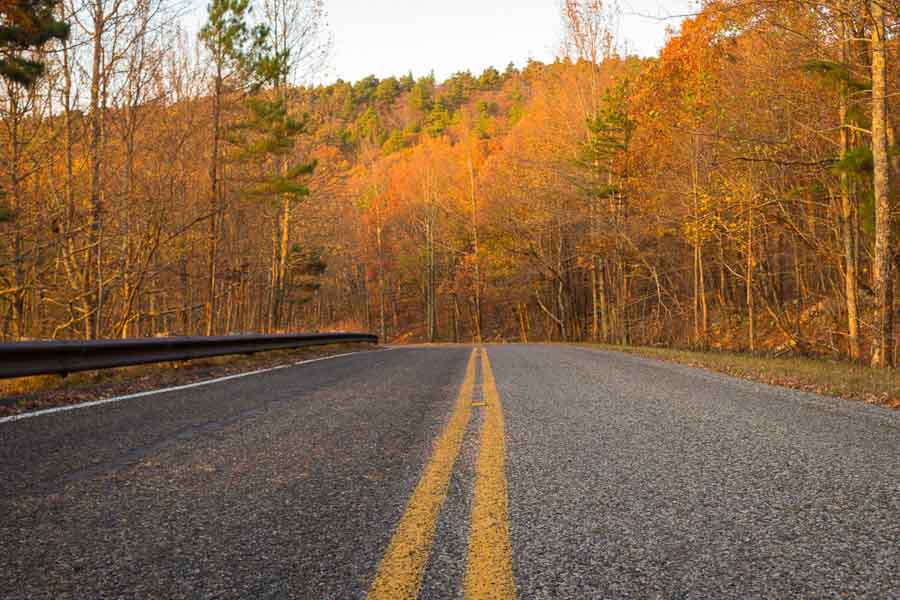 The Talimena Scenic Drive in Arkansas
Arkansas is one of the most underrated fall foliage viewing destinations in the United States. While most people visit New England for fall, we love planning a trip to Arkansas for its milder weather, vibrant fall colors, and lesser crowds. One of our favorite fall foliage drives in the area is the Talimena Scenic Drive in the Ouachita mountains. This scenic drive is along the ridge of the Ouachita mountains and is great for seeing fall colors on the mountain slopes. The perfect time to drive the Talimena Scenic Drive is towards the end of September when peak color occurs in the area. We recommend starting in Mena, Arkansas and driving leisurely towards Talihina in Oklahoma, stopping at all the lookouts along the way. Some gems you will see along the way include a historic haunted cemetery, a tall rickety fire mountain, Wilhelmina State Park with its camping and nature trails, an old rail engine, and a couple of waterfalls. This drive is perfect for spending a weekend amidst fall foliage in Arkansas.
Check out Ketki's post on the Talimmena national scenic byway
Autumn colors in the USA's Southeast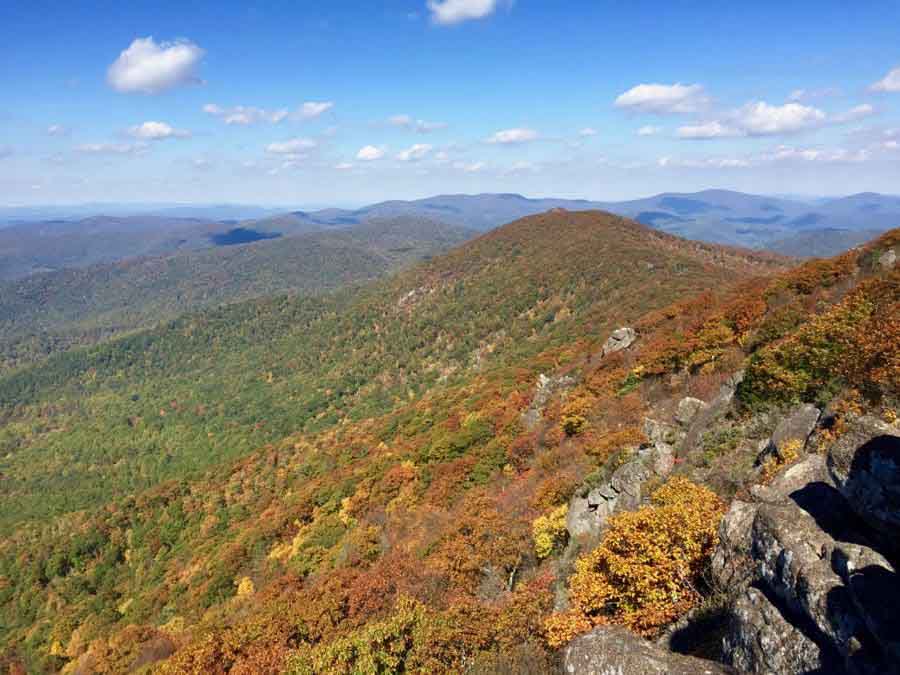 Shenandoah National Park, Virginia
Shenandoah National Park stretches through Virginia's Blue Ridge Mountains, just 75 miles west of Washington DC. The park's central feature, Skyline Drive, offers easy access to spectacular views and hiking that fill with color in the fall. The drive is 105 miles long, with 75 overlooks and miles of hiking trails, including a long segment of the Appalachian Trail. 
If time is short, focus on Shenandoah National Park's Central District. You'll find some of the best views at the Hazel Mountain, Stony Man, Thorofare Mountain, and Old Rag Overlooks. These stops give you a nice mix of eastward and westward-facing views. If you like to hike, try the short steep hike to Little Stony Man, or the longer but easier trail to Stony Man summit. Both offer spectacular views of the Blue Ridge Mountains, Shenandoah Valley, and a bit of winding Skyline Drive. The Limberlost Trail, the only wheelchair accessible trail in the park, is a pretty wooded walk where we have seen black bears and deer.
Stop at Skyland Lodge for lunch with a view or an overnight stay. Further south, Big Meadows Visitor Center has excellent exhibits about the history of the park and offers easy hiking in the meadow. Yellow and golden hues dominate the fall foliage in Shenandoah, but you'll also see bright splashes of red and orange. Peak foliage season in Virginia is usually between early and mid-October.
Check out Julie's post on 5 ways to enjoy fall foliage in Shenandoah National Park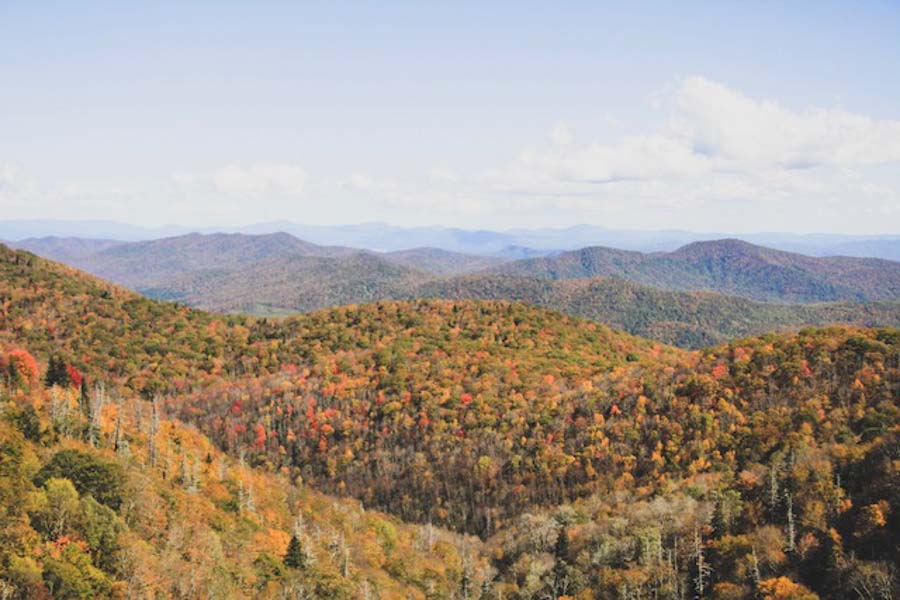 Great Smoky Mountains National Park
I love fall.  I start celebrating fall and Halloween in like, August.  It's always been a dream to go on a big East Coast US fall road trip, and still is, but last year I did a mini road trip through the southeast to see some leaves changing.  For ten days at the end of October I explored Asheville, North Carolina, Gatlinburg, Tennessee, Great Smkoy Mountains National Park (GSMNP), and the Blue Ridge Parkway.
I only saw a small portion of the parkway connecting Asheville and GSMNP, but it's actually 469 miles long, linking Shenandoah and GSMNP.  If you have the time, definitely, do that.  If not, Asheville to GSMNP is a great option.  No matter where you are on the parkway, the colors are going to be great if you're there at the right time of year.  That will of course depend on weather and everything that causes leaves to change, but late September and October are great times for the trip.  If you want to stop along the way, tehre are plenty of scenic overlooks to admire the foliage on the mountains as well as 369 miles of hiking trails along the parkway, just 100 less than the parkway itself!
Peaks of Otter, Humpback Rocks, Roanoke Valley, and Cumberland Knob are just four popular hiking trails.  The Blue Ridge Parkway is the perfect destination for a fall road trip, especially if you don't want a super long trip, but want to enjoy the fall colors.
Check out Megan's post on Fall at the Smoky Mountains National Park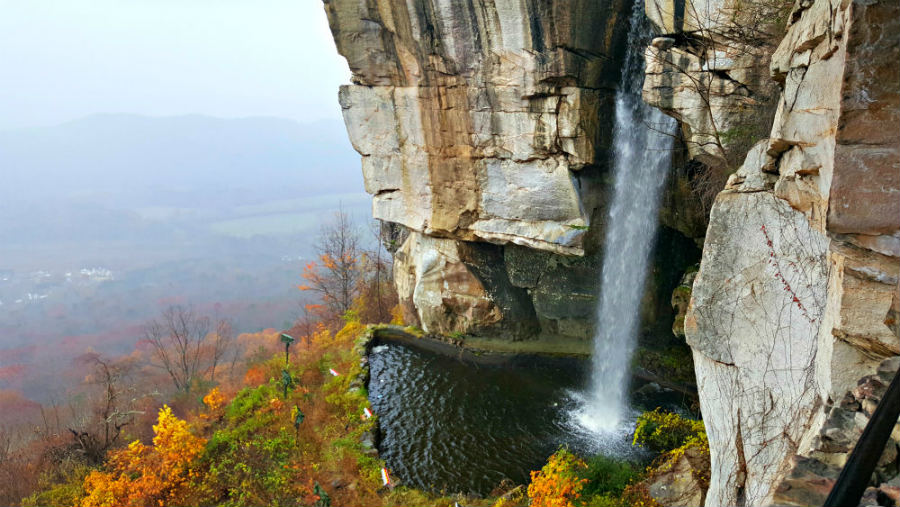 Rock City in Lookout Mountain, GA
One of the best places for experiencing fall colors in the USA lies in a small mountain town straddling the border of Tennessee and Georgia. You'll find it just six miles from Chattanooga at the top of Lookout Mountain, where Rock City Gardens celebrates the changing of the seasons through a special, month-long event called Rocktoberfest. During the festivities, the Fall Fairy arrives to bring autumn to the mountain, and Ik the Troll King holds special storytelling sessions for the kids. There's also pumpkin painting, geode digging, live music, dancing, food, and beer. The highlight, of course, is the mountain itself. Visitors follow the 4,100-foot Enchanted Trail through tiny crevices in moss-covered boulders before crossing a 180-foot suspension bridge over Chattanooga Valley and arriving at a gorgeous 90-foot waterfall. Although it's breathtaking any time of the year, High Falls is best seen during autumn, when the surrounding leaves turn a crisp, golden color that sparkles with the sun. From the observation deck above the falls, it's possible to see the fall colors of seven states on a cloudless day. Affectionately named Lover's Leap, this iconic viewpoint gets its name from a Cherokee legend of a distraught maiden who jumped to her death after her lover was captured and shoved off the cliff when the two tribes feuded. There's even a mountaintop cave full of fantasy creatures–the Fairyland Caverns–which has been known to delight and dazzle both children and adults. Attend this lovely attraction on a weekday, so you can avoid the crowds and get better pictures. Rock City is truly one of the most unique places I've ever visited, and I highly recommend it to anyone looking for a special place to spend an autumn holiday.
Check out Jillian's post on visiting Rock City lookout in Mountain, GA

Fall time in Asheville, North Carolina
Asheville, North Carolina is one of the best places in the United States to see the fall colors. Asheville is a vibrant liberal city in the scenic Appalachian mountains. It's well known in North Carolina for being a mecca for breweries, a grand estate, hiking, and all around southern charm. However it's also very well known for attracting the "leafers" during the fall. Yes, this area is a mecca for orange, yellow, and red leaves come the fall time. It draws in people from around the US to marvel at the spectacle.
It's best to have a car to explore all the mountains. Prepare for the trip with a good pair of hiking boots and gear to delve into the nature. One of the best spots to get outside around Asheville is The Dupont State Forest. Trails here are well marked and it's possible to do a short three waterfall hike in under two hours to see the laves. I would recommend bringing a packed lunch just in case you get sucked into all the beauty and don't want to leave.
Our favorite spot to stay in Asheville was The Windsor. A unique, boutique hotel right in the heart of downtown! Another great option in the small city is Airbnb, they are popping up all over and provide visitors with a home away from home.
Check out Natasha's post on best road trips around the world
If you enjoyed this post, check out these related topics
Best places to visit in Europe for fall season
Top road trips to do in the USA
Popular train destinations in the USA
If you enjoyed this please pin it!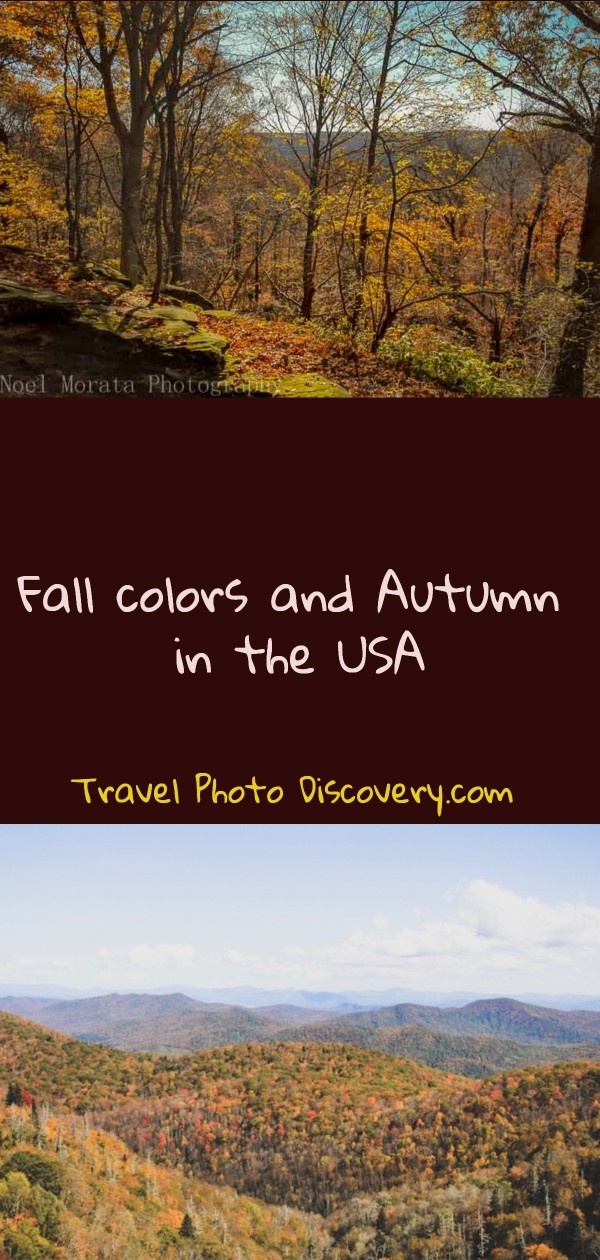 Thanks for visiting today and checking out this post on Autumn in USA, if you enjoyed the images and post, could you please share it with any of the social media buttons located around the post.
If you like what you see, come and check out my other social media channels for more updates, including Instagram, Pinterest and Twitter
Disclosure – There are affiliates links on this posts which provide a small commission to support this site at no extra cost to you. Thank you for reading, and happy travels.